Commanders bolster defense and offensive line at NFL draft
1 of 8

|
Washington Commanders head coach Ron Riviera, left, poses with first-round draft pick Mississippi State cornerback Emmanuel Forbes, right, during a news conference at the team's NFL football training facility in Ashburn, Va., Friday, April 28, 2023. (AP Photo/Luis M. Alvarez)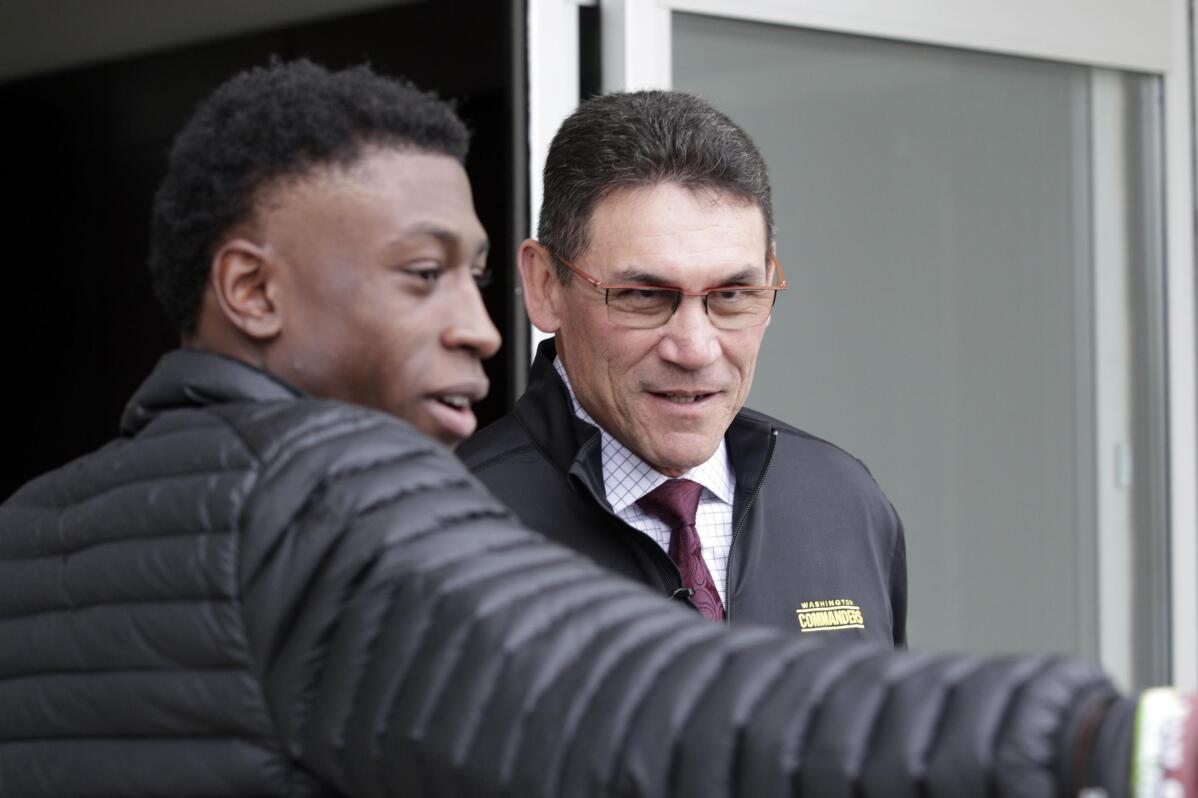 2 of 8

|
Washington Commanders first-round draft pick Mississippi State cornerback Emmanuel Forbes, left, introduces his family to head coach Ron Riviera, right, as he arrives for news conference at the team's NFL football training facility in Ashburn, Va., Friday, April 28, 2023. (AP Photo/Luis M. Alvarez)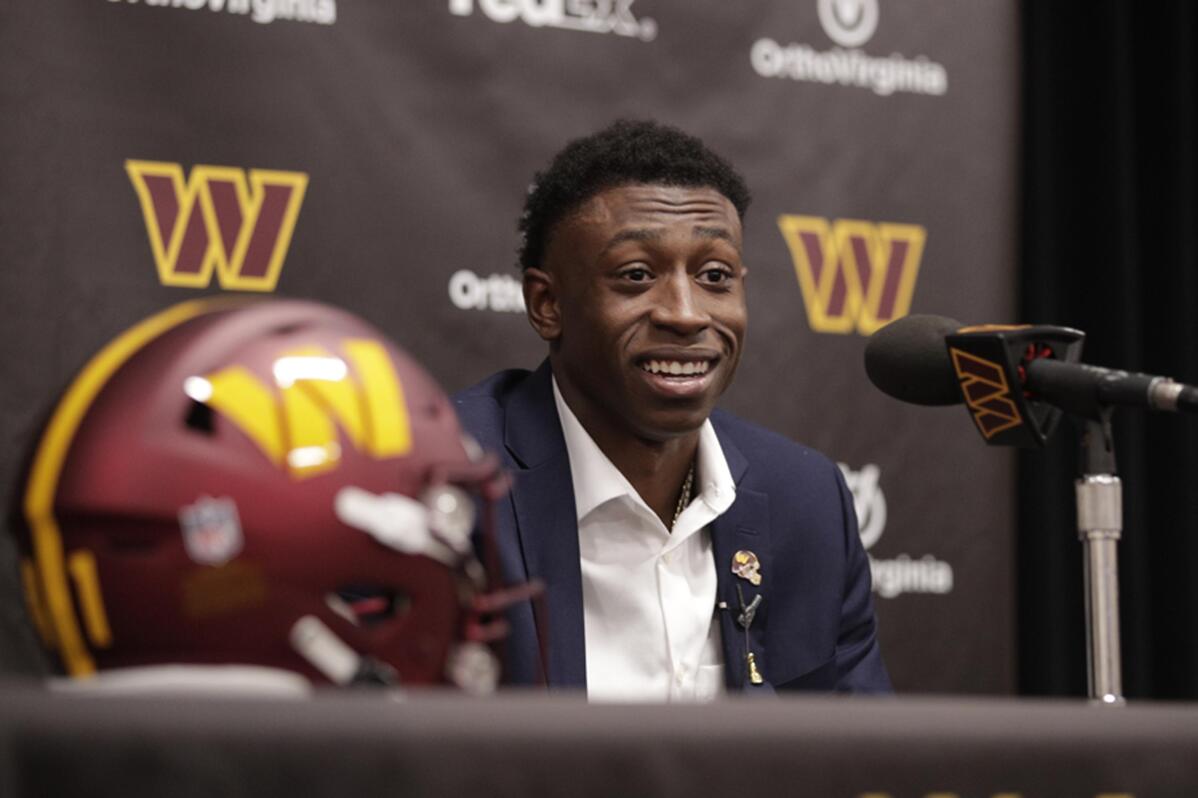 3 of 8

|
Washington Commanders first-round draft pick Mississippi State cornerback Emmanuel Forbes, talks during a news conference at the team's NFL football training facility in Ashburn, Va., Friday, April 28, 2023. (AP Photo/Luis M. Alvarez)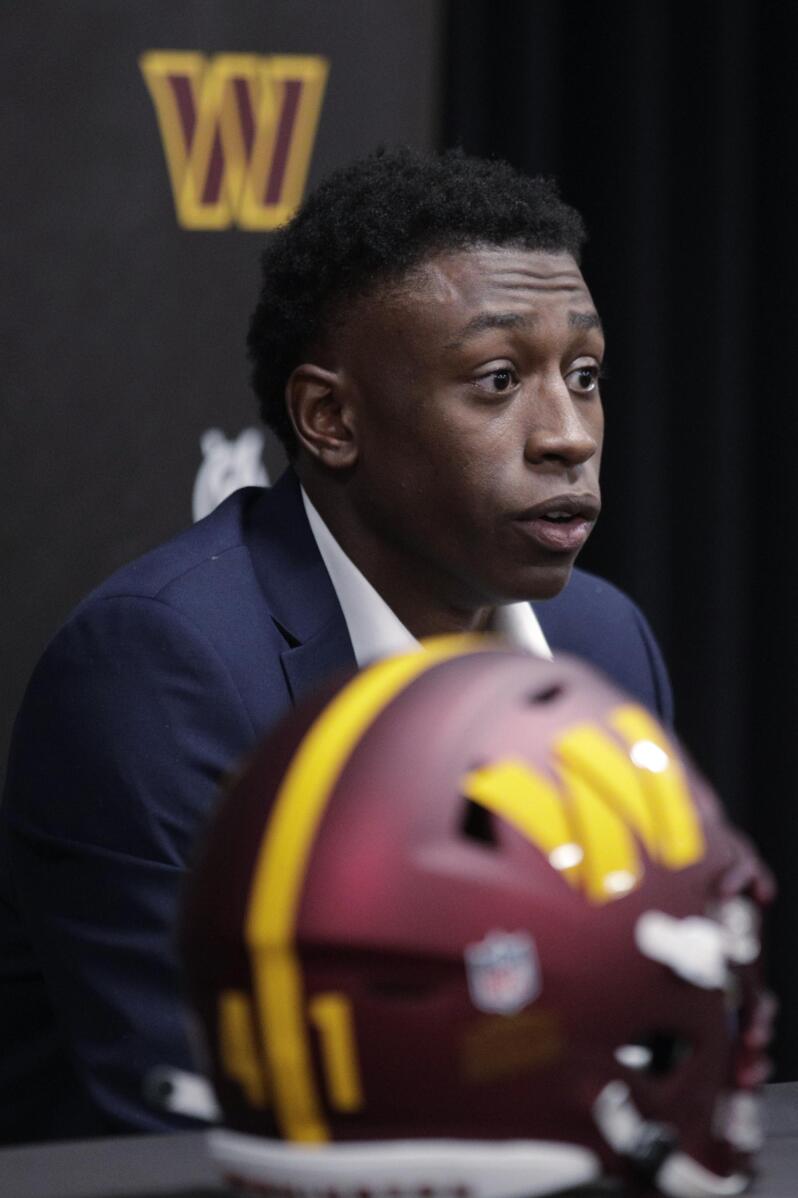 4 of 8

|
The Washington Commanders' first-round draft pick, Mississippi State cornerback Emmanuel Forbes, speaks during a news conference at the NFL football team's training facility in Ashburn, Va., Friday, April 28, 2023. (AP Photo/Luis M. Alvarez)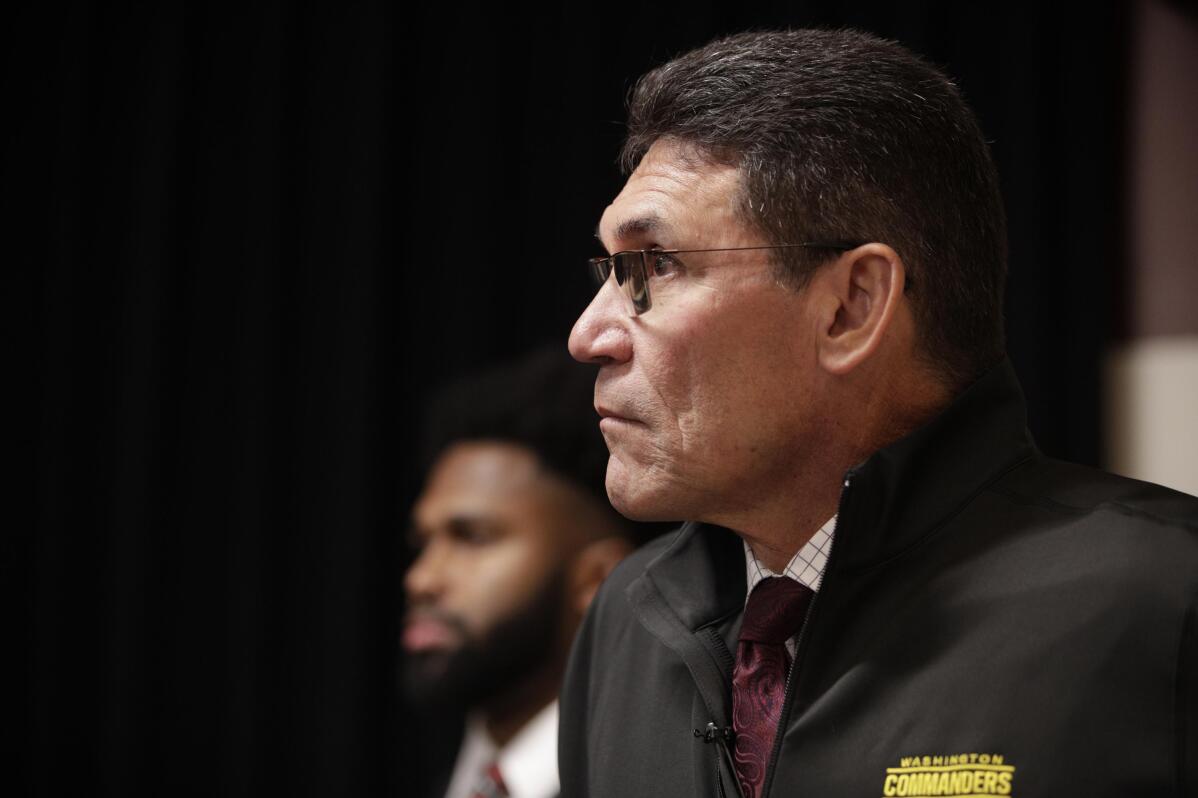 5 of 8

|
Washington Commanders head coach Ron Riviera, right, listens to first-round draft pick Mississippi State cornerback Emmanuel Forbes (not shown) during a news conference at the team's NFL football training facility in Ashburn, Va., Friday, April 28, 2023. (AP Photo/Luis M. Alvarez)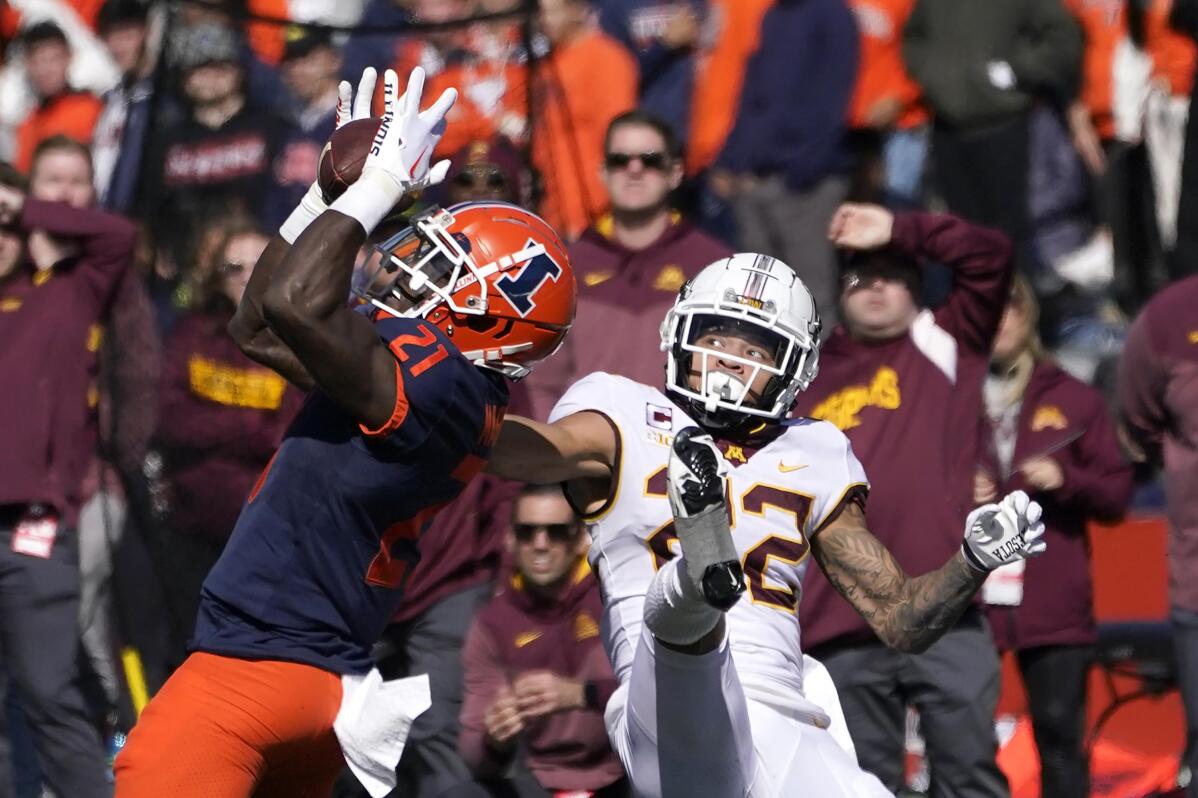 6 of 8

|
FILE - Illinois defensive back Jartavius Martin (21) intercepts a pass from Minnesota backup quarterback Athan Kaliakmanis intended for wide receiver Michael Brown-Stephens, right, during an NCAA college football game Oct. 15, 2022, in Champaign, Ill. The Washington Commanders continued bolstering their secondary in the second round of the NFL draft Friday, April 28, taking Martin with the 47th pick. Martin, whose given name is Jartavius but prefers to go by Quan, was a five-year starter with the Illini. (AP Photo/Charles Rex Arbogast, File)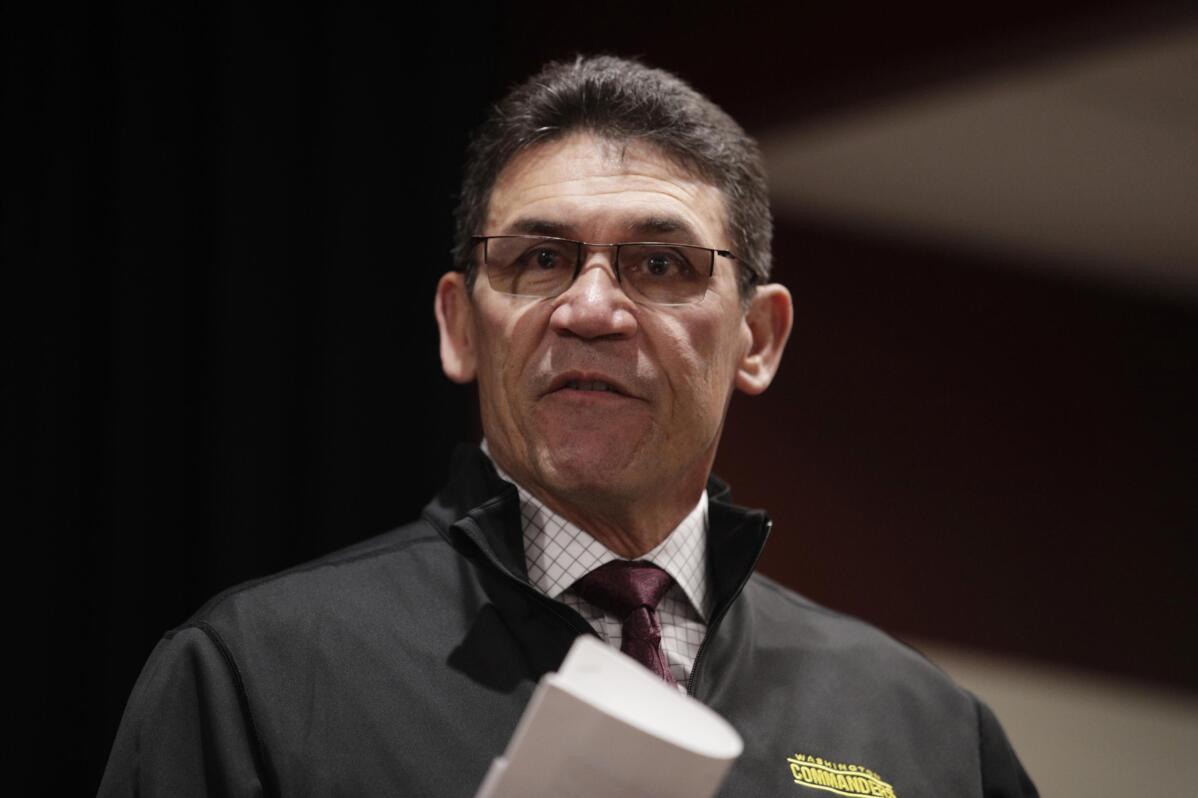 7 of 8

|
Washington Commanders coach Ron Riviera speaks before introducing the NFL football team's first-round draft pick, Mississippi State cornerback Emmanuel Forbes, during a news conference in Ashburn, Va., Friday, April 28, 2023. (AP Photo/Luis M. Alvarez)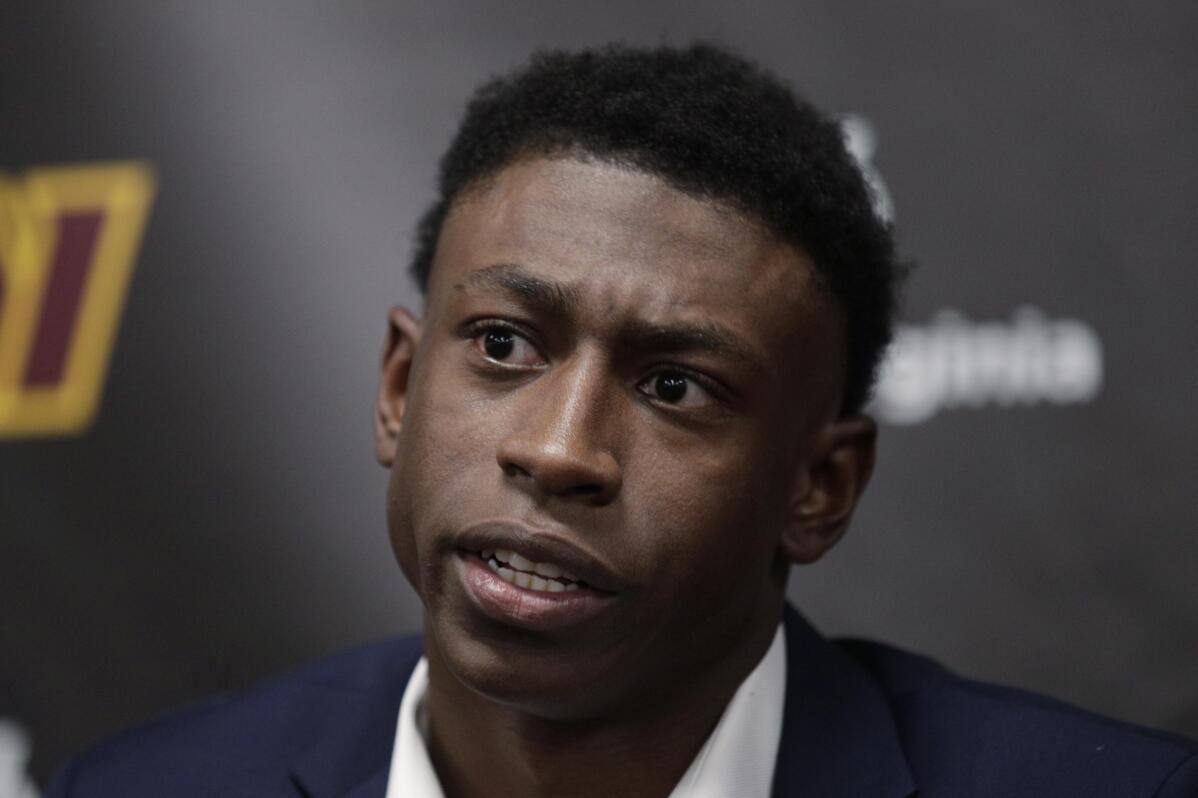 8 of 8

|
Washington Commanders first-round draft pick Emmanuel Forbes, a cornerback from Mississippi State, speaks during a news conference at the NFL football team's training facility in Ashburn, Va., Friday, April 28, 2023. (AP Photo/Luis M. Alvarez)
Commanders bolster defense and offensive line at NFL draft
1 of 8

|
Washington Commanders head coach Ron Riviera, left, poses with first-round draft pick Mississippi State cornerback Emmanuel Forbes, right, during a news conference at the team's NFL football training facility in Ashburn, Va., Friday, April 28, 2023. (AP Photo/Luis M. Alvarez)
1 of 8
Washington Commanders head coach Ron Riviera, left, poses with first-round draft pick Mississippi State cornerback Emmanuel Forbes, right, during a news conference at the team's NFL football training facility in Ashburn, Va., Friday, April 28, 2023. (AP Photo/Luis M. Alvarez)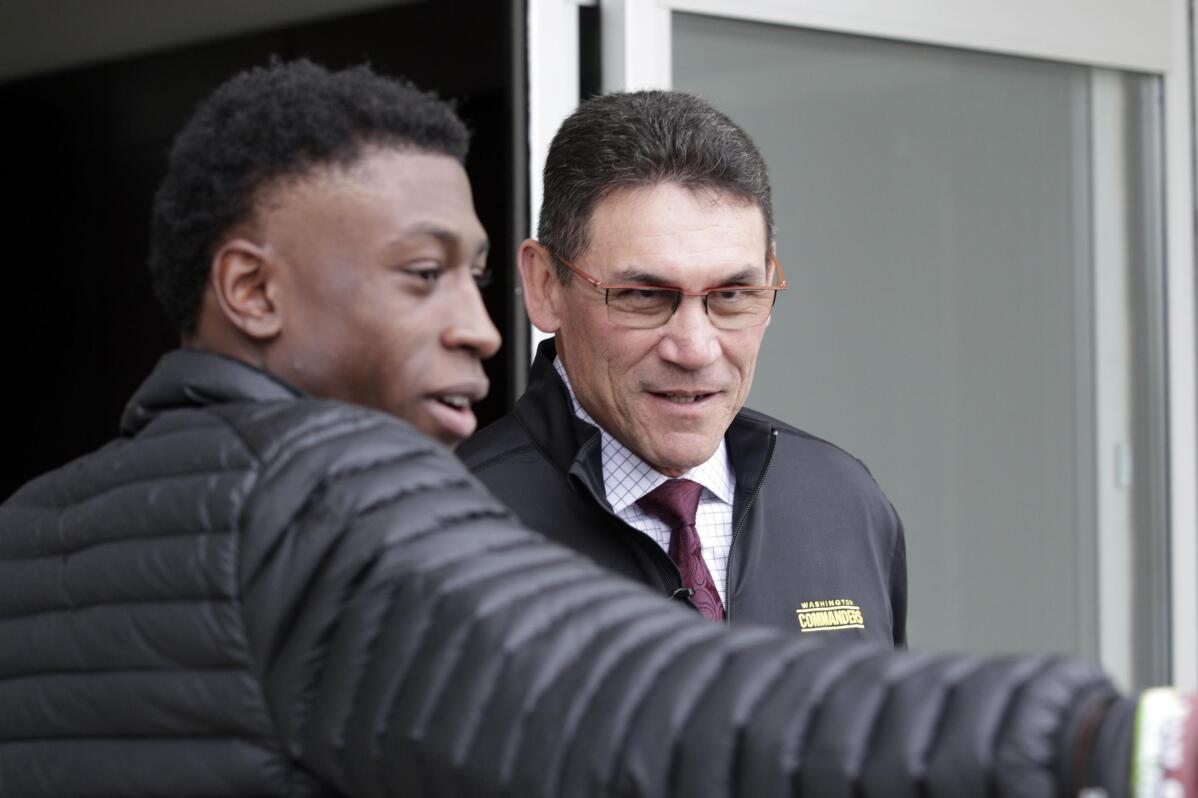 2 of 8

|
Washington Commanders first-round draft pick Mississippi State cornerback Emmanuel Forbes, left, introduces his family to head coach Ron Riviera, right, as he arrives for news conference at the team's NFL football training facility in Ashburn, Va., Friday, April 28, 2023. (AP Photo/Luis M. Alvarez)
2 of 8
Washington Commanders first-round draft pick Mississippi State cornerback Emmanuel Forbes, left, introduces his family to head coach Ron Riviera, right, as he arrives for news conference at the team's NFL football training facility in Ashburn, Va., Friday, April 28, 2023. (AP Photo/Luis M. Alvarez)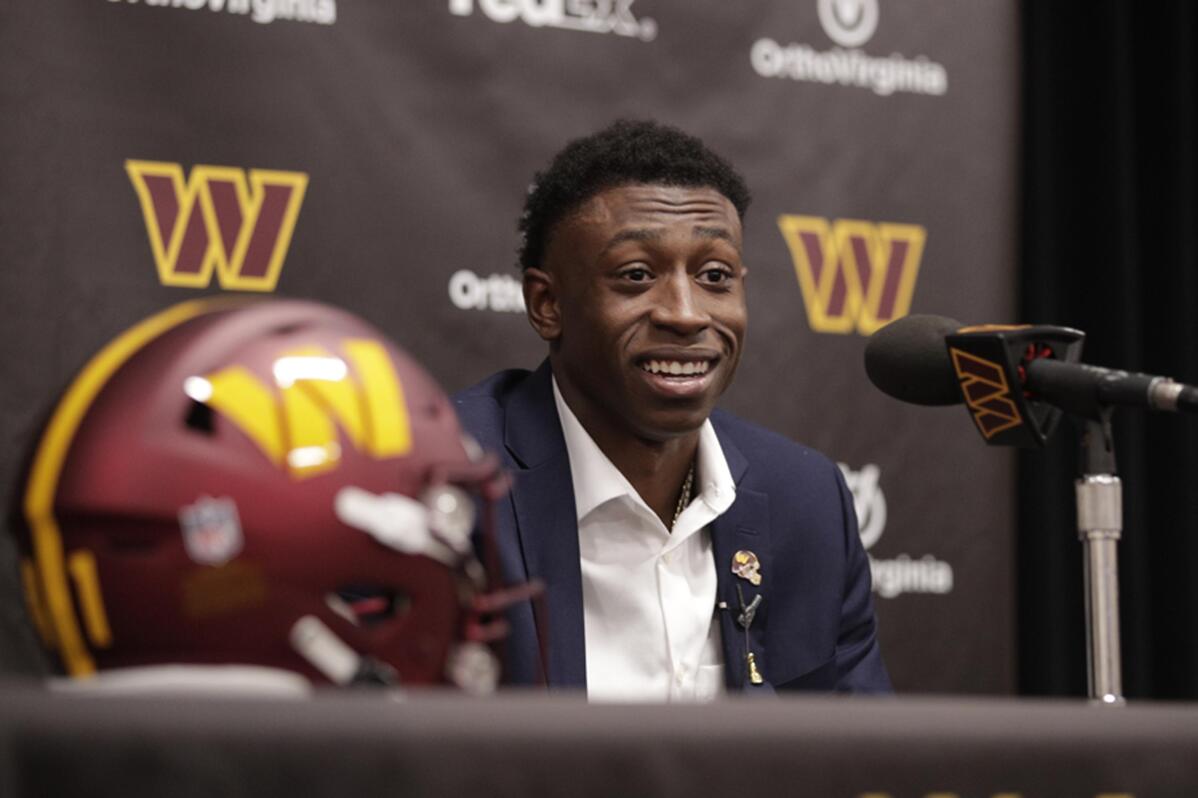 3 of 8

|
Washington Commanders first-round draft pick Mississippi State cornerback Emmanuel Forbes, talks during a news conference at the team's NFL football training facility in Ashburn, Va., Friday, April 28, 2023. (AP Photo/Luis M. Alvarez)
3 of 8
Washington Commanders first-round draft pick Mississippi State cornerback Emmanuel Forbes, talks during a news conference at the team's NFL football training facility in Ashburn, Va., Friday, April 28, 2023. (AP Photo/Luis M. Alvarez)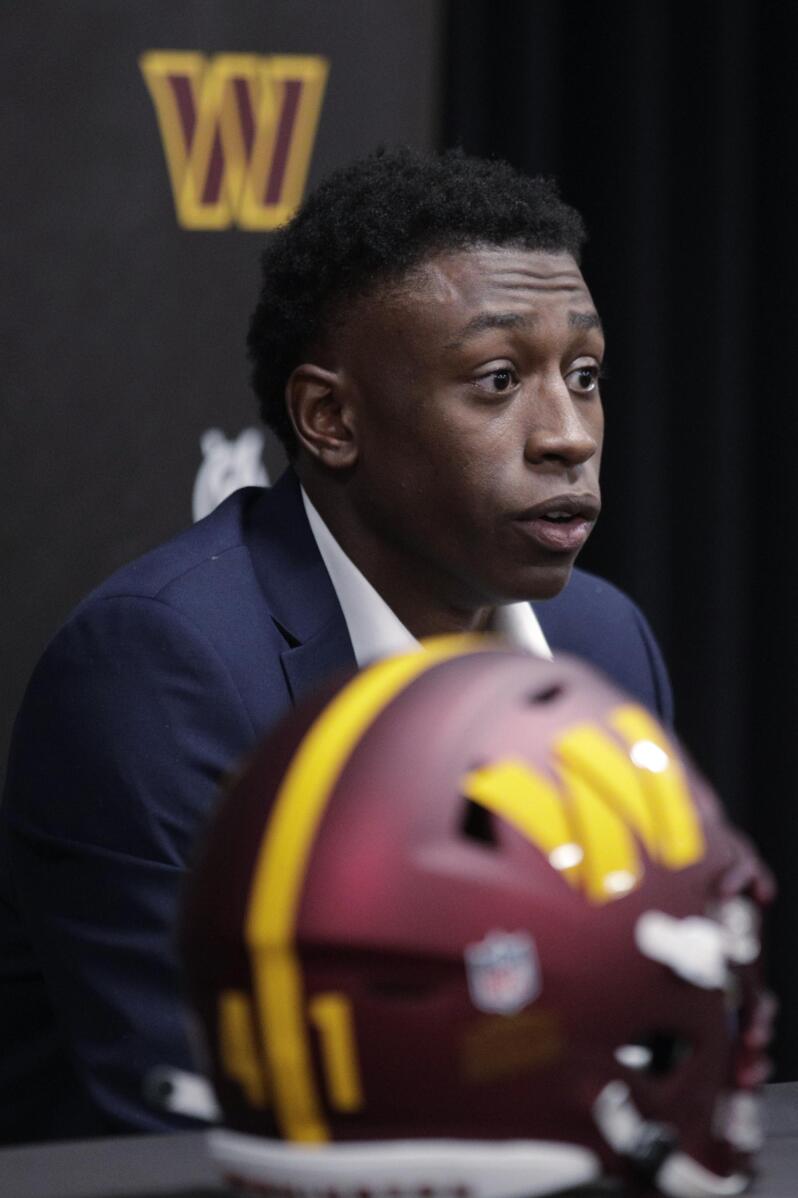 4 of 8

|
The Washington Commanders' first-round draft pick, Mississippi State cornerback Emmanuel Forbes, speaks during a news conference at the NFL football team's training facility in Ashburn, Va., Friday, April 28, 2023. (AP Photo/Luis M. Alvarez)
4 of 8
The Washington Commanders' first-round draft pick, Mississippi State cornerback Emmanuel Forbes, speaks during a news conference at the NFL football team's training facility in Ashburn, Va., Friday, April 28, 2023. (AP Photo/Luis M. Alvarez)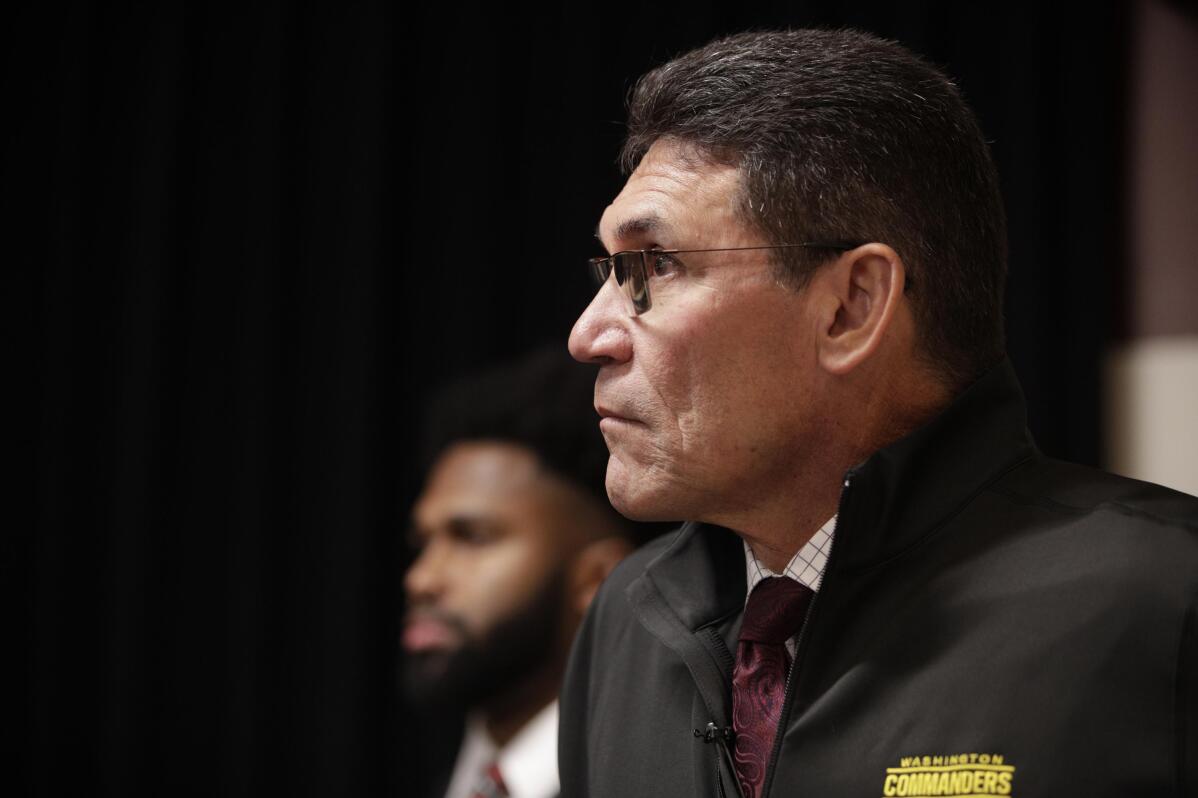 5 of 8

|
Washington Commanders head coach Ron Riviera, right, listens to first-round draft pick Mississippi State cornerback Emmanuel Forbes (not shown) during a news conference at the team's NFL football training facility in Ashburn, Va., Friday, April 28, 2023. (AP Photo/Luis M. Alvarez)
5 of 8
Washington Commanders head coach Ron Riviera, right, listens to first-round draft pick Mississippi State cornerback Emmanuel Forbes (not shown) during a news conference at the team's NFL football training facility in Ashburn, Va., Friday, April 28, 2023. (AP Photo/Luis M. Alvarez)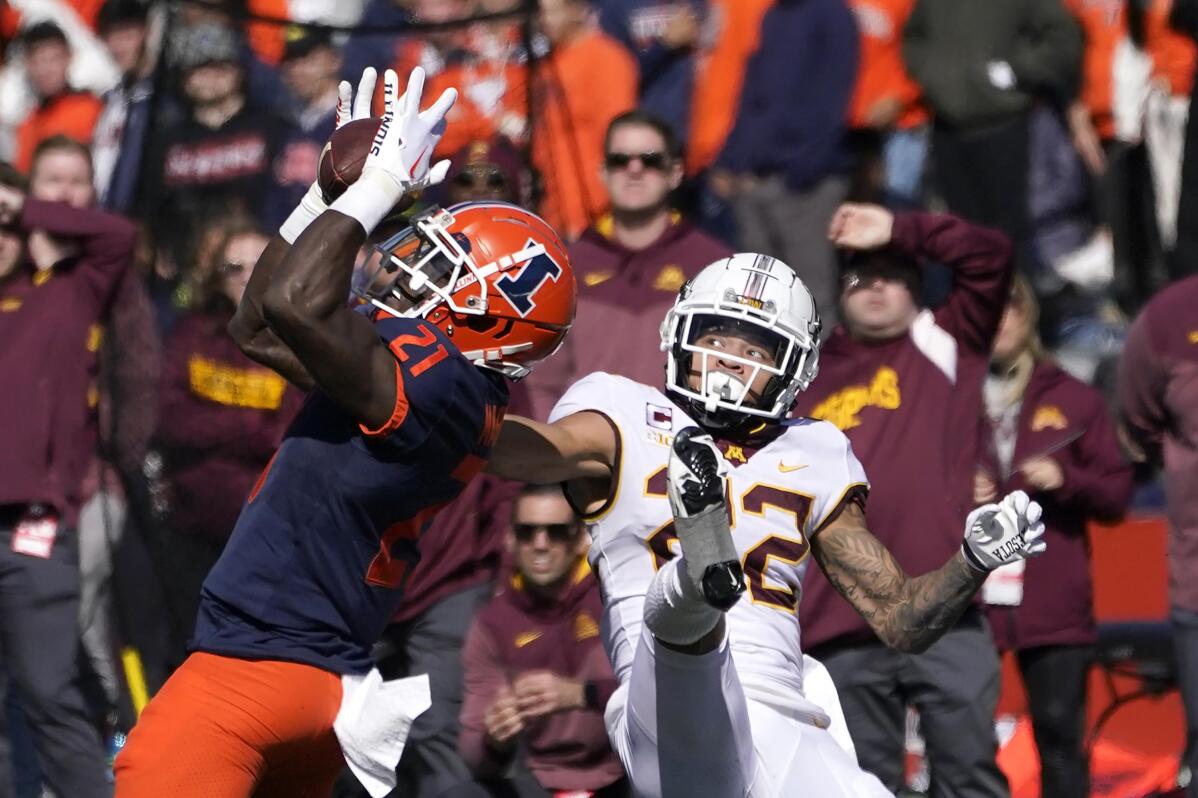 6 of 8

|
FILE - Illinois defensive back Jartavius Martin (21) intercepts a pass from Minnesota backup quarterback Athan Kaliakmanis intended for wide receiver Michael Brown-Stephens, right, during an NCAA college football game Oct. 15, 2022, in Champaign, Ill. The Washington Commanders continued bolstering their secondary in the second round of the NFL draft Friday, April 28, taking Martin with the 47th pick. Martin, whose given name is Jartavius but prefers to go by Quan, was a five-year starter with the Illini. (AP Photo/Charles Rex Arbogast, File)
6 of 8
FILE - Illinois defensive back Jartavius Martin (21) intercepts a pass from Minnesota backup quarterback Athan Kaliakmanis intended for wide receiver Michael Brown-Stephens, right, during an NCAA college football game Oct. 15, 2022, in Champaign, Ill. The Washington Commanders continued bolstering their secondary in the second round of the NFL draft Friday, April 28, taking Martin with the 47th pick. Martin, whose given name is Jartavius but prefers to go by Quan, was a five-year starter with the Illini. (AP Photo/Charles Rex Arbogast, File)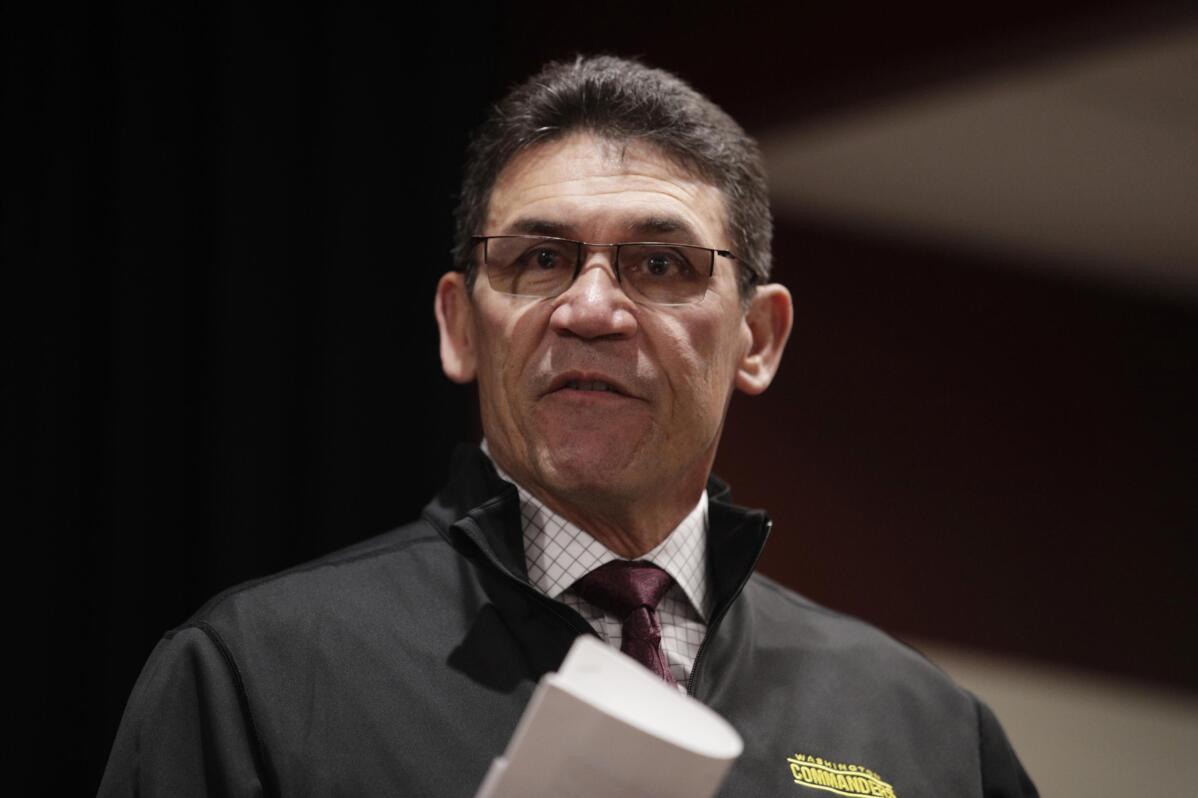 7 of 8

|
Washington Commanders coach Ron Riviera speaks before introducing the NFL football team's first-round draft pick, Mississippi State cornerback Emmanuel Forbes, during a news conference in Ashburn, Va., Friday, April 28, 2023. (AP Photo/Luis M. Alvarez)
7 of 8
Washington Commanders coach Ron Riviera speaks before introducing the NFL football team's first-round draft pick, Mississippi State cornerback Emmanuel Forbes, during a news conference in Ashburn, Va., Friday, April 28, 2023. (AP Photo/Luis M. Alvarez)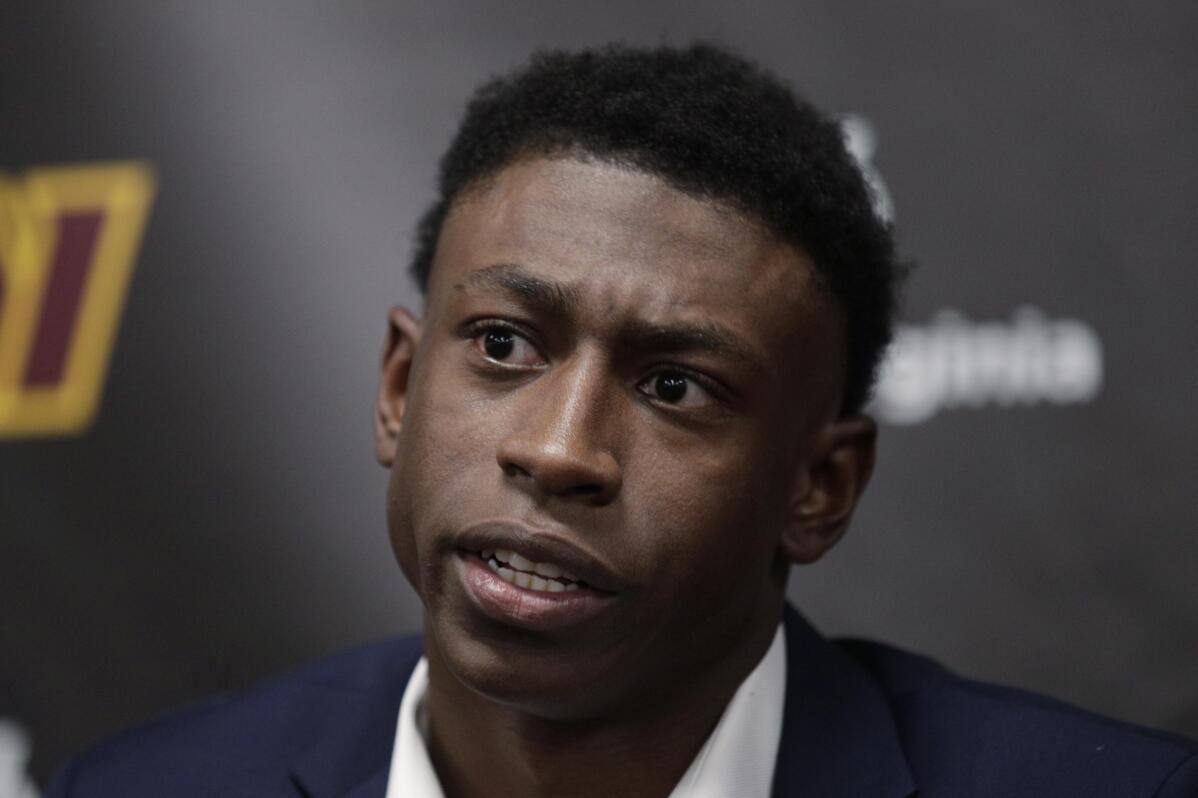 8 of 8

|
Washington Commanders first-round draft pick Emmanuel Forbes, a cornerback from Mississippi State, speaks during a news conference at the NFL football team's training facility in Ashburn, Va., Friday, April 28, 2023. (AP Photo/Luis M. Alvarez)
8 of 8
Washington Commanders first-round draft pick Emmanuel Forbes, a cornerback from Mississippi State, speaks during a news conference at the NFL football team's training facility in Ashburn, Va., Friday, April 28, 2023. (AP Photo/Luis M. Alvarez)
ASHBURN, Va. (AP) — After missing the playoffs despite having the third-ranked defense in the league, the Washington Commanders coaching staff had a good idea what was missing and what could be added in the NFL draft.
For all the sacks, tackles and quarterback hits, they forced just 18 turnovers — seventh fewest of any team. So, the Commanders used their first-round pick on the college leader in pick-6s, their second on another opportunistic defensive back and traded up in the fifth for a disruptive edge rusher.
"The top 10 teams in turnovers, nine made the playoffs," defensive backs coach Brent Vieselmeyer said. "Obviously turnovers are a huge deal in the league, so any time you can get that (it's important)."
Washington got someone coach Ron Rivera called a "turnover machine" in Mississippi State cornerback Emmanuel Forbes, the 16th pick in the first round, and went right back to the secondary for versatile Illinois defender Quan Martin. Filling holes in that area should only help the front four led by defensive tackle Jonathan Allen and Daron Payne and end Montez Sweat wreak even more havoc.
"It helps us out a lot," Allen said Saturday at the team's draft party in Oxon Hill, Maryland. "When you've got DBs who can lock down and play cover ball all day, it makes my job easier, Payne's job, Sweat, James (Smith-Williams) — everybody's job easier. I'm looking forward to it."
Even that unit got some help when the Commanders moved up to take Clemson edge rusher KJ Henry with the third pick in the fifth round. With Sweat and 2020 Defensive Rookie of the Year Chase Young — whose fifth-year option won't be picked up — on the path to be free agents after next season, Henry could be part of the replacement plan.
The process of replacing ineffective offensive linemen is already underway and took another step forward at this draft. After signing Andrew Wyllie and Nick Gates in free agency, the Commanders took Arkansas interior lineman Ricky Stromberg in the third round and Utah's versatile Braeden Daniels in the fourth.
Rivera has long valued positional flexibility: Martin can play safety and cornerback, and Daniels has started at multiple tackle and guard spots.
Stromberg might also be able to move around inside, and general manager Martin Mayhew thinks highly of him.
"The offense is still coming together with (offensive coordinator Eric Bieniemy) being new, but he's very versatile," Mayhew said of Stromberg. "The guy's powerful. He's strong. He's athletic enough. I think he's going to help us pretty soon."
A year after taking several more polished prospects ready to help right away over long-term projects with perhaps better long-term potential, this draft was a smoother mix for Washington. Right away, the secondary has become a position of strength just after adding Forbes and Martin.
"It's going to be a very fun defense to watch," Forbes said. "You'll see. I like the defense that we're on, and we're just ready to go out there and compete."
The offense, expected to be led at QB by second-year pro Sam Howell or free agent addition Jacoby Brissett, should be more effective, too. And on Day 3 of the draft, Washington took Kentucky running back Chris Rodriguez Jr. in the sixth round, someone who looked up to and played against Antonio Gibson and can complement him and Brian Robinson Jr.
"I'm going to give them my best, 24/7," Rodriguez said. "There's not going be a day that I take a day off. I'm not going take a rep off. This is something I've been dreaming for my whole life and it's coming true, so it's time to get to it."
___
AP NFL: https://apnews.com/hub/nfl and https://twitter.com/AP_NFL