Heinicke says he signed with Falcons to be Ridder's backup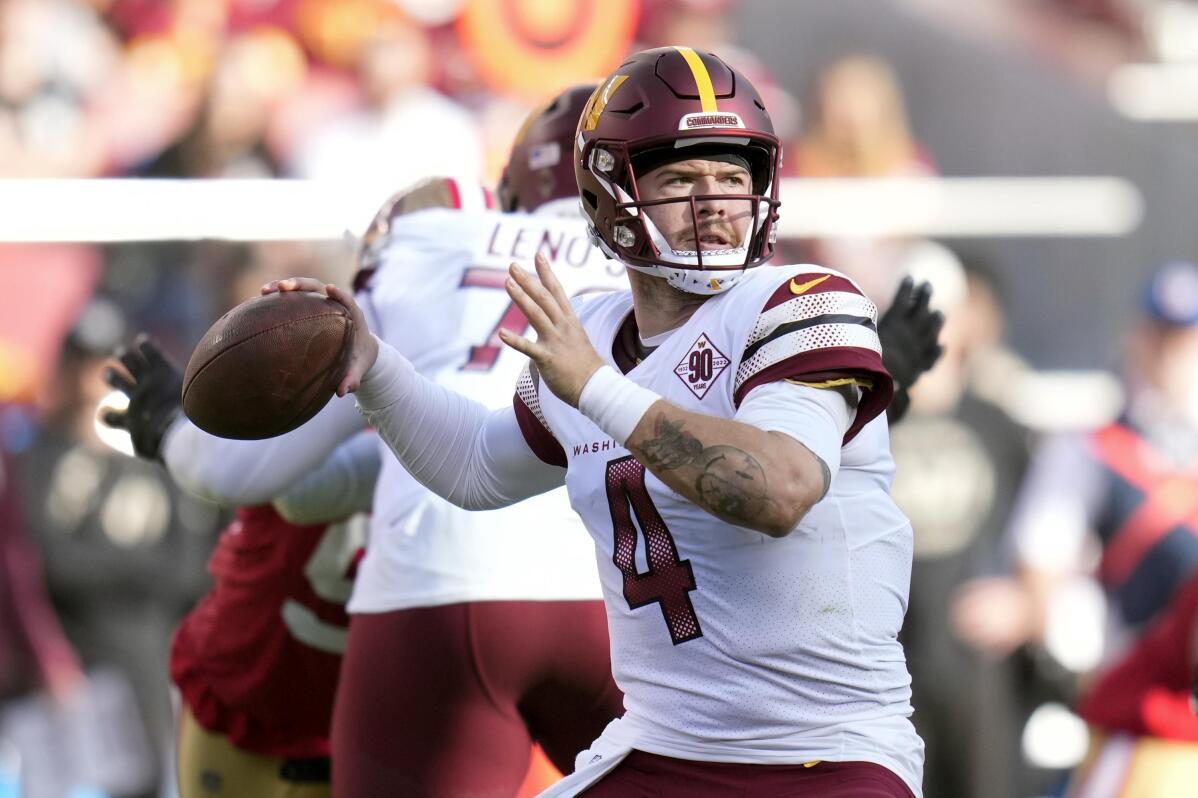 1 of 2

|
FILE - Washington Commanders quarterback Taylor Heinicke throws to a receiver in the first half of an NFL football game against the San Francisco 49ers, Saturday, Dec. 24, 2022, in Santa Clara, Calif. Setting up a competition at quarterback, the Atlanta Falcons have agreed to terms with Taylor Heinicke on a two-year contract worth up to $20 million, a person with knowledge of the deal told The Associated Press, Tuesday, March 14, 2023. (AP Photo/Godofredo A. Vásquez, File)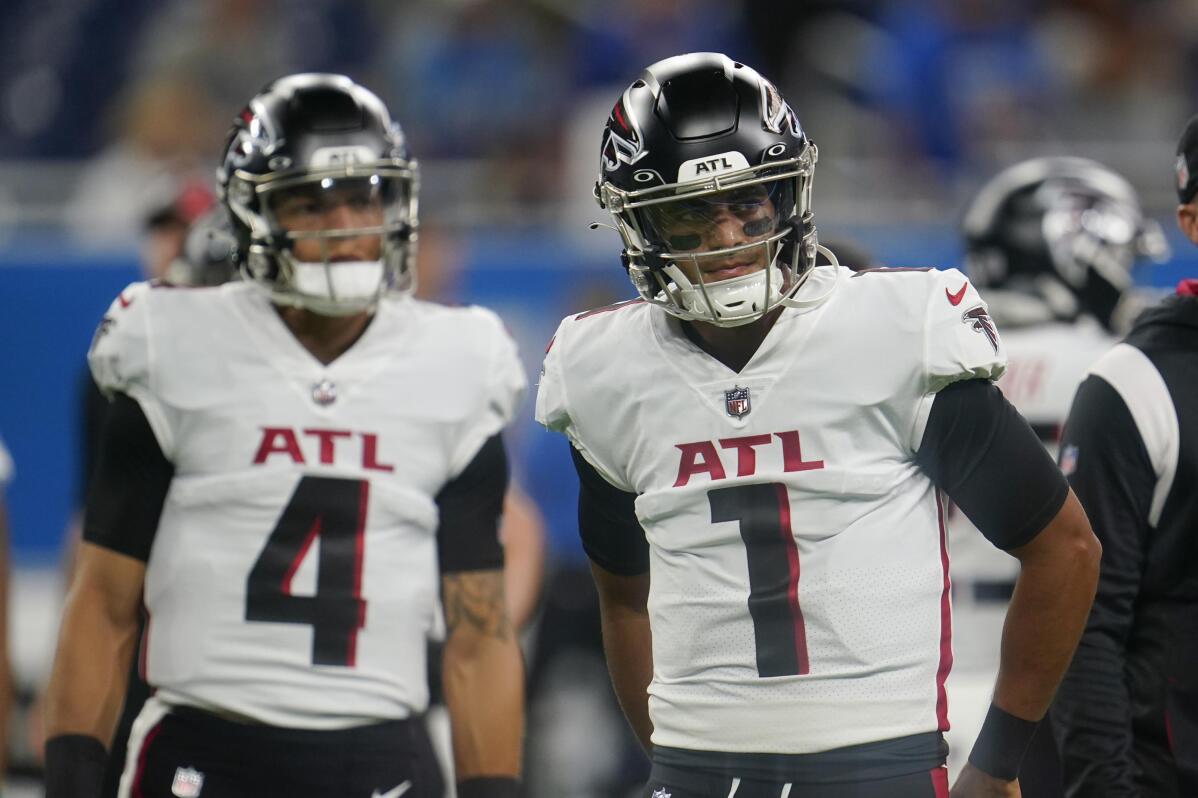 2 of 2

|
FILE - Atlanta Falcons quarterbacks Marcus Mariota (1) and Desmond Ridder (4) prepare before a preseason NFL football game against the Detroit Lions in Detroit, Friday, Aug. 12, 2022. The Atlanta Falcons released quarterback Marcus Mariota on Tuesday, Feb. 28, 2023, in a move that was expected after the veteran was benched late in the 2022 season.The Falcons were 5-8 with Mariota as the starter before rookie Desmond Ridder started the final four games, winning two. (AP Photo/Paul Sancya, FILE)
Heinicke says he signed with Falcons to be Ridder's backup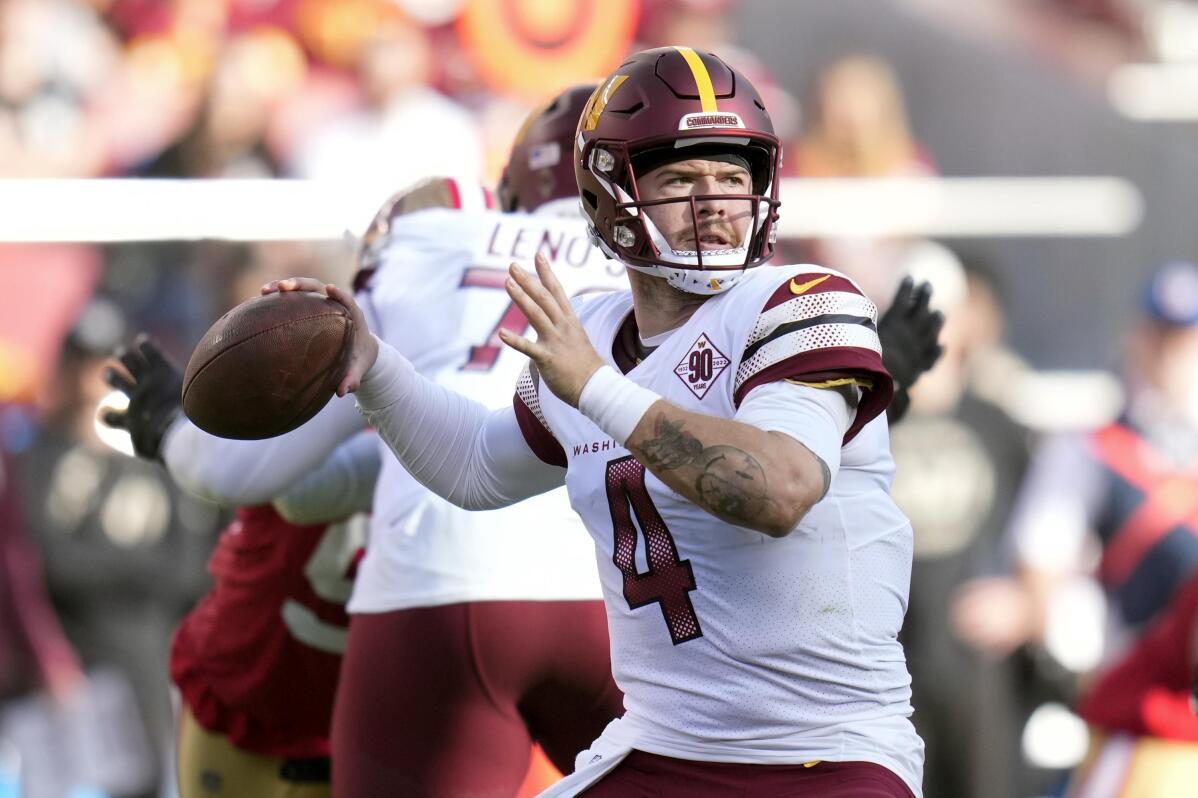 1 of 2

|
FILE - Washington Commanders quarterback Taylor Heinicke throws to a receiver in the first half of an NFL football game against the San Francisco 49ers, Saturday, Dec. 24, 2022, in Santa Clara, Calif. Setting up a competition at quarterback, the Atlanta Falcons have agreed to terms with Taylor Heinicke on a two-year contract worth up to $20 million, a person with knowledge of the deal told The Associated Press, Tuesday, March 14, 2023. (AP Photo/Godofredo A. Vásquez, File)
1 of 2
FILE - Washington Commanders quarterback Taylor Heinicke throws to a receiver in the first half of an NFL football game against the San Francisco 49ers, Saturday, Dec. 24, 2022, in Santa Clara, Calif. Setting up a competition at quarterback, the Atlanta Falcons have agreed to terms with Taylor Heinicke on a two-year contract worth up to $20 million, a person with knowledge of the deal told The Associated Press, Tuesday, March 14, 2023. (AP Photo/Godofredo A. Vásquez, File)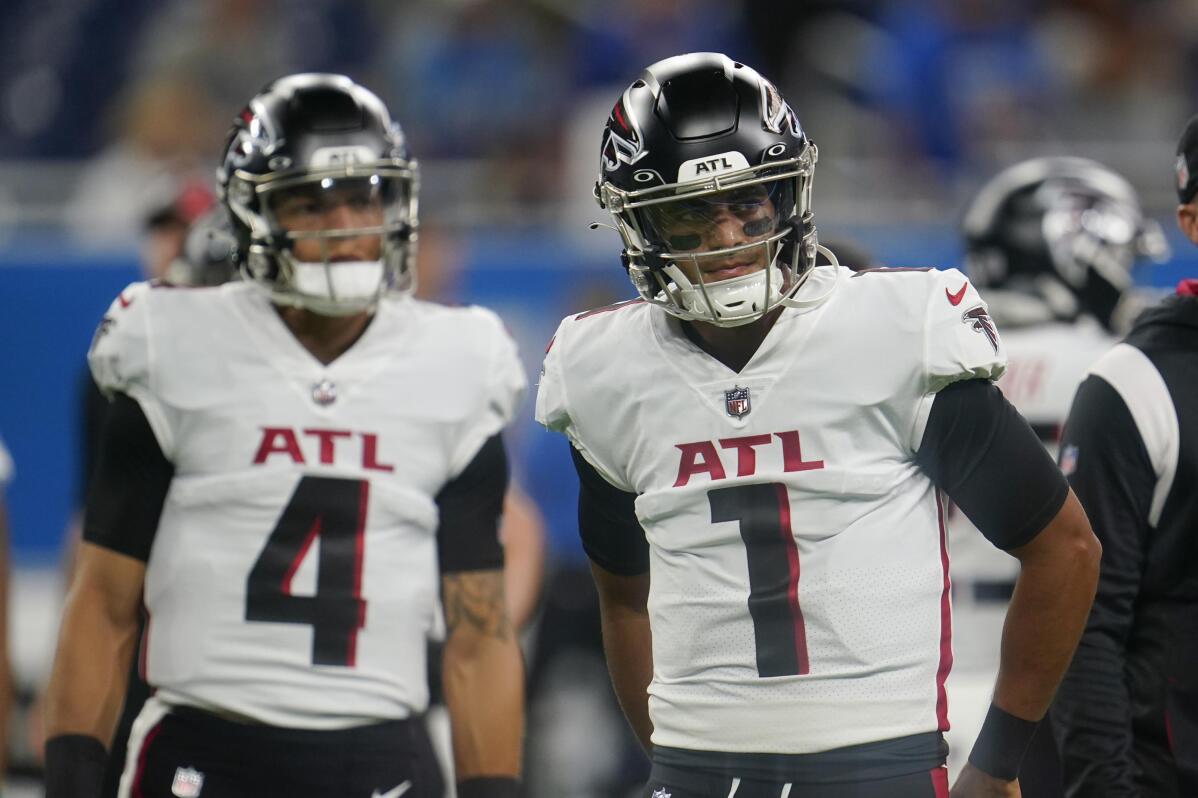 2 of 2

|
FILE - Atlanta Falcons quarterbacks Marcus Mariota (1) and Desmond Ridder (4) prepare before a preseason NFL football game against the Detroit Lions in Detroit, Friday, Aug. 12, 2022. The Atlanta Falcons released quarterback Marcus Mariota on Tuesday, Feb. 28, 2023, in a move that was expected after the veteran was benched late in the 2022 season.The Falcons were 5-8 with Mariota as the starter before rookie Desmond Ridder started the final four games, winning two. (AP Photo/Paul Sancya, FILE)
2 of 2
FILE - Atlanta Falcons quarterbacks Marcus Mariota (1) and Desmond Ridder (4) prepare before a preseason NFL football game against the Detroit Lions in Detroit, Friday, Aug. 12, 2022. The Atlanta Falcons released quarterback Marcus Mariota on Tuesday, Feb. 28, 2023, in a move that was expected after the veteran was benched late in the 2022 season.The Falcons were 5-8 with Mariota as the starter before rookie Desmond Ridder started the final four games, winning two. (AP Photo/Paul Sancya, FILE)
ATLANTA (AP) — Desmond Ridder's status as the Atlanta Falcons' starting quarterback was confirmed by his new backup, Taylor Heinicke, on Thursday.
Heinicke signed his two-year contract with the Falcons believed to be worth up to $20 million on Thursday and then said his job will be to support Ridder, who started the final four games of the 2022 season as a rookie.
That was a surprise to anyone who assumed Heinicke, who has 25 career starts in five seasons with Houston, Carolina and Washington, would compete with Ridder for the starting job.
When asked his mindset going into the 2023 season with Ridder as the returning starter, Heinicke said "Try to be the best backup I can to him. Try to help him in any way I can."
Heinicke said his backup role was made clear to him by the Falcons, eliminating any perception of a competition at the position in training camp.
"Yeah, they drafted him high last year for a reason," Heinicke said of Ridder, who was a third-round draft pick from Cincinnati. "They believe in him for a reason. He showed some good film last year. Again, if something unfortunate happens to him I'll be ready to go."
Heinicke, 30, will provide experience the Falcons lacked at quarterback after releasing Marcus Mariota on Feb. 28. Mariota opened the 2022 season as the starter before Ridder posted a 2-2 record in the final four games to cap a 7-10 season.
Ridder completed 63.5% of his passes for 708 yards with two touchdowns and no interceptions. He also rushed for 64 yards while being sacked nine times.
Heinicke started 24 games the past two seasons for the Washington Commanders. He said he was close to re-signing with Washington before being won over by a more attractive offer from Atlanta.
Heinicke, who was born in Lawrenceville, Georgia, and played at Collins Hills High School in suburban Atlanta, said he was influenced by the family draw to Atlanta even though it was difficult to leave Washington.
"It was very tough," he said. "I feel like that's a home for me. I've got a lot of great relationships there. I've got a lot of great memories there. They gave me my second chance at football and there's a lot of special people there. I'm going from one home to another so it's a pretty easy process but I'd be lying to you not to say I was a little heartbroken to leave those people up there."
By committing to Ridder as the starter and signing Heinicke, the Falcons saved salary cap space to build their roster as they hope to end a streak of five consecutive losing seasons. The team also officially signed safety Jessie Bates III to a $64 million, four-year contract and linebacker Kaden Elliss to a three-year contract on Thursday.
The Falcons also have added defensive lineman David Onyemata, who played with Elliss in New Orleans, to a three-year deal while re-signing Pro Bowl guard Chris Lindstrom, right tackle Kaleb McGary, outside linebacker Lorenzo Carter and fullback Keith Smith.
Bates said he "checked in" with Onyemata and Elliss "and really figure out who each other were" as the three discussed their new roles in Atlanta.
___
AP NFL: https://apnews.com/hub/nfl and https://twitter.com/AP_NFL