Ravens haven't abandoned hope of reaching playoffs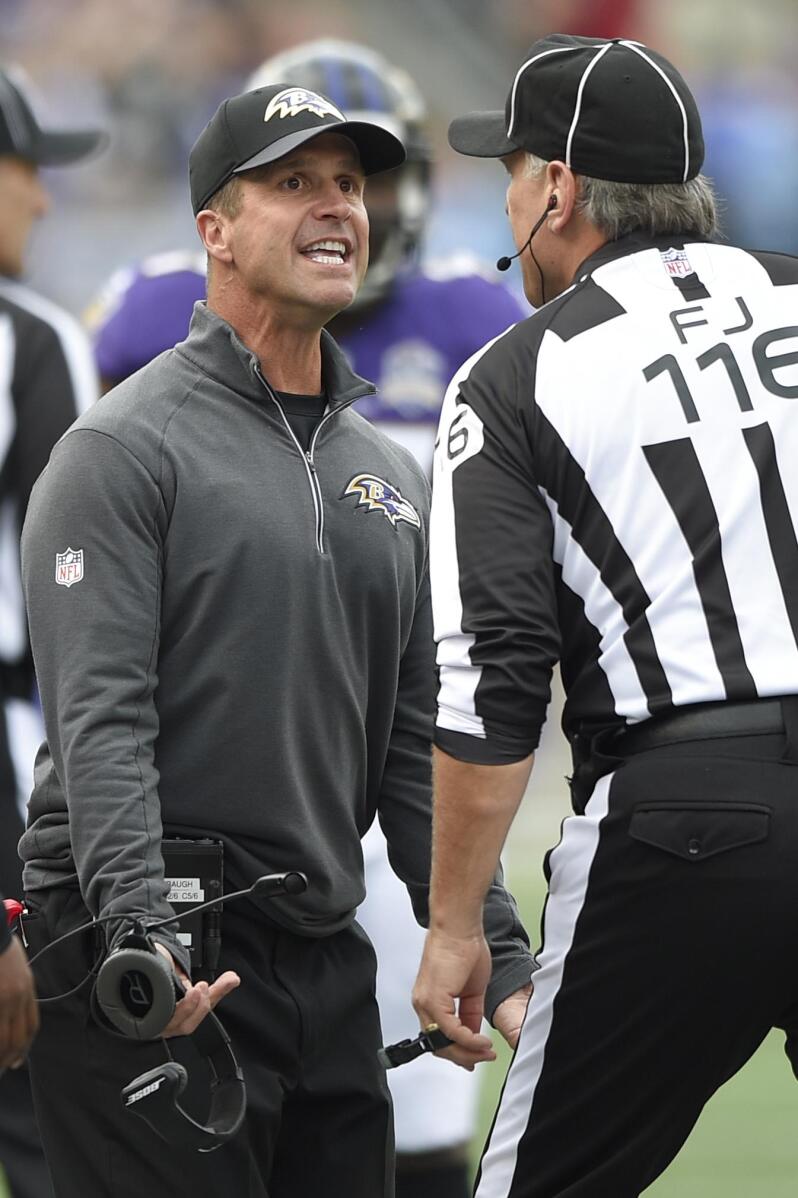 1 of 3

|
Baltimore Ravens head coach John Harbaugh argues with side judge Mike Weatherford (116) during the first half of an NFL football game against the San Diego Chargers in Baltimore, Sunday, Nov. 1, 2015. (AP Photo/Nick Wass)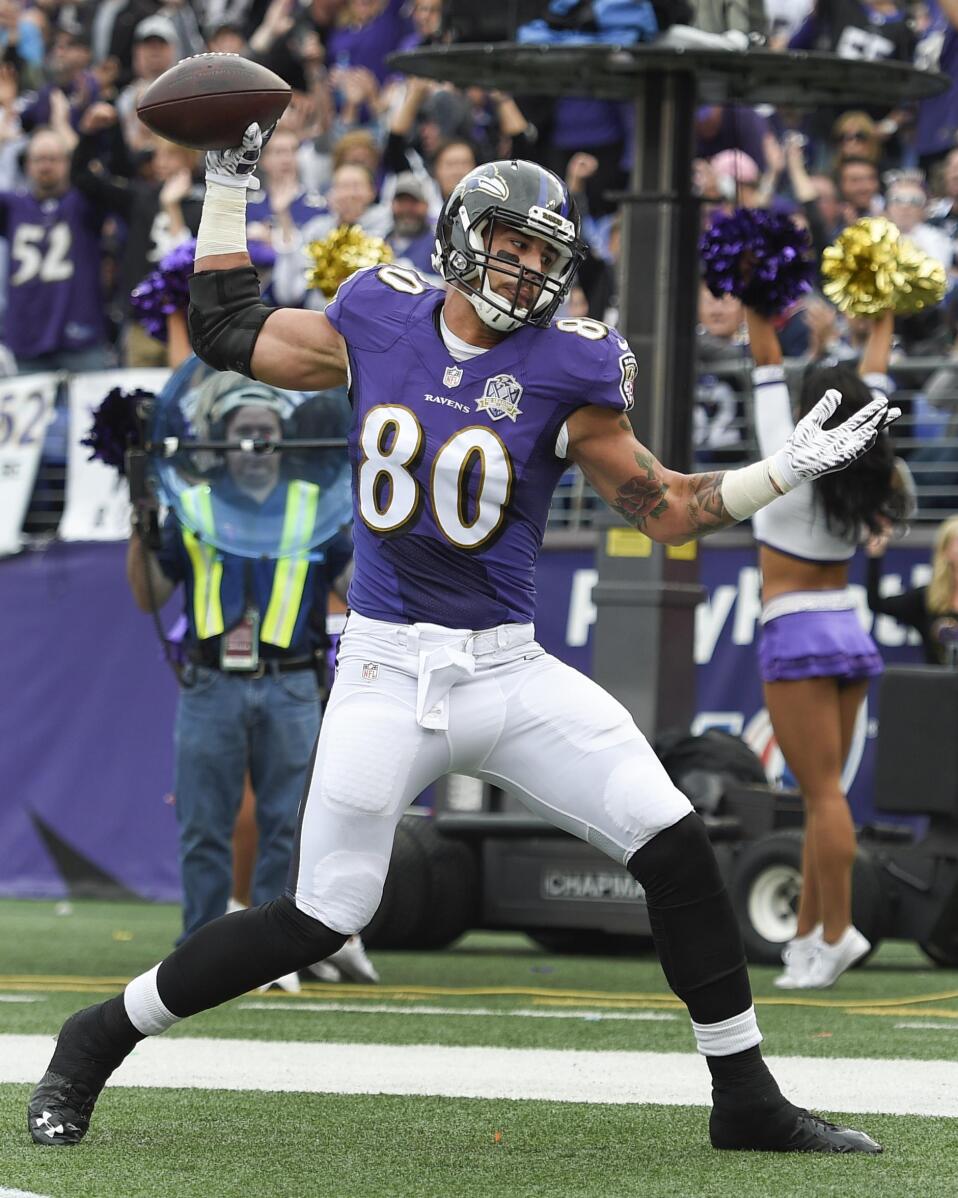 2 of 3

|
Baltimore Ravens tight end Crockett Gillmore (80) celebrates his touchdown during the first half of an NFL football game against the San Diego Chargers in Baltimore, Sunday, Nov. 1, 2015. (AP Photo/Nick Wass)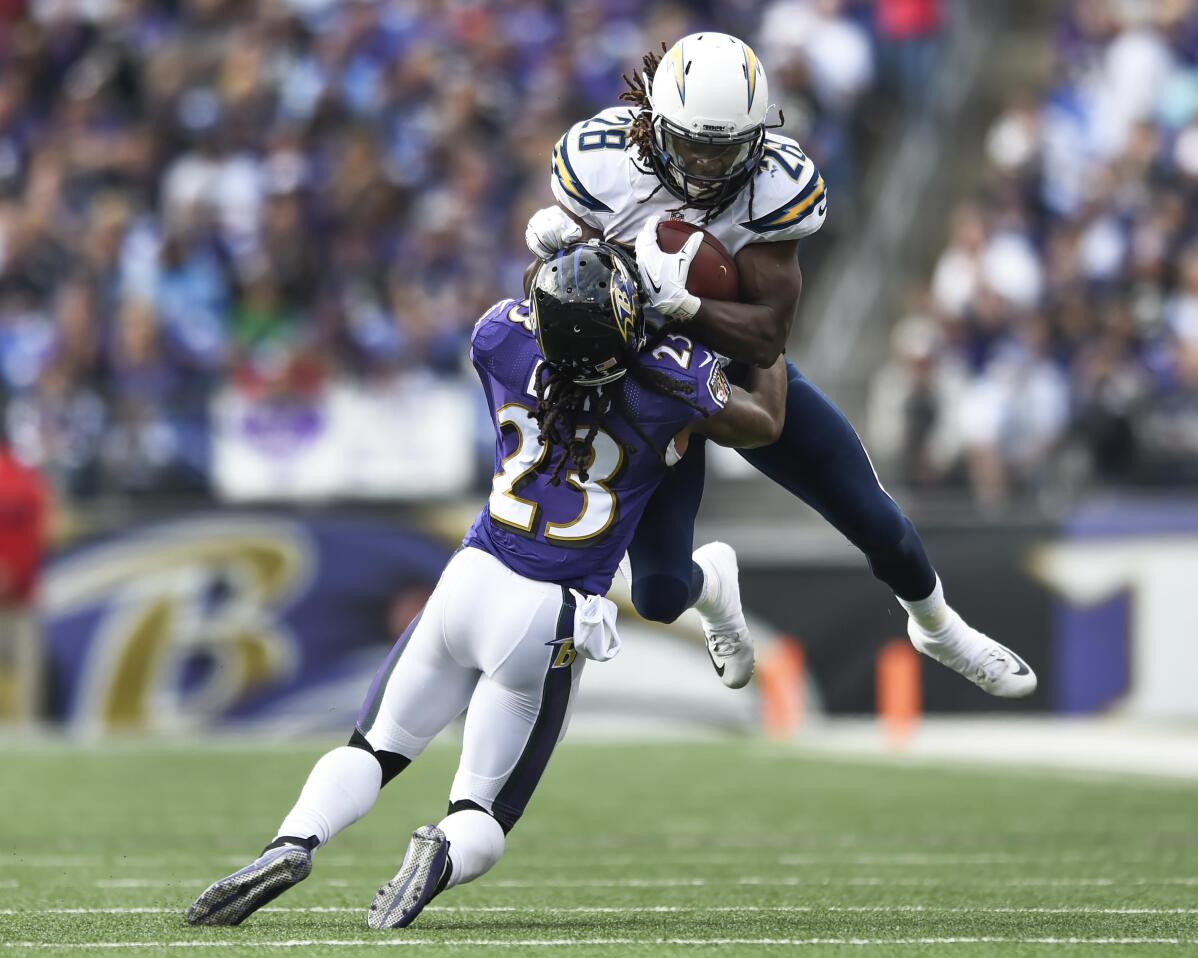 3 of 3

|
Baltimore Ravens free safety Kendrick Lewis (23) stops San Diego Chargers running back Melvin Gordon (28) in midair during the first half of an NFL football game in Baltimore, Sunday, Nov. 1, 2015. (AP Photo/Gail Burton)
Ravens haven't abandoned hope of reaching playoffs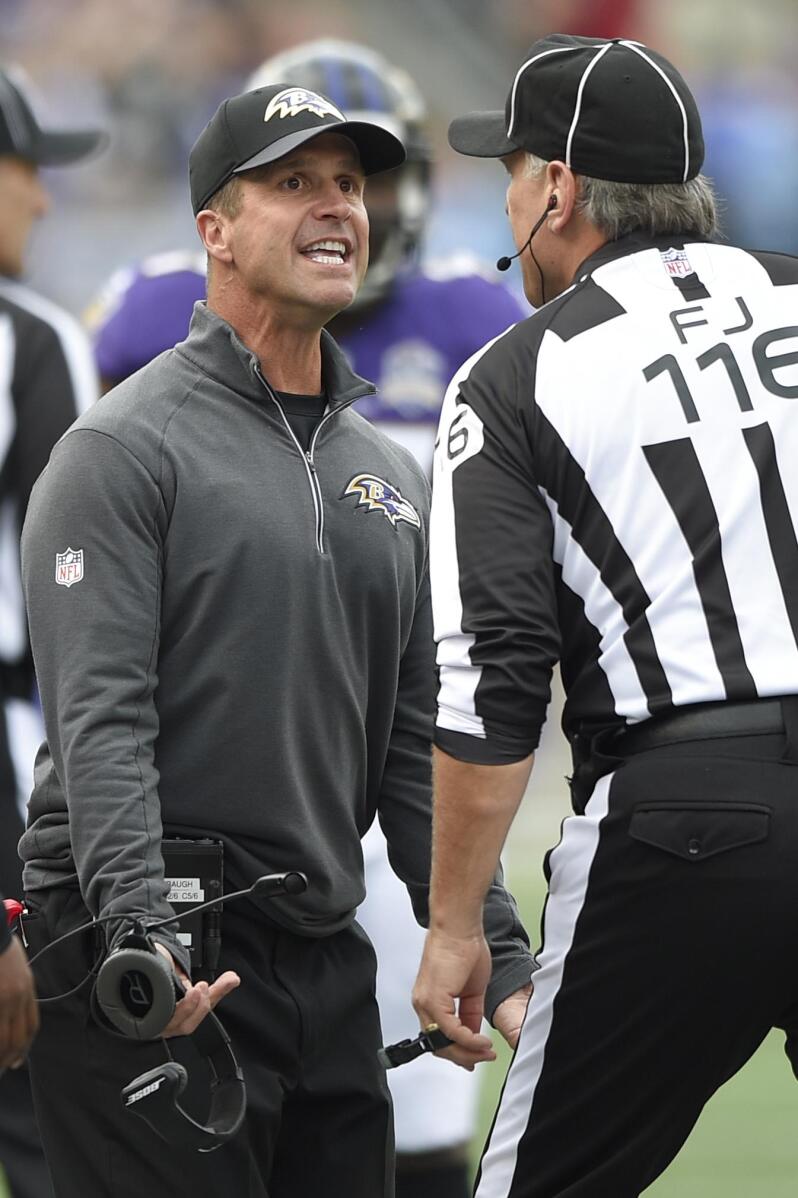 1 of 3

|
Baltimore Ravens head coach John Harbaugh argues with side judge Mike Weatherford (116) during the first half of an NFL football game against the San Diego Chargers in Baltimore, Sunday, Nov. 1, 2015. (AP Photo/Nick Wass)
1 of 3
Baltimore Ravens head coach John Harbaugh argues with side judge Mike Weatherford (116) during the first half of an NFL football game against the San Diego Chargers in Baltimore, Sunday, Nov. 1, 2015. (AP Photo/Nick Wass)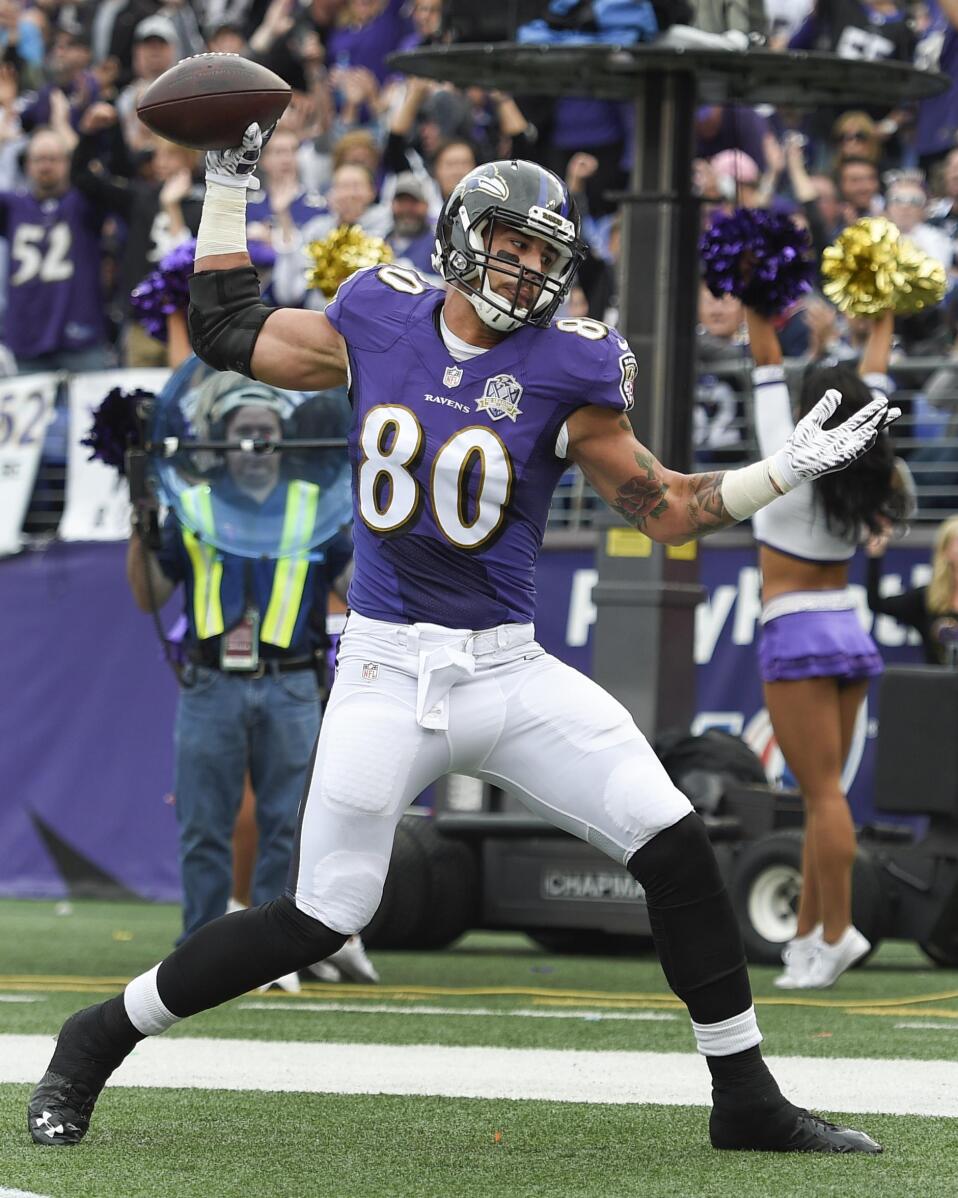 2 of 3

|
Baltimore Ravens tight end Crockett Gillmore (80) celebrates his touchdown during the first half of an NFL football game against the San Diego Chargers in Baltimore, Sunday, Nov. 1, 2015. (AP Photo/Nick Wass)
2 of 3
Baltimore Ravens tight end Crockett Gillmore (80) celebrates his touchdown during the first half of an NFL football game against the San Diego Chargers in Baltimore, Sunday, Nov. 1, 2015. (AP Photo/Nick Wass)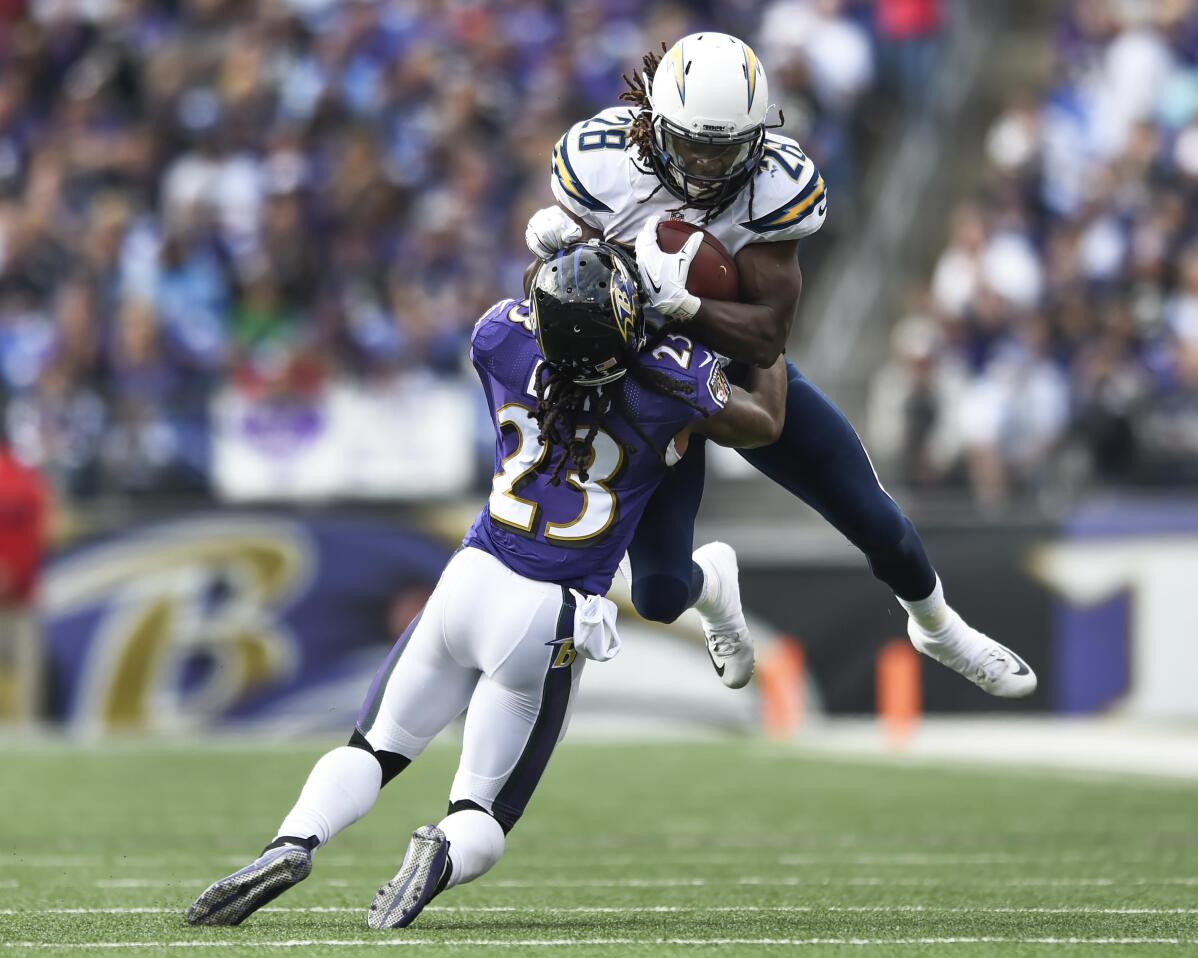 3 of 3

|
Baltimore Ravens free safety Kendrick Lewis (23) stops San Diego Chargers running back Melvin Gordon (28) in midair during the first half of an NFL football game in Baltimore, Sunday, Nov. 1, 2015. (AP Photo/Gail Burton)
3 of 3
Baltimore Ravens free safety Kendrick Lewis (23) stops San Diego Chargers running back Melvin Gordon (28) in midair during the first half of an NFL football game in Baltimore, Sunday, Nov. 1, 2015. (AP Photo/Gail Burton)
OWINGS MILLS, Md. (AP) — Given a week off to heal and reflect on what went wrong during the first half of the season, the Baltimore Ravens returned to work Monday with hopes of mounting an unprecedented playoff run.
Since the current NFL postseason format was devised in 1990, no team has started 1-6 and reached the playoffs. Baltimore (2-6), which entered its bye coming off a 29-27 victory over San Diego, intends to be the first.
"We're planning on it," coach John Harbaugh declared. "I'm very optimistic about what's in front of us, our future. I love our players, love the way they work, love the enthusiasm that they had today coming back."
During a miserable first half, the Ravens lost six games by a total of 30 points and were decimated by injuries, most notably to linebacker Terrell Suggs and receiver Steve Smith. Baltimore suffered through a pair of three-game losing streaks and won its only two games on last-second kicks by Justin Tucker.
"The first half of the season is gone. You can't do anything to bring that back or change anything about it," linebacker Daryl Smith said. "What we do have in front of us is the rest of our games. Our future is in front of us. We're not really thinking about what we've done, but it's all about what we're getting ready for."
It all begins with Sunday's home game against Jacksonville.
"We've had our share of losing," defensive tackle Timmy Jernigan said. "It's time to have some fun and smile a little bit after those football games."
The odds are clearly stacked against the Ravens, who probably have to win at least six of the last eight games to have a shot.
"That's why it's going to feel so much greater when we finally make it, coming back from this record and the first eight games of this season," cornerback Jimmy Smith said. "Let's make some history."
Before this season, Baltimore reached the playoffs in six of seven years under Harbaugh. That's why this season is so surprising.
"I expect our guys to have high expectations. The standard here has been high," the coach said. "We've set a high bar here for a long time and we're proud of that. We have high expectations, so we're not going to let those expectations go. We're not pleased with where we're at, just like the fans aren't pleased, the coaches aren't pleased, the players aren't pleased. Nobody in the organization is pleased with where we're at, but we're very determined to turn it around."
The schedule is favorable. Baltimore plays five of its last eight games at home, and two of the road games are against struggling Cleveland and Miami. So forgive the Ravens if they're talking playoffs at 2-6.
"It's definitely not impossible, not for a Ravens football team," Jimmy Smith said. "We're a cold-weather team, and the weather's getting cold. We're at home for a big portion of this stretch, so it's something that can happen."
On the injury front, second-year defensive end Brent Urban practiced Monday for the first time since tearing his biceps early in training camp.
"I was excited to get out there with my teammates, finally," Urban said. "It's been a long time coming."
Urban is on the injured reserve-designated to return list. The Ravens have 21 days to activate him or put him on season-ending IR. He has yet to play a game in the NFL after sitting out last season with a torn ACL.
The 21-day window for tight end Dennis Pitta expires Wednesday, when the Ravens must decide his status for this season. Pitta is seeking to return from a dislocated hip and is on the physically unable to perform list.
"If it's not safe, he's not going to play," Harbaugh said. "He wants to play; it's just a matter of whether it's going to be safe."
___
AP NFL website: www.pro32.ap.org and www.twitter.com/AP_NFL