AP source: NFL now reviewing Commanders sale agreement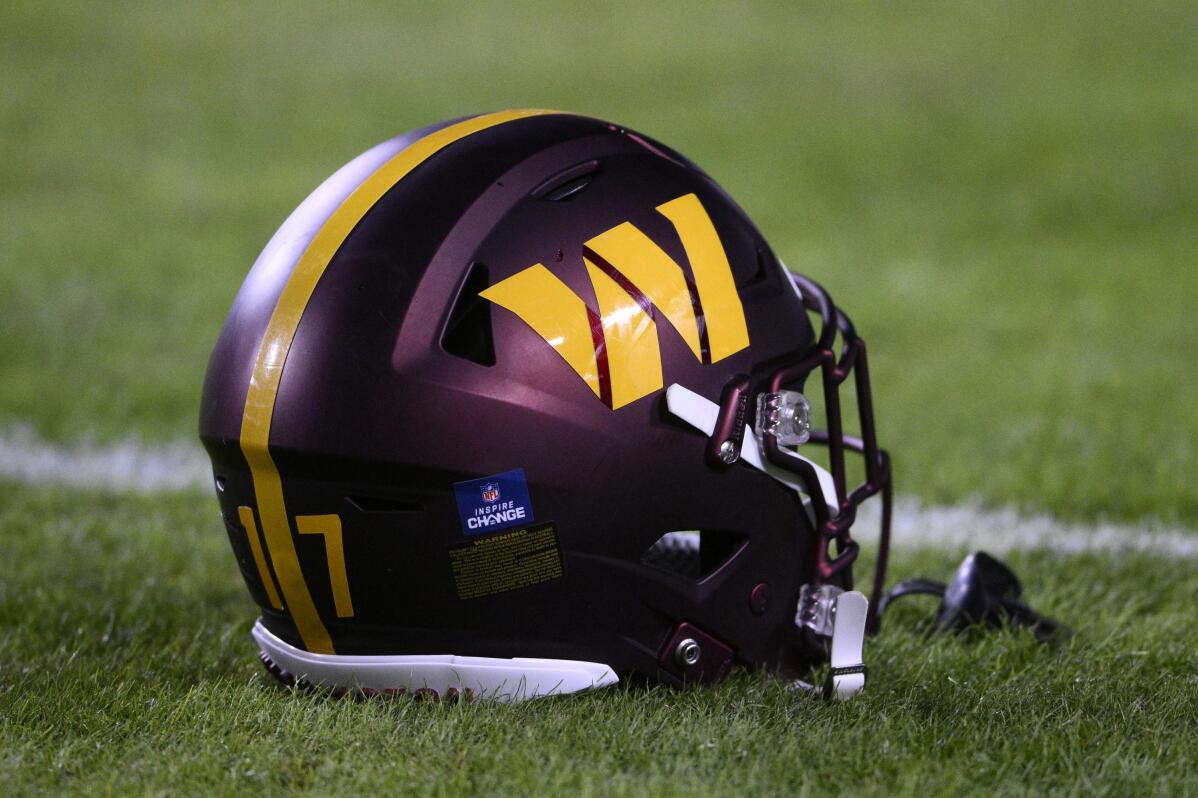 1 of 3

|
FILE - A Washington Commanders helmet is seen before an NFL football game against the New York Giants, Sunday, Dec. 18, 2022, in Landover, Md. Dan Snyder has an agreement in principle to sell the Washington Commanders to a group led by Josh Harris and Mitchell Rales that includes Magic Johnson for a North American professional sports team record $6.05 billion. (AP Photo/Nick Wass, File)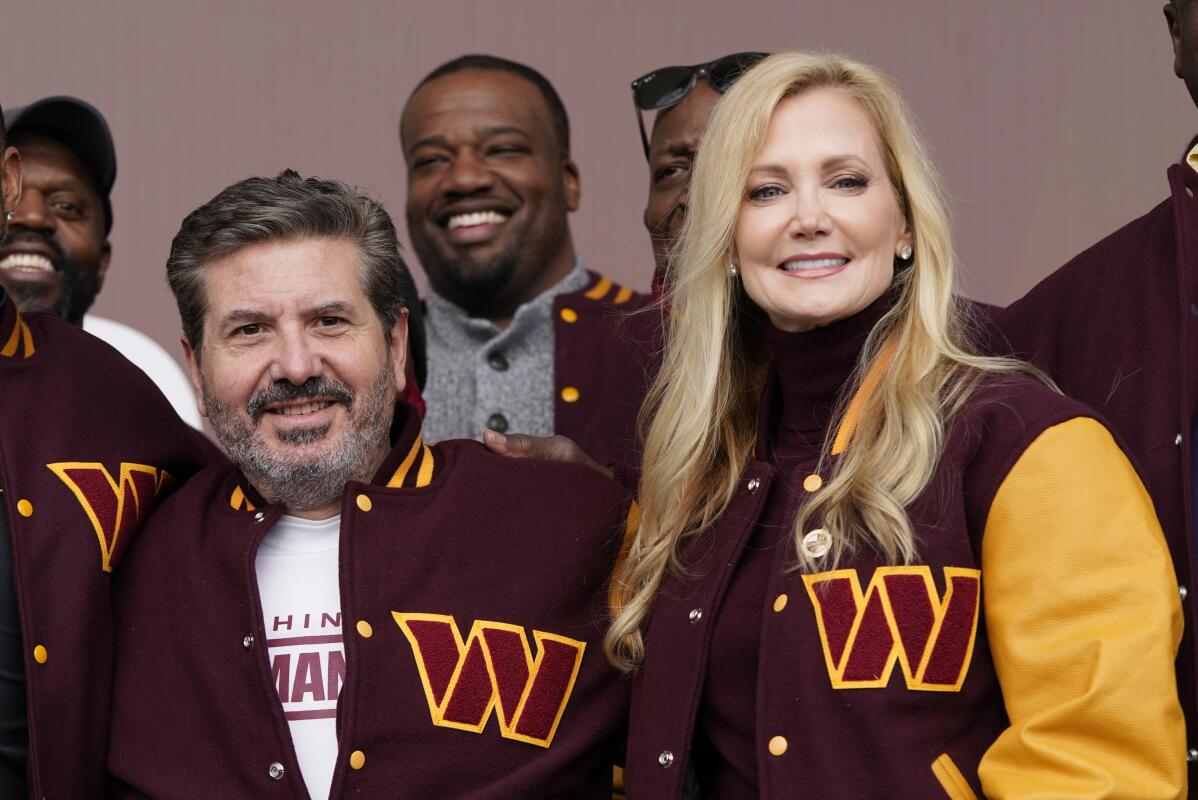 2 of 3

|
FILE - Dan and Tanya Snyder, co-owner and co-CEOs of the Washington Commanders, pose for photos after unveiling their NFL football team's new identity, Wednesday, Feb. 2, 2022, in Landover, Md. Dan Snyder has an agreement in principle to sell the Washington Commanders to a group led by Josh Harris and Mitchell Rales that includes Magic Johnson for a North American professional sports team record $6.05 billion. (AP Photo/Patrick Semansky, File)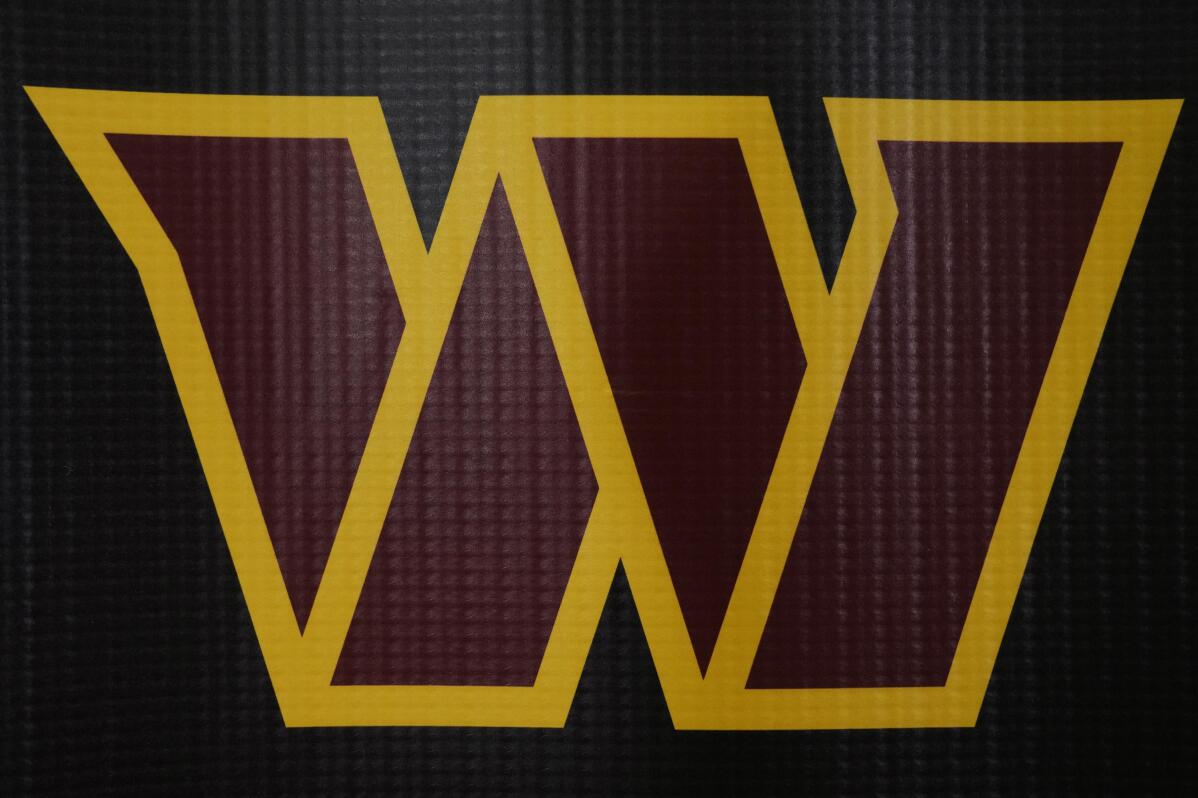 3 of 3

|
FILE - The Washington Commanders football team's logo is seen at the NFL football team's facility in Ashburn, Va., Thursday, Nov. 10, 2022. A group led by Josh Harris and Mitchell Rales that includes Magic Johnson has an agreement in principle to buy the NFL's Washington Commanders from longtime owner Dan Snyder for a North American professional sports team record $6 billion, according to a person with knowledge of the situation. The person spoke to The Associated Press on condition of anonymity Thursday, April 13, 2023, because the deal had not been announced. (AP Photo/Manuel Balce Ceneta, File)
AP source: NFL now reviewing Commanders sale agreement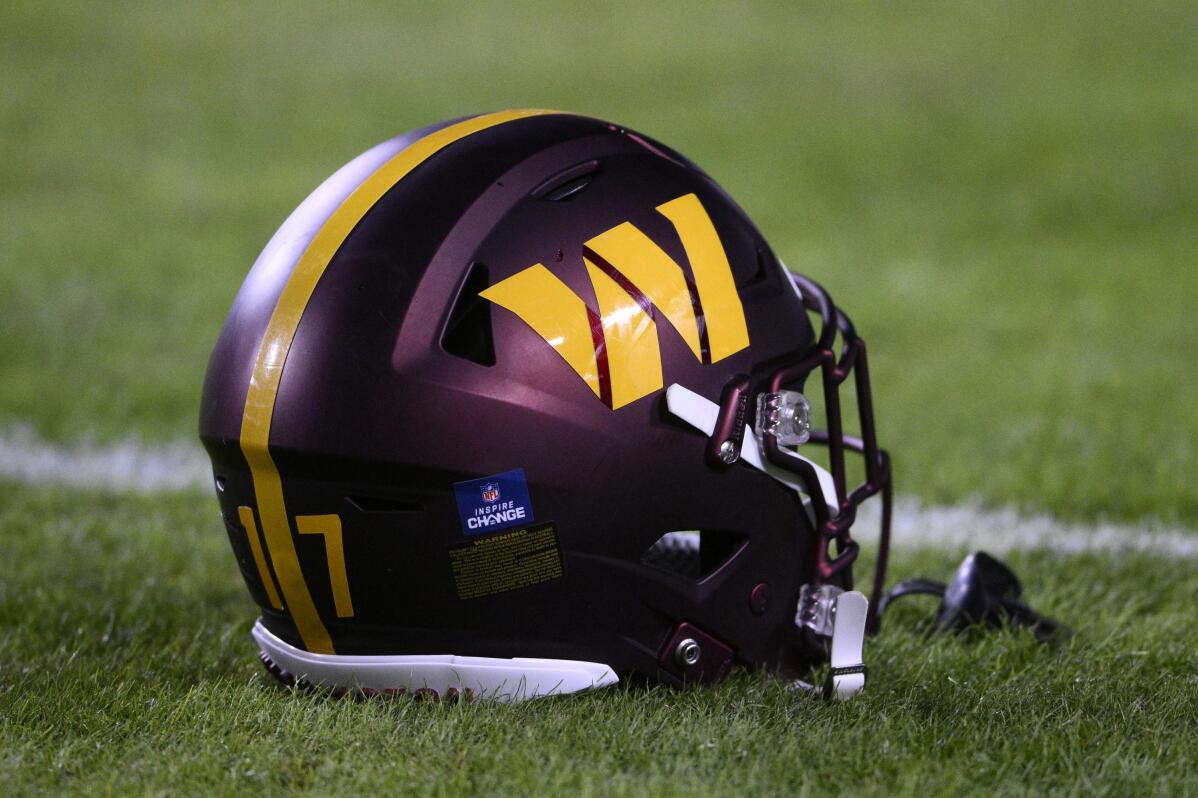 1 of 3

|
FILE - A Washington Commanders helmet is seen before an NFL football game against the New York Giants, Sunday, Dec. 18, 2022, in Landover, Md. Dan Snyder has an agreement in principle to sell the Washington Commanders to a group led by Josh Harris and Mitchell Rales that includes Magic Johnson for a North American professional sports team record $6.05 billion. (AP Photo/Nick Wass, File)
1 of 3
FILE - A Washington Commanders helmet is seen before an NFL football game against the New York Giants, Sunday, Dec. 18, 2022, in Landover, Md. Dan Snyder has an agreement in principle to sell the Washington Commanders to a group led by Josh Harris and Mitchell Rales that includes Magic Johnson for a North American professional sports team record $6.05 billion. (AP Photo/Nick Wass, File)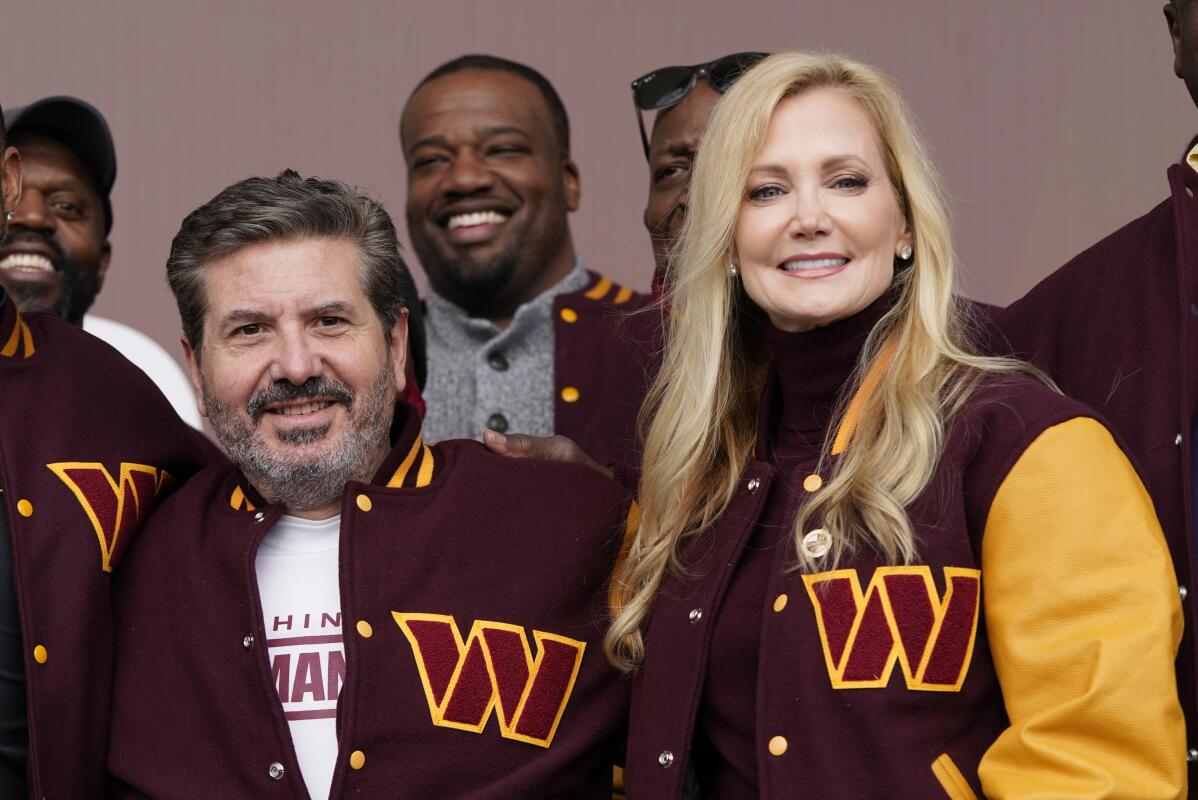 2 of 3

|
FILE - Dan and Tanya Snyder, co-owner and co-CEOs of the Washington Commanders, pose for photos after unveiling their NFL football team's new identity, Wednesday, Feb. 2, 2022, in Landover, Md. Dan Snyder has an agreement in principle to sell the Washington Commanders to a group led by Josh Harris and Mitchell Rales that includes Magic Johnson for a North American professional sports team record $6.05 billion. (AP Photo/Patrick Semansky, File)
2 of 3
FILE - Dan and Tanya Snyder, co-owner and co-CEOs of the Washington Commanders, pose for photos after unveiling their NFL football team's new identity, Wednesday, Feb. 2, 2022, in Landover, Md. Dan Snyder has an agreement in principle to sell the Washington Commanders to a group led by Josh Harris and Mitchell Rales that includes Magic Johnson for a North American professional sports team record $6.05 billion. (AP Photo/Patrick Semansky, File)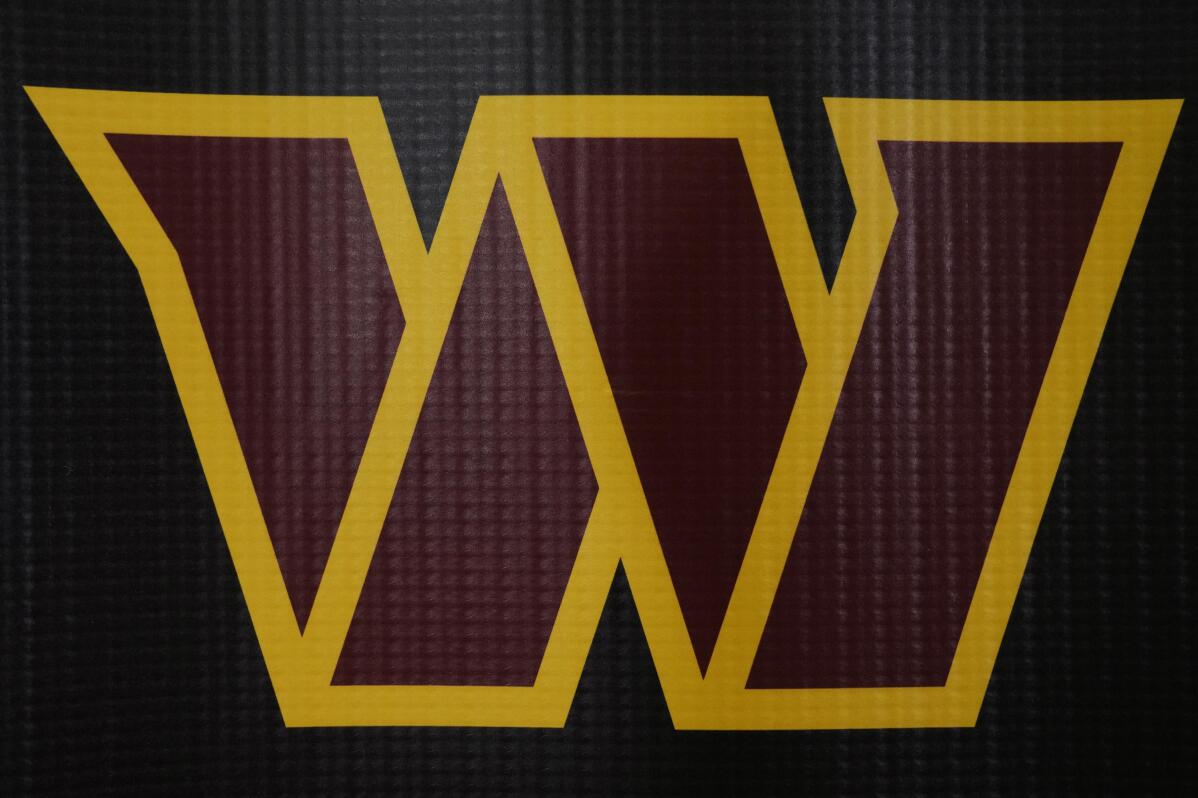 3 of 3

|
FILE - The Washington Commanders football team's logo is seen at the NFL football team's facility in Ashburn, Va., Thursday, Nov. 10, 2022. A group led by Josh Harris and Mitchell Rales that includes Magic Johnson has an agreement in principle to buy the NFL's Washington Commanders from longtime owner Dan Snyder for a North American professional sports team record $6 billion, according to a person with knowledge of the situation. The person spoke to The Associated Press on condition of anonymity Thursday, April 13, 2023, because the deal had not been announced. (AP Photo/Manuel Balce Ceneta, File)
3 of 3
FILE - The Washington Commanders football team's logo is seen at the NFL football team's facility in Ashburn, Va., Thursday, Nov. 10, 2022. A group led by Josh Harris and Mitchell Rales that includes Magic Johnson has an agreement in principle to buy the NFL's Washington Commanders from longtime owner Dan Snyder for a North American professional sports team record $6 billion, according to a person with knowledge of the situation. The person spoke to The Associated Press on condition of anonymity Thursday, April 13, 2023, because the deal had not been announced. (AP Photo/Manuel Balce Ceneta, File)
The NFL is now reviewing the sale agreement of the Washington Commanders, according to a person with knowledge of the situation.
The person spoke to The Associated Press on condition of anonymity Monday because details of the sales process are not being publicized.
A group led by Josh Harris and Mitchell Rales that includes Magic Johnson agreed in principle last week to buy the team from longtime owner Dan Snyder for $6.05 billion. The group submitted a fully financed, non-exclusive bid for the Commanders that is not yet signed.
The league is looking over that agreement before sending it back for final signatures. Further steps include evaluation by the NFL's finance committee and a vote by owners. Three-quarters (24 of 32 owners) must approve to make it official.
A spokesperson for Harris declined comment when asked about the sale going to the league for evaluation. A spokesperson for the Commanders did not immediately respond to a message seeking comment.
There's no definitive timetable for when the sale could go through, though the next league meeting in Minnesota in late May could be when owners vote. That would give Harris, Rales and Johnson several months to evaluate the organization before next season starts.
Finding a new stadium is the biggest long-term task for the future of the storied franchise, which has made the playoffs just six times in 24 seasons and won just two postseason games with Snyder in charge — a long way from the glory days of three Super Bowl championships in the 1980s and early '90s. The team's lease at FedEx Field expires in 2023.
NOTE: In on-field news, the Commanders re-signed All-Pro special teams player and reserve safety Jeremy Reaves to a restricted free agent contract for next season.
___
AP NFL: https://apnews.com/hub/nfl and https://twitter.com/AP_NFL