Svechnikov can only watch as Hurricanes open NHL playoffs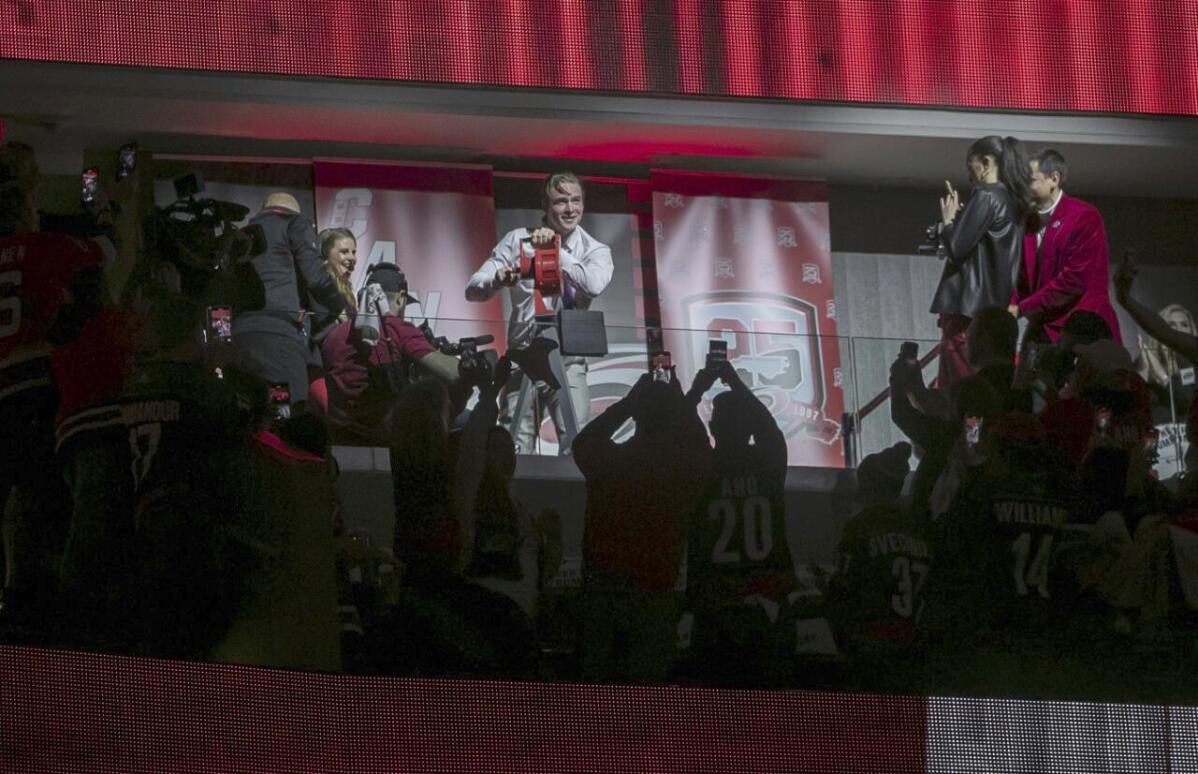 1 of 3

|
Carolina Hurricanes' Andrei Svechnikov, out with an injury, sounds the pregame "storm warning" siren as his teammates take the ice for their game against the New York Islanders in game one of their first-round Stanley Cup series on Tuesday, April 17, 2023, at PNC Arena in Raleigh, N.C. (Robert Willett/The News & Observer via AP)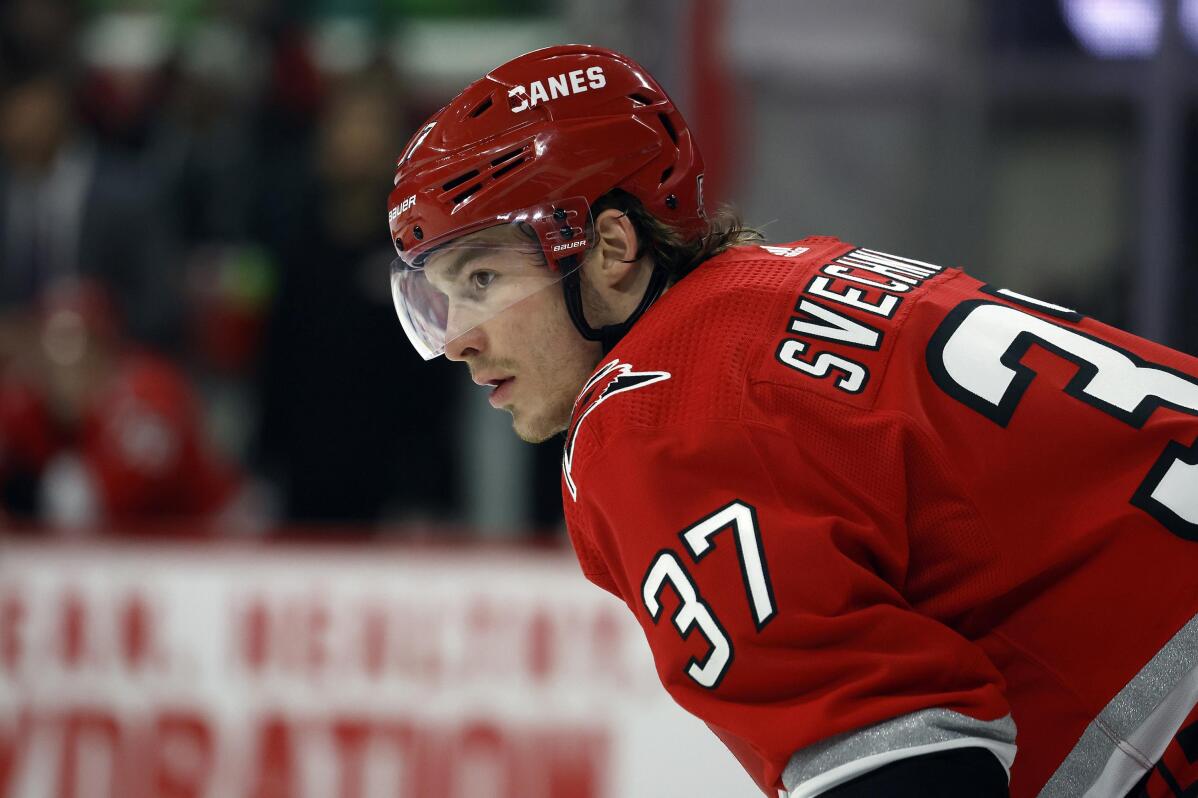 2 of 3

|
FILE - Carolina Hurricanes' Andrei Svechnikov (37) watches the puck against the Philadelphia Flyers during the third period of an NHL hockey game in Raleigh, N.C., Thursday, March 9, 2023. Svechnikov can only watch as his team begins a fifth straight trip to the NHL playoffs, as he faces months of recovery from knee surgery following an injury in March. (AP Photo/Karl B DeBlaker, File)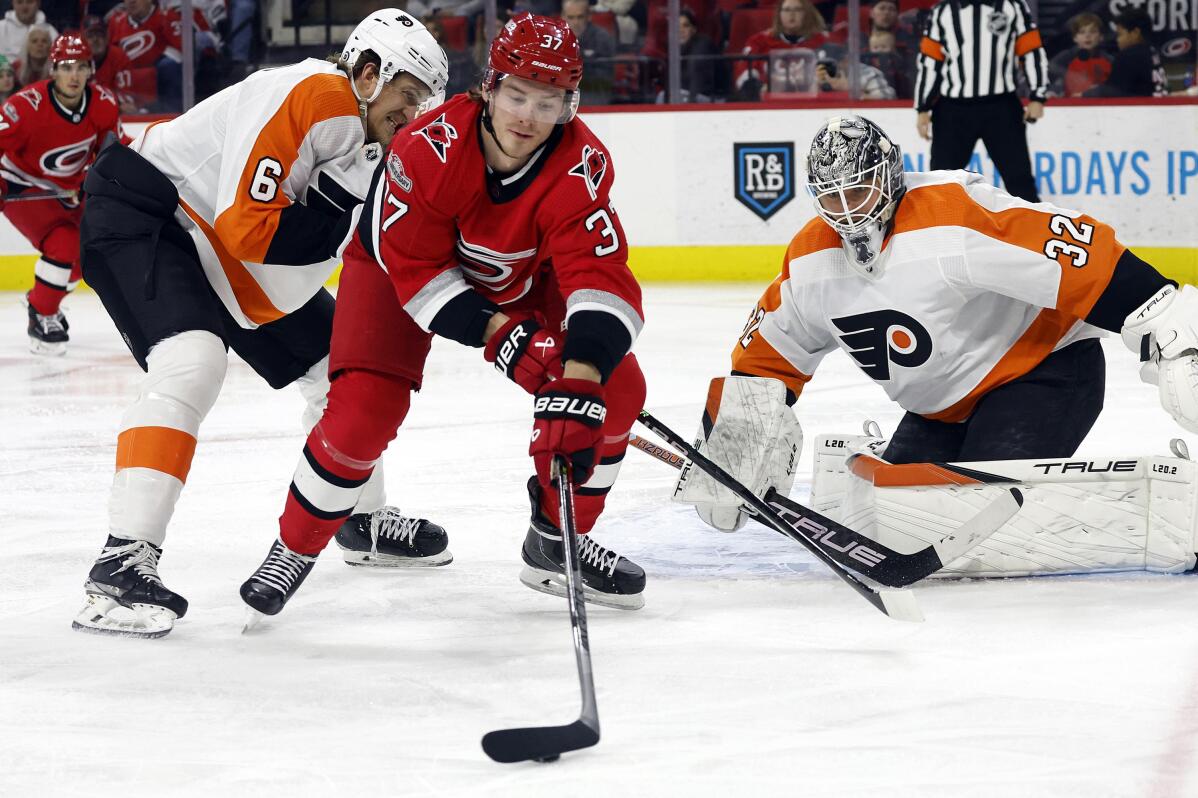 3 of 3

|
FILE - Carolina Hurricanes' Andrei Svechnikov (37) controls the puck between Philadelphia Flyers' Travis Sanheim (6) and goaltender Felix Sandstrom (32) during the second period of an NHL hockey game in Raleigh, N.C., Thursday, March 9, 2023. Svechnikov can only watch as his team begins a fifth straight trip to the NHL playoffs, as he faces months of recovery from knee surgery following an injury in March. (AP Photo/Karl B DeBlaker, File)
Svechnikov can only watch as Hurricanes open NHL playoffs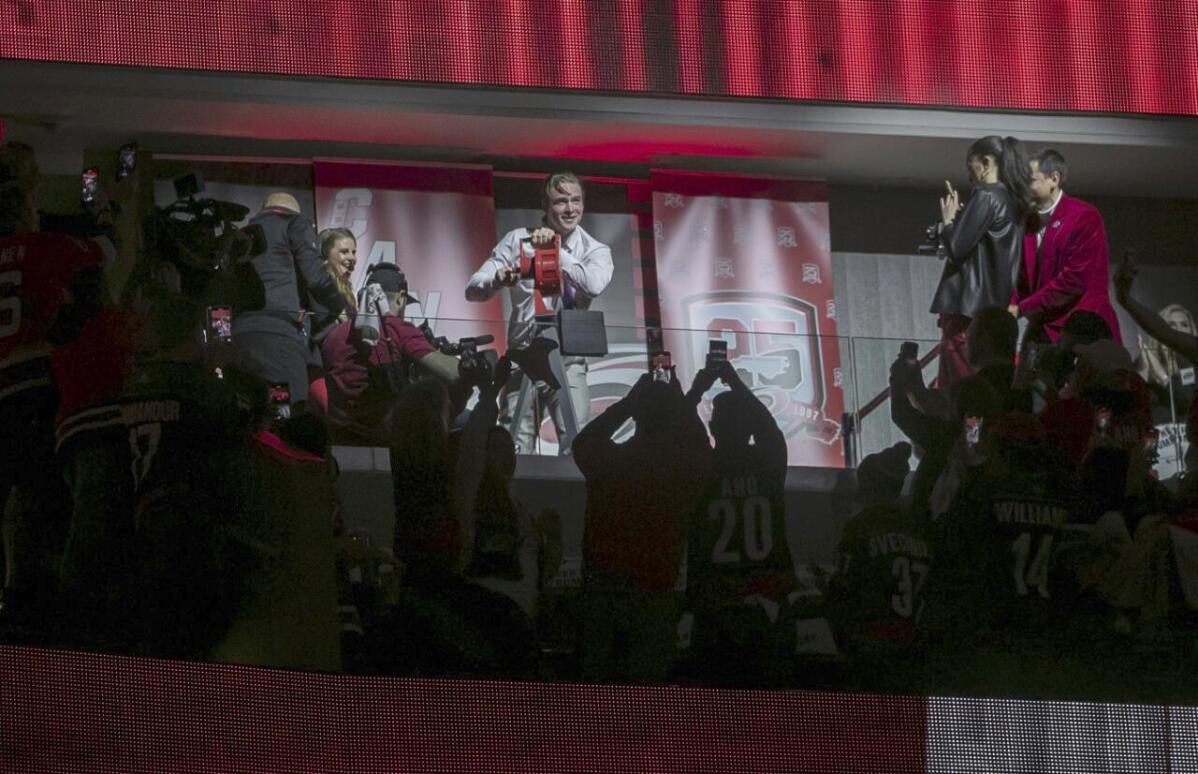 1 of 3

|
Carolina Hurricanes' Andrei Svechnikov, out with an injury, sounds the pregame "storm warning" siren as his teammates take the ice for their game against the New York Islanders in game one of their first-round Stanley Cup series on Tuesday, April 17, 2023, at PNC Arena in Raleigh, N.C. (Robert Willett/The News & Observer via AP)
1 of 3
Carolina Hurricanes' Andrei Svechnikov, out with an injury, sounds the pregame "storm warning" siren as his teammates take the ice for their game against the New York Islanders in game one of their first-round Stanley Cup series on Tuesday, April 17, 2023, at PNC Arena in Raleigh, N.C. (Robert Willett/The News & Observer via AP)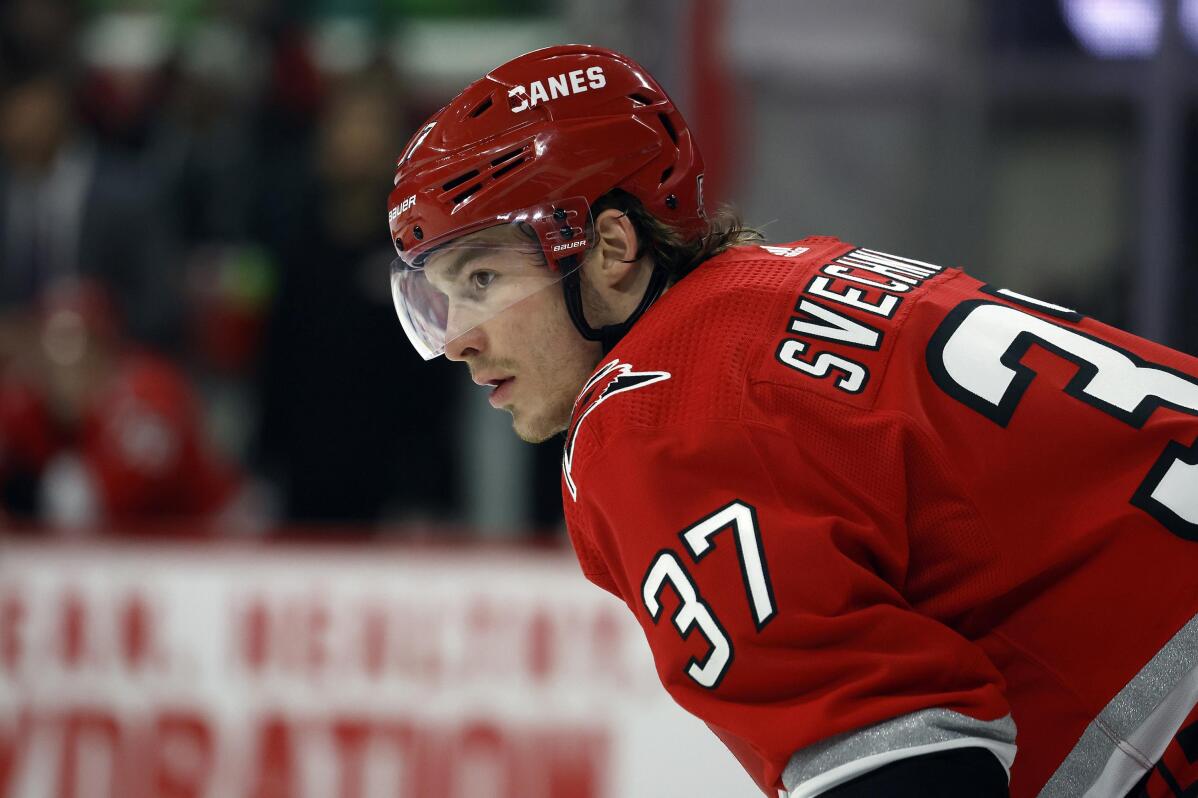 2 of 3

|
FILE - Carolina Hurricanes' Andrei Svechnikov (37) watches the puck against the Philadelphia Flyers during the third period of an NHL hockey game in Raleigh, N.C., Thursday, March 9, 2023. Svechnikov can only watch as his team begins a fifth straight trip to the NHL playoffs, as he faces months of recovery from knee surgery following an injury in March. (AP Photo/Karl B DeBlaker, File)
2 of 3
FILE - Carolina Hurricanes' Andrei Svechnikov (37) watches the puck against the Philadelphia Flyers during the third period of an NHL hockey game in Raleigh, N.C., Thursday, March 9, 2023. Svechnikov can only watch as his team begins a fifth straight trip to the NHL playoffs, as he faces months of recovery from knee surgery following an injury in March. (AP Photo/Karl B DeBlaker, File)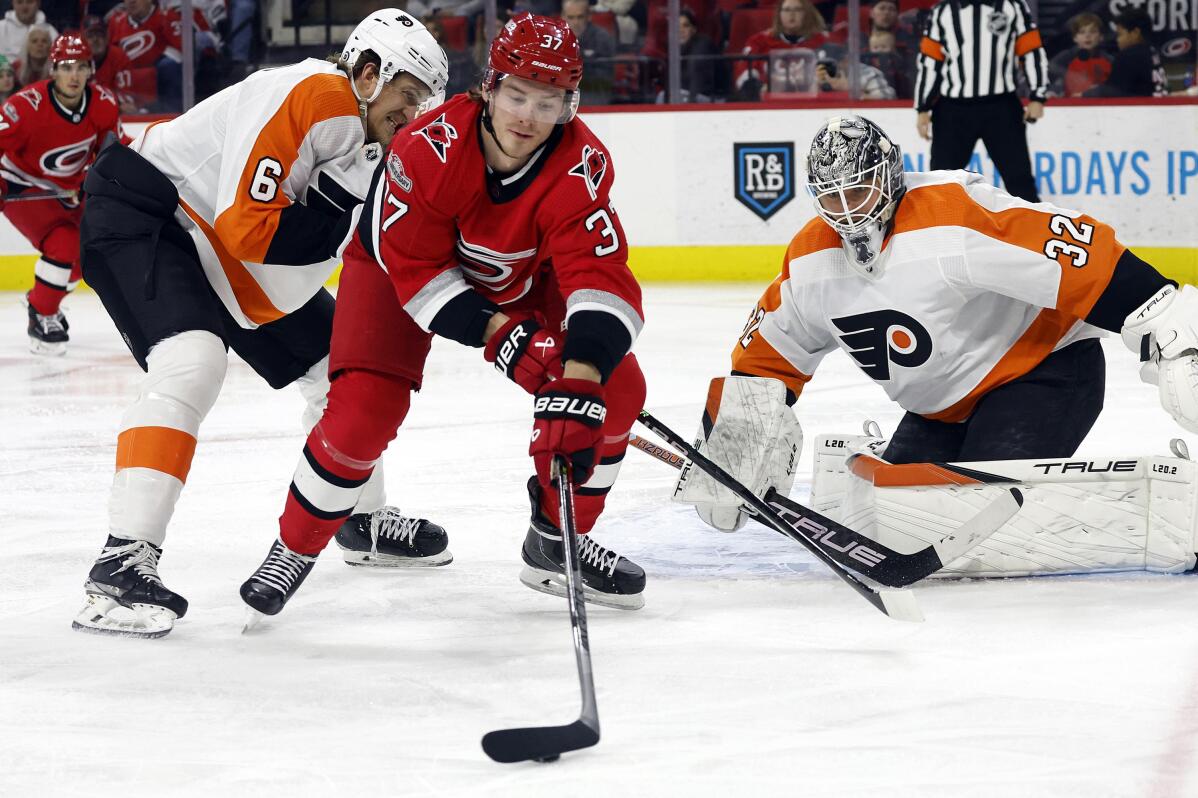 3 of 3

|
FILE - Carolina Hurricanes' Andrei Svechnikov (37) controls the puck between Philadelphia Flyers' Travis Sanheim (6) and goaltender Felix Sandstrom (32) during the second period of an NHL hockey game in Raleigh, N.C., Thursday, March 9, 2023. Svechnikov can only watch as his team begins a fifth straight trip to the NHL playoffs, as he faces months of recovery from knee surgery following an injury in March. (AP Photo/Karl B DeBlaker, File)
3 of 3
FILE - Carolina Hurricanes' Andrei Svechnikov (37) controls the puck between Philadelphia Flyers' Travis Sanheim (6) and goaltender Felix Sandstrom (32) during the second period of an NHL hockey game in Raleigh, N.C., Thursday, March 9, 2023. Svechnikov can only watch as his team begins a fifth straight trip to the NHL playoffs, as he faces months of recovery from knee surgery following an injury in March. (AP Photo/Karl B DeBlaker, File)
RALEIGH, N.C. (AP) — Andrei Svechnikov shed his suit jacket, grabbed the top of the siren with his left hand and started turning the crank with his right. Faster and faster he went, putting his entire body into sounding the "storm warning" announcing the Carolina Hurricanes' charge onto the ice in front of a roaring home crowd.
It was all the 23-year-old star forward could do to help his team open the Stanley Cup playoffs as he recovers from knee surgery.
"Right now, you're watching and you just want to go out there and play hockey," he said Monday night during Carolina's 2-1 win against the New York Islanders that opened a first-round playoff series. "It's been tough. It's part of our life and my life as well. You've just got to stay patient. I'm going to have lots of time."
Svechnikov, the No. 2 overall pick in the 2018 draft who signed an eight-year deal with the team in August 2021, has been a fixture for the Hurricanes' current five-year playoff run. He's a physical forward bringing size and scoring punch as a top-line performer, and he's shown flair with lacrosse-style goals by scooping up the puck from behind the net and wrapping around the pipes to jam it past the goalie.
Losing him is a big blow considering he scored 30 regular-season goals last season and had 23 in 64 games this season. It comes amid concerns about the team's lack of overall scoring depth that has factored into earlier-than-expected postseason exits the past two years.
He injured his right knee March 11 in a home loss to Vegas. The team originally said he would be out indefinitely and had hoped for a better diagnosis before announcing March 14 that he had torn his anterior cruciate ligament.
But Svechnikov pointed to a 2020 injury as a factor from the Toronto bubble after the sport returned following the COVID-19 pandemic stoppage. In Game 3 of a first-round series against Boston, Svechnikov went down when his right leg twisted awkwardly beneath him as he fell while jostling with the Bruins' Zdeno Chara for position.
Svechnikov, who missed the last two games of that series loss, said he had a torn medial collateral ligament and a slight tear to his ACL as well as a sprained ankle from that incident.
He was greeted Monday night with a rousing pregame cheer and ovation from towel-waving fans, with Svechnikov waving and patting his heart in acknowledgement.
"I've been feeling that love the last four weeks to be honest," he said, noting neighbors have come by to bring cookies as he recovers.
Forward Seth Jarvis said Tuesday he made sure to watch video afterward of Svechnikov sounding the siren.
"He told me before the game that he was going to do it, so I told him he should probably take his shirt off and wave it around after he's done," Jarvis said. "He didn't do that, he was probably a little more professional than I would've been. But I think he did a great job and I know the fans absolutely loved it."
As for that mini-workout cranking the siren, it wasn't as easy as it looked.
"I don't know, you tell me," Svechnikov said when asked how he thought he did. "I think very good. But I was going and my shoulder got tired. I was (ready) to stop a couple of times. But it took a while. So it was fun."
___
Follow Aaron Beard on Twitter at http://www.twitter.com/aaronbeardap
___
AP NHL Playoffs: https://apnews.com/hub/stanley-cup and https://twitter.com/AP_Sports