Late non-calls irk Hurricanes, Islanders coaches in Game 2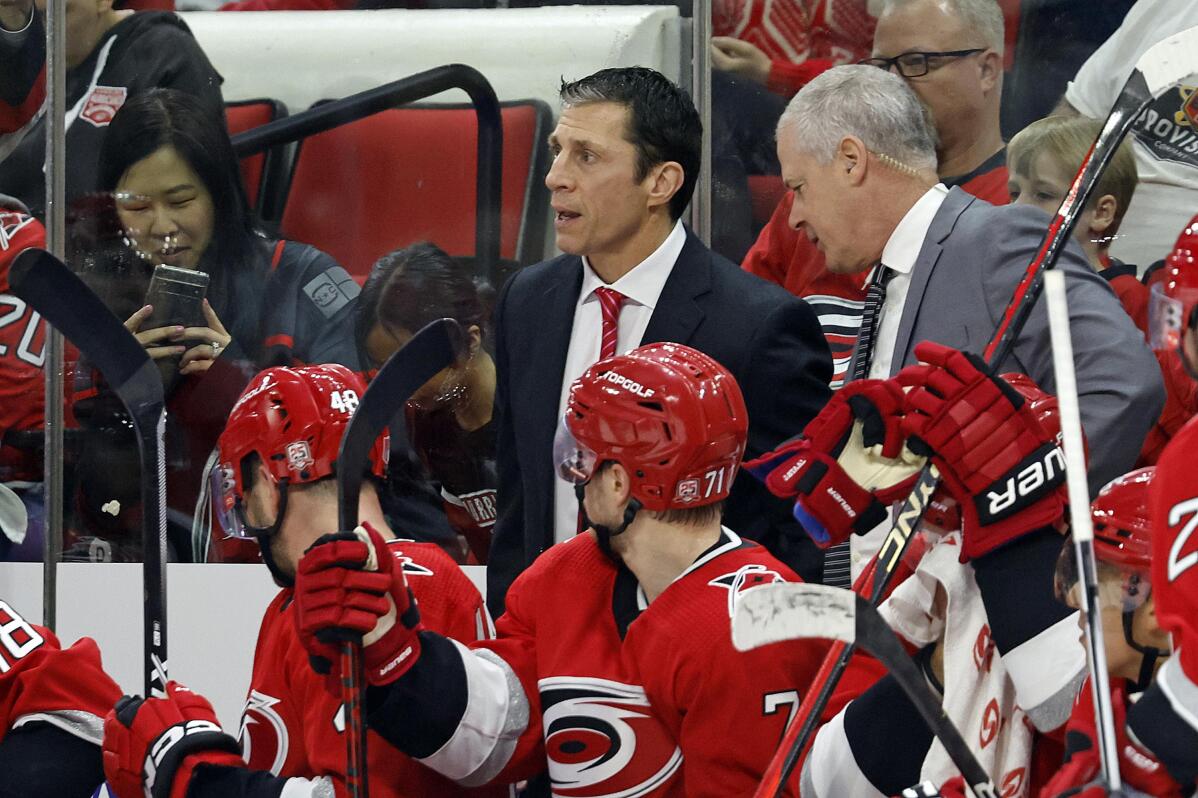 1 of 4

|
Carolina Hurricanes coach Rod Brind'Amour, back left, watches a replay with assistant coach Jeff Daniels, right, to decide whether to challenge a goal during the second period of Game 2 of the team's NHL hockey Stanley Cup first-round playoff series against the New York Islanders in Raleigh, N.C., Wednesday, April 19, 2023. (AP Photo/Karl B DeBlaker)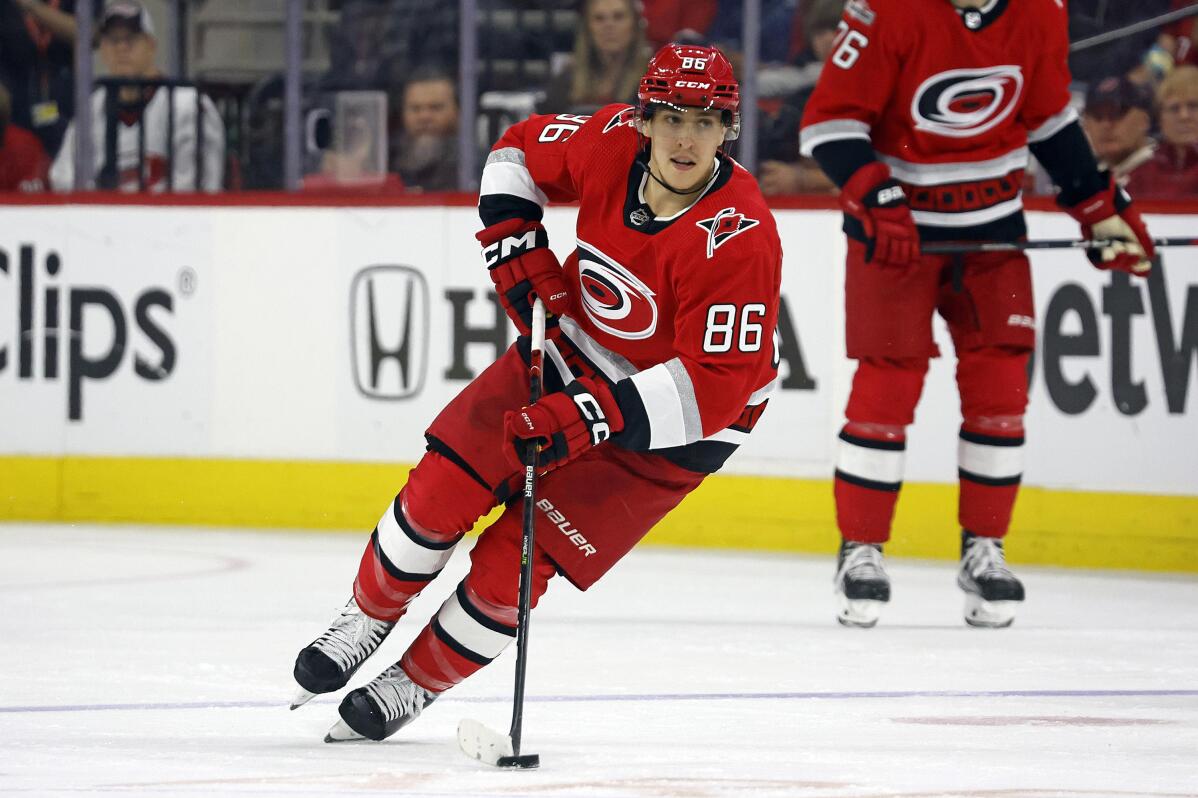 2 of 4

|
Carolina Hurricanes' Teuvo Teravainen skates with the puck during the second period of Game 2 in the team's NHL hockey Stanley Cup first-round playoff series against the New York Islanders in Raleigh, N.C., Wednesday, April 19, 2023. (AP Photo/Karl B DeBlaker)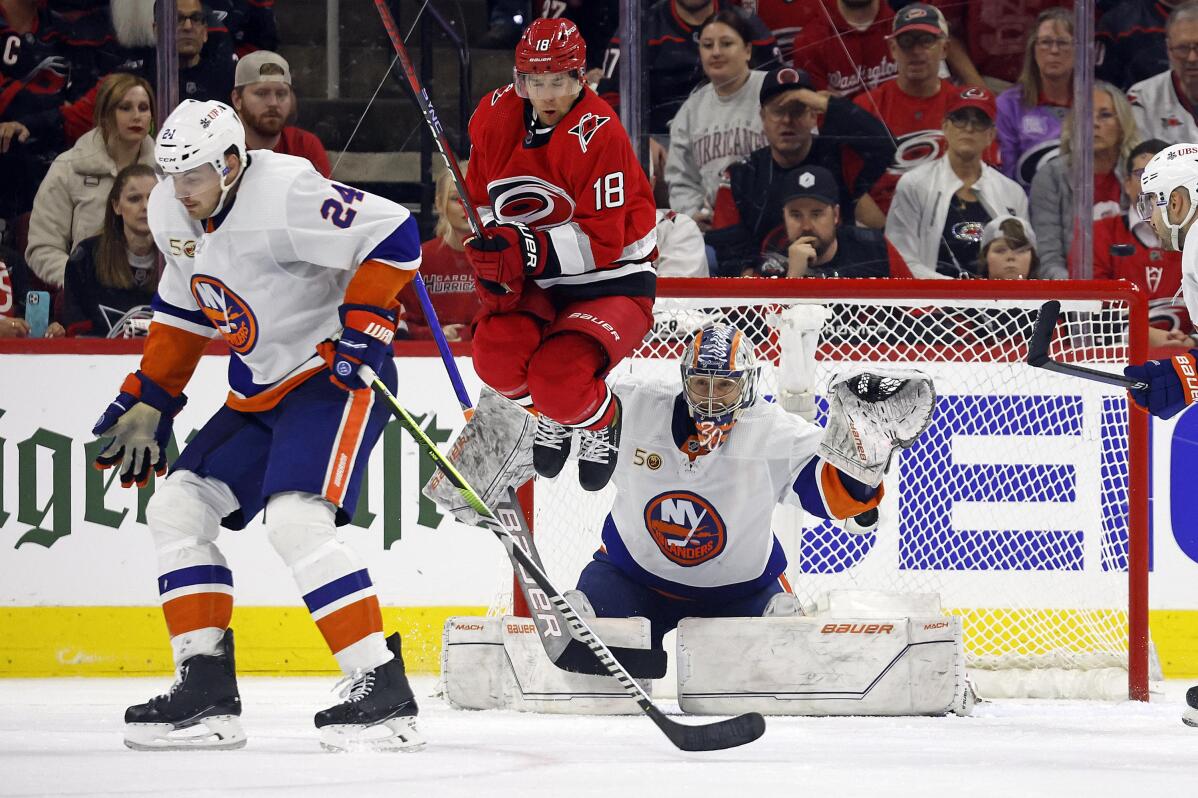 3 of 4

|
Carolina Hurricanes' Jack Drury (18) jumps to avoid the puck between New York Islanders' Ilya Sorokin and Scott Mayfield (24) during overtime in Game 2 of an NHL hockey Stanley Cup first-round playoff series in Raleigh, N.C., Wednesday, April 19, 2023. (AP Photo/Karl B DeBlaker)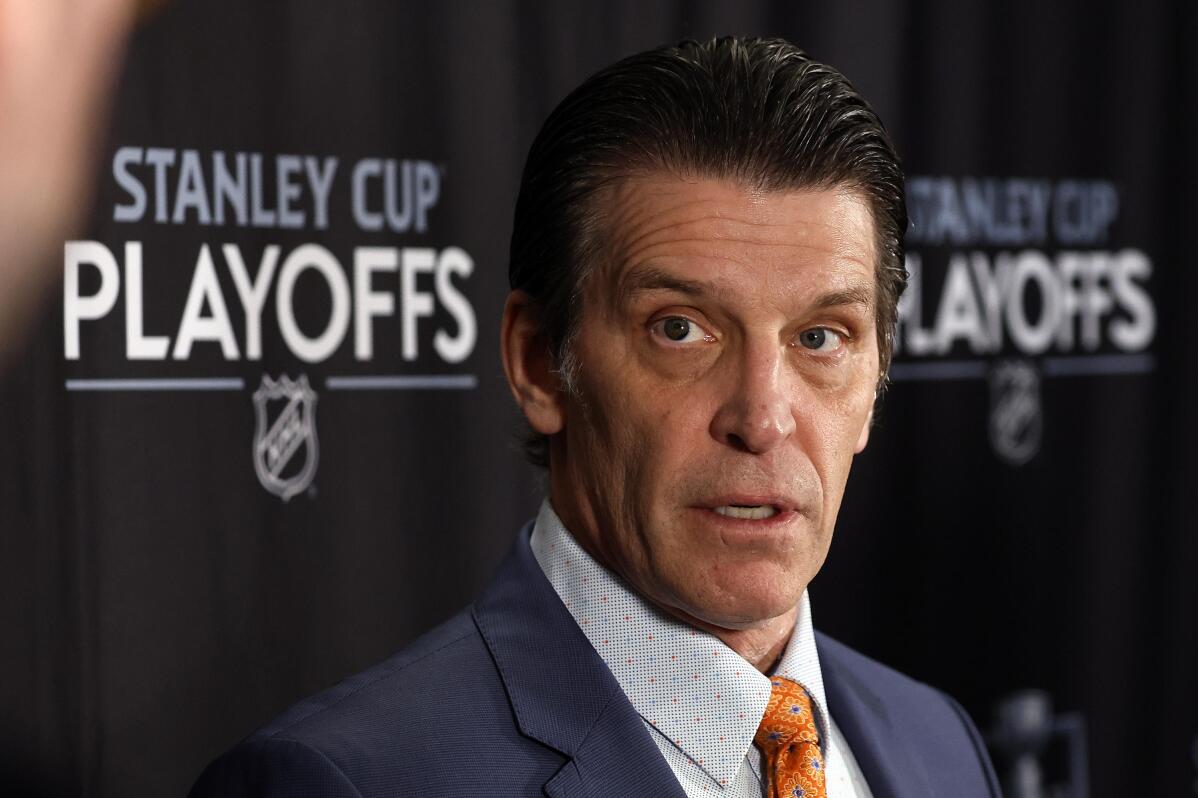 4 of 4

|
New York Islanders head coach Lane Lambert speaks to the media following the Islanders loss to the Carolina Hurricanes in Game 1 of an NHL hockey Stanley Cup first-round playoff series in Raleigh, N.C., Monday, April 17, 2023. (AP Photo/Karl B DeBlaker)
Late non-calls irk Hurricanes, Islanders coaches in Game 2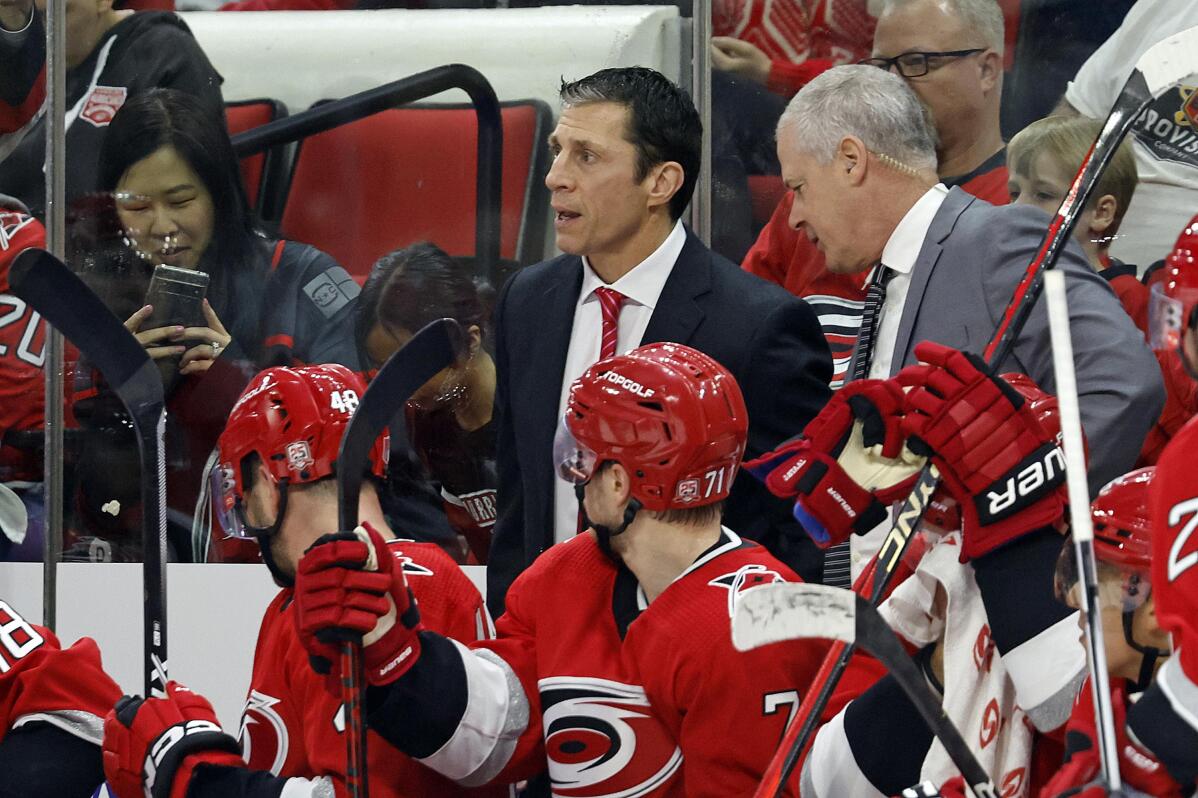 1 of 4

|
Carolina Hurricanes coach Rod Brind'Amour, back left, watches a replay with assistant coach Jeff Daniels, right, to decide whether to challenge a goal during the second period of Game 2 of the team's NHL hockey Stanley Cup first-round playoff series against the New York Islanders in Raleigh, N.C., Wednesday, April 19, 2023. (AP Photo/Karl B DeBlaker)
1 of 4
Carolina Hurricanes coach Rod Brind'Amour, back left, watches a replay with assistant coach Jeff Daniels, right, to decide whether to challenge a goal during the second period of Game 2 of the team's NHL hockey Stanley Cup first-round playoff series against the New York Islanders in Raleigh, N.C., Wednesday, April 19, 2023. (AP Photo/Karl B DeBlaker)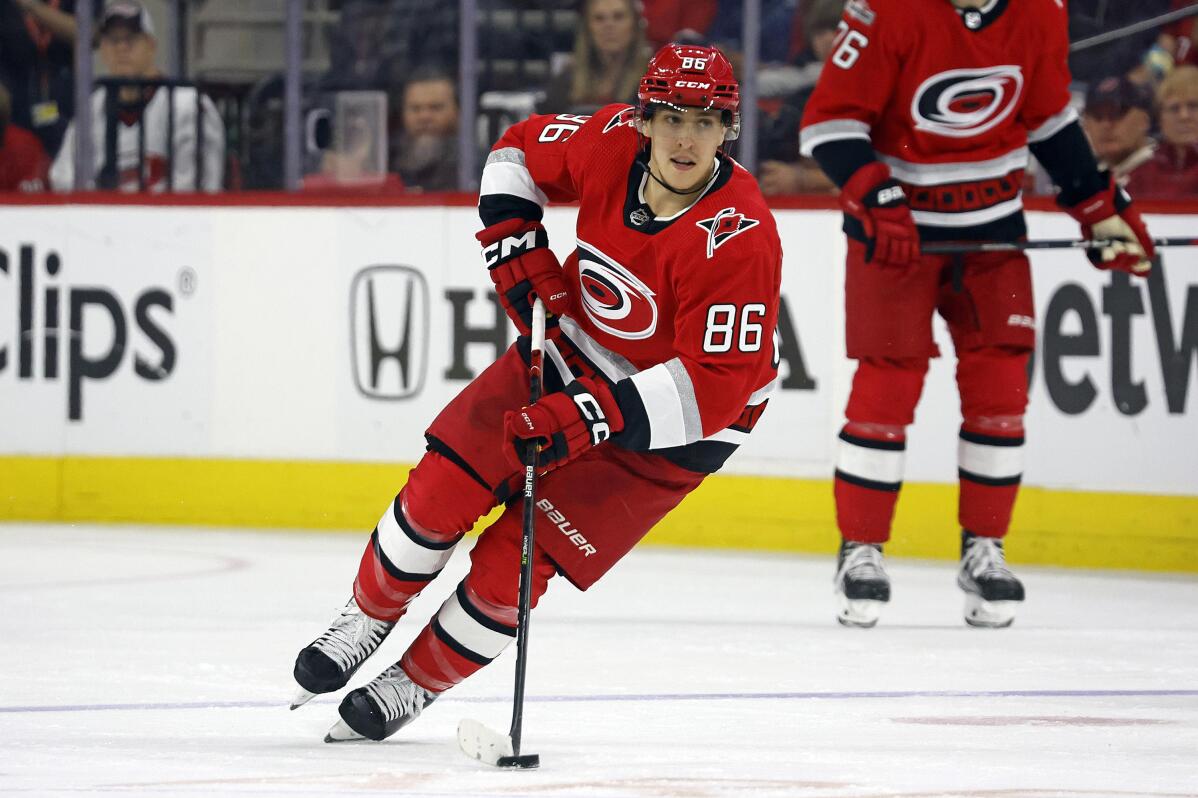 2 of 4

|
Carolina Hurricanes' Teuvo Teravainen skates with the puck during the second period of Game 2 in the team's NHL hockey Stanley Cup first-round playoff series against the New York Islanders in Raleigh, N.C., Wednesday, April 19, 2023. (AP Photo/Karl B DeBlaker)
2 of 4
Carolina Hurricanes' Teuvo Teravainen skates with the puck during the second period of Game 2 in the team's NHL hockey Stanley Cup first-round playoff series against the New York Islanders in Raleigh, N.C., Wednesday, April 19, 2023. (AP Photo/Karl B DeBlaker)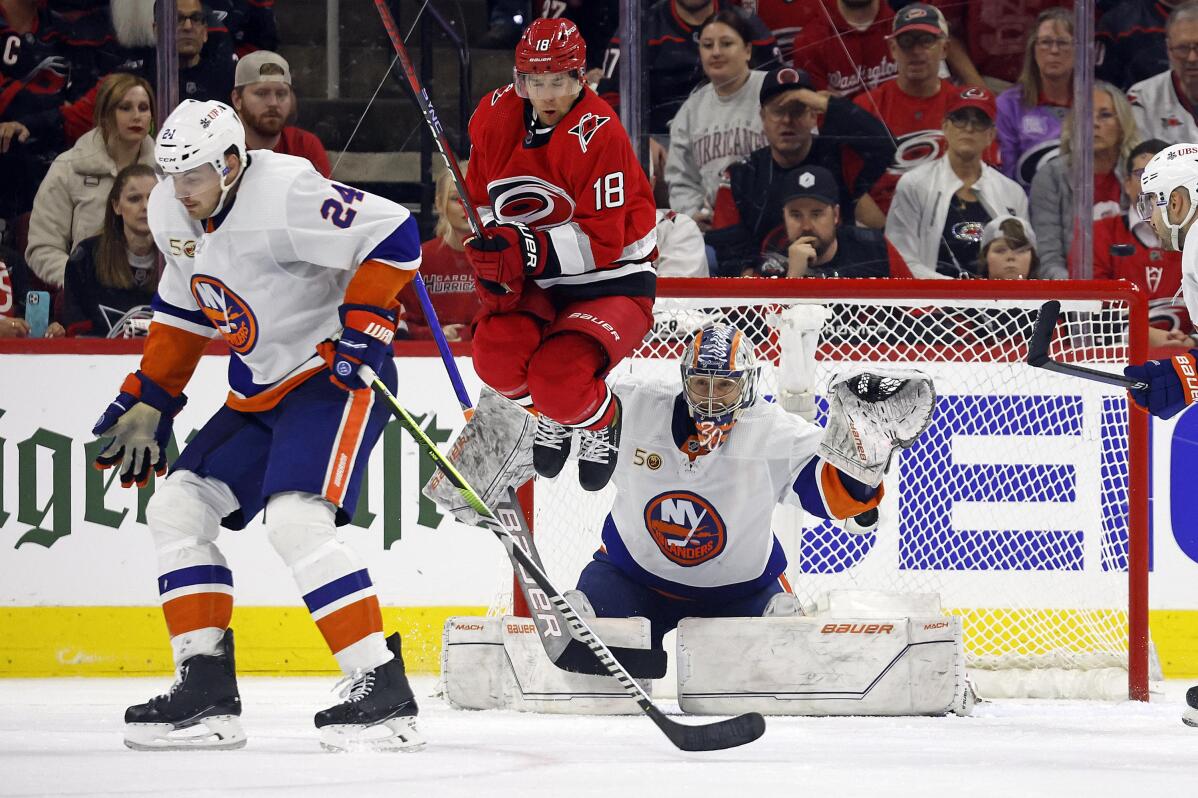 3 of 4

|
Carolina Hurricanes' Jack Drury (18) jumps to avoid the puck between New York Islanders' Ilya Sorokin and Scott Mayfield (24) during overtime in Game 2 of an NHL hockey Stanley Cup first-round playoff series in Raleigh, N.C., Wednesday, April 19, 2023. (AP Photo/Karl B DeBlaker)
3 of 4
Carolina Hurricanes' Jack Drury (18) jumps to avoid the puck between New York Islanders' Ilya Sorokin and Scott Mayfield (24) during overtime in Game 2 of an NHL hockey Stanley Cup first-round playoff series in Raleigh, N.C., Wednesday, April 19, 2023. (AP Photo/Karl B DeBlaker)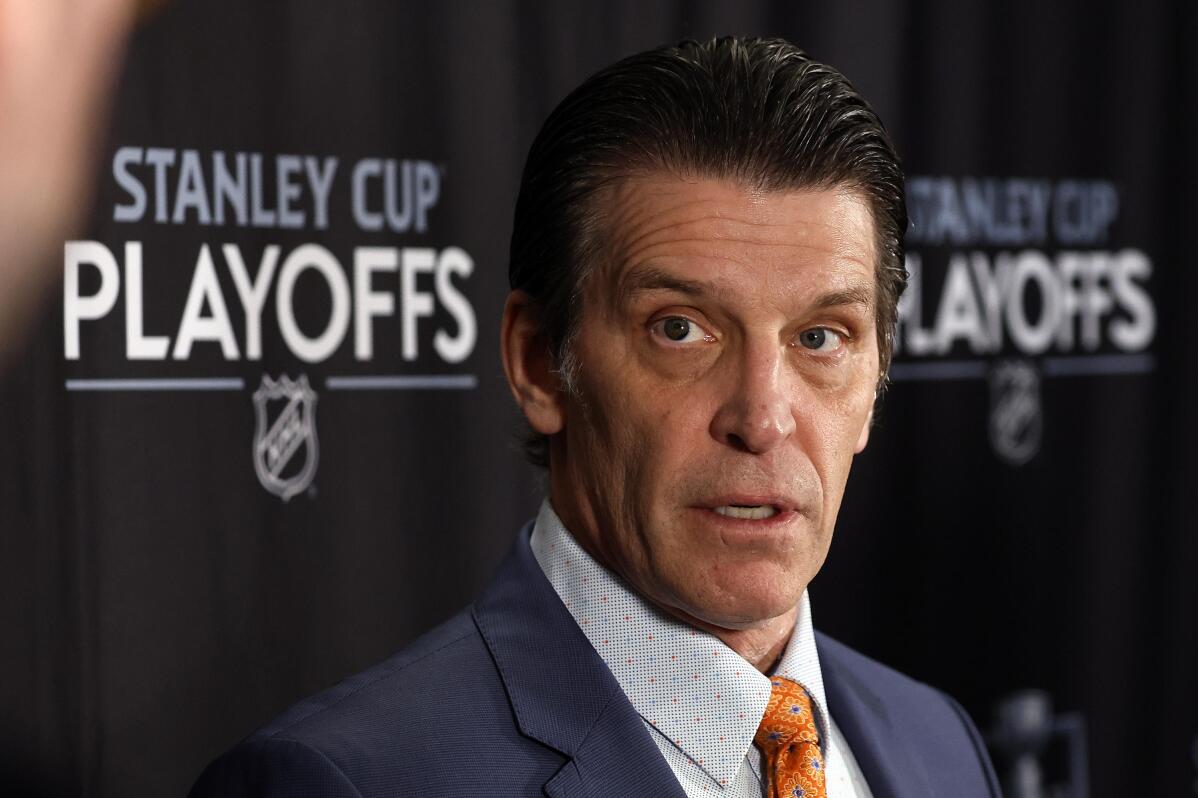 4 of 4

|
New York Islanders head coach Lane Lambert speaks to the media following the Islanders loss to the Carolina Hurricanes in Game 1 of an NHL hockey Stanley Cup first-round playoff series in Raleigh, N.C., Monday, April 17, 2023. (AP Photo/Karl B DeBlaker)
4 of 4
New York Islanders head coach Lane Lambert speaks to the media following the Islanders loss to the Carolina Hurricanes in Game 1 of an NHL hockey Stanley Cup first-round playoff series in Raleigh, N.C., Monday, April 17, 2023. (AP Photo/Karl B DeBlaker)
RALEIGH, N.C. (AP) — New York Islanders coach Lane Lambert spoke in a low, hushed tone and offered only terse answers. Carolina Hurricanes coach Rod Brind'Amour was far more blunt.
The Hurricanes' 4-3 overtime win in Wednesday night's Game 2 of their first-round playoff series left both coaches irked by apparent missed calls that came in critical moments late in this one. That included one that Brind'Amour said will sideline top-line forward Teuvo Teravainen for the rest of the series with a broken hand, a blow that will linger for one of the top Stanley Cup contenders.
"I'm a little (ticked), to be honest with you," Brind'Amour said.
Teravainen exited the game late with what the team described only as an upper-body injury. But when Brind'Amour was asked about his status, he offered far more detail: the play, the cause, even the exact time after watching on replay.
On the play, with the Hurricanes on a power play, Teravainen skated in with the puck when New York's Jean-Gabriel Pageau chopped down on his right hand as he tried to skate by. Teravainen didn't show any immediate reaction and finished the shift before exiting with 3:29 left, then didn't return.
"He's out," Brind'Amour said. "He got slashed, 4:25 marker. He broke his hand. With the puck, takes the shot, the guy absolutely tomahawk chops him, absolutely.
"And I know we had all of the power plays, so you're not going to make it a 5-on-3. Go take a look at the video. And he's out for the series. ... He has to have surgery tomorrow. There you go."
Teravainen's injury is particularly concerning since Carolina lost offseason acquisition Max Pacioretty and core forward Andrei Svechnkov to season-ending injuries, depleting the scoring depth that was already a concern in earlier-than-expected playoff exits the past two seasons.
For the Islanders, the non-call of concern centered on defenseman Scott Mayfield taking an inadvertent high stick from Carolina's Jordan Martinook shortly before Jesper Fast's winning goal in OT. Mayfield also slowed to point it out to a nearby official during the play.
"You know what? I just saw a snippet of it," Lambert said. "Clearly he had some issues and was trying to recover."
That sequence capped a night in which the Islanders had no power plays compared to the Hurricanes' six, including two double-minors for high-sticking. And Lambert was in little mood to discuss it further.
"Did you get any explanation from the league or the refs as to the incident with Mayfield right before?" a reporter asked.
"No," he said flatly.
"Is that bothersome that they potentially missed a call right before the goal?"
"Yeah."
Later, when asked about whether the team would contact the league to inquire about the no-call, Lambert pivoted to Friday's Game 3 with the Islanders returning home down 0-2.
"I'm sure there will be something to that effect," Lambert said. "But right now we just have to worry about the next game."
___
Follow Aaron Beard on Twitter at http://www.twitter.com/aaronbeardap
___
AP NHL Playoffs: https://apnews.com/hub/stanley-cup and https://twitter.com/AP_Sports