Stars goalie Oettinger going home for games in Minnesota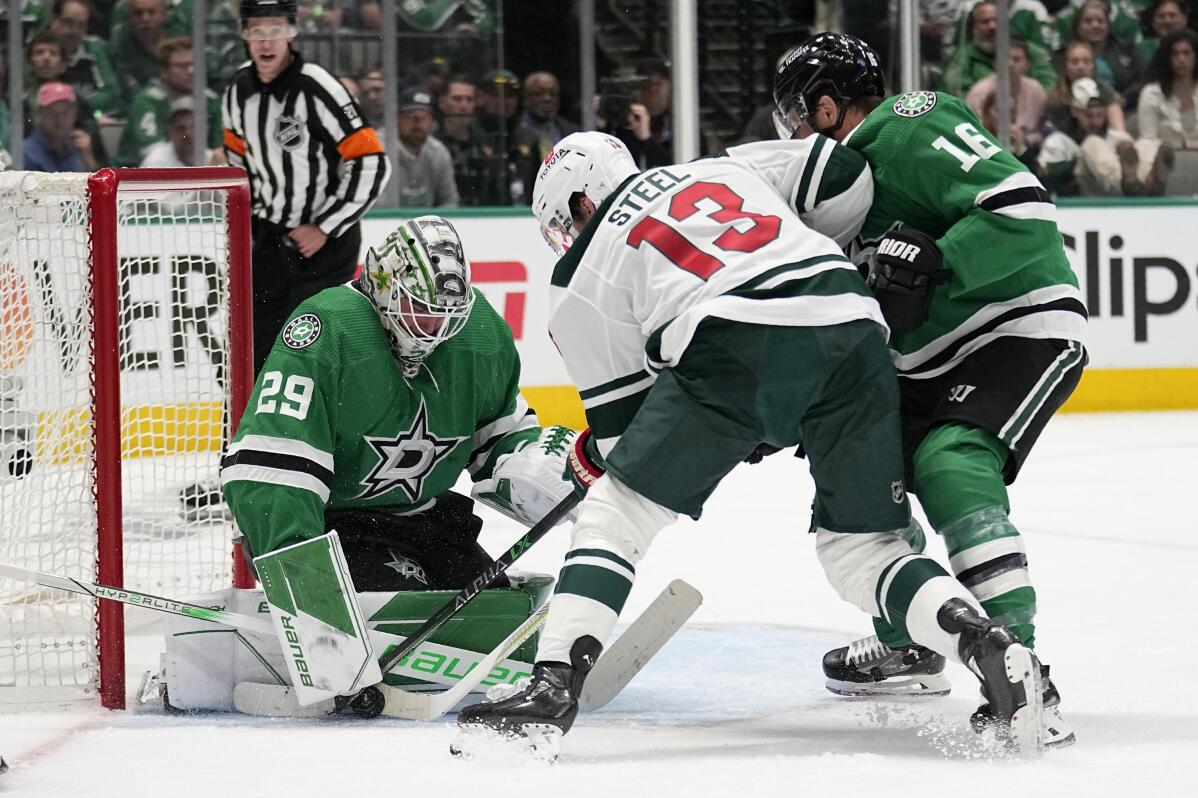 1 of 7

|
Dallas Stars goaltender Jake Oettinger, left, gets help from Joe Pavelski (16) defending against pressure from Minnesota Wild center Sam Steel (13) in the second period of Game 1 of an NHL hockey Stanley Cup first-round playoff series, Monday, April 17, 2023, in Dallas. (AP Photo/Tony Gutierrez)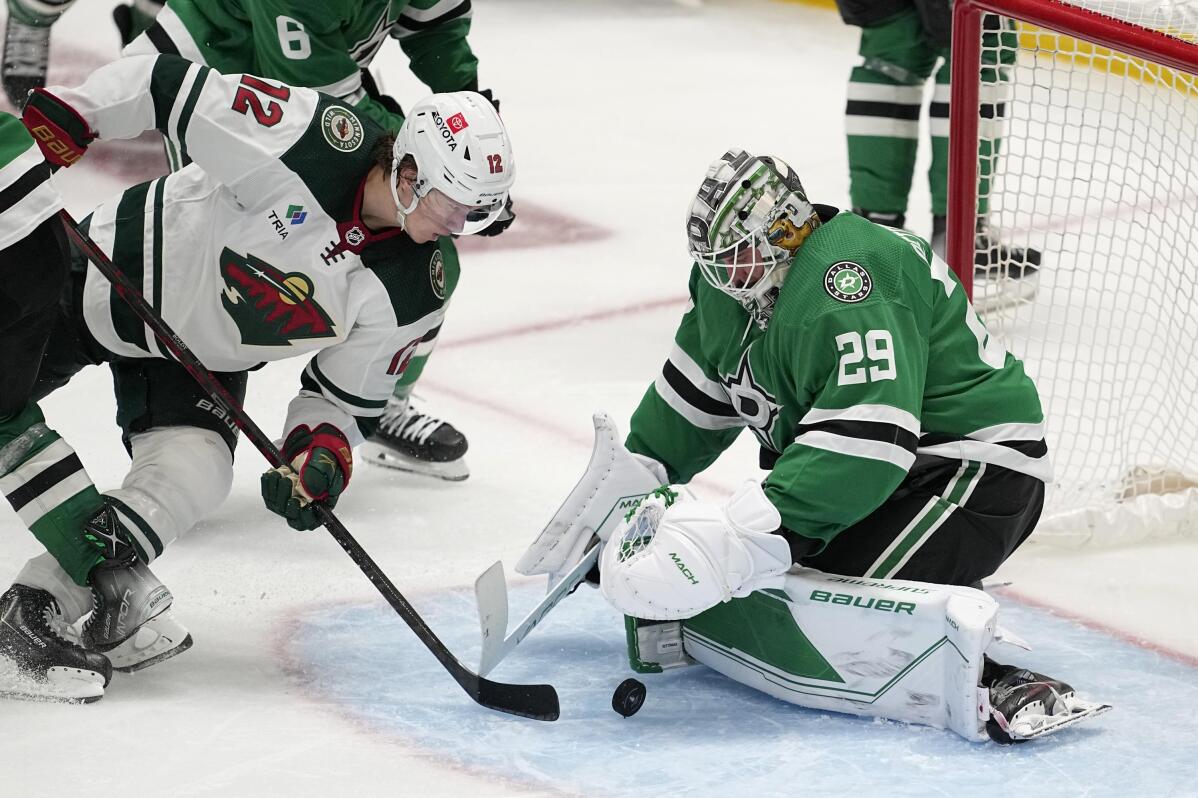 2 of 7

|
Minnesota Wild left wing Matt Boldy (12) attempts to get a shot past Dallas Stars goaltender Jake Oettinger (29) in the third period of Game 2 of an NHL hockey Stanley Cup first-round playoff series, Wednesday, April 19, 2023, in Dallas. (AP Photo/Tony Gutierrez)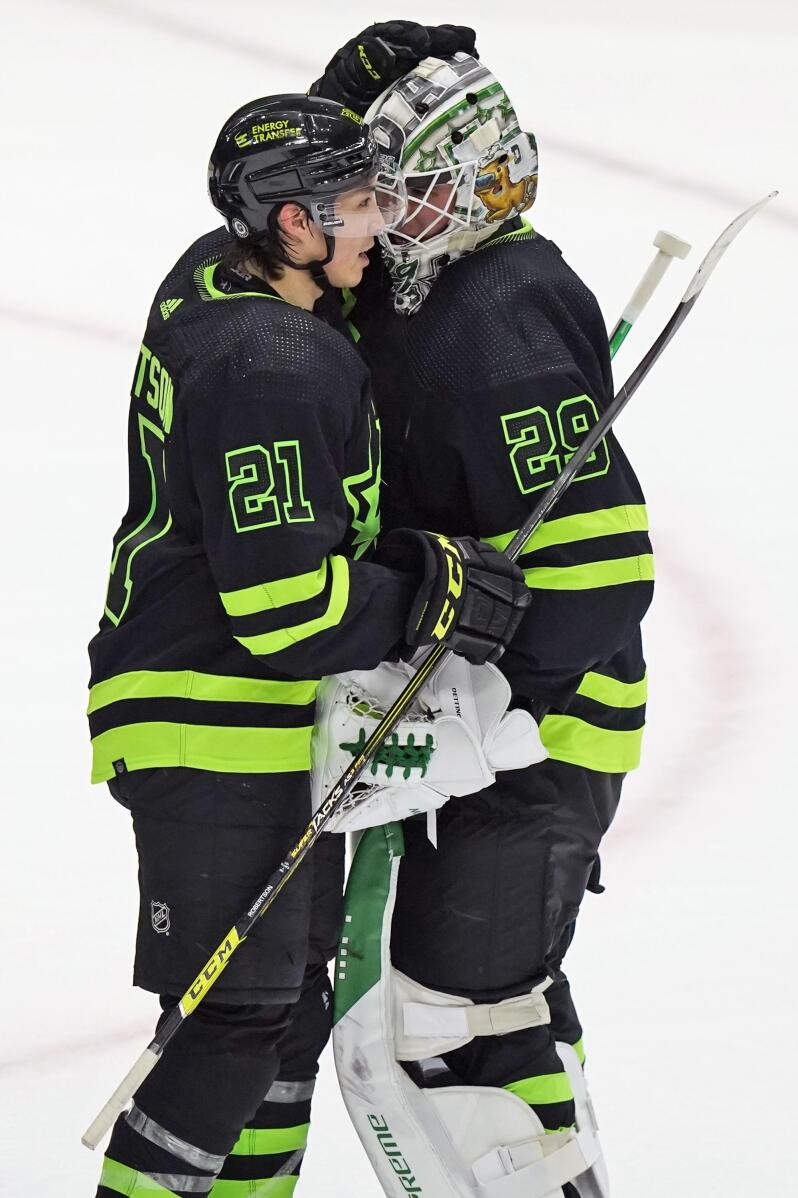 3 of 7

|
Dallas Stars goaltender Jake Oettinger (29) and left wing Jason Robertson (21) congratulate each other after the team's NHL hockey game against the St. Louis Blues in Dallas, Thursday, April 13, 2023. (AP Photo/LM Otero)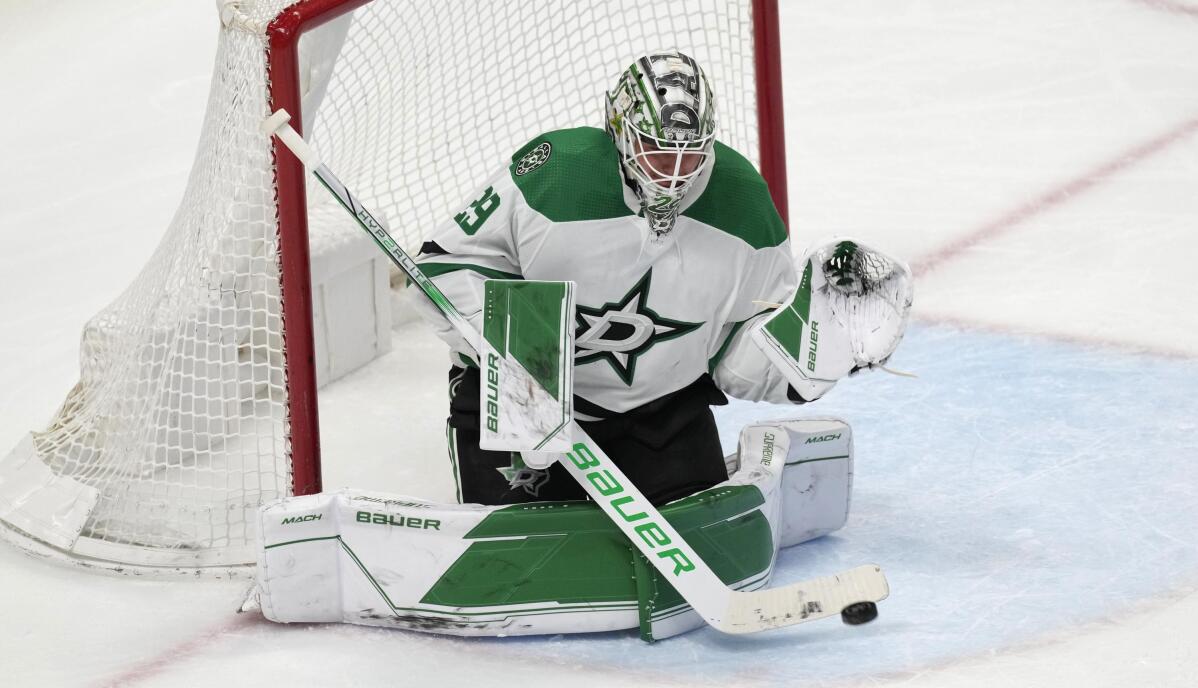 4 of 7

|
Dallas Stars goaltender Jake Oettinger makes a stick-save in the third period of an NHL hockey game against the Colorado Avalanche, Saturday, April 1, 2023, in Denver. (AP Photo/David Zalubowski)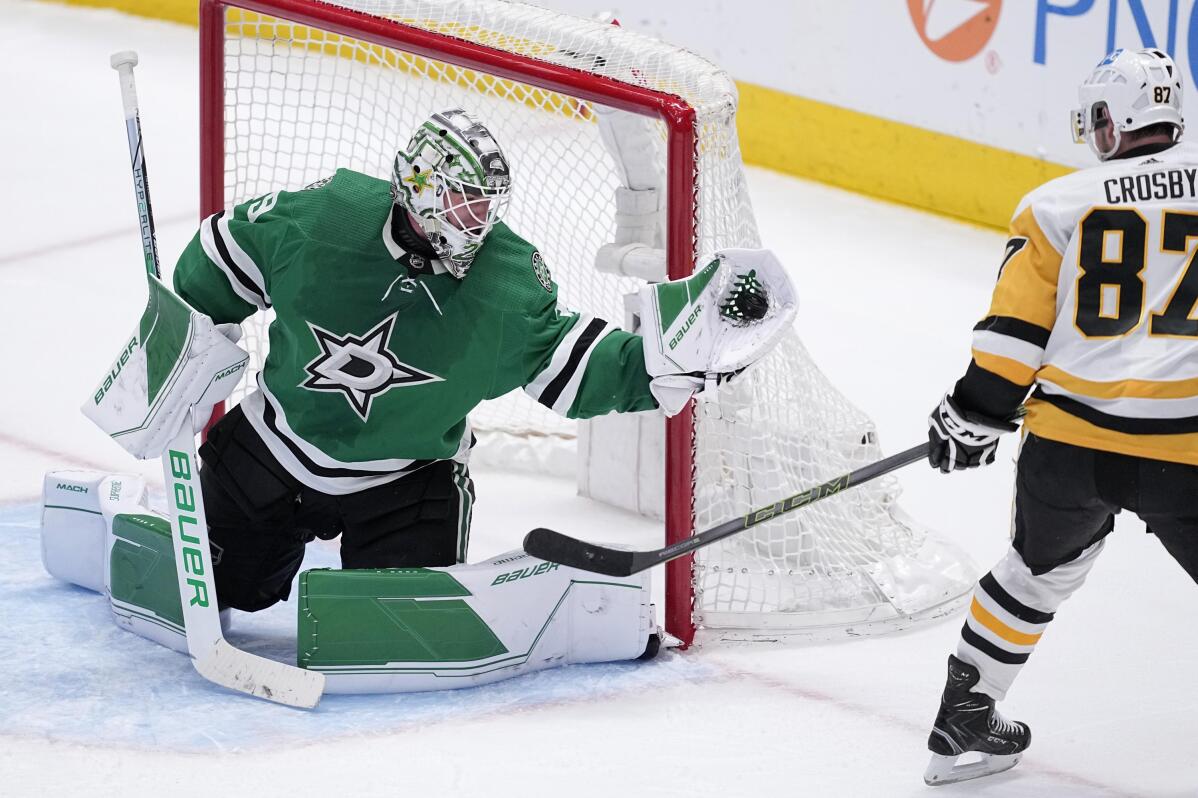 5 of 7

|
Dallas Stars goaltender Jake Oettinger (29) gloves a shot from Pittsburgh Penguins center Sidney Crosby (87) late in the third period of an NHL hockey game, Thursday, March 23, 2023, in Dallas. (AP Photo/Tony Gutierrez)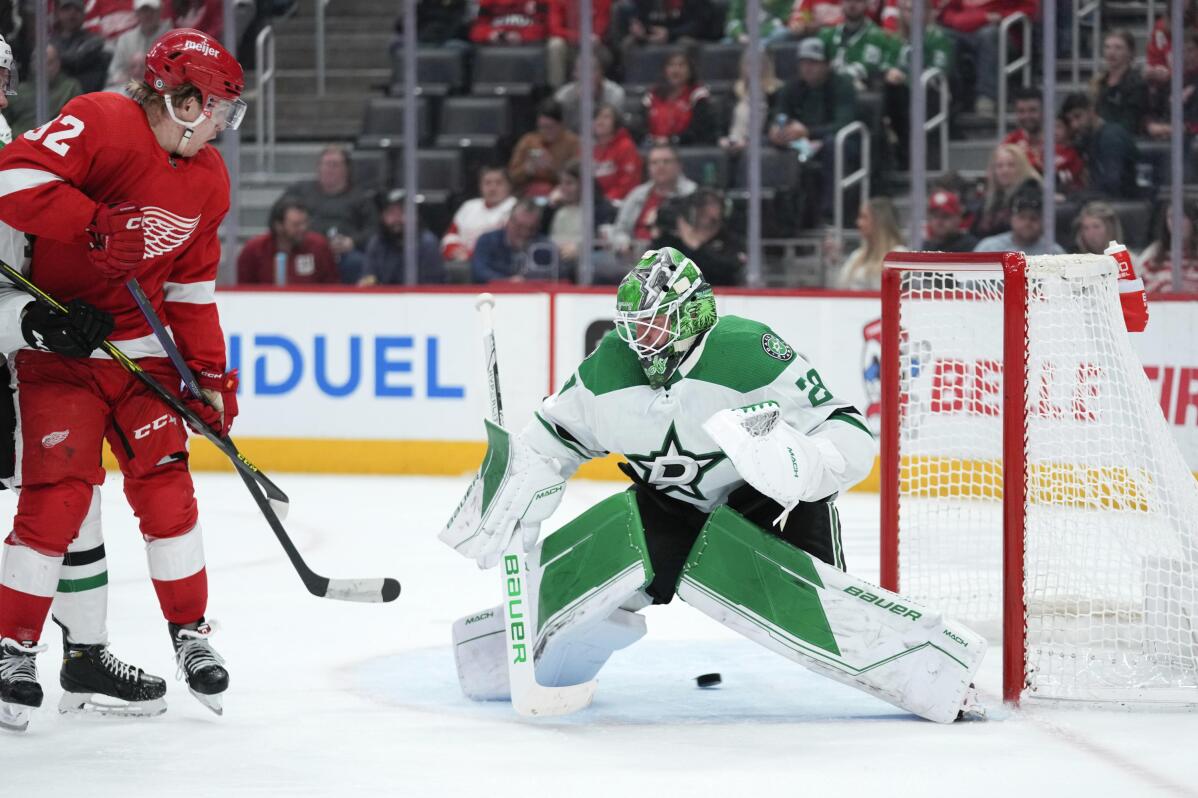 6 of 7

|
Detroit Red Wings right wing Jonatan Berggren (52) watches a David Perron shot beat Dallas Stars goaltender Jake Oettinger (29) in the second period of an NHL hockey game Monday, April 10, 2023, in Detroit. (AP Photo/Paul Sancya)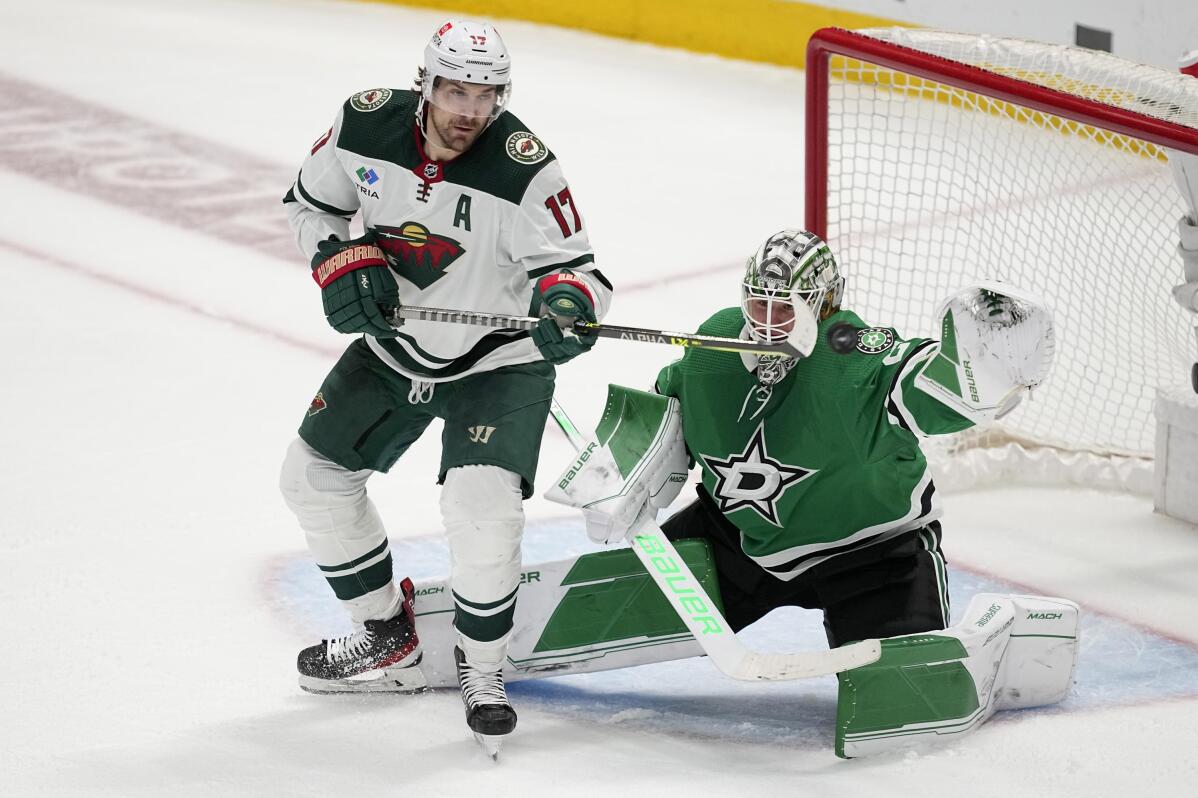 7 of 7

|
Minnesota Wild left wing Marcus Foligno (17) pressures the net as Dallas Stars goaltender Jake Oettinger (29) defends against a shot in the third period of Game 2 of an NHL hockey Stanley Cup first-round playoff series, Wednesday, April 19, 2023, in Dallas. (AP Photo/Tony Gutierrez)
Stars goalie Oettinger going home for games in Minnesota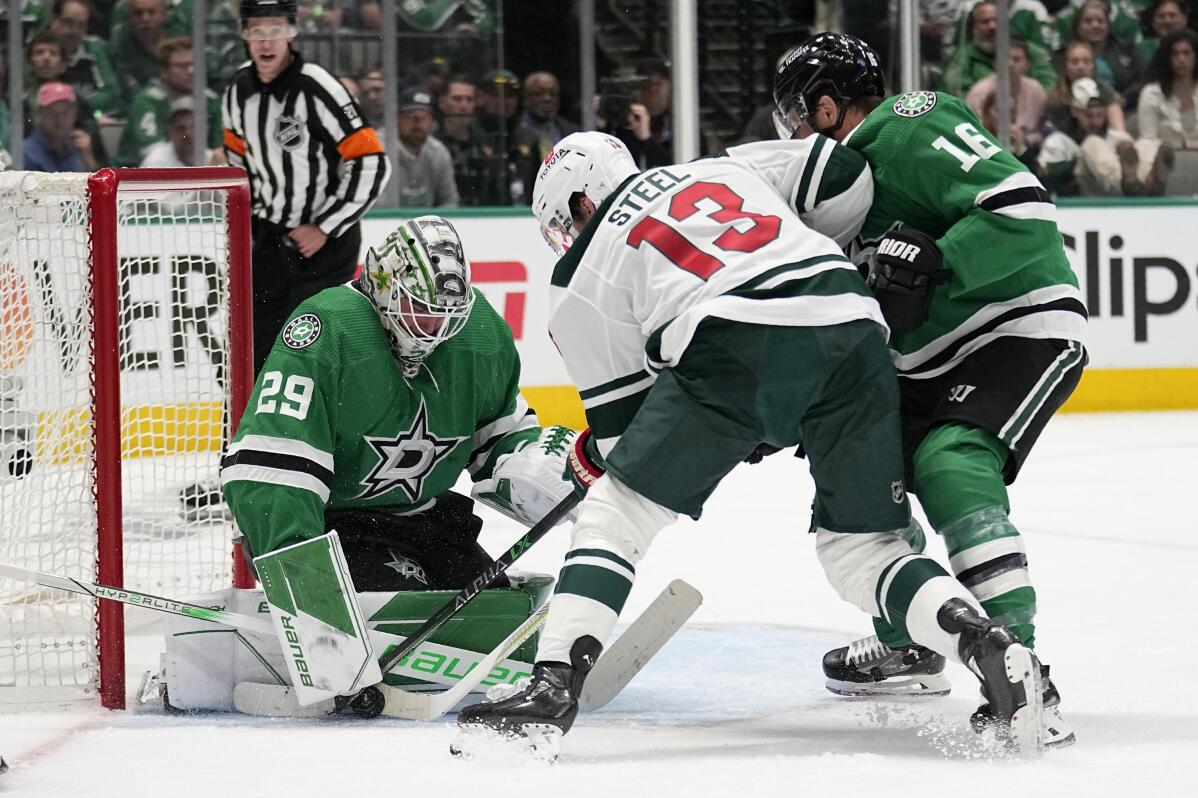 1 of 7

|
Dallas Stars goaltender Jake Oettinger, left, gets help from Joe Pavelski (16) defending against pressure from Minnesota Wild center Sam Steel (13) in the second period of Game 1 of an NHL hockey Stanley Cup first-round playoff series, Monday, April 17, 2023, in Dallas. (AP Photo/Tony Gutierrez)
1 of 7
Dallas Stars goaltender Jake Oettinger, left, gets help from Joe Pavelski (16) defending against pressure from Minnesota Wild center Sam Steel (13) in the second period of Game 1 of an NHL hockey Stanley Cup first-round playoff series, Monday, April 17, 2023, in Dallas. (AP Photo/Tony Gutierrez)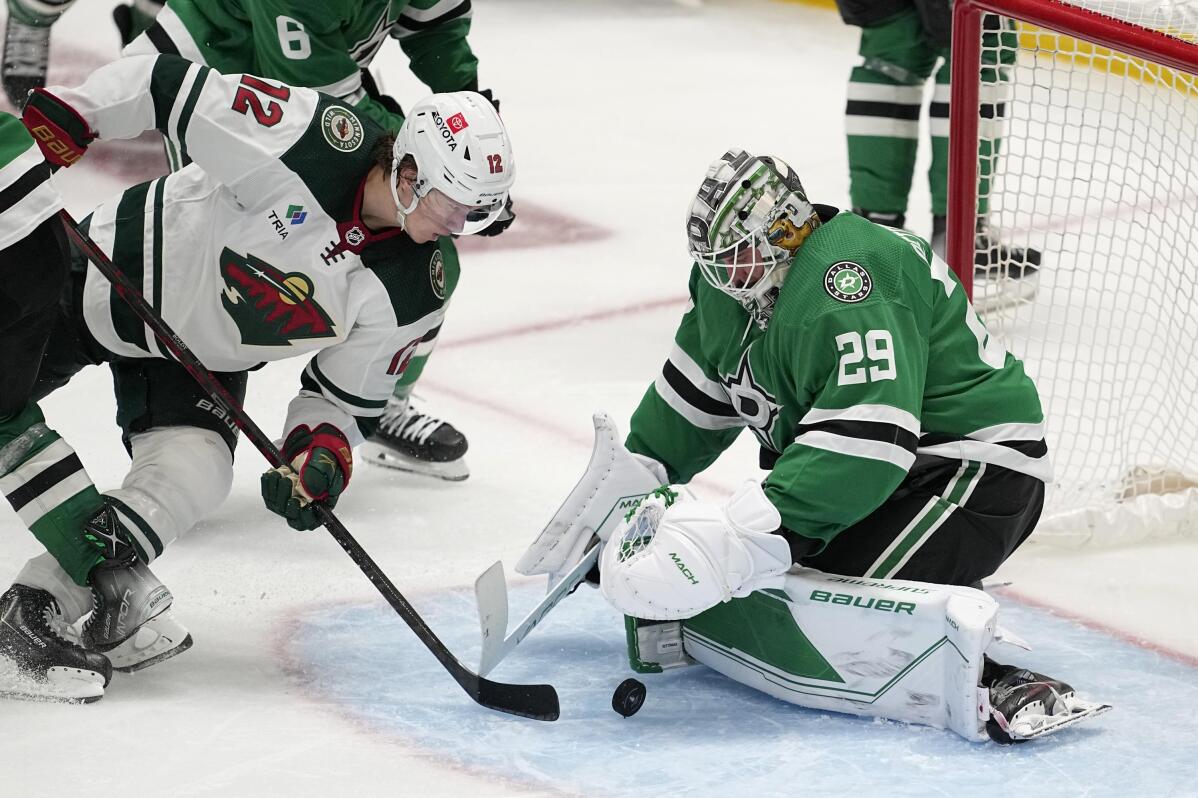 2 of 7

|
Minnesota Wild left wing Matt Boldy (12) attempts to get a shot past Dallas Stars goaltender Jake Oettinger (29) in the third period of Game 2 of an NHL hockey Stanley Cup first-round playoff series, Wednesday, April 19, 2023, in Dallas. (AP Photo/Tony Gutierrez)
2 of 7
Minnesota Wild left wing Matt Boldy (12) attempts to get a shot past Dallas Stars goaltender Jake Oettinger (29) in the third period of Game 2 of an NHL hockey Stanley Cup first-round playoff series, Wednesday, April 19, 2023, in Dallas. (AP Photo/Tony Gutierrez)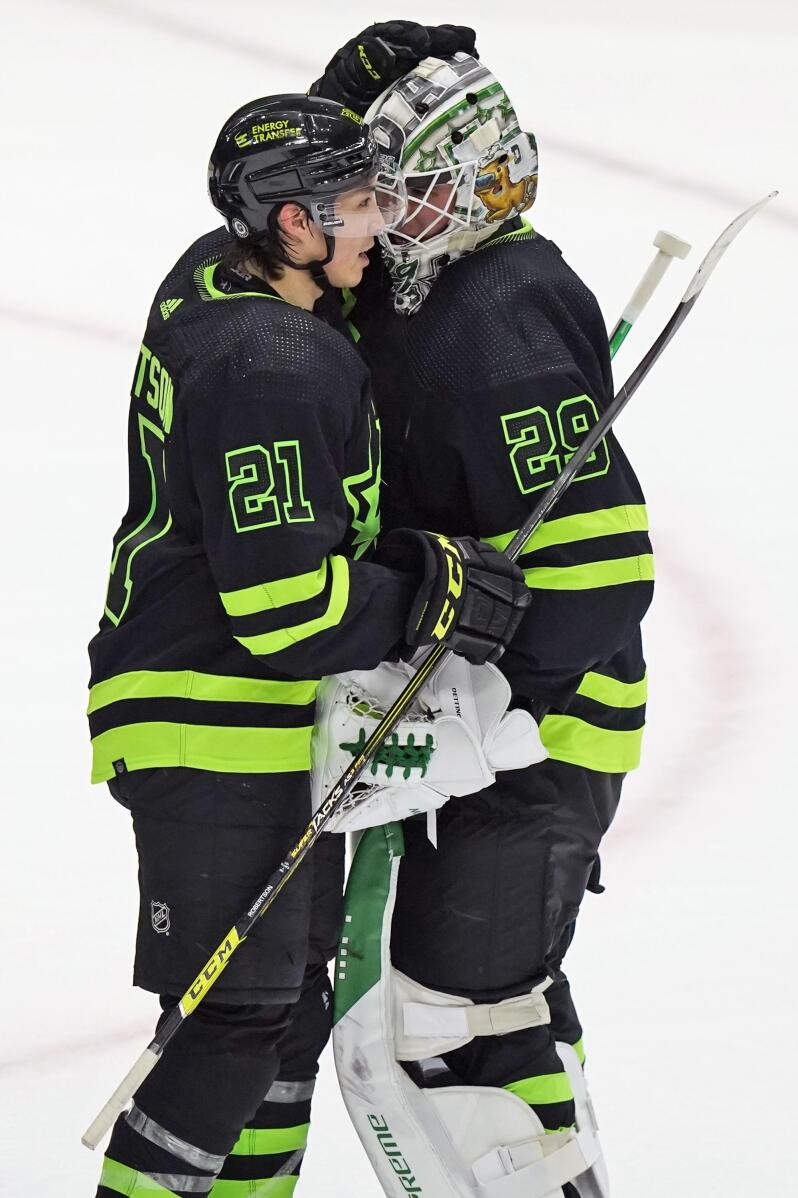 3 of 7

|
Dallas Stars goaltender Jake Oettinger (29) and left wing Jason Robertson (21) congratulate each other after the team's NHL hockey game against the St. Louis Blues in Dallas, Thursday, April 13, 2023. (AP Photo/LM Otero)
3 of 7
Dallas Stars goaltender Jake Oettinger (29) and left wing Jason Robertson (21) congratulate each other after the team's NHL hockey game against the St. Louis Blues in Dallas, Thursday, April 13, 2023. (AP Photo/LM Otero)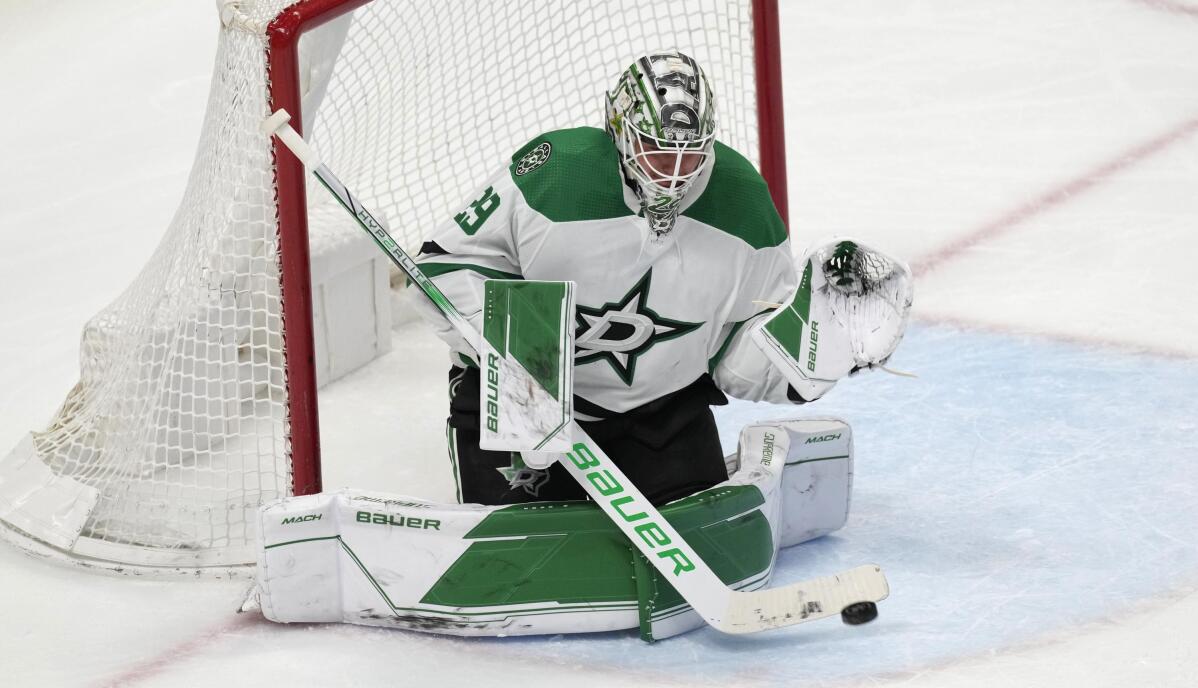 4 of 7

|
Dallas Stars goaltender Jake Oettinger makes a stick-save in the third period of an NHL hockey game against the Colorado Avalanche, Saturday, April 1, 2023, in Denver. (AP Photo/David Zalubowski)
4 of 7
Dallas Stars goaltender Jake Oettinger makes a stick-save in the third period of an NHL hockey game against the Colorado Avalanche, Saturday, April 1, 2023, in Denver. (AP Photo/David Zalubowski)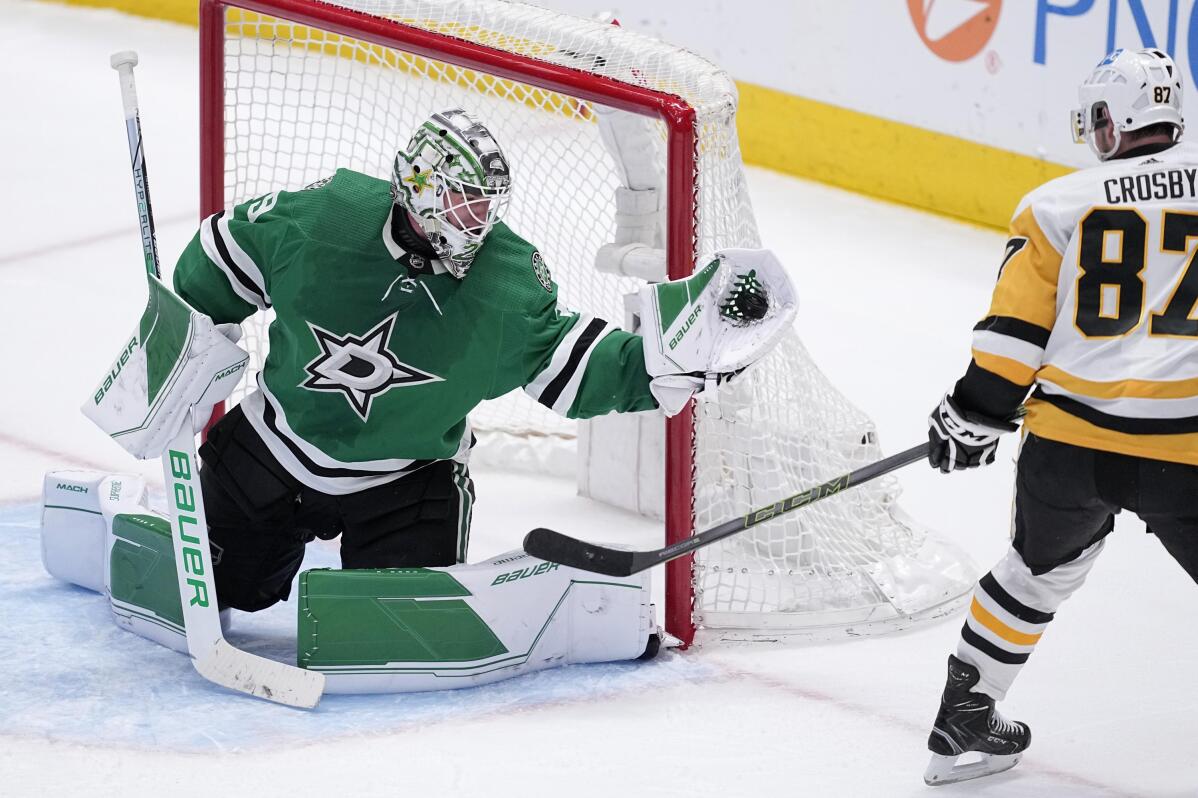 5 of 7

|
Dallas Stars goaltender Jake Oettinger (29) gloves a shot from Pittsburgh Penguins center Sidney Crosby (87) late in the third period of an NHL hockey game, Thursday, March 23, 2023, in Dallas. (AP Photo/Tony Gutierrez)
5 of 7
Dallas Stars goaltender Jake Oettinger (29) gloves a shot from Pittsburgh Penguins center Sidney Crosby (87) late in the third period of an NHL hockey game, Thursday, March 23, 2023, in Dallas. (AP Photo/Tony Gutierrez)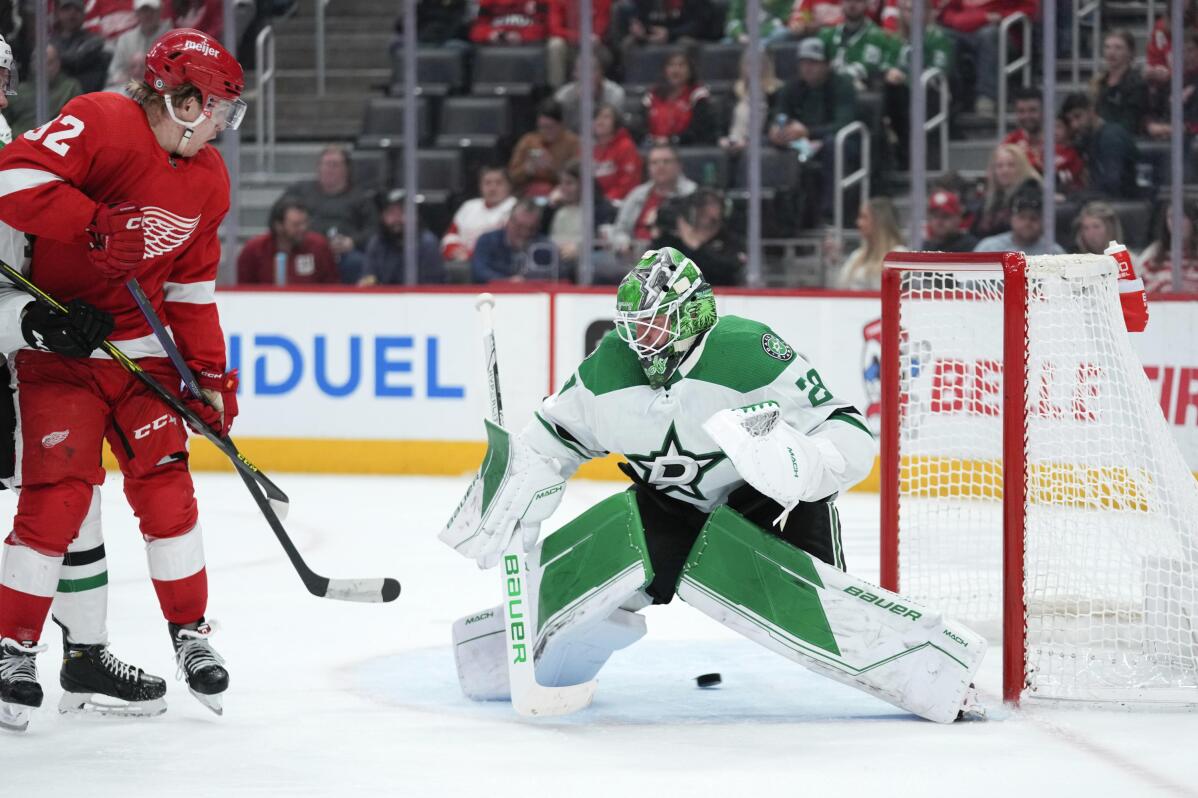 6 of 7

|
Detroit Red Wings right wing Jonatan Berggren (52) watches a David Perron shot beat Dallas Stars goaltender Jake Oettinger (29) in the second period of an NHL hockey game Monday, April 10, 2023, in Detroit. (AP Photo/Paul Sancya)
6 of 7
Detroit Red Wings right wing Jonatan Berggren (52) watches a David Perron shot beat Dallas Stars goaltender Jake Oettinger (29) in the second period of an NHL hockey game Monday, April 10, 2023, in Detroit. (AP Photo/Paul Sancya)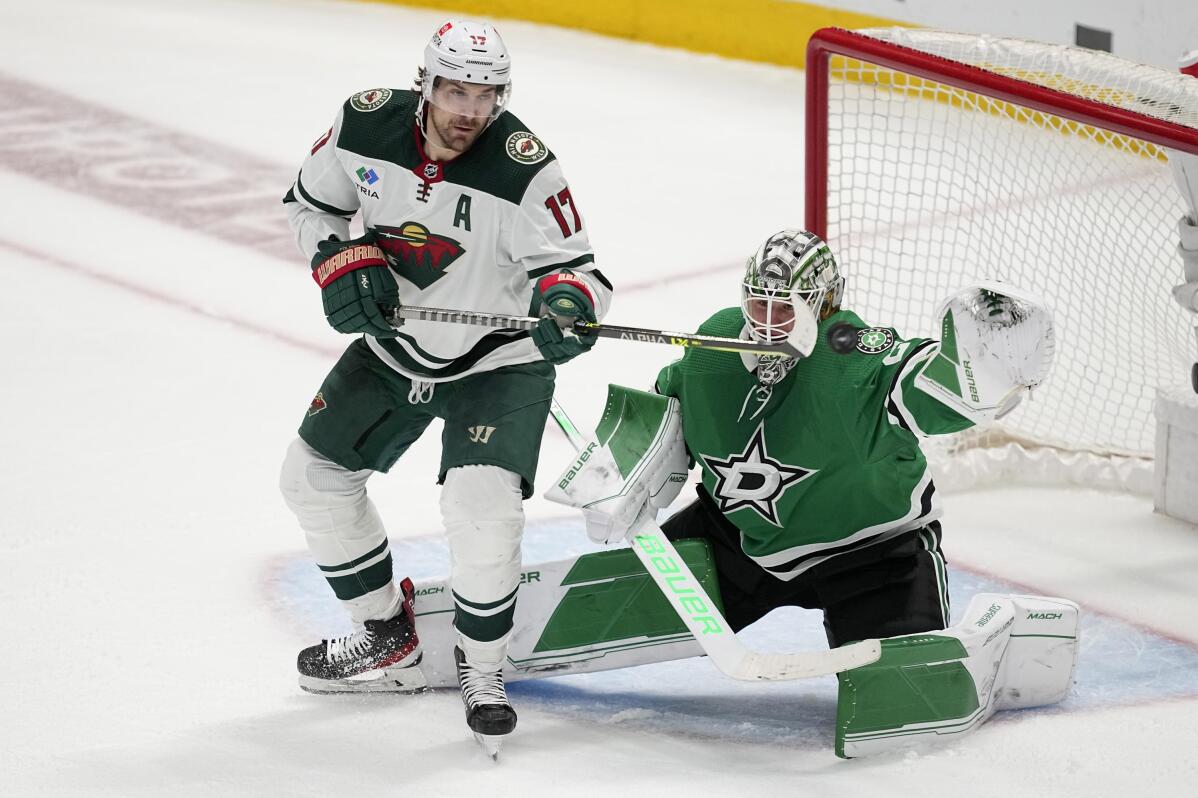 7 of 7

|
Minnesota Wild left wing Marcus Foligno (17) pressures the net as Dallas Stars goaltender Jake Oettinger (29) defends against a shot in the third period of Game 2 of an NHL hockey Stanley Cup first-round playoff series, Wednesday, April 19, 2023, in Dallas. (AP Photo/Tony Gutierrez)
7 of 7
Minnesota Wild left wing Marcus Foligno (17) pressures the net as Dallas Stars goaltender Jake Oettinger (29) defends against a shot in the third period of Game 2 of an NHL hockey Stanley Cup first-round playoff series, Wednesday, April 19, 2023, in Dallas. (AP Photo/Tony Gutierrez)
Dallas Stars goalie Jake Oettinger grew up about 30 miles from the Minnesota Wild's arena, so coach Pete DeBoer spoke with him about that even before the start of the first-round playoff series that takes him home for Games 3 and 4.
The coach's message to his 24-year-old goaltender was simple.
"I'm just trying to manage his bank account, and make sure he's not buying a couple hundred tickets to every game there," DeBoer said. "At some point, you can't buy everyone in Minnesota a ticket to come watch you play."
As for what Oettinger does on the ice between the pipes, DeBoer and the Stars have no worries.
"He has that character to be a dominant goalie, and he wants the spotlight," veteran Dallas center Tyler Seguin said. "So that gives you a lot of confidence."
Oettinger's last playoff game at the Wild's home arena was as a high school freshman in 2014, when his team lost in the Class AA state championship game. But in his three regular-season starts as a pro not far from his hometown of Lakeview, Minnesota, he has won twice and had a 2-1 shootout loss.
This postseason series is tied at a game apiece. Game 3 is Friday night at Xcel Energy Center, where plenty of folks will be cheering for the 6-foot-5 goalie in the opposing net who will do his best to treat his first NHL playoff game there like any other game.
"The only difference is I could drive home between games if I wanted to, but I'm going to treat it like I'm in Calgary or Colorado or Seattle or whatever," he said. "Just happy that (family and friends) get to come and get to experience it with me."
Oettinger made his NHL debut during the 2020 playoffs played in a Canadian bubble because of the pandemic, entering two games as the Stars made it to the Stanley Cup Final. He was their No. 1 goalie by the time they made it back to the playoffs as a wild-card team last year; he had 272 saves in the first round against Calgary, with 64 of those coming in an astonishing Game 7 performance before the Flames got the series-clinching goal in overtime.
When asked before this series how long it took him to get over Johnny Gaudreau's OT goal, Oettinger responded: "I'll let you know when it happens."
DeBoer is in his first season with the Stars, but saw that impressive playoff performance by Oettinger last May.
"Then when you get to know Jake and work with him like I did this year, you can see how he's able to do that. He really has a competitiveness to him where he can rise to the occasion," said DeBoer, then recalling a game in mid-December at Washington when Alex Ovechkin had a chance at home for his 801st goal to match Gordie Howe for second place on the NHL career list.
Ovechkin didn't get any of his five shots past Oettinger.
"Otter took that personally, and made sure that he didn't score," DeBoer said. "That tells you about a guy's competitiveness that you know, basically not on me, not tonight. ... So it's nice to have a guy like that on your side."
He already has 68 saves in more than 151 minutes in the first two games of this series. Oettinger stopped 45 shots in the 3-2 double-overtime loss in Game 1, then had 23 saves in the Stars' 7-3 win on Wednesday night.
Only two NHL goalies have had more than Oettinger's 340 saves through their first nine playoff starts. Jonas Hiller had 358 for Anaheim in 2009, and Olaf Kölzig had 349 for Washington from 1995-98.
After Oettinger's freshman year in high school, he joined the USA Hockey National Development Team Program and later went to Boston University. He was drafted 26th overall in 2017 by the Stars, who had already picked defenseman Miro Heiskanen earlier in that first round and got Jason Robertson in the second round.
"You look at these past couple of years that what we've kind of seen is how much poise he's gained," said Robertson, now a 100-point scorer. "Just always so calm on the ice, always so ready and focused. And you always, you know can rely on him making a big save or having your back on the ice."
___
AP NHL: https://apnews.com/hub/stanley-cup and https://twitter.com/AP_Sports