Kempe scores for 3rd straight game, Kings beat Sabres 5-2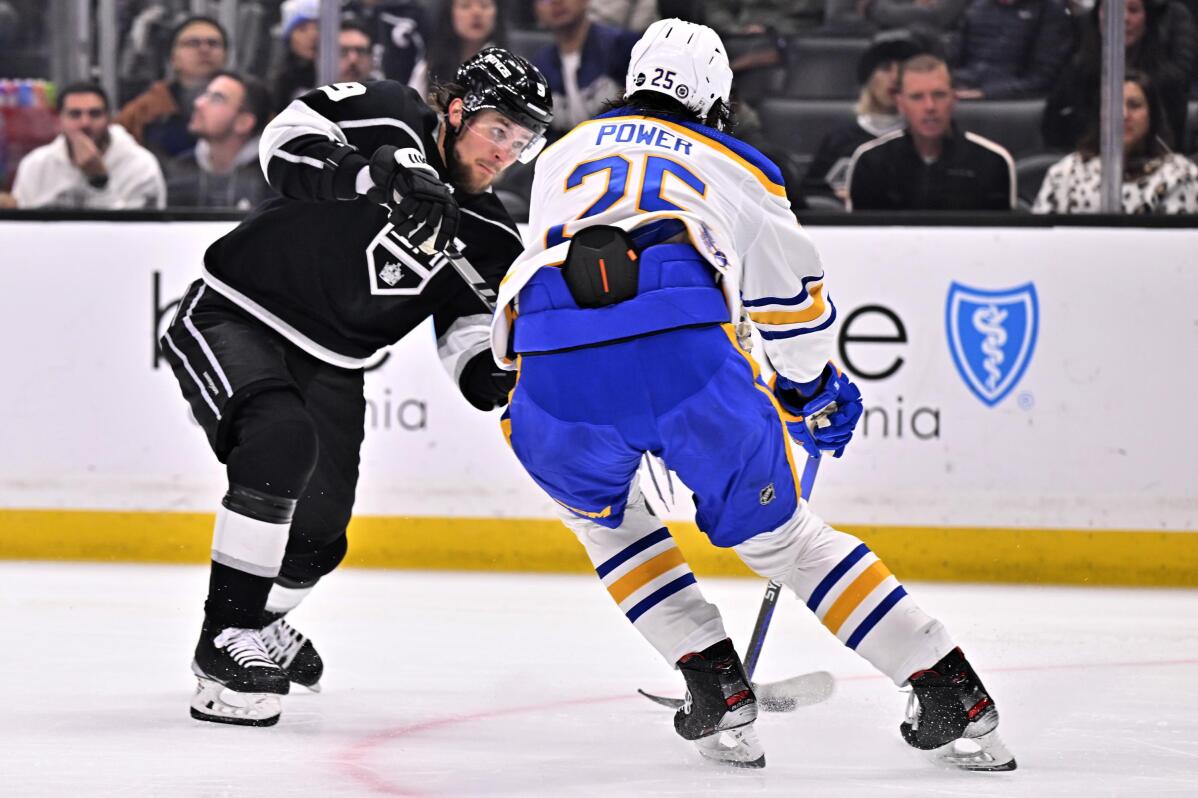 1 of 4

|
Los Angeles Kings right wing Adrian Kempe, left, shoots to score against Buffalo Sabres defenseman Owen Power during the second period of an NHL hockey game in Los Angeles, Monday, Feb. 13, 2023. (AP Photo/Alex Gallardo)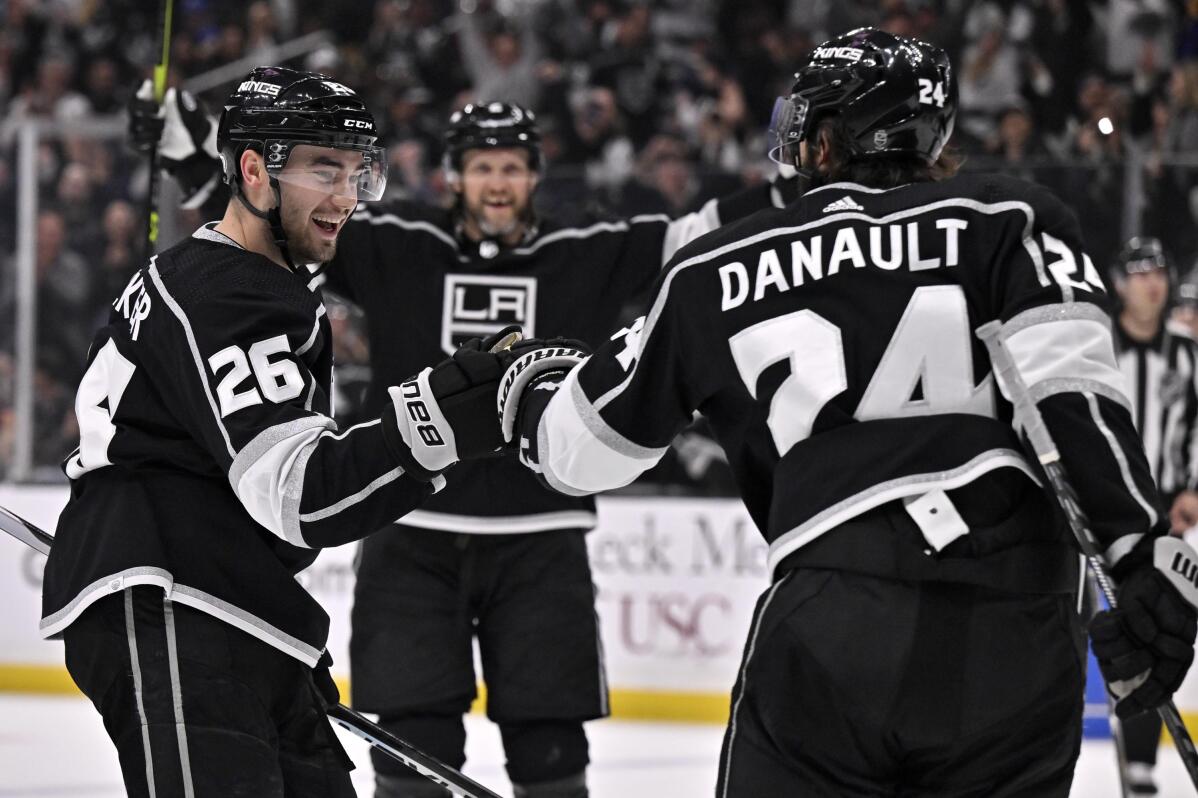 2 of 4

|
Los Angeles Kings defenseman Sean Walker, left, celebrates scoring a goal with center Phillip Danault during the second period of an NHL hockey game against the Buffalo Sabres in Los Angeles, Monday, Feb. 13, 2023. (AP Photo/Alex Gallardo)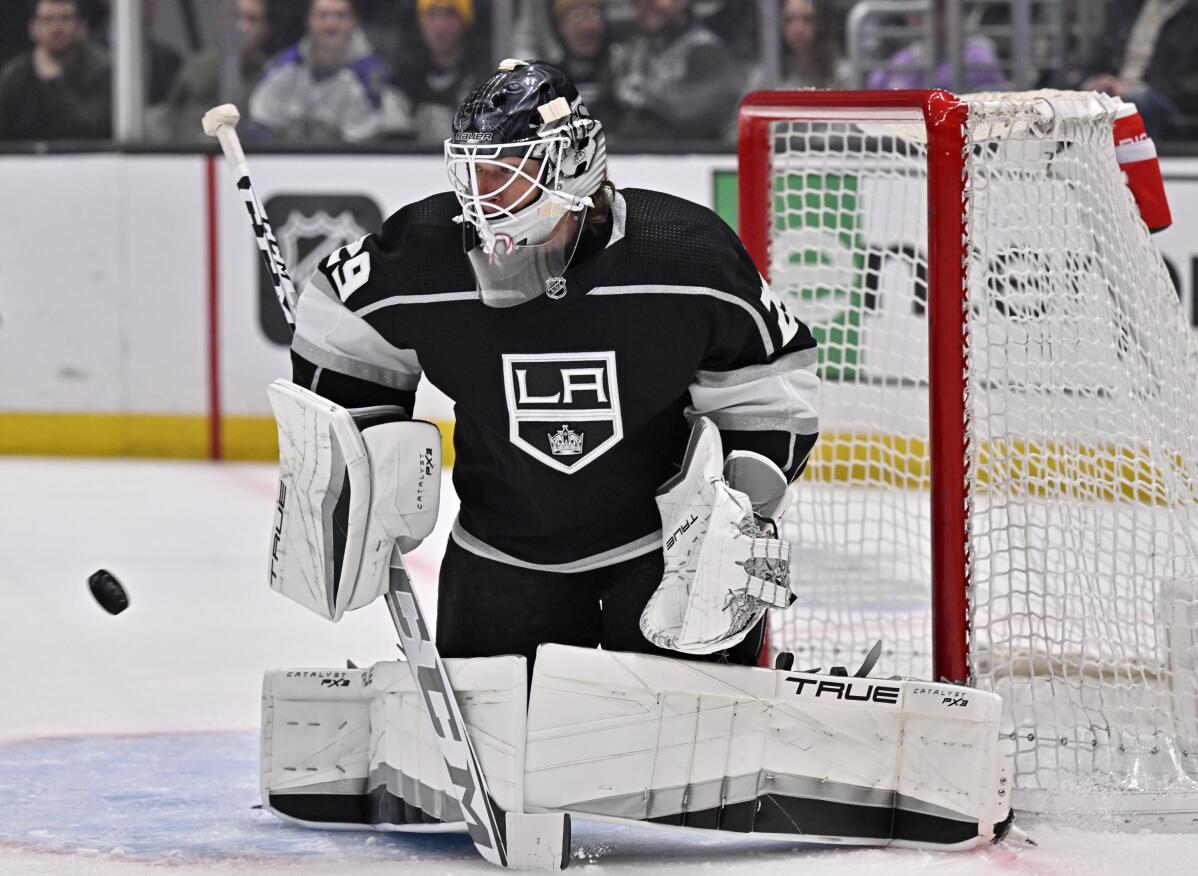 3 of 4

|
Los Angeles Kings goaltender Pheonix Copley blocks a shot during the first period of an NHL hockey game against the Buffalo Sabres in Los Angeles, Monday, Feb. 13, 2023. (AP Photo/Alex Gallardo)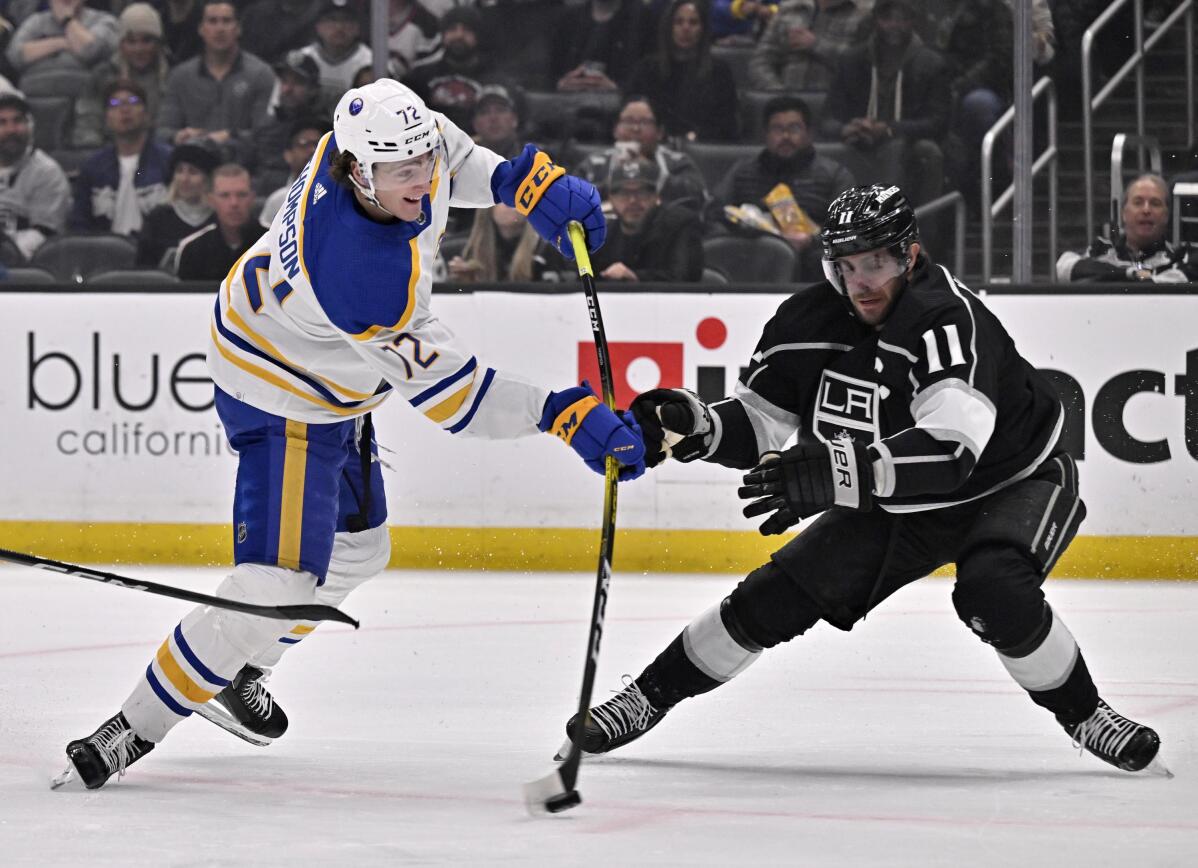 4 of 4

|
Buffalo Sabres center Tage Thompson, left, shoots against a stickless Los Angeles Kings center Anze Kopitar during the first period of an NHL hockey game in Los Angeles, Monday, Feb. 13, 2023. (AP Photo/Alex Gallardo)
Kempe scores for 3rd straight game, Kings beat Sabres 5-2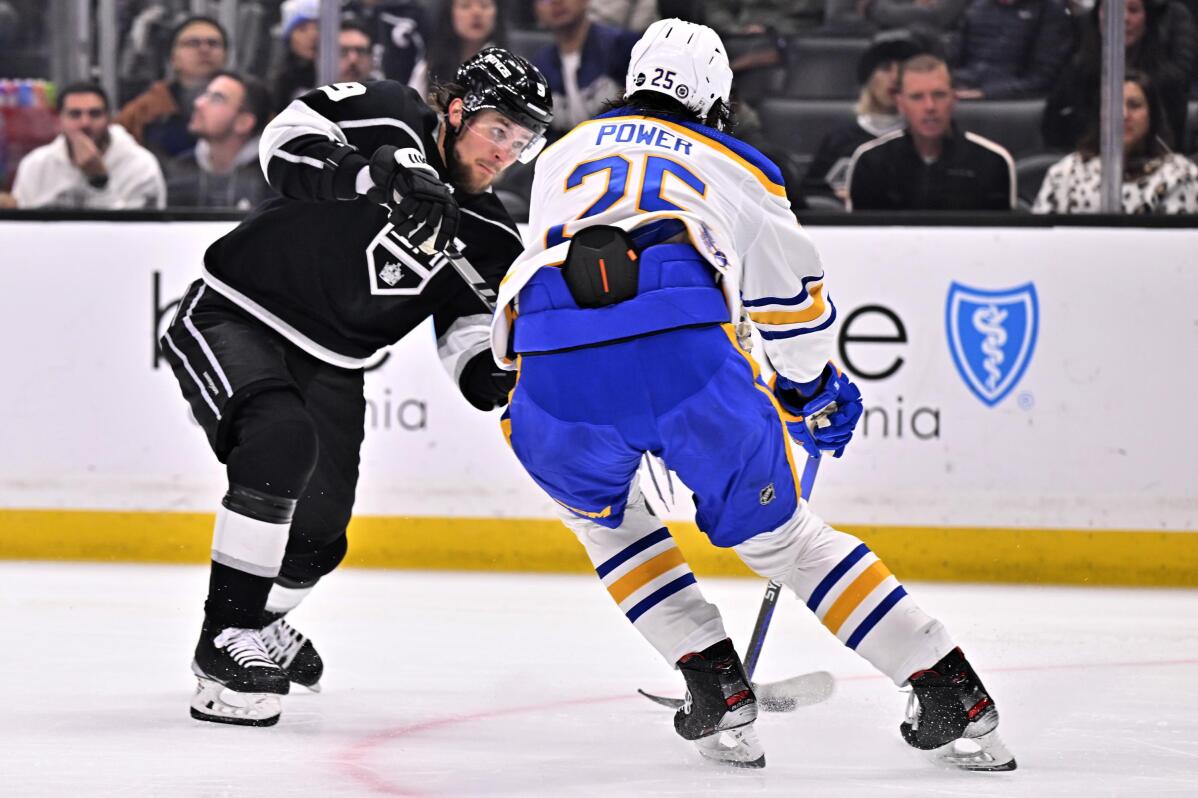 1 of 4

|
Los Angeles Kings right wing Adrian Kempe, left, shoots to score against Buffalo Sabres defenseman Owen Power during the second period of an NHL hockey game in Los Angeles, Monday, Feb. 13, 2023. (AP Photo/Alex Gallardo)
1 of 4
Los Angeles Kings right wing Adrian Kempe, left, shoots to score against Buffalo Sabres defenseman Owen Power during the second period of an NHL hockey game in Los Angeles, Monday, Feb. 13, 2023. (AP Photo/Alex Gallardo)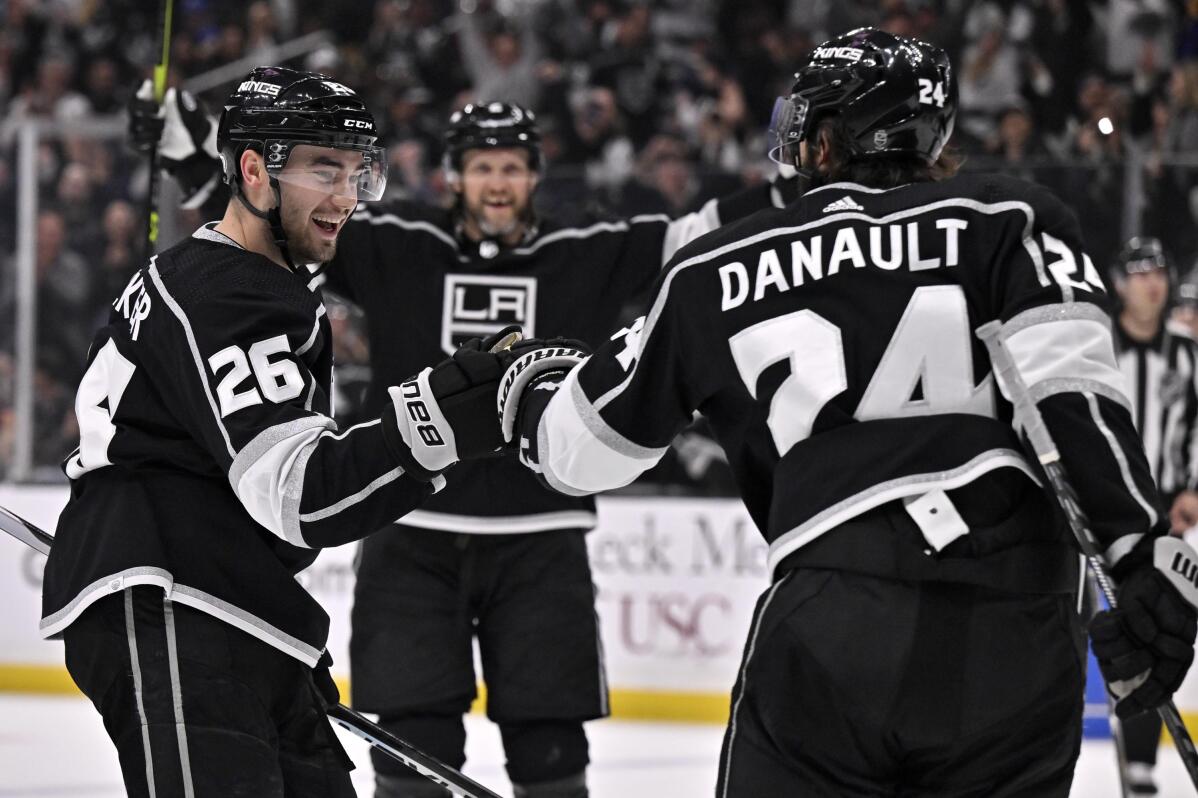 2 of 4

|
Los Angeles Kings defenseman Sean Walker, left, celebrates scoring a goal with center Phillip Danault during the second period of an NHL hockey game against the Buffalo Sabres in Los Angeles, Monday, Feb. 13, 2023. (AP Photo/Alex Gallardo)
2 of 4
Los Angeles Kings defenseman Sean Walker, left, celebrates scoring a goal with center Phillip Danault during the second period of an NHL hockey game against the Buffalo Sabres in Los Angeles, Monday, Feb. 13, 2023. (AP Photo/Alex Gallardo)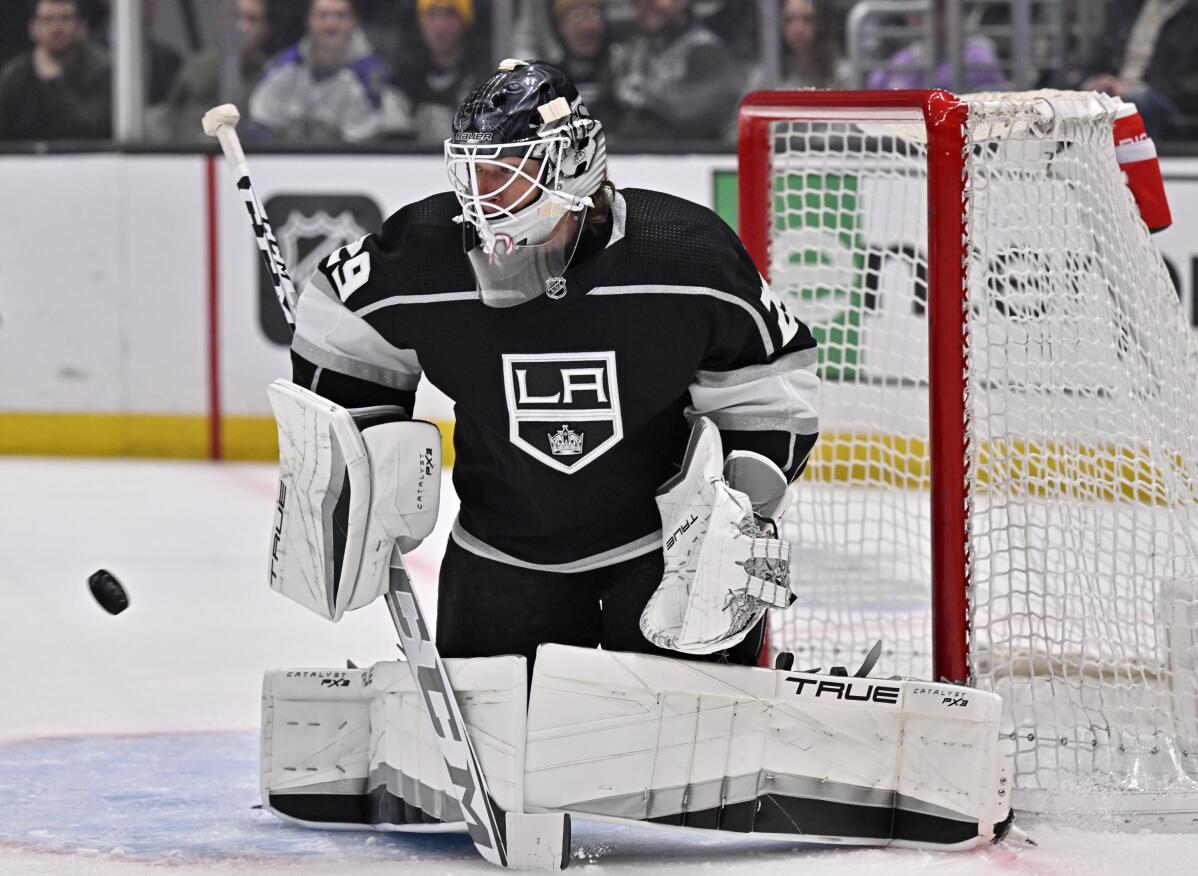 3 of 4

|
Los Angeles Kings goaltender Pheonix Copley blocks a shot during the first period of an NHL hockey game against the Buffalo Sabres in Los Angeles, Monday, Feb. 13, 2023. (AP Photo/Alex Gallardo)
3 of 4
Los Angeles Kings goaltender Pheonix Copley blocks a shot during the first period of an NHL hockey game against the Buffalo Sabres in Los Angeles, Monday, Feb. 13, 2023. (AP Photo/Alex Gallardo)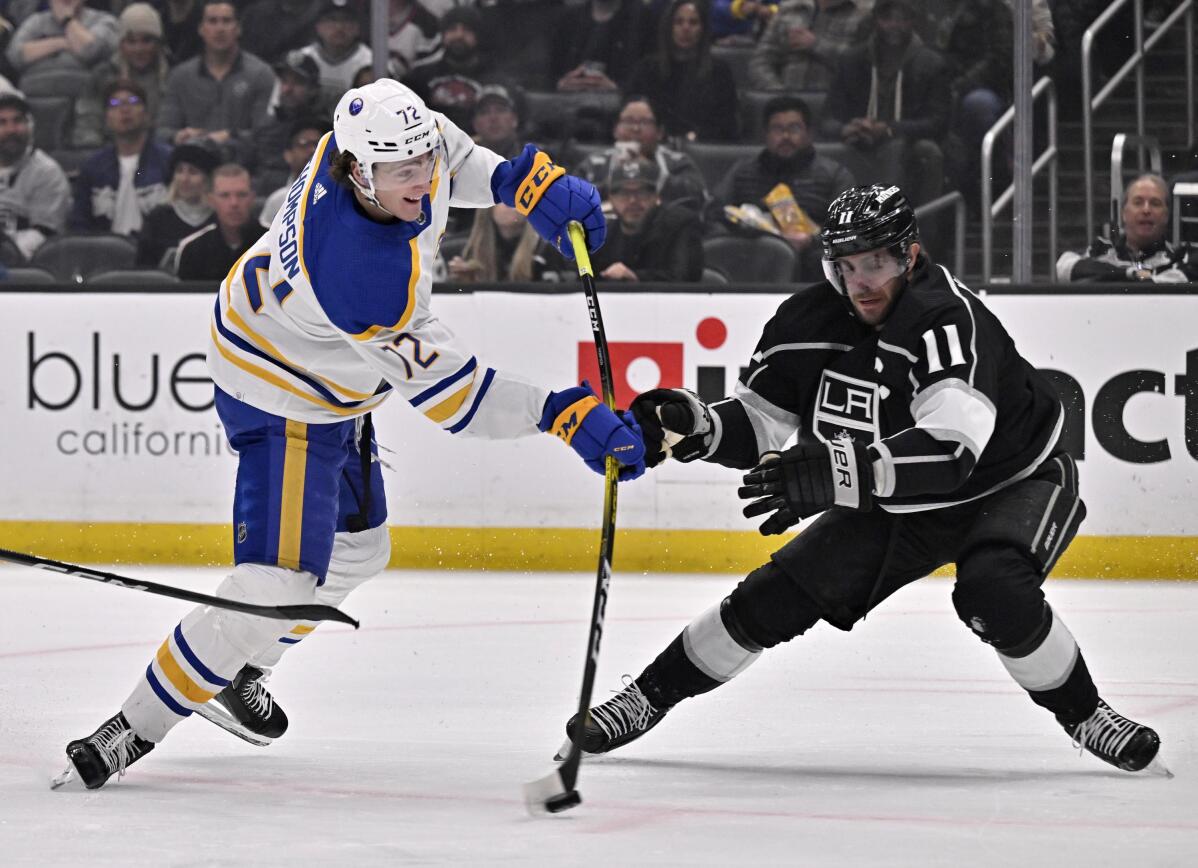 4 of 4

|
Buffalo Sabres center Tage Thompson, left, shoots against a stickless Los Angeles Kings center Anze Kopitar during the first period of an NHL hockey game in Los Angeles, Monday, Feb. 13, 2023. (AP Photo/Alex Gallardo)
4 of 4
Buffalo Sabres center Tage Thompson, left, shoots against a stickless Los Angeles Kings center Anze Kopitar during the first period of an NHL hockey game in Los Angeles, Monday, Feb. 13, 2023. (AP Photo/Alex Gallardo)
LOS ANGELES (AP) — Adrian Kempe scored for the third straight game, Viktor Arvidsson had a goal and two assists, and the Los Angeles Kings beat the Buffalo Sabres 5-2 on Monday night.
Sean Walker. Arthur Kaliyev and Matt Roy also scored to help the Kings get their second straight win after the All-Star break and bye week. Phillip Danault had three assists and Pheonix Copley made 27 saves.
"We're just growing our game to get ready for the end," Danault said. "I thought we played a solid 60 minutes."
Dylan Cozens and Peyton Krebs scored, and Craig Anderson allowed five goals on 28 shots for the Sabres, who have dropped four straight games following a five-game win streak.
"You got to work your way through it," Sabres coach Don Granato said. "We have to compete and work, and you saw some time in the third period where that's how we need to play."
The Kings scored four times in the second period, turning the tables after allowing six goals in the third period of a 6-0 loss at Buffalo on Dec. 13.
Kempe following up his four-goal eruption against Pittsburgh on Saturday by scoring short-handed at 9:20 of the middle period to open the scoring. It was his seventh goal in three games.
"Goal-scorer gets hot, and just hot stick, and it goes in. I've been in those situations before, and it's nice to be in that kind of groove," Arvidsson said.
Kaliyev hammered in a slap shot on a power play with 7:25 left for the 2-0 lead, and the edge on special teams proved to be decisive. Arvidsson poked in the puck after it took an odd bounce off the boards and ended up at Anderson's feet 5:14 into the third for the Kings' second power-play goal in three opportunities.
Los Angeles held Buffalo to 1-for-5 on the man-advantage, only buckling when Krebs got a consolation goal with five minutes left in the third.
"When the five guys jump over the boards, whether it's Danault's unit or (Anze) Kopitar's unit, you have a sense that you have a chance," Kings coach Todd McLellan said. "Our penalty kill is starting to get to that point where when it jumps over the boards, you're not holding your breath as much."
Walker and Roy scored 33 seconds apart at the end of the second to make it 4-0 with 46 seconds left and effectively put the game out of reach.
"Overall, it was 10, 15 minutes of collapse by us that cost us the game," said Cozens, who broke up Copley's bid for a second straight shutout with 9:44 left in the game.
RARE AIR
Kempe is the third Kings player to score five straight goals for the club, joining Tomas Sandstrom (Nov. 22-24, 1990) and Luc Robitaille (Feb. 4-6, 1992).
"I touched his stick a little bit to get some luck," Danault joked. "We need that from him ,and he's stepping up big time."
Sandstorm holds the club record with eight goals in a three-game span from Nov. 20-24, 1990.
DIDN'T WORK
The Sabres shuffled their forward combinations coming into the game in hopes of trying to end their skid, having Cozens center the top line between Jeff Skinner and Alex Tuch and putting Tage Thompson with Casey Mittelstadt and Kyle Okposo on the second line.
WORTH NOTING
Copley won his 17th game to set a new career high. He had 16 wins for Washington in 2018-19. … Danault had his fourth three-point game in two seasons since coming to Los Angeles. It was his first three-assist game as a King ... The Kings won their 200th game since Rob Blake took over as general manager following the 2017 season. ... Middlestadt and Victor Olofsson each had two assists for the Sabres.
UP NEXT
Sabres: At Anaheim on Wednesday night.
Kings: At Anaheim on Friday night.
___
AP NHL: https://apnews.com/hub/nhl and https://twitter.com/AP_Sports