Stars acquire Dadonov from Canadiens for Gurianov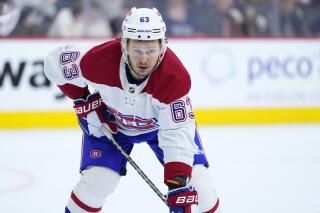 FRISCO, Texas (AP) — The Dallas Stars acquired Evgenii Dadonov from the Montreal Canadiens for Denis Gurianov on Sunday in a swap of Russian forwards designed to give the Central Division leaders an offensive boost.
Montreal is retaining half of Dadonov's $5 million salary cap hit for the rest of the season as part of the trade. That saves Dallas some money while it sheds Gurianov's $2.9 million.
Dadonov, 33, has 18 points in 50 games this season for Montreal, which is in the middle of a rebuild. He does have a track record of producing offense in the NHL.
"Evgenii is a skilled forward that can play anywhere in our lineup," general manager Jim Nill said. "Recording 20 or more goals in four of his previous five seasons, he is a proven goal-scorer at the NHL level and will bolster our offensive attack."
Dadonov has 19 career game-winning goals, including three since the NHL went to 3-on-3 overtime in 2015-16. Dallas is 2-9 this season in games decided in OT and 5-12 overall when more than regulation is needed.
Gurianov, 25, had been relegated to a limited role with Dallas after putting up just nine points in 43 games this season. He was part of the team that reached the Stanley Cup Final in the pandemic "bubble" environment in 2020, putting up 17 points in 27 playoff games.
___
AP NHL: https://apnews.com/hub/nhl and https://twitter.com/AP_Sports