Vanecek makes 32 saves as Devils roll past Red Wings 5-1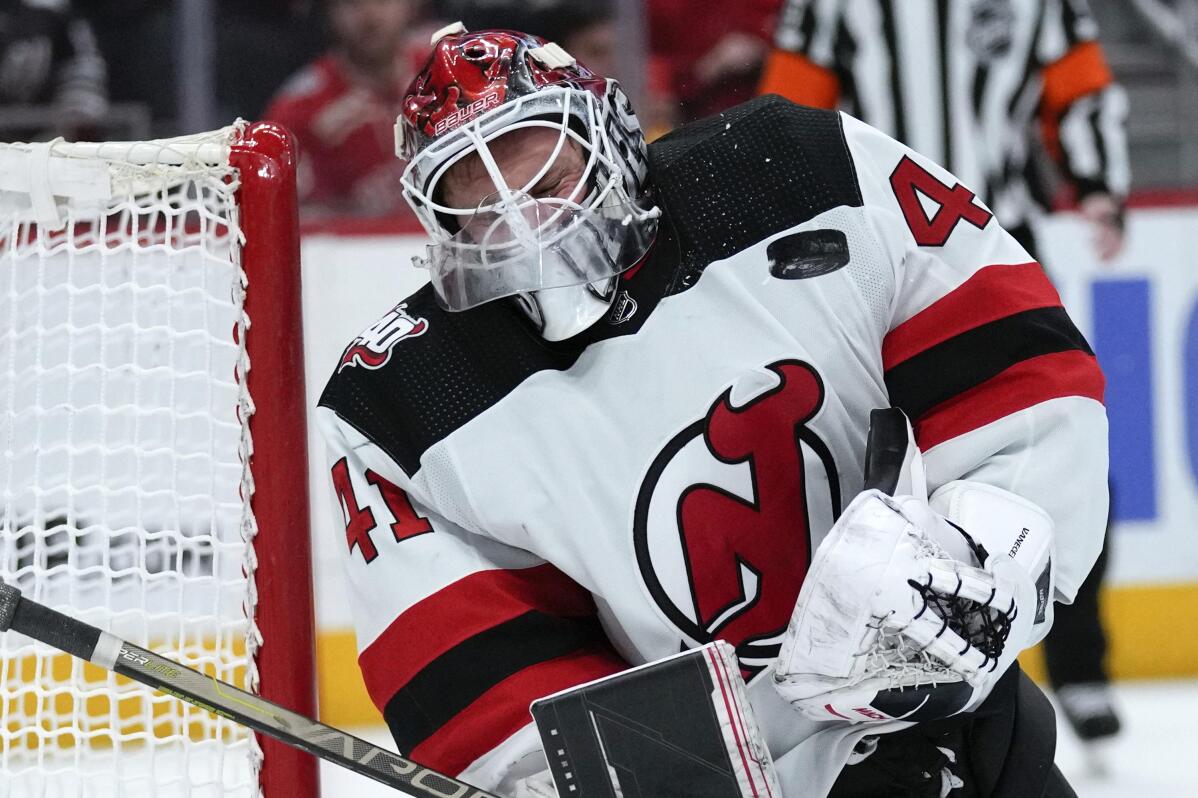 1 of 8

|
New Jersey Devils goaltender Vitek Vanecek (41) stops a Detroit Red Wings shot in the second period of an NHL hockey game Wednesday, Jan. 4, 2023, in Detroit. (AP Photo/Paul Sancya)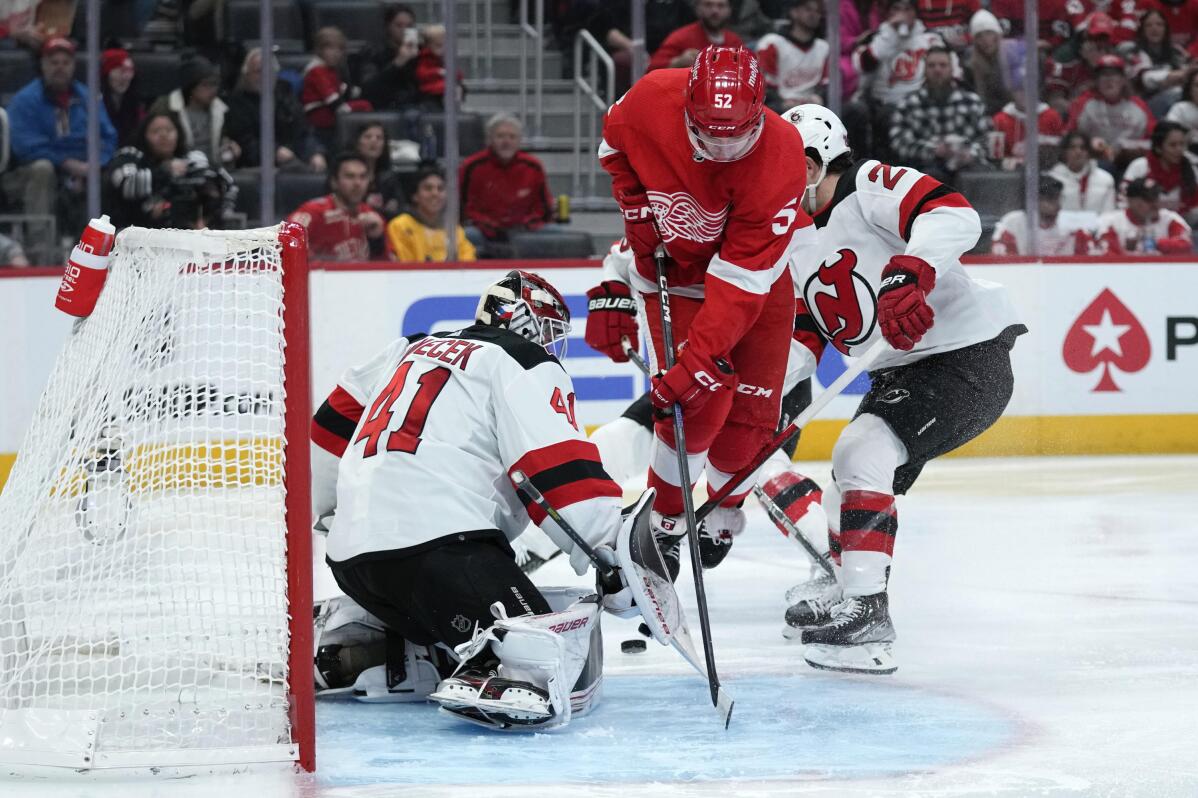 2 of 8

|
New Jersey Devils goaltender Vitek Vanecek (41) stops a Detroit Red Wings' Jonatan Bergen (52) shot in the second period of an NHL hockey game Wednesday, Jan. 4, 2023, in Detroit. (AP Photo/Paul Sancya)
3 of 8

|
New Jersey Devils right wing Alexander Holtz (10) celebrates his goal against the Detroit Red Wings in the third period of an NHL hockey game Wednesday, Jan. 4, 2023, in Detroit. (AP Photo/Paul Sancya)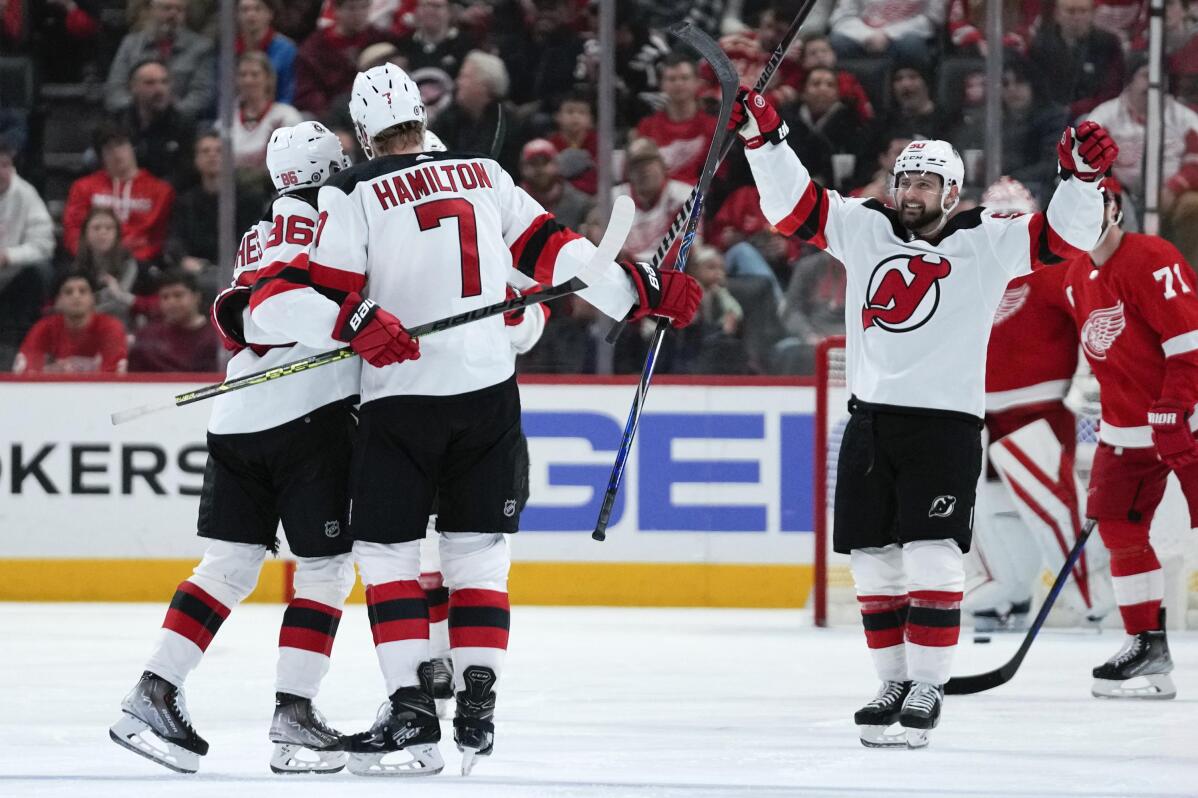 4 of 8

|
New Jersey Devils defenseman Dougie Hamilton (7) celebrates his goal against the Detroit Red Wings in the second period of an NHL hockey game Wednesday, Jan. 4, 2023, in Detroit. (AP Photo/Paul Sancya)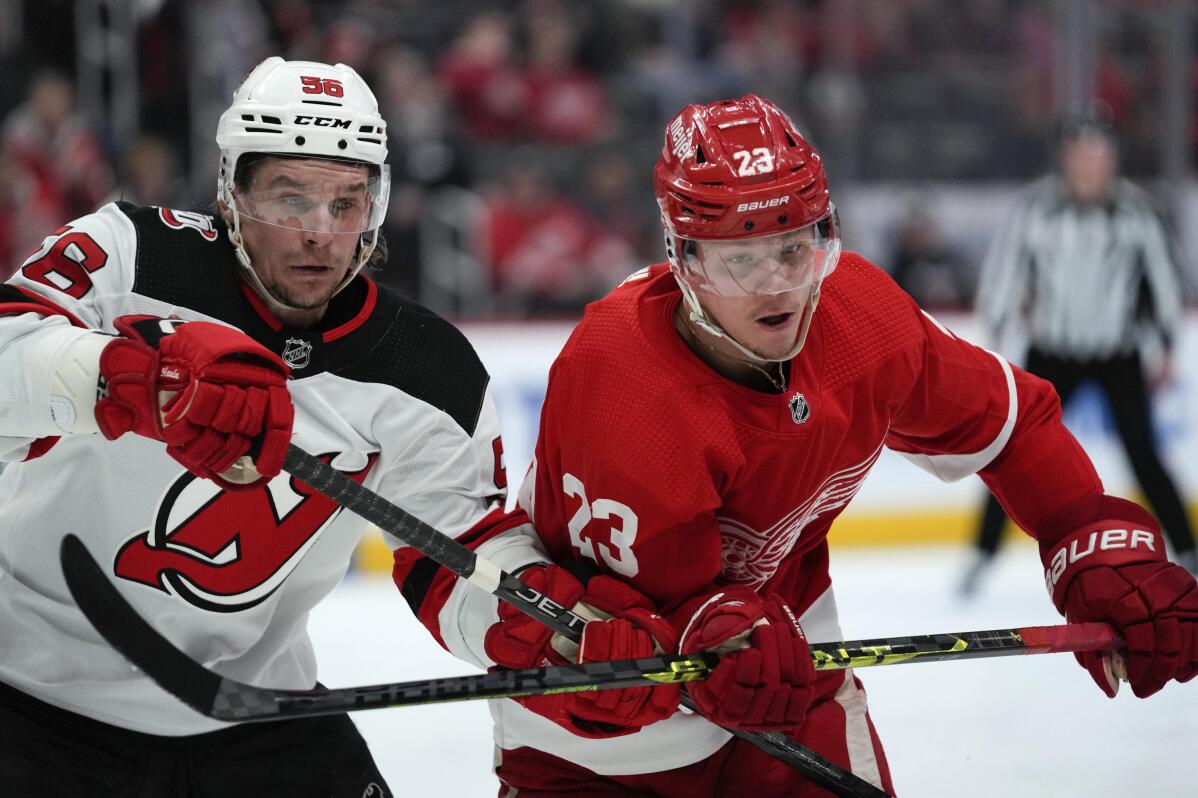 5 of 8

|
New Jersey Devils left wing Erik Haula (56) and Detroit Red Wings left wing Lucas Raymond (23) battle for position in the second period of an NHL hockey game Wednesday, Jan. 4, 2023, in Detroit. (AP Photo/Paul Sancya)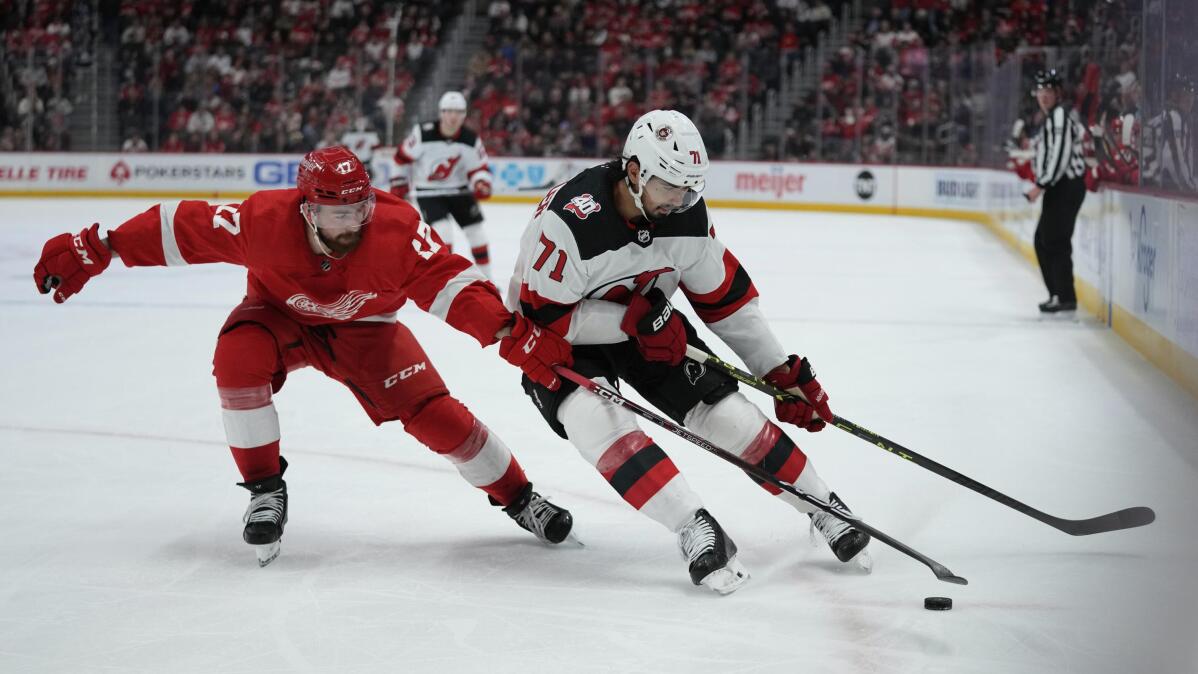 6 of 8

|
Detroit Red Wings defenseman Filip Hronek (17) defends New Jersey Devils defenseman Jonas Siegenthaler (71) in the first period of an NHL hockey game Wednesday, Jan. 4, 2023, in Detroit. (AP Photo/Paul Sancya)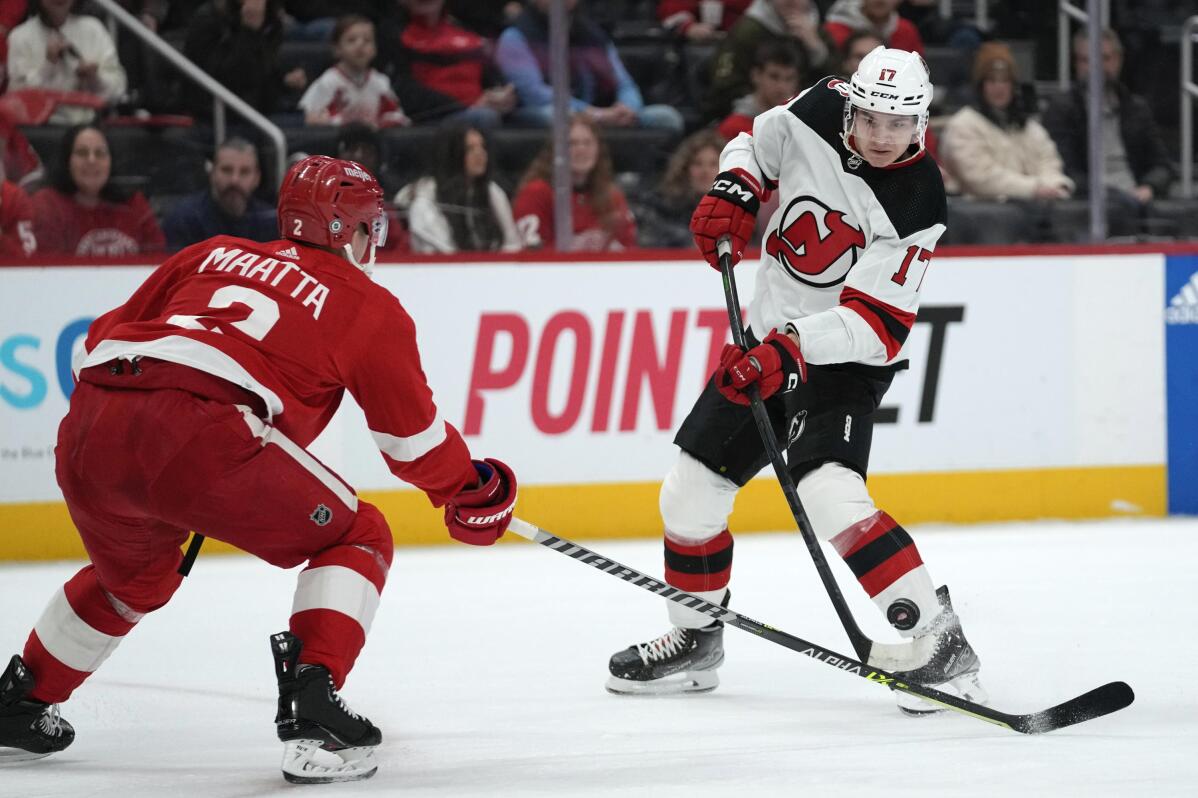 7 of 8

|
New Jersey Devils center Yegor Sharangovich (17) shoots as Detroit Red Wings defenseman Olli Maatta (2) defends in the first period of an NHL hockey game Wednesday, Jan. 4, 2023, in Detroit. (AP Photo/Paul Sancya)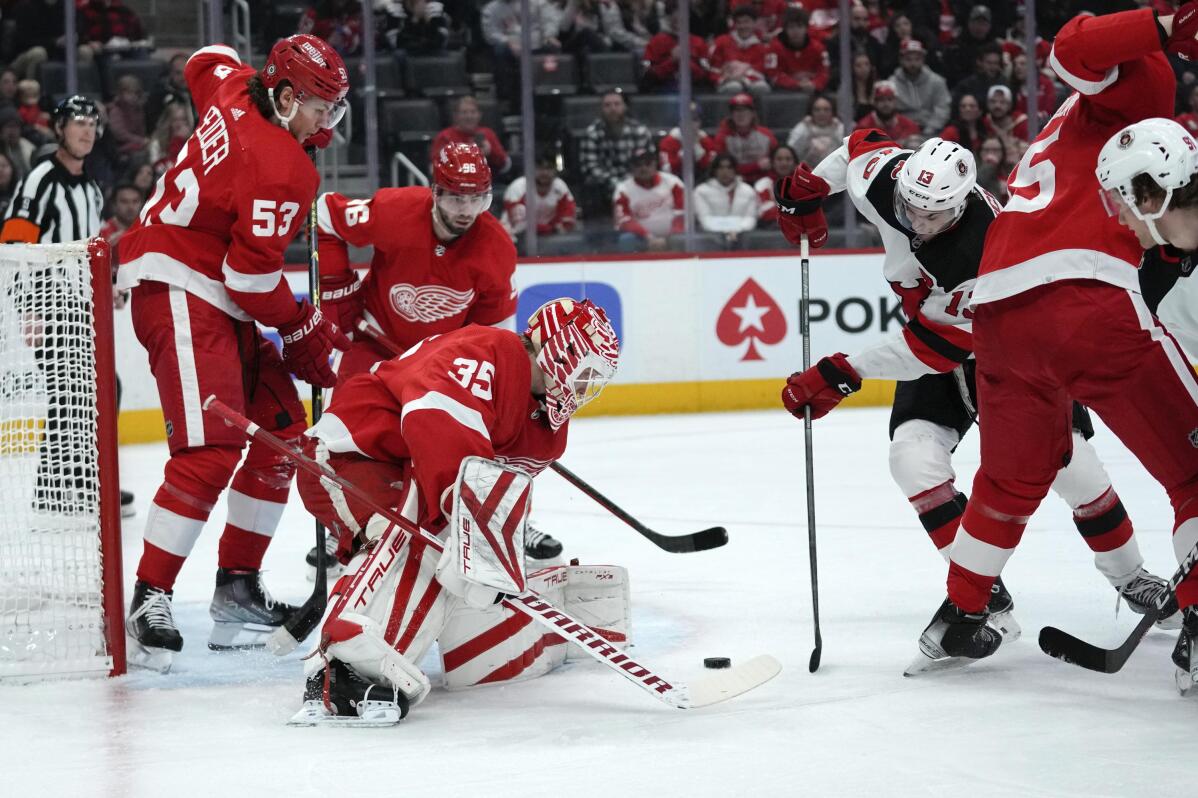 8 of 8

|
Detroit Red Wings goaltender Ville Husso (35) stops a New Jersey Devils center Nico Hischier (13) shot in the first period of an NHL hockey game Wednesday, Jan. 4, 2023, in Detroit. (AP Photo/Paul Sancya)
Vanecek makes 32 saves as Devils roll past Red Wings 5-1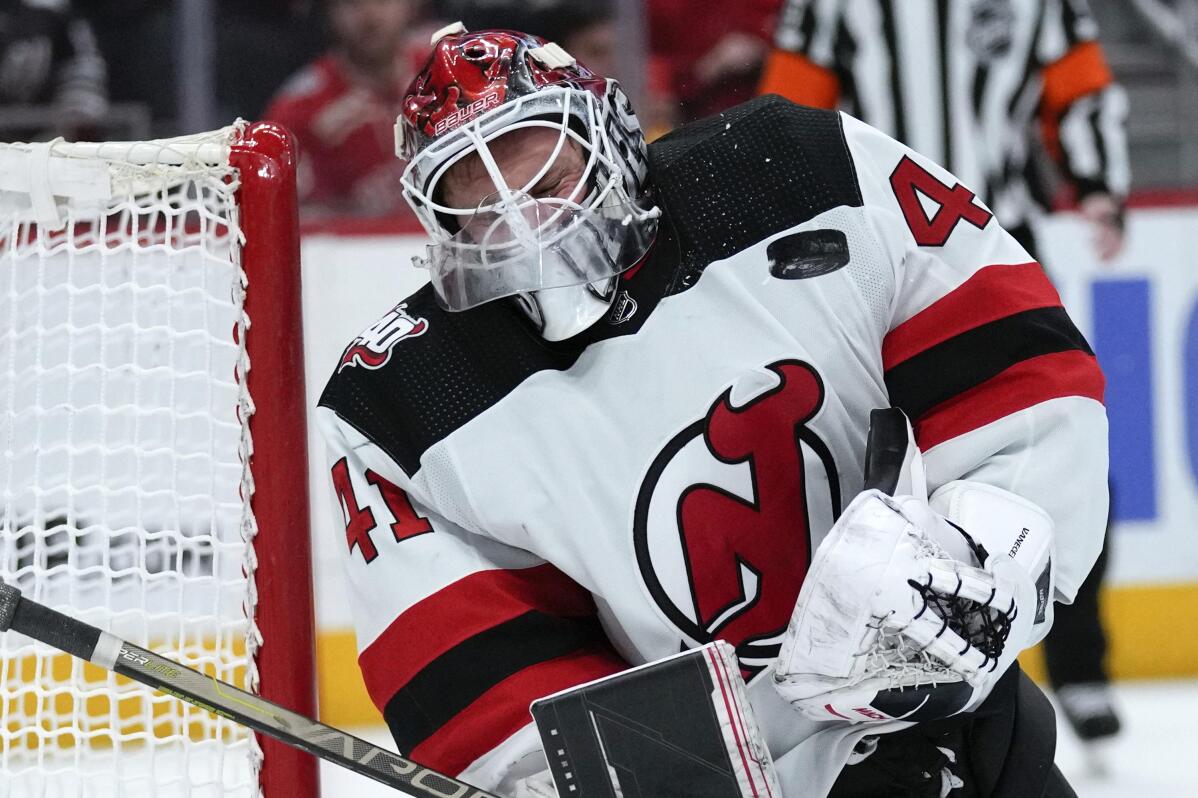 1 of 8

|
New Jersey Devils goaltender Vitek Vanecek (41) stops a Detroit Red Wings shot in the second period of an NHL hockey game Wednesday, Jan. 4, 2023, in Detroit. (AP Photo/Paul Sancya)
1 of 8
New Jersey Devils goaltender Vitek Vanecek (41) stops a Detroit Red Wings shot in the second period of an NHL hockey game Wednesday, Jan. 4, 2023, in Detroit. (AP Photo/Paul Sancya)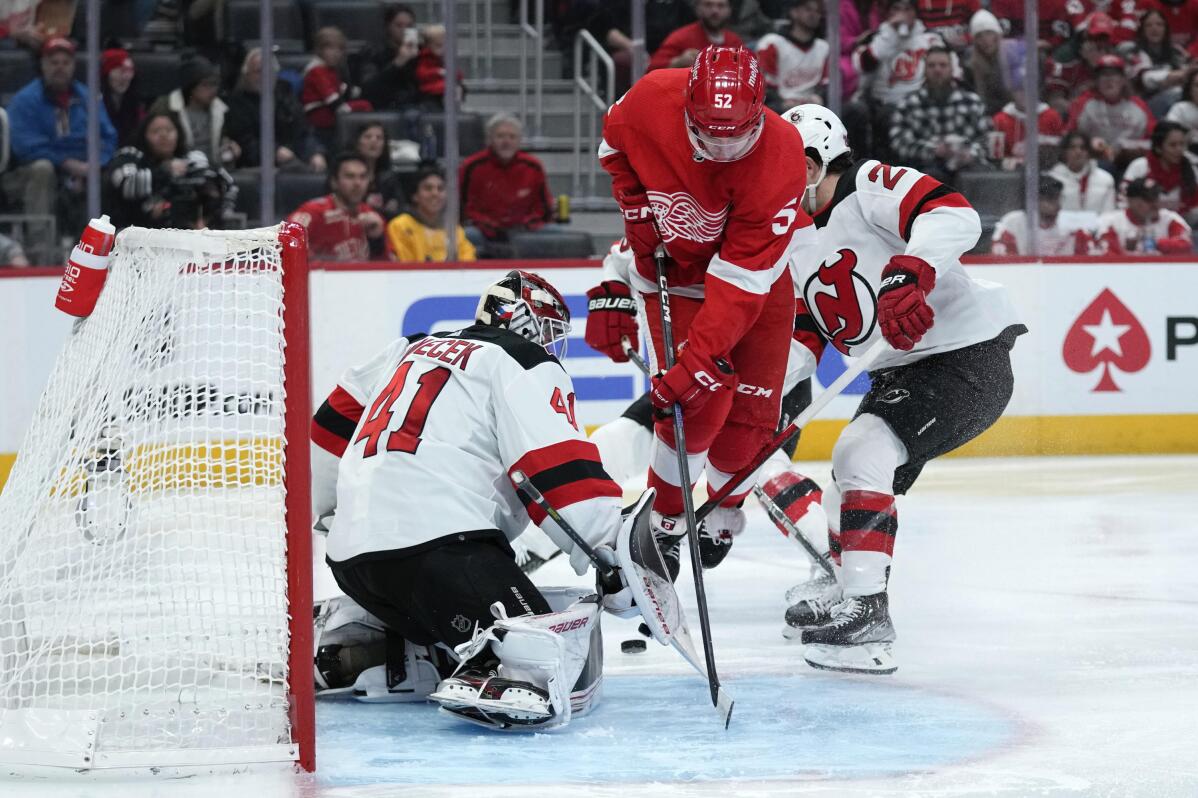 2 of 8

|
New Jersey Devils goaltender Vitek Vanecek (41) stops a Detroit Red Wings' Jonatan Bergen (52) shot in the second period of an NHL hockey game Wednesday, Jan. 4, 2023, in Detroit. (AP Photo/Paul Sancya)
2 of 8
New Jersey Devils goaltender Vitek Vanecek (41) stops a Detroit Red Wings' Jonatan Bergen (52) shot in the second period of an NHL hockey game Wednesday, Jan. 4, 2023, in Detroit. (AP Photo/Paul Sancya)
3 of 8

|
New Jersey Devils right wing Alexander Holtz (10) celebrates his goal against the Detroit Red Wings in the third period of an NHL hockey game Wednesday, Jan. 4, 2023, in Detroit. (AP Photo/Paul Sancya)
3 of 8
New Jersey Devils right wing Alexander Holtz (10) celebrates his goal against the Detroit Red Wings in the third period of an NHL hockey game Wednesday, Jan. 4, 2023, in Detroit. (AP Photo/Paul Sancya)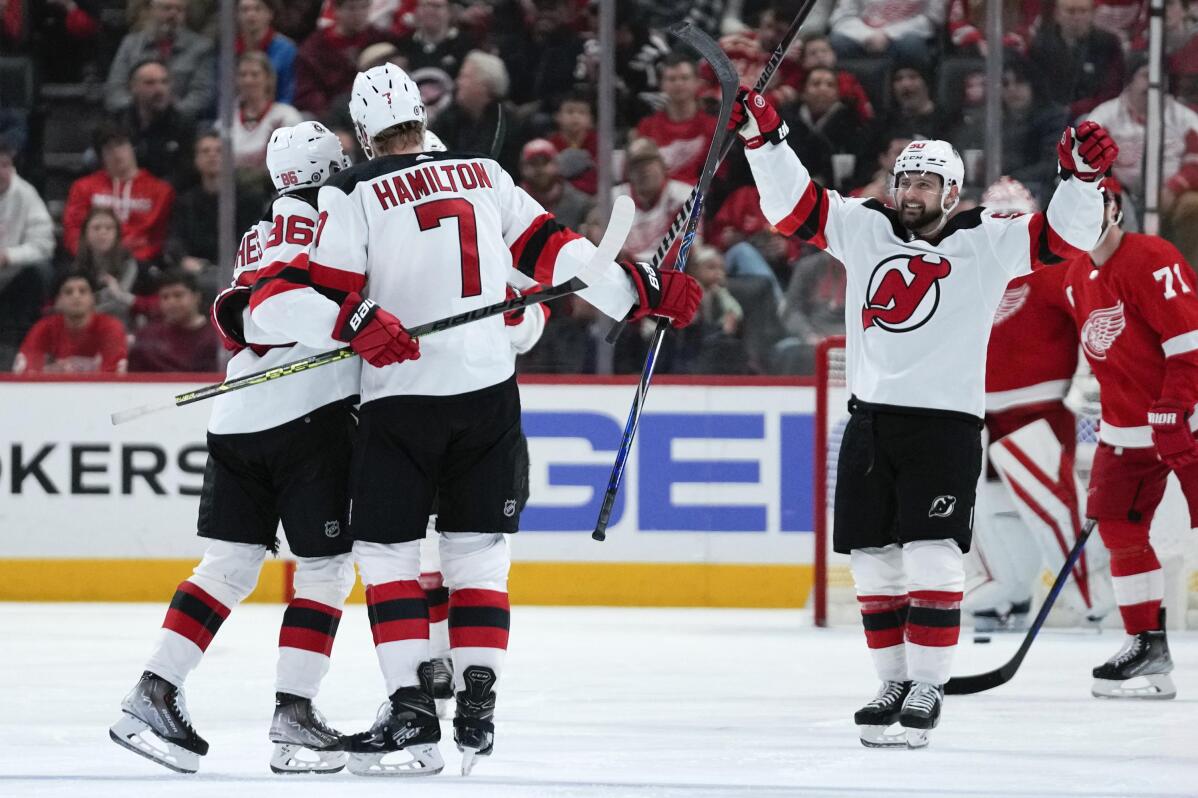 4 of 8

|
New Jersey Devils defenseman Dougie Hamilton (7) celebrates his goal against the Detroit Red Wings in the second period of an NHL hockey game Wednesday, Jan. 4, 2023, in Detroit. (AP Photo/Paul Sancya)
4 of 8
New Jersey Devils defenseman Dougie Hamilton (7) celebrates his goal against the Detroit Red Wings in the second period of an NHL hockey game Wednesday, Jan. 4, 2023, in Detroit. (AP Photo/Paul Sancya)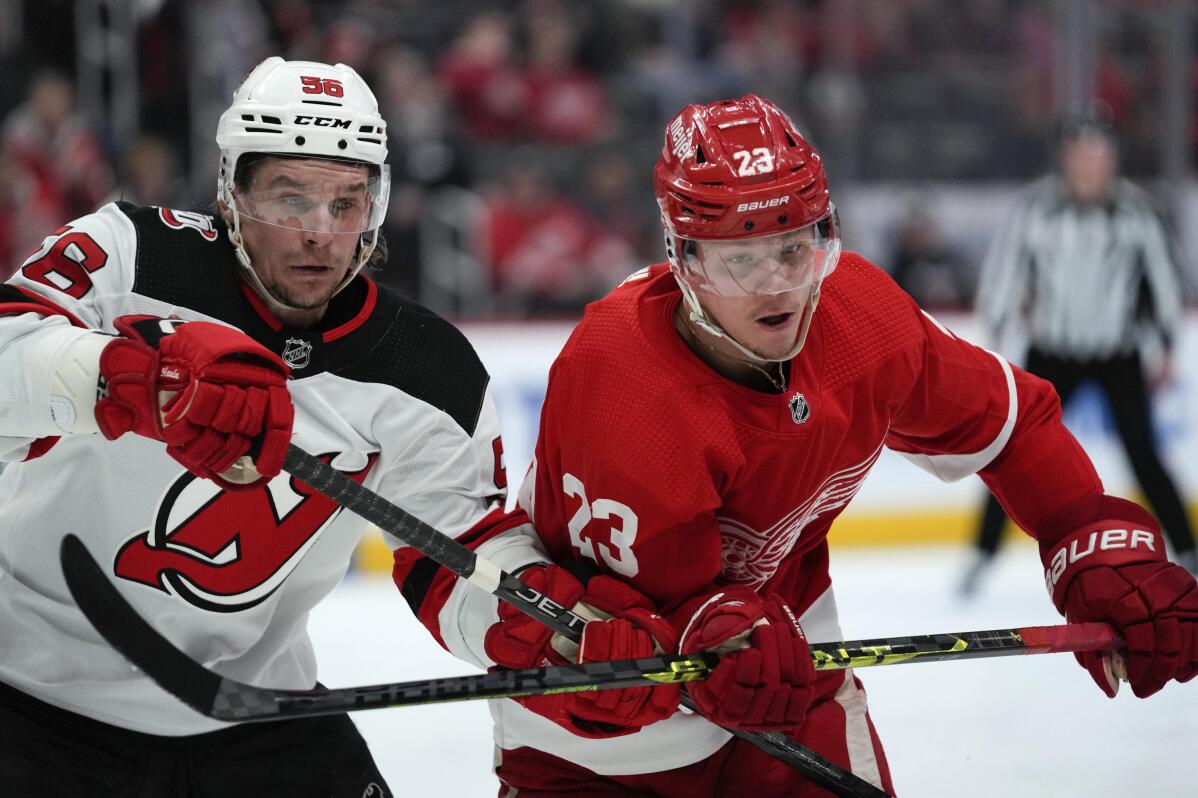 5 of 8

|
New Jersey Devils left wing Erik Haula (56) and Detroit Red Wings left wing Lucas Raymond (23) battle for position in the second period of an NHL hockey game Wednesday, Jan. 4, 2023, in Detroit. (AP Photo/Paul Sancya)
5 of 8
New Jersey Devils left wing Erik Haula (56) and Detroit Red Wings left wing Lucas Raymond (23) battle for position in the second period of an NHL hockey game Wednesday, Jan. 4, 2023, in Detroit. (AP Photo/Paul Sancya)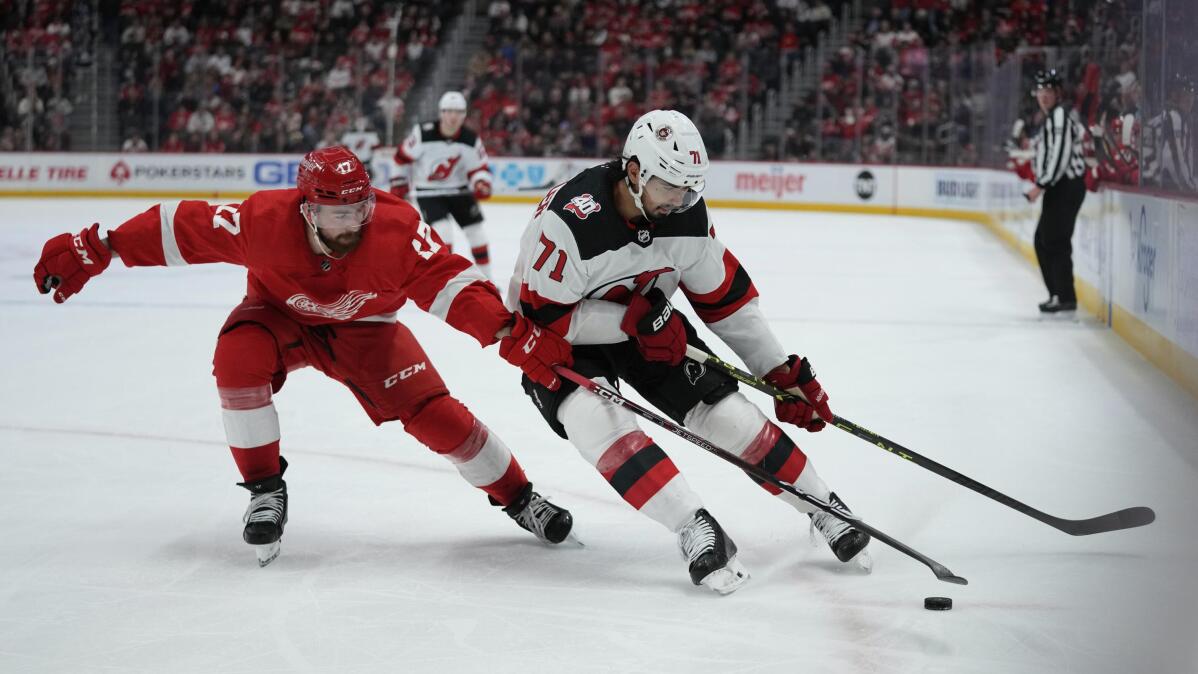 6 of 8

|
Detroit Red Wings defenseman Filip Hronek (17) defends New Jersey Devils defenseman Jonas Siegenthaler (71) in the first period of an NHL hockey game Wednesday, Jan. 4, 2023, in Detroit. (AP Photo/Paul Sancya)
6 of 8
Detroit Red Wings defenseman Filip Hronek (17) defends New Jersey Devils defenseman Jonas Siegenthaler (71) in the first period of an NHL hockey game Wednesday, Jan. 4, 2023, in Detroit. (AP Photo/Paul Sancya)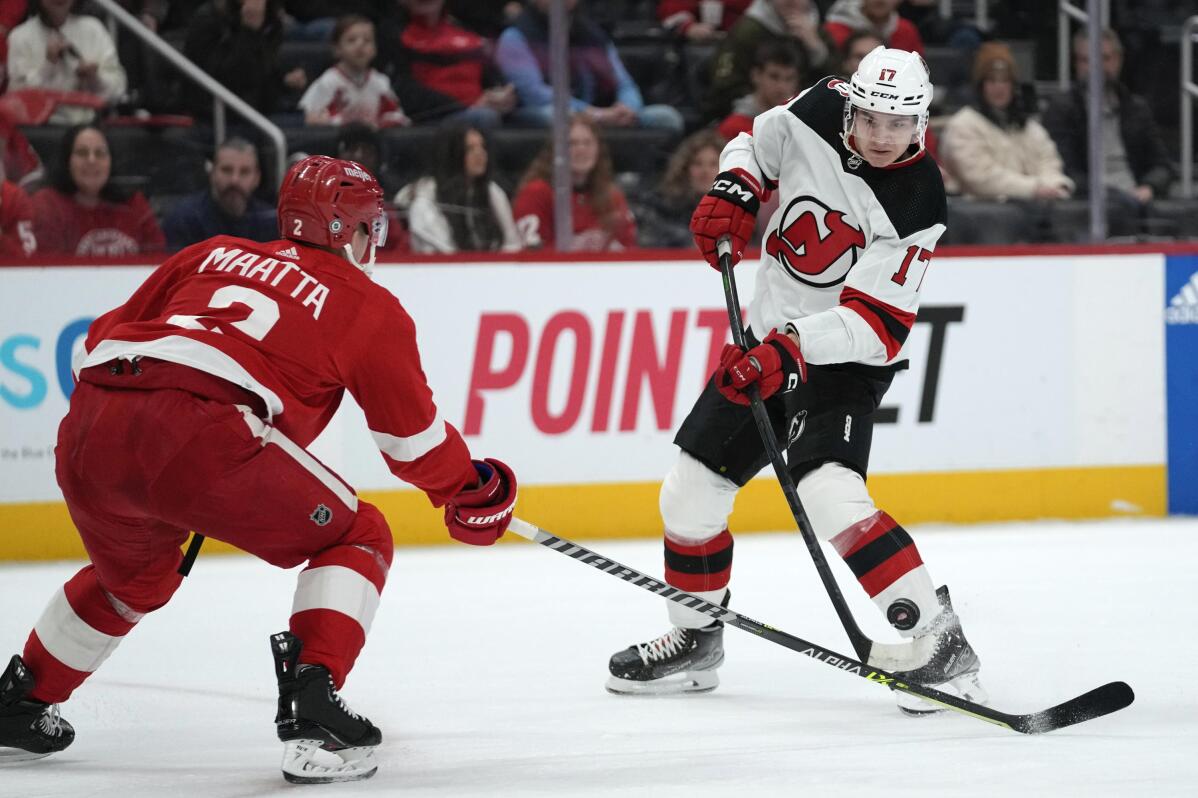 7 of 8

|
New Jersey Devils center Yegor Sharangovich (17) shoots as Detroit Red Wings defenseman Olli Maatta (2) defends in the first period of an NHL hockey game Wednesday, Jan. 4, 2023, in Detroit. (AP Photo/Paul Sancya)
7 of 8
New Jersey Devils center Yegor Sharangovich (17) shoots as Detroit Red Wings defenseman Olli Maatta (2) defends in the first period of an NHL hockey game Wednesday, Jan. 4, 2023, in Detroit. (AP Photo/Paul Sancya)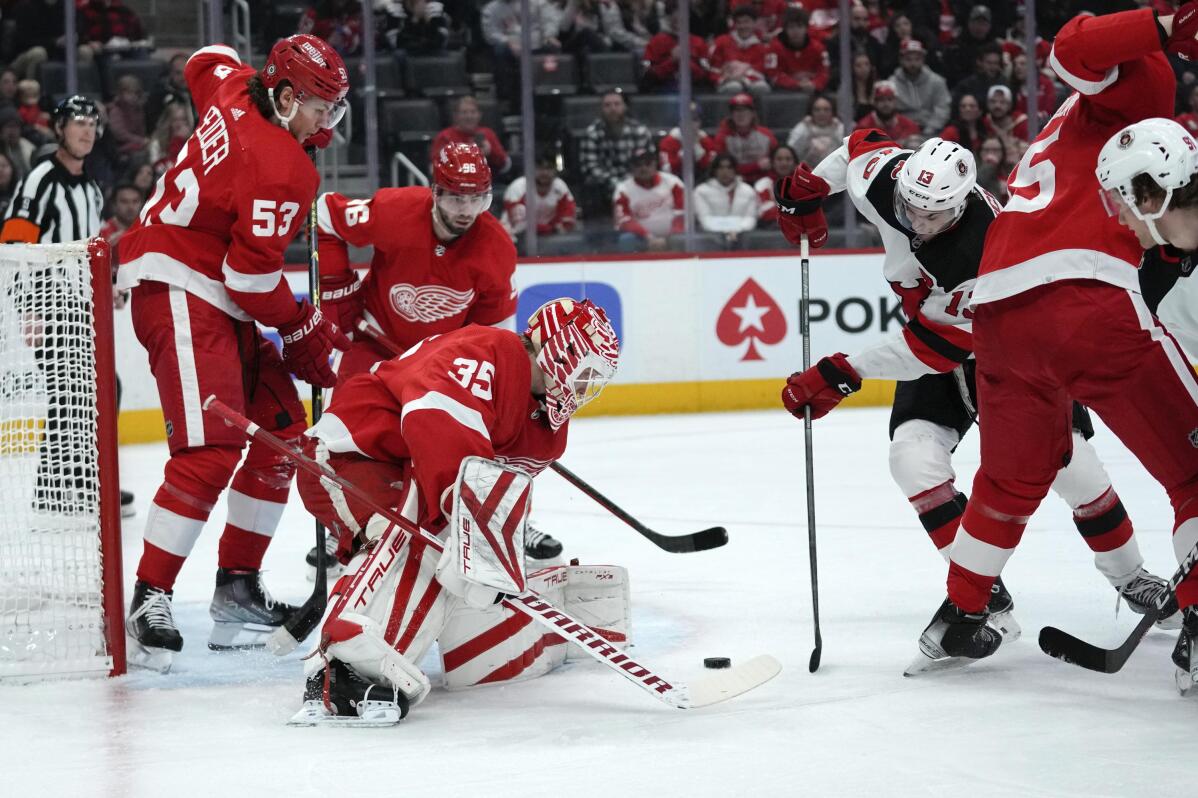 8 of 8

|
Detroit Red Wings goaltender Ville Husso (35) stops a New Jersey Devils center Nico Hischier (13) shot in the first period of an NHL hockey game Wednesday, Jan. 4, 2023, in Detroit. (AP Photo/Paul Sancya)
8 of 8
Detroit Red Wings goaltender Ville Husso (35) stops a New Jersey Devils center Nico Hischier (13) shot in the first period of an NHL hockey game Wednesday, Jan. 4, 2023, in Detroit. (AP Photo/Paul Sancya)
DETROIT (AP) — Vitek Vanecek made 32 saves and blanked Detroit for 58 minutes as the New Jersey Devils downed the Red Wings 5-1 on Wednesday night.
Dougie Hamilton, Nico Hischier, Alexander Holtz and Jack Hughes each had a goal and an assist. Michael McLeod also scored for New Jersey.
The Devils, who are 14-2-1 on the road, won the season series 2-1.
"V's been outstanding all year," said Miles Wood, who had two assists. "His game has been so consistent throughout the year. Real unfortunate we let up that goal at the end there because we all knew how bad he wanted that shutout. But he's been outstanding all year and he's the backbone of this team."
Devils coach Lindy Ruff felt the defense was solid, despite Detroit's shot total.
"He made the saves he needed to make," Ruff said. "I didn't think we gave up real high quality. I think we kept most of the stuff to the perimeter but again, he looked comfortable making the saves he needed to make."
Lucas Raymond scored on a late power play to prevent a shutout. Red Wings goalie Villo Husso stopped 21 shots.
"I thought we had a chance to win the game the way we played 5-on-5, but the wheels fell off in the third," Detroit captain Dylan Larkin said.
Red Wings forward Robby Fabbri made his season debut. He tore the ACL in his right knee in March.
"I liked Fab's game," coach Derek Lalonde said. "He created some offense with his line, he set up Sunny (Oskar Sundqvist) all alone in the slot and our goal came off a turnover he created. We haven't done much of that this year."
Just five seconds after Detroit's Ben Chiarot was sent to the penalty box for tripping, Hamilton broke a scoreless deadlock midway through the second period on a slap shot. Hughes and Hischier were credited with assists.
The second New Jersey goal later in the period was nearly a carbon copy. With Jake Walman in the penalty box for tripping, Hamilton took a shot from the point that Hischier redirected past Husso.
New Jersey ranked 24th on the power play entering the game.
"Our power play stepped up big," Wood said. "I feel like it's been a power-play game as of late, in terms of how many times we've been on the power play and PK, so it was nice to see that we scored two times there."
The Devils made it 3-0 two minutes into the third. Husso stopped Wood's shot on a 2-on-1, but the Detroit goaltender couldn't recover in time when Holtz pounced on the rebound and passed the puck to McLeod.
Two seconds after the Red Wings killed off another tripping penalty, Holtz flicked a shot from the slot over Husso's shoulder.
McLeod, playing in his 200th game, and Holtz skated on the fourth line.
"It's great to chip in and other guys to chip in like that," McLeod said. "We're getting it all the time from our top guys and obviously, we want to help them out."
NOTES: The Red Wings assigned LW Jakub Vrana to the Grand Rapids Griffins of the American Hockey League after he cleared waivers. Vrana played three games for the Griffins on a conditioning loan prior to being waived. He has spent most of the season in the player assistance program, set up by the NHL and NHL Players' Association. ... Hamilton has 24 points in 32 career games against Detroit. ... New Jersey is 19-0-1 when leading after two periods.
UP NEXT
Devils: Host the St. Louis Blues on Thursday.
Red Wings: Host the Florida Panthers on Friday.
___
AP NHL: https://apnews.com/hub/nhl and https://twitter.com/AP_Sports