Backlund scores in OT as Flames stop Rangers' win streak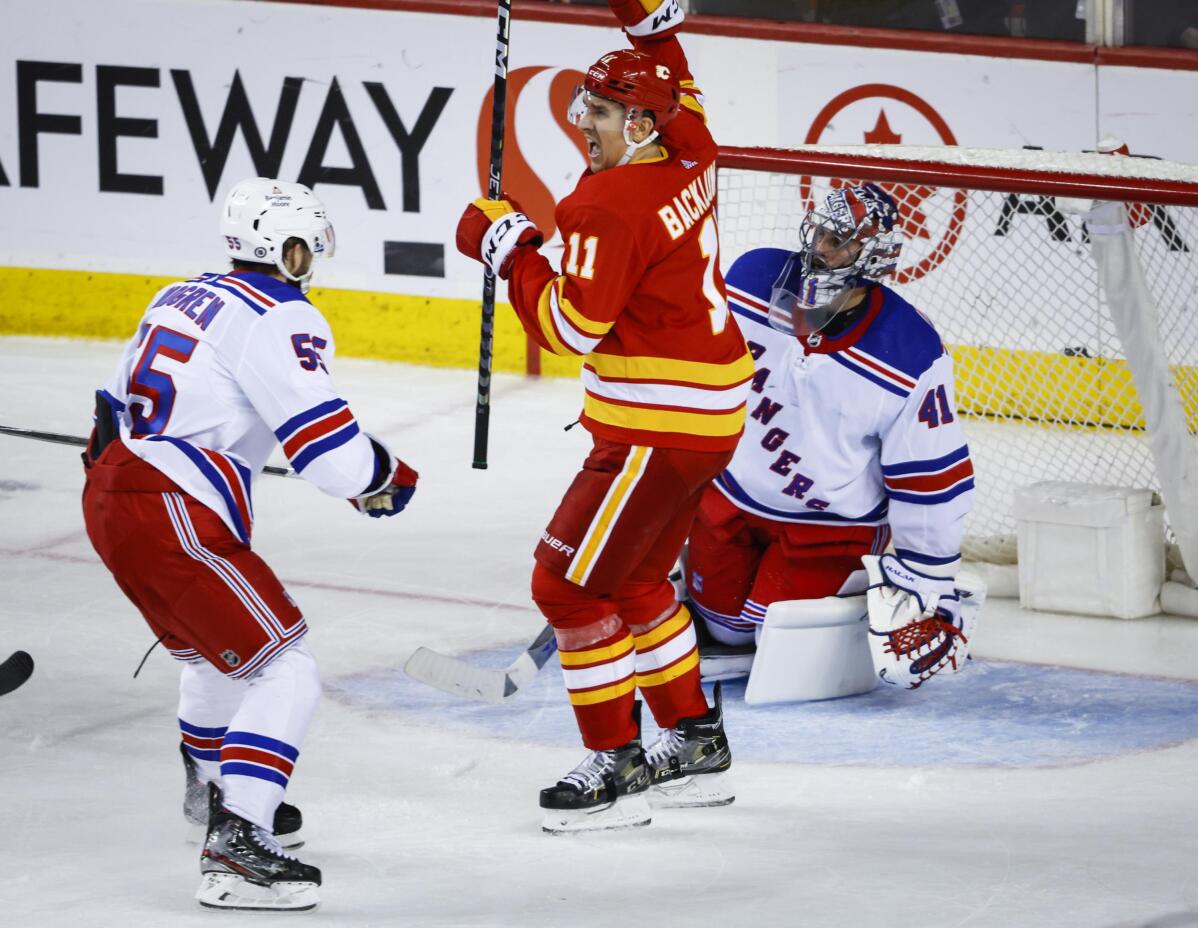 1 of 8

|
New York Rangers defenseman Ryan Lindgren, left, and goalie Jaroslav Halak, right, react as Calgary Flames forward Mikael Backlund celebrates his overtime goal during an NHL hockey game Saturday, Feb. 18, 2023, in Calgary, Alberta. (Jeff McIntosh/The Canadian Press via AP)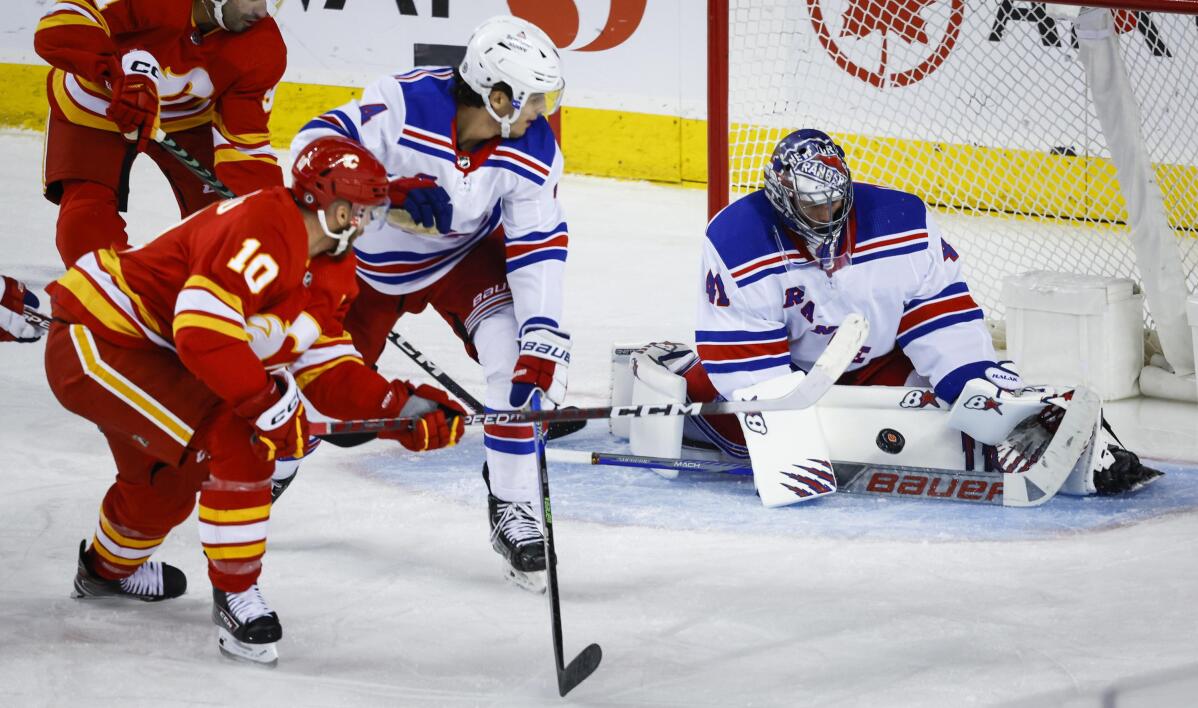 2 of 8

|
New York Rangers goalie Jaroslav Halak, right, stops a shot from Calgary Flames forward Jonathan Huberdeau, left, as Rangers defenseman Braden Schneider (4) checks during second-period NHL hockey game action in Calgary, Alberta, Saturday, Feb. 18, 2023. (Jeff McIntosh/The Canadian Press via AP)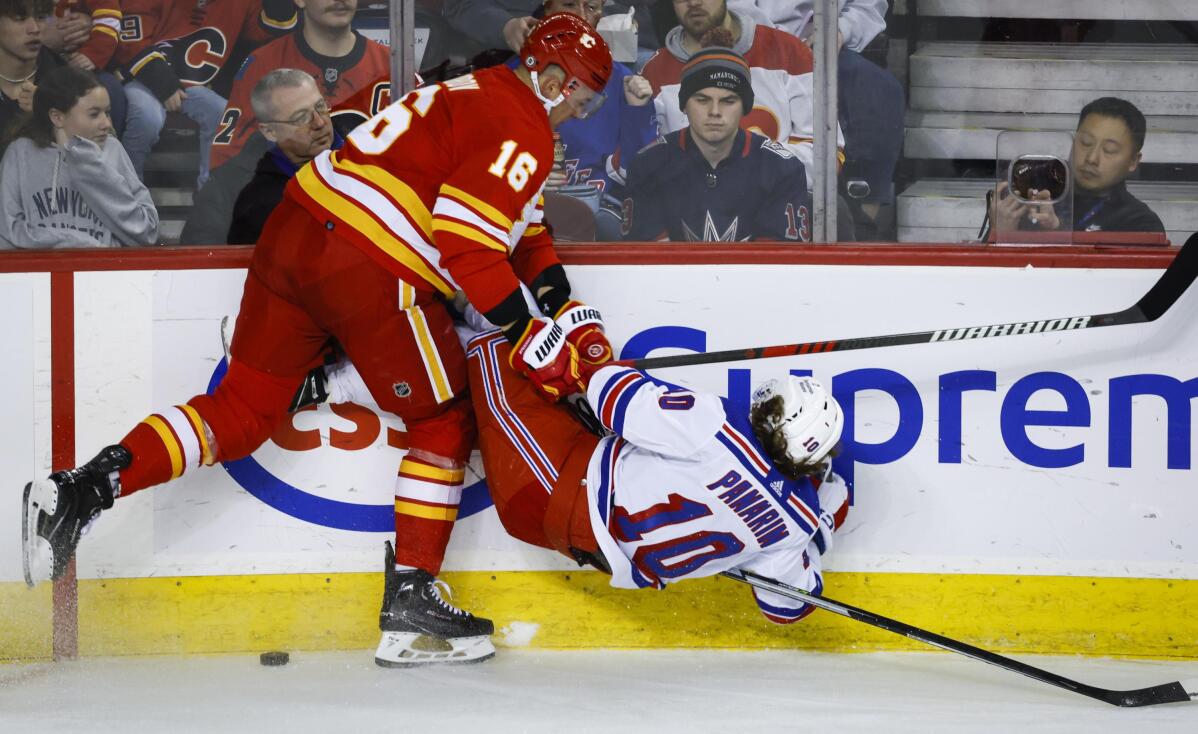 3 of 8

|
New York Rangers forward Artemi Panarin, right, is checked by Calgary Flames defenseman Nikita Zadorov during second-period NHL hockey game action in Calgary, Alberta, Saturday, Feb. 18, 2023. (Jeff McIntosh/The Canadian Press via AP)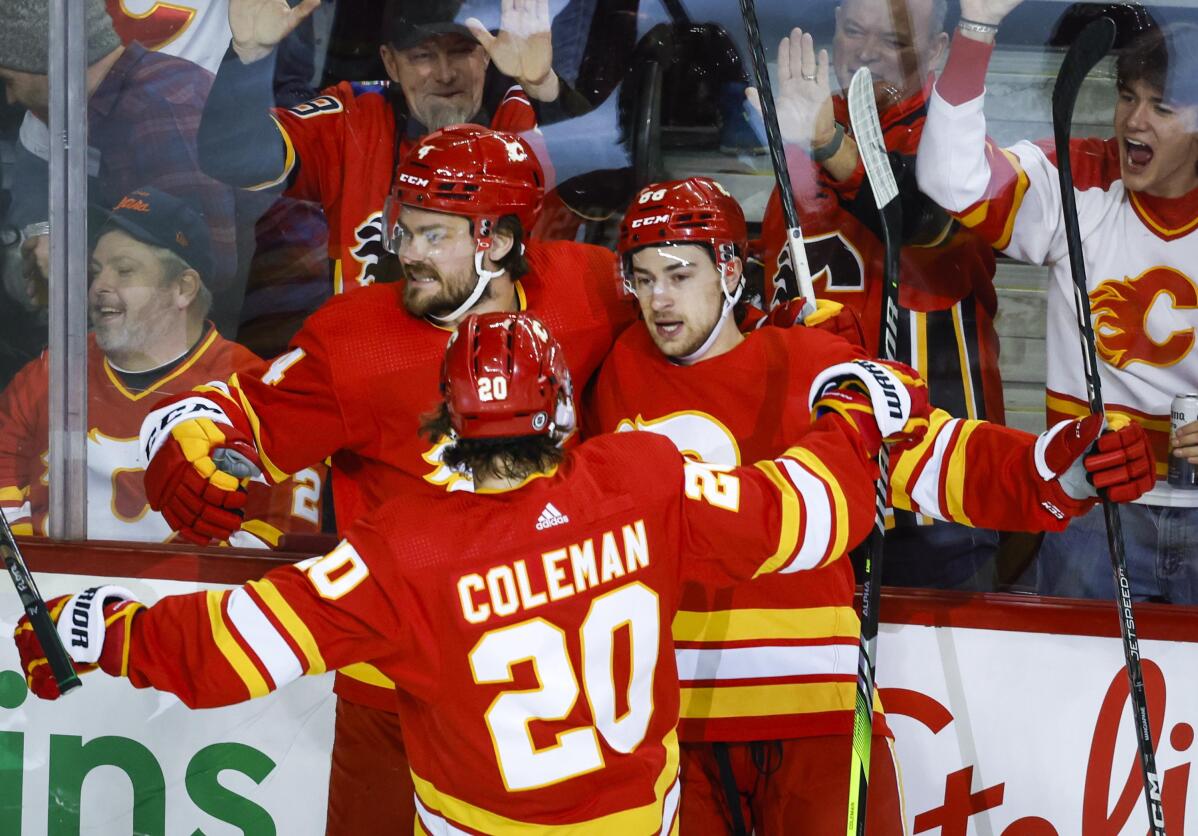 4 of 8

|
Calgary Flames forward Andrew Mangiapane, right, celebrates with teammates after his goal against the New York Rangers during first-period NHL hockey game action in Calgary, Alberta, Saturday, Feb. 18, 2023. (Jeff McIntosh/The Canadian Press via AP)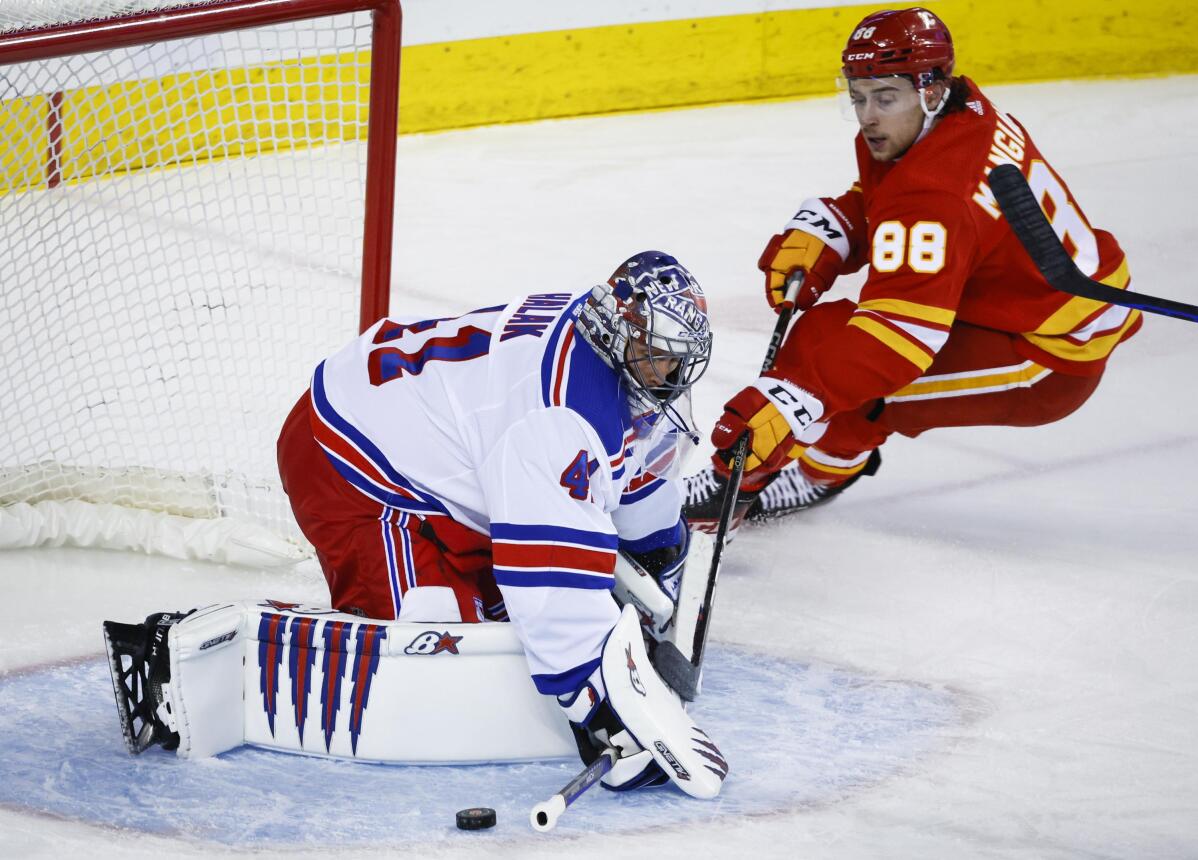 5 of 8

|
New York Rangers goalie Jaroslav Halak, left, blocks a shot by Calgary Flames forward Andrew Mangiapane (88) during first-period NHL hockey game action in Calgary, Alberta, Saturday, Feb. 18, 2023. (Jeff McIntosh/The Canadian Press via AP)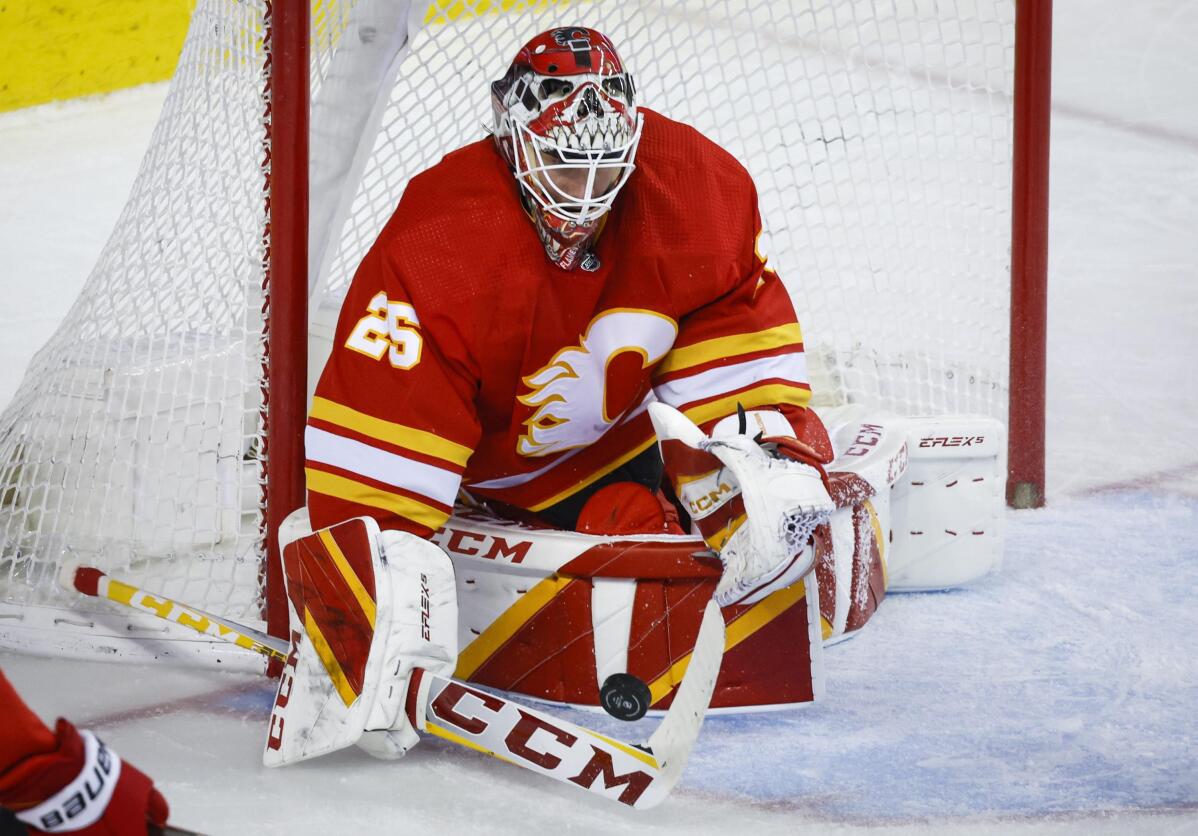 6 of 8

|
Calgary Flames goalie Jacob Markstrom swats away the puck during second-period NHL hockey game action against the New York Rangers in Calgary, Alberta, Saturday, Feb. 18, 2023. (Jeff McIntosh/The Canadian Press via AP)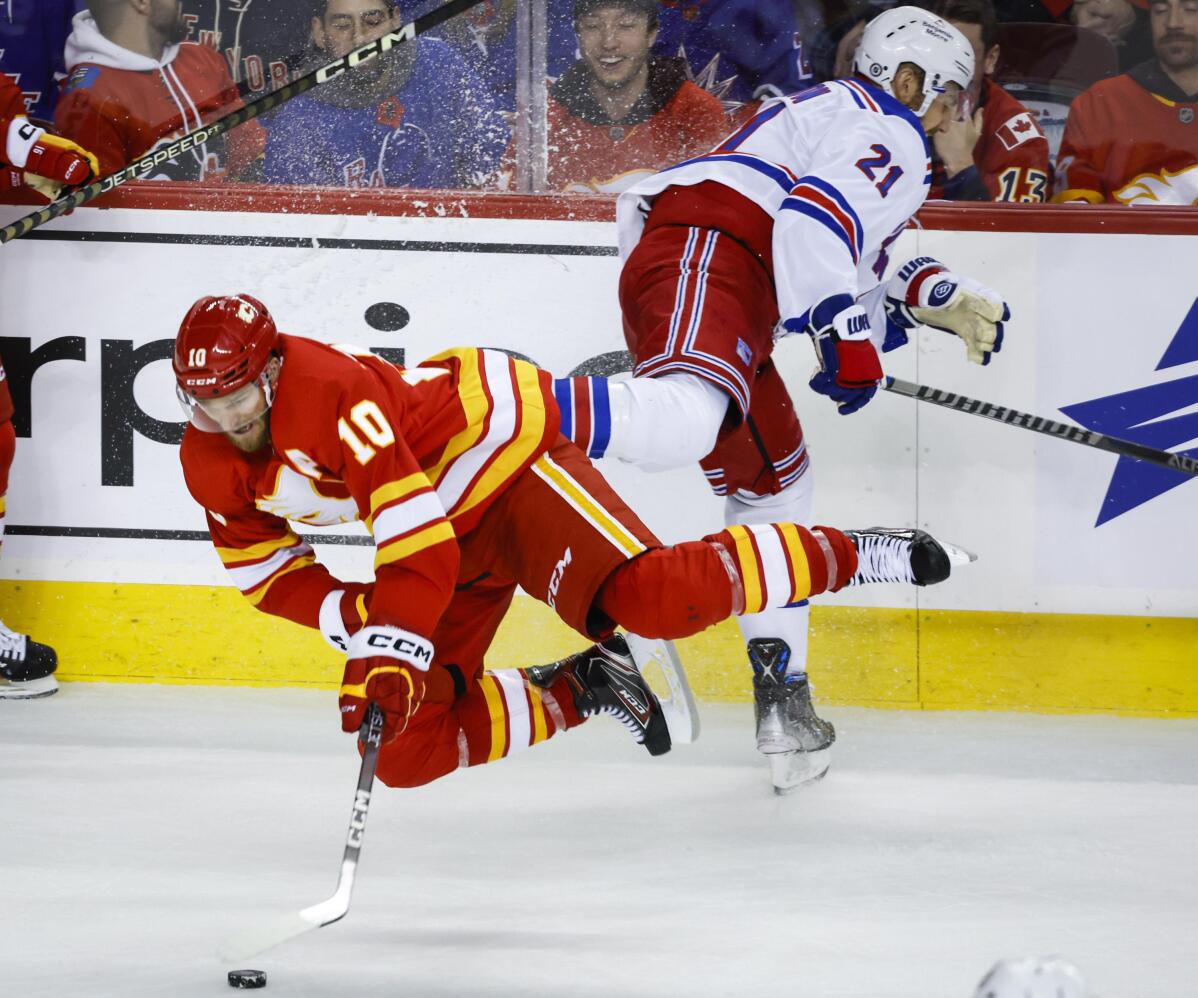 7 of 8

|
New York Rangers forward Barclay Goodrow, right, checks Calgary Flames forward Jonathan Huberdeau during the third period of an NHL hockey game Saturday, Feb. 18, 2023, in Calgary, Alberta. (Jeff McIntosh/The Canadian Press via AP)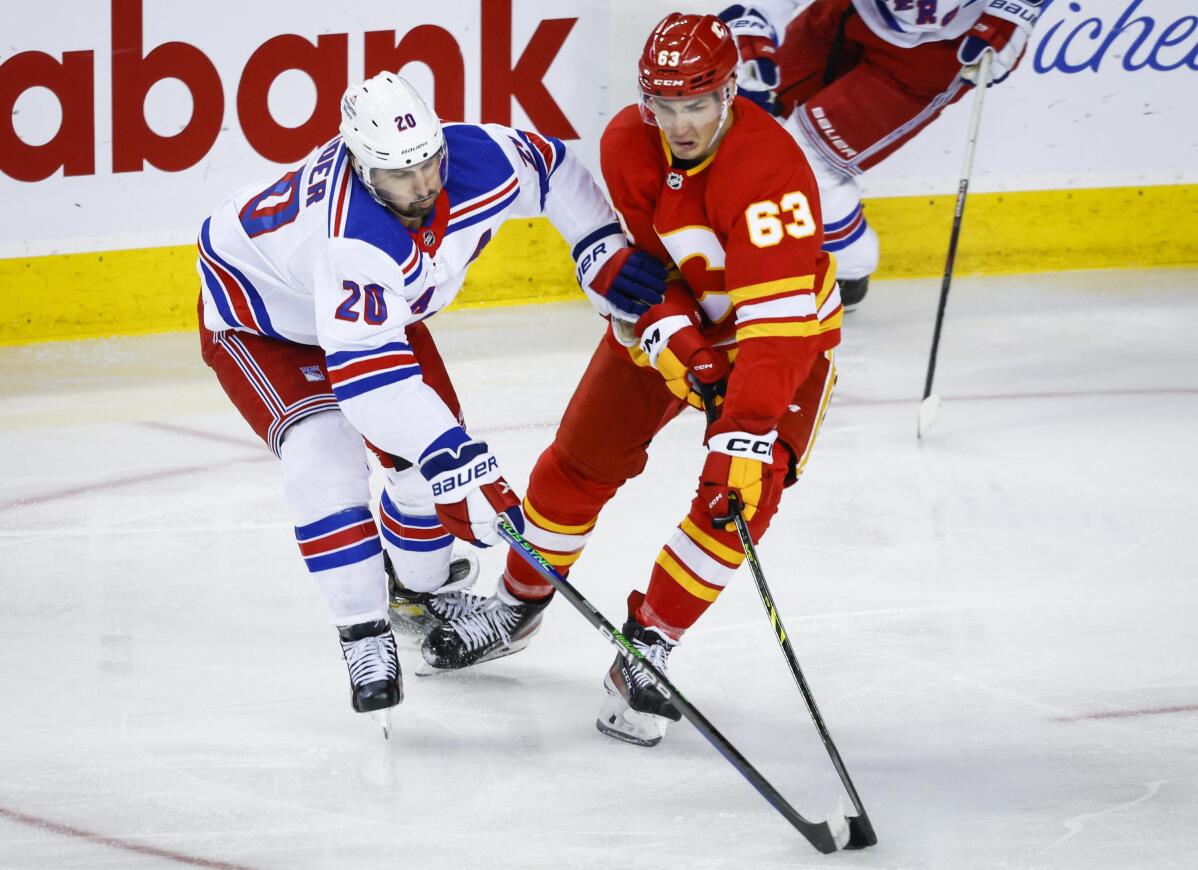 8 of 8

|
New York Rangers forward Chris Kreider, left, tries to take the puck from Calgary Flames forward Adam Ruzicka during the third period of an NHL hockey game Saturday, Feb. 18, 2023, in Calgary, Alberta. (Jeff McIntosh/The Canadian Press via AP)
Backlund scores in OT as Flames stop Rangers' win streak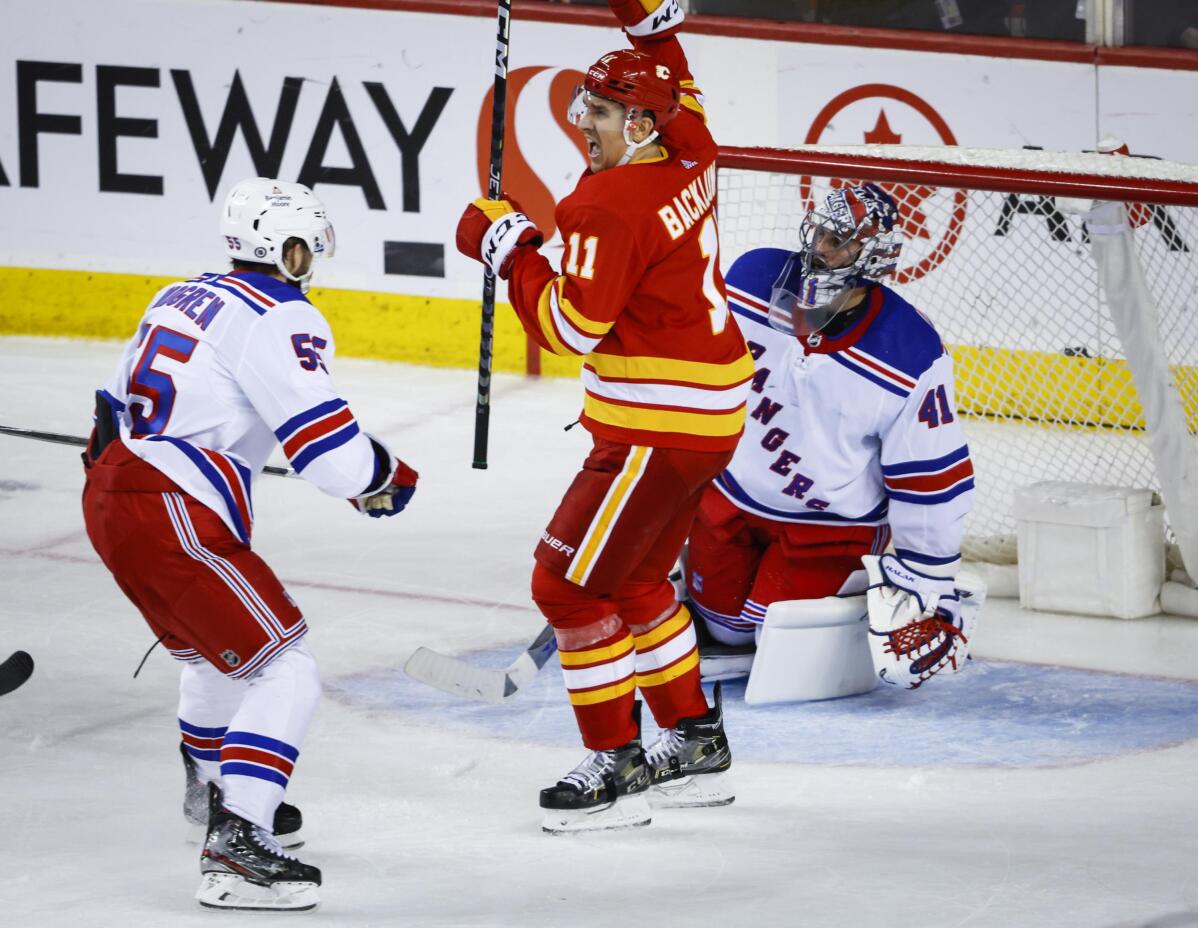 1 of 8

|
New York Rangers defenseman Ryan Lindgren, left, and goalie Jaroslav Halak, right, react as Calgary Flames forward Mikael Backlund celebrates his overtime goal during an NHL hockey game Saturday, Feb. 18, 2023, in Calgary, Alberta. (Jeff McIntosh/The Canadian Press via AP)
1 of 8
New York Rangers defenseman Ryan Lindgren, left, and goalie Jaroslav Halak, right, react as Calgary Flames forward Mikael Backlund celebrates his overtime goal during an NHL hockey game Saturday, Feb. 18, 2023, in Calgary, Alberta. (Jeff McIntosh/The Canadian Press via AP)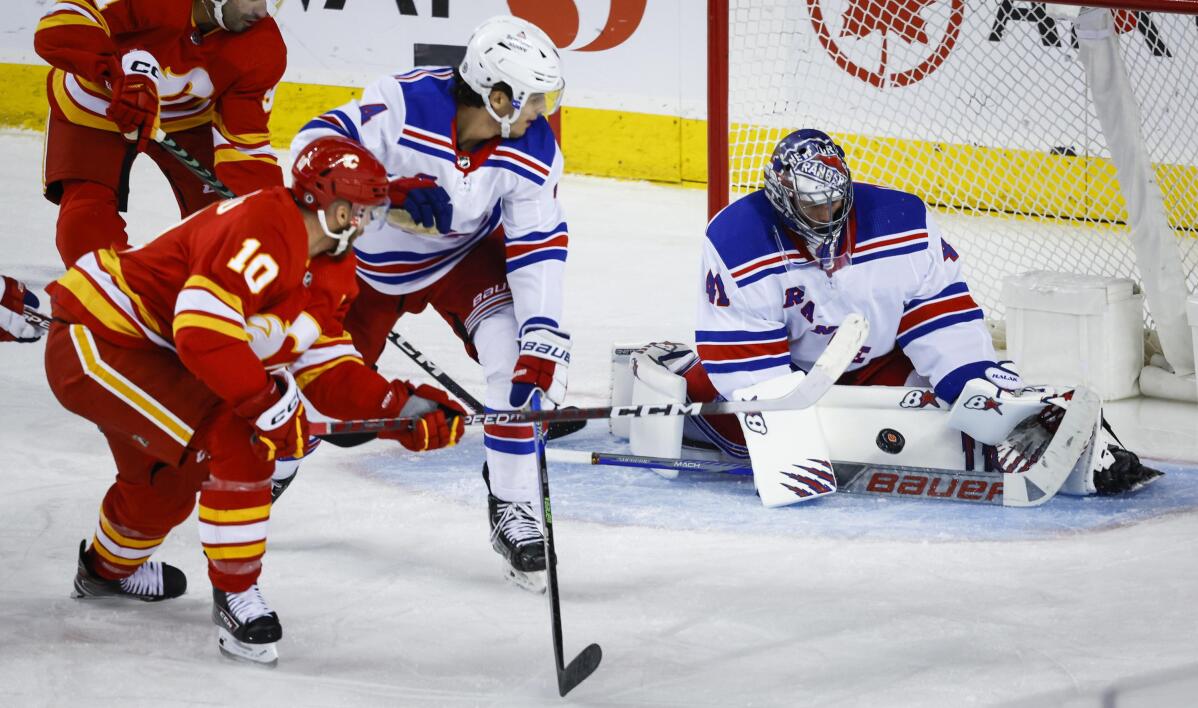 2 of 8

|
New York Rangers goalie Jaroslav Halak, right, stops a shot from Calgary Flames forward Jonathan Huberdeau, left, as Rangers defenseman Braden Schneider (4) checks during second-period NHL hockey game action in Calgary, Alberta, Saturday, Feb. 18, 2023. (Jeff McIntosh/The Canadian Press via AP)
2 of 8
New York Rangers goalie Jaroslav Halak, right, stops a shot from Calgary Flames forward Jonathan Huberdeau, left, as Rangers defenseman Braden Schneider (4) checks during second-period NHL hockey game action in Calgary, Alberta, Saturday, Feb. 18, 2023. (Jeff McIntosh/The Canadian Press via AP)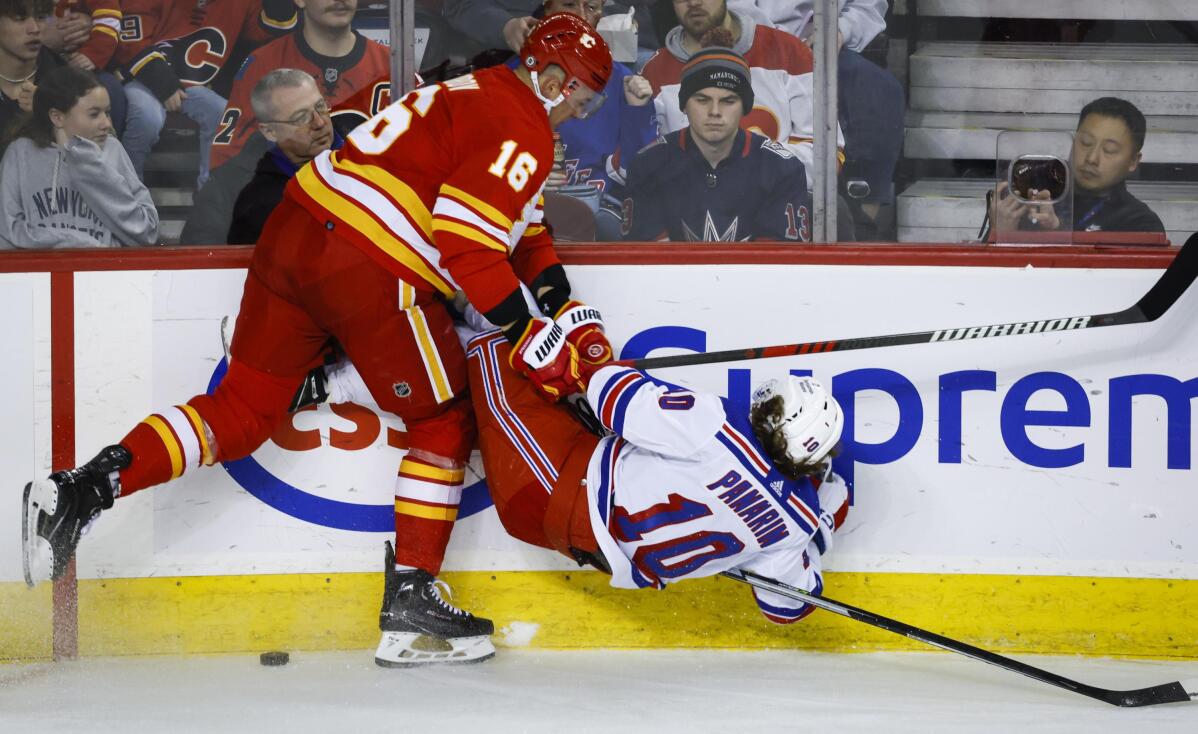 3 of 8

|
New York Rangers forward Artemi Panarin, right, is checked by Calgary Flames defenseman Nikita Zadorov during second-period NHL hockey game action in Calgary, Alberta, Saturday, Feb. 18, 2023. (Jeff McIntosh/The Canadian Press via AP)
3 of 8
New York Rangers forward Artemi Panarin, right, is checked by Calgary Flames defenseman Nikita Zadorov during second-period NHL hockey game action in Calgary, Alberta, Saturday, Feb. 18, 2023. (Jeff McIntosh/The Canadian Press via AP)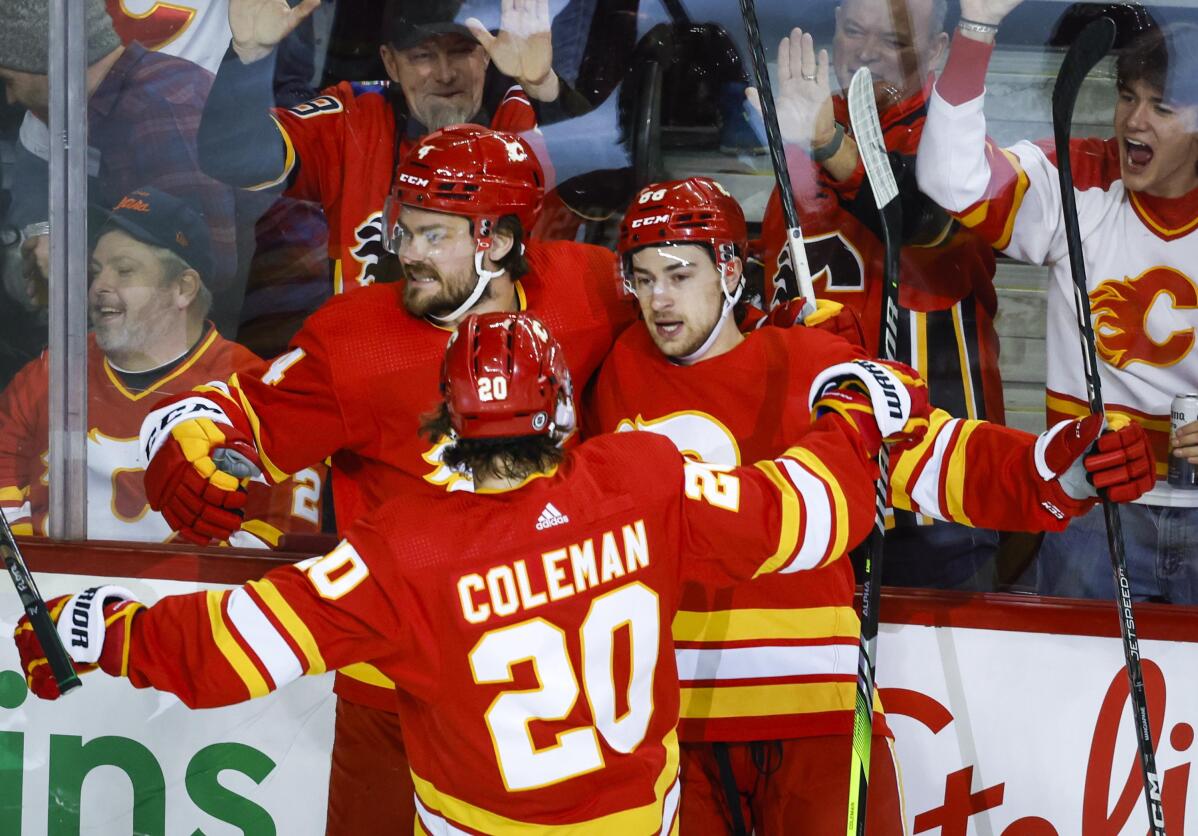 4 of 8

|
Calgary Flames forward Andrew Mangiapane, right, celebrates with teammates after his goal against the New York Rangers during first-period NHL hockey game action in Calgary, Alberta, Saturday, Feb. 18, 2023. (Jeff McIntosh/The Canadian Press via AP)
4 of 8
Calgary Flames forward Andrew Mangiapane, right, celebrates with teammates after his goal against the New York Rangers during first-period NHL hockey game action in Calgary, Alberta, Saturday, Feb. 18, 2023. (Jeff McIntosh/The Canadian Press via AP)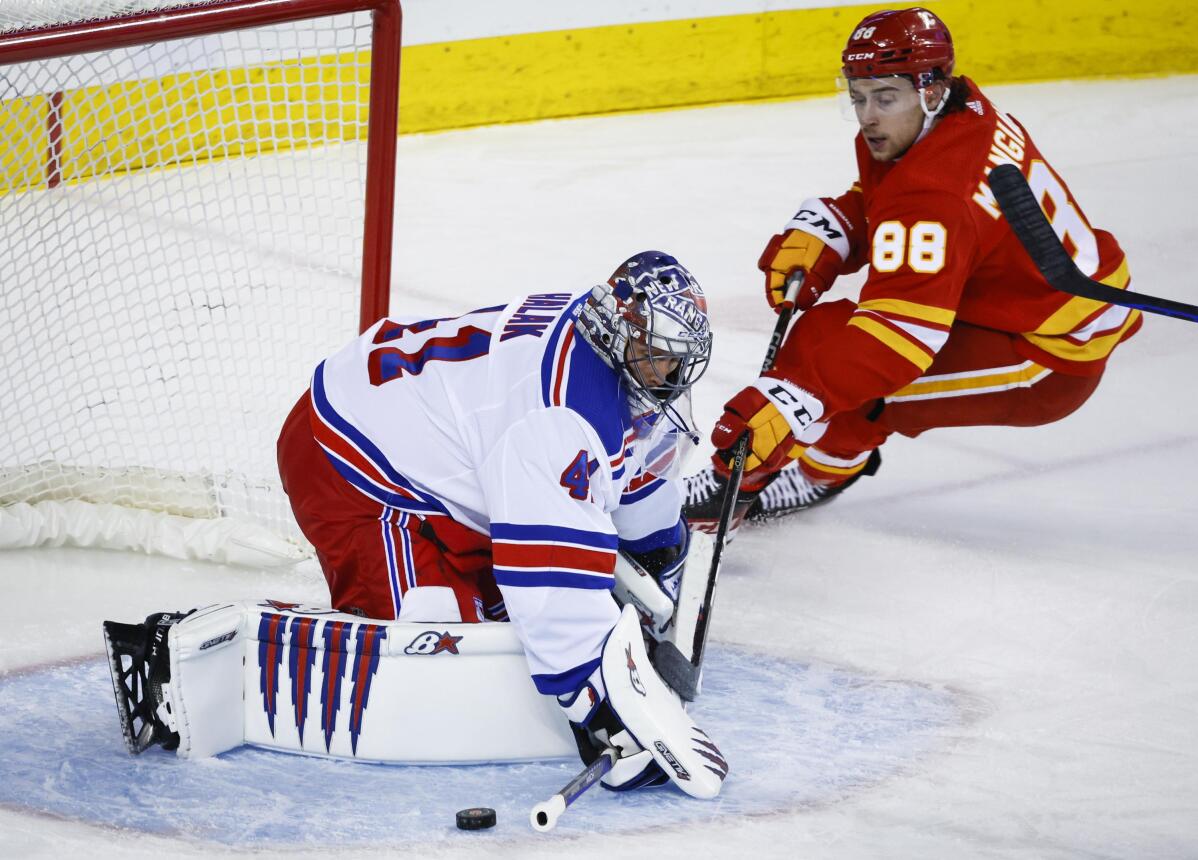 5 of 8

|
New York Rangers goalie Jaroslav Halak, left, blocks a shot by Calgary Flames forward Andrew Mangiapane (88) during first-period NHL hockey game action in Calgary, Alberta, Saturday, Feb. 18, 2023. (Jeff McIntosh/The Canadian Press via AP)
5 of 8
New York Rangers goalie Jaroslav Halak, left, blocks a shot by Calgary Flames forward Andrew Mangiapane (88) during first-period NHL hockey game action in Calgary, Alberta, Saturday, Feb. 18, 2023. (Jeff McIntosh/The Canadian Press via AP)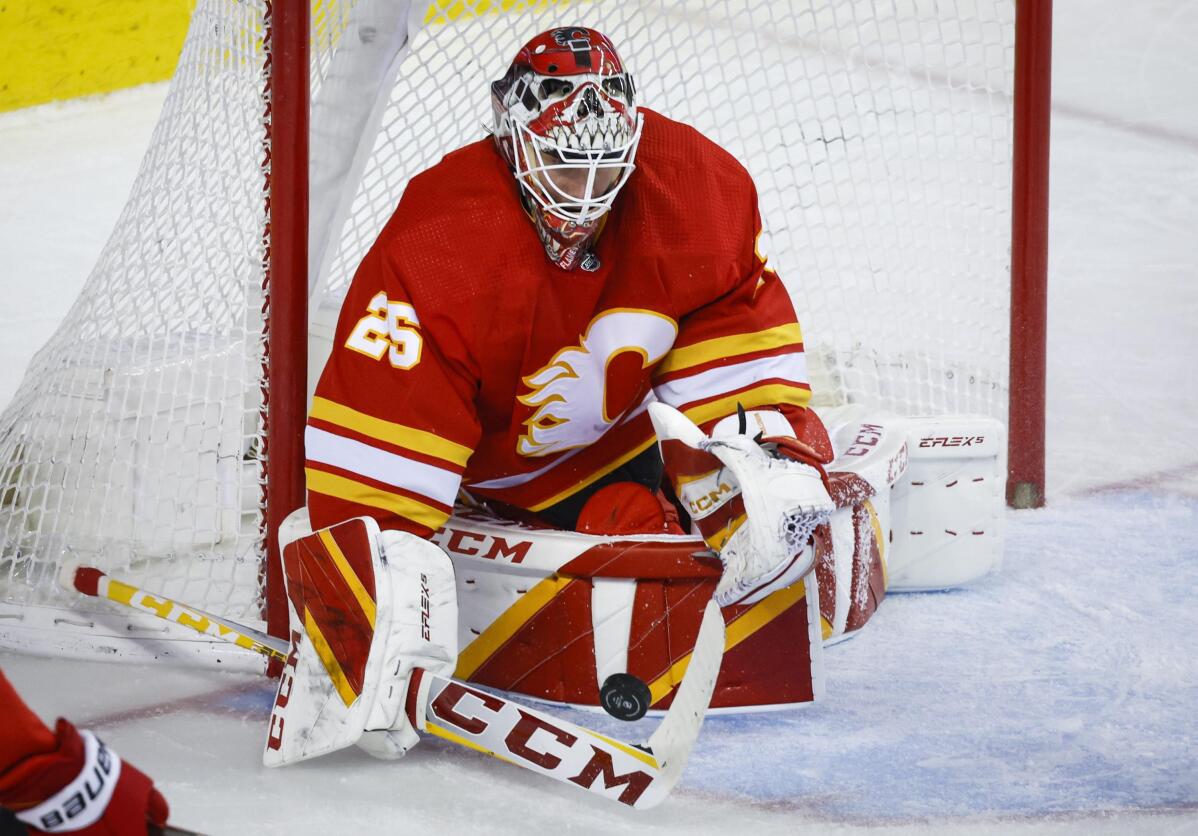 6 of 8

|
Calgary Flames goalie Jacob Markstrom swats away the puck during second-period NHL hockey game action against the New York Rangers in Calgary, Alberta, Saturday, Feb. 18, 2023. (Jeff McIntosh/The Canadian Press via AP)
6 of 8
Calgary Flames goalie Jacob Markstrom swats away the puck during second-period NHL hockey game action against the New York Rangers in Calgary, Alberta, Saturday, Feb. 18, 2023. (Jeff McIntosh/The Canadian Press via AP)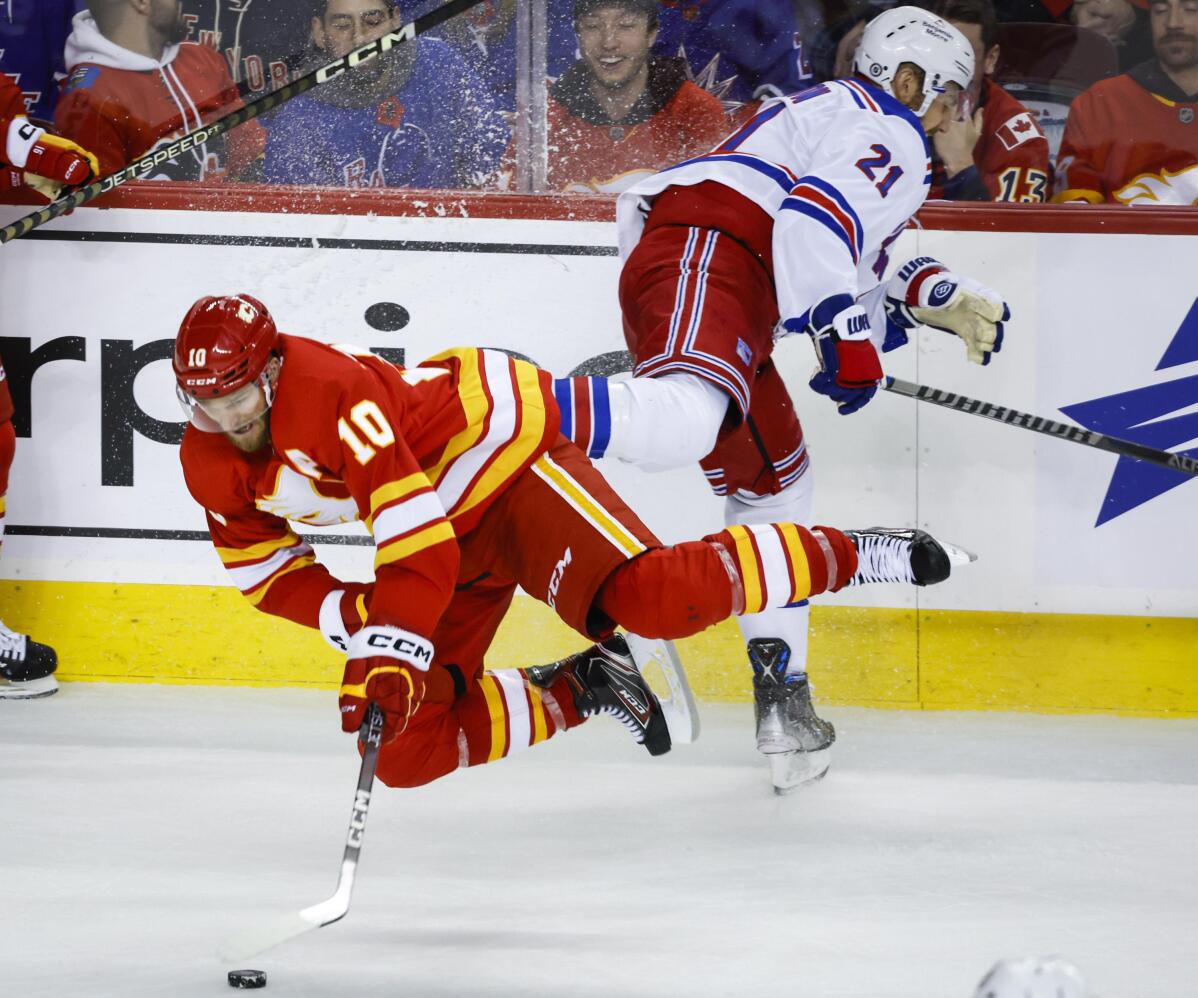 7 of 8

|
New York Rangers forward Barclay Goodrow, right, checks Calgary Flames forward Jonathan Huberdeau during the third period of an NHL hockey game Saturday, Feb. 18, 2023, in Calgary, Alberta. (Jeff McIntosh/The Canadian Press via AP)
7 of 8
New York Rangers forward Barclay Goodrow, right, checks Calgary Flames forward Jonathan Huberdeau during the third period of an NHL hockey game Saturday, Feb. 18, 2023, in Calgary, Alberta. (Jeff McIntosh/The Canadian Press via AP)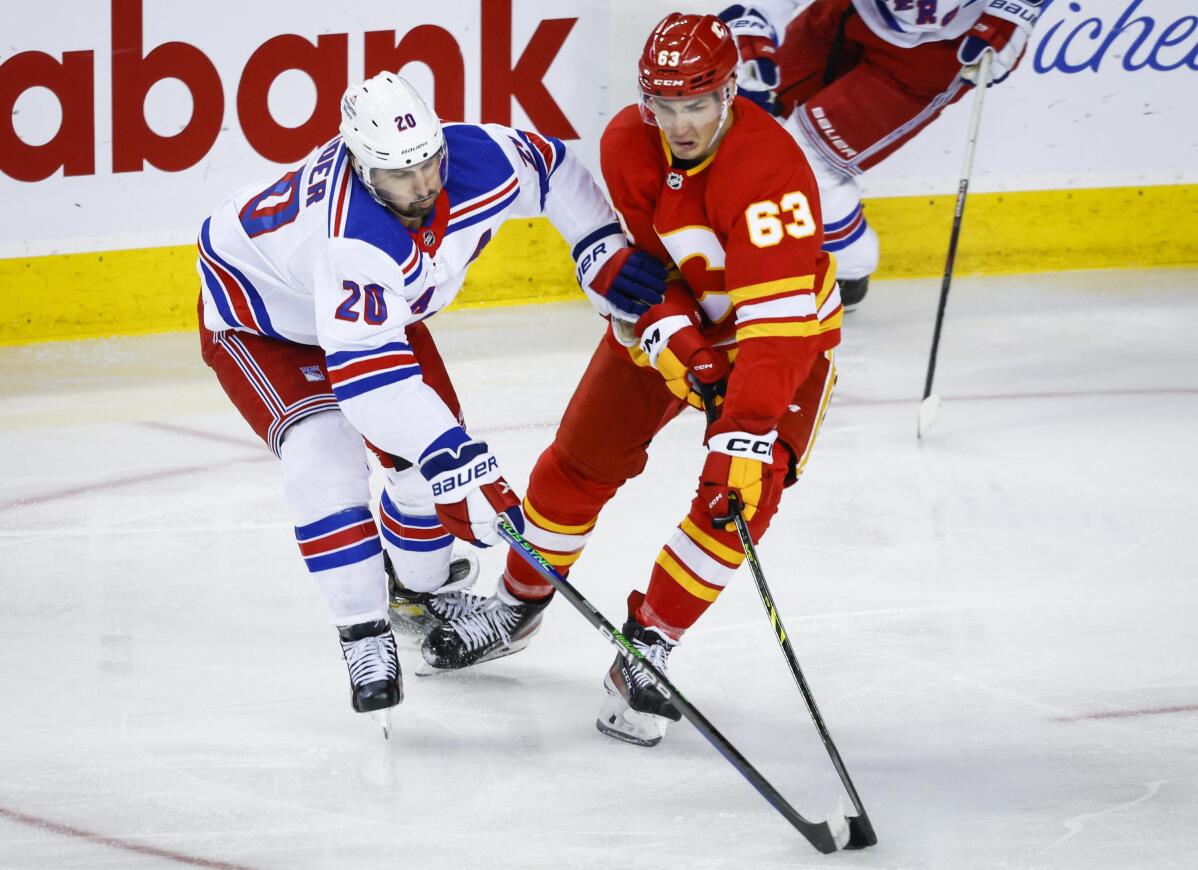 8 of 8

|
New York Rangers forward Chris Kreider, left, tries to take the puck from Calgary Flames forward Adam Ruzicka during the third period of an NHL hockey game Saturday, Feb. 18, 2023, in Calgary, Alberta. (Jeff McIntosh/The Canadian Press via AP)
8 of 8
New York Rangers forward Chris Kreider, left, tries to take the puck from Calgary Flames forward Adam Ruzicka during the third period of an NHL hockey game Saturday, Feb. 18, 2023, in Calgary, Alberta. (Jeff McIntosh/The Canadian Press via AP)
CALGARY, Alberta (AP) — Mikael Backlund's power-play goal 1:28 into overtime Saturday night gave the Calgary Flames a 3-2 victory over the New York Rangers, snapping their seven-game winning streak.
Andrew Mangiapane and Nazem Kadri both scored in the first minute for Calgary (26-19-11). The Flames pulled even in points with Minnesota for the second wild-card berth in the Western Conference, but the Wild have a game in hand.
"It's a playoff game every game for us. We can't afford to lose too many more, so we've got to go on a streak here," Backlund said.
Vladimir Tarasenko and Alexis Lafreniere scored for the Rangers (33-14-9), who have earned at least one point in each of their last 10 games (8-0-2). They are 14-2-4 in their last 20.
New York is two points behind New Jersey for second place in the Metropolitan Division.
"Going down early like we did, first two shifts of the game 2-0, in order to get a point we had to claw back," said Rangers center Vincent Trocheck, who had two assists. "I thought we played a good game the rest of the way. Just first two minutes really killed us."
The Rangers scored 36 goals during their winning streak — which included scoring at least four in seven straight games for the first time since February 1991.
But against a struggling Flames team, they could only solve Jacob Markstrom twice on 21 shots. Markstrom won for just the second time since Jan. 6. He improved to 15-13-7.
Jaroslav Halak, who made 29 saves, fell to 8-6-2.
"We hung him out to dry early. Some of the saves he made were unbelievable," New York defenseman Ryan Lindgren said.
The game-winner came 38 seconds into a penalty on Adam Fox after the Rangers defenseman caught Dillon Dube with a high stick during a scrum in the corner.
On the 4-on-3 man advantage, Backlund deflected Jonathan Huberdeau's shot past Halak.
"You know my shot, there's no way that was going in," Huberdeau said with a chuckle. "I saw Backs was wide open. He works on that every morning skate, so the work paid off this time. That's a huge win for us."
Huberdeau had two primary assists.
"Great shot by him seeing that we had some room in front there," Backlund said. "He had a good night for us and he played really well, created a lot of chances and looks in the O-zone."
Calgary was ahead 2-0 less than a minute into the game, but the score remained that way for more than 36 minutes before New York cut the deficit in half at 16:53 of the second period when Tarasenko capped off a pretty three-way passing play with Artemi Panarin and Trocheck.
Panarin's assist extended his point streak to seven games (six goals, nine assists).
Calgary had numerous chances to regain a two-goal lead in the third, but Halak was excellent.
The Rangers tied it at 12:48 of the third. Lafreniere got a pass from Trocheck and put a shot on net that was partially stopped by Markstrom. As the rebound slithered toward the far post, Lafreniere was able to tap it in before Markstrom could get across.
It was Lafreniere's first career power-play goal.
"It's nice to win games when you're coming back, but you should play better at the start," Tarasenko said. "Everybody knows that we can play better. I don't think anybody's satisfied with the result today."
Calgary scored two goals eight seconds apart in the opening minute.
Mangiapane got in alone and made a terrific deke to get his 12th goal 38 seconds in.
Right after that, Kadri finished off a tic-tac-toe passing play with Huberdeau and Jakob Pelletier, and his 21st goal of the season had the Saddledome crowd buzzing.
LINDHOLM MISSING
The Flames were without No. 1 center Elias Lindholm, away from the team for the birth of his first child. His spot between Dube and Tyler Toffoli was taken by Adam Ruzicka, who has no points in his last 15 games and has gone 26 games without a goal.
STREAK BUSTER
Chris Kreider had his seven-game point streak snapped while Mika Zibanejad had his six-game point spree halted. Halak also had his seven-game winning streak snapped. He last loss was on Dec. 3, 2022.
UP NEXT
Rangers: Return home to play Winnipeg on Monday.
Flames: Wrap up a three-game homestand with a matinee Monday against Philadelphia.
___
AP NHL: https://apnews.com/hub/nhl and https://twitter.com/AP_Sports