Zadina returns, scores go-ahead goal as Red Wings top Flames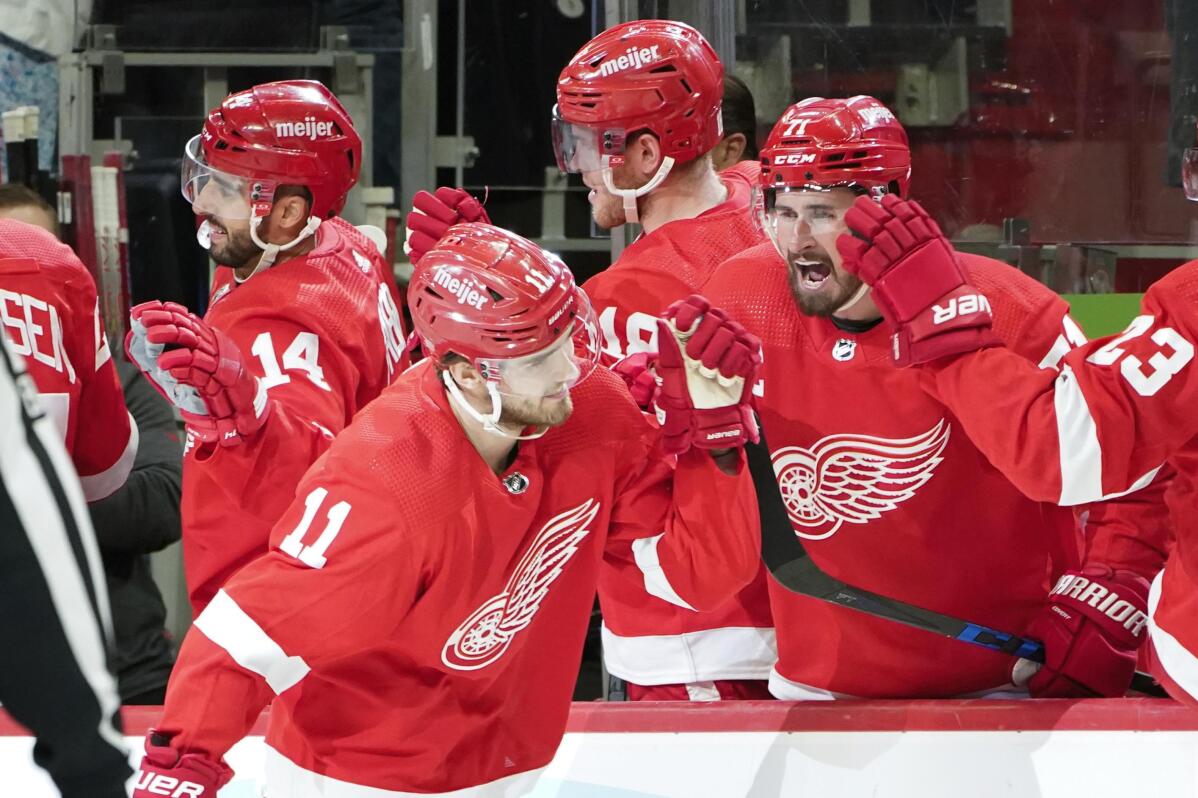 1 of 4

|
Detroit Red Wings right wing Filip Zadina (11) celebrates his goal against the Calgary Flames in the third period of an NHL hockey game Thursday, Feb. 9, 2023, in Detroit. (AP Photo/Paul Sancya)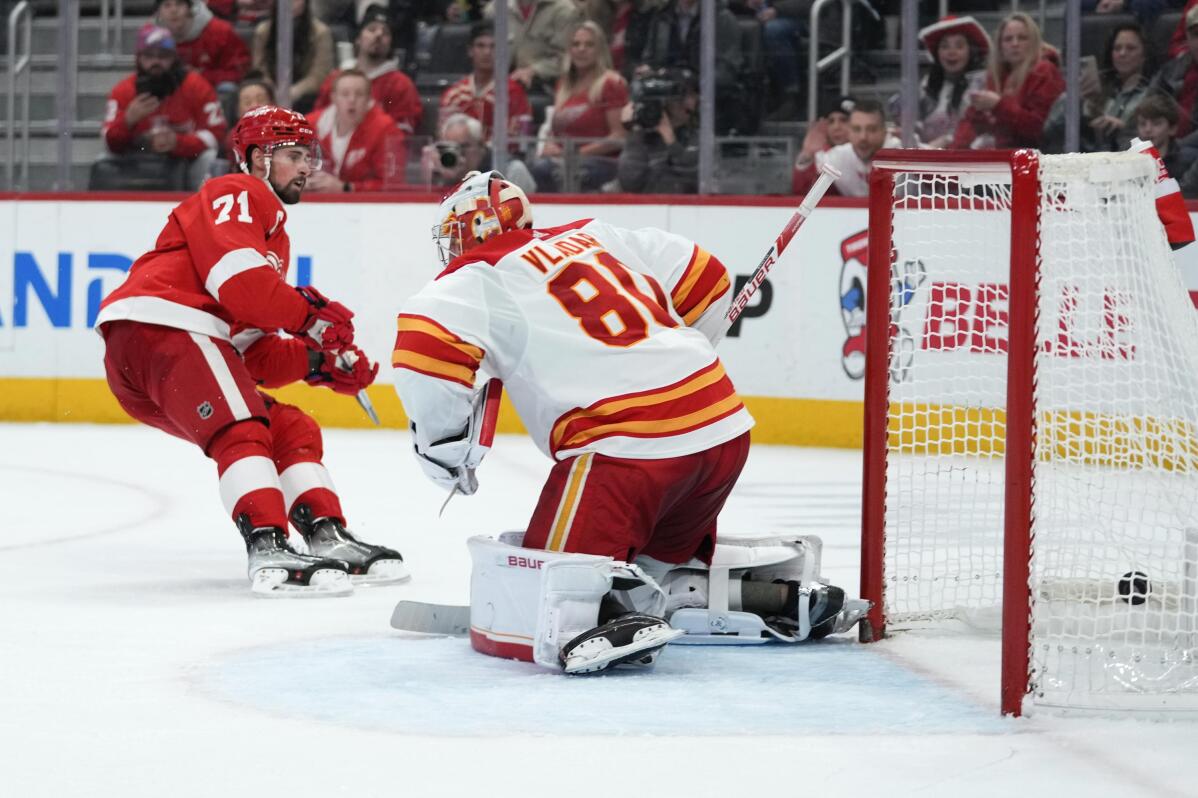 2 of 4

|
Detroit Red Wings center Dylan Larkin (71) scores on Calgary Flames goaltender Dan Vladar (80) in the second period of an NHL hockey game Thursday, Feb. 9, 2023, in Detroit. (AP Photo/Paul Sancya)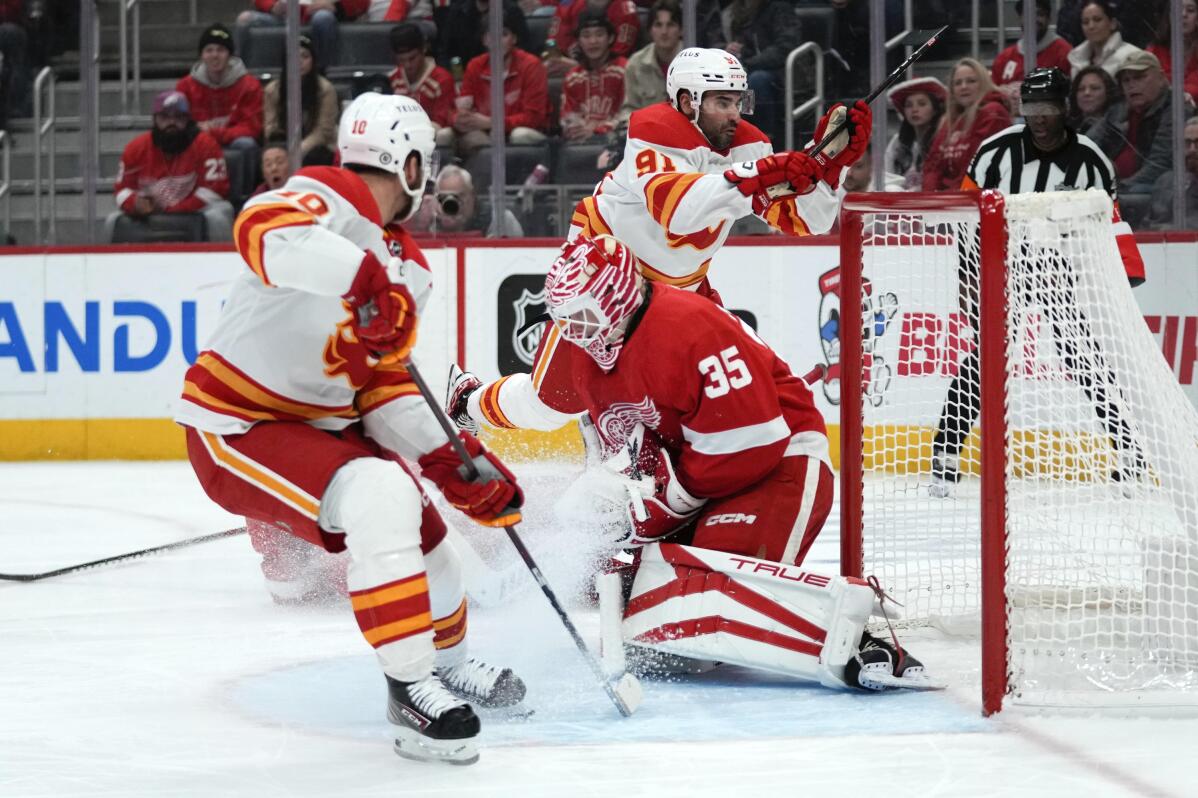 3 of 4

|
Detroit Red Wings goaltender Ville Husso (35) stops a Calgary Flames center Nazem Kadri (91) shot as Calgary Flames center Jonathan Huberdeau (10) watches for the rebound in the third period of an NHL hockey game Thursday, Feb. 9, 2023, in Detroit. (AP Photo/Paul Sancya)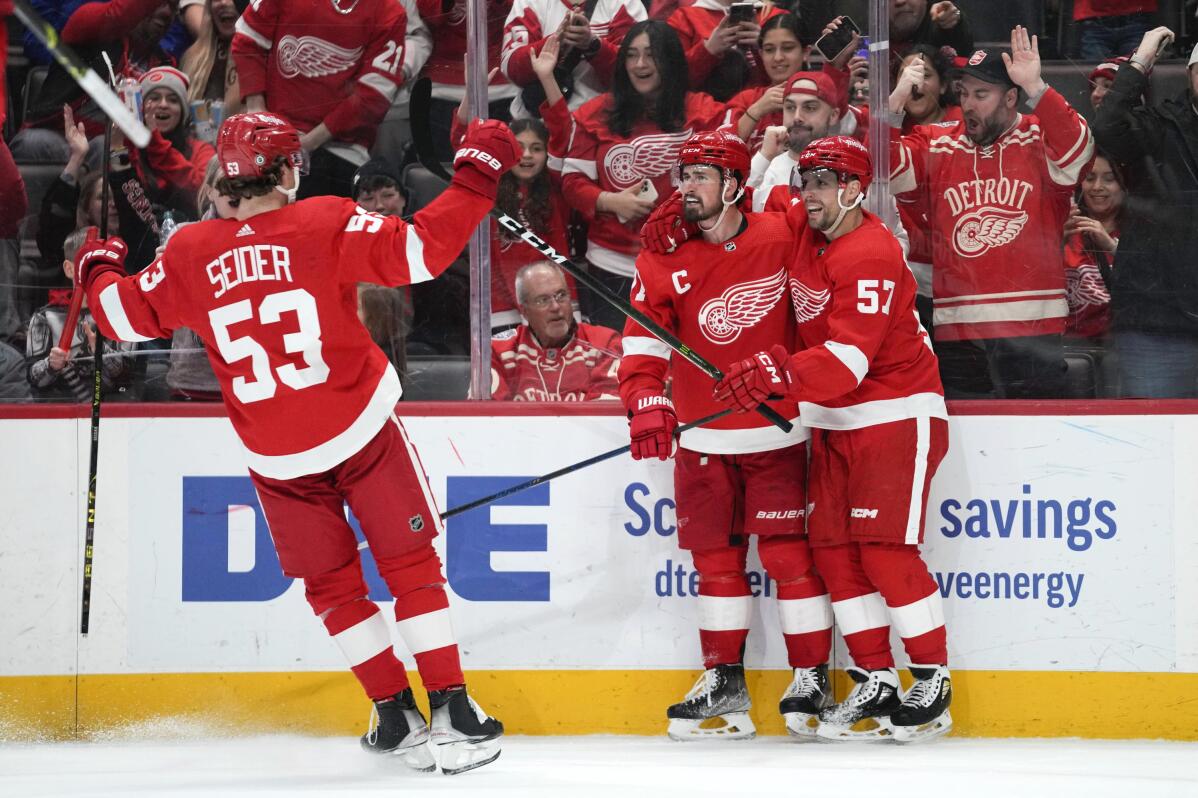 4 of 4

|
Detroit Red Wings center Dylan Larkin, center, celebrates his goal with Moritz Seider (53) and David Perron (57) in the second period of an NHL hockey game against the Calgary Flames Thursday, Feb. 9, 2023, in Detroit. (AP Photo/Paul Sancya)
Zadina returns, scores go-ahead goal as Red Wings top Flames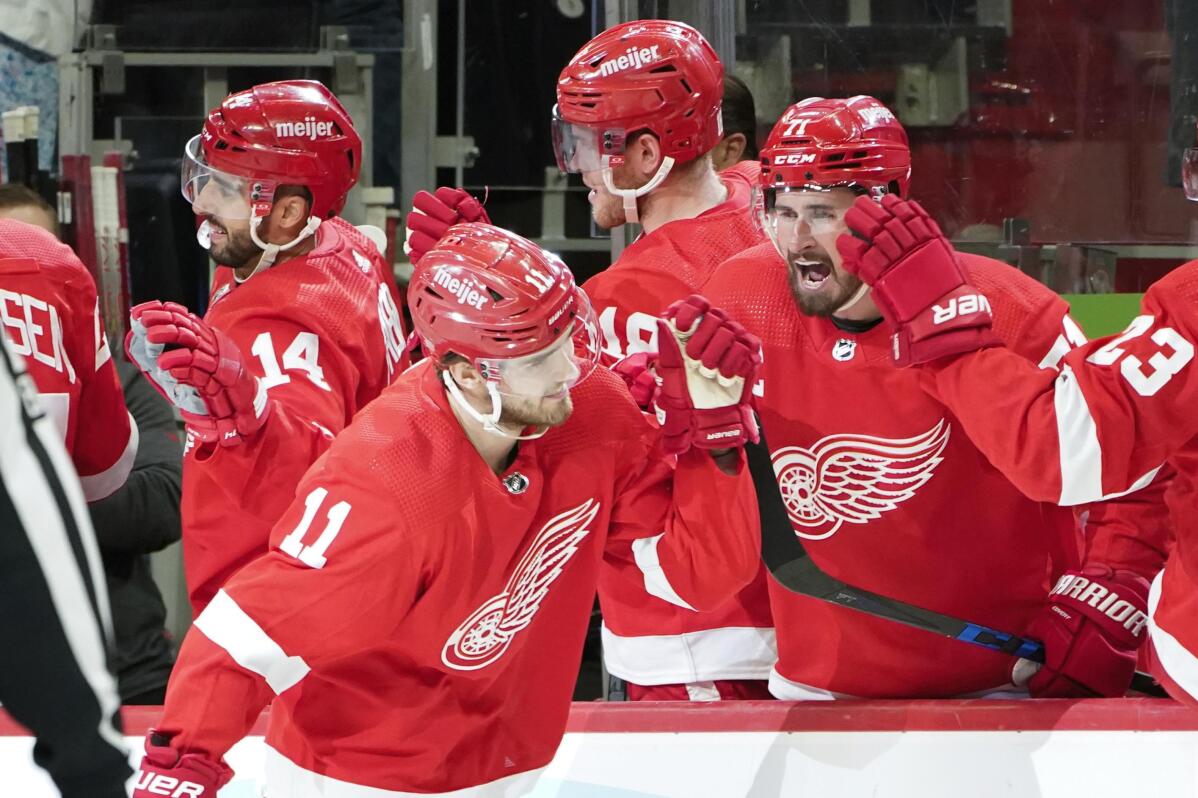 1 of 4

|
Detroit Red Wings right wing Filip Zadina (11) celebrates his goal against the Calgary Flames in the third period of an NHL hockey game Thursday, Feb. 9, 2023, in Detroit. (AP Photo/Paul Sancya)
1 of 4
Detroit Red Wings right wing Filip Zadina (11) celebrates his goal against the Calgary Flames in the third period of an NHL hockey game Thursday, Feb. 9, 2023, in Detroit. (AP Photo/Paul Sancya)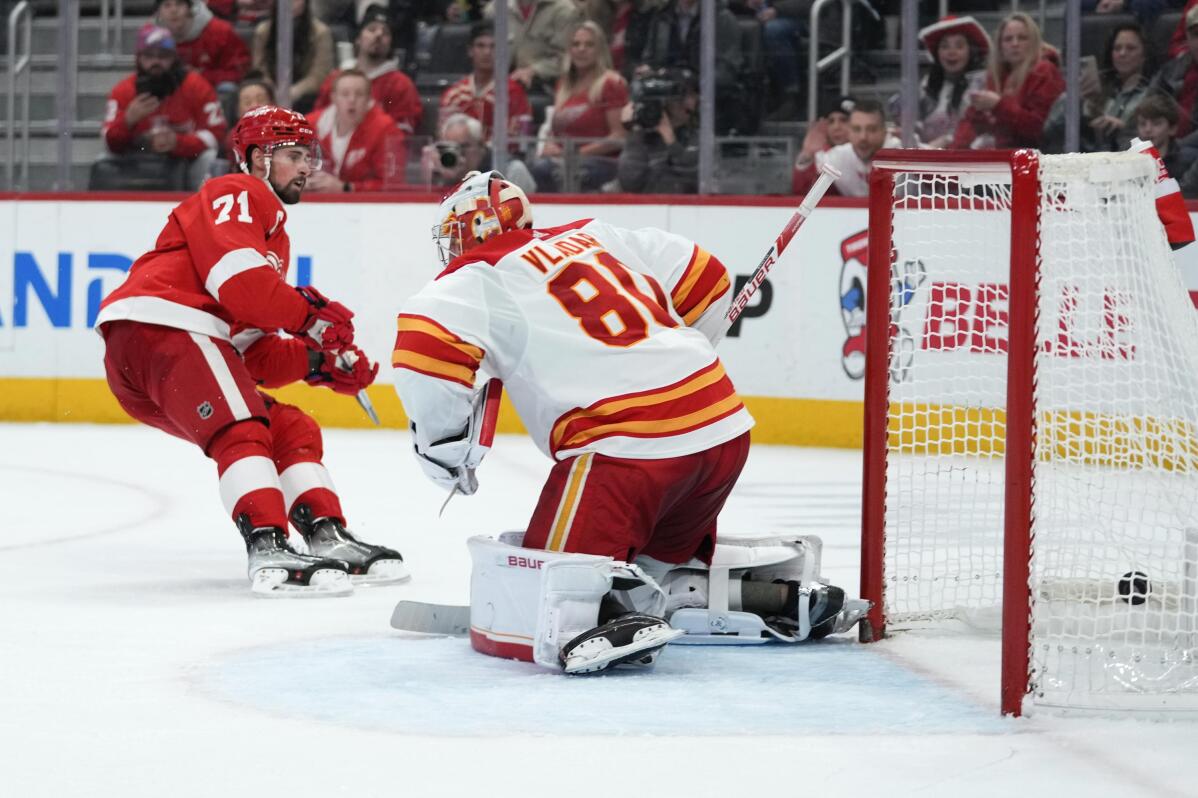 2 of 4

|
Detroit Red Wings center Dylan Larkin (71) scores on Calgary Flames goaltender Dan Vladar (80) in the second period of an NHL hockey game Thursday, Feb. 9, 2023, in Detroit. (AP Photo/Paul Sancya)
2 of 4
Detroit Red Wings center Dylan Larkin (71) scores on Calgary Flames goaltender Dan Vladar (80) in the second period of an NHL hockey game Thursday, Feb. 9, 2023, in Detroit. (AP Photo/Paul Sancya)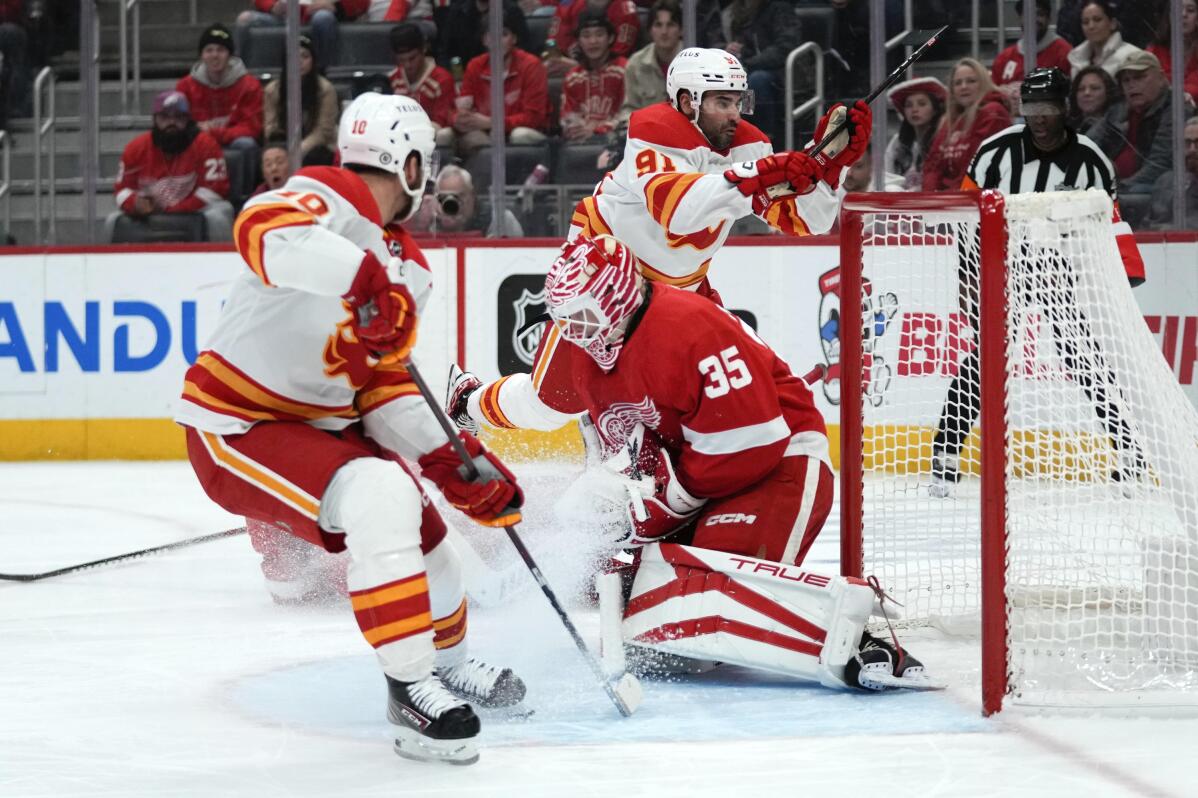 3 of 4

|
Detroit Red Wings goaltender Ville Husso (35) stops a Calgary Flames center Nazem Kadri (91) shot as Calgary Flames center Jonathan Huberdeau (10) watches for the rebound in the third period of an NHL hockey game Thursday, Feb. 9, 2023, in Detroit. (AP Photo/Paul Sancya)
3 of 4
Detroit Red Wings goaltender Ville Husso (35) stops a Calgary Flames center Nazem Kadri (91) shot as Calgary Flames center Jonathan Huberdeau (10) watches for the rebound in the third period of an NHL hockey game Thursday, Feb. 9, 2023, in Detroit. (AP Photo/Paul Sancya)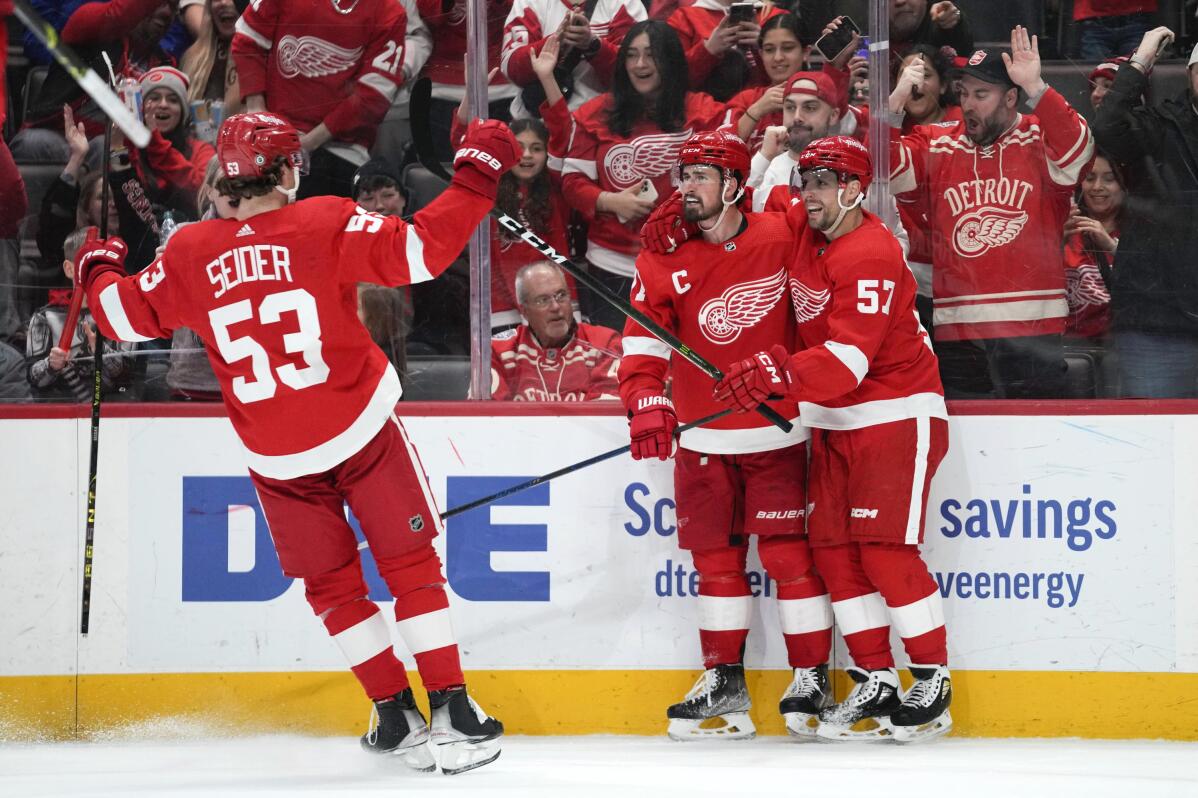 4 of 4

|
Detroit Red Wings center Dylan Larkin, center, celebrates his goal with Moritz Seider (53) and David Perron (57) in the second period of an NHL hockey game against the Calgary Flames Thursday, Feb. 9, 2023, in Detroit. (AP Photo/Paul Sancya)
4 of 4
Detroit Red Wings center Dylan Larkin, center, celebrates his goal with Moritz Seider (53) and David Perron (57) in the second period of an NHL hockey game against the Calgary Flames Thursday, Feb. 9, 2023, in Detroit. (AP Photo/Paul Sancya)
DETROIT (AP) — Filip Zadina made a successful return to the Detroit lineup, scoring the go-ahead goal at 5:51 of the third period to send the Red Wings over the Calgary Flames 2-1 Thursday night.
Zadina had not played since Nov. 5 because of a broken right leg.
"That was lifting for our group and really happy for him," Red Wings coach Derek Lalonde said. "Tonight I thought for the most part a pretty complete game. I don't think we'll apologize, or our guys won't, I'm not saying we have to be perfect, but that's how it has to look for us to win. And we got it done tonight."
Zadina passed to Oskar Sundqvist, got the puck right back and snapped it into the open right side of the net past goaltender Dan Vladar for his first goal of the season.
"Obviously it felt pretty good," Zadina said. "It felt even better that I could help the team to win the game. It felt amazing."
Flames forward Blake Coleman scored the first goal of the game at 18:54 of the second period when he deflected Noah Hanifin's shot from the left point.
Coleman extended his goal streak to three games. He has six points in that span.
Red Wings captain Dylan Larkin tied the game at 19:46 of the second when he scored on the power play, his team-leading 16th goal.
It was the first goal scored by the Red Wings against the Flames since Feb. 23, 2020, as the last two meetings were Calgary shutouts. In that 2020 game, Larkin scored twice in a 4-2 loss.
Larkin has seven goals and four assists in 13 career games against Calgary.
"There are no excuses at this time of year," Coleman said. "We've got 30 games left and we've got to get every point and win the game. We took too many penalties and then it came down to one breakdown in the third period."
Detroit goaltender Ville Husso had 35 saves and hasn't lost in four career games against the Flames.
"I guess it's playoff hockey for us," Husso said. "Almost 30 games left, whatever, so you still want to make it there. It's on us. We just need to come in every night and play like that and give us a chance to win."
Vladar finished with 15 saves.
"I was pleased with the first two periods, especially on the road, but we took too many penalties and they got the big goal in the third," Flames coach Darryl Sutter said. "We've seen that a lot this year."
NOTES: Red Wings D Robert Hägg played for the first time since Dec. 8 and assisted on the game-winning goal. … Flames D Rasmus Andersson missed his first game of the season after being hit by a vehicle while riding a scooter in Detroit on Wednesday evening.
UP NEXT
Flames: Play at Buffalo on Saturday afternoon.
Red Wings: Host Vancouver on Saturday afternoon.
___
AP NHL: https://apnews.com/hub/nhl and https://twitter.com/AP_Sports