Cam Atkinson scores twice, Flyers beat Bruins 6-3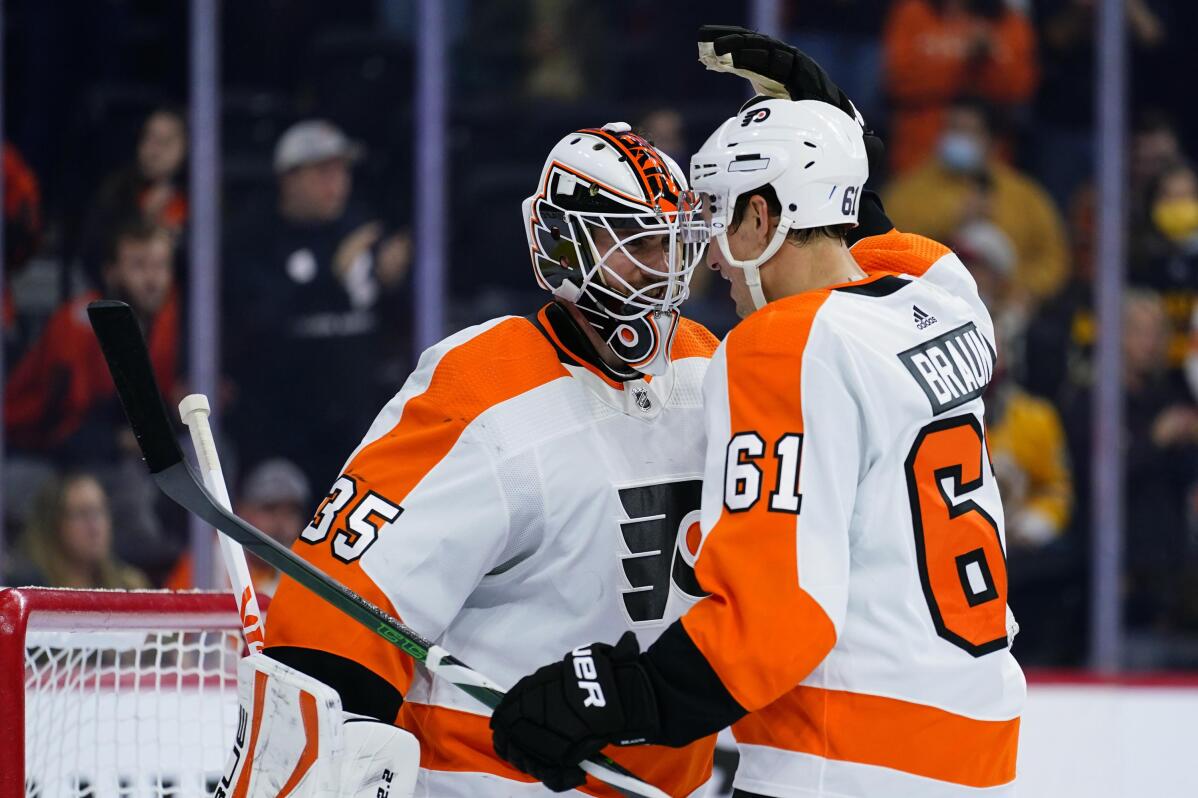 1 of 3

|
Philadelphia Flyers' Martin Jones, left, and Justin Braun celebrate after an NHL hockey game against the Boston Bruins, Wednesday, Oct. 20, 2021, in Philadelphia. (AP Photo/Matt Slocum)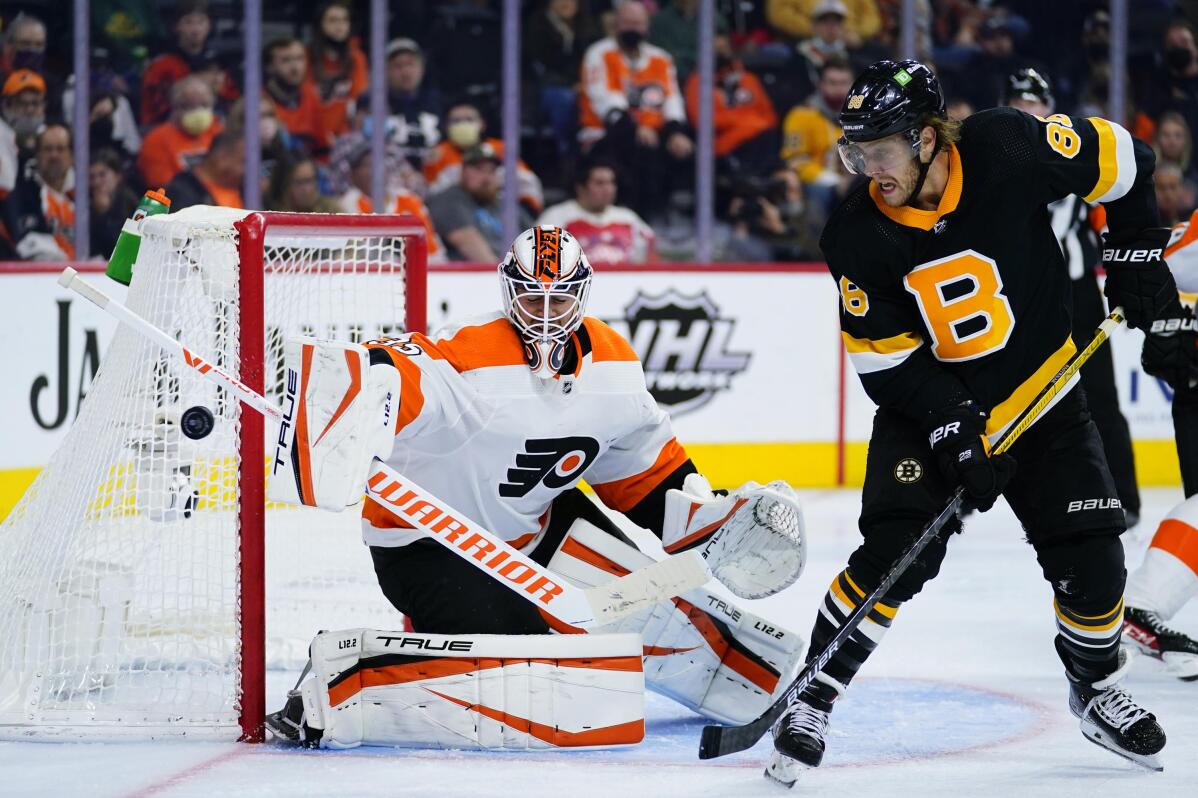 2 of 3

|
Philadelphia Flyers' Martin Jones, left, blocks a shot as Boston Bruins' David Pastrnak looks on during the third period of an NHL hockey game, Wednesday, Oct. 20, 2021, in Philadelphia. (AP Photo/Matt Slocum)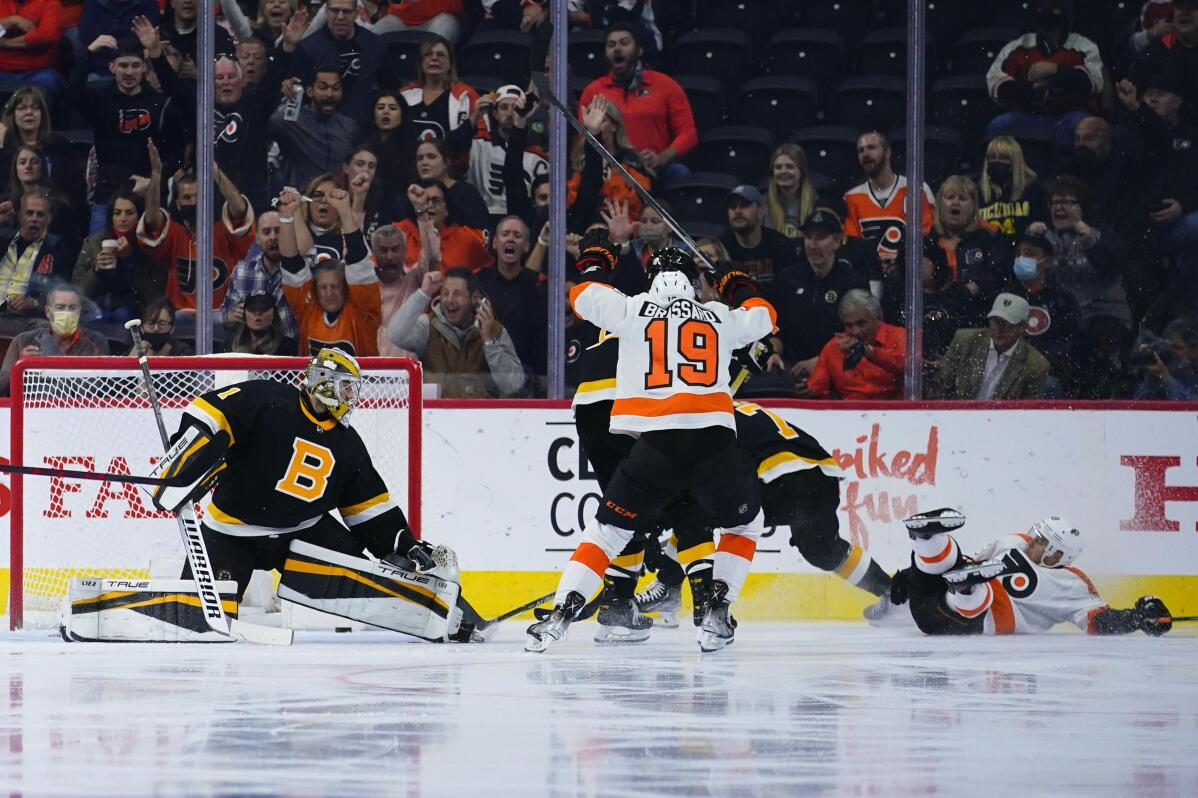 3 of 3

|
Philadelphia Flyers' Cam Atkinson, right, scores a goal against Boston Bruins' Jeremy Swayman, left, during the third period of an NHL hockey game, Wednesday, Oct. 20, 2021, in Philadelphia. (AP Photo/Matt Slocum)
Cam Atkinson scores twice, Flyers beat Bruins 6-3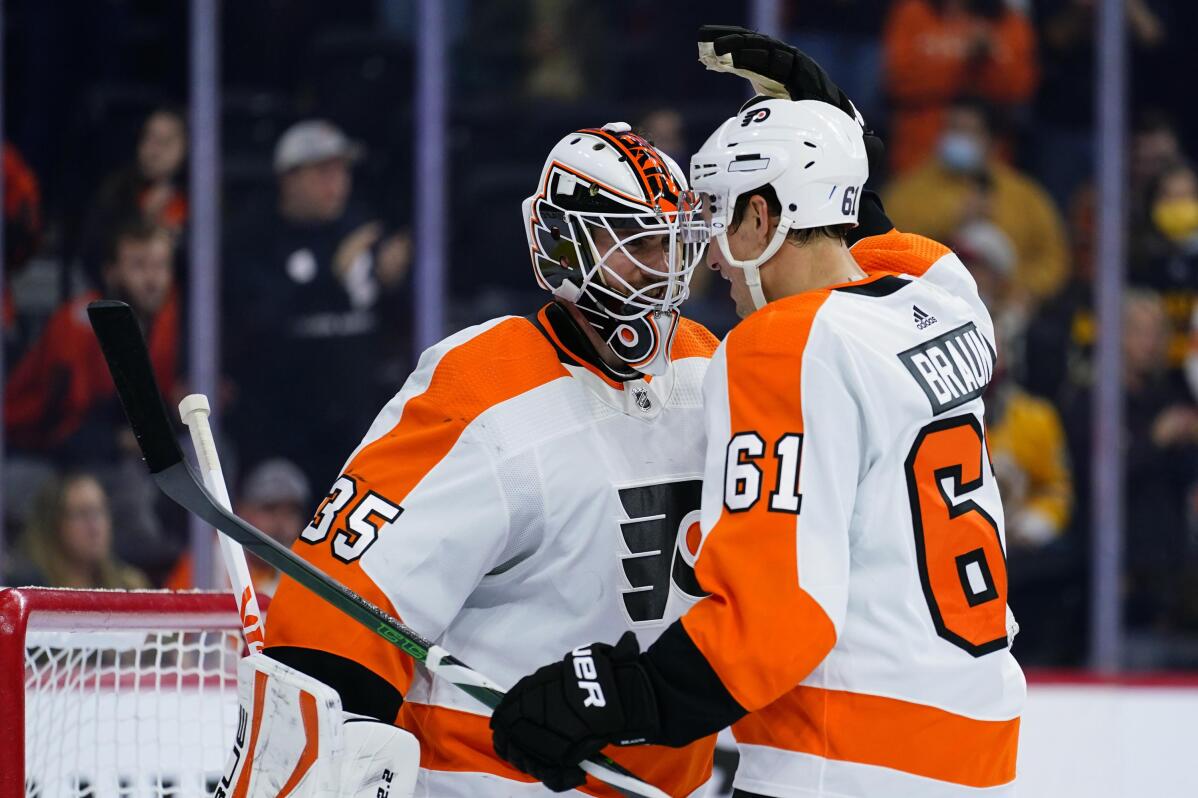 1 of 3

|
Philadelphia Flyers' Martin Jones, left, and Justin Braun celebrate after an NHL hockey game against the Boston Bruins, Wednesday, Oct. 20, 2021, in Philadelphia. (AP Photo/Matt Slocum)
1 of 3
Philadelphia Flyers' Martin Jones, left, and Justin Braun celebrate after an NHL hockey game against the Boston Bruins, Wednesday, Oct. 20, 2021, in Philadelphia. (AP Photo/Matt Slocum)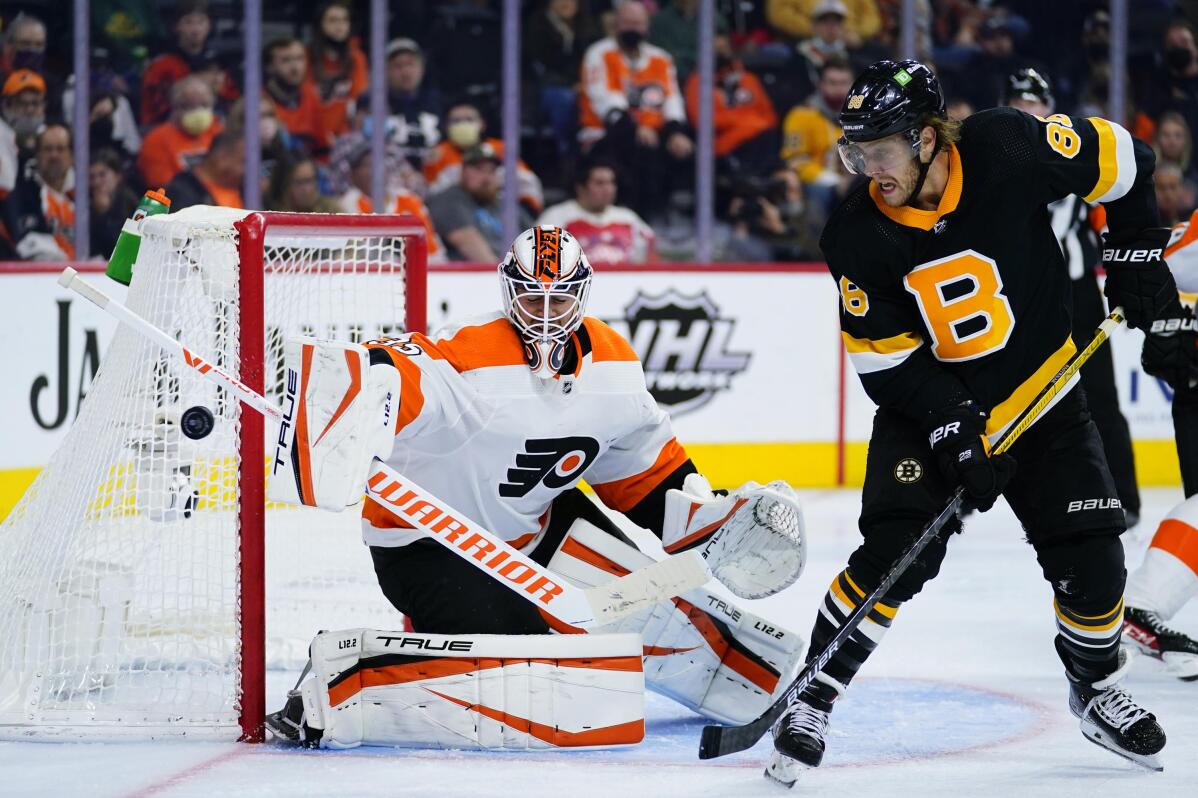 2 of 3

|
Philadelphia Flyers' Martin Jones, left, blocks a shot as Boston Bruins' David Pastrnak looks on during the third period of an NHL hockey game, Wednesday, Oct. 20, 2021, in Philadelphia. (AP Photo/Matt Slocum)
2 of 3
Philadelphia Flyers' Martin Jones, left, blocks a shot as Boston Bruins' David Pastrnak looks on during the third period of an NHL hockey game, Wednesday, Oct. 20, 2021, in Philadelphia. (AP Photo/Matt Slocum)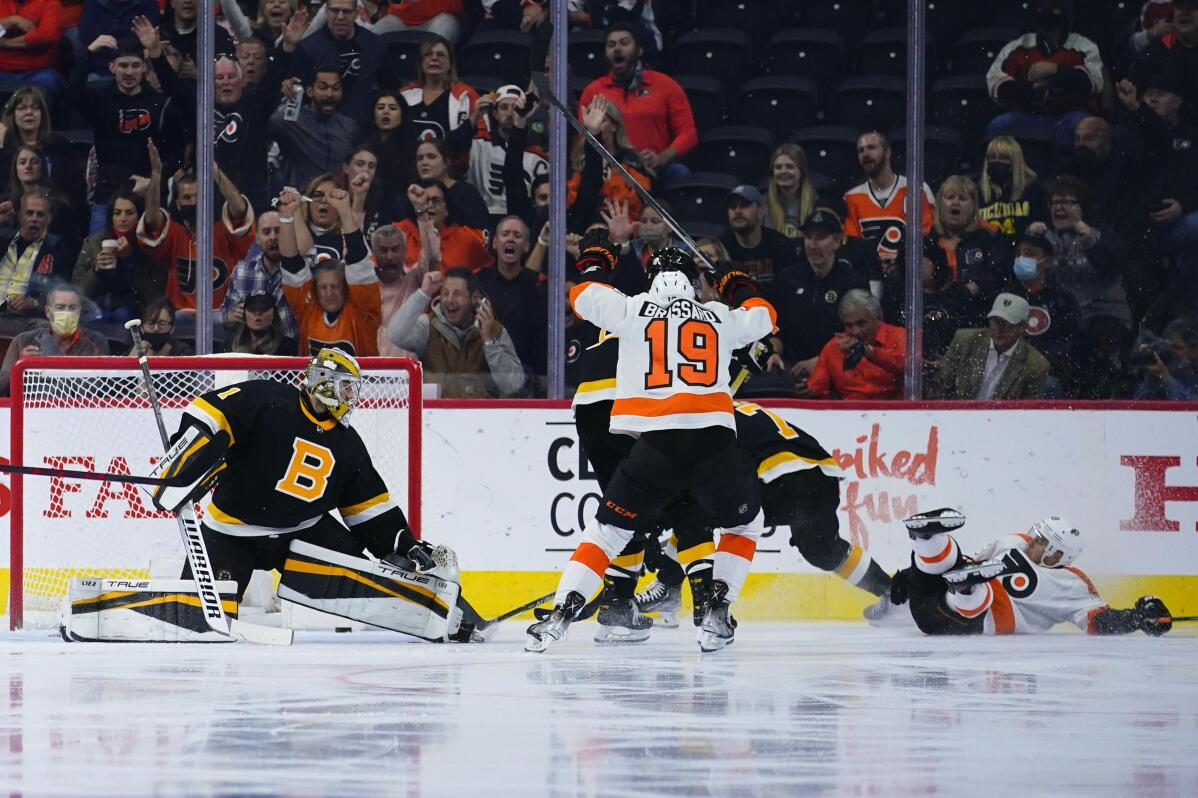 3 of 3

|
Philadelphia Flyers' Cam Atkinson, right, scores a goal against Boston Bruins' Jeremy Swayman, left, during the third period of an NHL hockey game, Wednesday, Oct. 20, 2021, in Philadelphia. (AP Photo/Matt Slocum)
3 of 3
Philadelphia Flyers' Cam Atkinson, right, scores a goal against Boston Bruins' Jeremy Swayman, left, during the third period of an NHL hockey game, Wednesday, Oct. 20, 2021, in Philadelphia. (AP Photo/Matt Slocum)
PHILADELPHIA (AP) — Cam Atkinson scored two goals, including the go-ahead score that sent him tumbling into the boards, in the Philadelphia Flyers' 6-3 victory over the Boston Bruins on Wednesday night.
The Flyers have won two straight since dropping the season opener and a revamped roster has paid early dividends. Atkinson, acquired in a deal with Columbus, had the crowd going wild on his hustle-and-tumble goal only 58 seconds into the third for a 4-3 lead. Joel Farabee picked off a pass from Mike Reilly and fed to his right to a streaking Atkinson. Atkinson got tripped up and slid back first into the boards.
Travis Konecny beat Jeremy Swayman from the slot to make it 5-3 and had the crowd chanting "Let's Go Flyers!" Sean Couturier knocked in an empty-netter, making it the second straight game the Flyers scored six goals.
Farabee, Scott Laughton also scored for Philadelphia. Martin Jones stopped 37 shots in his first start of the season after signing a $2 million, one-year deal to serve as Carter Hart's backup.
Karson Kuhlman, Taylor Hall and Brad Marchand scored for Boston.
BLUES 3, GOLDEN KNIGHTS 1
LAS VEGAS (AP) — Vladimir Tarasenko broke a tie midway through the third period in St. Louis' victory over Vegas.
Jordan Binnington made 42 saves, and Brandon Saad and Ivan Barbashev added goals for the Blues. St. Louis won all three games on its season-opening trip, also beating Colorado 5-3 and Arizona 7-4.
William Karlsson opened the scoring for the Golden Knights, and Robin Lehner made 35 saves.
On the tiebreaking goal, former Blues captain Alex Pietrangelo turned the puck over in the neutral zone with a blind pass, giving the Blues a 3-on-0 rush. Taking a pass from Brayden Schenn, Jordan Kyrou fed Tarasenko for a one-timer past Lehner with 10:11 to play.