Letang's OT winner caps rally as Penguins stun Avalanche 2-1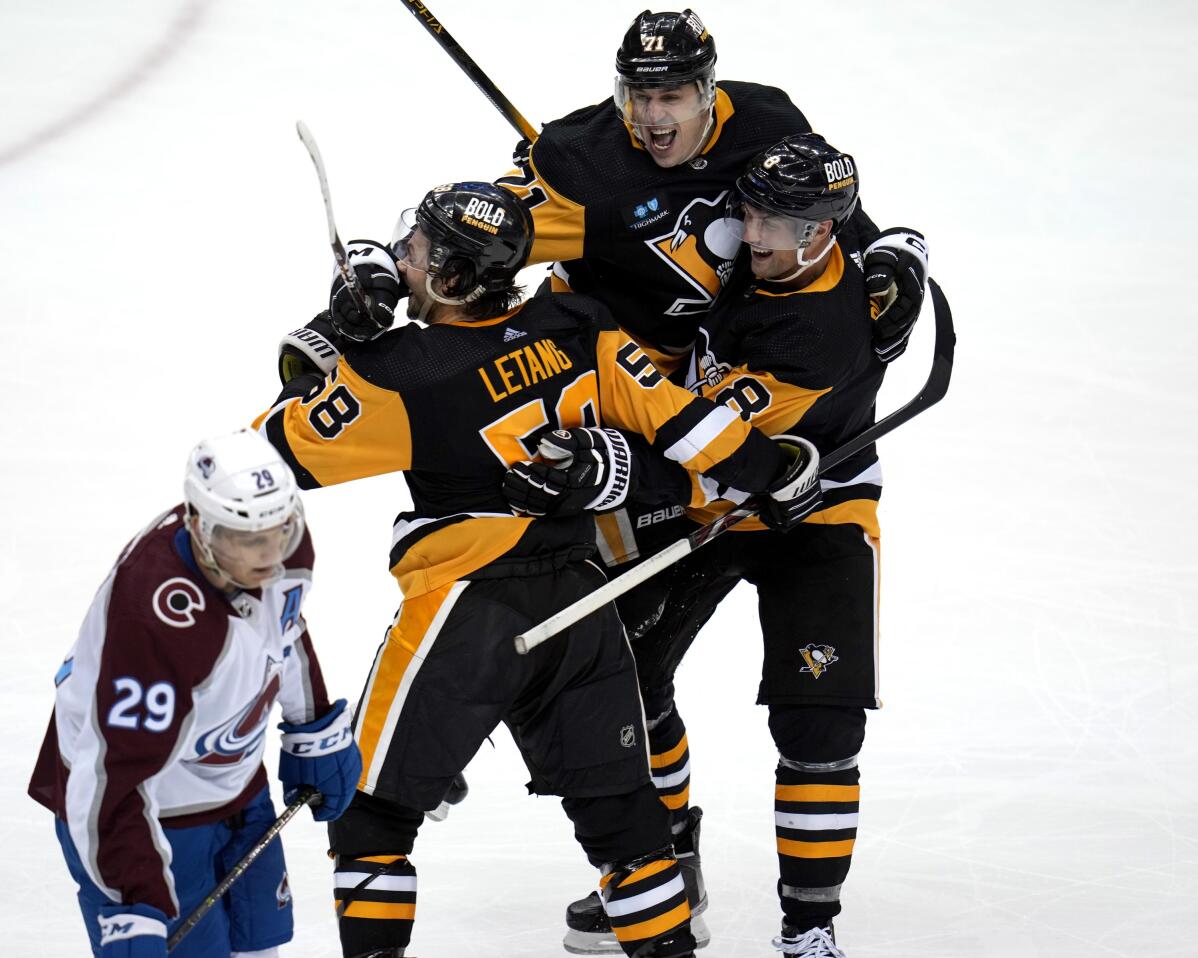 1 of 9

|
Pittsburgh Penguins' Kris Letang (58) celebrates his overtime goal with Evgeni Malkin (71) and Brian Dumoulin (8) as Colorado Avalanche's Nathan MacKinnon (29) skates off the ice, in an NHL hockey game in Pittsburgh, Tuesday, Feb. 7, 2023. (AP Photo/Gene J. Puskar)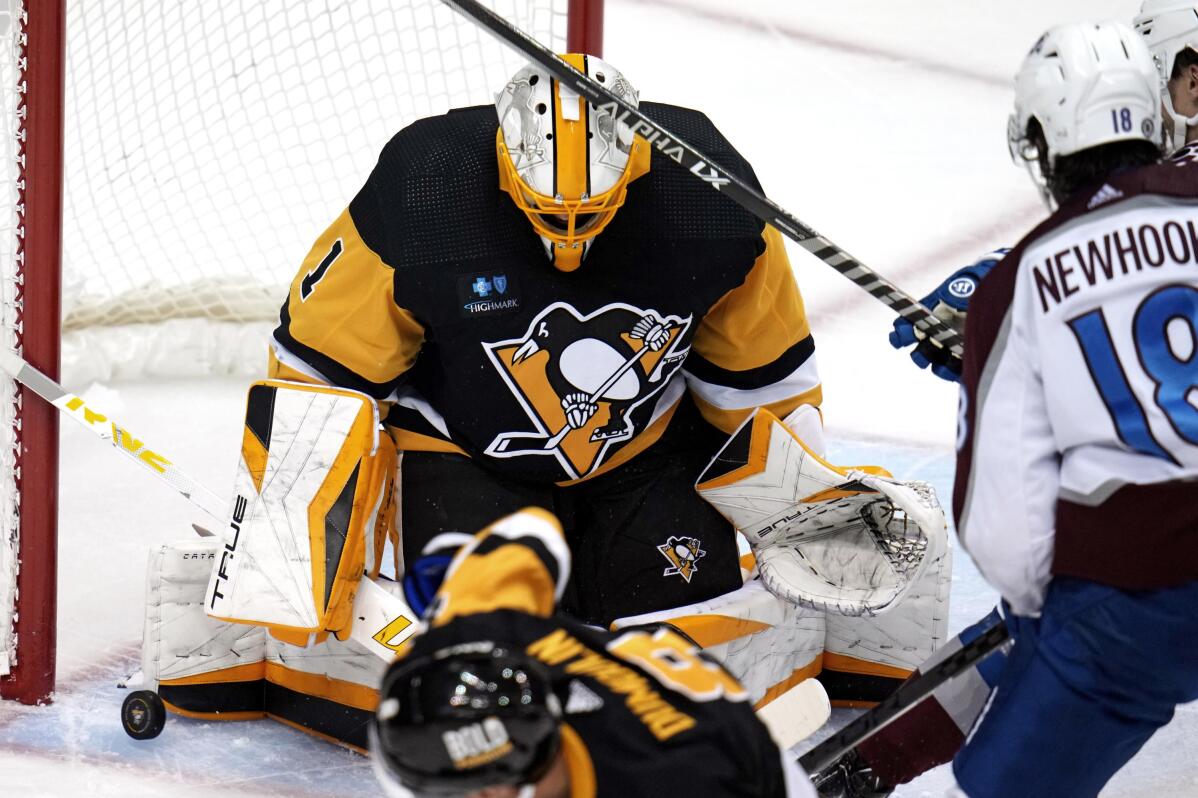 2 of 9

|
Pittsburgh Penguins goaltender Casey DeSmith (1) stops a shot by Colorado Avalanche's Alex Newhook (18) during the first period of an NHL hockey game in Pittsburgh, Tuesday, Feb. 7, 2023. (AP Photo/Gene J. Puskar)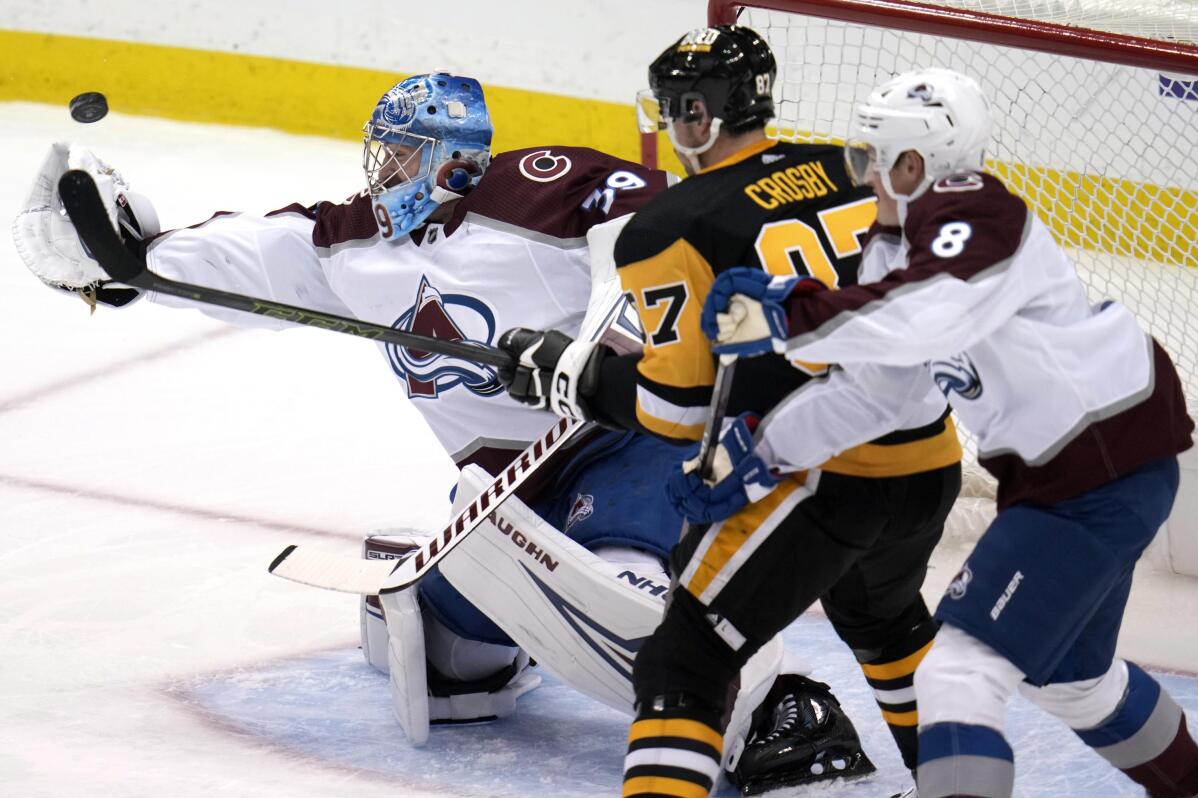 3 of 9

|
Colorado Avalanche goaltender Pavel Francouz (39) reaches for a rebound, while Pittsburgh Penguins' Sidney Crosby (87) is defended by Avalanche's Cale Makar (8) during the first period of an NHL hockey game in Pittsburgh, Tuesday, Feb. 7, 2023. (AP Photo/Gene J. Puskar)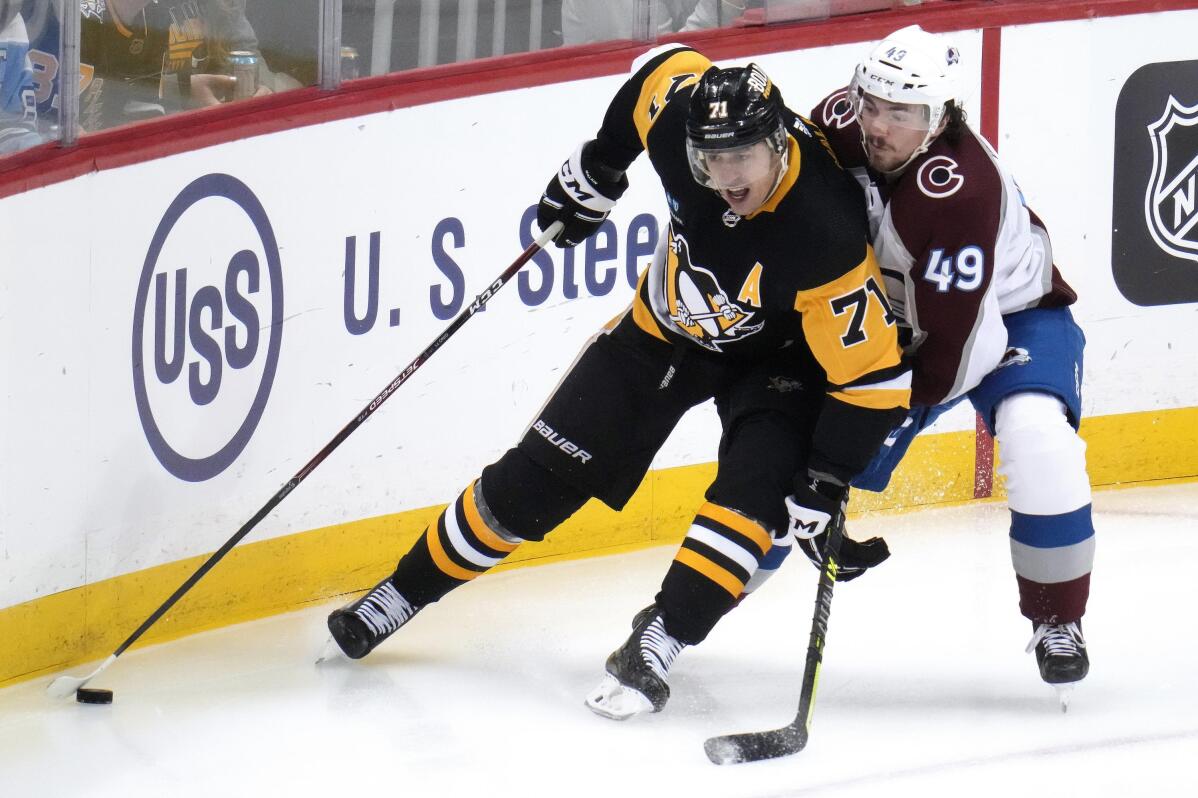 4 of 9

|
Pittsburgh Penguins' Evgeni Malkin (71) works the puck in the corner with Colorado Avalanche's Samuel Girard (49) defending during the first period of an NHL hockey game in Pittsburgh, Tuesday, Feb. 7, 2023. (AP Photo/Gene J. Puskar)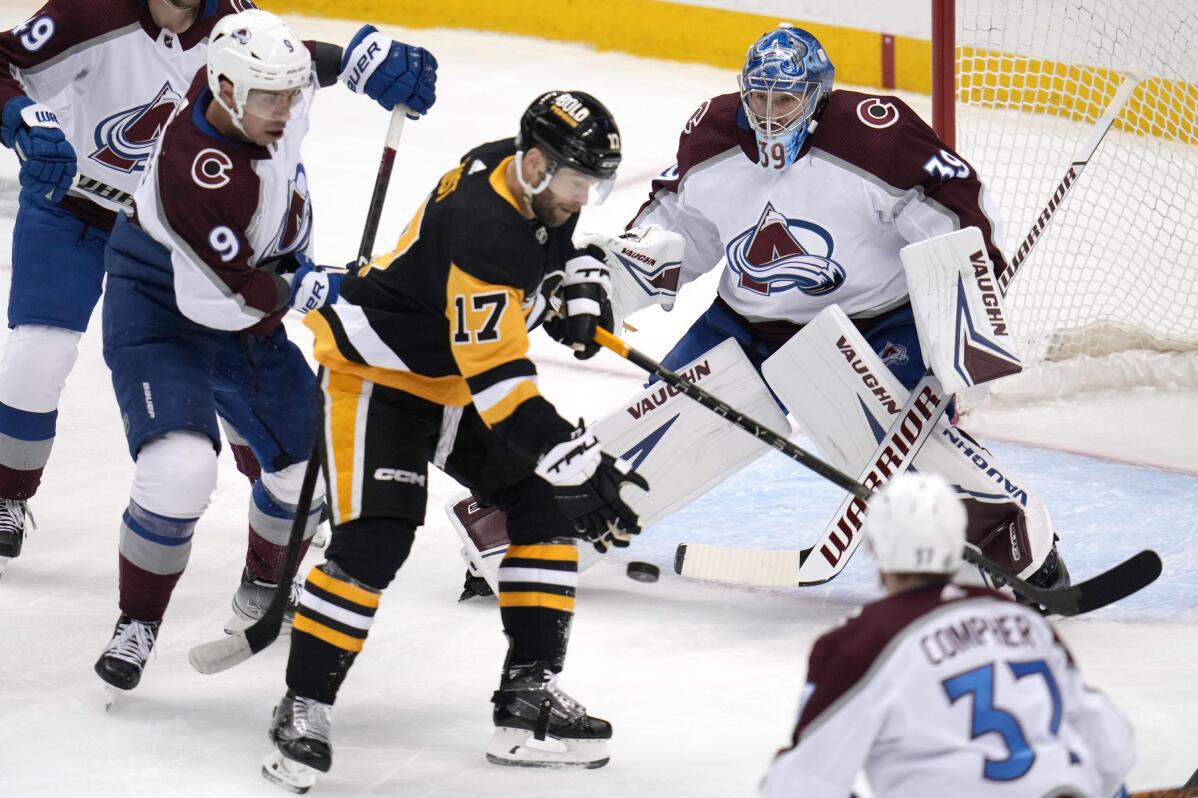 5 of 9

|
Pittsburgh Penguins' Bryan Rust (17) tries to get off a shot in front of Colorado Avalanche goaltender Pavel Francouz (39) with Evan Rodrigues (9) defending during the first period of an NHL hockey game in Pittsburgh, Tuesday, Feb. 7, 2023. (AP Photo/Gene J. Puskar)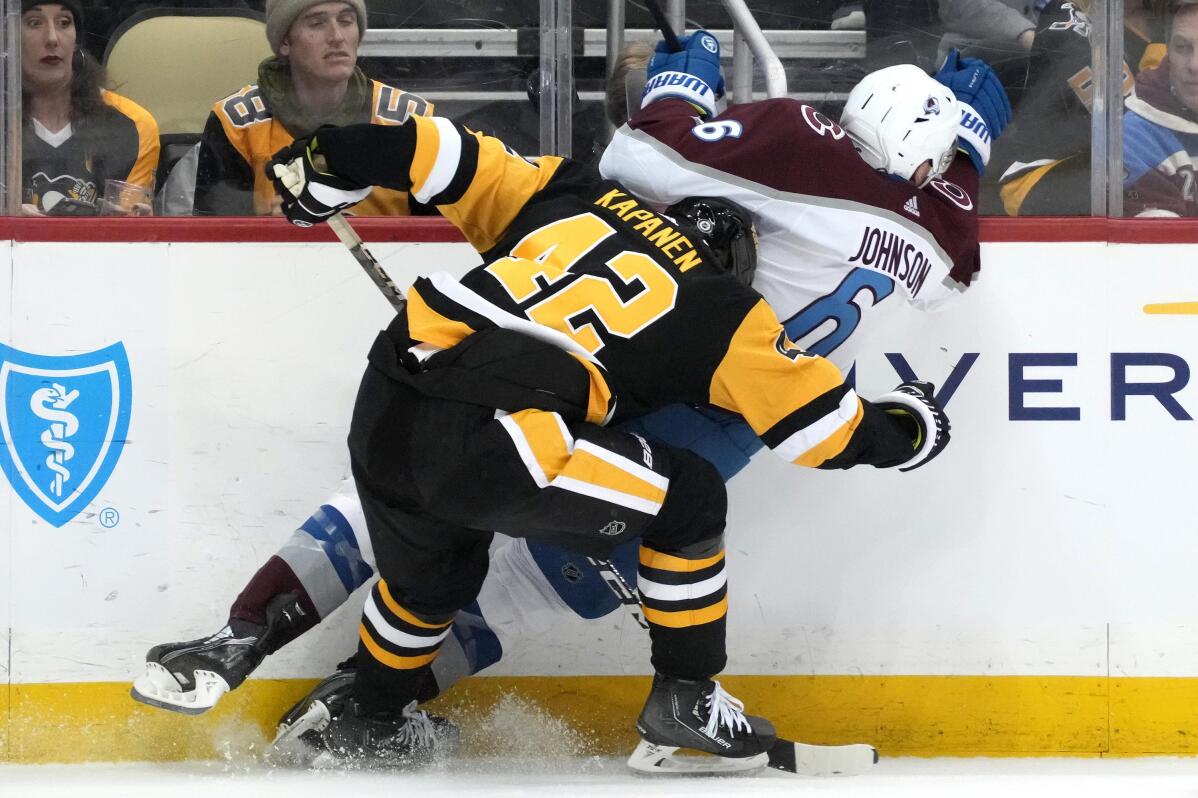 6 of 9

|
Pittsburgh Penguins' Kasperi Kapanen (42) collides with Colorado Avalanche's Erik Johnson during the second period of an NHL hockey game in Pittsburgh, Tuesday, Feb. 7, 2023. (AP Photo/Gene J. Puskar)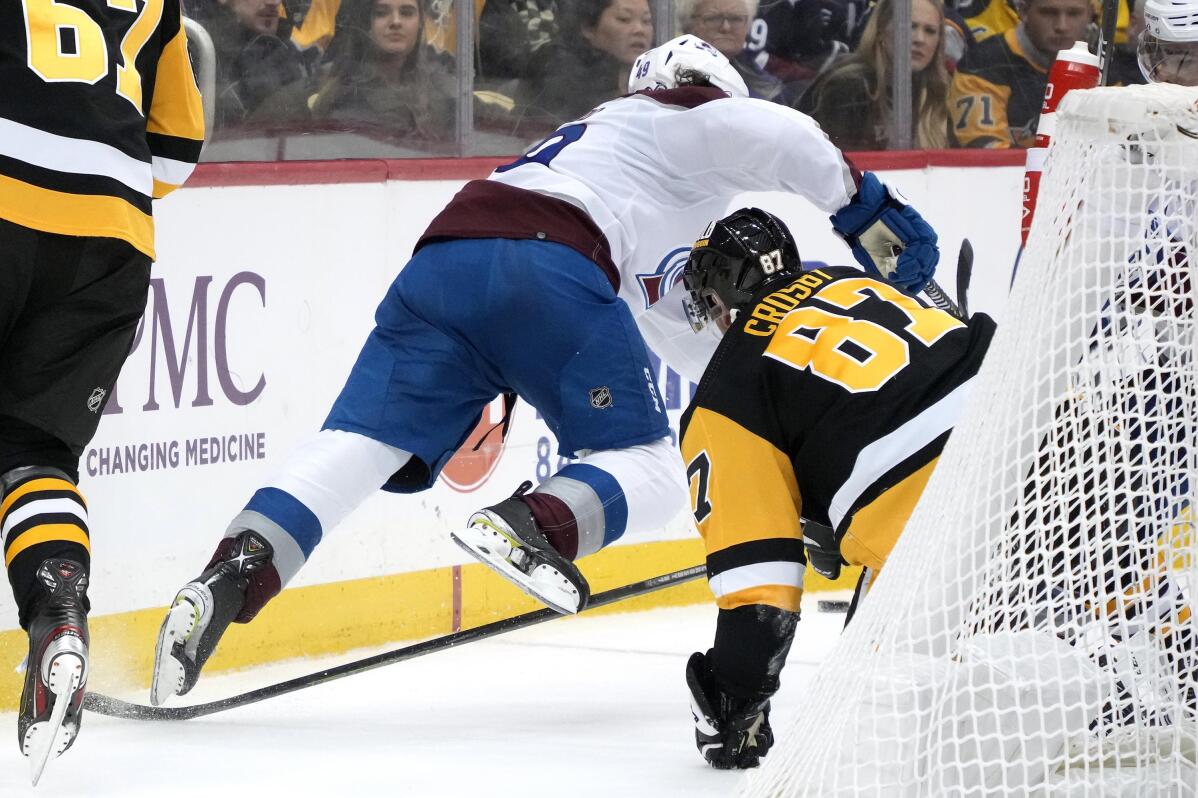 7 of 9

|
Pittsburgh Penguins' Sidney Crosby (87) trips Colorado Avalanche's Samuel Girard during the second period of an NHL hockey game in Pittsburgh, Tuesday, Feb. 7, 2023. (AP Photo/Gene J. Puskar)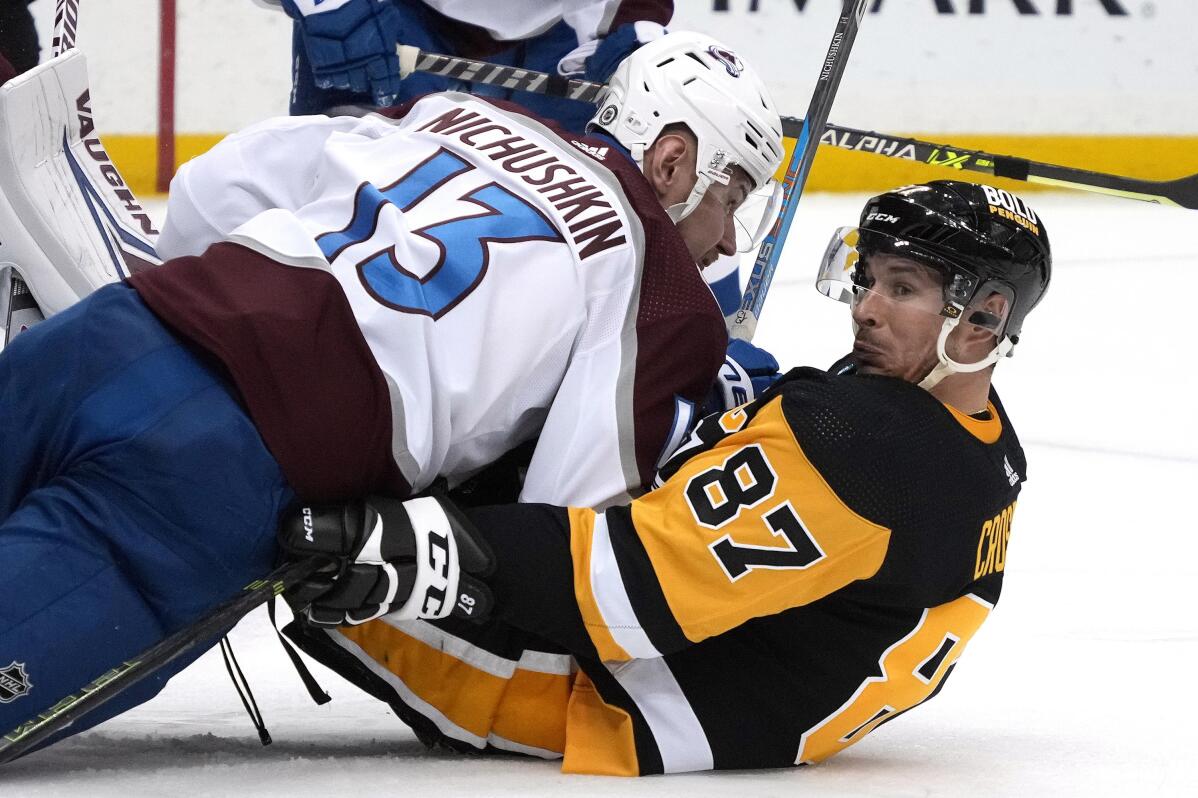 8 of 9

|
Colorado Avalanche's Valeri Nichushkin (13) falls on top of Pittsburgh Penguins' Sidney Crosby during the second period of an NHL hockey game in Pittsburgh, Tuesday, Feb. 7, 2023. (AP Photo/Gene J. Puskar)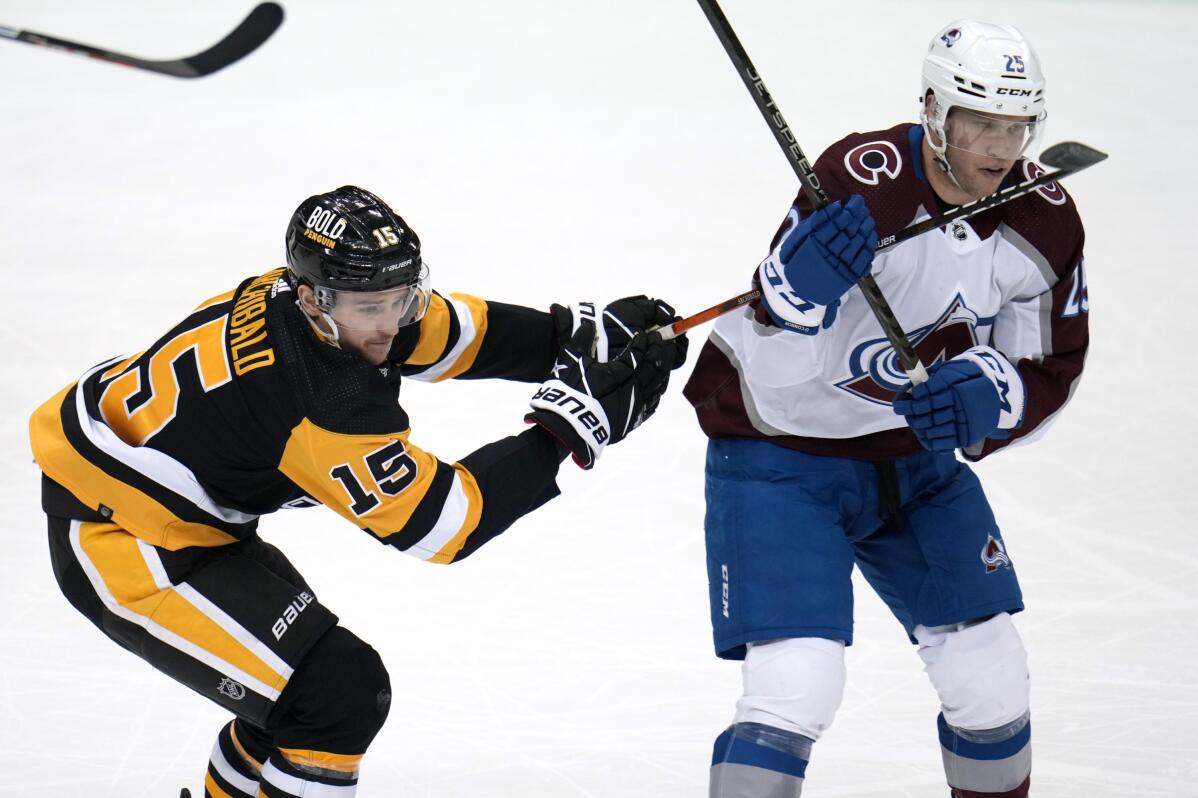 9 of 9

|
Pittsburgh Penguins' Josh Archibald (15) and Colorado Avalanche's Logan O'Connor compete for puck possession during the first period of an NHL hockey game in Pittsburgh, Tuesday, Feb. 7, 2023. (AP Photo/Gene J. Puskar)
Letang's OT winner caps rally as Penguins stun Avalanche 2-1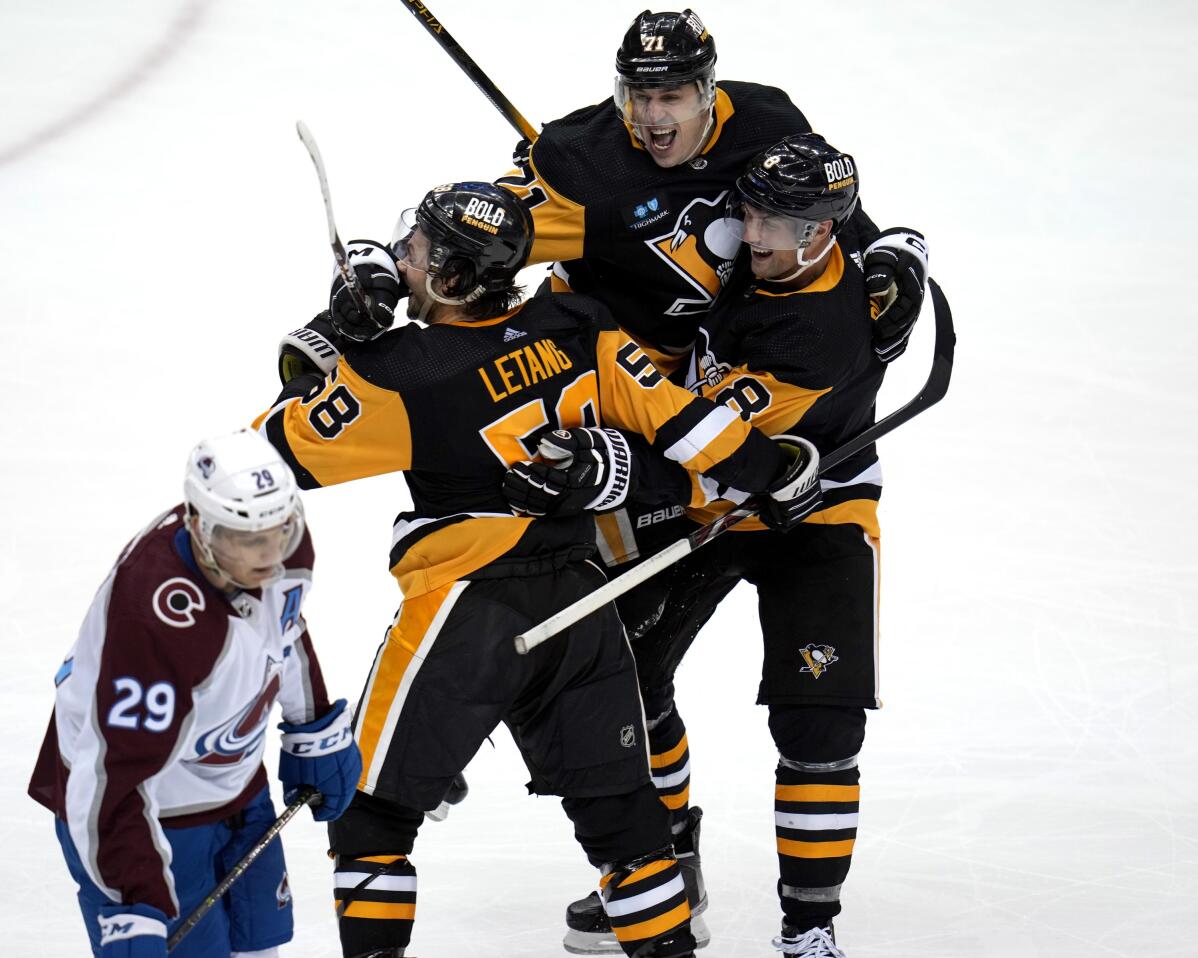 1 of 9

|
Pittsburgh Penguins' Kris Letang (58) celebrates his overtime goal with Evgeni Malkin (71) and Brian Dumoulin (8) as Colorado Avalanche's Nathan MacKinnon (29) skates off the ice, in an NHL hockey game in Pittsburgh, Tuesday, Feb. 7, 2023. (AP Photo/Gene J. Puskar)
1 of 9
Pittsburgh Penguins' Kris Letang (58) celebrates his overtime goal with Evgeni Malkin (71) and Brian Dumoulin (8) as Colorado Avalanche's Nathan MacKinnon (29) skates off the ice, in an NHL hockey game in Pittsburgh, Tuesday, Feb. 7, 2023. (AP Photo/Gene J. Puskar)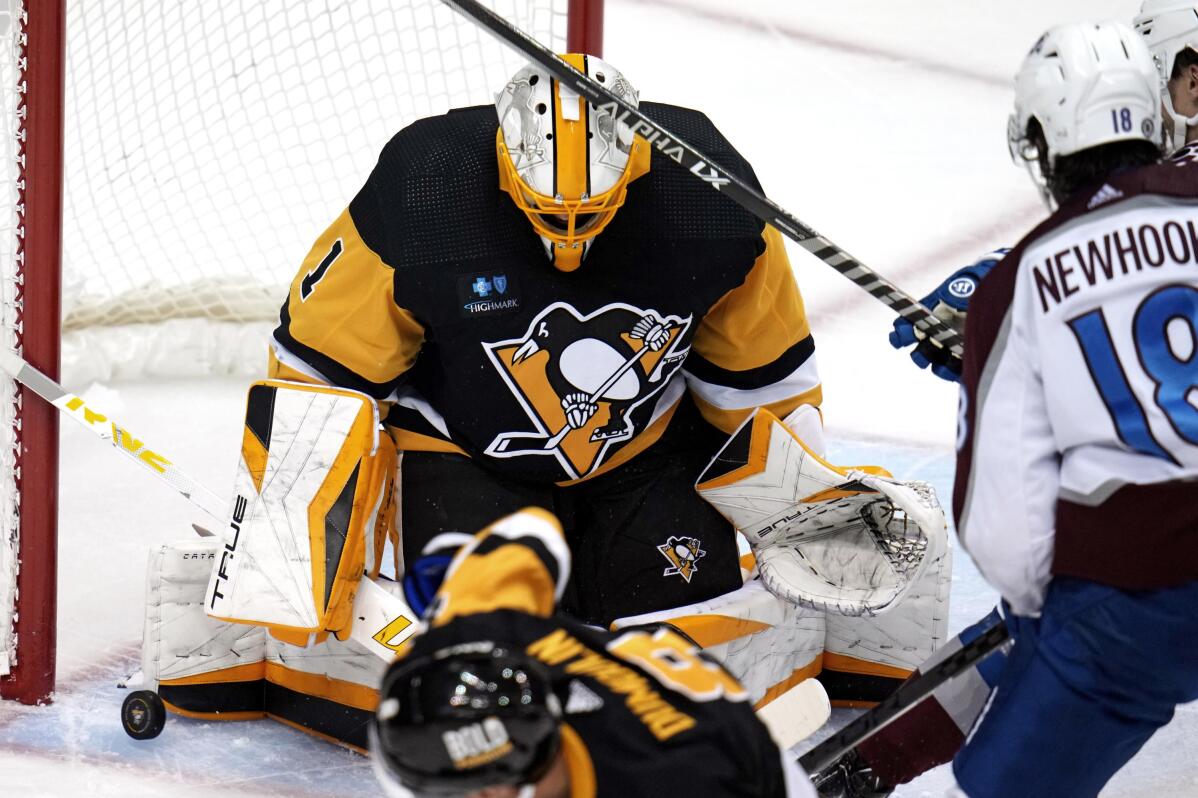 2 of 9

|
Pittsburgh Penguins goaltender Casey DeSmith (1) stops a shot by Colorado Avalanche's Alex Newhook (18) during the first period of an NHL hockey game in Pittsburgh, Tuesday, Feb. 7, 2023. (AP Photo/Gene J. Puskar)
2 of 9
Pittsburgh Penguins goaltender Casey DeSmith (1) stops a shot by Colorado Avalanche's Alex Newhook (18) during the first period of an NHL hockey game in Pittsburgh, Tuesday, Feb. 7, 2023. (AP Photo/Gene J. Puskar)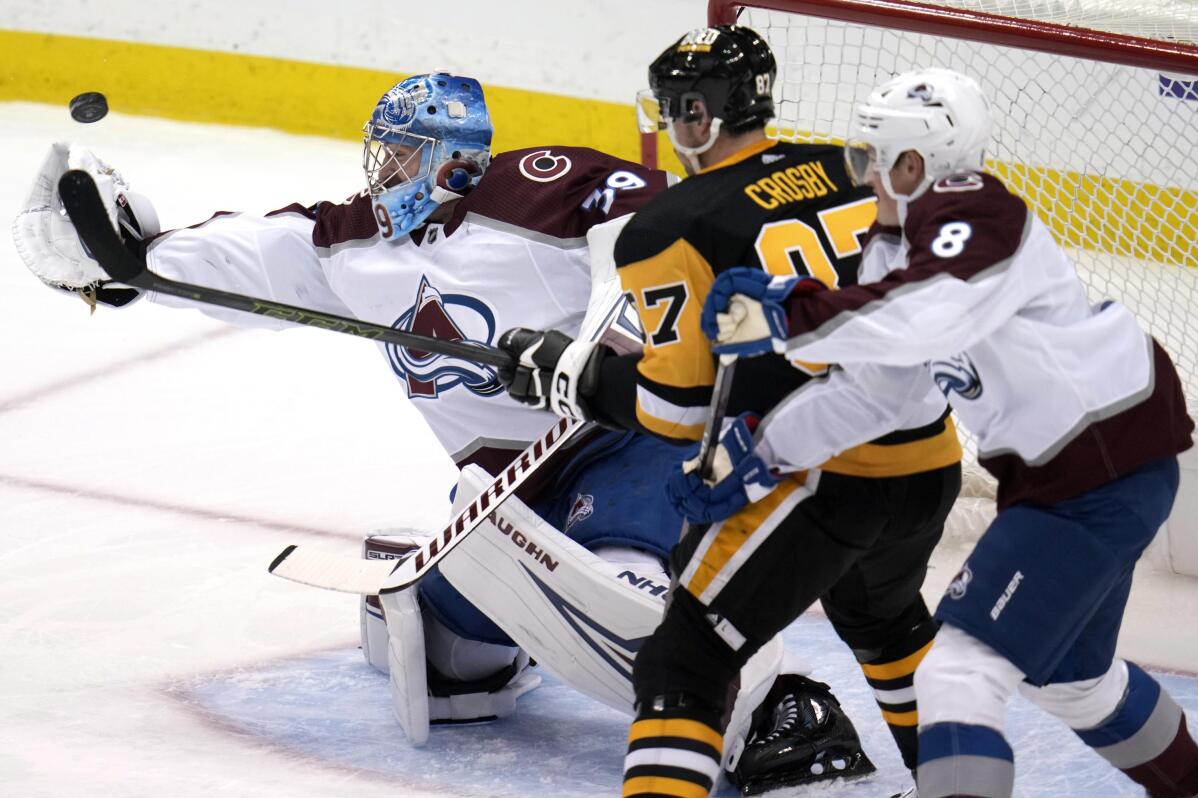 3 of 9

|
Colorado Avalanche goaltender Pavel Francouz (39) reaches for a rebound, while Pittsburgh Penguins' Sidney Crosby (87) is defended by Avalanche's Cale Makar (8) during the first period of an NHL hockey game in Pittsburgh, Tuesday, Feb. 7, 2023. (AP Photo/Gene J. Puskar)
3 of 9
Colorado Avalanche goaltender Pavel Francouz (39) reaches for a rebound, while Pittsburgh Penguins' Sidney Crosby (87) is defended by Avalanche's Cale Makar (8) during the first period of an NHL hockey game in Pittsburgh, Tuesday, Feb. 7, 2023. (AP Photo/Gene J. Puskar)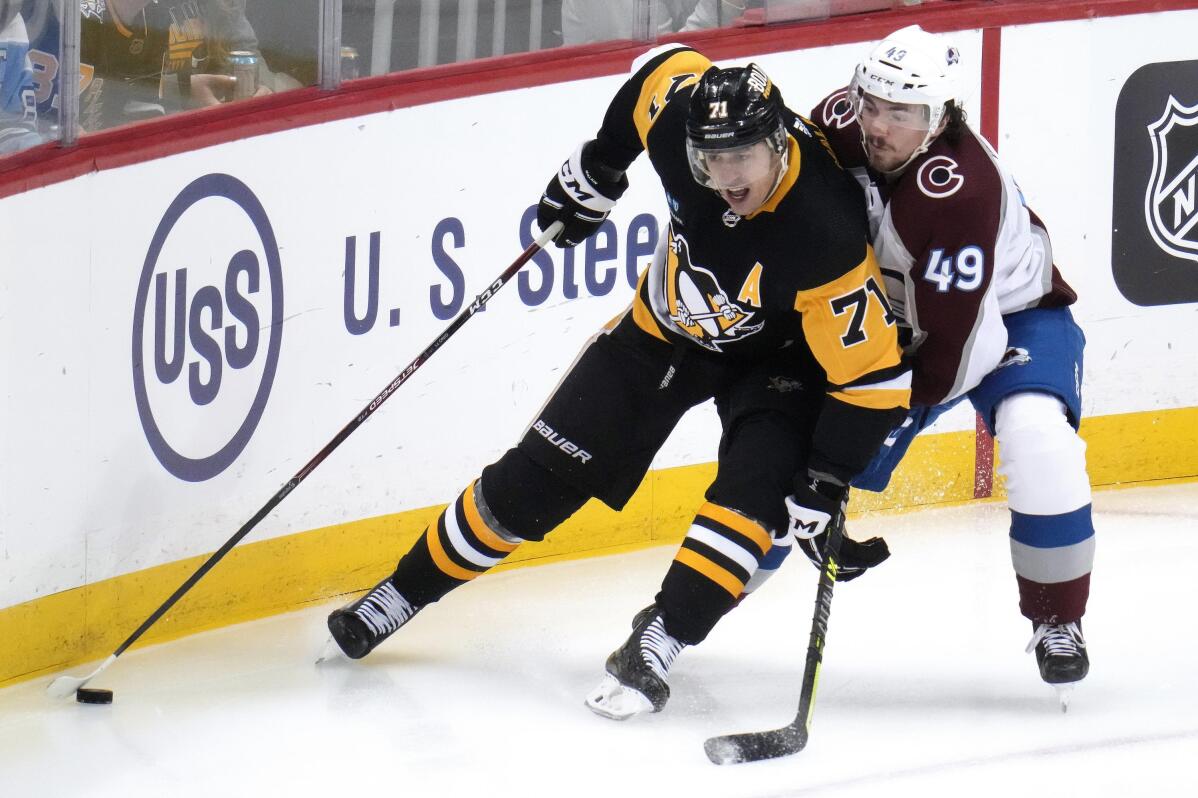 4 of 9

|
Pittsburgh Penguins' Evgeni Malkin (71) works the puck in the corner with Colorado Avalanche's Samuel Girard (49) defending during the first period of an NHL hockey game in Pittsburgh, Tuesday, Feb. 7, 2023. (AP Photo/Gene J. Puskar)
4 of 9
Pittsburgh Penguins' Evgeni Malkin (71) works the puck in the corner with Colorado Avalanche's Samuel Girard (49) defending during the first period of an NHL hockey game in Pittsburgh, Tuesday, Feb. 7, 2023. (AP Photo/Gene J. Puskar)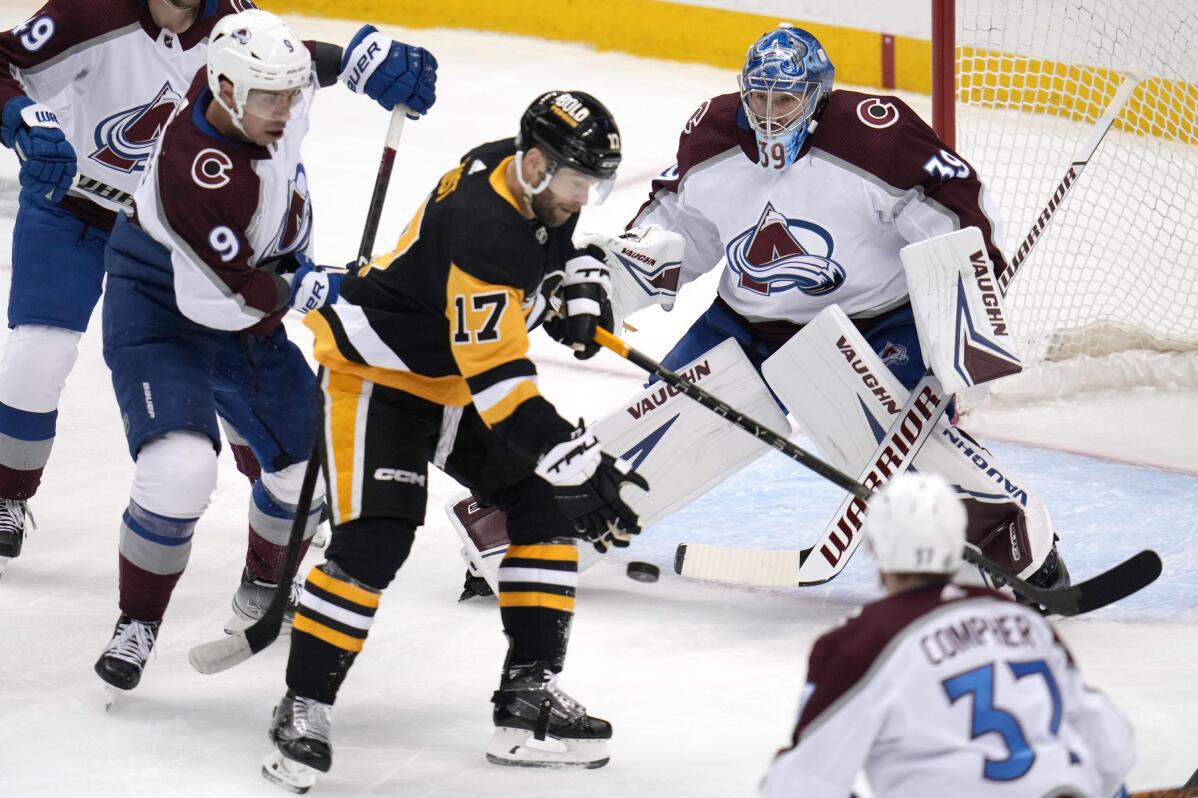 5 of 9

|
Pittsburgh Penguins' Bryan Rust (17) tries to get off a shot in front of Colorado Avalanche goaltender Pavel Francouz (39) with Evan Rodrigues (9) defending during the first period of an NHL hockey game in Pittsburgh, Tuesday, Feb. 7, 2023. (AP Photo/Gene J. Puskar)
5 of 9
Pittsburgh Penguins' Bryan Rust (17) tries to get off a shot in front of Colorado Avalanche goaltender Pavel Francouz (39) with Evan Rodrigues (9) defending during the first period of an NHL hockey game in Pittsburgh, Tuesday, Feb. 7, 2023. (AP Photo/Gene J. Puskar)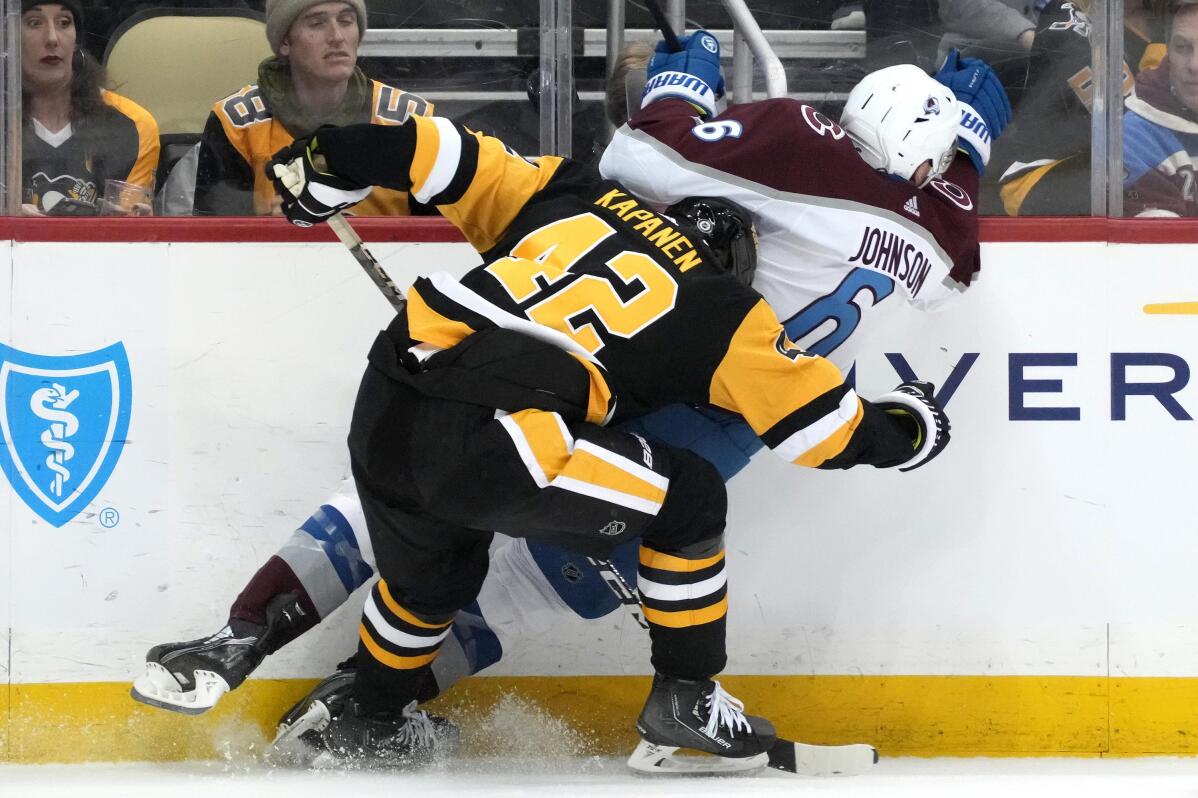 6 of 9

|
Pittsburgh Penguins' Kasperi Kapanen (42) collides with Colorado Avalanche's Erik Johnson during the second period of an NHL hockey game in Pittsburgh, Tuesday, Feb. 7, 2023. (AP Photo/Gene J. Puskar)
6 of 9
Pittsburgh Penguins' Kasperi Kapanen (42) collides with Colorado Avalanche's Erik Johnson during the second period of an NHL hockey game in Pittsburgh, Tuesday, Feb. 7, 2023. (AP Photo/Gene J. Puskar)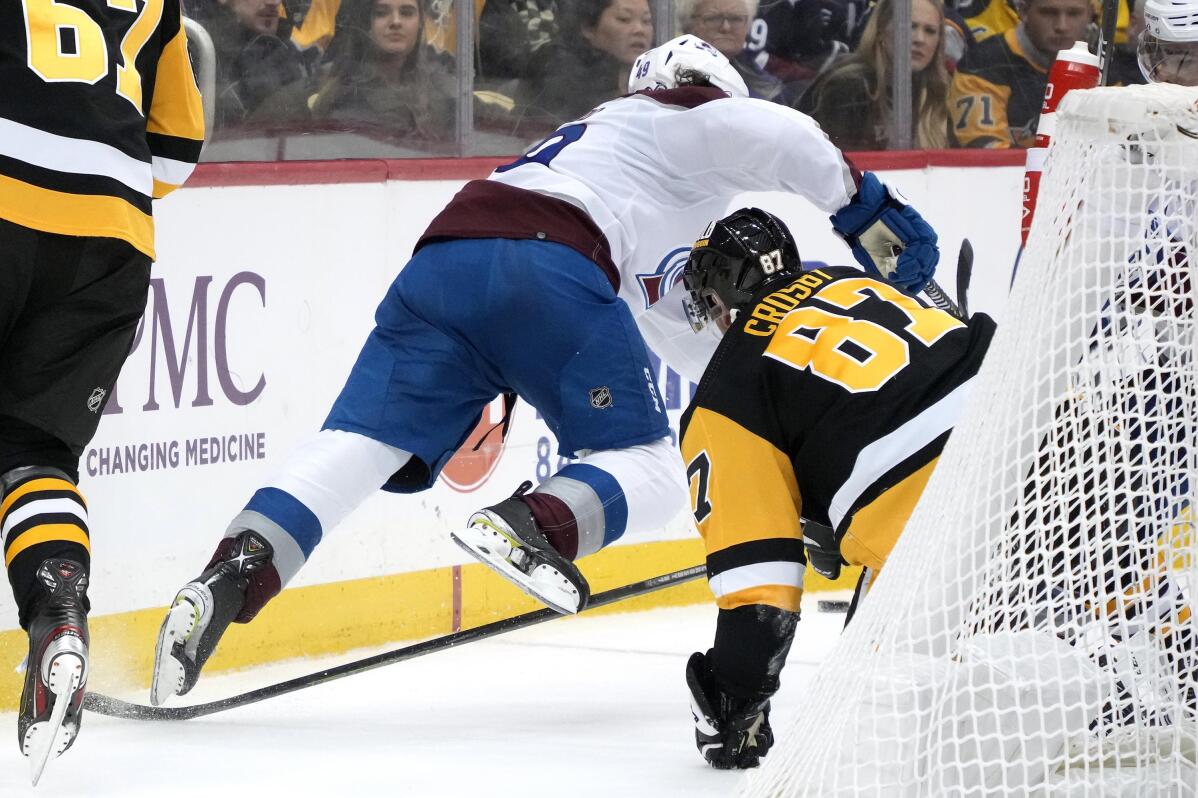 7 of 9

|
Pittsburgh Penguins' Sidney Crosby (87) trips Colorado Avalanche's Samuel Girard during the second period of an NHL hockey game in Pittsburgh, Tuesday, Feb. 7, 2023. (AP Photo/Gene J. Puskar)
7 of 9
Pittsburgh Penguins' Sidney Crosby (87) trips Colorado Avalanche's Samuel Girard during the second period of an NHL hockey game in Pittsburgh, Tuesday, Feb. 7, 2023. (AP Photo/Gene J. Puskar)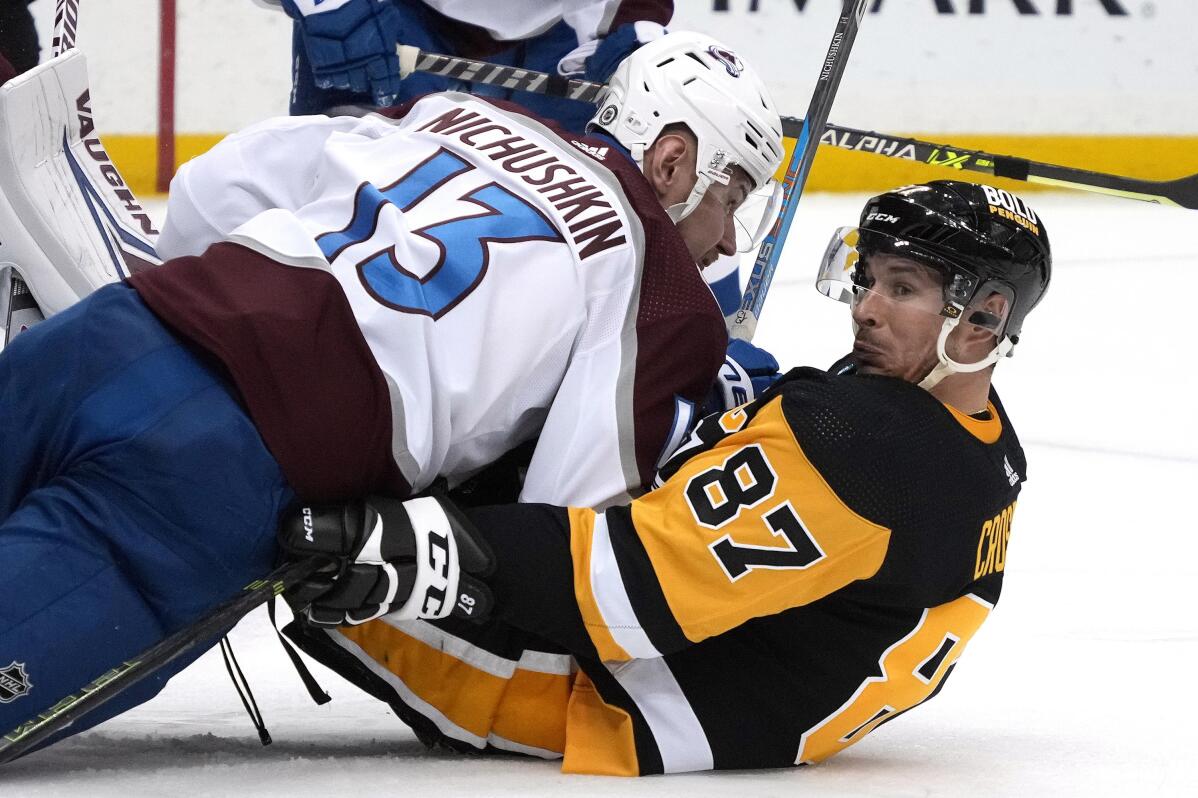 8 of 9

|
Colorado Avalanche's Valeri Nichushkin (13) falls on top of Pittsburgh Penguins' Sidney Crosby during the second period of an NHL hockey game in Pittsburgh, Tuesday, Feb. 7, 2023. (AP Photo/Gene J. Puskar)
8 of 9
Colorado Avalanche's Valeri Nichushkin (13) falls on top of Pittsburgh Penguins' Sidney Crosby during the second period of an NHL hockey game in Pittsburgh, Tuesday, Feb. 7, 2023. (AP Photo/Gene J. Puskar)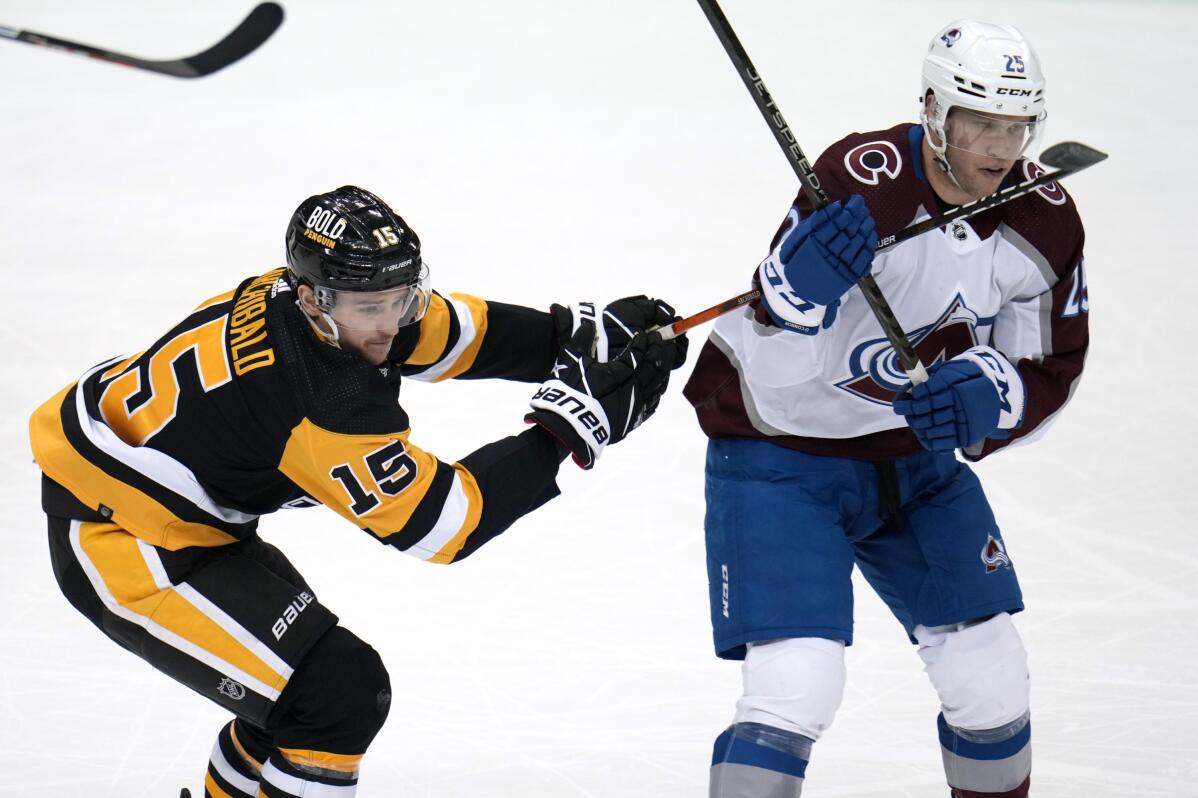 9 of 9

|
Pittsburgh Penguins' Josh Archibald (15) and Colorado Avalanche's Logan O'Connor compete for puck possession during the first period of an NHL hockey game in Pittsburgh, Tuesday, Feb. 7, 2023. (AP Photo/Gene J. Puskar)
9 of 9
Pittsburgh Penguins' Josh Archibald (15) and Colorado Avalanche's Logan O'Connor compete for puck possession during the first period of an NHL hockey game in Pittsburgh, Tuesday, Feb. 7, 2023. (AP Photo/Gene J. Puskar)
PITTSBURGH (AP) — The Pittsburgh Penguins talked about hitting reset following a wildly uneven first half of the season.
Perhaps no player wanted a fresh start more than Kris Letang.
The veteran defenseman's nightmarish last two months included the death of his father, a stroke due to a rare heart condition and a separate lower-body injury that forced him to miss several weeks.
Letang finally appears to be at full speed now. His wrist shot from the left circle 3:36 into overtime capped a frantic rally as the Penguins stunned the Colorado Avalanche 2-1 on Tuesday night.
"Tanger's had a tough first half in so many different ways, so when he scores big goals like that, I know it makes him feel good, it makes our whole team feel good," Penguins coach Mike Sullivan said.
The Avalanche controlled long stretches of regulation before Bryan Rust tied it with 3:38 remaining in the third period. The Penguins killed a penalty in overtime before Letang won it with a shot from the left circle, his second game-winning goal in the extra period since returning to the team on Jan. 24.
"It's a game after the break, it's never pretty usually," Letang said. "They came hard at us. Obviously they're the Stanley Cup champions for a reason. I thought we didn't go off page. I thought we stayed in our system."
Having Casey DeSmith sharp, particularly early, helped. DeSmith made 41 saves while making a fourth straight start in place of injured Tristan Jarry.
"Just grabbing two points when it looked like it could be zero, that's a huge momentum builder for us," DeSmith said.
Letang nearly won it earlier in the extra period when he jammed a portion of the puck over the goal line. Colorado goaltender Pavel Francouz managed to push it back out of harm's way before it made it all the way over.
Francouz couldn't do the same minutes later when Letang flicked one from in tight that became his fifth goal of the season.
Nathan MacKinnon scored his 14th goal of the season for the Avalanche. Francouz stopped 36 shots but couldn't get a handle on Letang's laser that handed Colorado just its second loss in its last nine games.
"I liked our game tonight," Avalanche coach Jared Bednar said. "I thought we checked hard. We were dangerous on the offensive side of it. I thought their goalie had a really good night, and we didn't shoot the puck well."
Colorado hardly looked rusty while playing their first game since Jan. 28. The same couldn't be said for the Penguins, who were dominated for long stretches by the younger, faster Avalanche despite coming off the same 10-day layoff.
Colorado recorded the game's first eight shots and 13 of the first 15 as the Penguins got off to another slow start, symptomatic of a sluggish four months that sent Pittsburgh into the All-Star break clinging to the eighth and final playoff spot in the Eastern Conference.
DeSmith held the Avalanche at bay before MacKinnon finally broke through 10:21 into the second period. Colorado couldn't extend the lead despite numerous opportunities, and the Penguins finally awoke in the third period.
Rust ultimately drew Pittsburgh even at the end of a sequence in which Francouz's ill-advised poke check led to a scramble that ended with Evgeni Malkin feeding the puck from behind the Colorado net to Rust just outside the crease. The puck smacked off Rust's skate, hit Francouz then trickled into the net to force overtime.
NOTES: Colorado star D Cale Makar left briefly in the third period after taking a right shoulder to the head by Pittsburgh's Jeff Carter. No penalty was called on the play. ... Letang's 32 points in overtime are the most by a defenseman in NHL history.
UP NEXT
Avalanche: Visit Tampa Bay on Thursday night.
Penguins: Begin a four-game West Coast road trip on Friday night in Anaheim.
___
AP NHL: https://apnews.com/hub/nhl and https://twitter.com/AP_Sports