Brady Tkachuk scores in OT as Senators beat Penguins 5-4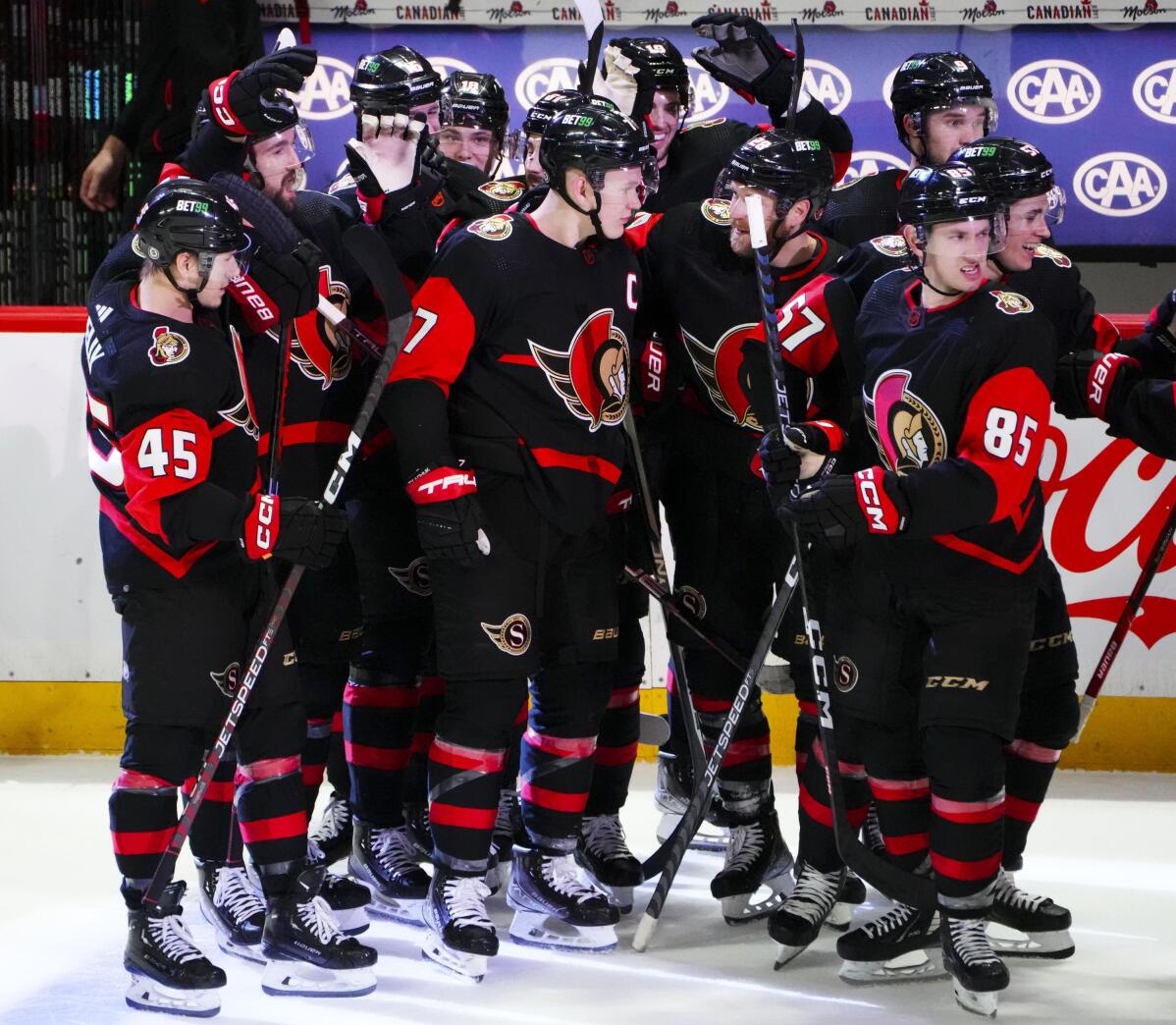 1 of 8

|
Ottawa Senators crowd around Brady Tkachuk (7) after his overtime goal against the Pittsburgh Penguins in an NHL hockey game Wednesday, Jan. 18, 2023, in Ottawa, Ontario. (Sean Kilpatrick/The Canadian Press via AP)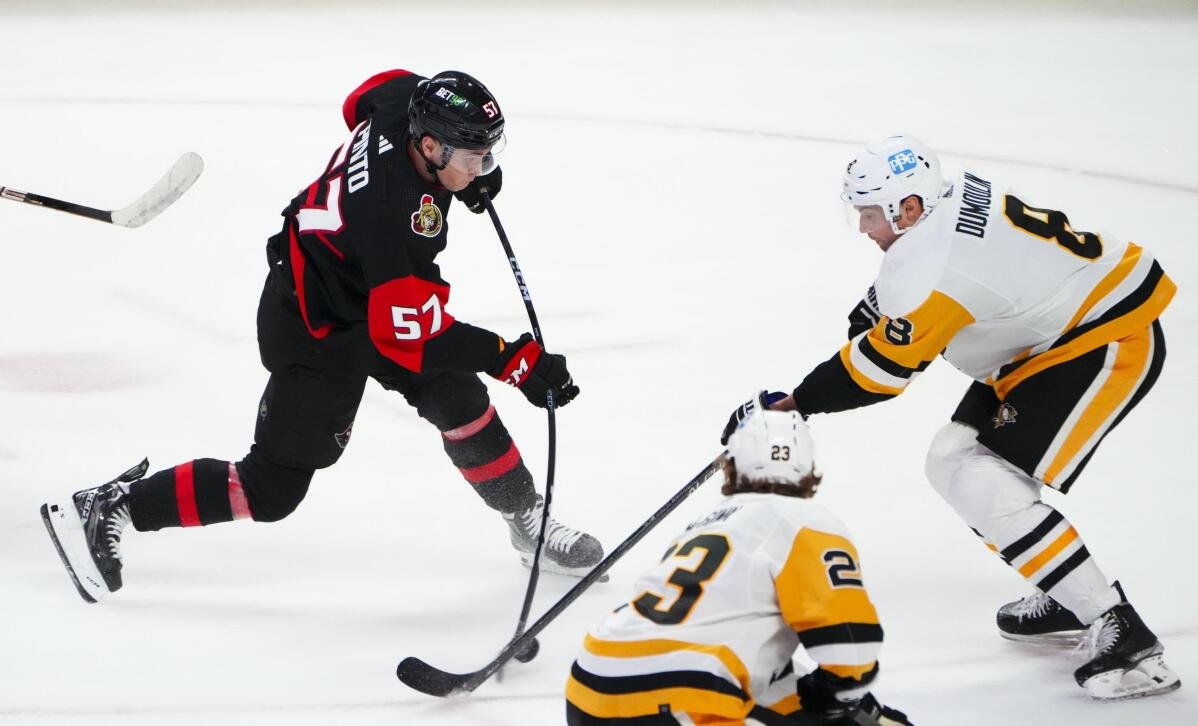 2 of 8

|
Ottawa Senators center Shane Pinto (57) scores as Pittsburgh Penguins defenseman Brian Dumoulin (8) attempts to block the shot during the third period of an NHL hockey game Wednesday, Jan. 18, 2023, in Ottawa, Ontario. (Sean Kilpatrick/The Canadian Press via AP)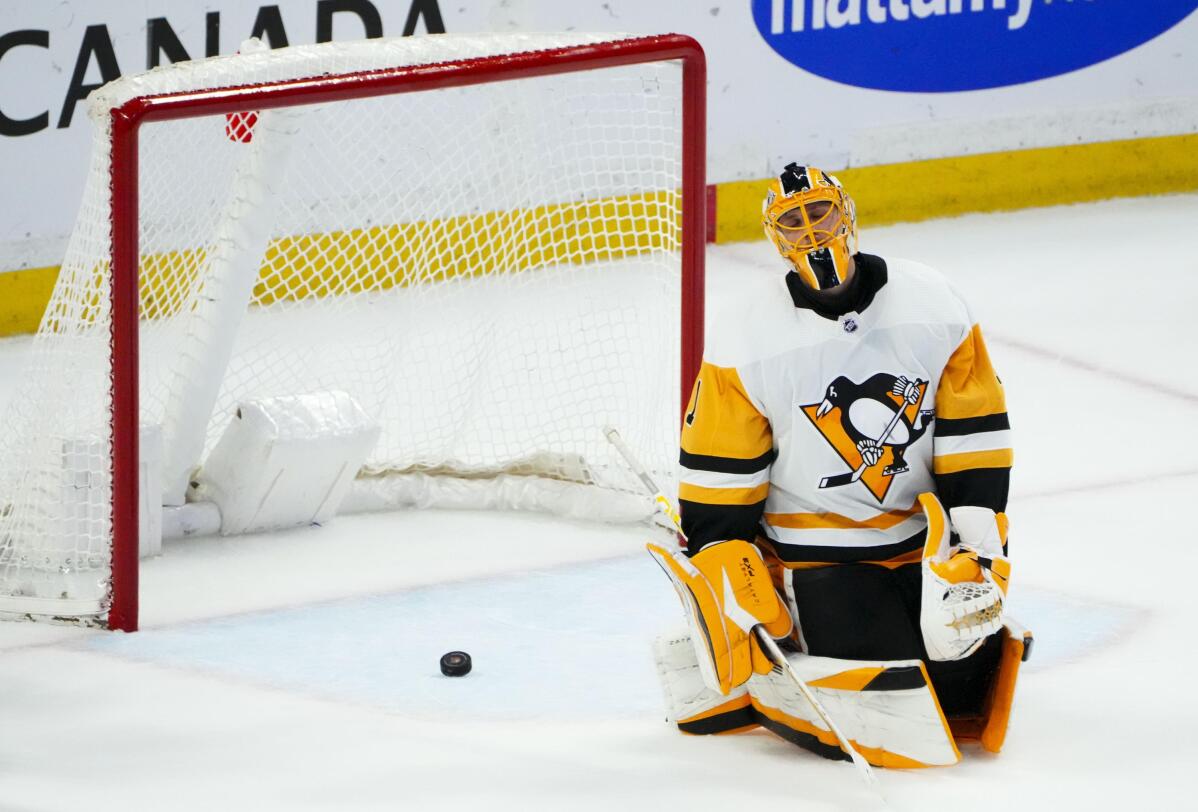 3 of 8

|
Pittsburgh Penguins goaltender Casey DeSmith reacts after giving up an overtime goal to the Ottawa Senators in an NHL hockey game Wednesday, Jan. 18, 2023, in Ottawa, Ontario. (Sean Kilpatrick/The Canadian Press via AP)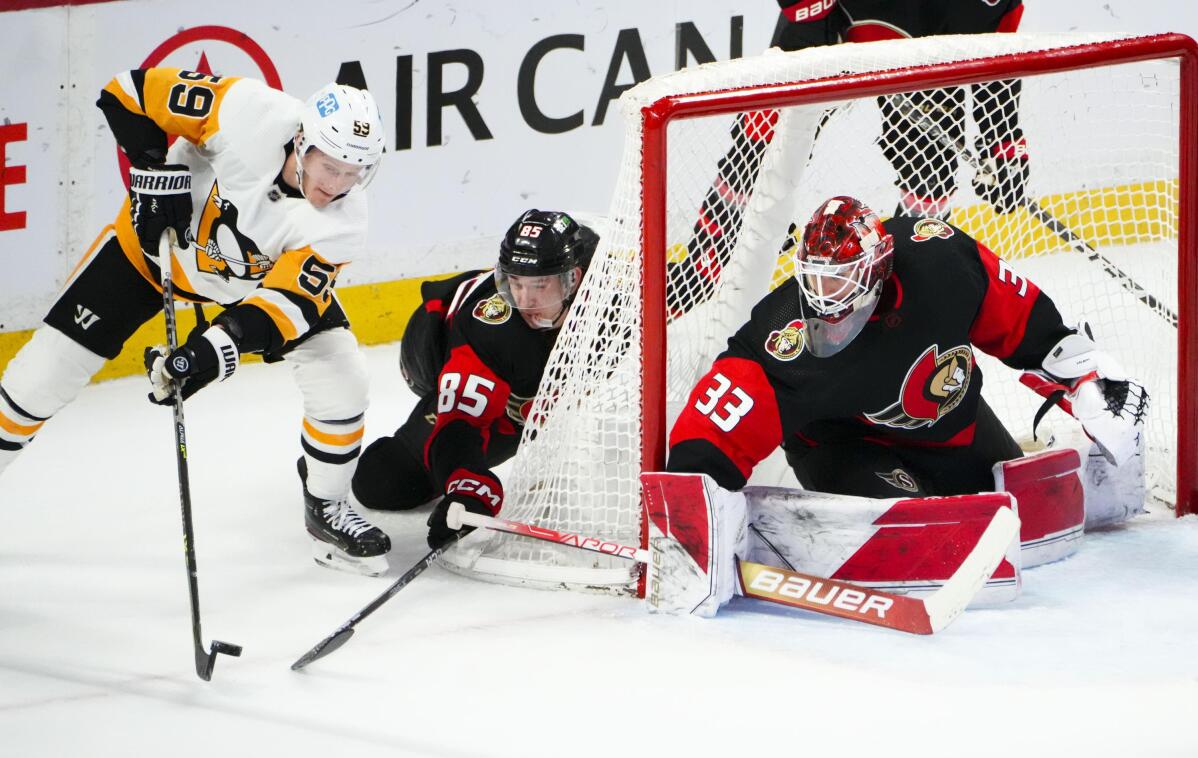 4 of 8

|
Ottawa Senators defenseman Jake Sanderson (85) tries to stop Pittsburgh Penguins left wing Jake Guentzel (59) as he wraps the puck around the net, while Senators goaltender Cam Talbot (33) covers the post during the third period of an NHL hockey game Wednesday, Jan. 18, 2023, in Ottawa, Ontario. (Sean Kilpatrick/The Canadian Press via AP)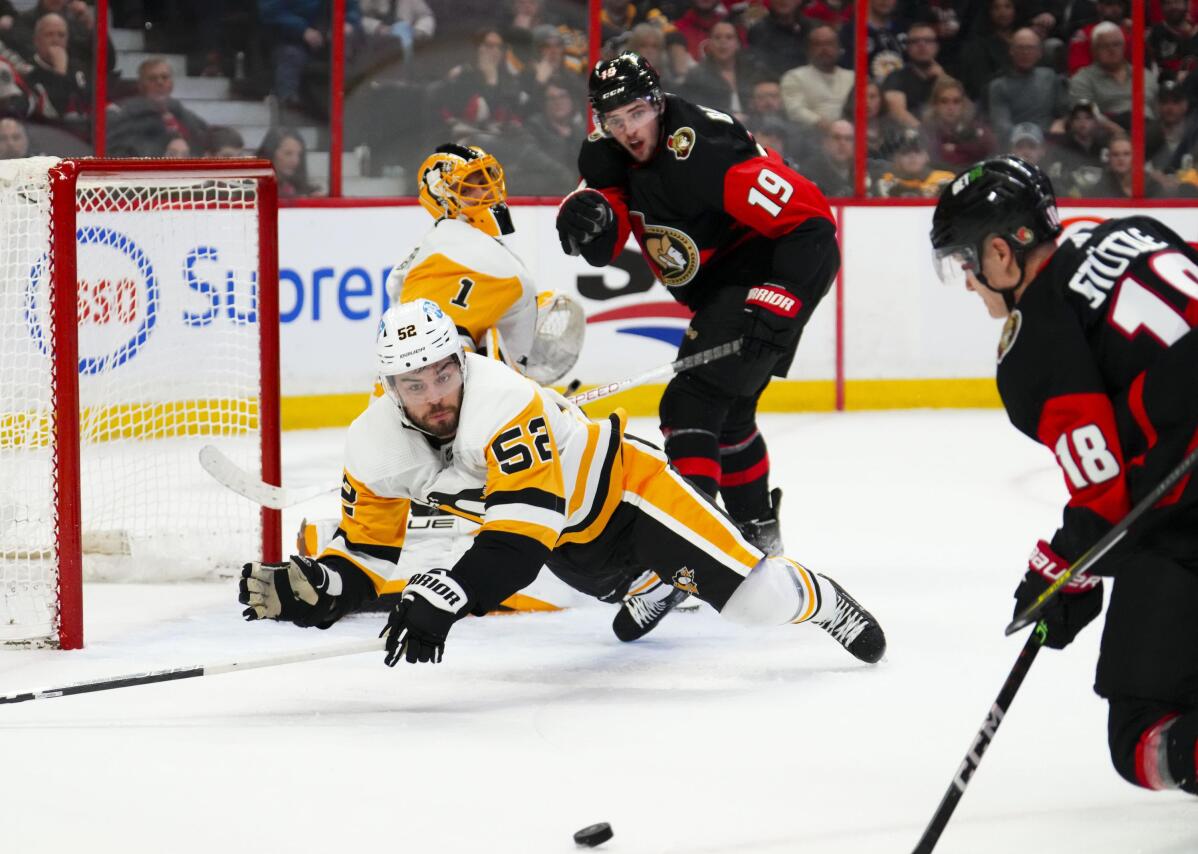 5 of 8

|
Pittsburgh Penguins defenseman Mark Friedman (52) dives in front of the net as Ottawa Senators left wing Tim Stützle (18) attempts a shot during the second period of an NHL hockey game Wednesday, Jan. 18, 2023, in Ottawa, Ontario. (Sean Kilpatrick/The Canadian Press via AP)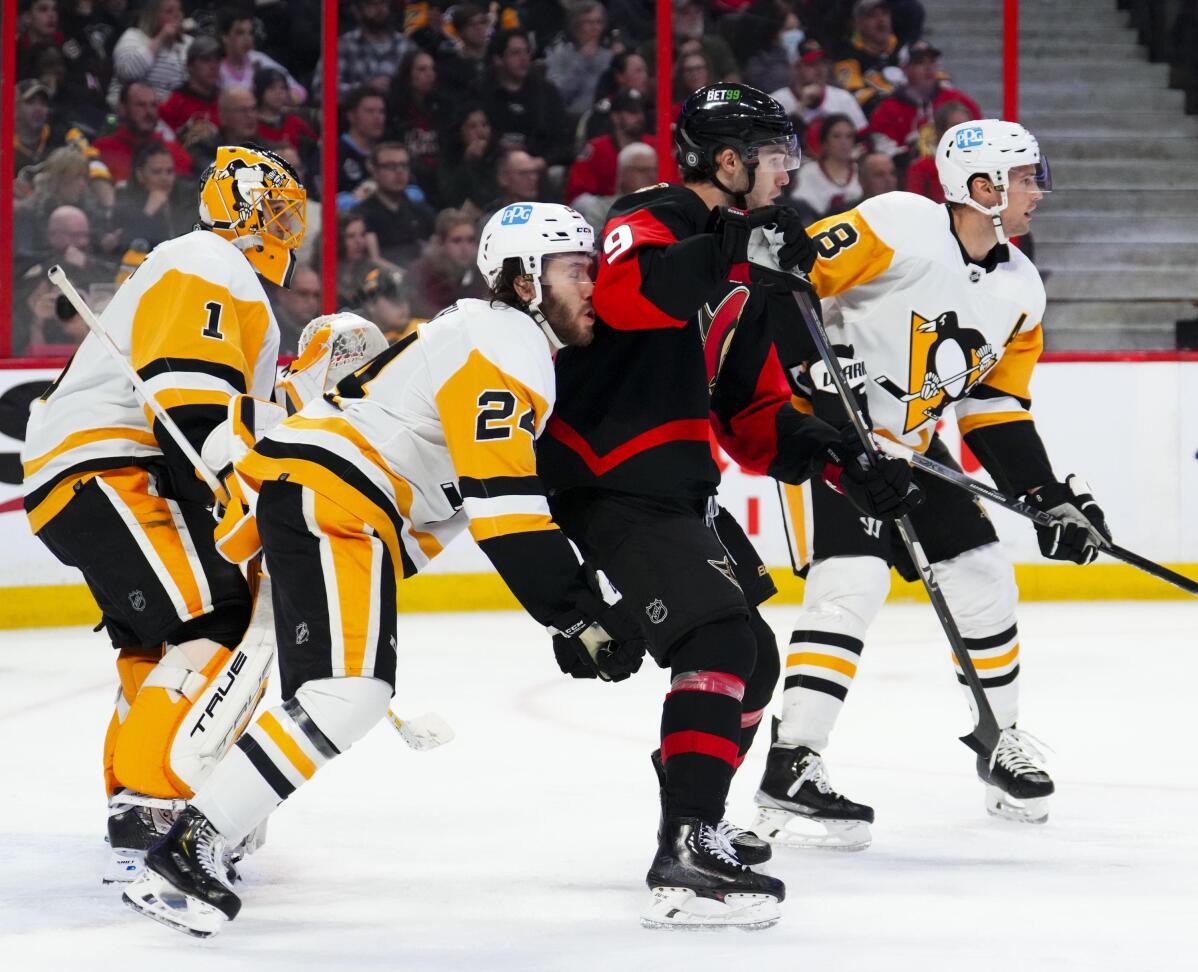 6 of 8

|
Pittsburgh Penguins defenseman Ty Smith (24) pushes against the back of Ottawa Senators center Josh Norris (9) during the second period of an NHL hockey game Wednesday, Jan. 18, 2023, in Ottawa, Ontario. (Sean Kilpatrick/The Canadian Press via AP)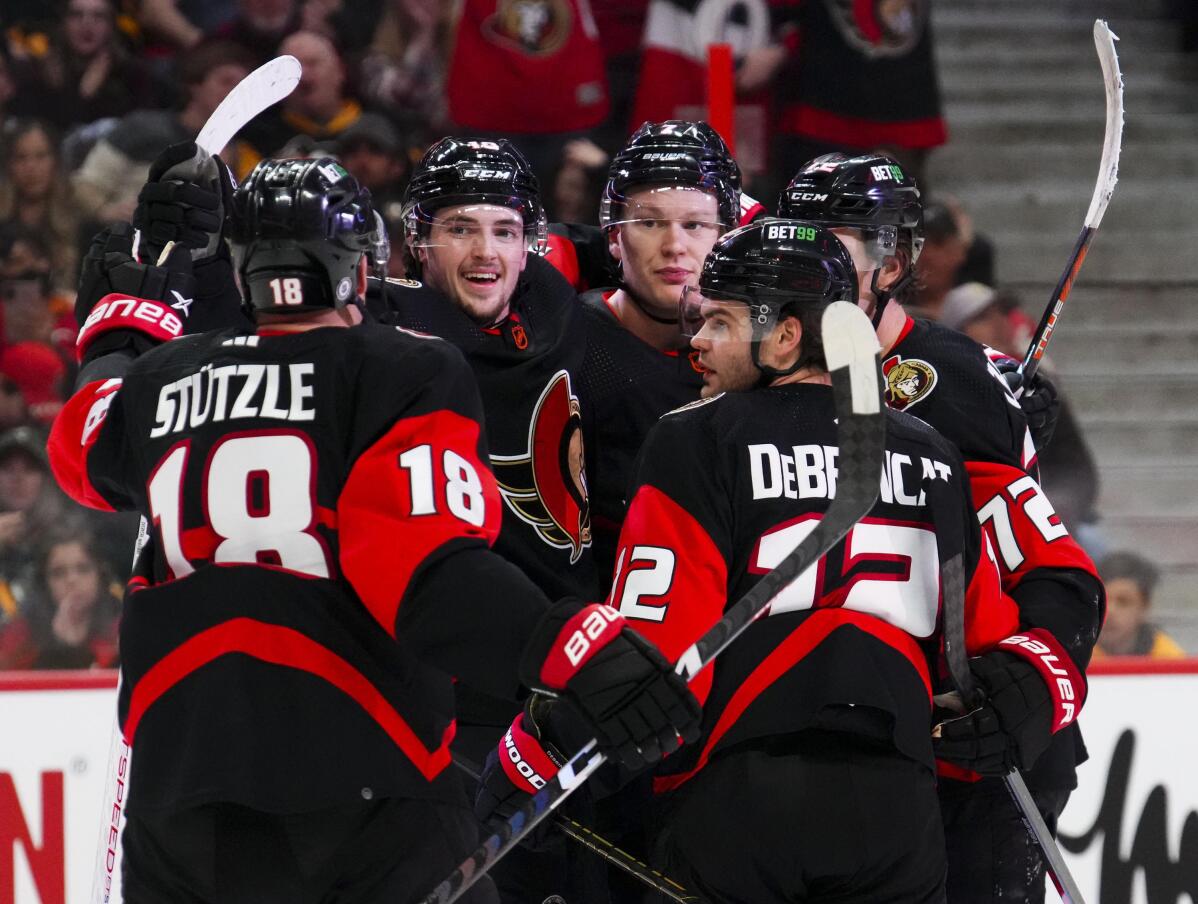 7 of 8

|
Ottawa Senators right wing Drake Batherson, back left, celebrates his goal against the Pittsburgh Penguins with teammates during the second period of an NHL hockey game Wednesday, Jan. 18, 2023, in Ottawa, Ontario. (Sean Kilpatrick/The Canadian Press via AP)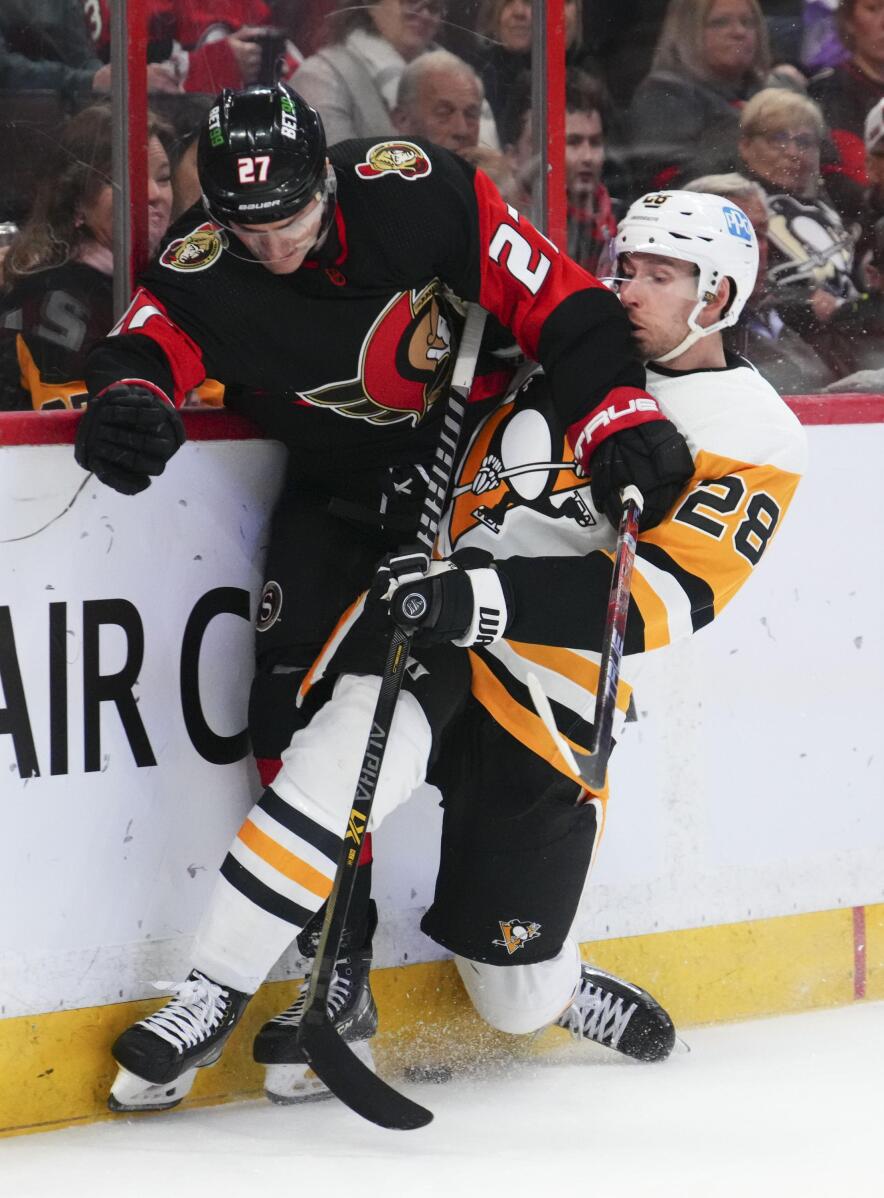 8 of 8

|
Ottawa Senators center Dylan Gambrell (27) and Pittsburgh Penguins defenseman Marcus Pettersson (28) battle along the boards during the second period of an NHL hockey game Wednesday, Jan. 18, 2023, in Ottawa, Ontario. (Sean Kilpatrick/The Canadian Press via AP)
Brady Tkachuk scores in OT as Senators beat Penguins 5-4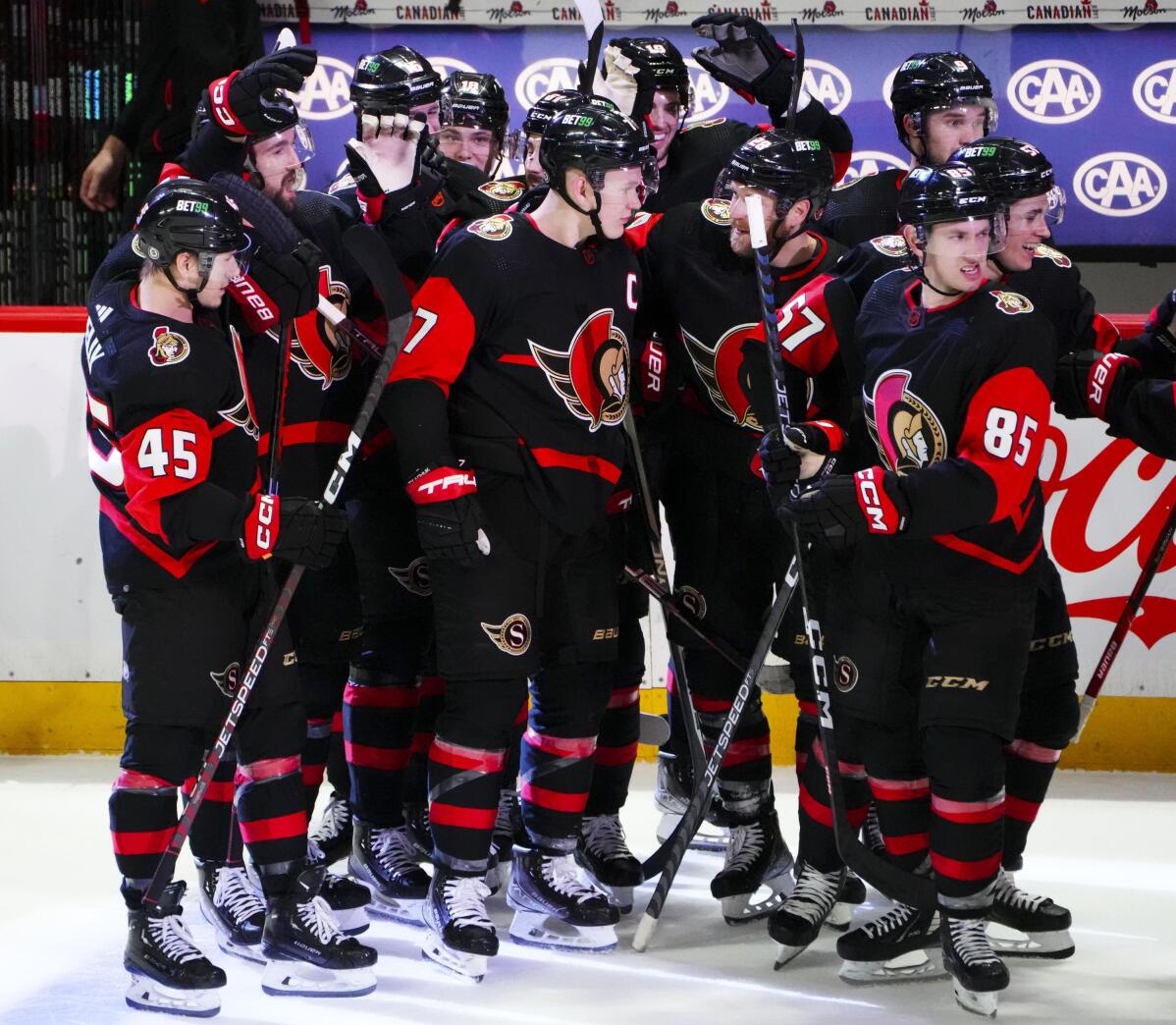 1 of 8

|
Ottawa Senators crowd around Brady Tkachuk (7) after his overtime goal against the Pittsburgh Penguins in an NHL hockey game Wednesday, Jan. 18, 2023, in Ottawa, Ontario. (Sean Kilpatrick/The Canadian Press via AP)
1 of 8
Ottawa Senators crowd around Brady Tkachuk (7) after his overtime goal against the Pittsburgh Penguins in an NHL hockey game Wednesday, Jan. 18, 2023, in Ottawa, Ontario. (Sean Kilpatrick/The Canadian Press via AP)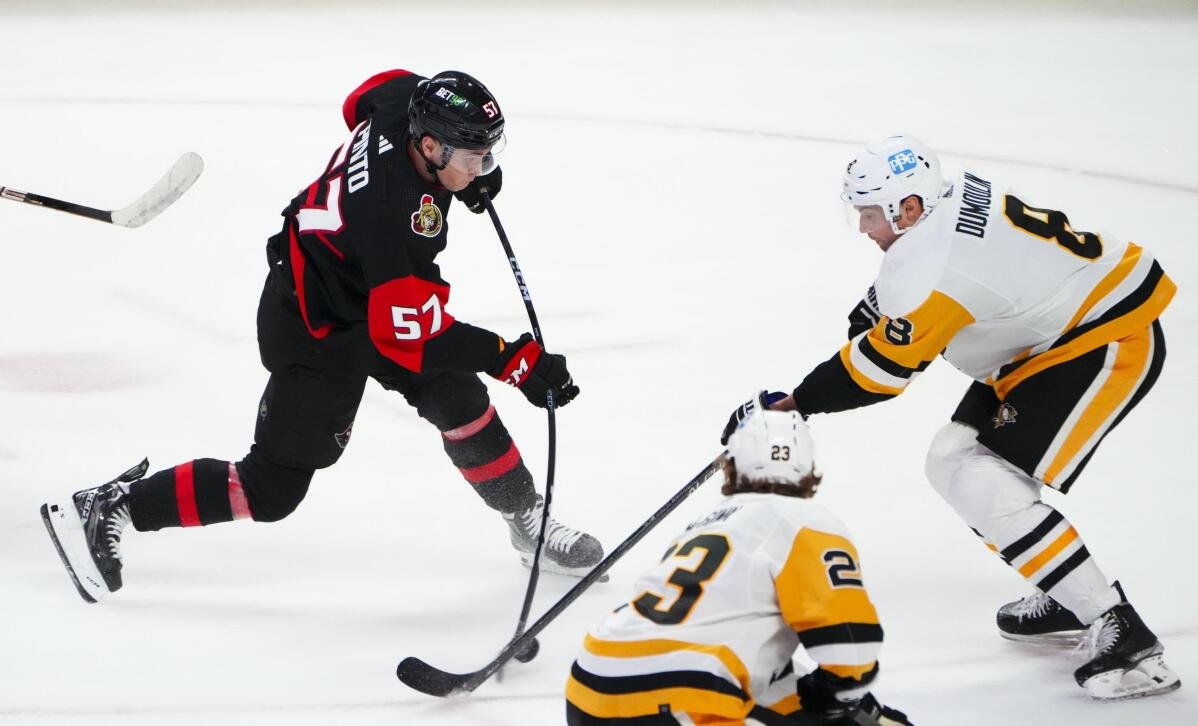 2 of 8

|
Ottawa Senators center Shane Pinto (57) scores as Pittsburgh Penguins defenseman Brian Dumoulin (8) attempts to block the shot during the third period of an NHL hockey game Wednesday, Jan. 18, 2023, in Ottawa, Ontario. (Sean Kilpatrick/The Canadian Press via AP)
2 of 8
Ottawa Senators center Shane Pinto (57) scores as Pittsburgh Penguins defenseman Brian Dumoulin (8) attempts to block the shot during the third period of an NHL hockey game Wednesday, Jan. 18, 2023, in Ottawa, Ontario. (Sean Kilpatrick/The Canadian Press via AP)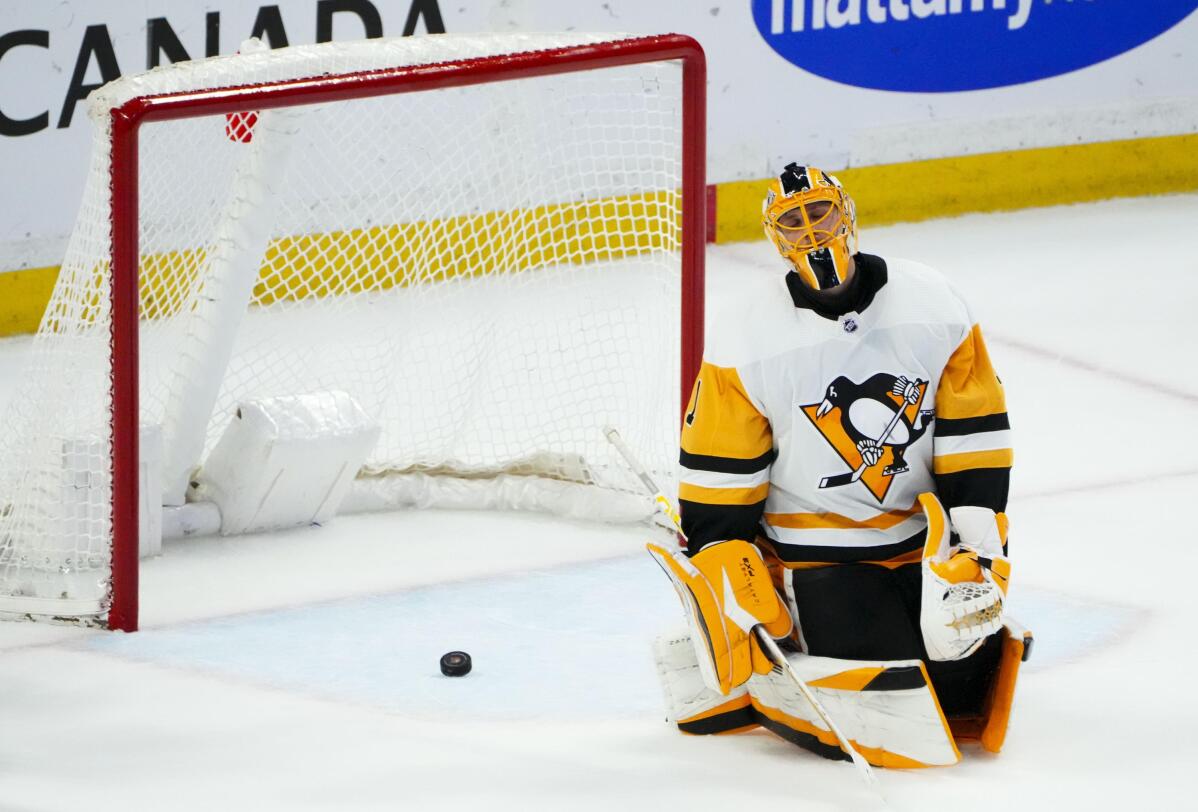 3 of 8

|
Pittsburgh Penguins goaltender Casey DeSmith reacts after giving up an overtime goal to the Ottawa Senators in an NHL hockey game Wednesday, Jan. 18, 2023, in Ottawa, Ontario. (Sean Kilpatrick/The Canadian Press via AP)
3 of 8
Pittsburgh Penguins goaltender Casey DeSmith reacts after giving up an overtime goal to the Ottawa Senators in an NHL hockey game Wednesday, Jan. 18, 2023, in Ottawa, Ontario. (Sean Kilpatrick/The Canadian Press via AP)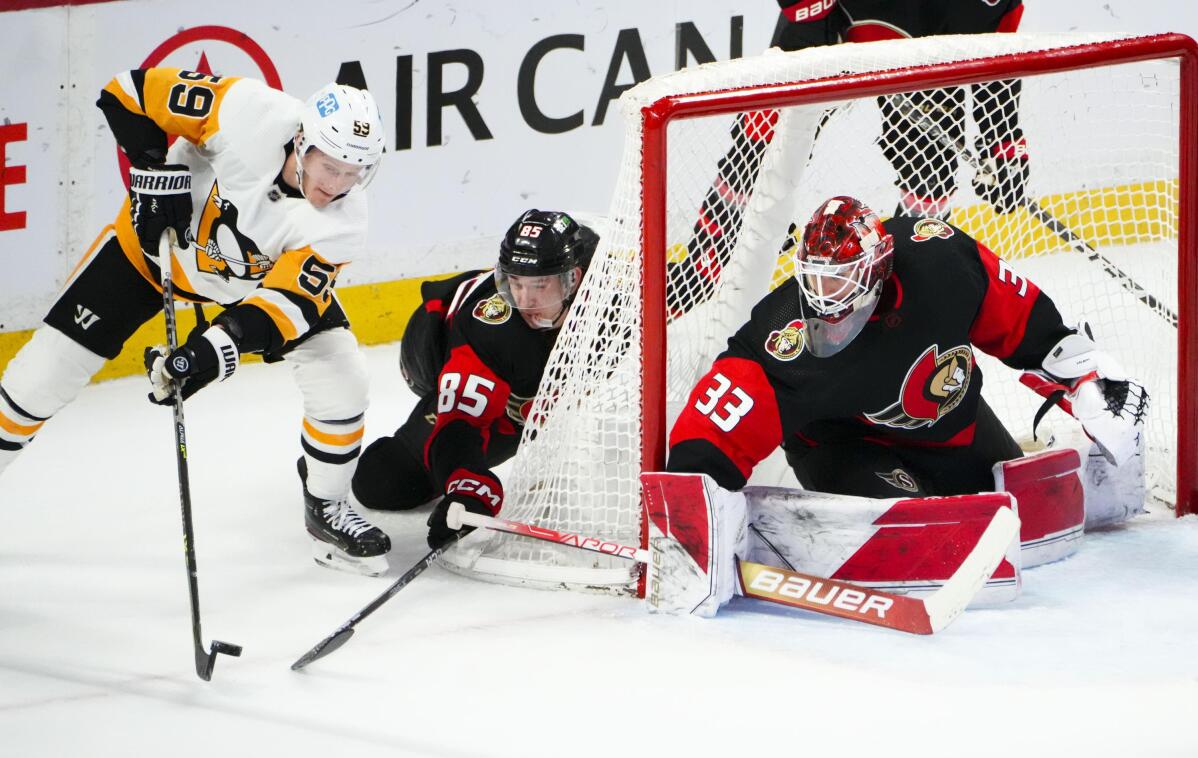 4 of 8

|
Ottawa Senators defenseman Jake Sanderson (85) tries to stop Pittsburgh Penguins left wing Jake Guentzel (59) as he wraps the puck around the net, while Senators goaltender Cam Talbot (33) covers the post during the third period of an NHL hockey game Wednesday, Jan. 18, 2023, in Ottawa, Ontario. (Sean Kilpatrick/The Canadian Press via AP)
4 of 8
Ottawa Senators defenseman Jake Sanderson (85) tries to stop Pittsburgh Penguins left wing Jake Guentzel (59) as he wraps the puck around the net, while Senators goaltender Cam Talbot (33) covers the post during the third period of an NHL hockey game Wednesday, Jan. 18, 2023, in Ottawa, Ontario. (Sean Kilpatrick/The Canadian Press via AP)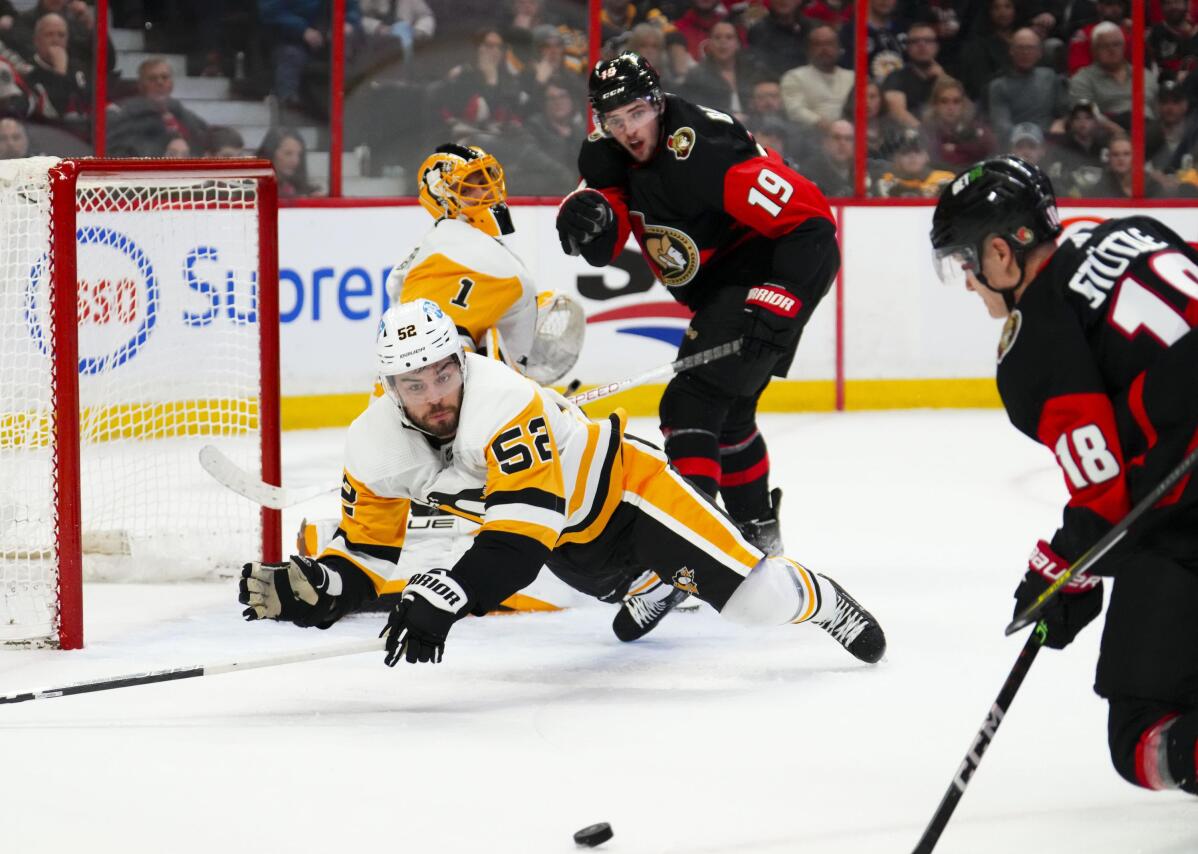 5 of 8

|
Pittsburgh Penguins defenseman Mark Friedman (52) dives in front of the net as Ottawa Senators left wing Tim Stützle (18) attempts a shot during the second period of an NHL hockey game Wednesday, Jan. 18, 2023, in Ottawa, Ontario. (Sean Kilpatrick/The Canadian Press via AP)
5 of 8
Pittsburgh Penguins defenseman Mark Friedman (52) dives in front of the net as Ottawa Senators left wing Tim Stützle (18) attempts a shot during the second period of an NHL hockey game Wednesday, Jan. 18, 2023, in Ottawa, Ontario. (Sean Kilpatrick/The Canadian Press via AP)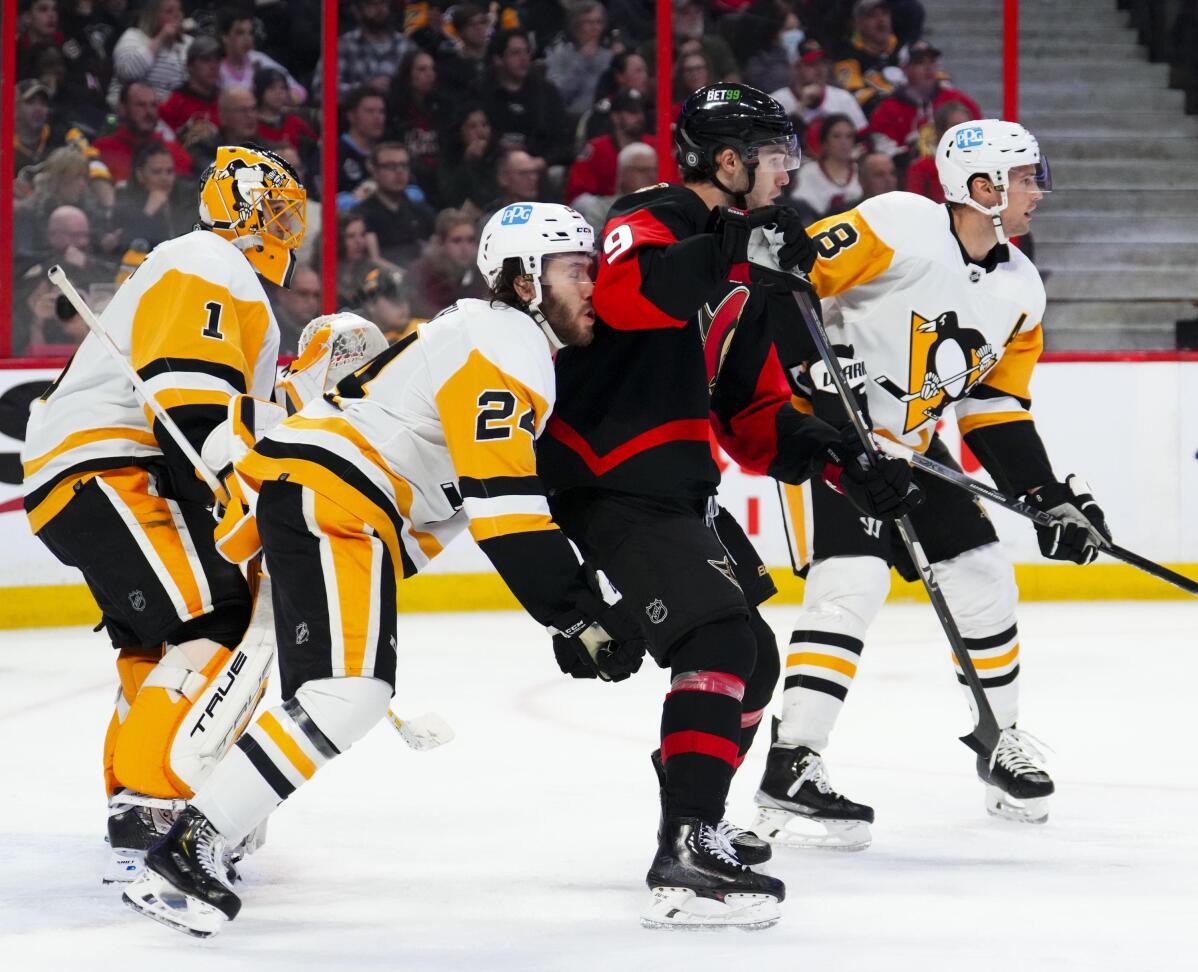 6 of 8

|
Pittsburgh Penguins defenseman Ty Smith (24) pushes against the back of Ottawa Senators center Josh Norris (9) during the second period of an NHL hockey game Wednesday, Jan. 18, 2023, in Ottawa, Ontario. (Sean Kilpatrick/The Canadian Press via AP)
6 of 8
Pittsburgh Penguins defenseman Ty Smith (24) pushes against the back of Ottawa Senators center Josh Norris (9) during the second period of an NHL hockey game Wednesday, Jan. 18, 2023, in Ottawa, Ontario. (Sean Kilpatrick/The Canadian Press via AP)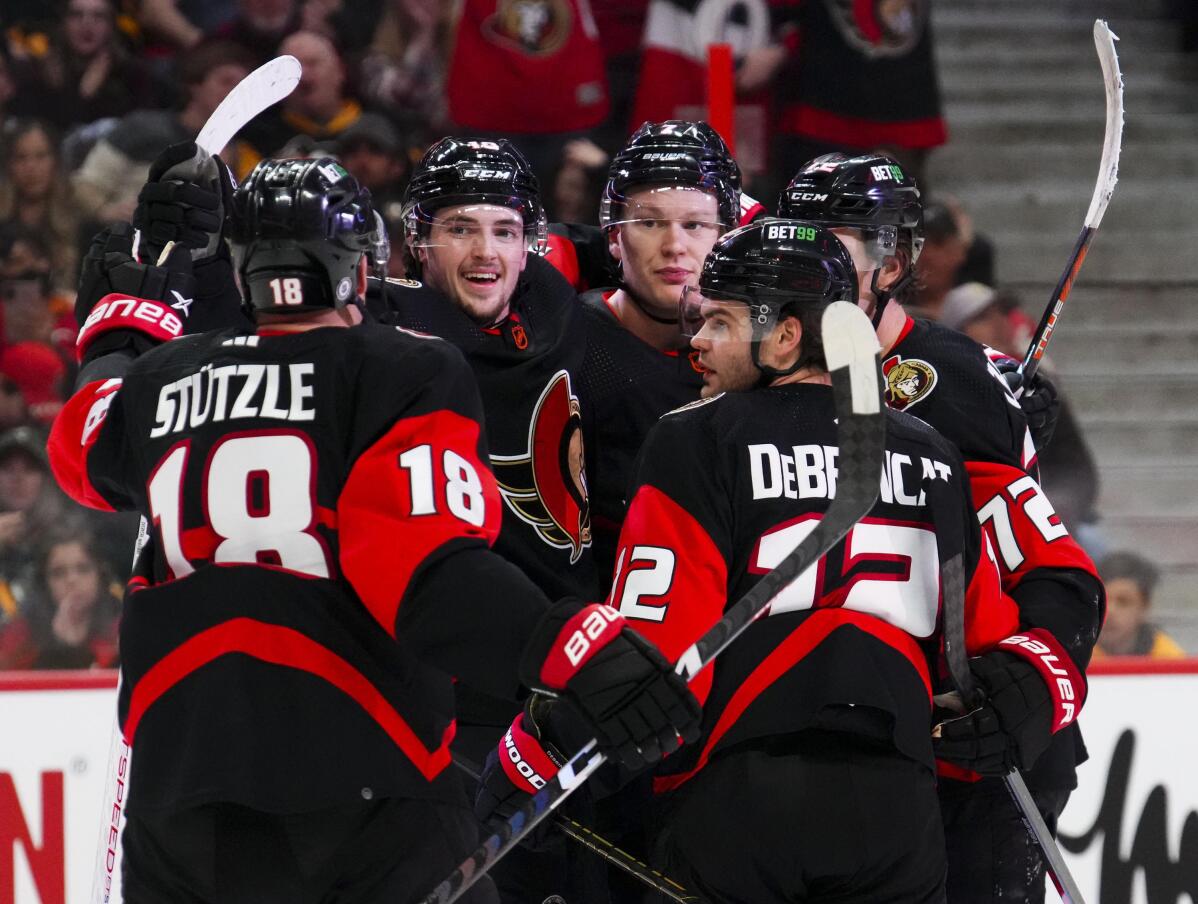 7 of 8

|
Ottawa Senators right wing Drake Batherson, back left, celebrates his goal against the Pittsburgh Penguins with teammates during the second period of an NHL hockey game Wednesday, Jan. 18, 2023, in Ottawa, Ontario. (Sean Kilpatrick/The Canadian Press via AP)
7 of 8
Ottawa Senators right wing Drake Batherson, back left, celebrates his goal against the Pittsburgh Penguins with teammates during the second period of an NHL hockey game Wednesday, Jan. 18, 2023, in Ottawa, Ontario. (Sean Kilpatrick/The Canadian Press via AP)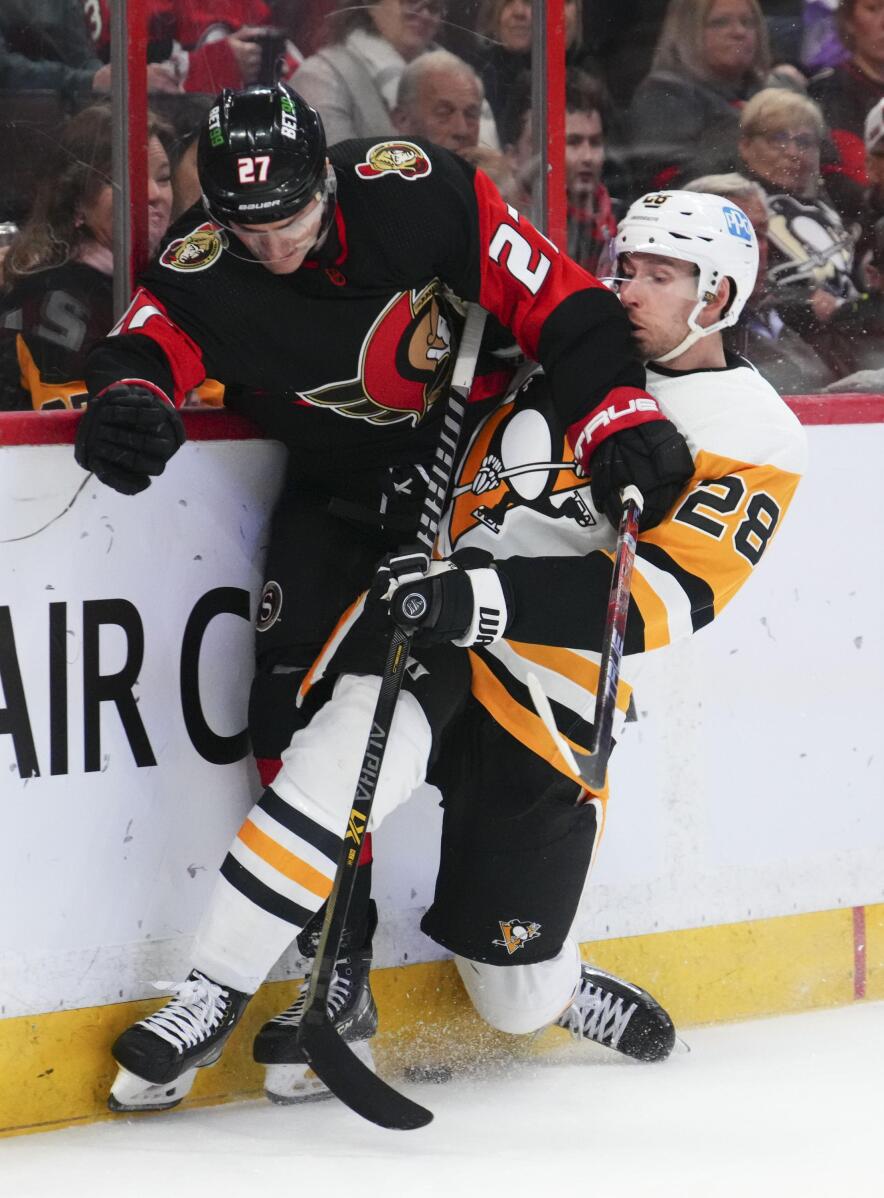 8 of 8

|
Ottawa Senators center Dylan Gambrell (27) and Pittsburgh Penguins defenseman Marcus Pettersson (28) battle along the boards during the second period of an NHL hockey game Wednesday, Jan. 18, 2023, in Ottawa, Ontario. (Sean Kilpatrick/The Canadian Press via AP)
8 of 8
Ottawa Senators center Dylan Gambrell (27) and Pittsburgh Penguins defenseman Marcus Pettersson (28) battle along the boards during the second period of an NHL hockey game Wednesday, Jan. 18, 2023, in Ottawa, Ontario. (Sean Kilpatrick/The Canadian Press via AP)
OTTAWA, Ontario (AP) — Brady Tkachuk scored 25 seconds into overtime, and the Ottawa Senators beat the Pittsburgh Penguins 5-4 on Wednesday night.
Alex DeBrincat, Tim Stutzle, Drake Batherson and Shane Pinto also scored for Ottawa (20-21-3), which went 4 for 9 on the power play. Tkachuk also had three assists, and Cam Talbot stopped 16 shots.
Senators coach D.J. Smith said he thought the team's power-play units "were a little quicker tonight."
"I think of late we've been a little bit slow," he said. "I think we were too deliberate and then when you score one early it just seems to go a little bit better and we've got good players."
Evgeni Malkin had a goal and two assists for Pittsburgh (22-15-7), and Sidney Crosby had three assists. Jason Zucker, Mark Friedman and Rickard Rakell also scored, and Casey DeSmith made 35 saves.
"It's pretty tough to assess a game like that when half of the game is special teams," Penguins coach Mike Sullivan said. "There was no flow to it, there was no 5-on-5. It was ridiculous.
"Let's just say I question a fair amount of the calls."
DeSmith praised the Senators for the challenges they presented in front of him.
"They're a great net-front team, a lot of big bodies and they're hungry," he said. "They go to the front of the net.
"They did a good job with that. They got a lot of pucks tipped, deflections, stuff like that."
Tied 3-3 in the third period, the Senators scored their fourth power-play goal at 10:58 when Pinto beat DeSmith with a wrist shot.
It was Pinto's first goal in 15 games.
"It's been a little bit for me so just to get the monkey off my back is nice, so I'm pretty happy," he said.
Rakell replied with a power-play goal of his own at 12:33. It was his 16th of the season.
Friedman gave Pittsburgh a 3-2 lead when he beat Talbot with a long-range shot 3:07 into the second period. It was Friedman's first goal of the season and No. 4 in 49 career NHL games.
Batherson then tied it again with his 14th at 9:19 of the second. Tkachuk set up the goal with a backhand pass in front for Batherson.
Malkin tied it at 2 when he jammed home a rebound from a Ty Smith point shot 15:23 into the opening frame.
Earlier in the period, Ottawa made the most of a double minor penalty against Jeff Carter, scoring twice. Stutzle skated around Crosby and scored his 20th of the season at 9:44. DeBrincat tied the game two minutes prior on a feed from Batherson.
WORTH NOTING
Josh Norris returned to Ottawa's lineup after missing 38 games with a shoulder injury. It marked his first time back in the lineup since Oct. 22. ... Senators forward Mathieu Joseph, who missed 17 games with a lower-body injury, was a healthy scratch. Joseph's brother, Pierre-Olivier, plays for the Penguins and expected more than 50 friends and family to be in attendance.
UP NEXT
The Penguins host the Senators on Friday night.
___
AP NHL: https://apnews.com/hub/nhl and https://twitter.com/AP_Sports