Gibson stops 51 shots as Ducks top Hurricanes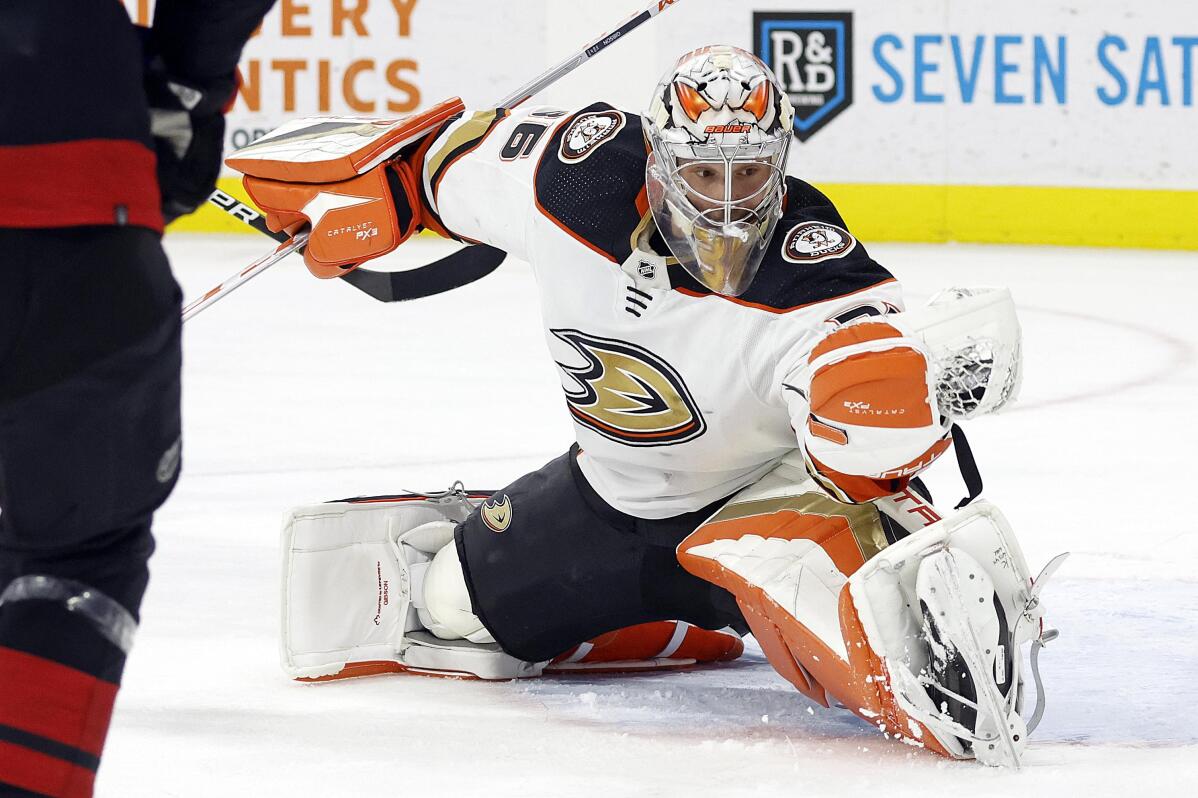 1 of 9

|
Anaheim Ducks goaltender John Gibson (36) gloves a shot from the Carolina Hurricanes during the second period of an NHL hockey game in Raleigh, N.C., Saturday, Feb. 25, 2023. (AP Photo/Karl B DeBlaker)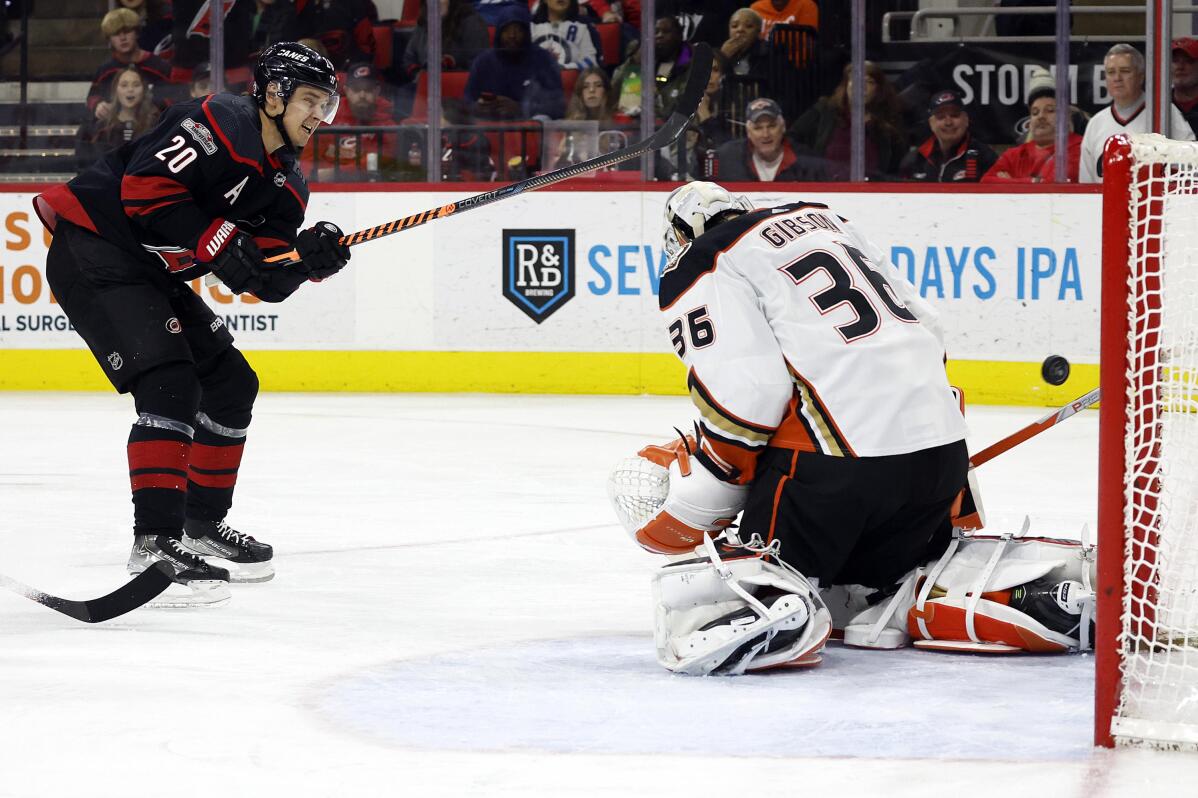 2 of 9

|
Carolina Hurricanes' Sebastian Aho (20) has his shot deflect wide past Anaheim Ducks goaltender John Gibson (36) during the second period of an NHL hockey game in Raleigh, N.C., Saturday, Feb. 25, 2023. (AP Photo/Karl B DeBlaker)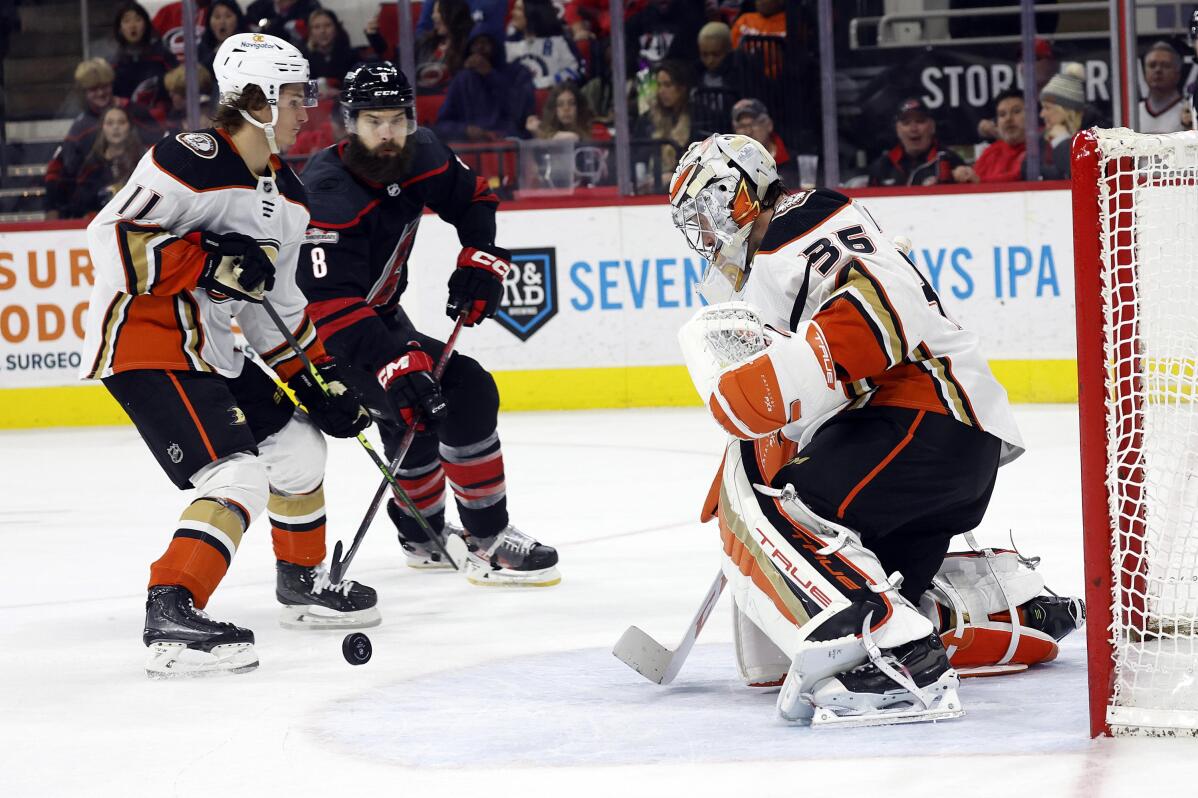 3 of 9

|
Anaheim Ducks goaltender John Gibson (36) watches the puck as teammate Trevor Zegras (11) and Carolina Hurricanes' Brent Burns (8) close in during the second period of an NHL hockey game in Raleigh, N.C., Saturday, Feb. 25, 2023. (AP Photo/Karl B DeBlaker)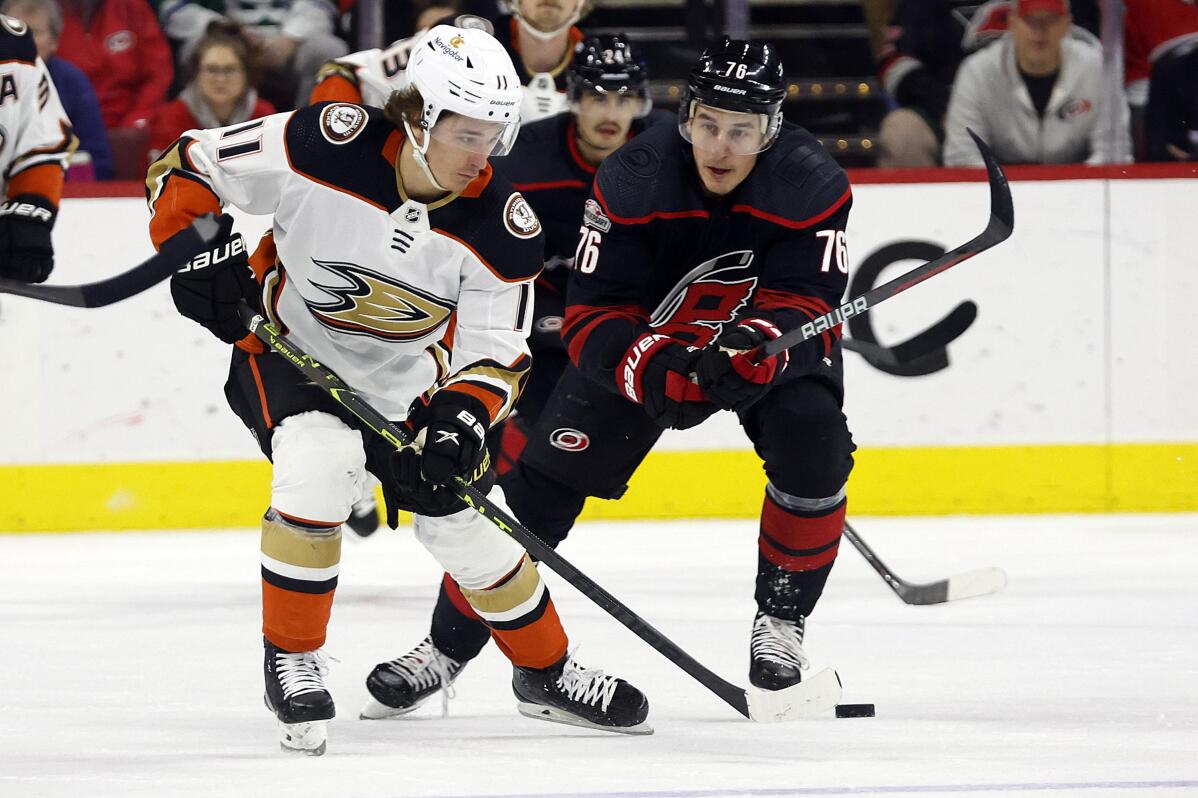 4 of 9

|
Anaheim Ducks' Trevor Zegras (11) controls the puck in front of Carolina Hurricanes' Brady Skjei (76) during the first period of an NHL hockey game in Raleigh, N.C., Saturday, Feb. 25, 2023. (AP Photo/Karl B DeBlaker)
5 of 9

|
Carolina Hurricanes' Brent Burns (8) shields the puck from Anaheim Ducks' Derek Grant (38) during the first period of an NHL hockey game in Raleigh, N.C., Saturday, Feb. 25, 2023. (AP Photo/Karl B DeBlaker)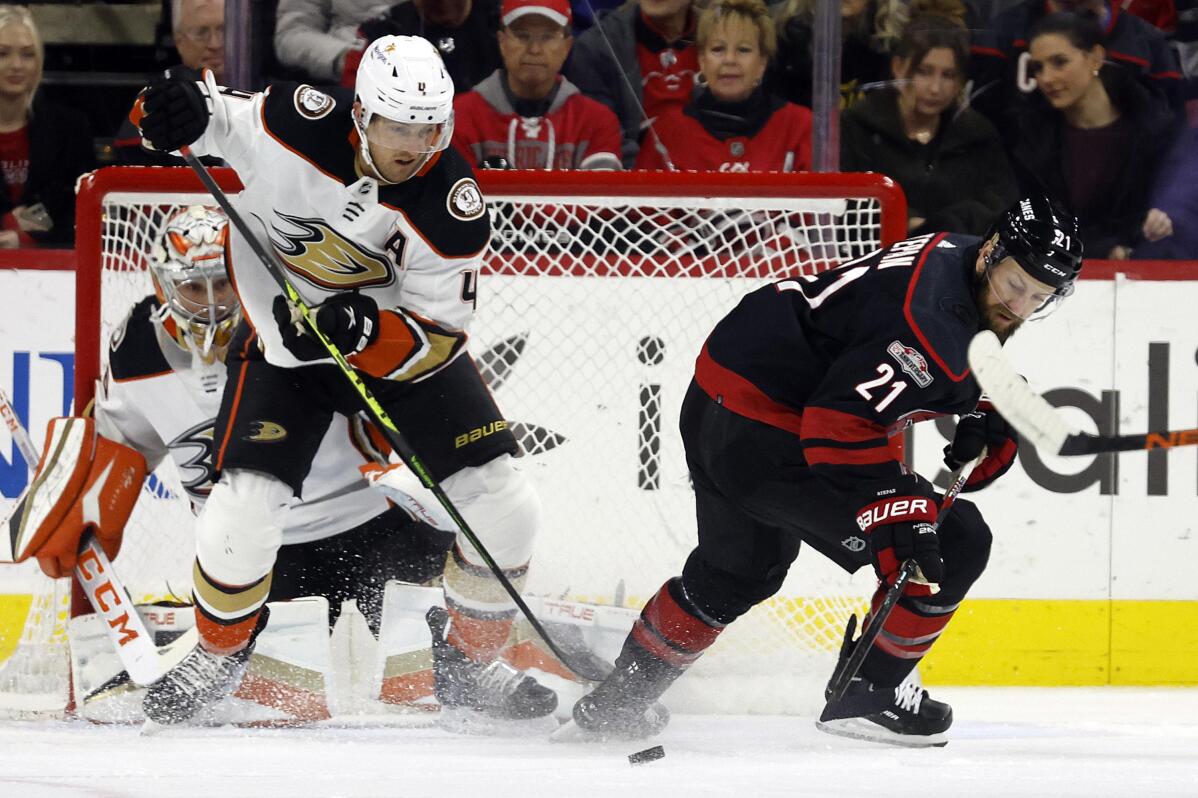 6 of 9

|
Carolina Hurricanes' Derek Stepan (21) has the puck taken away by Anaheim Ducks' Cam Fowler (4) in front of Ducks goaltender John Gibson (36) during the first period of an NHL hockey game in Raleigh, N.C., Saturday, Feb. 25, 2023. (AP Photo/Karl B DeBlaker)
7 of 9

|
Anaheim Ducks' Ryan Strome (16) battles Carolina Hurricanes' Brady Skjei (76) for the puck during the first period of an NHL hockey game in Raleigh, N.C., Saturday, Feb. 25, 2023. (AP Photo/Karl B DeBlaker)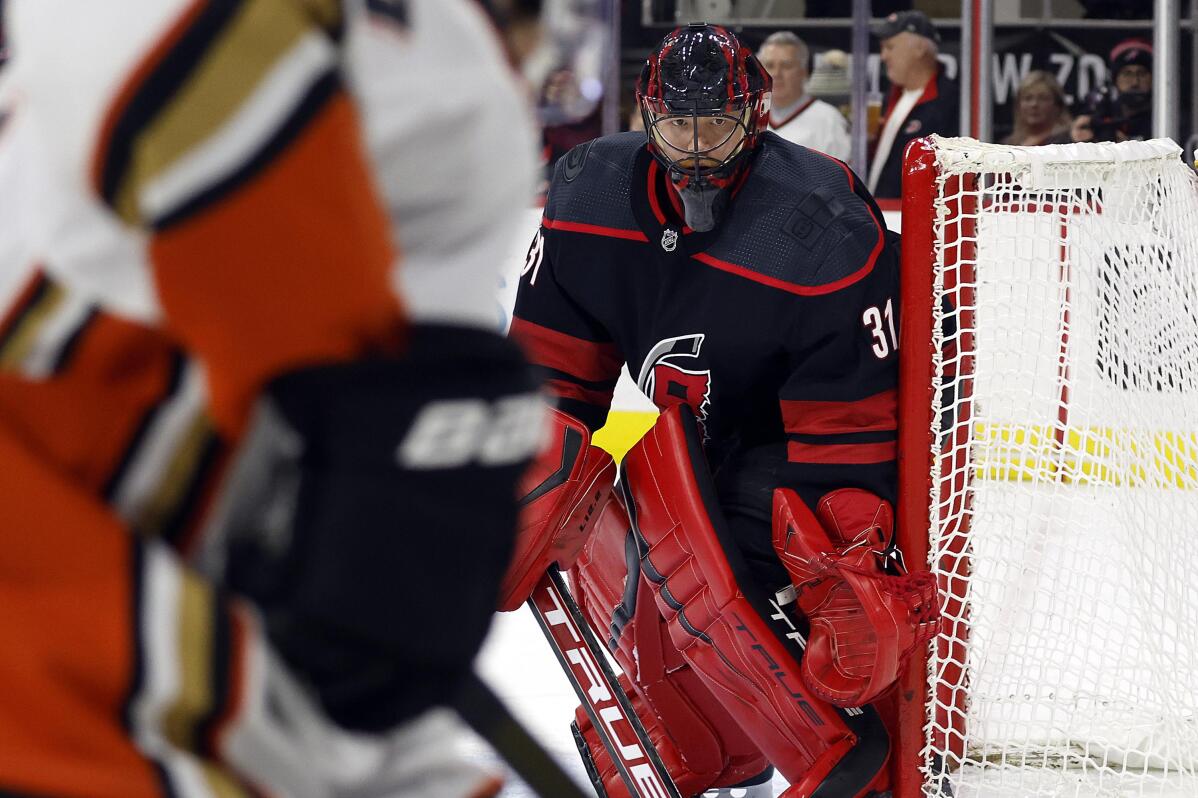 8 of 9

|
Carolina Hurricanes goaltender Frederik Andersen (31) watches the puck during the first period of an NHL hockey game against the Anaheim Ducks in Raleigh, N.C., Saturday, Feb. 25, 2023. (AP Photo/Karl B DeBlaker)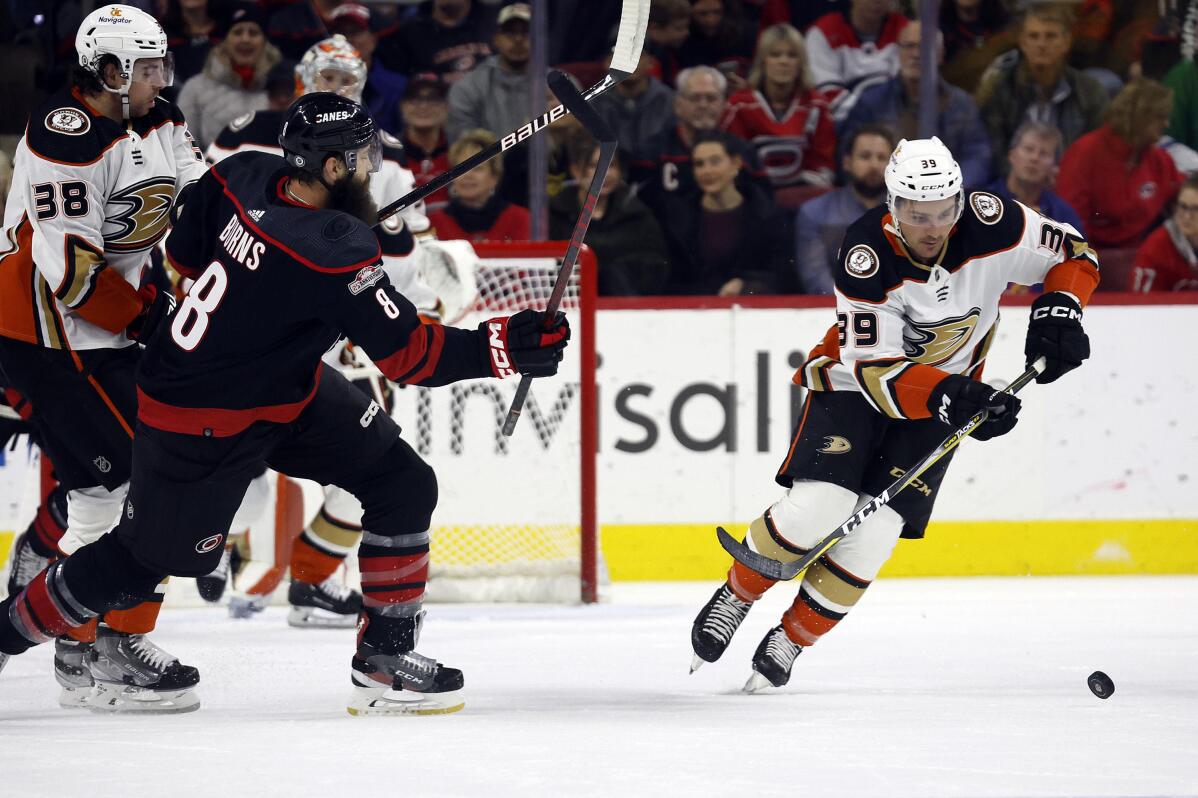 9 of 9

|
Carolina Hurricanes' Brent Burns (8) loses control of the puck to Anaheim Ducks' Sam Carrick (39) during the first period of an NHL hockey game in Raleigh, N.C., Saturday, Feb. 25, 2023. (AP Photo/Karl B DeBlaker)
Gibson stops 51 shots as Ducks top Hurricanes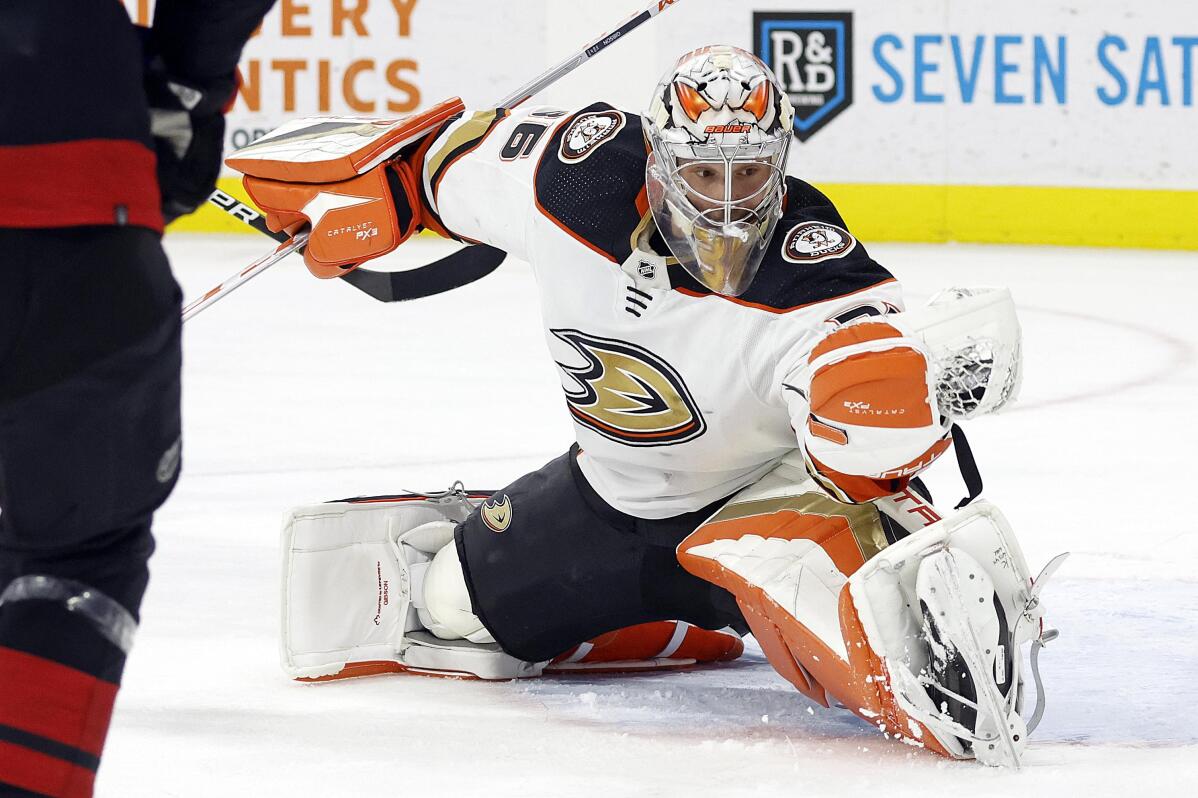 1 of 9

|
Anaheim Ducks goaltender John Gibson (36) gloves a shot from the Carolina Hurricanes during the second period of an NHL hockey game in Raleigh, N.C., Saturday, Feb. 25, 2023. (AP Photo/Karl B DeBlaker)
1 of 9
Anaheim Ducks goaltender John Gibson (36) gloves a shot from the Carolina Hurricanes during the second period of an NHL hockey game in Raleigh, N.C., Saturday, Feb. 25, 2023. (AP Photo/Karl B DeBlaker)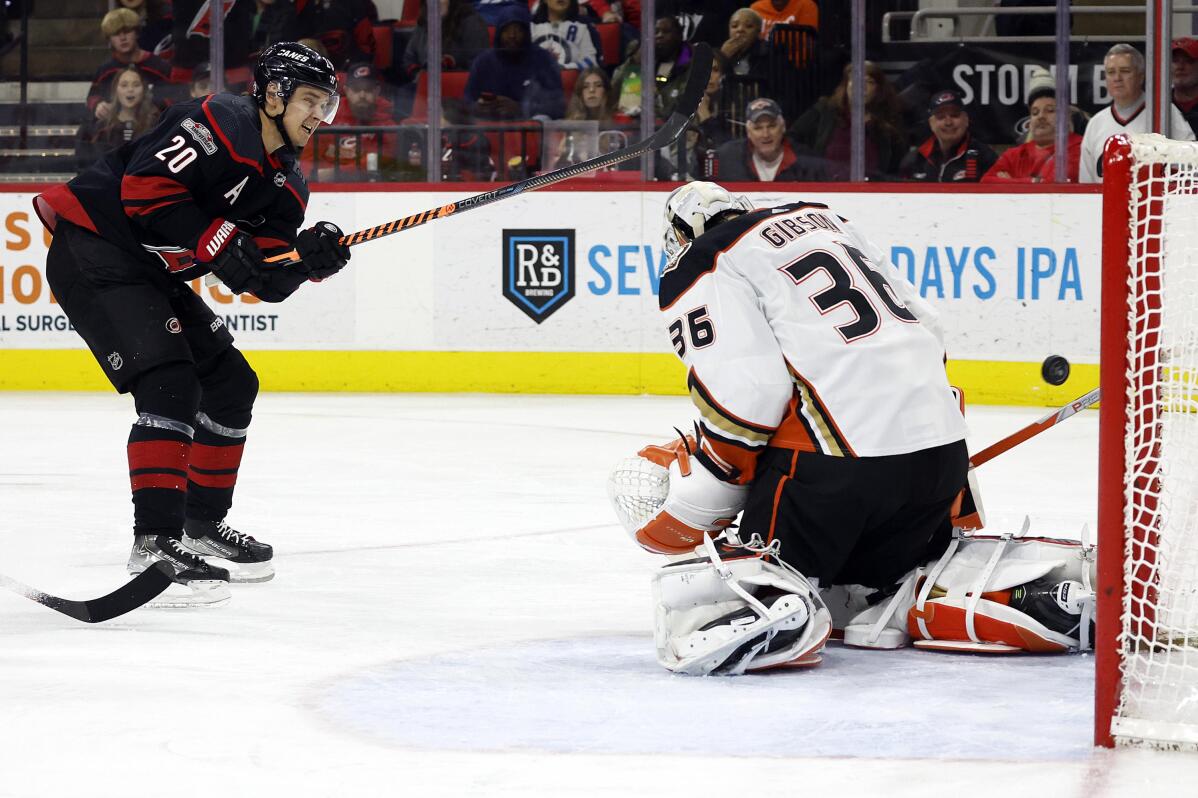 2 of 9

|
Carolina Hurricanes' Sebastian Aho (20) has his shot deflect wide past Anaheim Ducks goaltender John Gibson (36) during the second period of an NHL hockey game in Raleigh, N.C., Saturday, Feb. 25, 2023. (AP Photo/Karl B DeBlaker)
2 of 9
Carolina Hurricanes' Sebastian Aho (20) has his shot deflect wide past Anaheim Ducks goaltender John Gibson (36) during the second period of an NHL hockey game in Raleigh, N.C., Saturday, Feb. 25, 2023. (AP Photo/Karl B DeBlaker)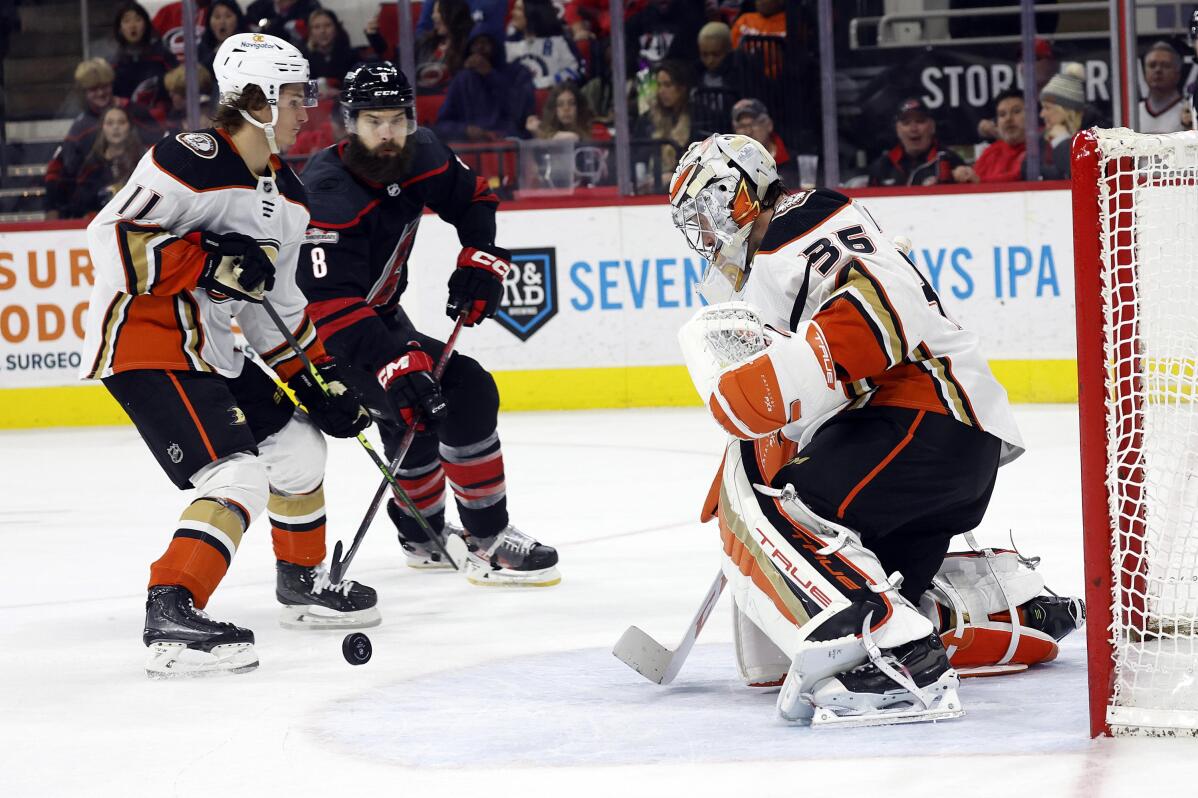 3 of 9

|
Anaheim Ducks goaltender John Gibson (36) watches the puck as teammate Trevor Zegras (11) and Carolina Hurricanes' Brent Burns (8) close in during the second period of an NHL hockey game in Raleigh, N.C., Saturday, Feb. 25, 2023. (AP Photo/Karl B DeBlaker)
3 of 9
Anaheim Ducks goaltender John Gibson (36) watches the puck as teammate Trevor Zegras (11) and Carolina Hurricanes' Brent Burns (8) close in during the second period of an NHL hockey game in Raleigh, N.C., Saturday, Feb. 25, 2023. (AP Photo/Karl B DeBlaker)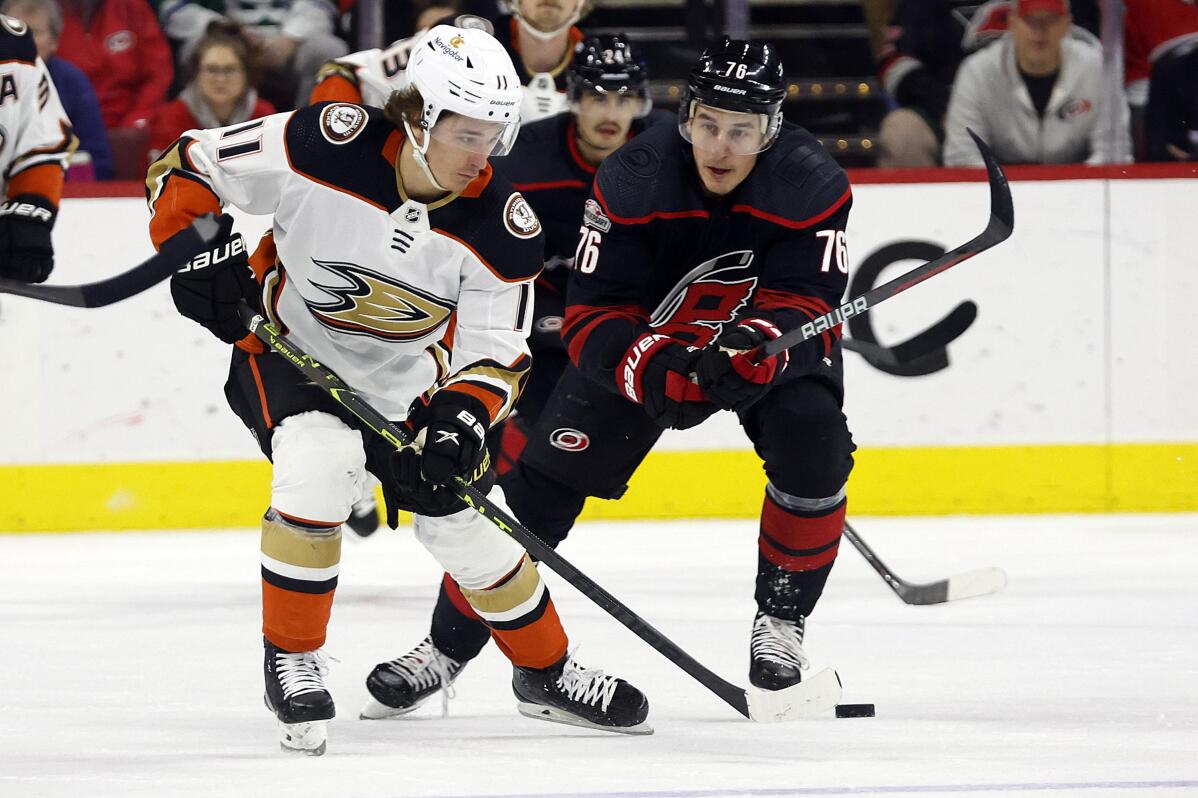 4 of 9

|
Anaheim Ducks' Trevor Zegras (11) controls the puck in front of Carolina Hurricanes' Brady Skjei (76) during the first period of an NHL hockey game in Raleigh, N.C., Saturday, Feb. 25, 2023. (AP Photo/Karl B DeBlaker)
4 of 9
Anaheim Ducks' Trevor Zegras (11) controls the puck in front of Carolina Hurricanes' Brady Skjei (76) during the first period of an NHL hockey game in Raleigh, N.C., Saturday, Feb. 25, 2023. (AP Photo/Karl B DeBlaker)
5 of 9

|
Carolina Hurricanes' Brent Burns (8) shields the puck from Anaheim Ducks' Derek Grant (38) during the first period of an NHL hockey game in Raleigh, N.C., Saturday, Feb. 25, 2023. (AP Photo/Karl B DeBlaker)
5 of 9
Carolina Hurricanes' Brent Burns (8) shields the puck from Anaheim Ducks' Derek Grant (38) during the first period of an NHL hockey game in Raleigh, N.C., Saturday, Feb. 25, 2023. (AP Photo/Karl B DeBlaker)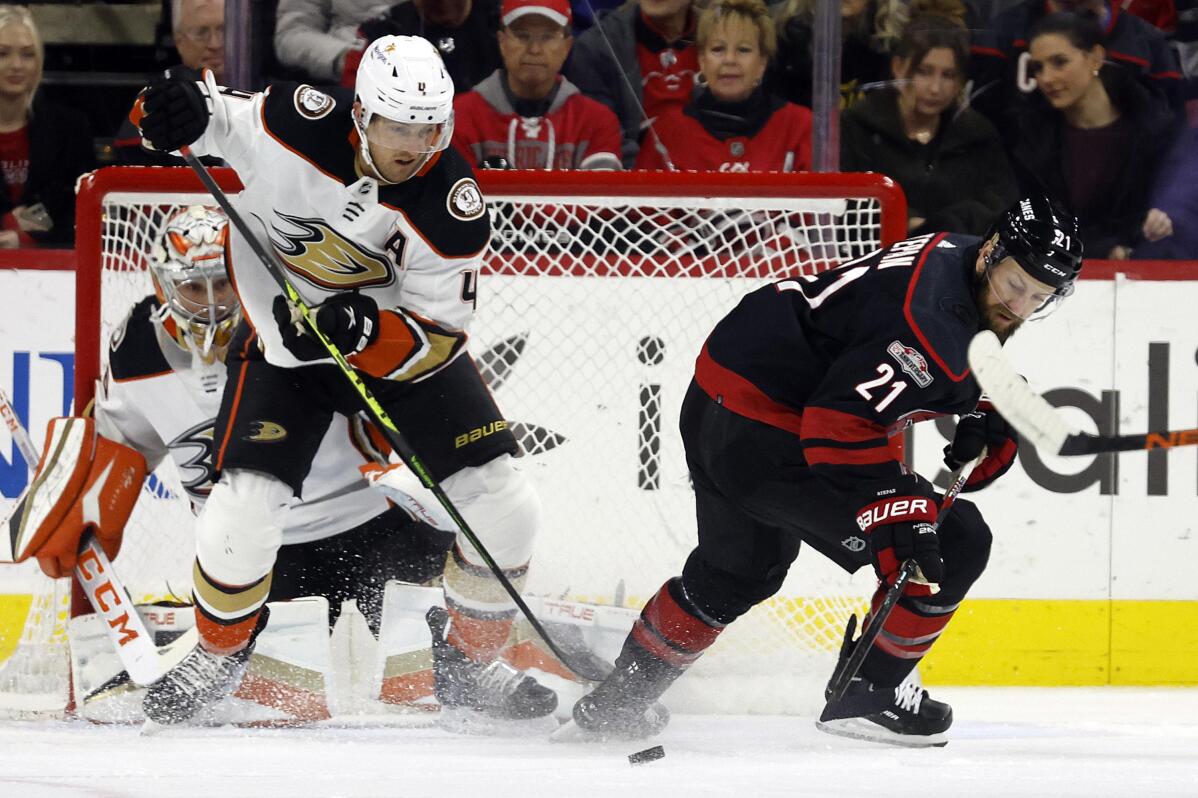 6 of 9

|
Carolina Hurricanes' Derek Stepan (21) has the puck taken away by Anaheim Ducks' Cam Fowler (4) in front of Ducks goaltender John Gibson (36) during the first period of an NHL hockey game in Raleigh, N.C., Saturday, Feb. 25, 2023. (AP Photo/Karl B DeBlaker)
6 of 9
Carolina Hurricanes' Derek Stepan (21) has the puck taken away by Anaheim Ducks' Cam Fowler (4) in front of Ducks goaltender John Gibson (36) during the first period of an NHL hockey game in Raleigh, N.C., Saturday, Feb. 25, 2023. (AP Photo/Karl B DeBlaker)
7 of 9

|
Anaheim Ducks' Ryan Strome (16) battles Carolina Hurricanes' Brady Skjei (76) for the puck during the first period of an NHL hockey game in Raleigh, N.C., Saturday, Feb. 25, 2023. (AP Photo/Karl B DeBlaker)
7 of 9
Anaheim Ducks' Ryan Strome (16) battles Carolina Hurricanes' Brady Skjei (76) for the puck during the first period of an NHL hockey game in Raleigh, N.C., Saturday, Feb. 25, 2023. (AP Photo/Karl B DeBlaker)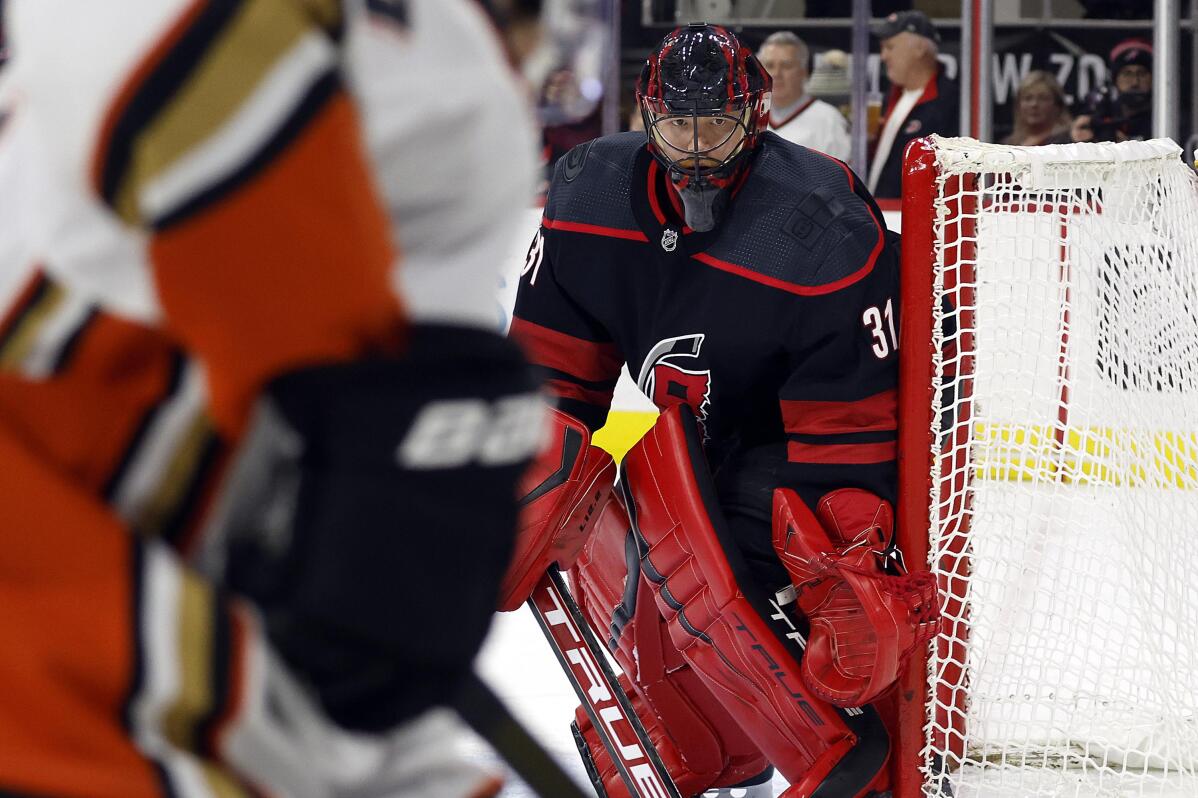 8 of 9

|
Carolina Hurricanes goaltender Frederik Andersen (31) watches the puck during the first period of an NHL hockey game against the Anaheim Ducks in Raleigh, N.C., Saturday, Feb. 25, 2023. (AP Photo/Karl B DeBlaker)
8 of 9
Carolina Hurricanes goaltender Frederik Andersen (31) watches the puck during the first period of an NHL hockey game against the Anaheim Ducks in Raleigh, N.C., Saturday, Feb. 25, 2023. (AP Photo/Karl B DeBlaker)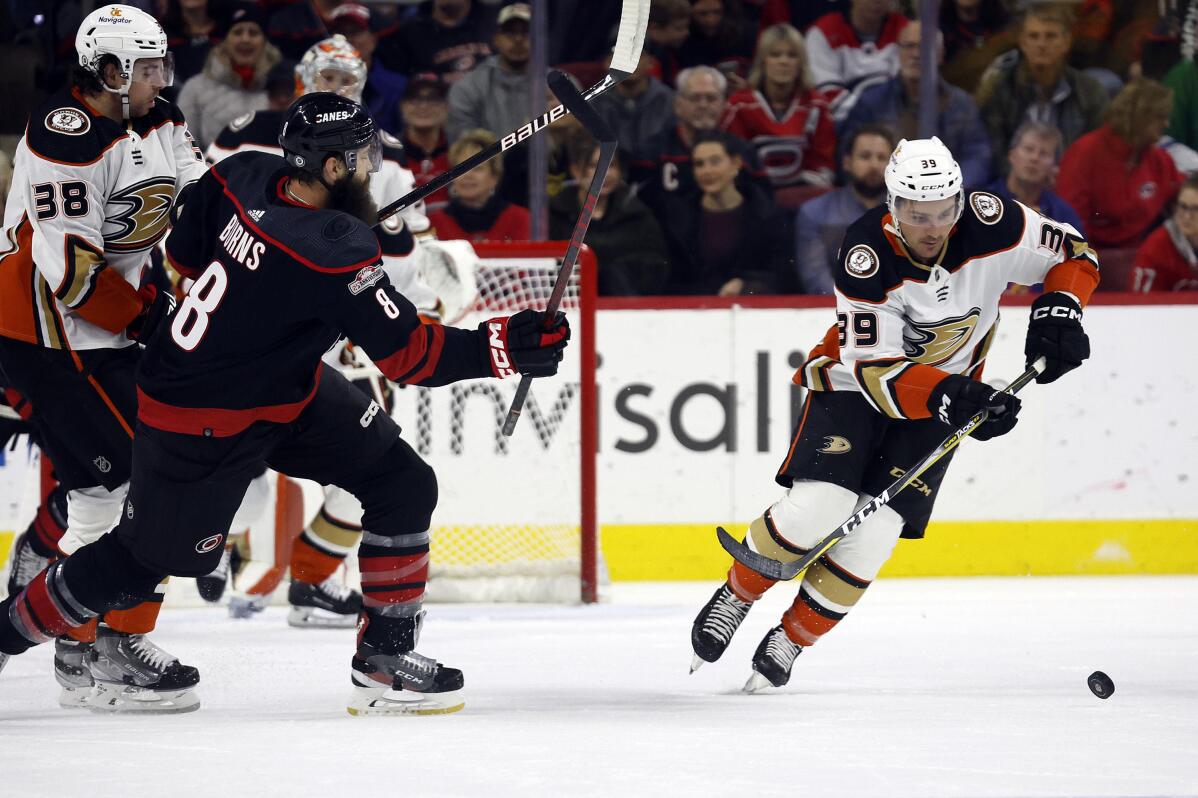 9 of 9

|
Carolina Hurricanes' Brent Burns (8) loses control of the puck to Anaheim Ducks' Sam Carrick (39) during the first period of an NHL hockey game in Raleigh, N.C., Saturday, Feb. 25, 2023. (AP Photo/Karl B DeBlaker)
9 of 9
Carolina Hurricanes' Brent Burns (8) loses control of the puck to Anaheim Ducks' Sam Carrick (39) during the first period of an NHL hockey game in Raleigh, N.C., Saturday, Feb. 25, 2023. (AP Photo/Karl B DeBlaker)
RALEIGH, N.C. (AP) — Jakob Silfverberg and Troy Terry scored in the third period, and John Gibson stopped 51 shots as the Anaheim Ducks beat Carolina 3-2 on Saturday night to end the Hurricanes' five-game winning streak.
John Klingberg also scored and Trevor Zegras and Ryan Strome each had two assists for the Ducks, who've won two in a row following a six-game winless streak.
"It's hard not to talk about our goalie, first and foremost," Terry said. "It's been unfair to him what he has had to do all year. It doesn't wear off just how spectacular he is."
Jesperi Kotkaniemi and Jesper Fast scored for the Hurricanes, who lost for just the second time in their last 14 games. Frederik Andersen made 12 saves in what was a sour ending to a five-game homestand.
Gibson had 13 saves in the first period, 22 in the second and 16 in the third to improve to 12-23-6 on the season. Among his notable saves was stopping Brent Burns' redirect off Sebastian Aho's pass in transition to keep the game scoreless in the second period.
"I'm pretty tired," Gibson said. "Pretty good trip overall with five points, but we just have to keep going. Overall, nice to get the win."
Hurricanes coach Rod Brind'Amour said Gibson was clearly up to the challenge.
"We play that game 10 times, we're going to win nine of them," he said. "Unfortunate. We gave up some chances, but you've got to give up some in a game. Their goalie was good."
That save on Burns' attempt came shortly before Klingberg's goal on Anaheim's 12th shot with 3:42 left in the period gave the Ducks a 1-0 lead. It was his eighth goal of the season.
Silfverberg's eighth goal came at 4:06 of the third to make it 2-0. He has scored in consecutive games for the first time this season.
Kotkaniemi answered just 13 seconds later with his 11th goal.
Terry got the next goal during a 4-on-4 set-up, pushing the Ducks' lead to 3-1 with 7:59 remaining. It was his 15th.
Again, the Hurricanes had a quick response as Fast scored 1:34 later for his first goal in 12 games.
"That's a sign of a very, very good team that they can respond that quickly," Ducks coach Dallas Eakins said.
Carolina couldn't convert on a late power play despite pulling Andersen from the net.
BACK IN THE GROOVE
Terry was in his second game since a seven-game absence with an upper-body injury. He also scored Thursday night at Washington.
"I'm just trying to judge myself on if I'm an impact player or not, and I felt like tonight I was," Terry said.
HE KEEPS DOING IT
Burns, a defenseman in his first season with the Hurricanes, played in his 737th consecutive game for the second-longest ironman streak among defensemen in NHL history. Only Keith Yandle at 989 has produced a longer streak.
It's the ninth-longest overall, tying Jay Bouwmeester's streak. Burns' string began Nov. 21, 2013.
WORTH NOTING
Carolina's 53 shots were its third-most in a game this season. ... Anaheim swept the two-game season series, also winning 4-3 in overtime Dec. 6. "Do they give a trophy for that?" Eakins asked. ... When playing on back-to-back days, this marked the Hurricanes' first loss in regulation on the back end. They're 7-1-1 in those games.
UP NEXT
Ducks: Host Chicago on Monday night to open a three-game homestand.
Hurricanes: At Vegas on Wednesday night.
___
AP NHL: www.apnews.com/hub/NHL and www.twitter.com/AP_Sports