Golden Knights captain Mark Stone undergoes back surgery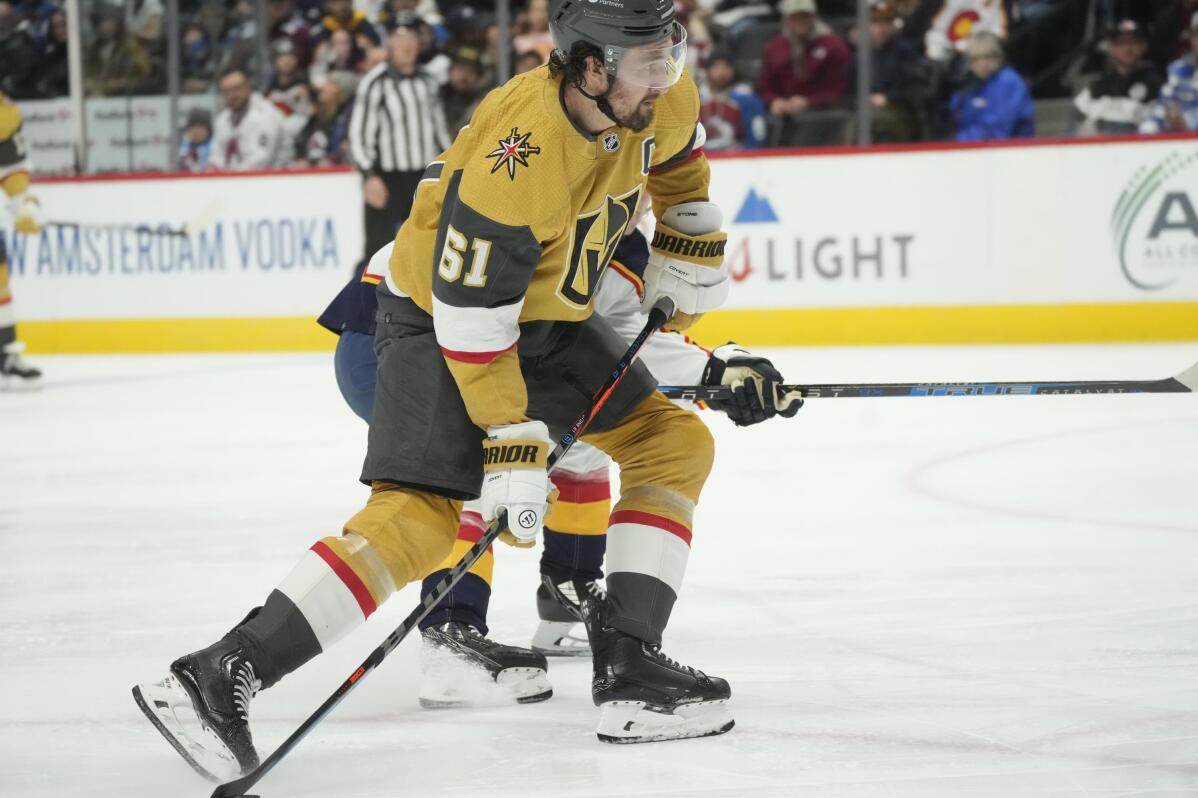 1 of 3

|
Vegas Golden Knights right wing Mark Stone (61) drives past Colorado Avalanche center Ben Meyers to shoot on the net in the second period of an NHL hockey game Monday, Jan. 2, 2023, in Denver. (AP Photo/David Zalubowski)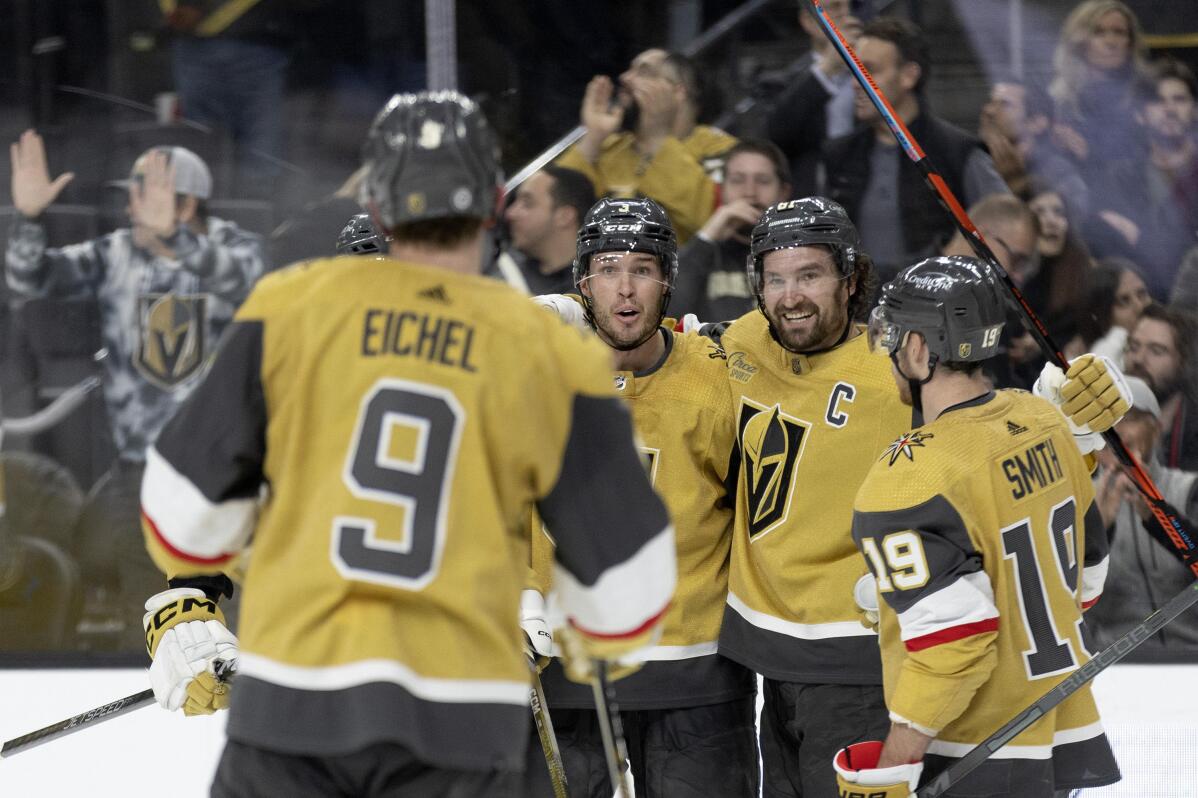 2 of 3

|
Vegas Golden Knights right wing Mark Stone, second from right, celebrates his goal with center Jack Eichel (9), defenseman Brayden McNabb, second from left, and right wing Reilly Smith during the second period of the team's NHL hockey game against the Pittsburgh Penguins on Thursday, Jan. 5, 2023, in Las Vegas. (AP Photo/Ellen Schmidt)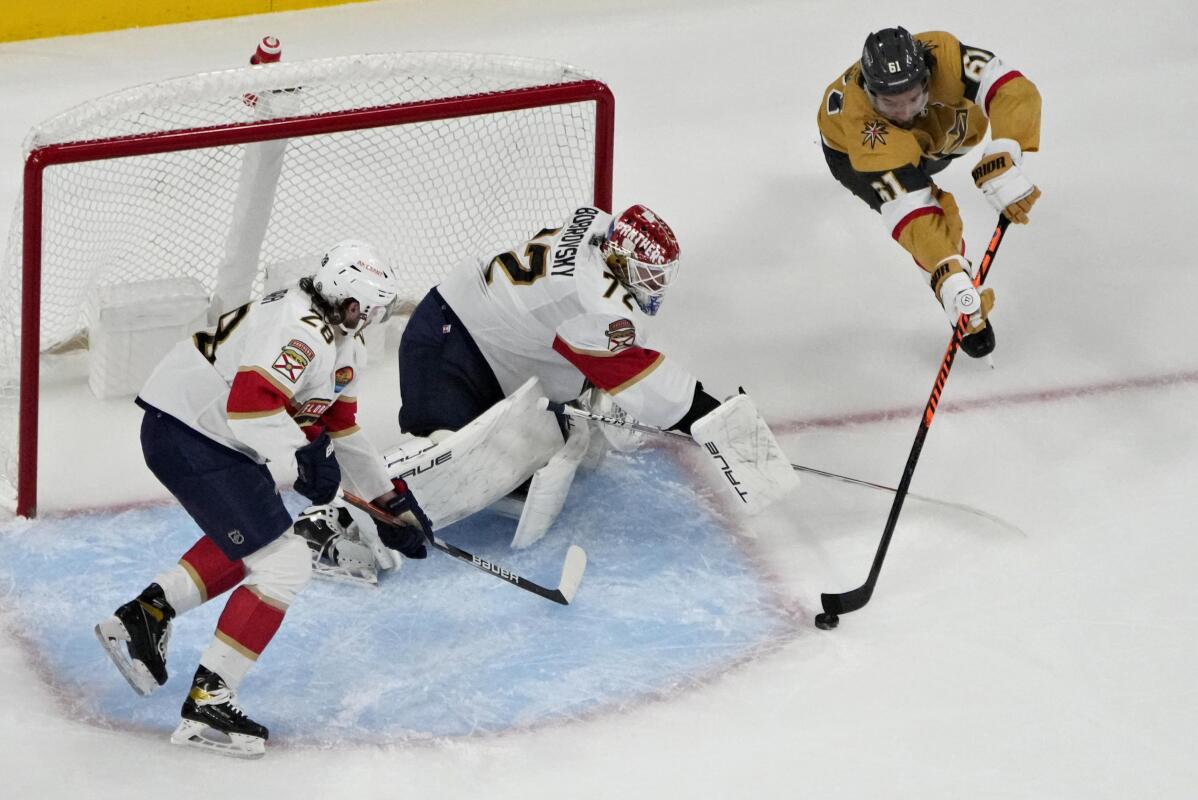 3 of 3

|
Vegas Golden Knights right wing Mark Stone (61) attempts a shot on Florida Panthers goaltender Sergei Bobrovsky (72) during the first period of an NHL hockey game Thursday, Jan. 12, 2023, in Las Vegas. (AP Photo/John Locher)
Golden Knights captain Mark Stone undergoes back surgery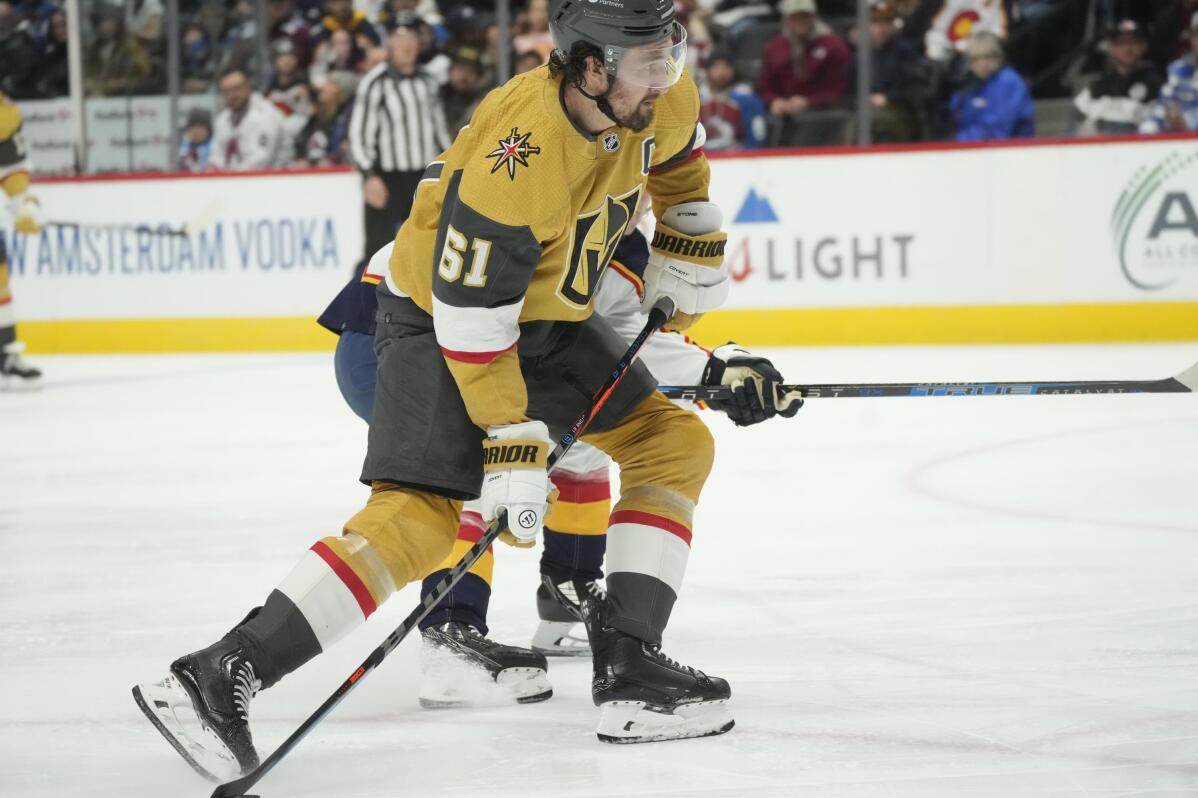 1 of 3

|
Vegas Golden Knights right wing Mark Stone (61) drives past Colorado Avalanche center Ben Meyers to shoot on the net in the second period of an NHL hockey game Monday, Jan. 2, 2023, in Denver. (AP Photo/David Zalubowski)
1 of 3
Vegas Golden Knights right wing Mark Stone (61) drives past Colorado Avalanche center Ben Meyers to shoot on the net in the second period of an NHL hockey game Monday, Jan. 2, 2023, in Denver. (AP Photo/David Zalubowski)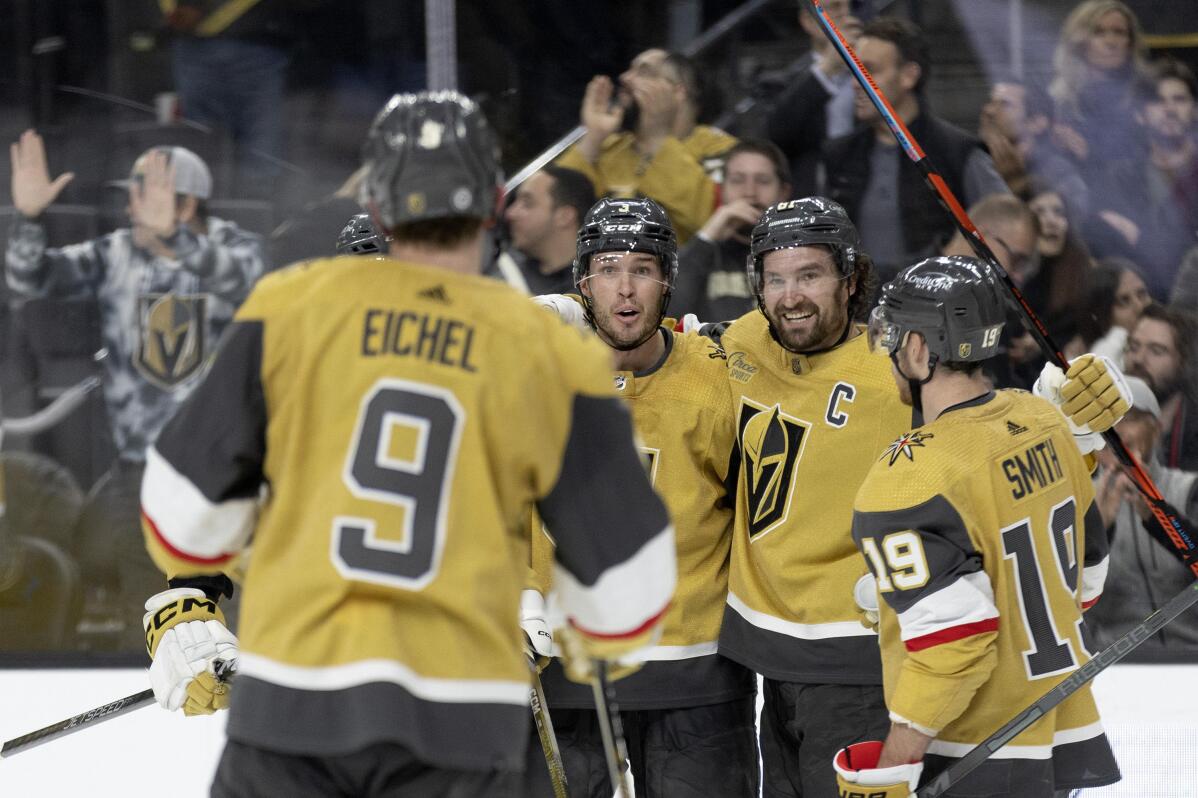 2 of 3

|
Vegas Golden Knights right wing Mark Stone, second from right, celebrates his goal with center Jack Eichel (9), defenseman Brayden McNabb, second from left, and right wing Reilly Smith during the second period of the team's NHL hockey game against the Pittsburgh Penguins on Thursday, Jan. 5, 2023, in Las Vegas. (AP Photo/Ellen Schmidt)
2 of 3
Vegas Golden Knights right wing Mark Stone, second from right, celebrates his goal with center Jack Eichel (9), defenseman Brayden McNabb, second from left, and right wing Reilly Smith during the second period of the team's NHL hockey game against the Pittsburgh Penguins on Thursday, Jan. 5, 2023, in Las Vegas. (AP Photo/Ellen Schmidt)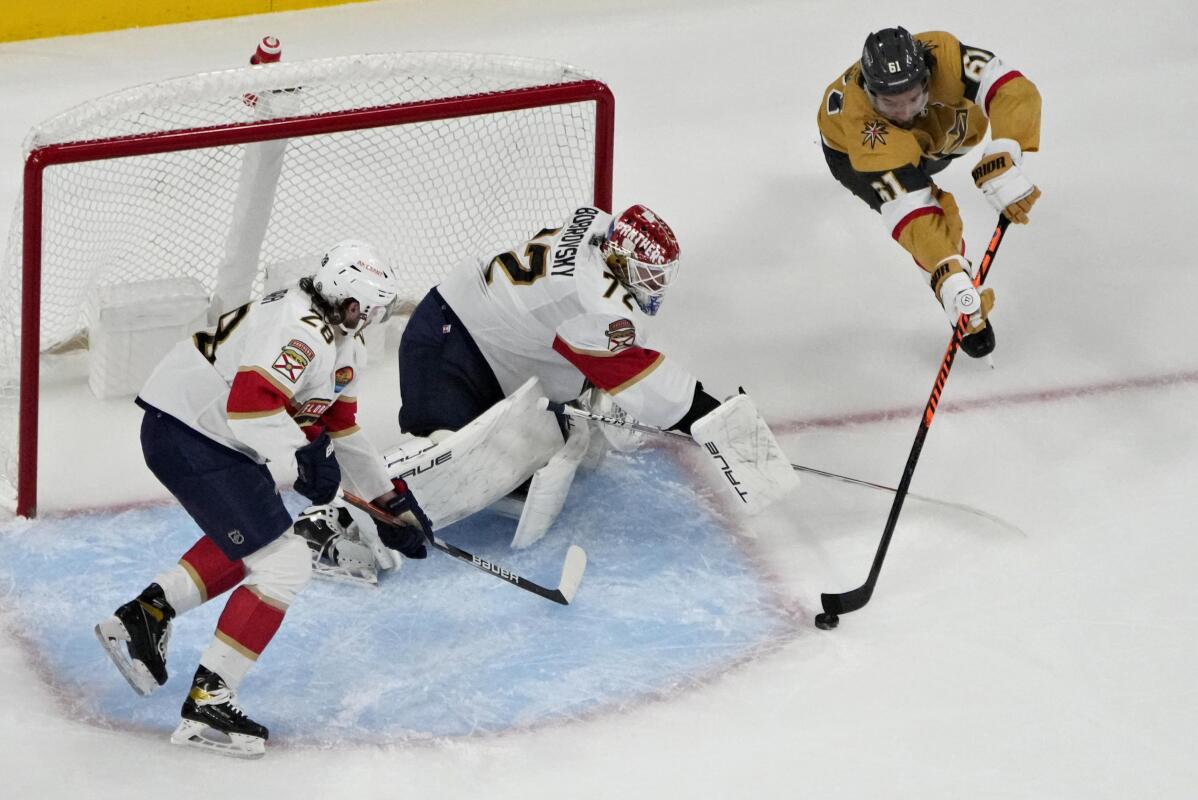 3 of 3

|
Vegas Golden Knights right wing Mark Stone (61) attempts a shot on Florida Panthers goaltender Sergei Bobrovsky (72) during the first period of an NHL hockey game Thursday, Jan. 12, 2023, in Las Vegas. (AP Photo/John Locher)
3 of 3
Vegas Golden Knights right wing Mark Stone (61) attempts a shot on Florida Panthers goaltender Sergei Bobrovsky (72) during the first period of an NHL hockey game Thursday, Jan. 12, 2023, in Las Vegas. (AP Photo/John Locher)
LAS VEGAS (AP) — Vegas Golden Knights captain Mark Stone is out indefinitely after undergoing back surgery in Denver, the club announced Wednesday.
The Knights termed the procedure Tuesday as successful and that Stone "is expected to make a full recovery."
This is the second time in less than a year that Stone has had back surgery. He also had a procedure May 19, 2022, and Stone said in December this was the best he had felt in some time.
But he was injured Jan. 12 against the Florida Panthers, and his absence has had a noticeable effect on the Knights. They have gone 1-5-2 without Stone, dropping out of first place in the Pacific Division into third.
Stone is second on the team in goals with 17 and in points with 38.
___
AP NHL: https://apnews.com/hub/nhl and https://twitter.com/AP_Sports