Deadly Algerian migrant expulsions resume in desert, UN says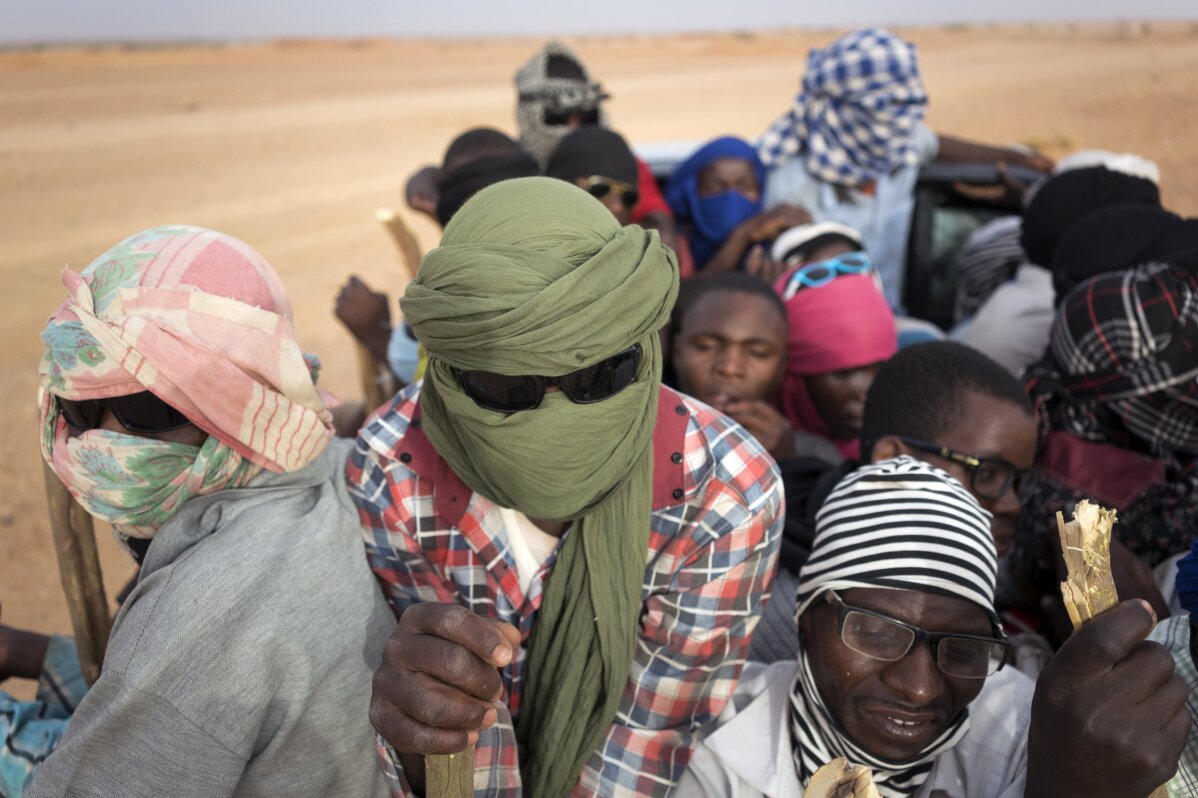 1 of 3

|
FILE - In this Monday, June 4, 2018 file photo, Nigeriens and third-country migrants head towards Libya from Agadez, Niger. Algeria's deadly expulsions of migrants into the Sahara Desert have nearly ground to a halt after widespread condemnation and the abrupt firing of two of its top security officials. Officials with the UN's International Organization for Migration said the expulsions to the desert border Algeria shares with Niger and Mali had all but ended since The Associated Press reported more than 13,000 people had been dropped there since May 2017, including women and children. (AP Photo/Jerome Delay, File)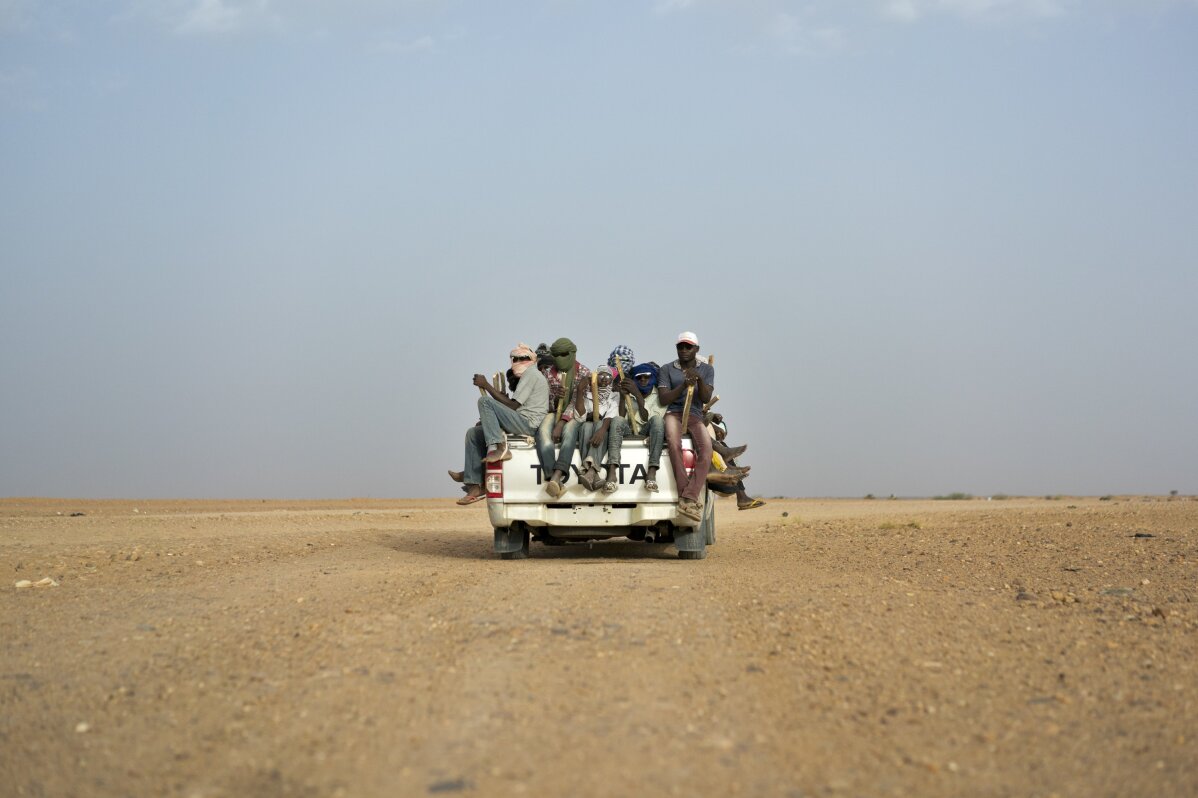 2 of 3

|
FILE - In this Monday, June 4, 2018 file photo, Nigeriens and third-country migrants head towards Libya from Agadez, Niger. Algeria's deadly expulsions of migrants into the Sahara Desert have nearly ground to a halt after widespread condemnation and the abrupt firing of two of its top security officials. Officials with the UN's International Organization for Migration said the expulsions to the desert border Algeria shares with Niger and Mali had all but ended since The Associated Press reported more than 13,000 people had been dropped there since May 2017, including women and children.(AP Photo/Jerome Delay, File)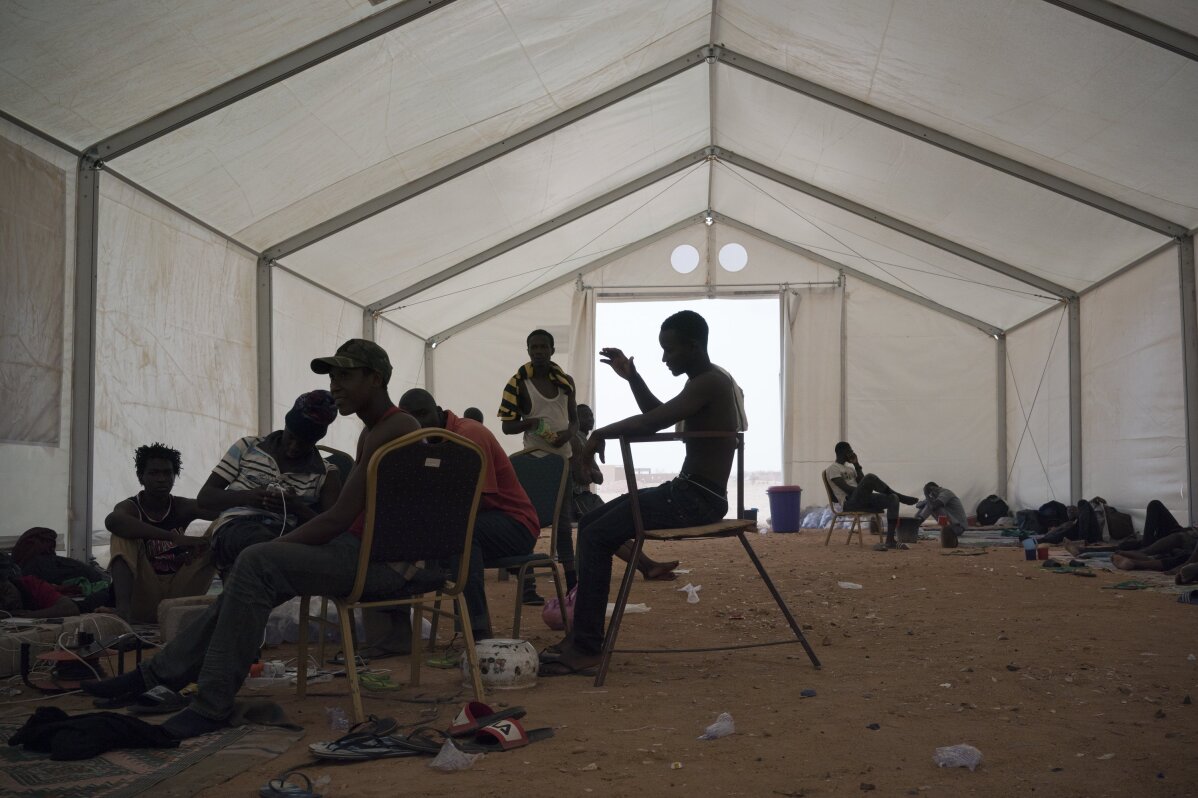 3 of 3

|
FILE - In this Tuesday, June 5, 2018 file photo, Sierra Leone migrants who were expelled from Algeria wait for repatriation in an International Organization for Migration center in Agadez, Niger. Algeria's deadly expulsions of migrants into the Sahara Desert have nearly ground to a halt after widespread condemnation and the abrupt firing of two of its top security officials. Officials with the UN's International Organization for Migration said the expulsions to the desert border Algeria shares with Niger and Mali had all but ended since The Associated Press reported more than 13,000 people had been dropped there since May 2017, including women and children. (AP Photo/Jerome Delay, File)
Deadly Algerian migrant expulsions resume in desert, UN says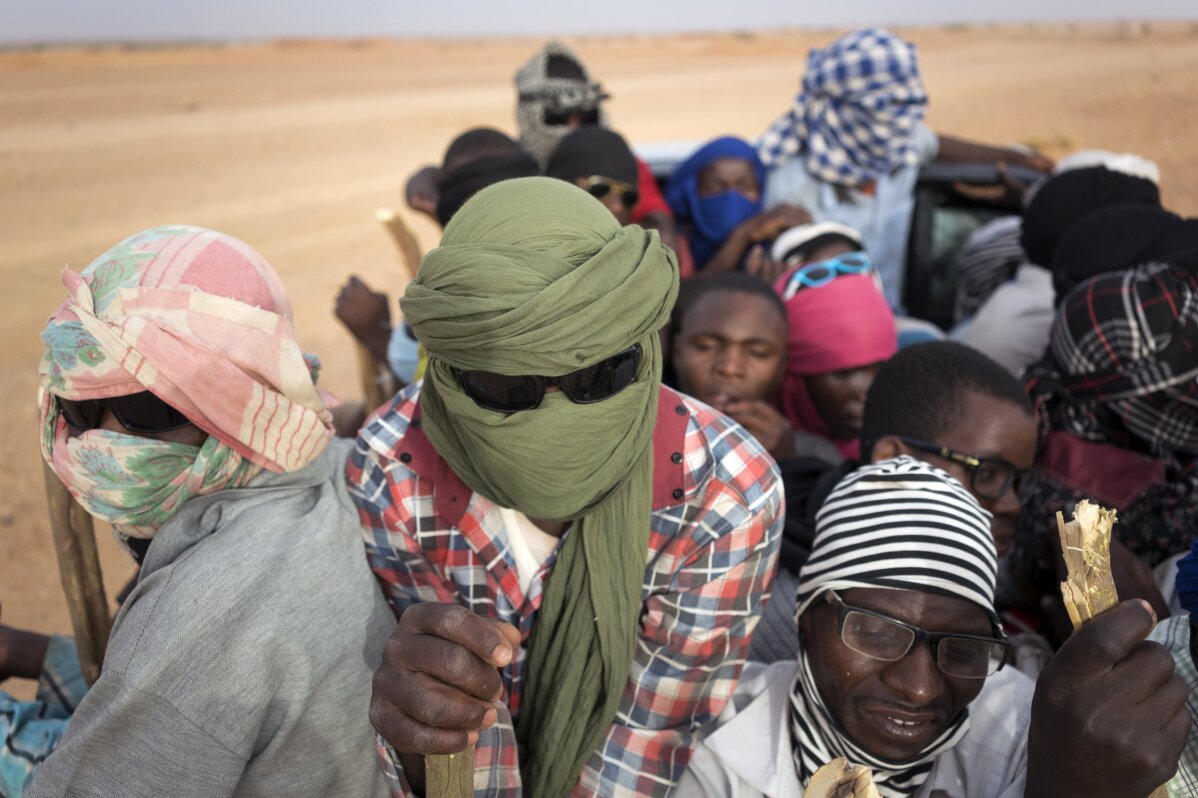 1 of 3

|
FILE - In this Monday, June 4, 2018 file photo, Nigeriens and third-country migrants head towards Libya from Agadez, Niger. Algeria's deadly expulsions of migrants into the Sahara Desert have nearly ground to a halt after widespread condemnation and the abrupt firing of two of its top security officials. Officials with the UN's International Organization for Migration said the expulsions to the desert border Algeria shares with Niger and Mali had all but ended since The Associated Press reported more than 13,000 people had been dropped there since May 2017, including women and children. (AP Photo/Jerome Delay, File)
1 of 3
FILE - In this Monday, June 4, 2018 file photo, Nigeriens and third-country migrants head towards Libya from Agadez, Niger. Algeria's deadly expulsions of migrants into the Sahara Desert have nearly ground to a halt after widespread condemnation and the abrupt firing of two of its top security officials. Officials with the UN's International Organization for Migration said the expulsions to the desert border Algeria shares with Niger and Mali had all but ended since The Associated Press reported more than 13,000 people had been dropped there since May 2017, including women and children. (AP Photo/Jerome Delay, File)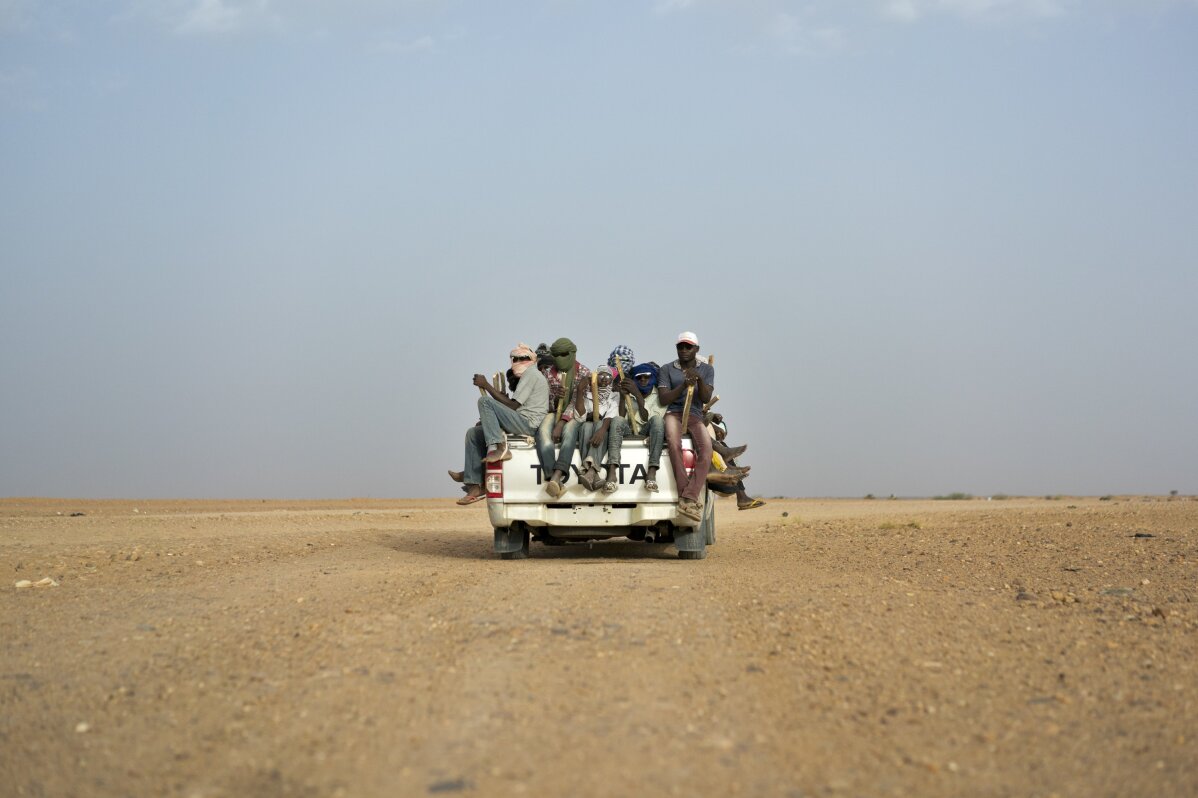 2 of 3

|
FILE - In this Monday, June 4, 2018 file photo, Nigeriens and third-country migrants head towards Libya from Agadez, Niger. Algeria's deadly expulsions of migrants into the Sahara Desert have nearly ground to a halt after widespread condemnation and the abrupt firing of two of its top security officials. Officials with the UN's International Organization for Migration said the expulsions to the desert border Algeria shares with Niger and Mali had all but ended since The Associated Press reported more than 13,000 people had been dropped there since May 2017, including women and children.(AP Photo/Jerome Delay, File)
2 of 3
FILE - In this Monday, June 4, 2018 file photo, Nigeriens and third-country migrants head towards Libya from Agadez, Niger. Algeria's deadly expulsions of migrants into the Sahara Desert have nearly ground to a halt after widespread condemnation and the abrupt firing of two of its top security officials. Officials with the UN's International Organization for Migration said the expulsions to the desert border Algeria shares with Niger and Mali had all but ended since The Associated Press reported more than 13,000 people had been dropped there since May 2017, including women and children.(AP Photo/Jerome Delay, File)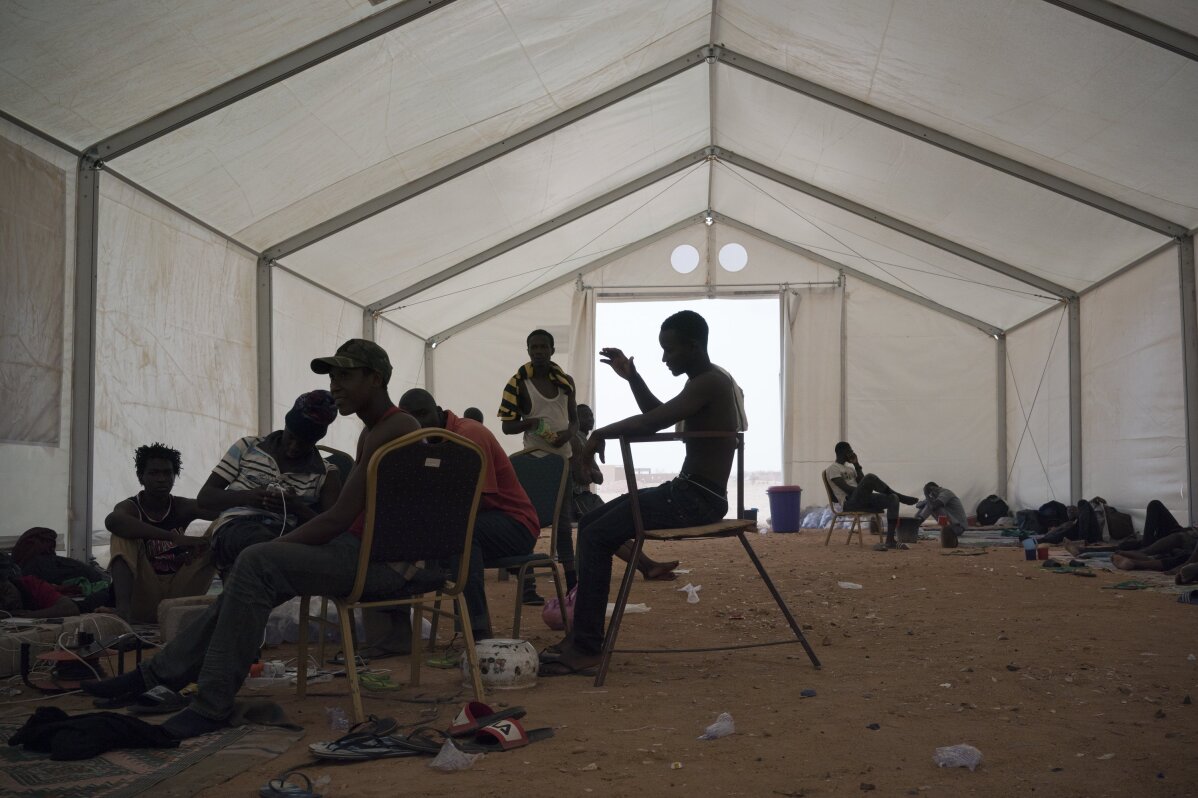 3 of 3

|
FILE - In this Tuesday, June 5, 2018 file photo, Sierra Leone migrants who were expelled from Algeria wait for repatriation in an International Organization for Migration center in Agadez, Niger. Algeria's deadly expulsions of migrants into the Sahara Desert have nearly ground to a halt after widespread condemnation and the abrupt firing of two of its top security officials. Officials with the UN's International Organization for Migration said the expulsions to the desert border Algeria shares with Niger and Mali had all but ended since The Associated Press reported more than 13,000 people had been dropped there since May 2017, including women and children. (AP Photo/Jerome Delay, File)
3 of 3
FILE - In this Tuesday, June 5, 2018 file photo, Sierra Leone migrants who were expelled from Algeria wait for repatriation in an International Organization for Migration center in Agadez, Niger. Algeria's deadly expulsions of migrants into the Sahara Desert have nearly ground to a halt after widespread condemnation and the abrupt firing of two of its top security officials. Officials with the UN's International Organization for Migration said the expulsions to the desert border Algeria shares with Niger and Mali had all but ended since The Associated Press reported more than 13,000 people had been dropped there since May 2017, including women and children. (AP Photo/Jerome Delay, File)
PARIS (AP) — Algeria's government has resumed expelling migrants into the Sahara Desert to die, leaving 391 people to wander through some of the world's most hostile terrain in the middle of summer, a U.N. migration official said Saturday.
The migrants, from 16 different countries, were abandoned at the border with Niger, according to a tweet from Giuseppe Loprete , the head of the U.N.'s International Organization for Migration in Niger.
The Associated Press reported last month that Algeria has left more than 13,000 migrants in the desert of Niger and Mali since May 2017, forcing them to walk or die under searing heat,
For several weeks after the AP report came out, the expulsions appeared to have been suspended. IOM in Mali said the normally secretive Algerian government seemed to be trying to make an effort to communicate the movement of the migrants. An aid worker with contacts inside Algeria said the government instead was rounding up migrants to jail in detention centers.
IOM has been forced to find the migrants as they stumble through the desert, and many told the AP some of their companions died along the way.
Algeria has an agreement with Niger's government to deport its citizens by convoy directly to the city of Agadez. But migrants from other countries who have been rounded up in repeated sweeps are trucked to around 15 kilometers (nine miles) from the nearest water and ordered to march through some of the world's most hostile terrain, where summer temperatures reach well above 40 C (104 F).
The African Union, many of whose member governments count citizens among the expelled migrants, has demanded that Algeria stop abandoning people to die in the desert. The United Nations has also condemned the practice.
Algeria's opaque government, however, has refused to acknowledge it. Soon after the AP report and a Human Rights Watch report came out detailing the desert expulsions, Algeria asked local journalists to observe the mass detention of migrants, claiming it was proof of their humane treatment. But journalists weren't permitted to travel beyond the detention centers where they are held before expulsion.