AP FACT CHECK: Trump blames Dems for border separations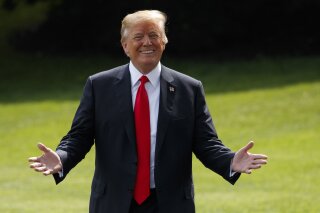 WASHINGTON (AP) — President Donald Trump is falsely claiming that "bad legislation passed by the Democrats" has forced his administration to separate children from their families at the border, even though no such law exists.
TRUMP'S TWEET
Trump tweeted Tuesday: "Separating families at the Border is the fault of bad legislation passed by the Democrats. Border Security laws should be changed but the Dems can't get their act together! Started the Wall."
THE FACTS
No law mandates that parents must be separated from their children at the border, and it's not a policy Democrats have pushed or can change alone as the minority in Congress.
Children are probably being separated from the parents at the border at an accelerated rate because of a new "zero tolerance policy" being implemented by Trump's own administration. Announced April 6 by Attorney General Jeff Sessions, the policy directs authorities to prosecute all instances of illegal border crossings, even against people with few or no previous offenses.
Administration officials are quick to note that Sessions' policy makes no mention of separating families. That is correct. But under U.S. protocol, if parents are jailed, their children are separated from them because the children aren't charged with a crime.
So while separating families might not be official U.S. policy, it is a direct consequence of Sessions' zero-tolerance approach. (Worth noting too is that John Kelly, now Trump's chief of staff, spoke in 2017 about possibly separating parents from children as a way to dissuade parents from trying to cross the border.)
According to U.S. Customs and Border Protection, more than 650 children were separated from parents at the border during a two-week period in May.
The U.N. human rights office has called on the Trump administration to "immediately halt" the separations, saying "detention is never in the best interests of the child and always constitutes a child rights violation."
Trump might be referring to a 2008 law passed unanimously by Congress and signed into law by Republican President George W. Bush, but that legislation is focused on children who illegally cross the border without a guardian, known as unaccompanied minors. That law calls for releasing children into the "least restrictive setting" — often to family or a government-run shelter — while their cases slowly wind through immigration court.
___
Find AP Fact Checks at http://apne.ws/2kbx8bd
Follow @APFactCheck on Twitter: https://twitter.com/APFactCheck