Plans unclear for reuniting separated immigrant children
1 of 11

|
Darwin Micheal Mejia, bottom center, and his mother, Beata Mariana de Jesus Mejia-Mejia, left, are escorted to a news conference following their reunion at Baltimore-Washington International Thurgood Marshall Airport, Friday, June 22, 2018, in Linthicum, Md. The Justice Department agreed to release Mejia-Mejia's son after she sued the U.S. government in order to be reunited following their separation at the U.S. border. She has filed for political asylum in the U.S. following a trek from Guatemala. (AP Photo/Patrick Semansky)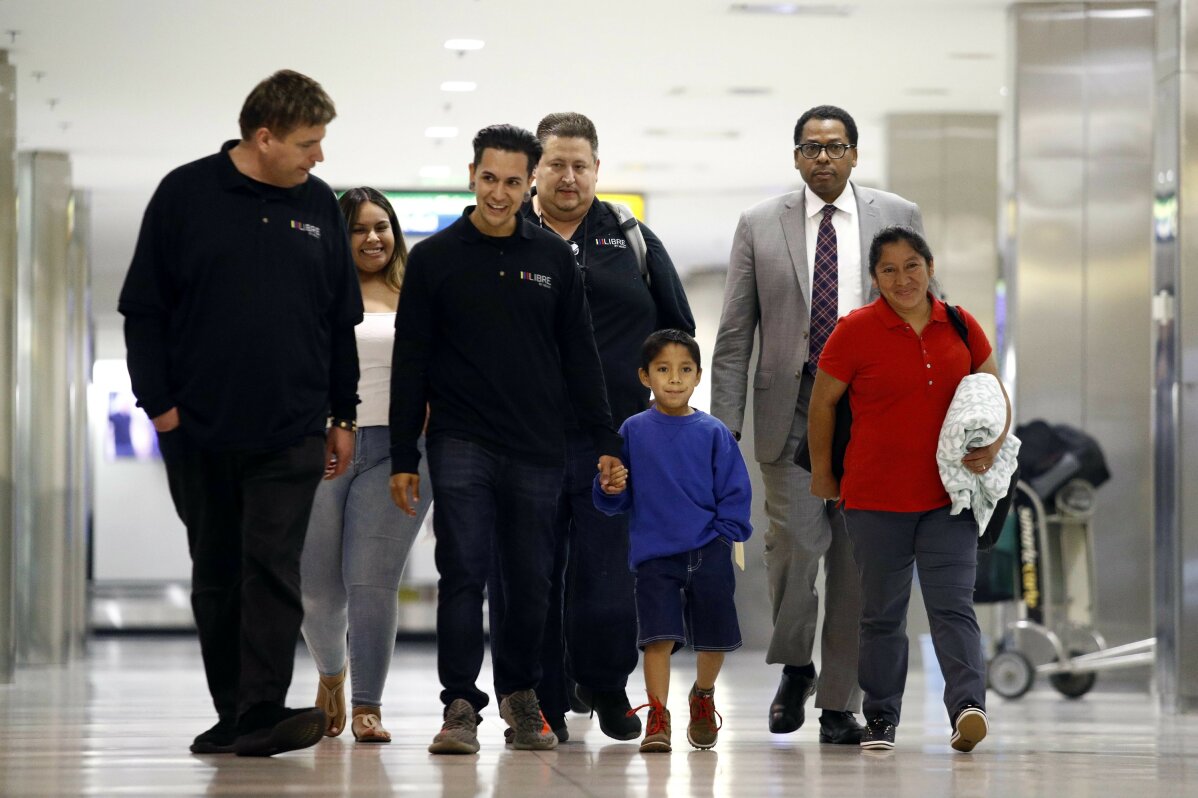 2 of 11

|
Darwin Micheal Mejia, third from right, and his mother, Beata Mariana de Jesus Mejia-Mejia, right, are escorted to a news conference after their reunion at Baltimore-Washington International Thurgood Marshall Airport, Friday, June 22, 2018, in Linthicum, Md. The Justice Department agreed to release Mejia-Mejia's son after she sued the U.S. government in order to be reunited following their separation at the U.S. border. She has filed for political asylum in the U.S. following a trek from Guatemala. (AP Photo/Patrick Semansky)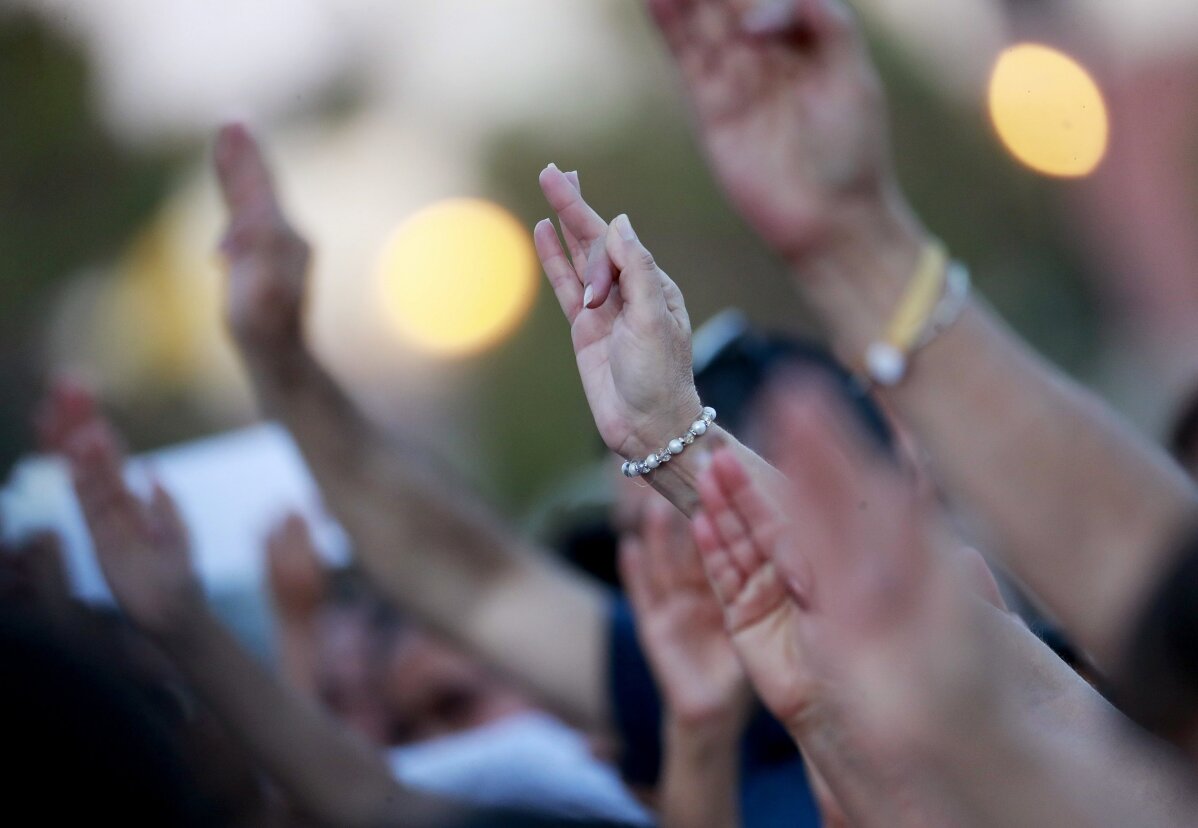 3 of 11

|
People gather at Saint Mark Catholic Church for a solidarity with migrants vigil, Thursday, June 21, 2018 in El Paso, Texas. President Donald Trump's order ending the policy of separating immigrant families at the border leaves a host of unanswered questions, including what happens to the more than 2,300 children already taken from their parents and where the government will house all the newly detained migrants in a system already bursting at the seams. (AP Photo/Matt York)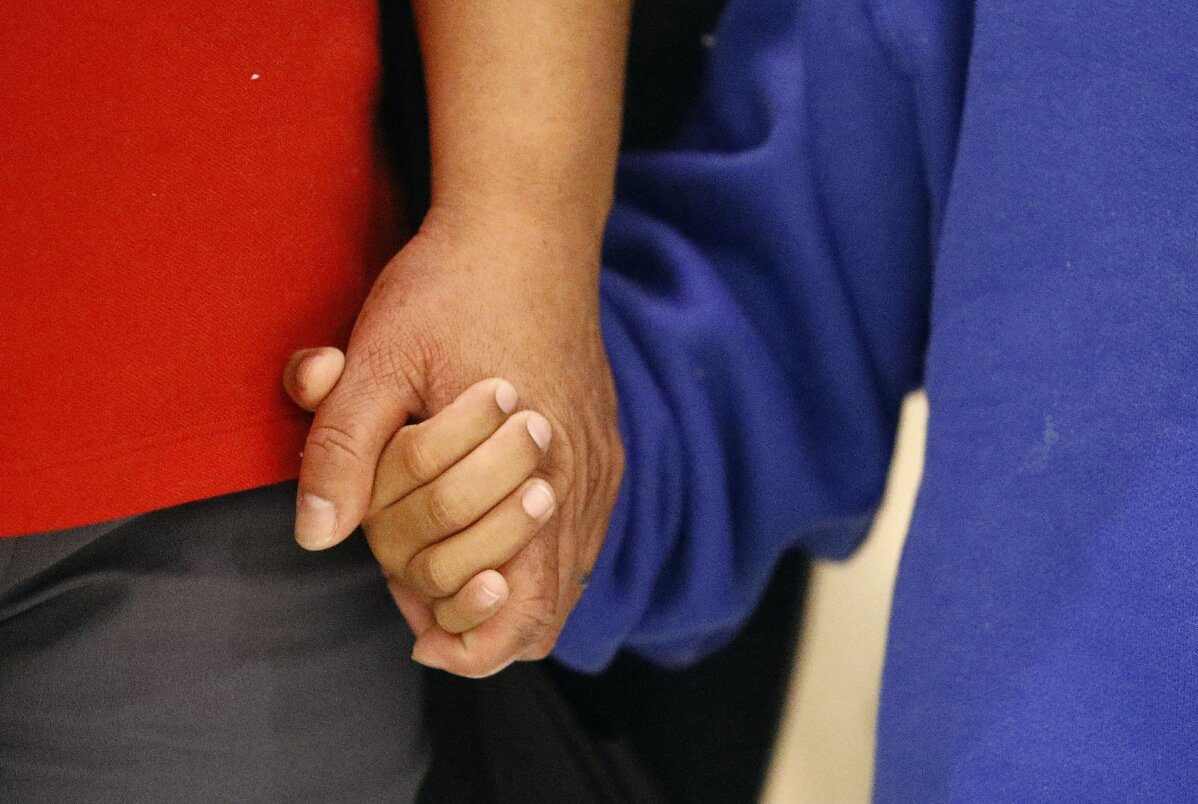 4 of 11

|
Darwin Micheal Mejia, right, holds hands with his mother, Beata Mariana de Jesus Mejia-Mejia, during a news conference after their reunion at Baltimore-Washington International Thurgood Marshall Airport, Friday, June 22, 2018, in Linthicum, Md. The Justice Department agreed to release Mejia-Mejia's son after she sued the U.S. government in order to be reunited following their separation at the U.S. border. She has filed for political asylum in the U.S. following a trek from Guatemala. (AP Photo/Patrick Semansky)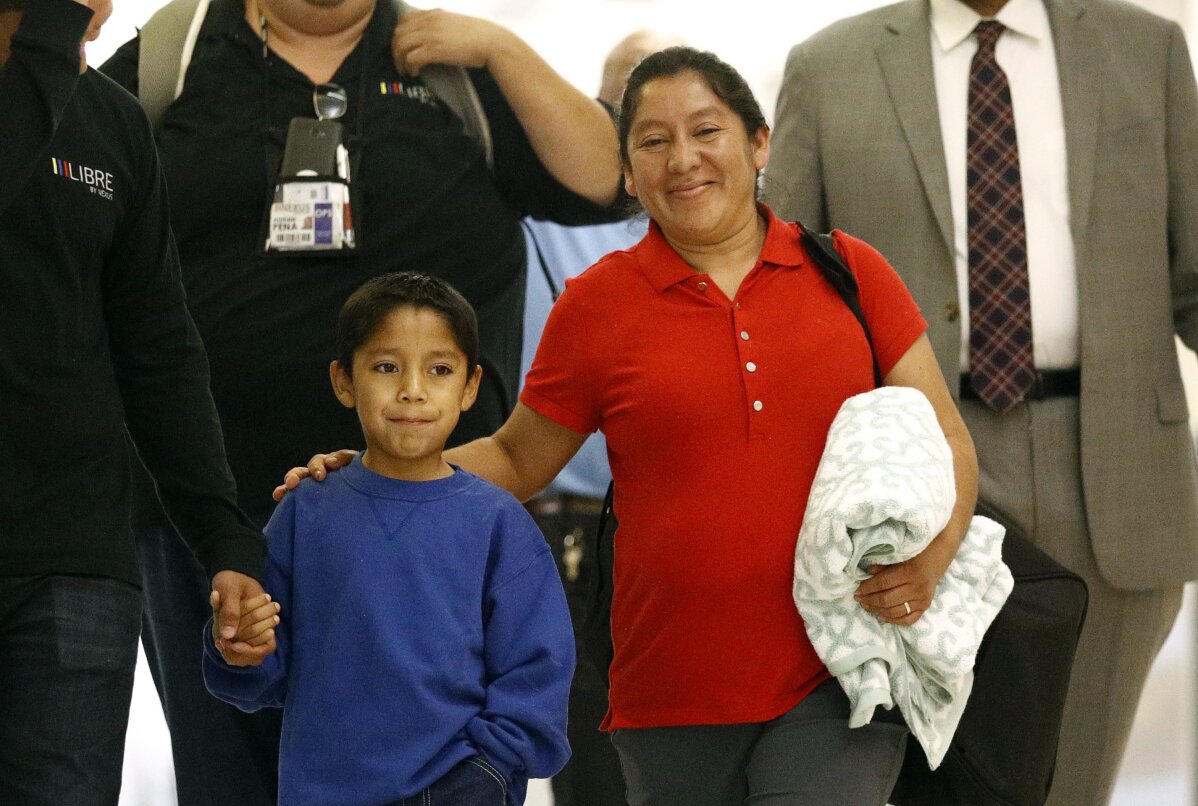 5 of 11

|
Darwin Micheal Mejia, left, and his mother Beata Mariana de Jesus Mejia-Mejia are escorted to a news conference after their reunion at Baltimore-Washington International Thurgood Marshall Airport, Friday, June 22, 2018, in Linthicum, Md. The Justice Department agreed to release Mejia-Mejia's son after she sued the U.S. government in order to be reunited following their separation at the U.S. border. She has filed for political asylum in the U.S. following a trek from Guatemala. (AP Photo/Patrick Semansky)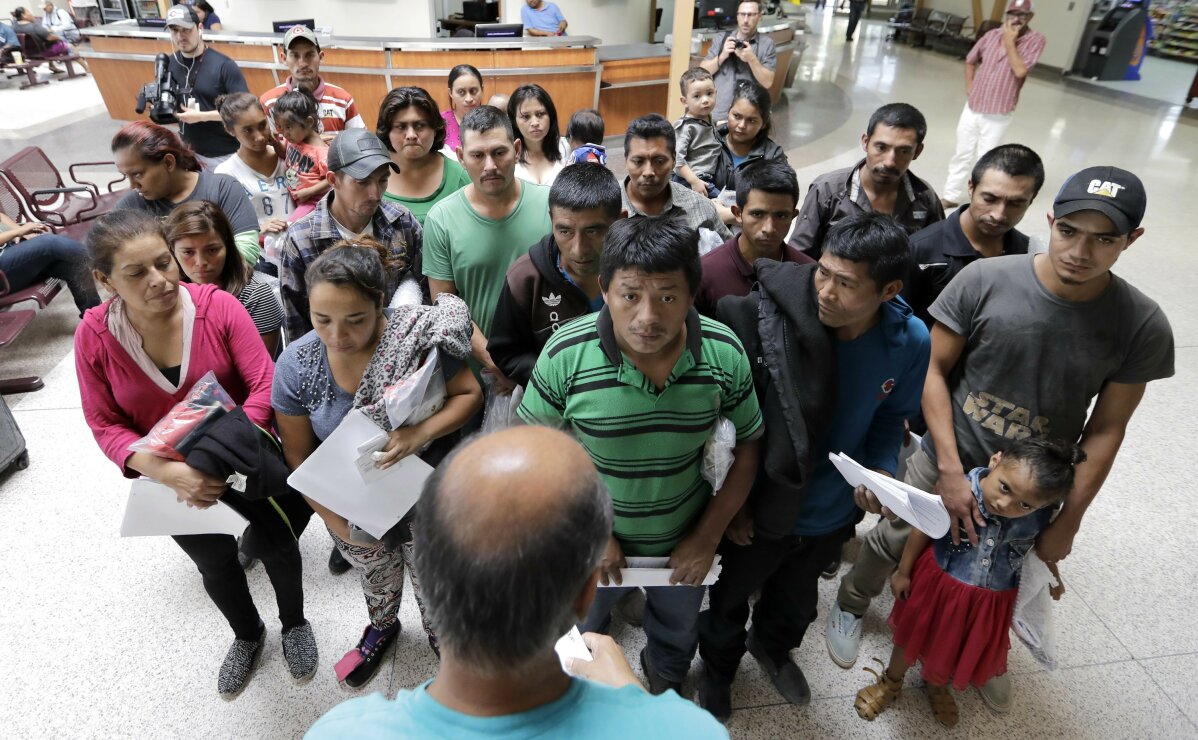 6 of 11

|
Immigrants listen to instructions from a volunteer inside the bus station after they were processed and released by U.S. Customs and Border Protection, Friday, June 22, 2018, in McAllen, Texas. (AP Photo/David J. Phillip)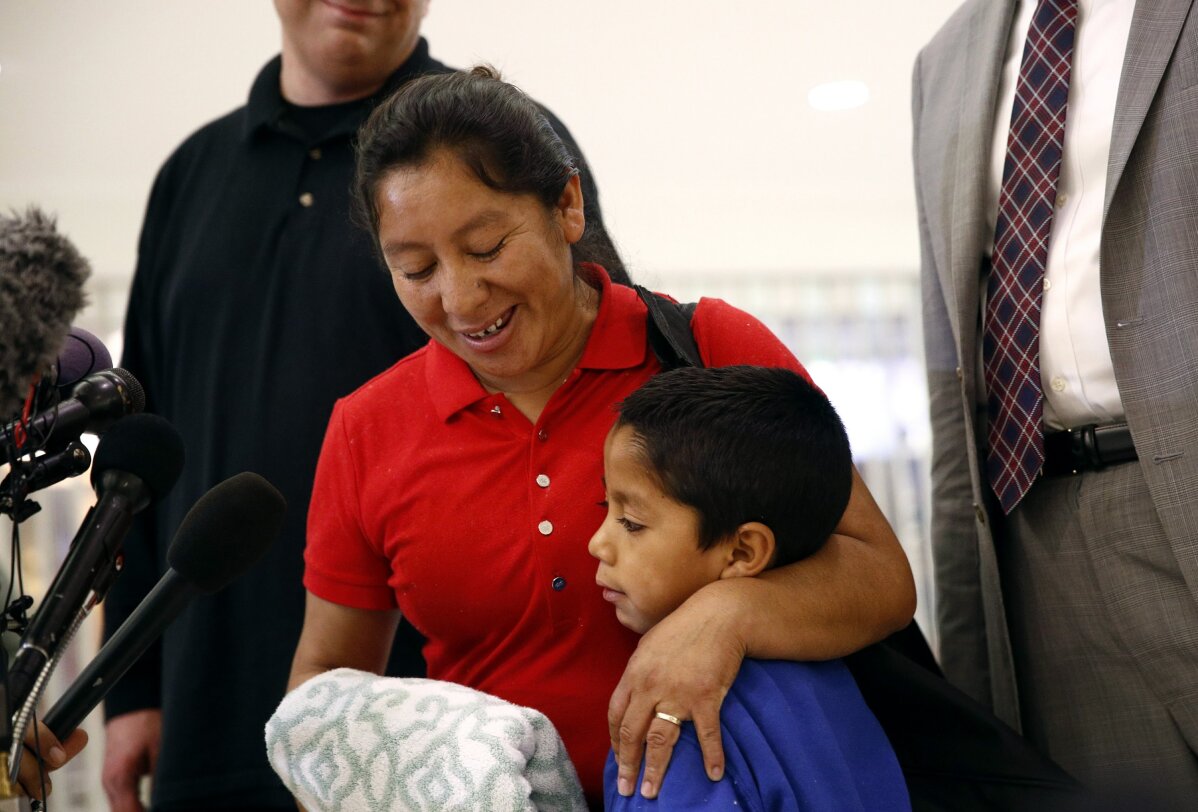 7 of 11

|
Beata Mariana de Jesus Mejia-Mejia, left, embraces her son Darwin Micheal Mejia as she speaks at a news conference following their reunion at Baltimore-Washington International Thurgood Marshall Airport, Friday, June 22, 2018, in Linthicum, Md. The Justice Department agreed to release Mejia-Mejia's son after she sued the U.S. government in order to be reunited following their separation at the U.S. border. She has filed for political asylum in the U.S. following a trek from Guatemala. (AP Photo/Patrick Semansky)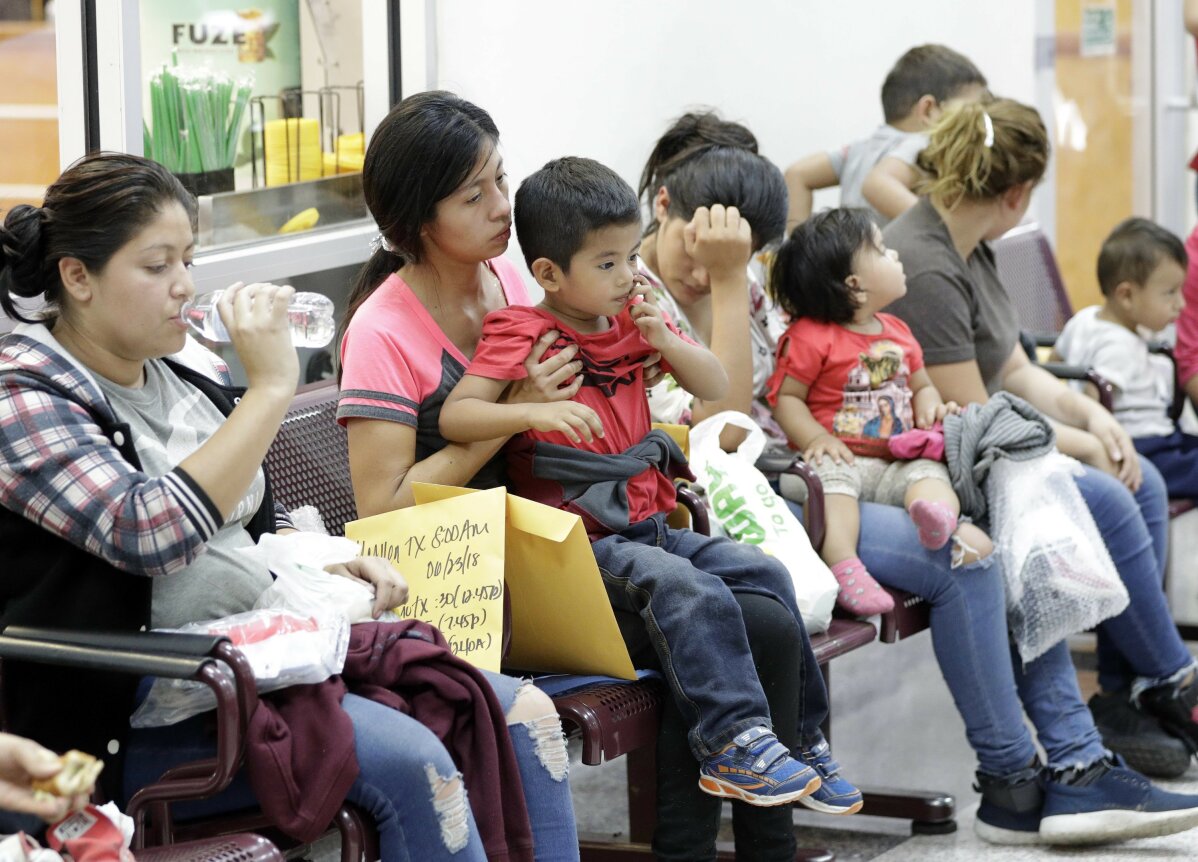 8 of 11

|
Immigrant women and children wait inside the bus station after they were processed and released by U.S. Customs and Border Protection, Friday, June 22, 2018, in McAllen, Texas. (AP Photo/David J. Phillip)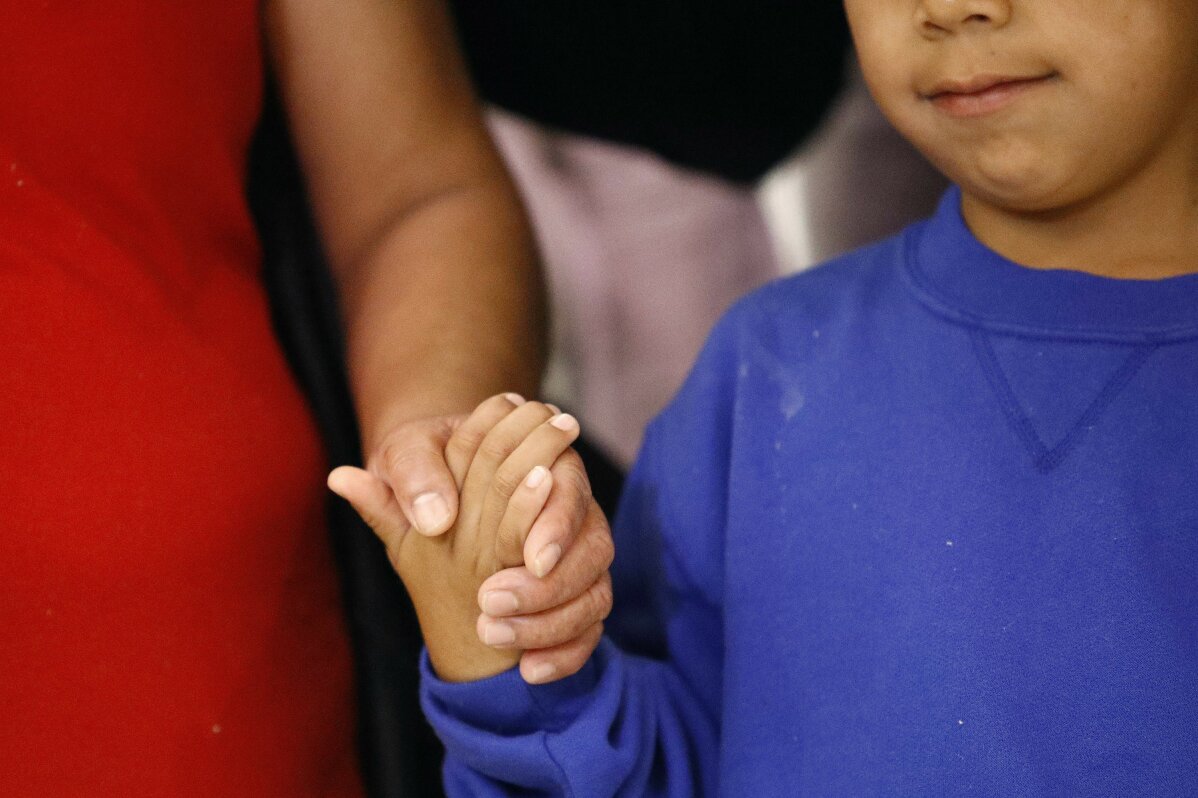 9 of 11

|
Darwin Micheal Mejia, right, holds hands with his mother, Beata Mariana de Jesus Mejia-Mejia, during a news conference following their reunion at Baltimore-Washington International Thurgood Marshall Airport, Friday, June 22, 2018, in Linthicum, Md. The Justice Department agreed to release Mejia-Mejia's son after she sued the U.S. government in order to be reunited following their separation at the U.S. border. She has filed for political asylum in the U.S. following a trek from Guatemala. (AP Photo/Patrick Semansky)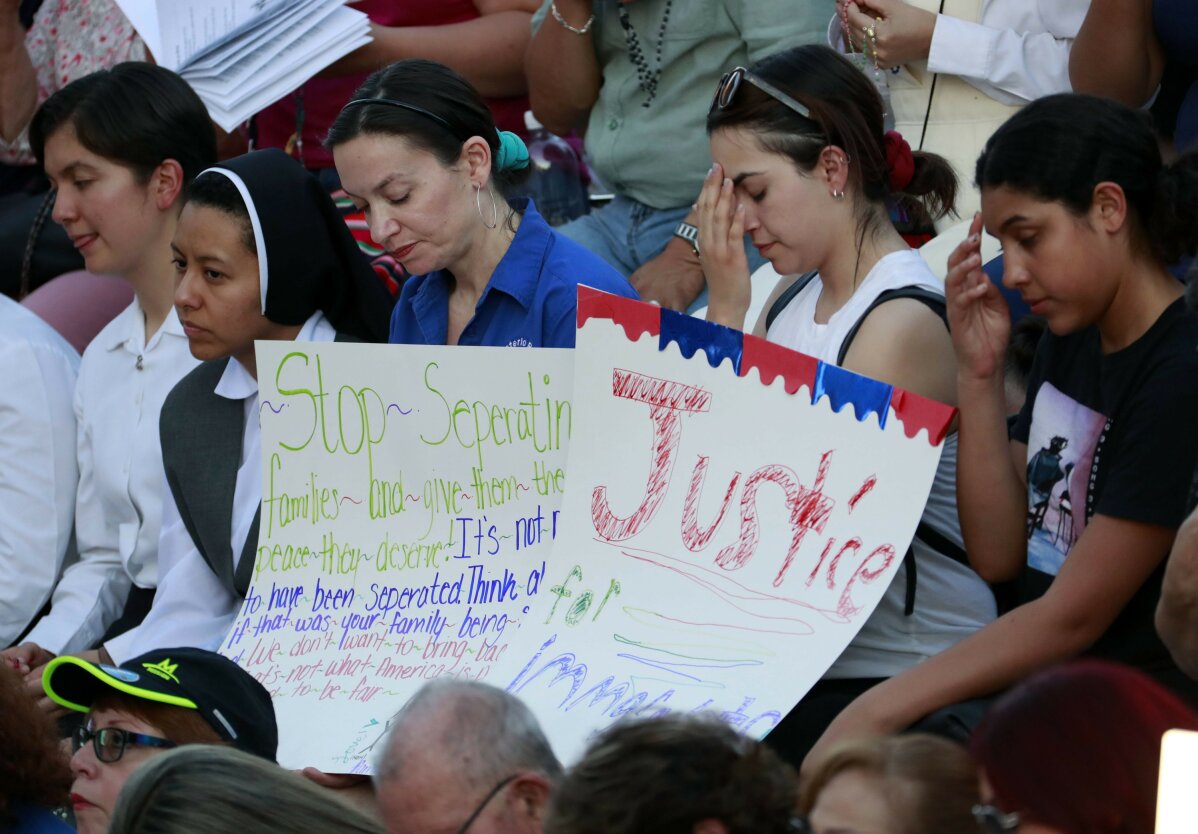 10 of 11

|
People gather at Saint Mark Catholic Church for a solidarity with migrants vigil, Thursday, June 21, 2018 in El Paso, Texas. President Donald Trump's order ending the policy of separating immigrant families at the border leaves a host of unanswered questions, including what happens to the more than 2,300 children already taken from their parents and where the government will house all the newly detained migrants in a system already bursting at the seams. (AP Photo/Matt York)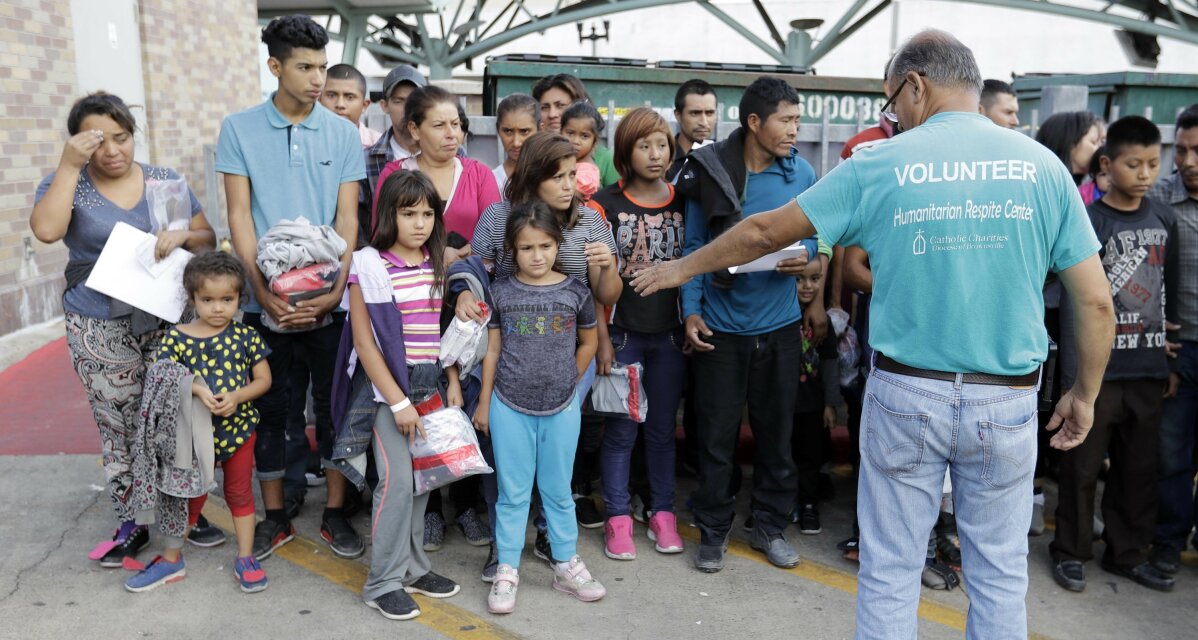 11 of 11

|
Immigrants are helped by a volunteer at the bus station after they were processed and released by U.S. Customs and Border Protection, Friday, June 22, 2018, in McAllen, Texas. (AP Photo/David J. Phillip)
Plans unclear for reuniting separated immigrant children
1 of 11

|
Darwin Micheal Mejia, bottom center, and his mother, Beata Mariana de Jesus Mejia-Mejia, left, are escorted to a news conference following their reunion at Baltimore-Washington International Thurgood Marshall Airport, Friday, June 22, 2018, in Linthicum, Md. The Justice Department agreed to release Mejia-Mejia's son after she sued the U.S. government in order to be reunited following their separation at the U.S. border. She has filed for political asylum in the U.S. following a trek from Guatemala. (AP Photo/Patrick Semansky)
1 of 11
Darwin Micheal Mejia, bottom center, and his mother, Beata Mariana de Jesus Mejia-Mejia, left, are escorted to a news conference following their reunion at Baltimore-Washington International Thurgood Marshall Airport, Friday, June 22, 2018, in Linthicum, Md. The Justice Department agreed to release Mejia-Mejia's son after she sued the U.S. government in order to be reunited following their separation at the U.S. border. She has filed for political asylum in the U.S. following a trek from Guatemala. (AP Photo/Patrick Semansky)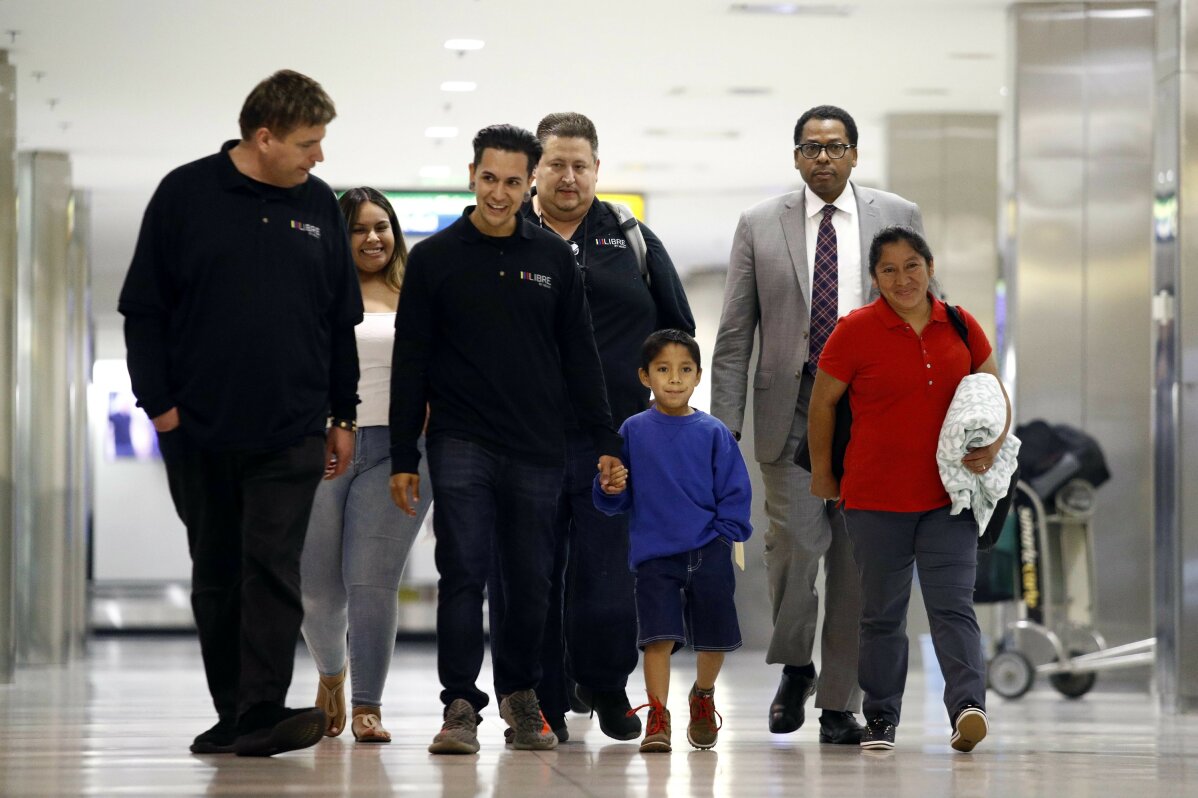 2 of 11

|
Darwin Micheal Mejia, third from right, and his mother, Beata Mariana de Jesus Mejia-Mejia, right, are escorted to a news conference after their reunion at Baltimore-Washington International Thurgood Marshall Airport, Friday, June 22, 2018, in Linthicum, Md. The Justice Department agreed to release Mejia-Mejia's son after she sued the U.S. government in order to be reunited following their separation at the U.S. border. She has filed for political asylum in the U.S. following a trek from Guatemala. (AP Photo/Patrick Semansky)
2 of 11
Darwin Micheal Mejia, third from right, and his mother, Beata Mariana de Jesus Mejia-Mejia, right, are escorted to a news conference after their reunion at Baltimore-Washington International Thurgood Marshall Airport, Friday, June 22, 2018, in Linthicum, Md. The Justice Department agreed to release Mejia-Mejia's son after she sued the U.S. government in order to be reunited following their separation at the U.S. border. She has filed for political asylum in the U.S. following a trek from Guatemala. (AP Photo/Patrick Semansky)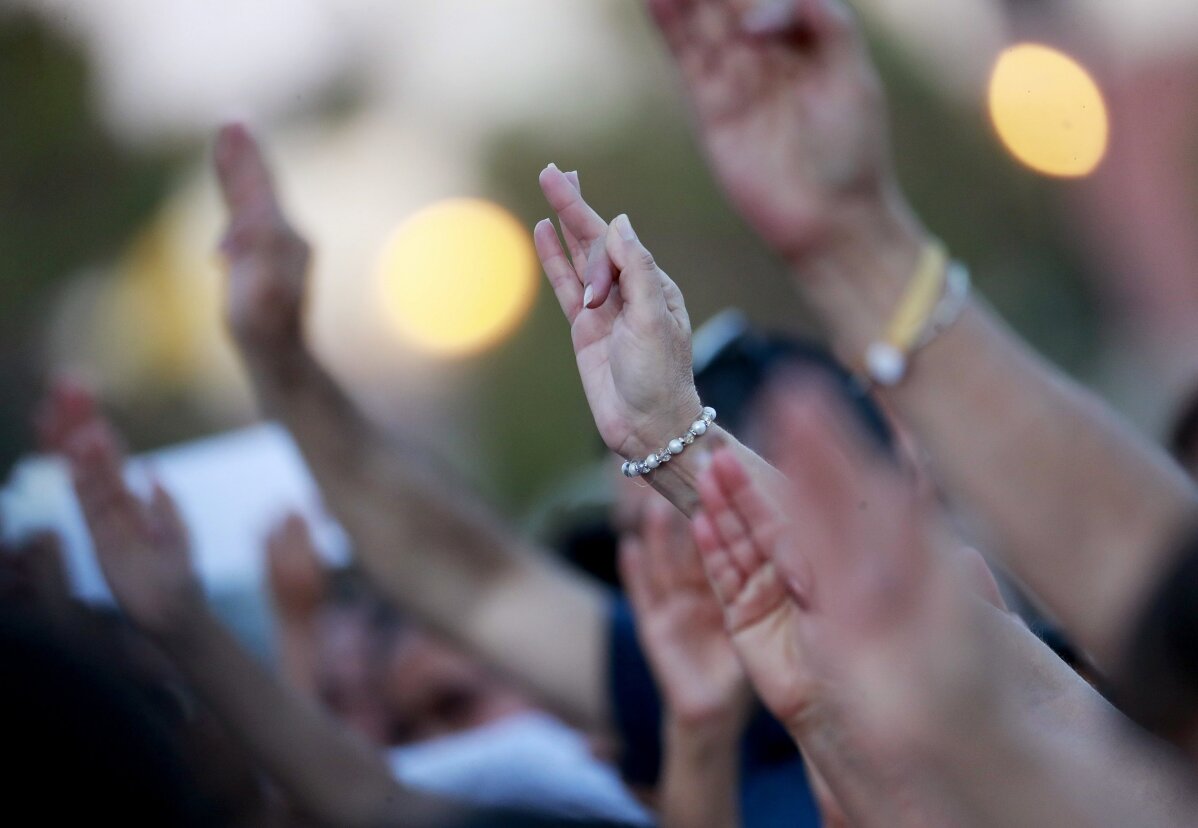 3 of 11

|
People gather at Saint Mark Catholic Church for a solidarity with migrants vigil, Thursday, June 21, 2018 in El Paso, Texas. President Donald Trump's order ending the policy of separating immigrant families at the border leaves a host of unanswered questions, including what happens to the more than 2,300 children already taken from their parents and where the government will house all the newly detained migrants in a system already bursting at the seams. (AP Photo/Matt York)
3 of 11
People gather at Saint Mark Catholic Church for a solidarity with migrants vigil, Thursday, June 21, 2018 in El Paso, Texas. President Donald Trump's order ending the policy of separating immigrant families at the border leaves a host of unanswered questions, including what happens to the more than 2,300 children already taken from their parents and where the government will house all the newly detained migrants in a system already bursting at the seams. (AP Photo/Matt York)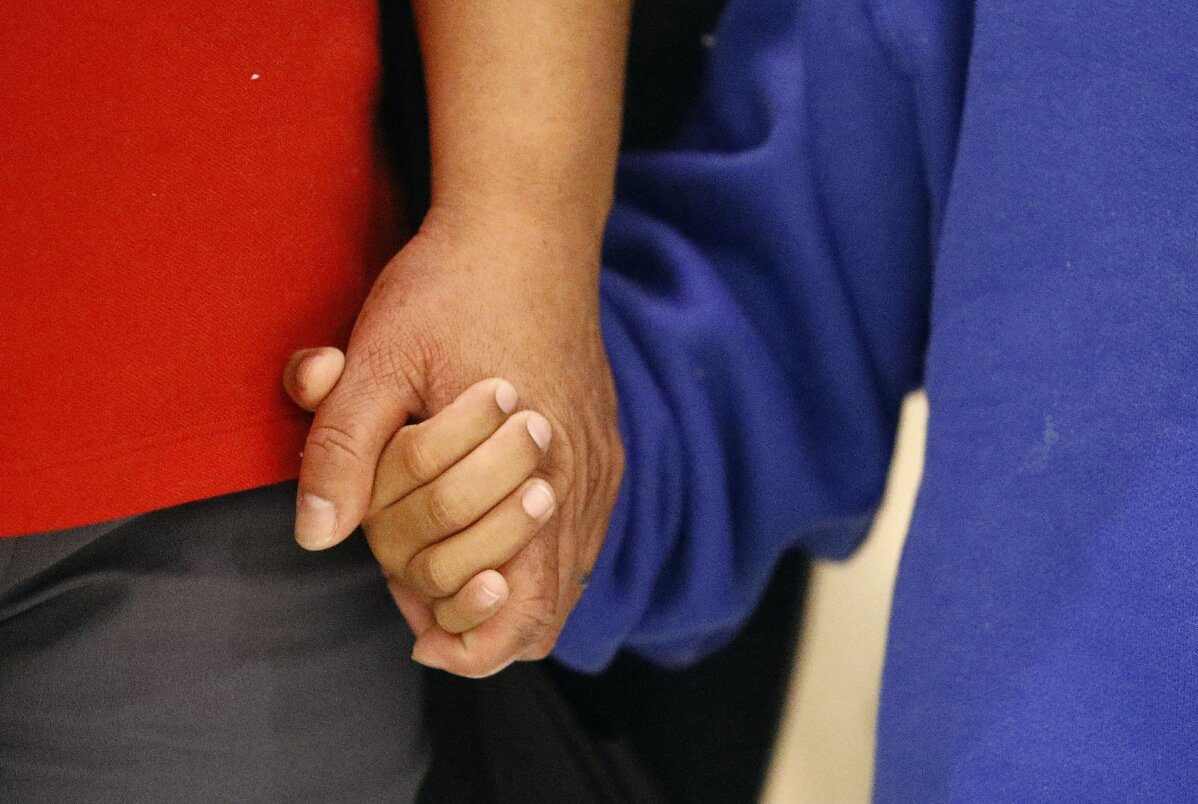 4 of 11

|
Darwin Micheal Mejia, right, holds hands with his mother, Beata Mariana de Jesus Mejia-Mejia, during a news conference after their reunion at Baltimore-Washington International Thurgood Marshall Airport, Friday, June 22, 2018, in Linthicum, Md. The Justice Department agreed to release Mejia-Mejia's son after she sued the U.S. government in order to be reunited following their separation at the U.S. border. She has filed for political asylum in the U.S. following a trek from Guatemala. (AP Photo/Patrick Semansky)
4 of 11
Darwin Micheal Mejia, right, holds hands with his mother, Beata Mariana de Jesus Mejia-Mejia, during a news conference after their reunion at Baltimore-Washington International Thurgood Marshall Airport, Friday, June 22, 2018, in Linthicum, Md. The Justice Department agreed to release Mejia-Mejia's son after she sued the U.S. government in order to be reunited following their separation at the U.S. border. She has filed for political asylum in the U.S. following a trek from Guatemala. (AP Photo/Patrick Semansky)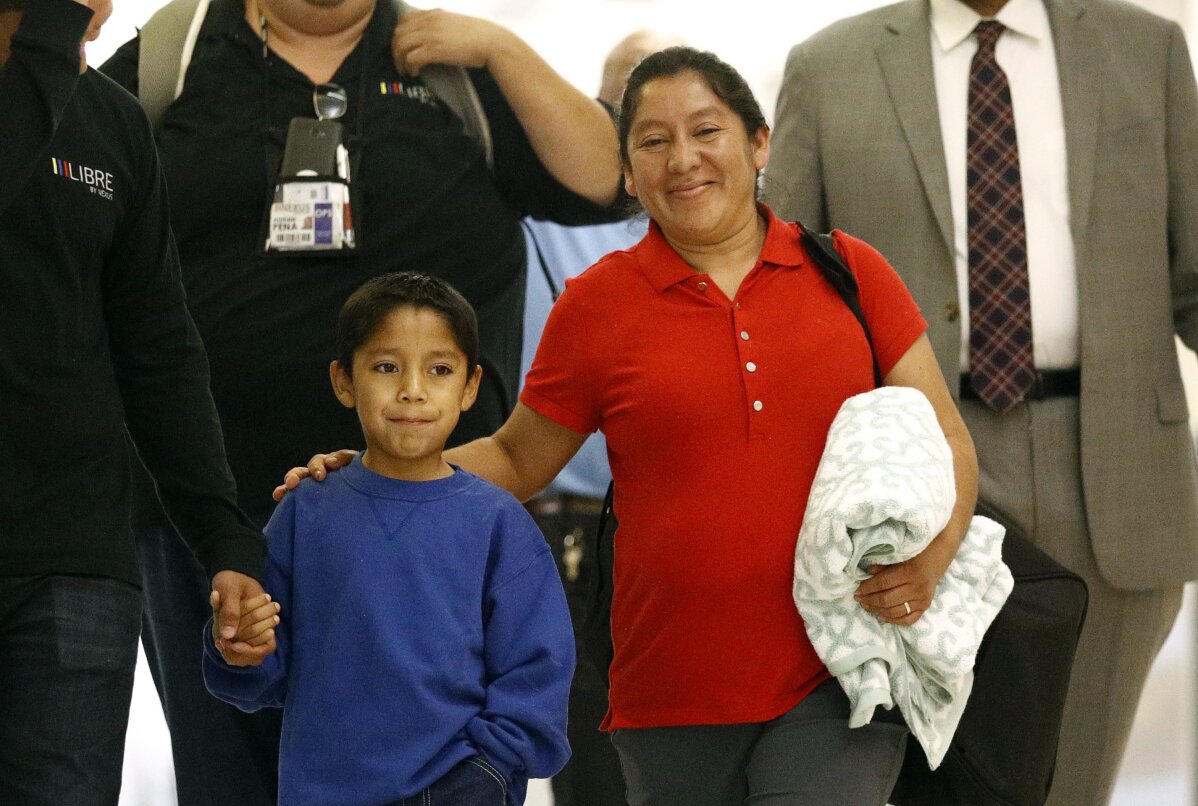 5 of 11

|
Darwin Micheal Mejia, left, and his mother Beata Mariana de Jesus Mejia-Mejia are escorted to a news conference after their reunion at Baltimore-Washington International Thurgood Marshall Airport, Friday, June 22, 2018, in Linthicum, Md. The Justice Department agreed to release Mejia-Mejia's son after she sued the U.S. government in order to be reunited following their separation at the U.S. border. She has filed for political asylum in the U.S. following a trek from Guatemala. (AP Photo/Patrick Semansky)
5 of 11
Darwin Micheal Mejia, left, and his mother Beata Mariana de Jesus Mejia-Mejia are escorted to a news conference after their reunion at Baltimore-Washington International Thurgood Marshall Airport, Friday, June 22, 2018, in Linthicum, Md. The Justice Department agreed to release Mejia-Mejia's son after she sued the U.S. government in order to be reunited following their separation at the U.S. border. She has filed for political asylum in the U.S. following a trek from Guatemala. (AP Photo/Patrick Semansky)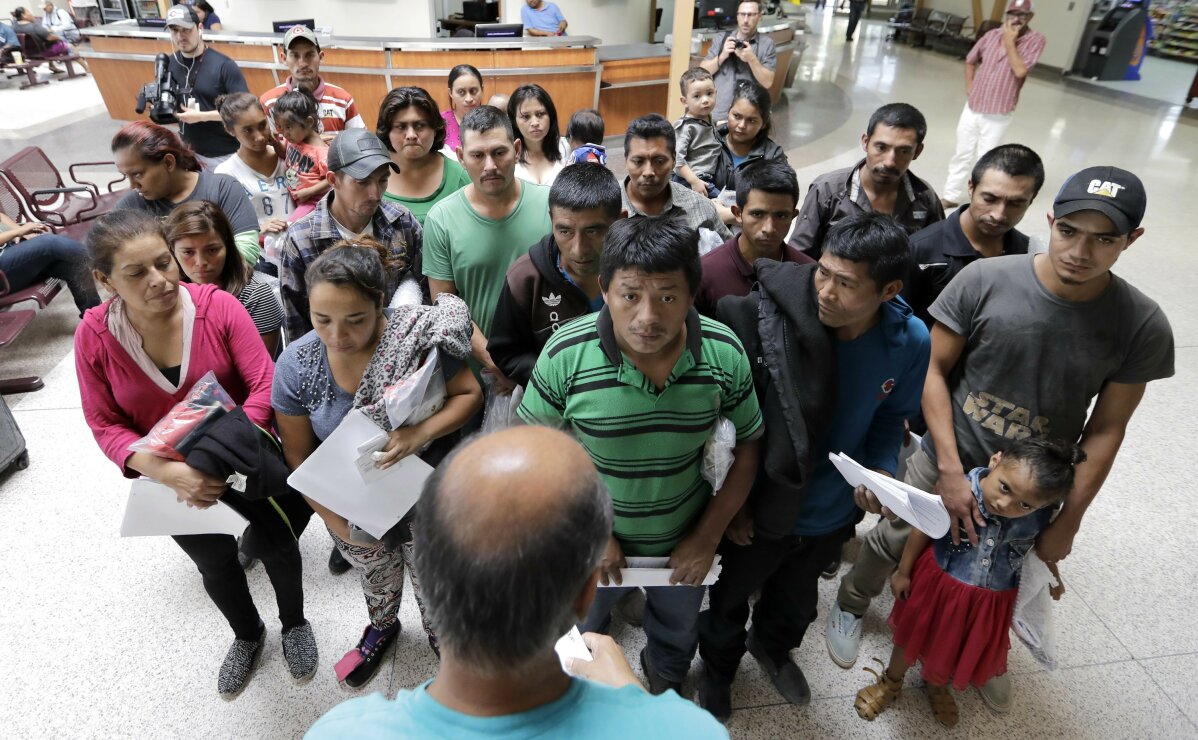 6 of 11

|
Immigrants listen to instructions from a volunteer inside the bus station after they were processed and released by U.S. Customs and Border Protection, Friday, June 22, 2018, in McAllen, Texas. (AP Photo/David J. Phillip)
6 of 11
Immigrants listen to instructions from a volunteer inside the bus station after they were processed and released by U.S. Customs and Border Protection, Friday, June 22, 2018, in McAllen, Texas. (AP Photo/David J. Phillip)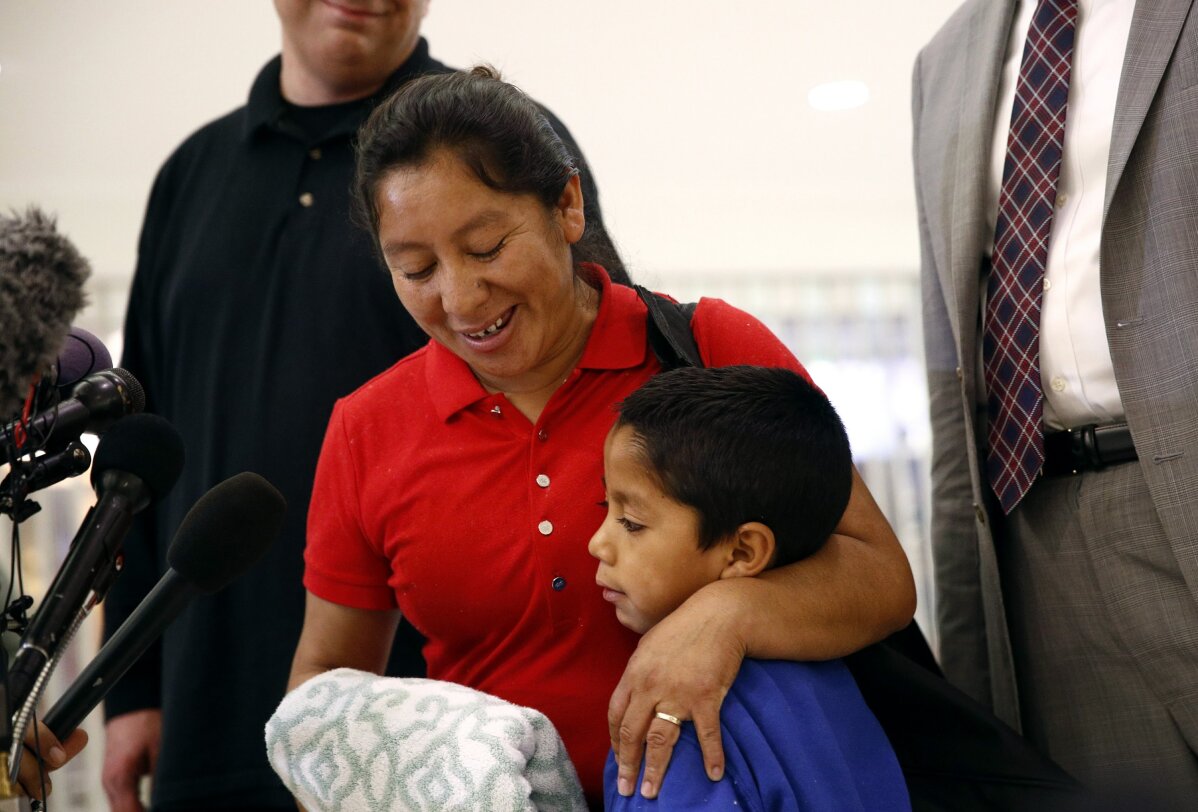 7 of 11

|
Beata Mariana de Jesus Mejia-Mejia, left, embraces her son Darwin Micheal Mejia as she speaks at a news conference following their reunion at Baltimore-Washington International Thurgood Marshall Airport, Friday, June 22, 2018, in Linthicum, Md. The Justice Department agreed to release Mejia-Mejia's son after she sued the U.S. government in order to be reunited following their separation at the U.S. border. She has filed for political asylum in the U.S. following a trek from Guatemala. (AP Photo/Patrick Semansky)
7 of 11
Beata Mariana de Jesus Mejia-Mejia, left, embraces her son Darwin Micheal Mejia as she speaks at a news conference following their reunion at Baltimore-Washington International Thurgood Marshall Airport, Friday, June 22, 2018, in Linthicum, Md. The Justice Department agreed to release Mejia-Mejia's son after she sued the U.S. government in order to be reunited following their separation at the U.S. border. She has filed for political asylum in the U.S. following a trek from Guatemala. (AP Photo/Patrick Semansky)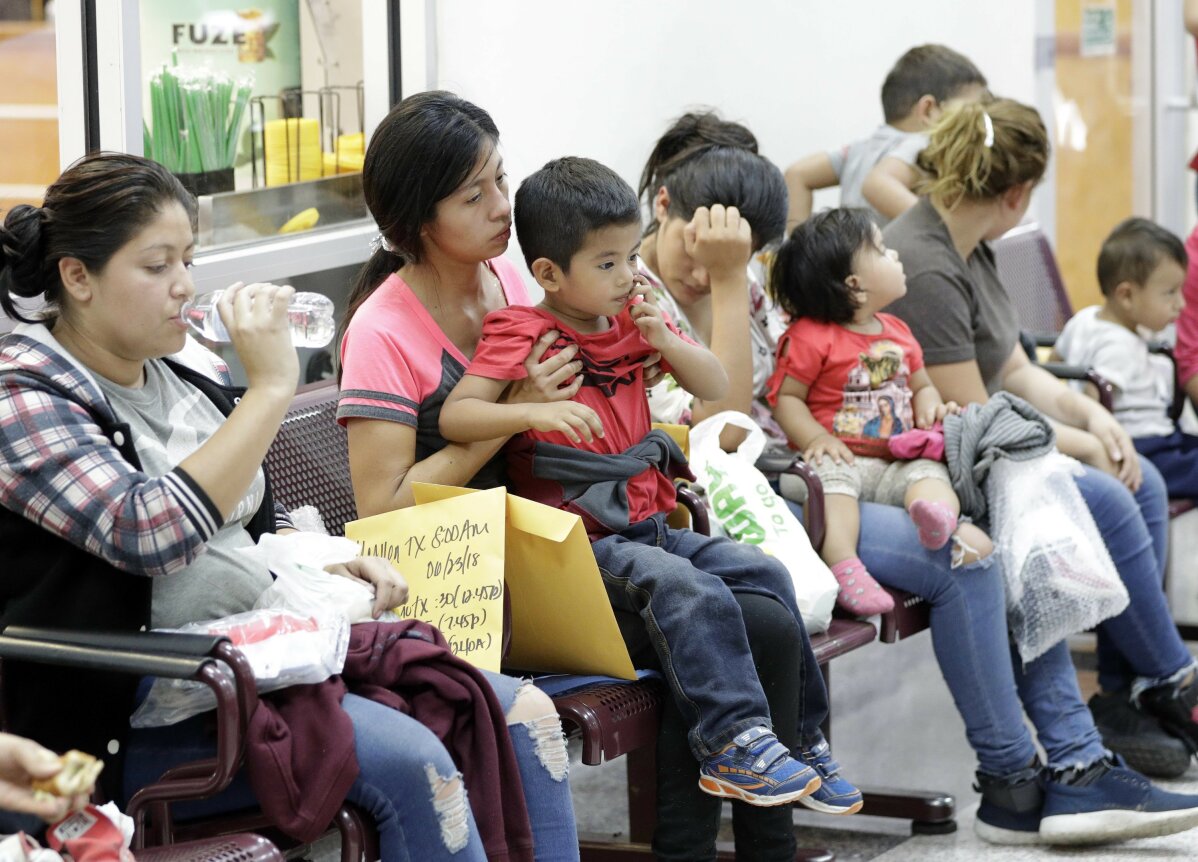 8 of 11

|
Immigrant women and children wait inside the bus station after they were processed and released by U.S. Customs and Border Protection, Friday, June 22, 2018, in McAllen, Texas. (AP Photo/David J. Phillip)
8 of 11
Immigrant women and children wait inside the bus station after they were processed and released by U.S. Customs and Border Protection, Friday, June 22, 2018, in McAllen, Texas. (AP Photo/David J. Phillip)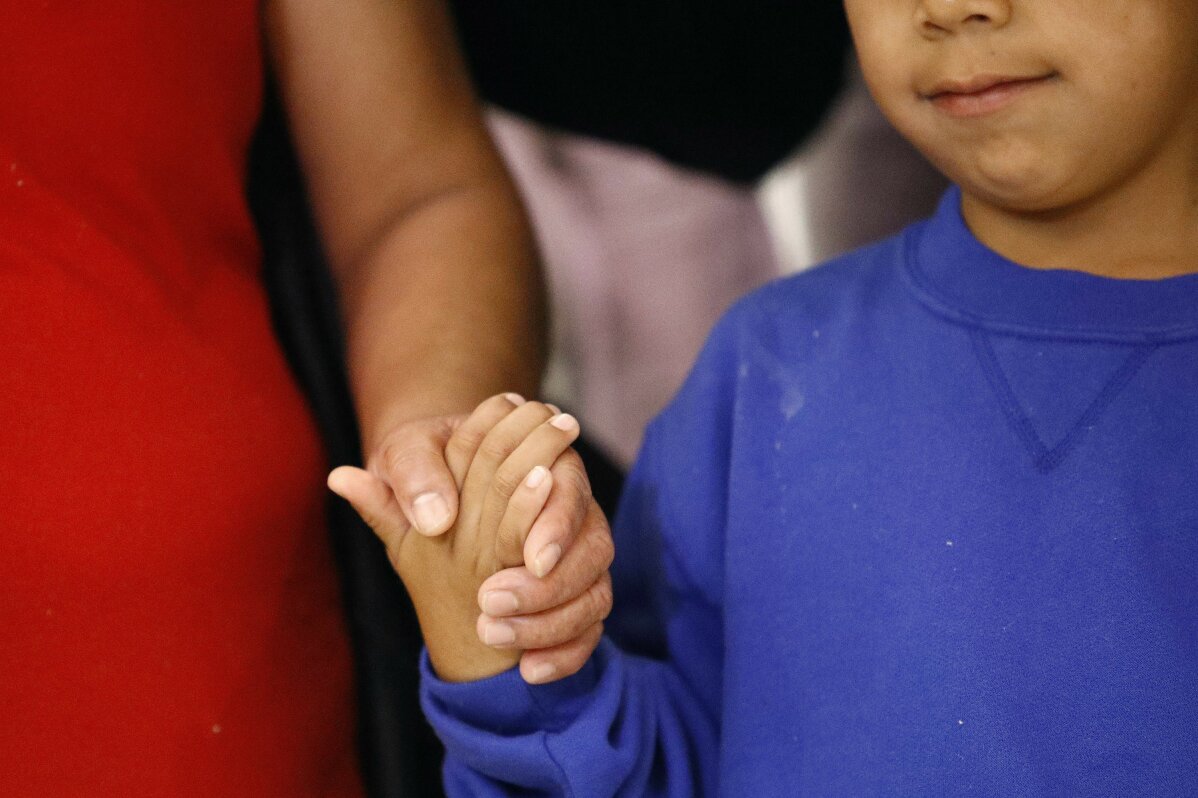 9 of 11

|
Darwin Micheal Mejia, right, holds hands with his mother, Beata Mariana de Jesus Mejia-Mejia, during a news conference following their reunion at Baltimore-Washington International Thurgood Marshall Airport, Friday, June 22, 2018, in Linthicum, Md. The Justice Department agreed to release Mejia-Mejia's son after she sued the U.S. government in order to be reunited following their separation at the U.S. border. She has filed for political asylum in the U.S. following a trek from Guatemala. (AP Photo/Patrick Semansky)
9 of 11
Darwin Micheal Mejia, right, holds hands with his mother, Beata Mariana de Jesus Mejia-Mejia, during a news conference following their reunion at Baltimore-Washington International Thurgood Marshall Airport, Friday, June 22, 2018, in Linthicum, Md. The Justice Department agreed to release Mejia-Mejia's son after she sued the U.S. government in order to be reunited following their separation at the U.S. border. She has filed for political asylum in the U.S. following a trek from Guatemala. (AP Photo/Patrick Semansky)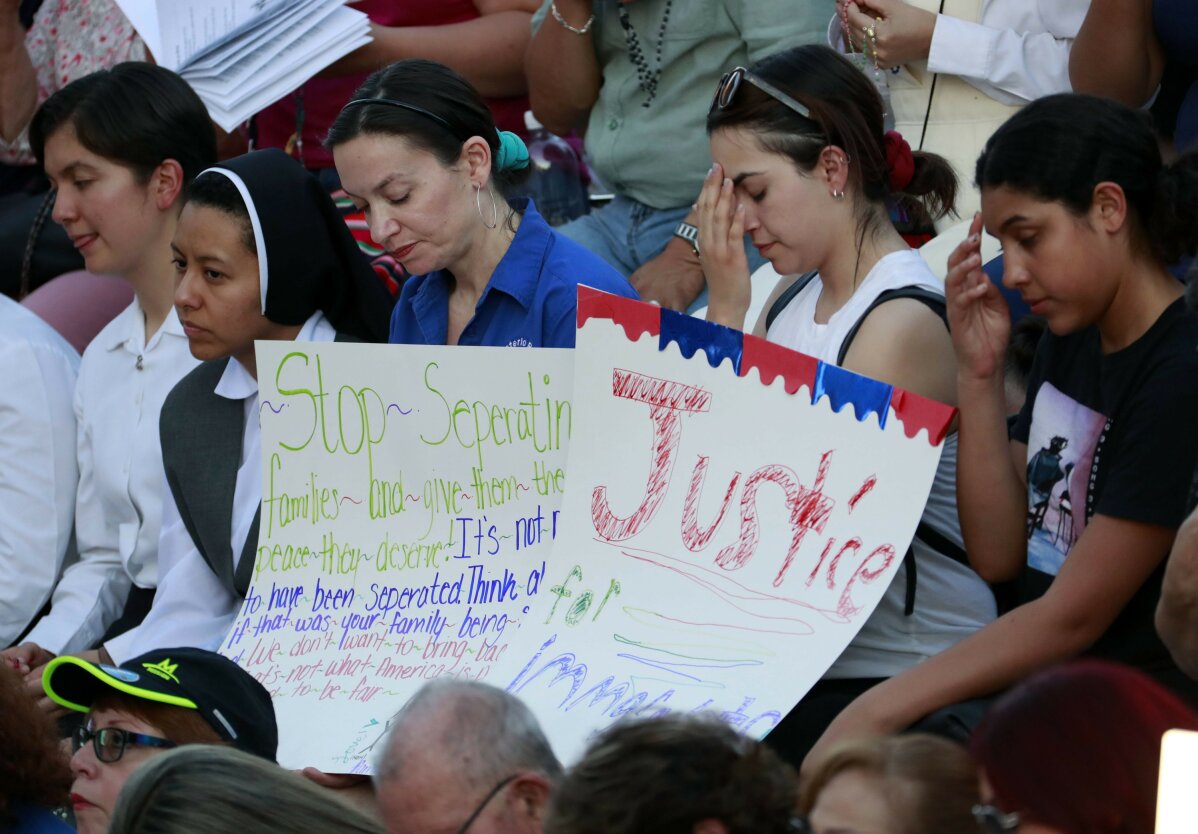 10 of 11

|
People gather at Saint Mark Catholic Church for a solidarity with migrants vigil, Thursday, June 21, 2018 in El Paso, Texas. President Donald Trump's order ending the policy of separating immigrant families at the border leaves a host of unanswered questions, including what happens to the more than 2,300 children already taken from their parents and where the government will house all the newly detained migrants in a system already bursting at the seams. (AP Photo/Matt York)
10 of 11
People gather at Saint Mark Catholic Church for a solidarity with migrants vigil, Thursday, June 21, 2018 in El Paso, Texas. President Donald Trump's order ending the policy of separating immigrant families at the border leaves a host of unanswered questions, including what happens to the more than 2,300 children already taken from their parents and where the government will house all the newly detained migrants in a system already bursting at the seams. (AP Photo/Matt York)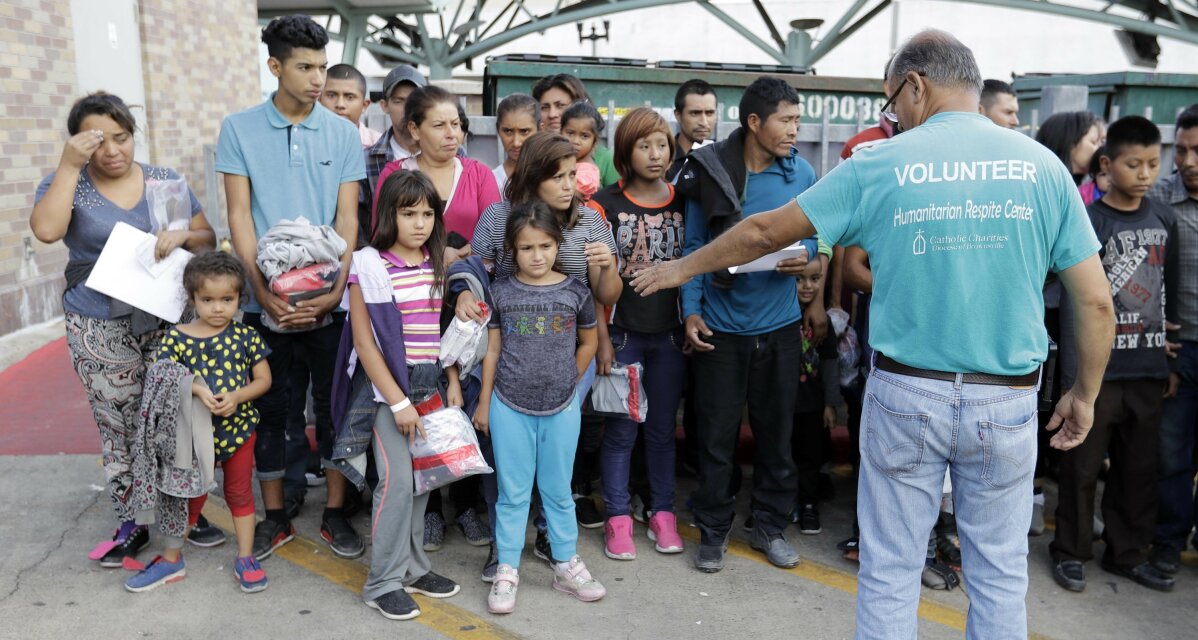 11 of 11

|
Immigrants are helped by a volunteer at the bus station after they were processed and released by U.S. Customs and Border Protection, Friday, June 22, 2018, in McAllen, Texas. (AP Photo/David J. Phillip)
11 of 11
Immigrants are helped by a volunteer at the bus station after they were processed and released by U.S. Customs and Border Protection, Friday, June 22, 2018, in McAllen, Texas. (AP Photo/David J. Phillip)
McALLEN, Texas (AP) — Two days after President Donald Trump ordered an end to the separation of families at the border, federal authorities Friday cast about for jail space to detain them together, leaving hundreds of parents in the dark on when they would be reunited with their children.
Immigration and Customs Enforcement posted a notice saying it is looking into creating 15,000 beds for use in detaining immigrant families. A day earlier, the Pentagon agreed to provide space for as many as 20,000 migrants on U.S. military bases.
Beyond that, however, there was nothing but frustration and worry for many of the parents separated from their children and placed in detention centers for illegally entering the country over the past several weeks.
Some parents struggled to get in touch with youngsters being held in many cases hundreds of miles away, in places like New York and the Chicago area. Some said they didn't even know where their children were.
Trump himself took a hard line on the crisis, accusing the Democrats of telling "phony stories of sadness and grief." He met with parents who had children killed by immigrants in the country illegally to make the point that they are the real victims of weak borders.
"We cannot allow our country to be overrun by illegal immigrants," the president tweeted.
More than 2,300 children were taken from their families at the border in recent weeks. A senior Trump administration official said that about 500 of them have been reunited since May.
Trump's decision to stop separating families, announced Wednesday after a fierce international outcry, has led to confusion and uncertainty along the border.
Federal agencies are working to set up a centralized reunification process for all remaining children at a detention center in Texas, said the senior administration official, who was not authorized to discuss the matter publicly and spoke to The Associated Press on condition of anonymity.
An ICE official said it is unclear how families will be reunified.
"It's a big question. There have not been a lot of answers," Henry Lucero, a director of field operations, confessed at a forum in Weslaco, Texas.
Lucero said family reunification isn't new to the agency but the numbers are larger now. Parents are first asked if they wish to reunite and often elect to leave their children in the U.S. with caretakers.
In the meantime, federal authorities appear to be easing up on the Trump administration's "zero tolerance" policy of prosecuting all adults caught illegally entering the U.S. — though the Justice Department flatly denied there has been any change.
The federal public defender's office for the region that covers El Paso to San Antonio said in an email that prosecutors will no longer charge parents with illegally entering the U.S. if they have children with them.
Outside the federal courthouse in McAllen, immigration attorney Efren Olivares said 67 people were charged Friday morning with illegal entry, but none were parents with children. He said it was the first time since May 24 that that happened in McAllen.
"It appears that this is a consequence of a change in policy by the government," he said.
In Arizona, the federal public defender's office in Tucson quickly put together a legal education class for attorneys and advocates on how to handle cases of separated families. The course was put together quickly to help attorneys understand what they can do to help.
Amid the chaos over the zero-tolerance policy, many immigrants continue to seek asylum at the border, and they are typically allowed to stay with their children.
Maria Del Carmen Barrios, 33, said she, her 15-year-old sister and her 6-month old baby boy fled violence in their native San Marcos in Guatemala. After a 13-day journey, she said the trio presented themselves for asylum this week with Border Patrol. Barrios was never separated from her son, but that her sister was taken to another part of the facility and hadn't been heard from since.
Barrios and her son were released to the McAllen bus station Friday with an ankle monitor and an order to appear in court.
Asked if she was relieved to be free, Barrios broke down crying. "No because of my sister," she sobbed. "She was there with me but they separated us."
ICE has only three facilities nationwide — two in Texas, one in Pennsylvania — that can be used to detain immigrant families, and they have a combined 3,300 beds.
The one in Dilley, Texas, opened in 2015 on a remote site that was once an encampment for oil workers. It contains collections of cottages built around playgrounds and common areas, but also has high security.
Finding space is not the only hurdle: Under a 1997 court settlement that the Trump administration is trying to overturn, children can be held with their parents in detention centers for no more than 20 days.
Zenen Jaimes Perez of the Texas Civil Rights Project said immigrant families are still awaiting details from the administration on how parents and children are to be reunited.
"It could take a couple of months, a couple of days ... but we don't have timelines," Jaimes Perez said. "What we need to hear is what the administration says this process is going to look like, because we don't know."
The group has been interviewing migrants each morning at the McAllen courthouse and entering information into a database to help keep track of parents and children held in different facilities, sometimes scattered around the country.
Olivares said it is difficult for government agencies to reunite immigrant families once they are separated because the systems that process adults and those that handle youngsters often don't communicate with each other.
Adults accused of immigration offenses are under the authority of the Homeland Security Department, while children taken from their parents are overseen by Health and Human Services.
Meanwhile, a 7-year-old boy and his mother, separated a month ago, were reunited Friday after she sued in federal court and the Justice Department agreed to release the child.
They were brought back together around 2:30 a.m. at Baltimore-Washington International Airport in Maryland, hours after the government relented.
The mother, Beata Mariana de Jesus Mejia-Mejia, had filed for political asylum after crossing the border with her son, Darwin, following a trek from Guatemala. She said that she cried when the two were reunited and that she is never going to be away from him again.
But a 31-year-old Brazilian man held in Cibola County Correctional Center in Milan, New Mexico, said he didn't know when he would see his 9-year-old son again.
The father told the AP in a phone interview that he spoke to his son once by phone since they were separated 26 days earlier. The man, who is seeking asylum, spoke on condition of anonymity because, he said, a gang is looking for him in Brazil for failure to pay an $8,000 debt.
On Capitol Hill, in yet another abrupt reversal by the president, Trump on Friday told fellow Republicans in Congress to "stop wasting their time" on immigration legislation until after the November elections.
___
Long reported from Washington, Taxin from Santa Ana, California. Associated Press writers Elliot Spagat in Weslaco, Texas; Pauline Arrillaga in Phoenix; Astrid Galvan in Phoenix; and Nomaan Merchant in McAllen, Texas, contributed to this report.
___
See AP's complete coverage of the debate over the Trump administration's policy of family separation at the border: https://apnews.com/tag/Immigration