The Latest: Michael still a hurricane hours after landfall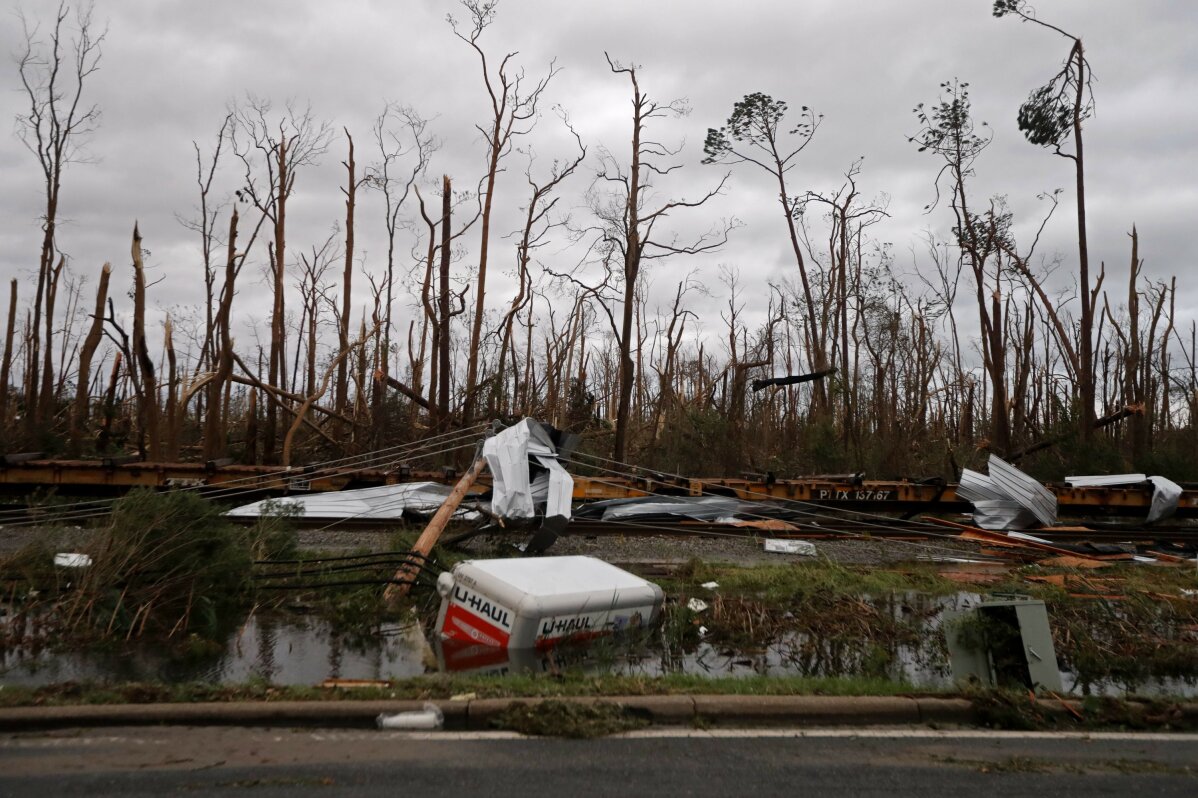 1 of 39

|
Shredded trees, derailed train cars and a sunken trailer are seen in the aftermath of Hurricane Michael in Panama City, Fla., Wednesday, Oct. 10, 2018. (AP Photo/Gerald Herbert)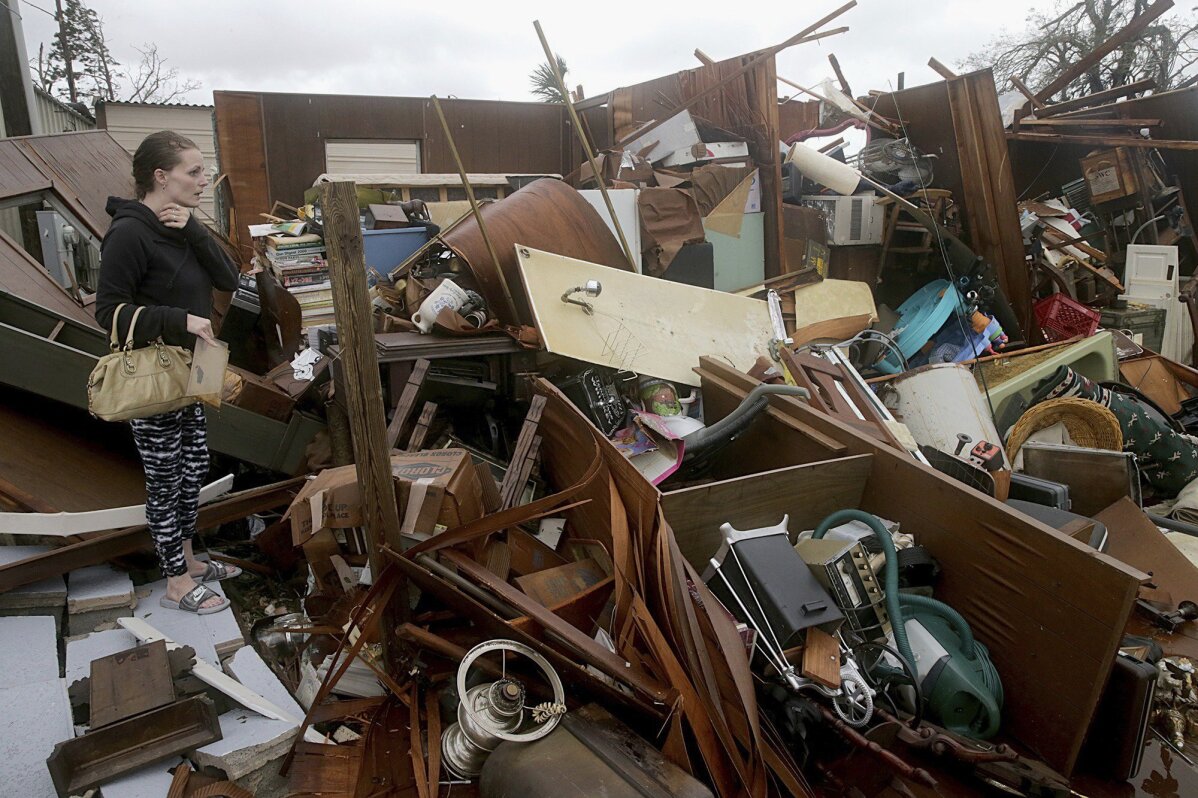 2 of 39

|
Haley Nelson inspects damages to her family properties in the Panama City, Fla., spring field area after Hurricane Michael made landfall in Florida's Panhandle on Wednesday, Oct. 10, 2018. Supercharged by abnormally warm waters in the Gulf of Mexico, Hurricane Michael slammed into the Florida Panhandle with terrifying winds of 155 mph Wednesday, splintering homes and submerging neighborhoods before continuing its march inland. (Pedro Portal/Miami Herald via AP)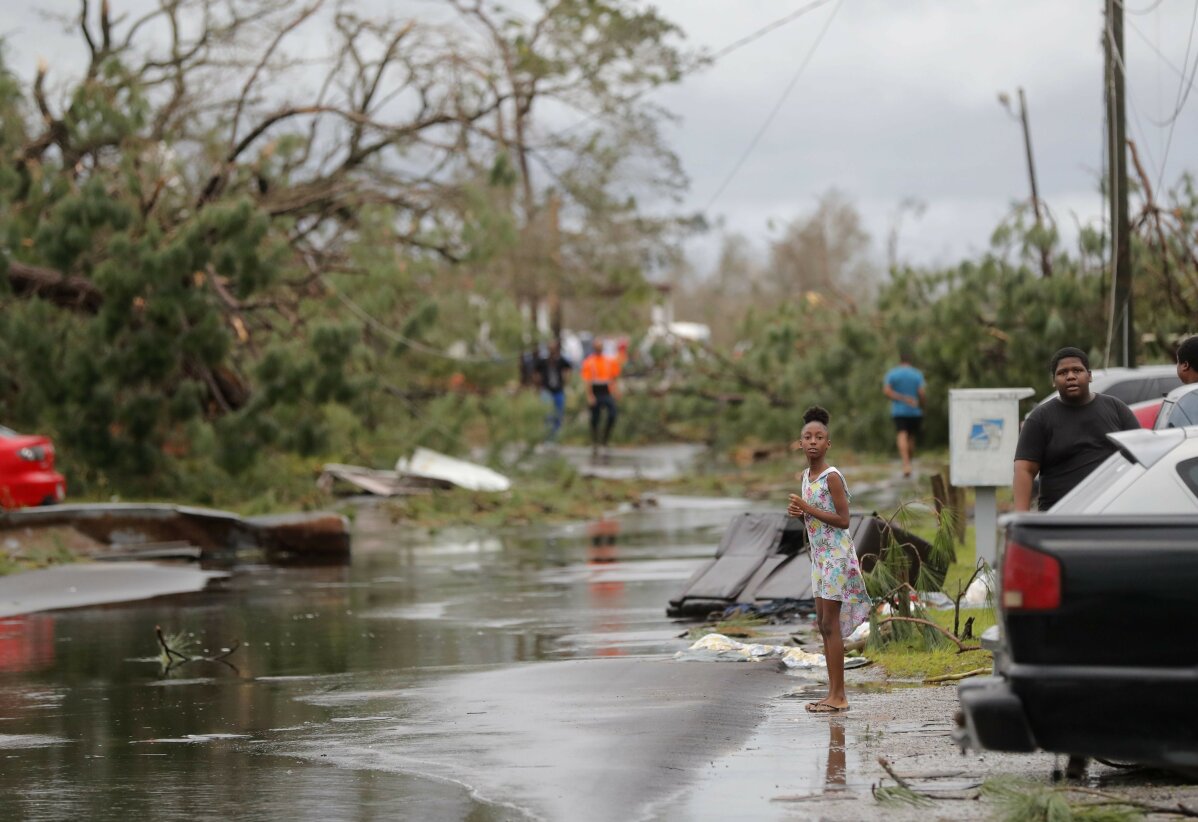 3 of 39

|
Tamiya Waldon looks out at the damage to her neighborhood in the aftermath of Hurricane Michael in Panama City, Fla., Wednesday, Oct. 10, 2018. (AP Photo/Gerald Herbert)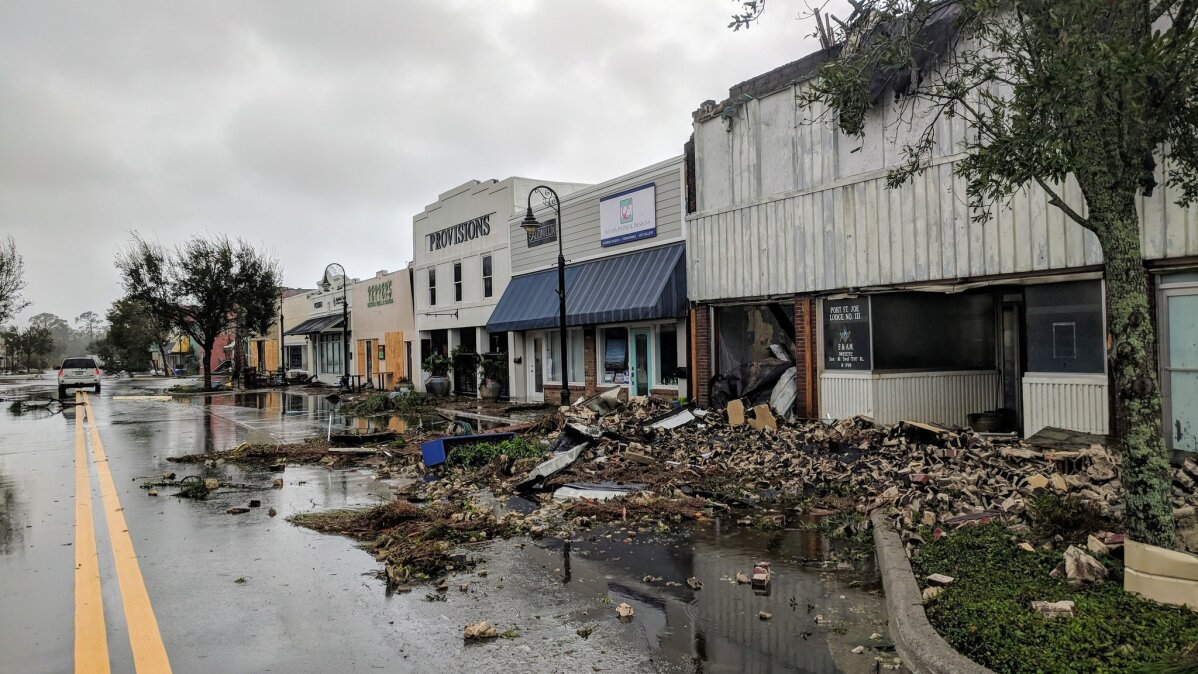 4 of 39

|
Hurricane Michael formed off the coast of Cuba carrying major Category 4 landfall in the Florida Panhandle. Surge in the Big Bend area, along with catastrophic winds at 155mph. Port St. Joe Lodge number 111, at right, lay in ruins on Reid Avenue on Wednesday, Oct. 10, 2018, in Port St. Joe, Fla., after Hurricane Michael made landfall in the Florida Panhandle. (Douglas R. Clifford/The Tampa Bay Times via AP)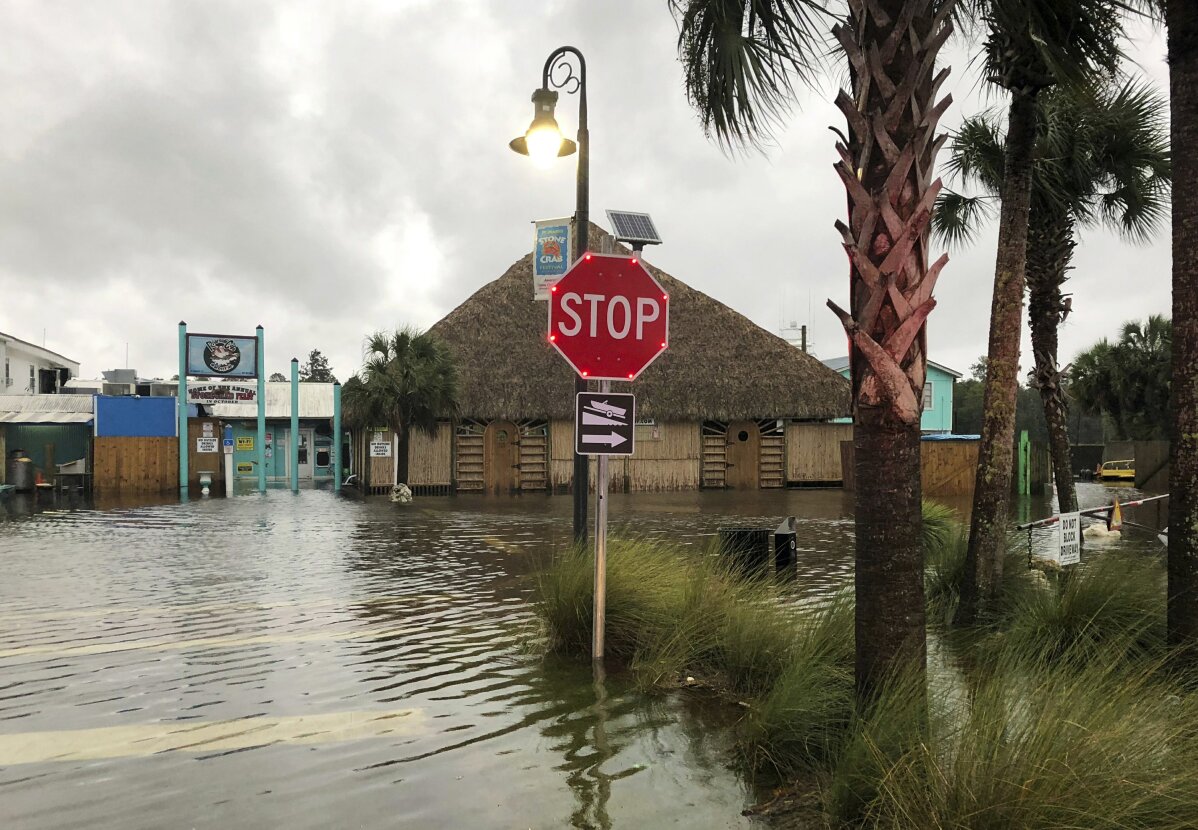 5 of 39

|
The St. Marks River overflows into the city of St. Marks, Fla., ahead of Hurricane Michael, Wednesday, Oct. 10, 2018. The hurricane center says Michael will be the first Category 4 hurricane to make landfall on the Florida Panhandle. (AP Photo/Brendan Farrington)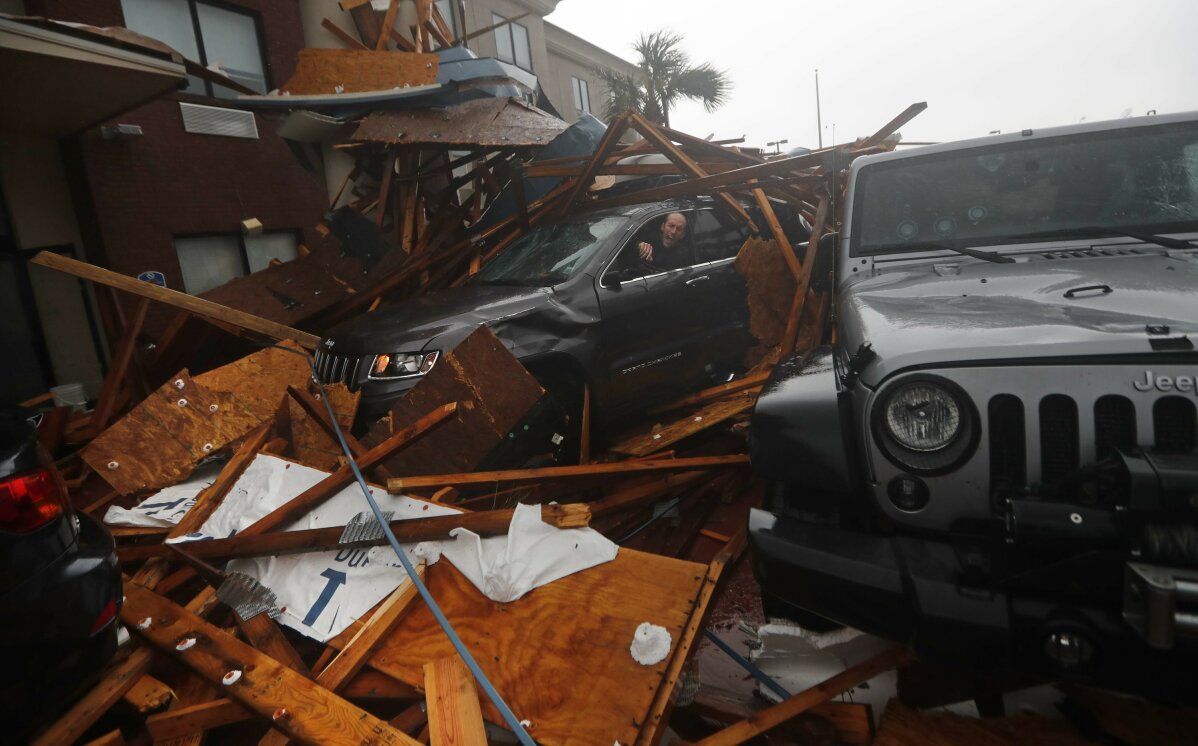 6 of 39

|
A storm chaser climbs into his vehicle during the eye of Hurricane Michael to retrieve equipment after a hotel canopy collapsed in Panama City Beach, Fla., Wednesday, Oct. 10, 2018. (AP Photo/Gerald Herbert)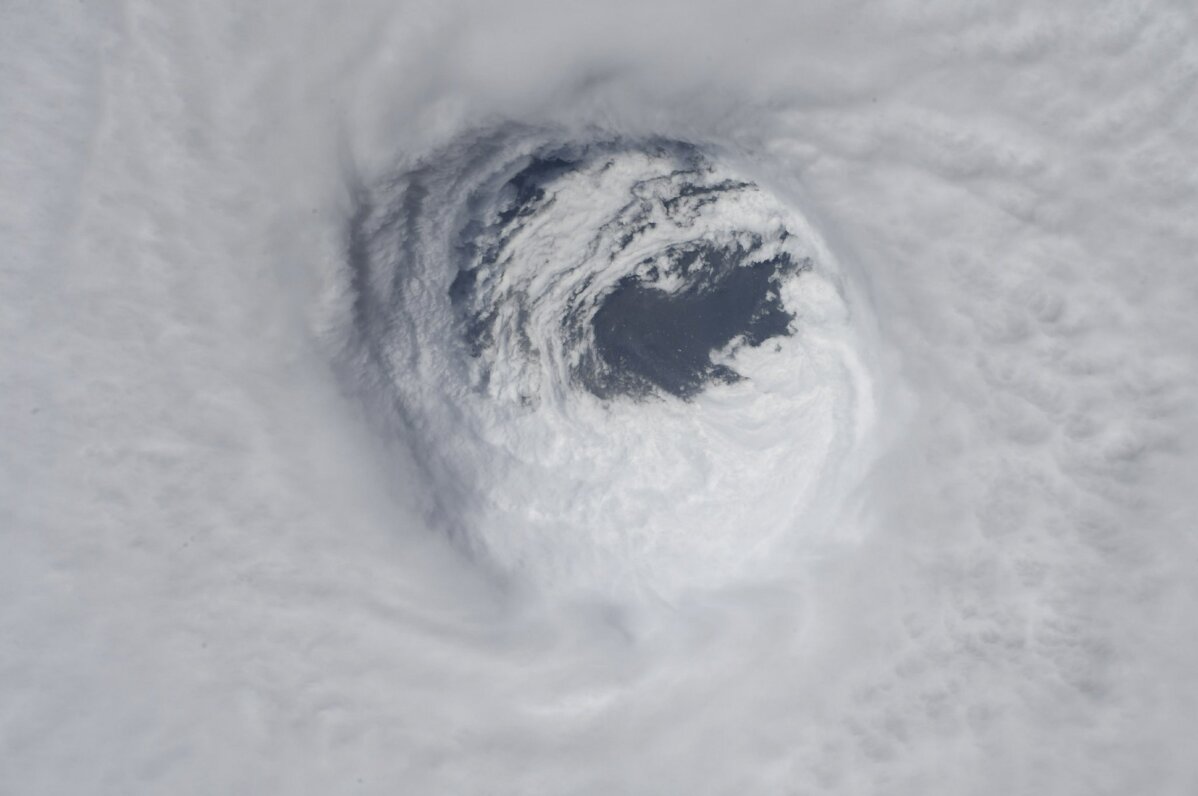 7 of 39

|
This photo made available by NASA shows they eye of Hurricane Michael, as seen from the International Space Station on Wednesday, Oct. 10, 2018. (NASA via AP)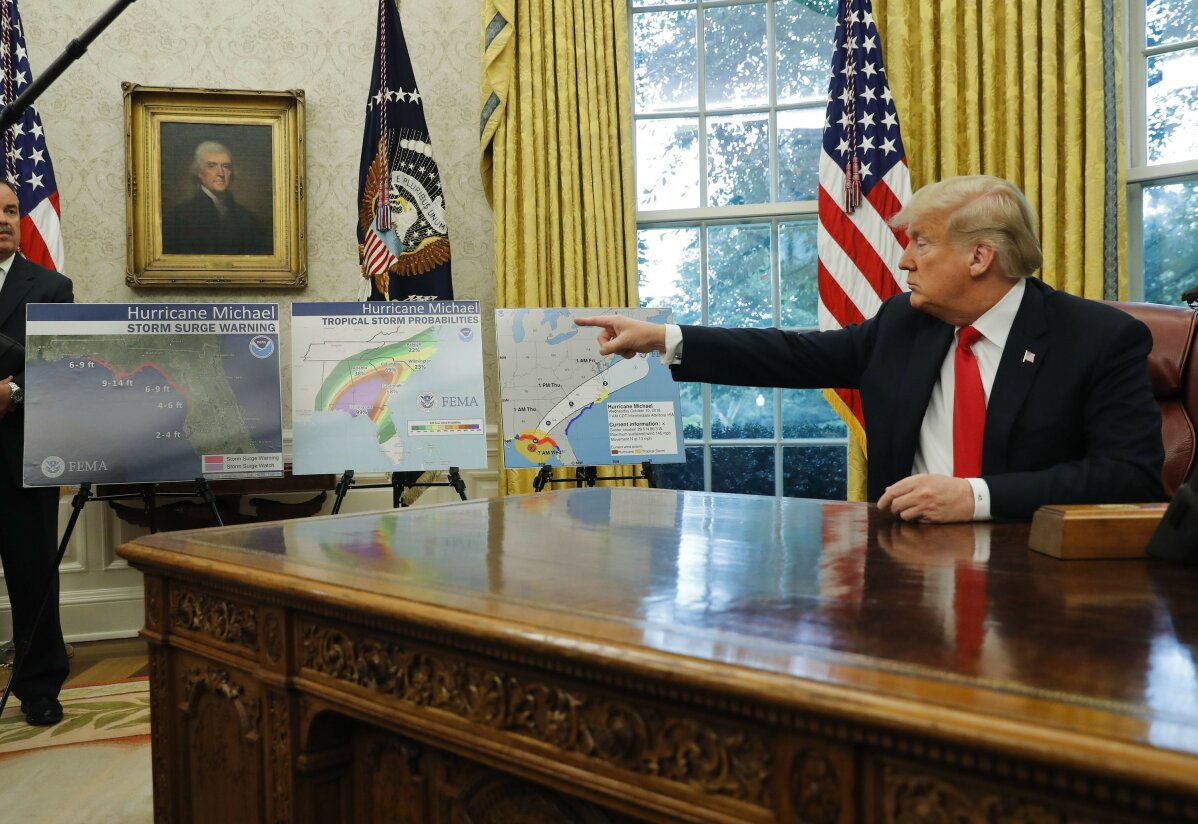 8 of 39

|
President Donald Trump points towards maps while discussing potential damage from Hurricane Michael with Homeland Security Secretary Kirstjen Nielsen and FEMA Administrator Brock Long in the Oval Office of the White House in Washington, Wednesday, Oct. 10, 2018. (AP Photo/Pablo Martinez Monsivais)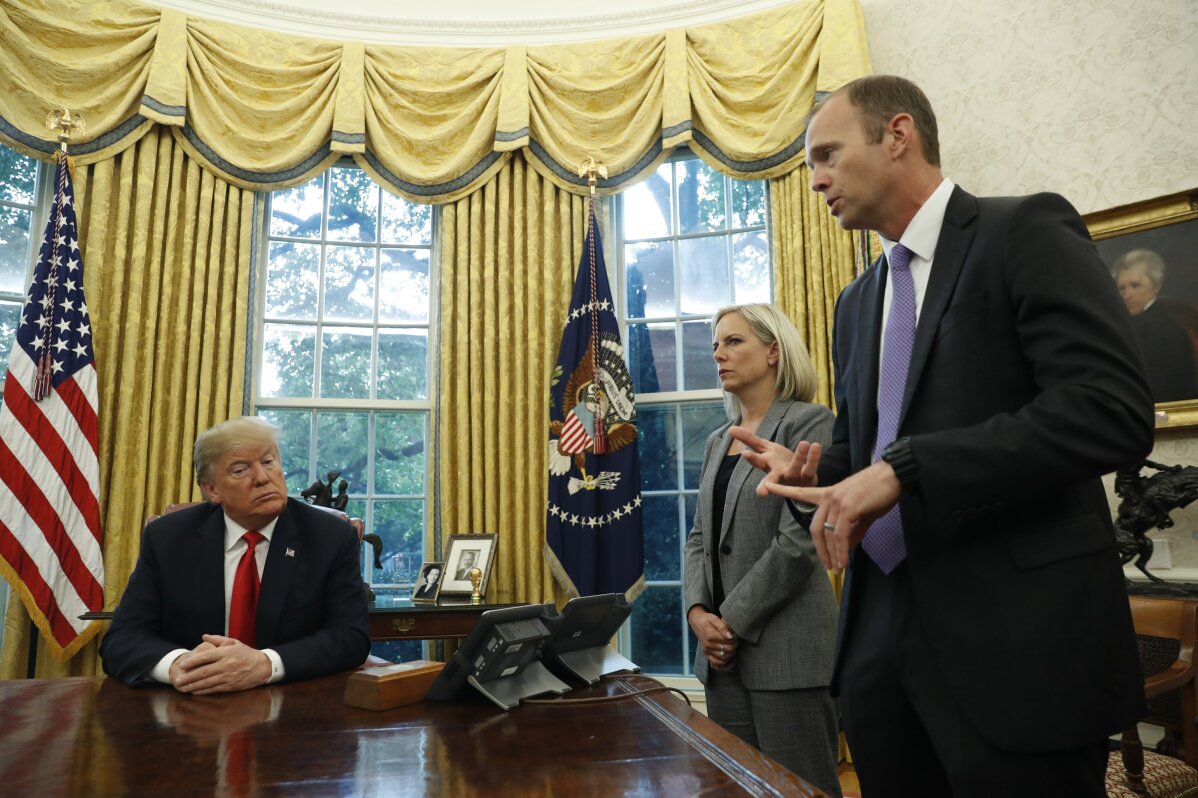 9 of 39

|
President Donald Trump meets with Homeland Security Secretary Kirstjen Nielsen and FEMA Administrator Brock Long in the Oval Office of the White House in Washington, Wednesday, Oct. 10, 2018. (AP Photo/Pablo Martinez Monsivais)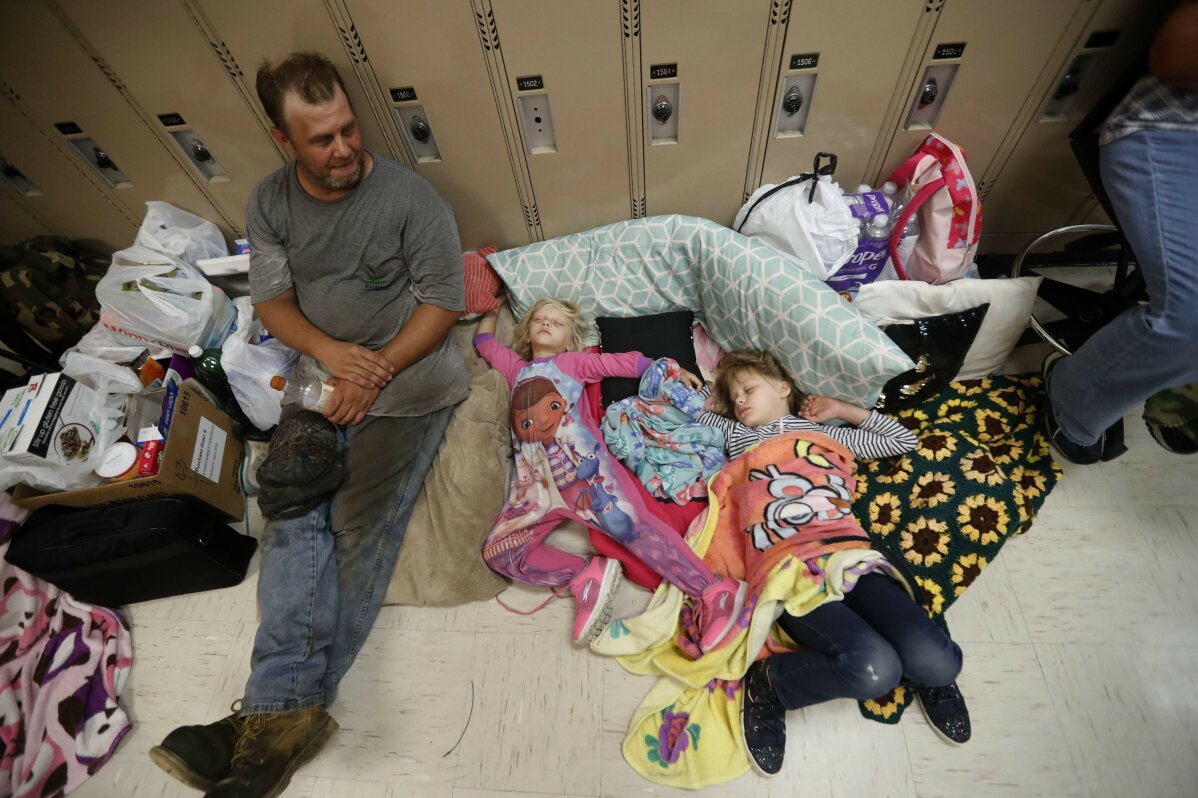 10 of 39

|
CORRECTS HURRICANE NAME TO MICHAEL NOT MATTHEW - Earnest Sweet sits while his daughters Terri, 4, center, and Anna, 7, sleep at an evacuation shelter set up at Rutherford High School, in advance of Hurricane Michael, which is expected to make landfall today, in Panama City Beach, Fla., Wednesday, Oct. 10, 2018. (AP Photo/Gerald Herbert)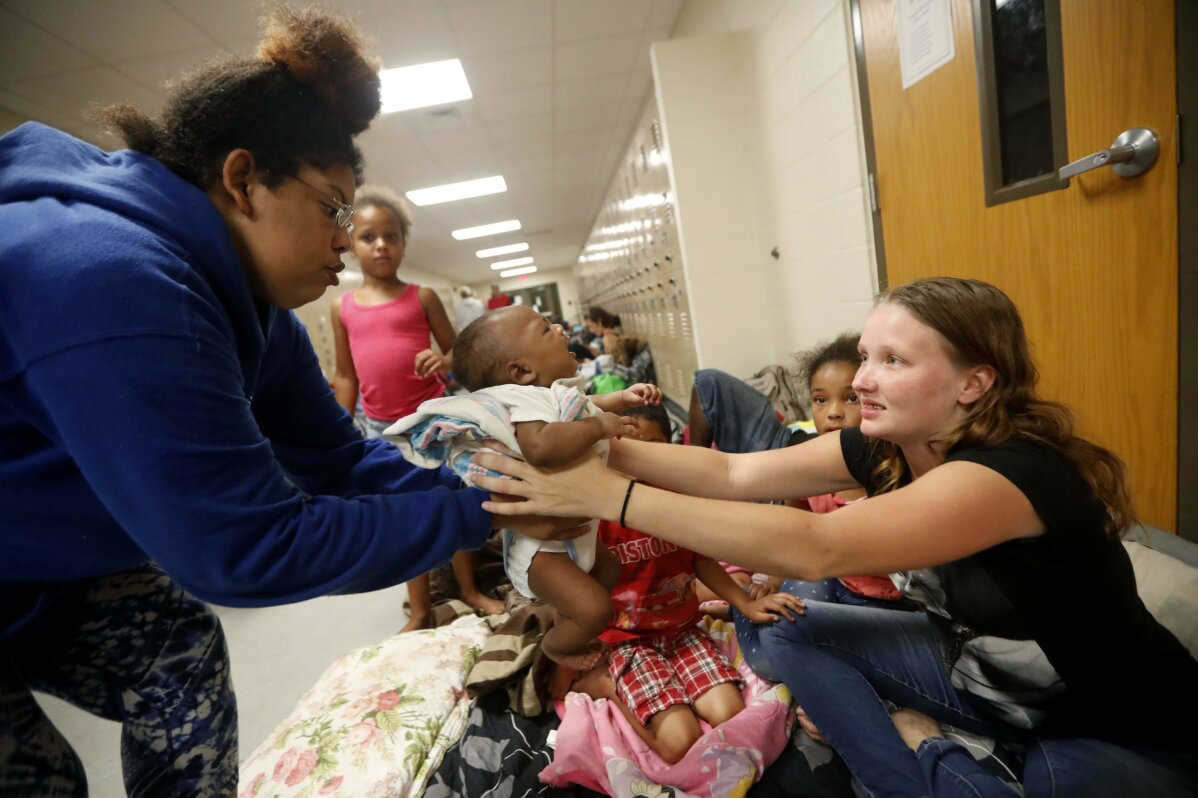 11 of 39

|
CORRECTS NAME OF HURRICANE TO MICHAEL FROM MATTHEW - Mokeyonia Bell takes her child, Jerah'monie Anthony Bell, 2 months, from godmother Ashley Fillingim, at an evacuation shelter set up at Rutherford High School, in advance of Hurricane Michael, which is expected to make landfall today, in Panama City Beach, Fla., Wednesday, Oct. 10, 2018. (AP Photo/Gerald Herbert)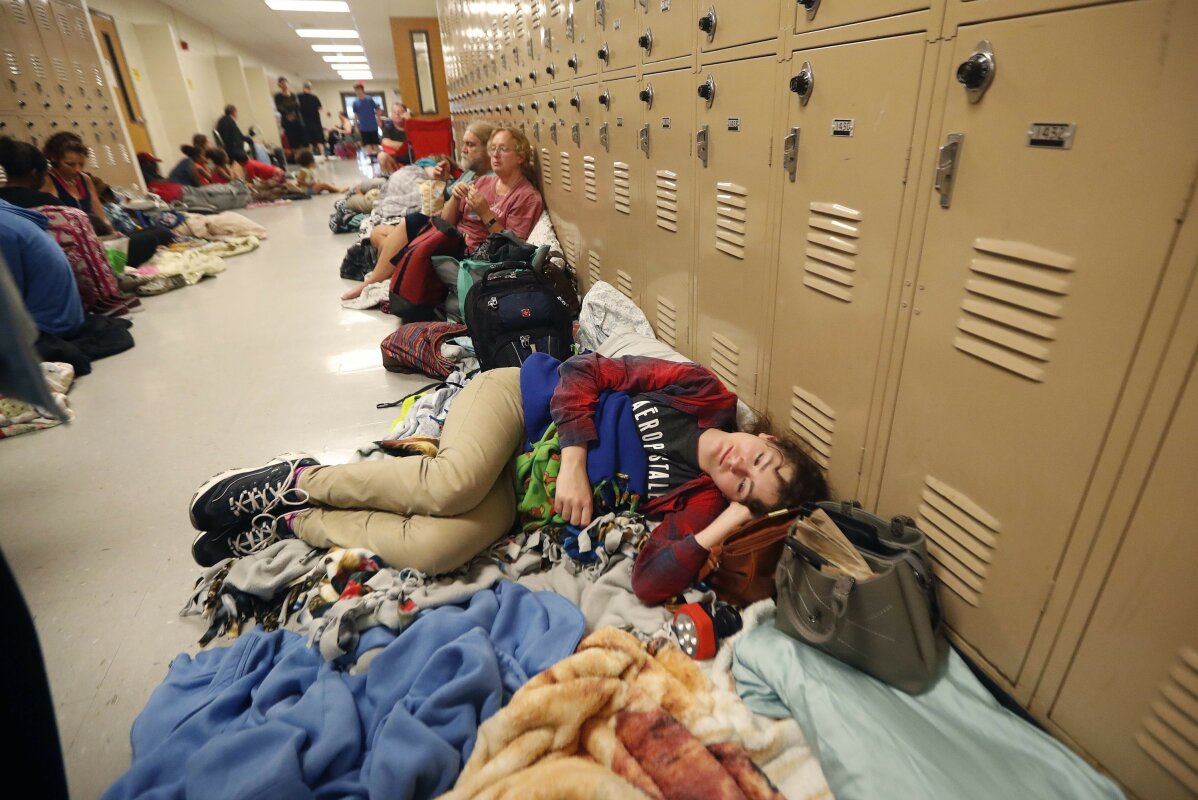 12 of 39

|
CORRECTS NAME OF HURRICANE TO MICHAEL FROM MATTHEW - Emily Hindle lies on the floor at an evacuation shelter set up at Rutherford High School, in advance of Hurricane Michael, which is expected to make landfall today, in Panama City Beach, Fla., Wednesday, Oct. 10, 2018. (AP Photo/Gerald Herbert)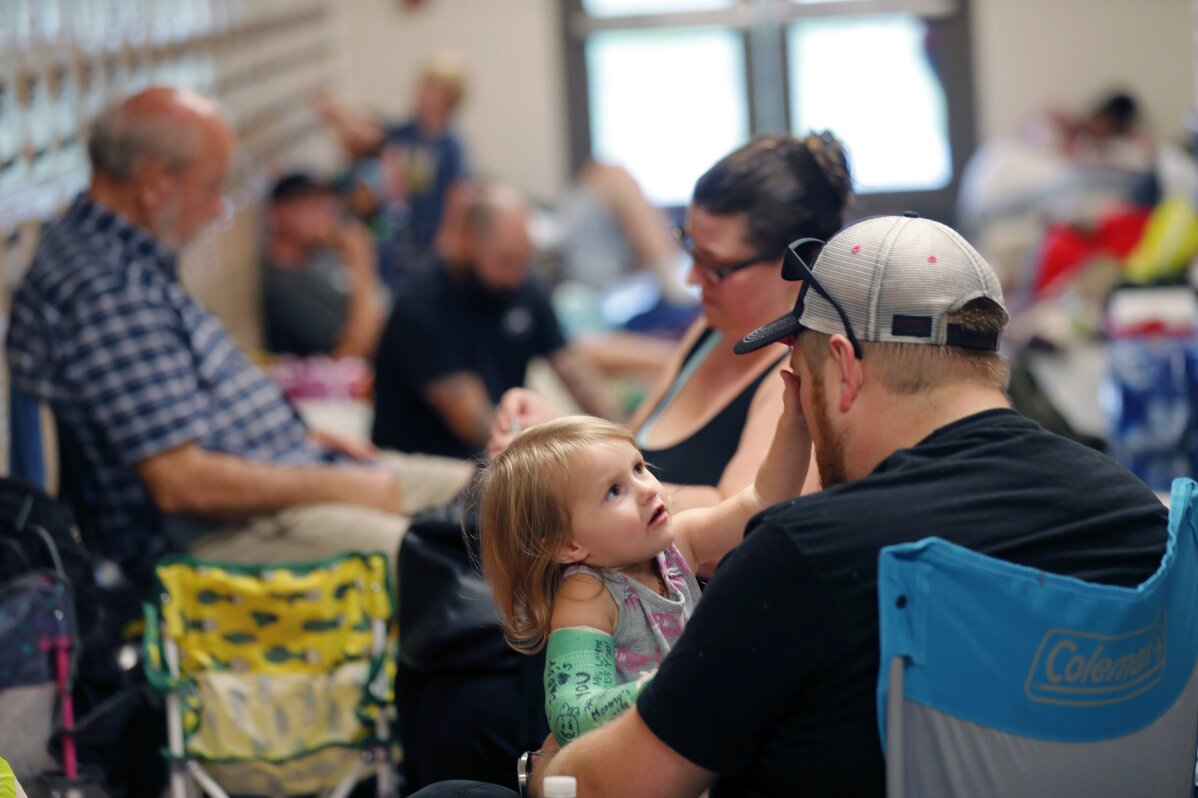 13 of 39

|
CORRECTS HURRICANE NAME TO MICHAEL NOT MATTHEW - Sean Pelham holds his daughter Sophia, 2, in a hallway at an evacuation shelter set up at Rutherford High School in advance of Hurricane Michael, which is expected to make landfall today, in Panama City Beach, Fla., Wednesday, Oct. 10, 2018. (AP Photo/Gerald Herbert)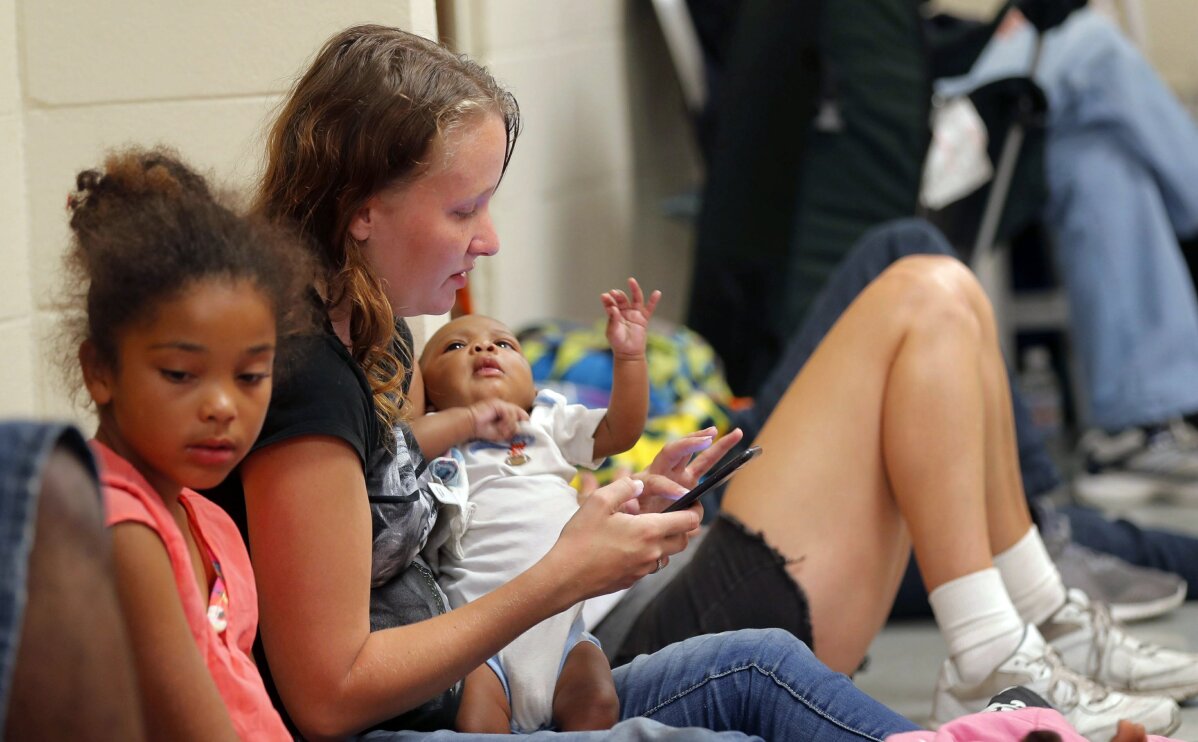 14 of 39

|
CORRECTS NAME OF HURRICANE TO MICHAEL FROM MATTHEW - Ashley Fillingim holds her godson Jerah'monie Anthony Bell, 2 months, at an evacuation shelter set up at Rutherford High School, in Panama City Beach, Fla., in advance of Hurricane Michael, which is expected to make landfall, Wednesday, Oct. 10, 2018. (AP Photo/Gerald Herbert)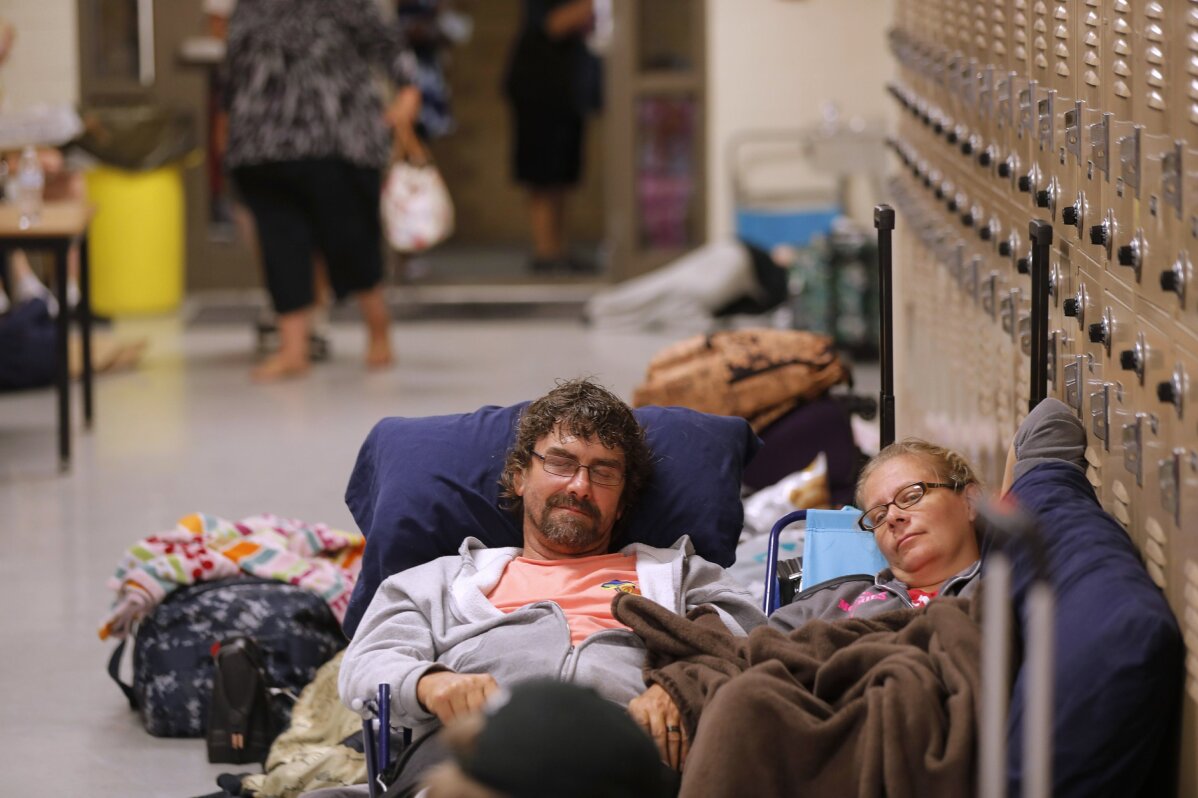 15 of 39

|
CORRECTS NAME OF HURRICANE TO MICHAEL FROM MATTHEW - Jeff Ready and his wife Julie Ready rest in a a hallway at an evacuation shelter set up at Rutherford High School, in advance of Hurricane Michael, which is expected to make landfall today, in Panama City Beach, Fla., Wednesday, Oct. 10, 2018. (AP Photo/Gerald Herbert)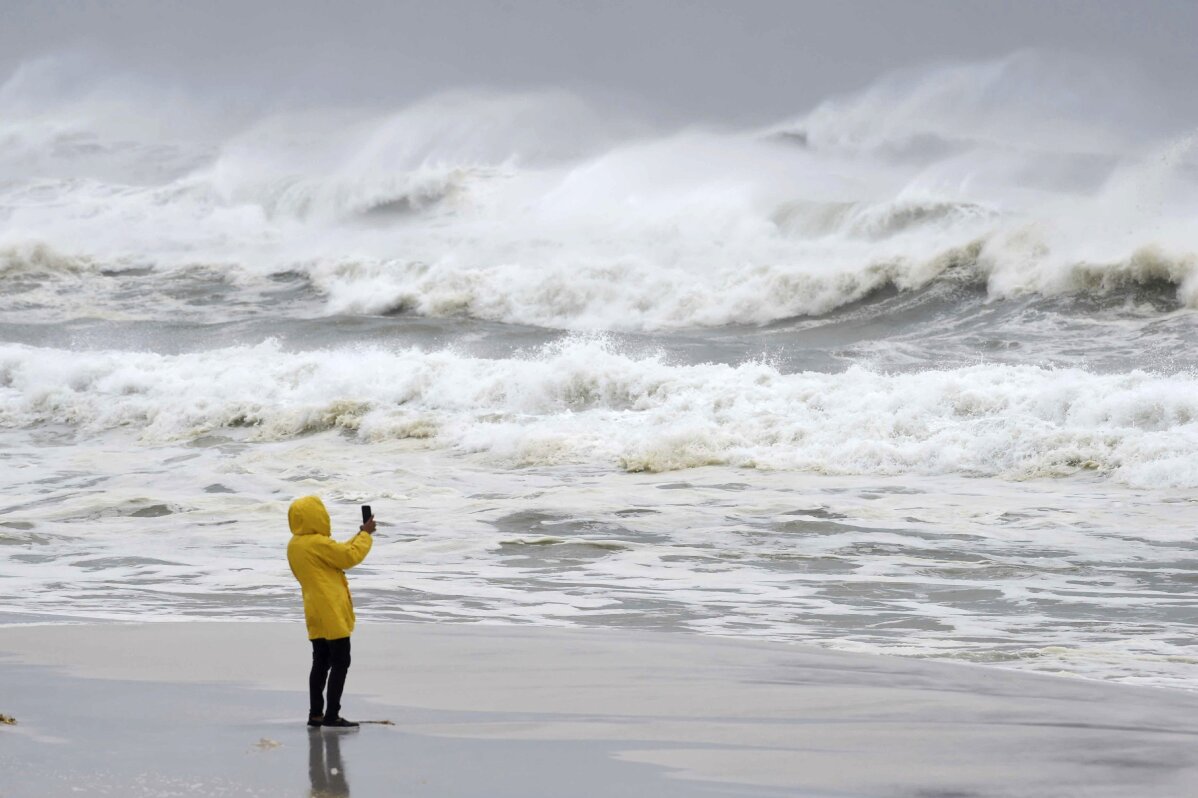 16 of 39

|
An unidentified person takes pictures of the surf and fishing pier on Okaloosa Island in Fort Walton Beach, Fla., on Wednesday, Oct. 10, 2018, as Hurricane Michael approaches the Florida Gulf Coast. [Devon Ravine/Northwest Florida Daily News via AP)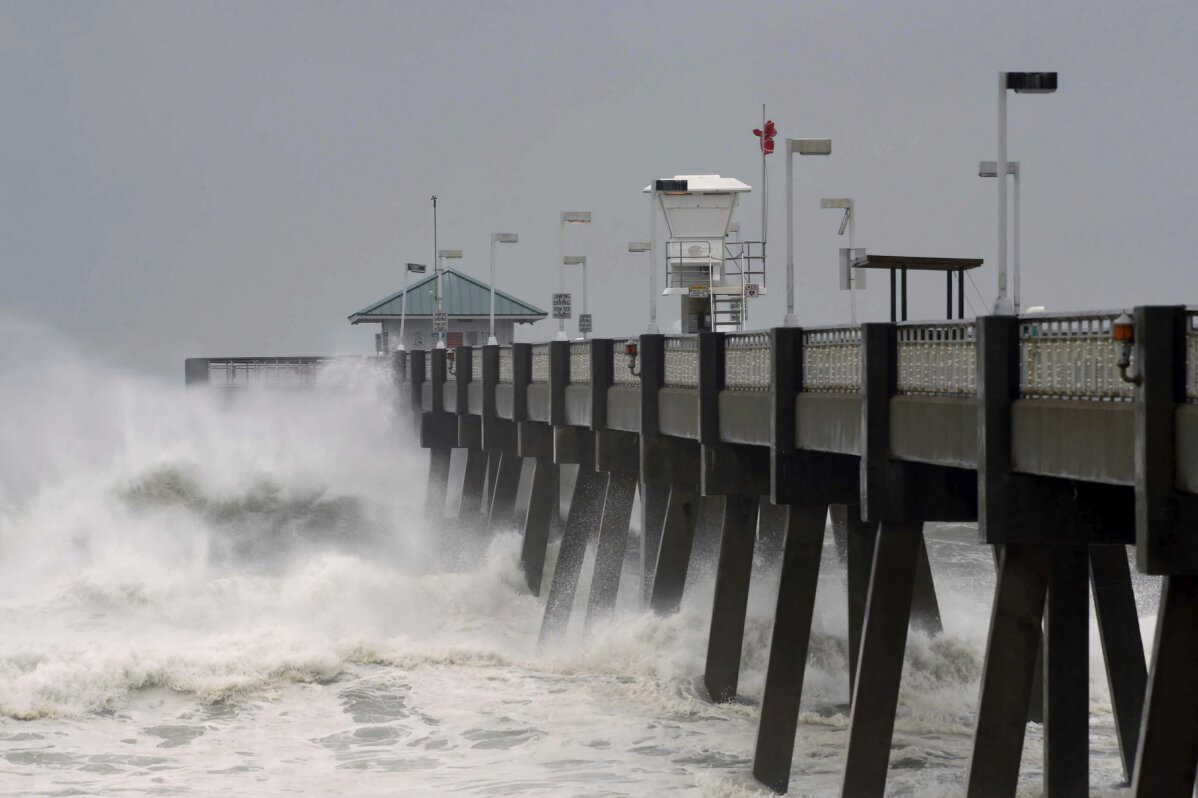 17 of 39

|
Heavy surf from the approaching Hurricane Michael pounds the fishing pier on Okaloosa Island in Fort Walton Beach, Fla., on Wednesday, Oct. 10, 2018. (Devon Ravine/Northwest Florida Daily News via AP)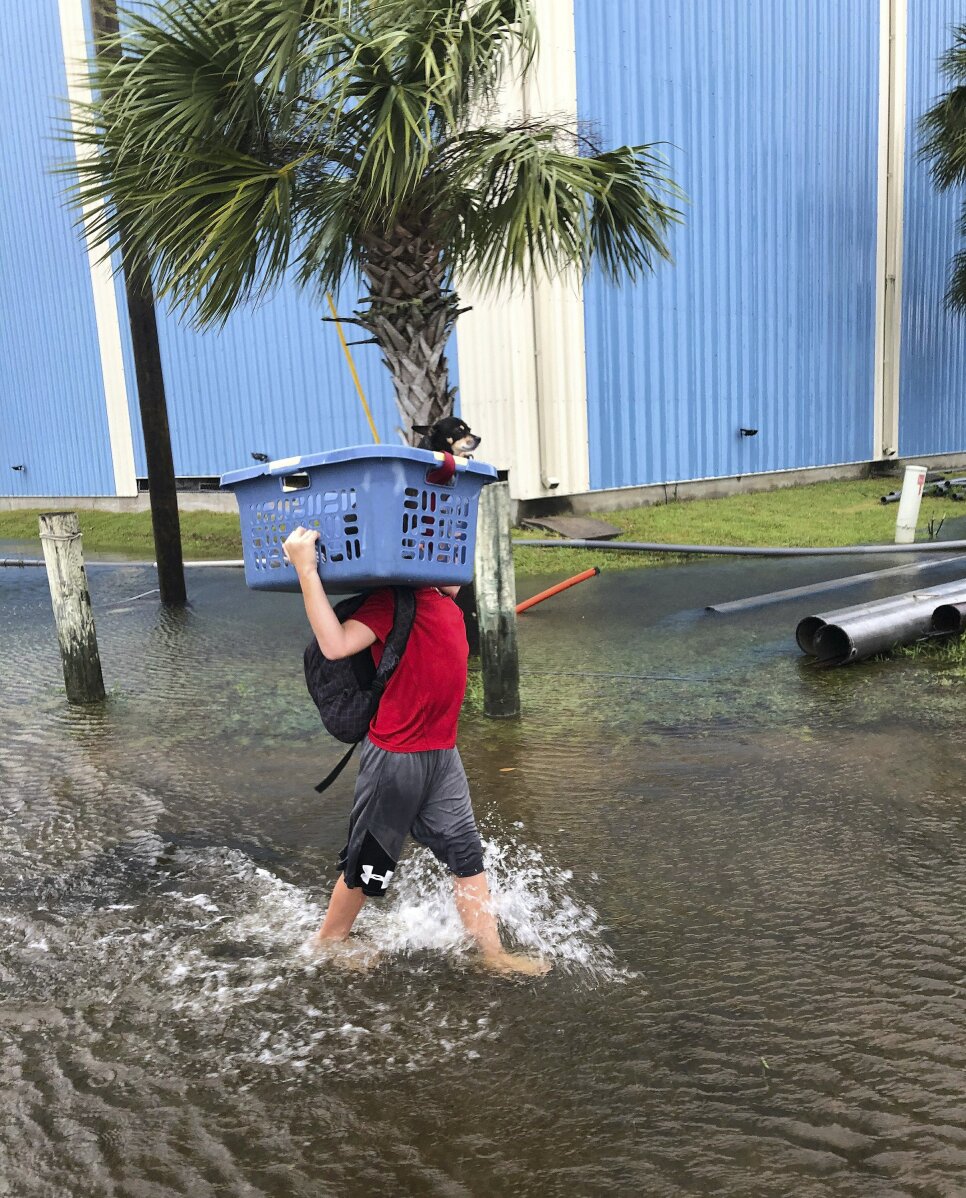 18 of 39

|
Jayden Morgan carries his dog through a flooded street in St. Marks, Fla., on Wednesday, Oct. 10, 2018, as his family evacuates at the last minute before Hurricane Michael hits the state. (AP Photo/Brendan Farrington)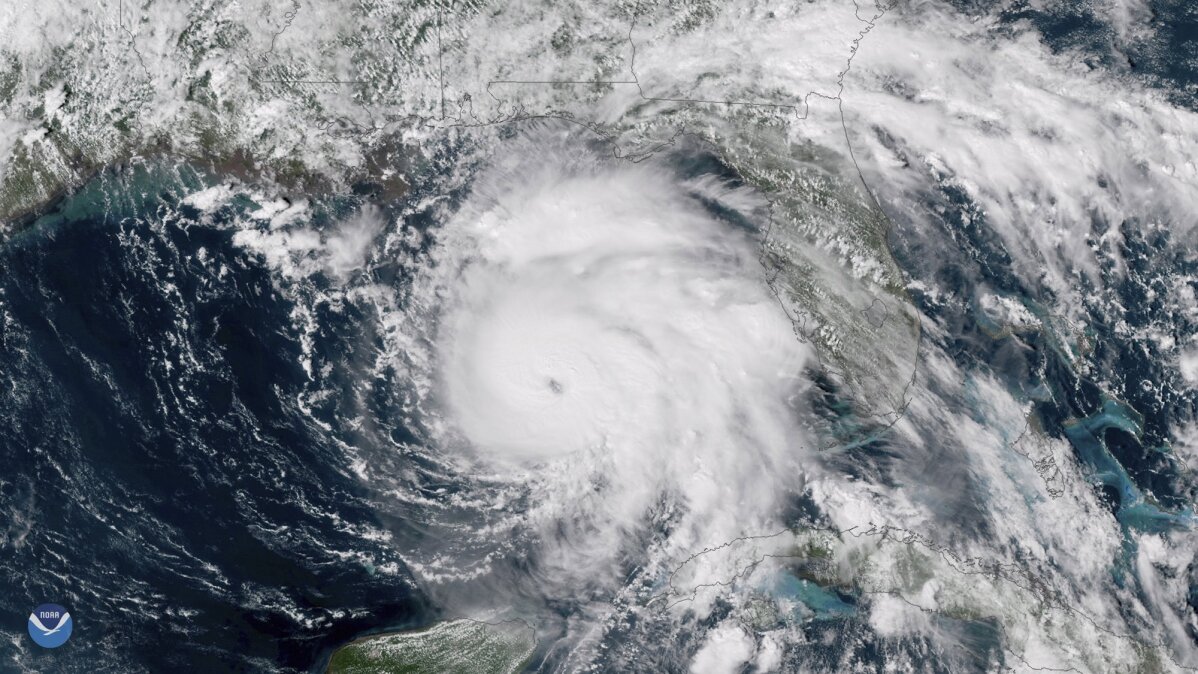 19 of 39

|
This Tuesday, Oct. 9, 2018 satellite image provided by NOAA shows Hurricane Michael, center, in the Gulf of Mexico. (NOAA via AP)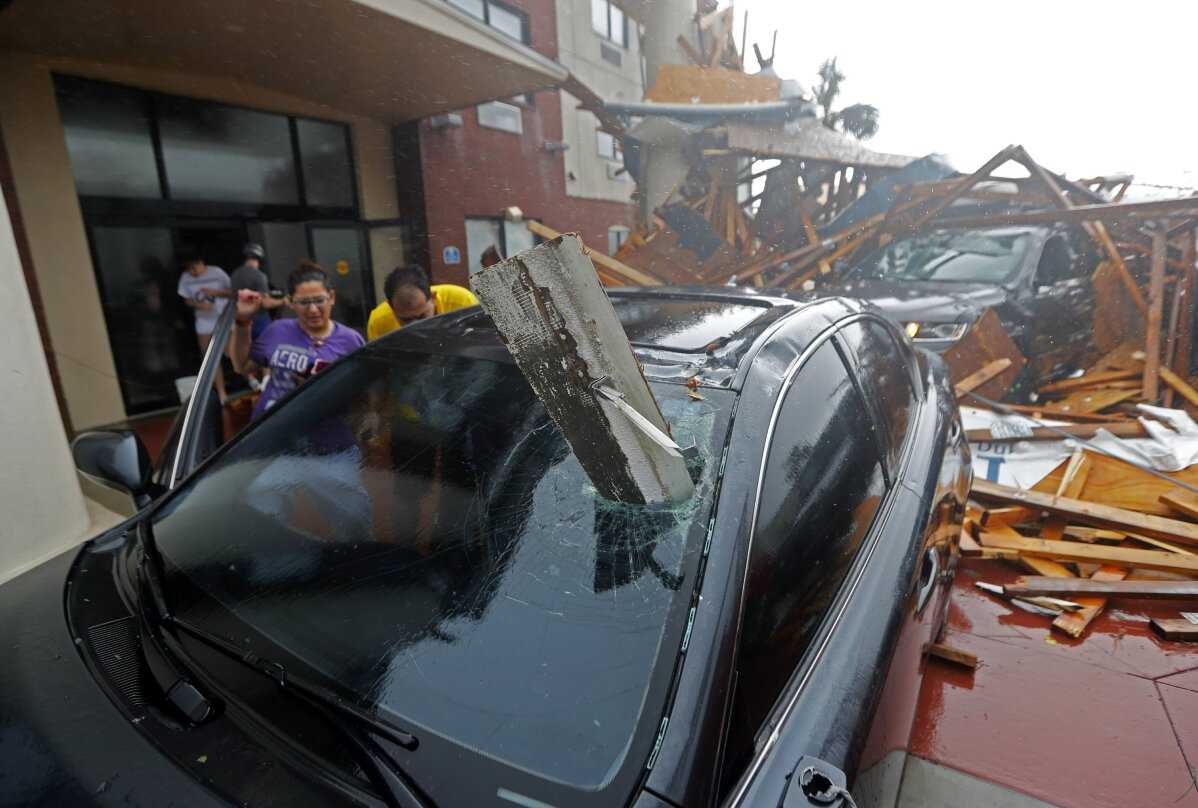 20 of 39

|
A woman checks on her vehicle as Hurricane Michael passes through, after the hotel canopy had just collapsed, in Panama City Beach, Fla., Wednesday, Oct. 10, 2018. (AP Photo/Gerald Herbert)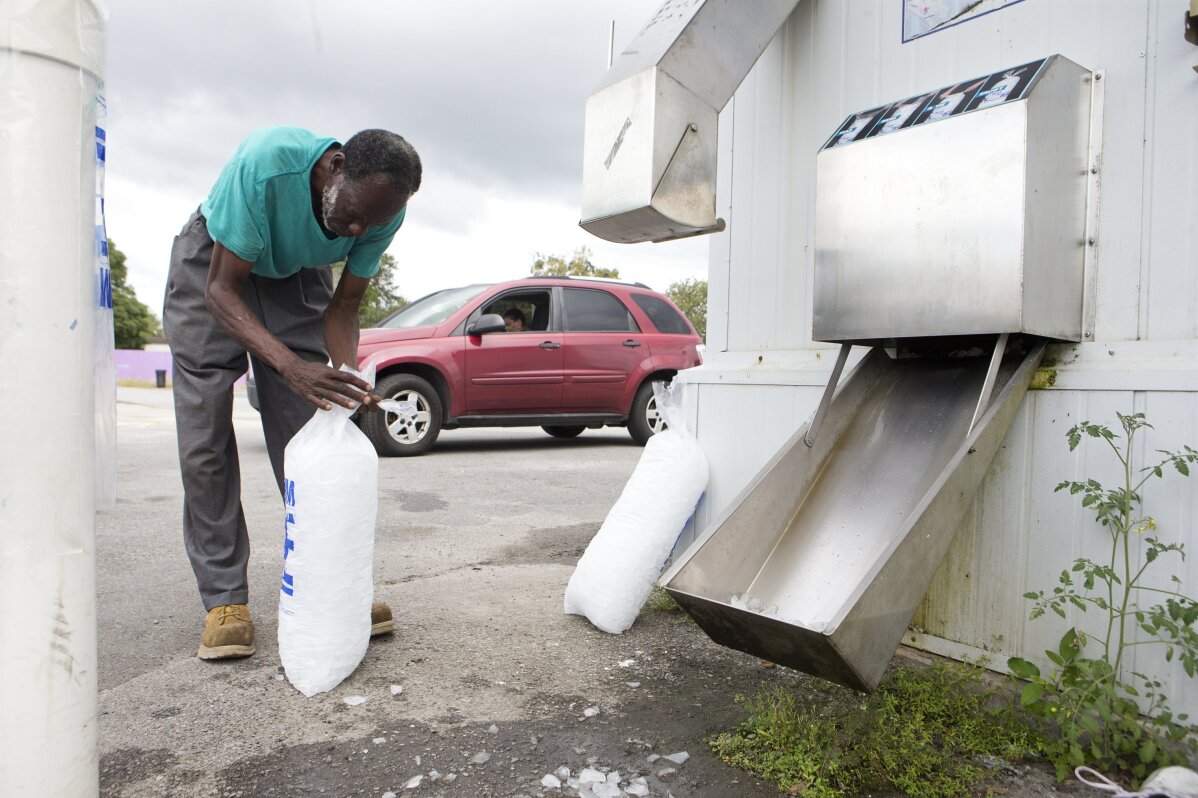 21 of 39

|
Willie Sanders bags ice for himself and his family in Panama City, Florida as Hurricane Michael approaches on Tuesday, October 9, 2018. He and his family are not evacuating as they do not live in a mandatory evacuation area. (Joshua Boucher/News Herald via AP)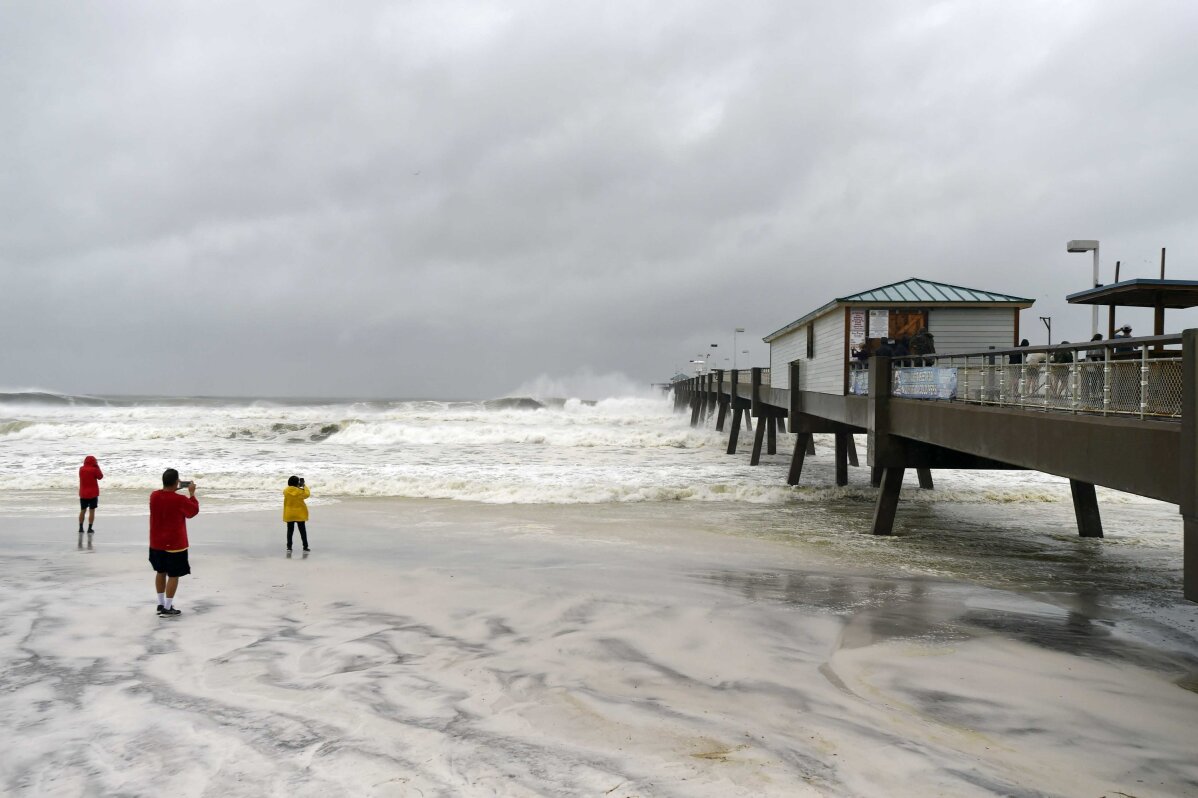 22 of 39

|
People takes pictures of the surf and fishing pier near the fishing pier on Okaloosa Island in Fort Walton Beach, Florida on Wednesday, Oct. 10, 2018 as Hurricane Michael approaches the Florida Gulf Coast. (Devon Ravine/Northwest Florida Daily News via AP)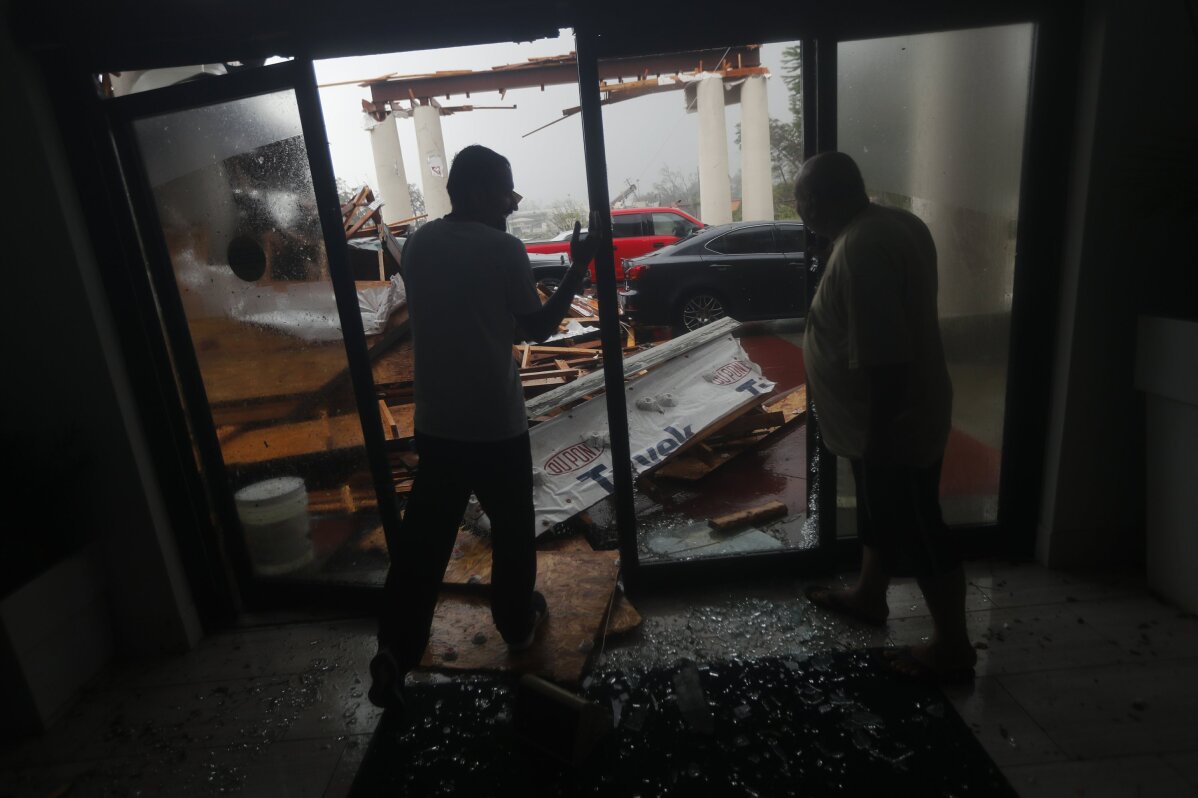 23 of 39

|
Hotel employees look at a canopy that just collapsed, as Hurricane Michael passes through in Panama City Beach, Fla., Wednesday, Oct. 10, 2018. (AP Photo/Gerald Herbert)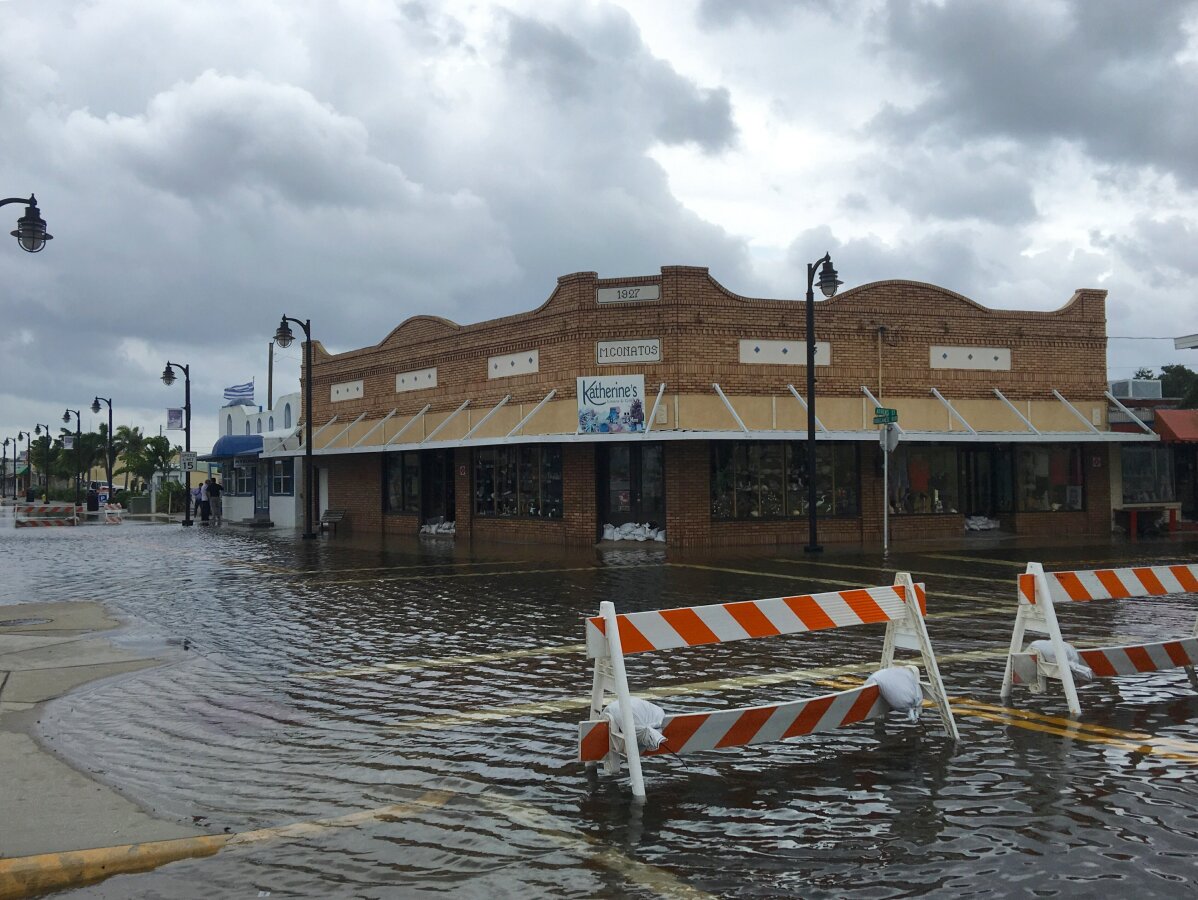 24 of 39

|
High tide from offshore Hurricane Michael creeps up into the Sponge Docks in Tarpon Springs, Fla., Wednesday, Oct. 10, 2018 after the Anclote River backs up. (Jim Damaske/The Tampa Bay Times via AP)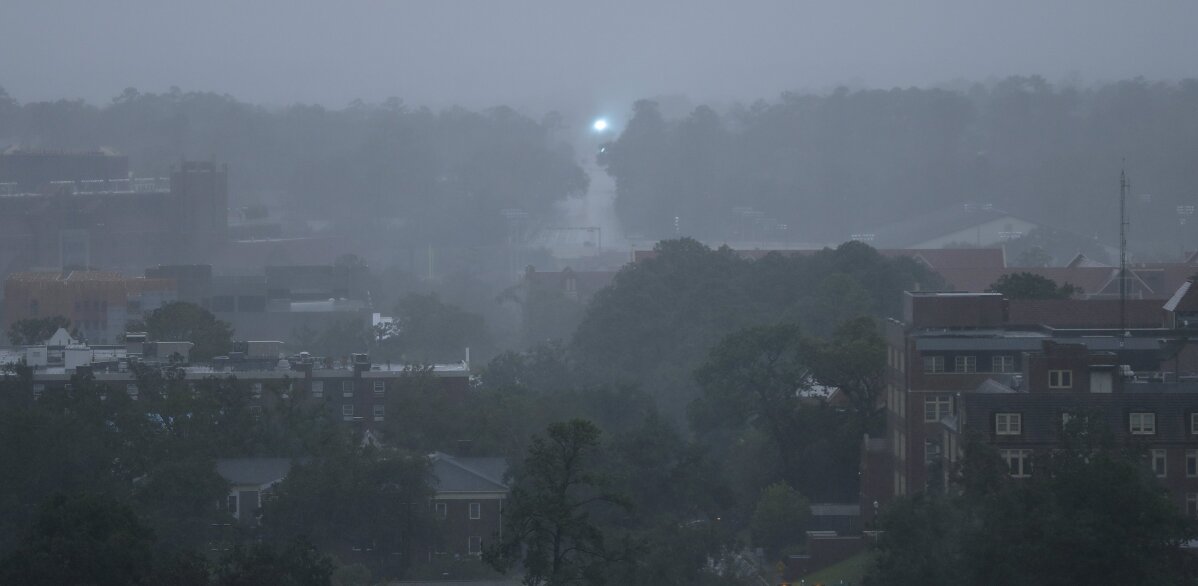 25 of 39

|
An electric transformer explodes in the distance as heavy rains and wind from Hurricane Michael blanket the Florida State University campus Wednesday, Oct. 10, 2018, in Tallahassee, Fla. (AP Photo/Chris O'Meara)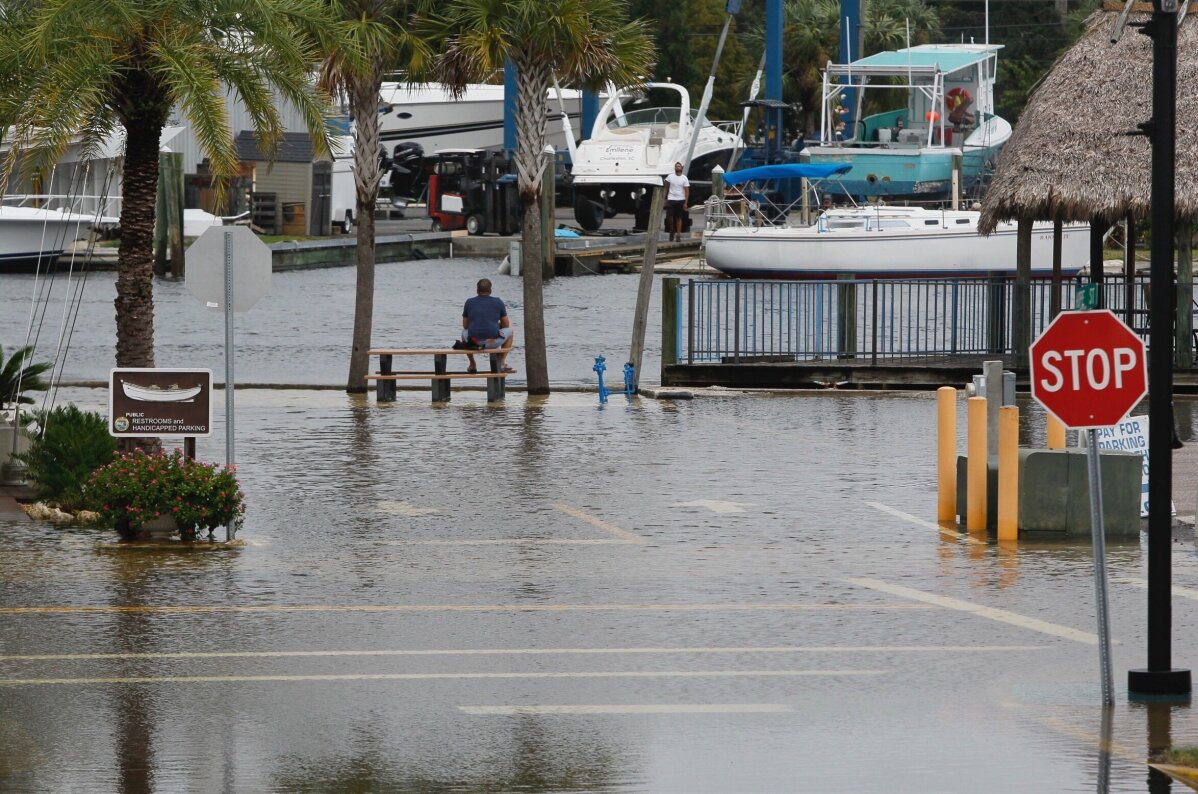 26 of 39

|
High tide from offshore Hurricane Michael creeps up into the Sponge Docks in Tarpon Springs, Fla., Wednesday, Oct. 10, 2018 after the Anclote River backs up. (Jim Damaske/The Tampa Bay Times via AP)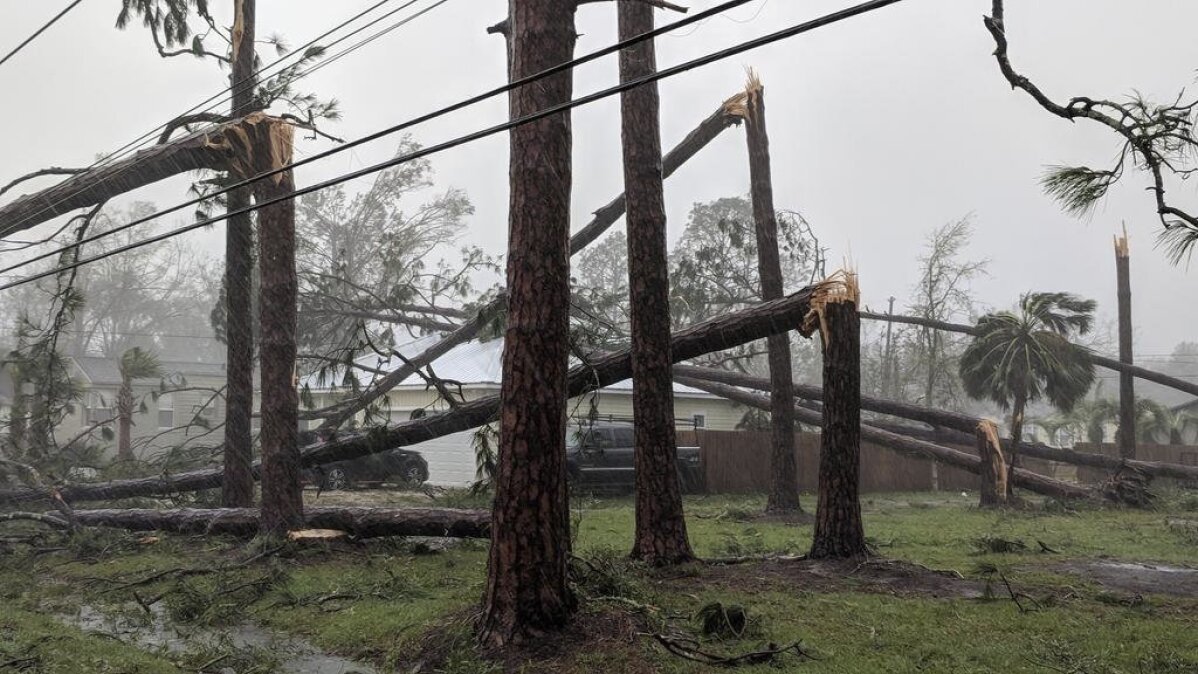 27 of 39

|
Pine trees litter a yard in Port St. Joe, Fla., on Garrison Avenue on Wednesday, Oct. 10, 2018, after Hurricane Michael made landfall in the Florida Panhandle. Hurricane Michael formed off the coast of Cuba carrying major Category 4 landfall in the Florida Panhandle. Surge in the Big Bend area, along with catastrophic winds at 155mph. (Douglas R. Clifford/The Tampa Bay Times via AP)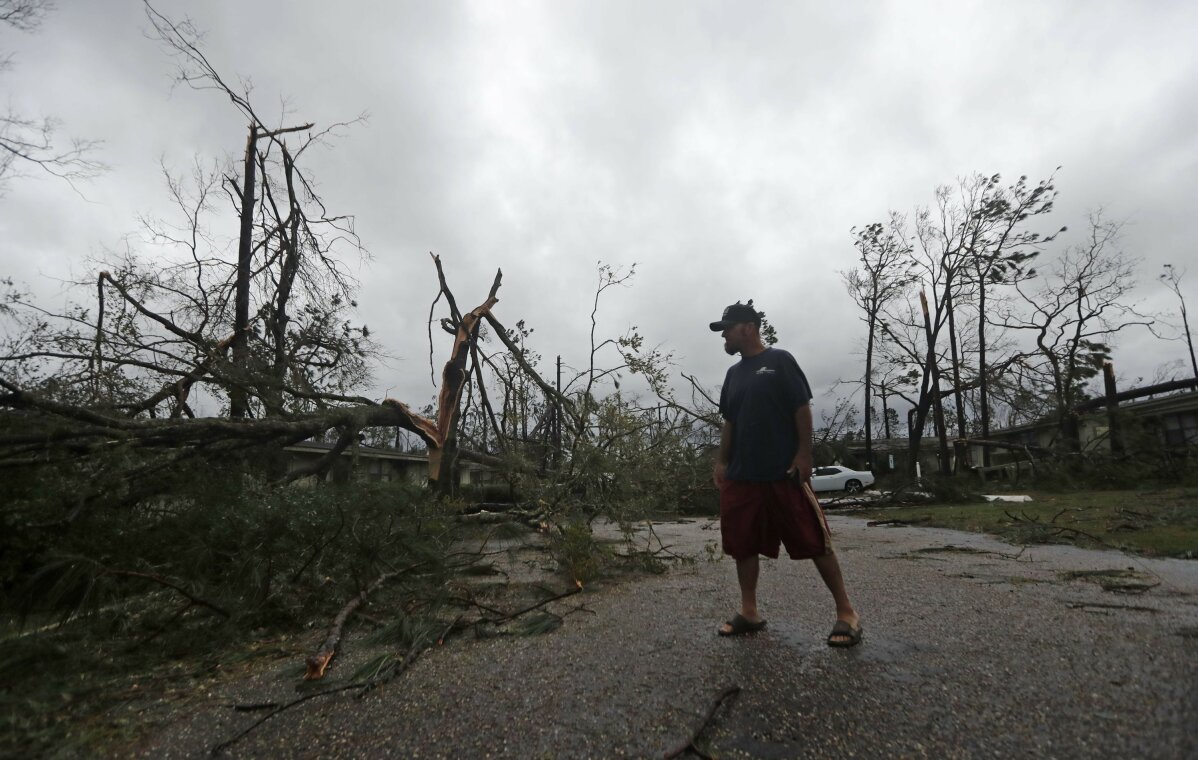 28 of 39

|
James Prescott surveys the damage as the remnants of Hurricane Michael move through Panama City, Fla., Wednesday, Oct. 10, 2018. He was visiting a friend and was not able to leave the street due to downed trees. (AP Photo/Gerald Herbert)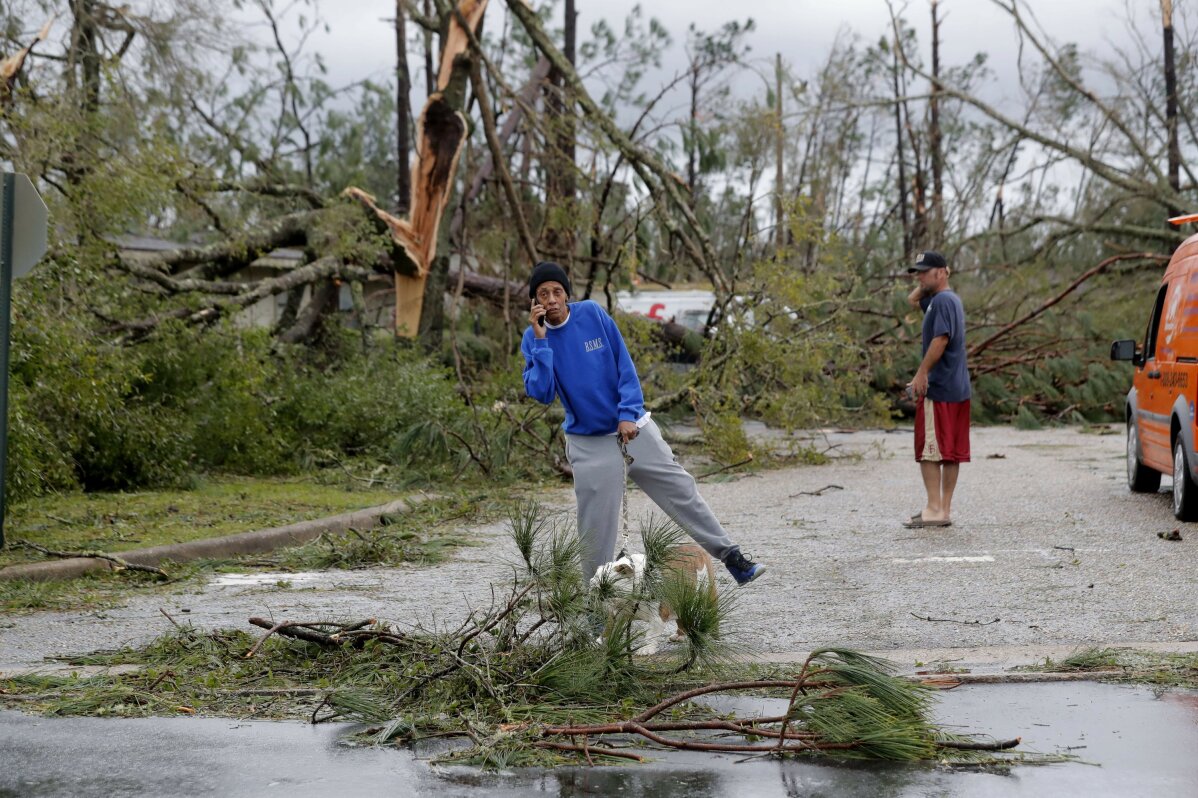 29 of 39

|
Pam Heckstall surveys the damage as the remnants of Hurricane Michael move through Panama City, Fla., Wednesday, Oct. 10, 2018. She is not able to leave her street due to downed trees. (AP Photo/Gerald Herbert)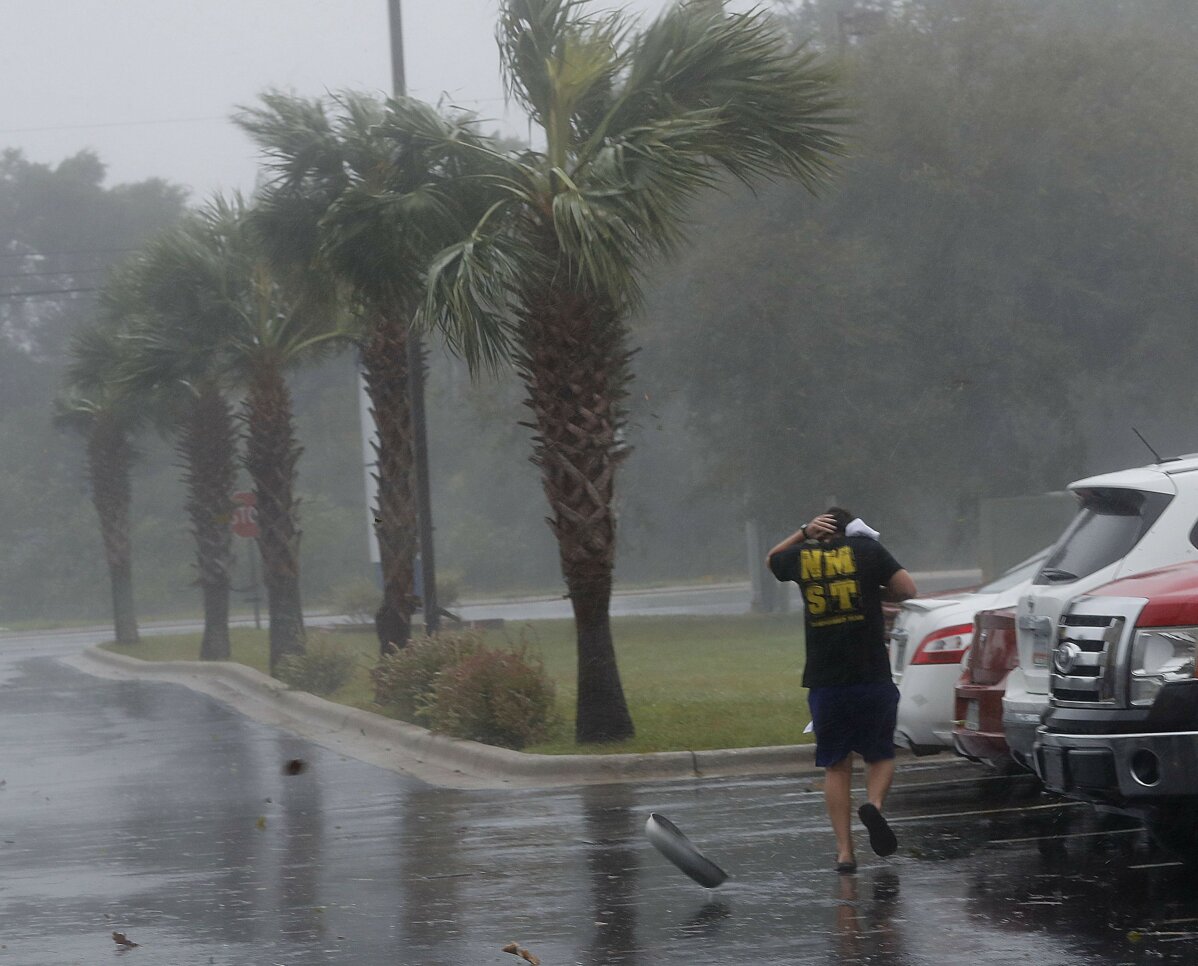 30 of 39

|
A hubcap blows by as a man runs to his car during Hurricane Michael in Panama City, Fla., Wednesday, Oct. 10, 2018. (AP Photo/Gerald Herbert)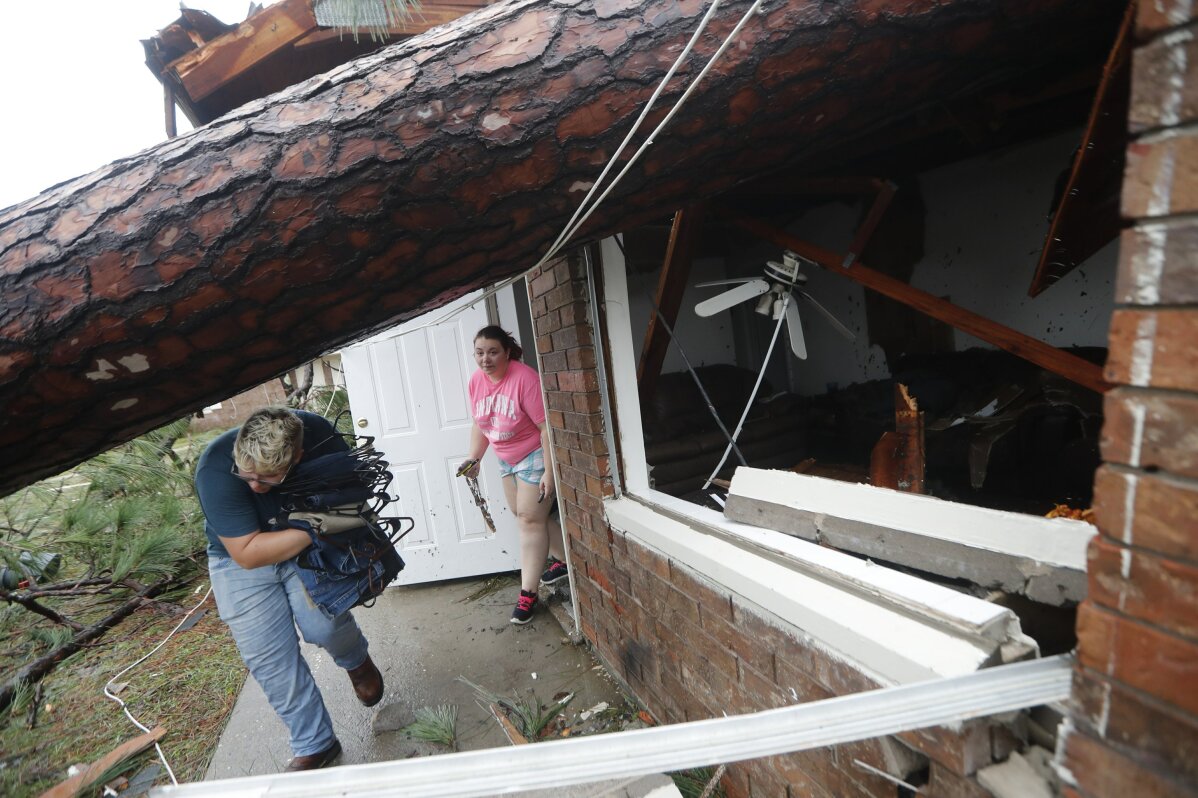 31 of 39

|
Megan Williams, left, and roommate Kaylee O'Brian take belongings from their destroyed home after several trees fell on the house during Hurricane Michael in Panama City, Fla., Wednesday, Oct. 10, 2018. (AP Photo/Gerald Herbert)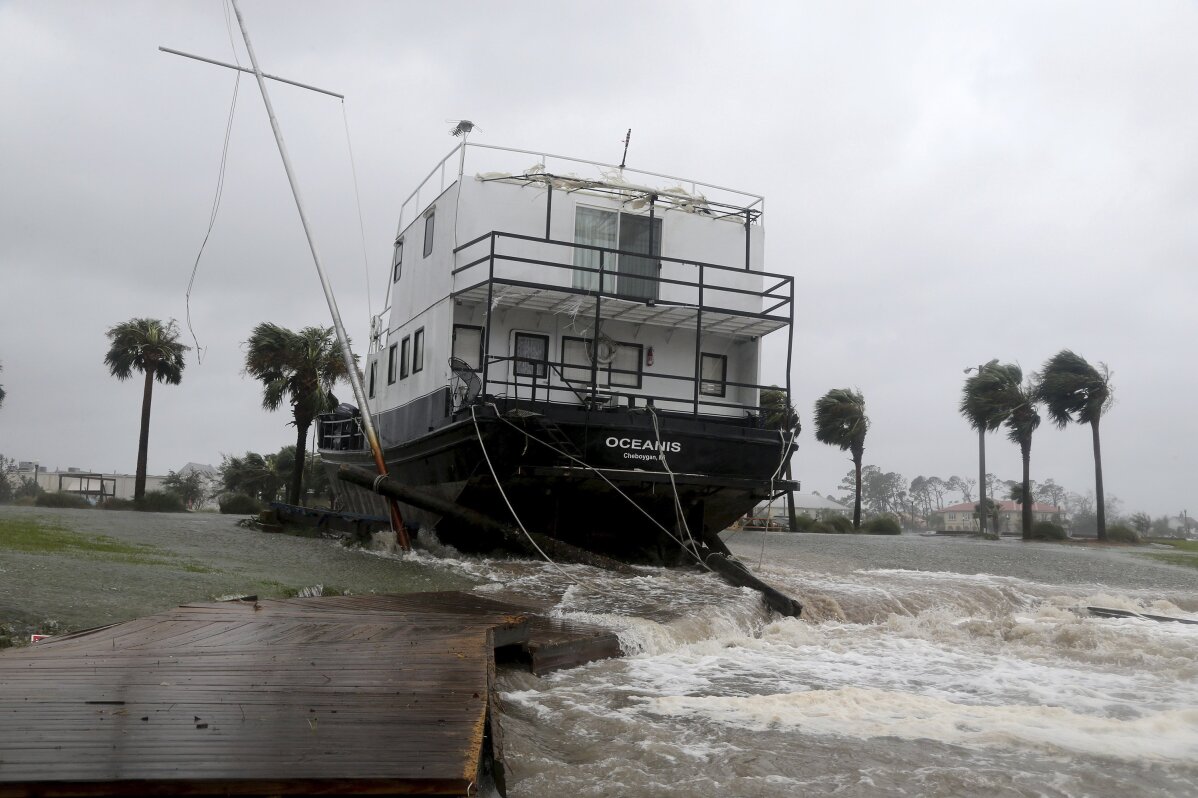 32 of 39

|
The Oceanis is grounded by a tidal surge at the Port St. Joe Marina, Wednesday, Oct. 10, 2018 in Port St. Joe, Fla. Supercharged by abnormally warm waters in the Gulf of Mexico, Hurricane Michael slammed into the Florida Panhandle with terrifying winds of 155 mph Wednesday, splintering homes and submerging neighborhoods. (Douglas R. Clifford/Tampa Bay Times via AP)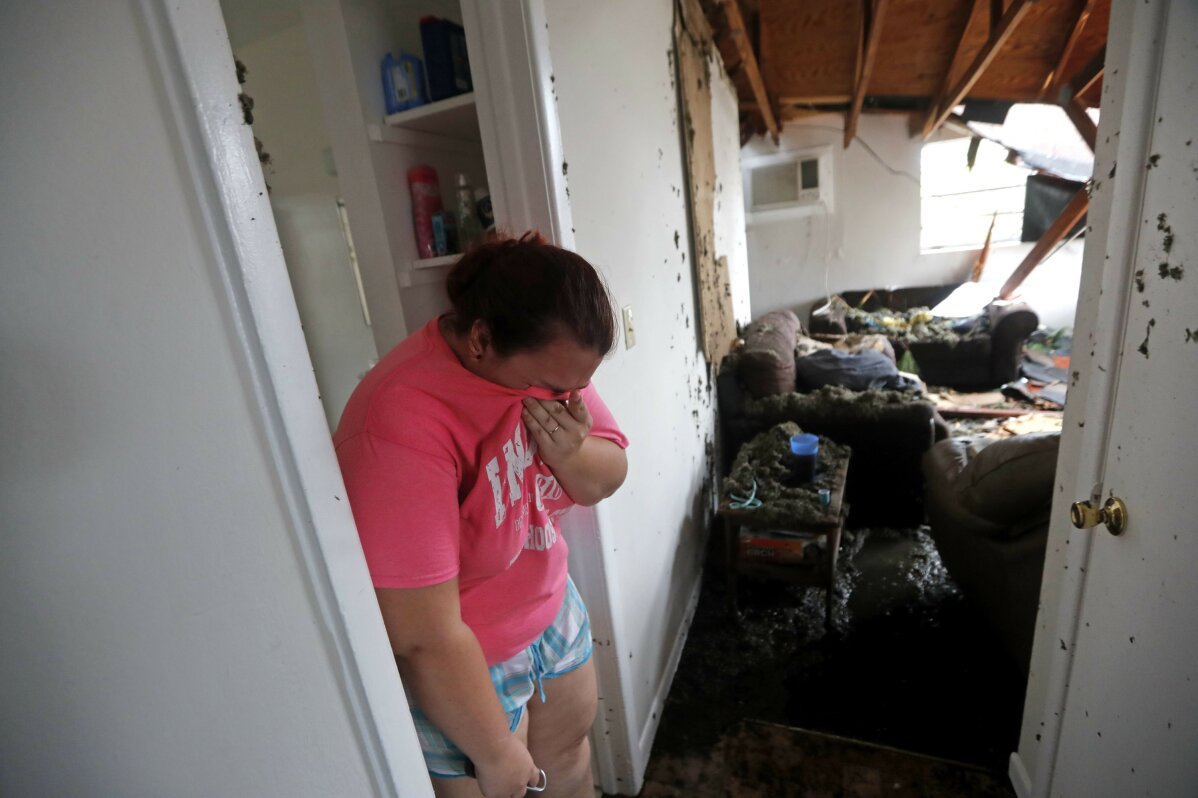 33 of 39

|
Kaylee O'Brian weeps inside her home after several trees fell on it during Hurricane Michael in Panama City, Fla., Wednesday, Oct. 10, 2018. (AP Photo/Gerald Herbert)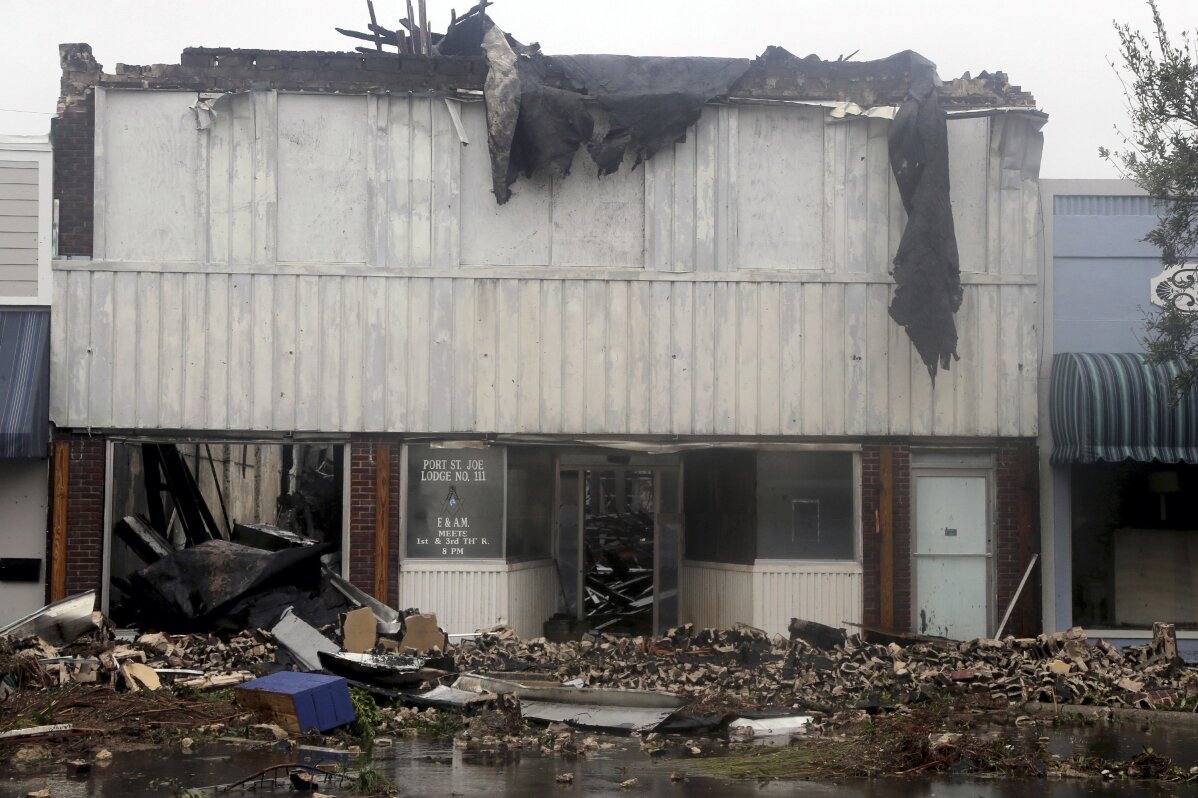 34 of 39

|
Port St. Joe Lodge No. 111 lay in ruins after Hurricane Michael made landfall, Wednesday, Oct. 10, 2018 in Port St. Joe, Fla. Supercharged by abnormally warm waters in the Gulf of Mexico, Hurricane Michael slammed into the Florida Panhandle with terrifying winds of 155 mph Wednesday, splintering homes and submerging neighborhoods. (Douglas R. Clifford/Tampa Bay Times via AP)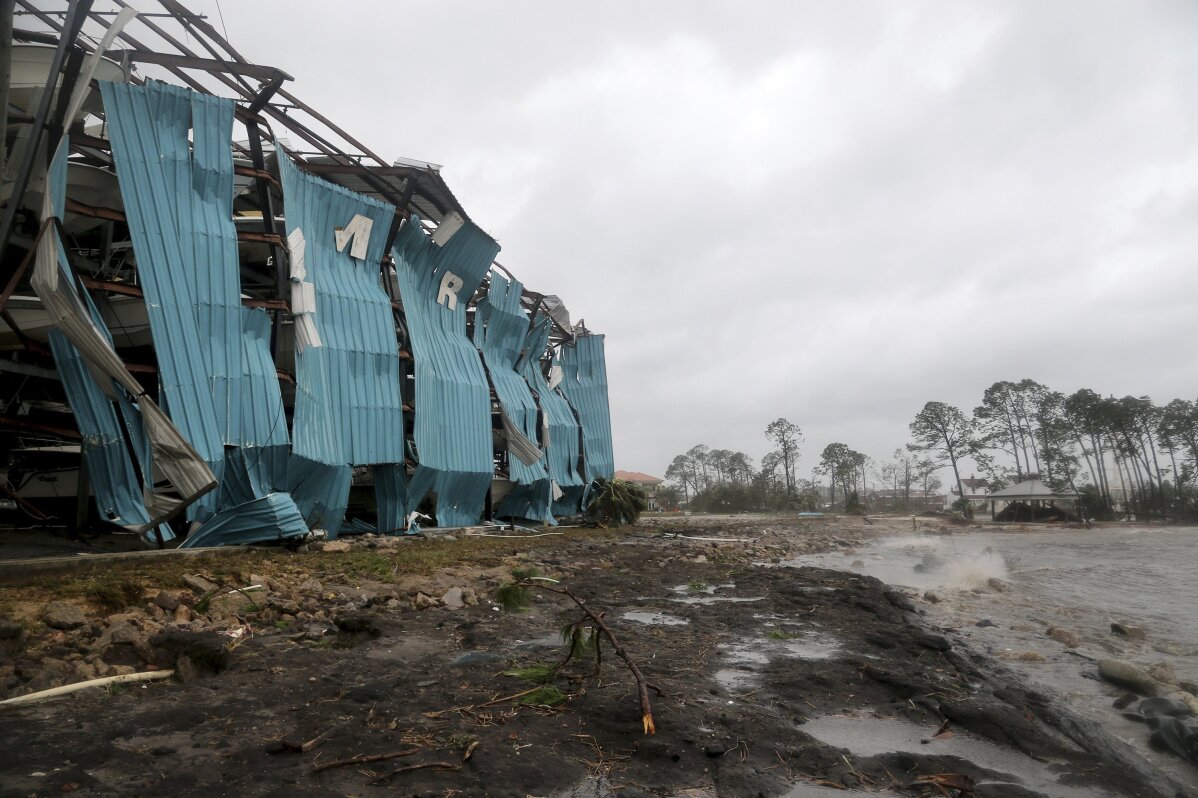 35 of 39

|
A marina warehouse is damaged at the Port St. Joe Marina, Wednesday, Oct. 10, 2018 in Port St. Joe, Fla. Supercharged by abnormally warm waters in the Gulf of Mexico, Hurricane Michael slammed into the Florida Panhandle with terrifying winds of 155 mph Wednesday, splintering homes and submerging neighborhoods. (Douglas R. Clifford/Tampa Bay Times via AP)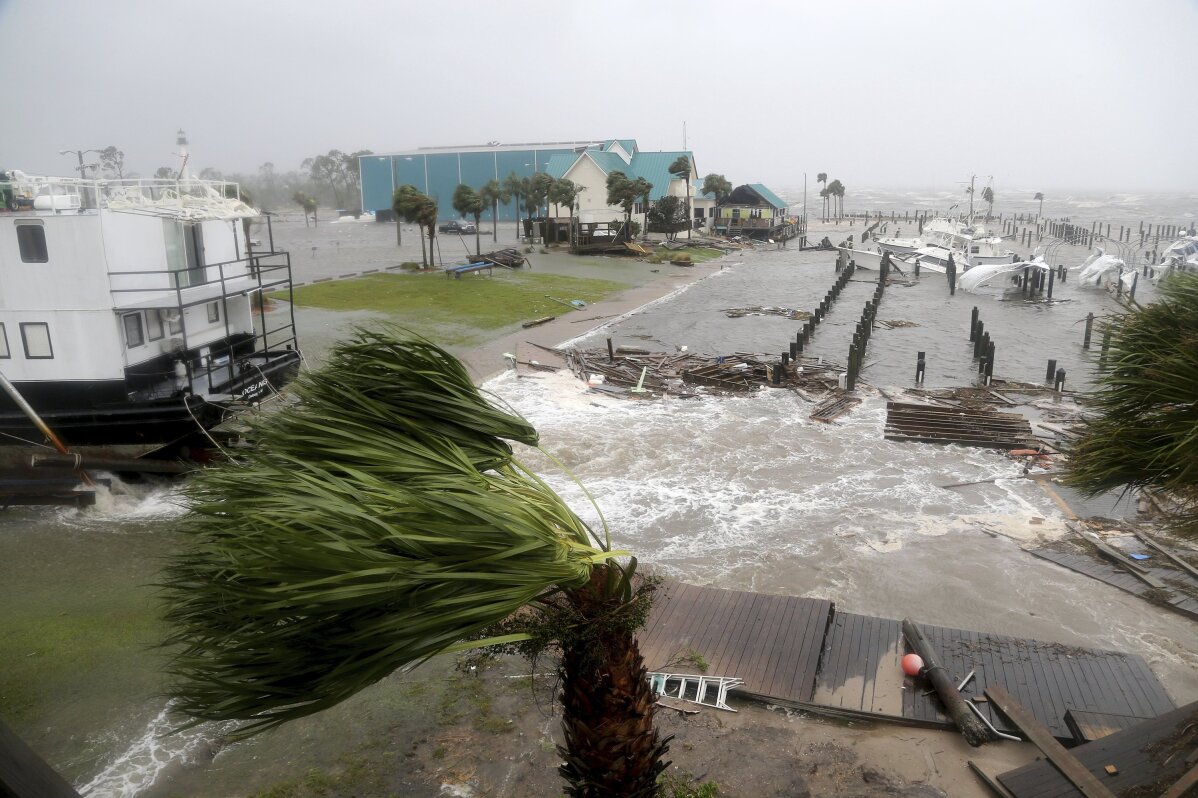 36 of 39

|
Boats lay sunk and damaged at the Port St. Joe Marina, Wednesday, Oct. 10, 2018 in Port St. Joe, Fla. Supercharged by abnormally warm waters in the Gulf of Mexico, Hurricane Michael slammed into the Florida Panhandle with terrifying winds of 155 mph Wednesday, splintering homes and submerging neighborhoods. (Douglas R. Clifford/Tampa Bay Times via AP)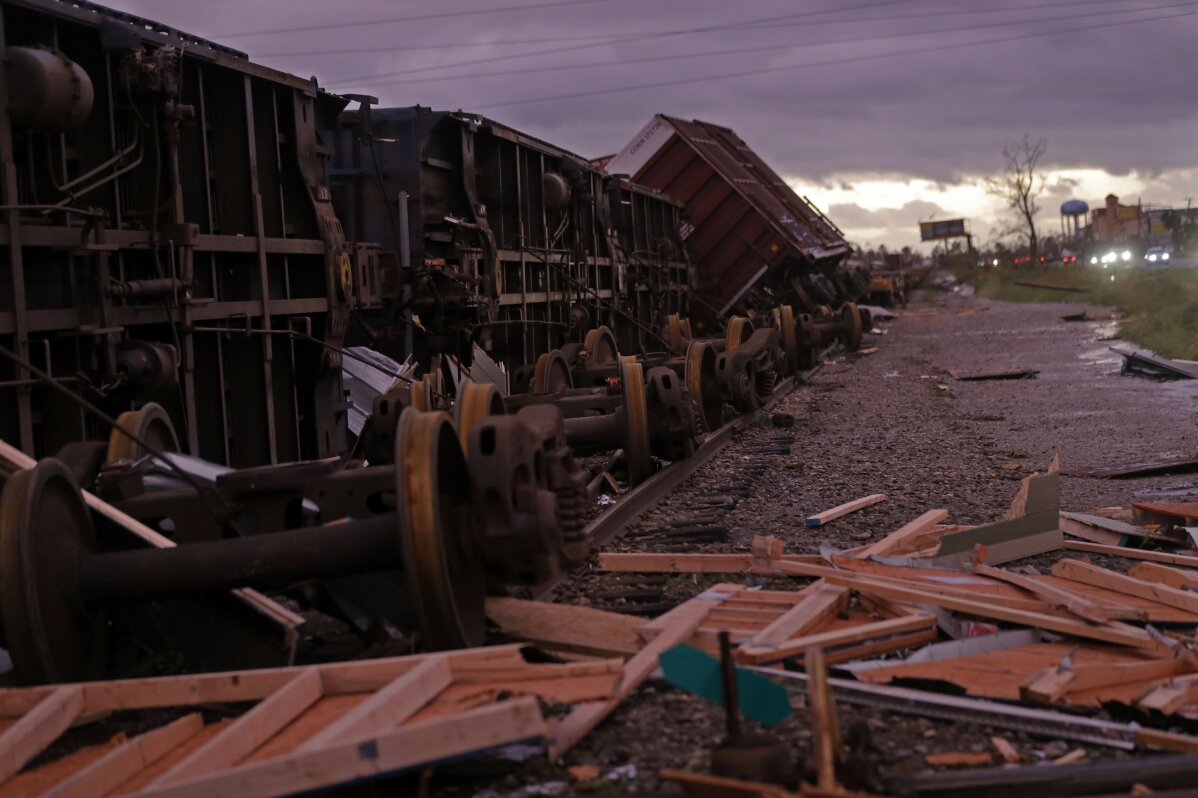 37 of 39

|
Derailed box cars are seen in the aftermath of Hurricane Michael in Panama City, Fla., Wednesday, Oct. 10, 2018. (AP Photo/Gerald Herbert)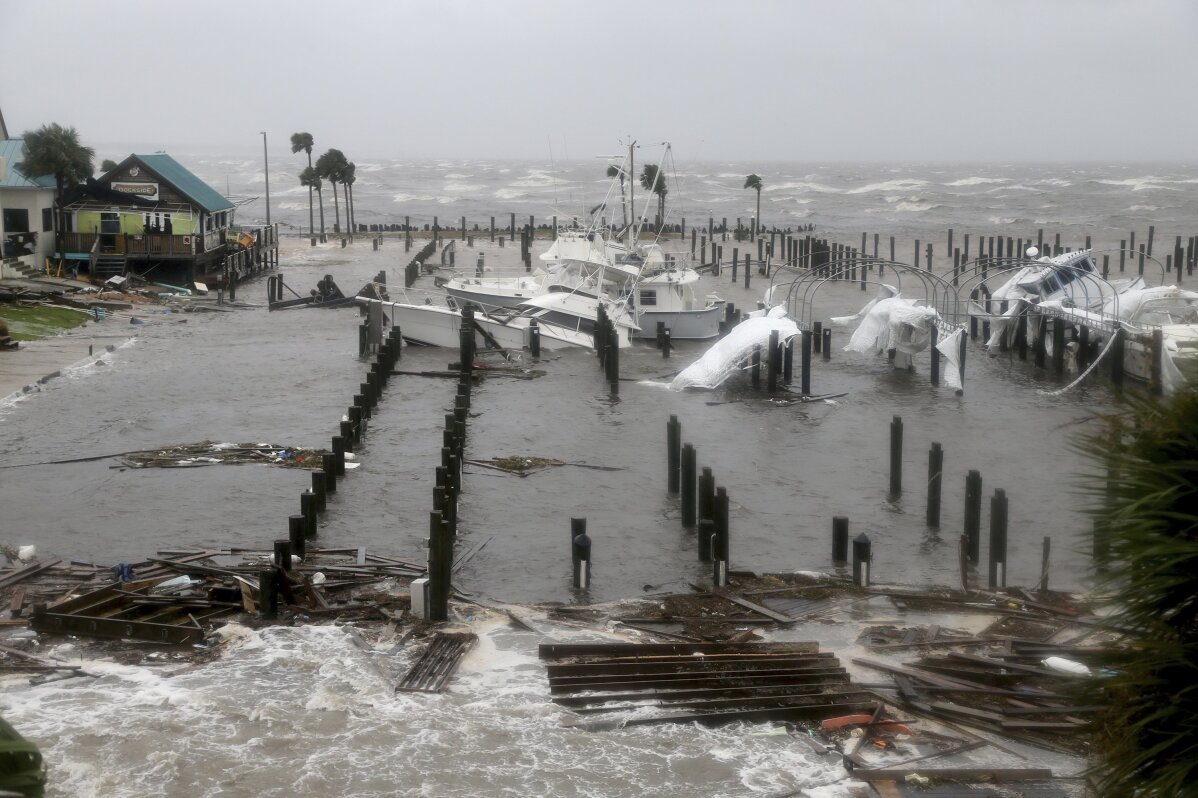 38 of 39

|
Storm Surge retreats from inland areas, foreground, where boats lay sunk and damaged at the Port St. Joe Marina, Wednesday, Oct. 10, 2018 in Port St. Joe, Fla. Supercharged by abnormally warm waters in the Gulf of Mexico, Hurricane Michael slammed into the Florida Panhandle with terrifying winds of 155 mph Wednesday, splintering homes and submerging neighborhoods. (Douglas R. Clifford/Tampa Bay Times via AP)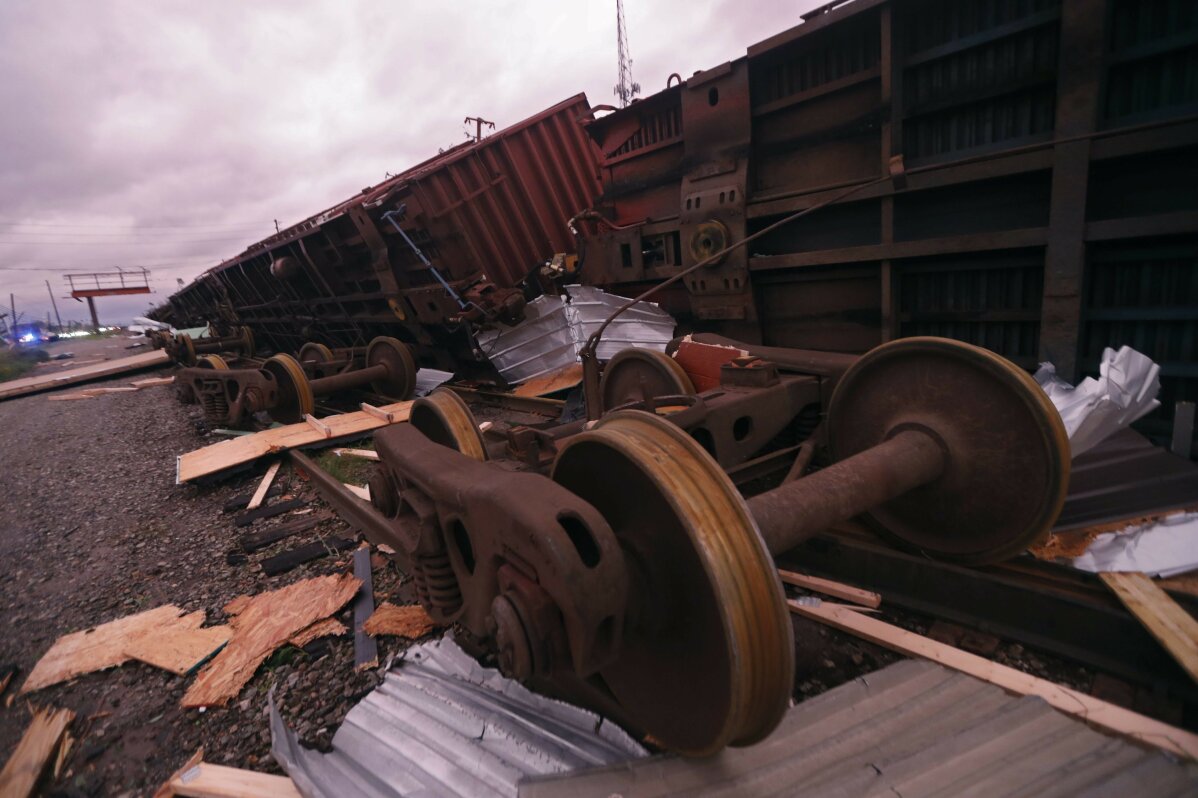 39 of 39

|
Derailed box cars are seen in the aftermath of Hurricane Michael in Panama City, Fla., Wednesday, Oct. 10, 2018. (AP Photo/Gerald Herbert)
The Latest: Michael still a hurricane hours after landfall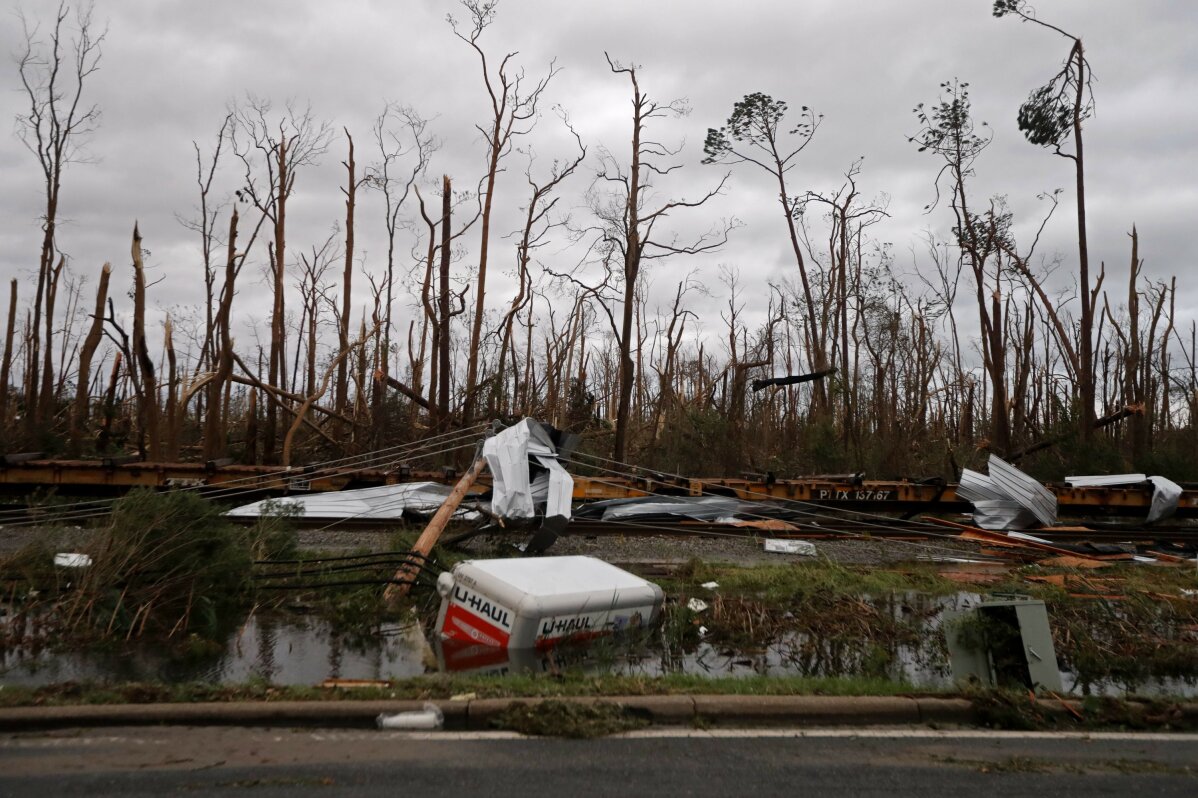 1 of 39

|
Shredded trees, derailed train cars and a sunken trailer are seen in the aftermath of Hurricane Michael in Panama City, Fla., Wednesday, Oct. 10, 2018. (AP Photo/Gerald Herbert)
1 of 39
Shredded trees, derailed train cars and a sunken trailer are seen in the aftermath of Hurricane Michael in Panama City, Fla., Wednesday, Oct. 10, 2018. (AP Photo/Gerald Herbert)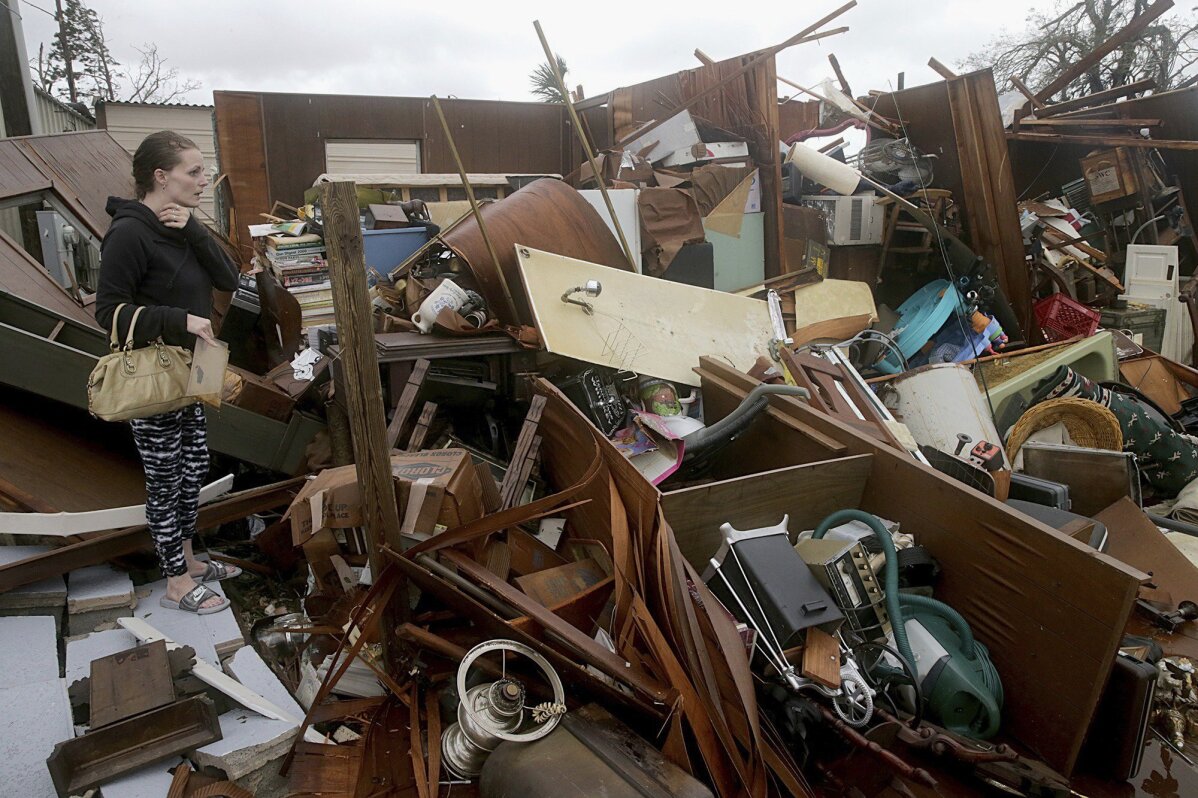 2 of 39

|
Haley Nelson inspects damages to her family properties in the Panama City, Fla., spring field area after Hurricane Michael made landfall in Florida's Panhandle on Wednesday, Oct. 10, 2018. Supercharged by abnormally warm waters in the Gulf of Mexico, Hurricane Michael slammed into the Florida Panhandle with terrifying winds of 155 mph Wednesday, splintering homes and submerging neighborhoods before continuing its march inland. (Pedro Portal/Miami Herald via AP)
2 of 39
Haley Nelson inspects damages to her family properties in the Panama City, Fla., spring field area after Hurricane Michael made landfall in Florida's Panhandle on Wednesday, Oct. 10, 2018. Supercharged by abnormally warm waters in the Gulf of Mexico, Hurricane Michael slammed into the Florida Panhandle with terrifying winds of 155 mph Wednesday, splintering homes and submerging neighborhoods before continuing its march inland. (Pedro Portal/Miami Herald via AP)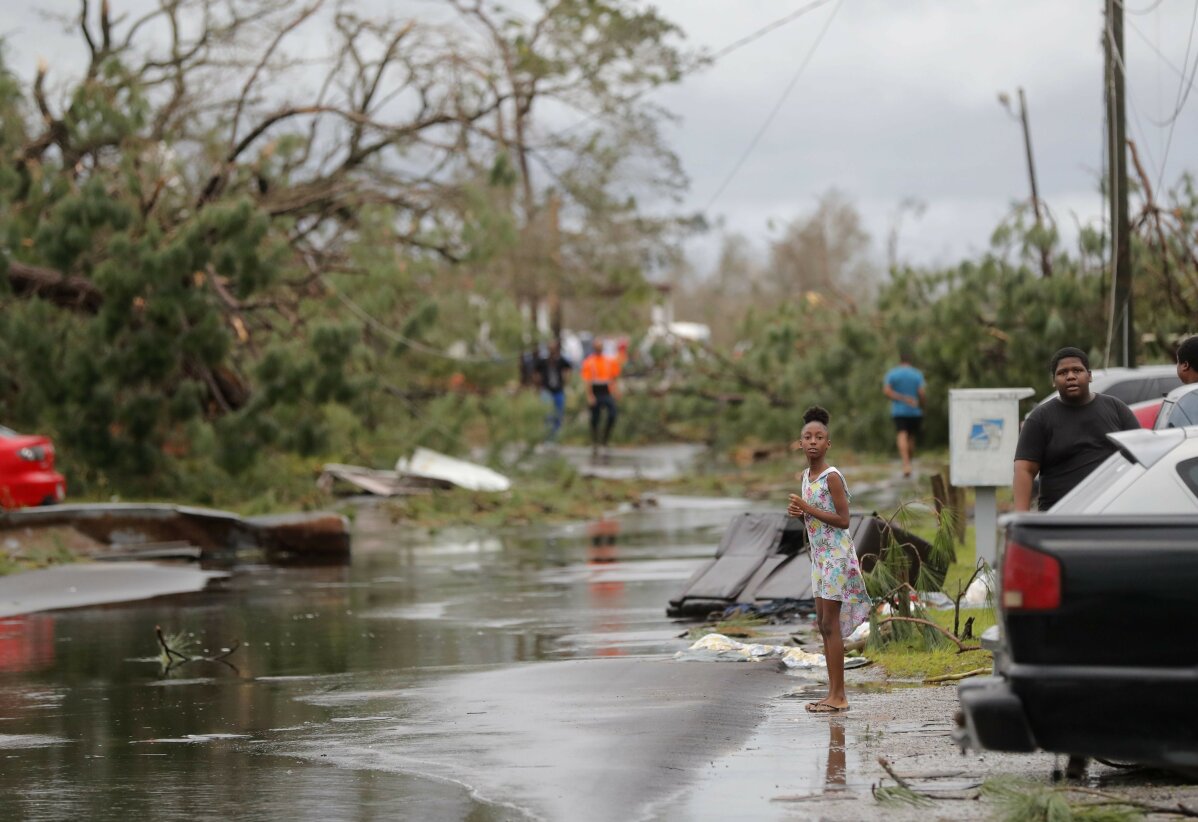 3 of 39

|
Tamiya Waldon looks out at the damage to her neighborhood in the aftermath of Hurricane Michael in Panama City, Fla., Wednesday, Oct. 10, 2018. (AP Photo/Gerald Herbert)
3 of 39
Tamiya Waldon looks out at the damage to her neighborhood in the aftermath of Hurricane Michael in Panama City, Fla., Wednesday, Oct. 10, 2018. (AP Photo/Gerald Herbert)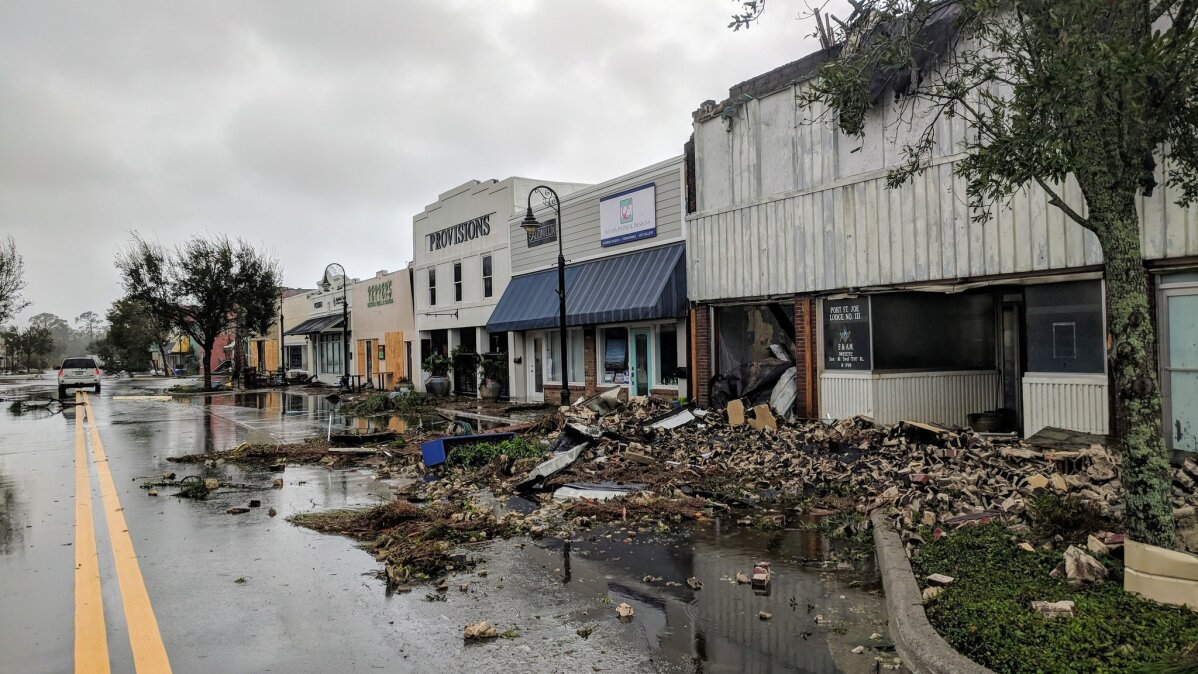 4 of 39

|
Hurricane Michael formed off the coast of Cuba carrying major Category 4 landfall in the Florida Panhandle. Surge in the Big Bend area, along with catastrophic winds at 155mph. Port St. Joe Lodge number 111, at right, lay in ruins on Reid Avenue on Wednesday, Oct. 10, 2018, in Port St. Joe, Fla., after Hurricane Michael made landfall in the Florida Panhandle. (Douglas R. Clifford/The Tampa Bay Times via AP)
4 of 39
Hurricane Michael formed off the coast of Cuba carrying major Category 4 landfall in the Florida Panhandle. Surge in the Big Bend area, along with catastrophic winds at 155mph. Port St. Joe Lodge number 111, at right, lay in ruins on Reid Avenue on Wednesday, Oct. 10, 2018, in Port St. Joe, Fla., after Hurricane Michael made landfall in the Florida Panhandle. (Douglas R. Clifford/The Tampa Bay Times via AP)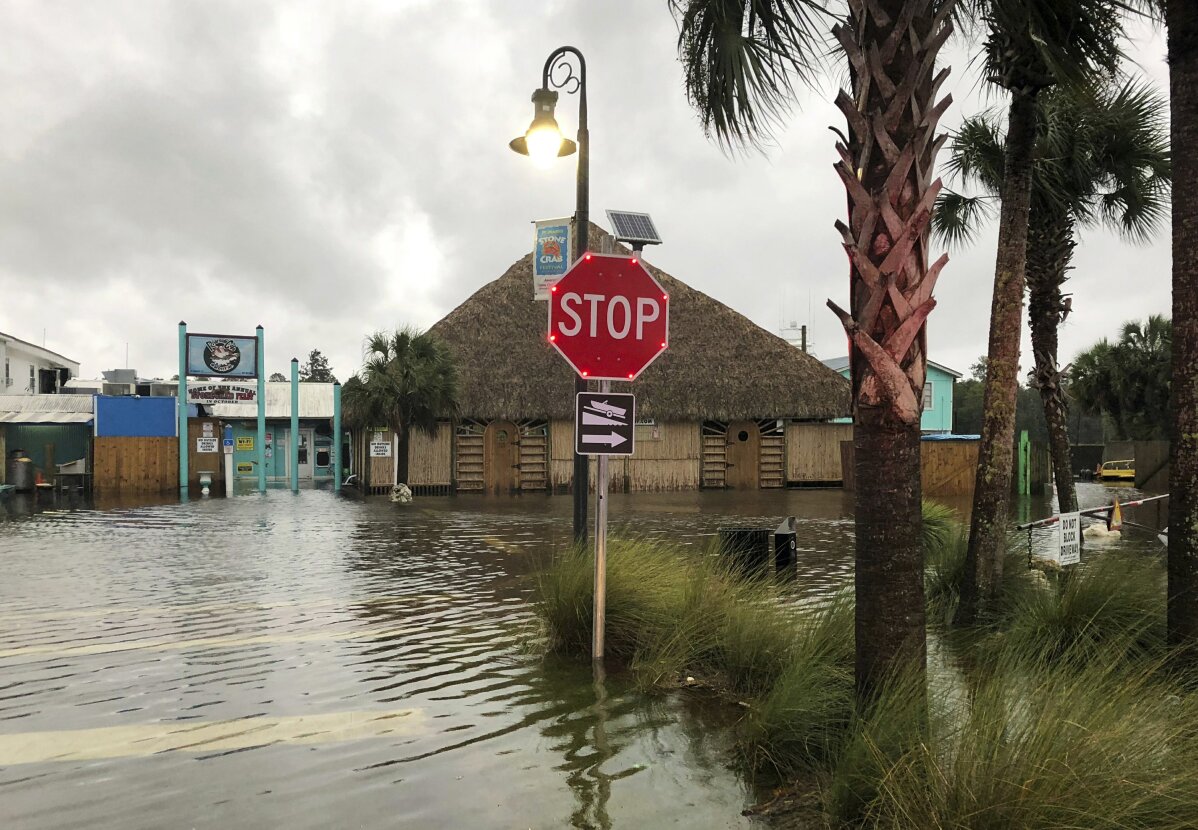 5 of 39

|
The St. Marks River overflows into the city of St. Marks, Fla., ahead of Hurricane Michael, Wednesday, Oct. 10, 2018. The hurricane center says Michael will be the first Category 4 hurricane to make landfall on the Florida Panhandle. (AP Photo/Brendan Farrington)
5 of 39
The St. Marks River overflows into the city of St. Marks, Fla., ahead of Hurricane Michael, Wednesday, Oct. 10, 2018. The hurricane center says Michael will be the first Category 4 hurricane to make landfall on the Florida Panhandle. (AP Photo/Brendan Farrington)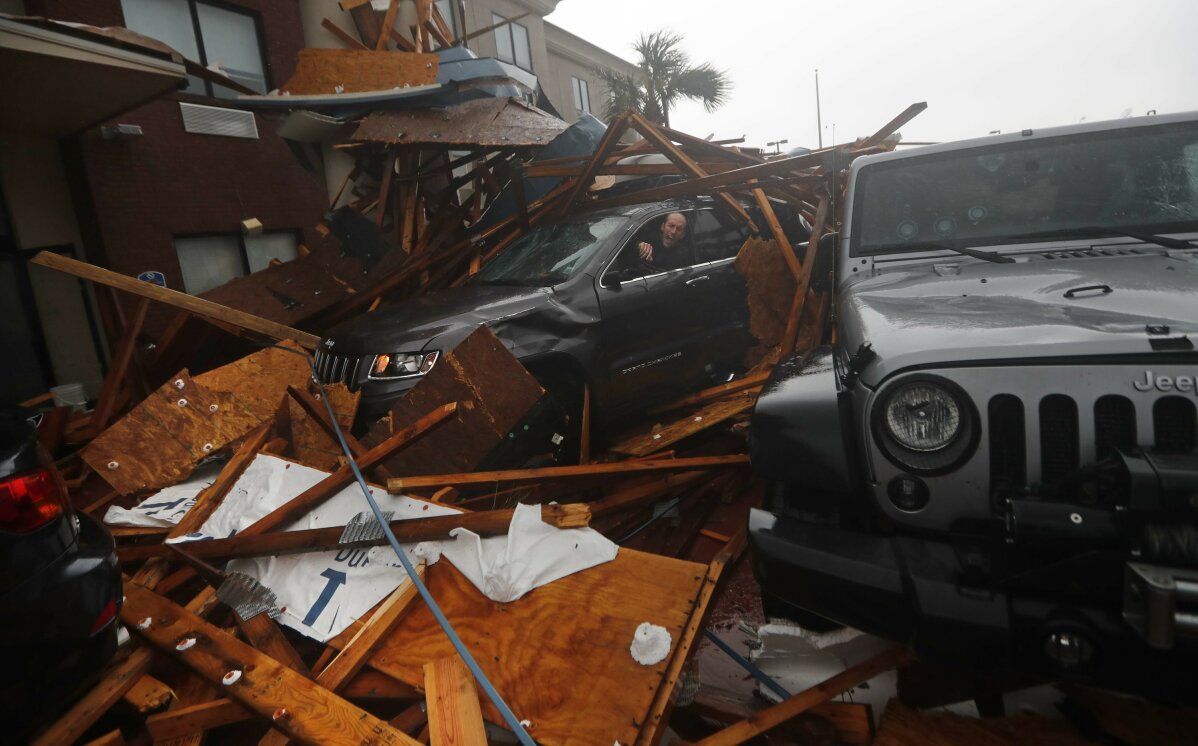 6 of 39

|
A storm chaser climbs into his vehicle during the eye of Hurricane Michael to retrieve equipment after a hotel canopy collapsed in Panama City Beach, Fla., Wednesday, Oct. 10, 2018. (AP Photo/Gerald Herbert)
6 of 39
A storm chaser climbs into his vehicle during the eye of Hurricane Michael to retrieve equipment after a hotel canopy collapsed in Panama City Beach, Fla., Wednesday, Oct. 10, 2018. (AP Photo/Gerald Herbert)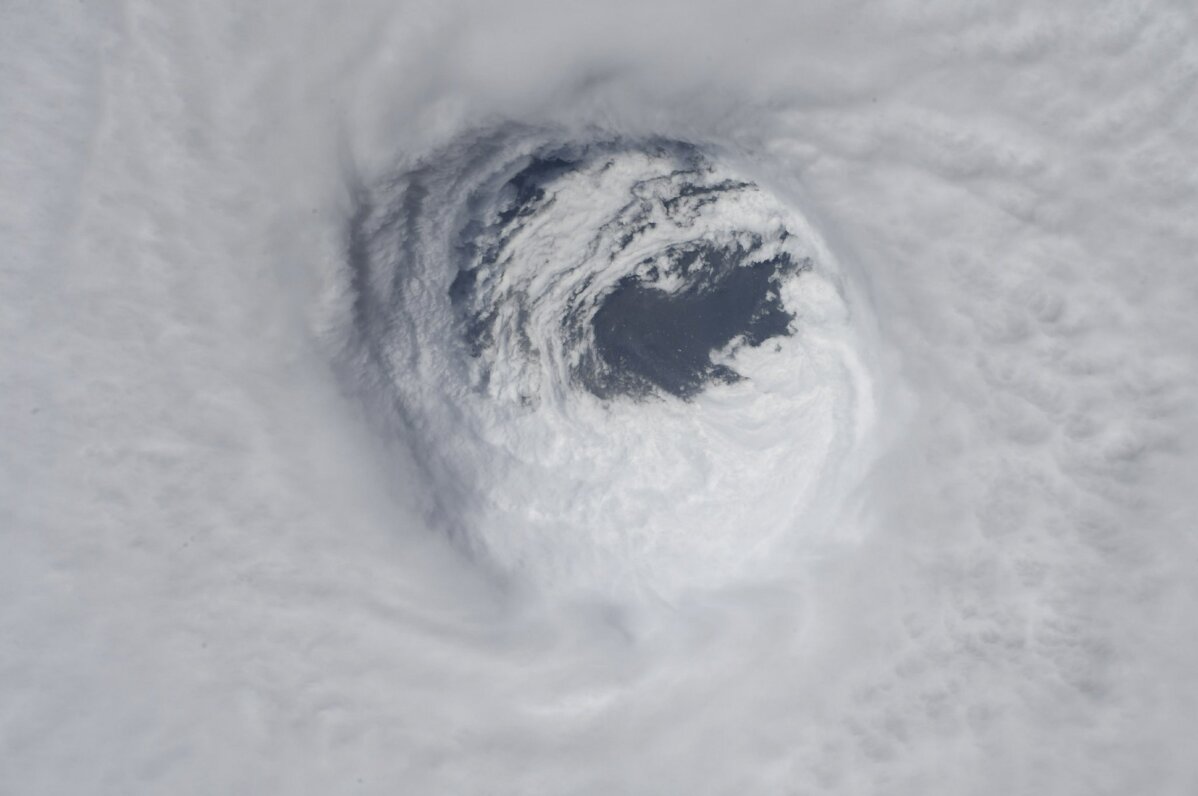 7 of 39

|
This photo made available by NASA shows they eye of Hurricane Michael, as seen from the International Space Station on Wednesday, Oct. 10, 2018. (NASA via AP)
7 of 39
This photo made available by NASA shows they eye of Hurricane Michael, as seen from the International Space Station on Wednesday, Oct. 10, 2018. (NASA via AP)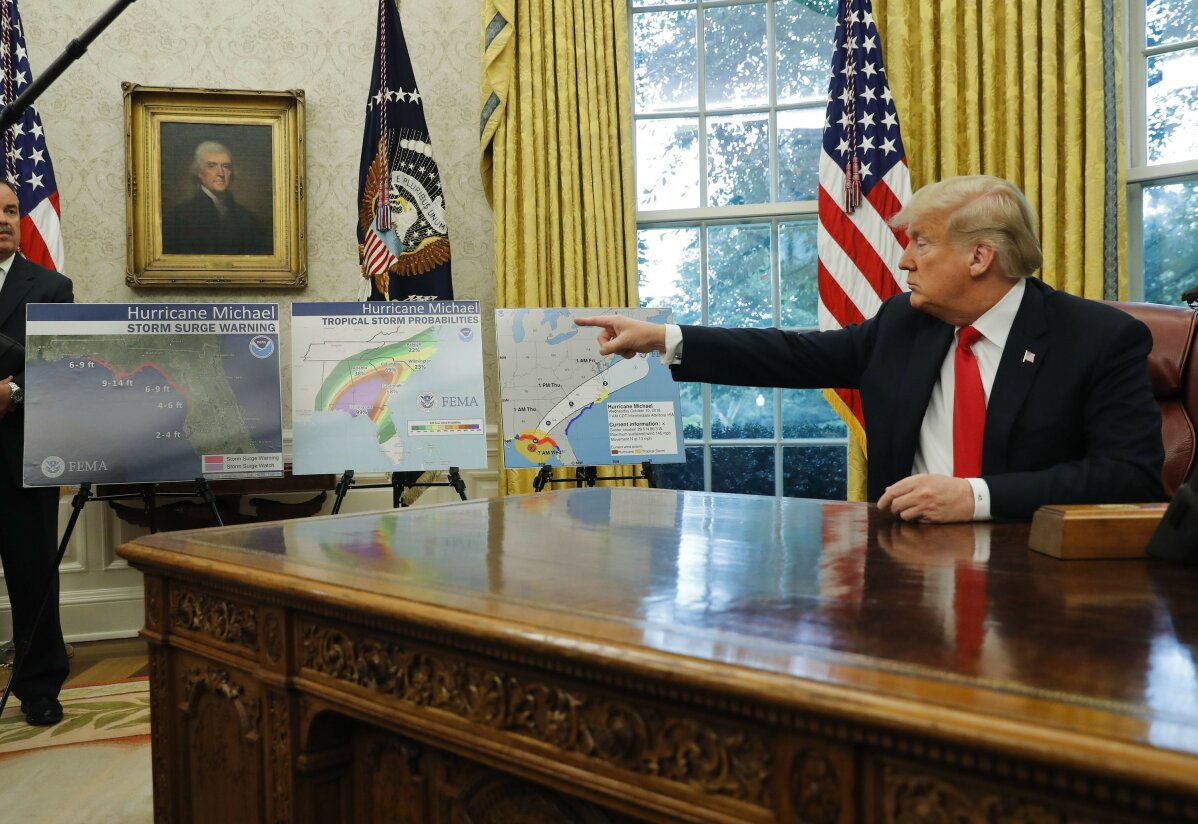 8 of 39

|
President Donald Trump points towards maps while discussing potential damage from Hurricane Michael with Homeland Security Secretary Kirstjen Nielsen and FEMA Administrator Brock Long in the Oval Office of the White House in Washington, Wednesday, Oct. 10, 2018. (AP Photo/Pablo Martinez Monsivais)
8 of 39
President Donald Trump points towards maps while discussing potential damage from Hurricane Michael with Homeland Security Secretary Kirstjen Nielsen and FEMA Administrator Brock Long in the Oval Office of the White House in Washington, Wednesday, Oct. 10, 2018. (AP Photo/Pablo Martinez Monsivais)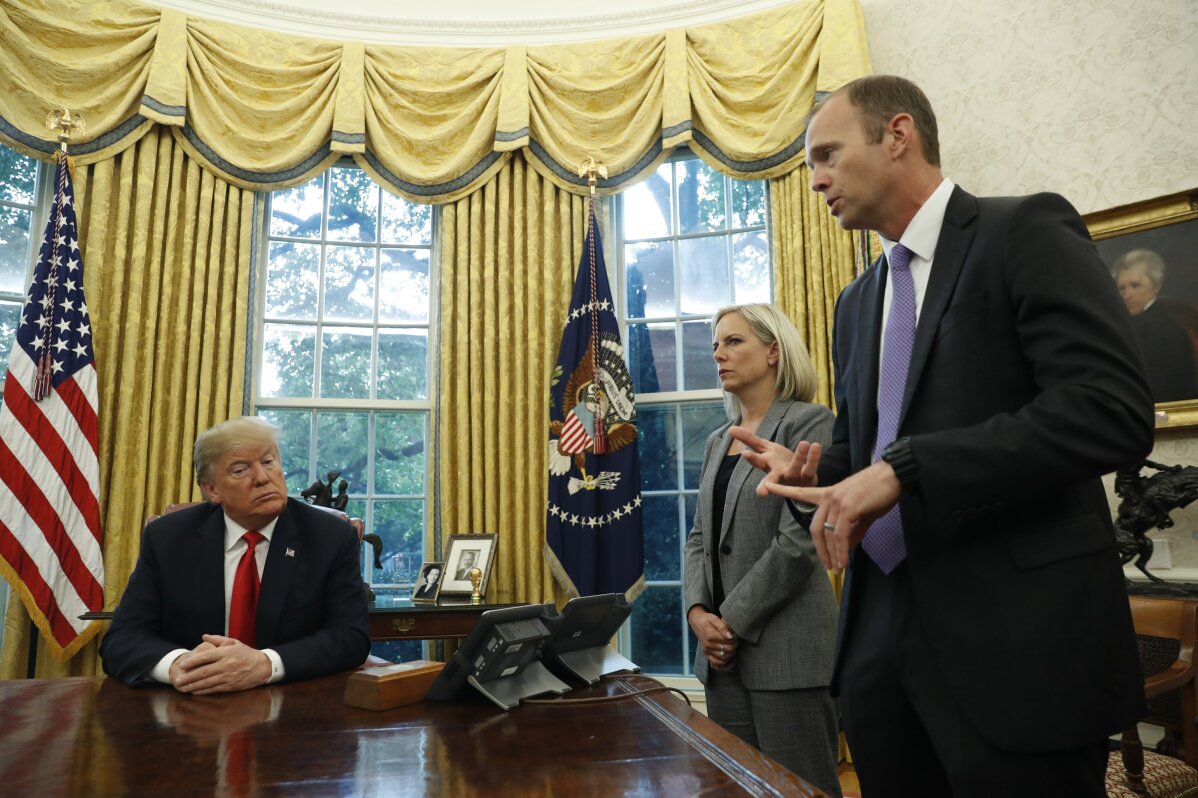 9 of 39

|
President Donald Trump meets with Homeland Security Secretary Kirstjen Nielsen and FEMA Administrator Brock Long in the Oval Office of the White House in Washington, Wednesday, Oct. 10, 2018. (AP Photo/Pablo Martinez Monsivais)
9 of 39
President Donald Trump meets with Homeland Security Secretary Kirstjen Nielsen and FEMA Administrator Brock Long in the Oval Office of the White House in Washington, Wednesday, Oct. 10, 2018. (AP Photo/Pablo Martinez Monsivais)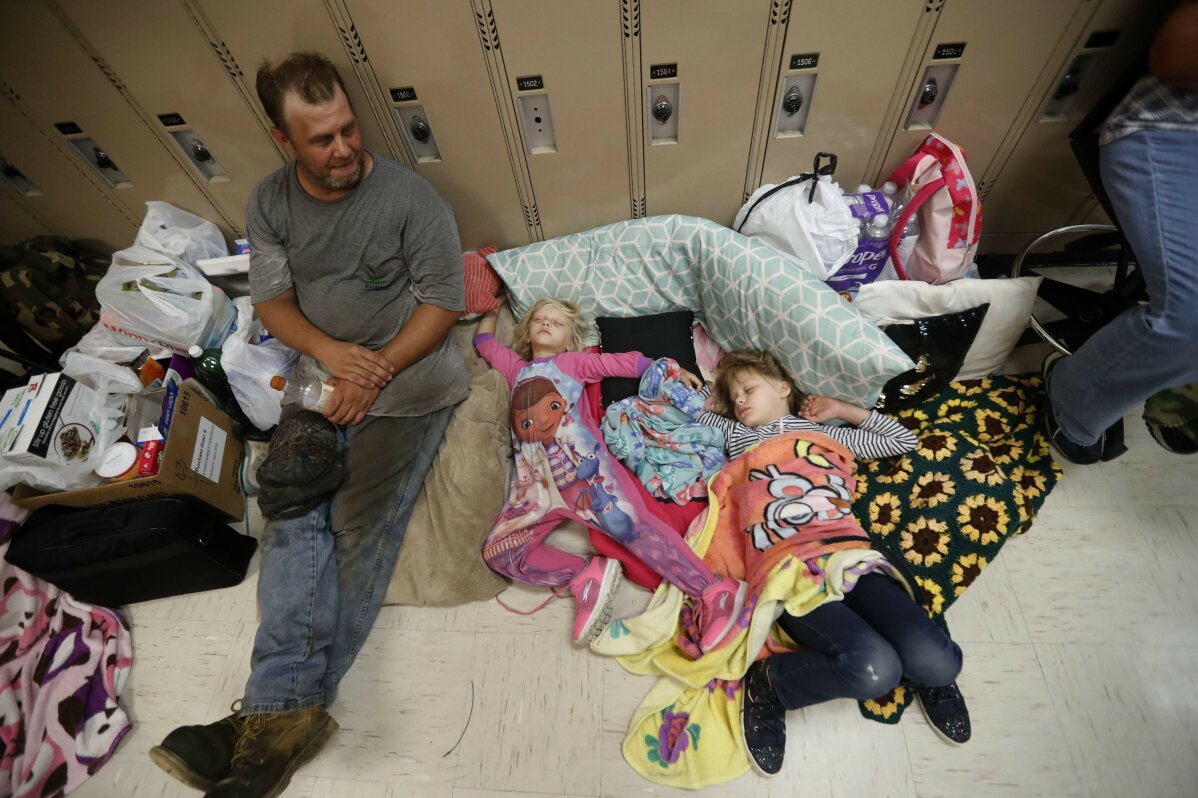 10 of 39

|
CORRECTS HURRICANE NAME TO MICHAEL NOT MATTHEW - Earnest Sweet sits while his daughters Terri, 4, center, and Anna, 7, sleep at an evacuation shelter set up at Rutherford High School, in advance of Hurricane Michael, which is expected to make landfall today, in Panama City Beach, Fla., Wednesday, Oct. 10, 2018. (AP Photo/Gerald Herbert)
10 of 39
CORRECTS HURRICANE NAME TO MICHAEL NOT MATTHEW - Earnest Sweet sits while his daughters Terri, 4, center, and Anna, 7, sleep at an evacuation shelter set up at Rutherford High School, in advance of Hurricane Michael, which is expected to make landfall today, in Panama City Beach, Fla., Wednesday, Oct. 10, 2018. (AP Photo/Gerald Herbert)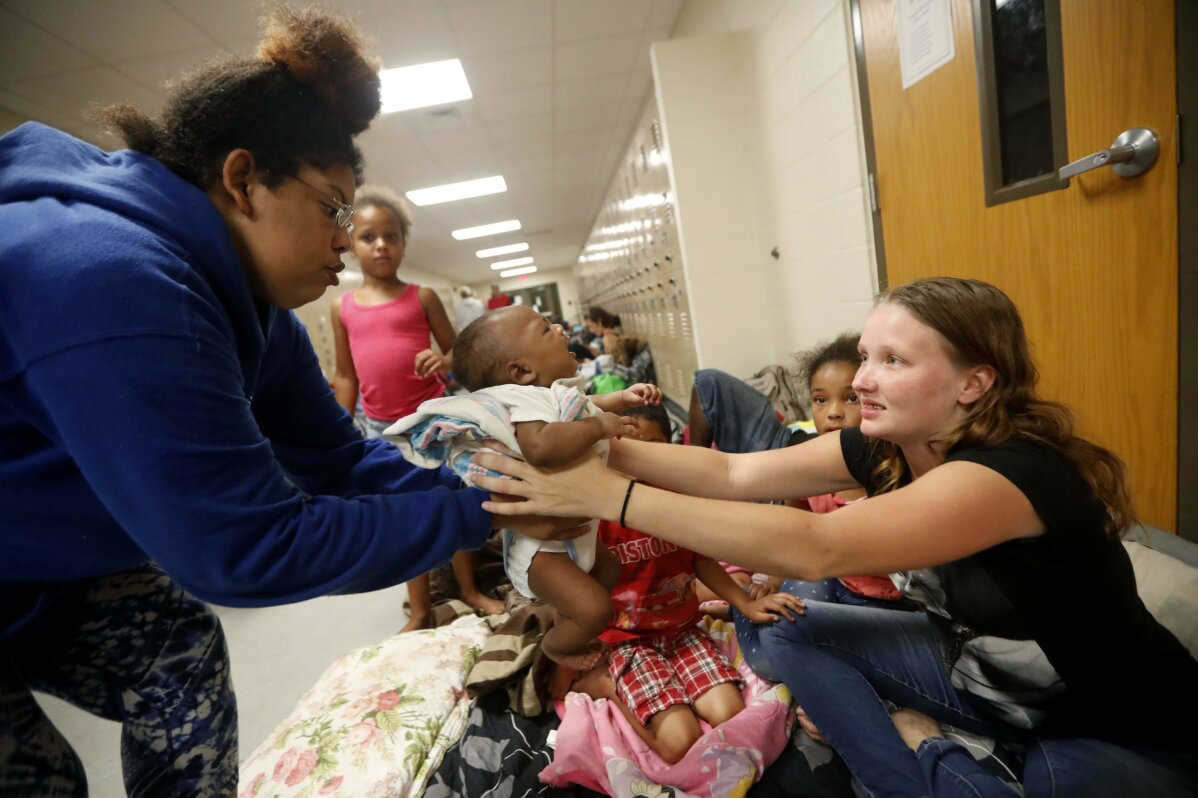 11 of 39

|
CORRECTS NAME OF HURRICANE TO MICHAEL FROM MATTHEW - Mokeyonia Bell takes her child, Jerah'monie Anthony Bell, 2 months, from godmother Ashley Fillingim, at an evacuation shelter set up at Rutherford High School, in advance of Hurricane Michael, which is expected to make landfall today, in Panama City Beach, Fla., Wednesday, Oct. 10, 2018. (AP Photo/Gerald Herbert)
11 of 39
CORRECTS NAME OF HURRICANE TO MICHAEL FROM MATTHEW - Mokeyonia Bell takes her child, Jerah'monie Anthony Bell, 2 months, from godmother Ashley Fillingim, at an evacuation shelter set up at Rutherford High School, in advance of Hurricane Michael, which is expected to make landfall today, in Panama City Beach, Fla., Wednesday, Oct. 10, 2018. (AP Photo/Gerald Herbert)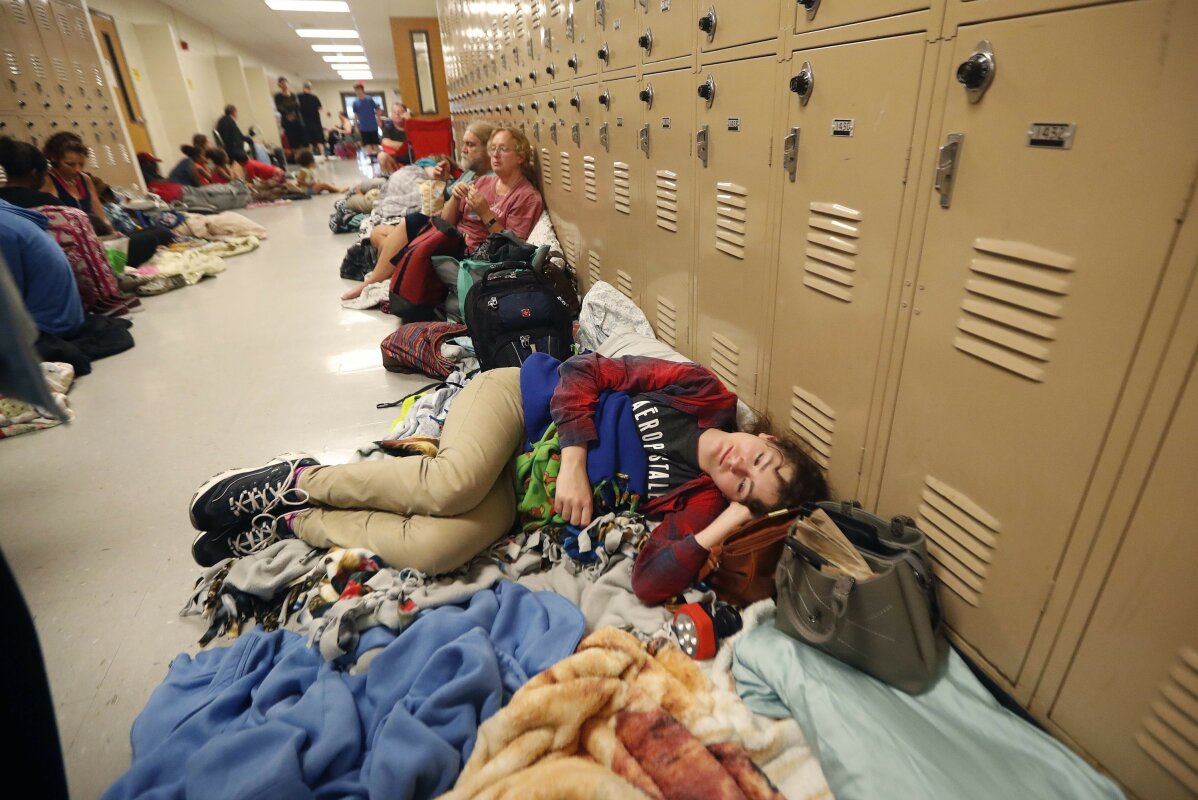 12 of 39

|
CORRECTS NAME OF HURRICANE TO MICHAEL FROM MATTHEW - Emily Hindle lies on the floor at an evacuation shelter set up at Rutherford High School, in advance of Hurricane Michael, which is expected to make landfall today, in Panama City Beach, Fla., Wednesday, Oct. 10, 2018. (AP Photo/Gerald Herbert)
12 of 39
CORRECTS NAME OF HURRICANE TO MICHAEL FROM MATTHEW - Emily Hindle lies on the floor at an evacuation shelter set up at Rutherford High School, in advance of Hurricane Michael, which is expected to make landfall today, in Panama City Beach, Fla., Wednesday, Oct. 10, 2018. (AP Photo/Gerald Herbert)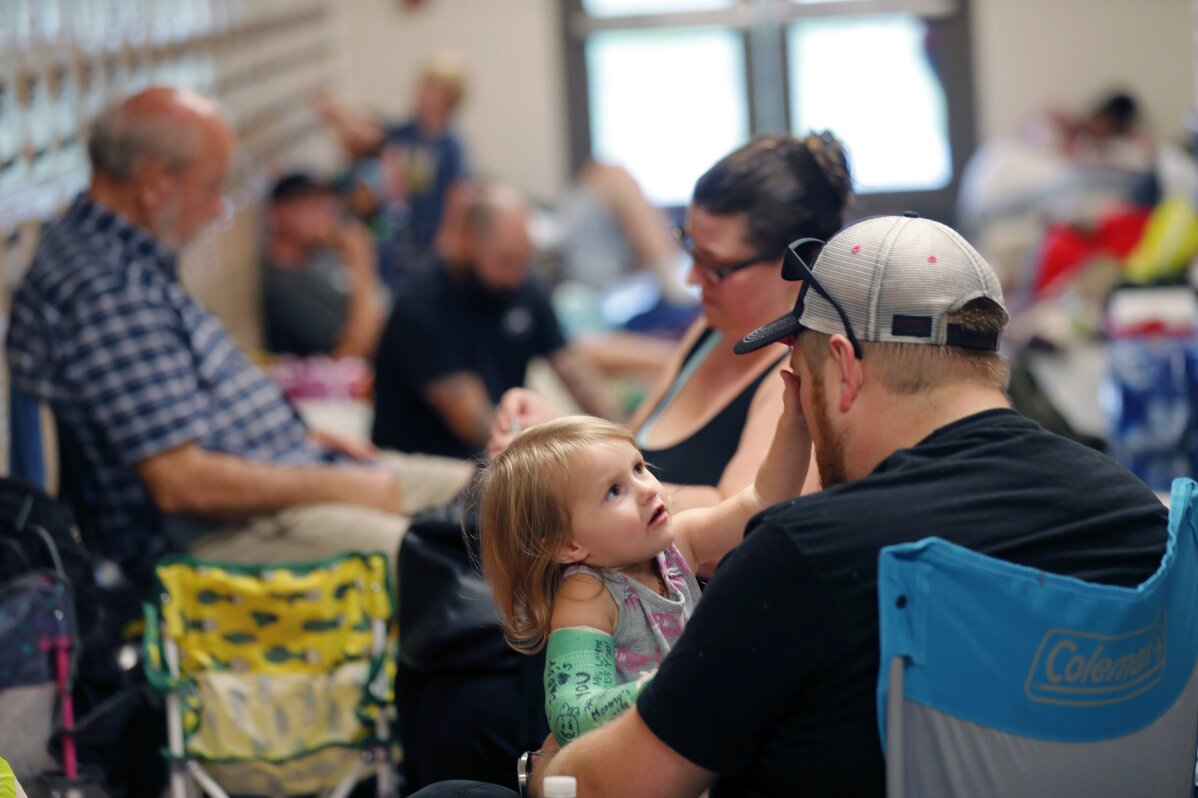 13 of 39

|
CORRECTS HURRICANE NAME TO MICHAEL NOT MATTHEW - Sean Pelham holds his daughter Sophia, 2, in a hallway at an evacuation shelter set up at Rutherford High School in advance of Hurricane Michael, which is expected to make landfall today, in Panama City Beach, Fla., Wednesday, Oct. 10, 2018. (AP Photo/Gerald Herbert)
13 of 39
CORRECTS HURRICANE NAME TO MICHAEL NOT MATTHEW - Sean Pelham holds his daughter Sophia, 2, in a hallway at an evacuation shelter set up at Rutherford High School in advance of Hurricane Michael, which is expected to make landfall today, in Panama City Beach, Fla., Wednesday, Oct. 10, 2018. (AP Photo/Gerald Herbert)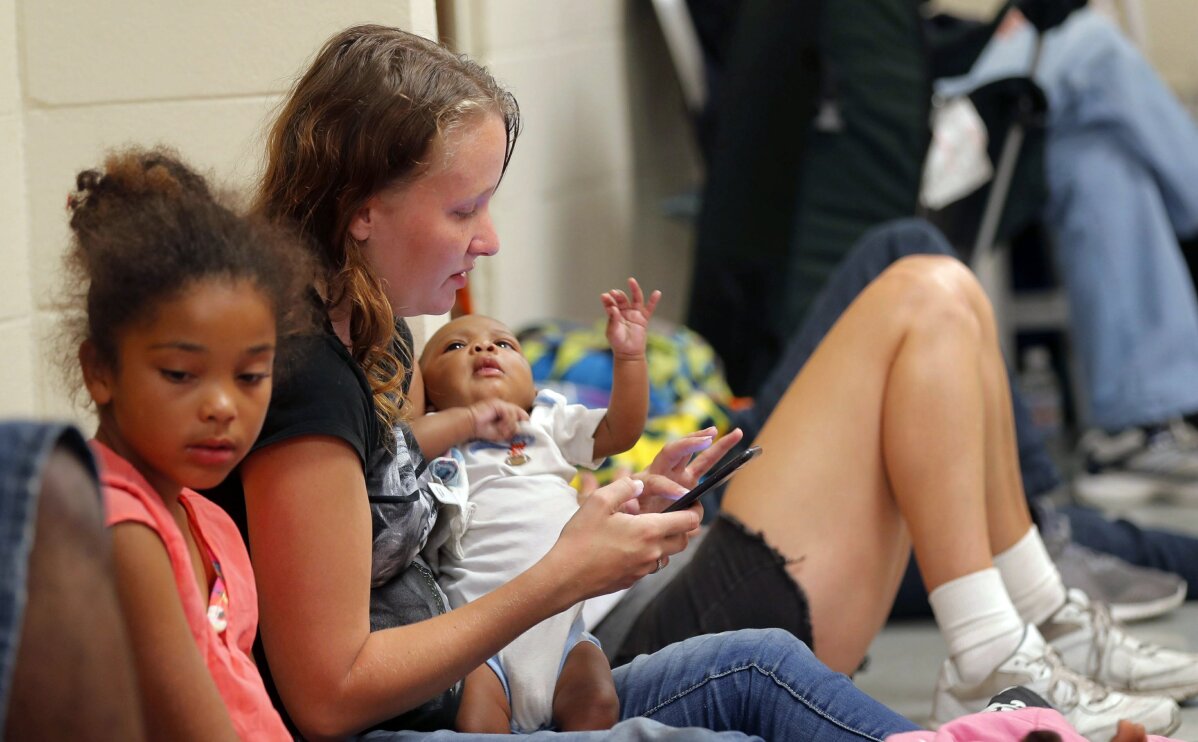 14 of 39

|
CORRECTS NAME OF HURRICANE TO MICHAEL FROM MATTHEW - Ashley Fillingim holds her godson Jerah'monie Anthony Bell, 2 months, at an evacuation shelter set up at Rutherford High School, in Panama City Beach, Fla., in advance of Hurricane Michael, which is expected to make landfall, Wednesday, Oct. 10, 2018. (AP Photo/Gerald Herbert)
14 of 39
CORRECTS NAME OF HURRICANE TO MICHAEL FROM MATTHEW - Ashley Fillingim holds her godson Jerah'monie Anthony Bell, 2 months, at an evacuation shelter set up at Rutherford High School, in Panama City Beach, Fla., in advance of Hurricane Michael, which is expected to make landfall, Wednesday, Oct. 10, 2018. (AP Photo/Gerald Herbert)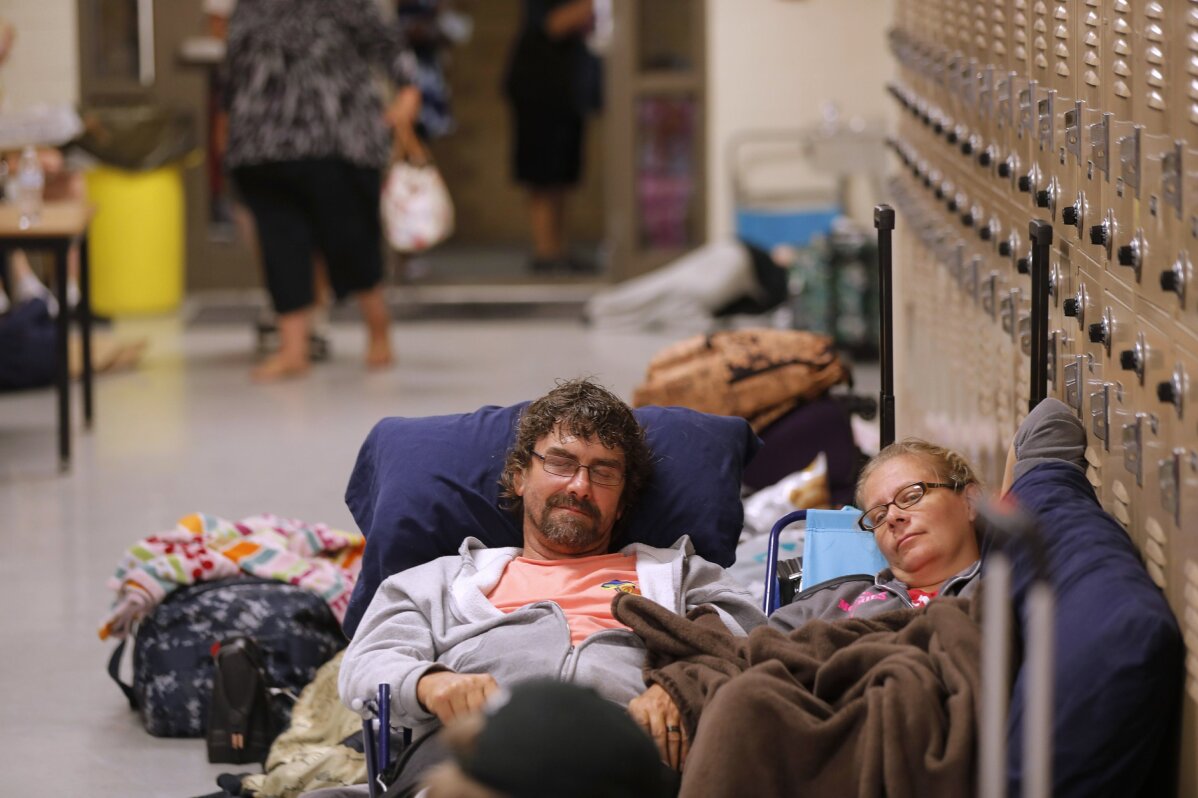 15 of 39

|
CORRECTS NAME OF HURRICANE TO MICHAEL FROM MATTHEW - Jeff Ready and his wife Julie Ready rest in a a hallway at an evacuation shelter set up at Rutherford High School, in advance of Hurricane Michael, which is expected to make landfall today, in Panama City Beach, Fla., Wednesday, Oct. 10, 2018. (AP Photo/Gerald Herbert)
15 of 39
CORRECTS NAME OF HURRICANE TO MICHAEL FROM MATTHEW - Jeff Ready and his wife Julie Ready rest in a a hallway at an evacuation shelter set up at Rutherford High School, in advance of Hurricane Michael, which is expected to make landfall today, in Panama City Beach, Fla., Wednesday, Oct. 10, 2018. (AP Photo/Gerald Herbert)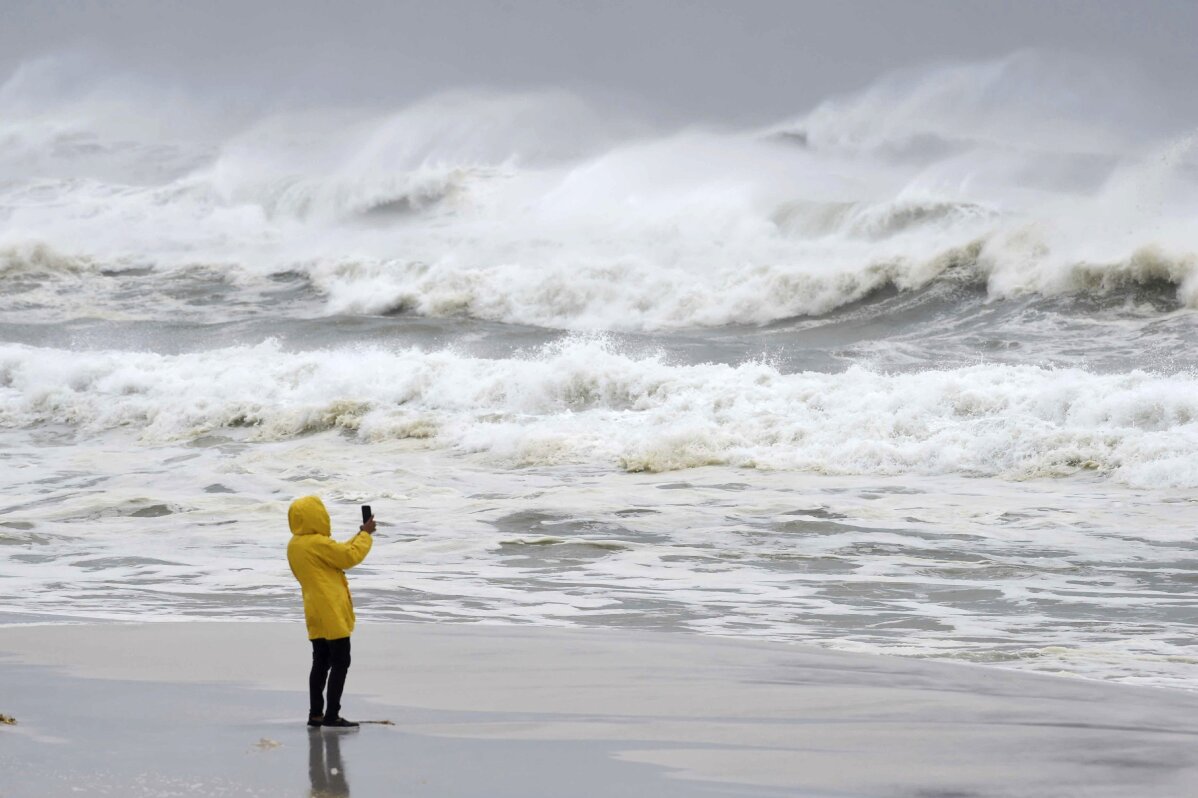 16 of 39

|
An unidentified person takes pictures of the surf and fishing pier on Okaloosa Island in Fort Walton Beach, Fla., on Wednesday, Oct. 10, 2018, as Hurricane Michael approaches the Florida Gulf Coast. [Devon Ravine/Northwest Florida Daily News via AP)
16 of 39
An unidentified person takes pictures of the surf and fishing pier on Okaloosa Island in Fort Walton Beach, Fla., on Wednesday, Oct. 10, 2018, as Hurricane Michael approaches the Florida Gulf Coast. [Devon Ravine/Northwest Florida Daily News via AP)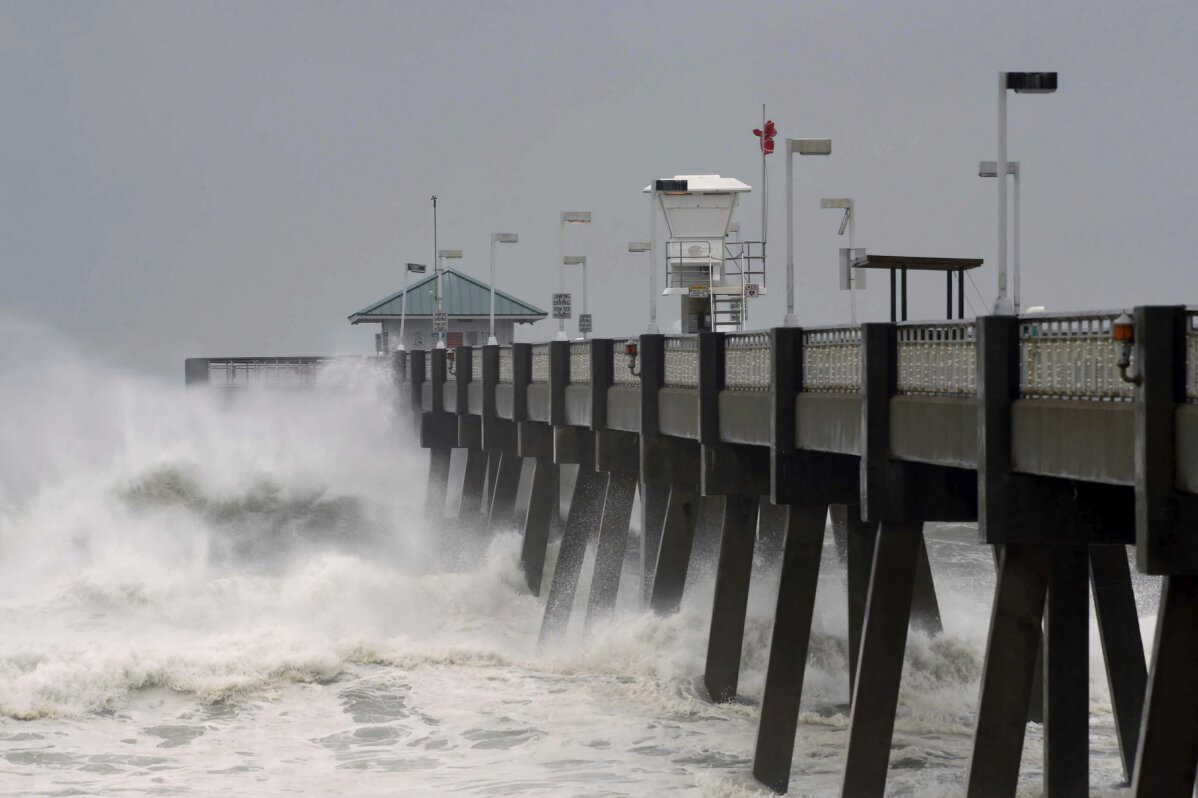 17 of 39

|
Heavy surf from the approaching Hurricane Michael pounds the fishing pier on Okaloosa Island in Fort Walton Beach, Fla., on Wednesday, Oct. 10, 2018. (Devon Ravine/Northwest Florida Daily News via AP)
17 of 39
Heavy surf from the approaching Hurricane Michael pounds the fishing pier on Okaloosa Island in Fort Walton Beach, Fla., on Wednesday, Oct. 10, 2018. (Devon Ravine/Northwest Florida Daily News via AP)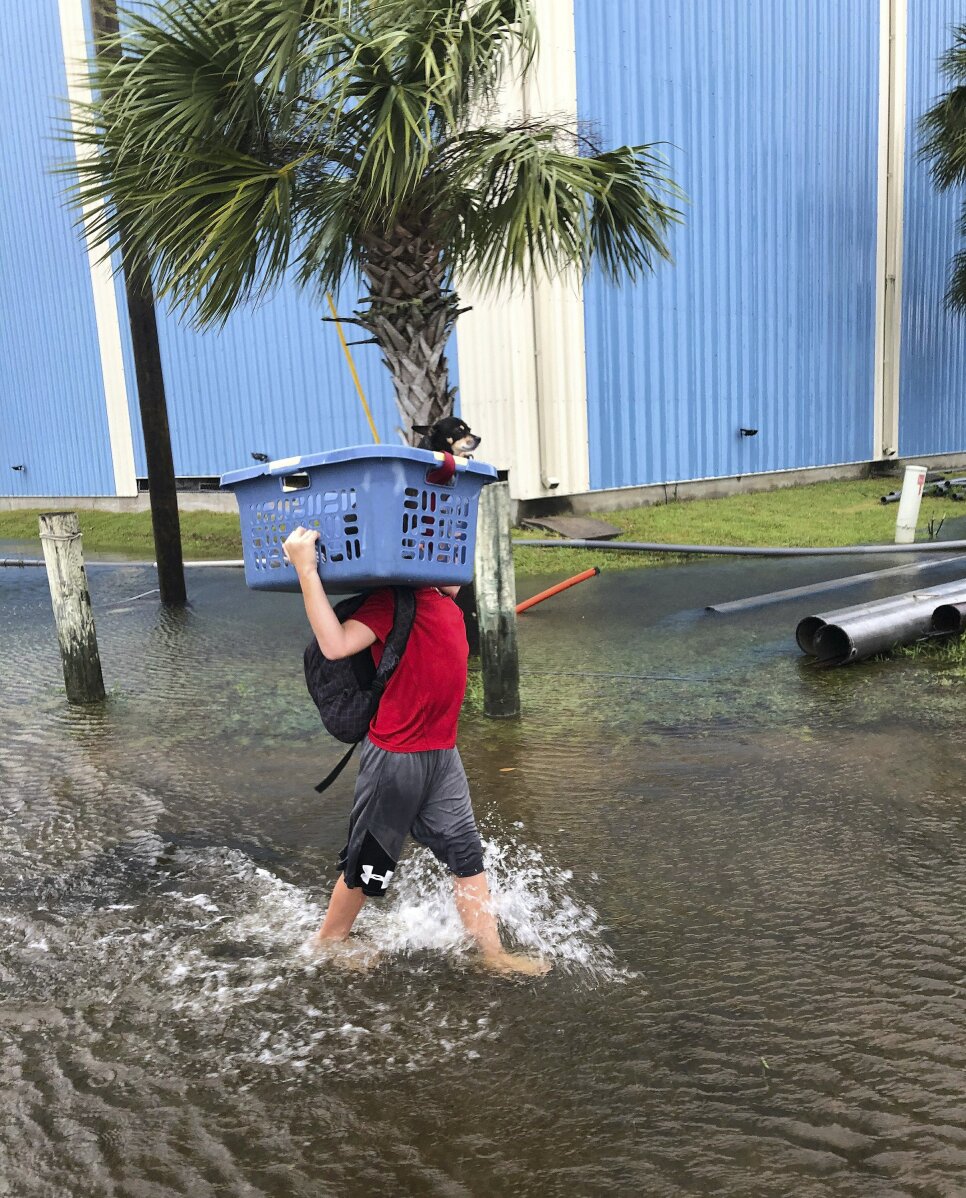 18 of 39

|
Jayden Morgan carries his dog through a flooded street in St. Marks, Fla., on Wednesday, Oct. 10, 2018, as his family evacuates at the last minute before Hurricane Michael hits the state. (AP Photo/Brendan Farrington)
18 of 39
Jayden Morgan carries his dog through a flooded street in St. Marks, Fla., on Wednesday, Oct. 10, 2018, as his family evacuates at the last minute before Hurricane Michael hits the state. (AP Photo/Brendan Farrington)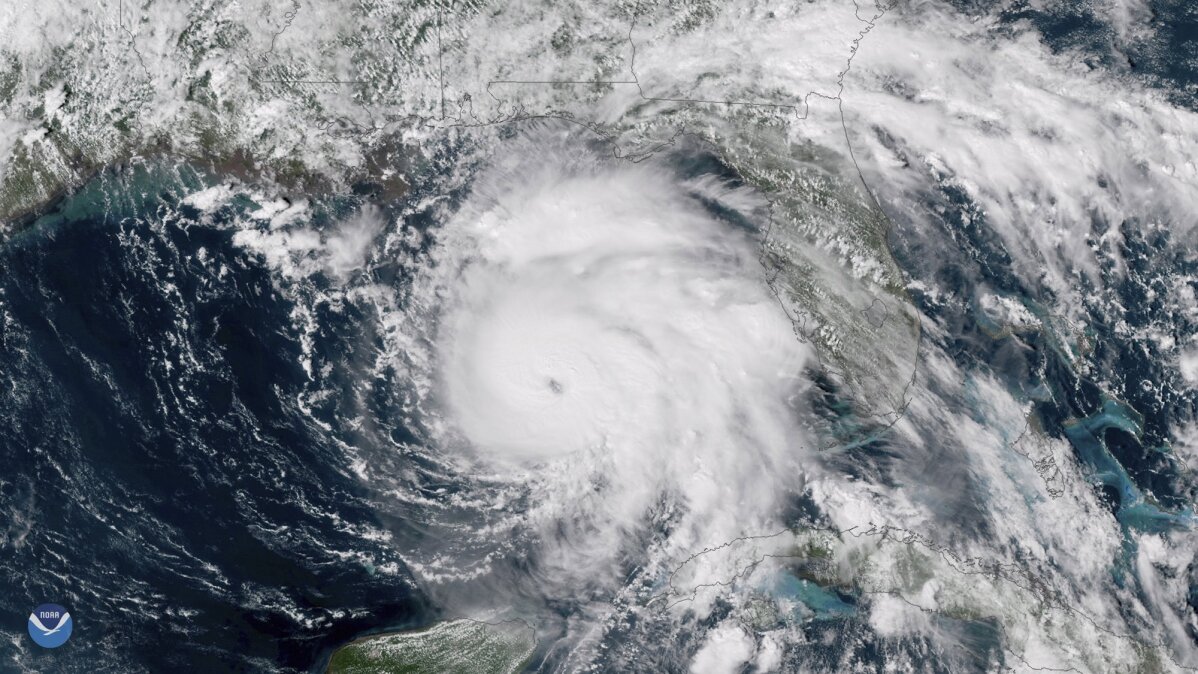 19 of 39

|
This Tuesday, Oct. 9, 2018 satellite image provided by NOAA shows Hurricane Michael, center, in the Gulf of Mexico. (NOAA via AP)
19 of 39
This Tuesday, Oct. 9, 2018 satellite image provided by NOAA shows Hurricane Michael, center, in the Gulf of Mexico. (NOAA via AP)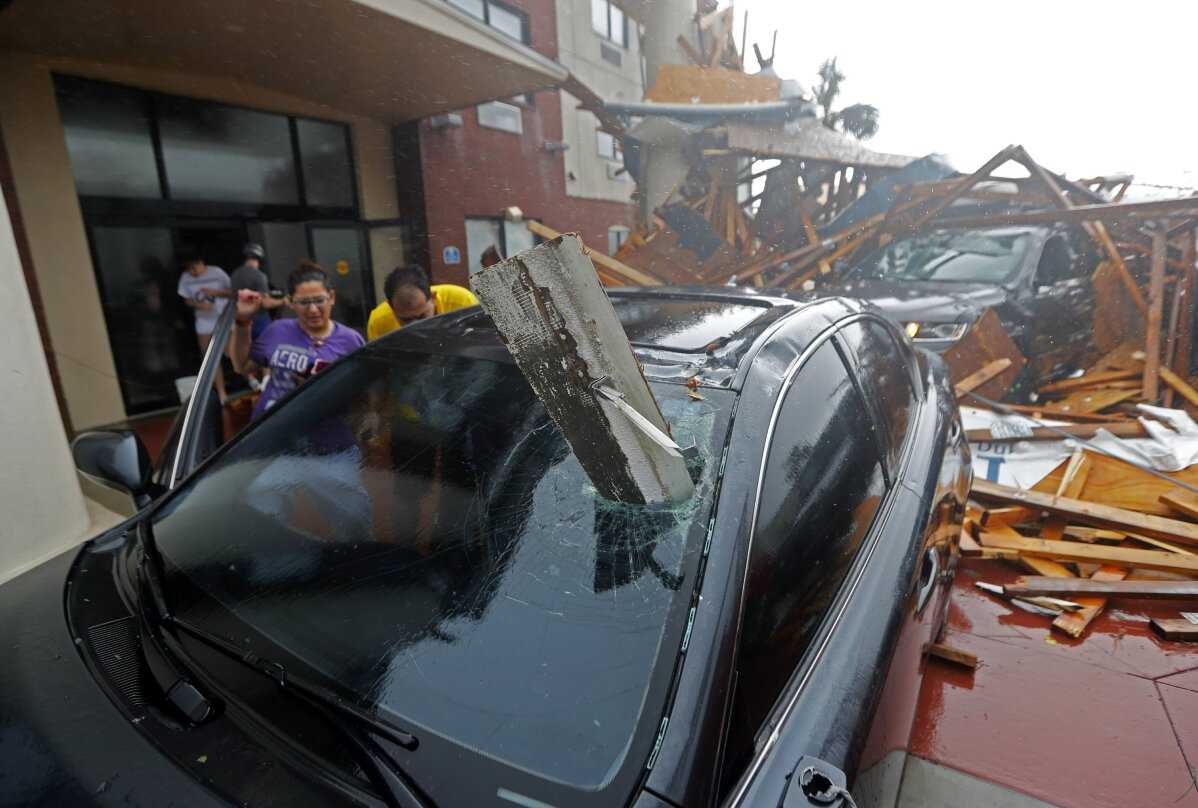 20 of 39

|
A woman checks on her vehicle as Hurricane Michael passes through, after the hotel canopy had just collapsed, in Panama City Beach, Fla., Wednesday, Oct. 10, 2018. (AP Photo/Gerald Herbert)
20 of 39
A woman checks on her vehicle as Hurricane Michael passes through, after the hotel canopy had just collapsed, in Panama City Beach, Fla., Wednesday, Oct. 10, 2018. (AP Photo/Gerald Herbert)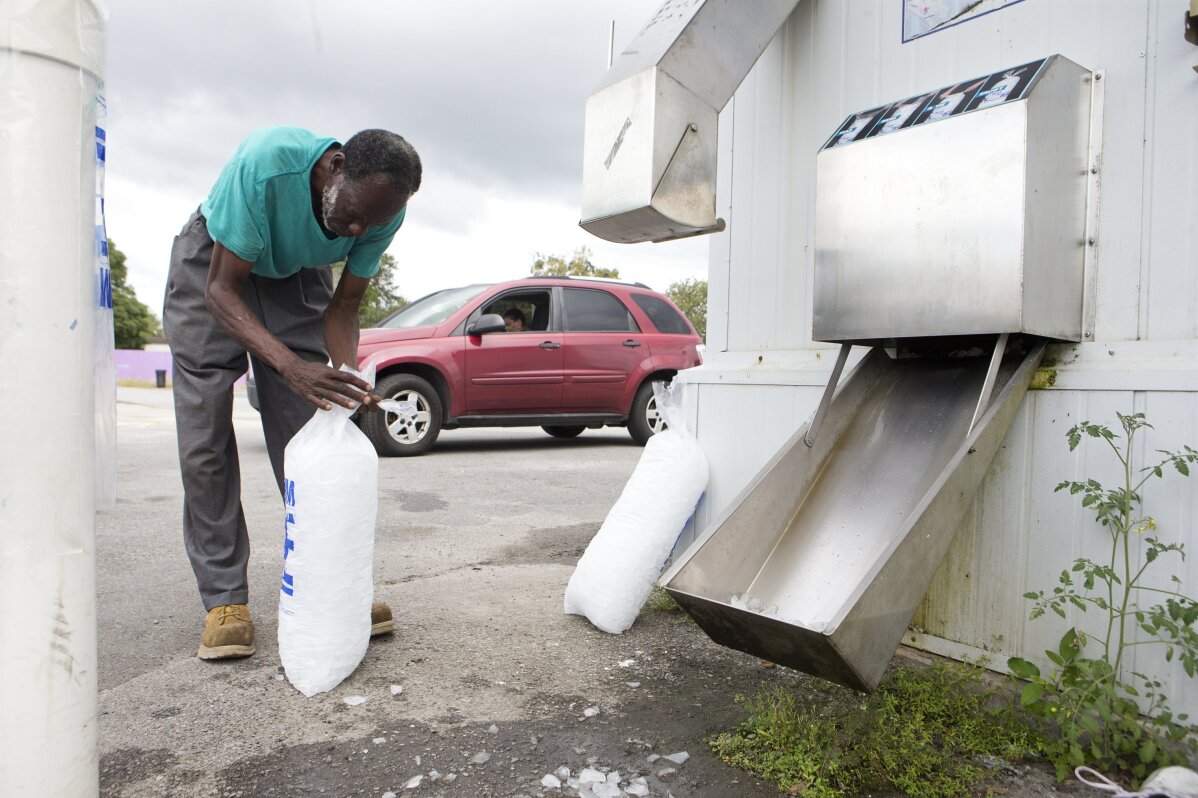 21 of 39

|
Willie Sanders bags ice for himself and his family in Panama City, Florida as Hurricane Michael approaches on Tuesday, October 9, 2018. He and his family are not evacuating as they do not live in a mandatory evacuation area. (Joshua Boucher/News Herald via AP)
21 of 39
Willie Sanders bags ice for himself and his family in Panama City, Florida as Hurricane Michael approaches on Tuesday, October 9, 2018. He and his family are not evacuating as they do not live in a mandatory evacuation area. (Joshua Boucher/News Herald via AP)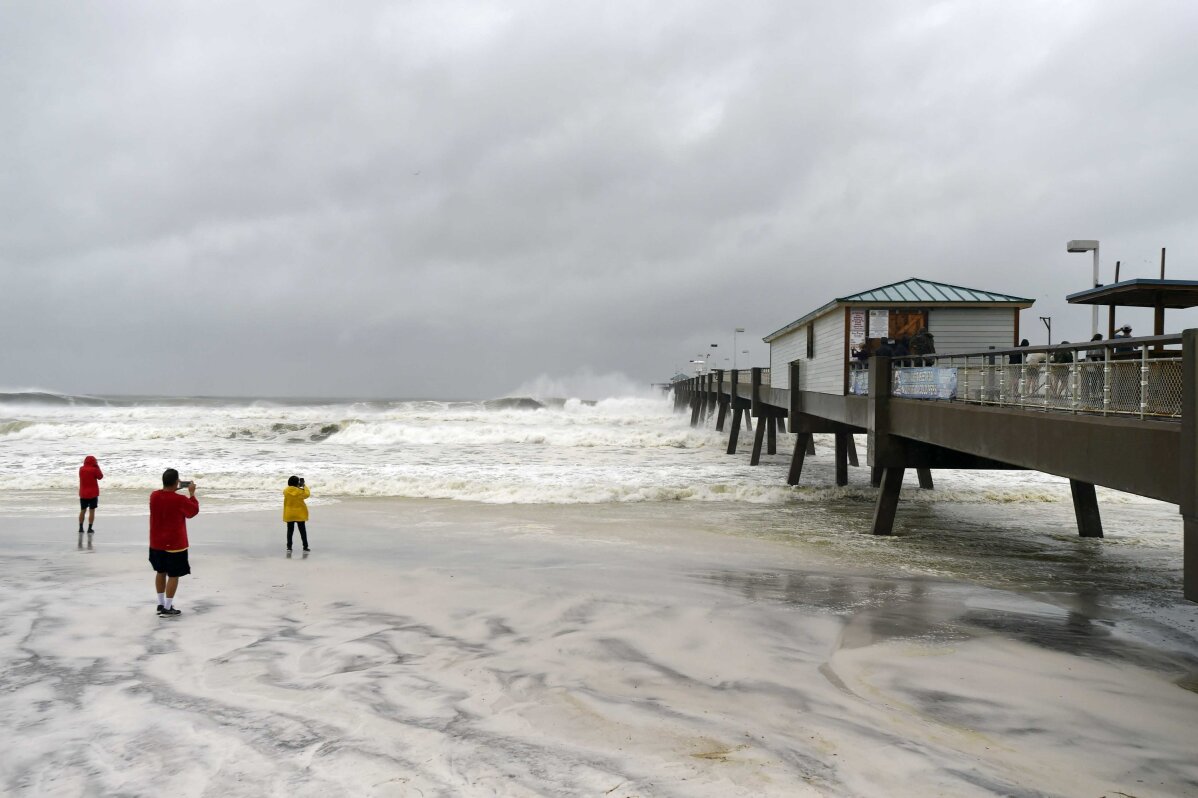 22 of 39

|
People takes pictures of the surf and fishing pier near the fishing pier on Okaloosa Island in Fort Walton Beach, Florida on Wednesday, Oct. 10, 2018 as Hurricane Michael approaches the Florida Gulf Coast. (Devon Ravine/Northwest Florida Daily News via AP)
22 of 39
People takes pictures of the surf and fishing pier near the fishing pier on Okaloosa Island in Fort Walton Beach, Florida on Wednesday, Oct. 10, 2018 as Hurricane Michael approaches the Florida Gulf Coast. (Devon Ravine/Northwest Florida Daily News via AP)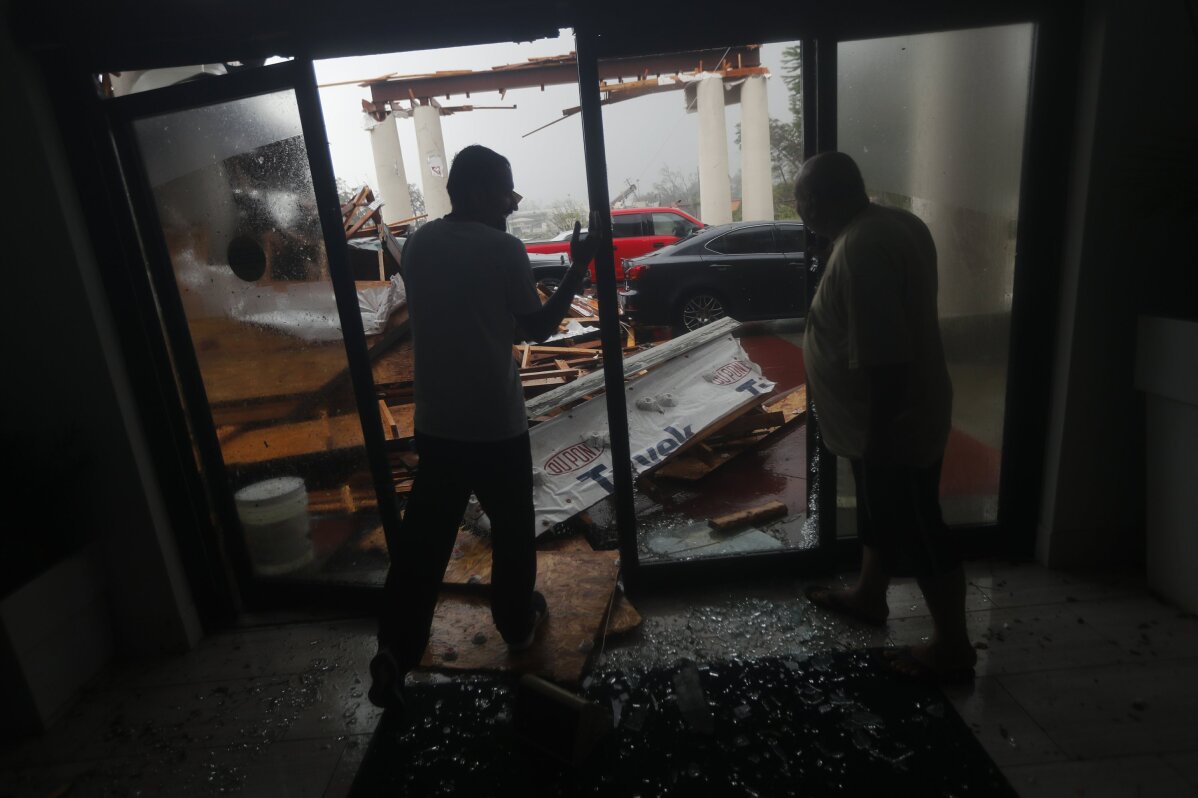 23 of 39

|
Hotel employees look at a canopy that just collapsed, as Hurricane Michael passes through in Panama City Beach, Fla., Wednesday, Oct. 10, 2018. (AP Photo/Gerald Herbert)
23 of 39
Hotel employees look at a canopy that just collapsed, as Hurricane Michael passes through in Panama City Beach, Fla., Wednesday, Oct. 10, 2018. (AP Photo/Gerald Herbert)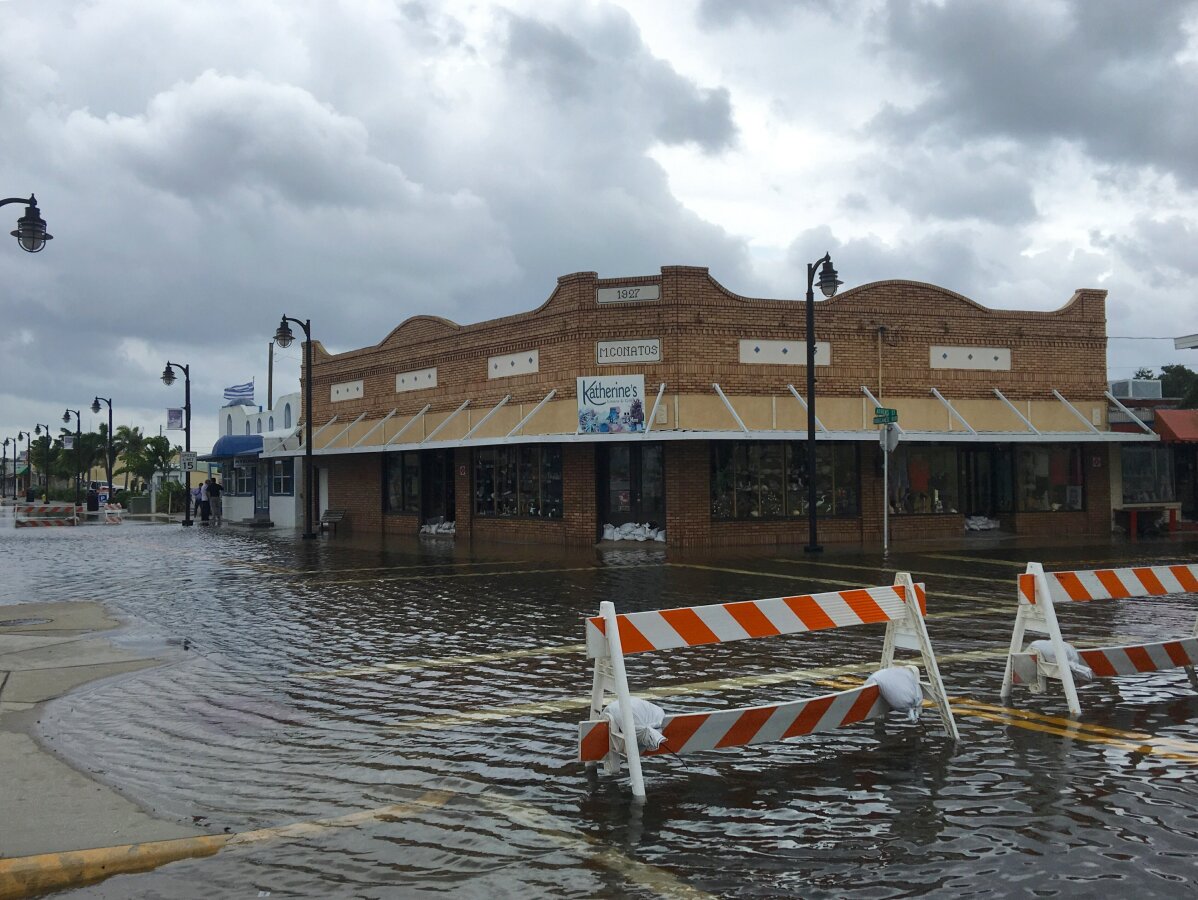 24 of 39

|
High tide from offshore Hurricane Michael creeps up into the Sponge Docks in Tarpon Springs, Fla., Wednesday, Oct. 10, 2018 after the Anclote River backs up. (Jim Damaske/The Tampa Bay Times via AP)
24 of 39
High tide from offshore Hurricane Michael creeps up into the Sponge Docks in Tarpon Springs, Fla., Wednesday, Oct. 10, 2018 after the Anclote River backs up. (Jim Damaske/The Tampa Bay Times via AP)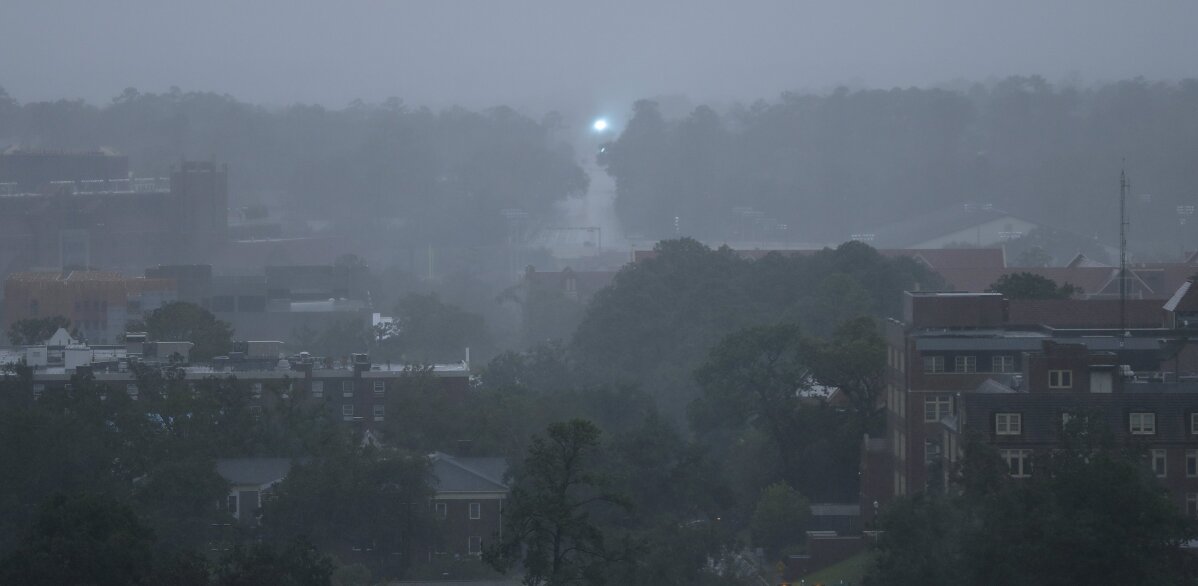 25 of 39

|
An electric transformer explodes in the distance as heavy rains and wind from Hurricane Michael blanket the Florida State University campus Wednesday, Oct. 10, 2018, in Tallahassee, Fla. (AP Photo/Chris O'Meara)
25 of 39
An electric transformer explodes in the distance as heavy rains and wind from Hurricane Michael blanket the Florida State University campus Wednesday, Oct. 10, 2018, in Tallahassee, Fla. (AP Photo/Chris O'Meara)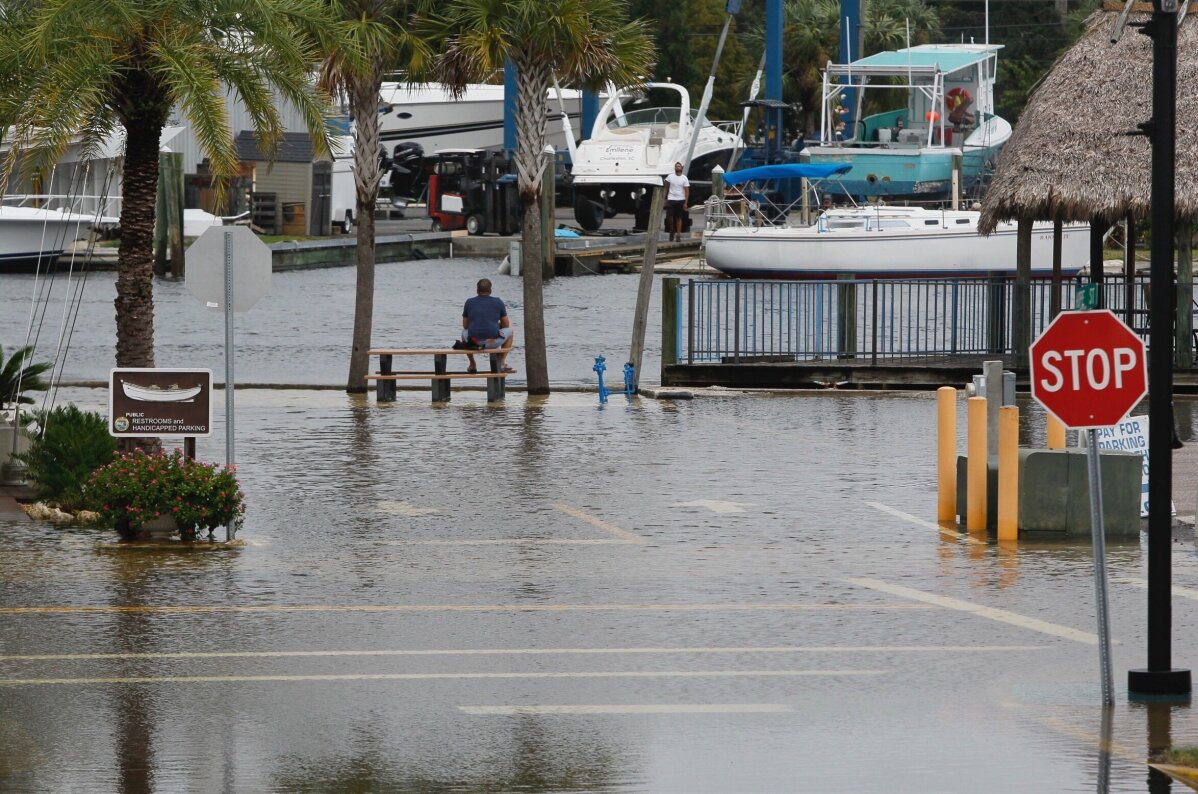 26 of 39

|
High tide from offshore Hurricane Michael creeps up into the Sponge Docks in Tarpon Springs, Fla., Wednesday, Oct. 10, 2018 after the Anclote River backs up. (Jim Damaske/The Tampa Bay Times via AP)
26 of 39
High tide from offshore Hurricane Michael creeps up into the Sponge Docks in Tarpon Springs, Fla., Wednesday, Oct. 10, 2018 after the Anclote River backs up. (Jim Damaske/The Tampa Bay Times via AP)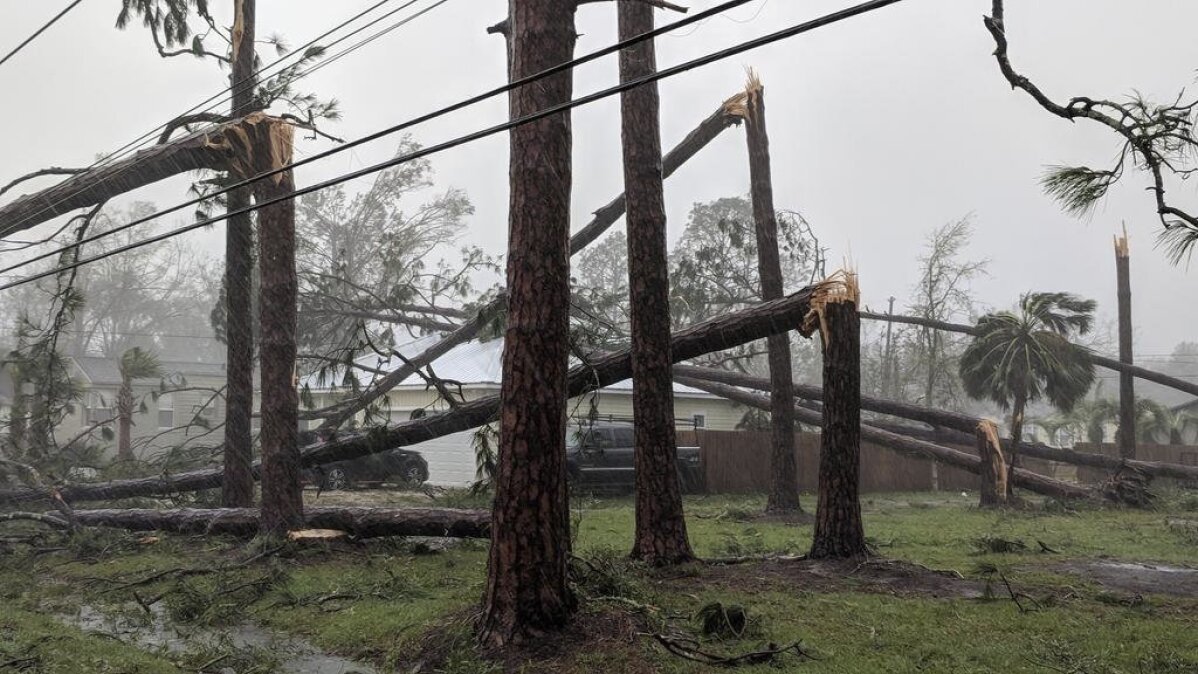 27 of 39

|
Pine trees litter a yard in Port St. Joe, Fla., on Garrison Avenue on Wednesday, Oct. 10, 2018, after Hurricane Michael made landfall in the Florida Panhandle. Hurricane Michael formed off the coast of Cuba carrying major Category 4 landfall in the Florida Panhandle. Surge in the Big Bend area, along with catastrophic winds at 155mph. (Douglas R. Clifford/The Tampa Bay Times via AP)
27 of 39
Pine trees litter a yard in Port St. Joe, Fla., on Garrison Avenue on Wednesday, Oct. 10, 2018, after Hurricane Michael made landfall in the Florida Panhandle. Hurricane Michael formed off the coast of Cuba carrying major Category 4 landfall in the Florida Panhandle. Surge in the Big Bend area, along with catastrophic winds at 155mph. (Douglas R. Clifford/The Tampa Bay Times via AP)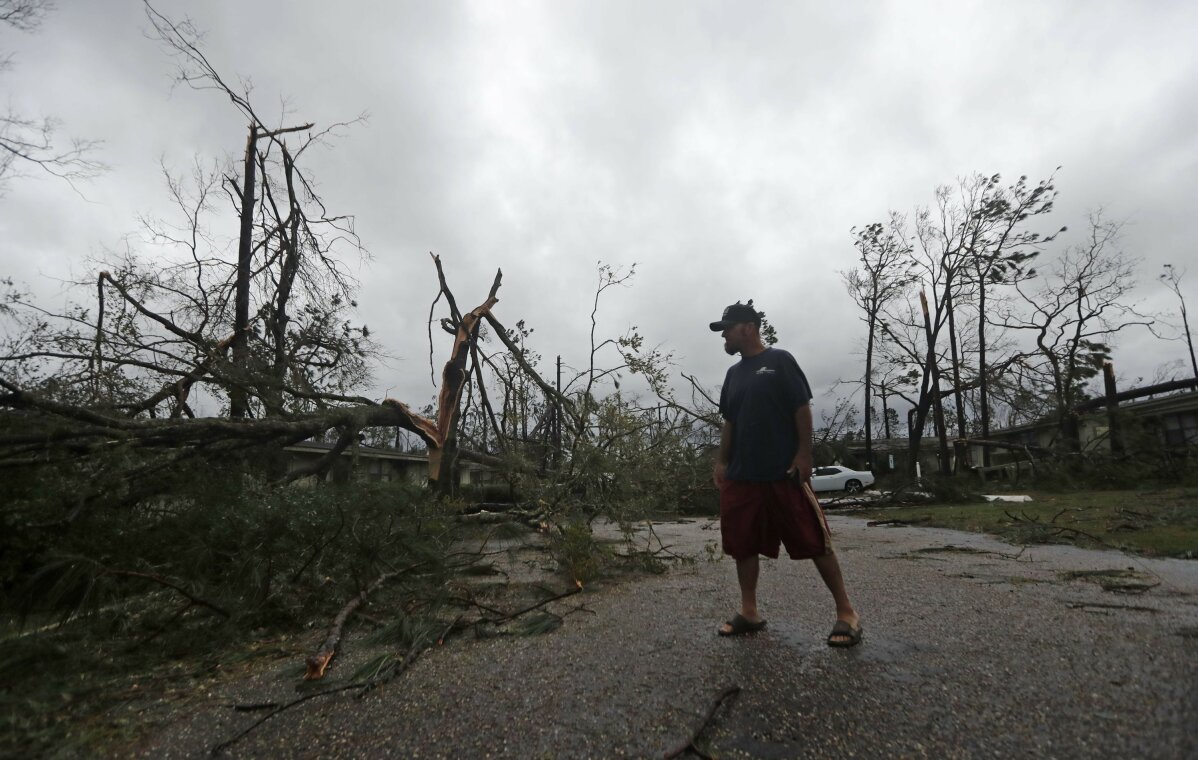 28 of 39

|
James Prescott surveys the damage as the remnants of Hurricane Michael move through Panama City, Fla., Wednesday, Oct. 10, 2018. He was visiting a friend and was not able to leave the street due to downed trees. (AP Photo/Gerald Herbert)
28 of 39
James Prescott surveys the damage as the remnants of Hurricane Michael move through Panama City, Fla., Wednesday, Oct. 10, 2018. He was visiting a friend and was not able to leave the street due to downed trees. (AP Photo/Gerald Herbert)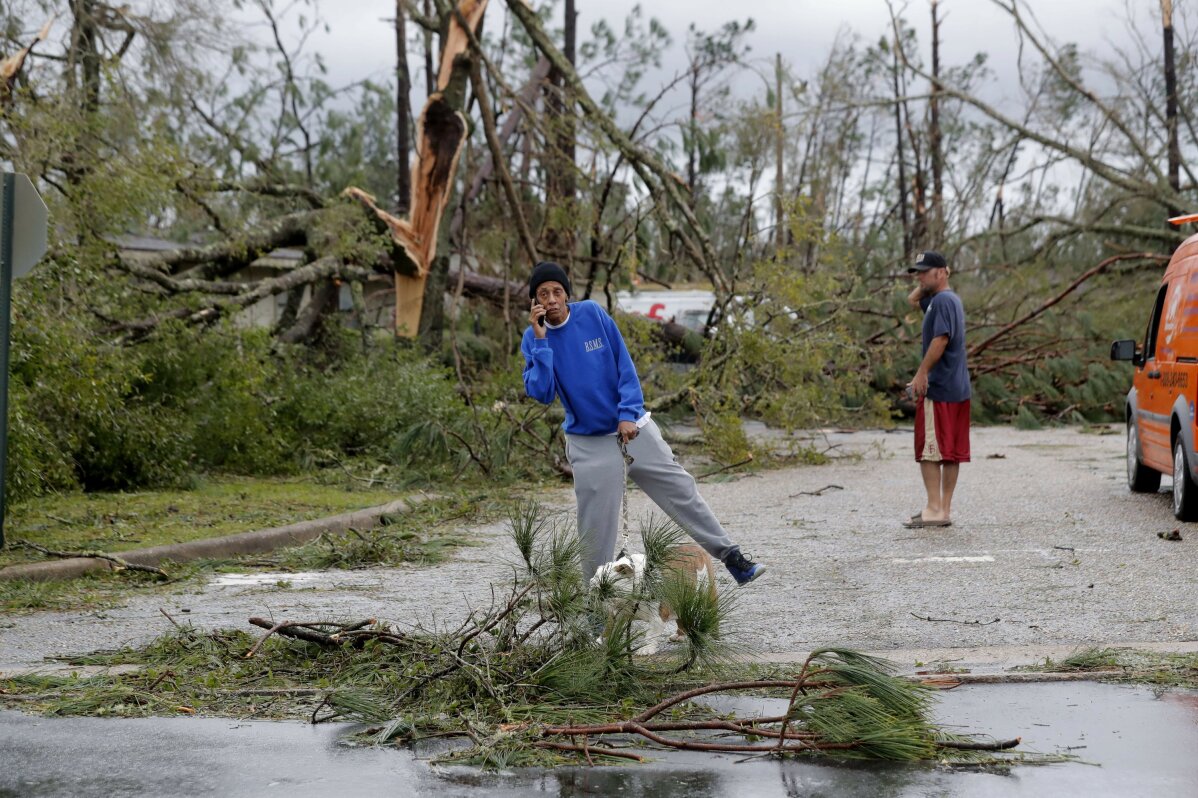 29 of 39

|
Pam Heckstall surveys the damage as the remnants of Hurricane Michael move through Panama City, Fla., Wednesday, Oct. 10, 2018. She is not able to leave her street due to downed trees. (AP Photo/Gerald Herbert)
29 of 39
Pam Heckstall surveys the damage as the remnants of Hurricane Michael move through Panama City, Fla., Wednesday, Oct. 10, 2018. She is not able to leave her street due to downed trees. (AP Photo/Gerald Herbert)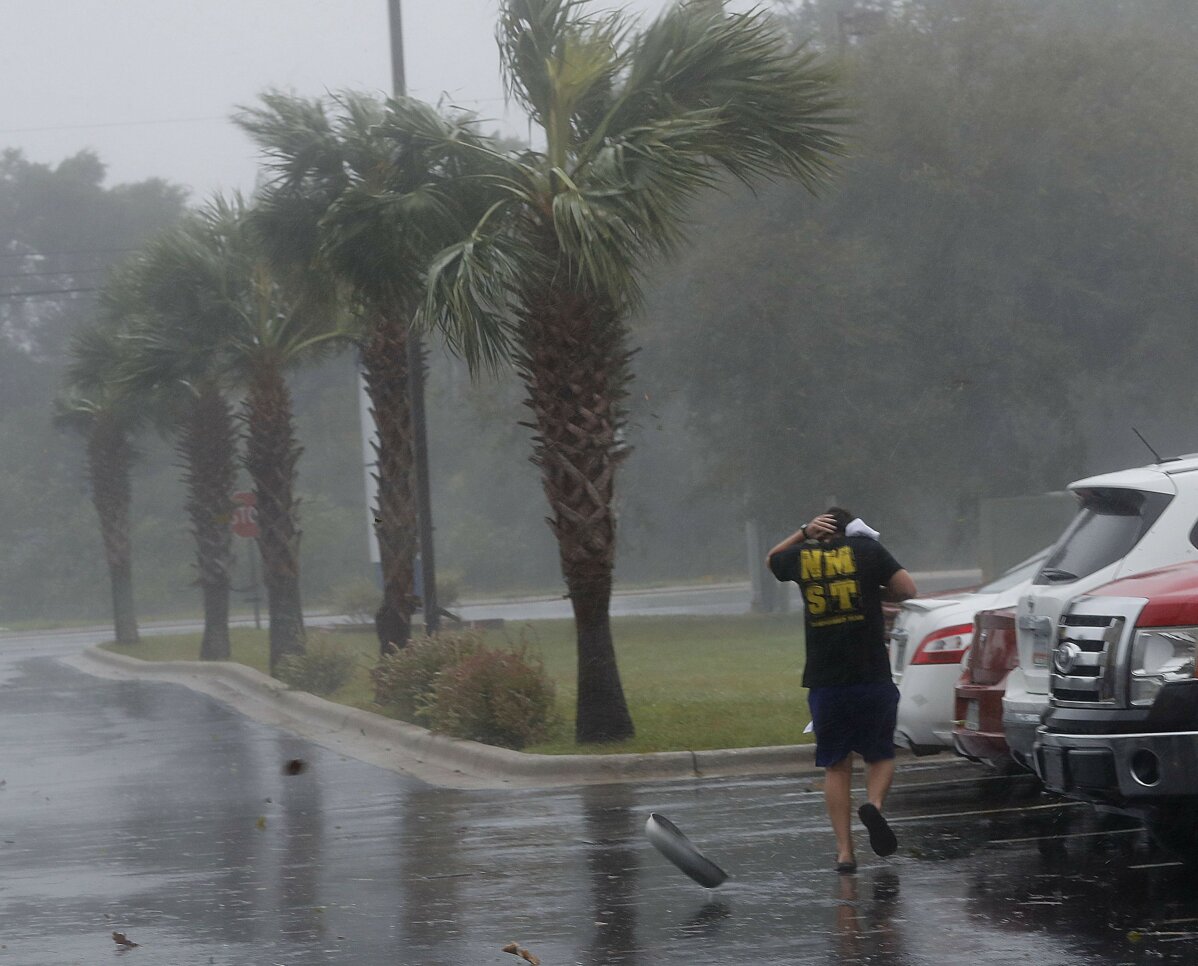 30 of 39

|
A hubcap blows by as a man runs to his car during Hurricane Michael in Panama City, Fla., Wednesday, Oct. 10, 2018. (AP Photo/Gerald Herbert)
30 of 39
A hubcap blows by as a man runs to his car during Hurricane Michael in Panama City, Fla., Wednesday, Oct. 10, 2018. (AP Photo/Gerald Herbert)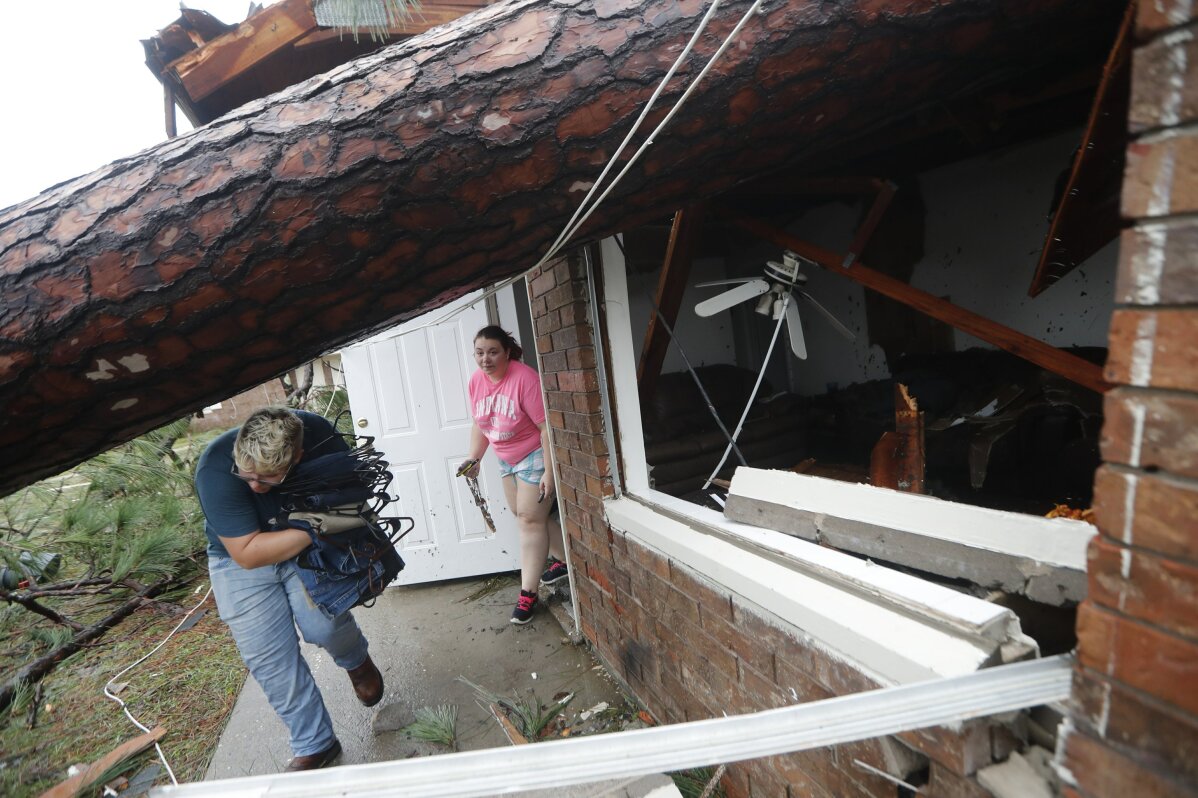 31 of 39

|
Megan Williams, left, and roommate Kaylee O'Brian take belongings from their destroyed home after several trees fell on the house during Hurricane Michael in Panama City, Fla., Wednesday, Oct. 10, 2018. (AP Photo/Gerald Herbert)
31 of 39
Megan Williams, left, and roommate Kaylee O'Brian take belongings from their destroyed home after several trees fell on the house during Hurricane Michael in Panama City, Fla., Wednesday, Oct. 10, 2018. (AP Photo/Gerald Herbert)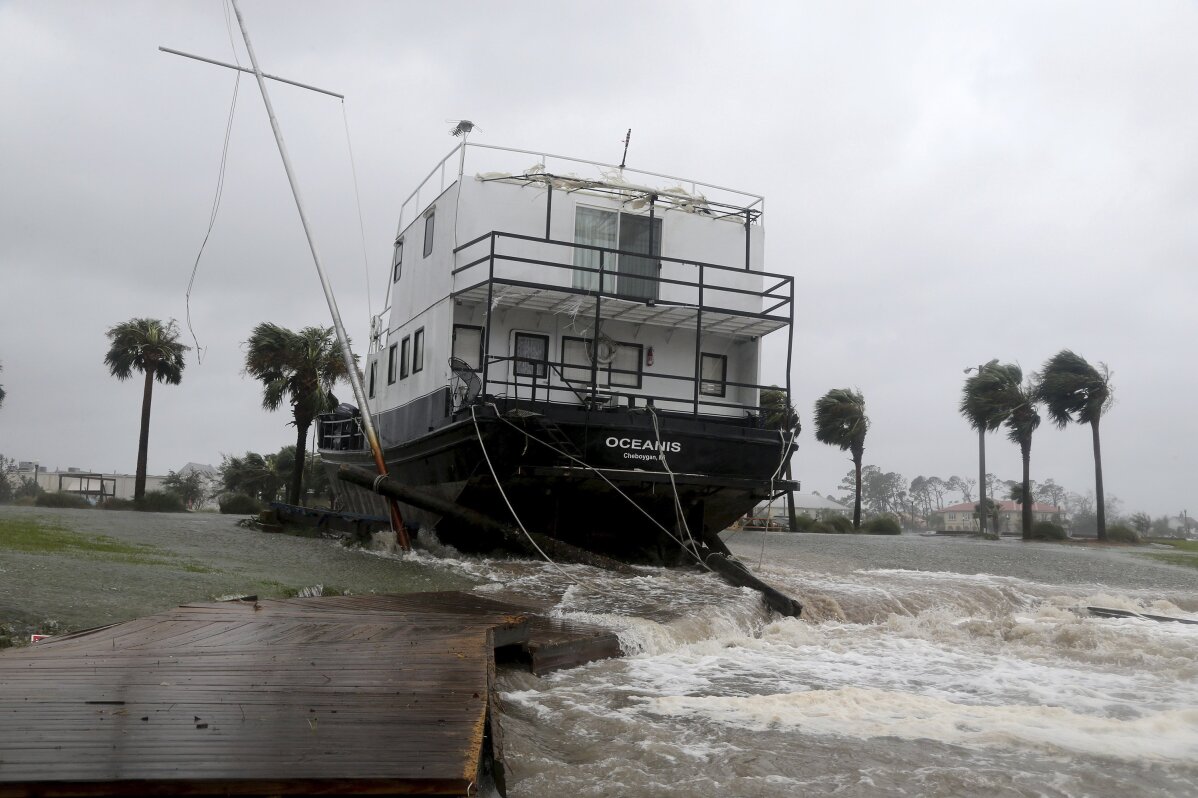 32 of 39

|
The Oceanis is grounded by a tidal surge at the Port St. Joe Marina, Wednesday, Oct. 10, 2018 in Port St. Joe, Fla. Supercharged by abnormally warm waters in the Gulf of Mexico, Hurricane Michael slammed into the Florida Panhandle with terrifying winds of 155 mph Wednesday, splintering homes and submerging neighborhoods. (Douglas R. Clifford/Tampa Bay Times via AP)
32 of 39
The Oceanis is grounded by a tidal surge at the Port St. Joe Marina, Wednesday, Oct. 10, 2018 in Port St. Joe, Fla. Supercharged by abnormally warm waters in the Gulf of Mexico, Hurricane Michael slammed into the Florida Panhandle with terrifying winds of 155 mph Wednesday, splintering homes and submerging neighborhoods. (Douglas R. Clifford/Tampa Bay Times via AP)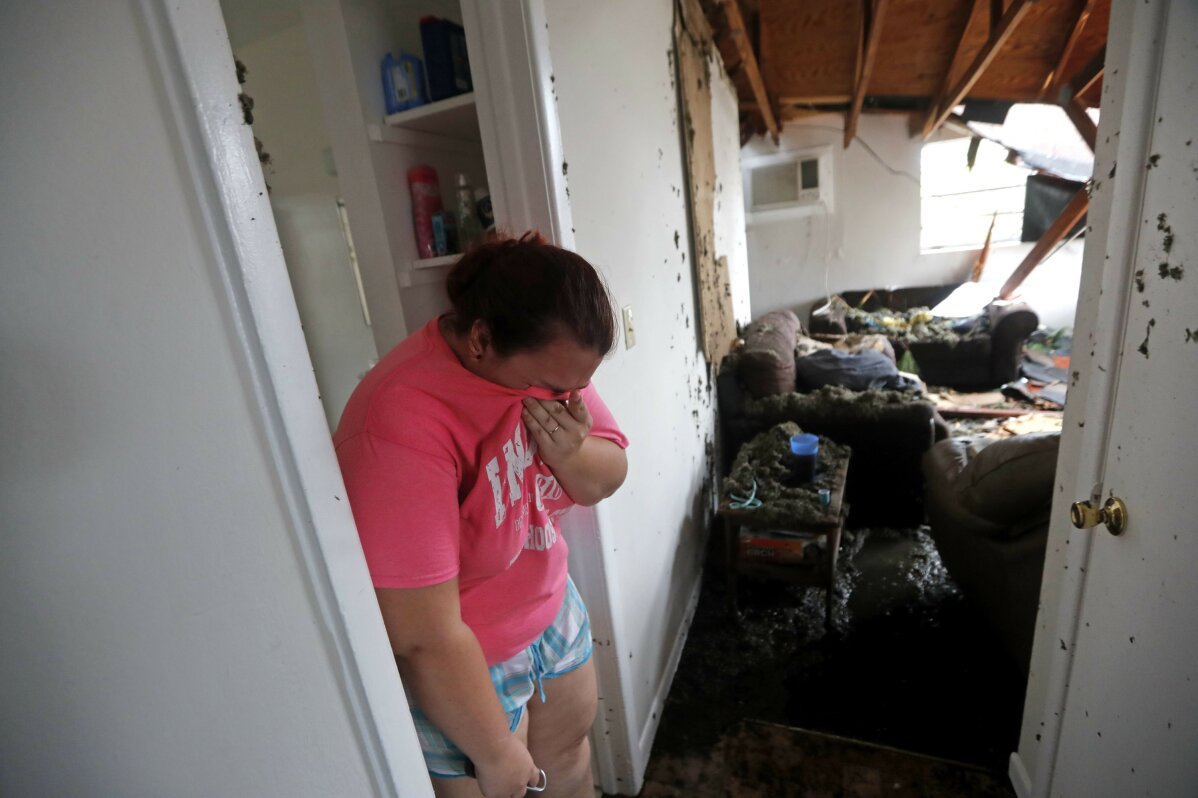 33 of 39

|
Kaylee O'Brian weeps inside her home after several trees fell on it during Hurricane Michael in Panama City, Fla., Wednesday, Oct. 10, 2018. (AP Photo/Gerald Herbert)
33 of 39
Kaylee O'Brian weeps inside her home after several trees fell on it during Hurricane Michael in Panama City, Fla., Wednesday, Oct. 10, 2018. (AP Photo/Gerald Herbert)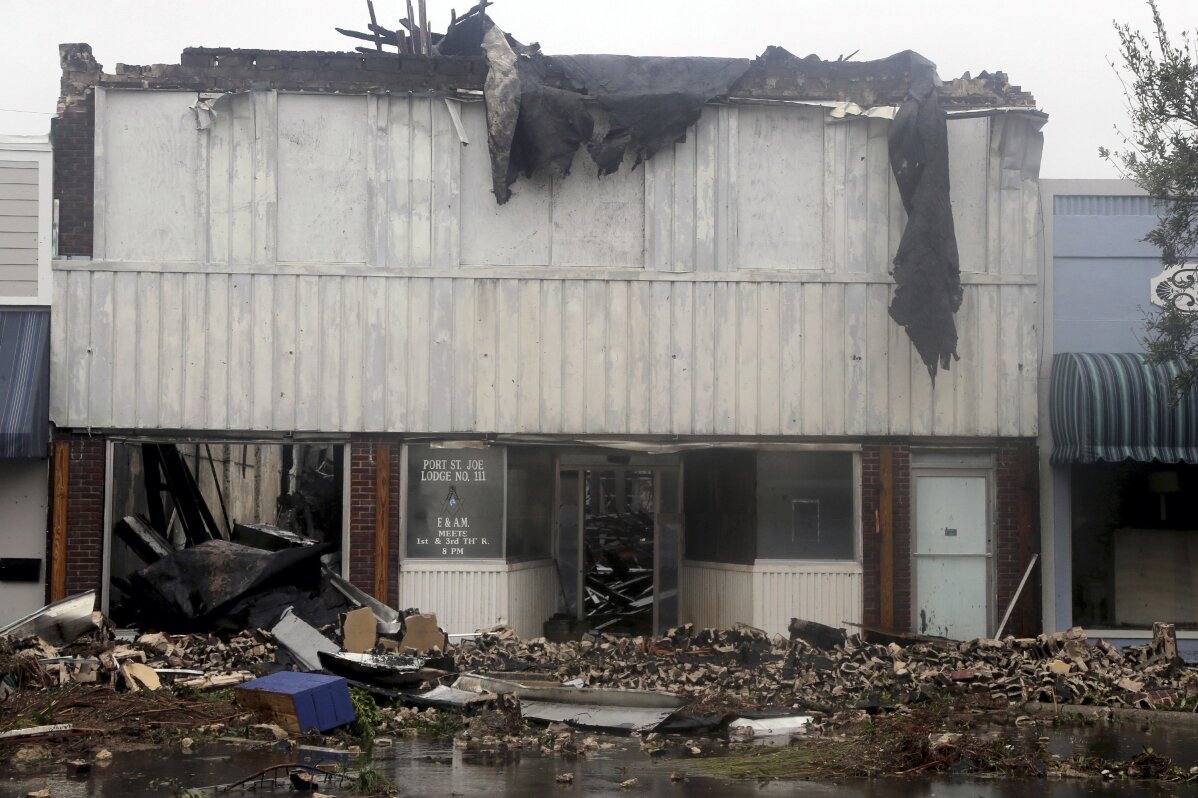 34 of 39

|
Port St. Joe Lodge No. 111 lay in ruins after Hurricane Michael made landfall, Wednesday, Oct. 10, 2018 in Port St. Joe, Fla. Supercharged by abnormally warm waters in the Gulf of Mexico, Hurricane Michael slammed into the Florida Panhandle with terrifying winds of 155 mph Wednesday, splintering homes and submerging neighborhoods. (Douglas R. Clifford/Tampa Bay Times via AP)
34 of 39
Port St. Joe Lodge No. 111 lay in ruins after Hurricane Michael made landfall, Wednesday, Oct. 10, 2018 in Port St. Joe, Fla. Supercharged by abnormally warm waters in the Gulf of Mexico, Hurricane Michael slammed into the Florida Panhandle with terrifying winds of 155 mph Wednesday, splintering homes and submerging neighborhoods. (Douglas R. Clifford/Tampa Bay Times via AP)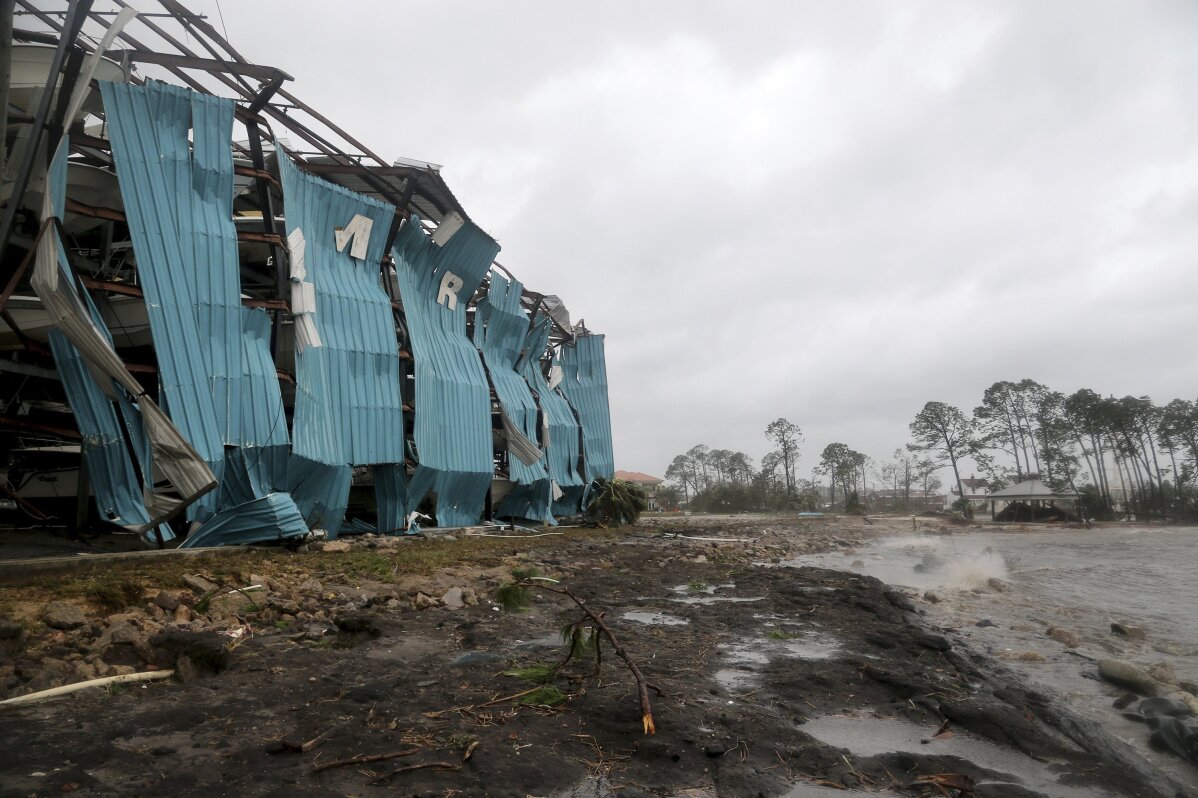 35 of 39

|
A marina warehouse is damaged at the Port St. Joe Marina, Wednesday, Oct. 10, 2018 in Port St. Joe, Fla. Supercharged by abnormally warm waters in the Gulf of Mexico, Hurricane Michael slammed into the Florida Panhandle with terrifying winds of 155 mph Wednesday, splintering homes and submerging neighborhoods. (Douglas R. Clifford/Tampa Bay Times via AP)
35 of 39
A marina warehouse is damaged at the Port St. Joe Marina, Wednesday, Oct. 10, 2018 in Port St. Joe, Fla. Supercharged by abnormally warm waters in the Gulf of Mexico, Hurricane Michael slammed into the Florida Panhandle with terrifying winds of 155 mph Wednesday, splintering homes and submerging neighborhoods. (Douglas R. Clifford/Tampa Bay Times via AP)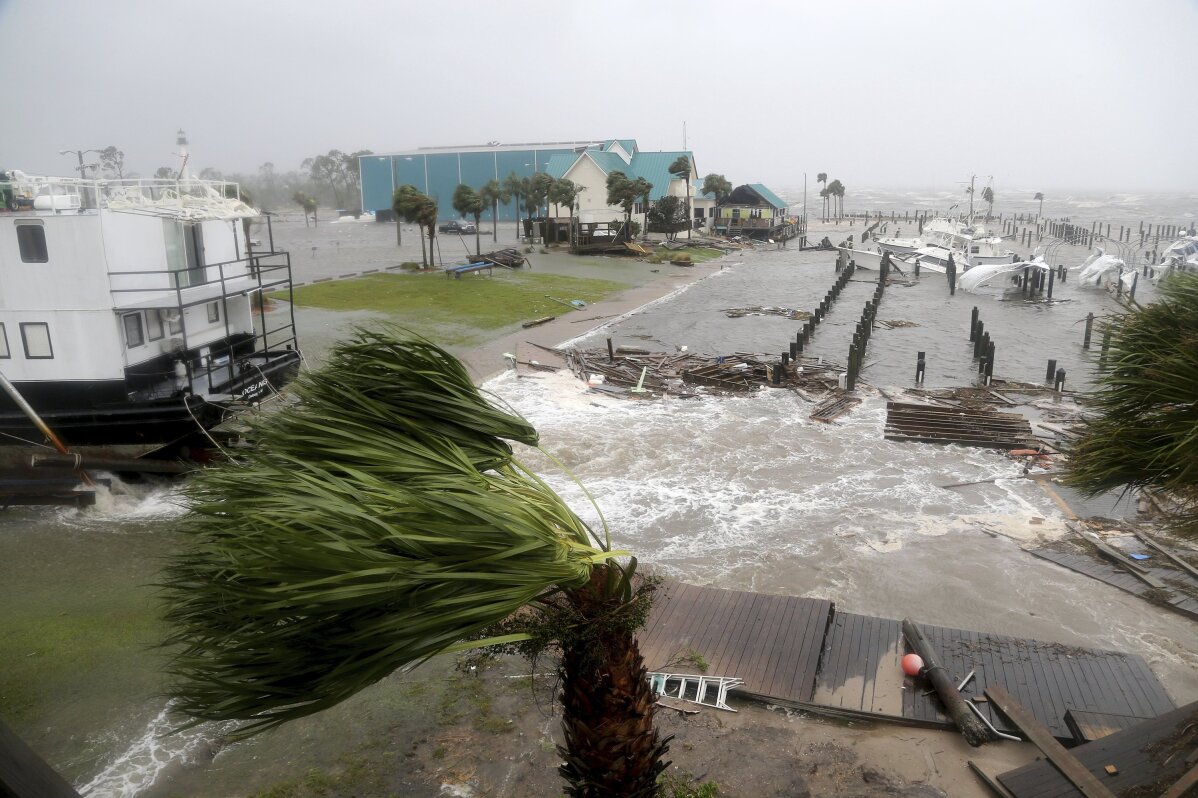 36 of 39

|
Boats lay sunk and damaged at the Port St. Joe Marina, Wednesday, Oct. 10, 2018 in Port St. Joe, Fla. Supercharged by abnormally warm waters in the Gulf of Mexico, Hurricane Michael slammed into the Florida Panhandle with terrifying winds of 155 mph Wednesday, splintering homes and submerging neighborhoods. (Douglas R. Clifford/Tampa Bay Times via AP)
36 of 39
Boats lay sunk and damaged at the Port St. Joe Marina, Wednesday, Oct. 10, 2018 in Port St. Joe, Fla. Supercharged by abnormally warm waters in the Gulf of Mexico, Hurricane Michael slammed into the Florida Panhandle with terrifying winds of 155 mph Wednesday, splintering homes and submerging neighborhoods. (Douglas R. Clifford/Tampa Bay Times via AP)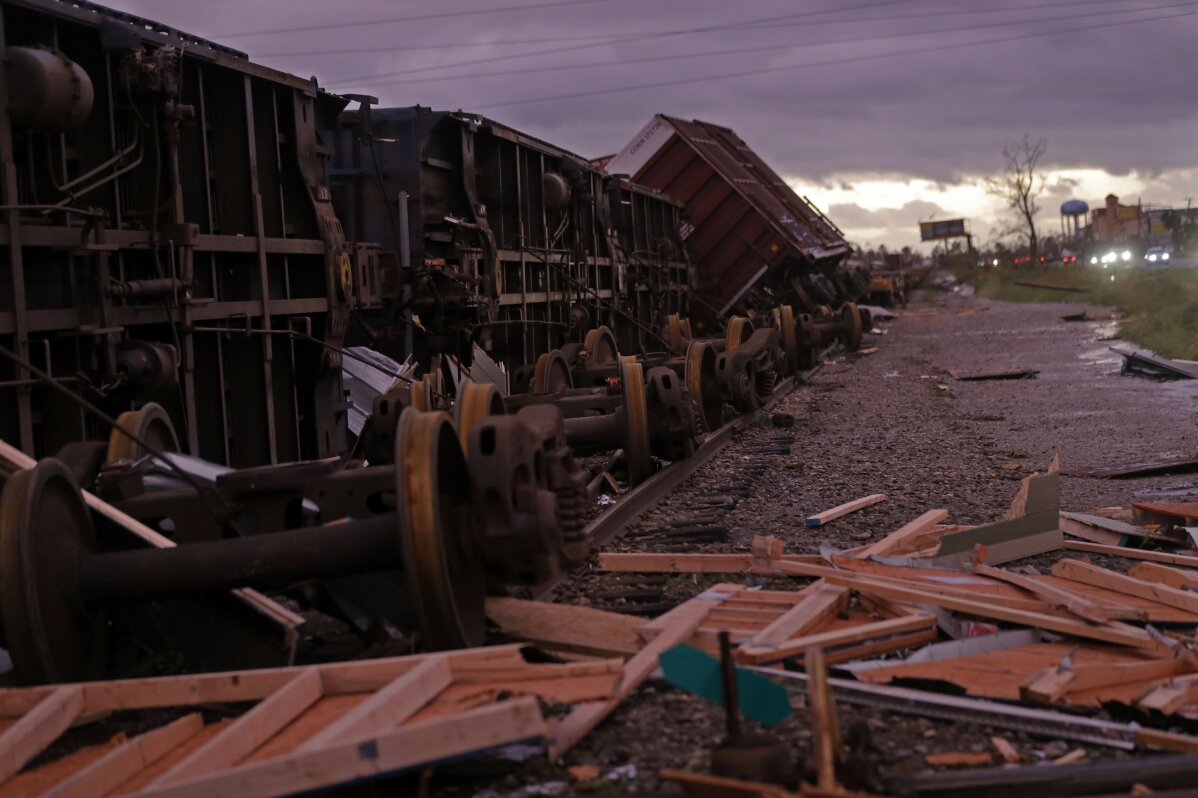 37 of 39

|
Derailed box cars are seen in the aftermath of Hurricane Michael in Panama City, Fla., Wednesday, Oct. 10, 2018. (AP Photo/Gerald Herbert)
37 of 39
Derailed box cars are seen in the aftermath of Hurricane Michael in Panama City, Fla., Wednesday, Oct. 10, 2018. (AP Photo/Gerald Herbert)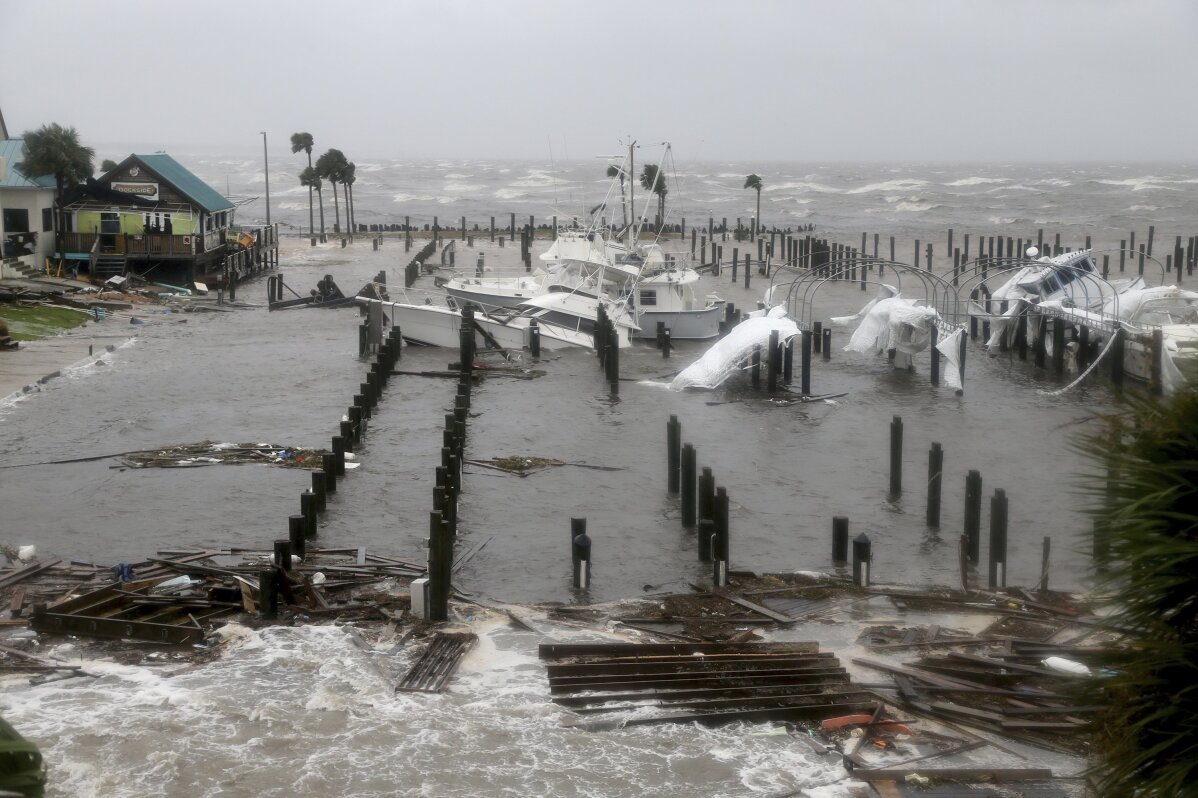 38 of 39

|
Storm Surge retreats from inland areas, foreground, where boats lay sunk and damaged at the Port St. Joe Marina, Wednesday, Oct. 10, 2018 in Port St. Joe, Fla. Supercharged by abnormally warm waters in the Gulf of Mexico, Hurricane Michael slammed into the Florida Panhandle with terrifying winds of 155 mph Wednesday, splintering homes and submerging neighborhoods. (Douglas R. Clifford/Tampa Bay Times via AP)
38 of 39
Storm Surge retreats from inland areas, foreground, where boats lay sunk and damaged at the Port St. Joe Marina, Wednesday, Oct. 10, 2018 in Port St. Joe, Fla. Supercharged by abnormally warm waters in the Gulf of Mexico, Hurricane Michael slammed into the Florida Panhandle with terrifying winds of 155 mph Wednesday, splintering homes and submerging neighborhoods. (Douglas R. Clifford/Tampa Bay Times via AP)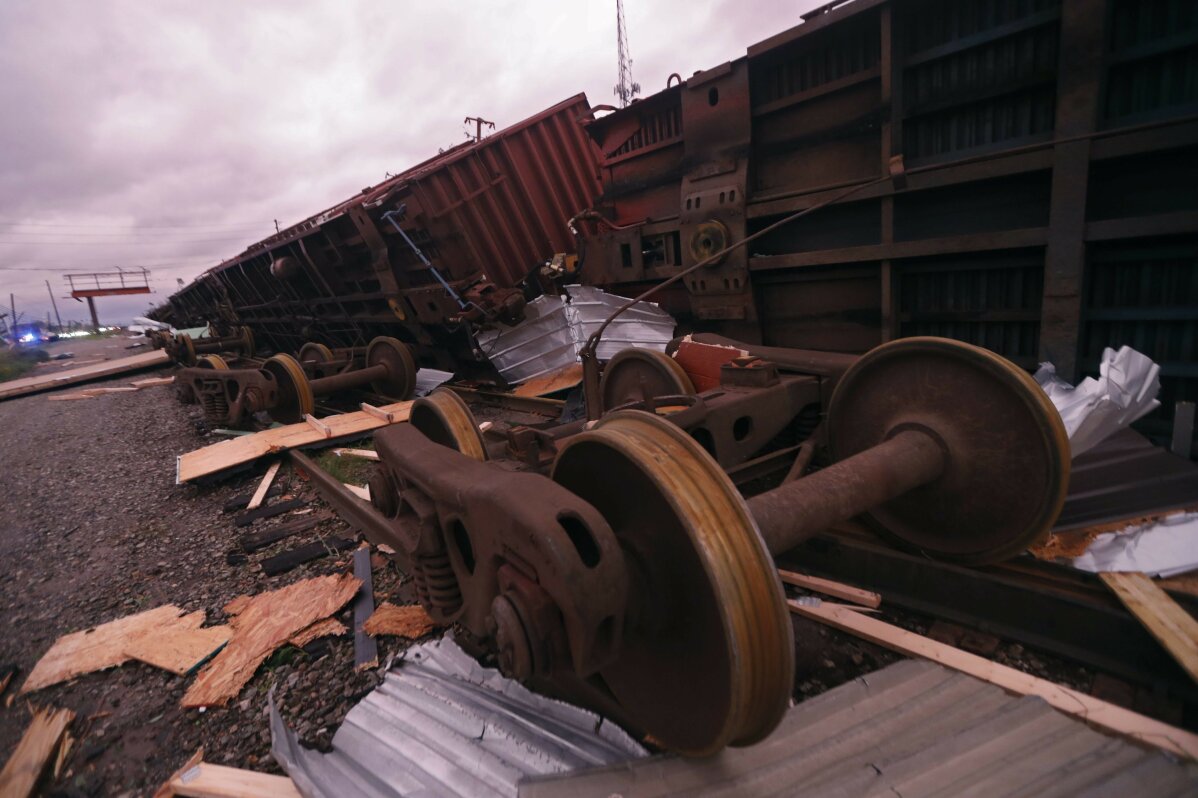 39 of 39

|
Derailed box cars are seen in the aftermath of Hurricane Michael in Panama City, Fla., Wednesday, Oct. 10, 2018. (AP Photo/Gerald Herbert)
39 of 39
Derailed box cars are seen in the aftermath of Hurricane Michael in Panama City, Fla., Wednesday, Oct. 10, 2018. (AP Photo/Gerald Herbert)
PANAMA CITY, Florida (AP) — The Latest on Hurricane Michael (all times Eastern):
11 p.m.
Forecasters say Michael is weakening but still a hurricane with 75-mph (120-kph) winds as it crosses central Georgia.
The National Hurricane Center said Michael was located at 11 p.m. EDT Wednesday about 45 miles (70 kilometers) south-southwest of Macon, Georgia. The low-level Category 1 hurricane was picking up speed and moving to the northeast at 20 mph (32 kph).
The Miami-based hurricane center says Michael will move across Georgia through the night and early Thursday morning. It is expected to then cross the Carolinas and move off the Mid-Atlantic coast by early Friday.
Forecasters say Michael is expected to become a tropical storm sometime Thursday morning.
Michael made landfall Wednesday afternoon in the Florida Panhandle as a powerful Category 4 hurricane, with at least one death reported there.
___
8:45 p.m.
Hurricane Michael has begun weakening as it charges across southwestern Georgia with damaging winds and rains. It has dropped from a once formidable Category 4 to a bottom-tier Category 1 storm.
The National Hurricane Center in Miami said the eye of Michael was about 20 miles (32 kilometers) southwest of Albany, Georgia, at 8 p.m. EDT Wednesday. It had top sustained winds of 90 mph (145 kph) and was moving to the northeast at 17 mph (27 kph).
Forecasters say storm flooding is still occurring along the Florida Gulf Coast after Michael crashed ashore Wednesday afternoon as a fierce storm with 155 mph winds. The storm is expected to head to the northeast as it crosses south and central Georgia into the Carolinas in coming hours.
___
8:30 p.m.
The National Weather Service issued multiple tornado warnings in Georgia as Hurricane Michael pushed through the state, and local media report three of them may have touched down.
News media in Macon reported that by early evening Wednesday, tornadoes had touched down near Roberta, Perry and Fort Valley in Georgia's midstate region.
Crawford County officials said a possible tornado damaged five homes near Roberta. The county's emergency management director told news media it touched down on Highway 128 and knocked down power lines and trees. No injuries were reported.
Weather officials had warned that the massive storm, which came ashore Wednesday afternoon in Florida's Panhandle region, could spawn tornadoes as it moves northeast.
___
7:25 p.m.
Hurricane Michael has left extensive damage in Panama City, with broken and uprooted trees and power lines down nearly everywhere. Roofs were peeled off and homes split open by fallen trees. Twisted street signs lay on the ground. Residents emerged early Wednesday evening to assess damage when rains stopped, though skies were still overcast and windy.
A pine tree punched a hole in the roof of the apartment where 29-year-old Vance Beu was staying with his mother. The roar of the storm sounded like a jet engine as the wind accelerated, and their ears popped as pressure dropped.
Beu said, "It was terrifying, honestly. There was a lot of noise. We thought the windows were going to break at any time. We had the inside windows kind of barricaded in with mattresses. We did whatever we could to kind of hunker down."
___
7 p.m.
Authorities say a Florida Panhandle man was killed by a falling tree as Hurricane Michael tore through the state.
Gadsden County Sheriff's Office spokeswoman Anglie Hightower says they received a call around 6 p.m. Wednesday, saying a tree had crashed through the roof of the man's Greensboro home and trapped him. Emergency crews were heading to the home, but downed power lines and blocked roads were making the trip difficult.
Officials hadn't immediately confirmed the man's name.
___
6:55 p.m.
Florida Gov. Rick Scott says search and rescue teams are heading into the state's hardest-hit areas to help survivors of Hurricane Michael.
Scott held a news conference Wednesday evening and urged people to stay off roads and leave them open to first responders as they begin the work of search and rescue — and recovery.
He says flash flooding and tornadoes are still possible, and says officials have heard reports of at least two tornadoes in Florida.
Scott said at least 192,000 homes and businesses are without power, but vowed "a massive wave of response" with thousands of utility personnel fanning out to restore power, along with medical teams, law enforcement personnel and the search and rescue squads.
___
6:55 p.m.
More than 32,000 homes and businesses in Georgia were without power Wednesday evening as parts of the state were beginning to feel the impact from Hurricane Michael.
The Atlanta Journal-Constitution reports Georgia Power said around 4:30 p.m. that 17,580 customers had lost power. Georgia EMC said that about 15,376 of its customers were also without power.
For Georgia EMC, most of its affected customers were in five counties in southwest Georgia, where more than 13,500 customers were without power. In metro Atlanta, just 17 customers were without power.
In an email, an EMC spokesperson said winds had caused trees to fall onto power lines, prompting the outages.
As of Wednesday evening, Hurricane Michael was a Category 3 storm. It made landfall in Florida as a Category 4 storm around 1:40 p.m.
___
6:20 p.m.
The National Hurricane Center says Michael's eye has crossed from the Florida Panhandle into southwestern Georgia as a dangerous Category 3 storm, the strongest to hit that part of the state in recorded history.
Maximum sustained winds of 115 mph (185 kph) were recorded in Seminole County, Georgia, Wednesday evening. The storm made landfall near Mexico Beach, Florida, as a catastrophic Category 4 hurricane earlier Wednesday afternoon.
According to a 6 p.m. advisory, the storm was located 20 miles (32 kilometers) west-northwest of Bainbridge, Georgia, and 50 miles (80 kilometers) southwest of Albany, Georgia. It was moving north-northeast at 13 mph (21 kph).
Dangerous storm surge continues along the coast of the Florida Panhandle.
___
5:10 p.m.
Tallahassee mayor and Democratic nominee for Florida governor Andrew Gillum says his city is prepared and ready to help its neighbors in the region.
Gillum told CNN during a Wednesday interview that, "We're going to be here for each other."
Gillum says power crews are ready to begin assessing damage as soon as the storm completely passes. He warned residents to stay inside until they've received an all-clear from public safety officials.
Tallahassee is about 80 miles (130 kilometers) northeast of Mexico Beach, which is near where Hurricane Michael made landfall Wednesday afternoon
___
4:20 p.m.
A Red Cross official says it's possible that as many as 320,000 people on Florida's Gulf Coast did not evacuate and are likely riding out the storm.
Evacuation orders were sent by state and local officials to about 325,000 people. Emergency managers say they don't know how many left the area, but there were about 6,000 people in 80 shelters in five states, including nearly 1,200 who are still in shelters following Hurricane Florence.
Michael went from a tropical storm to a projected Category 3 hurricane in around six hours and could have caught thousands off guard.
Brad Kieserman is the Vice President of Operations and Logistics for the American Red Cross. He says the storm "intensified extremely quickly and didn't give anyone enough time to do much."
___
3:30 p.m.
The director of the National Hurricane Center says Michael is going to keep its strength even as it moves into Alabama and Georgia.
By 3 p.m. EDT, Michael still had top sustained winds of 150 mph (240 kph) as its core moved over Florida's Panhandle.
Michael made landfall near Mexico Beach, Florida, earlier Wednesday afternoon with 155 mph (250 kph) winds.
Hurricane center director Ken Graham says that when a storm comes ashore with winds that strong, "it's going to stay a hurricane for a while."
Michael's large size means its winds will continue pushing storm surge inland as well. The hurricane center said a National Ocean Service water level station in Apalachicola has reported storm surge of nearly 8 feet (2.5 meters) above ground.
___
3 p.m.
Authorities say lifeguards had to save three children who were playing in the ocean at a South Carolina beach as Hurricane Michael approached.
Beaufort County Emergency Management Division Commander Neil Baxley said a 15-year-old and two 9-year-olds were on boogie boards off Hilton Head Island around 12:15 p.m. Wednesday when the waves quickly started to pull them from shore.
Baxley says rescuers were able to make it to the children and bring them to safety.
Baxley said at a news conference there is no reason to be in the ocean Wednesday.
Beaufort County is under a tropical storm warning as Michael makes landfall about 325 miles (520 kilometers) southwest in the Florida Panhandle.
___
1:45 p.m.
The National Hurricane Center says Michael is making landfall near Mexico Beach, Florida, as a catastrophic Category 4 Hurricane, pushing a deadly storm surge and whipping the coast with 155 mph (250 kph) winds.
Forecasters mark landfall as the place and time when the center of the eye strikes land. Minutes earlier, Michael's eyewall came ashore between Panama City and St. Vincent Island, and the hurricane center warned everyone inside the relative calm of the eye not to venture outside.
Hurricane-force winds extended outward up to 45 miles (75 km) from the center.
Those winds were tearing some buildings apart in Panama City Beach. One beachfront structure under construction could be seen collapsing, and metal roofing material flew sideways across parking lots amid sheets of rain.
___
12:50 p.m.
U.S. Federal Emergency Management Agency Administrator Brock Long said Michael is "a hurricane of the worst kind."
He said there are about 3,000 FEMA employees in the field, plus aircraft and search and rescue teams staged to move into Florida and Georgia as well.
"The citizens in Georgia need to wake up and pay attention," Long said. He says this hurricane will likely be the worst storm that anyone in southwest and central Georgia will have seen in decades.
Long applauded local officials who urged evacuations, and said "people are going to die as a result of not heeding the warnings."
___
12:30 p.m.
President Donald Trump is being briefed on Hurricane Michael as it closes in on the Florida Panhandle with potentially catastrophic 150 mph winds.
Trump is warning of the power of the storm as he meets with his Homeland Security Secretary and the Administrator of the Federal Emergency Management Agency, Brock Long.
Long is describing the storm as a "Gulf Coast hurricane of the worst kind," which he says will be similar in strength to "an EF3 tornado making landfall."
Trump says he spoke with Florida Gov. Rick Scott on Tuesday and says the federal government is coordinating with all of the states that could be impacted.
The Category 4 storm could be most powerful storm on record ever to hit the region. More than 375,000 people up and down the Gulf Coast have been warned to evacuate.
___
12:15 p.m.
Thousands of people along Florida's northern Gulf Coast have heeded warnings to evacuate, and many are cramming