Markle had a Hollywood-but-humble youth before royalty rang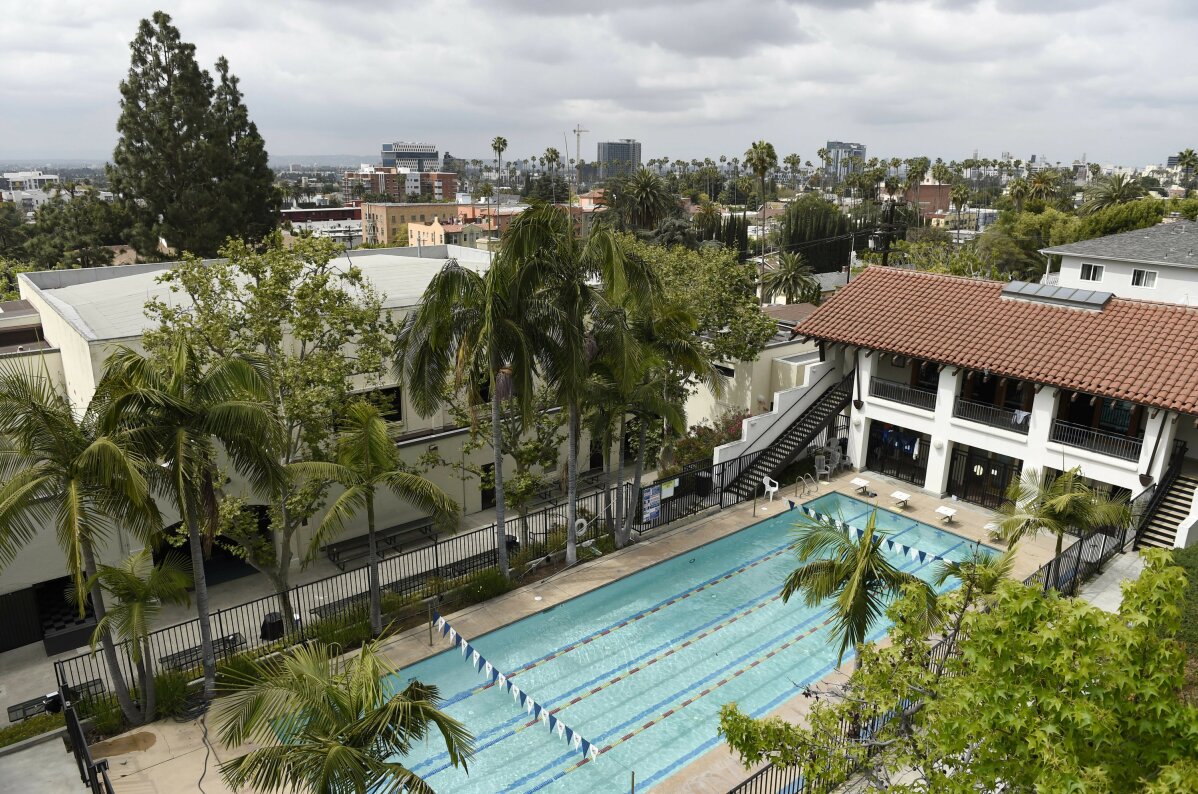 1 of 14

|
This April 30, 2018 photo shows the campus of Immaculate Heart High School in Los Angeles. Meghan Markle, who is set to marry Prince Harry on May 19, graduated from the school in 1999. (AP Photo/Chris Pizzello)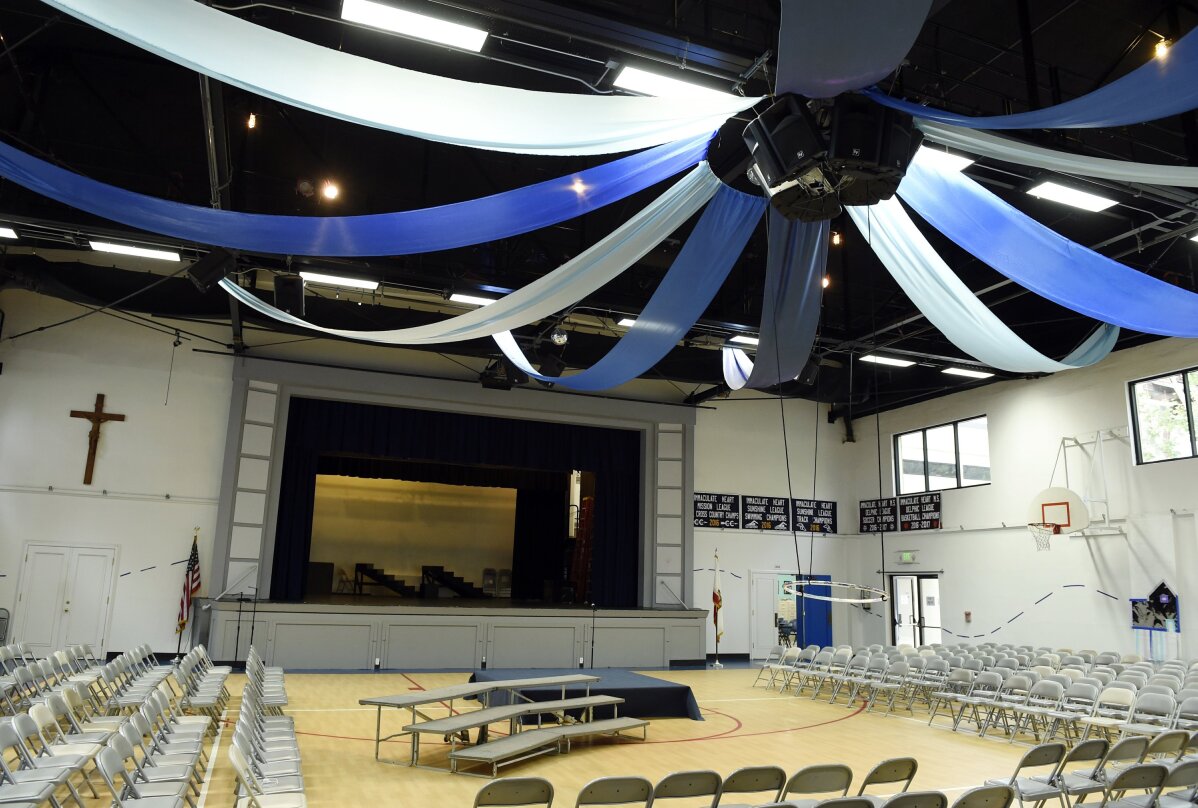 2 of 14

|
This April 30, 2018 photo shows the gymnasium at Immaculate Heart High School in Los Angeles. Meghan Markle, who is set to marry Prince Harry on May 19, performed in school plays in the gym. She graduated in 1999. (AP Photo/Chris Pizzello)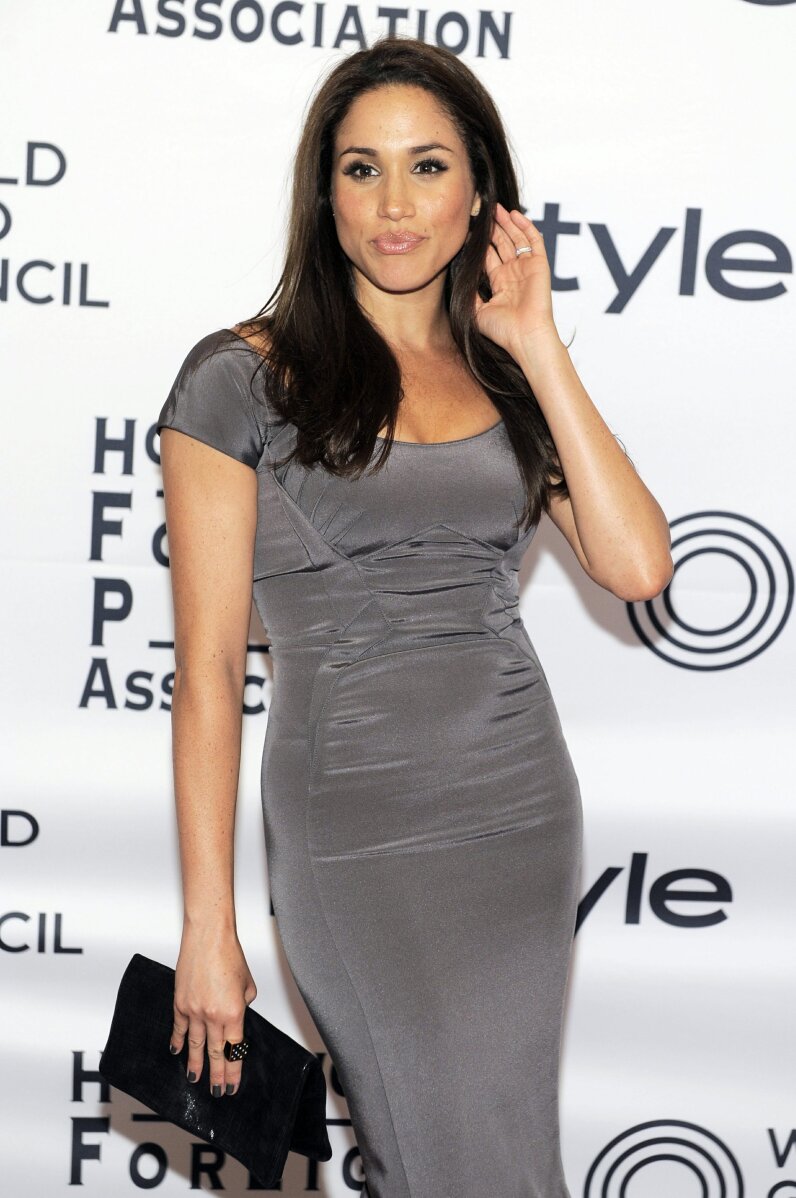 3 of 14

|
FILE - In this Sept. 11, 2012 file photo, actress Meghan Markle poses at the 13th Annual InStyle and Hollywood Foreign Press Association Toronto International Film Festival Party in Toronto. The 36-year-old actress is set to marry Prince Harry on May 19, 2018. (Photo by Chris Pizzello/Invision/AP, File)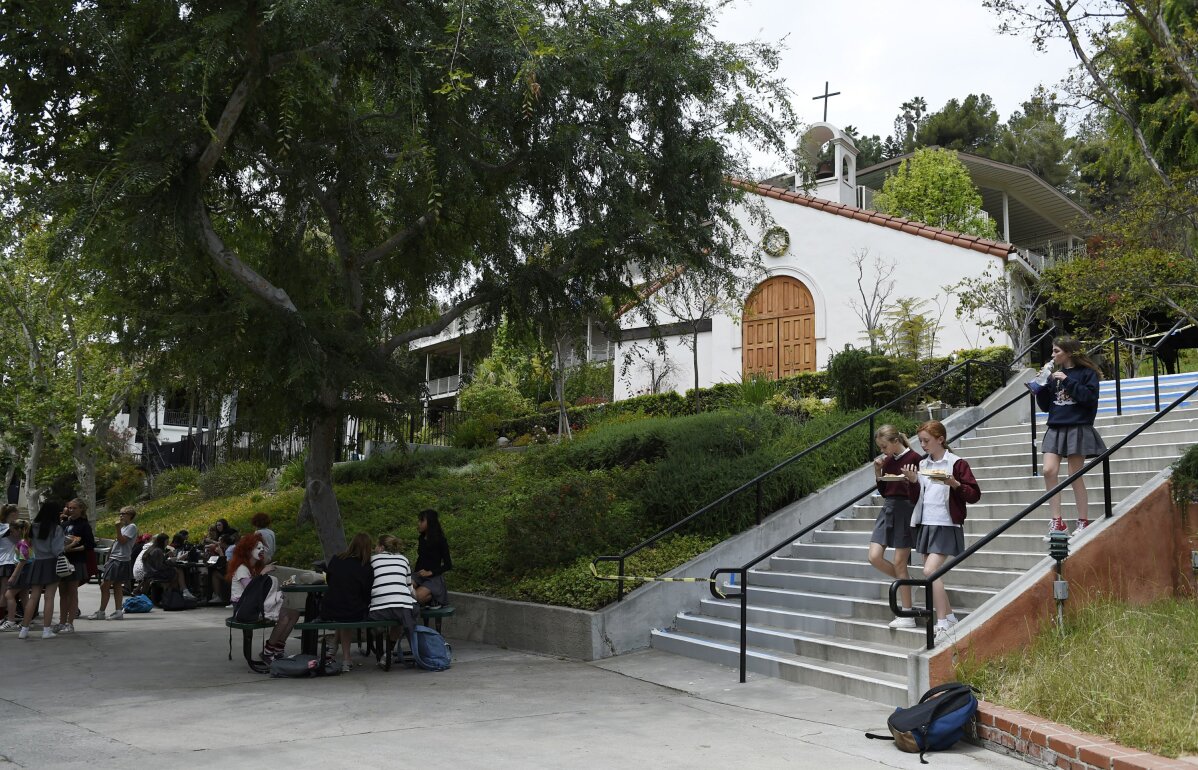 4 of 14

|
This April 30, 2018 photo shows students walking around campus at Immaculate Heart High School in Los Angeles. Meghan Markle, who is set to marry Prince Harry on May 19, graduated from the school in 1999. (AP Photo/Chris Pizzello)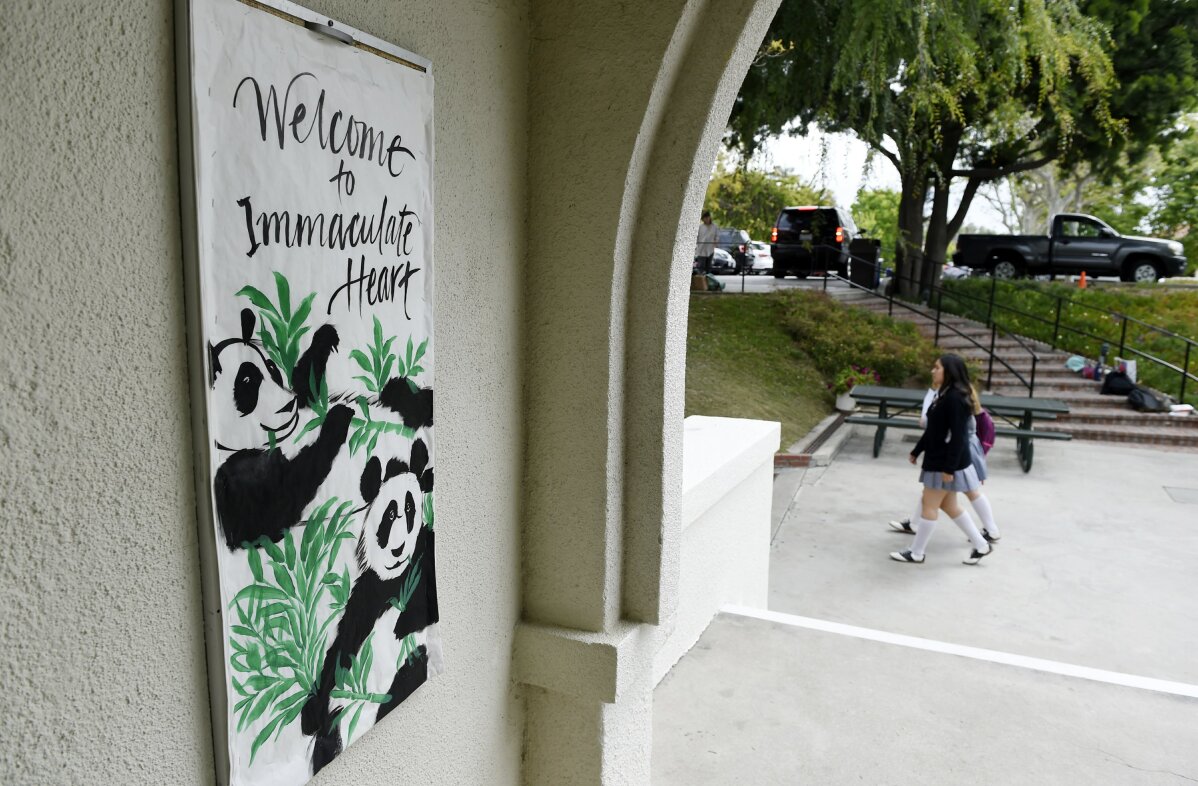 5 of 14

|
This April 30, 2018 photo shows the campus of Immaculate Heart High School in Los Angeles. Meghan Markle, who is set to marry Prince Harry on May 19, graduated from the school in 1999. (AP Photo/Chris Pizzello)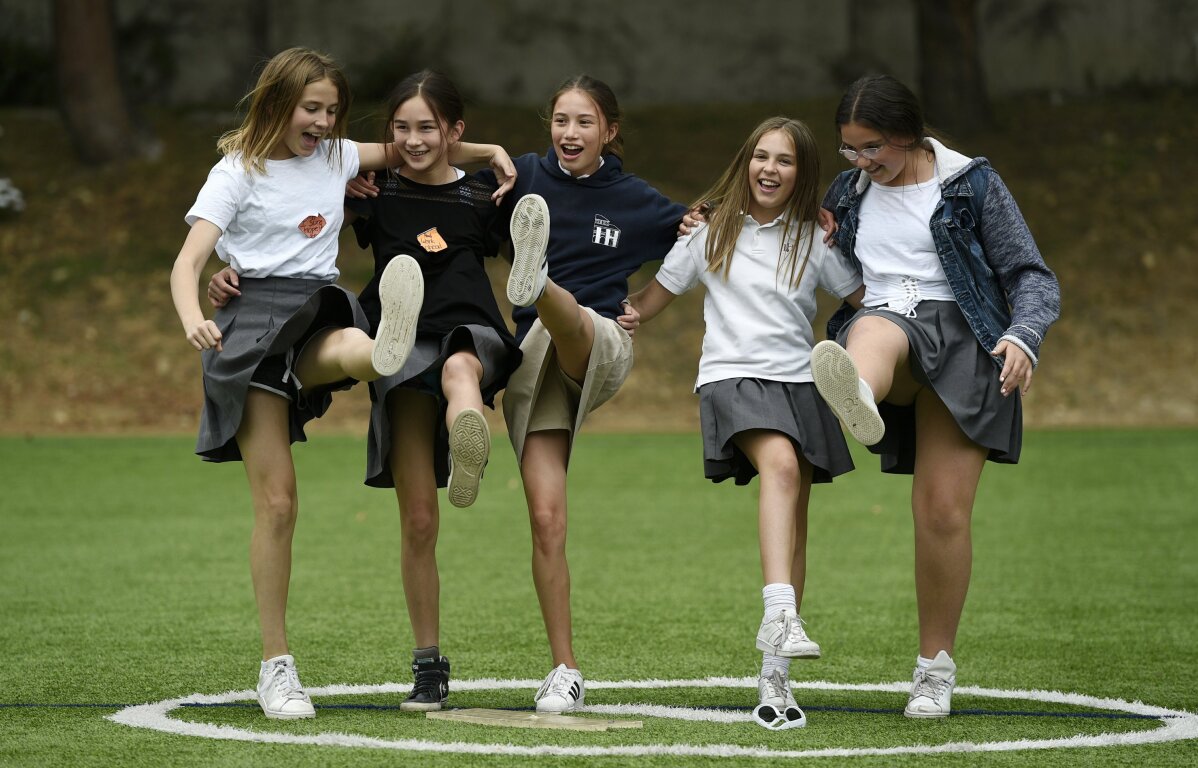 6 of 14

|
This April 30, 2018 photo shows students dancing during recess at Immaculate Heart High School in Los Angeles. Meghan Markle, who is set to marry Prince Harry on May 19, graduated from the school in 1999. (AP Photo/Chris Pizzello)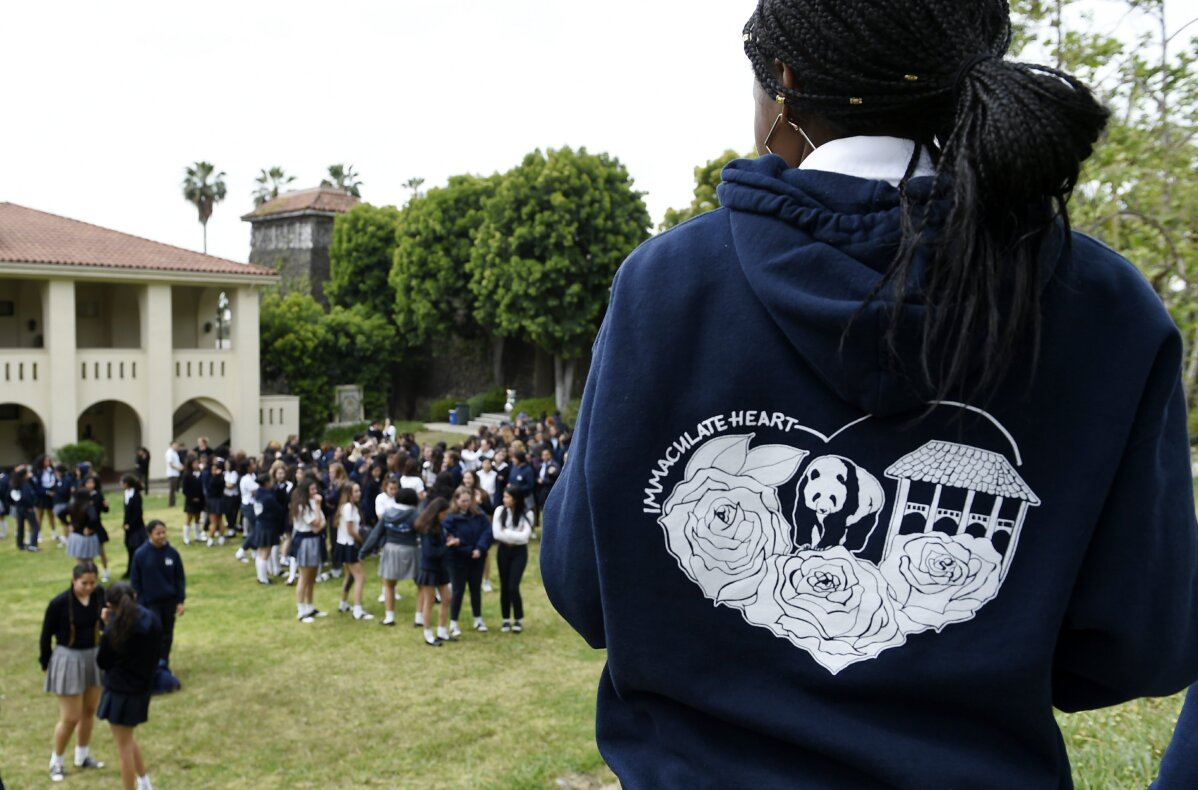 7 of 14

|
This April 30, 2018 photo shows Emilee Anderson wearing an Immaculate Heart High School sweatshirt at the school in Los Angeles. Meghan Markle, who is set to marry Prince Harry on May 19, graduated from the school in 1999. (AP Photo/Chris Pizzello)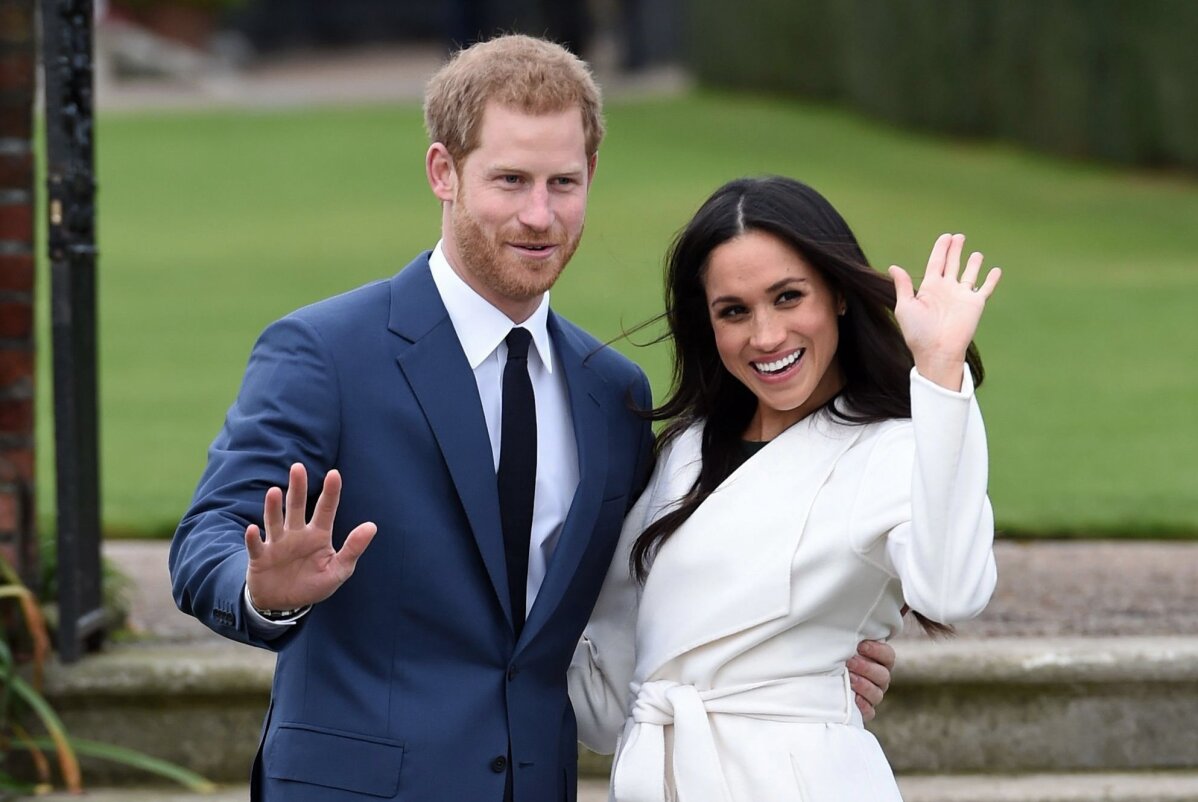 8 of 14

|
FILE - In this Nov. 27, 2017 file photo, Britain's Prince Harry and Meghan Markle pose for the media in the grounds of Kensington Palace in London, after announcing their engagement. The couple will wed on May 19. (Eddie Mulholland/Pool via AP)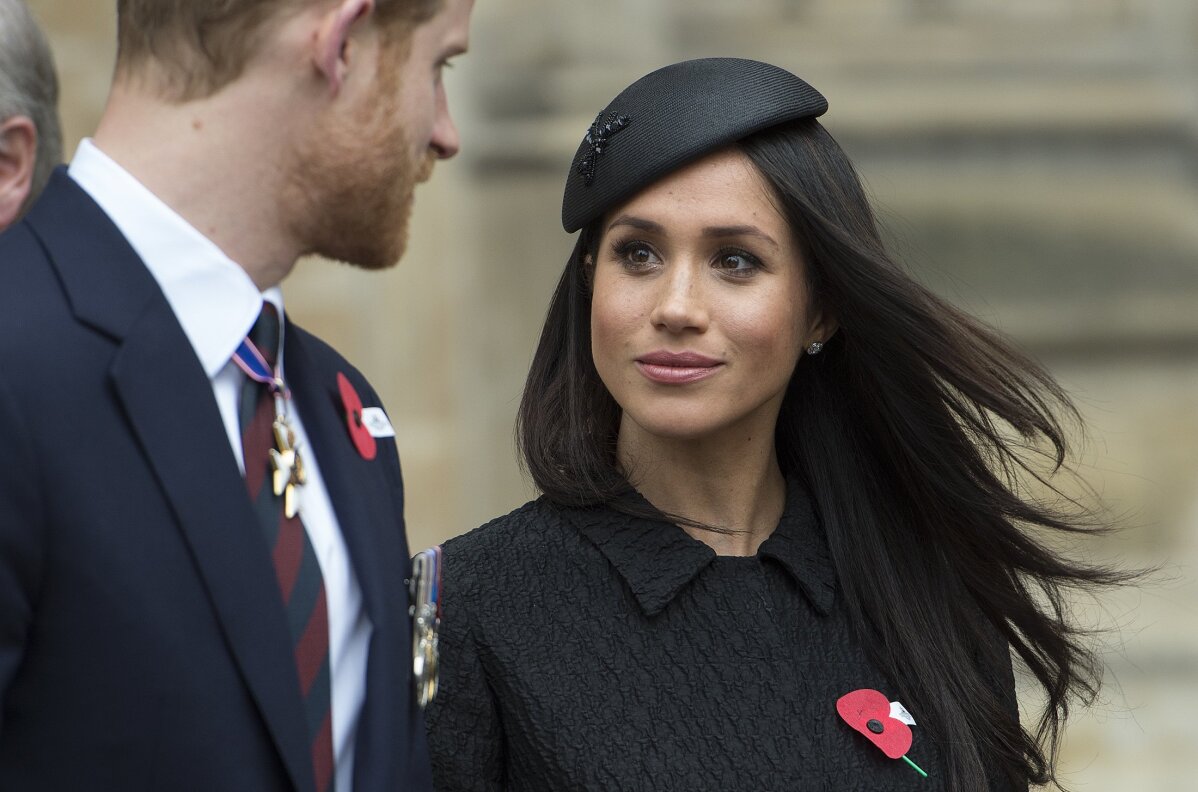 9 of 14

|
FILE - In this April 25, 2018 file photo, Britain's Prince Harry and Meghan Markle attend a Service of Thanksgiving and Commemoration on ANZAC Day at Westminster Abbey in London. The couple will wed on May 19. (Eddie Mulholland/Pool via AP, File)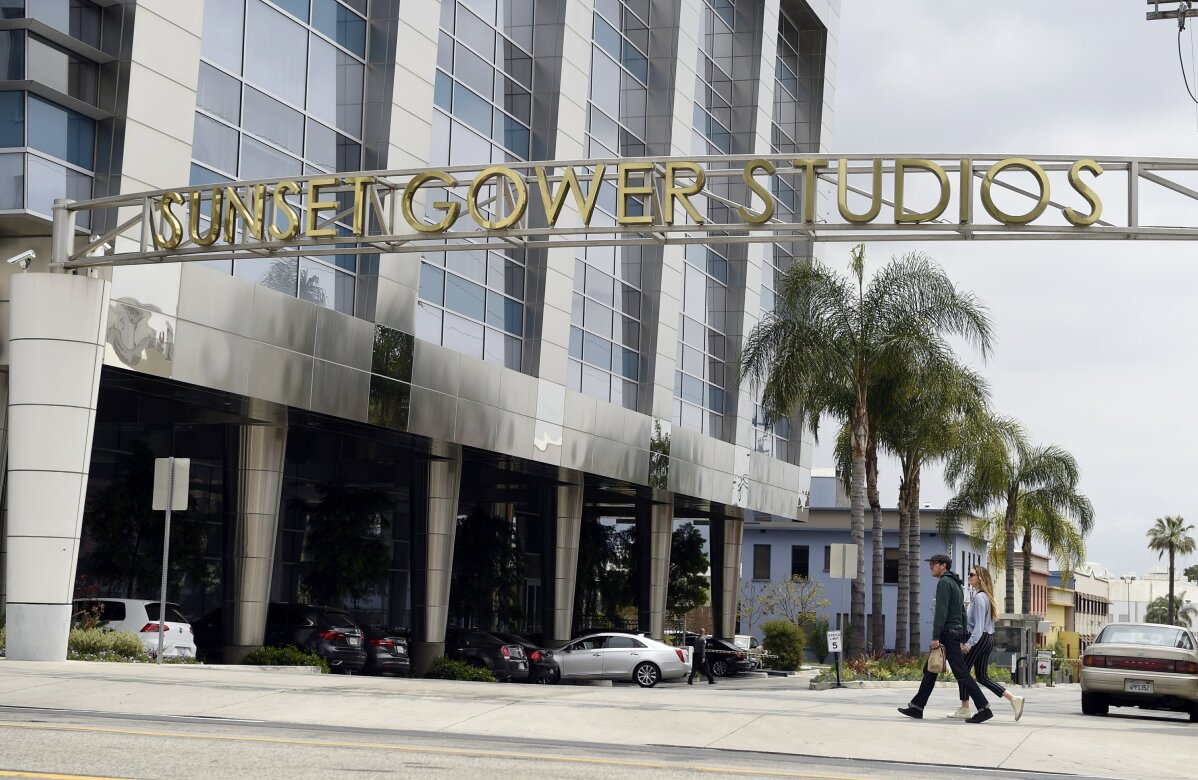 10 of 14

|
This April 30, 2018 photo shows the entrance to Sunset Gower Studios, where Thomas Markle, father of Meghan Markle worked as the director of photography for the TV series "Married...with Children," in Los Angeles. Meghan Markle is set to marry Prince Harry on May 19. (AP Photo/Chris Pizzello)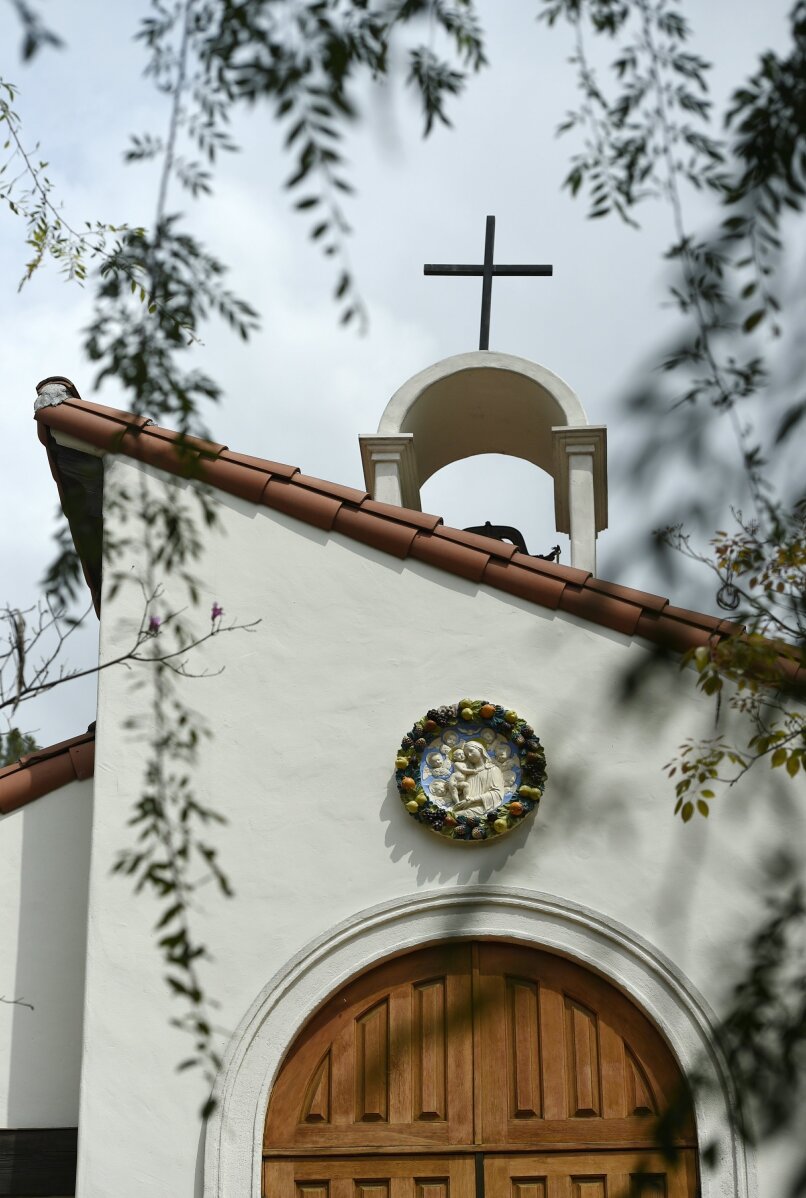 11 of 14

|
This April 30, 2018 photo shows the chapel at Immaculate Heart High School in Los Angeles. Meghan Markle, who is set to marry Prince Harry on May 19, graduated from the school in 1999. (AP Photo/Chris Pizzello)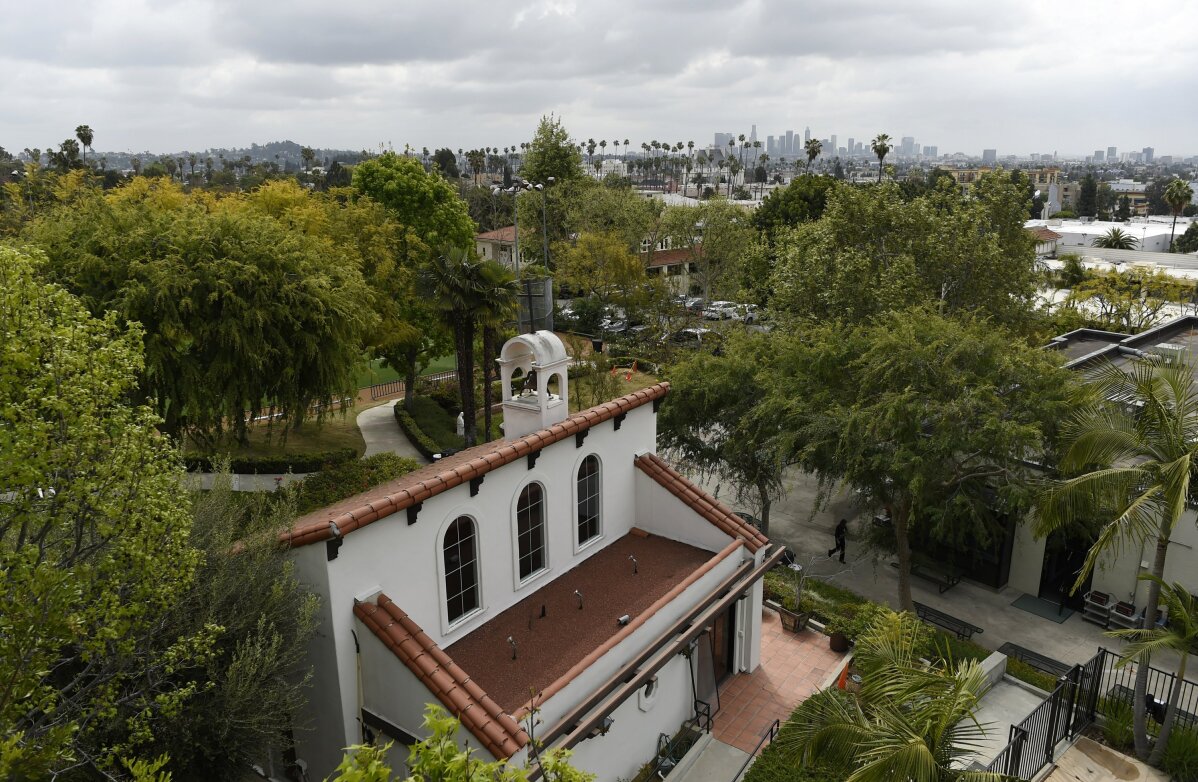 12 of 14

|
This April 30, 2018 photo shows the campus of Immaculate Heart High School in Los Angeles. Meghan Markle, who is set to marry Prince Harry on May 19, graduated from the school in 1999. (AP Photo/Chris Pizzello)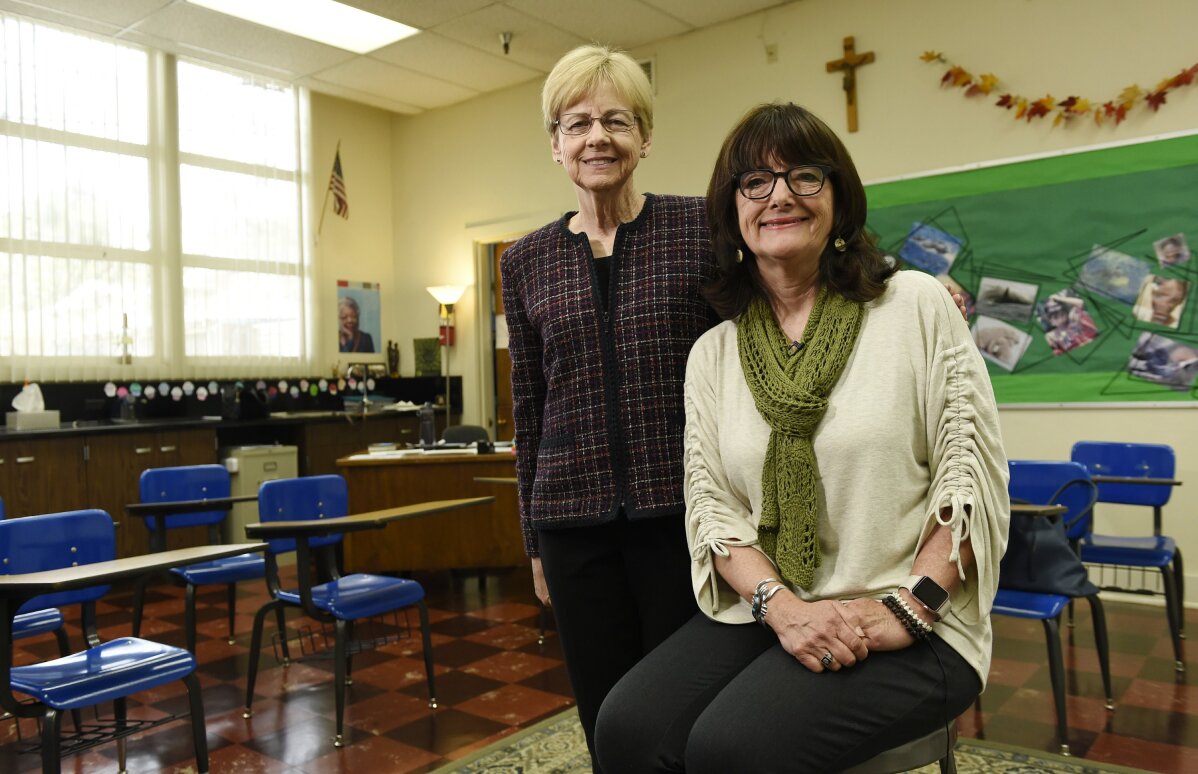 13 of 14

|
In this April 30, 2018 photo, Christine Knudsen, left, theology chair at Immaculate Heart High School, and theology teacher Maria Pollia pose inside a classroom at the school in Los Angeles. Knudsen and Pollia were both teachers of Meghan Markle, who is set to marry Prince Harry on May 19. Markle graduated in 1999. (AP Photo/Chris Pizzello)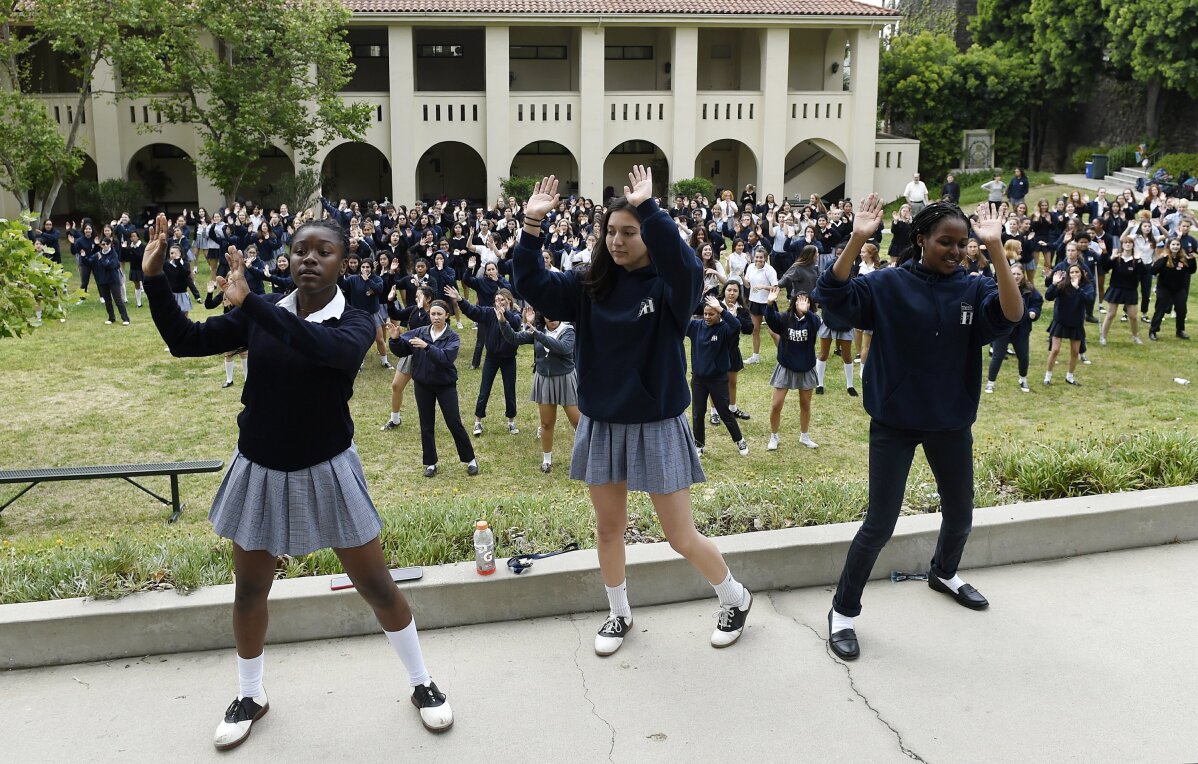 14 of 14

|
This April 30, 2018 photo shows Immaculate Heart High School students, from left, Stephanie Elize, Cameron Kamrin and Emilee Anderson rehearsing "The Great Lawn Dance" with fellow students on campus in Los Angeles. The dance is a feature of the annual Mary's Day at the school, to celebrate the school's patron Mary, mother of Jesus, as well as women everywhere. Prince Harry's bride-to-be Meghan Markle graduated from Immaculate Heart in 1999. (AP Photo/Chris Pizzello)
Markle had a Hollywood-but-humble youth before royalty rang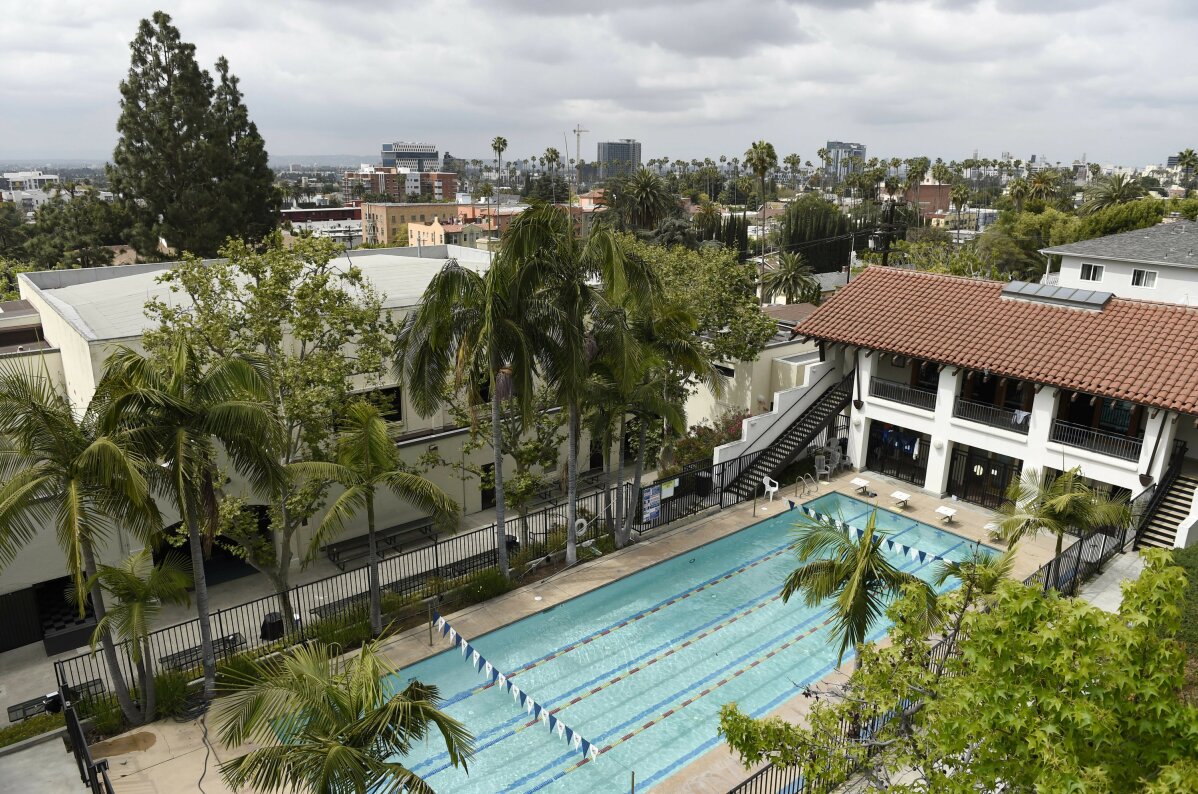 1 of 14

|
This April 30, 2018 photo shows the campus of Immaculate Heart High School in Los Angeles. Meghan Markle, who is set to marry Prince Harry on May 19, graduated from the school in 1999. (AP Photo/Chris Pizzello)
1 of 14
This April 30, 2018 photo shows the campus of Immaculate Heart High School in Los Angeles. Meghan Markle, who is set to marry Prince Harry on May 19, graduated from the school in 1999. (AP Photo/Chris Pizzello)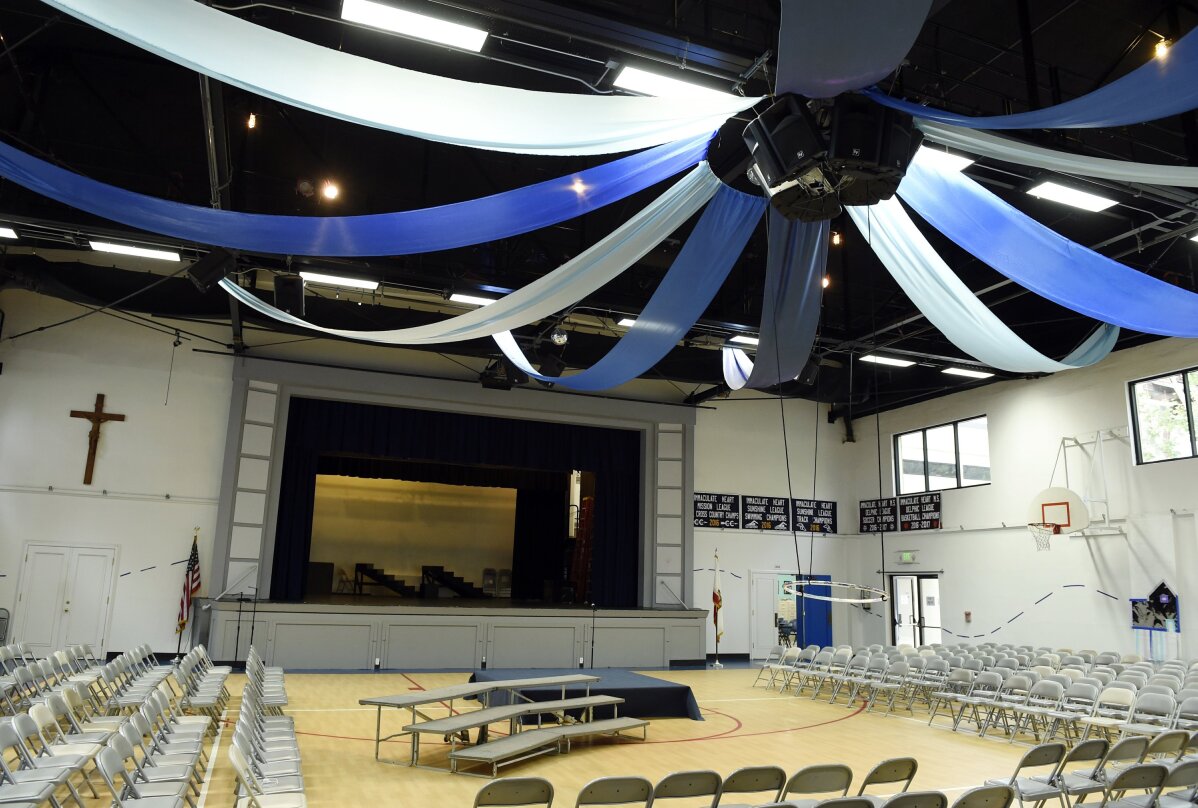 2 of 14

|
This April 30, 2018 photo shows the gymnasium at Immaculate Heart High School in Los Angeles. Meghan Markle, who is set to marry Prince Harry on May 19, performed in school plays in the gym. She graduated in 1999. (AP Photo/Chris Pizzello)
2 of 14
This April 30, 2018 photo shows the gymnasium at Immaculate Heart High School in Los Angeles. Meghan Markle, who is set to marry Prince Harry on May 19, performed in school plays in the gym. She graduated in 1999. (AP Photo/Chris Pizzello)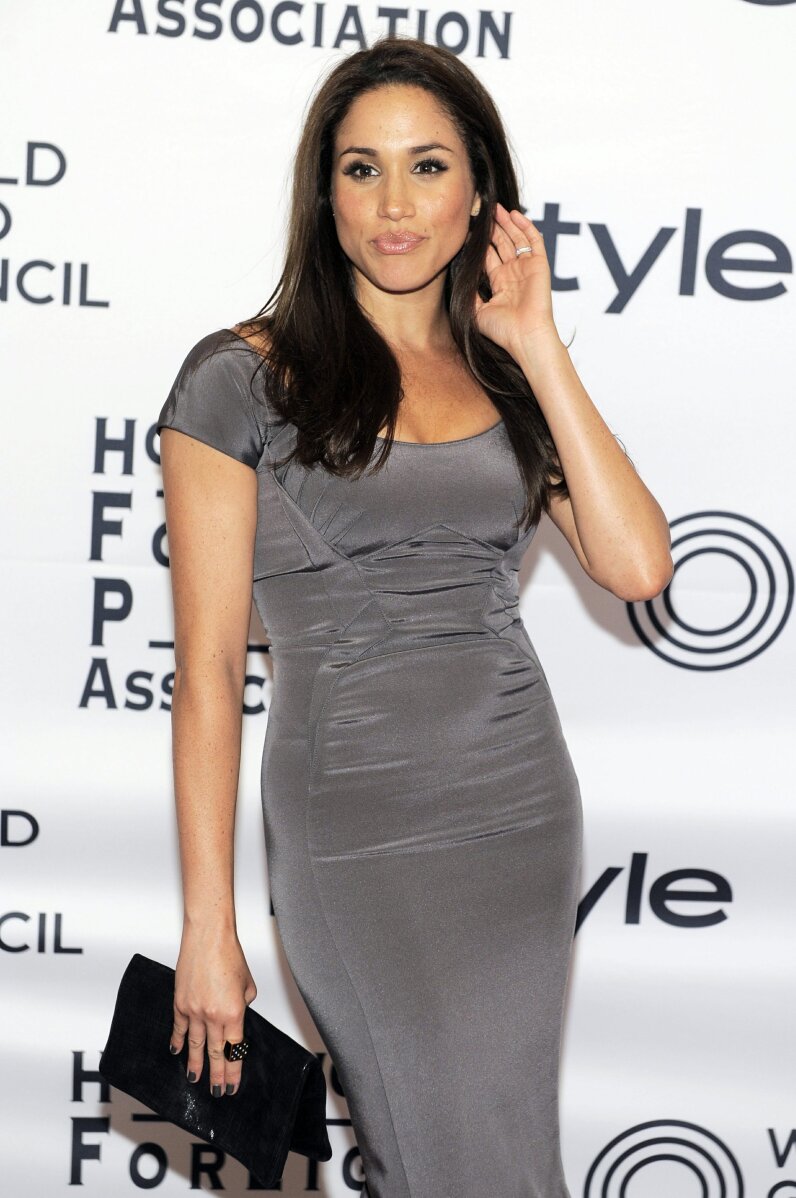 3 of 14

|
FILE - In this Sept. 11, 2012 file photo, actress Meghan Markle poses at the 13th Annual InStyle and Hollywood Foreign Press Association Toronto International Film Festival Party in Toronto. The 36-year-old actress is set to marry Prince Harry on May 19, 2018. (Photo by Chris Pizzello/Invision/AP, File)
3 of 14
FILE - In this Sept. 11, 2012 file photo, actress Meghan Markle poses at the 13th Annual InStyle and Hollywood Foreign Press Association Toronto International Film Festival Party in Toronto. The 36-year-old actress is set to marry Prince Harry on May 19, 2018. (Photo by Chris Pizzello/Invision/AP, File)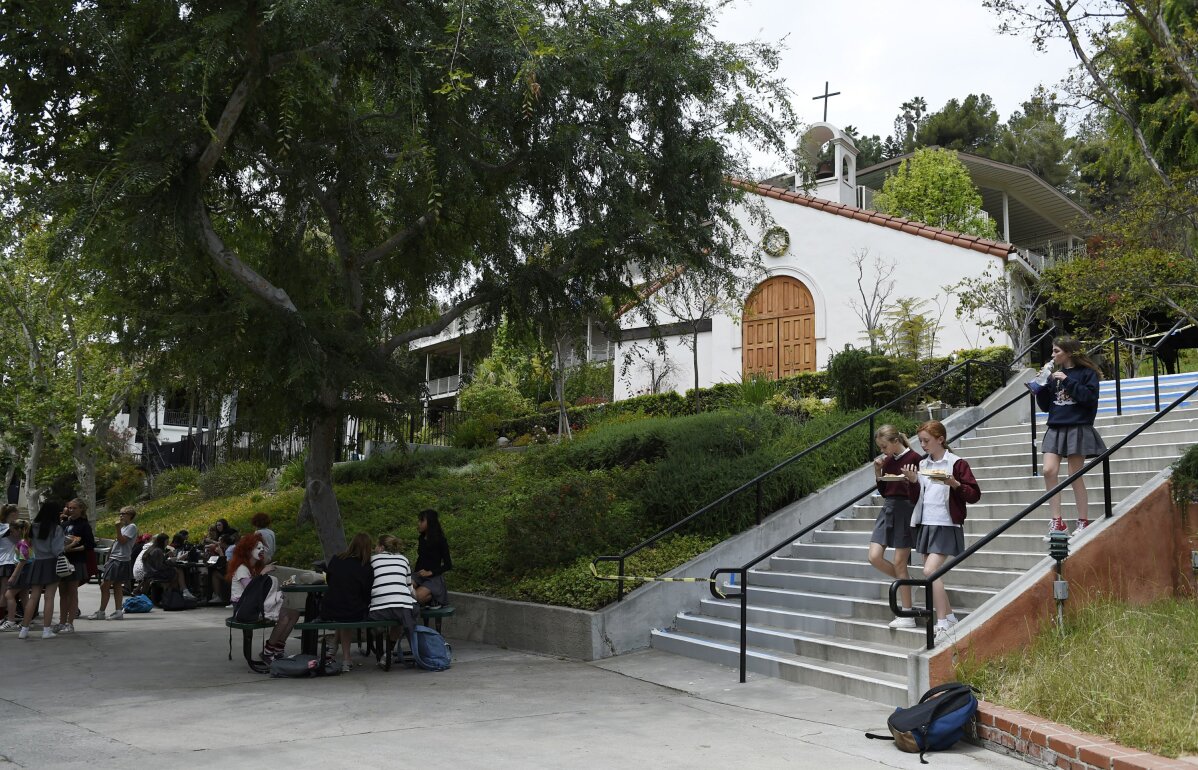 4 of 14

|
This April 30, 2018 photo shows students walking around campus at Immaculate Heart High School in Los Angeles. Meghan Markle, who is set to marry Prince Harry on May 19, graduated from the school in 1999. (AP Photo/Chris Pizzello)
4 of 14
This April 30, 2018 photo shows students walking around campus at Immaculate Heart High School in Los Angeles. Meghan Markle, who is set to marry Prince Harry on May 19, graduated from the school in 1999. (AP Photo/Chris Pizzello)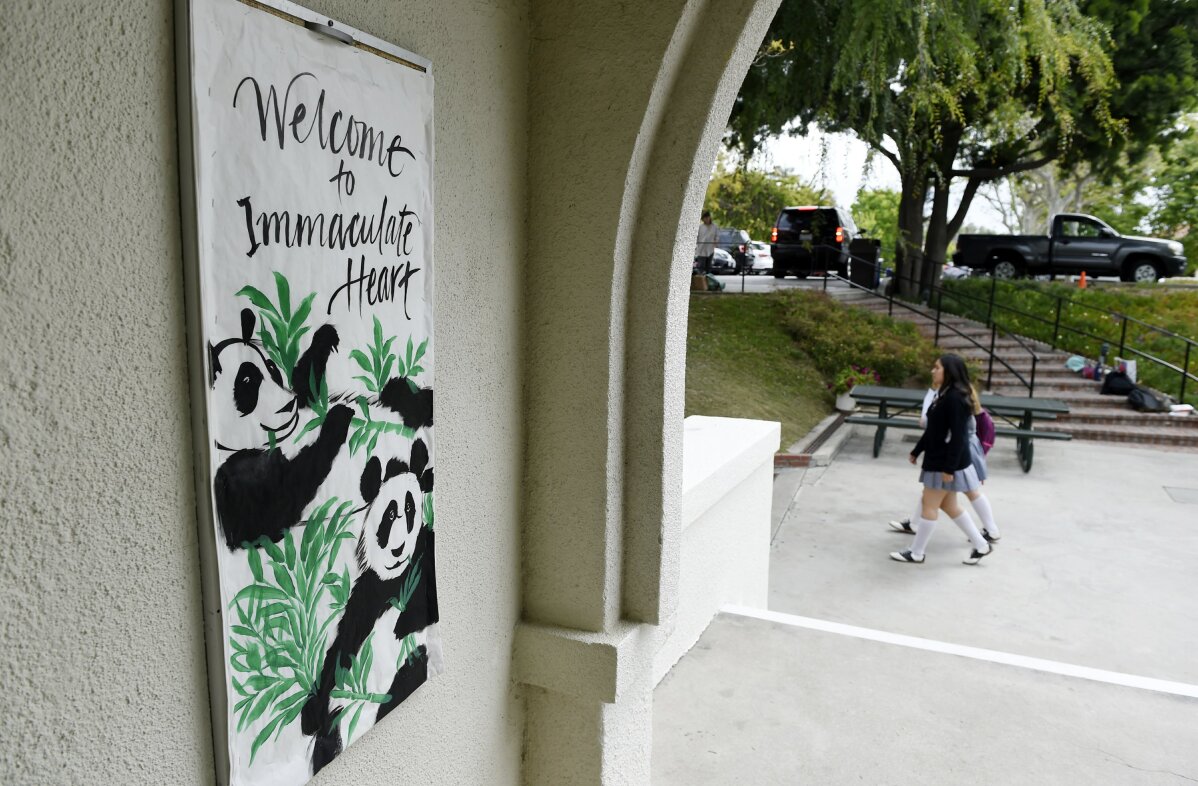 5 of 14

|
This April 30, 2018 photo shows the campus of Immaculate Heart High School in Los Angeles. Meghan Markle, who is set to marry Prince Harry on May 19, graduated from the school in 1999. (AP Photo/Chris Pizzello)
5 of 14
This April 30, 2018 photo shows the campus of Immaculate Heart High School in Los Angeles. Meghan Markle, who is set to marry Prince Harry on May 19, graduated from the school in 1999. (AP Photo/Chris Pizzello)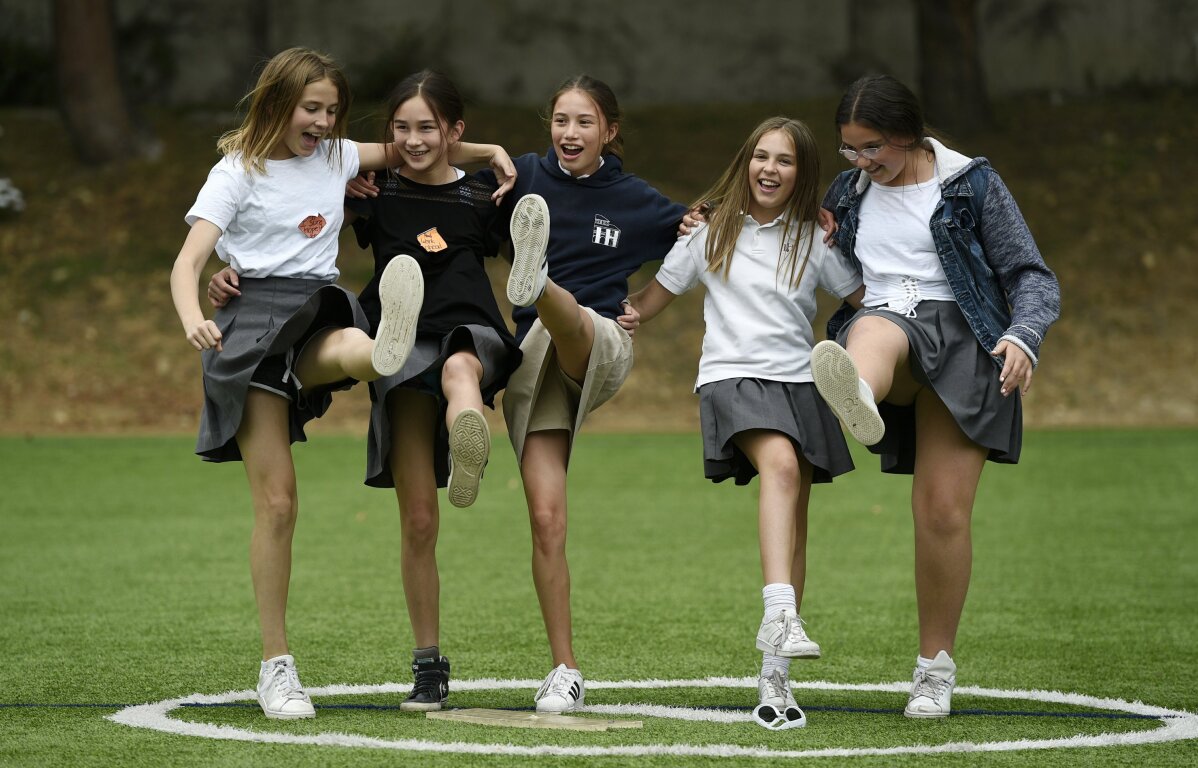 6 of 14

|
This April 30, 2018 photo shows students dancing during recess at Immaculate Heart High School in Los Angeles. Meghan Markle, who is set to marry Prince Harry on May 19, graduated from the school in 1999. (AP Photo/Chris Pizzello)
6 of 14
This April 30, 2018 photo shows students dancing during recess at Immaculate Heart High School in Los Angeles. Meghan Markle, who is set to marry Prince Harry on May 19, graduated from the school in 1999. (AP Photo/Chris Pizzello)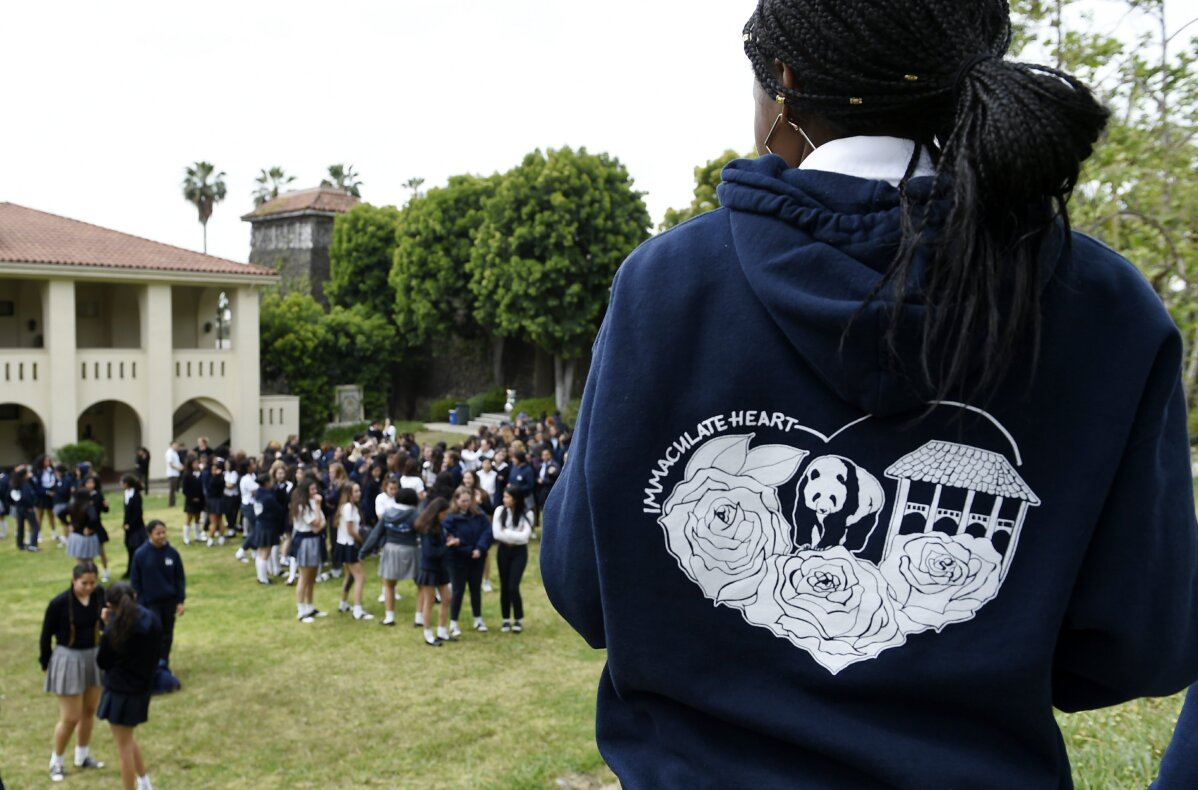 7 of 14

|
This April 30, 2018 photo shows Emilee Anderson wearing an Immaculate Heart High School sweatshirt at the school in Los Angeles. Meghan Markle, who is set to marry Prince Harry on May 19, graduated from the school in 1999. (AP Photo/Chris Pizzello)
7 of 14
This April 30, 2018 photo shows Emilee Anderson wearing an Immaculate Heart High School sweatshirt at the school in Los Angeles. Meghan Markle, who is set to marry Prince Harry on May 19, graduated from the school in 1999. (AP Photo/Chris Pizzello)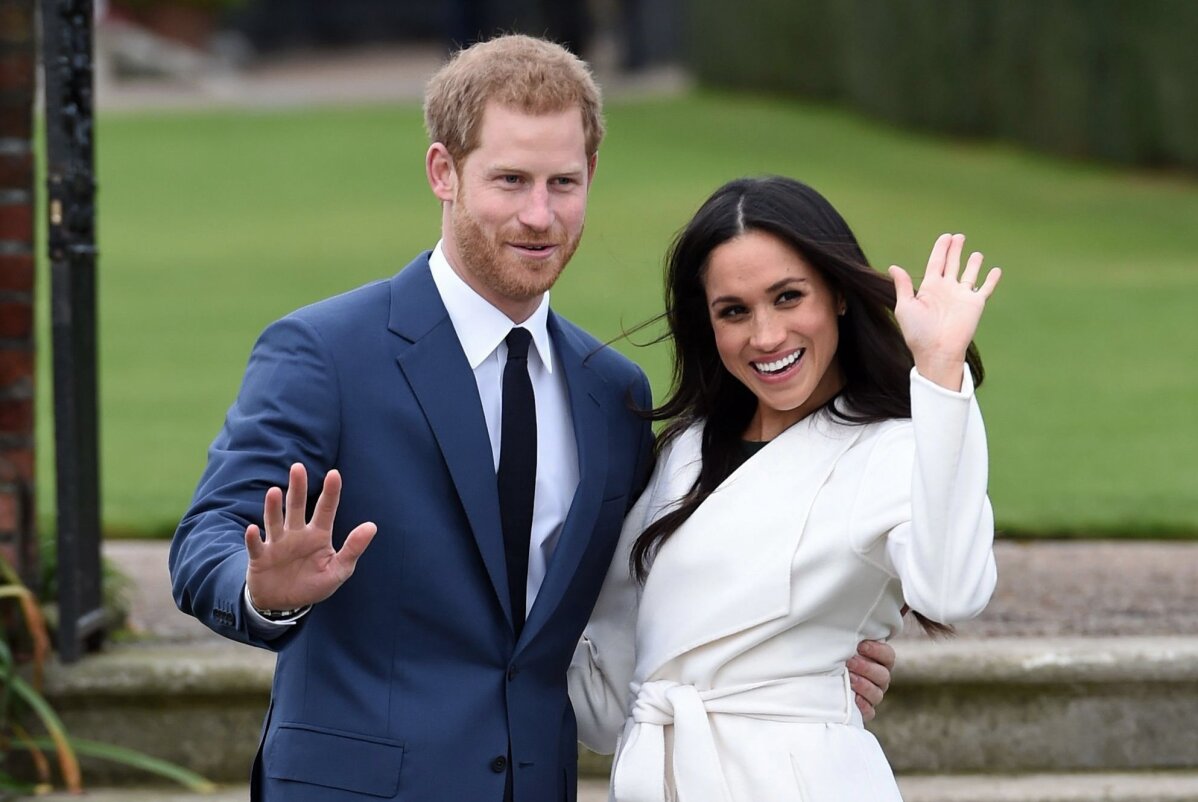 8 of 14

|
FILE - In this Nov. 27, 2017 file photo, Britain's Prince Harry and Meghan Markle pose for the media in the grounds of Kensington Palace in London, after announcing their engagement. The couple will wed on May 19. (Eddie Mulholland/Pool via AP)
8 of 14
FILE - In this Nov. 27, 2017 file photo, Britain's Prince Harry and Meghan Markle pose for the media in the grounds of Kensington Palace in London, after announcing their engagement. The couple will wed on May 19. (Eddie Mulholland/Pool via AP)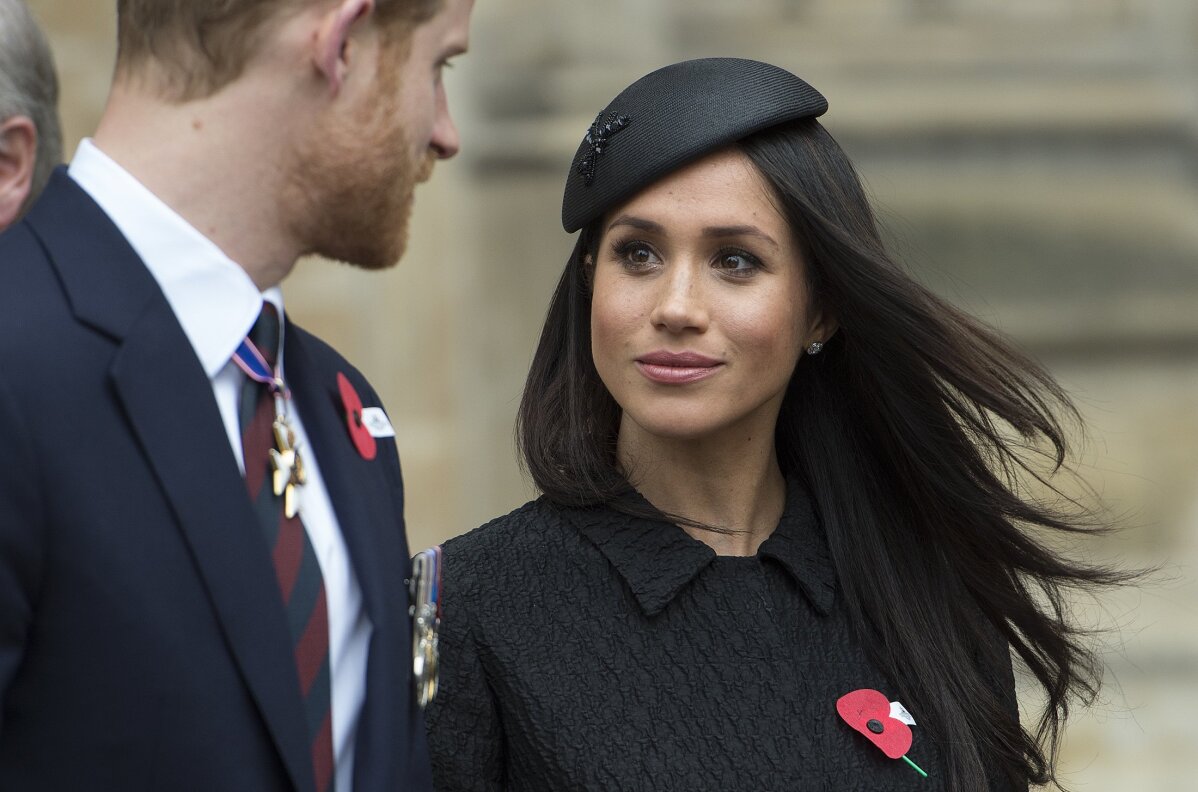 9 of 14

|
FILE - In this April 25, 2018 file photo, Britain's Prince Harry and Meghan Markle attend a Service of Thanksgiving and Commemoration on ANZAC Day at Westminster Abbey in London. The couple will wed on May 19. (Eddie Mulholland/Pool via AP, File)
9 of 14
FILE - In this April 25, 2018 file photo, Britain's Prince Harry and Meghan Markle attend a Service of Thanksgiving and Commemoration on ANZAC Day at Westminster Abbey in London. The couple will wed on May 19. (Eddie Mulholland/Pool via AP, File)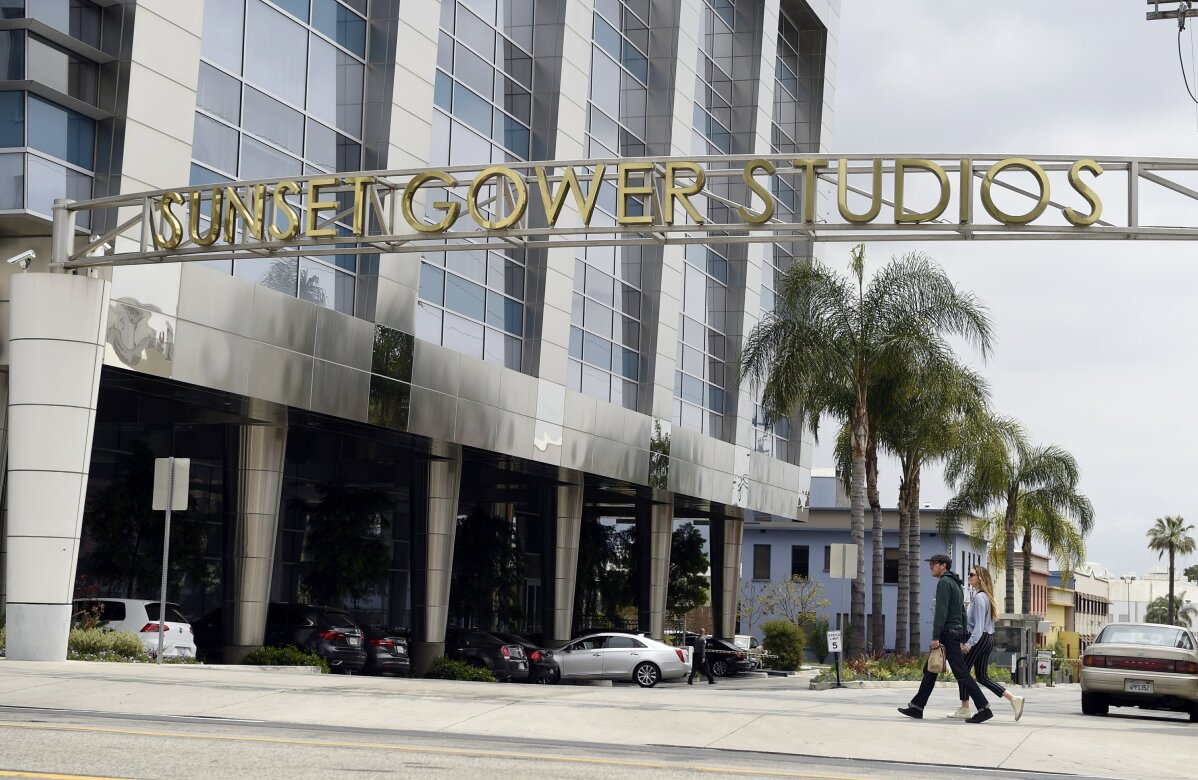 10 of 14

|
This April 30, 2018 photo shows the entrance to Sunset Gower Studios, where Thomas Markle, father of Meghan Markle worked as the director of photography for the TV series "Married...with Children," in Los Angeles. Meghan Markle is set to marry Prince Harry on May 19. (AP Photo/Chris Pizzello)
10 of 14
This April 30, 2018 photo shows the entrance to Sunset Gower Studios, where Thomas Markle, father of Meghan Markle worked as the director of photography for the TV series "Married...with Children," in Los Angeles. Meghan Markle is set to marry Prince Harry on May 19. (AP Photo/Chris Pizzello)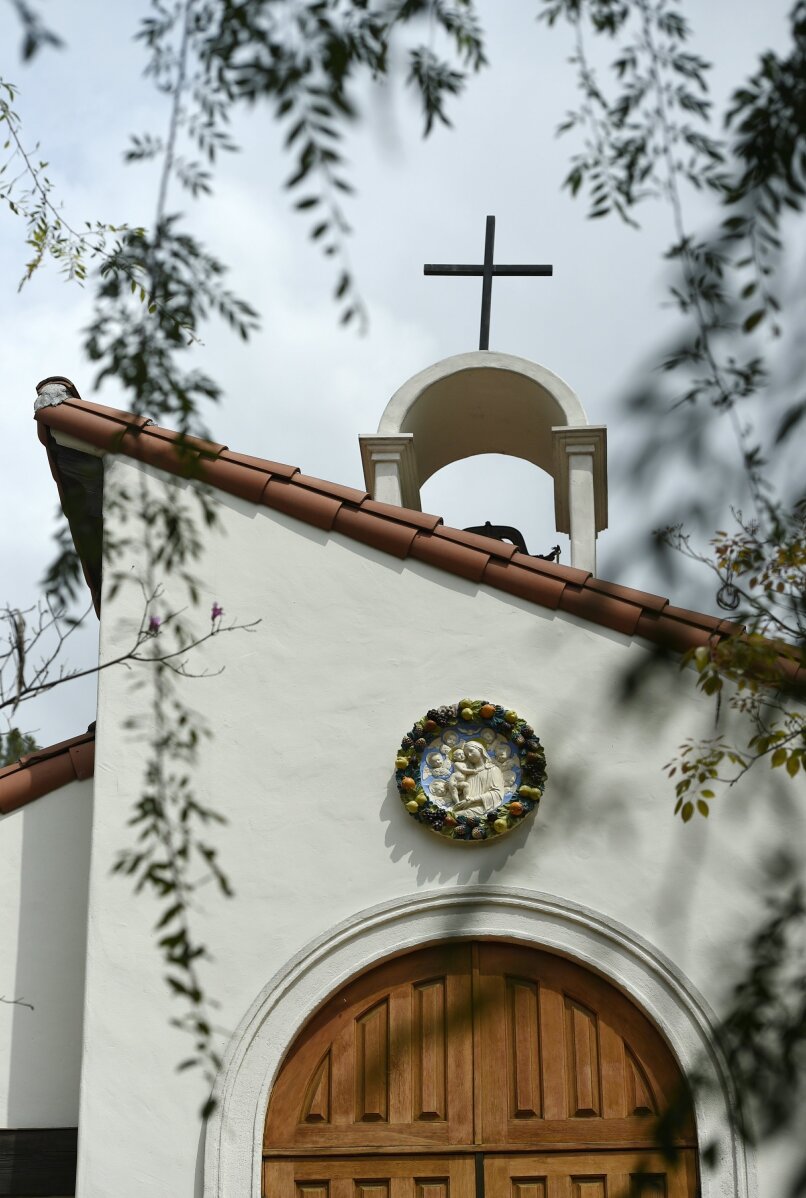 11 of 14

|
This April 30, 2018 photo shows the chapel at Immaculate Heart High School in Los Angeles. Meghan Markle, who is set to marry Prince Harry on May 19, graduated from the school in 1999. (AP Photo/Chris Pizzello)
11 of 14
This April 30, 2018 photo shows the chapel at Immaculate Heart High School in Los Angeles. Meghan Markle, who is set to marry Prince Harry on May 19, graduated from the school in 1999. (AP Photo/Chris Pizzello)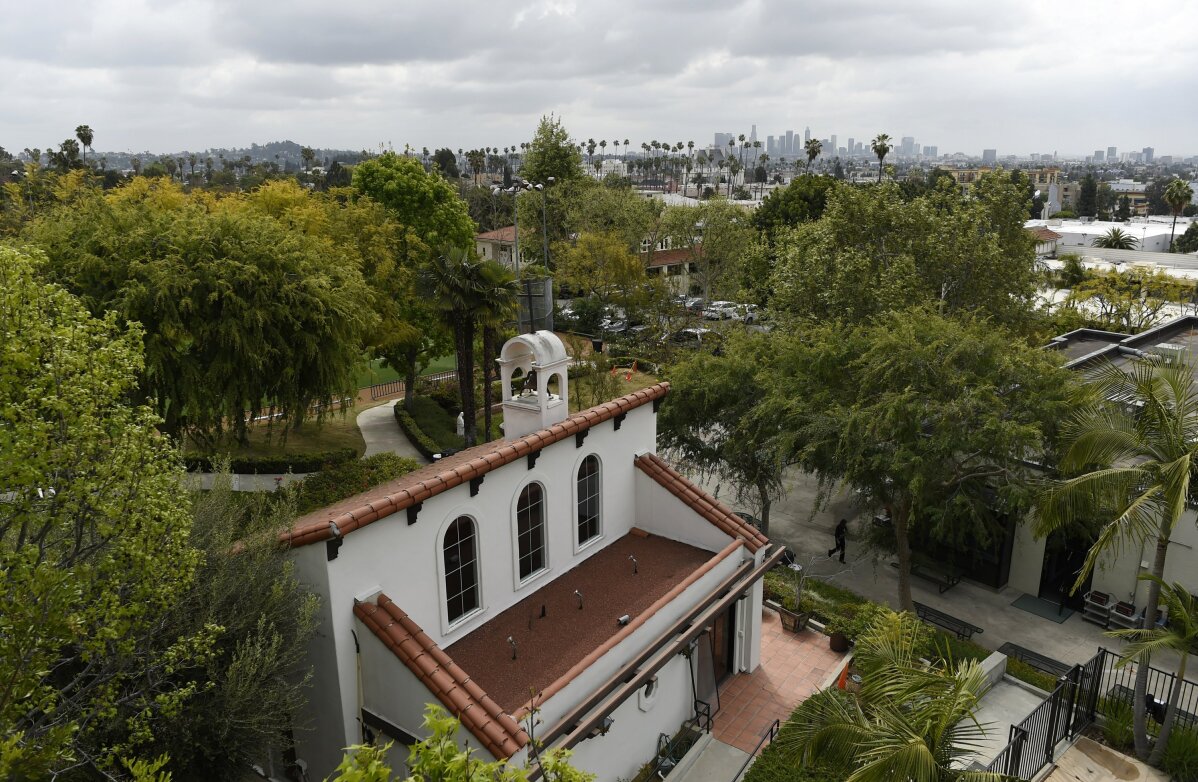 12 of 14

|
This April 30, 2018 photo shows the campus of Immaculate Heart High School in Los Angeles. Meghan Markle, who is set to marry Prince Harry on May 19, graduated from the school in 1999. (AP Photo/Chris Pizzello)
12 of 14
This April 30, 2018 photo shows the campus of Immaculate Heart High School in Los Angeles. Meghan Markle, who is set to marry Prince Harry on May 19, graduated from the school in 1999. (AP Photo/Chris Pizzello)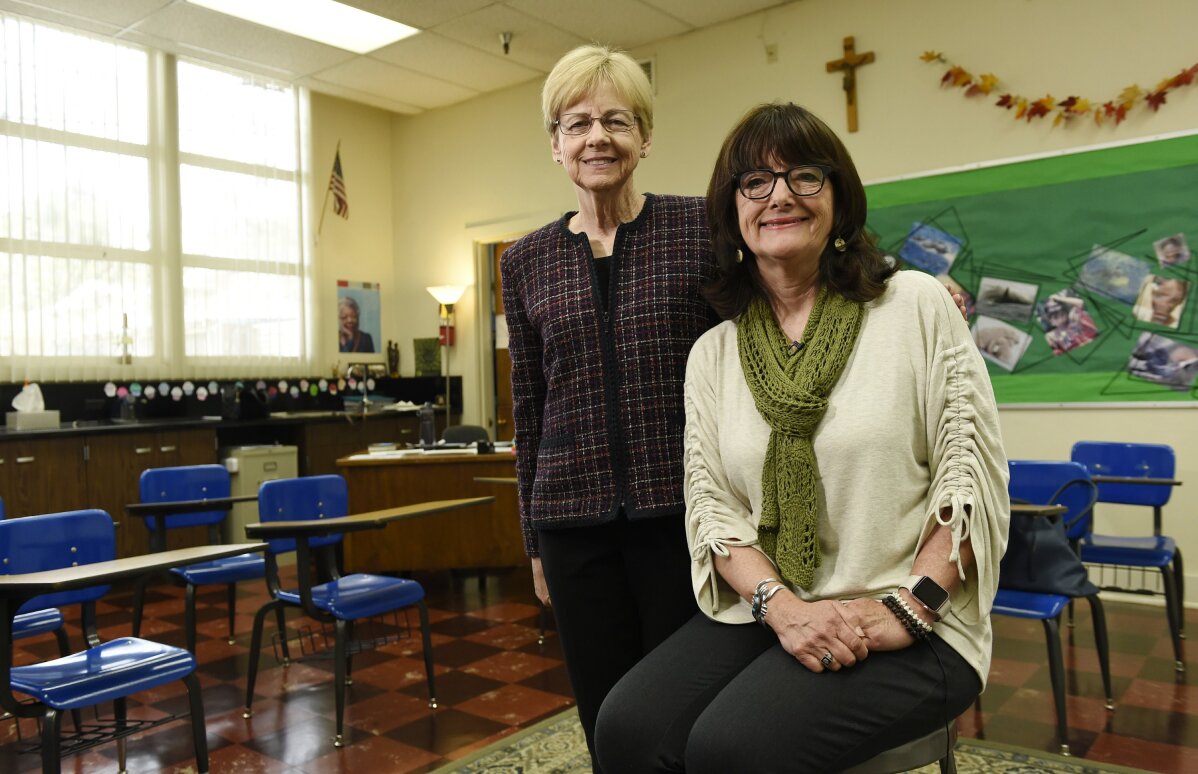 13 of 14

|
In this April 30, 2018 photo, Christine Knudsen, left, theology chair at Immaculate Heart High School, and theology teacher Maria Pollia pose inside a classroom at the school in Los Angeles. Knudsen and Pollia were both teachers of Meghan Markle, who is set to marry Prince Harry on May 19. Markle graduated in 1999. (AP Photo/Chris Pizzello)
13 of 14
In this April 30, 2018 photo, Christine Knudsen, left, theology chair at Immaculate Heart High School, and theology teacher Maria Pollia pose inside a classroom at the school in Los Angeles. Knudsen and Pollia were both teachers of Meghan Markle, who is set to marry Prince Harry on May 19. Markle graduated in 1999. (AP Photo/Chris Pizzello)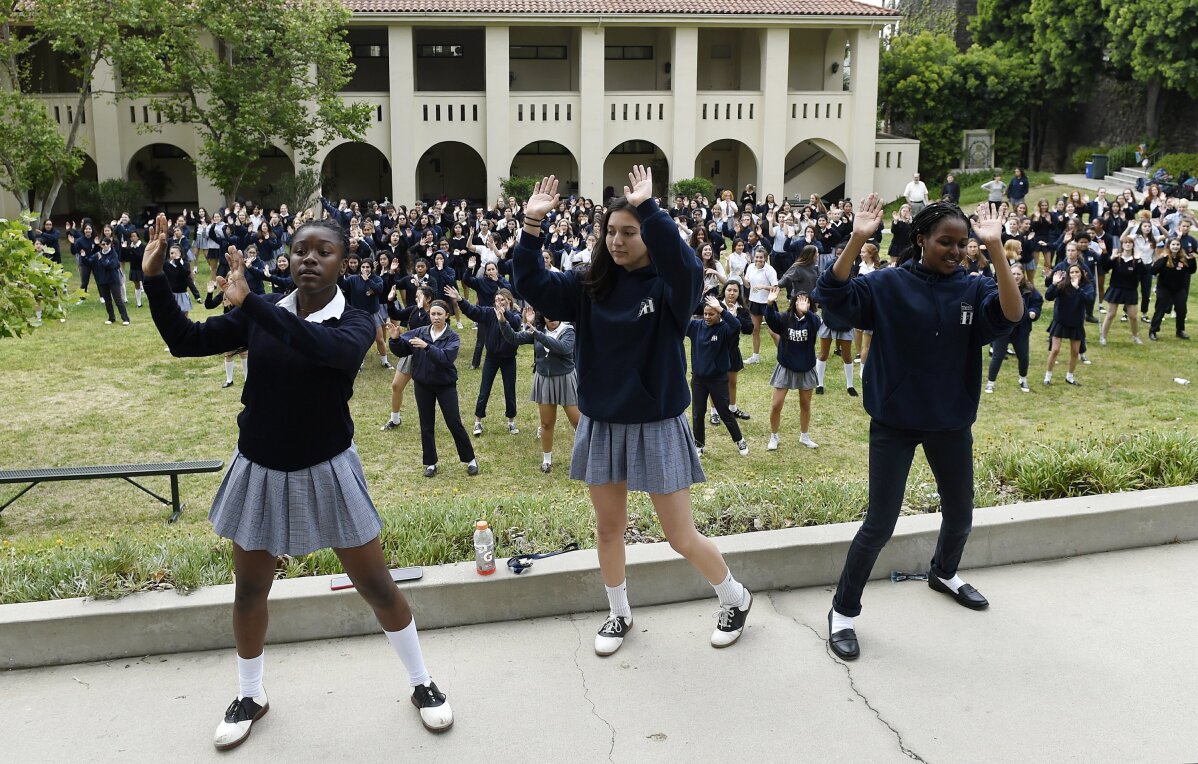 14 of 14

|
This April 30, 2018 photo shows Immaculate Heart High School students, from left, Stephanie Elize, Cameron Kamrin and Emilee Anderson rehearsing "The Great Lawn Dance" with fellow students on campus in Los Angeles. The dance is a feature of the annual Mary's Day at the school, to celebrate the school's patron Mary, mother of Jesus, as well as women everywhere. Prince Harry's bride-to-be Meghan Markle graduated from Immaculate Heart in 1999. (AP Photo/Chris Pizzello)
14 of 14
This April 30, 2018 photo shows Immaculate Heart High School students, from left, Stephanie Elize, Cameron Kamrin and Emilee Anderson rehearsing "The Great Lawn Dance" with fellow students on campus in Los Angeles. The dance is a feature of the annual Mary's Day at the school, to celebrate the school's patron Mary, mother of Jesus, as well as women everywhere. Prince Harry's bride-to-be Meghan Markle graduated from Immaculate Heart in 1999. (AP Photo/Chris Pizzello)
LOS ANGELES (AP) — Meghan Markle's road to royalty ran through Hollywood.
The American actress set to marry Prince Harry May 19 spent her formative years in the Los Angeles neighborhood of Hollywood, a more working-class place than its famous name suggests.
It was home to the progressive elementary school and Catholic high school where she starred in musicals and got her first lessons in the social activism she says will now be her life's primary purpose. And it was home to a far more unlikely place for a future royal to be raised — the television studio where she spent afterschool hours with her cinematographer father on the set of the sitcom "Married ... With Children."
Those who doted on the show's shaggy dog have no trouble remembering her even decades later.
Melba Farquhar, whose husband, Ralph, was a supervising producer on "Married ... With Children," made a habit of bringing dinner leftovers to Buck, a Briard who became a canine star. Before one Friday night taping she noticed a girl of about 10 watching her with quiet fascination.
"This little girl, and it was Meghan, was so interested, she asked me, 'Are you saving your food for the dog?'" Melba Farquhar told The Associated Press.
On a subsequent Friday, Meghan showed up with her own leftovers.
"She had saved some of her dinner to give to him, and wanted to know that it was OK if she fed the dog this time," Farquhar said. "She was just so sweet."
"And now," Farhquar said in disbelief, "she's going to be in the royal family."
Most who recall the young girl expressed similar shock that she is now marrying Prince Harry, but say she's more than prepared for the gravity of her new role, and could transform what it means to be a member of the royal family.
"My thought, truly, was 'he is so lucky. He has no idea,'" said Maria Pollia, a favorite high school teacher of Markle's. "When you think about the circles that Prince Harry is in, and when you think about the many, many accomplished women that he has known all his life, there is something that I know about Meghan, which is her genuineness, her compassion, her depth, is something that I'm not sure that all of those women share."
Markle's father, Thomas Markle, is retired and has been living in Mexico. Her mother, Doria Ragland, is a social worker who still lives in Los Angeles. He could not be reached for comment, and she did not respond to interview requests from the AP.
Neither has spoken publicly since the engagement was announced, part of a media silence that has also included Markle's close friends and most of her cast mates on the TV legal drama "Suits," which aired her final episode last month.
Markle's parents will meet the queen prior to the wedding and will have a special role in the ceremony.
They divorced when she was 6, but jointly raised her, and she spent many hours with her father at Sunset Gower Studios, about a mile from each of her schools, where he oversaw the lighting and camera crew for much of the 1987-to-1997 run of "Married ... With Children," a span that saw his daughter grow from 5 to 15.
The set was a warm and family-friendly place, crew members said. The lowbrow show itself often was not, reveling in trashiness and toilet humor that made it "a really funny and perverse place for a little girl in a Catholic school uniform to grow up," Markle told Esquire magazine in 2013.
And for Markle, a lifelong dog devotee whose beagle and Labrador mix were the stars of her now-deleted Instagram account, it had the added bonus of Buck.
"Tommy used to bring her on the set a lot, and of course she was always hanging around and petting Buck," said Steven Ritt, the dog's owner and trainer, who recently gave an interview with a wolfish black pup named Ariel at his feet. "A lot of kids gravitated toward Buck."
Ritt said Markle's gentle manner made her a natural with animals.
"Meghan was always kind of an old soul, even as a child, a little more mature than some of the children around the set at her age," he said.
Old soul or not, she was still a schoolgirl, and when Thomas Markle had to shoot scenes with scantily-clad women and sex jokes, which was often, he wanted her out of sight.
"There were a lot of times my dad would say, 'Meg, why don't you go and help with the craft services room over there? This is just a little off-color for your 11-year-old eyes,'" Markle told Esquire. "Just picture me with my curly hair and a gap in my teeth and my little school uniform with Keds on, looking up like, 'Hi,' at these very, uh, provocative women. It was a big change from Immaculate Heart Catholic School."
Memories of Markle run deep at the all-girls school, which has a tiny chapel at its center and sits on a hillside below the American Film Institute.
"She was one of those girls that, you're drawn to her," said Christine Knudsen head of Immaculate Heart's theology department, who noticed Markle as an actress on the school stage before getting to know her as a student and leader on school retreats. "For whatever reason she has that special spark."
The school is hosting a tea to celebrate the marriage, along with a viewing party of the wedding that despite a 4 a.m. California start time is expected to draw a big crowd.
In plays like the musical "Into the Woods," often lit by her father who would volunteer, Markle would use the stage in the Immaculate Heart gym to develop the acting chops that would land her a role on "Suits," joining fellow Immaculate Heart alums-turned-TV-stars Mary Tyler Moore and Tyra Banks.
The school emphasized a Catholic ethic of service and social justice, seeking to turn each student into a "woman of great heart and right conscience" — a phrase her former teachers said Markle embodied, though like many of her classmates she was not Catholic.
Pollia pushed Markle to overcome an initial timidity and volunteer at a Skid Row soup kitchen, which Markle would do for most of her last two years of school. In interviews nearly 20 years later she shared the advice that Pollia had given her: "Put the needs of others above your own fears."
Markle's conscience had a head start before she got to Immaculate Heart.
While a student at the nearby Hollywood Schoolhouse, Markle objected to a dish soap commercial that included a line that leapt out as sexist even to her 11-year-old self: "Mothers around America are fighting greasy pots and pans."
Markle mounted a letter-writing campaign that got her featured on a Nickelodeon kids' news show.
"I was wondering if you would be able to change your commercial to 'people all over America,'" Markle wrote in a letter to the Procter & Gamble, which did in fact change the ad's language.
"She always had a sense of confidence and poise, and instead of complaining about something, let's think about what we might be able to do to change it," Knudsen said. "I see a lot of Princess Diana in her.... I think she has the ability to really speak to what's important to her heart, and I think she will."
Markle's love of dogs may also serve her well in her royal role. It already has, at least in her intimidating first meeting with the queen at Buckingham Palace.
"The Corgis took to you right away," Prince Harry said, looking at a laughing Markle during a joint interview in November. "For the last 33 years, I've been barked at," he said, then gestured to his fiancee. "This one walks in, absolutely nothing. Just wagging tails."
"Just laying down on my feet during tea," Markle said.
___
Follow Andrew Dalton on Twitter: https://twitter.com/andyjamesdalton .
___
For complete royal wedding coverage, visit https://apnews.com/tag/Royalweddings