Where pot is now legal, no-longer-criminals seek forgiveness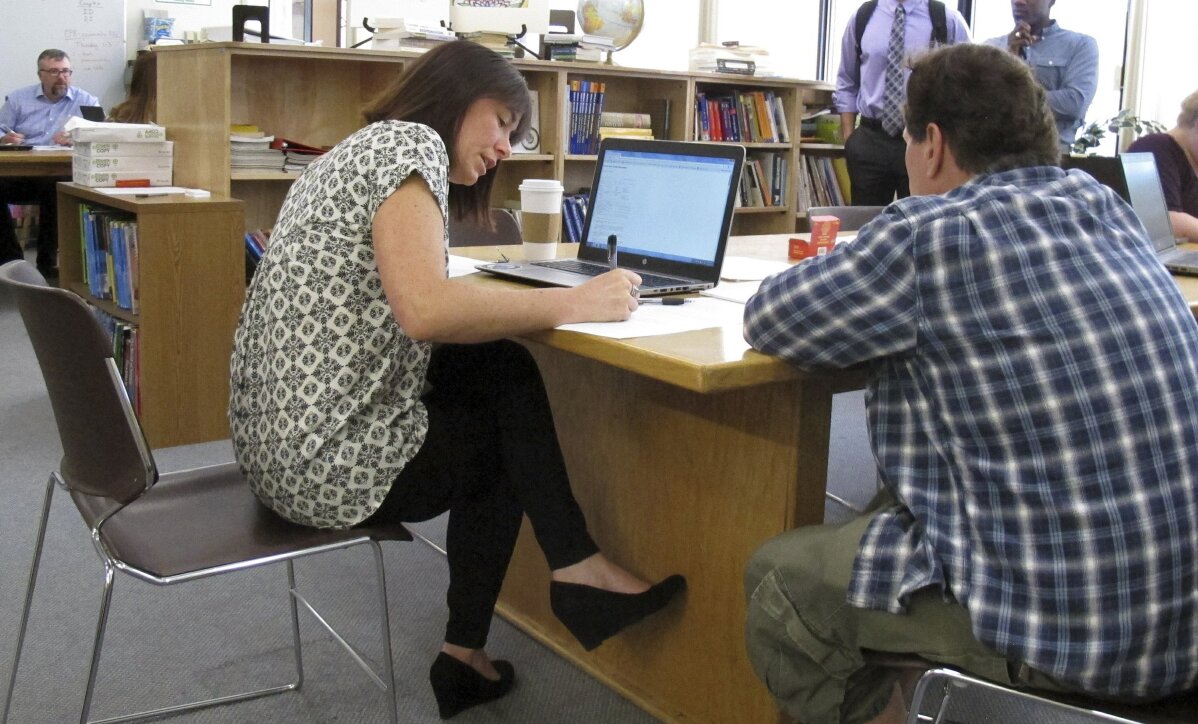 1 of 2

|
In this June 12, 2018, photo, Chittenden County State's Attorney Sarah George, left, does the paperwork in Burlington, Vt., to help a man remove a minor marijuana conviction from his record. Vermont is poised to legalize the recreational use of marijuana on July 1 and some jurisdictions are helping people remove previous marijuana convictions from their records. A number of other states and jurisdictions across the country have similar programs. (AP Photo/David Jordan)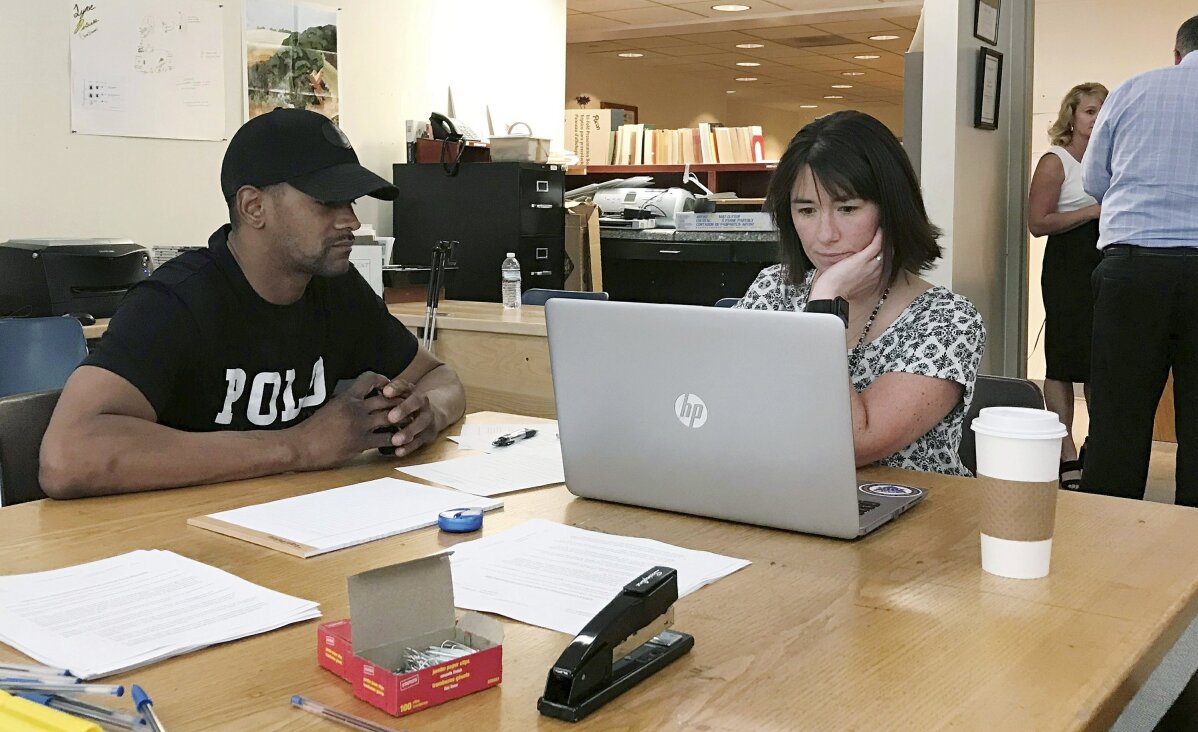 2 of 2

|
In this June 12, 2018, photo, Steven Martin, left, works with Chittenden County State's Attorney Sarah George in Burlington, Vt., on paperwork to remove a minor marijuana conviction from his record. Vermont is poised to legalize the recreational use of marijuana on July 1 and some jurisdictions are helping people remove previous marijuana convictions from their records. A number of other states and jurisdictions across the country have similar programs. (AP Photo/David Jordan)
Where pot is now legal, no-longer-criminals seek forgiveness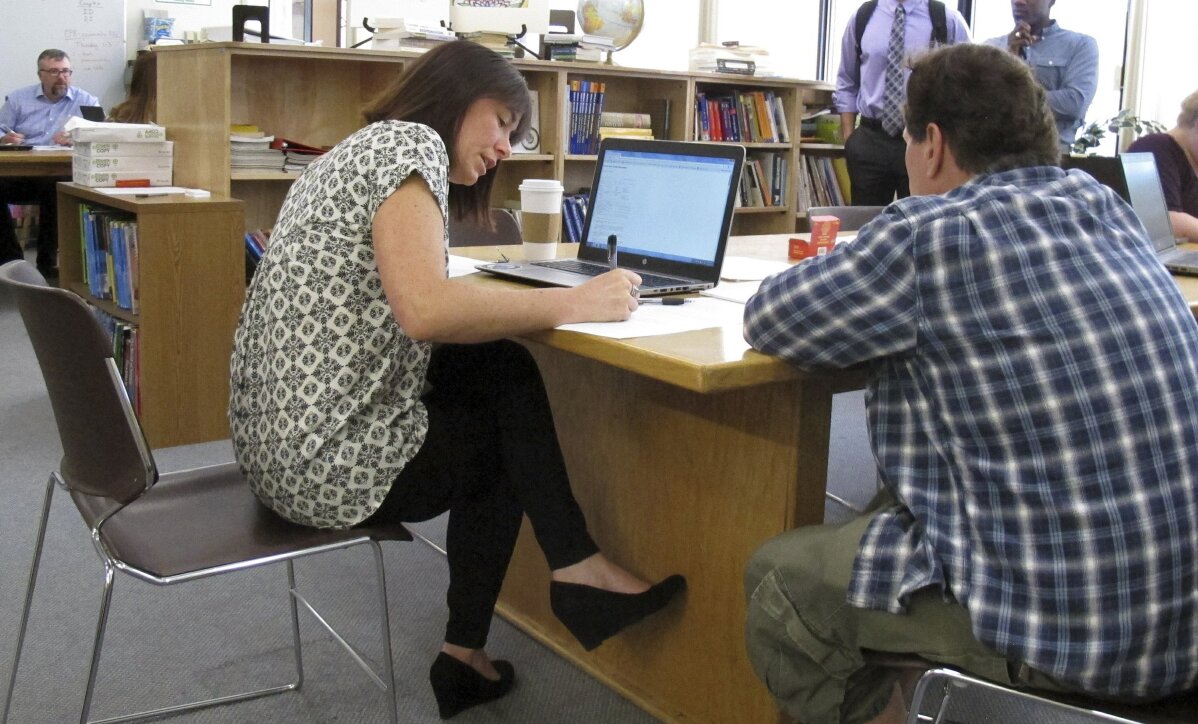 1 of 2

|
In this June 12, 2018, photo, Chittenden County State's Attorney Sarah George, left, does the paperwork in Burlington, Vt., to help a man remove a minor marijuana conviction from his record. Vermont is poised to legalize the recreational use of marijuana on July 1 and some jurisdictions are helping people remove previous marijuana convictions from their records. A number of other states and jurisdictions across the country have similar programs. (AP Photo/David Jordan)
1 of 2
In this June 12, 2018, photo, Chittenden County State's Attorney Sarah George, left, does the paperwork in Burlington, Vt., to help a man remove a minor marijuana conviction from his record. Vermont is poised to legalize the recreational use of marijuana on July 1 and some jurisdictions are helping people remove previous marijuana convictions from their records. A number of other states and jurisdictions across the country have similar programs. (AP Photo/David Jordan)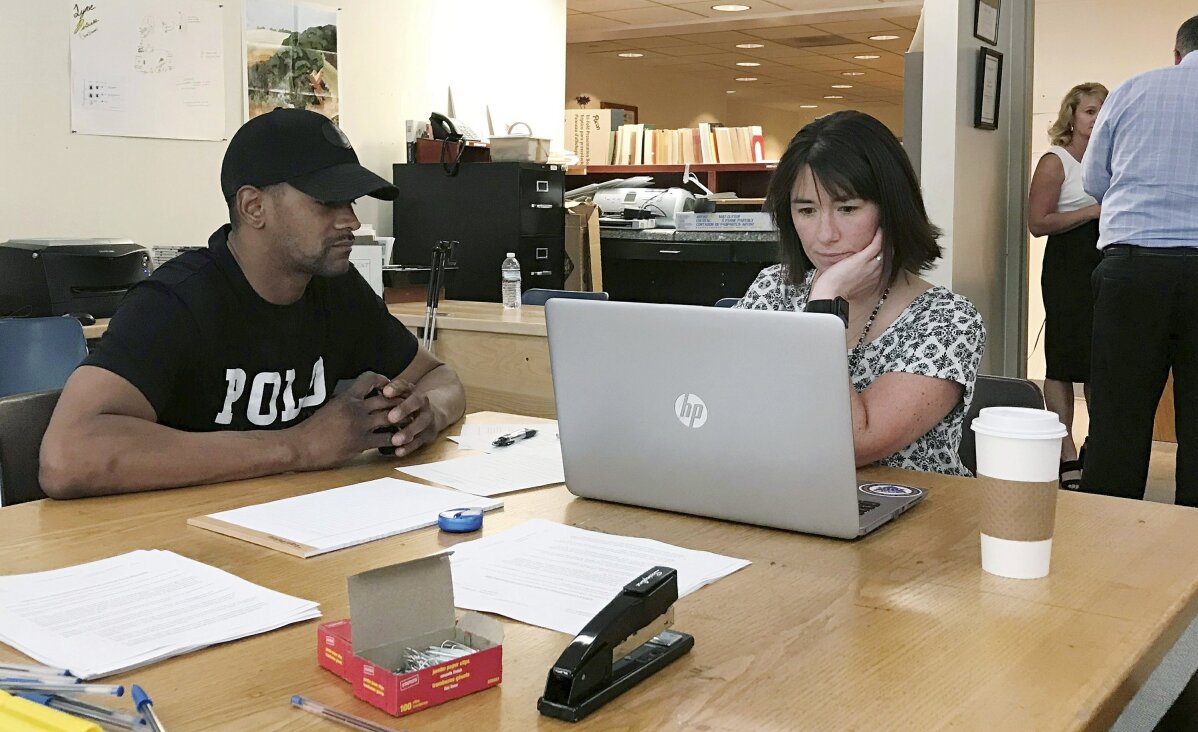 2 of 2

|
In this June 12, 2018, photo, Steven Martin, left, works with Chittenden County State's Attorney Sarah George in Burlington, Vt., on paperwork to remove a minor marijuana conviction from his record. Vermont is poised to legalize the recreational use of marijuana on July 1 and some jurisdictions are helping people remove previous marijuana convictions from their records. A number of other states and jurisdictions across the country have similar programs. (AP Photo/David Jordan)
2 of 2
In this June 12, 2018, photo, Steven Martin, left, works with Chittenden County State's Attorney Sarah George in Burlington, Vt., on paperwork to remove a minor marijuana conviction from his record. Vermont is poised to legalize the recreational use of marijuana on July 1 and some jurisdictions are helping people remove previous marijuana convictions from their records. A number of other states and jurisdictions across the country have similar programs. (AP Photo/David Jordan)
BURLINGTON, Vt. (AP) — Despite its name, hippie reputation and liberal spirit, Vermont hasn't always been kind to pot smokers. Now, as the state moves to legalize weed beyond medical use, those punished in the past for marijuana misdemeanors are seeking forgiveness.
On July 1, Vermont will become the ninth state, along with Washington, D.C., to legalize recreational marijuana. It will not set up a system to tax or regulate production, but adults will be able to possess an ounce of marijuana, two mature plants and four immature plants.
The law also brings an opportunity for those convicted of marijuana transgressions to have them removed from their records.
Past convictions have led to difficulty finding housing or a job. Some were turned away when they applied for a nursing license or federal student loans, attorneys say. Some can't get into neighboring Canada.
So prosecutors across the state are doing what they can to help — just as in many other places that have legalized marijuana, with varying degrees of difficulty.
Glyn Wilkinson, a 70-year-old semi-retired carpenter who ran for the state Senate in 2014 as a Libertarian, and came in last, was among the first to arrive at an "Expungement Day" workshop held last week in Burlington.
He received the first of his two marijuana convictions in 1968 — so far back in the Chittenden County records that the prosecutor's office had a hard time finding it. He has been turned back at the Canadian border, he said, and was disqualified from buying a firearm.
"Can you really get used to it? You can forget about it, but it never really goes away," Wilkinson said. "Today it can actually go away."
Joshua Rowe could not make it to Burlington for the expungement event, but he has been working with Vermont Legal Aid to clear his record. A 31-year-old lighting designer who has worked on tours with Willie Nelson and Trombone Shorty, Rowe said his two misdemeanor convictions have prevented him from taking work in Canada.
"There are jobs I don't even want to attempt to take, because it will look bad on my record with them if I get denied going into Canada for a job," he said. "These old charges are holding me back."
The Canadian Border Services Agency confirmed that people like Rowe will be able to show their record has been cleared and allowed to enter.
Windsor County prosecutor David Cahill, who hosted a workshop similar to Burlington's, estimated there are roughly 2,800 marijuana misdemeanor convictions eligible for expungement across the state.
Other governments have grappled with what to do with those who have criminal convictions for something that is no longer a crime.
Provisions of California's 2016 law that broadly legalized marijuana also allowed for the expungement or reduction from felonies to misdemeanors of some old pot convictions. But there was no mechanism for getting that done.
Kristen Clarke, president of the Lawyers' Committee for Civil Rights Under Law, has been looking at how jurisdictions nationwide are addressing marijuana convictions in the post-legalization world.
San Francisco, she said, stands out for clearing thousands of marijuana convictions without requiring individuals to specifically ask.
"They are wiping convictions off of people's records in one fell swoop, and my hope is that more officials will follow San Francisco," Clarke said.
District attorneys in four other California counties, including San Diego and Alameda — home to Oakland and Berkeley — have also begun expunging old marijuana convictions or reducing felonies to misdemeanors on their own, without the participation of the defendants.
San Diego said it is combing through about 4,000 old cases, and Alameda said as many as 6,000 cases may be eligible for expungement or reduction.
Public defenders throughout California have been hosting legal clinics to help people with convictions fill out the proper forms and file the petitions with the courts.
Colorado last year passed a law that allows those convicted of misdemeanor use or possession to ask to seal, but not erase, criminal records if it is not currently a crime, and the Oregon Legislature passed a similar bill in 2015.
In Vermont, a bill that would have fast-tracked misdemeanor marijuana convictions for expungement died in a legislative committee this year. So the law still requires that the person seeking expungement begin the process, something Sarah George, the lead prosecutor in Chittenden County, said limits who can be helped.
Getting an attorney can be expensive and a deterrent, she said.
A grant from the Pennywise Foundation covered the $90 filing fee for those who came out to the events in Windsor and Chittenden counties, but normally petitioners have to pay that amount for each case.
George and her colleagues in Windsor and Bennington counties said they hope the state moves toward automatic expungement.
"It's taking up time that we could be doing other things," George said, "but from my perspective it's well worth the time."
___
Associated Press reporter Paul Elias contributed to this report from San Francisco.