Harvey deaths held down by heeded warnings, rescues, luck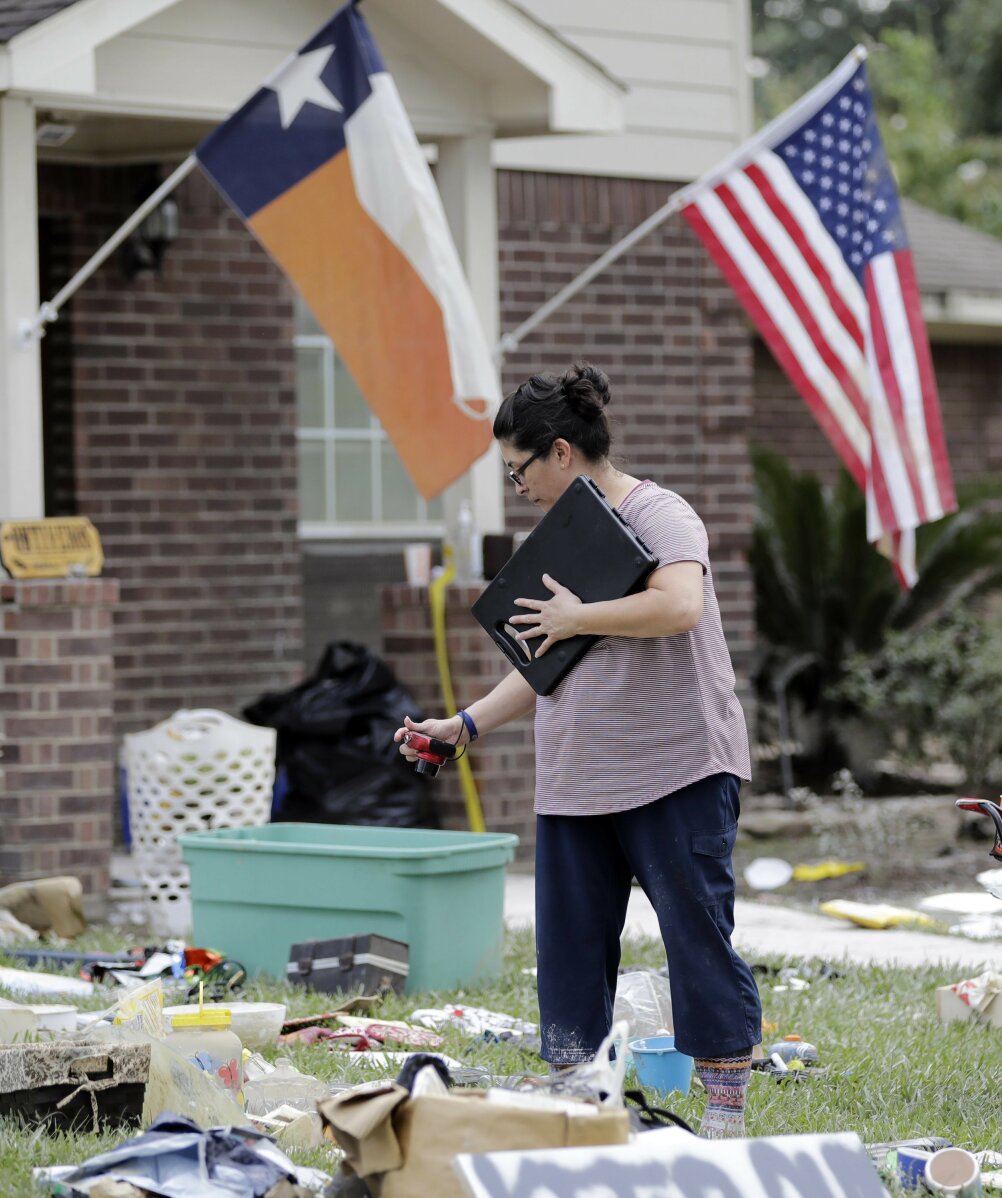 1 of 2

|
Maria Ontiveros documents items from her home that were damaged by floodwaters in the aftermath of Hurricane Harvey Tuesday, Sept. 5, 2017, in Spring, Texas. (AP Photo/David J. Phillip)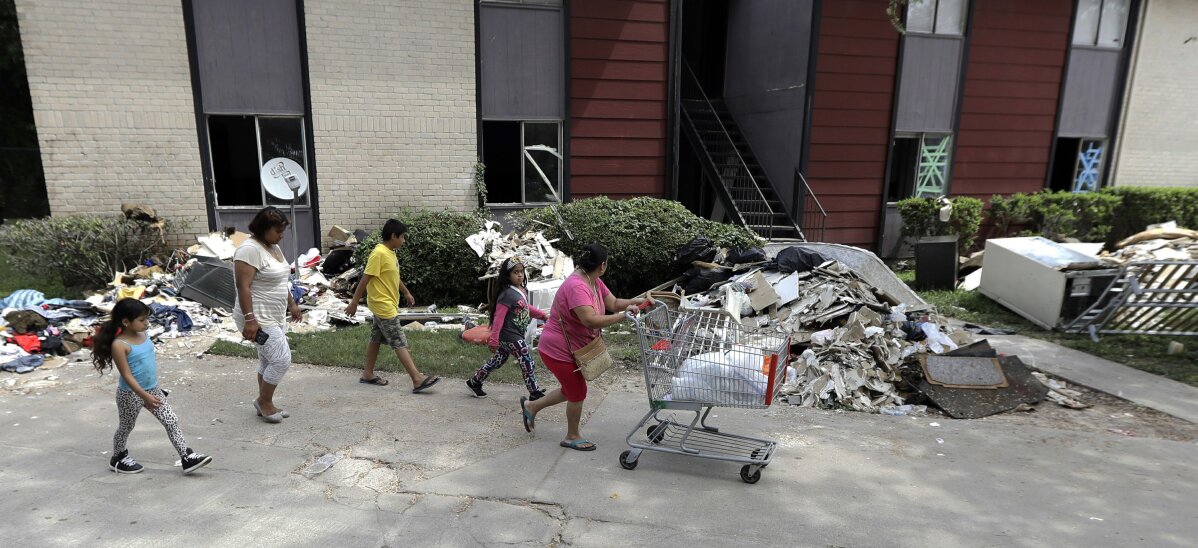 2 of 2

|
A family walks past debris from a flooded apartment complex in the aftermath of Hurricane Harvey Tuesday, Sept. 5, 2017, in Houston. (AP Photo/David J. Phillip)
Harvey deaths held down by heeded warnings, rescues, luck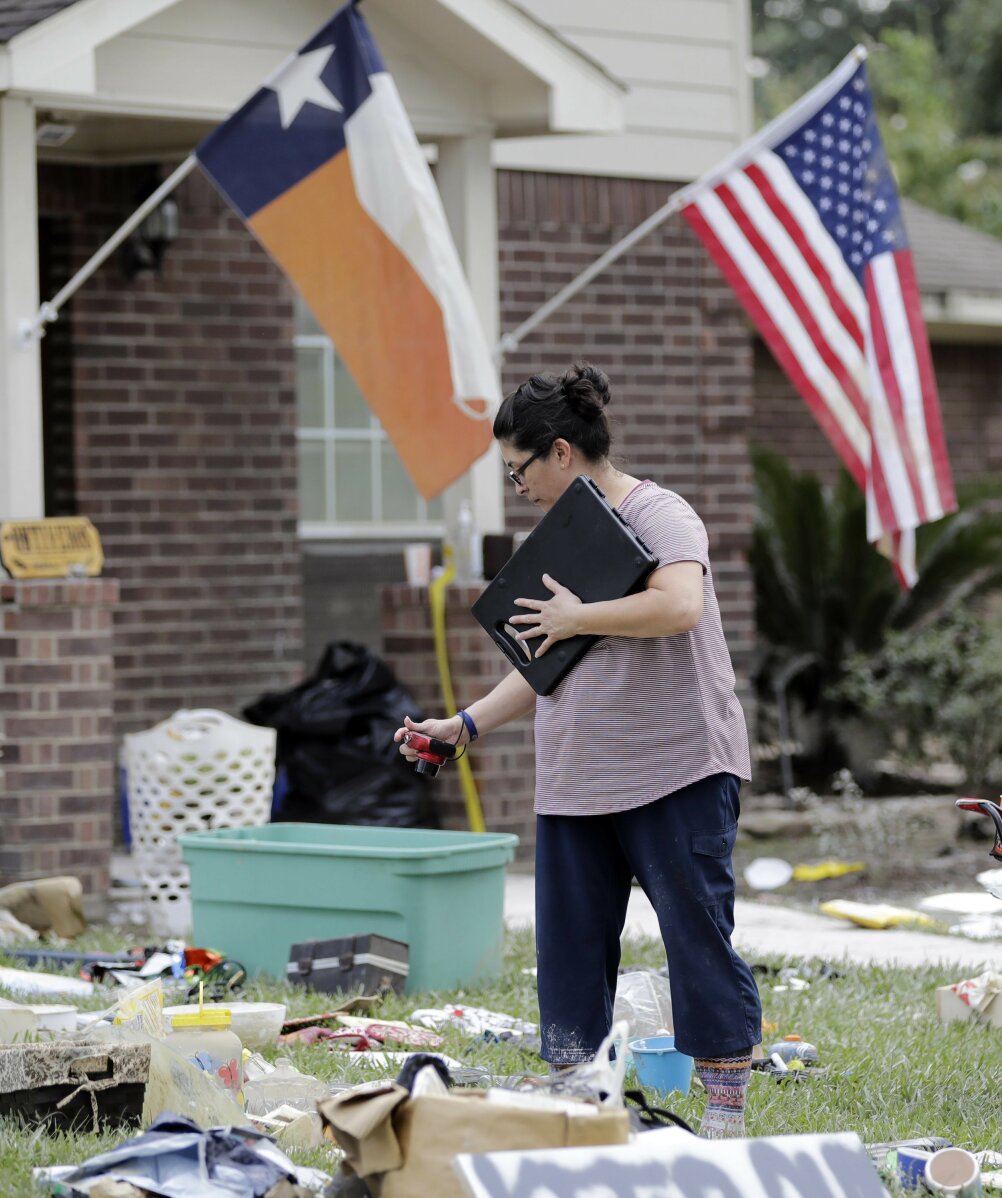 1 of 2

|
Maria Ontiveros documents items from her home that were damaged by floodwaters in the aftermath of Hurricane Harvey Tuesday, Sept. 5, 2017, in Spring, Texas. (AP Photo/David J. Phillip)
1 of 2
Maria Ontiveros documents items from her home that were damaged by floodwaters in the aftermath of Hurricane Harvey Tuesday, Sept. 5, 2017, in Spring, Texas. (AP Photo/David J. Phillip)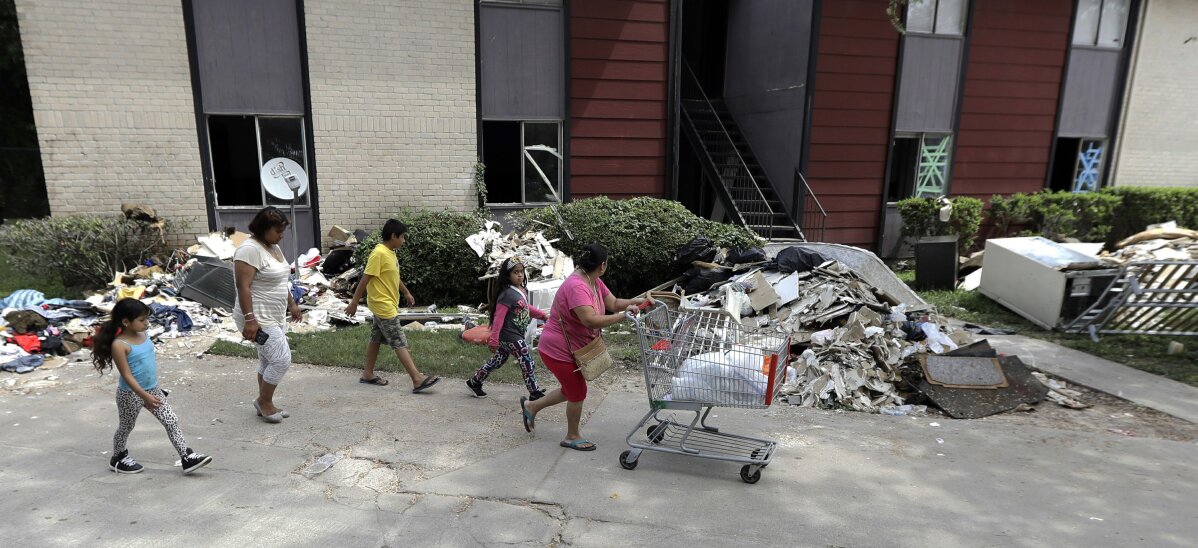 2 of 2

|
A family walks past debris from a flooded apartment complex in the aftermath of Hurricane Harvey Tuesday, Sept. 5, 2017, in Houston. (AP Photo/David J. Phillip)
2 of 2
A family walks past debris from a flooded apartment complex in the aftermath of Hurricane Harvey Tuesday, Sept. 5, 2017, in Houston. (AP Photo/David J. Phillip)
Harvey has so far killed at least 70 people who drowned in floods, got crushed by trees and died during power outages — a surprisingly low toll that experts say reflects heeded warnings, swift action by first responders and volunteers, and no small amount of luck.
"It was astounding that we didn't have a much larger loss of life," said Phil Bedient, co-director of a Rice University effort to research severe storms and evacuations. "It is a relatively low number for as big a storm as this was."
The system intensified from an ordinary storm to a Category 4 hurricane in just over two days before striking Texas on Aug. 25 and dropping 52 inches of rain while parked over the Houston area.
Authorities and experts say lessons learned from previous disasters made a major difference. Floodgates installed around hospitals kept the power on. Search-and-rescue crews raced toward the coast ahead of time. Houston leaders did not call for a mass evacuation in an area with 6.5 million people, keeping them off highways that were later underwater.
Nor did authorities mince words on social media: Houston's police chief told people not to retreat into attics unless they could break out with an ax.
There was also luck. It helped that Harvey crashed ashore along one of the more rural stretches of the Texas coast. The storm surge reached 12.5 feet (3.8 meters) in a wildlife refuge in Aransas County, where so far the only death reported was a person killed in a fire.
"As far as we know, there were few or no storm surge fatalities," said National Hurricane Center Acting Director Ed Rappaport. "That's kind of remarkable given that it's a Category 4 landfall."
Harvey's full toll won't be realized for weeks. At least 18 people are still missing in Houston alone, and bodies are still emerging. The most recent discoveries include the body of a 3-month-old baby who was swept away from her parents when their truck was shoved off the road by raging floodwaters.
Around the cities of Port Arthur and Beaumont, authorities say they will not release details of storm-related deaths until all bodies are recovered.
Most of Harvey's victims died in floodwaters, including six family members who were riding in a van. Electricity outages have also been blamed for some indirect deaths, such as when oxygen tanks lost power. One man died of a heart attack when rescuers could not get to him in time.
In 2005, Hurricane Katrina claimed more than 1,800 lives. Hurricane Ike was blamed for at least 20 deaths after hitting the Texas coast in 2008.
Nim Kidd, chief of the Texas Division of Emergency Management, said Harvey's rapid growth into the fiercest hurricane to hit the U.S. in 13 years snapped people into taking the threat seriously.
"Remember, we had a condensed timeline. Normally we get five to seven days," Kidd said. When Harvey grew in such a short period of time, "it got a lot of the public attention."
The standard for categorizing deaths as storm-related varies from county to county. Many law enforcement agencies did not count indirect deaths such as the fatal heart attack or car accidents caused by trees that fell days after the storm. But some other agencies, as well as The Associated Press, include those fatalities in their totals.
In Houston, police officer Austin Huckabee said he and four other officers saved 30 to 40 people in the first 24 hours. At one point, they commandeered a city dump truck and, although none of them were certified to do high-water rescues, they didn't hesitate.
The toll would have been "exponentially higher" if the city had evacuated, Huckabee said, recalling Hurricane Rita in 2005, when many of the more than 100 deaths occurred as people tried to flee the city.
"We remembered what happened during Katrina and Rita, and we weren't going to let that happen again," Huckabee said.
The same could be said for families trapped in their homes by rising waters and neighbors with their own boats who joined in the rescue efforts. Antonio Lopez is a fire chief in the Texas border city of Weslaco who said the flotilla of personal boats and kayaks made a critical difference.
If those civilians had not acted, "I can assure you the numbers would have been a lot higher on deaths," said Lopez, who in May delivered a state presentation on disaster responses. "It played out very well. The citizens stepped up to the plate and knew there weren't enough responders to go around."
John Mutter, a Columbia University professor who studied deaths from Katrina, said if Harvey's death toll remains low, Houston and surrounding areas deserve credit for how they handled the storm.
"For something that big that lasted that long, I think (the low death toll) shows that first responders worked tremendously hard. I think it shows how most people were reasonably responsible with how they protected themselves. And I think it shows a huge credit to Houston for being prepared," Mutter said.
___
Weber reported from Austin. Lauer reported from Dallas. Associated Press writers Seth Borenstein in Washington and Robin McDowell in Houston contributed to this report.
___
Follow Paul J. Weber on Twitter: www.twitter.com/pauljweber
___
Sign up for AP's newsletter showcasing our best all-formats reporting on Harvey and its aftermath: http://apne.ws/ahYQGtb .