At least 3 "tender age" shelters set up for child migrants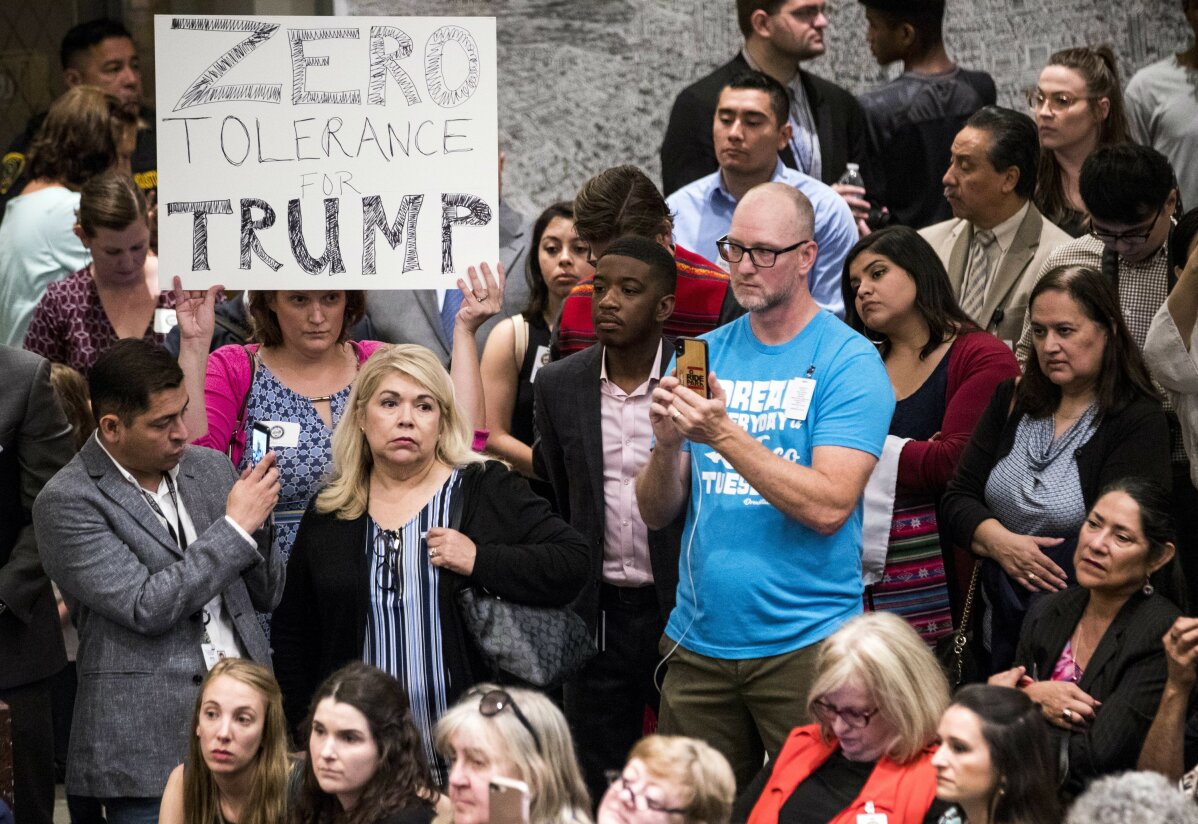 1 of 7

|
A crowd fills the Legacy Room at City Hall as Mayor Sylvester Turner speaks during a news conference opposing the proposal to place immigrant children separated from their parents at the border in a facility just east of downtown, Tuesday, June 19, 2018, in Houston. (Brett Coomer/Houston Chronicle via AP)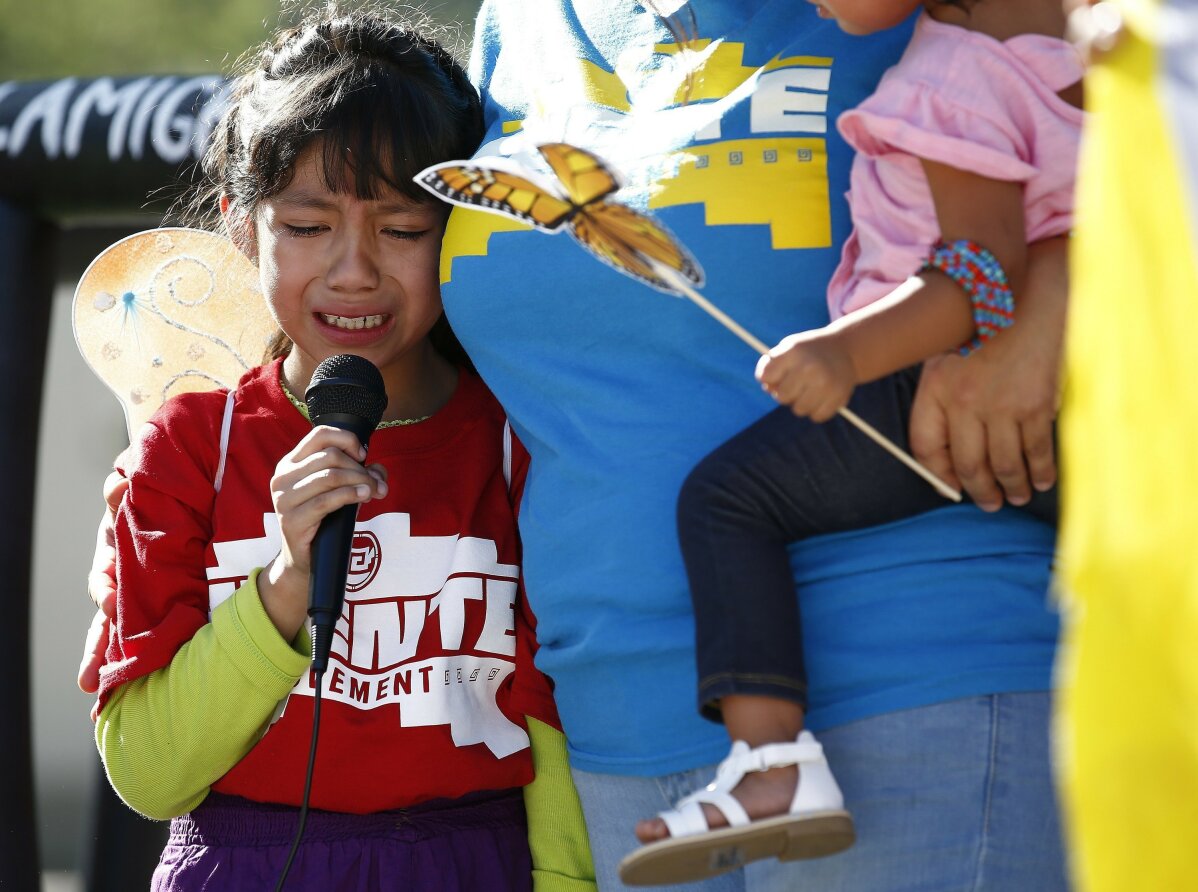 2 of 7

|
FILE - In this Monday, June 18, 2018 file photo, Akemi Vargas, 8, cries as she talks about being separated from her father during an immigration family separation protest in front of the Sandra Day O'Connor U.S. District Court building in Phoenix. Child welfare agencies across America make wrenching decisions every day to separate children from their parents. But those agencies have ways of minimizing the trauma that aren't being employed by the Trump administration at the Mexican border. (AP Photo/Ross D. Franklin, File)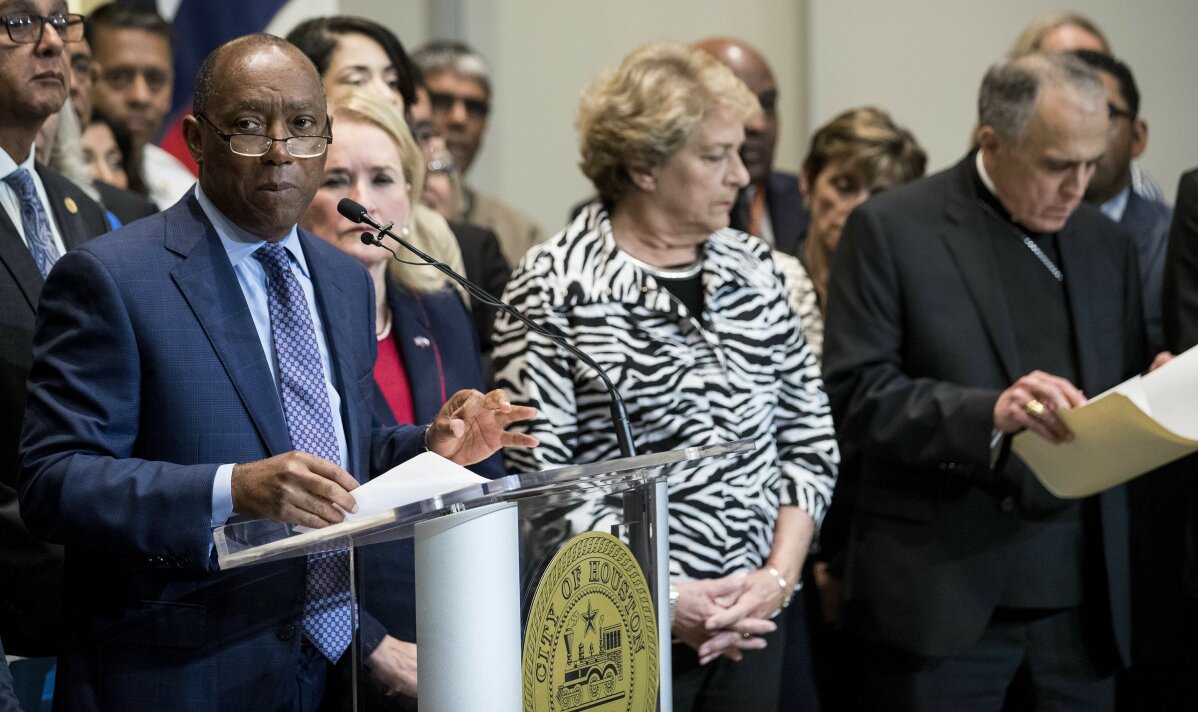 3 of 7

|
Houston Mayor Sylvester Turner speaks during a news conference opposing a proposal to place immigrant children separated from their parents at the border in a facility just east of downtown, Tuesday, June 19, 2018, in Houston. (Brett Coomer/Houston Chronicle via AP)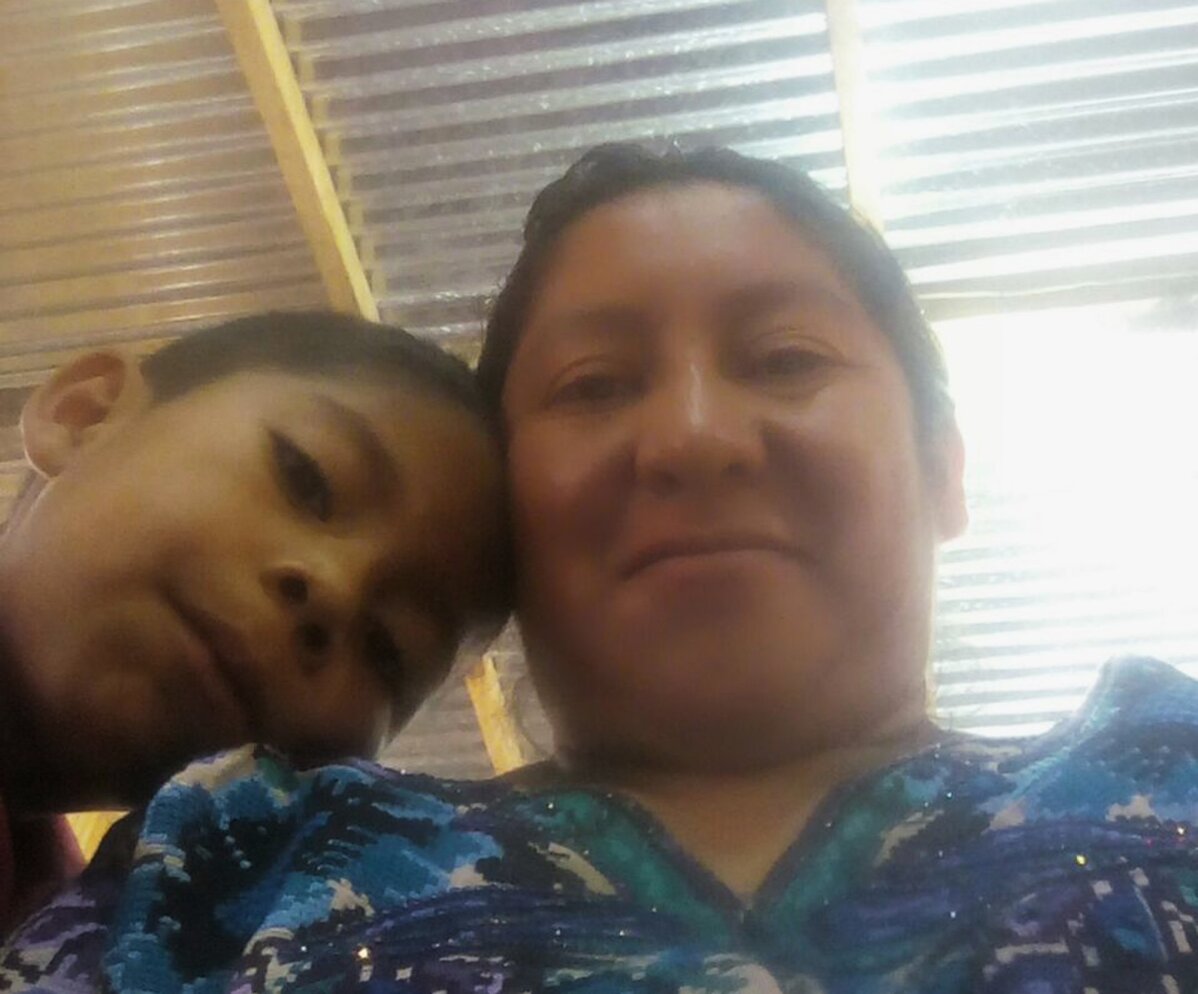 4 of 7

|
This 2018 photo provided by Beata Mariana de Jesus Mejia-Mejia shows herself with her son Darwin Micheal Mejia in Quetzaltenango, Guatemala, before they left for the United States and crossed the border near San Luis, Arizona. On Tuesday, June 19, Mejia-Mejia, who hasn't seen her 7-year-old son since he was taken from her a month ago, sued the Trump administration. She was released from custody while her asylum case is pending and thinks her son, Darwin, might be in a shelter in Arizona. (Beata Mariana de Jesus Mejia-Mejia via AP)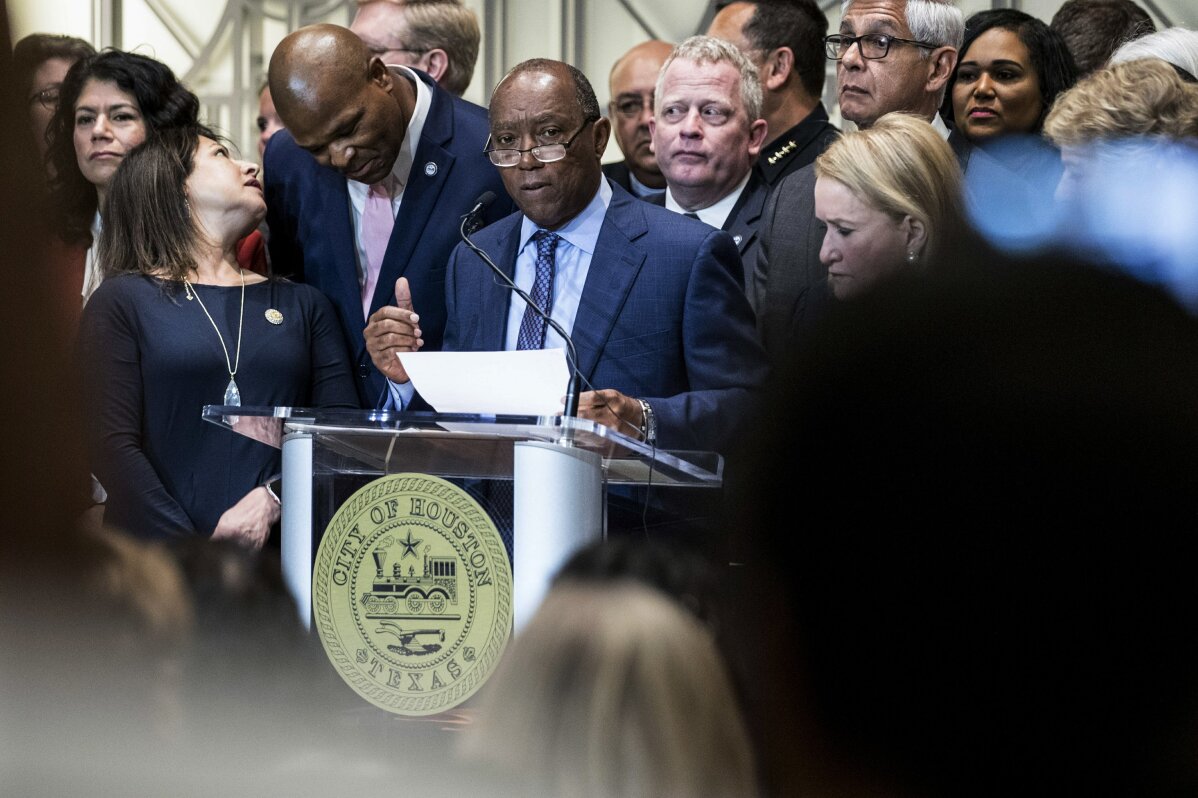 5 of 7

|
Houston Mayor Sylvester Turner speaks during a news conference opposing a proposal to place immigrant children separated from their parents at the border in a facility just east of downtown, Tuesday, June 19, 2018, in Houston. (Brett Coomer/Houston Chronicle via AP)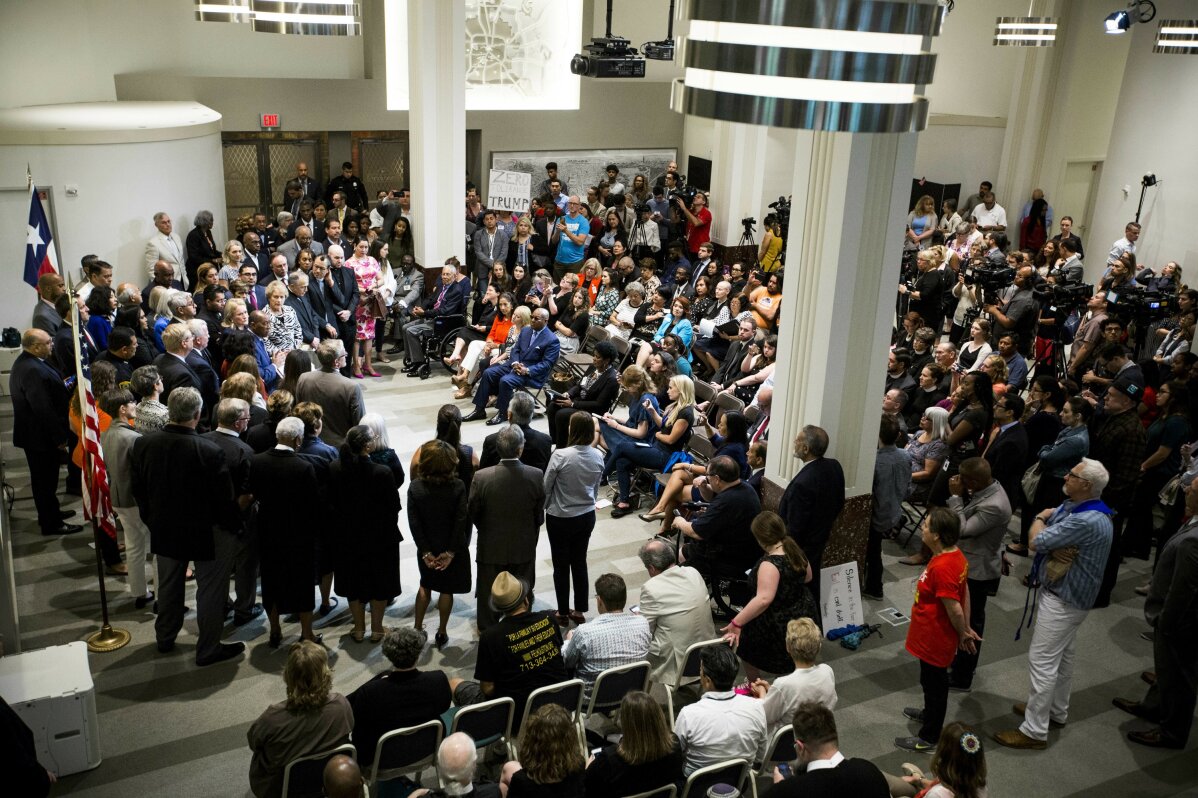 6 of 7

|
A crowd fills the Legacy Room at City Hall as Mayor Sylvester Turner speaks during a news conference opposing the proposal to place immigrant children separated from their parents at the border in a facility just east of downtown, Tuesday, June 19, 2018, in Houston. (Brett Coomer/Houston Chronicle via AP)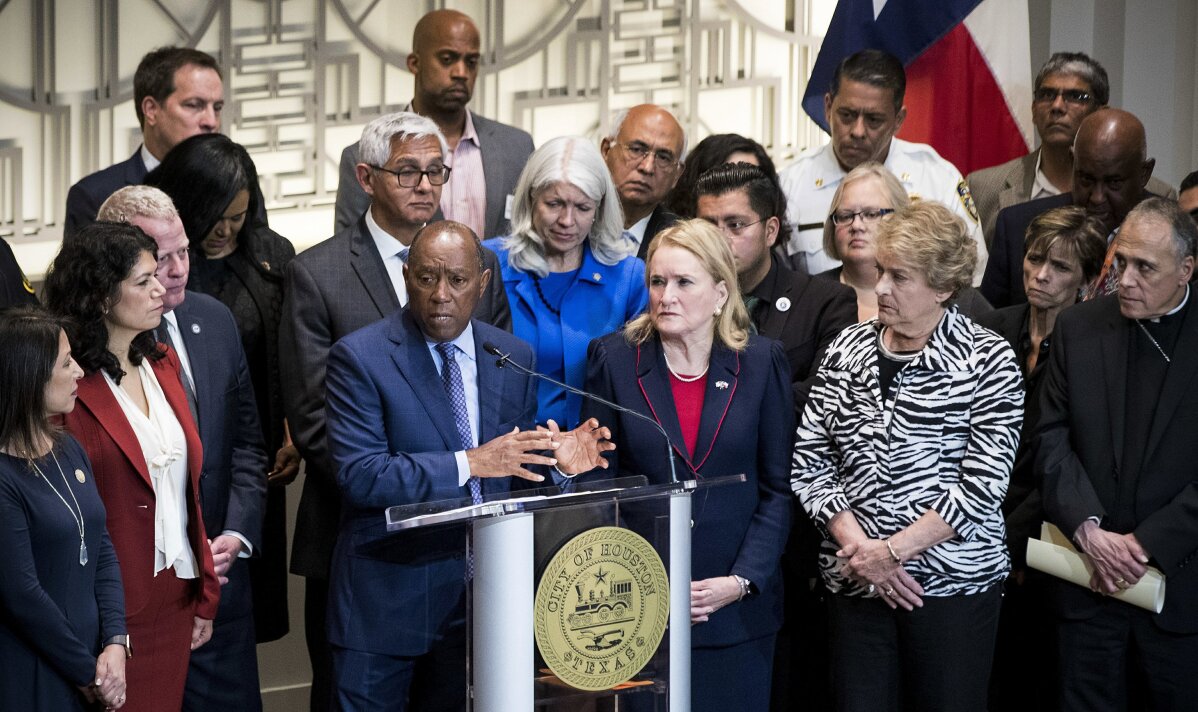 7 of 7

|
Houston Mayor Sylvester Turner speaks during a news conference opposing a proposal to place immigrant children separated from their parents at the border in a facility just east of downtown, Tuesday, June 19, 2018, in Houston. (Brett Coomer/Houston Chronicle via AP)
At least 3 "tender age" shelters set up for child migrants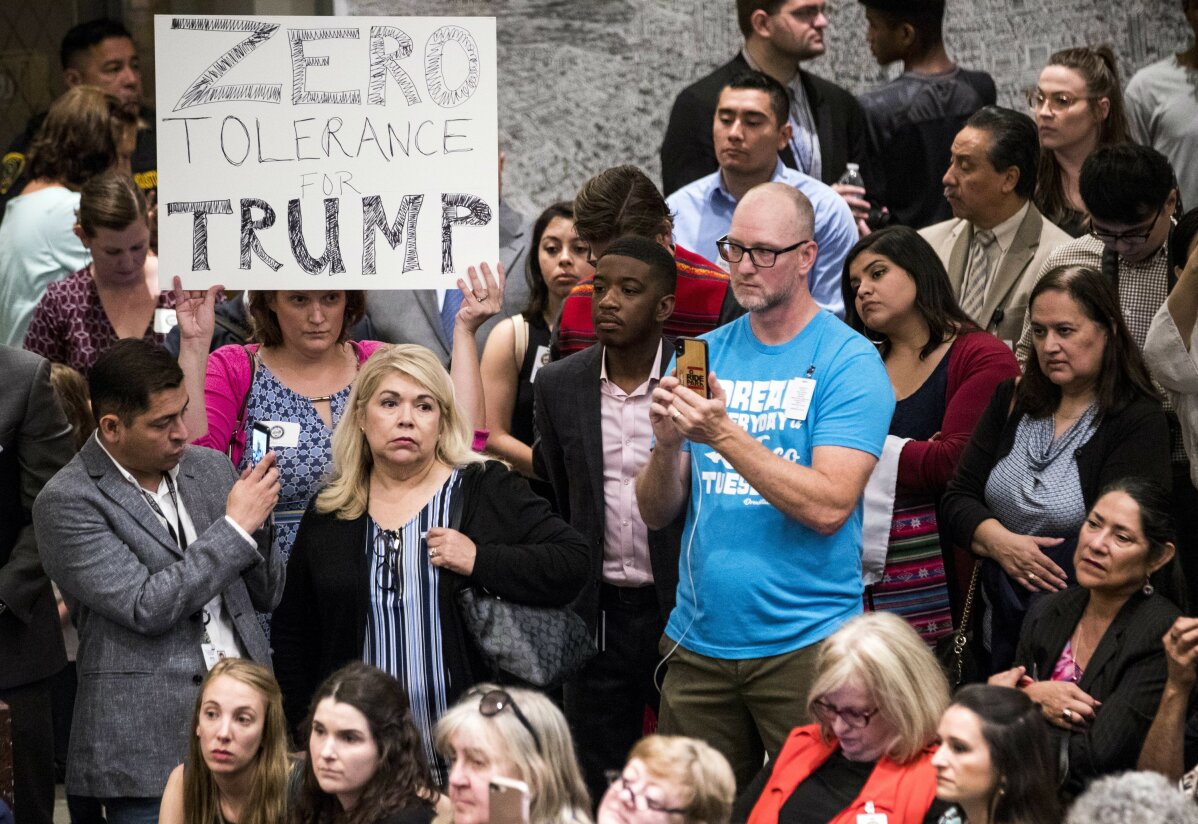 1 of 7

|
A crowd fills the Legacy Room at City Hall as Mayor Sylvester Turner speaks during a news conference opposing the proposal to place immigrant children separated from their parents at the border in a facility just east of downtown, Tuesday, June 19, 2018, in Houston. (Brett Coomer/Houston Chronicle via AP)
1 of 7
A crowd fills the Legacy Room at City Hall as Mayor Sylvester Turner speaks during a news conference opposing the proposal to place immigrant children separated from their parents at the border in a facility just east of downtown, Tuesday, June 19, 2018, in Houston. (Brett Coomer/Houston Chronicle via AP)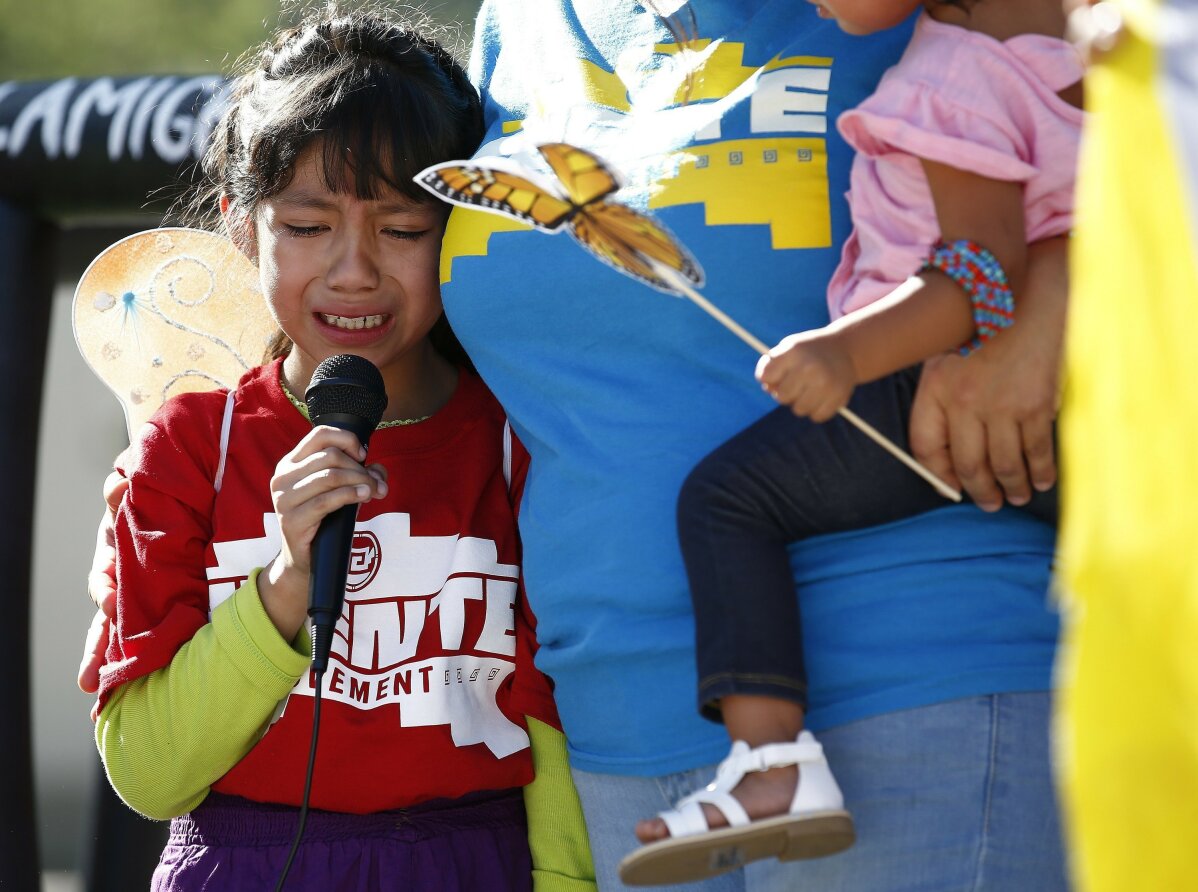 2 of 7

|
FILE - In this Monday, June 18, 2018 file photo, Akemi Vargas, 8, cries as she talks about being separated from her father during an immigration family separation protest in front of the Sandra Day O'Connor U.S. District Court building in Phoenix. Child welfare agencies across America make wrenching decisions every day to separate children from their parents. But those agencies have ways of minimizing the trauma that aren't being employed by the Trump administration at the Mexican border. (AP Photo/Ross D. Franklin, File)
2 of 7
FILE - In this Monday, June 18, 2018 file photo, Akemi Vargas, 8, cries as she talks about being separated from her father during an immigration family separation protest in front of the Sandra Day O'Connor U.S. District Court building in Phoenix. Child welfare agencies across America make wrenching decisions every day to separate children from their parents. But those agencies have ways of minimizing the trauma that aren't being employed by the Trump administration at the Mexican border. (AP Photo/Ross D. Franklin, File)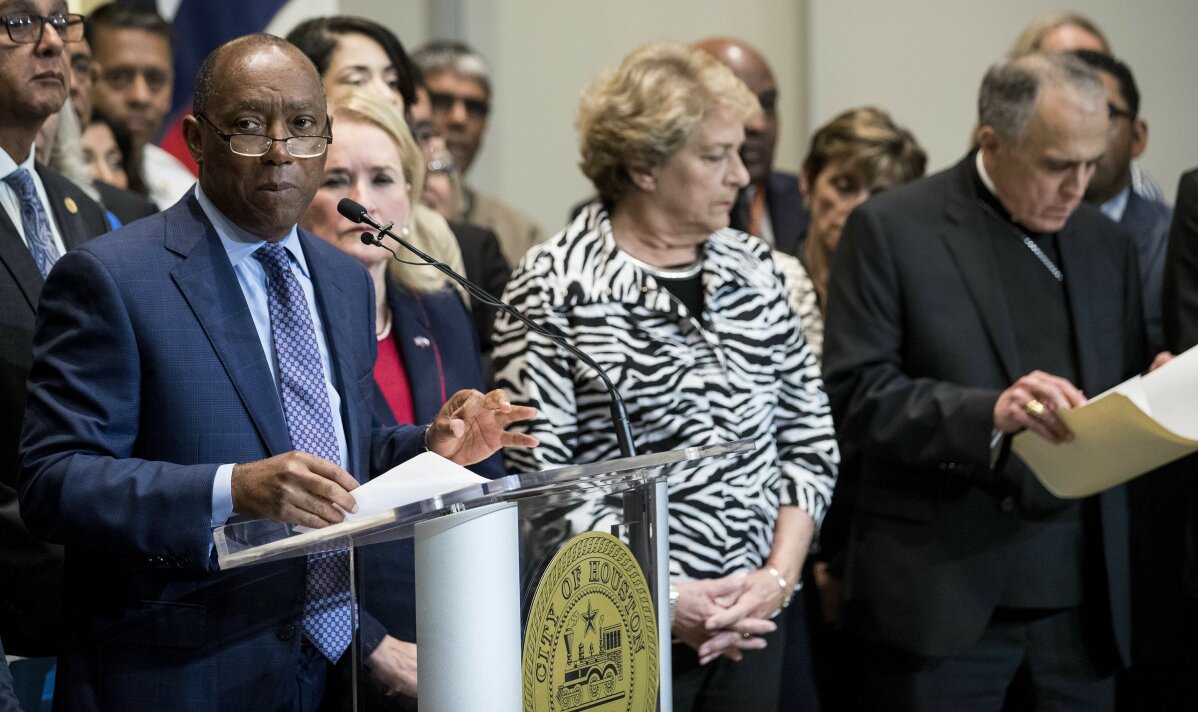 3 of 7

|
Houston Mayor Sylvester Turner speaks during a news conference opposing a proposal to place immigrant children separated from their parents at the border in a facility just east of downtown, Tuesday, June 19, 2018, in Houston. (Brett Coomer/Houston Chronicle via AP)
3 of 7
Houston Mayor Sylvester Turner speaks during a news conference opposing a proposal to place immigrant children separated from their parents at the border in a facility just east of downtown, Tuesday, June 19, 2018, in Houston. (Brett Coomer/Houston Chronicle via AP)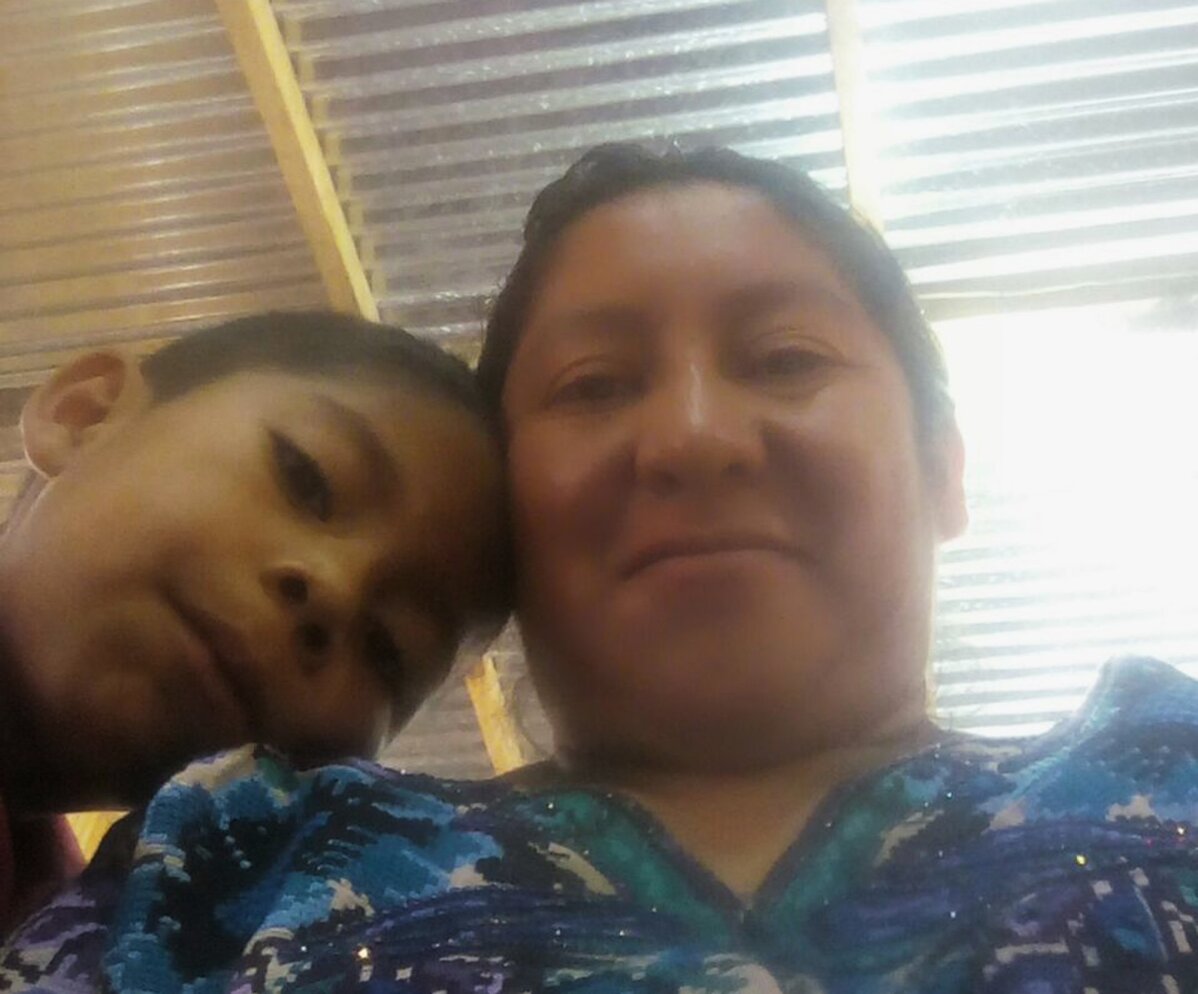 4 of 7

|
This 2018 photo provided by Beata Mariana de Jesus Mejia-Mejia shows herself with her son Darwin Micheal Mejia in Quetzaltenango, Guatemala, before they left for the United States and crossed the border near San Luis, Arizona. On Tuesday, June 19, Mejia-Mejia, who hasn't seen her 7-year-old son since he was taken from her a month ago, sued the Trump administration. She was released from custody while her asylum case is pending and thinks her son, Darwin, might be in a shelter in Arizona. (Beata Mariana de Jesus Mejia-Mejia via AP)
4 of 7
This 2018 photo provided by Beata Mariana de Jesus Mejia-Mejia shows herself with her son Darwin Micheal Mejia in Quetzaltenango, Guatemala, before they left for the United States and crossed the border near San Luis, Arizona. On Tuesday, June 19, Mejia-Mejia, who hasn't seen her 7-year-old son since he was taken from her a month ago, sued the Trump administration. She was released from custody while her asylum case is pending and thinks her son, Darwin, might be in a shelter in Arizona. (Beata Mariana de Jesus Mejia-Mejia via AP)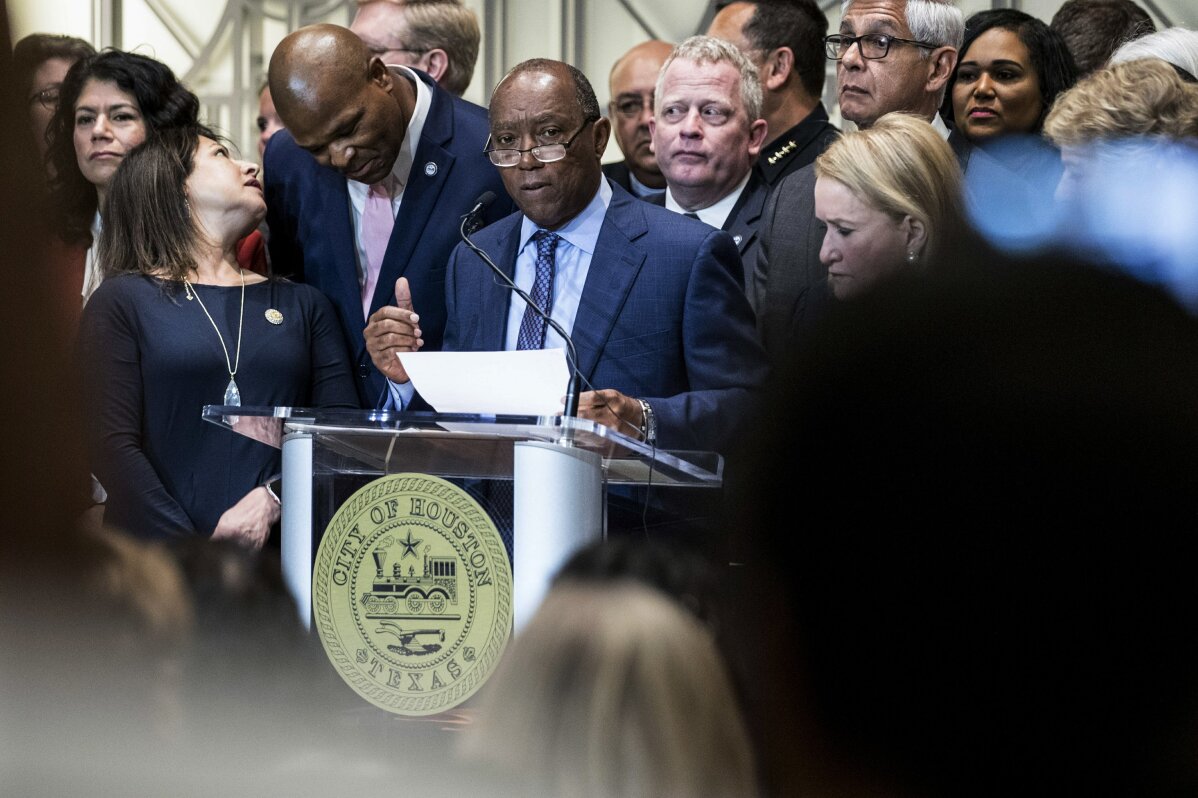 5 of 7

|
Houston Mayor Sylvester Turner speaks during a news conference opposing a proposal to place immigrant children separated from their parents at the border in a facility just east of downtown, Tuesday, June 19, 2018, in Houston. (Brett Coomer/Houston Chronicle via AP)
5 of 7
Houston Mayor Sylvester Turner speaks during a news conference opposing a proposal to place immigrant children separated from their parents at the border in a facility just east of downtown, Tuesday, June 19, 2018, in Houston. (Brett Coomer/Houston Chronicle via AP)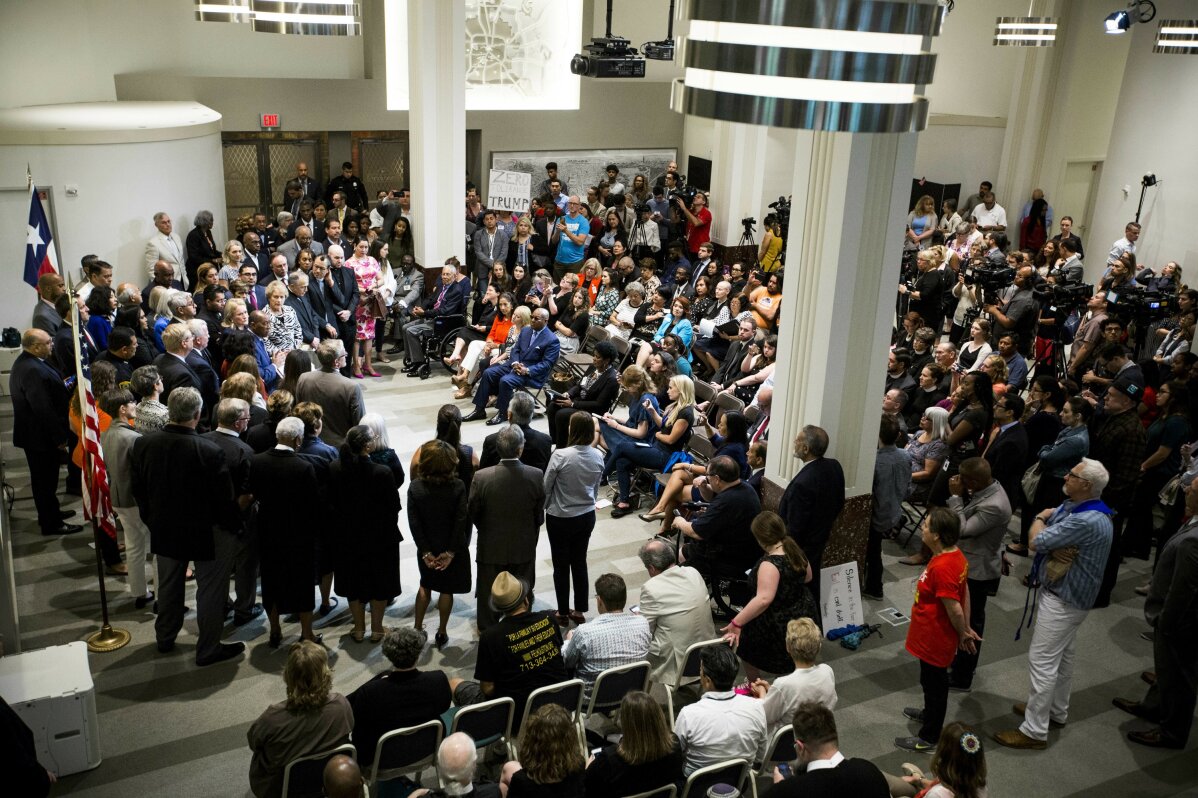 6 of 7

|
A crowd fills the Legacy Room at City Hall as Mayor Sylvester Turner speaks during a news conference opposing the proposal to place immigrant children separated from their parents at the border in a facility just east of downtown, Tuesday, June 19, 2018, in Houston. (Brett Coomer/Houston Chronicle via AP)
6 of 7
A crowd fills the Legacy Room at City Hall as Mayor Sylvester Turner speaks during a news conference opposing the proposal to place immigrant children separated from their parents at the border in a facility just east of downtown, Tuesday, June 19, 2018, in Houston. (Brett Coomer/Houston Chronicle via AP)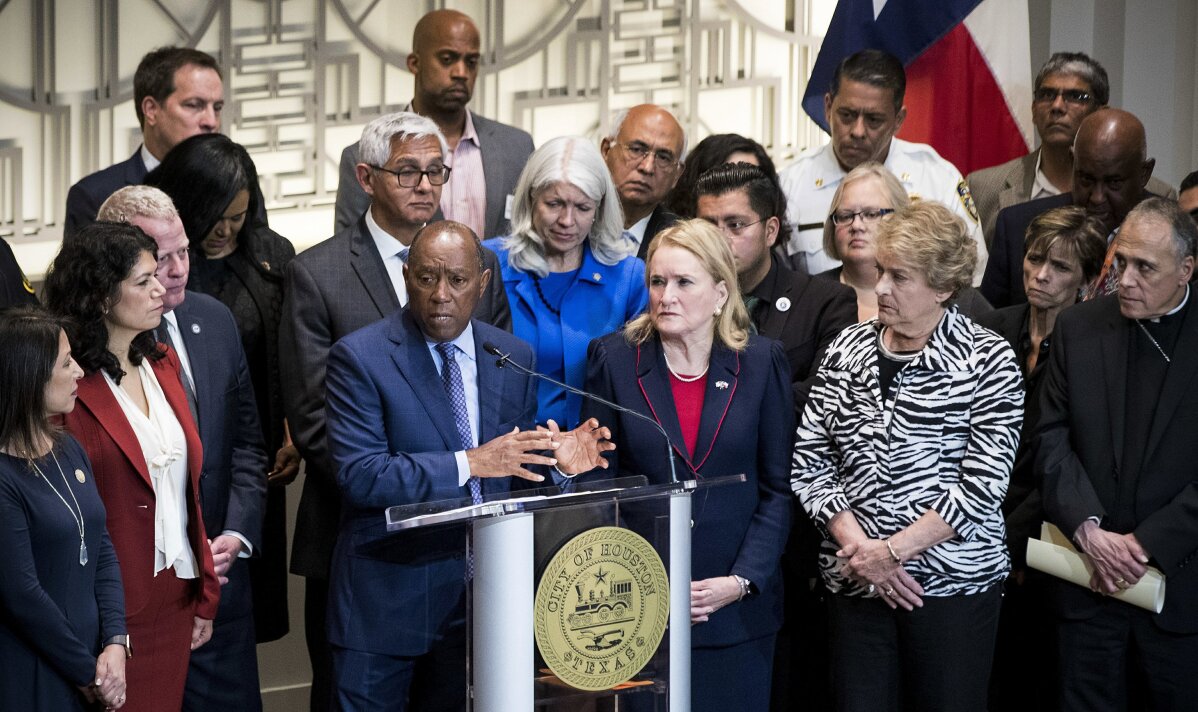 7 of 7

|
Houston Mayor Sylvester Turner speaks during a news conference opposing a proposal to place immigrant children separated from their parents at the border in a facility just east of downtown, Tuesday, June 19, 2018, in Houston. (Brett Coomer/Houston Chronicle via AP)
7 of 7
Houston Mayor Sylvester Turner speaks during a news conference opposing a proposal to place immigrant children separated from their parents at the border in a facility just east of downtown, Tuesday, June 19, 2018, in Houston. (Brett Coomer/Houston Chronicle via AP)
The Trump administration has set up at least three "tender age" shelters to detain babies and other young children who have been forcibly separated from their parents at the U.S.-Mexico border, The Associated Press has learned.
Doctors and lawyers who have visited the shelters in South Texas' Rio Grande Valley said the facilities were fine, clean and safe, but the children — who have no idea where their parents are — were hysterical, crying and acting out . Many of them are under age 5, and some are so young they have not yet learned to talk.
The government also plans to open a fourth shelter to house hundreds of young migrant children in Houston, where city leaders denounced the move Tuesday.
Since the White House announced its zero tolerance policy in early May, more than 2,300 children have been taken from their parents at the U.S.-Mexico border, resulting in an influx of young children requiring government care.
The government has already faced withering critiques over images of some of the children in cages inside U.S. Border Patrol processing stations. It faced renewed criticism for setting up new places to hold these toddlers, decades after orphanages were phased out over concerns about the lasting trauma to children.
"The thought that they are going to be putting such little kids in an institutional setting? I mean it is hard for me to even wrap my mind around it," said Kay Bellor, vice president for programs at Lutheran Immigration and Refugee Service, which provides foster care and other child welfare services to migrant children. "Toddlers are being detained."
By law, child migrants traveling alone must be sent to facilities run by the U.S. Department of Health and Human Services within three days of being detained. The agency then is responsible for placing the children in shelters or foster homes until they are united with a relative or sponsor in the community as they await immigration court hearings.
But U.S. Attorney General Jeff Sessions' announcement last month that the government would criminally prosecute everyone who crosses the U.S.-Mexico border illegally has led to the breakup of migrant families and sent a new group of hundreds of young children into the government's care.
On Tuesday, President Donald Trump signed an executive order ending the separation of families at the southern border, saying that he didn't like the sight of children being removed from their families. But the president added that the "zero tolerance" policy will continue, and children will be held along with their parents in immigration detention while the parents are prosecuted. The order does not detail how children now in the government's care will be reunited with their parents.
The United Nations, some Democratic and Republican lawmakers and religious groups have sharply criticized the family separation policy, calling it inhumane.
Not so, said Steven Wagner, an official with the Department of Health and Human Services.
"We have specialized facilities that are devoted to providing care to children with special needs and tender age children as we define as under 13 would fall into that category," he said. "They're not government facilities per se, and they have very well-trained clinicians, and those facilities meet state licensing standards for child welfare agencies, and they're staffed by people who know how to deal with the needs — particularly of the younger children."
Until now, however, it's been unknown where they are. "In general we do not identify the locations of permanent unaccompanied alien children program facilities," agency spokesman Kenneth Wolfe said.
The three Texas centers — in Combes, Raymondville and Brownsville — have been rapidly repurposed to serve needs of children, including some under 5. A fourth, planned for Houston, would house up to 240 children in a warehouse previously used for people displaced by Hurricane Harvey, Mayor Sylvester Turner said.
Turner said he met with officials from Austin-based Southwest Key Programs, the contractor that operates some of the child shelters, to ask them to reconsider their plans. A spokeswoman for Southwest Key didn't immediately reply to an email seeking comment.
"And so there comes a point in time we draw a line, and for me, the line is with these children," Turner said during a news conference Tuesday.
The order Trump signed Wednesday directs federal agencies to work with the Defense Department to prepare facilities to house detained families. During the surge of unaccompanied children crossing the border in 2014, HHS set up several temporary facilities at military bases.
The order also instructs federal agencies -- especially the Defense Department -- to begin to prepare facilities that could house the potentially thousands of families that will now be detained by the government.
On a practical level, the zero tolerance policy has overwhelmed the federal agency charged with caring for the new influx of children who tend to be much younger than teens who typically have been traveling to the U.S. alone. Some recent detainees are infants, taken from their mothers.
"The shelters aren't the problem, it's taking kids from their parents that's the problem," said Dr. Marsha Griffin, a South Texas pediatrician who has visited many of the shelters.
Other migrant children have been sent elsewhere. The largest foster agency handling young migrant children in the U.S. is Bethany Christian Services, whose 99 available foster beds in Michigan and Maryland are filled.
The group's chief executive officer, Chris Palusky, said the youngest child separated from parents at the border is 8 months old. The average age of children in the organization's care dropped from 14 to 7 years old in recent weeks, after the zero tolerance policy was adopted, Palusky said.
The youngest children, he said, are shell-shocked — crying themselves to sleep.
"Then they wake up from their naps and again they're crying for their mom, asking: 'Where's my dad?' " he said. "They absolutely need their parents right now."
Decades of study show early separations can cause permanent emotional damage, said Alicia Lieberman, who runs the Early Trauma Treatment Network at University of California, San Francisco.
"Children are biologically programmed to grow best in the care of a parent figure. When that bond is broken through long and unexpected separations with no set timeline for reunion, children respond at the deepest physiological and emotional levels," Lieberman said.
"Their fear triggers a flood of stress hormones that disrupt neural circuits in the brain, create high levels of anxiety, make them more susceptible to physical and emotional illness, and damage their capacity to manage their emotions, trust people, and focus their attention on age-appropriate activities," she added.
Parents separated from their children say when they're able to talk with their kids, their pain is evident.
Beata Mariana de Jesus Mejia-Mejia's 7-year-old son, Darwin, was taken from her a month ago, two days after they crossed the border seeking asylum.
"I only got to talk to him once, and he sounded so sad. My son never used to sound like that, he was such a dynamic boy," said the immigrant from Guatemala. She said that during the call, an official with her son told her Darwin was "fine," but she said she could hear son cry: "Mama! Mama! Mama!"
She sued the Trump administration on Tuesday.
Days after Sessions announced the zero-tolerance policy, the government issued a call for proposals from shelter and foster-care providers to provide services for the new influx of children taken from their families after journeying from Honduras, El Salvador, Guatemala and Mexico.
As children are separated from their families, law enforcement agents reclassify them from members of family units to "unaccompanied alien children." Federal officials said Tuesday that since May, they have separated 2,342 children from their families, rendering them unaccompanied minors in the government's care.
While Mexico is still the most common country of origin for families arrested at the border, in the last eight months Honduras has become the fastest-growing category as compared to fiscal year 2017.
At a press briefing Tuesday, reporters repeatedly asked for an age breakdown of the children who have been taken. Officials from both law enforcement and Health and Human Services said they didn't know how many children were under age 5, under age 2, or even so little they're non-verbal.
"The facilities that they have for the most part are not licensed for tender age children," said Michelle Brane, director of migrant rights at the Women's Refugee Commission, who met with a 4-year-old girl in diapers in a warehouse in McAllen, Texas, where Border Patrol temporarily holds migrant families. "There is no model for how you house tons of little children in cots institutionally in our country. We don't do orphanages, our child welfare has recognized that is an inappropriate setting for little children."
___
Associated Press reporter Colleen Long contributed from New York.
___
See AP's complete coverage of the debate over the Trump administration's policy of family separation at the border: https://apnews.com/tag/Immigration