Federal pot policy change sparks confusion, crackdown fears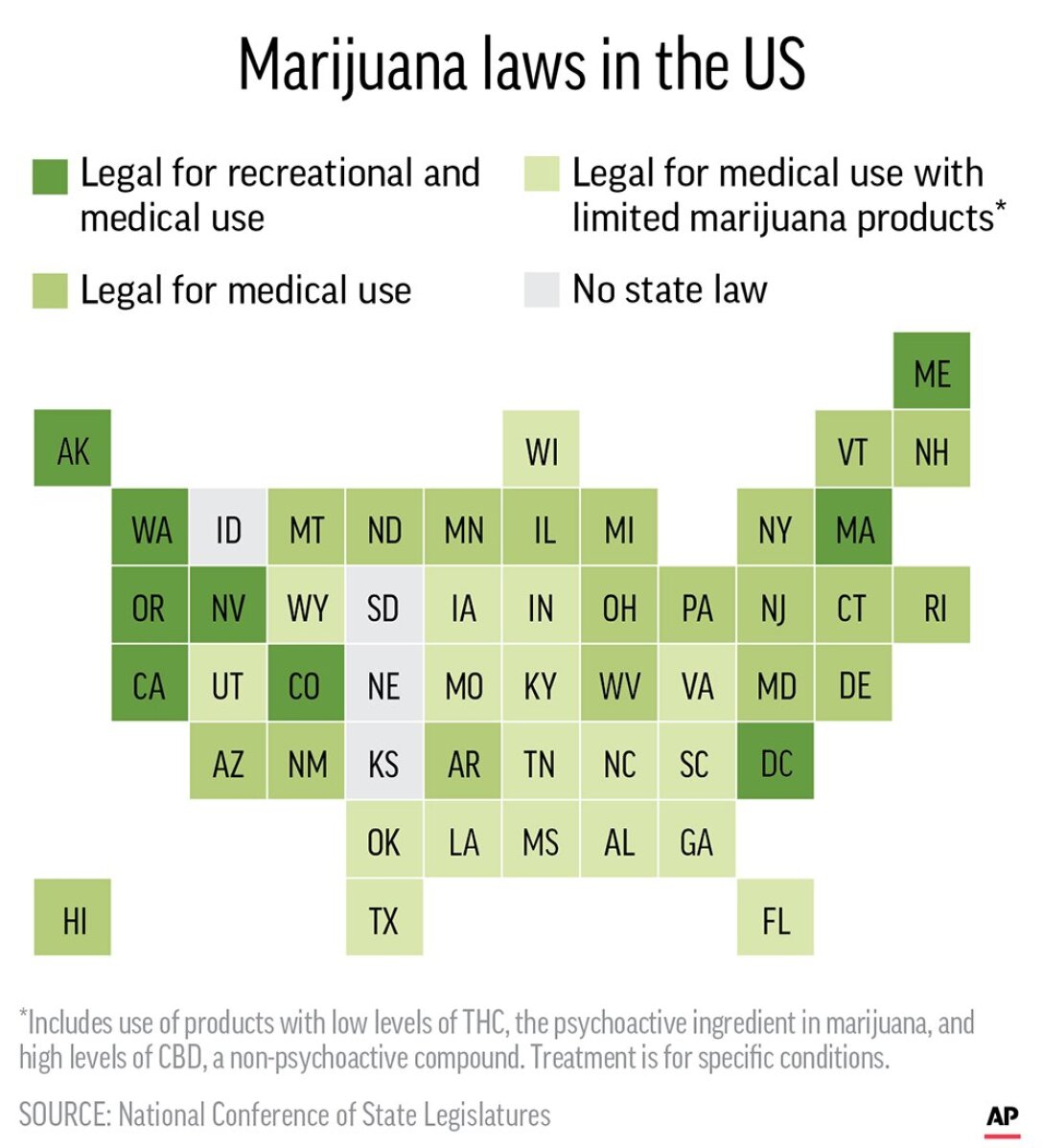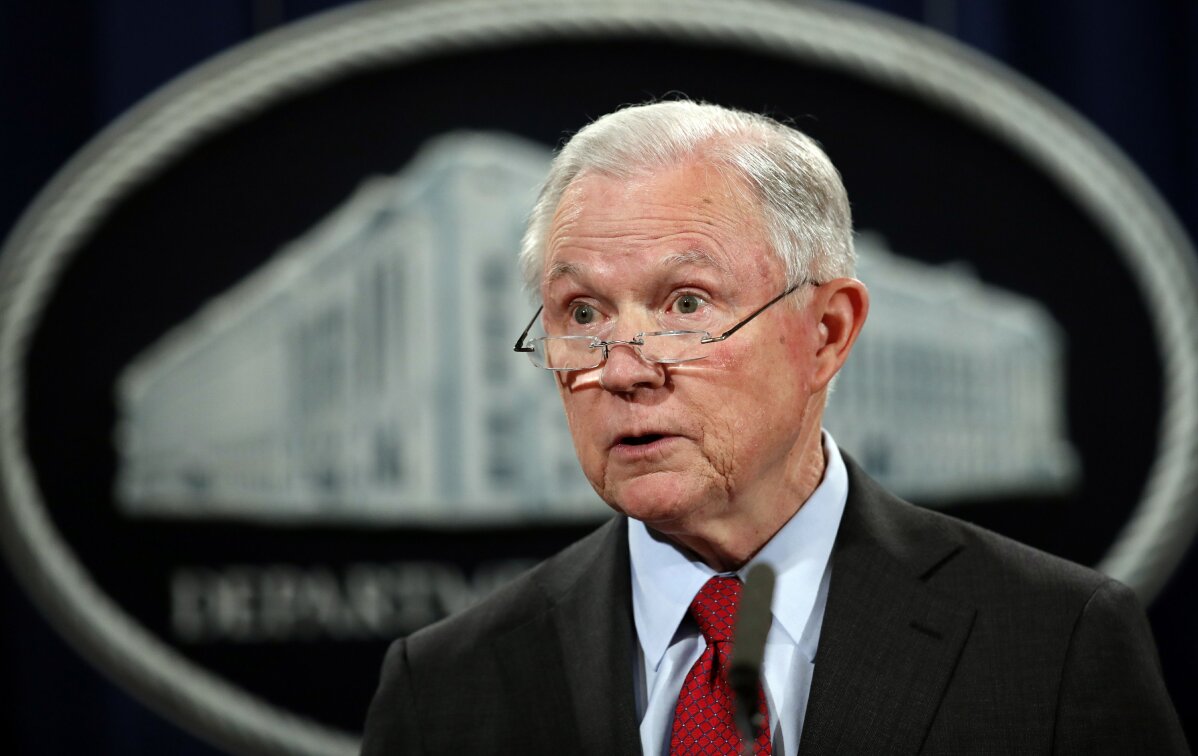 2 of 5

|
FILE - In this Dec. 15, 2017, file photo, United States Attorney General Jeff Sessions speaks during a news conference at the Justice Department in Washington. Attorney General Jeff Sessions is going after legalized marijuana. Sessions is rescinding a policy that had let legalized marijuana flourish without federal intervention across the country. That's according to two people with direct knowledge of the decision. (AP Photo/Carolyn Kaster, File)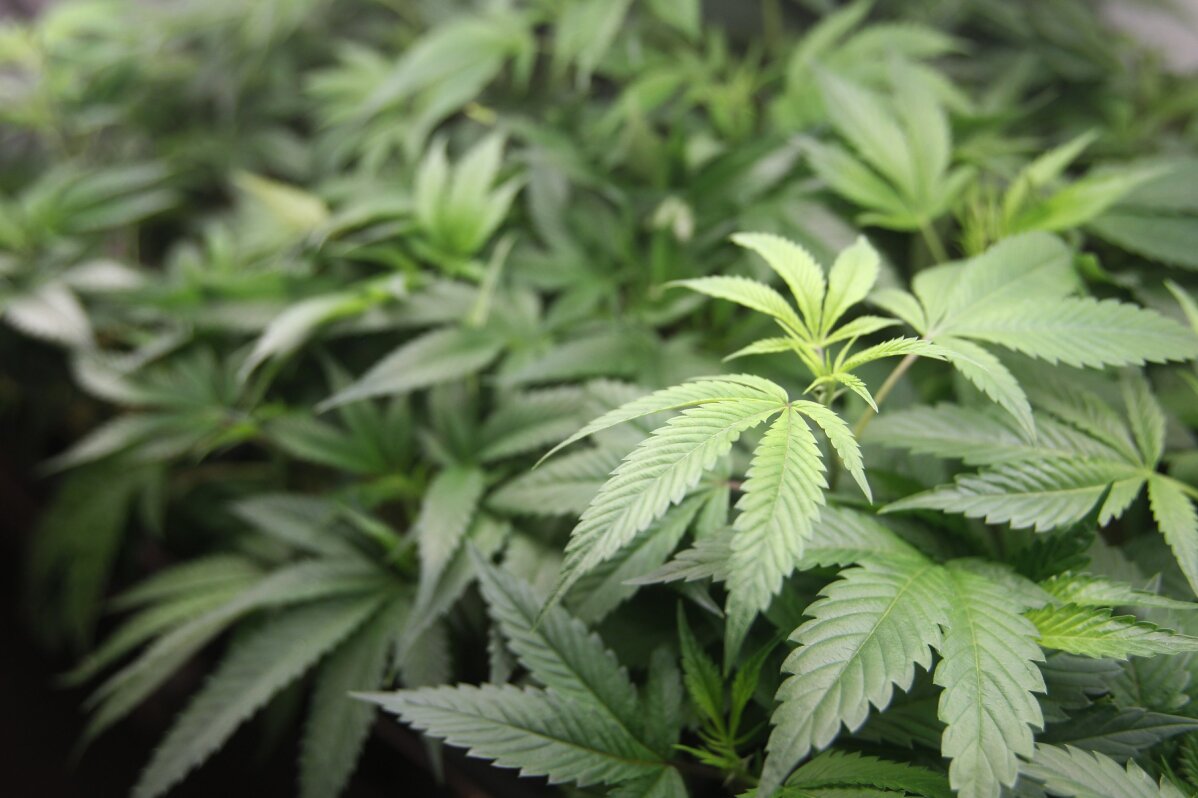 3 of 5

|
In this Jan. 1, 2018 photo, marijuana plants are for sale at Harborside marijuana dispensary in Oakland, Calif. Attorney General Jeff Sessions is going after legalized marijuana. Sessions is rescinding a policy that had let legalized marijuana flourish without federal intervention across the country. That's according to two people with direct knowledge of the decision. (AP Photo/Mathew Sumner)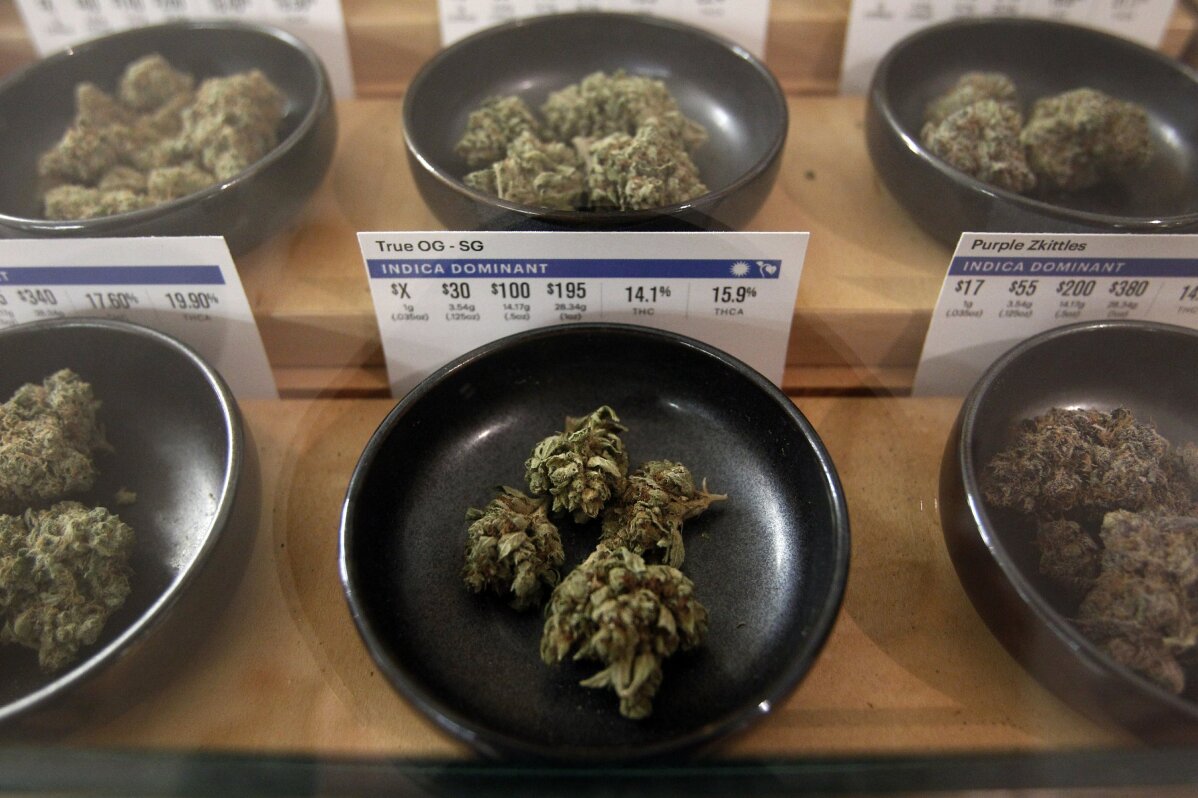 4 of 5

|
In this Jan. 1, 2018 photo, different types of marijuana sit on display at Harborside marijuana dispensary in Oakland, Calif. Attorney General Jeff Sessions is going after legalized marijuana. Sessions is rescinding a policy that had let legalized marijuana flourish without federal intervention across the country. That's according to two people with direct knowledge of the decision. (AP Photo/Mathew Sumner)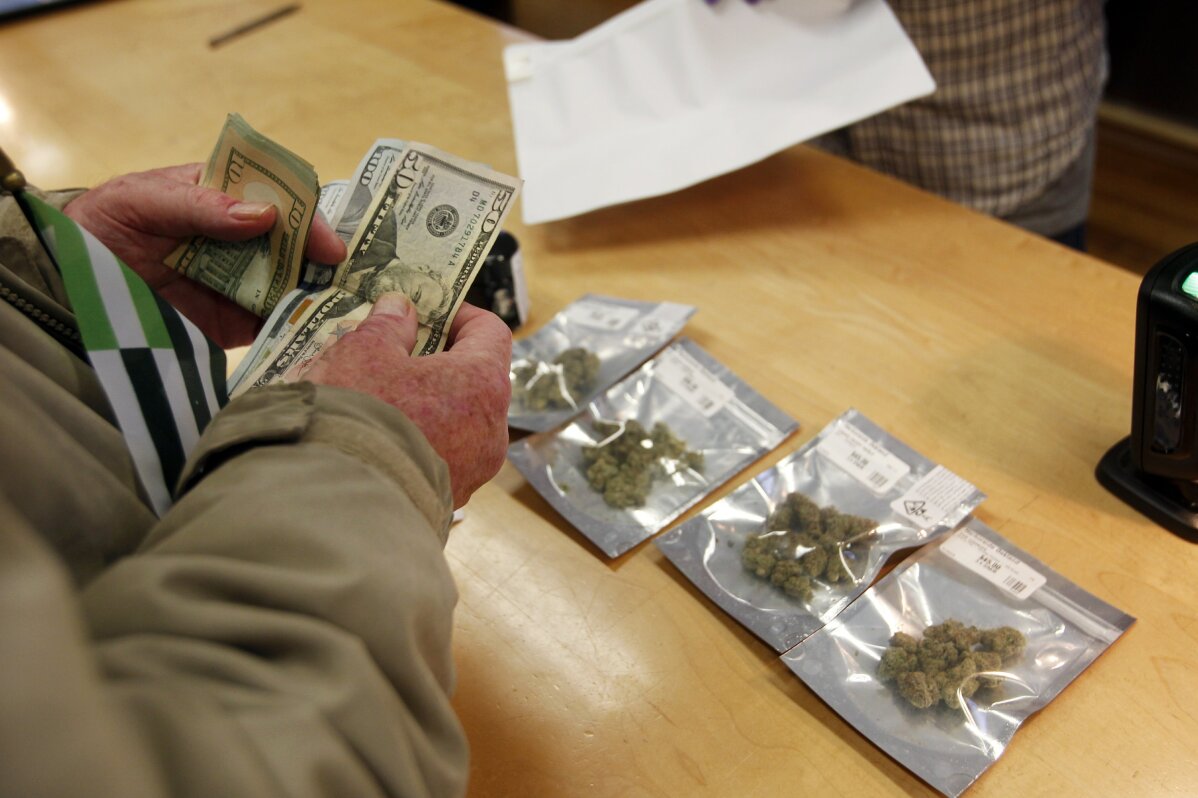 5 of 5

|
In this Jan. 1, 2018 photo, a customer purchases marijuana at Harborside marijuana dispensary in Oakland, Calif. Attorney General Jeff Sessions is going after legalized marijuana. Sessions is rescinding a policy that had let legalized marijuana flourish without federal intervention across the country. That's according to two people with direct knowledge of the decision. (AP Photo/Mathew Sumner)
Federal pot policy change sparks confusion, crackdown fears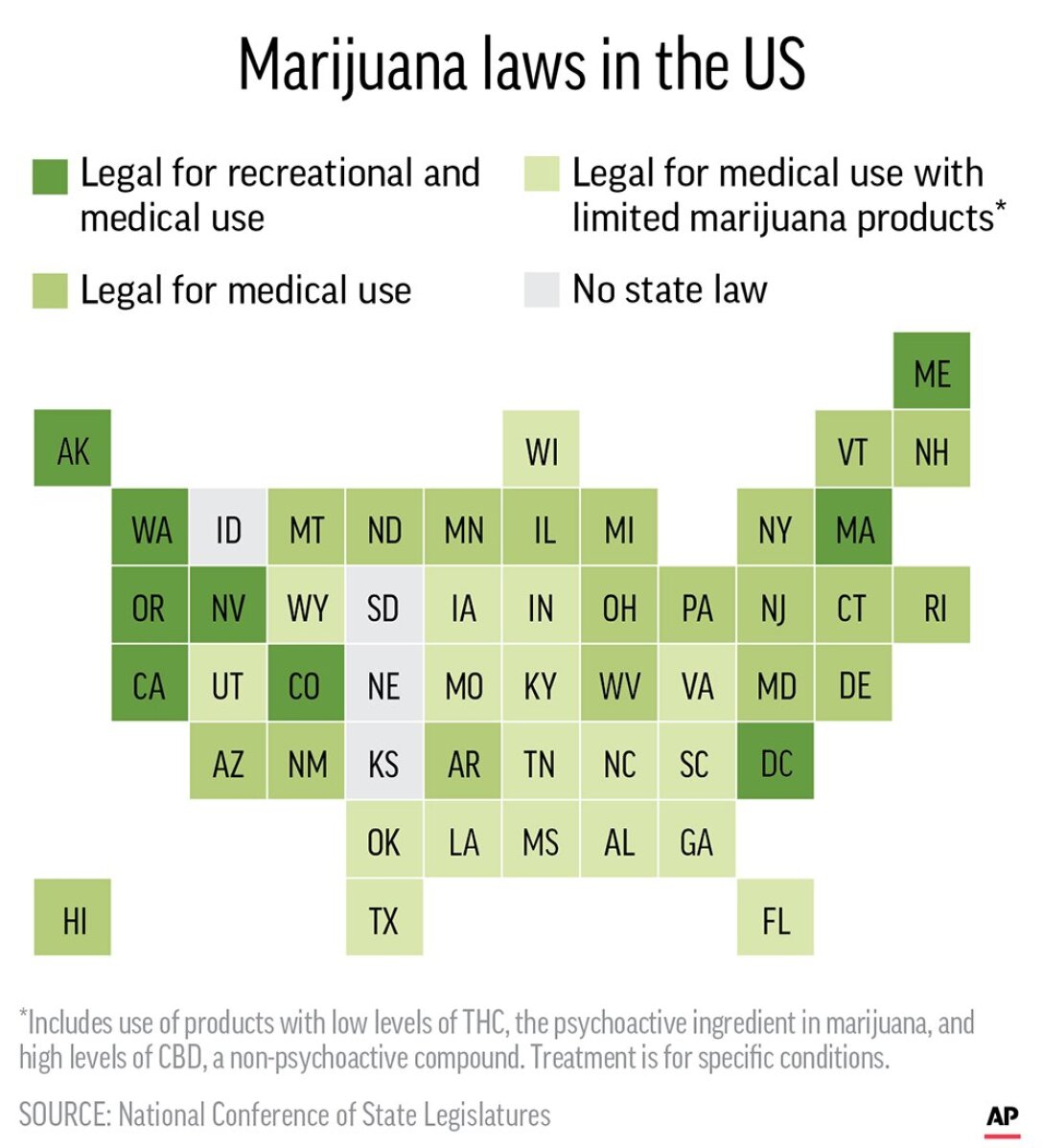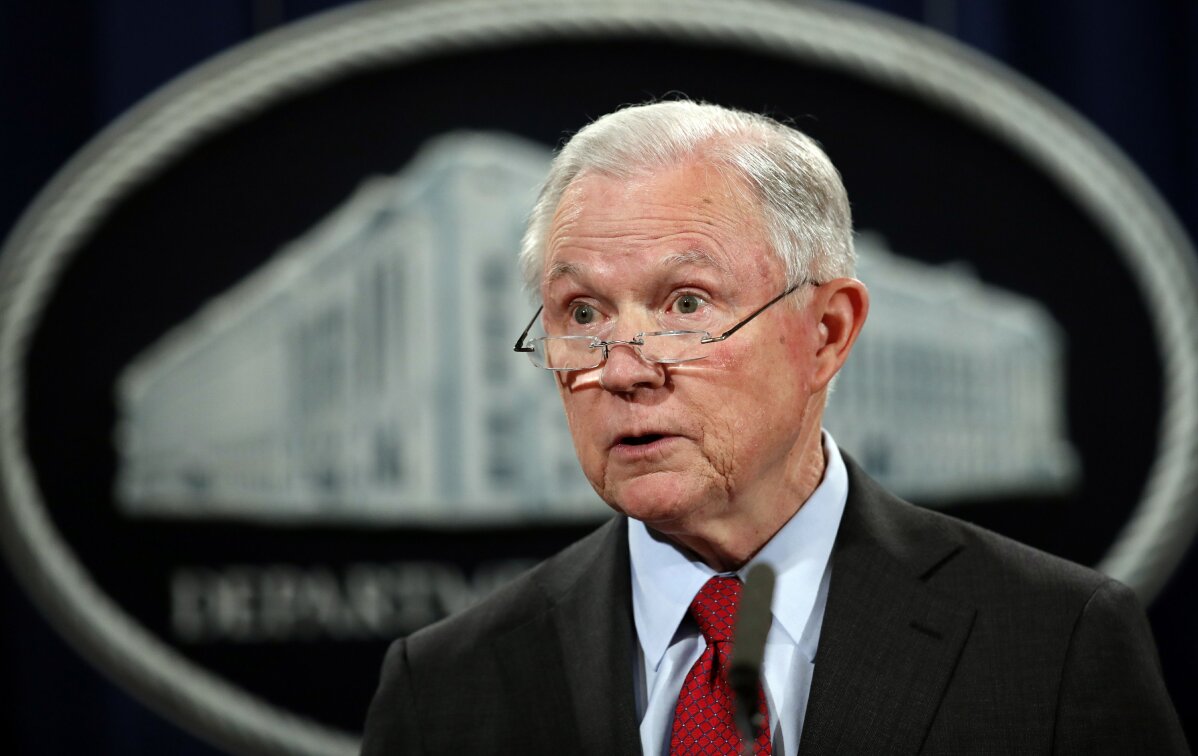 2 of 5

|
FILE - In this Dec. 15, 2017, file photo, United States Attorney General Jeff Sessions speaks during a news conference at the Justice Department in Washington. Attorney General Jeff Sessions is going after legalized marijuana. Sessions is rescinding a policy that had let legalized marijuana flourish without federal intervention across the country. That's according to two people with direct knowledge of the decision. (AP Photo/Carolyn Kaster, File)
2 of 5
FILE - In this Dec. 15, 2017, file photo, United States Attorney General Jeff Sessions speaks during a news conference at the Justice Department in Washington. Attorney General Jeff Sessions is going after legalized marijuana. Sessions is rescinding a policy that had let legalized marijuana flourish without federal intervention across the country. That's according to two people with direct knowledge of the decision. (AP Photo/Carolyn Kaster, File)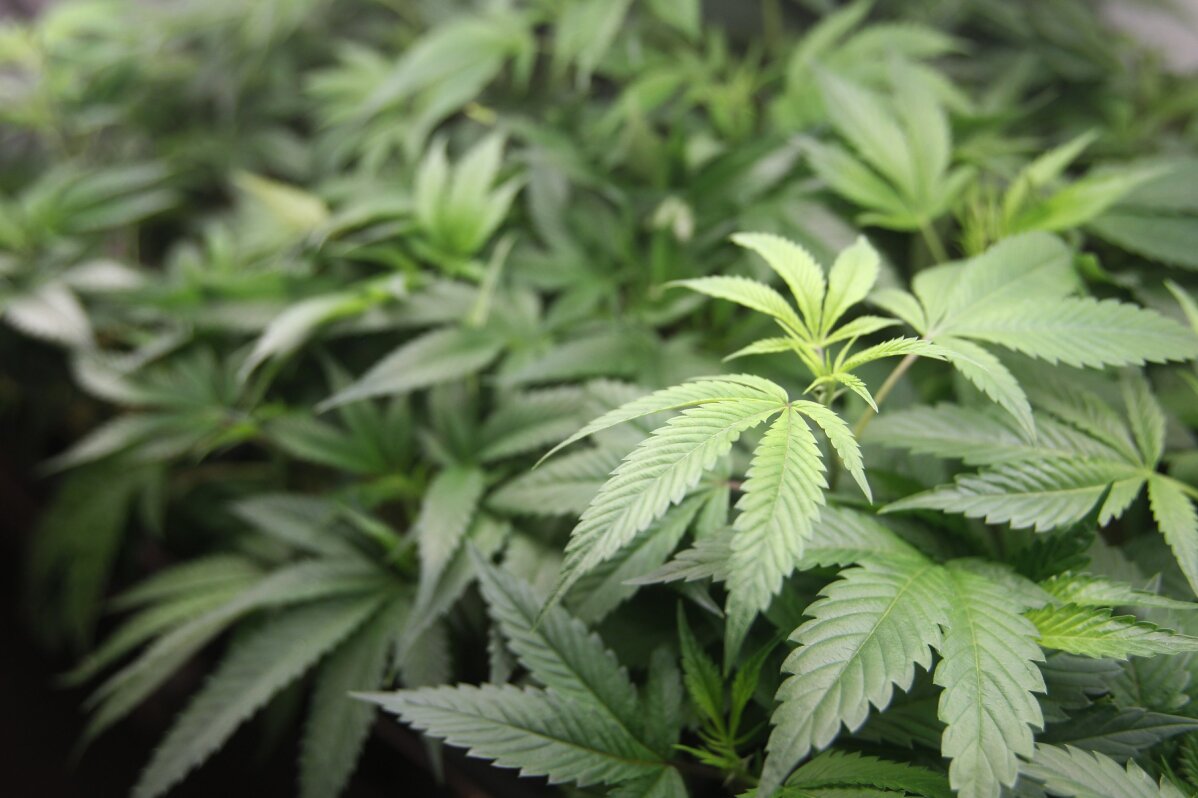 3 of 5

|
In this Jan. 1, 2018 photo, marijuana plants are for sale at Harborside marijuana dispensary in Oakland, Calif. Attorney General Jeff Sessions is going after legalized marijuana. Sessions is rescinding a policy that had let legalized marijuana flourish without federal intervention across the country. That's according to two people with direct knowledge of the decision. (AP Photo/Mathew Sumner)
3 of 5
In this Jan. 1, 2018 photo, marijuana plants are for sale at Harborside marijuana dispensary in Oakland, Calif. Attorney General Jeff Sessions is going after legalized marijuana. Sessions is rescinding a policy that had let legalized marijuana flourish without federal intervention across the country. That's according to two people with direct knowledge of the decision. (AP Photo/Mathew Sumner)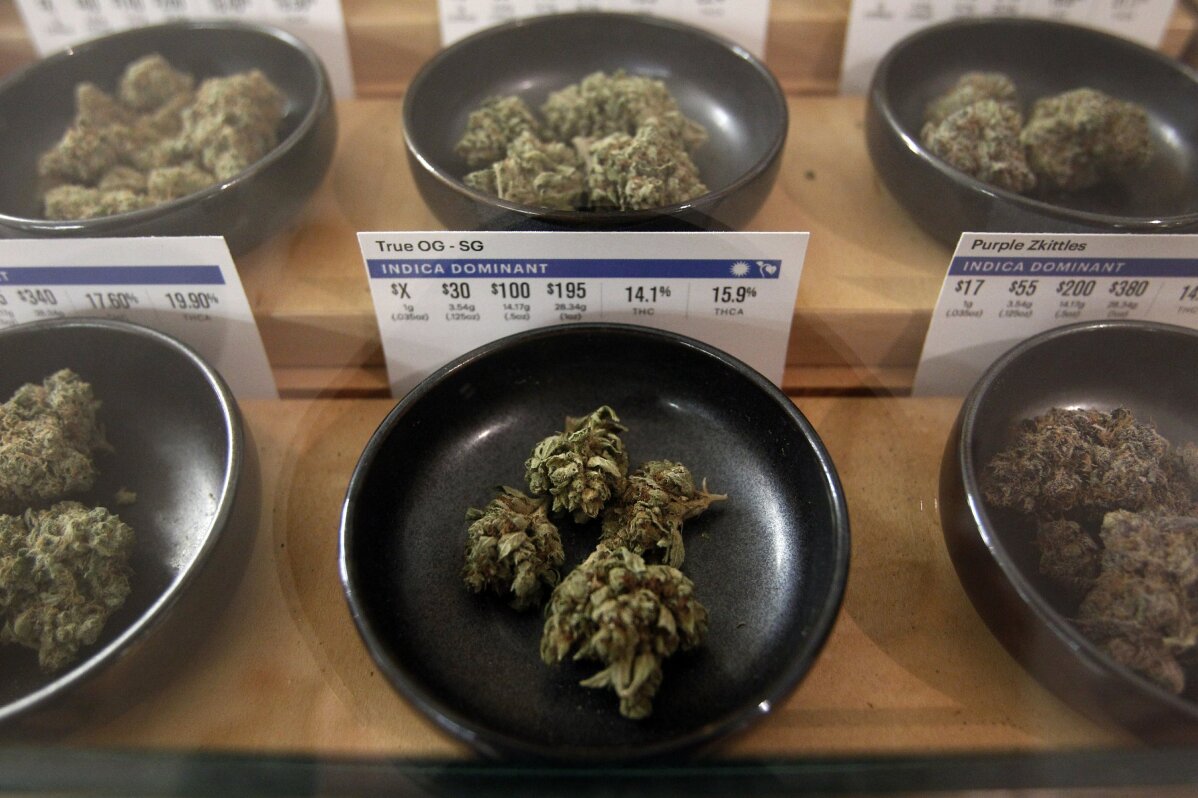 4 of 5

|
In this Jan. 1, 2018 photo, different types of marijuana sit on display at Harborside marijuana dispensary in Oakland, Calif. Attorney General Jeff Sessions is going after legalized marijuana. Sessions is rescinding a policy that had let legalized marijuana flourish without federal intervention across the country. That's according to two people with direct knowledge of the decision. (AP Photo/Mathew Sumner)
4 of 5
In this Jan. 1, 2018 photo, different types of marijuana sit on display at Harborside marijuana dispensary in Oakland, Calif. Attorney General Jeff Sessions is going after legalized marijuana. Sessions is rescinding a policy that had let legalized marijuana flourish without federal intervention across the country. That's according to two people with direct knowledge of the decision. (AP Photo/Mathew Sumner)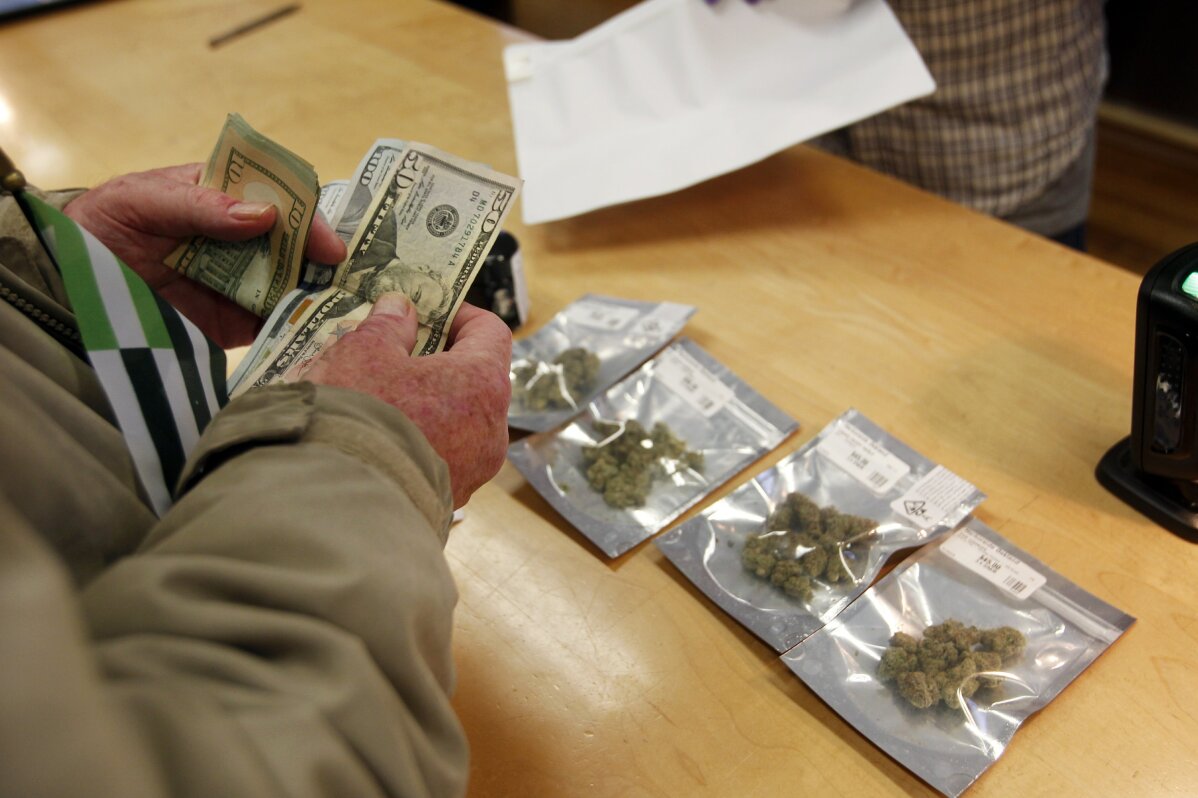 5 of 5

|
In this Jan. 1, 2018 photo, a customer purchases marijuana at Harborside marijuana dispensary in Oakland, Calif. Attorney General Jeff Sessions is going after legalized marijuana. Sessions is rescinding a policy that had let legalized marijuana flourish without federal intervention across the country. That's according to two people with direct knowledge of the decision. (AP Photo/Mathew Sumner)
5 of 5
In this Jan. 1, 2018 photo, a customer purchases marijuana at Harborside marijuana dispensary in Oakland, Calif. Attorney General Jeff Sessions is going after legalized marijuana. Sessions is rescinding a policy that had let legalized marijuana flourish without federal intervention across the country. That's according to two people with direct knowledge of the decision. (AP Photo/Mathew Sumner)
LOS ANGELES (AP) — The buzz kill long dreaded in the marijuana industry came just days after California opened what is expected to be the world's largest legal pot market.
The Trump administration announced Thursday that it was ending an Obama-era policy to tread lightly on enforcing U.S. marijuana laws. The declaration renewed anxiety, confusion and uncertainty that has long shadowed the bright green leafy drug still forbidden under federal law but now legal in a majority of states as medicine and in a handful of those for recreational purposes.
"Everybody is super worried. My phone has been going off the hook," said Terry Blevins, who runs a security firm and is part-owner of a marijuana distribution company in Southern California. "They are all, 'What does this mean? ... Is the federal government going to come into California" to raid businesses?
Officials wouldn't say if federal prosecutors would target pot shops and legal growers, nor would they speculate on whether pot prosecutions would increase.
The action by Attorney General Jeff Sessions was not unexpected given his longtime opposition to pot, but comes at a heady time for the industry as retail pot sales rolled out New Year's Day in California.
In 2013, President Barack Obama's attorney general advised prosecutors not to waste money targeting pot growers and sellers that were abiding by state laws, but to go after flagrant violations such as trafficking across state lines or selling to minors. Under this policy, several states legalized recreational pot, growers and sellers had begun to drop their guard over fears of a federal crackdown and the business blossomed into a sophisticated, multimillion-dollar industry feeding state government programs with tax dollars.
Sessions and some law enforcement officials blame legalization for a number of problems, including trafficking black market weed. Authorities are also concerned about stoned drivers and fear that widespread acceptance of the drug could increase its youth appeal.
Advocates for the drug that is classified in federal law in the same category as heroin have argued that it has medicinal qualities and causes less harm than alcohol. They have said the government needs to focus on rampant opioid abuse and allow a regulated marijuana market that will reduce crime by eliminating the need for a black market.
Pot proponents along with some members of Congress, including Sessions' fellow Republicans, roundly condemned the change in direction Thursday and said it was an intrusion upon the rights of states whose voters had approved use of the drug.
"If ... Congress allows the Department (of Justice) to crack down on individuals and state governments, it will be one of the biggest derelictions of duty I will have witnessed," said U.S. Rep. Don Young, R-Alaska. "Congress is the voice of the people and we have a duty to do what is right by the states."
Some sheriffs in California welcomed the news, particularly in the northern part of the state where the majority of weed has been grown illegally for decades and enforcement of laws largely falls to rural authorities with limited budgets.
Yuba County Sheriff Steve Durfor said he's hopeful Sessions' actions signal a new willingness of federal authorities to help the impoverished region enforce marijuana laws. His department outside Sacramento has struggled to slow a large and growing influx of illegal operations setting up shop in the region. Officers destroyed a record 30,000 plants last year, surpassing the previous record of 8,800 plants destroyed in 2016.
Colorado's U.S. attorney, Bob Troyer, said his office won't change its approach to prosecution, despite Sessions' guidance. Prosecutors there have always focused on marijuana crimes that "create the greatest safety threats" and will continue to be guided by that, he said. In Oregon, U.S. Attorney Billy J. Williams said he would maintain the same level of enforcement and focus on unlicensed production of marijuana and smuggling out of state.
Before the Obama administration put the policy in place, the feds sent shivers through the medical marijuana community by threatening landlords and operators with property seizure notices, resulting in many shops shutting down in cities where they were considered a nuisance.
Federal prosecutors also sued and prosecuted some nonprofit dispensaries that were raking in money or dealing to people with no medical need, though the latter was hard to prove in a state like California, where regulations were loose at best.
It was not clear how Thursday's announcement might affect states where marijuana is legal for medical purposes. A congressional amendment blocks the Justice Department from interfering with medical marijuana programs in states where it is allowed. Justice officials said they would follow the law, but would not preclude the possibility of medical-marijuana related prosecutions.
Sessions' decision led to a skid in prices for marijuana-related stocks that had surged for weeks surrounding California pot sales.
Officials denied the timing of the announcement was connected to California sales, which are projected to bring in $1 billion annually in tax revenue within several years.
In addition to stock market losses, the change in policy in the short-term could chill investments in a burgeoning industry that will also see Canada and Massachusetts begin to allow recreational sales in July, experts said. However, many suggested that a large-scale crackdown was unlikely given the industry's size.
"Legal marijuana has become so entrenched in the U.S. — it's a multi-billion-dollar industry," said Don Morse, director of the Oregon Cannabis Business Council. "I don't see the people who are behind this, people like myself, rolling over for the Justice Department."
Washington Gov. Jay Inslee said the state, which along with Colorado in 2012 were the first to allow retail pot sales, would continue marijuana operations.
"We should, in my book, not push the panic button on either your individual lives or your businesses," Inslee said.
At Harborside in Oakland, one of California's largest shops, founder and CEO Steve DeAngelo said it was business as usual and he wanted to assure customers not to fear shopping there.
"We've been targeted by the federal government before and we stand up and we fight for our rights," DeAngelo said. "Six months from now if U.S. attorneys have not taken Jeff Sessions up on this crazy offer, then I think that it absolutely makes no difference to anybody."
___
Gurman reported from Washington. Associated Press writers Michael R. Blood in Los Angeles; Paul Elias in San Francisco; Terence Chea in Oakland; Becky Bohrer in Juneau; Andrew Selsky in Salem, Ore.; Sally Ho in Olympia, Wash.; and Nicholas Riccardi and Kathleen Foody in Denver contributed to this report.