Ex-Rep. Cawthorn fined after guilty plea over gun at airport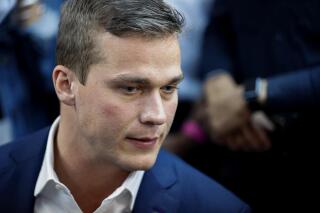 CHARLOTTE, N.C. (AP) — Former North Carolina U.S. Rep. Madison Cawthorn pleaded guilty Friday to a misdemeanor after his loaded gun was found last year in his carry-on luggage at Charlotte Douglas International Airport.
Mecklenburg County District Court Judge Cecilia Oseguera ordered a $250 fine but allowed Cawthorn to keep the 9 mm handgun that Transportation Security Administration agents seized at a checkpoint in April 2022, news outlets reported.
Prosecutors had wanted Cawthorn to have to relinquish the gun, but Oseguera said she saw nothing in the charge of possession of a dangerous weapon on city property that required him to give it up.
"I'm very happy and thankful that the judge gave a really clear ruling that sides with the law," Cawthorn told reporters after the hearing.
Cawthorn, a Republican who served one term representing the 11th Congressional District in the mountains, previously admitted to having the gun at the airport and wrote on social media there was "no excuse" for his mistake.
Cawthorn also was found with an unloaded gun in 2021 while trying to get on a plane at Asheville Regional Airport. Airport police confiscated the gun but allowed him to board.
Cawthorn, from Henderson County, won election to Congress in 2020 at age 25 and became one of former President Donald Trump's strongest supporters on Capitol Hill. He lost his 2022 GOP primary to Chuck Edwards, who went on to win the general elections.
Cawthorn told reporters Friday that he thinks he'll return to politics one day but has no definite plans.
"I enjoy the position I'm in now," said Cawthorn, who now has a home in Florida. "The world really is the oyster for the young."