Norway's conservative opposition wins local elections with nearly 26% of the votes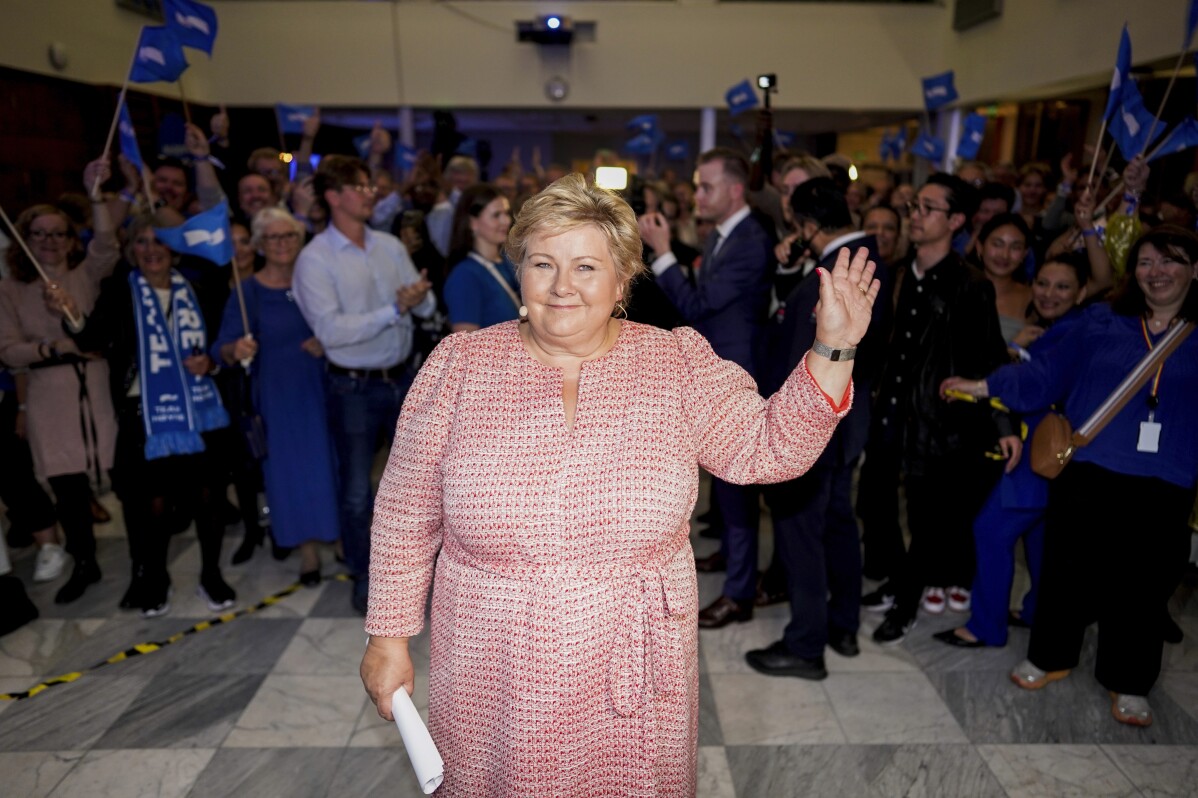 1 of 6

|
Former prime minister of Norway Erna Solberg waves at Høyre's election vigil at Høyre's House during the municipal election 2023, in Oslo, Norway, Monday, Sept. 11, 2023. (Heiko Junge/NTB Scanpix via AP)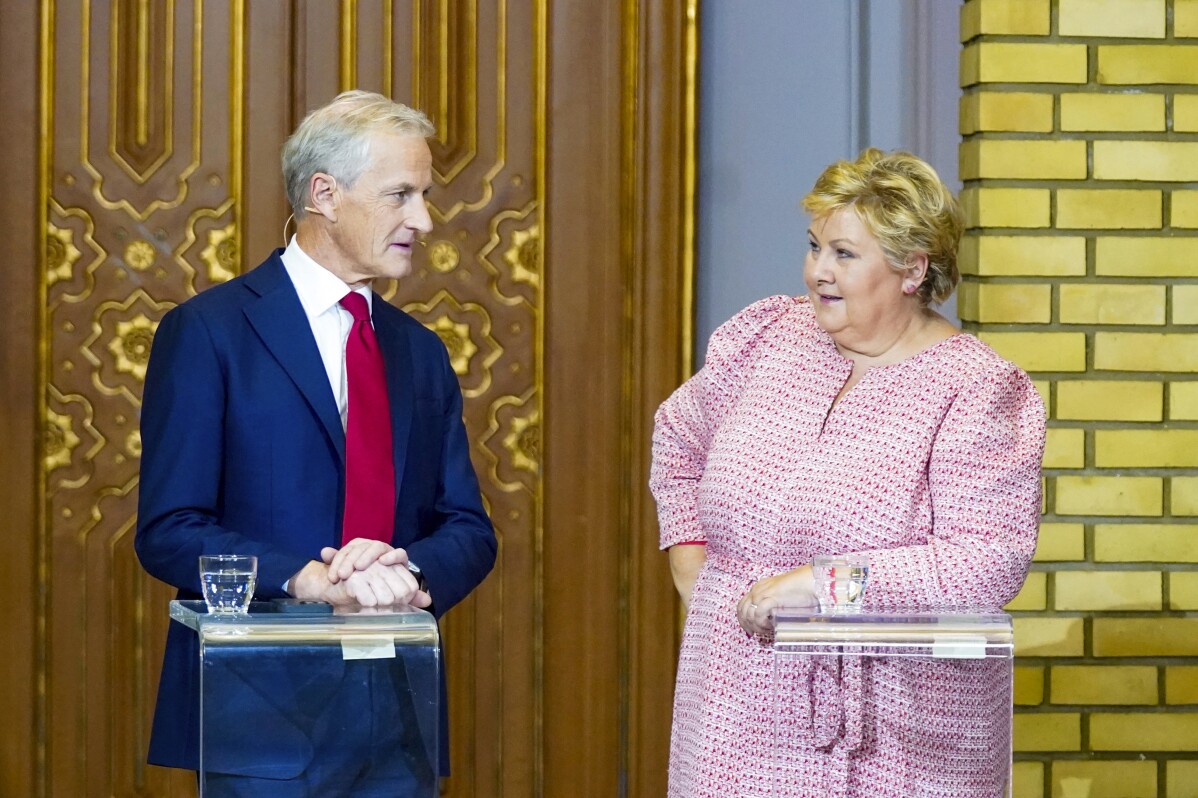 2 of 6

|
Jonas Gahr Store, left, and Erna Solberg speak during the party leader debate at the Storting during the municipal elections 2023, in Oslo, Norway, Monday, Sept. 11, 2023. (Lise Åserud/NTB Scanpix via AP)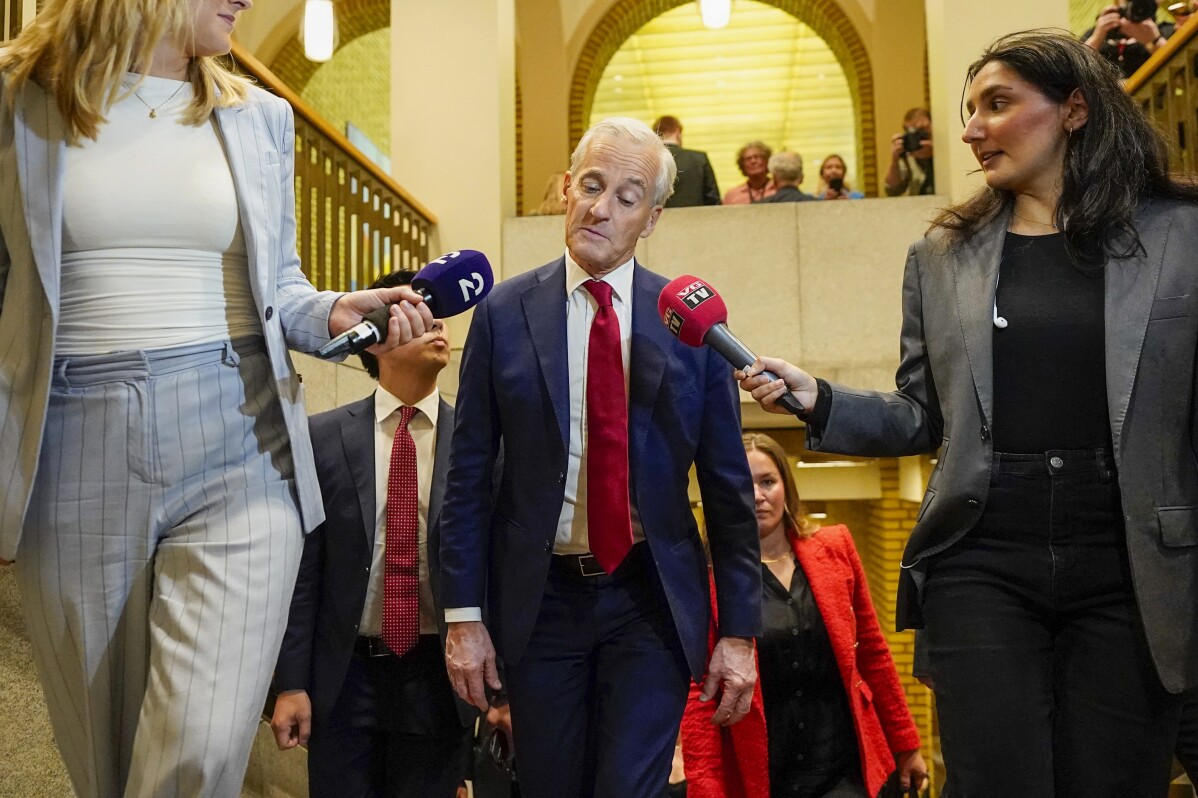 3 of 6

|
Norway's Prime Minister and Party leader Jonas Gahr Store will enter the Storting after the municipal elections 2023, in Oslo, Norway, Monday, Sept. 11, 2023. (Lise Åserud/NTB Scanpix via AP)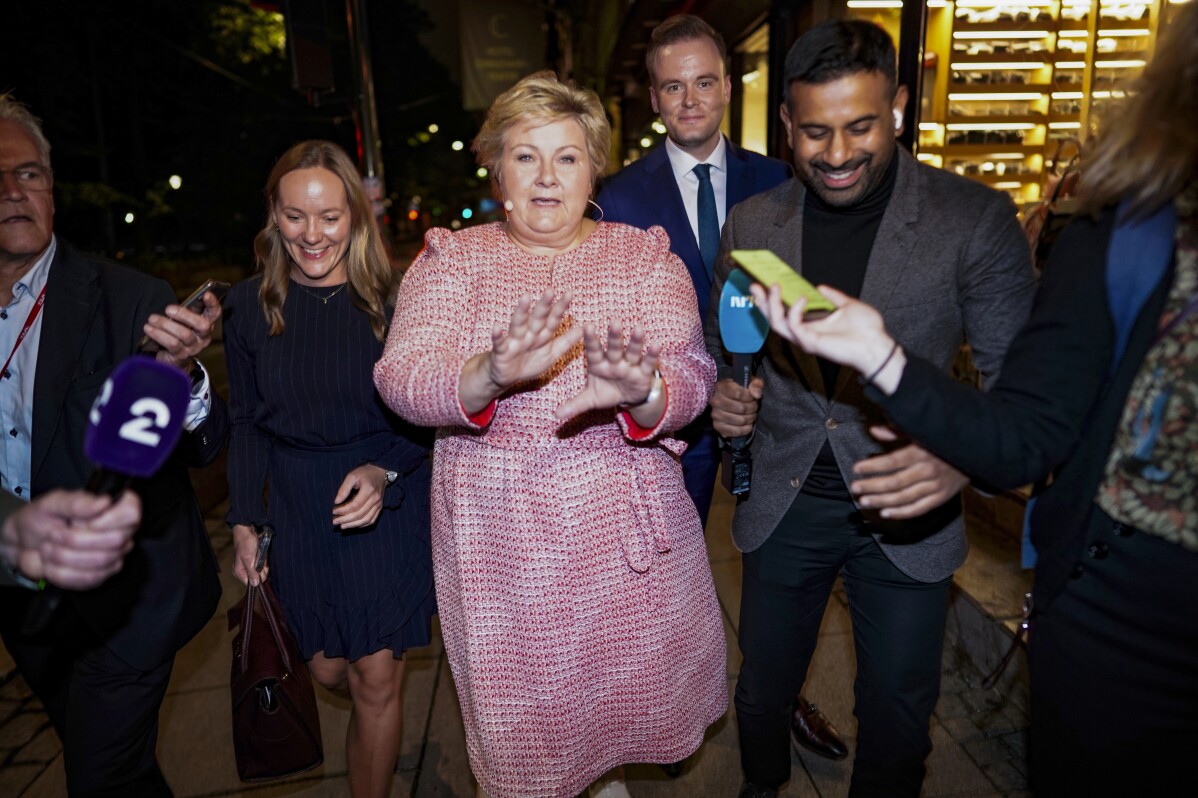 4 of 6

|
Former prime minister of Norway Erna Solberg makes her way to Høyre's election vigil at Høyres Hus during the municipal election 2023, in Oslo, Norway, Monday, Sept. 11, 2023. (Heiko Junge/NTB Scanpix via AP)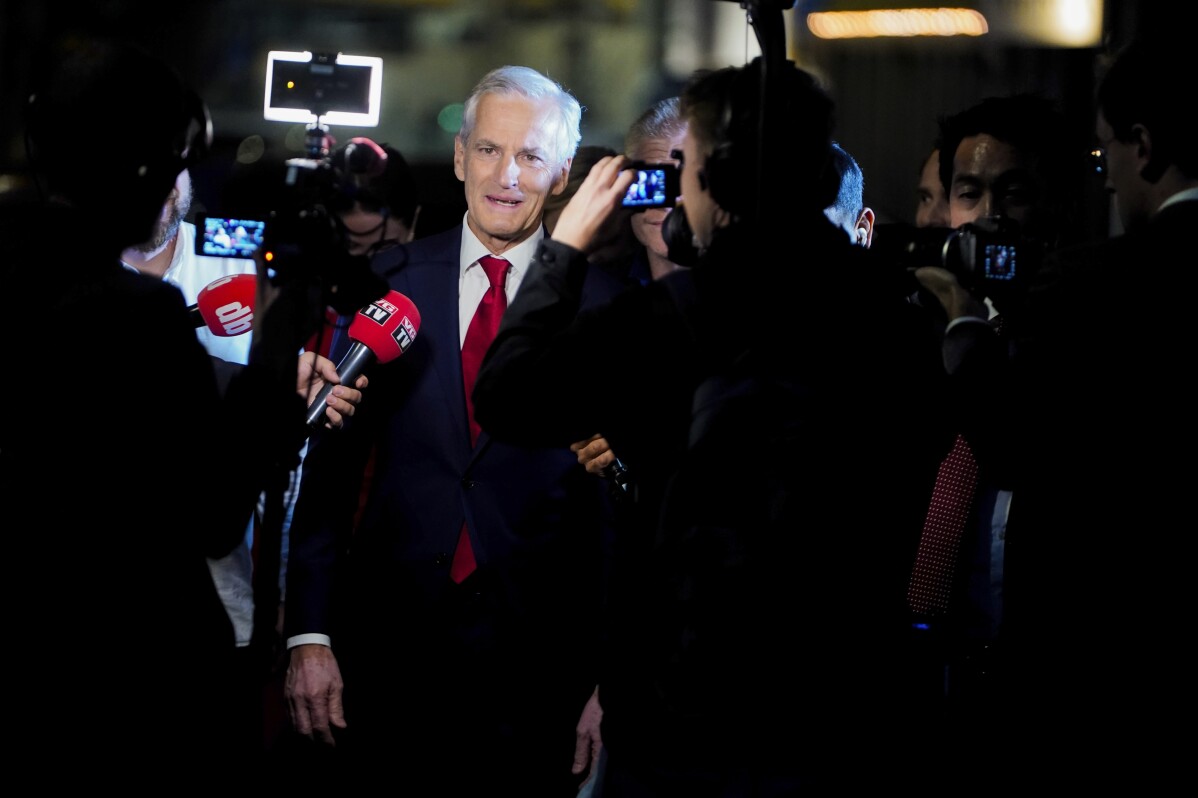 5 of 6

|
Norway's Prime Minister and Party leader Jonas Gahr Store arrives at the Labor Party's election vigil at People's House during the municipal election 2023, in Oslo, Monday, Sept. 11, 2023. (Terje Pedersen/NTB Scanpix via AP)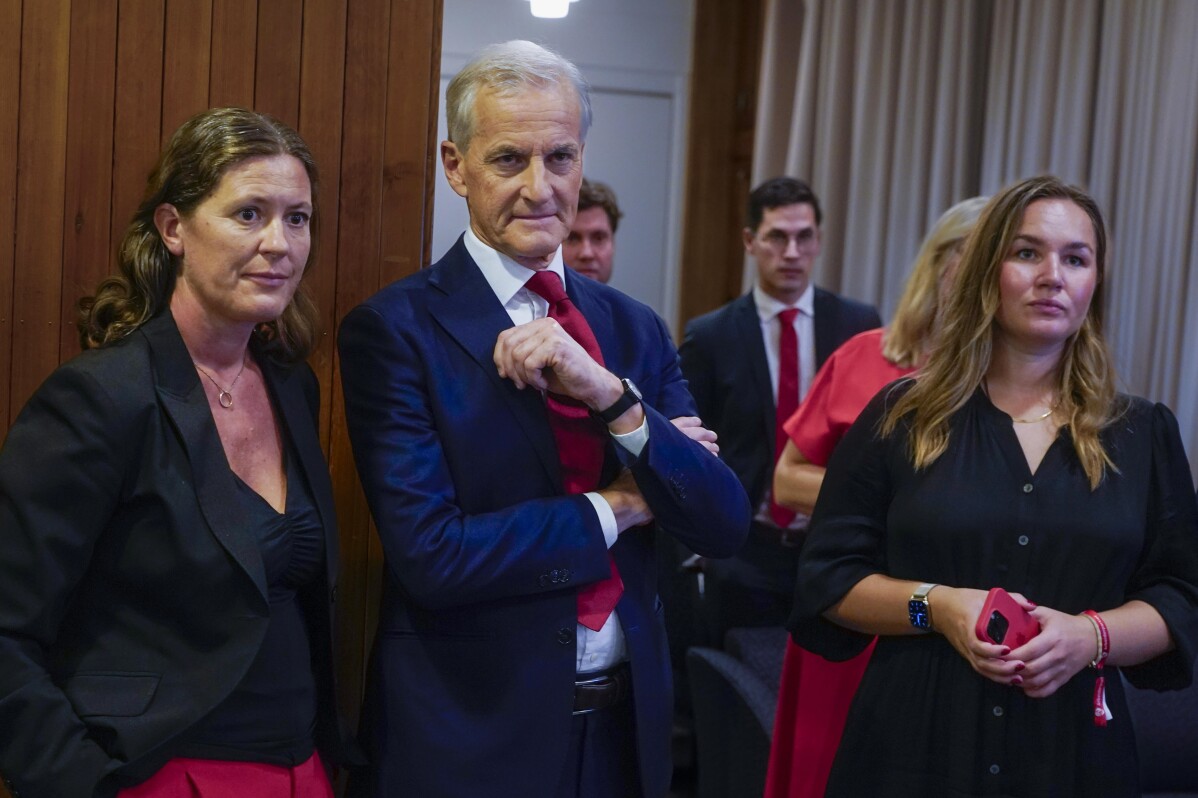 6 of 6

|
A subdued atmosphere in the back room when Norway's Prime Minister and Party leader Jonas Gahr Store receives the election day forecasts at the Labor Party's election vigil at People's House during the municipal election 2023, in Oslo, Norway, Monday, Sept. 11, 2023. (Terje Pedersen/NTB Scanpix via AP)
Norway's conservative opposition wins local elections with nearly 26% of the votes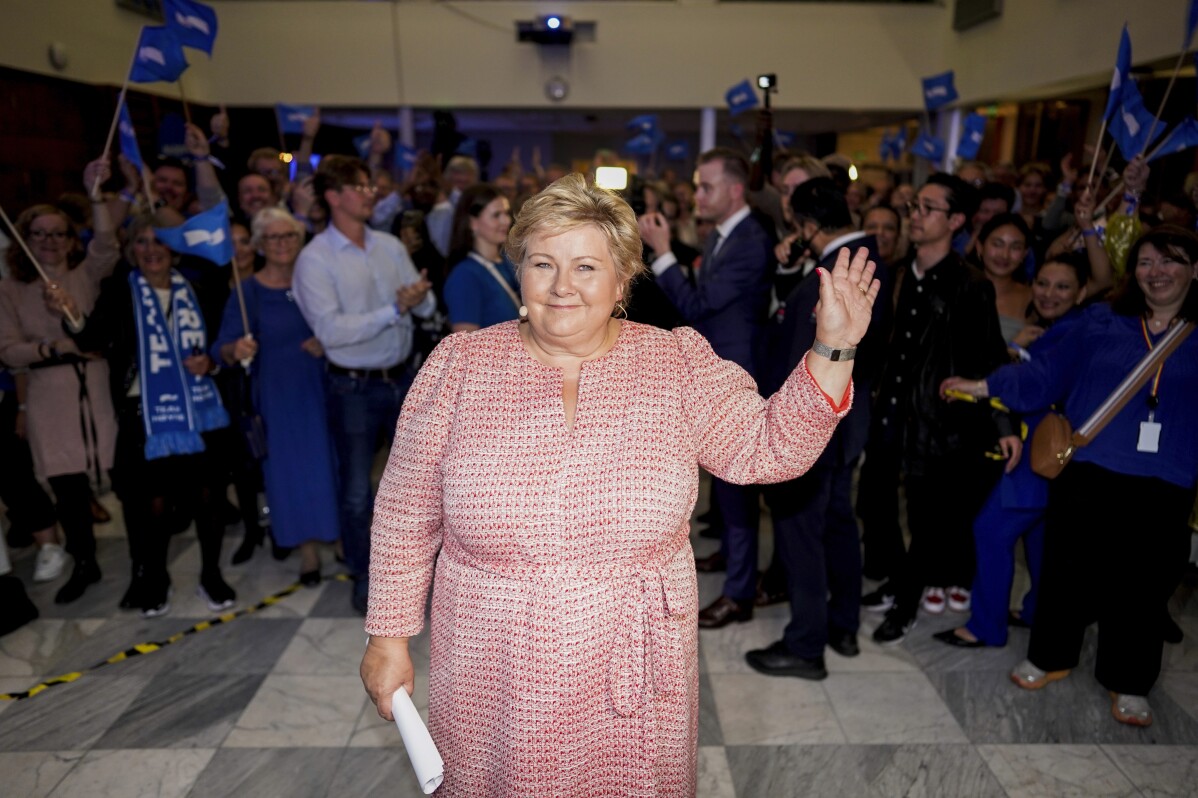 1 of 6

|
Former prime minister of Norway Erna Solberg waves at Høyre's election vigil at Høyre's House during the municipal election 2023, in Oslo, Norway, Monday, Sept. 11, 2023. (Heiko Junge/NTB Scanpix via AP)
1 of 6
Former prime minister of Norway Erna Solberg waves at Høyre's election vigil at Høyre's House during the municipal election 2023, in Oslo, Norway, Monday, Sept. 11, 2023. (Heiko Junge/NTB Scanpix via AP)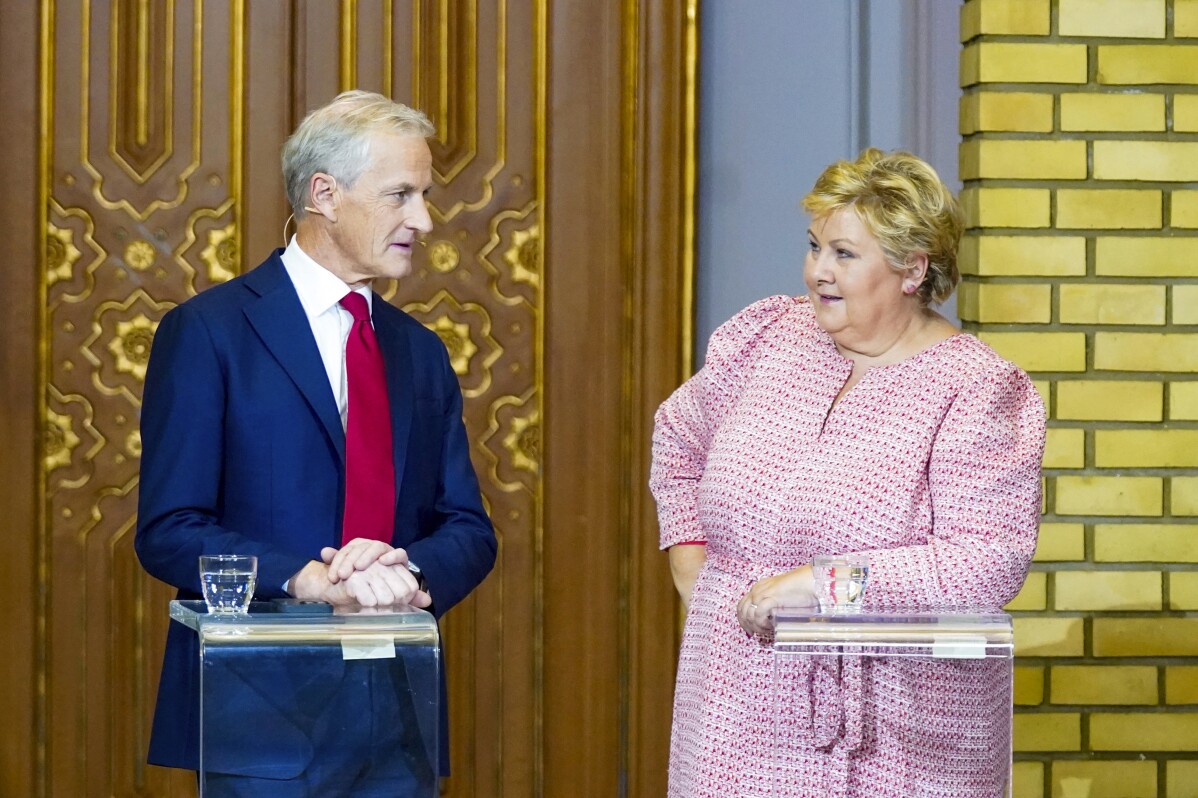 2 of 6

|
Jonas Gahr Store, left, and Erna Solberg speak during the party leader debate at the Storting during the municipal elections 2023, in Oslo, Norway, Monday, Sept. 11, 2023. (Lise Åserud/NTB Scanpix via AP)
2 of 6
Jonas Gahr Store, left, and Erna Solberg speak during the party leader debate at the Storting during the municipal elections 2023, in Oslo, Norway, Monday, Sept. 11, 2023. (Lise Åserud/NTB Scanpix via AP)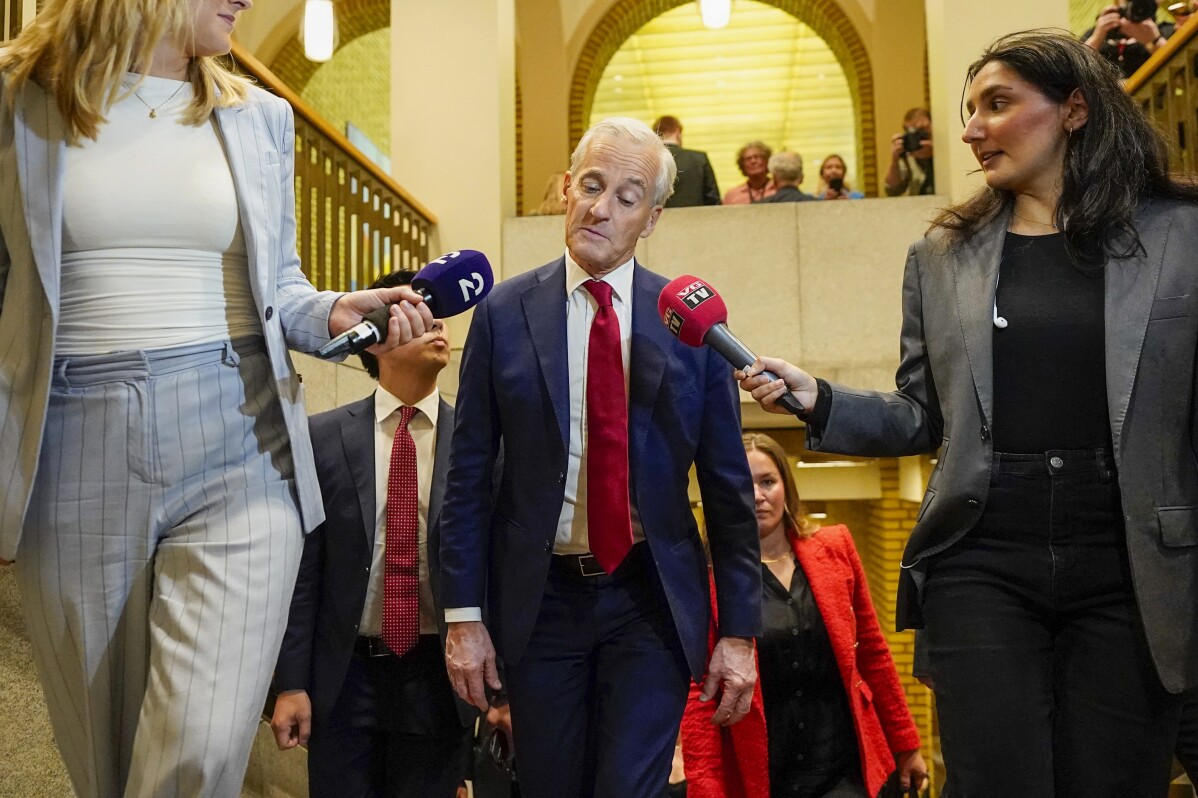 3 of 6

|
Norway's Prime Minister and Party leader Jonas Gahr Store will enter the Storting after the municipal elections 2023, in Oslo, Norway, Monday, Sept. 11, 2023. (Lise Åserud/NTB Scanpix via AP)
3 of 6
Norway's Prime Minister and Party leader Jonas Gahr Store will enter the Storting after the municipal elections 2023, in Oslo, Norway, Monday, Sept. 11, 2023. (Lise Åserud/NTB Scanpix via AP)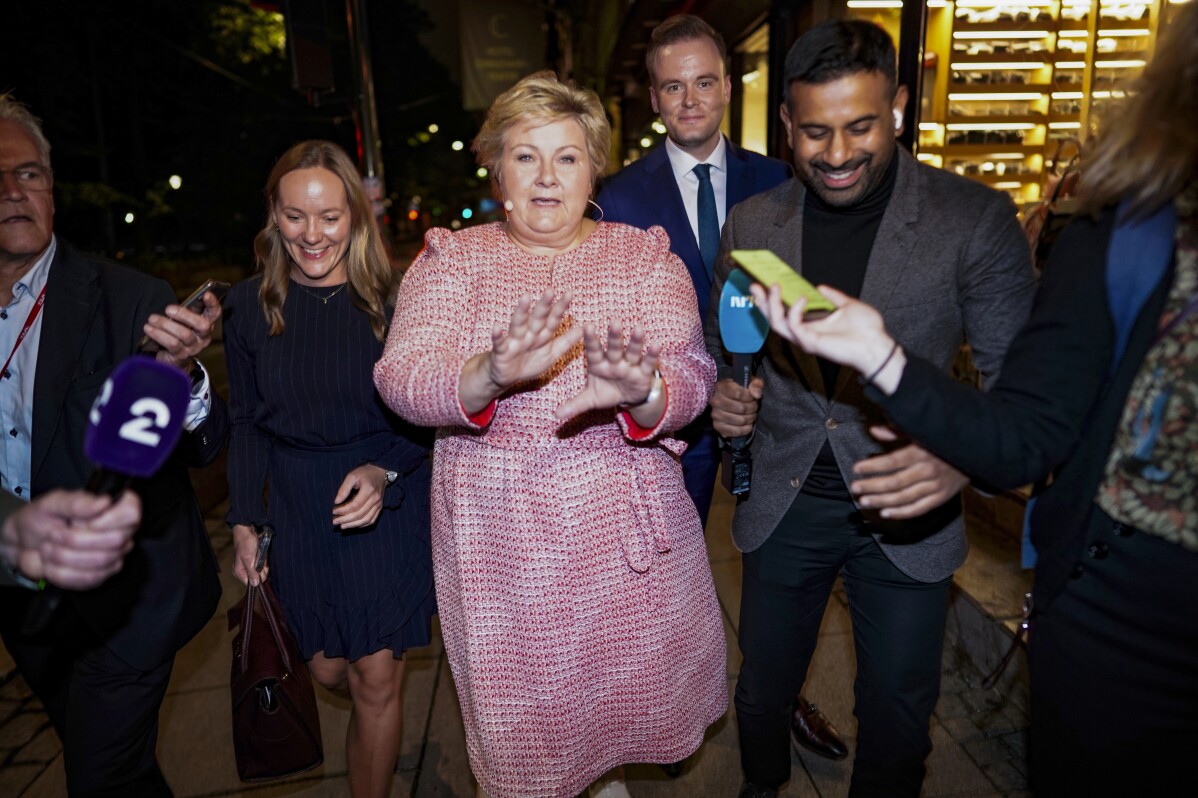 4 of 6

|
Former prime minister of Norway Erna Solberg makes her way to Høyre's election vigil at Høyres Hus during the municipal election 2023, in Oslo, Norway, Monday, Sept. 11, 2023. (Heiko Junge/NTB Scanpix via AP)
4 of 6
Former prime minister of Norway Erna Solberg makes her way to Høyre's election vigil at Høyres Hus during the municipal election 2023, in Oslo, Norway, Monday, Sept. 11, 2023. (Heiko Junge/NTB Scanpix via AP)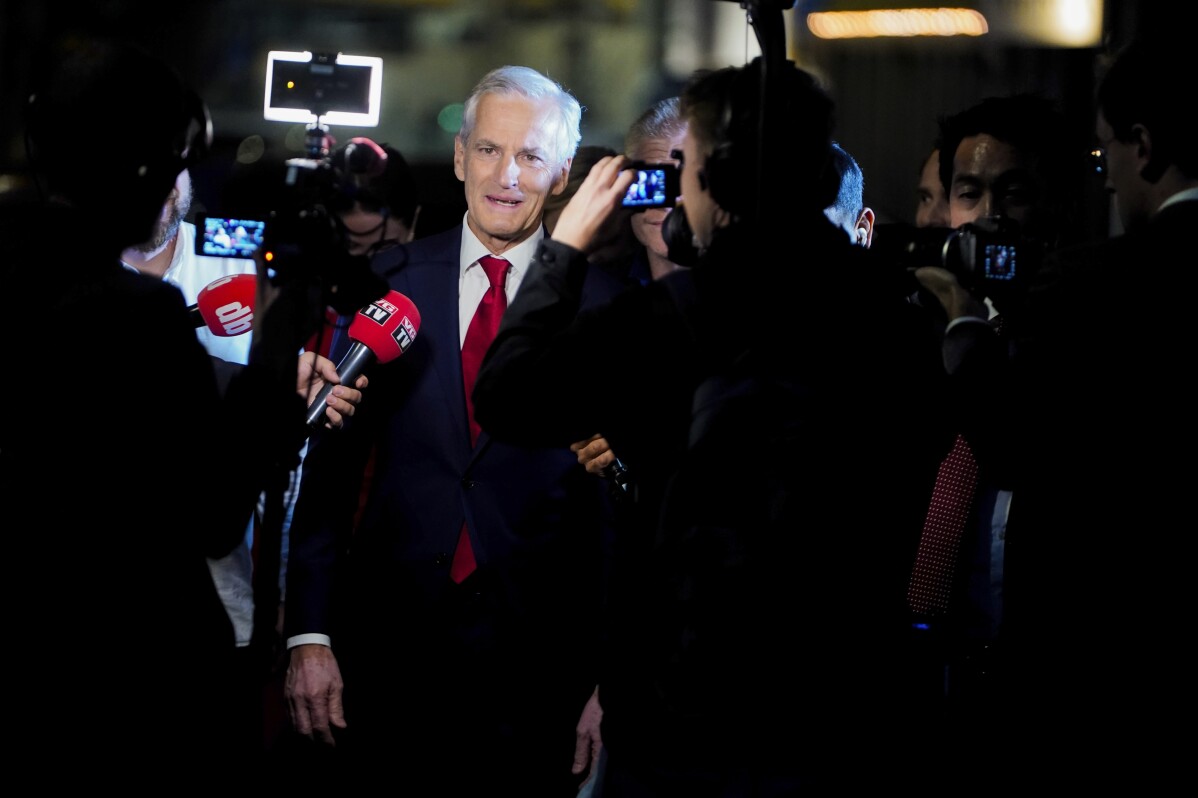 5 of 6

|
Norway's Prime Minister and Party leader Jonas Gahr Store arrives at the Labor Party's election vigil at People's House during the municipal election 2023, in Oslo, Monday, Sept. 11, 2023. (Terje Pedersen/NTB Scanpix via AP)
5 of 6
Norway's Prime Minister and Party leader Jonas Gahr Store arrives at the Labor Party's election vigil at People's House during the municipal election 2023, in Oslo, Monday, Sept. 11, 2023. (Terje Pedersen/NTB Scanpix via AP)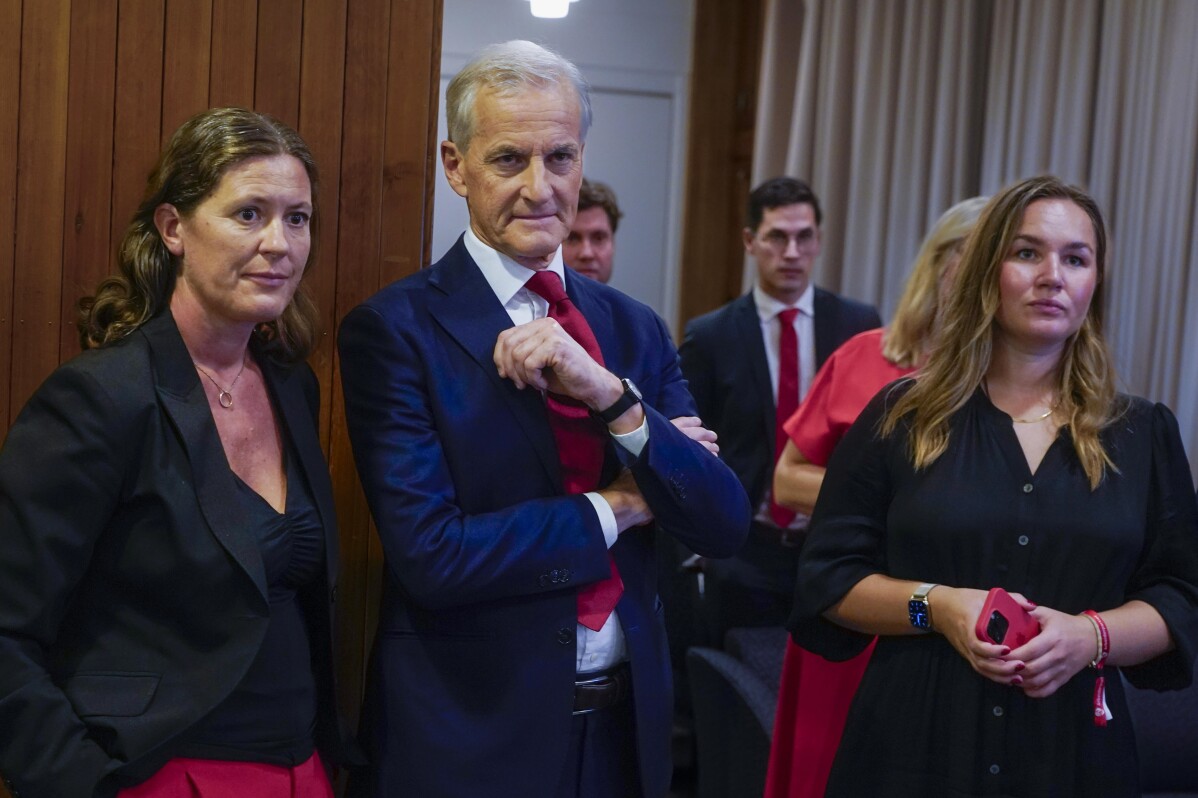 6 of 6

|
A subdued atmosphere in the back room when Norway's Prime Minister and Party leader Jonas Gahr Store receives the election day forecasts at the Labor Party's election vigil at People's House during the municipal election 2023, in Oslo, Norway, Monday, Sept. 11, 2023. (Terje Pedersen/NTB Scanpix via AP)
6 of 6
A subdued atmosphere in the back room when Norway's Prime Minister and Party leader Jonas Gahr Store receives the election day forecasts at the Labor Party's election vigil at People's House during the municipal election 2023, in Oslo, Norway, Monday, Sept. 11, 2023. (Terje Pedersen/NTB Scanpix via AP)
COPENHAGEN, Denmark (AP) — Norway's center-right opposition party has won local elections in the Scandinavian country, putting the conservatives of former Prime Minister Erna Solberg ahead of the governing social democratic Labor Party locally for the first time since 1924.
According to preliminary official figures released Tuesday with all votes counted, the conservative Hoeyre party received 25.9% of the votes in Monday's elections, up nearly 6 percentage points from the last balloting in 2019 for local councils in Norway's 356 municipalities and 11 counties. The Labor Party, headed by Prime Minister Jonas Gahr Støre, which ousted Solberg in 2021 national elections, came in second in the local vote with 21.7% of the ballots, down 3.1 percentage points from 2019.
Labor, which for decades was Norway's largest party in local elections, had its worst results in nearly a century in Monday's vote, making Hoeyre the largest party locally since 1924. It even surpassed Labor in Oslo, the capital.
"A 99-year-long tradition has been broken," Solberg said late Monday as the results came in. "It won't be long until we start work on giving the country a new government." The former prime minister, who held two four-year-terms from 2013 to 2021, has said she wants to be leader again. "Let's use the progress in this election as a great motivation for the election campaign in 2025," she said.
The right-wing, anti-immigration Progress Party came in third with 11.4% of the votes, up 3.2 percentage points from the last local elections.
The so-called blue center-right bloc -– consisting of Hoeyre, the Progress Party, the Christian Democrats and the Liberals -– advanced 10 percentage points overall, while the center-left red side -– made up of Labor, the Centrists, the left-wing Socialist Left, the communist Red Party and the Greens — lost 11.6 percentage points together.
Local elections in Norway, a nation of 5.4 million people, are held every four years. More than 4.3 million people were eligible to vote this year and the estimated turnout was just above 62%, according to official figures.