Nurses at New Jersey's Robert Wood Johnson University Hospital go on strike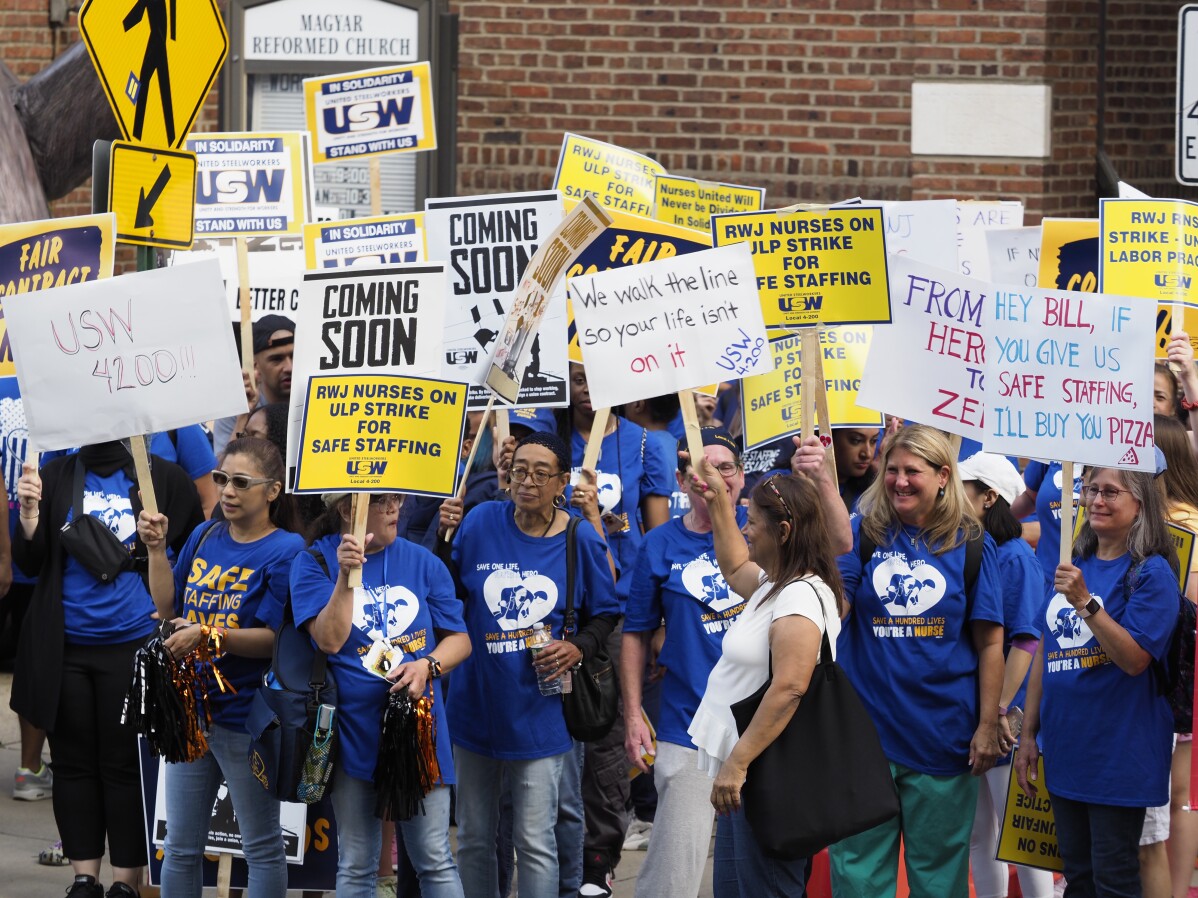 1 of 5

|
Nurses at Robert Wood Johnson University Hospital strike as negotiations over a new contract remained at an impasse on Friday, Aug. 4, 2023, in New Brunswick, N.J. (Patti Sapone/NJ Advance Media via AP)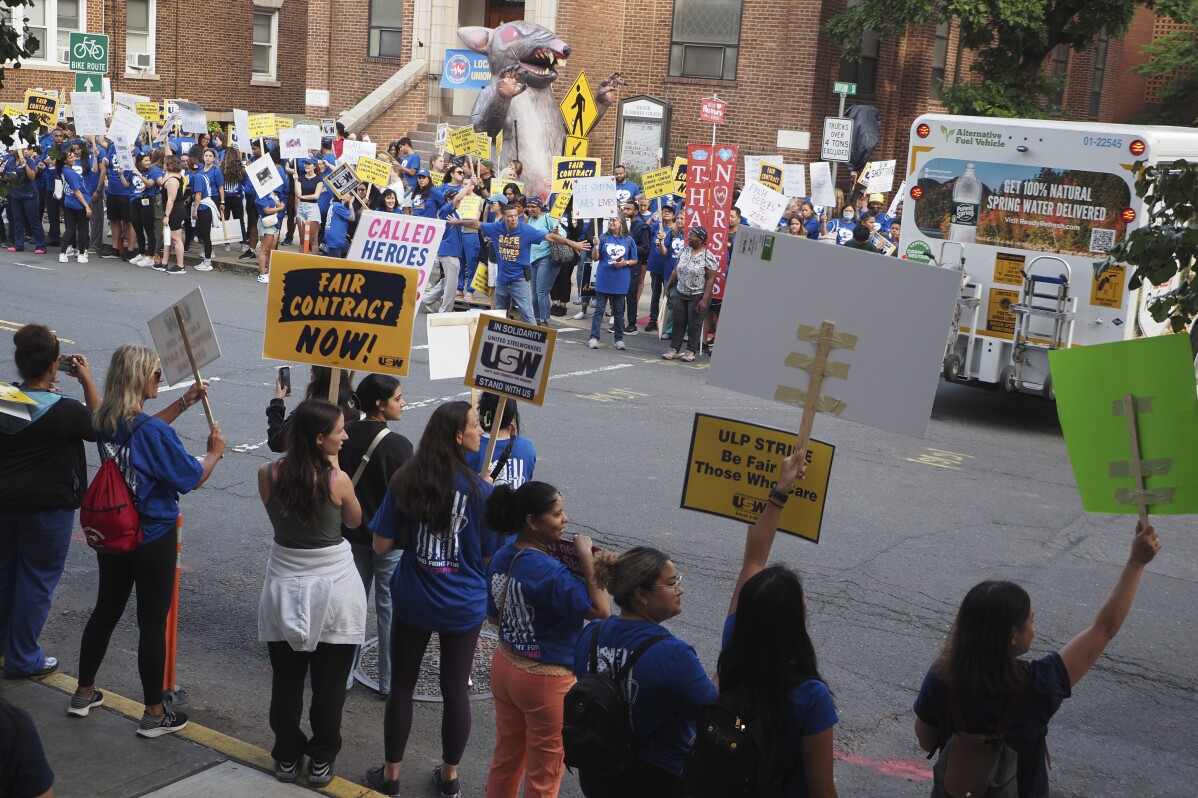 2 of 5

|
Nurses at Robert Wood Johnson University Hospital go on strike as negotiations over a new contract remained at an impasse on Friday, Aug. 4, 2023, in New Brunswick, N.J. (Patti Sapone/NJ Advance Media via AP)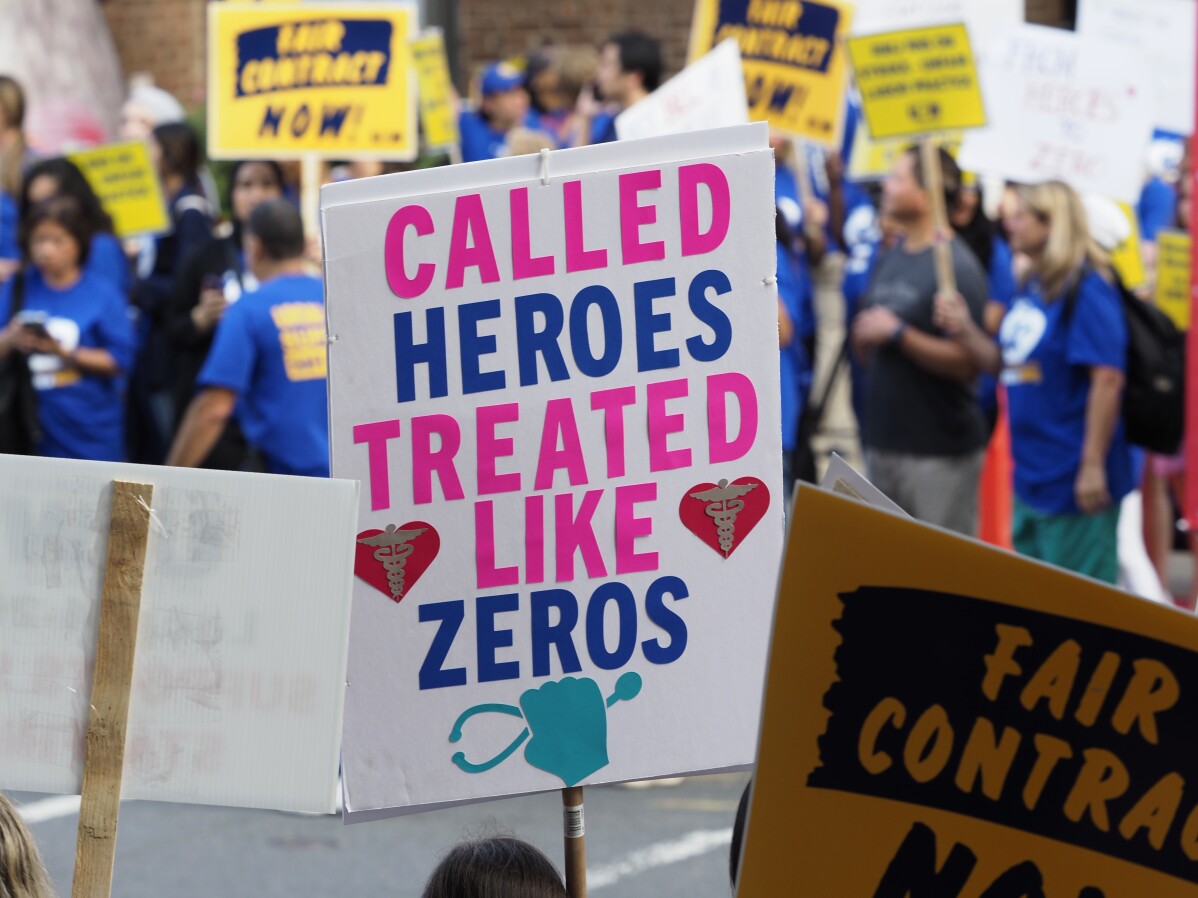 3 of 5

|
Nurses at Robert Wood Johnson University Hospital strike as negotiations over a new contract remained at an impasse on Friday, Aug. 4, 2023, in New Brunswick, N.J. (Patti Sapone/NJ Advance Media via AP)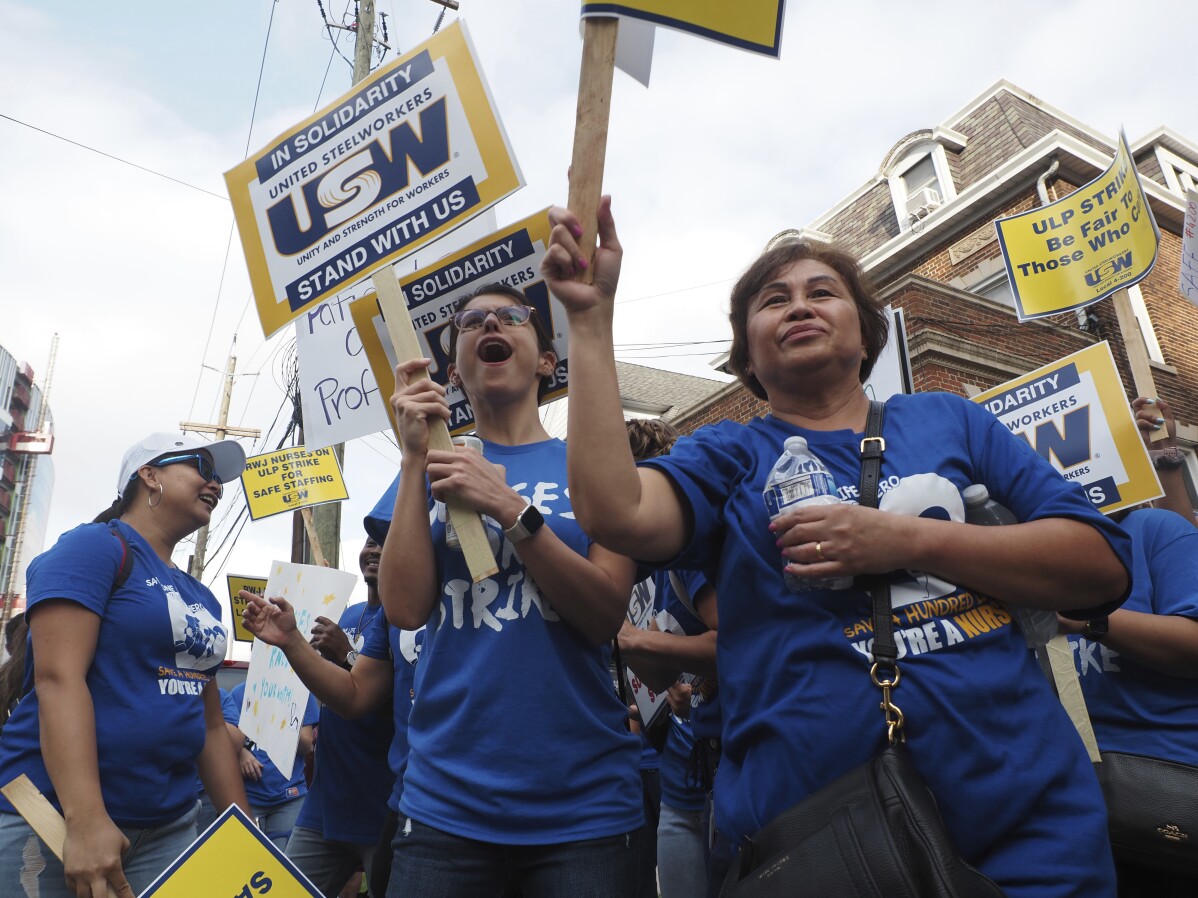 4 of 5

|
Nurses at Robert Wood Johnson University Hospital strike as negotiations over a new contract remained at an impasse on Friday, Aug. 4, 2023, in New Brunswick, N.J. (Patti Sapone/NJ Advance Media via AP)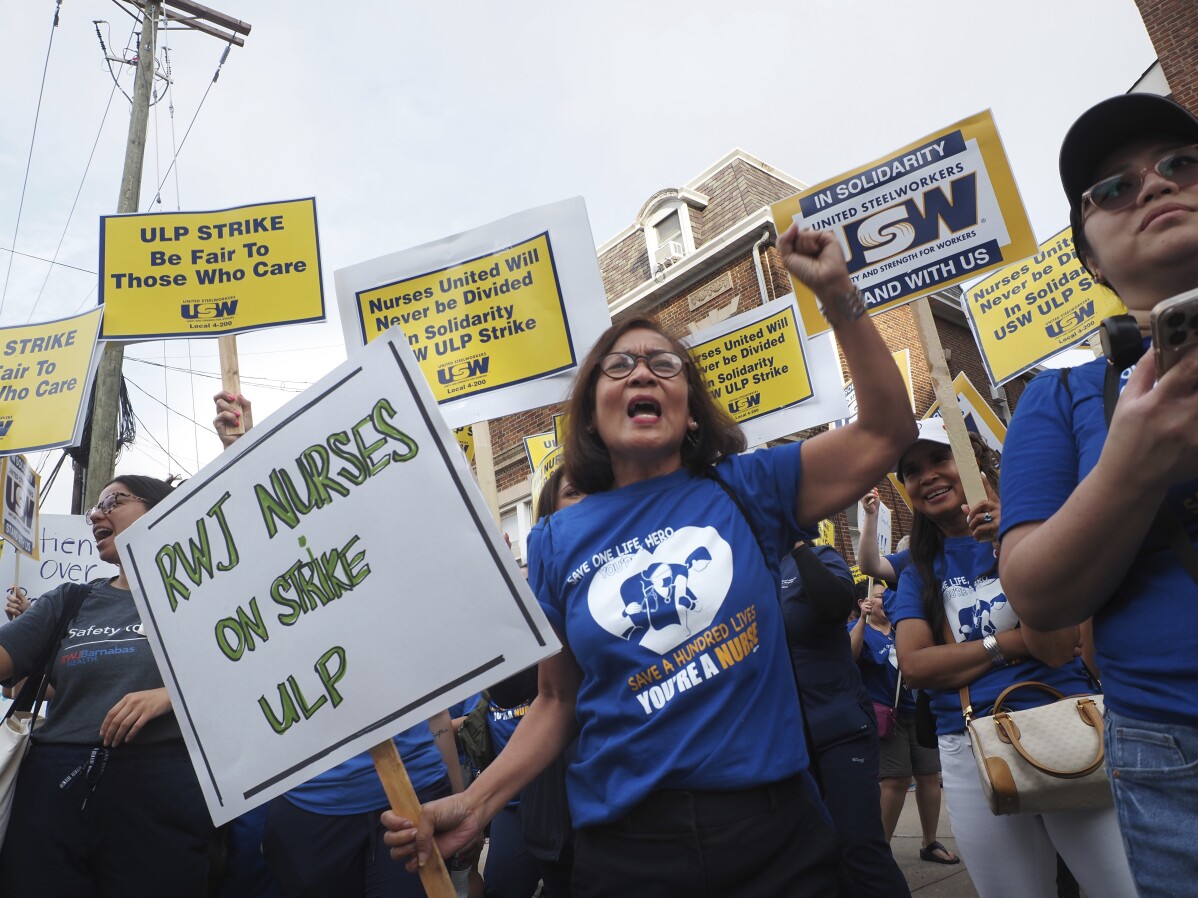 5 of 5

|
Nurse Case Manager Rosa Almi Aquino chants along with the nurses at Robert Wood Johnson University Hospital on the first day of a strike on Friday, Aug. 4, 2023, in New Brunswick, N.J. (Patti Sapone/NJ Advance Media via AP)
Nurses at New Jersey's Robert Wood Johnson University Hospital go on strike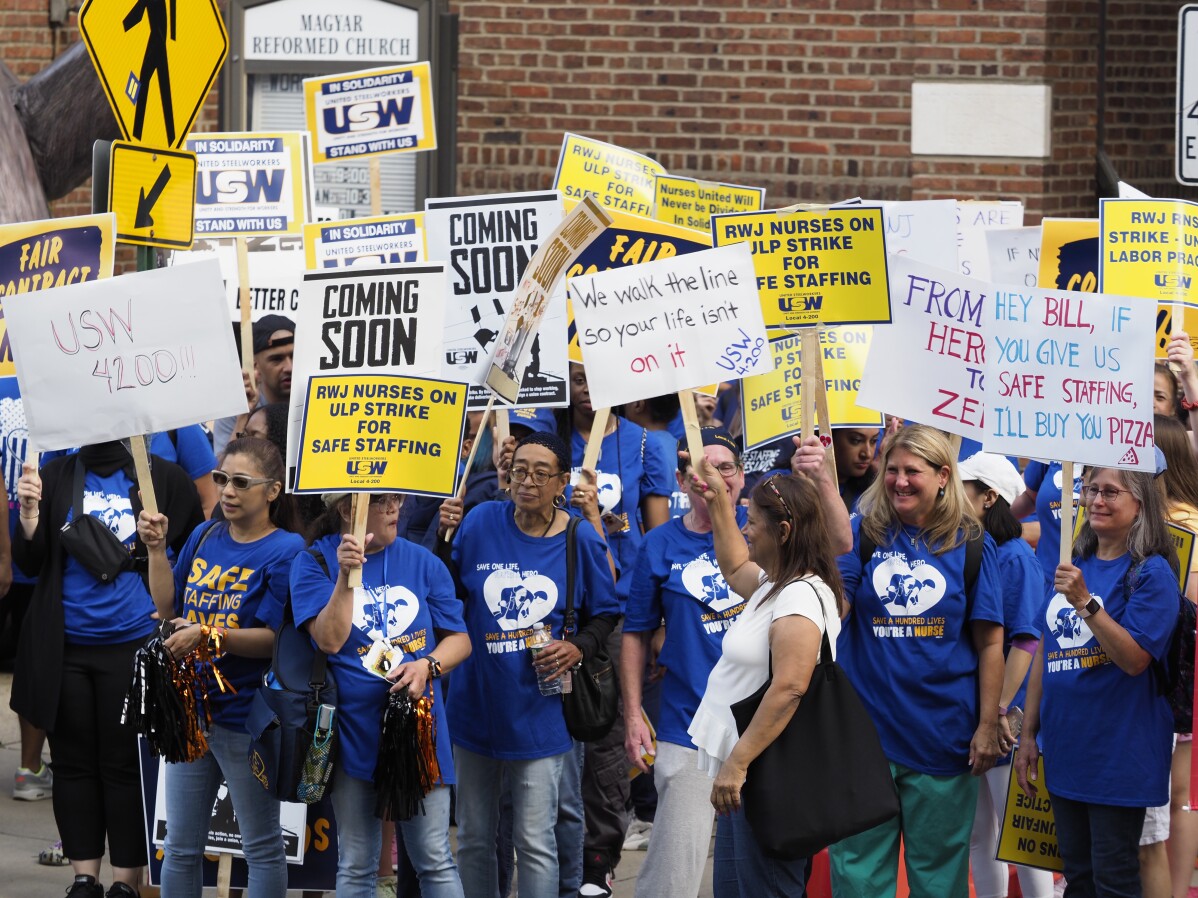 1 of 5

|
Nurses at Robert Wood Johnson University Hospital strike as negotiations over a new contract remained at an impasse on Friday, Aug. 4, 2023, in New Brunswick, N.J. (Patti Sapone/NJ Advance Media via AP)
1 of 5
Nurses at Robert Wood Johnson University Hospital strike as negotiations over a new contract remained at an impasse on Friday, Aug. 4, 2023, in New Brunswick, N.J. (Patti Sapone/NJ Advance Media via AP)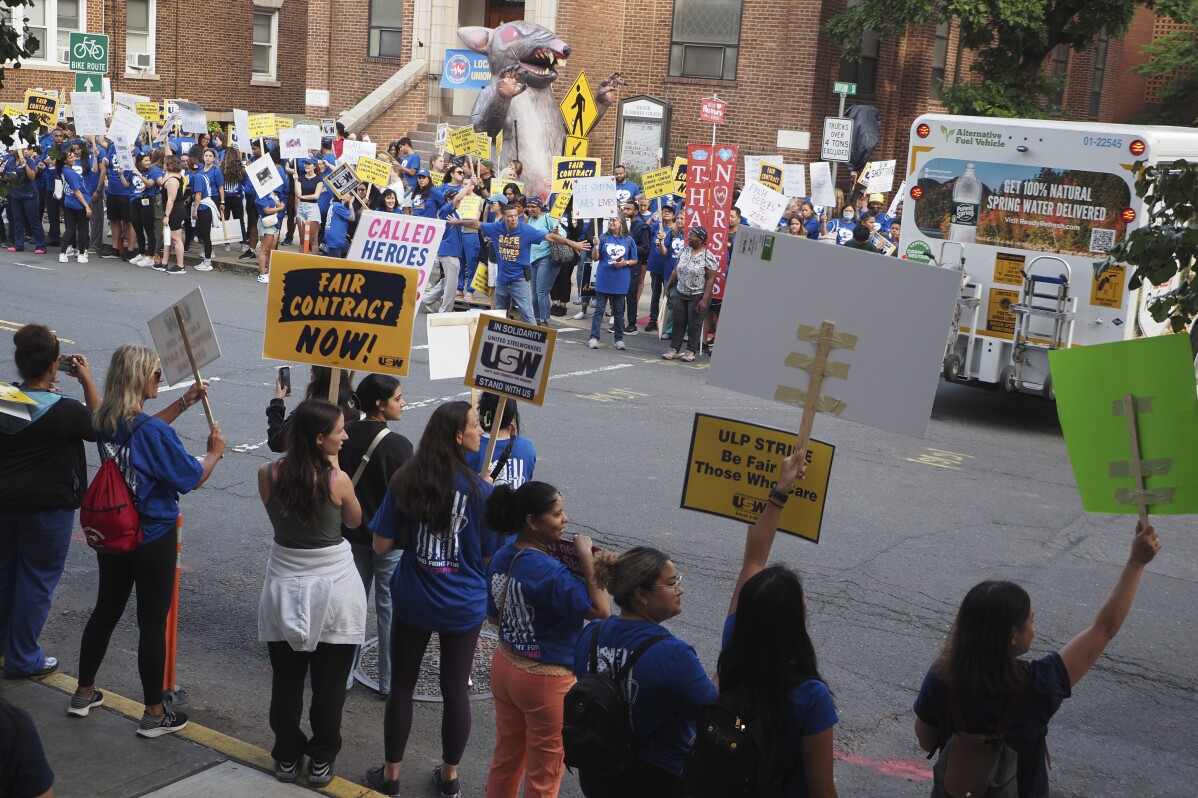 2 of 5

|
Nurses at Robert Wood Johnson University Hospital go on strike as negotiations over a new contract remained at an impasse on Friday, Aug. 4, 2023, in New Brunswick, N.J. (Patti Sapone/NJ Advance Media via AP)
2 of 5
Nurses at Robert Wood Johnson University Hospital go on strike as negotiations over a new contract remained at an impasse on Friday, Aug. 4, 2023, in New Brunswick, N.J. (Patti Sapone/NJ Advance Media via AP)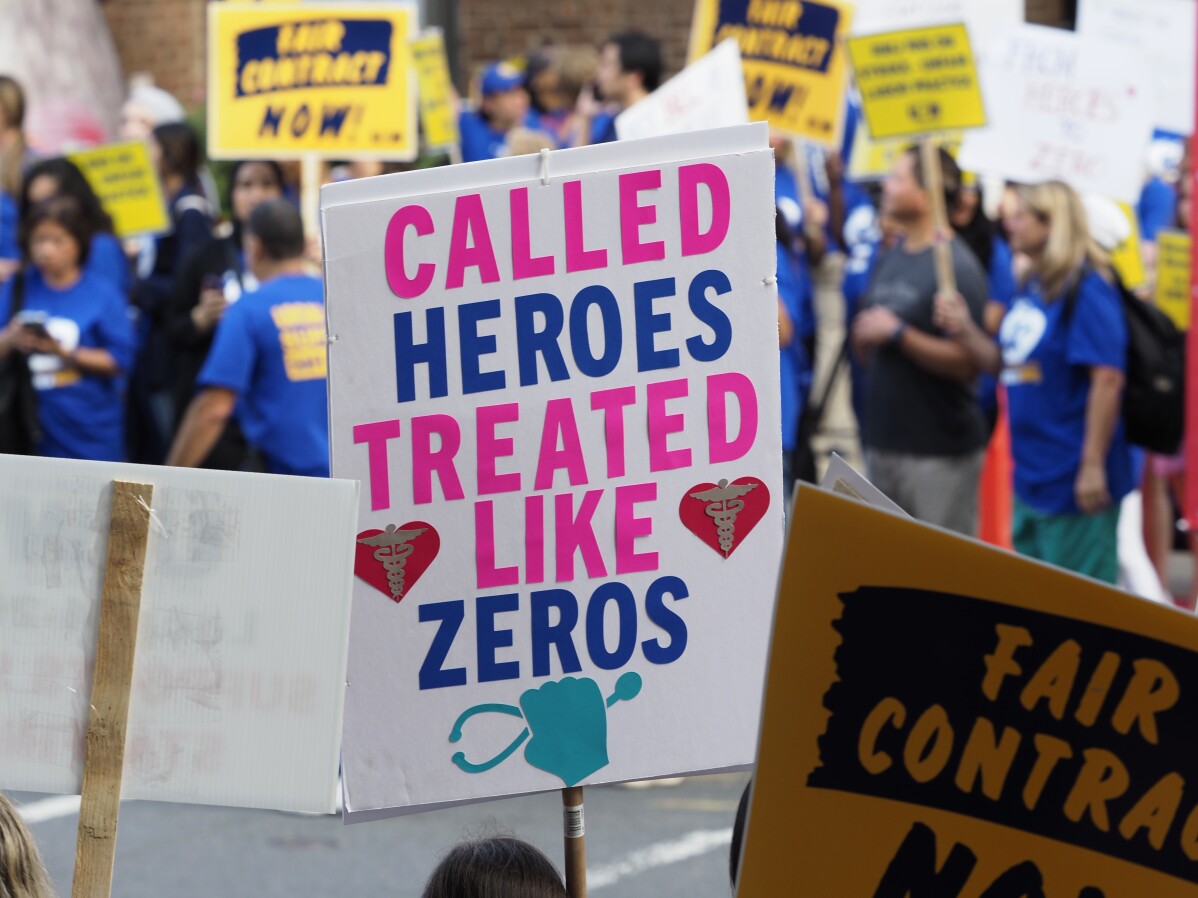 3 of 5

|
Nurses at Robert Wood Johnson University Hospital strike as negotiations over a new contract remained at an impasse on Friday, Aug. 4, 2023, in New Brunswick, N.J. (Patti Sapone/NJ Advance Media via AP)
3 of 5
Nurses at Robert Wood Johnson University Hospital strike as negotiations over a new contract remained at an impasse on Friday, Aug. 4, 2023, in New Brunswick, N.J. (Patti Sapone/NJ Advance Media via AP)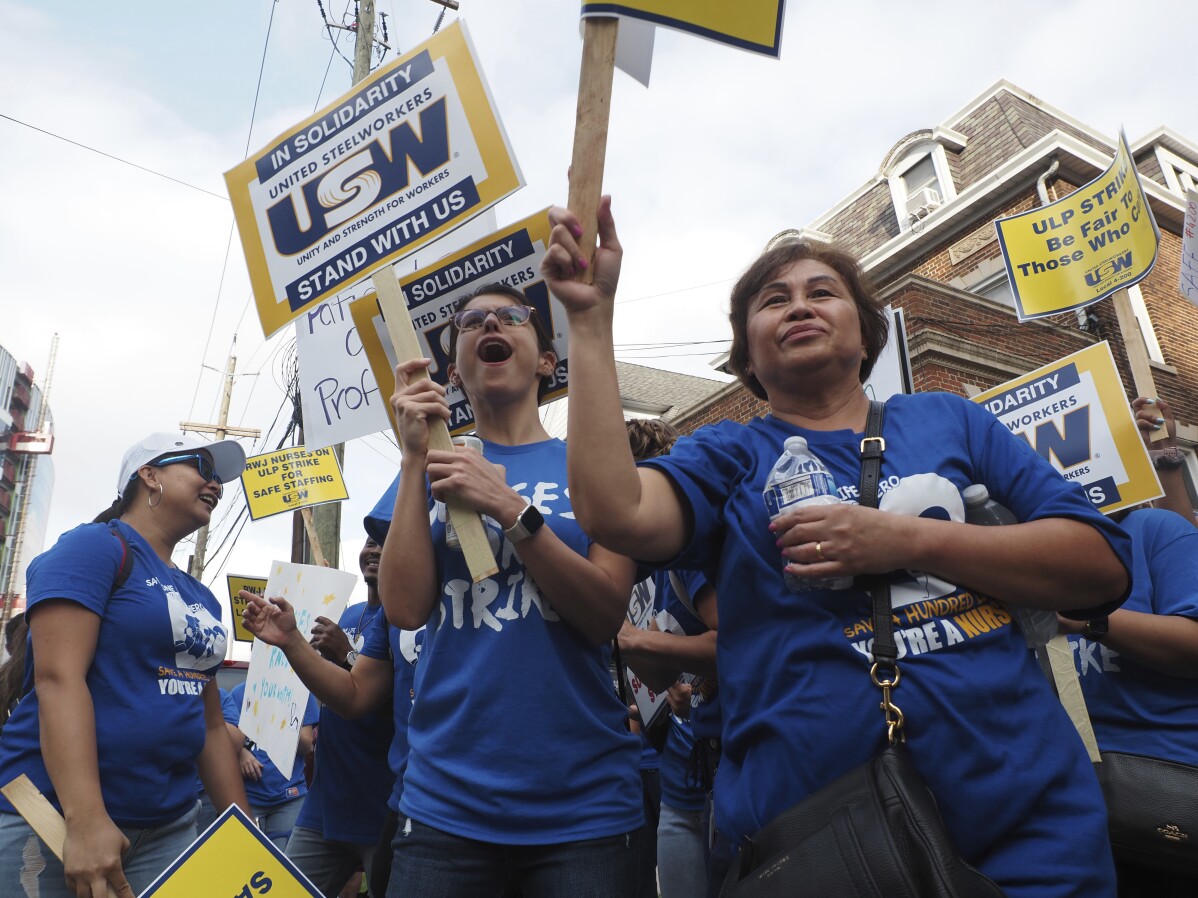 4 of 5

|
Nurses at Robert Wood Johnson University Hospital strike as negotiations over a new contract remained at an impasse on Friday, Aug. 4, 2023, in New Brunswick, N.J. (Patti Sapone/NJ Advance Media via AP)
4 of 5
Nurses at Robert Wood Johnson University Hospital strike as negotiations over a new contract remained at an impasse on Friday, Aug. 4, 2023, in New Brunswick, N.J. (Patti Sapone/NJ Advance Media via AP)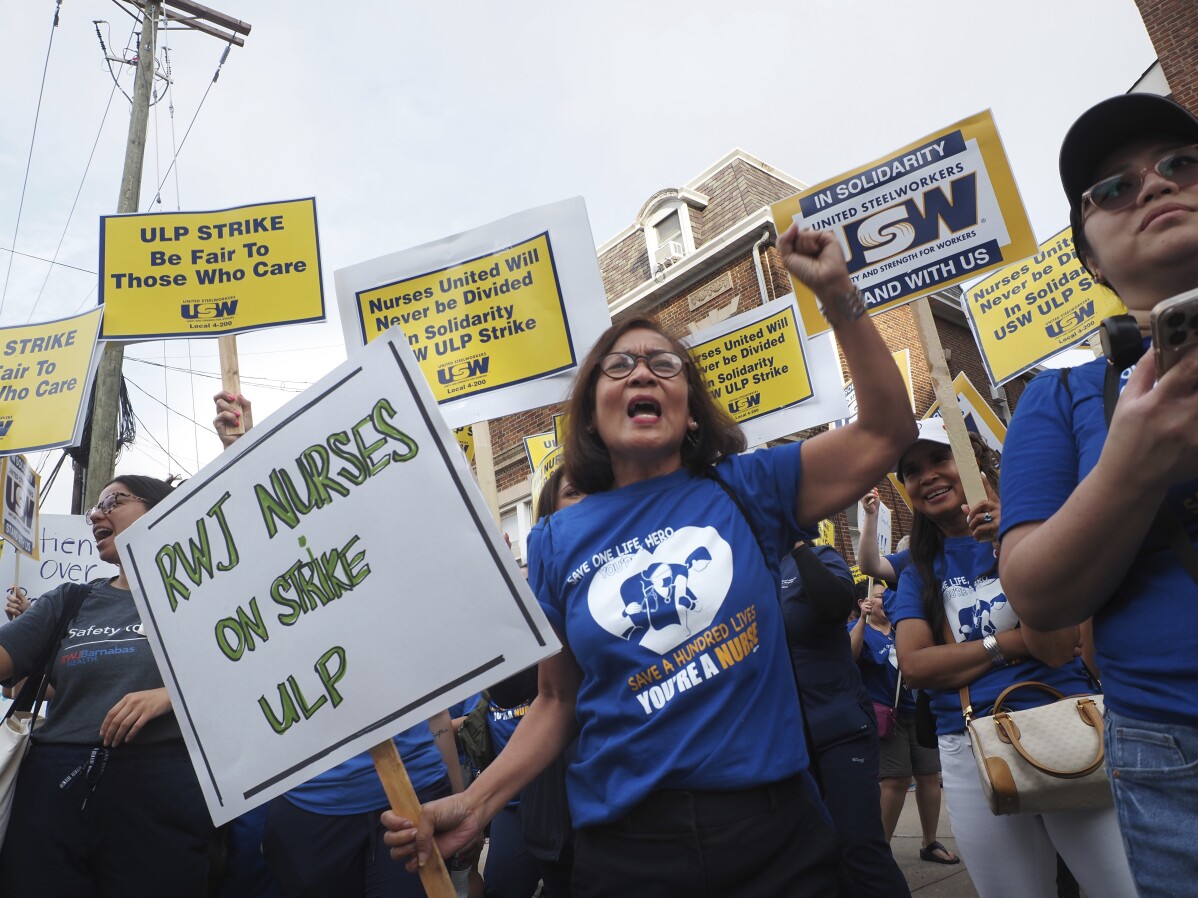 5 of 5

|
Nurse Case Manager Rosa Almi Aquino chants along with the nurses at Robert Wood Johnson University Hospital on the first day of a strike on Friday, Aug. 4, 2023, in New Brunswick, N.J. (Patti Sapone/NJ Advance Media via AP)
5 of 5
Nurse Case Manager Rosa Almi Aquino chants along with the nurses at Robert Wood Johnson University Hospital on the first day of a strike on Friday, Aug. 4, 2023, in New Brunswick, N.J. (Patti Sapone/NJ Advance Media via AP)
NEW BRUNSWICK, N.J. (AP) — Nearly 2,000 nurses at one of New Jersey's biggest hospitals have gone on a labor strike.
Nurses at Robert Wood Johnson University Hospital picketed the New Brunswick hospital on Friday.
The hospital said in a statement it has contracted with a firm to provide nursing staff during the strike.
A main sticking point is staffing levels at the hospital, according to the union, United Steelworkers Local 4-200.
The hospital counters that it's among the highest-staffed medical centers in the state.
"Even after we extended a new offer on Wednesday that would have further addressed their staffing concerns, it was met with silence. We are awaiting a response from the Union and are questioning why we are in this position instead of at the table, negotiating," said hospital spokesperson Wendy Gottsegen in a statement.
Judy Danella, the president of the local labor union, said in a statemen that members are ready to continue bargaining.
"Our members remain deeply committed to our patients," she said. "However, we must address urgent concerns, like staffing. We need enough nurses on each shift, on each floor, so we can devote more time to each patient and keep ourselves safe on the job."
The nurses' most recent contract expired on June 30. The parties extended it through July 21, but workers gave the hospital's management notice of their intent to strike on July 24.