Stars lose Jamie Benn, pull Jake Oettinger early in Game 3 to fall into 0-3 hole in West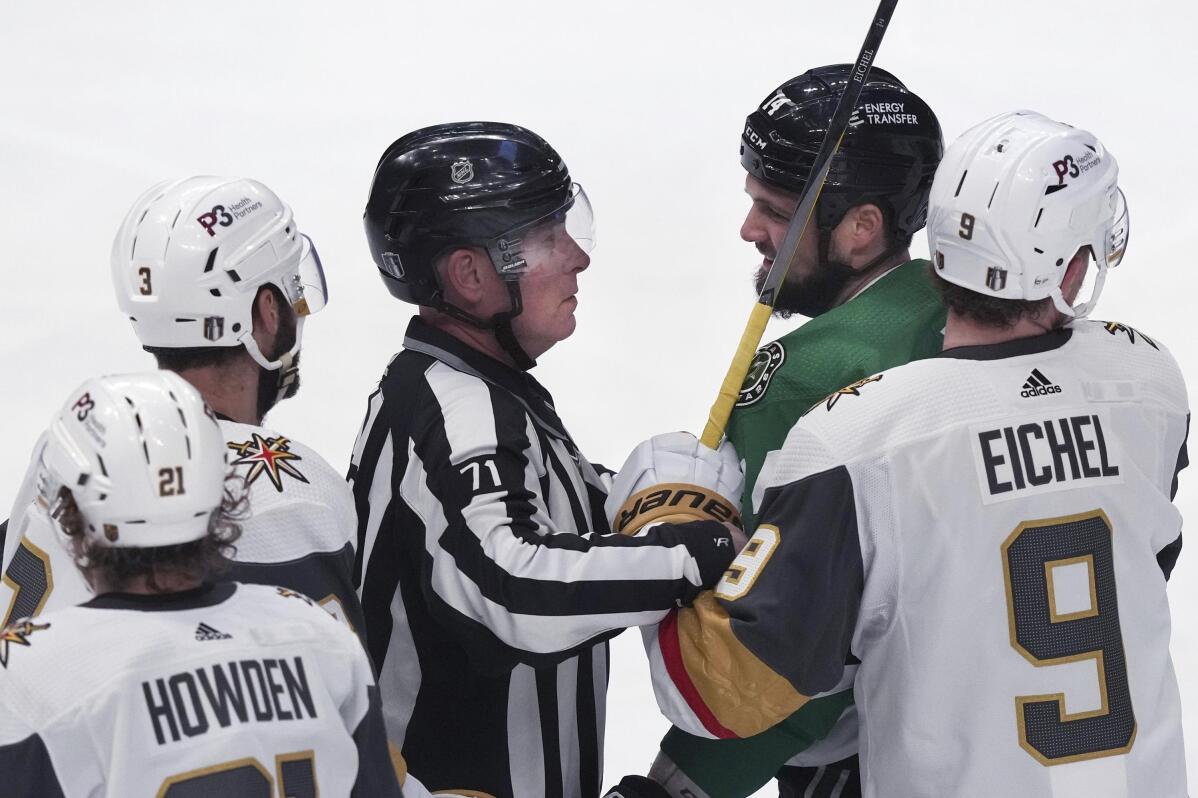 1 of 6

|
Dallas Stars left wing Jamie Benn (14) is held back by linesman Brad Kovachik (71) and Vegas Golden Knights center Jack Eichel (9) during the first period of Game 3 of the NHL hockey Stanley Cup Western Conference finals in Dallas, Tuesday, May 23, 2023. (AP Photo/LM Otero)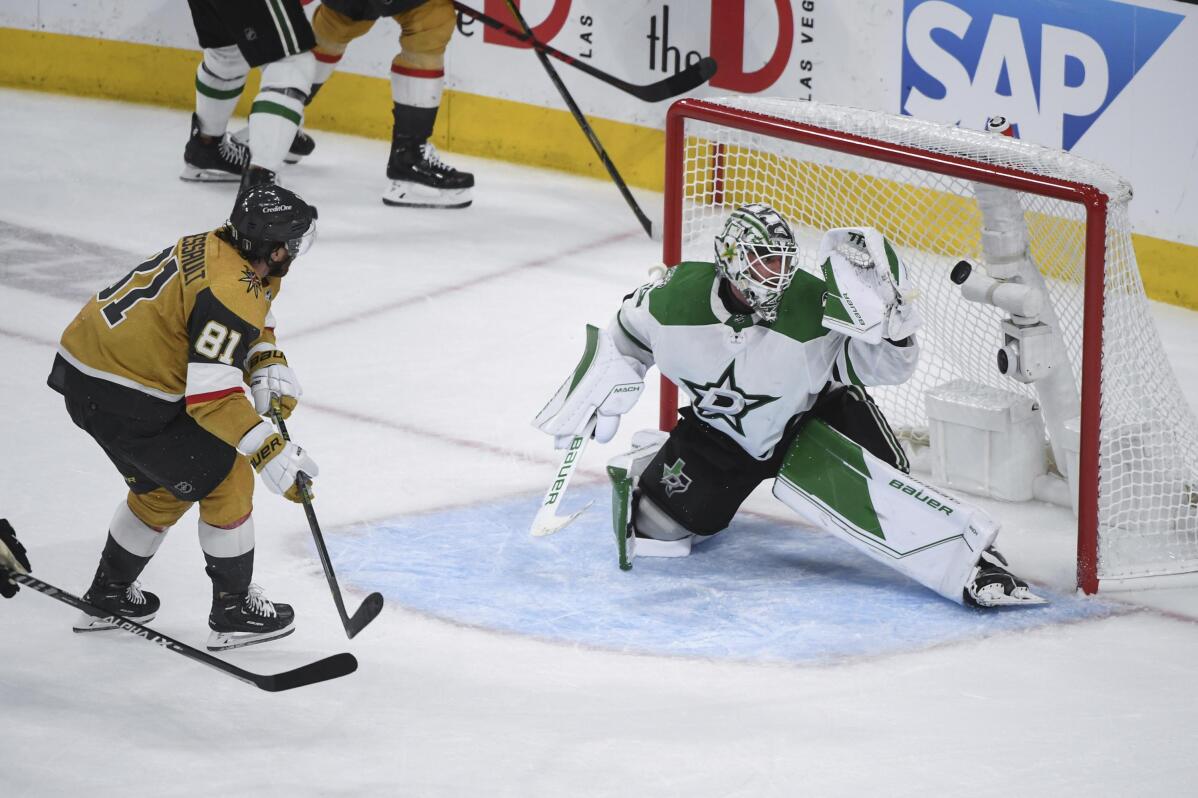 2 of 6

|
Vegas Golden Knights right wing Jonathan Marchessault (81) scores against Dallas Stars goaltender Jake Oettinger (29) during the third period of Game 2 of the NHL hockey Stanley Cup Western Conference finals, Sunday, May 21, 2023, in Las Vegas. (AP Photo/Sam Morris)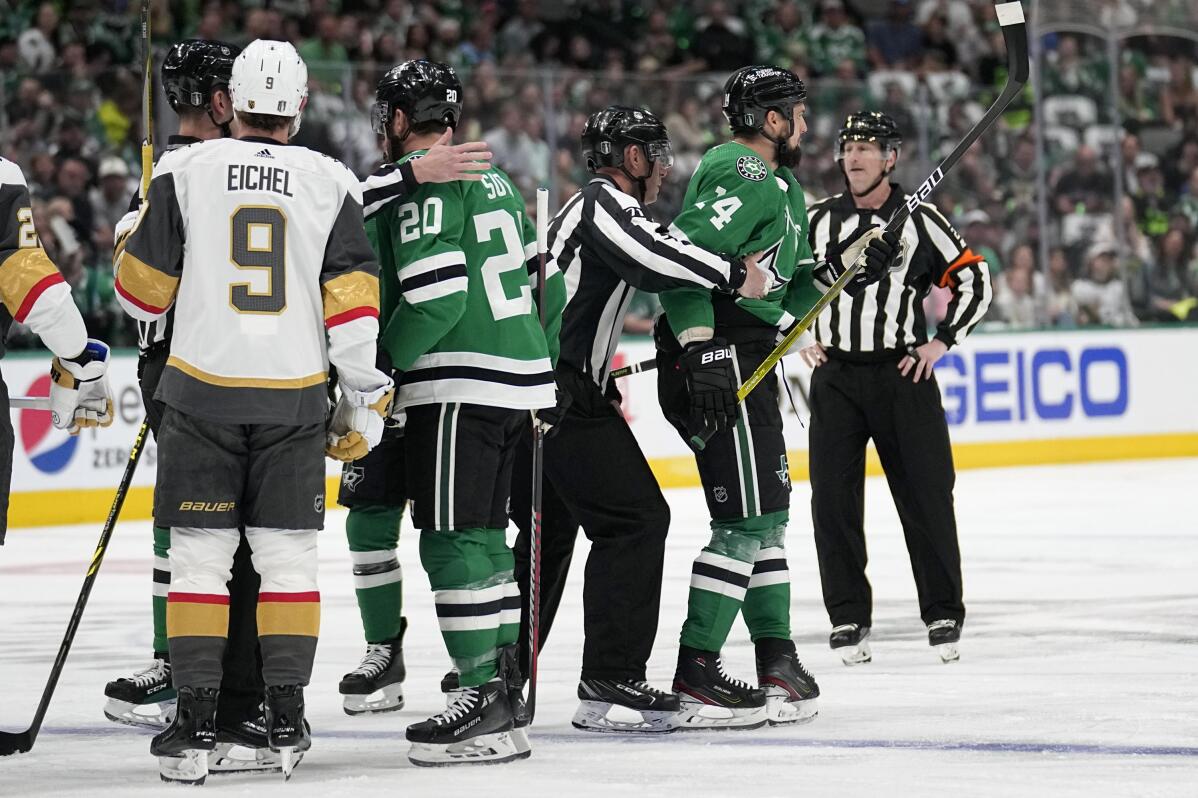 3 of 6

|
Dallas Stars left wing Jamie Benn, right, is escorted by officials as Vegas Golden Knights' Jack Eichel (9) and Stars' Ryan Suter (20) watch during the first period of Game 3 of the NHL hockey Stanley Cup Western Conference finals Tuesday, May 23, 2023, in Dallas. Benn was issued a cross-checking penalty and a game misconduct. (AP Photo/Tony Gutierrez)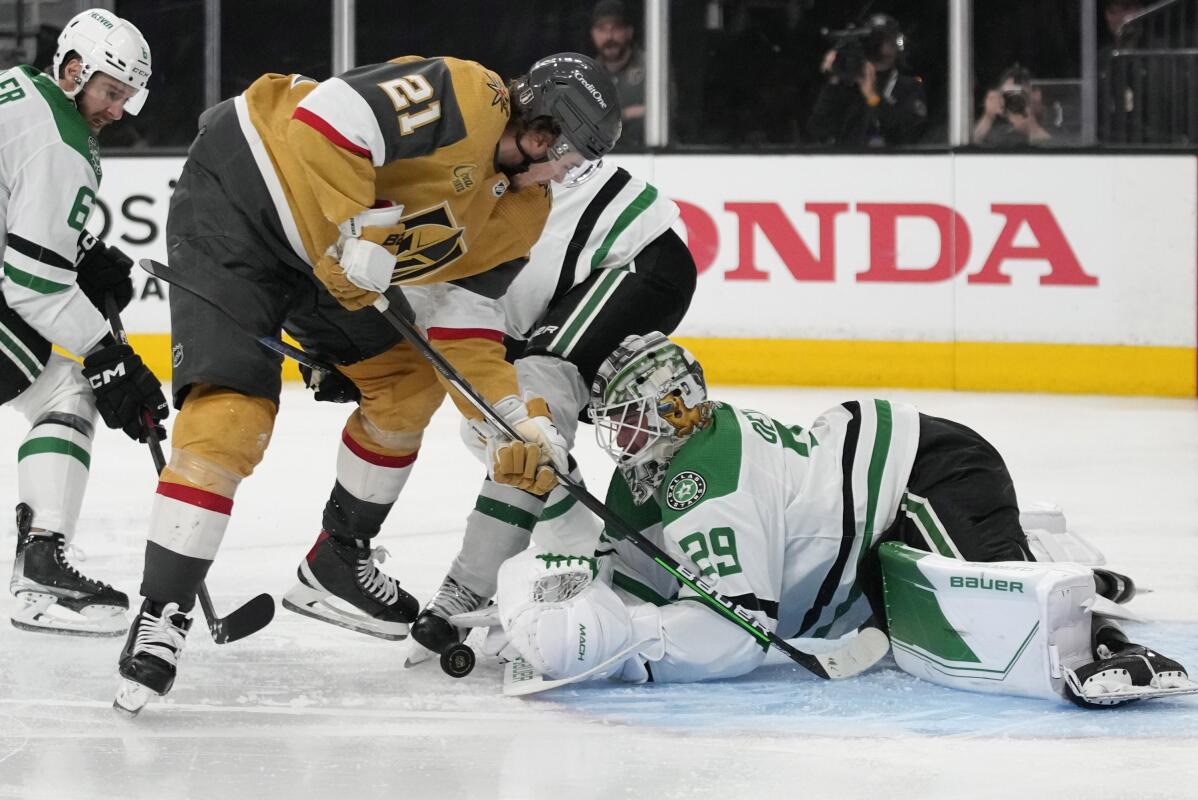 4 of 6

|
Dallas Stars goaltender Jake Oettinger (29) covers up the puck beside Vegas Golden Knights center Brett Howden (21) during the second period of Game 2 of the NHL hockey Stanley Cup Western Conference finals Sunday, May 21, 2023, in Las Vegas. (AP Photo/John Locher)
5 of 6

|
Vegas Golden Knights right wing Mark Stone (61) scores on Dallas Stars goaltender Jake Oettinger (29) during the first period of Game 2 of the NHL hockey Stanley Cup Western Conference finals Sunday, May 21, 2023, in Las Vegas. (AP Photo/John Locher)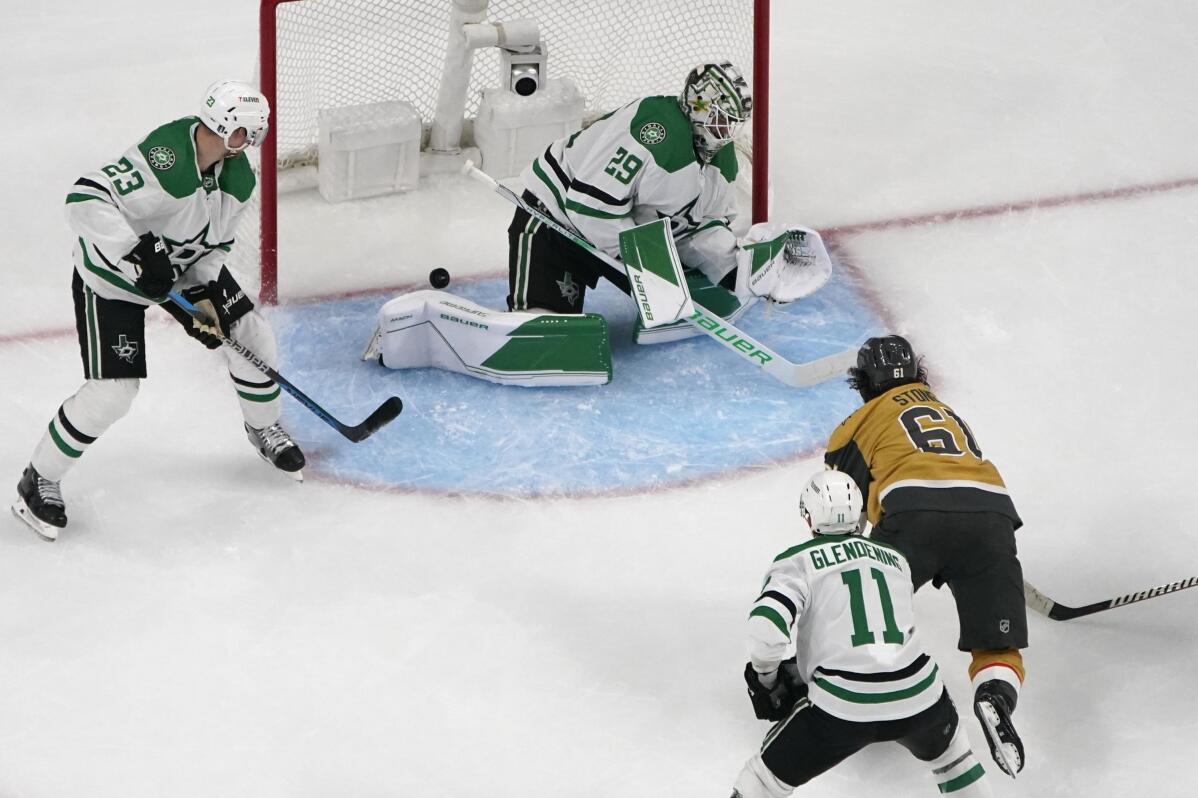 6 of 6

|
Vegas Golden Knights right wing Mark Stone (61) scores on Dallas Stars goaltender Jake Oettinger (29) during the first period of Game 2 of the NHL hockey Stanley Cup Western Conference finals Sunday, May 21, 2023, in Las Vegas. (AP Photo/John Locher)
Stars lose Jamie Benn, pull Jake Oettinger early in Game 3 to fall into 0-3 hole in West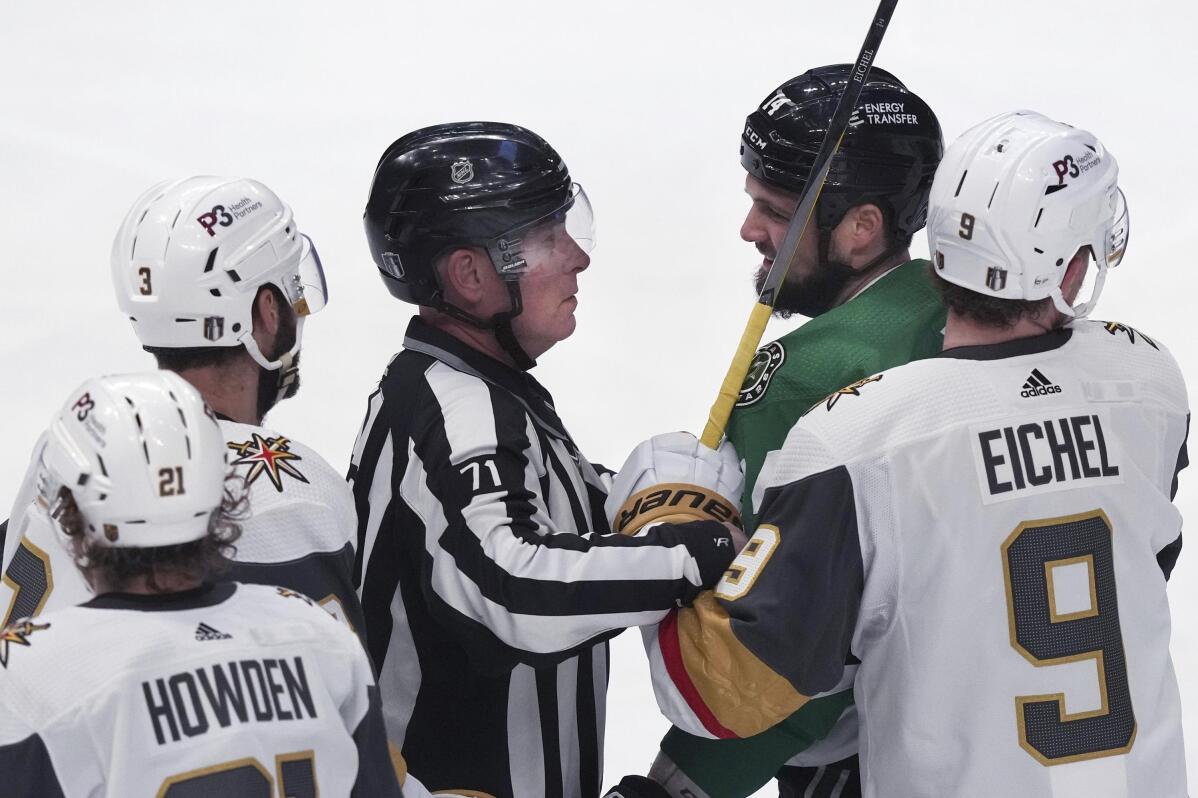 1 of 6

|
Dallas Stars left wing Jamie Benn (14) is held back by linesman Brad Kovachik (71) and Vegas Golden Knights center Jack Eichel (9) during the first period of Game 3 of the NHL hockey Stanley Cup Western Conference finals in Dallas, Tuesday, May 23, 2023. (AP Photo/LM Otero)
1 of 6
Dallas Stars left wing Jamie Benn (14) is held back by linesman Brad Kovachik (71) and Vegas Golden Knights center Jack Eichel (9) during the first period of Game 3 of the NHL hockey Stanley Cup Western Conference finals in Dallas, Tuesday, May 23, 2023. (AP Photo/LM Otero)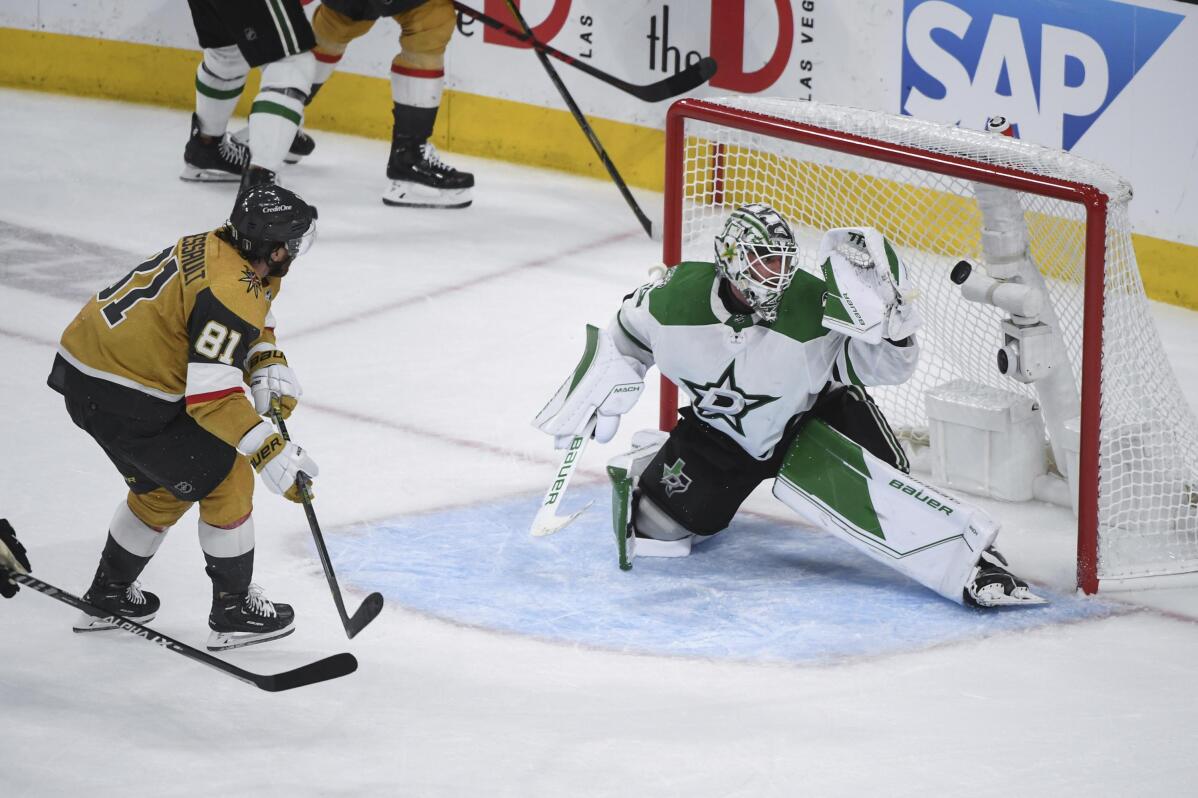 2 of 6

|
Vegas Golden Knights right wing Jonathan Marchessault (81) scores against Dallas Stars goaltender Jake Oettinger (29) during the third period of Game 2 of the NHL hockey Stanley Cup Western Conference finals, Sunday, May 21, 2023, in Las Vegas. (AP Photo/Sam Morris)
2 of 6
Vegas Golden Knights right wing Jonathan Marchessault (81) scores against Dallas Stars goaltender Jake Oettinger (29) during the third period of Game 2 of the NHL hockey Stanley Cup Western Conference finals, Sunday, May 21, 2023, in Las Vegas. (AP Photo/Sam Morris)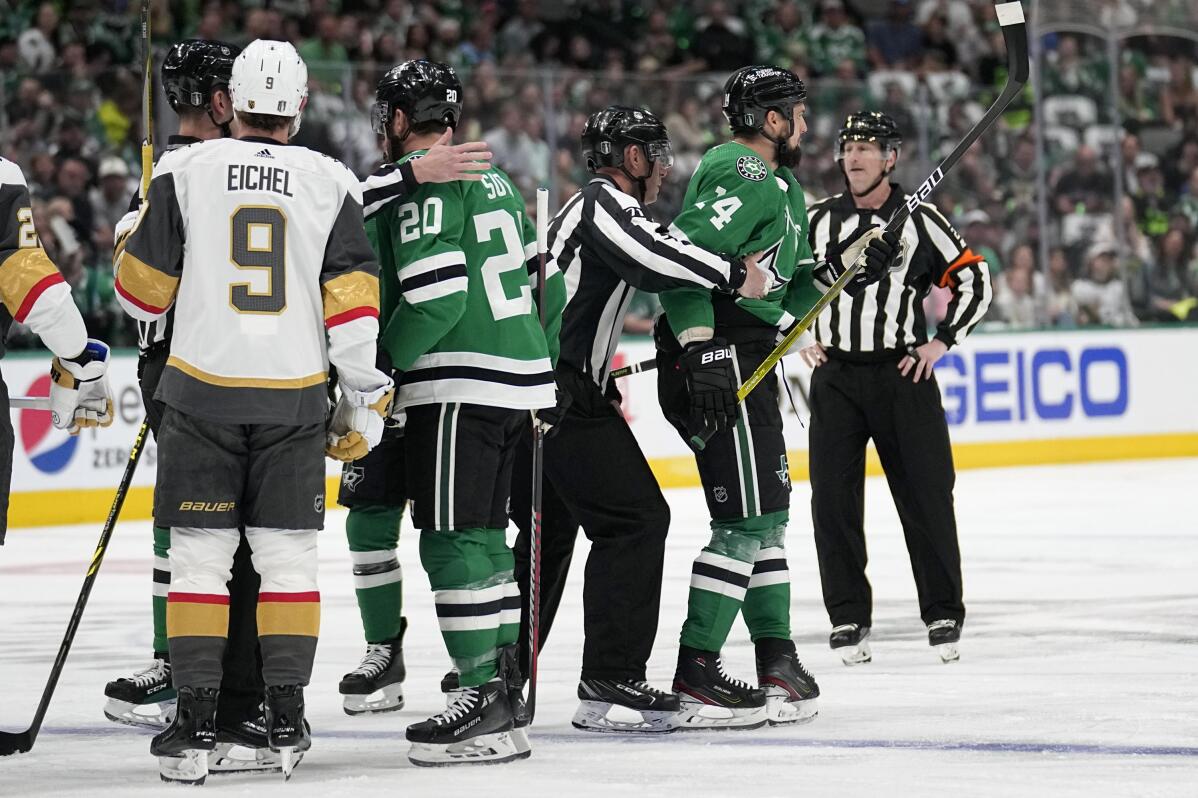 3 of 6

|
Dallas Stars left wing Jamie Benn, right, is escorted by officials as Vegas Golden Knights' Jack Eichel (9) and Stars' Ryan Suter (20) watch during the first period of Game 3 of the NHL hockey Stanley Cup Western Conference finals Tuesday, May 23, 2023, in Dallas. Benn was issued a cross-checking penalty and a game misconduct. (AP Photo/Tony Gutierrez)
3 of 6
Dallas Stars left wing Jamie Benn, right, is escorted by officials as Vegas Golden Knights' Jack Eichel (9) and Stars' Ryan Suter (20) watch during the first period of Game 3 of the NHL hockey Stanley Cup Western Conference finals Tuesday, May 23, 2023, in Dallas. Benn was issued a cross-checking penalty and a game misconduct. (AP Photo/Tony Gutierrez)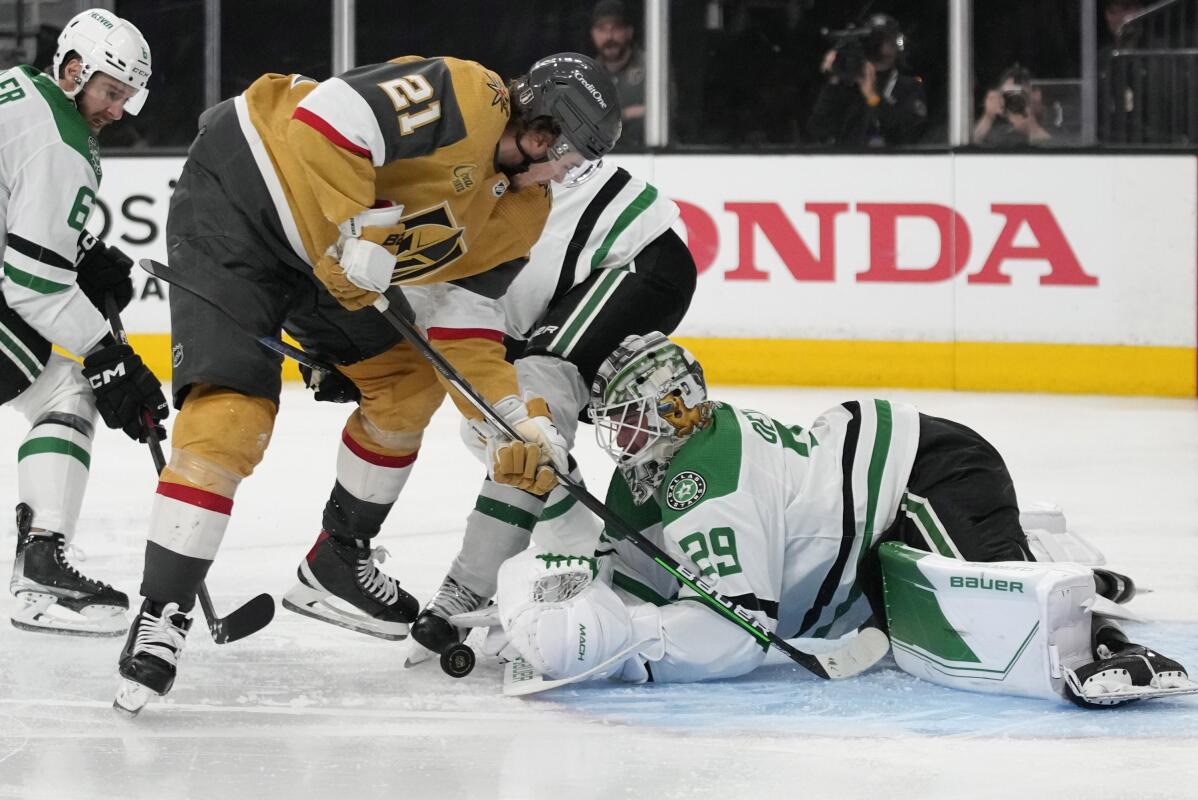 4 of 6

|
Dallas Stars goaltender Jake Oettinger (29) covers up the puck beside Vegas Golden Knights center Brett Howden (21) during the second period of Game 2 of the NHL hockey Stanley Cup Western Conference finals Sunday, May 21, 2023, in Las Vegas. (AP Photo/John Locher)
4 of 6
Dallas Stars goaltender Jake Oettinger (29) covers up the puck beside Vegas Golden Knights center Brett Howden (21) during the second period of Game 2 of the NHL hockey Stanley Cup Western Conference finals Sunday, May 21, 2023, in Las Vegas. (AP Photo/John Locher)
5 of 6

|
Vegas Golden Knights right wing Mark Stone (61) scores on Dallas Stars goaltender Jake Oettinger (29) during the first period of Game 2 of the NHL hockey Stanley Cup Western Conference finals Sunday, May 21, 2023, in Las Vegas. (AP Photo/John Locher)
5 of 6
Vegas Golden Knights right wing Mark Stone (61) scores on Dallas Stars goaltender Jake Oettinger (29) during the first period of Game 2 of the NHL hockey Stanley Cup Western Conference finals Sunday, May 21, 2023, in Las Vegas. (AP Photo/John Locher)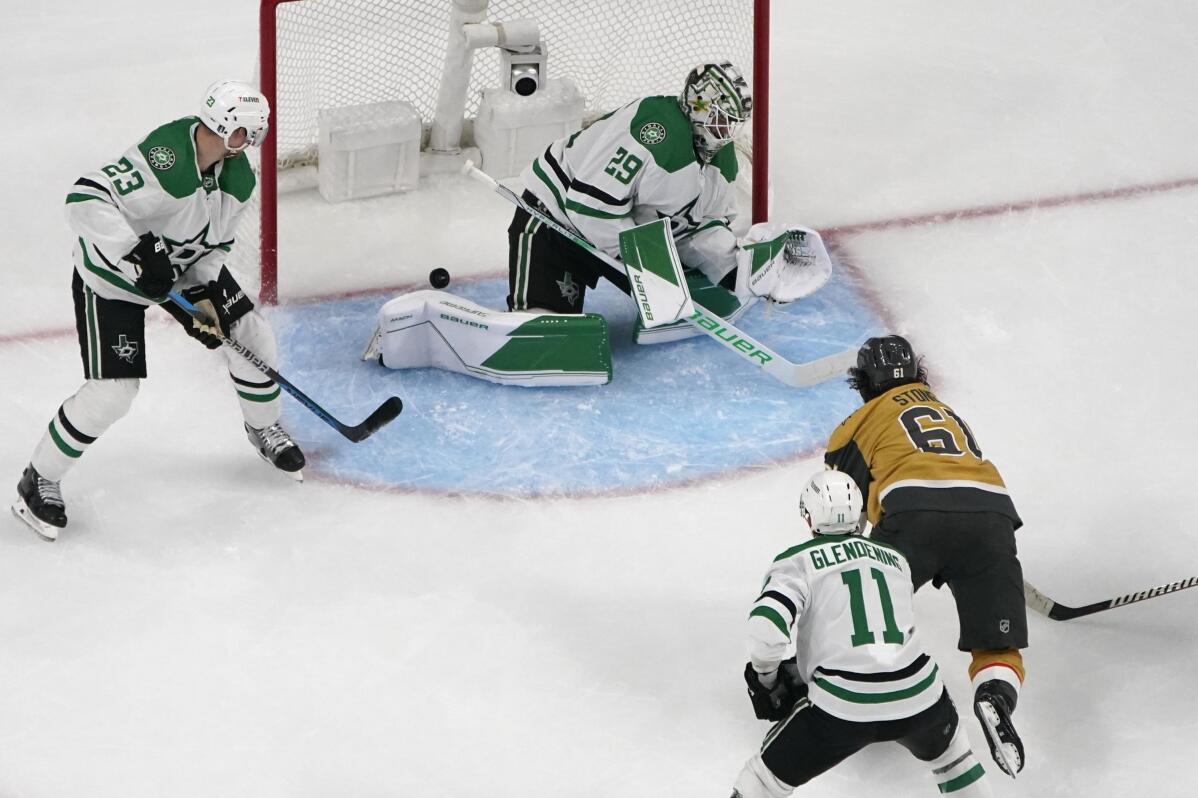 6 of 6

|
Vegas Golden Knights right wing Mark Stone (61) scores on Dallas Stars goaltender Jake Oettinger (29) during the first period of Game 2 of the NHL hockey Stanley Cup Western Conference finals Sunday, May 21, 2023, in Las Vegas. (AP Photo/John Locher)
6 of 6
Vegas Golden Knights right wing Mark Stone (61) scores on Dallas Stars goaltender Jake Oettinger (29) during the first period of Game 2 of the NHL hockey Stanley Cup Western Conference finals Sunday, May 21, 2023, in Las Vegas. (AP Photo/John Locher)
DALLAS (AP) — The Dallas Stars could be without captain Jamie Benn for more than all of that time he missed in Game 3 of the Western Conference Final after being ejected for his ugly hit early against Vegas captain Mark Stone.
An NHL suspension is possible for Benn, who got a game misconduct for his cross-check less than two minutes into Wednesday night's game that the Golden Knights won 4-0 to take a commanding 3-0 series lead.
After the two captains collided near the blue line and Stone fell to the ice, Benn lunged forward with both hands on his stick and made contact near Stone's neck as he was sliding over the center line.
"Let's put it this way. He made a mistake. He feels really badly about it. I don't think anyone in the building feels worse than he does about it," DeBoer said.
Benn left after the game without talking to reporters.
"I'm not going to pile on, he's been a leader here for his entire career, and leads every day on and off the ice. ... Fortunately Mark Stone's OK," DeBoer said. "We've got to live with the consequences. We lived with them tonight, and we'll live with them going forward if there's any other supplemental discipline."
The Stars were already down 1-0 when Benn had an wrister that was stopped by Adin Hill, but was initially still loose under the goalie as Benn tried to get his stick back on it. The hit on Stone came soon after that.
"Tied up and engaged, and went for a little extra," Stars alternate captain Joe Pavelski said. "Emotions get the best of all of us at some point."
Asked if Benn said anything to the group, Pavelski said he didn't before adding, "he wears it as much as anybody. He's a tremendous leader. We would never question that. As a group, we've got to rally together."
Ivan Barbashev scored on the ensuing power play. That was the second of three goals the Golden Knights had in the first 7 1/2 minutes, leading to an exit for goalie Jake Oettinger.
Oettinger, who also left even before the locker room was open to reporters, was pulled and replaced by Scott Wedgewood after William Carrier's backhander that made it 3-0 with 12:50 left in the first period. It was the shortest start of Oettinger's career.
"We're concerned with our whole team, we're in a 3-0 hole," DeBoer said. "Listen, we wouldn't be sitting here playing right now without Jake Oettinger. We wouldn't be sitting here playing without Jamie Benn. Those guys have been huge pieces of us getting here, so I think we all have to be better in order to dig out of this hole."
Game 4 is Thursday night in Dallas.
The 24-year-old Oettinger has now lost three starts in a row. He has lost four of five overall, the win being when he had 22 saves for the Stars in their 2-1 win in Game 7 of Western semifinal against Seattle.
Wedgewood stopped 10 of 11 shots, with Alex Pietrangelo's goal coming just a second after the end of a power play as Miro Heiskanen was coming out of the penalty box.
Wedgewood also replaced Oettinger about 4 1/2 minutes into the second period Game 6 of the Western Conference semifinals against Seattle after the 24-year-old starter allowed four goals on 18 shots in what became a 6-3 loss. That was his previous shortest start, but Oettinger then had 22 saves in Game 7 against the Kraken and allowed his only goal in the closing seconds of a 2-1 win.
Stars center Max Domi got a game misconduct with 21 seconds left in the second period against the Knights. After his cross-check against Nicolas Hague, Domi started throwing punches.
Fans in the arena reacted to the ensuing penalty by throwing water bottles, food and other items on the ice. With extended time needed to clean up the playing surface, officials sent both teams to their locker rooms early for the second intermission with the Knights up 4-0 — and played those final seconds after the intermission before playing the third period.
The Stars also lost forward Evgenii Dadonov to a lower-body injury in the first period.
___
AP NHL Playoffs: https://apnews.com/hub/stanley-cup and https://twitter.com/AP_Sports