Ohio lawmakers OK rail safety rules after train derailment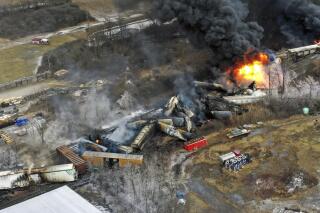 COLUMBUS, Ohio (AP) — Rail safety measures proposed after the February train derailment and toxic chemical burn in East Palestine are closer to becoming law in Ohio, as part of a nearly $13.5 billion transportation budget that cleared the Legislature on Wednesday.
A compromise budget plan that chiefly funds work on bridges and highways over the next two years passed both Republican-led chambers with bipartisan support, sending it to GOP Gov. Mike DeWine for expected final approval.
Nearly two months after a Norfolk Southern train carrying hazardous materials derailed in a fiery crash in eastern Ohio, lawmakers approved the plan that includes several railway safety provisions. Among them, it would mandate a two-person crew for freight trains; require personnel who receive messages about defects picked up by a railroad's wayside detector system immediately notify a train operator; and order the Public Utilities Commission of Ohio and Ohio Environmental Protection Agency to submit written reports to the Legislature regarding the transportation of hazardous materials and waste.
The safety proposals also include a requirement that the wayside detectors used to help spot problems be installed 10 to 15 miles (16 to 24 kilometers) apart, with oversight from the Ohio Department of Transportation and public utilities commission. Currently, the Federal Railroad Administration allows some wayside detectors to be spaced up to 25 miles (40 kilometers) apart.
The public utilities commission also would have to examine different kinds of railway detectors and cameras and submit its findings to the General Assembly.
Whether the Legislature is allowed to impose these provisions on the rail industry at all has been a matter of debate during the budget process. The Ohio Railroad Association has argued that several of the measures are preempted by federal law. State lawmakers disagreed, saying the General Assembly can put statewide safeguards in place to help protect its constituents.
Republican Sen. President Matt Huffman said the Legislature has worked with legal experts and believes the provisions are not preempted, but if challenges arise it could be up to the federal courts to decide.
The budget also incorporates lower registration fees for plug-in hybrid vehicles, reducing the annual cost from $200 to $150.
A $1 billion fund for rural highways that had been included in the House version of the budget was nixed in the compromise with the Senate, though House Finance Committee chair, GOP Rep. Jay Edwards, said that funding will be pursued through the main operating budget that lawmakers must sort out in the next three months.
The transportation budget also raises the threshold for the amount of money a local government can spend on projects such as bridge repairs by its own public workforce before it must bid them out to private contractors. The existing limits had been criticized as outdated and unnecessary obstacles to completing projects those local workforces were otherwise equipped to handle.
___
Samantha Hendrickson is a corps member for the Associated Press/Report for America Statehouse News Initiative. Report for America is a nonprofit national service program that places journalists in local newsrooms to report on undercovered issues.