Nugent-Hopkins, Oilers roll past Golden Knights 7-4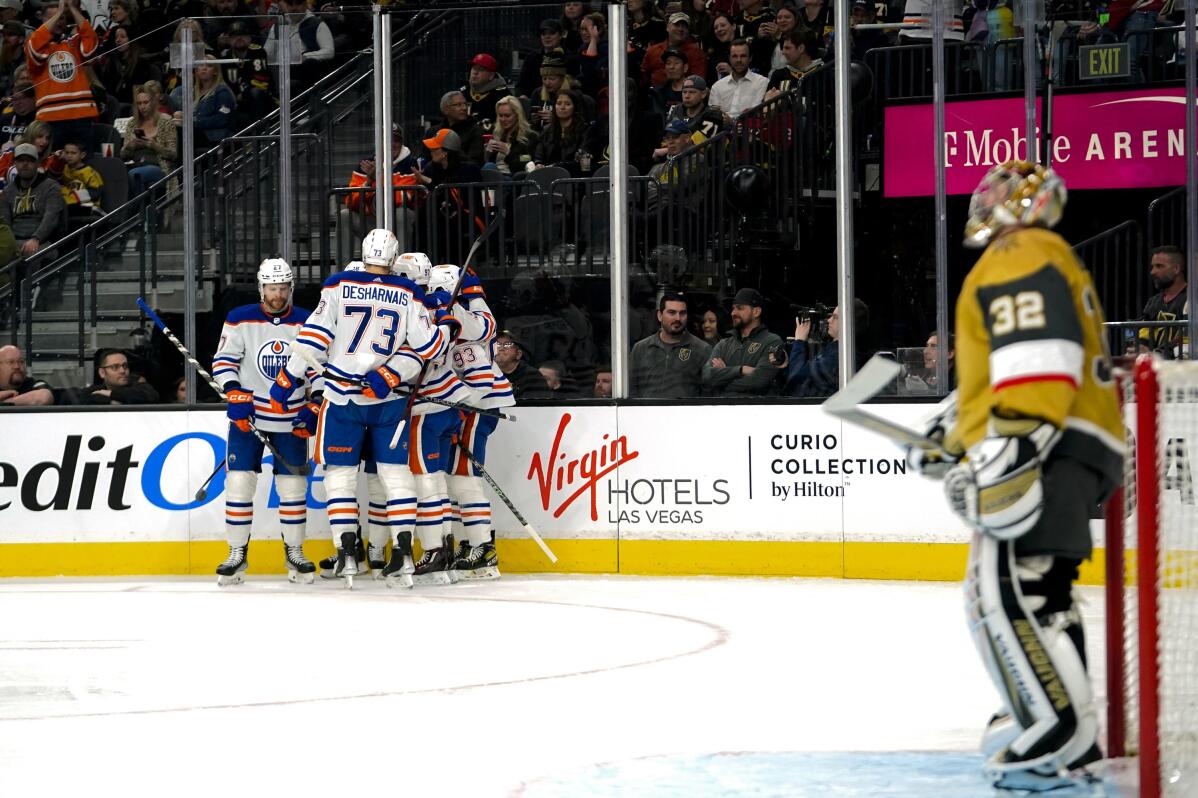 1 of 8

|
The Edmonton Oilers celebrate a goal against the Vegas Golden Knights during the first period of an NHL hockey game Tuesday, March 28, 2023, in Las Vegas. (AP Photo/Lucas Peltier)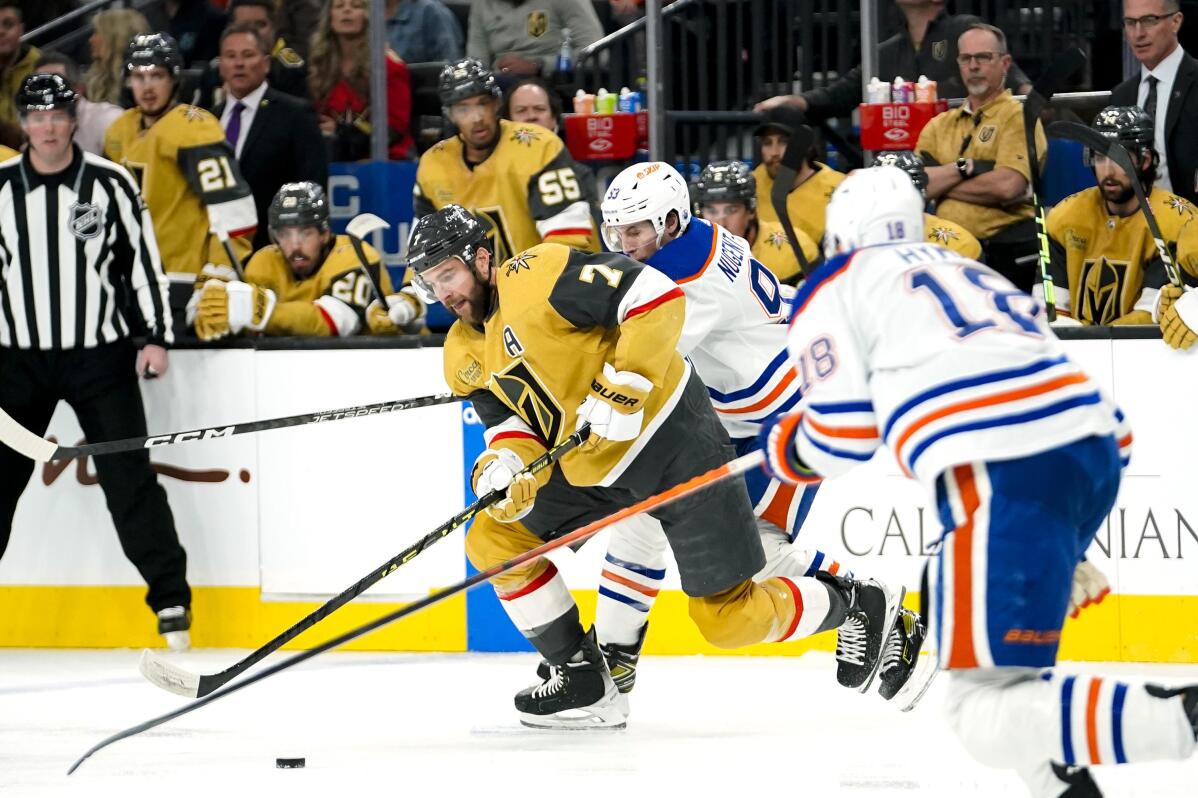 2 of 8

|
Vegas Golden Knights defenseman Alex Pietrangelo (7) works with the puck against Edmonton Oilers center Ryan Nugent-Hopkins (93) and left wing Zach Hyman (18) during the first period of an NHL hockey game Tuesday, March 28, 2023, in Las Vegas. (AP Photo/Lucas Peltier)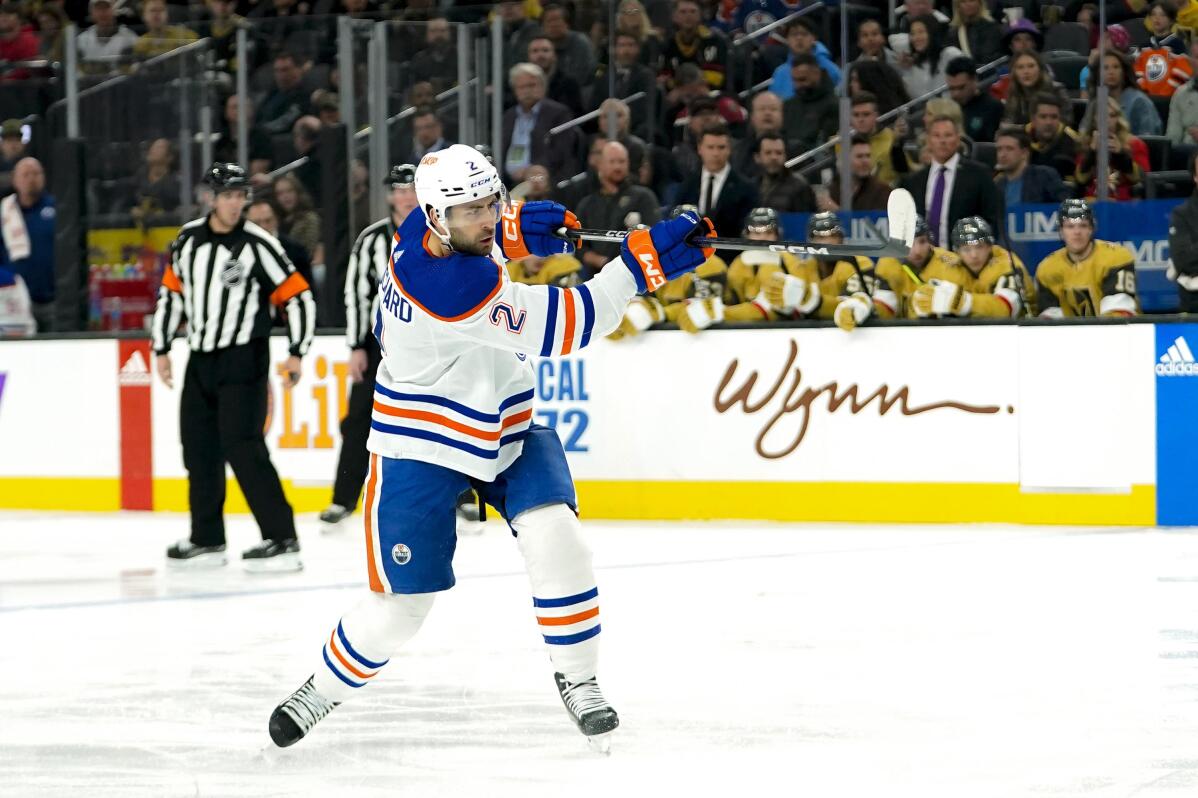 3 of 8

|
Edmonton Oilers defenseman Evan Bouchard follows through on a shot against the Vegas Golden Knights during the first period of an NHL hockey game Tuesday, March 28, 2023, in Las Vegas. (AP Photo/Lucas Peltier)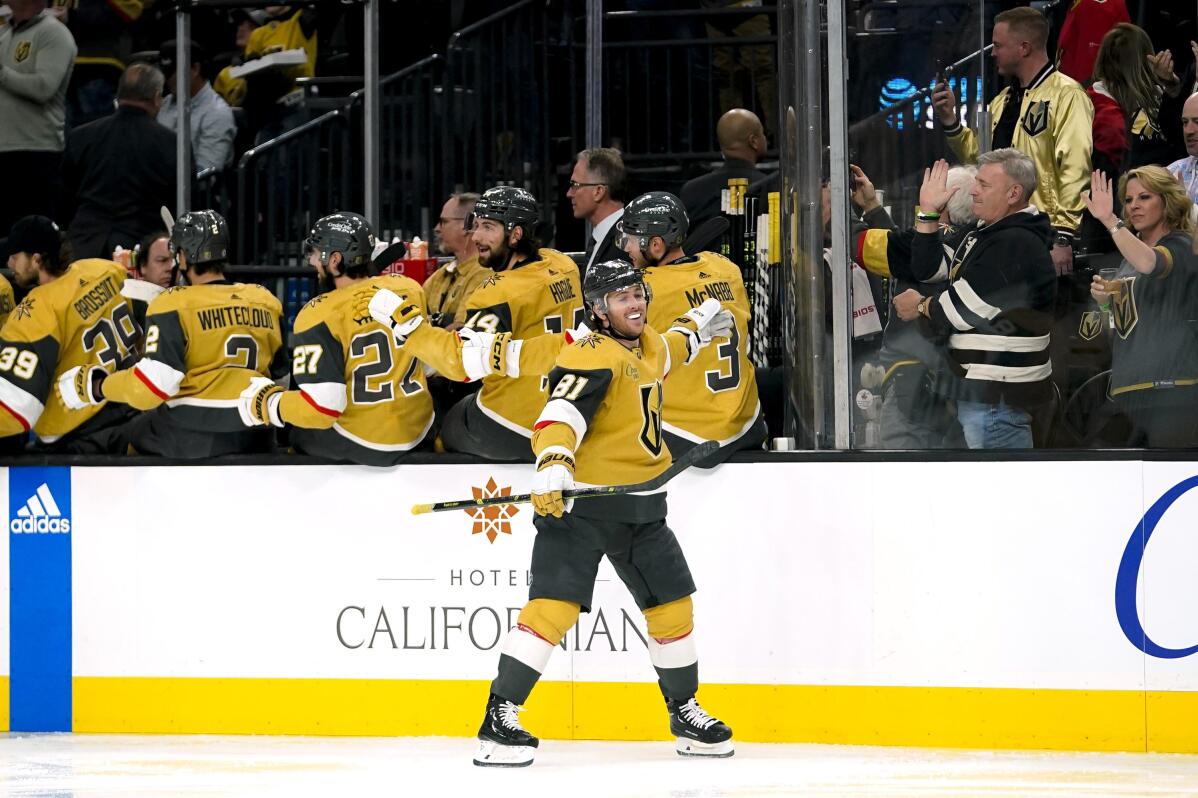 4 of 8

|
Vegas Golden Knights center Jonathan Marchessault (81) is congratulated for his goal against the Edmonton Oilers during the first period of an NHL hockey game Tuesday, March 28, 2023, in Las Vegas. (AP Photo/Lucas Peltier)
5 of 8

|
Edmonton Oilers left wing Evander Kane (91) falls over Vegas Golden Knights goaltender Jonathan Quick (32) during the first period of an NHL hockey game Tuesday, March 28, 2023, in Las Vegas. (AP Photo/Lucas Peltier)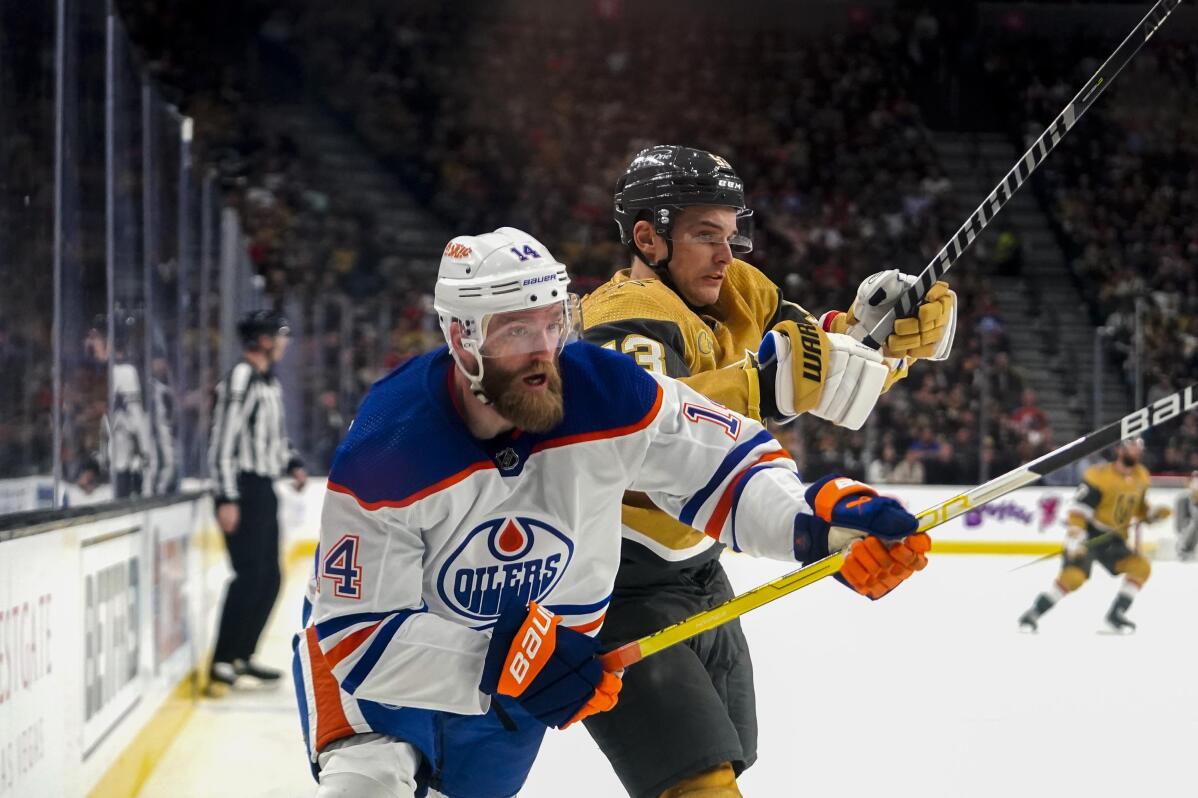 6 of 8

|
Edmonton Oilers defenseman Mattias Ekholm (14) works against Vegas Golden Knights center Teddy Blueger (53) during the second period of an NHL hockey game Tuesday, March 28, 2023, in Las Vegas. (AP Photo/Lucas Peltier)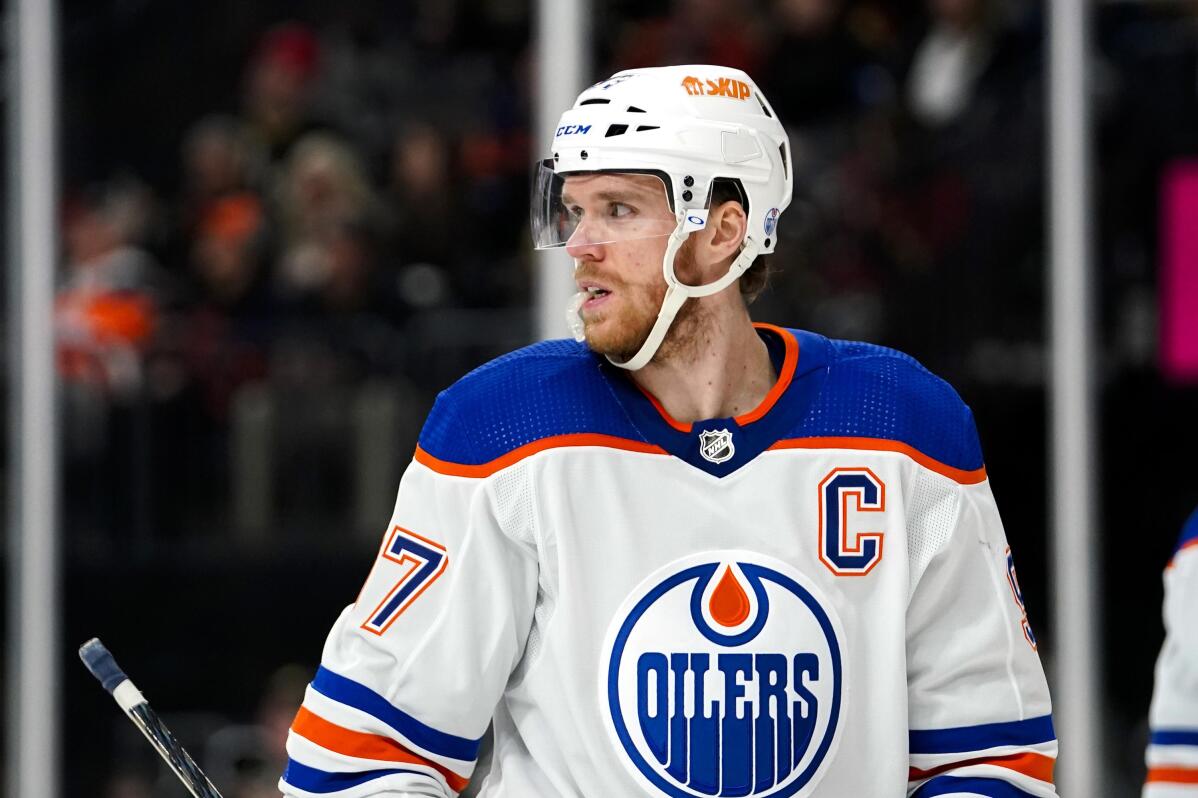 7 of 8

|
Edmonton Oilers center Connor McDavid looks over the ice during the second period of the team's NHL hockey game against the Vegas Golden Knights on Tuesday, March 28, 2023, in Las Vegas. (AP Photo/Lucas Peltier)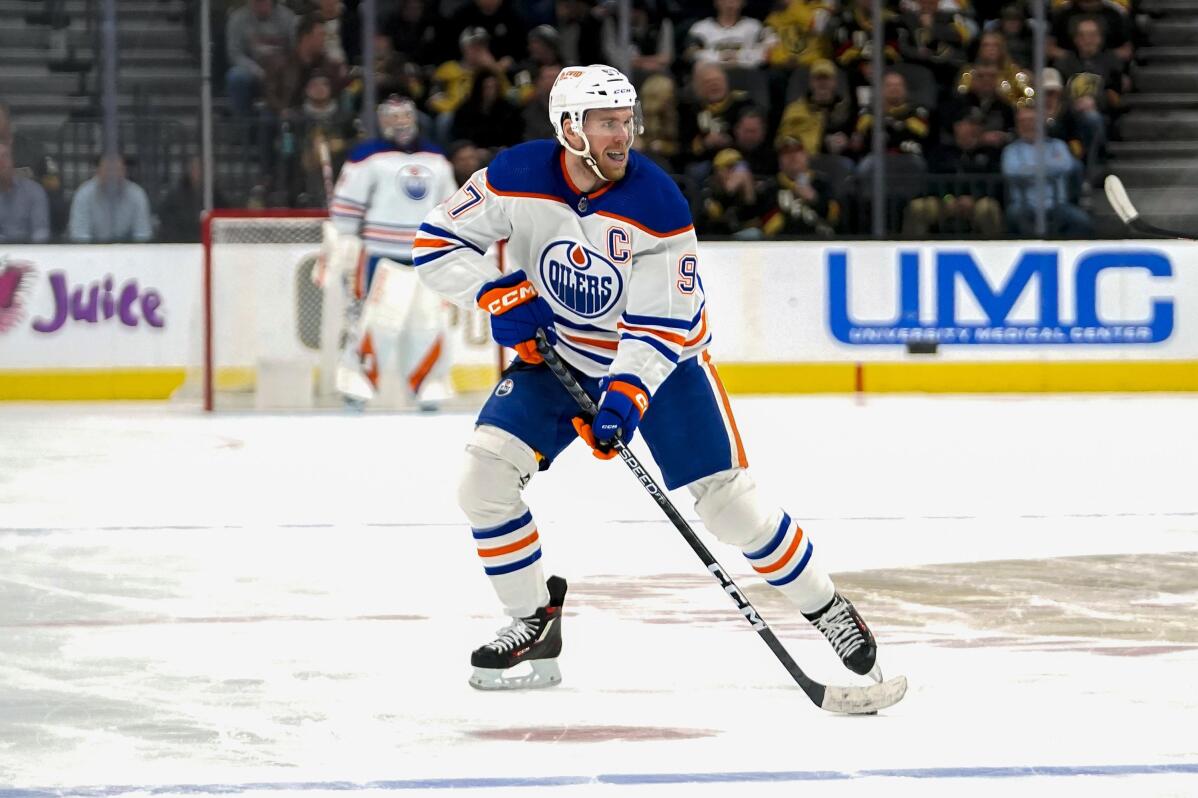 8 of 8

|
Edmonton Oilers center Connor McDavid skates with the puck during the third period of the team's NHL hockey game against the Vegas Golden Knights on Tuesday, March 28, 2023, in Las Vegas. (AP Photo/Lucas Peltier)
Nugent-Hopkins, Oilers roll past Golden Knights 7-4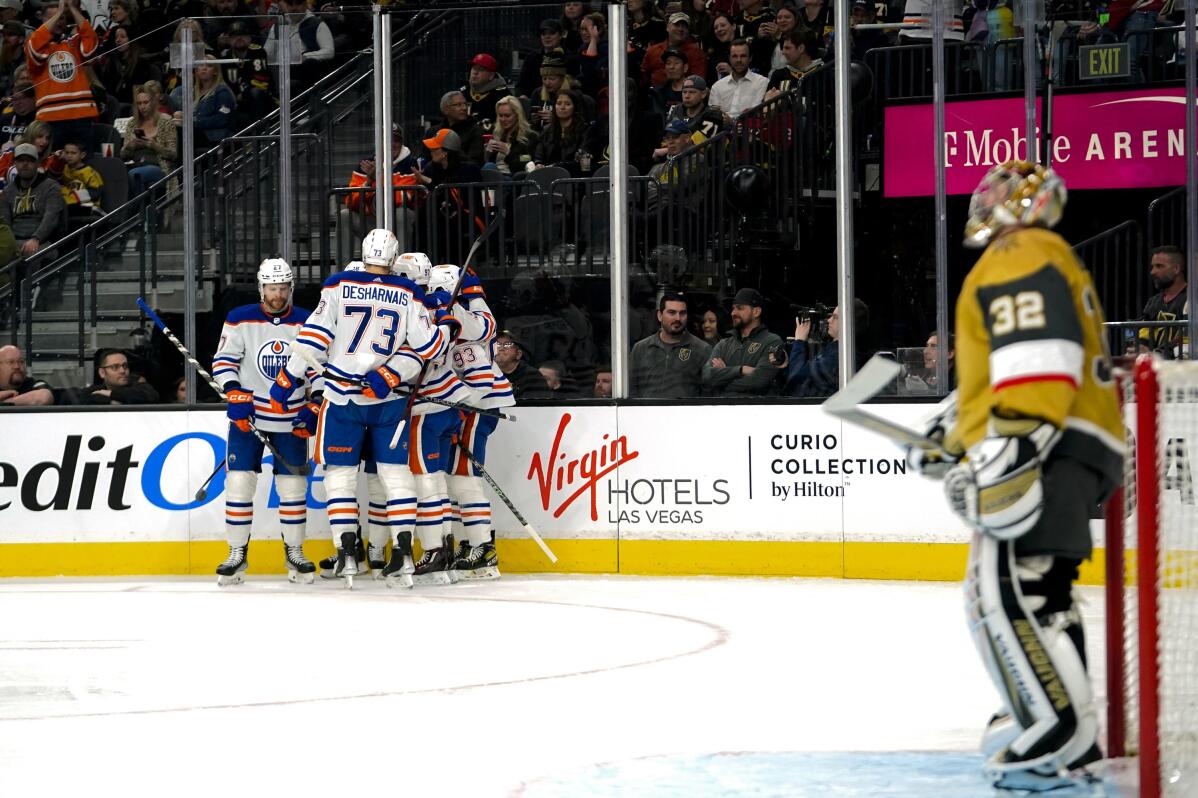 1 of 8

|
The Edmonton Oilers celebrate a goal against the Vegas Golden Knights during the first period of an NHL hockey game Tuesday, March 28, 2023, in Las Vegas. (AP Photo/Lucas Peltier)
1 of 8
The Edmonton Oilers celebrate a goal against the Vegas Golden Knights during the first period of an NHL hockey game Tuesday, March 28, 2023, in Las Vegas. (AP Photo/Lucas Peltier)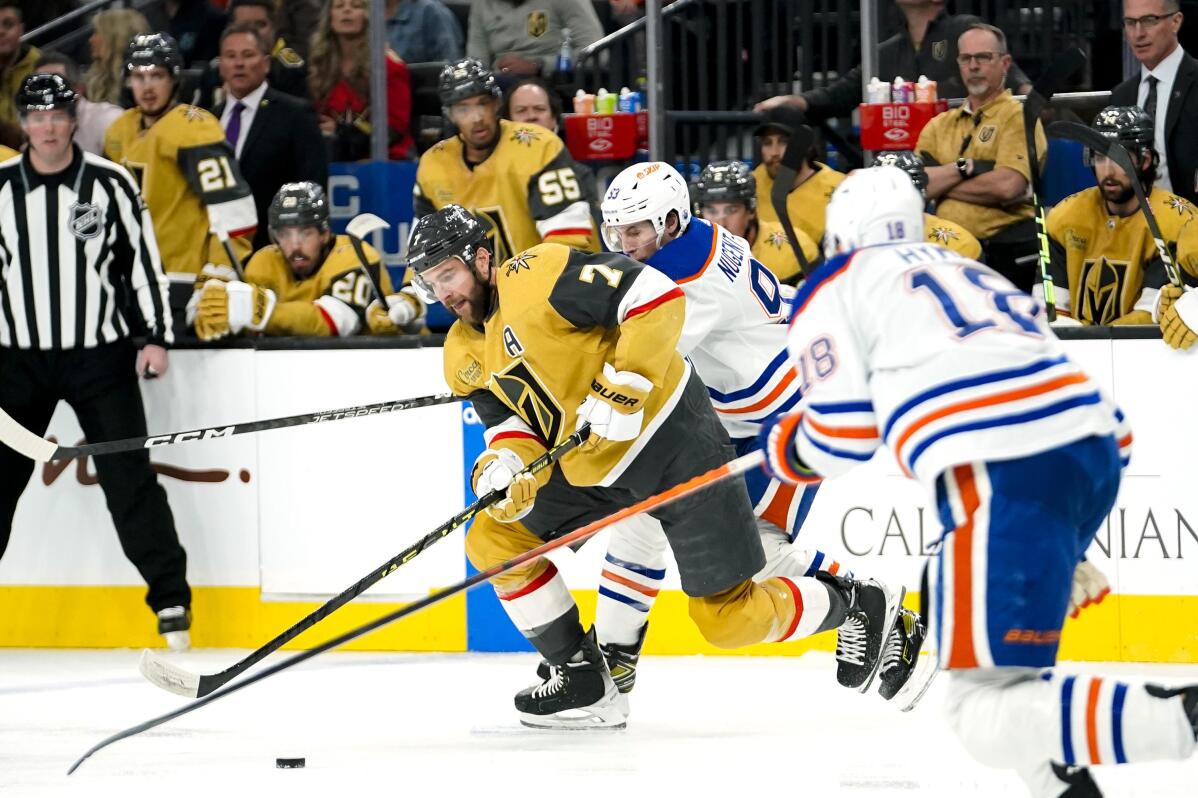 2 of 8

|
Vegas Golden Knights defenseman Alex Pietrangelo (7) works with the puck against Edmonton Oilers center Ryan Nugent-Hopkins (93) and left wing Zach Hyman (18) during the first period of an NHL hockey game Tuesday, March 28, 2023, in Las Vegas. (AP Photo/Lucas Peltier)
2 of 8
Vegas Golden Knights defenseman Alex Pietrangelo (7) works with the puck against Edmonton Oilers center Ryan Nugent-Hopkins (93) and left wing Zach Hyman (18) during the first period of an NHL hockey game Tuesday, March 28, 2023, in Las Vegas. (AP Photo/Lucas Peltier)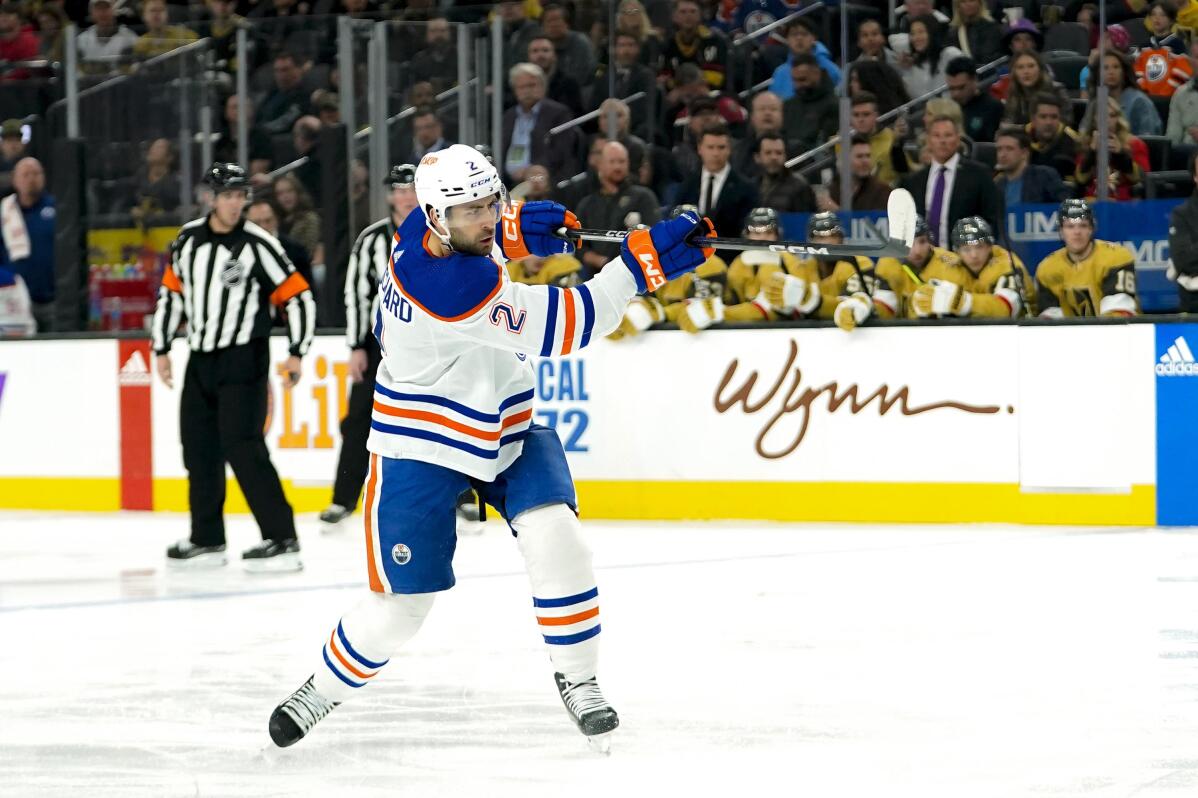 3 of 8

|
Edmonton Oilers defenseman Evan Bouchard follows through on a shot against the Vegas Golden Knights during the first period of an NHL hockey game Tuesday, March 28, 2023, in Las Vegas. (AP Photo/Lucas Peltier)
3 of 8
Edmonton Oilers defenseman Evan Bouchard follows through on a shot against the Vegas Golden Knights during the first period of an NHL hockey game Tuesday, March 28, 2023, in Las Vegas. (AP Photo/Lucas Peltier)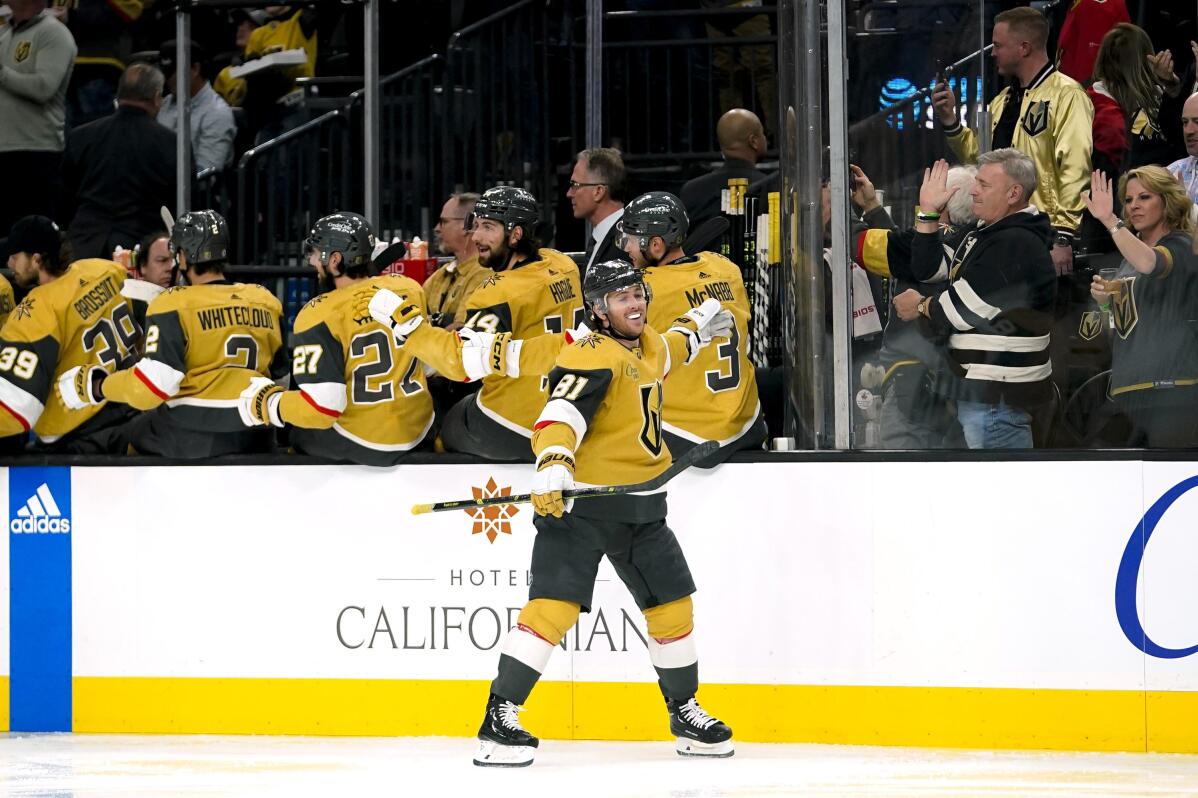 4 of 8

|
Vegas Golden Knights center Jonathan Marchessault (81) is congratulated for his goal against the Edmonton Oilers during the first period of an NHL hockey game Tuesday, March 28, 2023, in Las Vegas. (AP Photo/Lucas Peltier)
4 of 8
Vegas Golden Knights center Jonathan Marchessault (81) is congratulated for his goal against the Edmonton Oilers during the first period of an NHL hockey game Tuesday, March 28, 2023, in Las Vegas. (AP Photo/Lucas Peltier)
5 of 8

|
Edmonton Oilers left wing Evander Kane (91) falls over Vegas Golden Knights goaltender Jonathan Quick (32) during the first period of an NHL hockey game Tuesday, March 28, 2023, in Las Vegas. (AP Photo/Lucas Peltier)
5 of 8
Edmonton Oilers left wing Evander Kane (91) falls over Vegas Golden Knights goaltender Jonathan Quick (32) during the first period of an NHL hockey game Tuesday, March 28, 2023, in Las Vegas. (AP Photo/Lucas Peltier)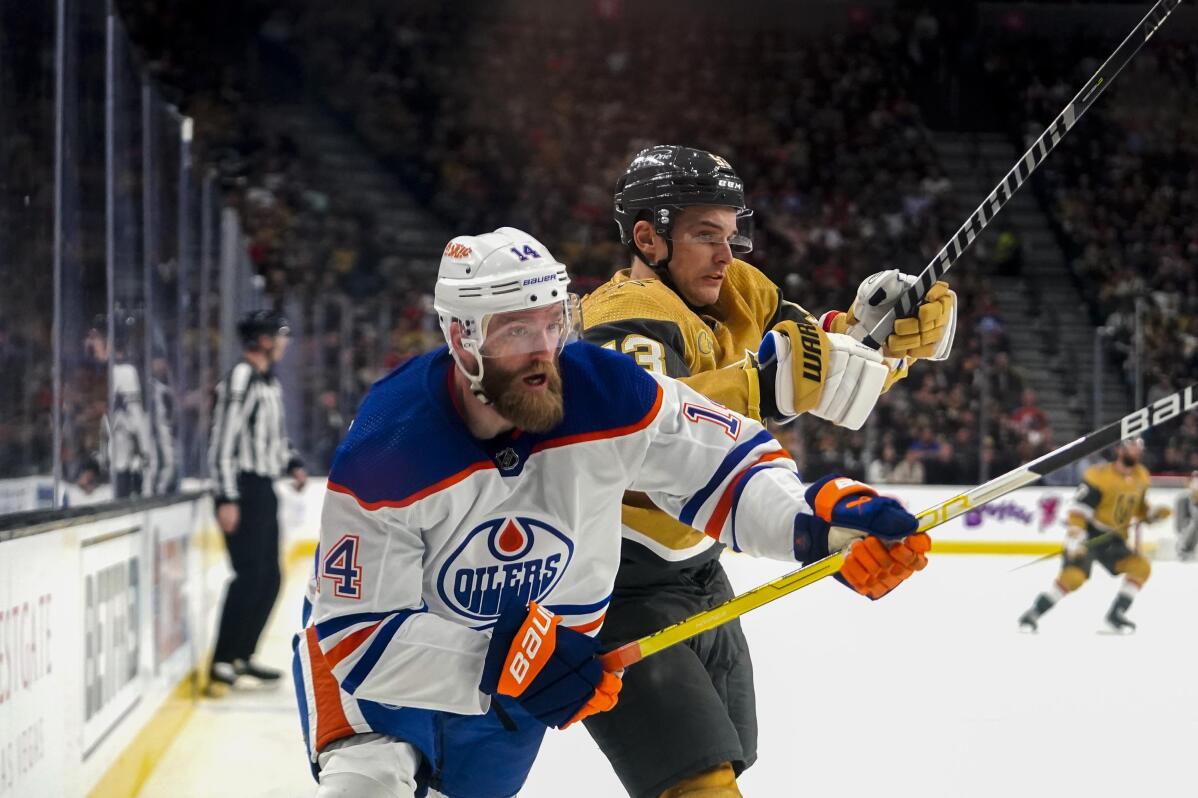 6 of 8

|
Edmonton Oilers defenseman Mattias Ekholm (14) works against Vegas Golden Knights center Teddy Blueger (53) during the second period of an NHL hockey game Tuesday, March 28, 2023, in Las Vegas. (AP Photo/Lucas Peltier)
6 of 8
Edmonton Oilers defenseman Mattias Ekholm (14) works against Vegas Golden Knights center Teddy Blueger (53) during the second period of an NHL hockey game Tuesday, March 28, 2023, in Las Vegas. (AP Photo/Lucas Peltier)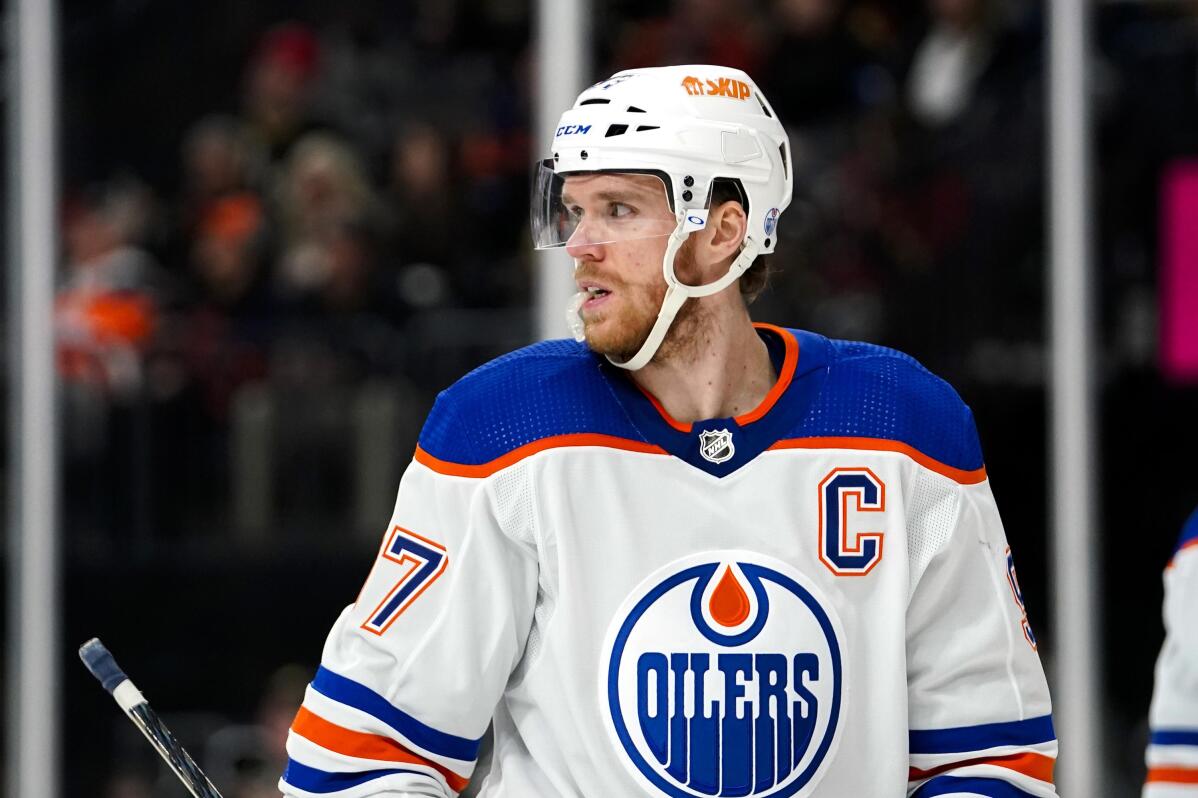 7 of 8

|
Edmonton Oilers center Connor McDavid looks over the ice during the second period of the team's NHL hockey game against the Vegas Golden Knights on Tuesday, March 28, 2023, in Las Vegas. (AP Photo/Lucas Peltier)
7 of 8
Edmonton Oilers center Connor McDavid looks over the ice during the second period of the team's NHL hockey game against the Vegas Golden Knights on Tuesday, March 28, 2023, in Las Vegas. (AP Photo/Lucas Peltier)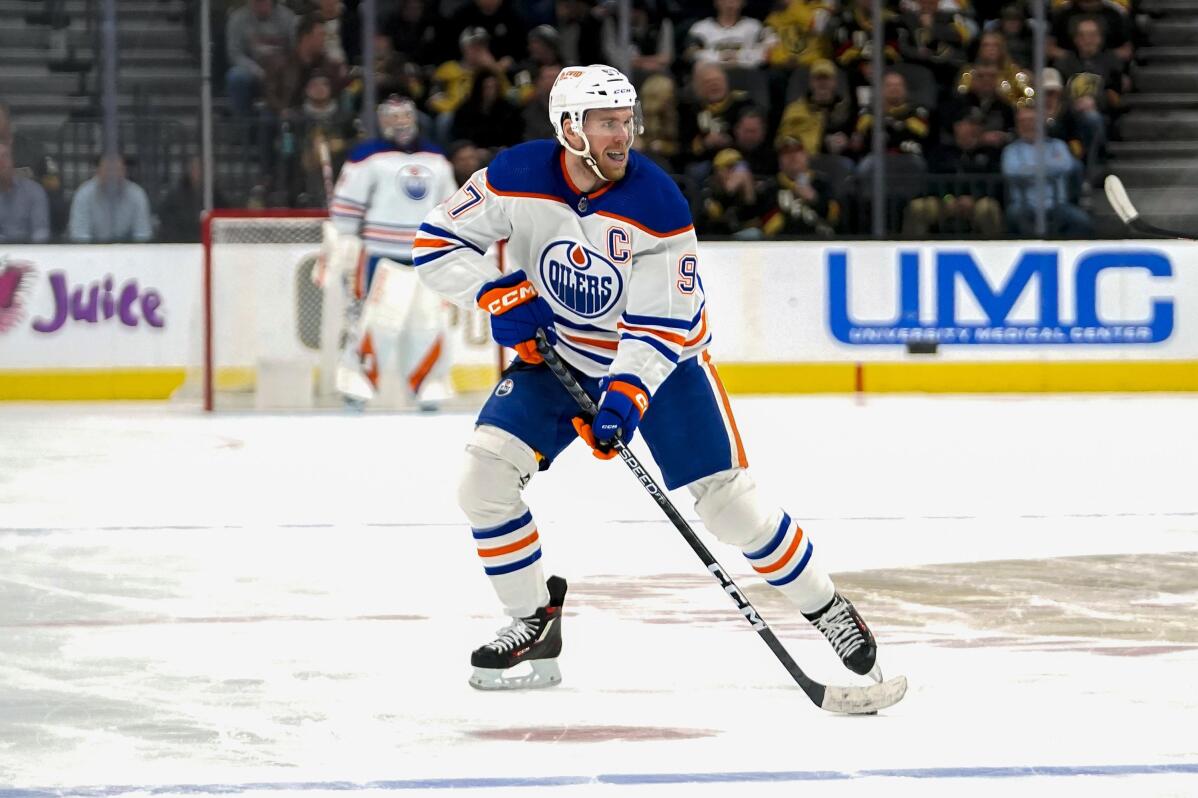 8 of 8

|
Edmonton Oilers center Connor McDavid skates with the puck during the third period of the team's NHL hockey game against the Vegas Golden Knights on Tuesday, March 28, 2023, in Las Vegas. (AP Photo/Lucas Peltier)
8 of 8
Edmonton Oilers center Connor McDavid skates with the puck during the third period of the team's NHL hockey game against the Vegas Golden Knights on Tuesday, March 28, 2023, in Las Vegas. (AP Photo/Lucas Peltier)
LAS VEGAS (AP) — The surging Edmonton Oilers got a career night from Ryan Nugent-Hopkins and made the Pacific Division race even tighter with just more than two weeks left in the season.
Nugent-Hopkins tied a career high with five points and Edmonton's top-ranked power play scored three goals as the Oilers beat the Vegas Golden Knights 7-4 on Tuesday.
The Oilers have 95 points and are three behind first-place Vegas. Los Angeles lost 2-1 to Calgary and remains in second place with 96 points. Edmonton hosts the Kings on Thursday.
"Obviously, we know who we're playing," Nugent-Hopkins said. "We know where they're at in the standings. We know where we're at and we're still pushing for home ice, and I think that does make a difference come playoff time."
With the NHL's two leading scorers (Connor McDavid and Leon Draisaitl) and an eight-game point streak, the Oilers are playing like a team no one wants to face in the playoffs.
"I don't think we're anywhere near our potential just yet," coach Jay Woodcroft said. "I think we're working towards that. ... We're building towards peaking at the right time, which is in about three weeks."
Edmonton cooled off a Golden Knights team that had won four games in a row and eight of nine. The Oilers also prevented Vegas from clinching a playoff spot.
Nugent-Hopkins helped make sure of it with a goal and four assists. His only other five-point game occurred Nov. 19, 2011, when he had five assists against Chicago.
He is four points from 100 this season; his previous career high was 69 in the 2018-19 season.
"He doesn't get nearly enough recognition that he deserves," Draisaitl said. "The things he does are so subtle, and most people don't realize what he does out there. Just a phenomenal hockey player."
Nugent-Hopkins was one of three Oilers with multiple points. McDavid had three assists and Draisaitl a goal and an assist. McDavid leads the NHL with 143 points and 83 assists.
The Oilers also got goals from Evan Bouchard, Darnell Nurse, Evander Kane, Zach Hyman and Brett Kulak. Edmonton's power play went 3 for 3 in just 2:55 of total time, and Stuart Skinner made 19 saves.
Jonathan Marchessault had two goals for the Knights, and William Karlsson and Michael Amadio each scored once. Alex Pietrangelo added two assists.
In the first 10 minutes, the teams combined for five goals. Nugent-Hopkins had three points and a friendly fire puck to the face, the Oilers scored on both power-play opportunities and the Knights netted a short-handed goal.
Edmonton broke open a 3-all game in the second with three goals in the final 13:59, dominating the ice with 34 shots on goal through the first two periods compared to 12 for the Knights.
Laurent Brossoit replaced Jonathan Quick in the Knights' net to open the third period.
"We allowed their high-end players to make plays in front of him," Vegas coach Bruce Cassidy said. "I'm not putting it on Jonathan. This was more about, 'It's not your night and we're not playing well in front of you.'"
Golden Knights defenseman Shea Theodore did not play in the third period because of an undisclosed injury.
GOING STREAKING
The Oilers built on a number of impressive streaks. Draisaitl and Hyman each extended their goal streaks to three games, and Draisaitl's point streak reached 10 games (six goals, 14 assists). McDavid (six goals, 13 assists) and Nugent-Hopkins (five goals, 13 assists) have ongoing nine-game streaks, and Nurse (three goals, three assists) is at six games.
Vegas also extended a couple of notable streaks. Marchessault scored for the third game in a row, and Phil Kessel has a five-game point streak (two goals, four assists).
UP NEXT
Oilers: Thursday against Los Angeles in a battle for playoff positioning in the Pacific Division.
Golden Knights: Thursday at San Jose, which is last in the Pacific.
___
AP NHL: https://apnews.com/hub/NHL and https://twitter.com/AP_Sports