Markkanen scores 43, rallies Jazz to OT win over Thunder
1 of 7

|
Utah Jazz forward Lauri Markkanen (23) reacts after a dunk against the Oklahoma City Thunder during the second half of an NBA basketball game Thursday, Feb. 23, 2023, in Salt Lake City. (AP Photo/Rick Bowmer)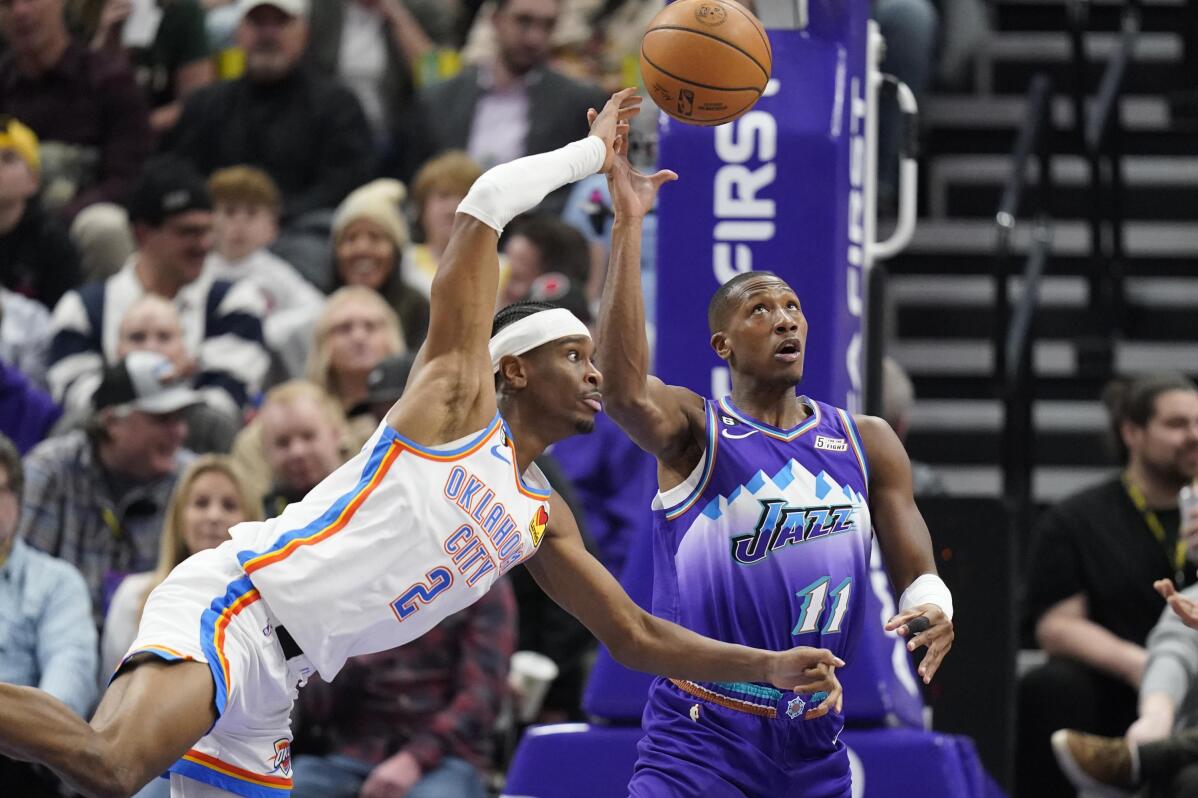 2 of 7

|
Oklahoma City Thunder guard Shai Gilgeous-Alexander (2) and Utah Jazz Kris Dunn (11) battle for a loose ball during the second half of an NBA basketball game Thursday, Feb. 23, 2023, in Salt Lake City. (AP Photo/Rick Bowmer)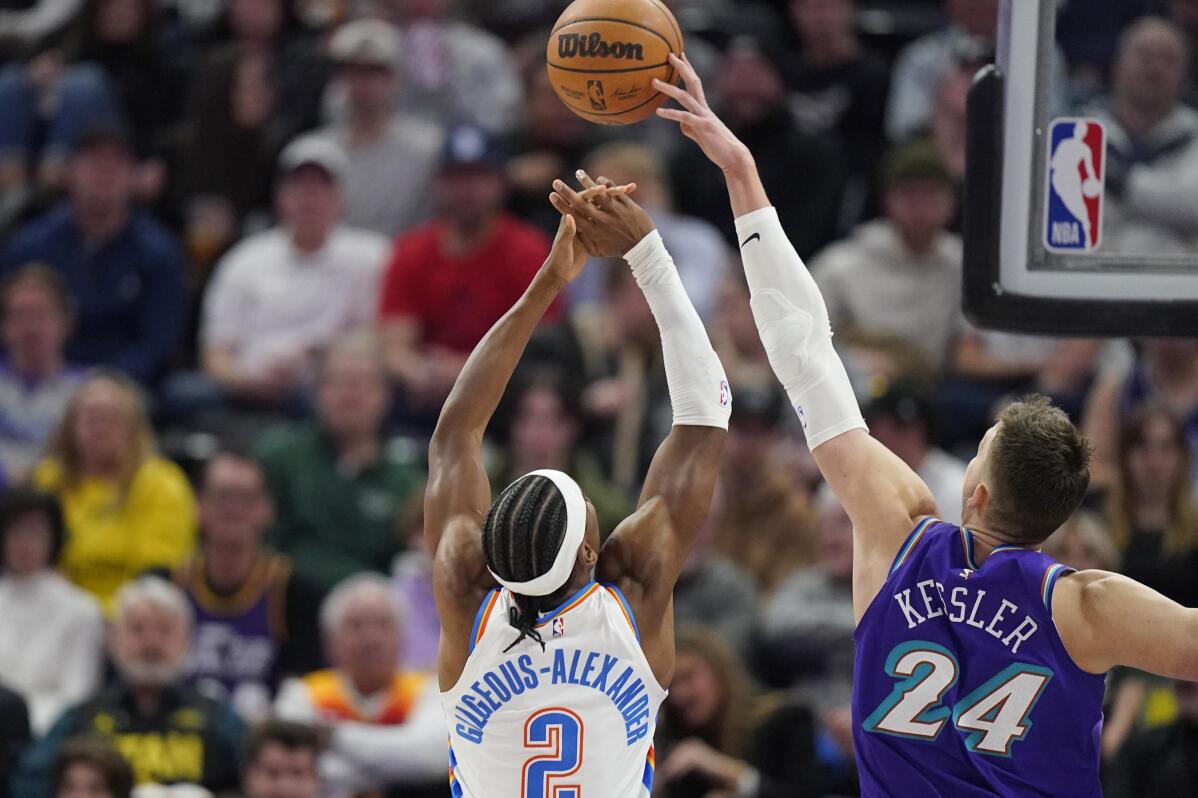 3 of 7

|
Utah Jazz center Walker Kessler (24) blocks Oklahoma City Thunder guard Shai Gilgeous-Alexander (2) shot during the second half of an NBA basketball game Thursday, Feb. 23, 2023, in Salt Lake City. (AP Photo/Rick Bowmer)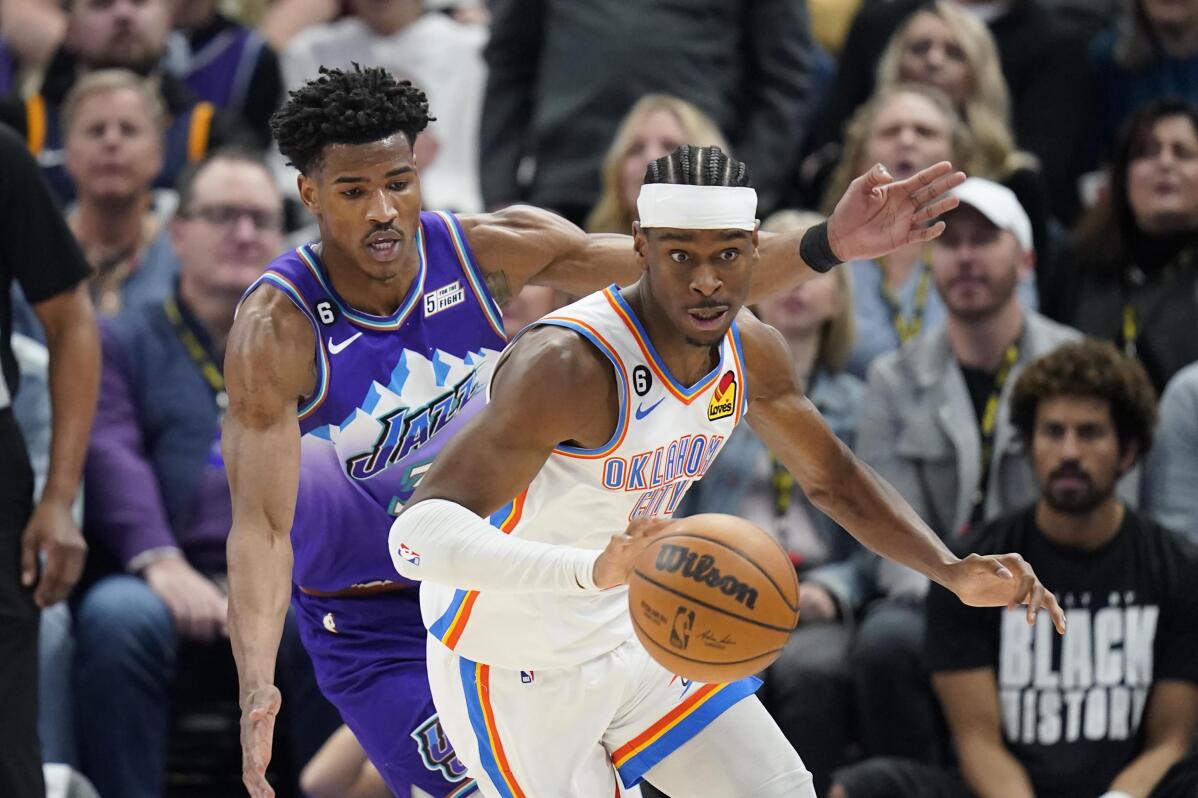 4 of 7

|
Oklahoma City Thunder guard Shai Gilgeous-Alexander, right, steals the ball from Utah Jazz guard Ochai Agbaji, rear, during the first half of an NBA basketball game Thursday, Feb. 23, 2023, in Salt Lake City. (AP Photo/Rick Bowmer)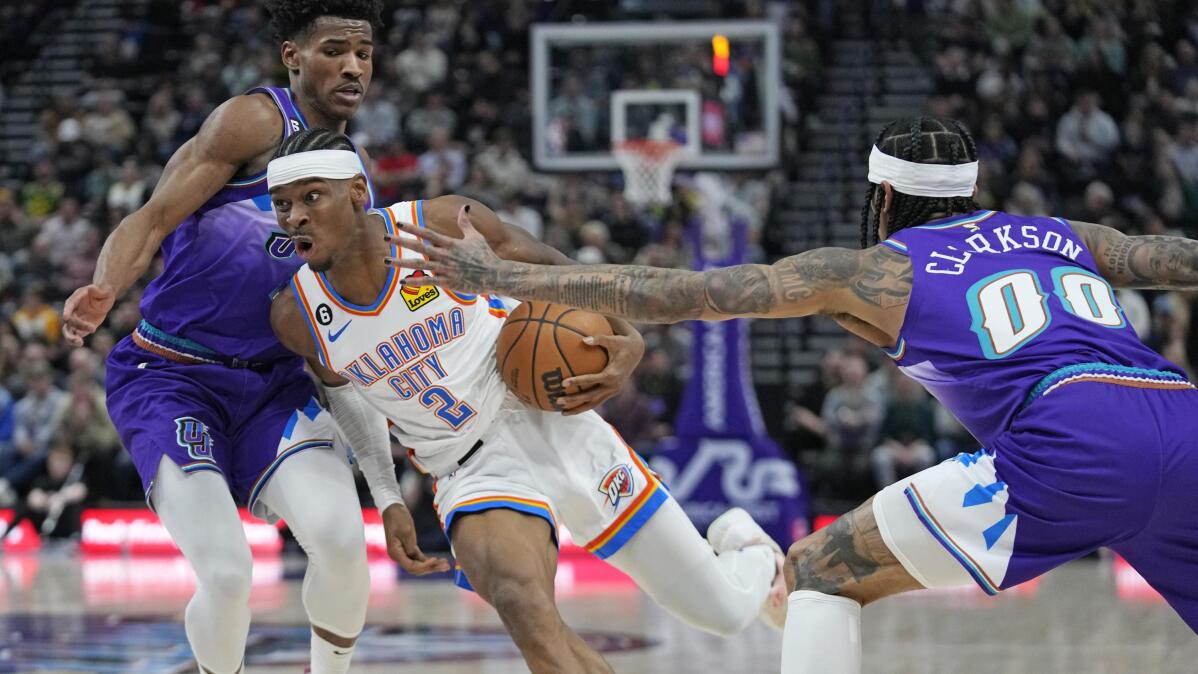 5 of 7

|
Oklahoma City Thunder guard Shai Gilgeous-Alexander (2) drives as Utah Jazz guard Jordan Clarkson (00) defends during the first half of an NBA basketball game Thursday, Feb. 23, 2023, in Salt Lake City. (AP Photo/Rick Bowmer)
6 of 7

|
Oklahoma City Thunder guard Josh Giddey, left, passes the bball as Utah Jazz center Walker Kessler (24) defends during the first half of an NBA basketball game Thursday, Feb. 23, 2023, in Salt Lake City. (AP Photo/Rick Bowmer)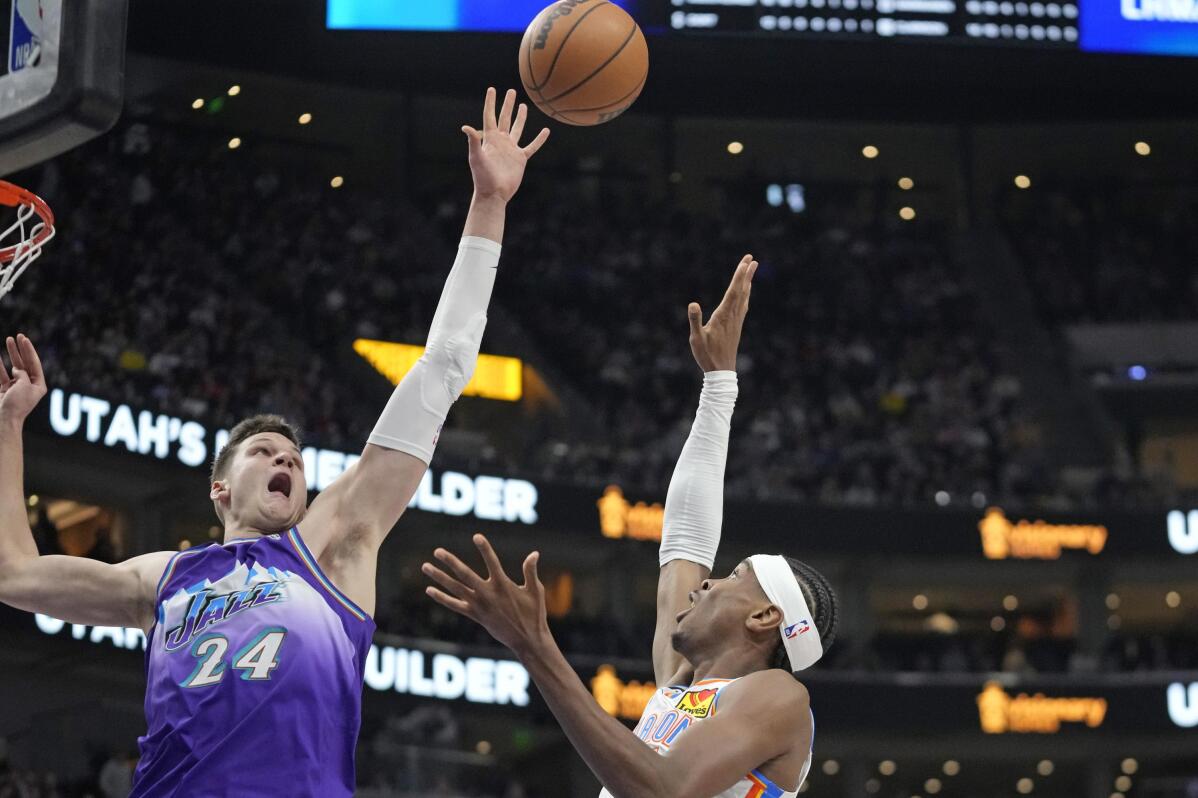 7 of 7

|
Utah Jazz center Walker Kessler (24) blocks Oklahoma City Thunder guard Shai Gilgeous-Alexander, right, shot during the first half of an NBA basketball game Thursday, Feb. 23, 2023, in Salt Lake City. (AP Photo/Rick Bowmer)
Markkanen scores 43, rallies Jazz to OT win over Thunder
1 of 7

|
Utah Jazz forward Lauri Markkanen (23) reacts after a dunk against the Oklahoma City Thunder during the second half of an NBA basketball game Thursday, Feb. 23, 2023, in Salt Lake City. (AP Photo/Rick Bowmer)
1 of 7
Utah Jazz forward Lauri Markkanen (23) reacts after a dunk against the Oklahoma City Thunder during the second half of an NBA basketball game Thursday, Feb. 23, 2023, in Salt Lake City. (AP Photo/Rick Bowmer)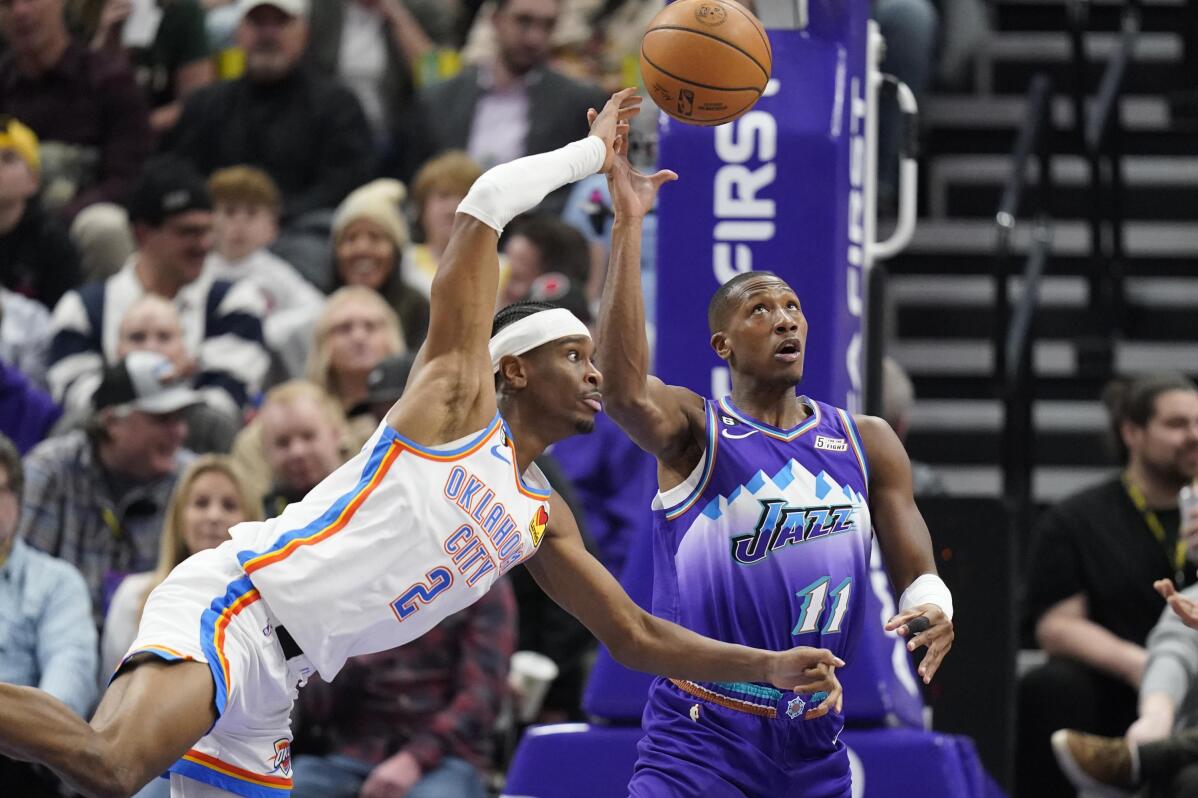 2 of 7

|
Oklahoma City Thunder guard Shai Gilgeous-Alexander (2) and Utah Jazz Kris Dunn (11) battle for a loose ball during the second half of an NBA basketball game Thursday, Feb. 23, 2023, in Salt Lake City. (AP Photo/Rick Bowmer)
2 of 7
Oklahoma City Thunder guard Shai Gilgeous-Alexander (2) and Utah Jazz Kris Dunn (11) battle for a loose ball during the second half of an NBA basketball game Thursday, Feb. 23, 2023, in Salt Lake City. (AP Photo/Rick Bowmer)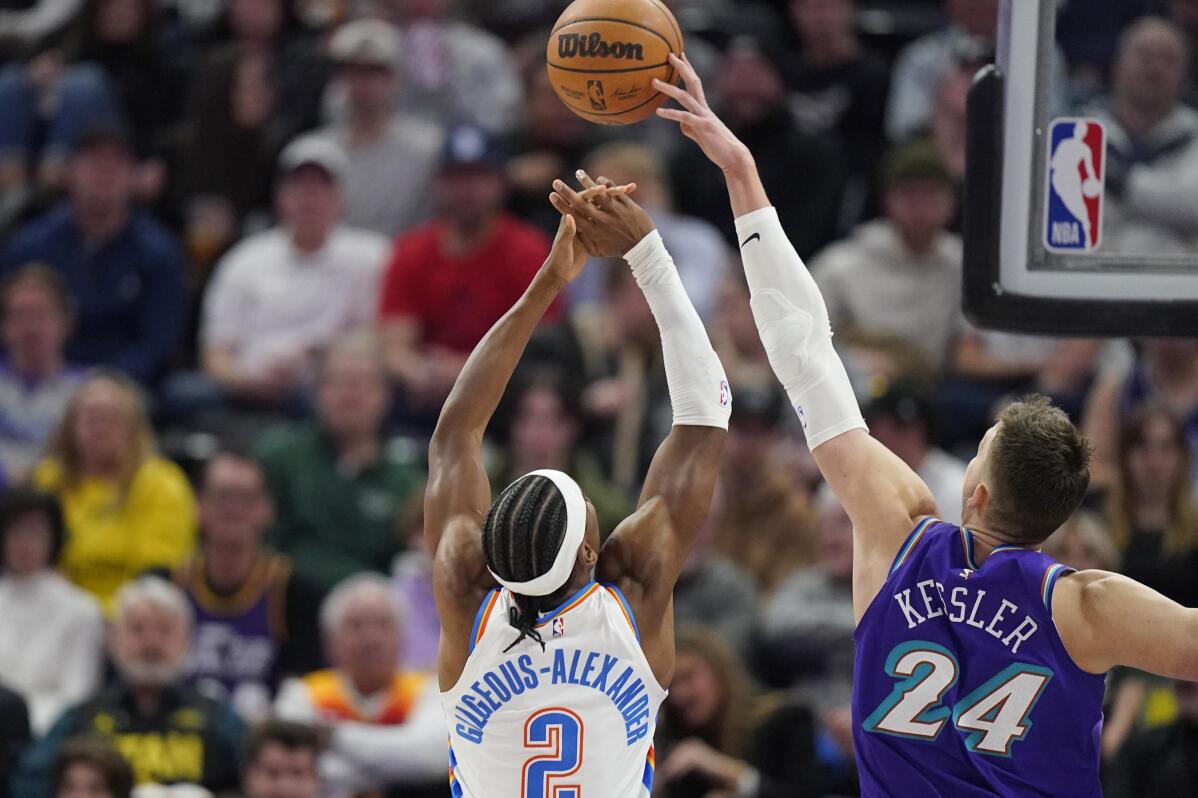 3 of 7

|
Utah Jazz center Walker Kessler (24) blocks Oklahoma City Thunder guard Shai Gilgeous-Alexander (2) shot during the second half of an NBA basketball game Thursday, Feb. 23, 2023, in Salt Lake City. (AP Photo/Rick Bowmer)
3 of 7
Utah Jazz center Walker Kessler (24) blocks Oklahoma City Thunder guard Shai Gilgeous-Alexander (2) shot during the second half of an NBA basketball game Thursday, Feb. 23, 2023, in Salt Lake City. (AP Photo/Rick Bowmer)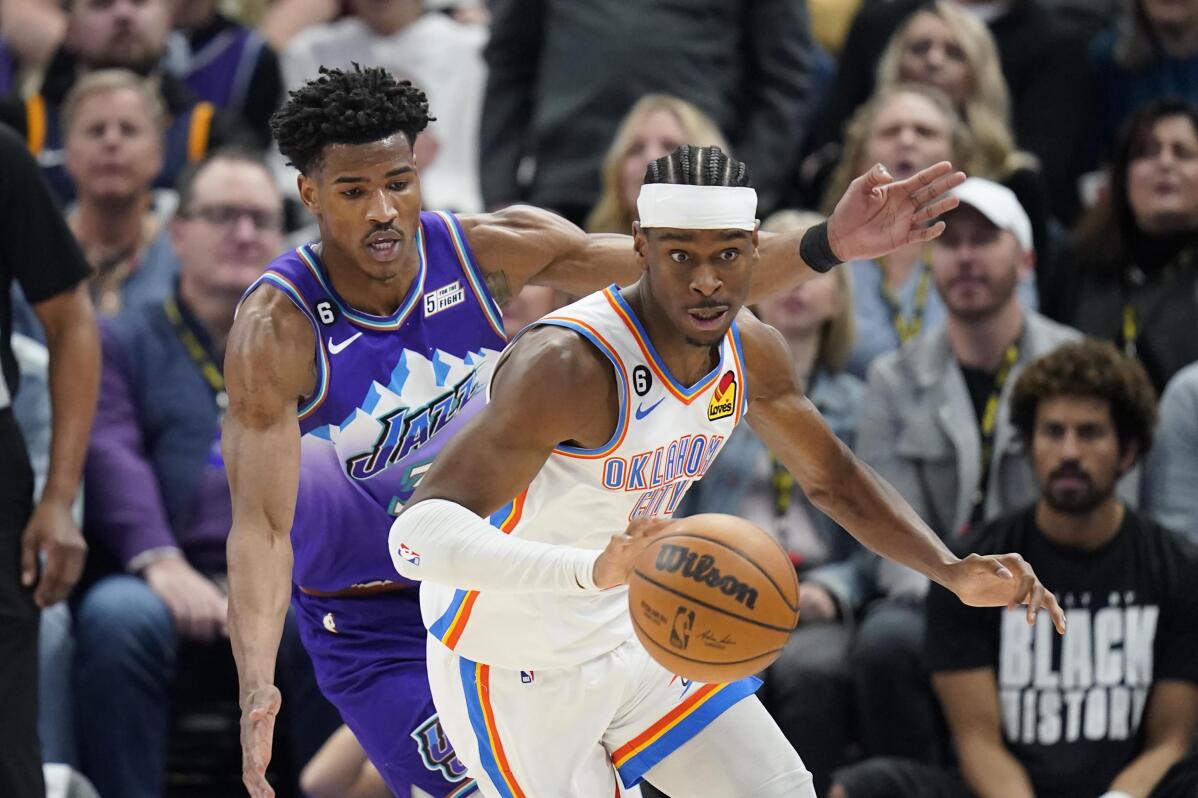 4 of 7

|
Oklahoma City Thunder guard Shai Gilgeous-Alexander, right, steals the ball from Utah Jazz guard Ochai Agbaji, rear, during the first half of an NBA basketball game Thursday, Feb. 23, 2023, in Salt Lake City. (AP Photo/Rick Bowmer)
4 of 7
Oklahoma City Thunder guard Shai Gilgeous-Alexander, right, steals the ball from Utah Jazz guard Ochai Agbaji, rear, during the first half of an NBA basketball game Thursday, Feb. 23, 2023, in Salt Lake City. (AP Photo/Rick Bowmer)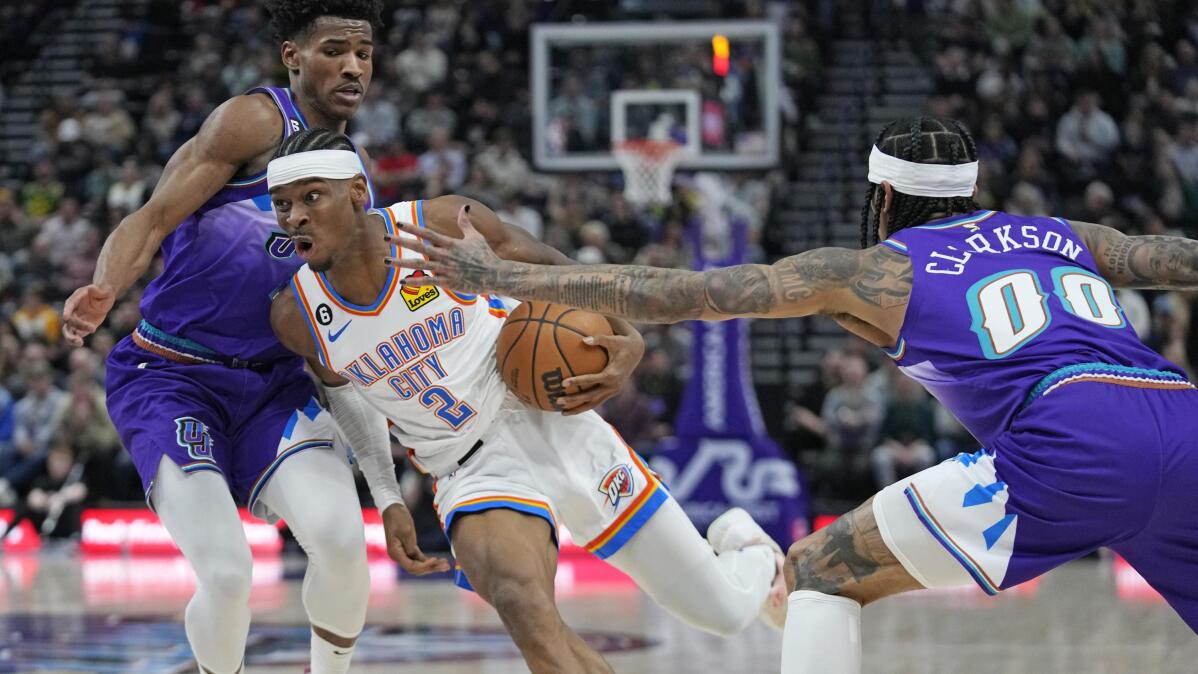 5 of 7

|
Oklahoma City Thunder guard Shai Gilgeous-Alexander (2) drives as Utah Jazz guard Jordan Clarkson (00) defends during the first half of an NBA basketball game Thursday, Feb. 23, 2023, in Salt Lake City. (AP Photo/Rick Bowmer)
5 of 7
Oklahoma City Thunder guard Shai Gilgeous-Alexander (2) drives as Utah Jazz guard Jordan Clarkson (00) defends during the first half of an NBA basketball game Thursday, Feb. 23, 2023, in Salt Lake City. (AP Photo/Rick Bowmer)
6 of 7

|
Oklahoma City Thunder guard Josh Giddey, left, passes the bball as Utah Jazz center Walker Kessler (24) defends during the first half of an NBA basketball game Thursday, Feb. 23, 2023, in Salt Lake City. (AP Photo/Rick Bowmer)
6 of 7
Oklahoma City Thunder guard Josh Giddey, left, passes the bball as Utah Jazz center Walker Kessler (24) defends during the first half of an NBA basketball game Thursday, Feb. 23, 2023, in Salt Lake City. (AP Photo/Rick Bowmer)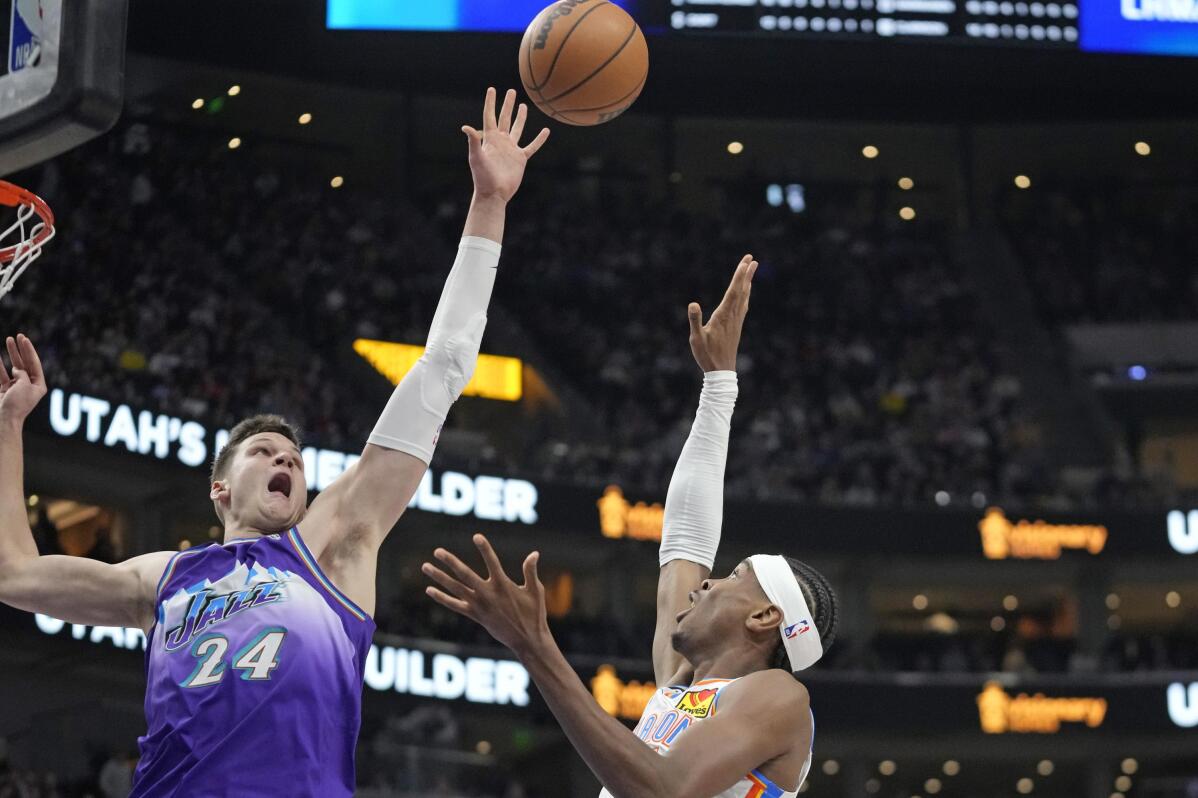 7 of 7

|
Utah Jazz center Walker Kessler (24) blocks Oklahoma City Thunder guard Shai Gilgeous-Alexander, right, shot during the first half of an NBA basketball game Thursday, Feb. 23, 2023, in Salt Lake City. (AP Photo/Rick Bowmer)
7 of 7
Utah Jazz center Walker Kessler (24) blocks Oklahoma City Thunder guard Shai Gilgeous-Alexander, right, shot during the first half of an NBA basketball game Thursday, Feb. 23, 2023, in Salt Lake City. (AP Photo/Rick Bowmer)
SALT LAKE CITY (AP) — Lauri Markkanen hit three free throws with 4.6 seconds left in overtime to give Utah the lead and finished with 43 points and 10 rebounds as the Jazz beat the Oklahoma City Thunder 120-119 on Thursday night.
Markkanen scored 18 points in the fourth quarter, helping the Jazz rally from a nine-point deficit early in the period. Walker Kessler tipped in a layup with 4.6 seconds remaining to force overtime.
Fresh off playing in his first All-Star Game on the Jazz's home floor, Markkanen is evolving into a crunch-time leader for Utah.
"Yeah, I'm more confident," Markkanen said. "My mindset going into games is go make a difference and be a finisher."
Jordan Clarkson added 24 points and six assists for Utah. Kessler had 18 rebounds and seven blocked shots, Kelly Olynyk and Ochai Agbaji chipped in 12 points apiece, and Kris Dunn added 11 in his Jazz debut.
Shai Gilgeous-Alexander scored 39 points and missed a potential game-winning jumper at the overtime buzzer for the Thunder. He also had eight rebounds and seven assists. Josh Giddey added 18 points and 11 rebounds, Kenrich Williams had 16 points off the bench, and Lu Dort contributed 11 points and 11 boards.
Oklahoma City never trailed after halftime until the closing seconds of overtime.
"We haven't been a 48-minute team in every single game this season," Thunder coach Mark Daigneault said. "But when we're not, I think our guys have a good recognition that the car is off the road and we get it back on the road quickly."
Utah played without starting point guard Collin Sexton, who has a left hamstring injury. Talen Horton-Tucker made his second start of the season.
The Thunder forced 22 turnovers and scored 20 points off them.
Markkanen tied the game on a layup with 1:26 remaining. Oklahoma City again jumped out to a lead in overtime and maintained its advantage until Markkanen was fouled on a 3-point attempt in the closing seconds and made his free throws.
"He's played with a tremendous amount of aggressiveness," Jazz coach Will Hardy said. "His physicality has gone up as the season has gone on."
Oklahoma City ended the first half on a 9-0 run to take a 55-46 halftime lead. Jaylin Williams started the run with a 3-pointer and Kenrich Williams finished it off with a reverse layup.
Clarkson scored or assisted on Utah's first six baskets in the second half and cut the deficit to 68-66 on a fadeaway jumper. The Thunder stopped the rally and built their only double-digit lead, going up 84-74 when Giddey drove for a reverse layup to cap a 10-3 run.
"I thought our team showed a lot of resolve," Hardy said. "We were, it felt like, down six to eight points for the majority of the game and just kept hanging around, kept battling."
TIP-INS
Thunder: Gilgeous-Alexander went 15 of 19 from the free-throw line. ... Oklahoma City missed all eight of its 3-point attempts in the first quarter. Isaiah Joe made the Thunder's first 3 a minute into the second.
Jazz: Rudy Gay played three scoreless minutes before leaving with a nasal fracture with 56.1 seconds remaining in first quarter. ... Kessler attempted and made his first career 3-pointer on the game's first play.
UP NEXT
Thunder: At Phoenix on Friday.
Jazz: Host San Antonio on Saturday.
___
AP NBA: https://apnews.com/hub/nba and https://twitter.com/AP_Sports