Mourners attend funerals of 7 Shiite teachers in NW Pakistan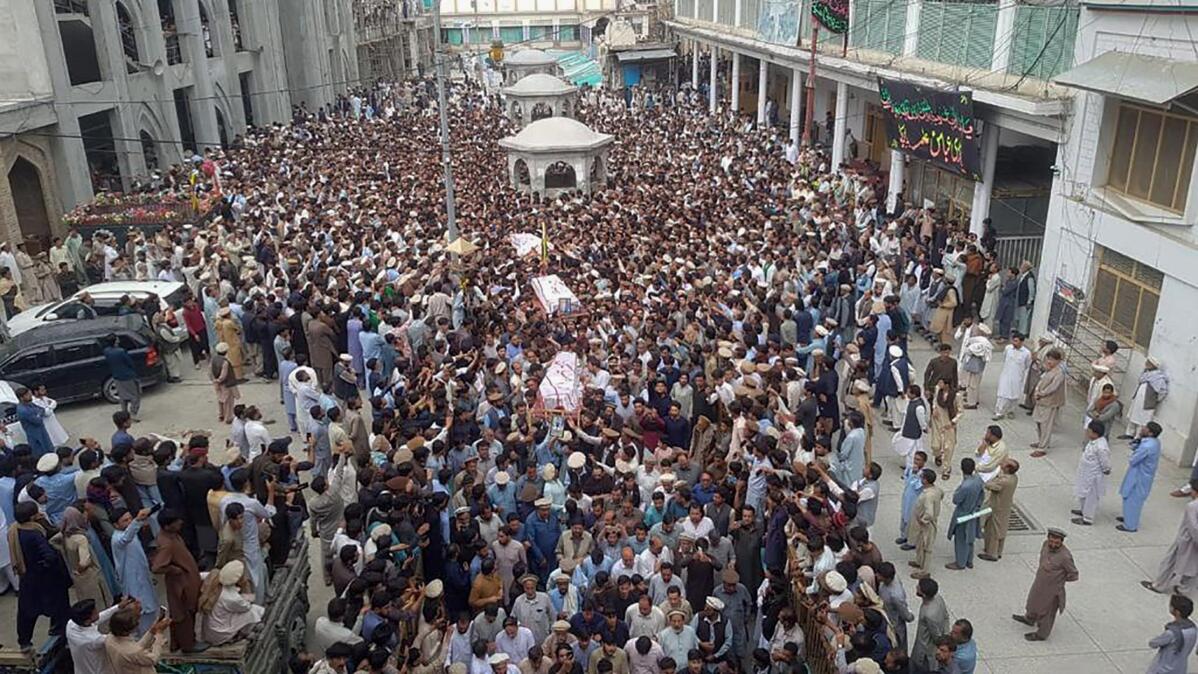 1 of 4

|
Shiite Muslims carry the coffins of teachers killed by unknown gunmen in an attack during their funeral, in Parachinar, a town of Kurram district in the Pakistan's northwestern Khyber Pakhtunkhwa province that borders Afghanistan, Friday, May 5, 2023. Gunmen stormed a school in Pakistan's volatile northwest on Thursday, killing multiple teachers and gunning down another teacher from the school in a separate attack. (AP Photo/Dilawer Hussain)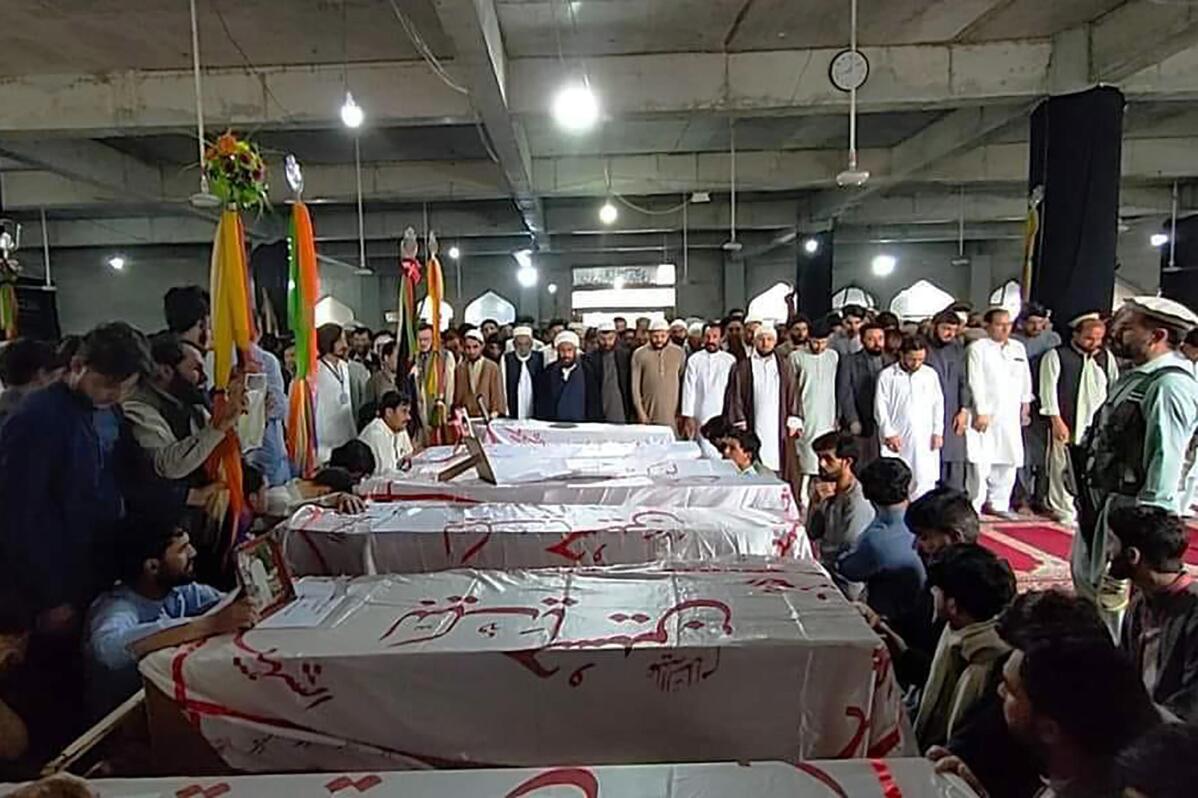 2 of 4

|
Shiite Muslims perform the funeral prayer for teachers killed by unknown gunmen in an attack, in Parachinar, a town of Kurram district in the Pakistan's northwestern Khyber Pakhtunkhwa province that borders Afghanistan, Friday, May 5, 2023. Gunmen stormed a school in Pakistan's volatile northwest on Thursday, killing multiple teachers and gunning down another teacher from the school in a separate attack. (AP Photo/Dilawer Hussain)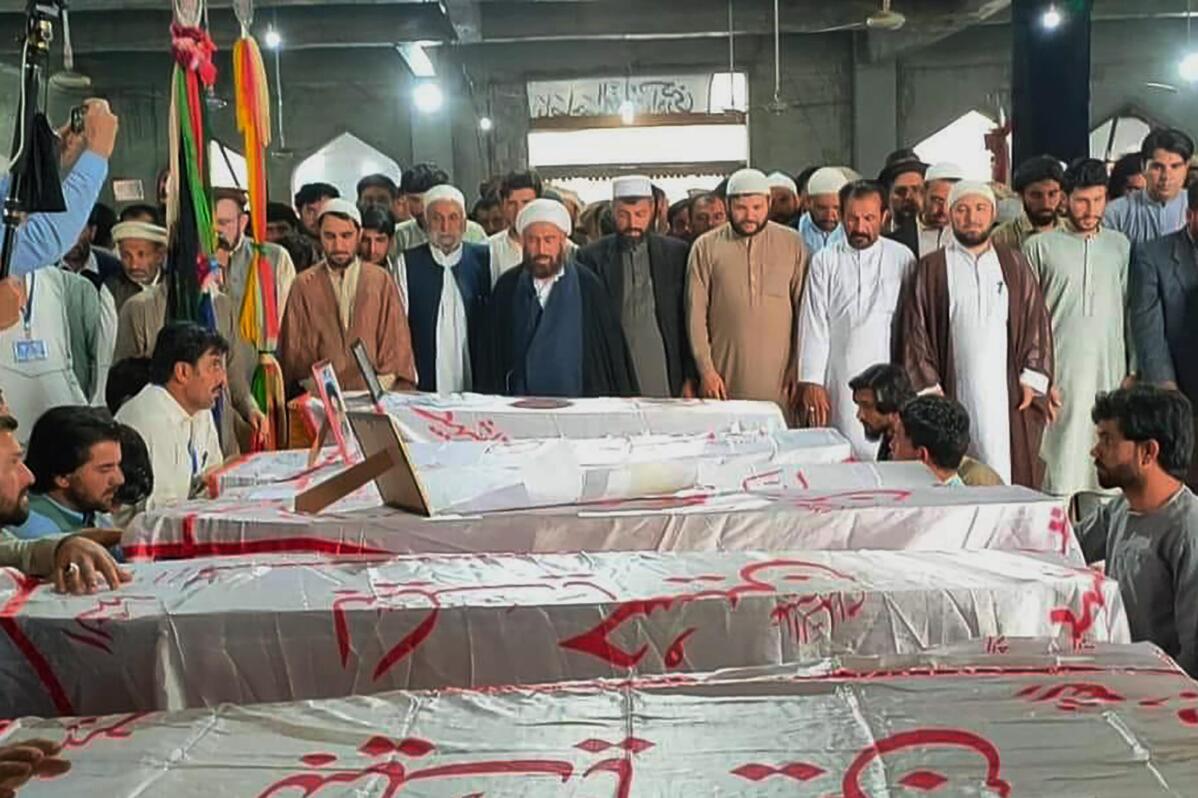 3 of 4

|
Shiite Muslims perform the funeral prayer for teachers killed by unknown gunmen in an attack, in Parachinar, a town of Kurram district in the Pakistan's northwestern Khyber Pakhtunkhwa province that borders Afghanistan, Friday, May 5, 2023. Gunmen stormed a school in Pakistan's volatile northwest on Thursday, killing multiple teachers and gunning down another teacher from the school in a separate attack. (AP Photo/Dilawer Hussain)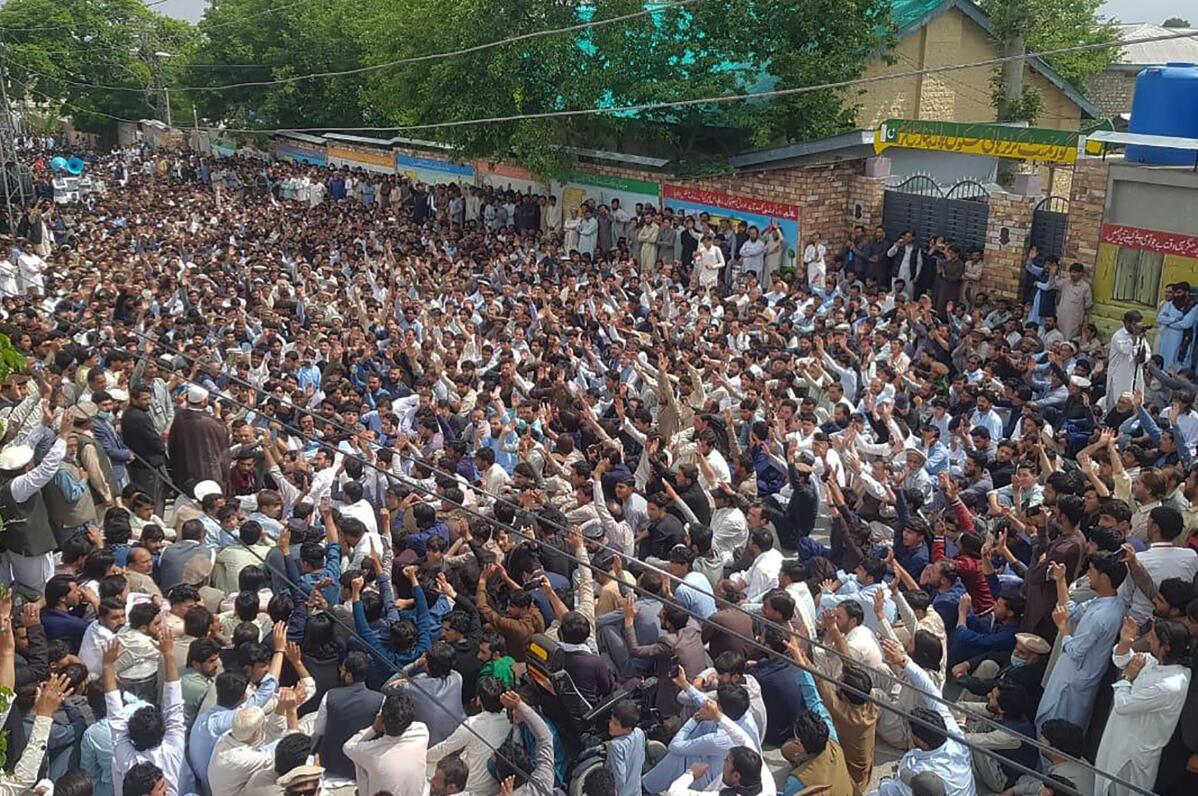 4 of 4

|
Shiite Muslims chant slogans during a rally to condemn the killing of teachers by unknown gunmen, in Parachinar, a town of Kurram district in the Pakistan's northwestern Khyber Pakhtunkhwa province that borders Afghanistan, Friday, May 5, 2023. Gunmen stormed a school in Pakistan's volatile northwest on Thursday, killing multiple teachers and gunning down another teacher from the school in a separate attack. (AP Photo/Dilawer Hussain)
Mourners attend funerals of 7 Shiite teachers in NW Pakistan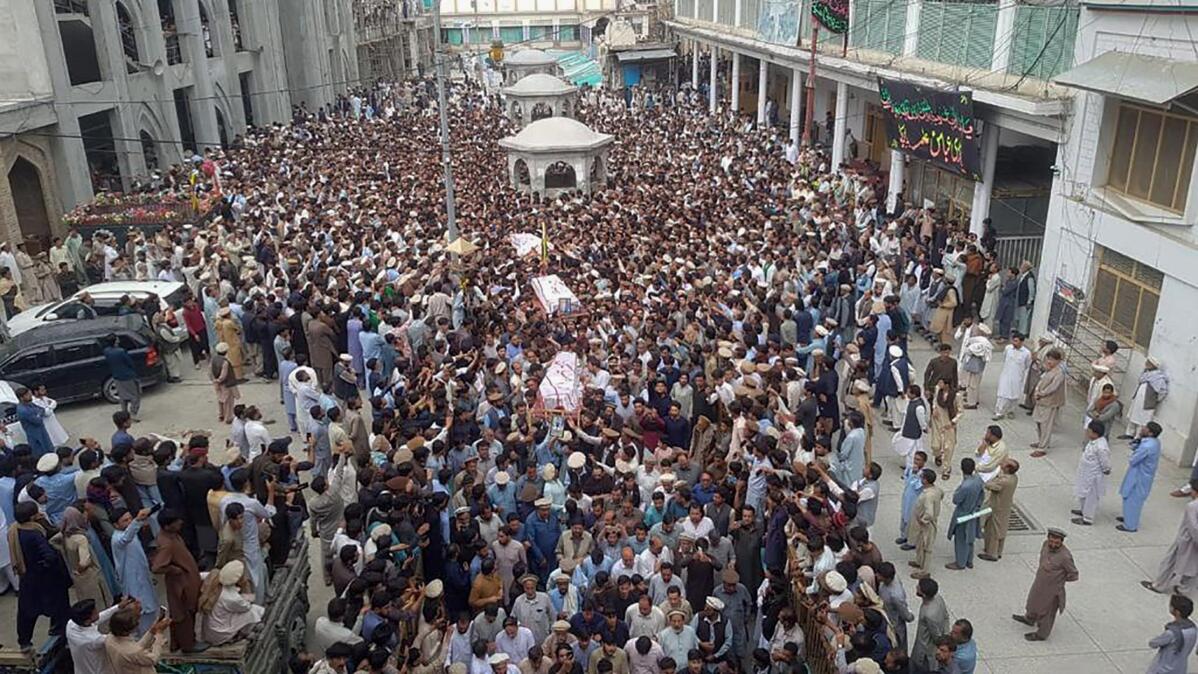 1 of 4

|
Shiite Muslims carry the coffins of teachers killed by unknown gunmen in an attack during their funeral, in Parachinar, a town of Kurram district in the Pakistan's northwestern Khyber Pakhtunkhwa province that borders Afghanistan, Friday, May 5, 2023. Gunmen stormed a school in Pakistan's volatile northwest on Thursday, killing multiple teachers and gunning down another teacher from the school in a separate attack. (AP Photo/Dilawer Hussain)
1 of 4
Shiite Muslims carry the coffins of teachers killed by unknown gunmen in an attack during their funeral, in Parachinar, a town of Kurram district in the Pakistan's northwestern Khyber Pakhtunkhwa province that borders Afghanistan, Friday, May 5, 2023. Gunmen stormed a school in Pakistan's volatile northwest on Thursday, killing multiple teachers and gunning down another teacher from the school in a separate attack. (AP Photo/Dilawer Hussain)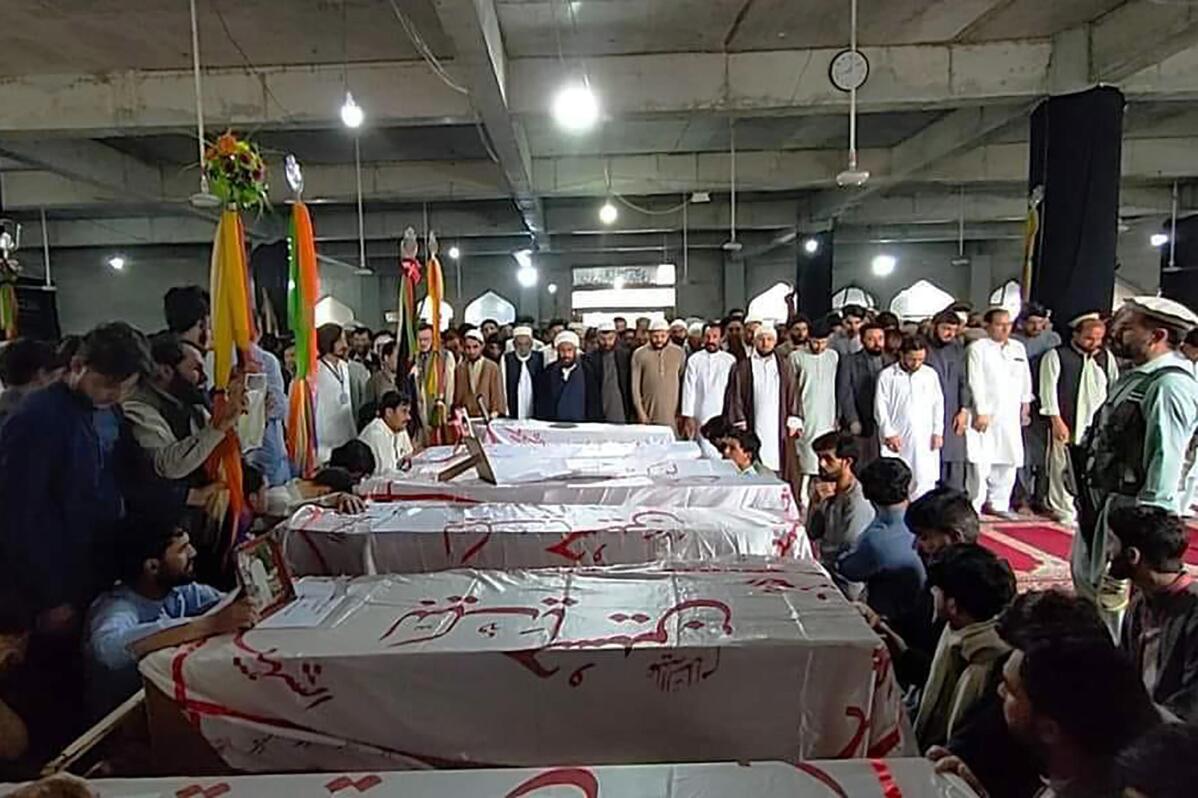 2 of 4

|
Shiite Muslims perform the funeral prayer for teachers killed by unknown gunmen in an attack, in Parachinar, a town of Kurram district in the Pakistan's northwestern Khyber Pakhtunkhwa province that borders Afghanistan, Friday, May 5, 2023. Gunmen stormed a school in Pakistan's volatile northwest on Thursday, killing multiple teachers and gunning down another teacher from the school in a separate attack. (AP Photo/Dilawer Hussain)
2 of 4
Shiite Muslims perform the funeral prayer for teachers killed by unknown gunmen in an attack, in Parachinar, a town of Kurram district in the Pakistan's northwestern Khyber Pakhtunkhwa province that borders Afghanistan, Friday, May 5, 2023. Gunmen stormed a school in Pakistan's volatile northwest on Thursday, killing multiple teachers and gunning down another teacher from the school in a separate attack. (AP Photo/Dilawer Hussain)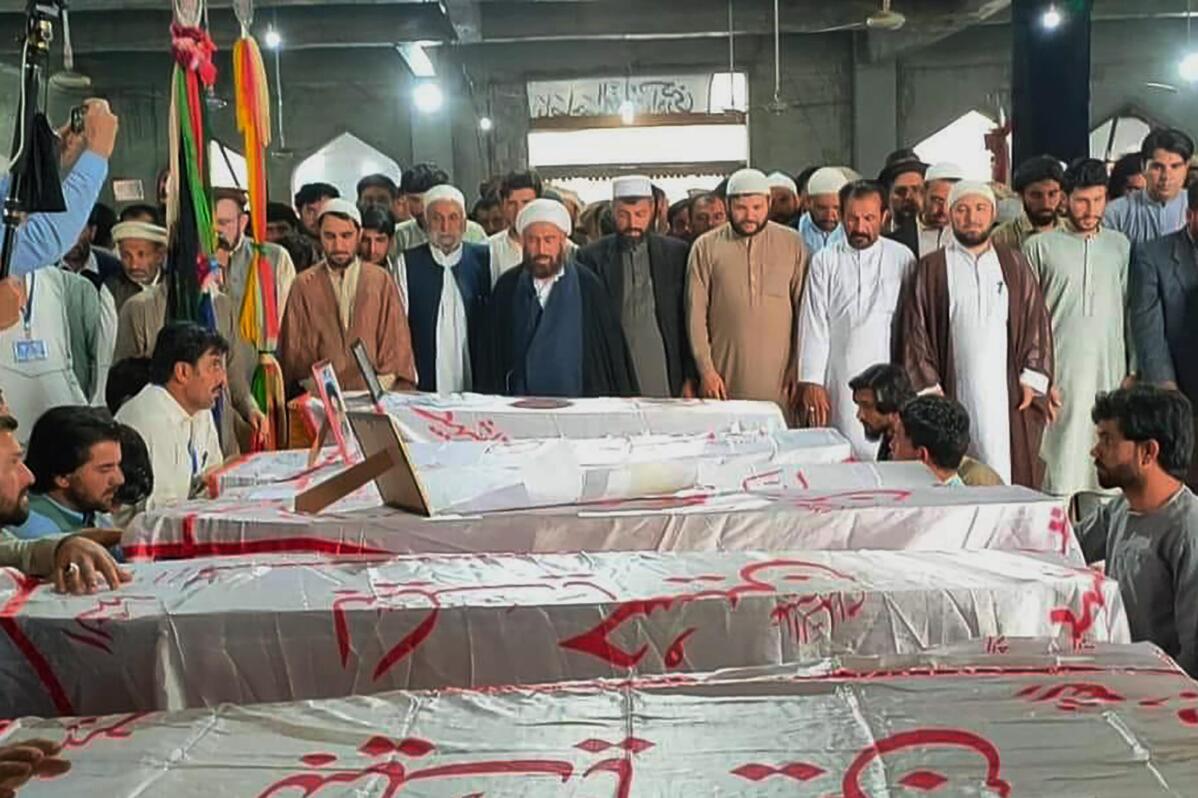 3 of 4

|
Shiite Muslims perform the funeral prayer for teachers killed by unknown gunmen in an attack, in Parachinar, a town of Kurram district in the Pakistan's northwestern Khyber Pakhtunkhwa province that borders Afghanistan, Friday, May 5, 2023. Gunmen stormed a school in Pakistan's volatile northwest on Thursday, killing multiple teachers and gunning down another teacher from the school in a separate attack. (AP Photo/Dilawer Hussain)
3 of 4
Shiite Muslims perform the funeral prayer for teachers killed by unknown gunmen in an attack, in Parachinar, a town of Kurram district in the Pakistan's northwestern Khyber Pakhtunkhwa province that borders Afghanistan, Friday, May 5, 2023. Gunmen stormed a school in Pakistan's volatile northwest on Thursday, killing multiple teachers and gunning down another teacher from the school in a separate attack. (AP Photo/Dilawer Hussain)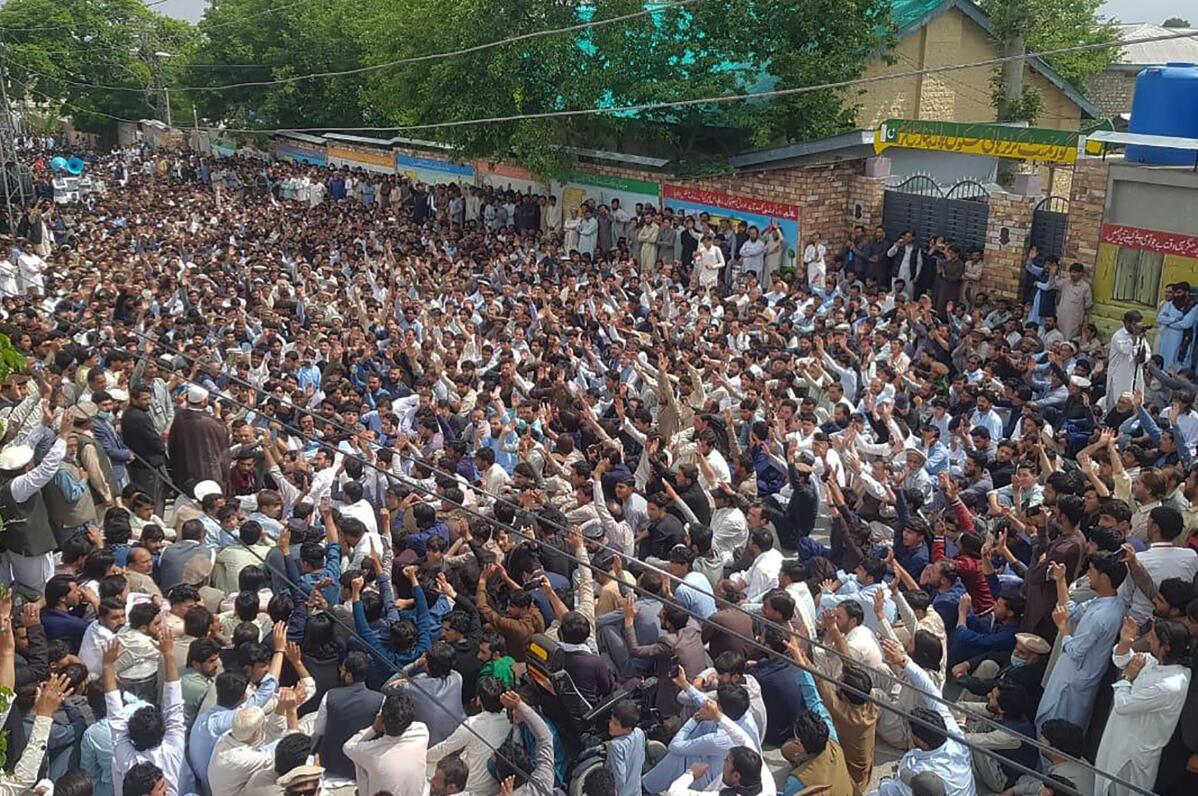 4 of 4

|
Shiite Muslims chant slogans during a rally to condemn the killing of teachers by unknown gunmen, in Parachinar, a town of Kurram district in the Pakistan's northwestern Khyber Pakhtunkhwa province that borders Afghanistan, Friday, May 5, 2023. Gunmen stormed a school in Pakistan's volatile northwest on Thursday, killing multiple teachers and gunning down another teacher from the school in a separate attack. (AP Photo/Dilawer Hussain)
4 of 4
Shiite Muslims chant slogans during a rally to condemn the killing of teachers by unknown gunmen, in Parachinar, a town of Kurram district in the Pakistan's northwestern Khyber Pakhtunkhwa province that borders Afghanistan, Friday, May 5, 2023. Gunmen stormed a school in Pakistan's volatile northwest on Thursday, killing multiple teachers and gunning down another teacher from the school in a separate attack. (AP Photo/Dilawer Hussain)
PESHAWAR, Pakistan (AP) — Thousands of mourners on Friday attended the mass funeral of seven minority Shiite teachers who were shot and killed at a school in northwestern Pakistan, drawing nationwide condemnation, officials said.
The mourners also rallied against Thursday's killings. The teachers were gunned down by unidentified assailants who stormed a school in Kurram, a district in the northwestern Khyber Pakhtunkhwa province.
The slain teachers were members of Pakistan's minority Shiite community, which extremist Sunni militant groups frequently target. The attack happened when the teachers were supervising exams at the school, and just hours after a separate attack killed another teacher — a Sunni Muslim — from the same school.
It was unclear who was behind the killings and no one has claimed responsibility.
On Friday, Inayat Hussain Toori, a senior Shiite leader, condemned the killings.
"We want justice and we don't know who is behind it," Toori said, adding that about 10,000 Shiites rallied in Parachinar, a main in the Kurram district against the killings of teachers from their community.
"We request the government to do justice with us," he said.
His comment came a day after Prime Minister Shahbaz Sharif denounced the killings and ordered a probe to determine who was behind the twin attacks on teachers.
Earlier, the slain Sunni teacher was also buried at a graveyard in Kurram.
Pakistan has witnessed a surge in militant violence since the Pakistani Taliban — who are known as the Tehrik-e-Taliban Pakistan, or TTP — ended a ceasefire with the government last year. TTP is a separate group but it is allied with the Afghan Taliban. Pakistani Taliban have been emboldened since the Taliban seized power in August 2021.