From London, Pakistan's former Prime Minister Nawaz Sharif blames ex-army chief for his 2017 ouster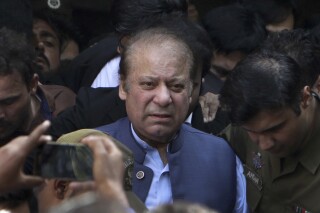 ISLAMABAD (AP) — Pakistan's former Prime Minister Nawaz Sharif is claiming that the country's former powerful military and spy chiefs orchestrated his ouster in 2017, when he was forced to step down after being convicted of corruption.
Sharif spoke on Monday to leaders of his Pakistan Muslim League party via a video link from London, where he has been living in self-imposed exile since 2019.
At the time — and though convicted on corruption charges, which he has always denied — Sharif was permitted to leave Pakistan for medical treatment abroad by the government of Imran Khan, who succeeded him as prime minister. After Sharif later failed to return, a court declared him a fugitive from justice.
Sharif's party said on Tuesday he will return next month ahead of parliamentary elections.
After Khan was ousted in a no-confidence vote in April 2022, Sharif's younger brother Shehbaz Sharif served as a prime minister until August, when he stepped down to allow an interim government to run daily affairs and organize the elections.
In his remarks to party officials on Monday, Nawaz Sharif claimed former army chief Qamar Javed Bajwa and ex-spy chief Faiz Hameed conspired with two judges to remove him.
He offered no evidence for his claim and there was no immediate comment from the military, the intelligence agency or the judiciary.
Sharif's daughter Maryam Nawaz, also an official in the Pakistan Muslim League, said Monday at a party gathering at a hotel in the eastern city of Lahore that her father's return would be "historic."
"Nawaz Sharif's comebacks have been stronger than his setbacks. Another one is unfolding," she wrote Tuesday on X, a platform previously known as Twitter.
As a fugitive from justice, Sharif would have to be arrested under the law, but it's uncelar if that will happen. His lawyers have no filed for court protection from arrest for him.
It's also unclear whether he would have to serve his prison sentence once he gets back.
Pakistan has been in deep political turmoil since Khan's ouster last year. The Pakistan Muslim League is hugely unpopular and Shehbaz Sharif's government has been unable to contain spiraling inflation.
The party wants Nawaz Sharif to head its election campaign. The vote was expected to be held in November but is likely to be delayed as the elections oversight body says it needs more time to redraw constituencies to reflect the census.
Under Shahbaz Sharif's government, Khan was convicted of corruption and is now serving his three-year prison sentence. However, he is still the leading opposition figure in Pakistan and enjoys a huge following, along with his Pakistan Tehreek-e-Insaf party.