The Latest: Chinese, Russian vaccines to arrive in Mexico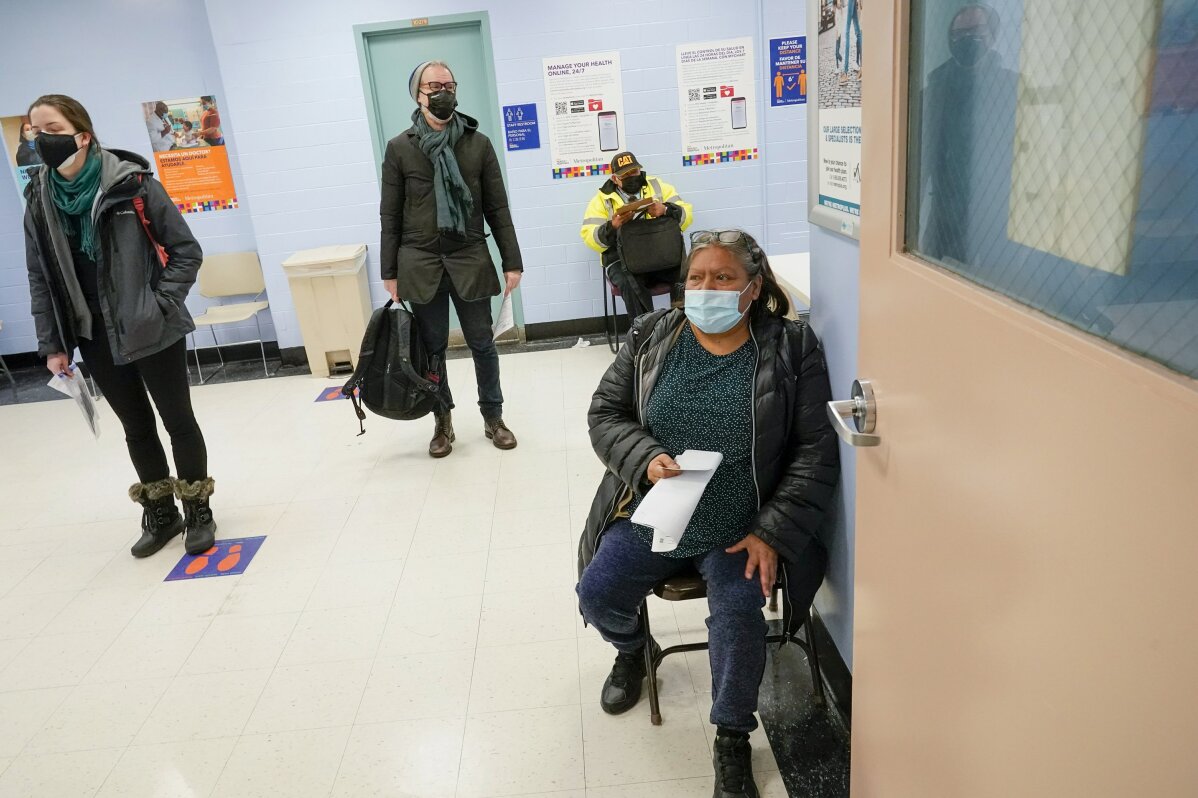 1 of 24

|
Maria Hernandez, right, of Manhattan, sits in a waiting area after registering for the first dose of the coronavirus vaccine at a COVID-19 vaccination site at NYC Health + Hospitals Metropolitan, Thursday, Feb. 18, 2021, in New York. (AP Photo/Mary Altaffer)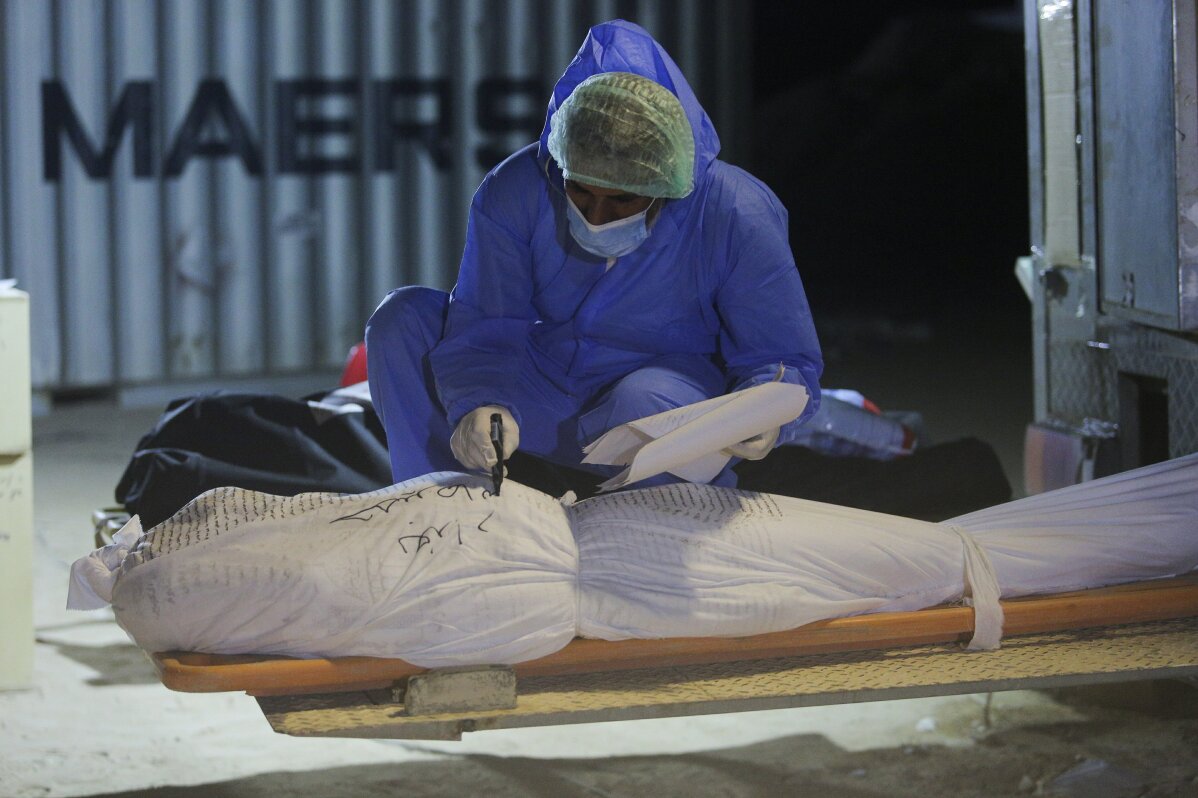 2 of 24

|
File - In this Sunday, July 19, 2020 file photo, a amember of the Shiite Imam Ali brigades writes information on a body coronavirus victim during funeral at Wadi al-Salam cemetery near Najaf, Iraq. A special burial ground near the Wadi al-Salam cemetery has been created specifically for COVID-19 victims since rejections of such burials have continued in Baghdad cemeteries and elsewhere in Iraq. (AP Photo/Anmar Khalil, File)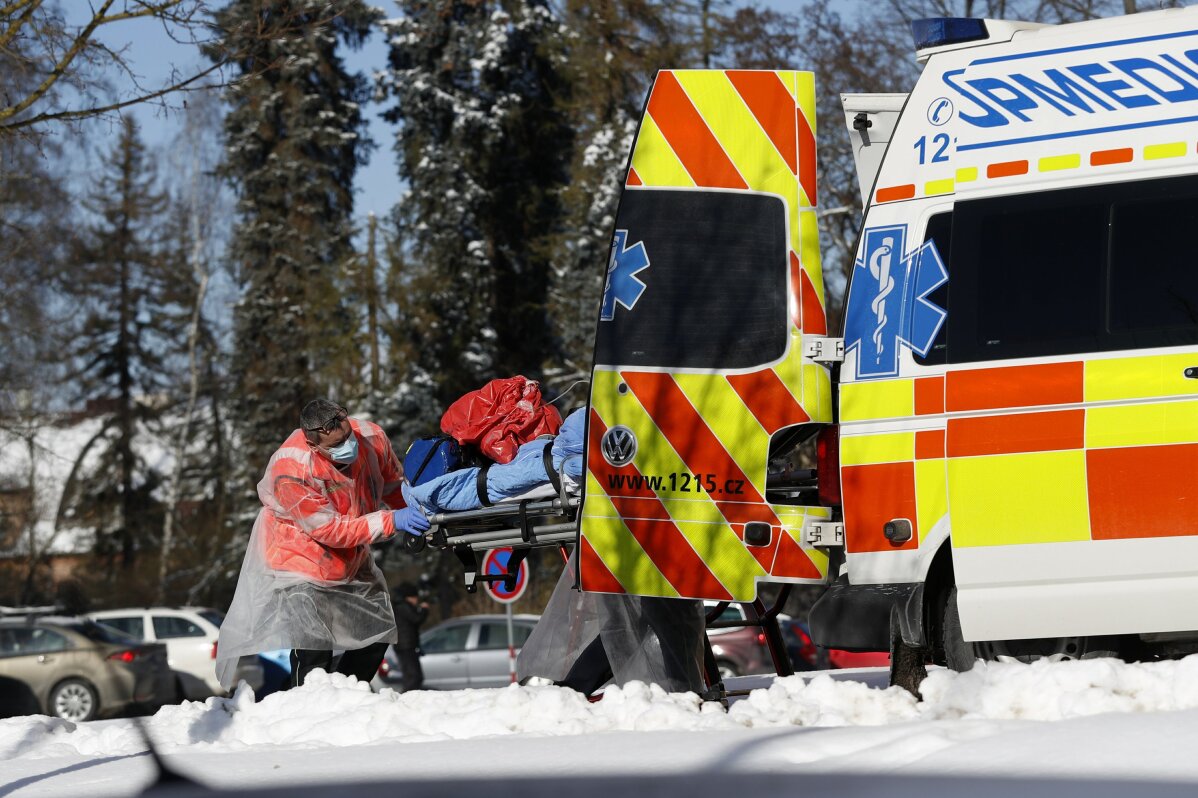 3 of 24

|
FILE - In this Friday, Feb. 12, 2021, file photo, medical workers move a covid-19 patient into an ambulance at a hospital overrun by the covid pandemic in Cheb, Czech Republic. The Czech government has decided to further tighten restrictive measures amid a surge of a highly contagious coronavirus variant in one of the hardest-hit European Union's nations. At the same time, the worsening situation has forced the Cabinet to abandon for now its plans to reopen all stores as soon as next week. (AP Photo/Petr David Josek/File)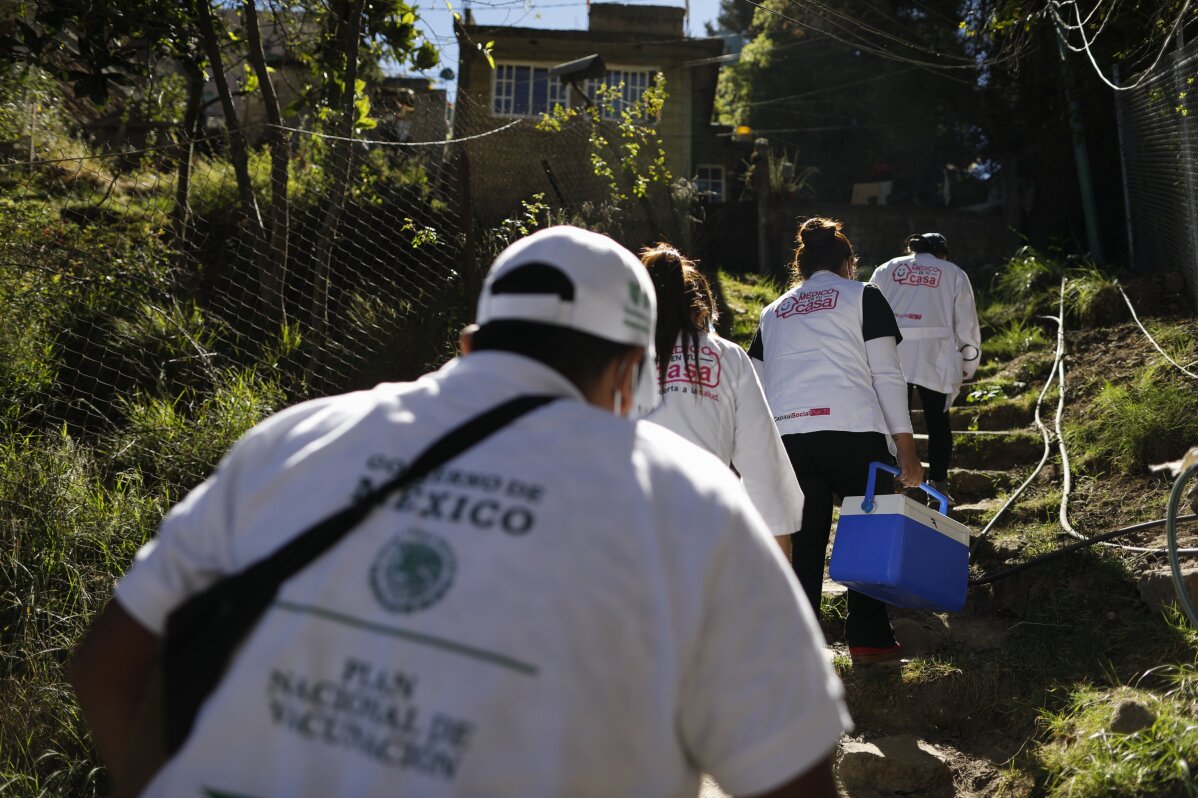 4 of 24

|
A medical team climbs uneven worn steps up a hillside to reach the home of Maria del Socorro Fuentes Chirino, 64, to administer a shot of the AstraZeneca coronavirus vaccine, in rural San Lorenzo Acopilco on the outskirts of Mexico City, Thursday, Feb. 18, 2021. Mexico City's health department is sending teams of medical workers to give in-home vaccinations for elderly residents unable to reach vaccination centers. (AP Photo/Rebecca Blackwell)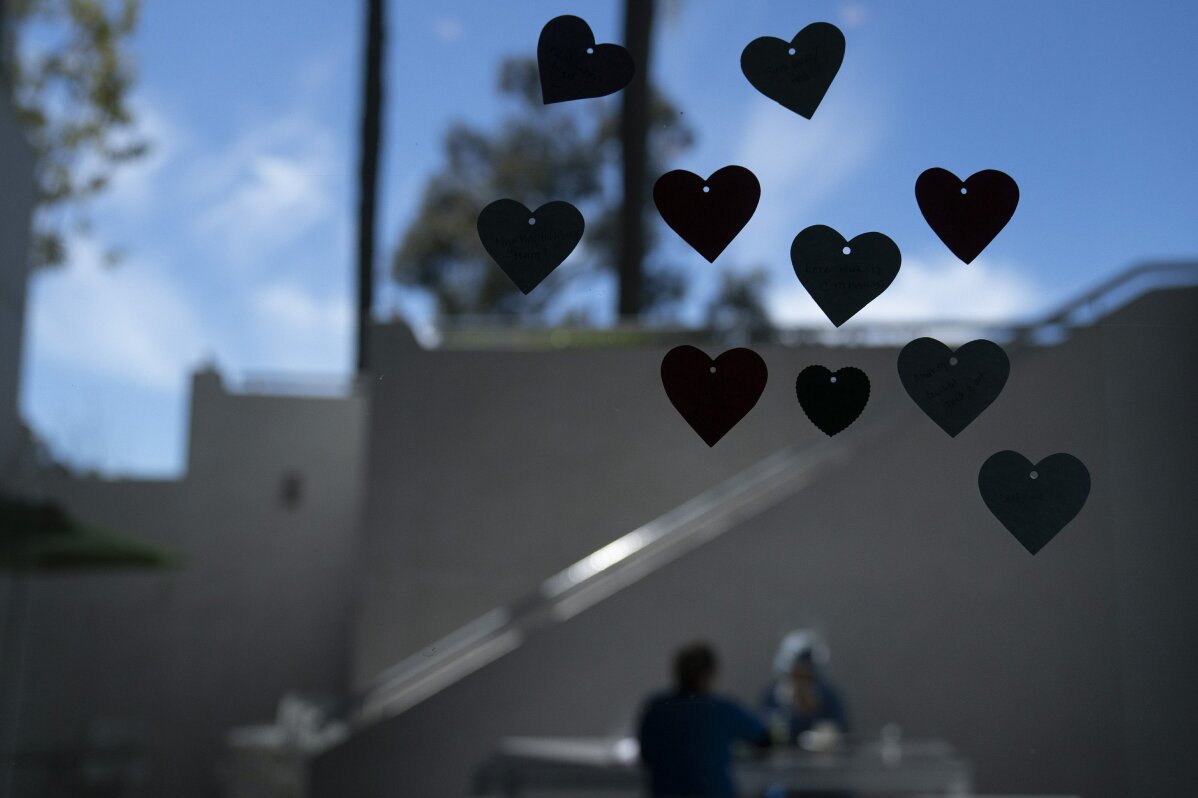 5 of 24

|
A cafeteria window is decorated with heart-shaped cutouts as hospital staff members eat their lunch in a recently reopened dining area at Mission Hospital in Mission Viejo, Calif., Friday, Feb. 19, 2021. California's virus cases, infection rates, and hospitalizations have dropped precipitously after reaching record highs in early January. (AP Photo/Jae C. Hong)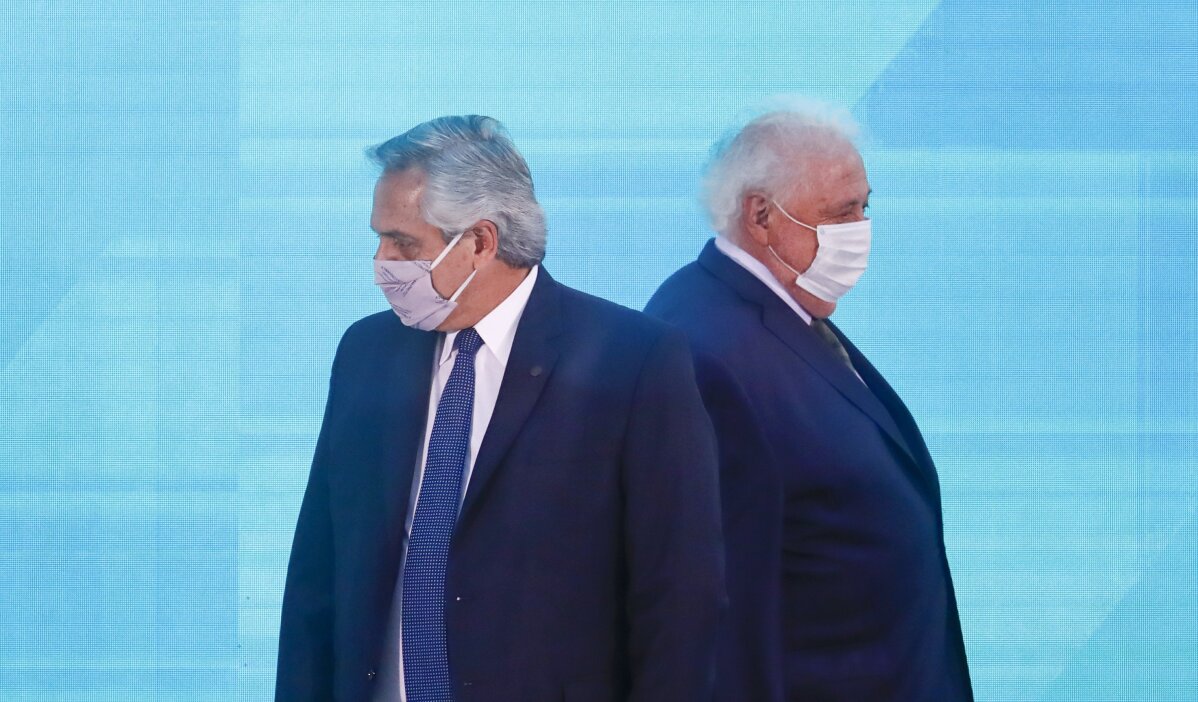 6 of 24

|
FILE - In this Jan. 14, 2021 file photo, Argentine President Alberto Fernandez, left, walks past Health Minister Gines Gonzalez Garcia as they arrive to a law signing ceremony, in Buenos Aires, Argentina. Fernandez asked his Gonzalez García to resign on Friday, Jan. 19, 2021, who is alleged to be involved in a scandal over discretionary handling of COVID-19 vaccines. (AP Photo/Marcos Brindicci, File)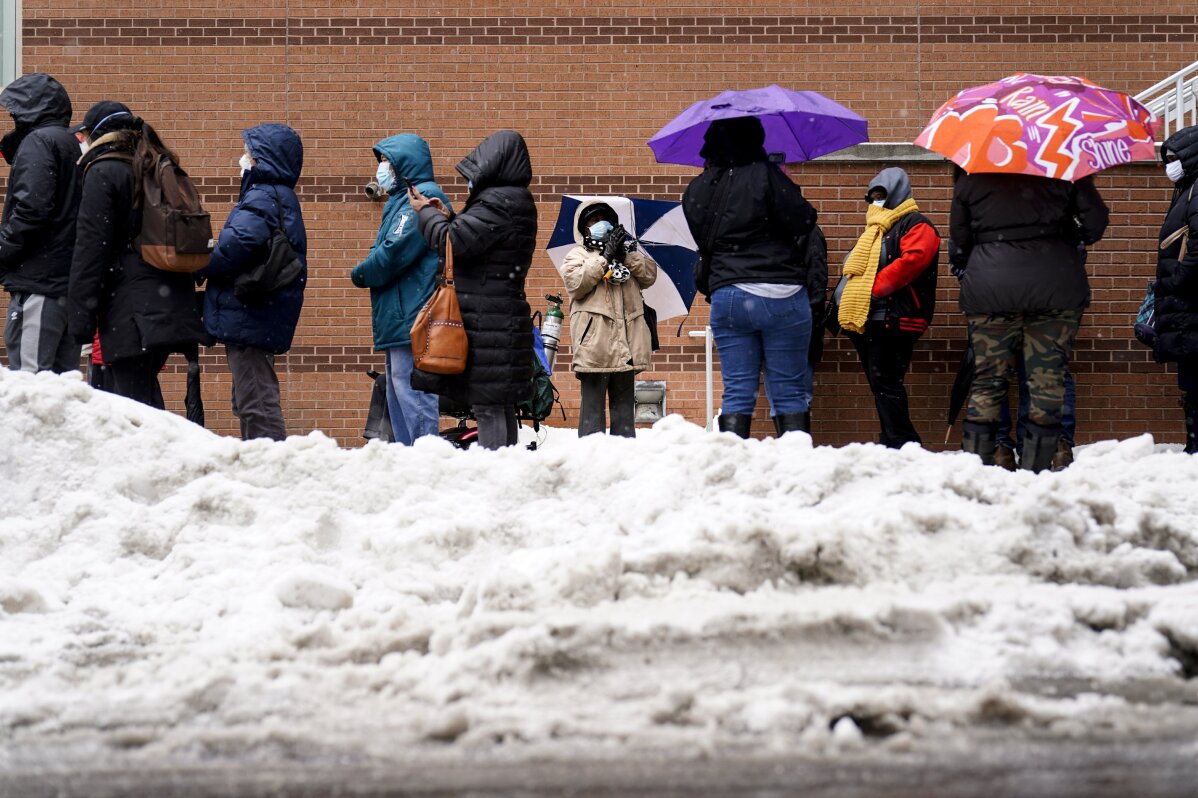 7 of 24

|
People wait in line at a 24-hour, walk-up COVID-19 vaccination clinic hosted by the Black Doctors COVID-19 Consortium at Temple University's Liacouras Center in Philadelphia, Friday, Feb. 19, 2021. (AP Photo/Matt Rourke)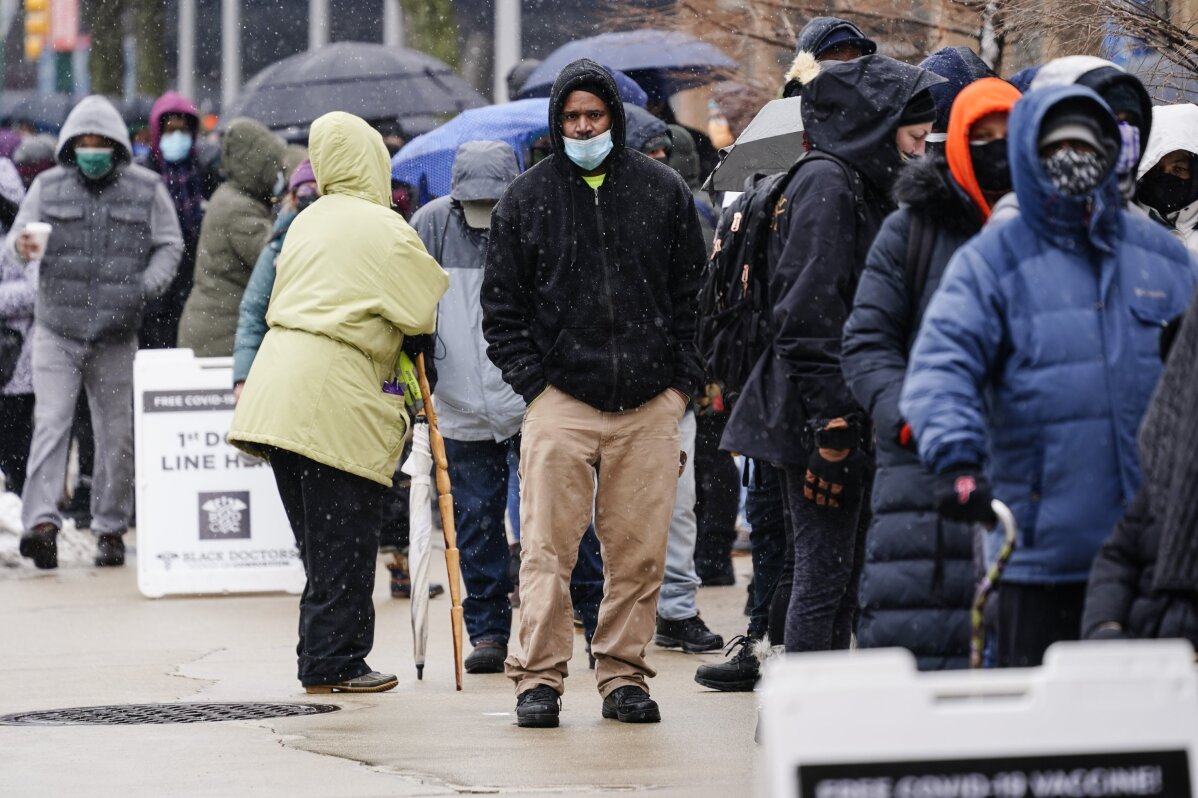 8 of 24

|
People wait in line at a 24-hour, walk-up COVID-19 vaccination clinic hosted by the Black Doctors COVID-19 Consortium at Temple University's Liacouras Center in Philadelphia, Friday, Feb. 19, 2021. (AP Photo/Matt Rourke)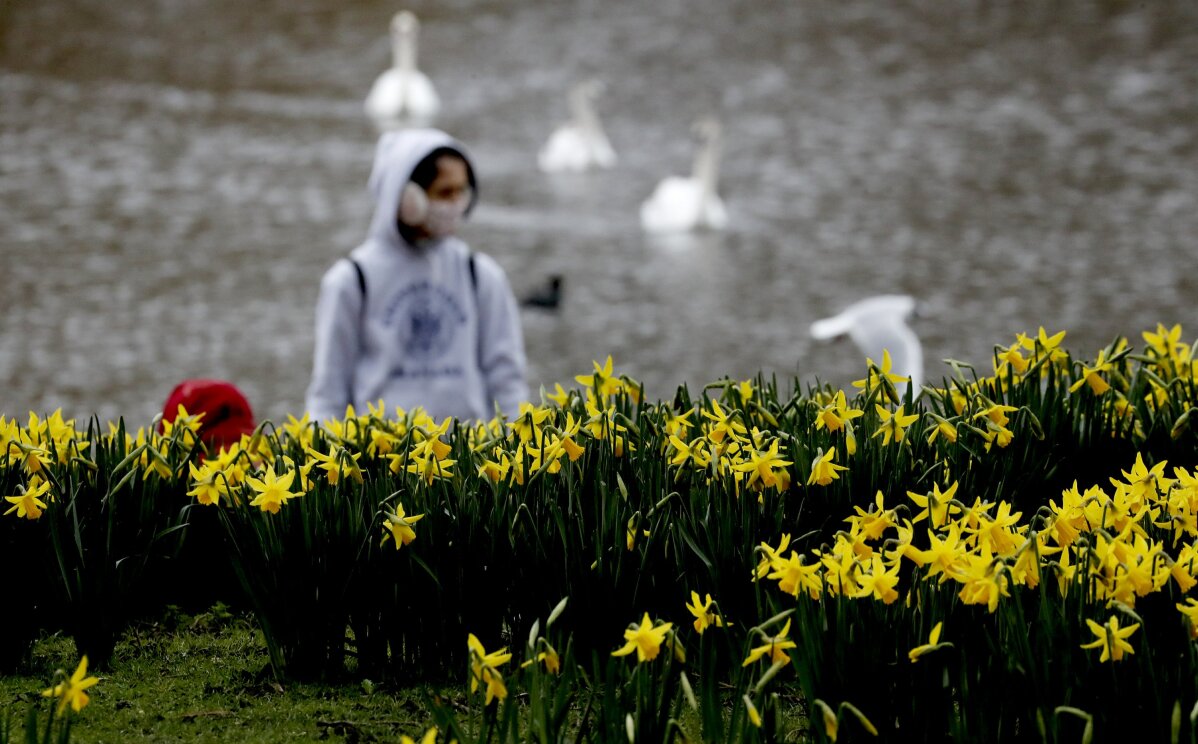 9 of 24

|
A pedestrian wearing a face covering due to the Covid-19 pandemic walks past blooming daffodils in a park in London, Friday, Feb. 19, 2021 as the lockdown in Britain continues. Britain has given a first vaccine shot to over 15 million people, almost a quarter of the population.(AP Photo/Frank Augstein)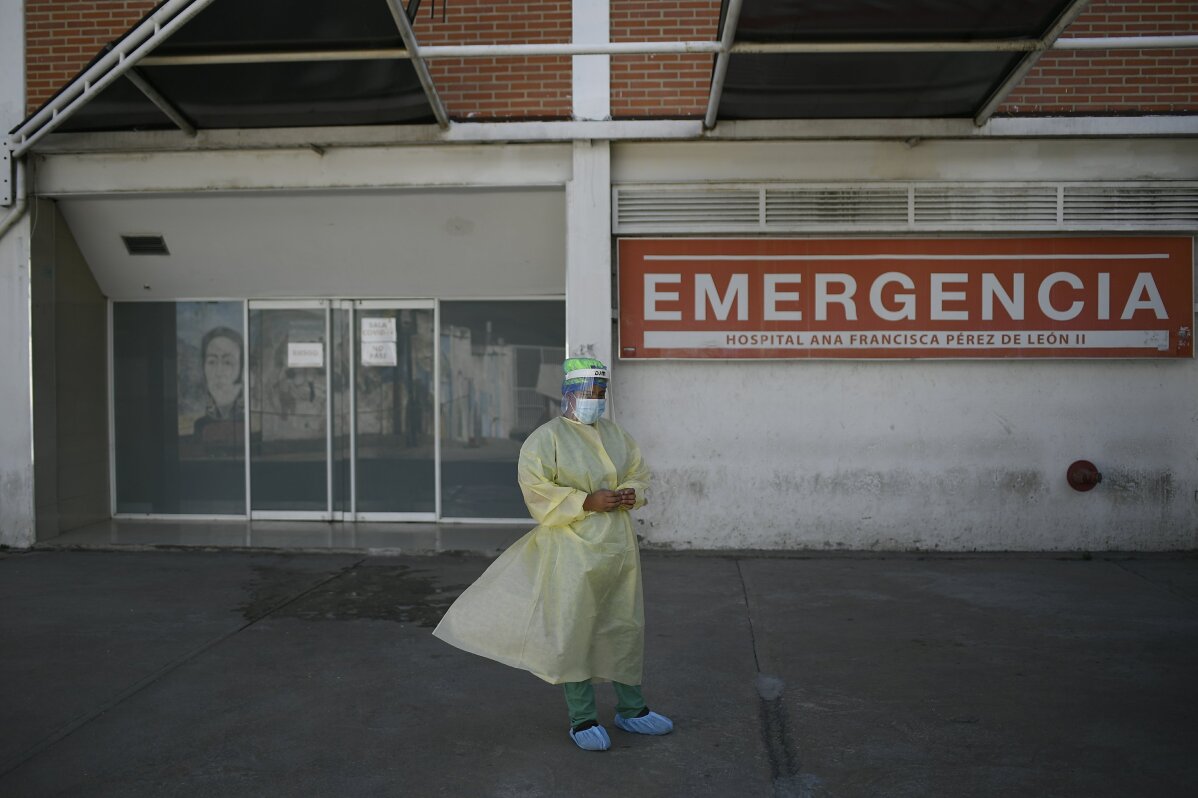 10 of 24

|
A doctor waits to get a shot of the Sputnik V vaccine for COVID-19 at the Pérez de Leon II public hospital in Caracas, Venezuela, Friday, Feb. 19, 2021. (AP Photo/Matias Delacroix)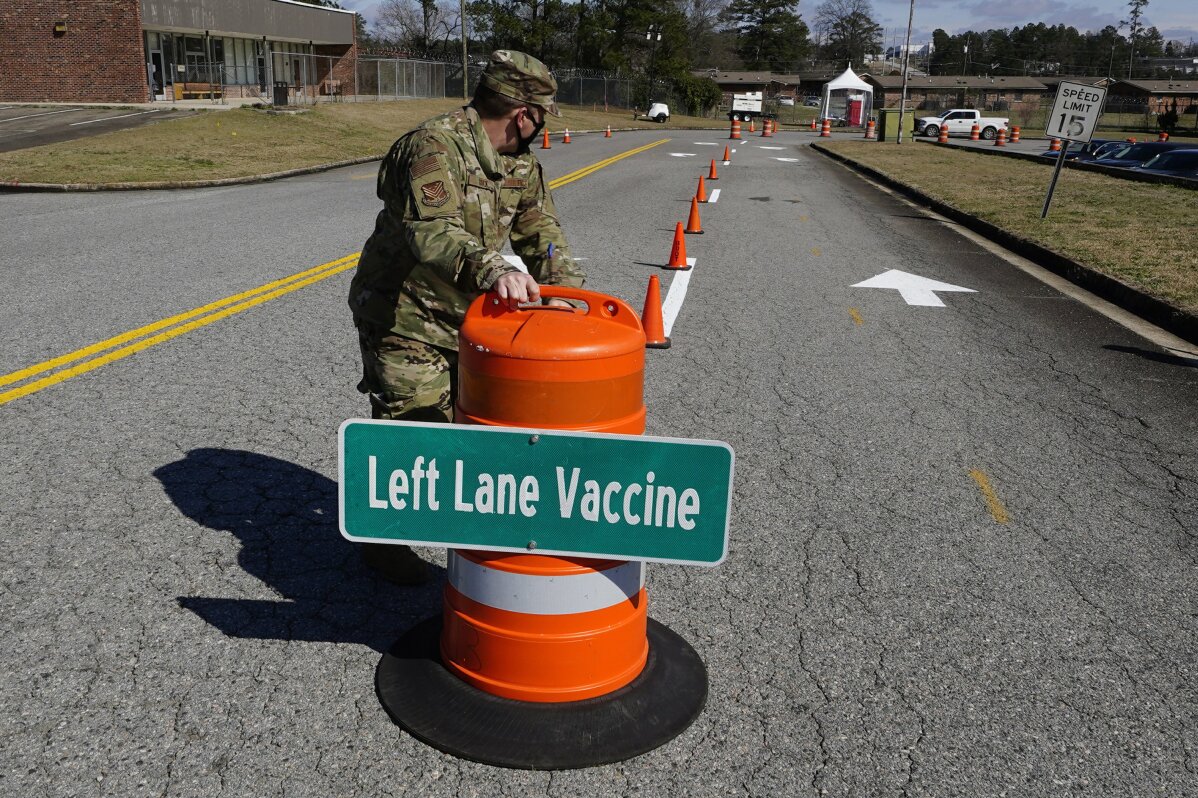 11 of 24

|
Georgia Air National Guardsman Sgt. Owen Bock works to set up a mass vaccination site at the Macon State Farmers Market on Friday, Feb. 19, 2021, in Atlanta. Officials say starting Monday they plan to vaccinate 1,100 a day at the site. (AP Photo/John Bazemore)
12 of 24

|
Women wearing face masks to protect against the spread of the coronavirus dance at a public park in Beijing, Friday, Feb. 19, 2021. China has been regularly reporting no locally transmitted cases of COVID-19 as it works to maintain control of the pandemic within its borders. (AP Photo/Mark Schiefelbein)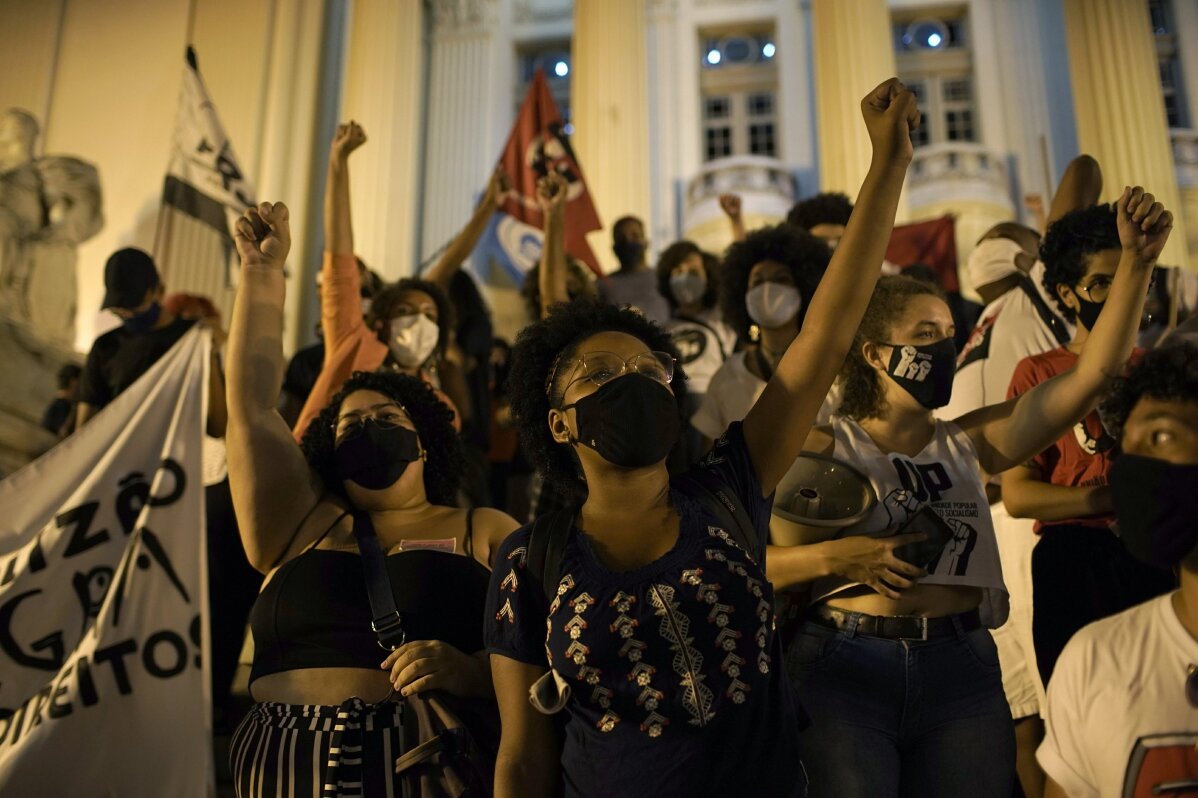 13 of 24

|
Demonstrators shout slogans during a protest against the government's response in combating COVID-19 and also asking for the extension of emergency aid by the federal government amid the pandemic in Rio de Janeiro, Brazil, Thursday, Feb. 18, 2021. (AP Photo/Silvia Izquierdo)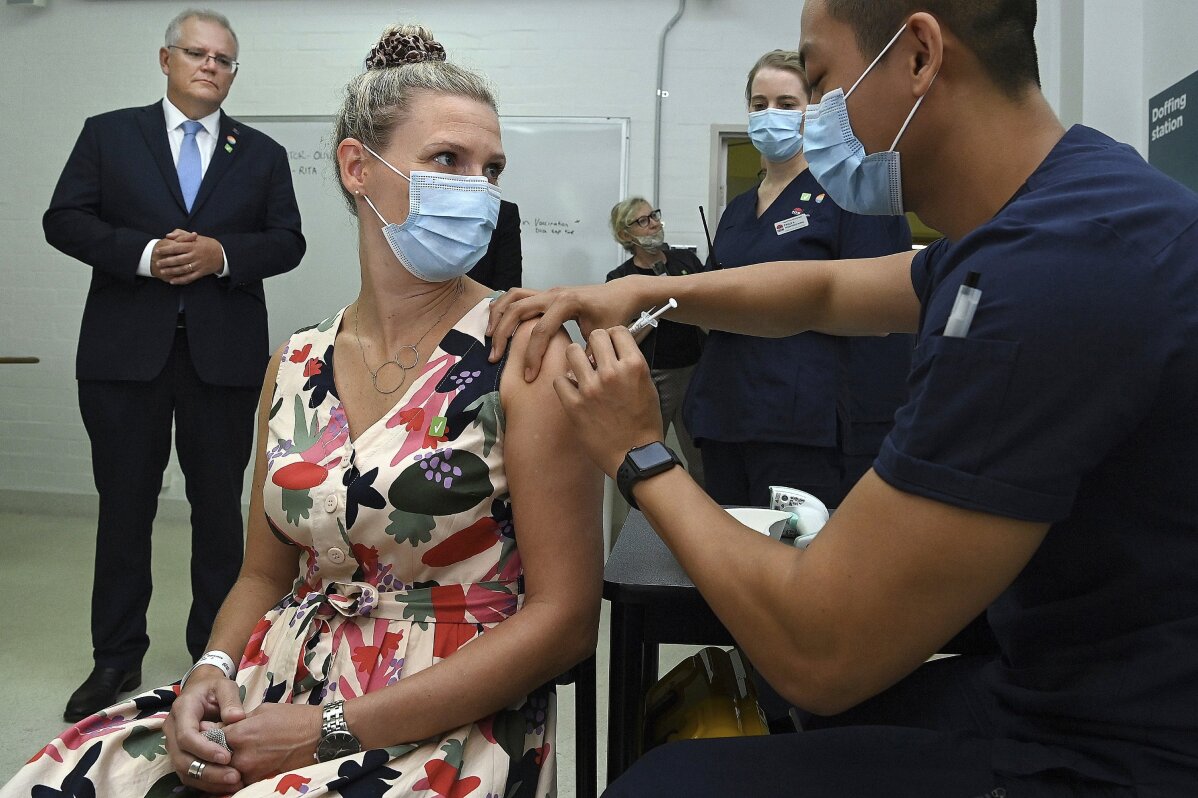 14 of 24

|
Australian Prime Minister Scott Morrison, left, watches as Sarah Fletcher, second from left, is taken through procedure of receiving a vaccine at the Sydney local health district vaccination hub in Sydney, Friday, Feb. 19, 2021. Vaccinations for COVID-19 are scheduled to begin nationwide on Monday. (Kate Geraghty/Pool Photo via AP)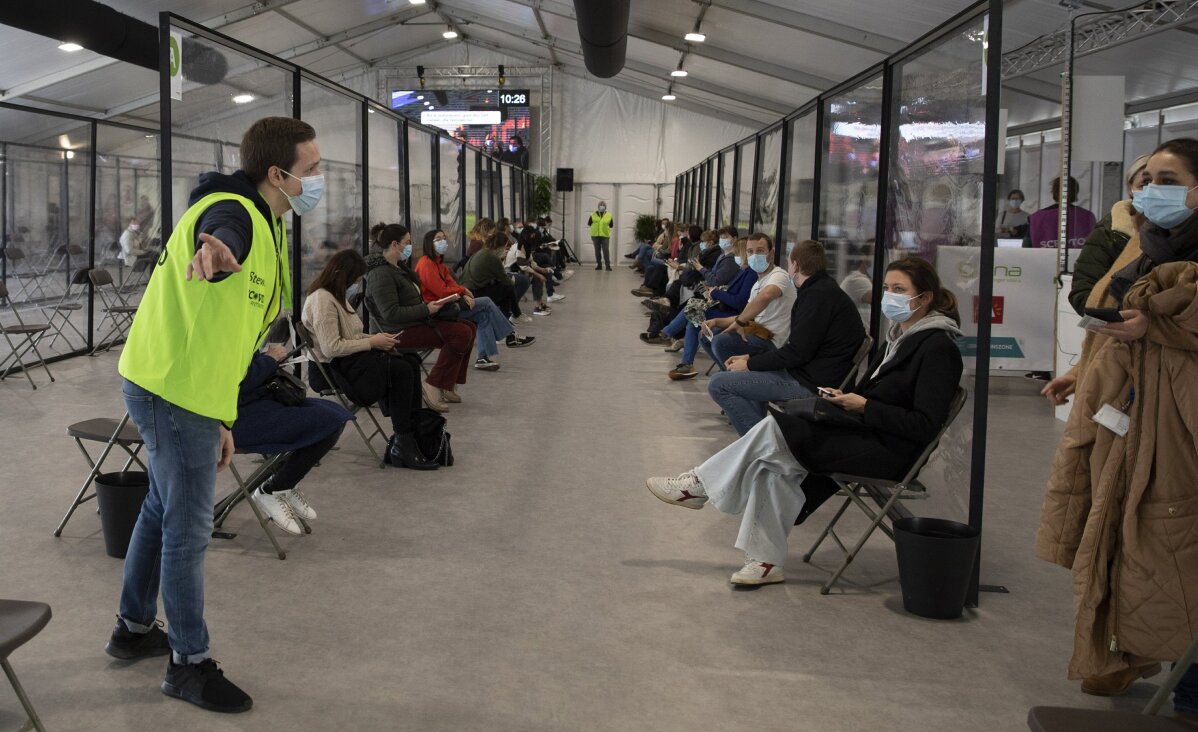 15 of 24

|
A steward directs people to seats in a waiting room after receiving an injection of the AstraZeneca coronavirus vaccine at the Vaccine Village in Antwerp, Belgium, on Friday, Feb. 19, 2021. (AP Photo/Virginia Mayo)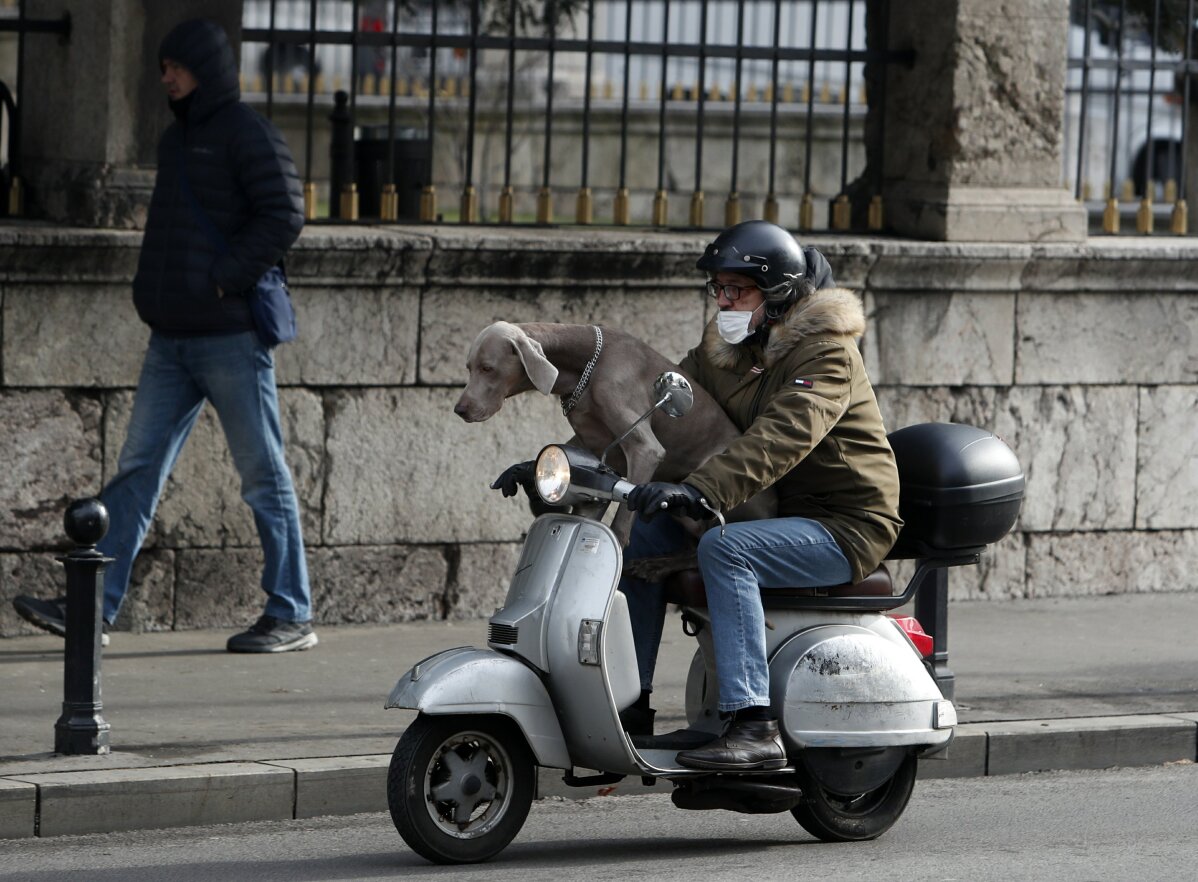 16 of 24

|
A man wearing a face mask to protect against coronavirus with dog ride a motor scooter in Belgrade, Serbia, Friday, Feb. 19, 2021. (AP Photo/Darko Vojinovic)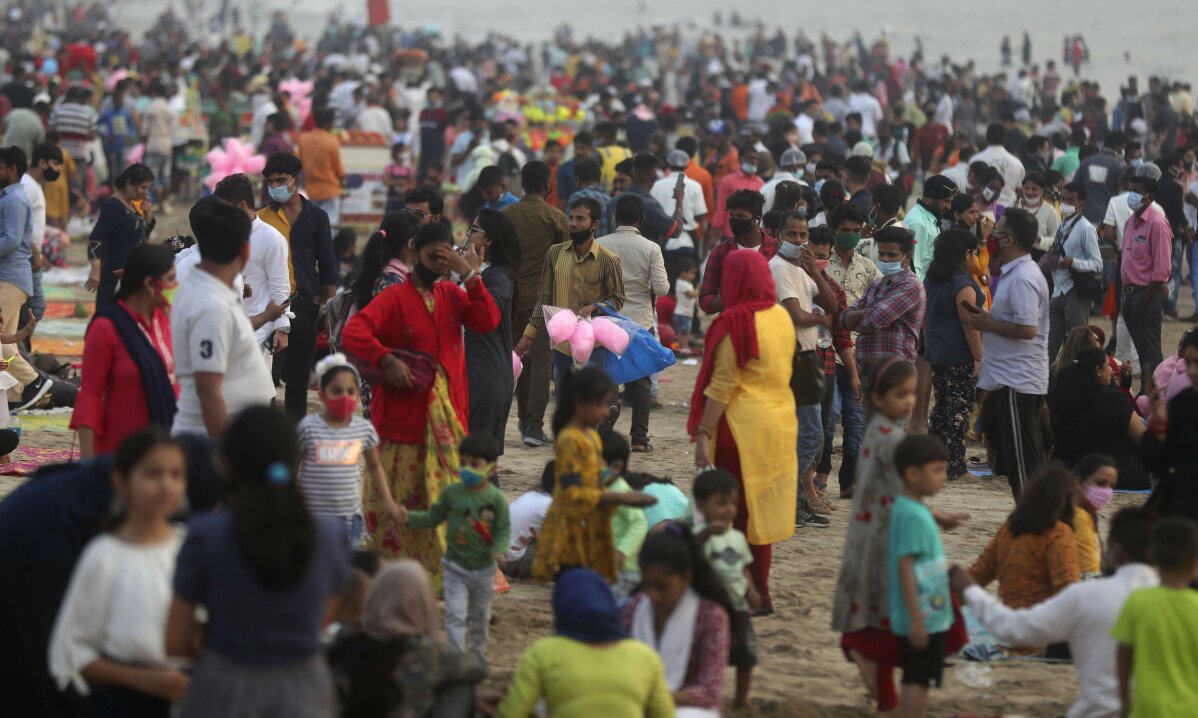 17 of 24

|
People crowd Juhu beach in Mumbai, India, Friday, Feb. 19, 2021. Health officials have detected a spike in COVID-19 cases in several pockets of Maharashtra state, including in Mumbai, the country's financial capital. (AP Photo/Rafiq Maqbool)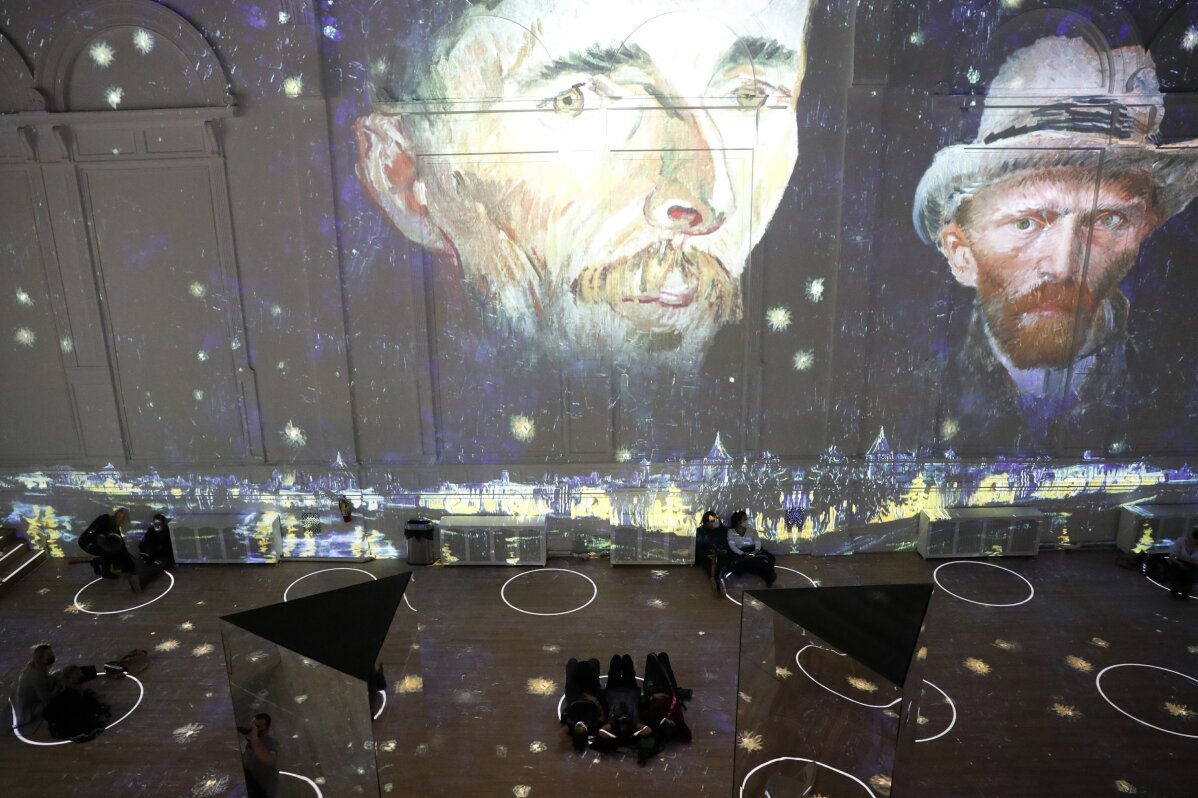 18 of 24

|
Patrons socially distance as they look at the moving images cast on the walls, floors and reflecting mirrors during a virtual display titled "Immersive Van Gogh" on Thursday, Feb. 18, 2021, at the Lighthouse ArtSpace, in Chicago. (AP Photo/Shafkat Anowar)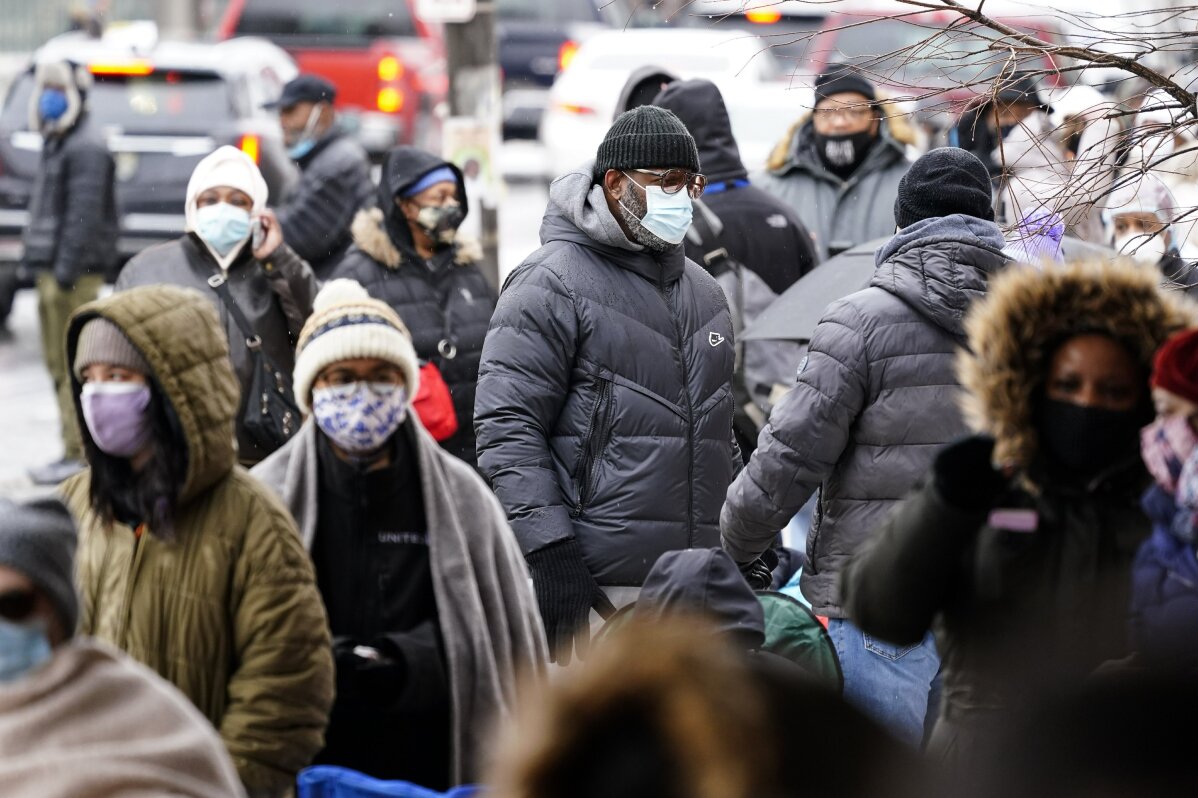 19 of 24

|
People wait in line for the opening of a 24-hour, walk-up COVID-19 vaccination clinic hosted by the Black Doctors COVID-19 Consortium at Temple University's Liacouras Center in Philadelphia, Friday, Feb. 19, 2021. (AP Photo/Matt Rourke)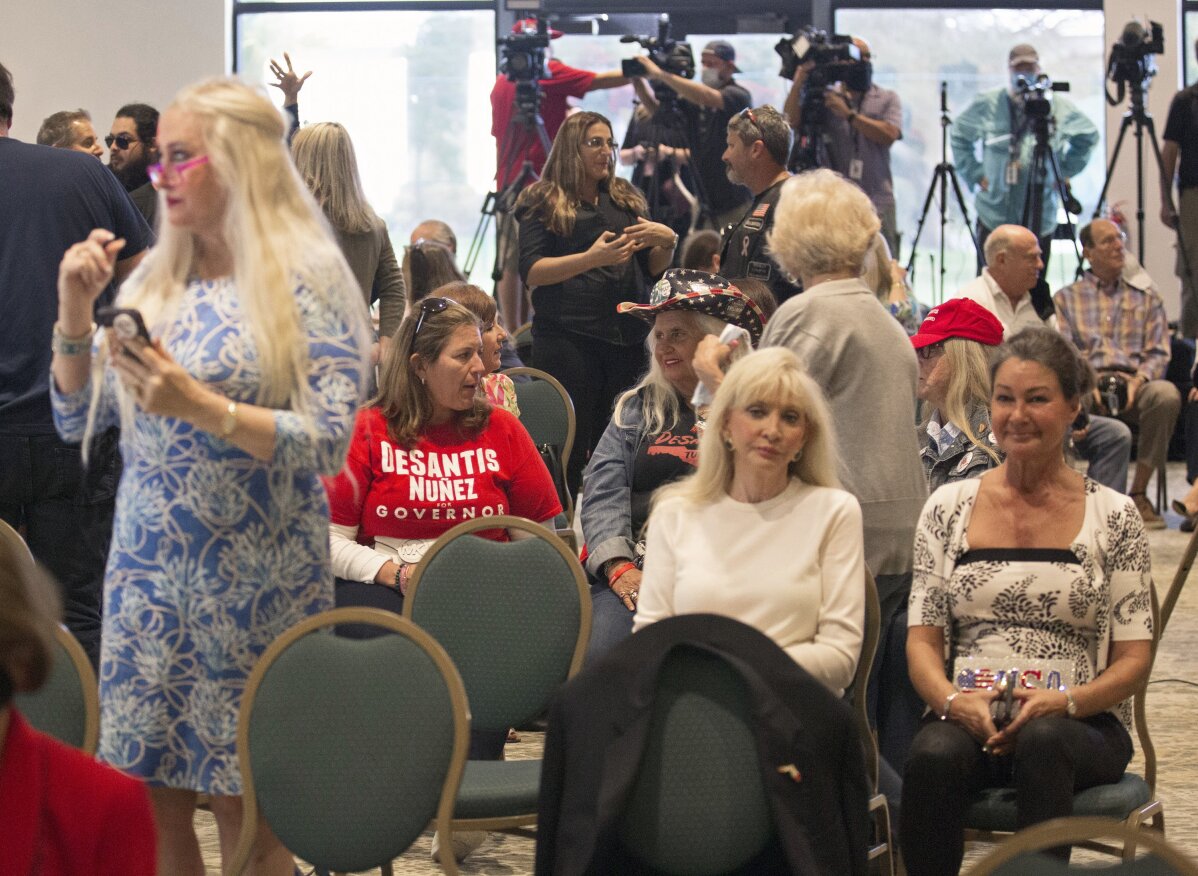 20 of 24

|
Unmasked supporters of Florida Gov. Ron DeSantis crowd a conference room as they await his arrival at the Hilton Airport Palm Beach in West Palm Beach, Fla., Friday, Feb. 19, 2021, in violation of county ordinances requiring face masks to prevent the spread of the coronavirus. (Lannis Waters/The Palm Beach Post via AP)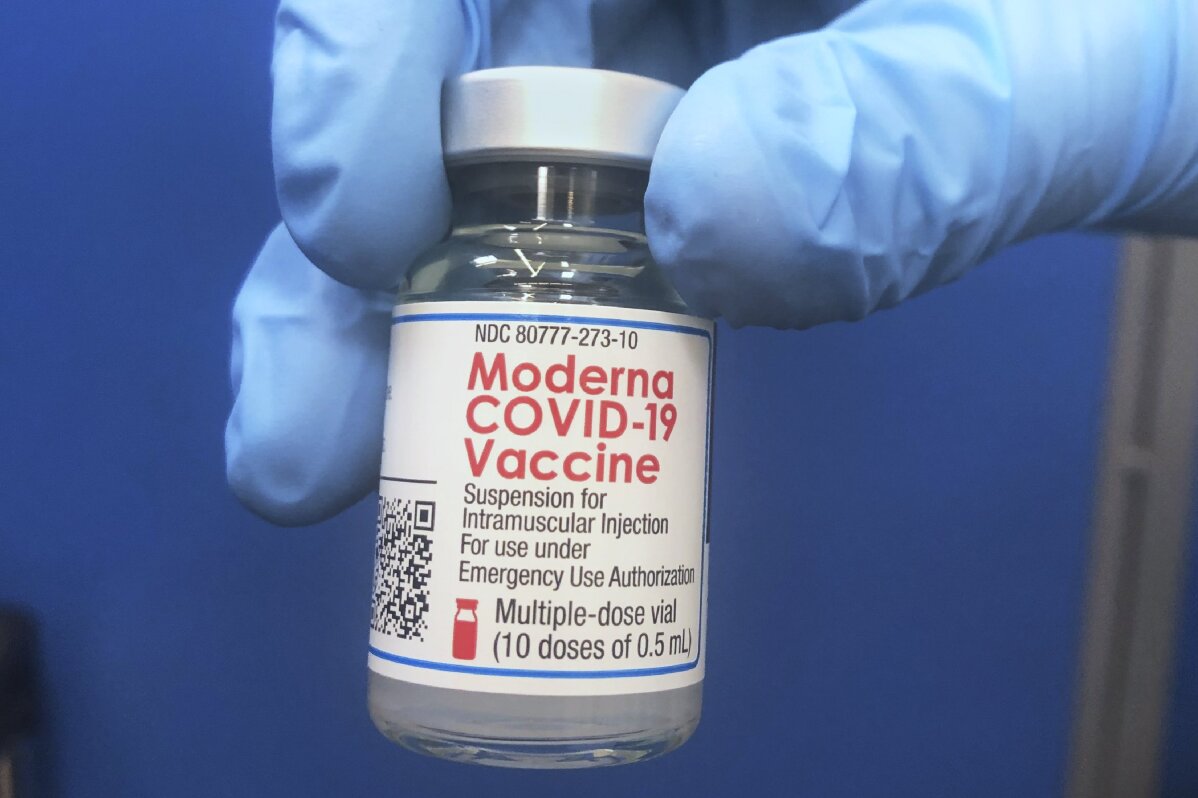 21 of 24

|
A vial of Moderna COVID-19 vaccine is held at a vaccination site Friday, Feb. 19, 2021, in Oklahoma City. (AP Photo/Sue Ogrocki)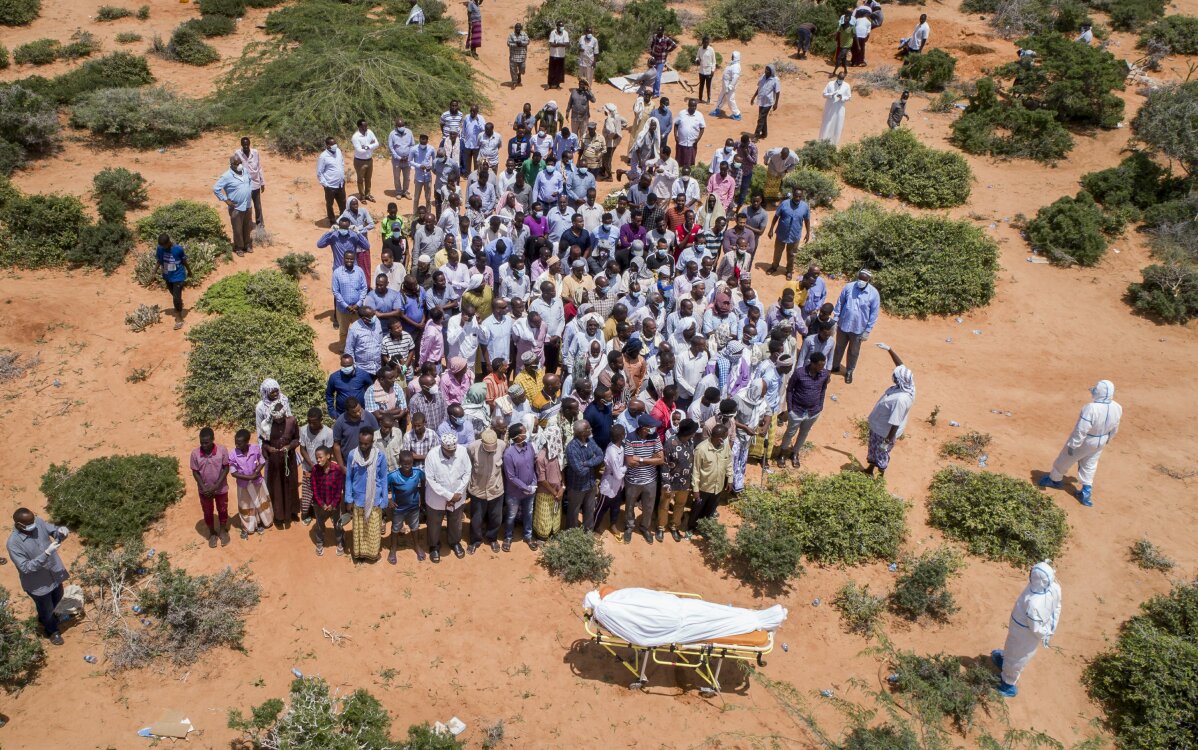 22 of 24

|
FILE - In this April 30, 2020, file photo, mourners gather to bury an elderly man believed to have died of the coronavirus in Mogadishu, Somalia. Africa has surpassed 100,000 confirmed deaths from COVID-19 as the continent praised for its early response to the pandemic now struggles with a dangerous resurgence and medical oxygen often runs desperately short. (AP Photo, File)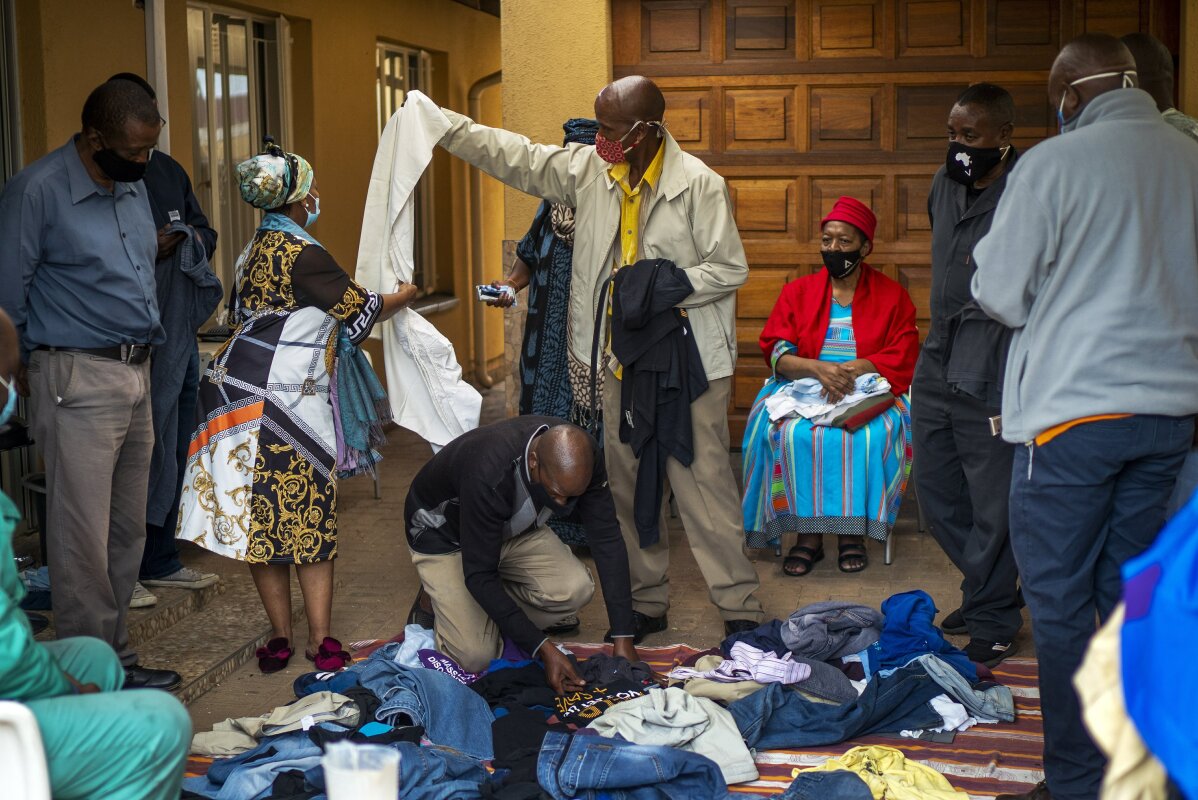 23 of 24

|
FILE - In this Nov. 21, 2020, file photo, family members select clothes that belonged to Benedict Sami Vilakazi, who died of COVID-19, during an Ukugeza cleansing ceremony at Vilakazi's home in Soweto, South Africa. Africa has surpassed 100,000 confirmed deaths from COVID-19 as the continent praised for its early response to the pandemic now struggles with a dangerous resurgence and medical oxygen often runs desperately short. (AP Photo/Jerome Delay, File)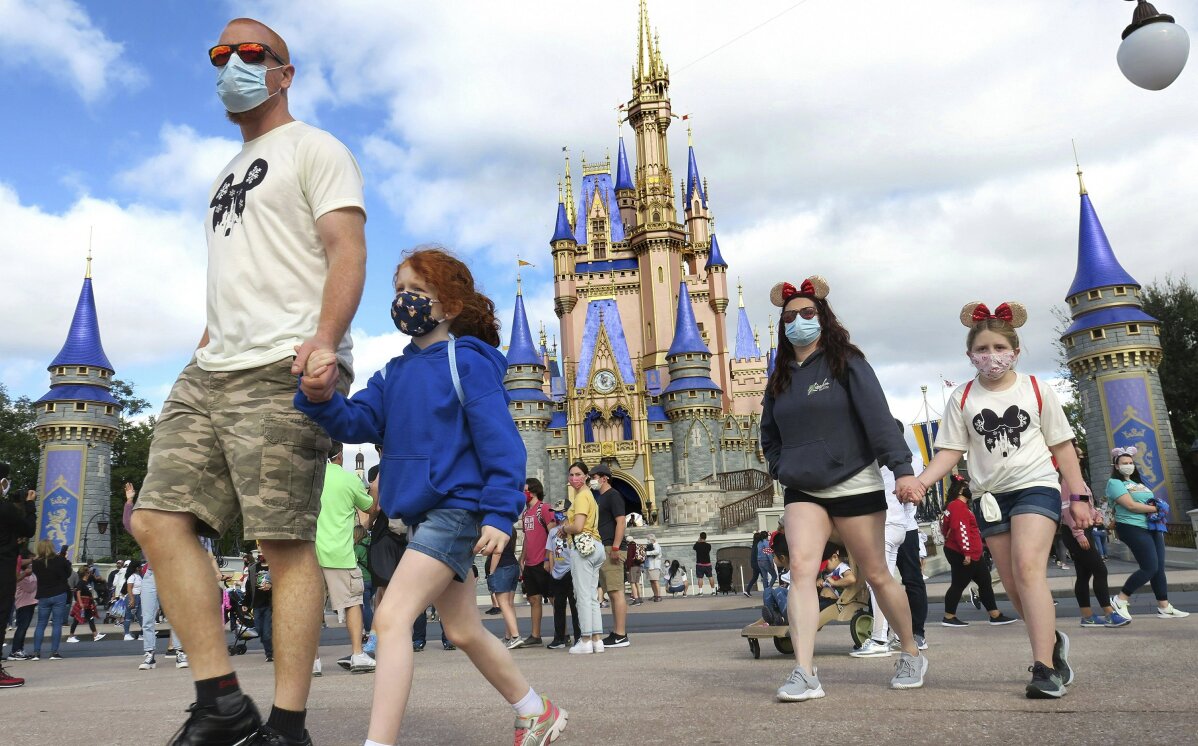 24 of 24

|
FILE - IN this Dec. 21, 2020 file photo, A family walks past Cinderella Castle in the Magic Kingdom, at Walt Disney World in Lake Buena Vista, Fla. To help celebrate the 50th anniversary of the opening of Walt Disney World in Florida, Mickey and Minnie are getting flashier threads and iconic structures such as Cinderella's Castle and the Tower of Terror are getting new lighting. Disney officials on Friday, Feb. 19, 2021, unveiled the first details on how Disney World will celebrate its milestone anniversary.(Joe Burbank/Orlando Sentinel via AP, File)
The Latest: Chinese, Russian vaccines to arrive in Mexico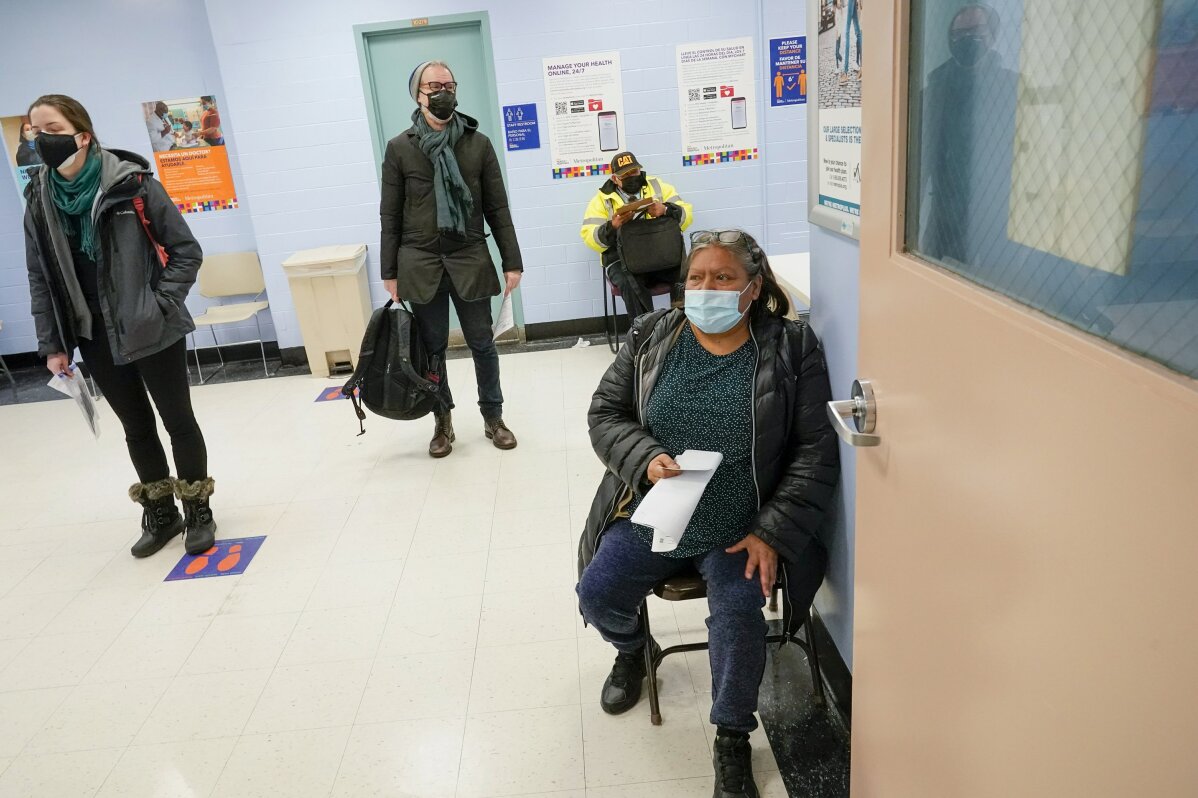 1 of 24

|
Maria Hernandez, right, of Manhattan, sits in a waiting area after registering for the first dose of the coronavirus vaccine at a COVID-19 vaccination site at NYC Health + Hospitals Metropolitan, Thursday, Feb. 18, 2021, in New York. (AP Photo/Mary Altaffer)
1 of 24
Maria Hernandez, right, of Manhattan, sits in a waiting area after registering for the first dose of the coronavirus vaccine at a COVID-19 vaccination site at NYC Health + Hospitals Metropolitan, Thursday, Feb. 18, 2021, in New York. (AP Photo/Mary Altaffer)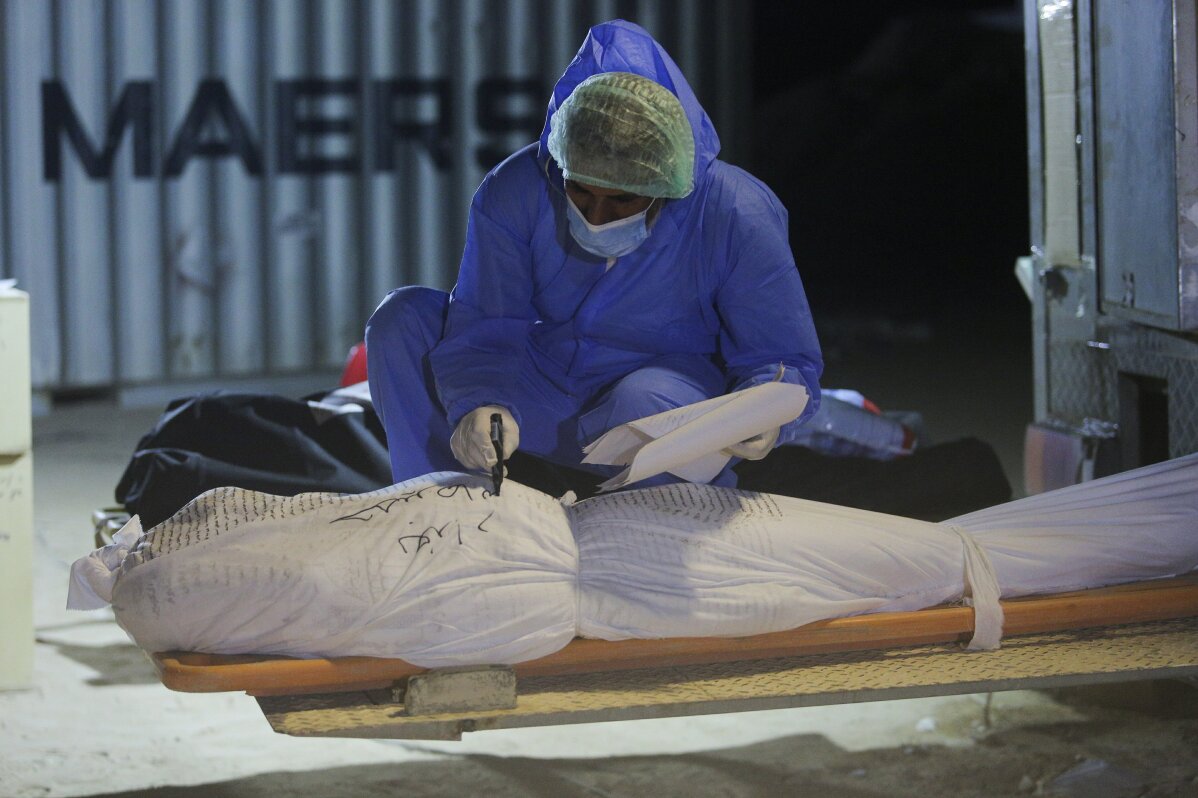 2 of 24

|
File - In this Sunday, July 19, 2020 file photo, a amember of the Shiite Imam Ali brigades writes information on a body coronavirus victim during funeral at Wadi al-Salam cemetery near Najaf, Iraq. A special burial ground near the Wadi al-Salam cemetery has been created specifically for COVID-19 victims since rejections of such burials have continued in Baghdad cemeteries and elsewhere in Iraq. (AP Photo/Anmar Khalil, File)
2 of 24
File - In this Sunday, July 19, 2020 file photo, a amember of the Shiite Imam Ali brigades writes information on a body coronavirus victim during funeral at Wadi al-Salam cemetery near Najaf, Iraq. A special burial ground near the Wadi al-Salam cemetery has been created specifically for COVID-19 victims since rejections of such burials have continued in Baghdad cemeteries and elsewhere in Iraq. (AP Photo/Anmar Khalil, File)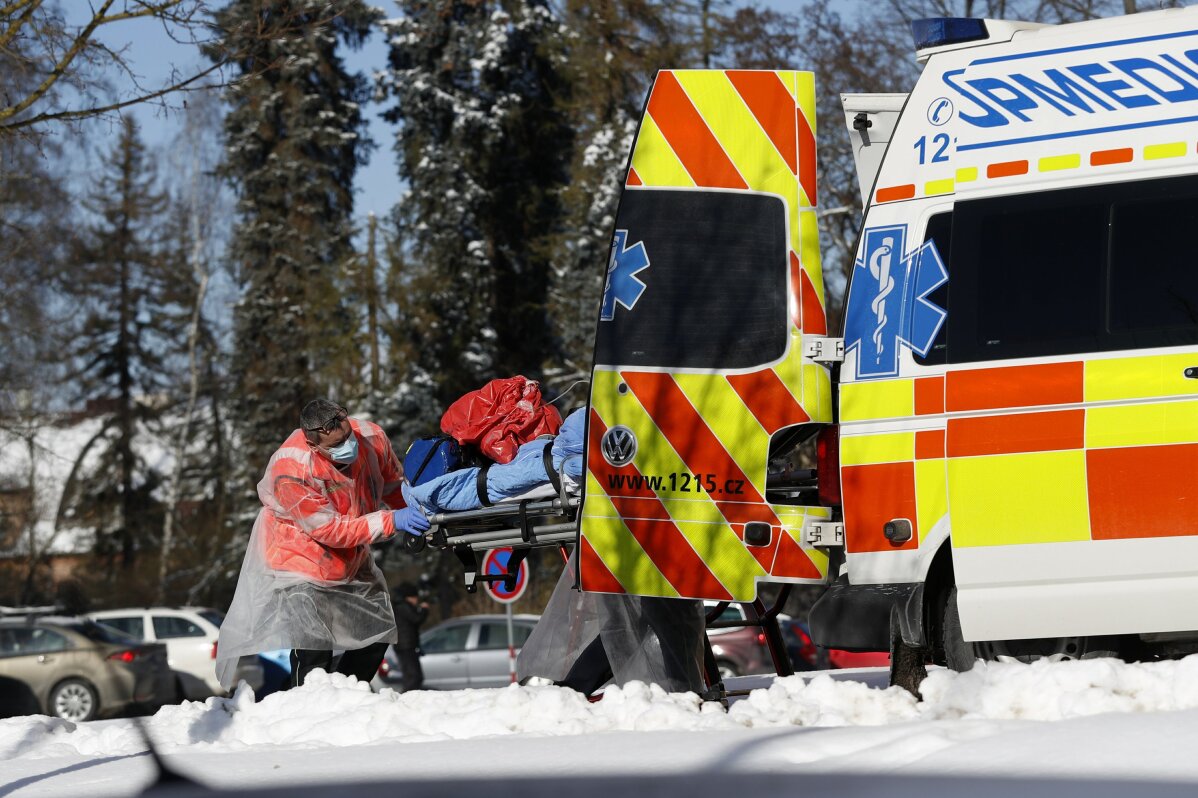 3 of 24

|
FILE - In this Friday, Feb. 12, 2021, file photo, medical workers move a covid-19 patient into an ambulance at a hospital overrun by the covid pandemic in Cheb, Czech Republic. The Czech government has decided to further tighten restrictive measures amid a surge of a highly contagious coronavirus variant in one of the hardest-hit European Union's nations. At the same time, the worsening situation has forced the Cabinet to abandon for now its plans to reopen all stores as soon as next week. (AP Photo/Petr David Josek/File)
3 of 24
FILE - In this Friday, Feb. 12, 2021, file photo, medical workers move a covid-19 patient into an ambulance at a hospital overrun by the covid pandemic in Cheb, Czech Republic. The Czech government has decided to further tighten restrictive measures amid a surge of a highly contagious coronavirus variant in one of the hardest-hit European Union's nations. At the same time, the worsening situation has forced the Cabinet to abandon for now its plans to reopen all stores as soon as next week. (AP Photo/Petr David Josek/File)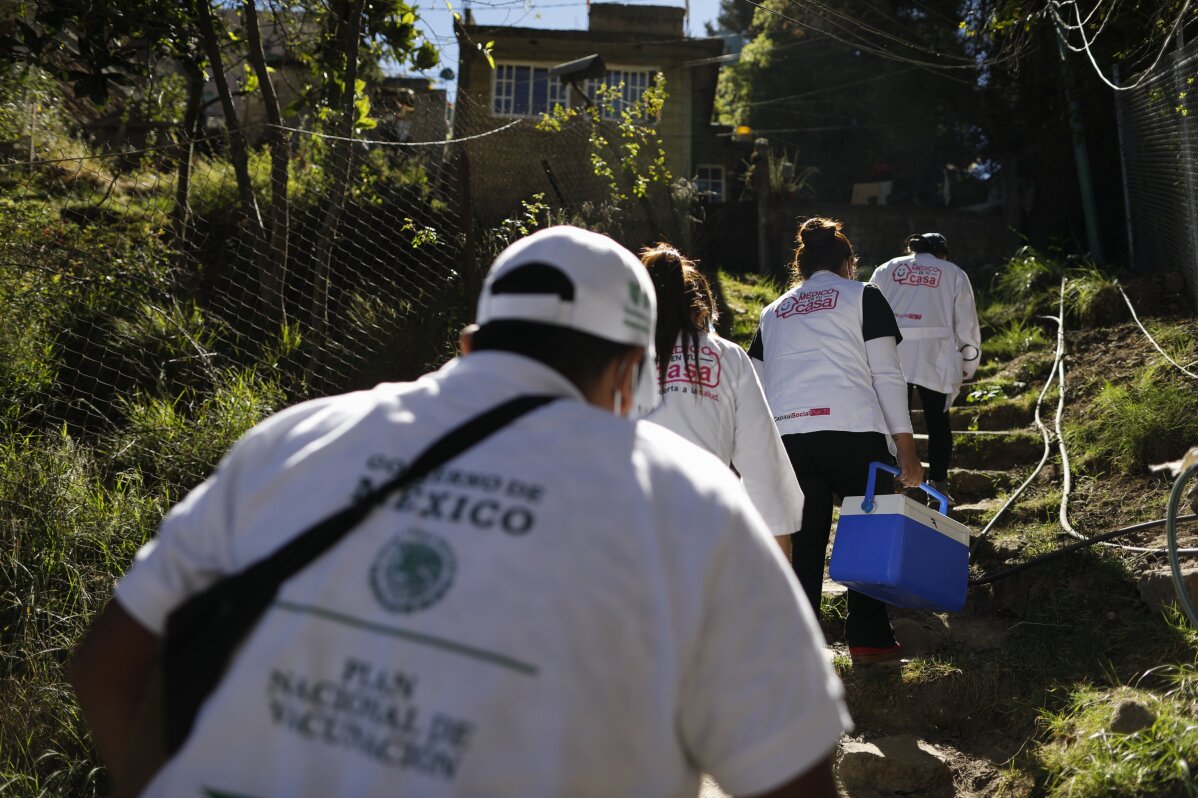 4 of 24

|
A medical team climbs uneven worn steps up a hillside to reach the home of Maria del Socorro Fuentes Chirino, 64, to administer a shot of the AstraZeneca coronavirus vaccine, in rural San Lorenzo Acopilco on the outskirts of Mexico City, Thursday, Feb. 18, 2021. Mexico City's health department is sending teams of medical workers to give in-home vaccinations for elderly residents unable to reach vaccination centers. (AP Photo/Rebecca Blackwell)
4 of 24
A medical team climbs uneven worn steps up a hillside to reach the home of Maria del Socorro Fuentes Chirino, 64, to administer a shot of the AstraZeneca coronavirus vaccine, in rural San Lorenzo Acopilco on the outskirts of Mexico City, Thursday, Feb. 18, 2021. Mexico City's health department is sending teams of medical workers to give in-home vaccinations for elderly residents unable to reach vaccination centers. (AP Photo/Rebecca Blackwell)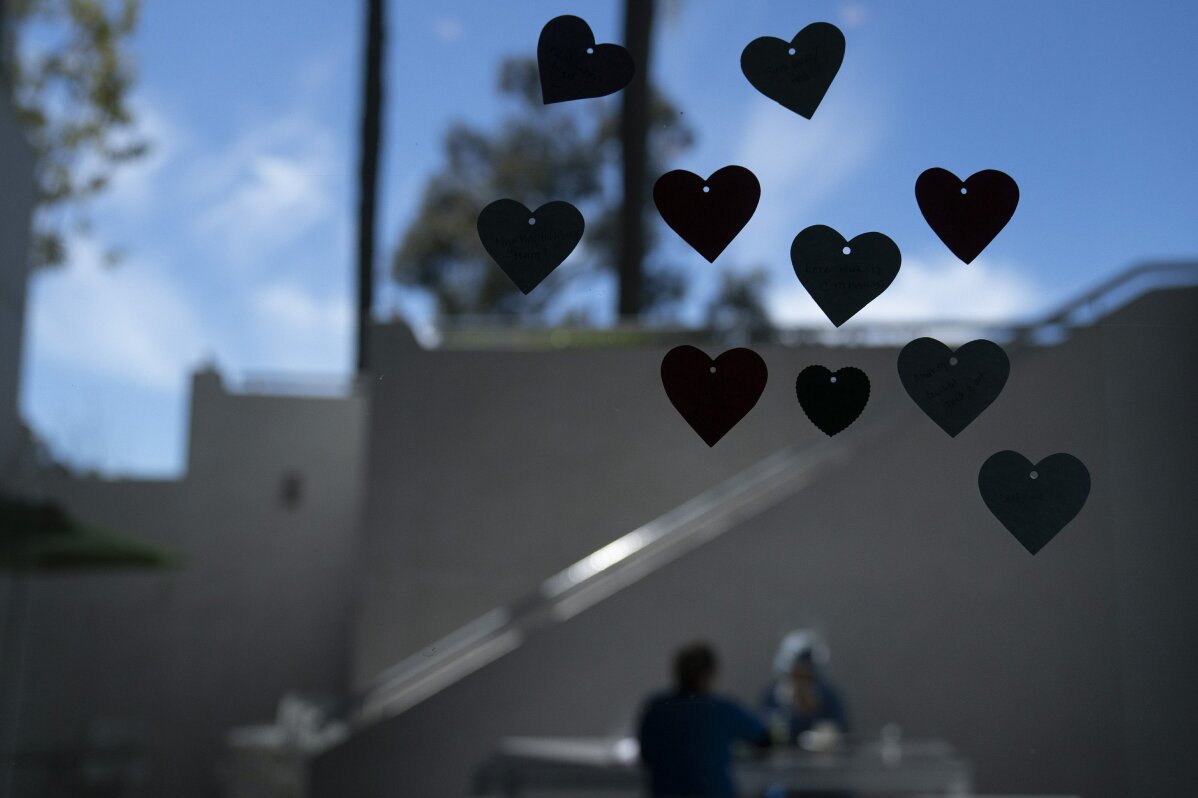 5 of 24

|
A cafeteria window is decorated with heart-shaped cutouts as hospital staff members eat their lunch in a recently reopened dining area at Mission Hospital in Mission Viejo, Calif., Friday, Feb. 19, 2021. California's virus cases, infection rates, and hospitalizations have dropped precipitously after reaching record highs in early January. (AP Photo/Jae C. Hong)
5 of 24
A cafeteria window is decorated with heart-shaped cutouts as hospital staff members eat their lunch in a recently reopened dining area at Mission Hospital in Mission Viejo, Calif., Friday, Feb. 19, 2021. California's virus cases, infection rates, and hospitalizations have dropped precipitously after reaching record highs in early January. (AP Photo/Jae C. Hong)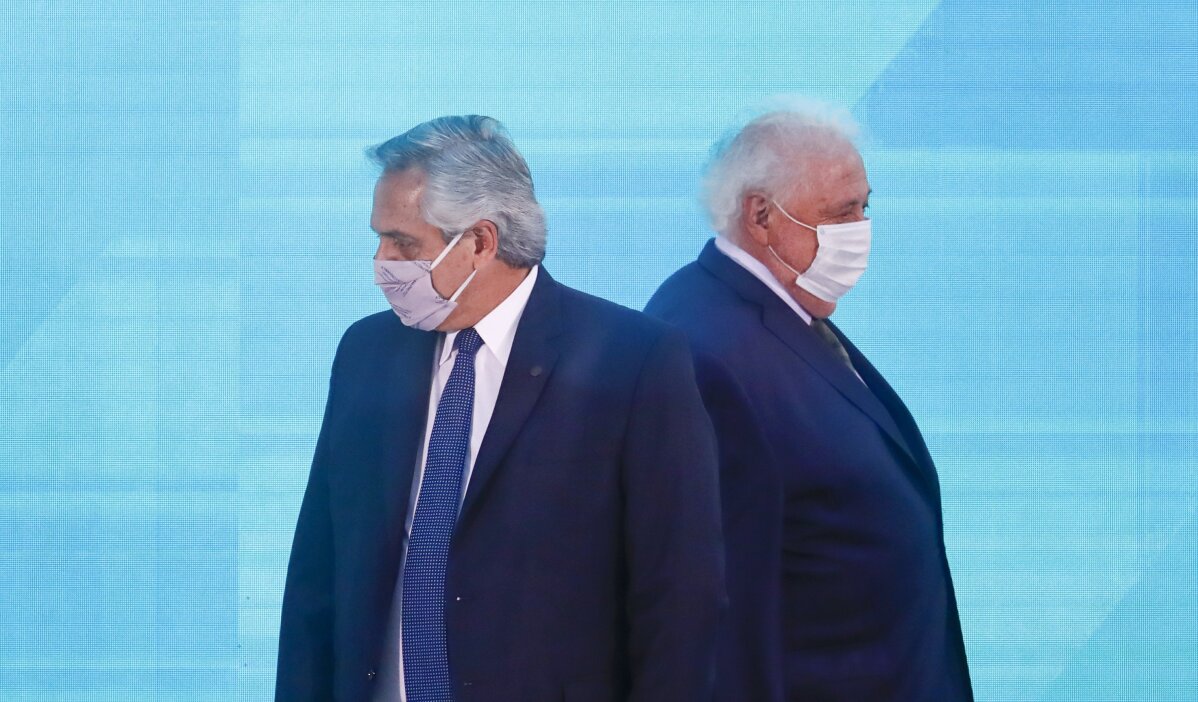 6 of 24

|
FILE - In this Jan. 14, 2021 file photo, Argentine President Alberto Fernandez, left, walks past Health Minister Gines Gonzalez Garcia as they arrive to a law signing ceremony, in Buenos Aires, Argentina. Fernandez asked his Gonzalez García to resign on Friday, Jan. 19, 2021, who is alleged to be involved in a scandal over discretionary handling of COVID-19 vaccines. (AP Photo/Marcos Brindicci, File)
6 of 24
FILE - In this Jan. 14, 2021 file photo, Argentine President Alberto Fernandez, left, walks past Health Minister Gines Gonzalez Garcia as they arrive to a law signing ceremony, in Buenos Aires, Argentina. Fernandez asked his Gonzalez García to resign on Friday, Jan. 19, 2021, who is alleged to be involved in a scandal over discretionary handling of COVID-19 vaccines. (AP Photo/Marcos Brindicci, File)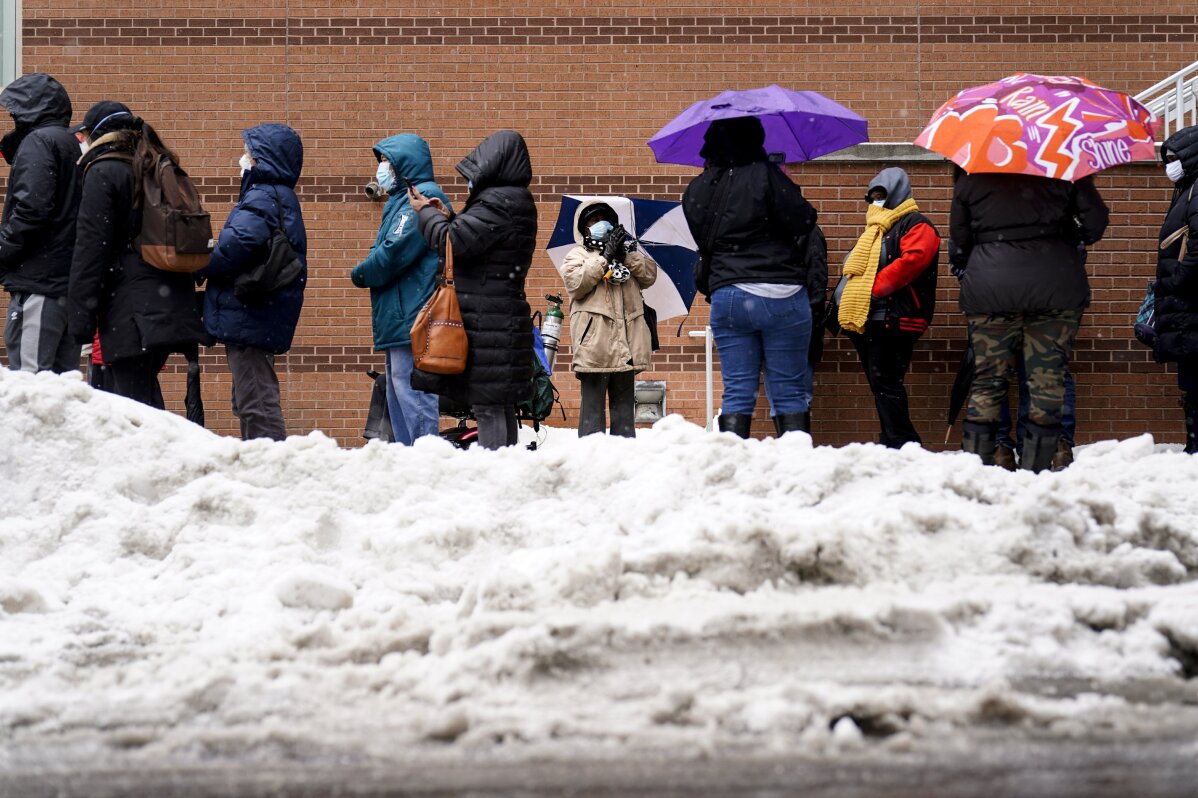 7 of 24

|
People wait in line at a 24-hour, walk-up COVID-19 vaccination clinic hosted by the Black Doctors COVID-19 Consortium at Temple University's Liacouras Center in Philadelphia, Friday, Feb. 19, 2021. (AP Photo/Matt Rourke)
7 of 24
People wait in line at a 24-hour, walk-up COVID-19 vaccination clinic hosted by the Black Doctors COVID-19 Consortium at Temple University's Liacouras Center in Philadelphia, Friday, Feb. 19, 2021. (AP Photo/Matt Rourke)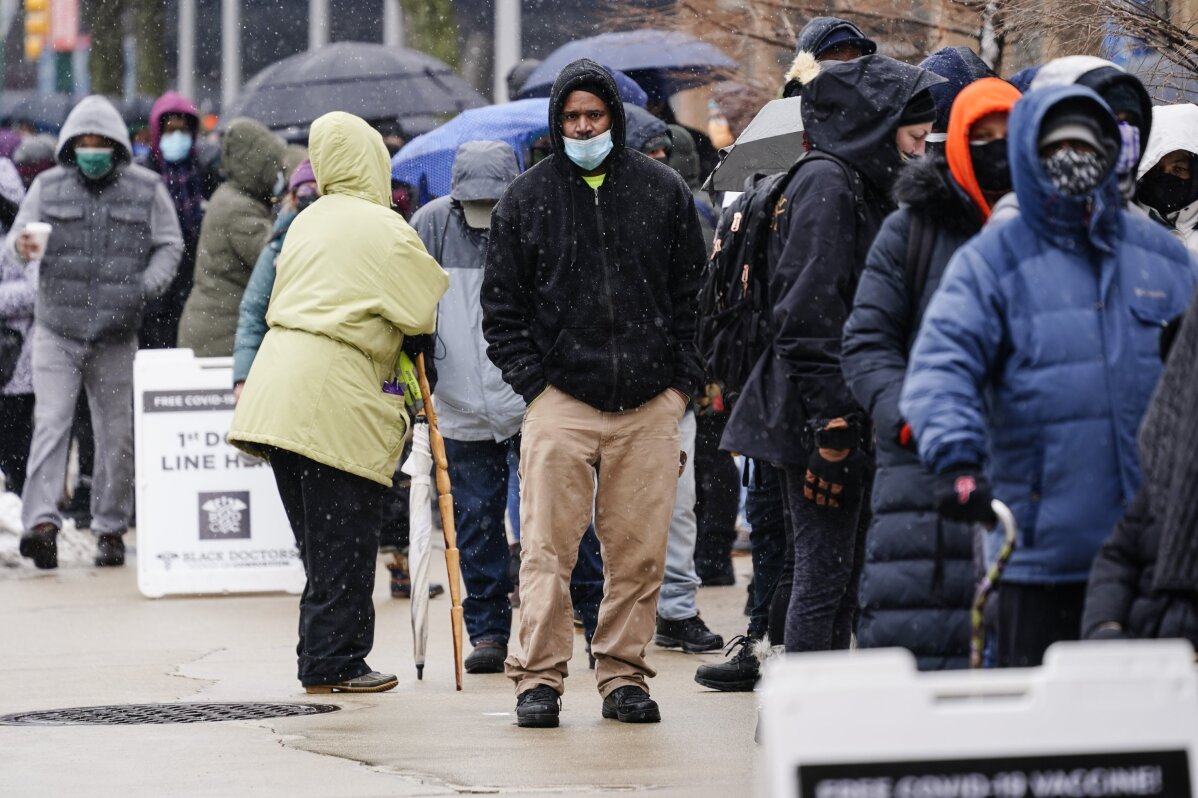 8 of 24

|
People wait in line at a 24-hour, walk-up COVID-19 vaccination clinic hosted by the Black Doctors COVID-19 Consortium at Temple University's Liacouras Center in Philadelphia, Friday, Feb. 19, 2021. (AP Photo/Matt Rourke)
8 of 24
People wait in line at a 24-hour, walk-up COVID-19 vaccination clinic hosted by the Black Doctors COVID-19 Consortium at Temple University's Liacouras Center in Philadelphia, Friday, Feb. 19, 2021. (AP Photo/Matt Rourke)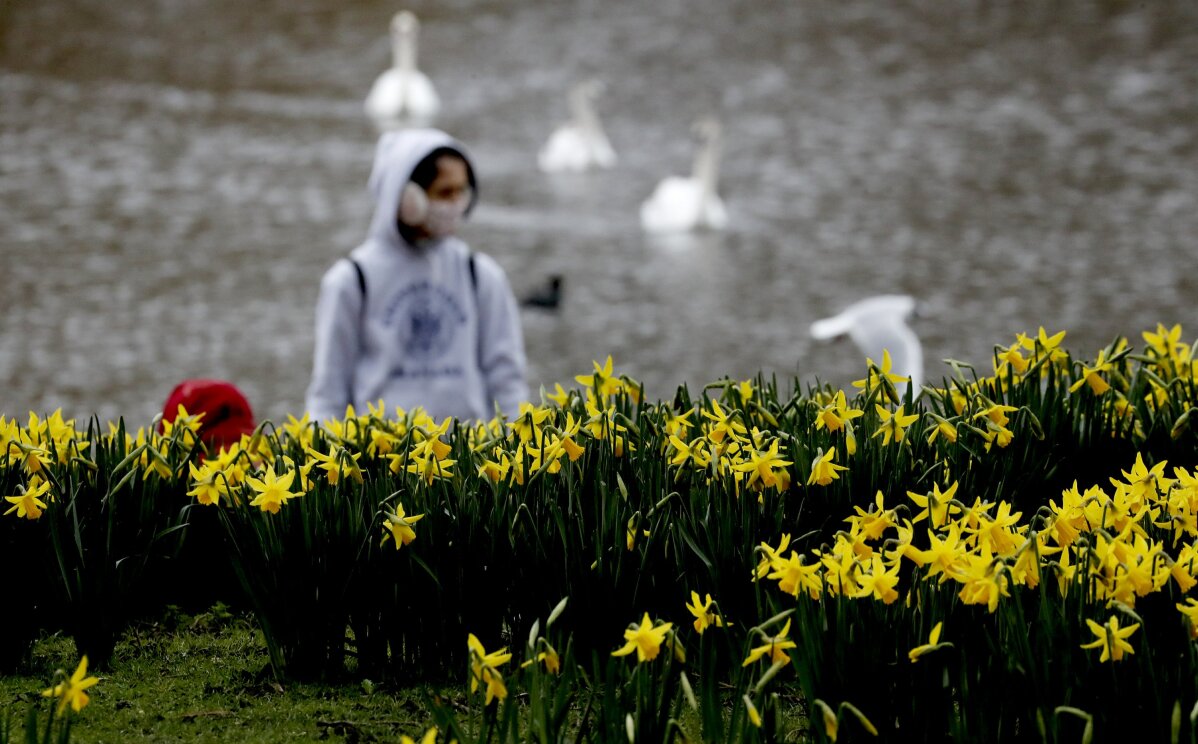 9 of 24

|
A pedestrian wearing a face covering due to the Covid-19 pandemic walks past blooming daffodils in a park in London, Friday, Feb. 19, 2021 as the lockdown in Britain continues. Britain has given a first vaccine shot to over 15 million people, almost a quarter of the population.(AP Photo/Frank Augstein)
9 of 24
A pedestrian wearing a face covering due to the Covid-19 pandemic walks past blooming daffodils in a park in London, Friday, Feb. 19, 2021 as the lockdown in Britain continues. Britain has given a first vaccine shot to over 15 million people, almost a quarter of the population.(AP Photo/Frank Augstein)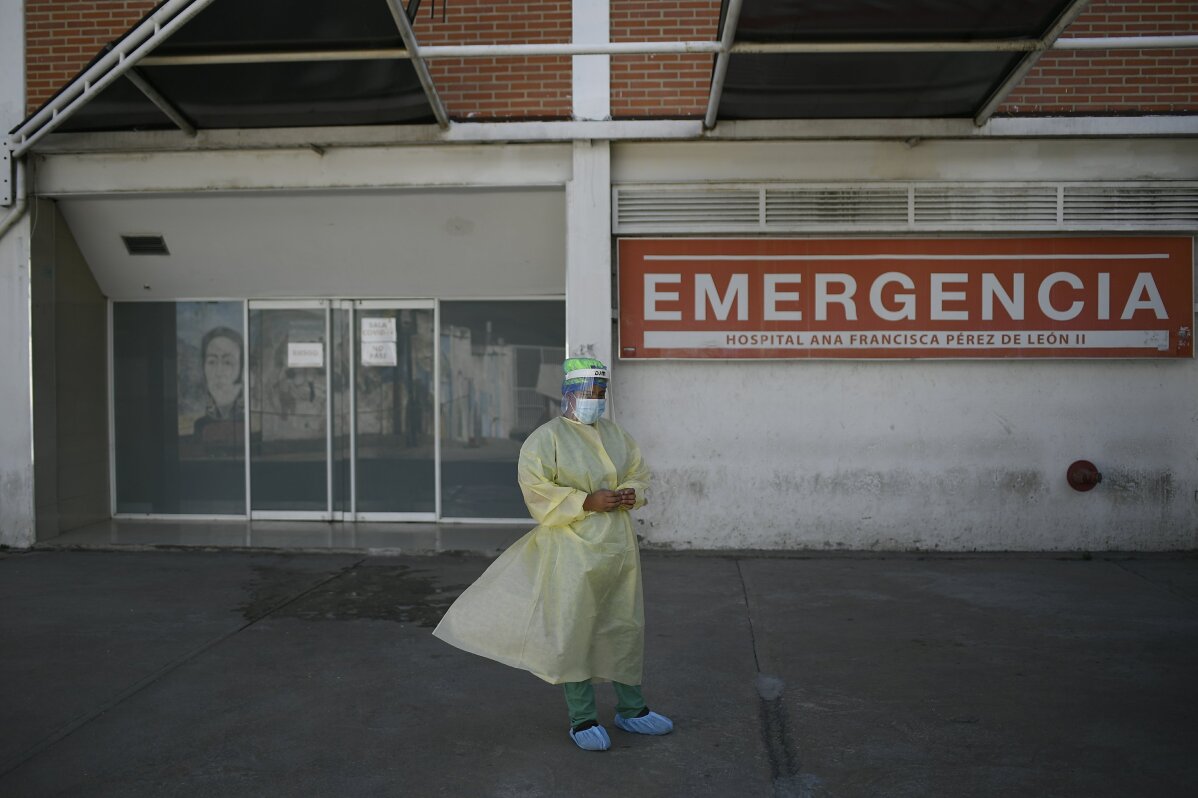 10 of 24

|
A doctor waits to get a shot of the Sputnik V vaccine for COVID-19 at the Pérez de Leon II public hospital in Caracas, Venezuela, Friday, Feb. 19, 2021. (AP Photo/Matias Delacroix)
10 of 24
A doctor waits to get a shot of the Sputnik V vaccine for COVID-19 at the Pérez de Leon II public hospital in Caracas, Venezuela, Friday, Feb. 19, 2021. (AP Photo/Matias Delacroix)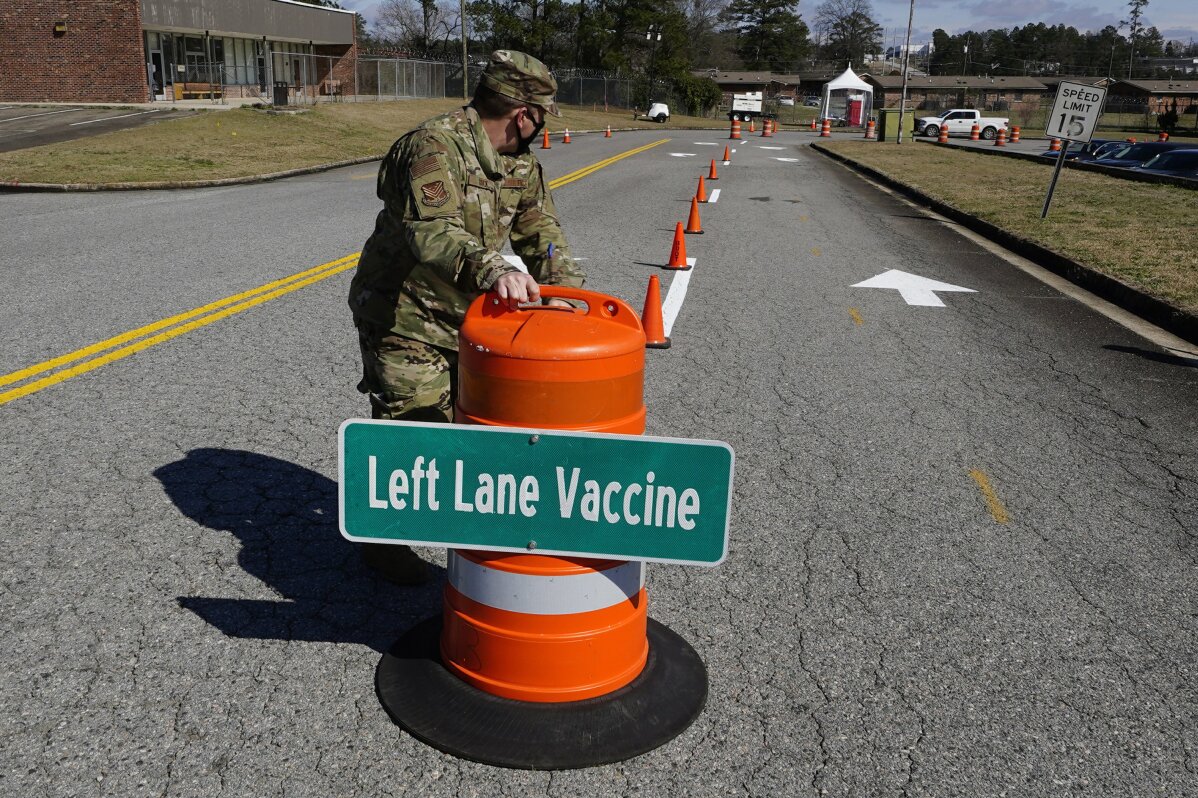 11 of 24

|
Georgia Air National Guardsman Sgt. Owen Bock works to set up a mass vaccination site at the Macon State Farmers Market on Friday, Feb. 19, 2021, in Atlanta. Officials say starting Monday they plan to vaccinate 1,100 a day at the site. (AP Photo/John Bazemore)
11 of 24
Georgia Air National Guardsman Sgt. Owen Bock works to set up a mass vaccination site at the Macon State Farmers Market on Friday, Feb. 19, 2021, in Atlanta. Officials say starting Monday they plan to vaccinate 1,100 a day at the site. (AP Photo/John Bazemore)
12 of 24

|
Women wearing face masks to protect against the spread of the coronavirus dance at a public park in Beijing, Friday, Feb. 19, 2021. China has been regularly reporting no locally transmitted cases of COVID-19 as it works to maintain control of the pandemic within its borders. (AP Photo/Mark Schiefelbein)
12 of 24
Women wearing face masks to protect against the spread of the coronavirus dance at a public park in Beijing, Friday, Feb. 19, 2021. China has been regularly reporting no locally transmitted cases of COVID-19 as it works to maintain control of the pandemic within its borders. (AP Photo/Mark Schiefelbein)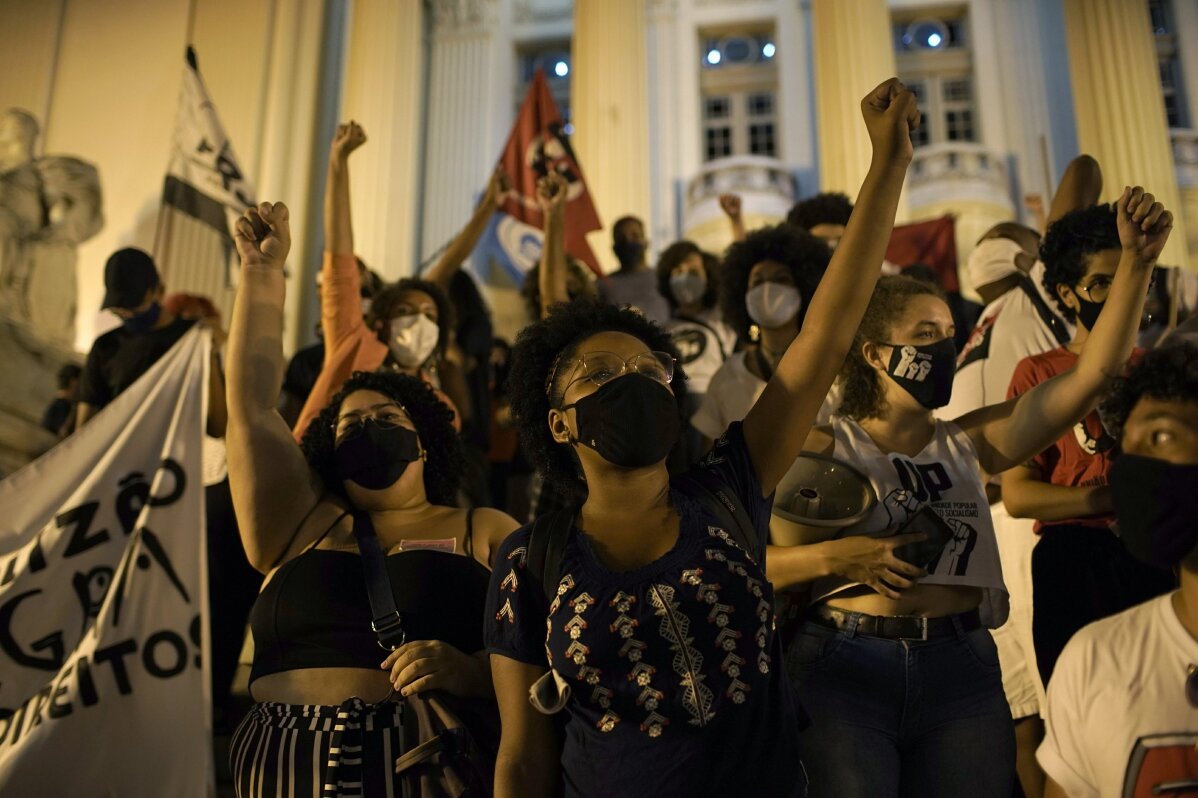 13 of 24

|
Demonstrators shout slogans during a protest against the government's response in combating COVID-19 and also asking for the extension of emergency aid by the federal government amid the pandemic in Rio de Janeiro, Brazil, Thursday, Feb. 18, 2021. (AP Photo/Silvia Izquierdo)
13 of 24
Demonstrators shout slogans during a protest against the government's response in combating COVID-19 and also asking for the extension of emergency aid by the federal government amid the pandemic in Rio de Janeiro, Brazil, Thursday, Feb. 18, 2021. (AP Photo/Silvia Izquierdo)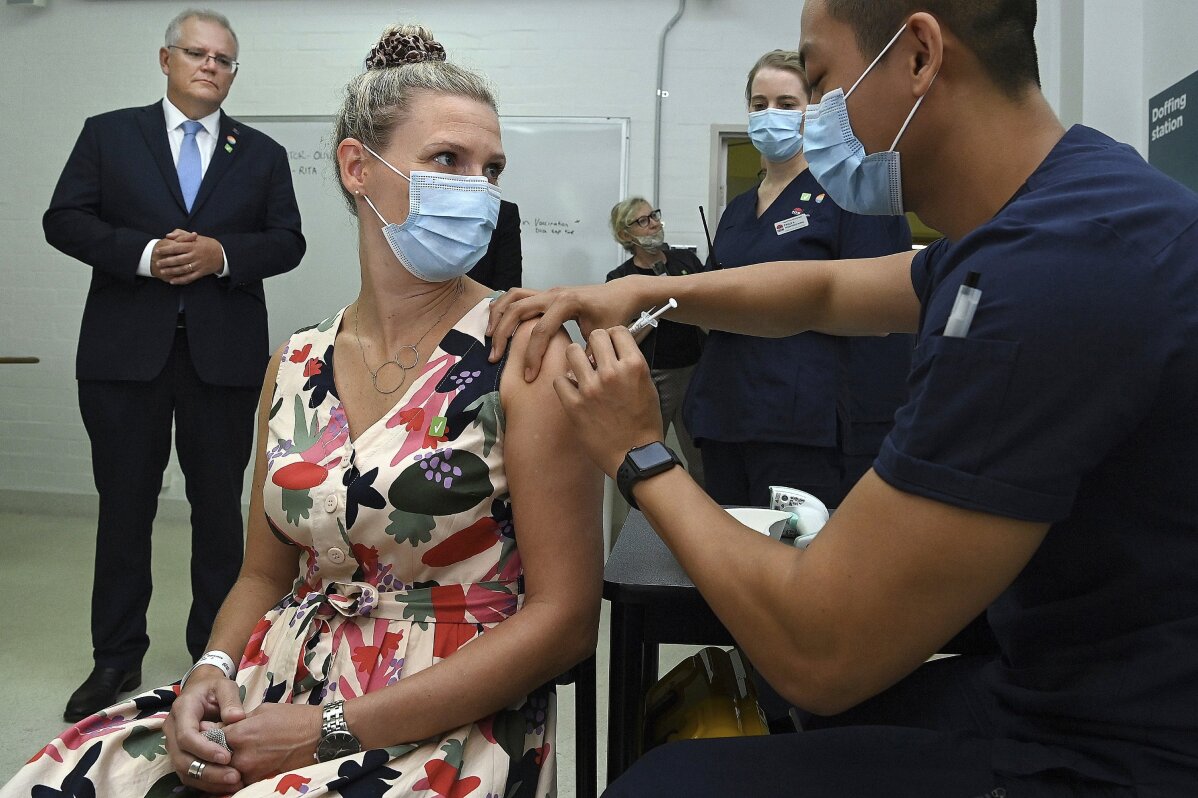 14 of 24

|
Australian Prime Minister Scott Morrison, left, watches as Sarah Fletcher, second from left, is taken through procedure of receiving a vaccine at the Sydney local health district vaccination hub in Sydney, Friday, Feb. 19, 2021. Vaccinations for COVID-19 are scheduled to begin nationwide on Monday. (Kate Geraghty/Pool Photo via AP)
14 of 24
Australian Prime Minister Scott Morrison, left, watches as Sarah Fletcher, second from left, is taken through procedure of receiving a vaccine at the Sydney local health district vaccination hub in Sydney, Friday, Feb. 19, 2021. Vaccinations for COVID-19 are scheduled to begin nationwide on Monday. (Kate Geraghty/Pool Photo via AP)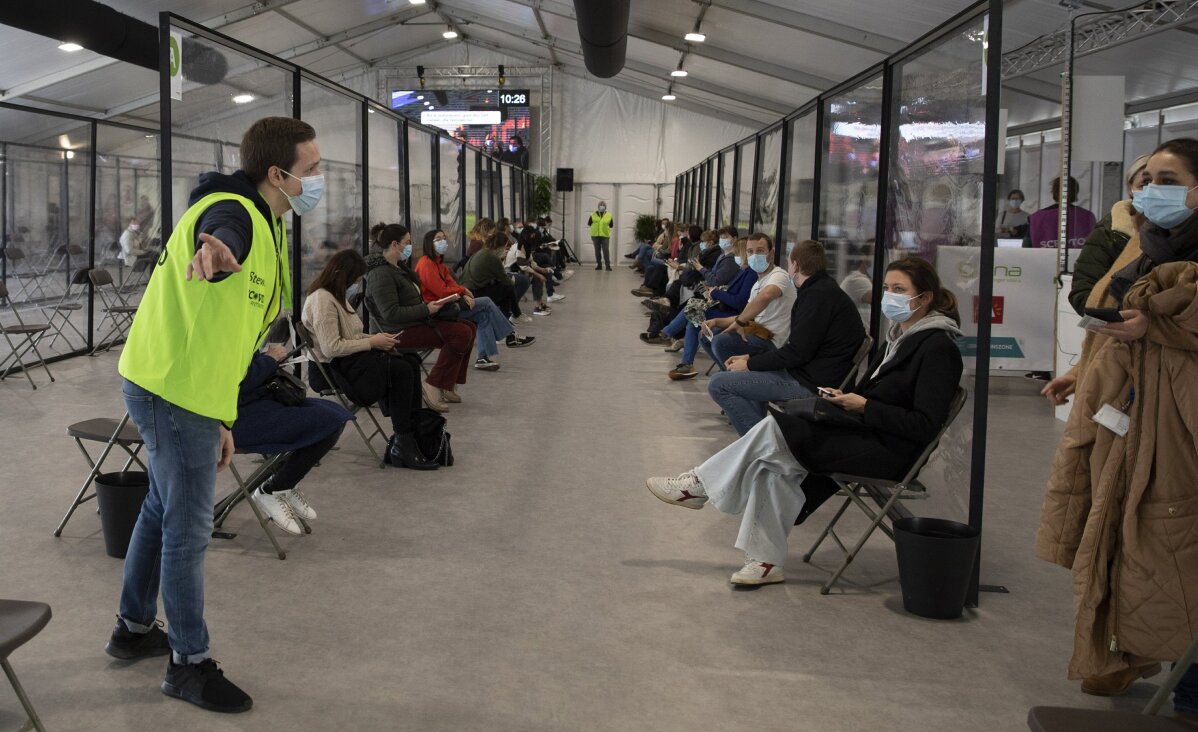 15 of 24

|
A steward directs people to seats in a waiting room after receiving an injection of the AstraZeneca coronavirus vaccine at the Vaccine Village in Antwerp, Belgium, on Friday, Feb. 19, 2021. (AP Photo/Virginia Mayo)
15 of 24
A steward directs people to seats in a waiting room after receiving an injection of the AstraZeneca coronavirus vaccine at the Vaccine Village in Antwerp, Belgium, on Friday, Feb. 19, 2021. (AP Photo/Virginia Mayo)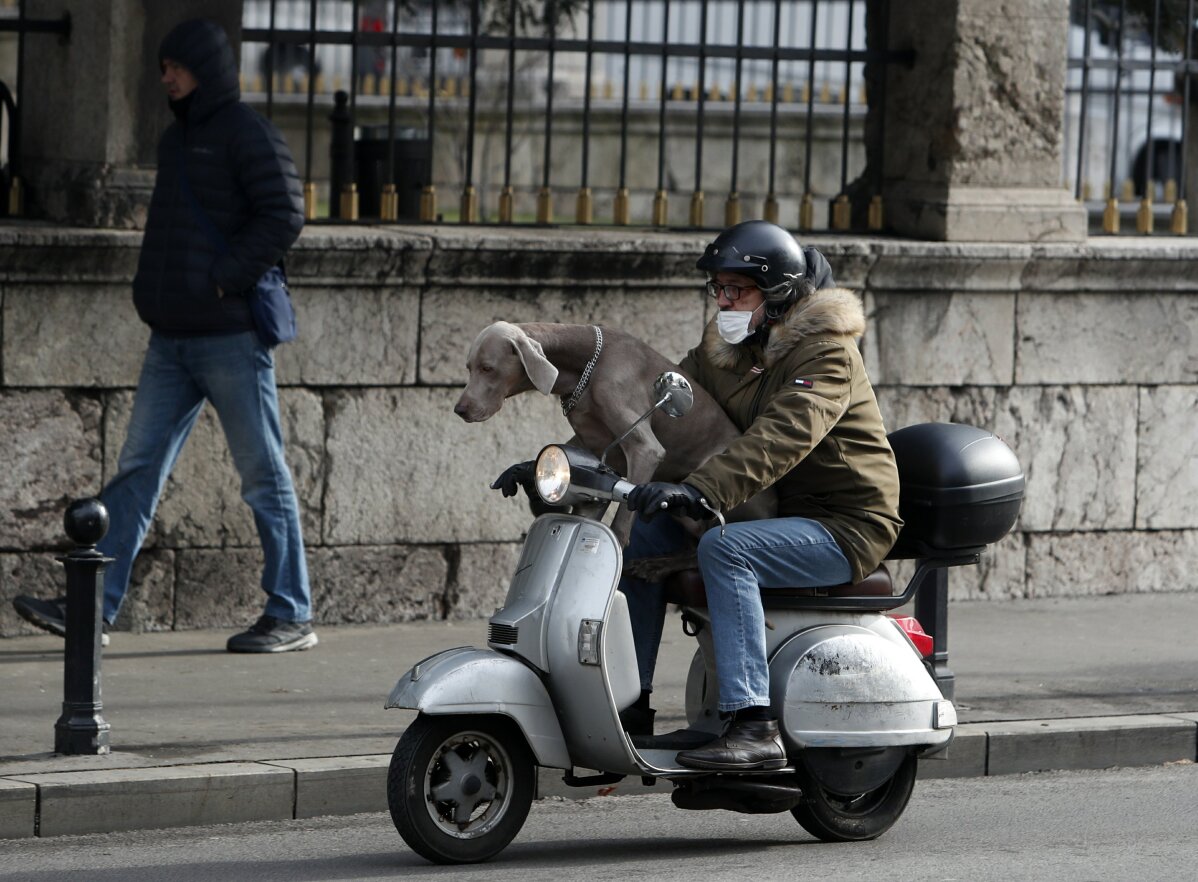 16 of 24

|
A man wearing a face mask to protect against coronavirus with dog ride a motor scooter in Belgrade, Serbia, Friday, Feb. 19, 2021. (AP Photo/Darko Vojinovic)
16 of 24
A man wearing a face mask to protect against coronavirus with dog ride a motor scooter in Belgrade, Serbia, Friday, Feb. 19, 2021. (AP Photo/Darko Vojinovic)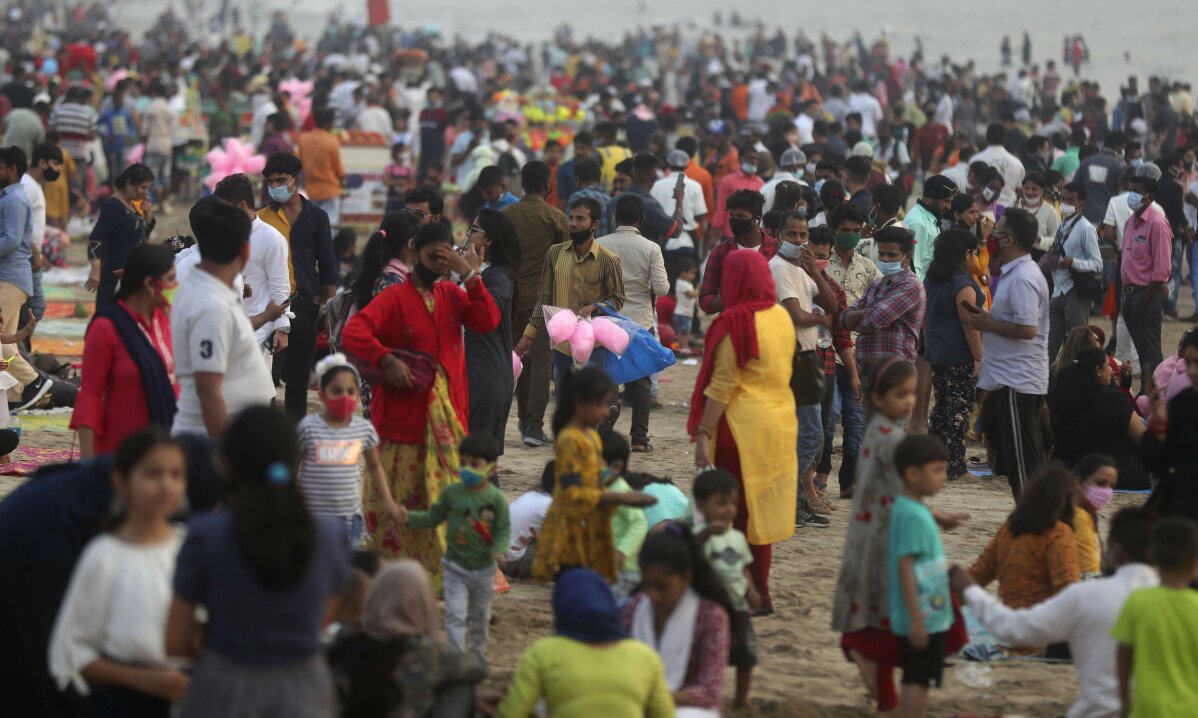 17 of 24

|
People crowd Juhu beach in Mumbai, India, Friday, Feb. 19, 2021. Health officials have detected a spike in COVID-19 cases in several pockets of Maharashtra state, including in Mumbai, the country's financial capital. (AP Photo/Rafiq Maqbool)
17 of 24
People crowd Juhu beach in Mumbai, India, Friday, Feb. 19, 2021. Health officials have detected a spike in COVID-19 cases in several pockets of Maharashtra state, including in Mumbai, the country's financial capital. (AP Photo/Rafiq Maqbool)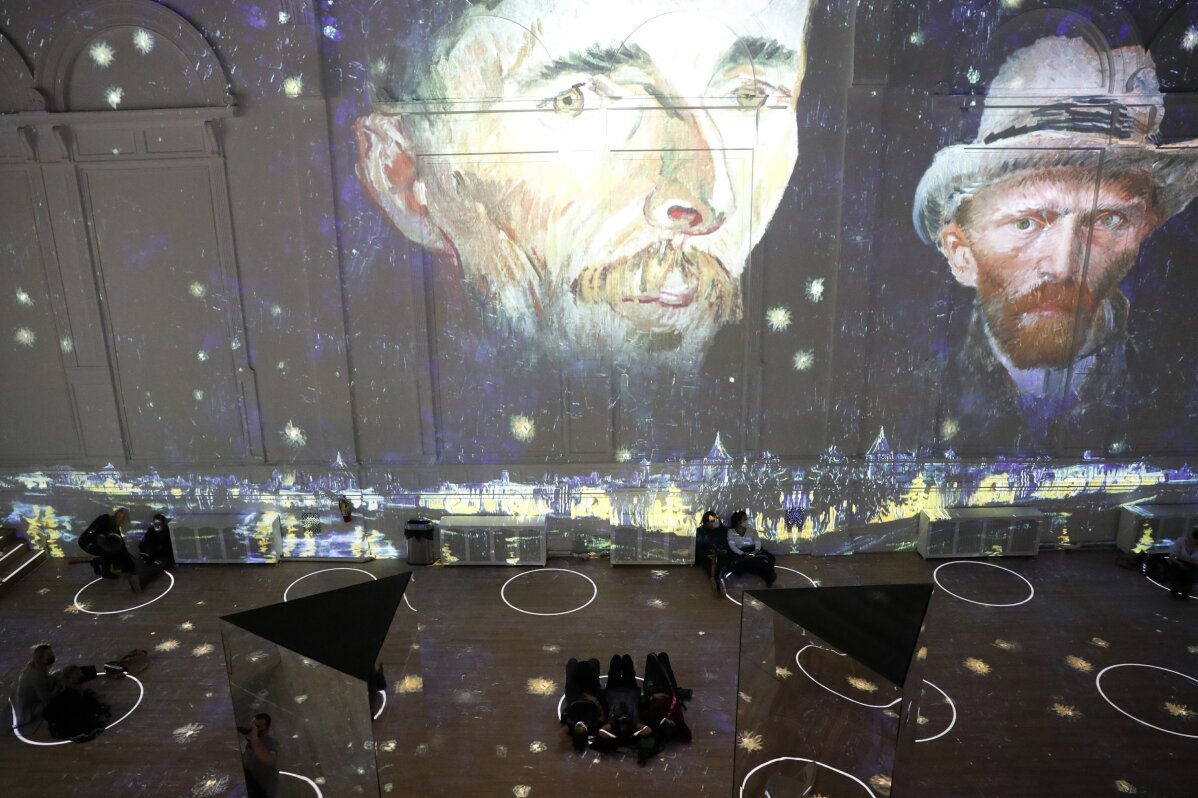 18 of 24

|
Patrons socially distance as they look at the moving images cast on the walls, floors and reflecting mirrors during a virtual display titled "Immersive Van Gogh" on Thursday, Feb. 18, 2021, at the Lighthouse ArtSpace, in Chicago. (AP Photo/Shafkat Anowar)
18 of 24
Patrons socially distance as they look at the moving images cast on the walls, floors and reflecting mirrors during a virtual display titled "Immersive Van Gogh" on Thursday, Feb. 18, 2021, at the Lighthouse ArtSpace, in Chicago. (AP Photo/Shafkat Anowar)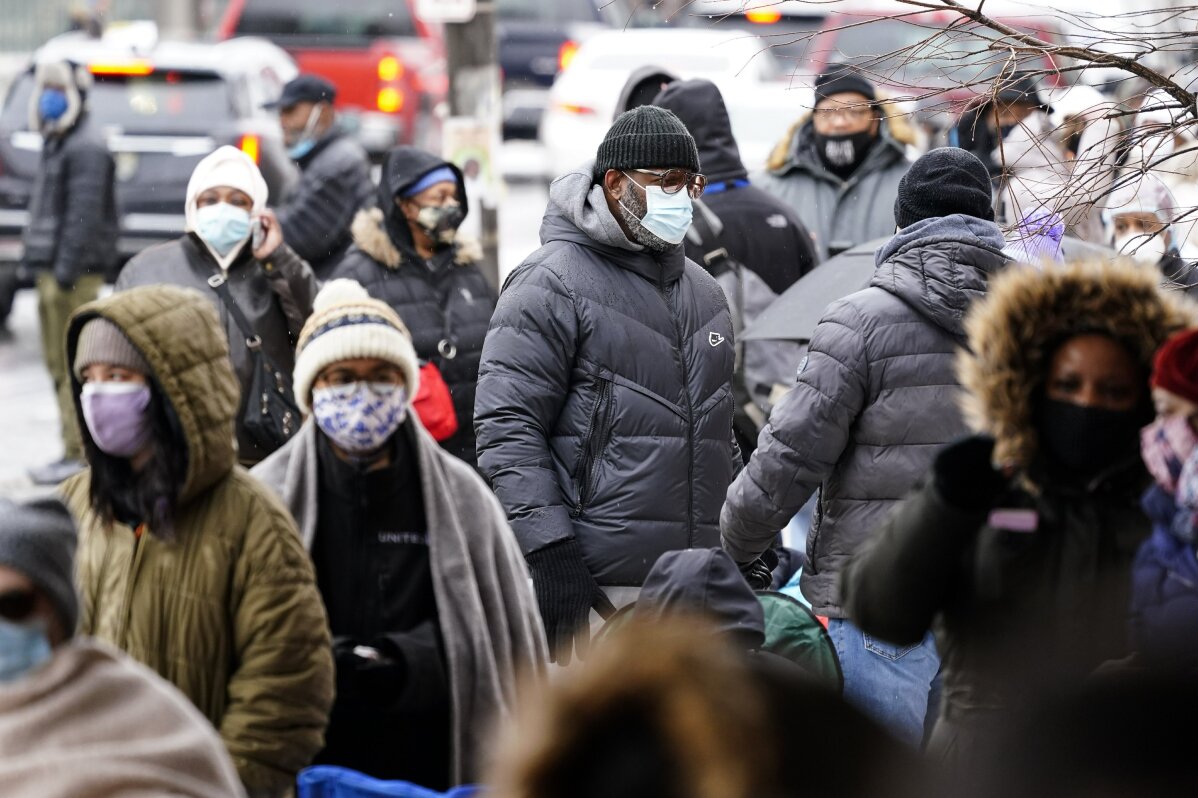 19 of 24

|
People wait in line for the opening of a 24-hour, walk-up COVID-19 vaccination clinic hosted by the Black Doctors COVID-19 Consortium at Temple University's Liacouras Center in Philadelphia, Friday, Feb. 19, 2021. (AP Photo/Matt Rourke)
19 of 24
People wait in line for the opening of a 24-hour, walk-up COVID-19 vaccination clinic hosted by the Black Doctors COVID-19 Consortium at Temple University's Liacouras Center in Philadelphia, Friday, Feb. 19, 2021. (AP Photo/Matt Rourke)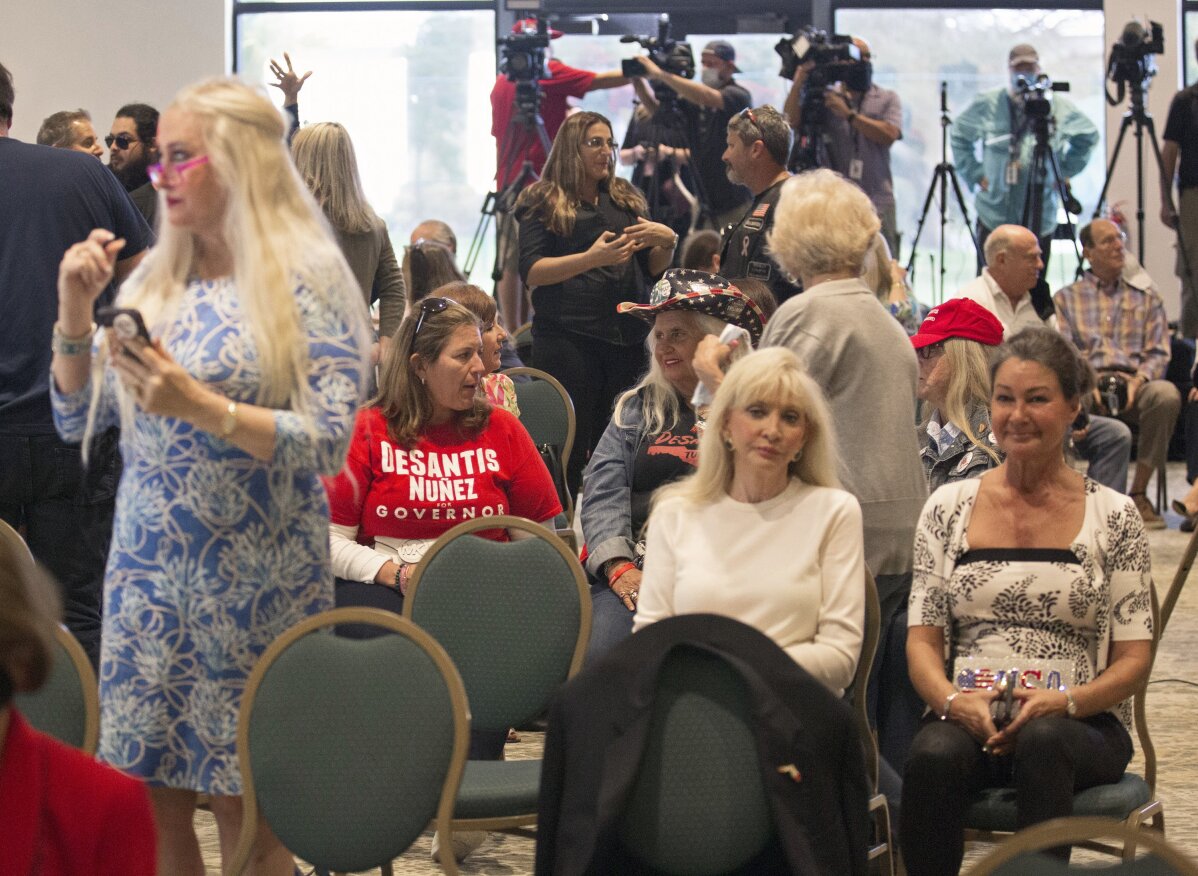 20 of 24

|
Unmasked supporters of Florida Gov. Ron DeSantis crowd a conference room as they await his arrival at the Hilton Airport Palm Beach in West Palm Beach, Fla., Friday, Feb. 19, 2021, in violation of county ordinances requiring face masks to prevent the spread of the coronavirus. (Lannis Waters/The Palm Beach Post via AP)
20 of 24
Unmasked supporters of Florida Gov. Ron DeSantis crowd a conference room as they await his arrival at the Hilton Airport Palm Beach in West Palm Beach, Fla., Friday, Feb. 19, 2021, in violation of county ordinances requiring face masks to prevent the spread of the coronavirus. (Lannis Waters/The Palm Beach Post via AP)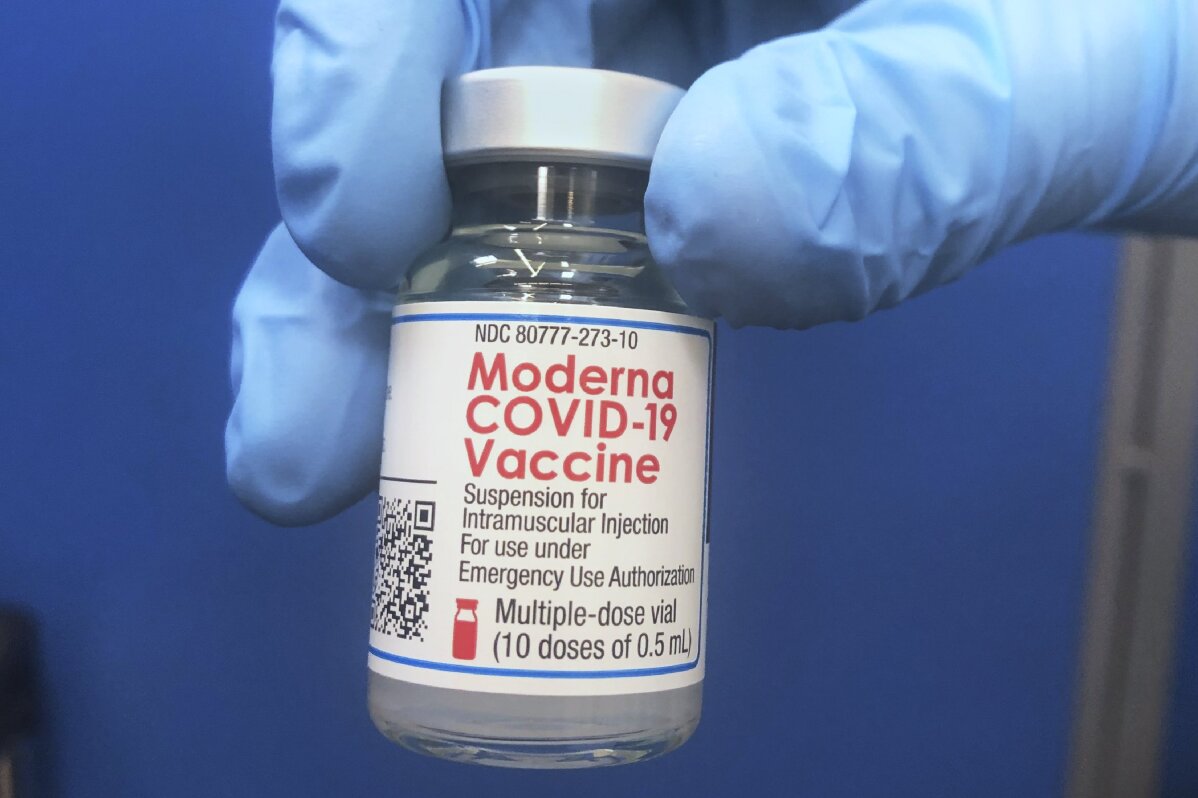 21 of 24

|
A vial of Moderna COVID-19 vaccine is held at a vaccination site Friday, Feb. 19, 2021, in Oklahoma City. (AP Photo/Sue Ogrocki)
21 of 24
A vial of Moderna COVID-19 vaccine is held at a vaccination site Friday, Feb. 19, 2021, in Oklahoma City. (AP Photo/Sue Ogrocki)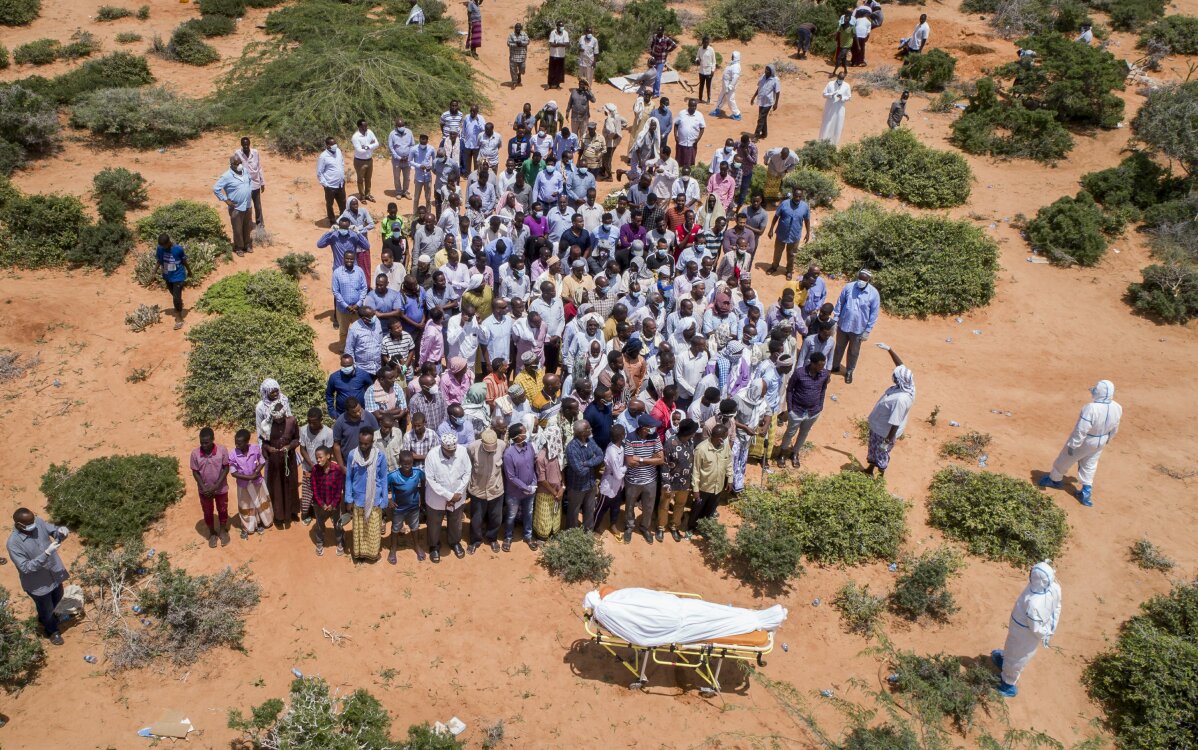 22 of 24

|
FILE - In this April 30, 2020, file photo, mourners gather to bury an elderly man believed to have died of the coronavirus in Mogadishu, Somalia. Africa has surpassed 100,000 confirmed deaths from COVID-19 as the continent praised for its early response to the pandemic now struggles with a dangerous resurgence and medical oxygen often runs desperately short. (AP Photo, File)
22 of 24
FILE - In this April 30, 2020, file photo, mourners gather to bury an elderly man believed to have died of the coronavirus in Mogadishu, Somalia. Africa has surpassed 100,000 confirmed deaths from COVID-19 as the continent praised for its early response to the pandemic now struggles with a dangerous resurgence and medical oxygen often runs desperately short. (AP Photo, File)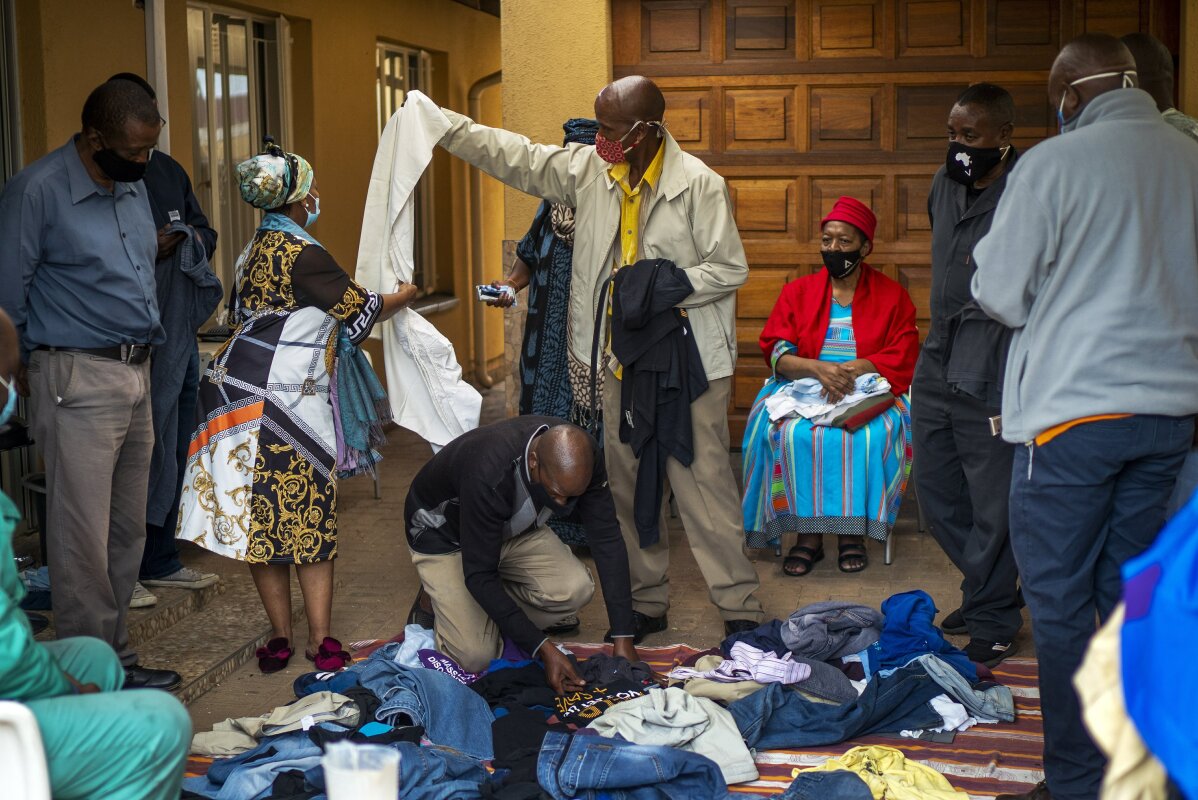 23 of 24

|
FILE - In this Nov. 21, 2020, file photo, family members select clothes that belonged to Benedict Sami Vilakazi, who died of COVID-19, during an Ukugeza cleansing ceremony at Vilakazi's home in Soweto, South Africa. Africa has surpassed 100,000 confirmed deaths from COVID-19 as the continent praised for its early response to the pandemic now struggles with a dangerous resurgence and medical oxygen often runs desperately short. (AP Photo/Jerome Delay, File)
23 of 24
FILE - In this Nov. 21, 2020, file photo, family members select clothes that belonged to Benedict Sami Vilakazi, who died of COVID-19, during an Ukugeza cleansing ceremony at Vilakazi's home in Soweto, South Africa. Africa has surpassed 100,000 confirmed deaths from COVID-19 as the continent praised for its early response to the pandemic now struggles with a dangerous resurgence and medical oxygen often runs desperately short. (AP Photo/Jerome Delay, File)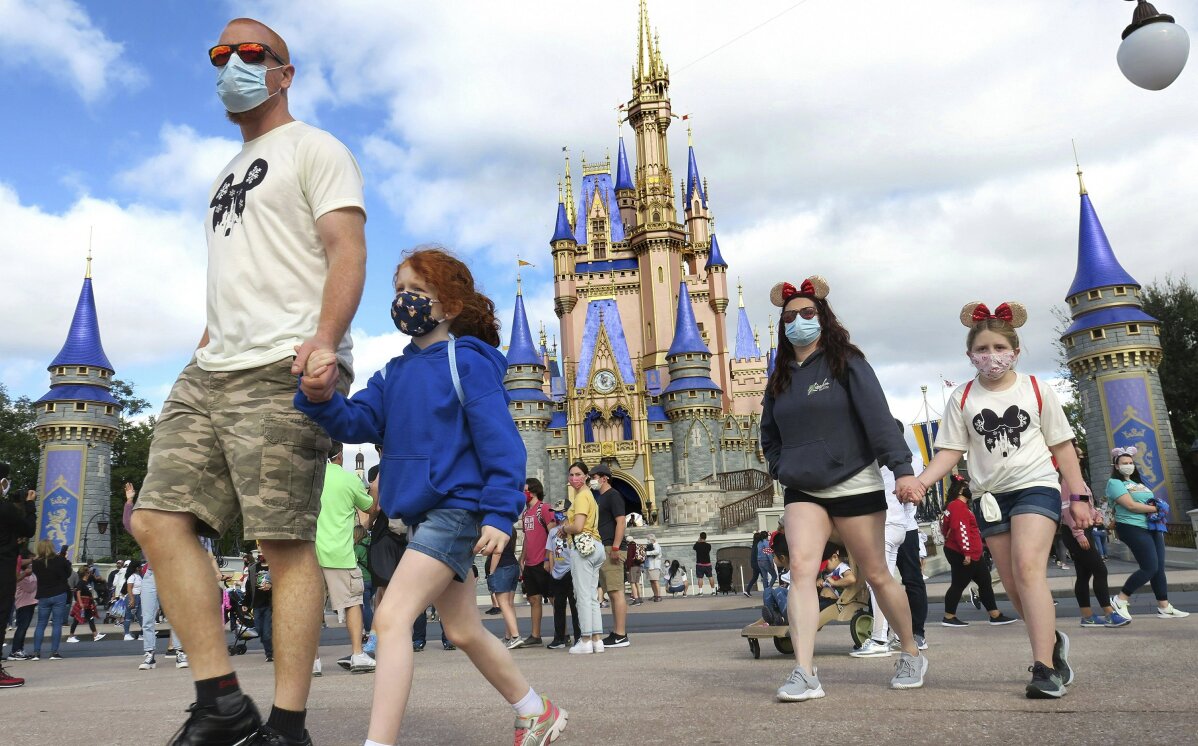 24 of 24

|
FILE - IN this Dec. 21, 2020 file photo, A family walks past Cinderella Castle in the Magic Kingdom, at Walt Disney World in Lake Buena Vista, Fla. To help celebrate the 50th anniversary of the opening of Walt Disney World in Florida, Mickey and Minnie are getting flashier threads and iconic structures such as Cinderella's Castle and the Tower of Terror are getting new lighting. Disney officials on Friday, Feb. 19, 2021, unveiled the first details on how Disney World will celebrate its milestone anniversary.(Joe Burbank/Orlando Sentinel via AP, File)
24 of 24
FILE - IN this Dec. 21, 2020 file photo, A family walks past Cinderella Castle in the Magic Kingdom, at Walt Disney World in Lake Buena Vista, Fla. To help celebrate the 50th anniversary of the opening of Walt Disney World in Florida, Mickey and Minnie are getting flashier threads and iconic structures such as Cinderella's Castle and the Tower of Terror are getting new lighting. Disney officials on Friday, Feb. 19, 2021, unveiled the first details on how Disney World will celebrate its milestone anniversary.(Joe Burbank/Orlando Sentinel via AP, File)
MEXICO CITY — Mexico says it will get its first shipment of the Chinese Coronavac vaccine Saturday and by Monday will receive its first lot of the Russian Sputnik V shot. Both shipments are expected to consist of about 200,000 doses.
Health officials say the first shipments of the Chinese and Russian vaccines will be used in low-income neighborhoods of Mexico City or its suburbs.
Mexico is currently using the Pfizer and AstraZeneca vaccines and has applied almost 1.6 million doses of those.
The country will now be faced with the logistical challenge of handling four different vaccines, all of which require two doses. In addition, the Sputnik first shot is different from the second and is not interchangeable.
___
THE VIRUS OUTBREAK:
— 'Alone': A year later, how Italian town with country's 1st known virus death fared
— Africa reaches 100,000 known COVID-19 deaths as danger, vaccine concerns grow
— Old habits imperil Iraq as doctors warn of second virus wave
— Joe Biden will use his first big presidential moment on the global stage at Friday's Group of Seven meeting to announce that the U.S. will begin releasing $4 billion to supply poor nations with coronavirus vaccines.
— Millions of vulnerable U.S. residents will need COVID-19 vaccines brought to them because they rarely or never leave their homes.
— The large number of restaurants that went out of business due to the pandemic has been a boon for commercial auctioneers that buy used equipment and resell them to the eating establishments that managed to stay afloat.
___
Follow all of AP's pandemic coverage at https://apnews.com/hub/coronavirus-pandemic, https://apnews.com/hub/coronavirus-vaccine and https://apnews.com/UnderstandingtheOutbreak
___
HERE'S WHAT ELSE IS HAPPENING:
LOS ANGELES -- The University of Southern California expects to reopen campuses this fall, joining the state's major public universities in planning to resume on-campus life curtailed by COVID-19.
USC President Carol Folt issued an online letter Friday that said she is "cautiously optimistic" because virus cases are down and vaccinations are ramping up. USC and other universities nationwide were forced to switch to online learning last March.
Both the University of California and California State University systems also have said they plan to reopen their campuses this fall if conditions permit.
___
PORTLAND, Ore. — Despite historic winter weather across the country causing shipment delays and forcing mass vaccination sites to reschedule appointments, Oregon health officials said Friday that the state's vaccination timeline is still on schedule.
While more than 10,000 vaccine appointments were canceled last week, beginning Monday people 70 and older will be eligible to receive doses of vaccine and people 65 and older will be eligible March 1.
During the past week, Oregon averaged more than 14,000 vaccinations per day. As of Thursday, 12% of the state's population has been vaccinated with first doses and 5% of residents have been fully vaccinated.
___
BUENOS AIRES, Argentina — President Alberto Fernández asked Argentina's health minister to resign after a well-known local journalist said he had been given a coronavirus vaccination preferentially after requesting one from the minister, a government official said Friday.
The president "instructed his chief of staff to request the resignation of health minister" Ginés González García, who is in charge of the government's COVID-19 strategy, said the official, who was not authorized to release the information and spoke to The Associated Press on condition of anonymity. He did not say who would replace González García as health minister.
The scandal erupted when journalist Horacio Verbitsky, whose stories and columns on a website and on the radio are seen as pro-government, said he called the minister to request a vaccinination and González García summoned him to the Health Ministry where he received a Sputnik V vaccine shot Thursday.
"I decided to get vaccinated. I started to find out where to do it. I called my old friend Ginés González García, whom I have known long before he was a minister," Verbitsky told a local radio station. "I went to the ministry and the team of vaccinators was there."
Fernández's government has been harshly criticized for Argentina's slow vaccination operation.
___
TRENTON, N.J. —The winter storm that brought snow, ice and frigid temperatures across the country this week has disrupted COVID-19 vaccine distribution in New Jersey, Gov. Phil Murphy said Friday.
Murphy, a Democrat, said he has asked the facilities run by the state to extend hours because of the delay.
The delayed shipments mean some vaccination appointments will likely have to be canceled and rescheduled, according to the governor, though some facilities may have enough shots on hand to keep up. New Jersey's vaccination rate has roughly been keeping pace with the country overall, which stands at nearly 5% of the population having gotten both shots.
___
NEW BRUNSWICK, New Jersey — Johnson & Johnson has applied to the World Health Organization for an emergency approval of its COVID-19 vaccines, which should help speed up its use in countries around the world.
J&J said Friday that its Janssen-Cilag International subsidiary has submitted to the WHO the last testing data needed on its vaccine's efficacy and safety, completing the New Brunswick, New Jersey company's application for an emergency use listing.
Obtaining that listing will expedite access to J&J's single-dose vaccine for United Nations procurement agencies and scores of countries. The listing also is required for Johnson & Johnson to supply doses of its vaccine to what's called the COVAX Facility, a WHO-backed project to ensure equitable access to vaccines for about 190 low- and middle-income countries. Johnson & Johnson in December agreed to provide up to 500 million doses of its vaccine to COVAX through 2022.
"If we are to end the global pandemic, life-saving innovations like vaccines must be within reach for all countries," Johnson & Johnson Chief Scientific Officer Dr. Paul Stoffels said in a statement.
The company is supplying the vaccine at not-for-profit prices during the pandemic's acute phase.
Besides requiring only one dose, J&J's vaccine can be stored for at least three months at standard refrigerator temperatures, making it a good fit for poor and rural areas and developing countries that lack infrastructure for the ultracold storage some other COVID-19 vaccines require.
Interim results from a 44,000-volunteer late-stage testing found the Johnson & Johnson vaccine was 66% effective at preventing moderate to severe cases of COVID-19 in Latin America and 57% effective in South Africa, where a more-contagious variant is spreading. It was 72% effective in the U.S.
Testing also indicated the vaccine was 85% protective against the most serious symptoms — and starting 28 days after their shot, researchers found no one who got the vaccine needed hospitalization or died.
___
LAS VEGAS — Nevada is still waiting for a shipment of COVID-19 vaccines that were supposed to arrive this week but were delayed by winter storms blanketing much of the U.S.
Candice McDaniel, the health bureau chief of Nevada's Bureau of Child, Family and Community Wellness, said Friday that the majority of the Moderna doses that were expected to arrive this week had still not arrived as of Friday morning.
She said health officials were in close contact with the U.S. Centers for Disease Control and Prevention to get updates on the shipment but said they're "in a holding pattern."
The Southern Nevada Health District said earlier this week that because of the delayed vaccines, it would be postponing about 4,000 appointments for second doses expected to occur this week and instead rescheduling them for next week.
First-dose appointments scheduled for this week were not affected, nor were appointments involving the Pfizer vaccine.
___
HONOLULU — Hawaii was still waiting on 27,700 doses of the Moderna vaccine but Lt. Gov. Josh Green said he expects them to arrive next week if they don't arrive this weekend. He expects Hawaii will get caught up in its vaccinations next week too unless the storms on the U.S. mainland get worse and cause more delays.
Weather is always a risk, even for Hawaii, when products travel through states prone to winter storms.
Hawaii still managed to vaccinate 10,712 people on Thursday, which is a typical daily number for the state, Green said. Some hospitals on Oahu, the island where Honolulu is located, moved doses around to make sure people scheduled to receive their second shots got them on time. "They really are working like a team," Green said.
___
OKLAHOMA CITY — The rolling average of new coronavirus cases in Oklahoma has been more than cut in half, according to data from Johns Hopkins University on Friday.
The seven-day rolling average of new cases in the state during the past two weeks has declined from 2,233 per day to 1,010.71 while the rolling average of daily deaths fell from 36.86 to 23.43, according to the Johns Hopkins data. There have been a reported 417,345 total virus cases and 4,132 deaths since the pandemic began, according to the Oklahoma State Department of Health.
The state health department has scheduled vaccination clinics during the weekend to replace those postponed due to a winter storm.
___
BELGRADE, Serbia — Djordje Balasevic, a Serbian singer who remained widely popular throughout the former Yugoslavia after the wars of the 1990s, has died after contracting the new coronavirus, state television reported Friday. He was 67.
Balasevic was admitted to a hospital in the northern Serbian city of Novi Sad three days ago suffering from pneumonia that appeared to be a complication of COVID-19. State broadcaster RTS said he died at the hospital on Friday.
Balasevic launched his career in the late 1970s and early 1980s, first performing in bands before establishing a solo following with his soft pop music and witty lyrics.
When Yugoslavia disintegrated in ethnic warfare in the early 1990s, Balasevic openly opposed the nationalism that fueled the conflicts. Because of his positions, mainstream media in Serbia shunned Balasevic during the war era.
But he remained well-liked throughout the ethnically divided Balkans region after the wars, filling up concert halls in all the countries that emerged from the six former Yugoslav republics. His performances were famous for his on-stage comments on various topics.
___
TORONTO — A lockdown and stay at home order is being extended in Toronto until at least March 8.
The lockdown in Canada's largest city began Nov. 23 after a second coronavirus wave hit the province. Ontario Health Minister Christine Elliott says it was a difficult, but necessary decision to keep the areas under tight public health measures.
Toronto officials asked the provincial government this week to extend the lockdown after Toronto's medical officer of health said she has never been more worried about the future because of new coronavirus variants.
Schools just reopened in Toronto this week and retail stores had been scheduled to reopen Feb. 22.
The stay-home order was lifted for the majority of the province earlier this week as the government moved ahead with an economic reopening despite warnings it could set off a third wave of infections.
The lockdown is also being extended in Peel and North Bay-Parry Sound regions. Scientists say the U.K. variant found in Ontario spreads more easily and is likely more deadly, but so far existing vaccines appear to be effective against it. Canada has had a shortage of vaccines until this week.
___
BOSTON — The medical director of the city agency coordinating Boston's response to the coronavirus pandemic has been working remotely from Hawaii for several months, and even though she has permission to do so, some critics say it may hinder her effectiveness.
Dr. Jennifer Lo relocated with her family in November with approval from Rita Nieves, the Boston Public Health Commission's executive director, NBC10 Boston reported Friday.
Atyia Martin, a former director of disaster preparedness for the commission, said she was shocked to learn Lo was working from so far away.
"We are in what amounts to the Super Bowl of emergencies," she said. "It's hard to imagine that key members of the team aren't there in the game physically to play."
Lo, in an email to the station, said she and her husband made "the difficult decision" to temporarily relocate to Hawaii for personal reasons, including to take care of two sets of aging parents. She offered to resign and plans on returning to Massachusetts this summer.
___
ROME — Italian police investigating fake COVID-19 drugs and vaccines have interviewed a Veneto regional official who reported receiving offers for 27 million doses of Pfizer outside the European Union contracting system.
For weeks, Veneto's regional governor, Luca Zaia, reported being contacted by unnamed intermediaries offering to sell him shots, including Russian and Chinese jabs, after he publicly voiced frustration over shortages of deliveries in Italy and said he wanted to buy his own vaccines outside the national scheme.
On Friday, Zaia said his health care chief dealing with the offers, Dr. Luciano Flor, met with the carabinieri's health care squad. The squad confirmed it was searching Veneto regional offices "to look into the presumed providers of vaccines outside agreements with central authorities."
___
BOISE, Idaho — Public health officials say an Idaho man has been infected with a variant of coronavirus first detected in South Africa.
Idaho Department of Health and Welfare and Southwest District Health officials said Friday the man had recently traveled overseas and is thought to have been exposed before returning to Idaho.
Officials were working to identify people who may have had close contact with the infected man.
The variant is believed to be more infectious than other variants of the coronavirus that are currently prevalent in Idaho.
So far there have been at least 19 confirmed infections reported from 10 states with the variant first found in South Africa. Two other variants — one first discovered in California and another in the United Kingdom — were also recently found in wastewater tested from several Ada County cities.
___
WASHINGTON — White House coronavirus adviser Andy Slavitt says the drive to vaccinate Americans against COVID-19 has been set back by the winter storms that have spanned the country, shutting down transportation hubs and highways. But Slavitt says it's possible to catch up with a concerted effort.
The weather has led to a 3-day delay in shipping vaccine, or about 6 million doses. Slavitt says the vaccine won't spoil and is "safe and sound" in warehouses.
But as shipments resume and scale up, vaccinators in communities across the country are going to have to work overtime to get shots into arms.
"We as an entire nation will have to pull together to get back on track," Slavitt told reporters at the White House coronavirus briefing.
About 1.4 million doses were being shipped Friday and the rest of the backlog should be cleared in several days.
In addition, the government is opening up five new mass vaccination centers, one in Philadelphia, and four others in the Florida cities of Miami, Orlando, Tampa and Jacksonville.
___
MADRID — Spain's two-week incidence rate of COVID-19 per 100,000 inhabitants dropped further Friday, to 295.
That's the lowest rate since Jan. 5 and down from a peak of nearly 900 at the end of last month.
The total number of new cases has been slowing in Spain for several weeks, but improvements are uneven across the country. The Madrid region is easing restrictions in some areas from Monday, for example, while Catalonia is keeping most limits in place for at least another week.