What you need to know today about the virus outbreak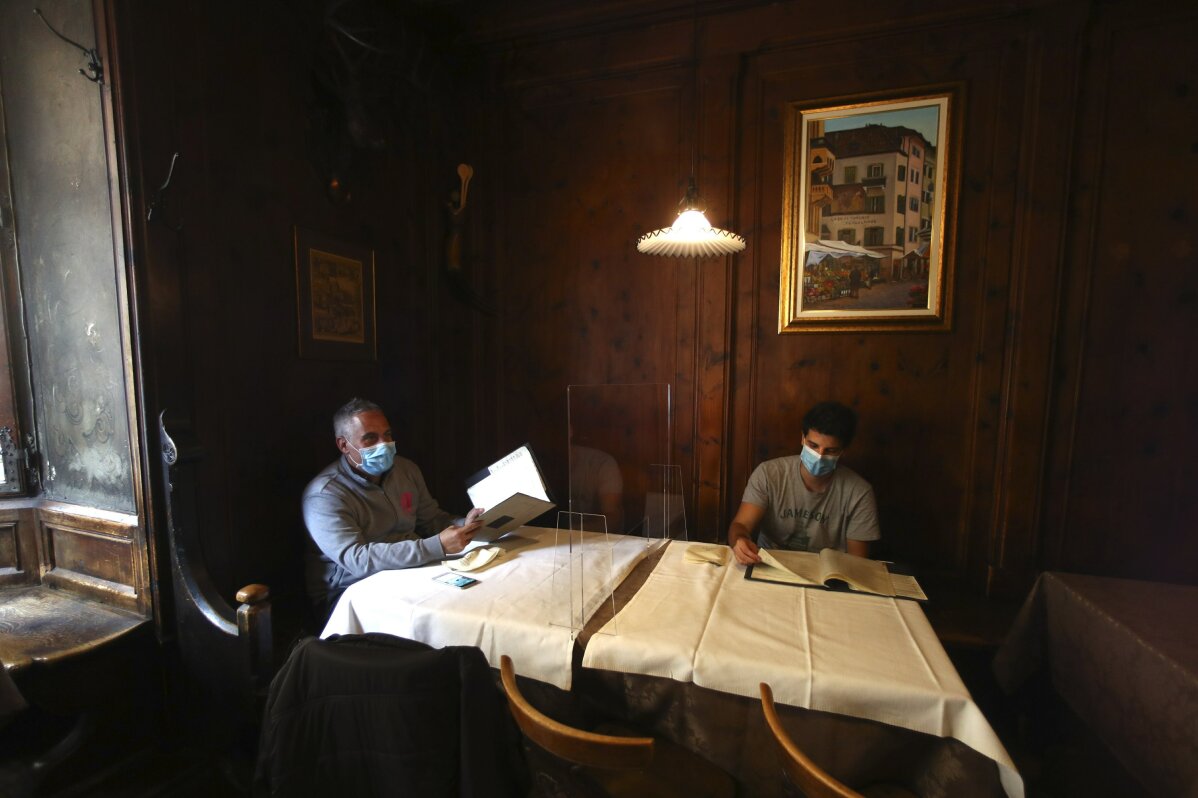 1 of 15

|
People wear masks to protect against the coronavirus as they sit next to a protective plastic window in a restaurant in Bozen, Italy, Monday, May 11, 2020. The northern Italian province of South Tyrol is moving ahead of policies by the central government, reopening restaurants and shops closed during the coronavirus crisis earlier than planned by Rome. (AP Photo/Matthias Schrader)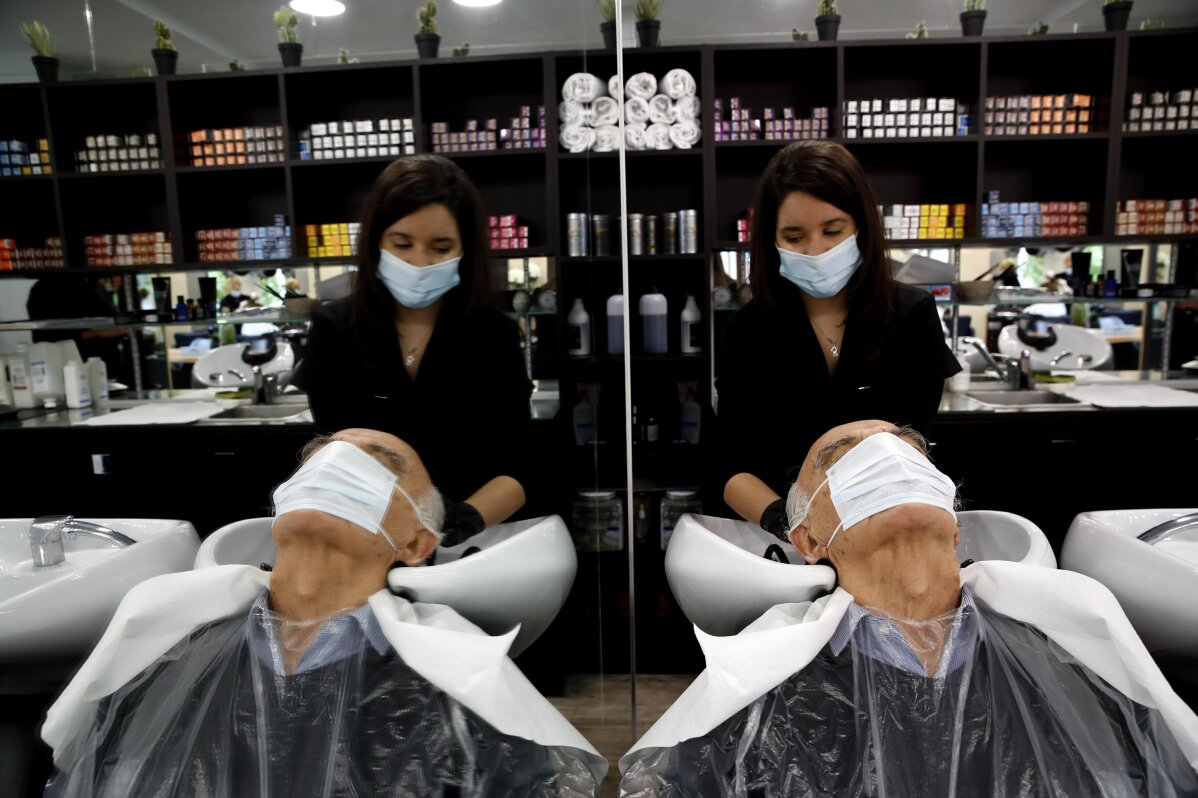 2 of 15

|
A man gets a hair cut at a hairdressing salon in Sevres, outside Paris, Monday, May 11, 2020. The French began leaving their homes and apartments for the first time in two months without permission slips as the country cautiously lifted its lockdown. Clothing stores, coiffures and other businesses large and small were reopening on Monday with strict precautions to keep the coronavirus at bay. (AP Photo/Christophe Ena)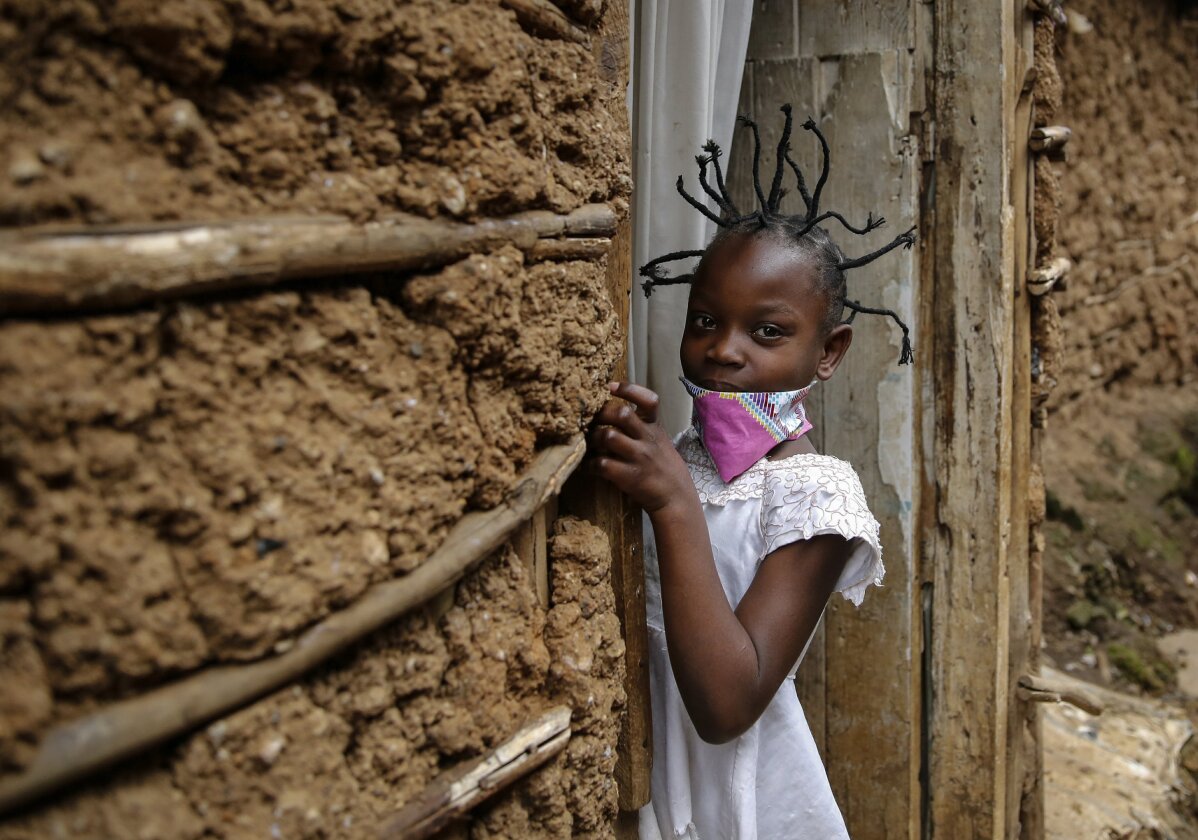 3 of 15

|
FILE - In this Sunday, May 3, 2020 file photo, Jane Mbone, 7, arrives home after having her hair styled in the shape of the new coronavirus at the Mama Brayo Beauty Salon in the Kibera slum, or informal settlement, of Nairobi, Kenya Sunday, May 3, 2020. The coronavirus has revived a hairstyle in East Africa, one with braided spikes that echo the virus' distinctive shape, with the growing popularity in part due to economic hardships linked to virus restrictions. (AP Photo/Brian Inganga, File)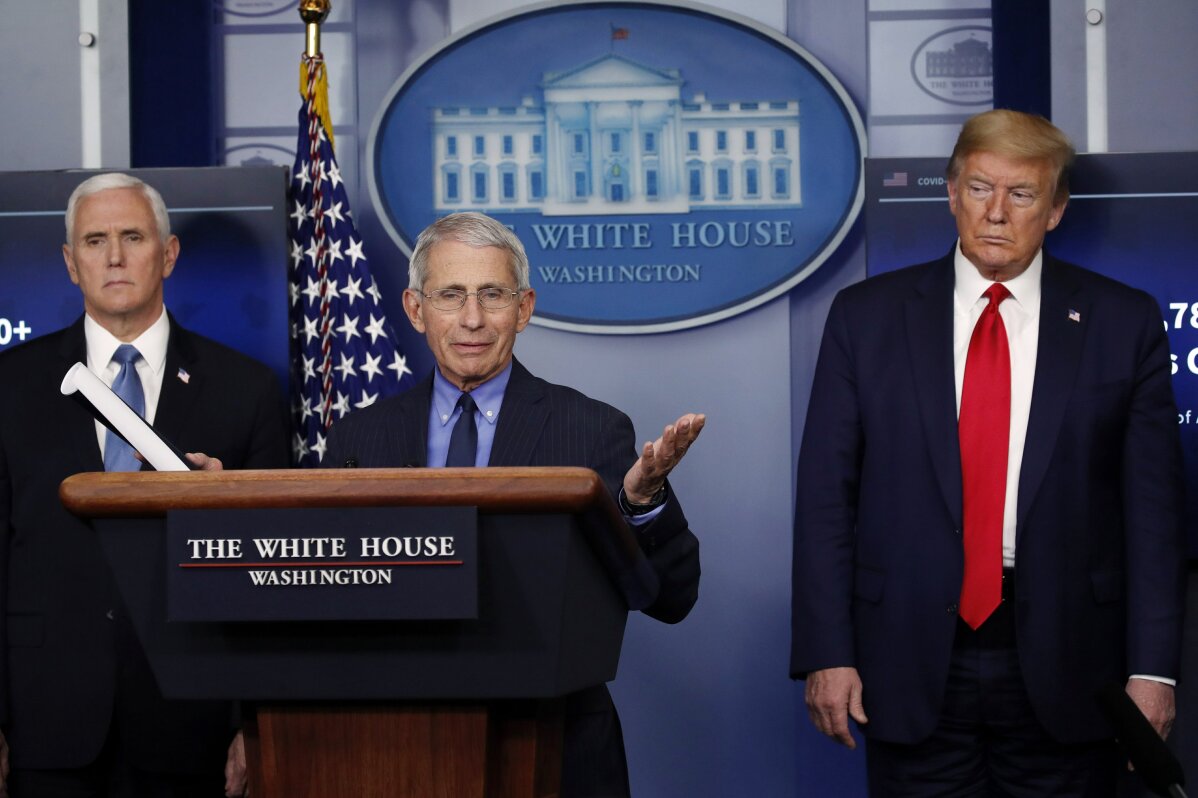 4 of 15

|
FILE - In this April 17, 2020, file photo, President Donald Trump and Vice President Mike Pence listen as Dr. Anthony Fauci, director of the National Institute of Allergy and Infectious Diseases, speaks about the coronavirus in the James Brady Press Briefing Room of the White House in Washington. The Trump administration's leading health experts on safely dealing with the novel coronavirus will be testifying in a Senate hearing by a videoconference after three of them and the committee's chairman were exposed to someone who tested positive for COVID-19. (AP Photo/Alex Brandon, File)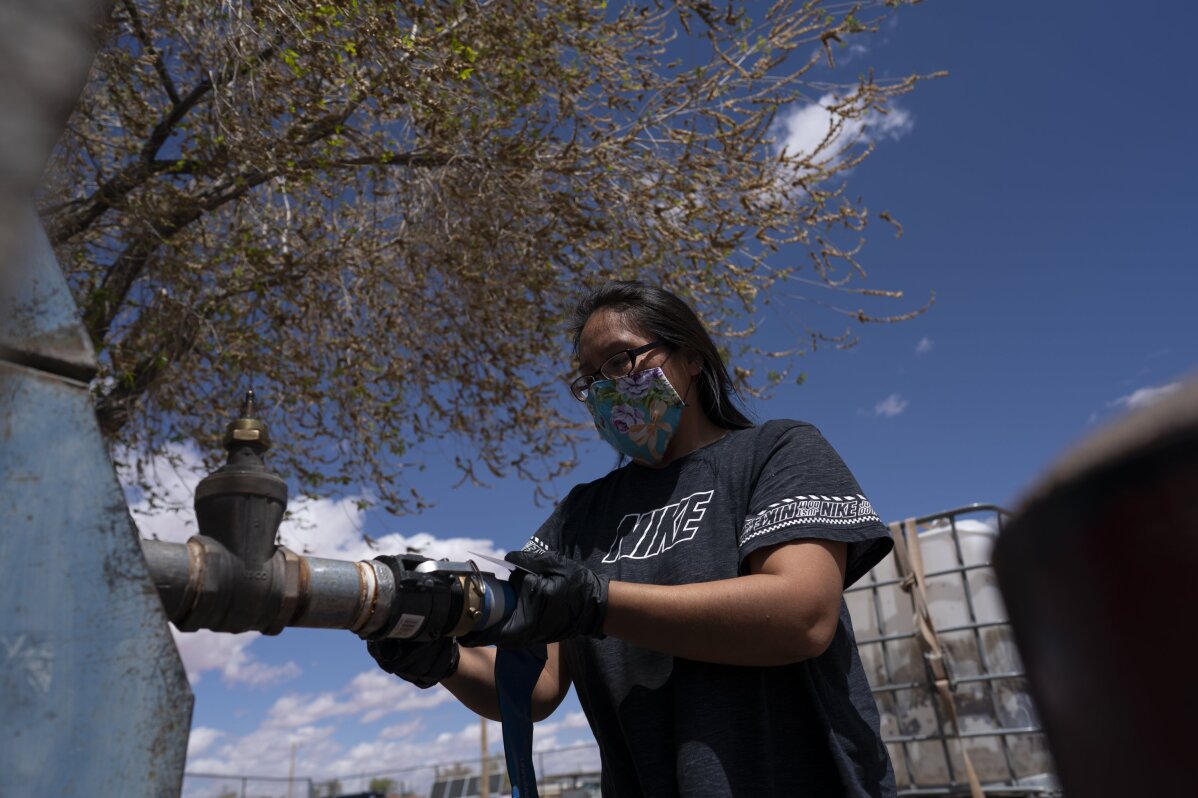 5 of 15

|
Raynelle Hoskie attaches a hose to a water pump to fill tanks in her truck outside a tribal office on the Navajo reservation in Tuba City, Ariz., on April 20, 2020. Hoskie is hauling water back to her home where she lives with her extended family. The reservation has some of the highest rates of coronavirus in the country. If Navajos are susceptible to the virus' spread in part because they are so closely knit, that's also how many believe they will beat it. (AP Photo/Carolyn Kaster)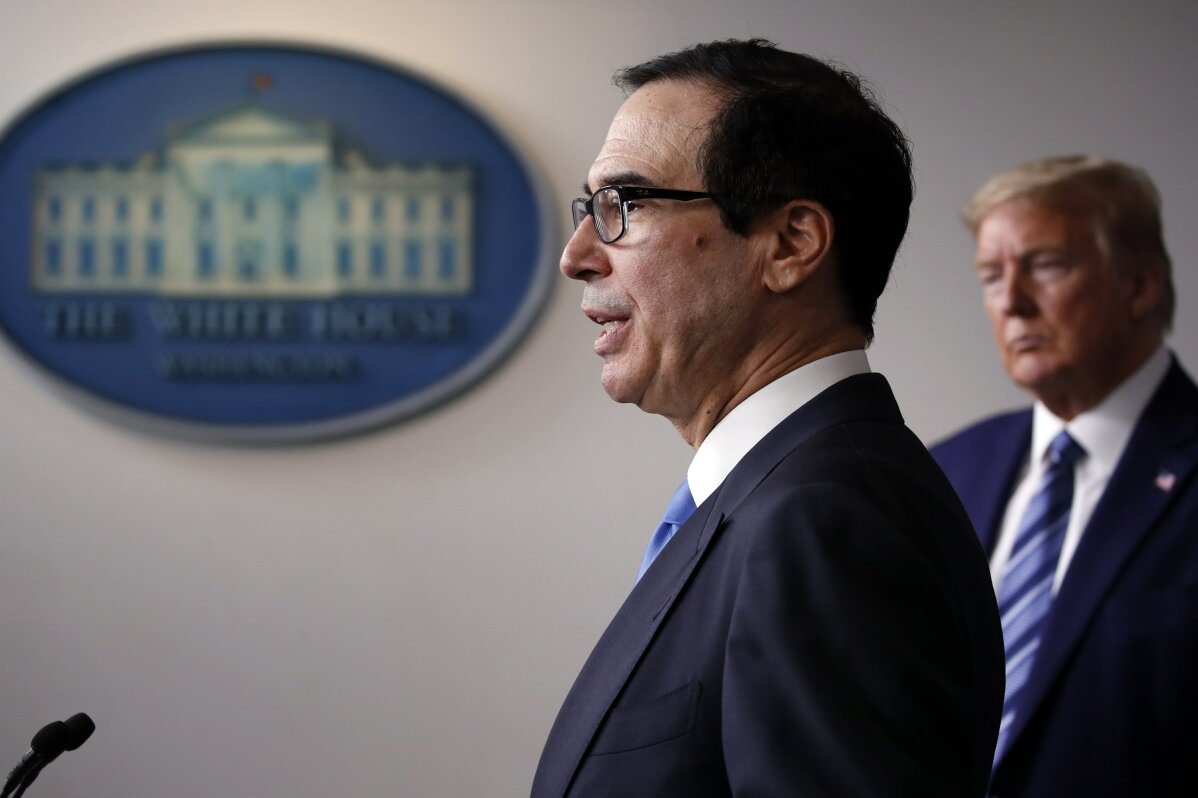 6 of 15

|
FILE - In this April 21, 2020, file photo President Donald Trump listens as Treasury Secretary Steven Mnuchin speaks about the coronavirus in the James Brady Press Briefing Room of the White House in Washington. Some of Trump's top economic advisers emphasized on Sunday, May 10, the importance of states getting more businesses and offices open. (AP Photo/Alex Brandon, File)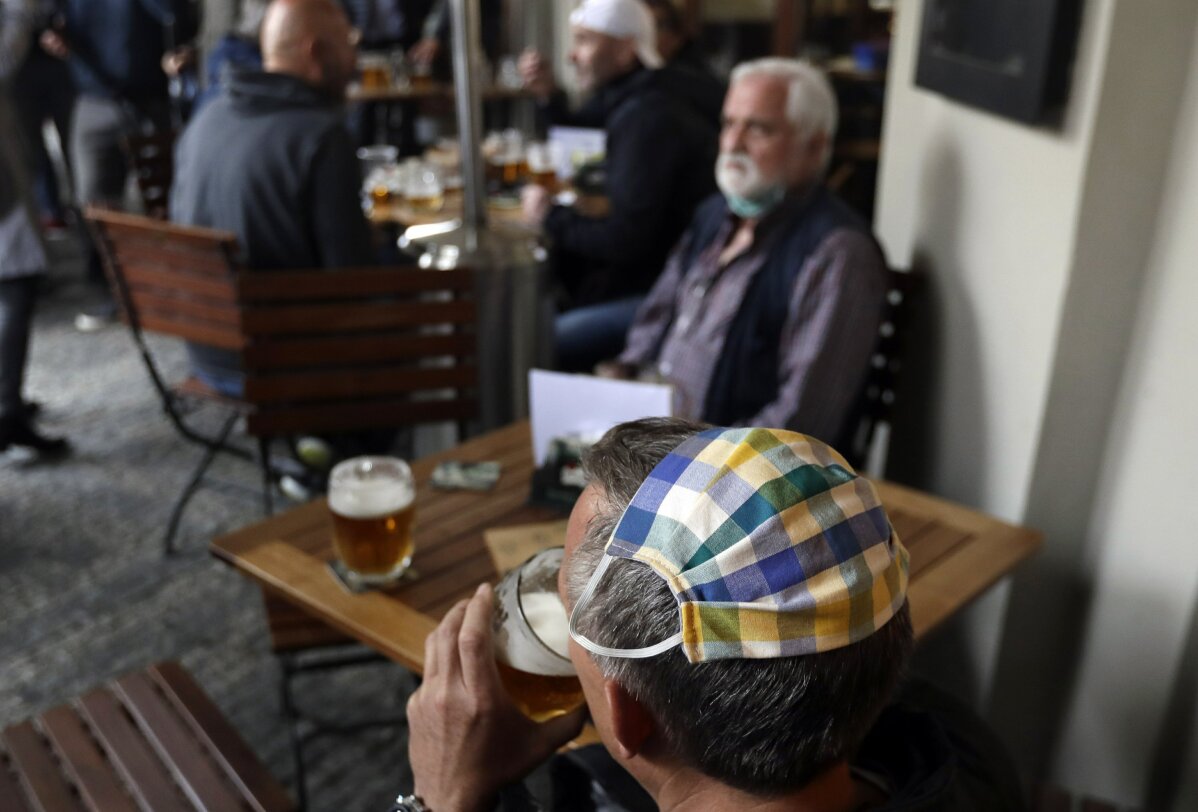 7 of 15

|
A man, wearing his face mask on top of his head, drinks a beer at a restaurant terrace in Prague, Czech Republic, Monday, May 11, 2020.Bars, restaurants, cafes offering outdoor seating started to serve their first consumers since March 14, as the Czech Republic is taking a step to normalcy amid the coronavirus pandemic by easing more restrictions adopted by the government to contain it. Interiors of the restaurants still remain closed. (AP Photo/Petr David Josek)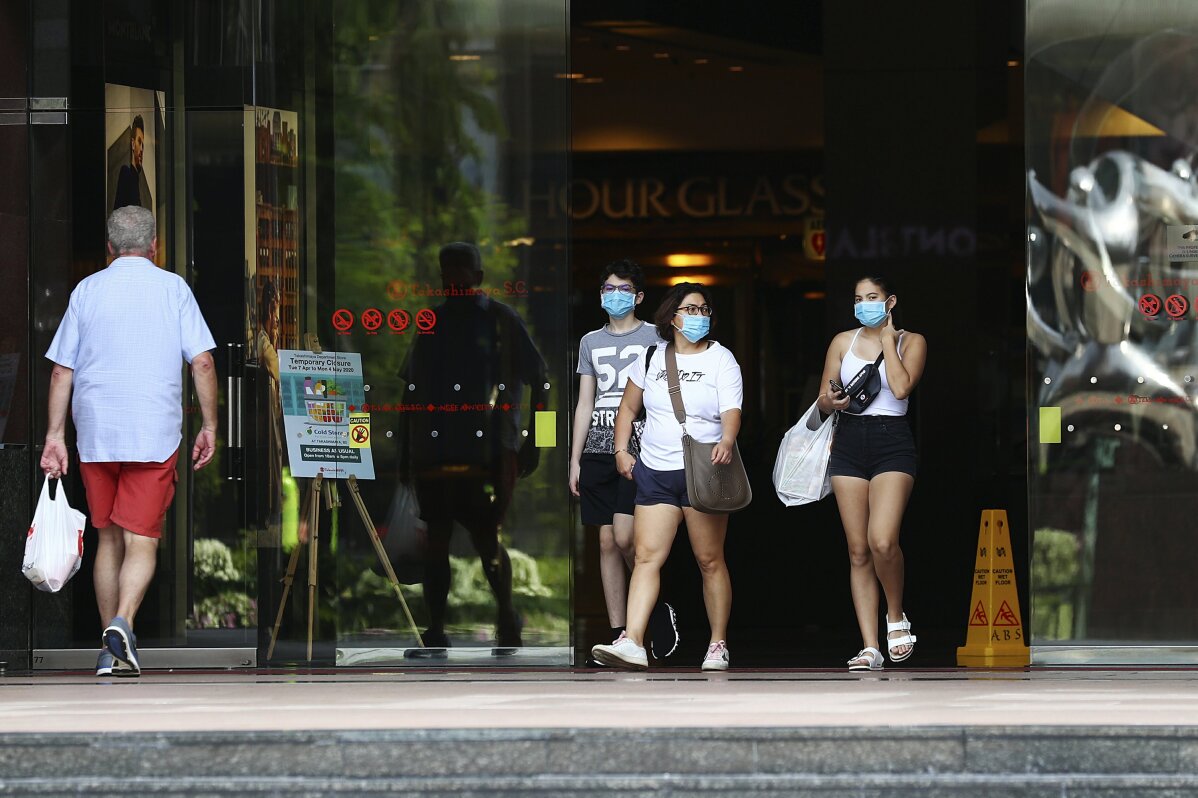 8 of 15

|
FILE - In this April 10, 2020, file photo, people wearing protective face masks exit a mall along the Orchard Road shopping belt in Singapore. A second wave of coronavirus infections in tightly packed foreign workers' dormitories has caught Singapore off guard, and exposed the danger of overlooking marginal groups in a health crisis. Infections in Singapore, an affluent Southeast Asian city-state of fewer than 6 million people, have jumped more than a hundredfold in two months — from 226 in mid-March to over 23,000, the most in Asia after China and India.(AP Photo/Yong Teck Lim, File)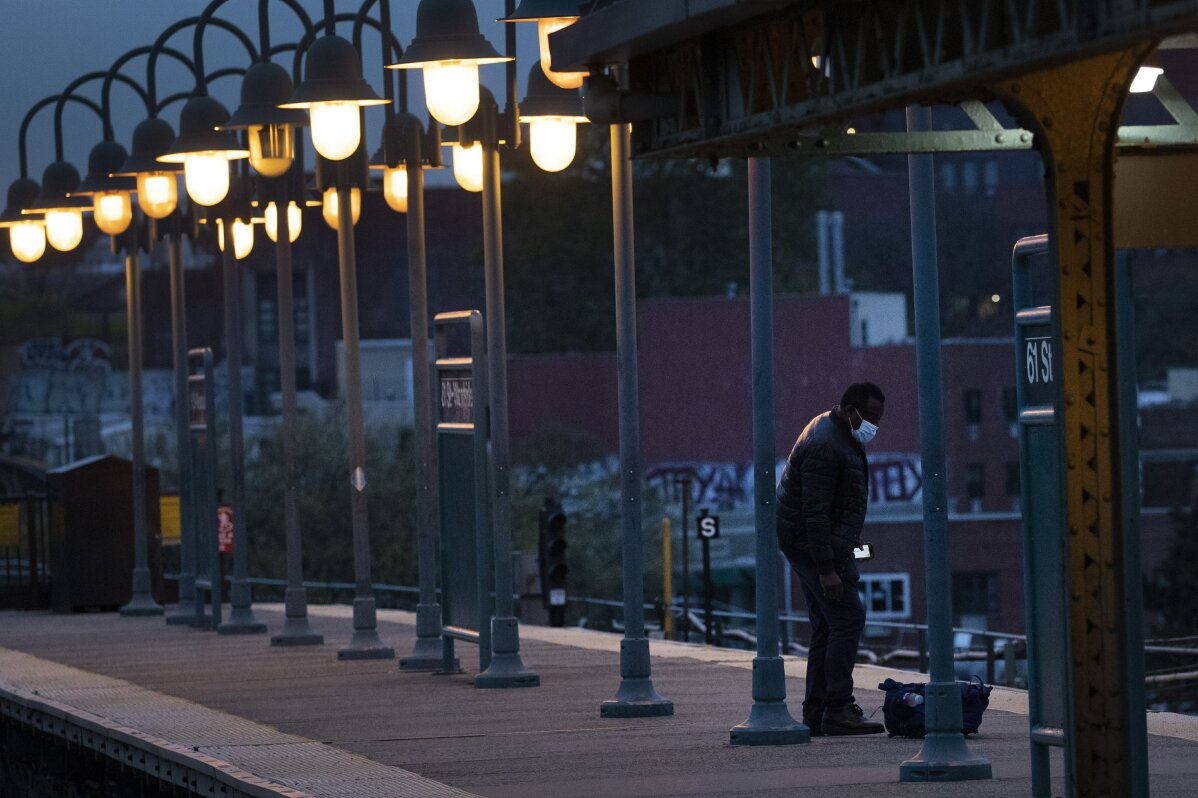 9 of 15

|
A man waits for a subway in the Woodside neighborhood in the Queens borough of New York, Thursday night, April 23, 2020, during the coronavirus pandemic. Last week, for the first time in New York's history, the trains stopped running in a planned shutdown. Between the hours of 1 a.m. and 5 a.m., the subways and New York's 472 stations began closing for a nightly cleaning to disinfect trains. It is a humbling concession for a swaggering, all-night town that, as much as anything, shows how the coronavirus pandemic has seized the gears of New York, one of the world's hardest-hit cities. (AP Photo/Mark Lennihan)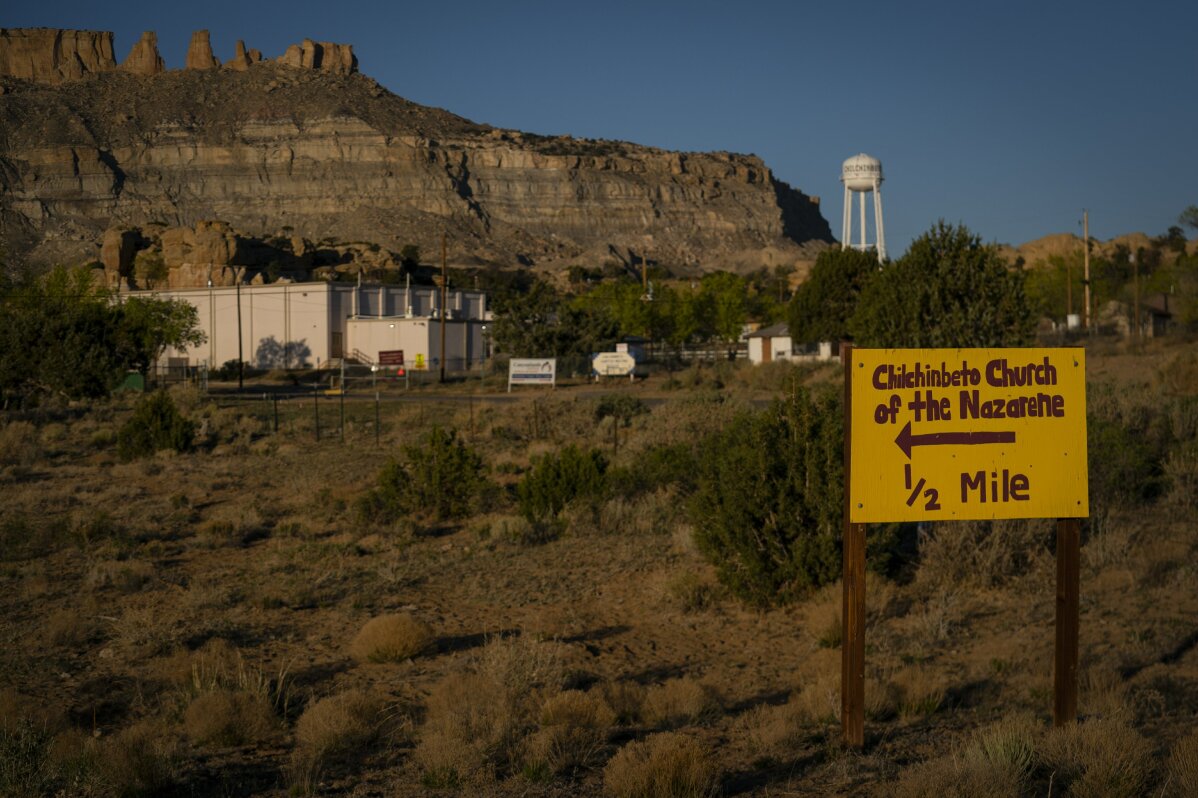 10 of 15

|
A hand-painted sign points the way to the Chilchinbeto Church of the Nazarene in Chilchinbeto, Ariz., on the Navajo reservation at sunrise on Sunday, April 19, 2020. The Navajo reservation has some of the highest rates of coronavirus in the country. If Navajos are susceptible to the virus' spread in part because they are so closely knit, that's also how many believe they will beat it. (AP Photo/Carolyn Kaster)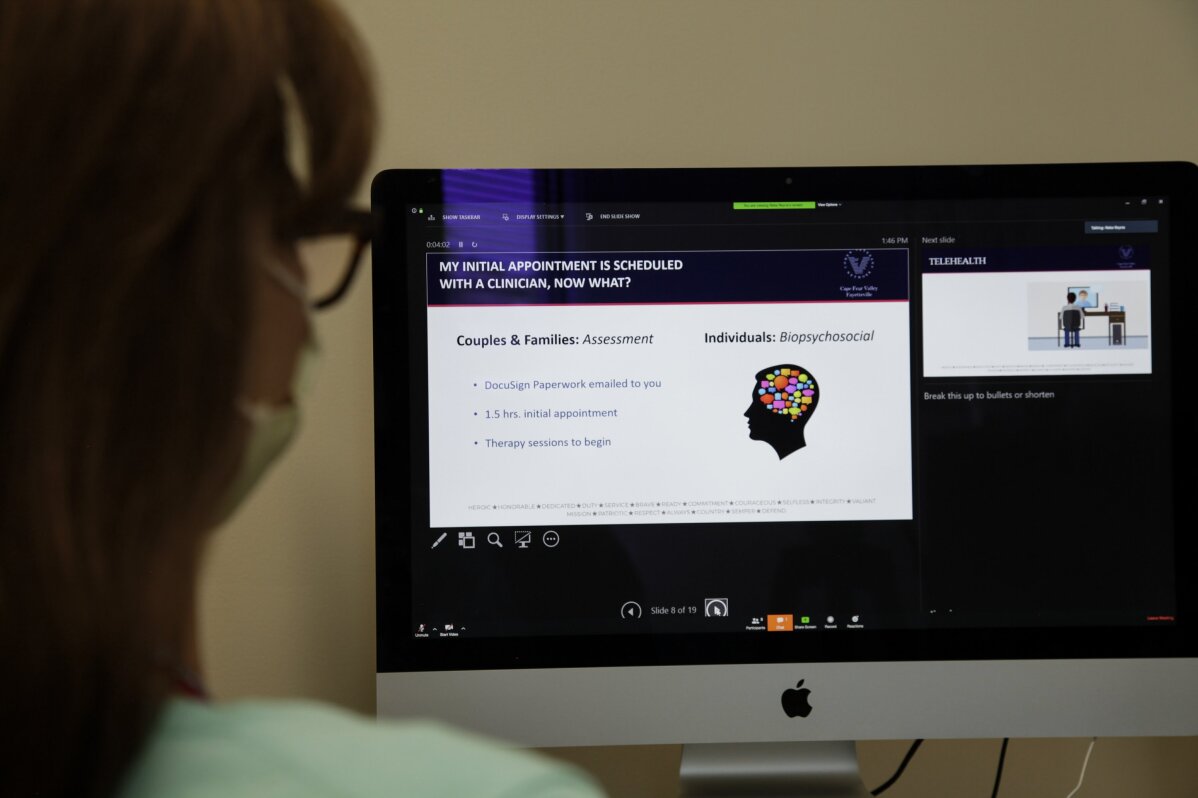 11 of 15

|
Margo Jarvis takes part in video teleconference at Cohen Veteran's Network's on Wednesday, April 22, 2020, in Fayetteville, N.C. Since the pandemic began, the organization has pivoted their mental health services to telehealth at their 15 clinics across the United States. (AP Photo/Sarah Blake Morgan)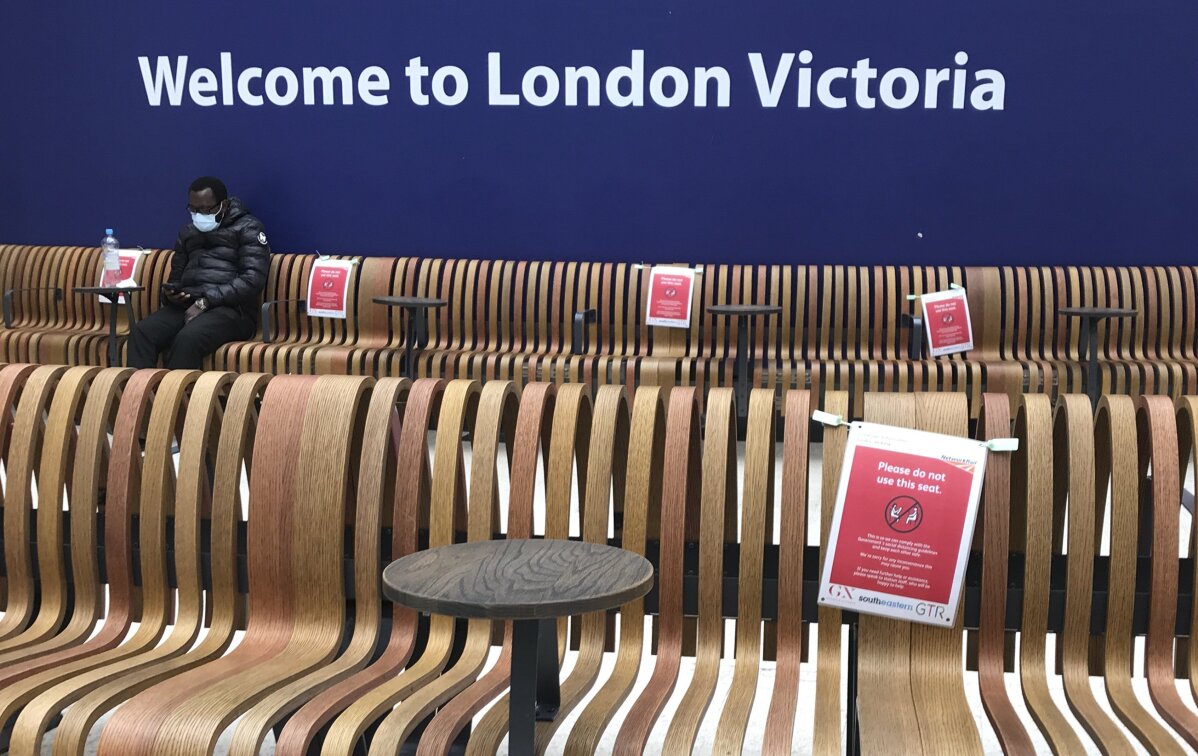 12 of 15

|
Seats displaying social distancing signs at Victoria Station, London, Monday, May 11, 2020, as the country continues in lockdown to help stop the spread of coronavirus. Britain's Prime Minister Boris Johnson announced Sunday that people could return to work if they could not work from home. (AP Photo/Kirsty Wigglesworth)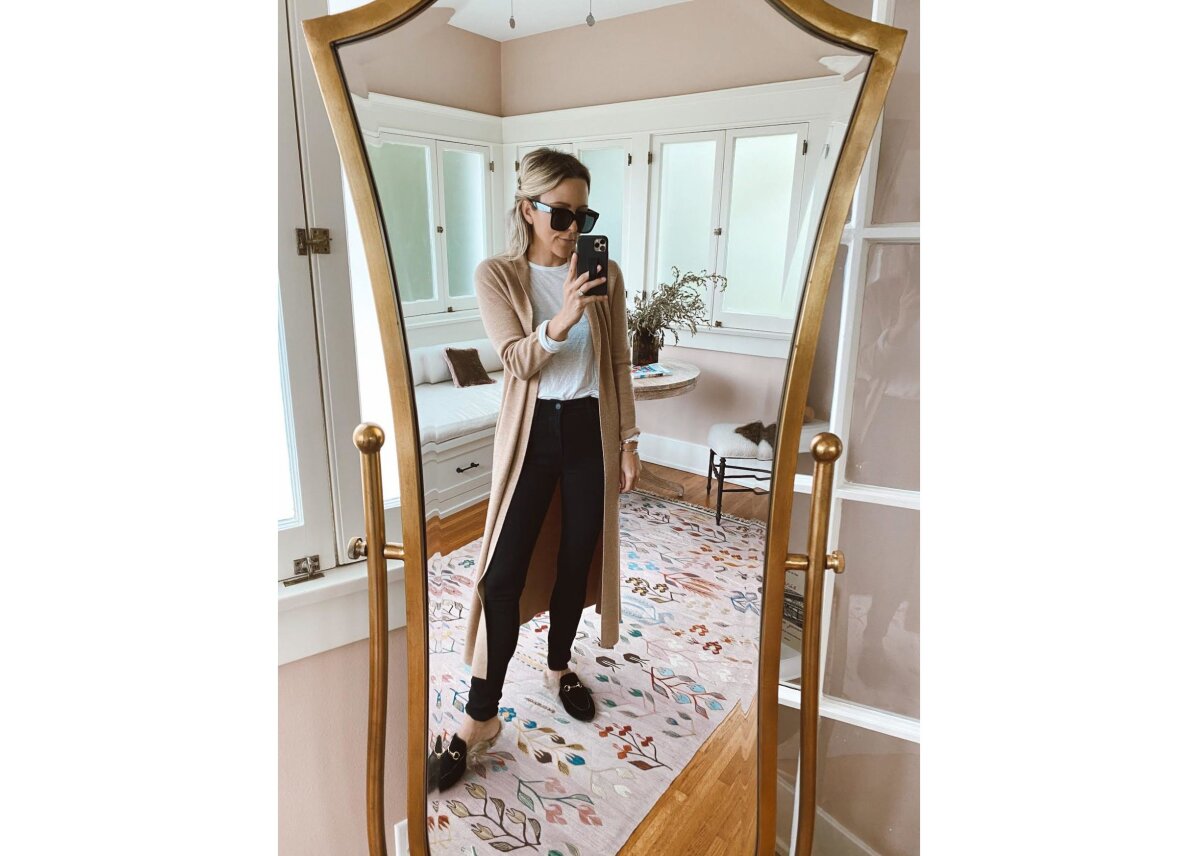 13 of 15

|
In this April 11, 2020 selfie photo by Jacey Duprie wears an outfit she featured in her fashion blog from her home in Los Angeles. After weeks stuck in isolation, bodies molded into beds and couches glued to TVs and computers, with little to delineate weekends from weekdays, a pronounced fashion trend is emerging in loungewear. (Jacey Duprie via AP)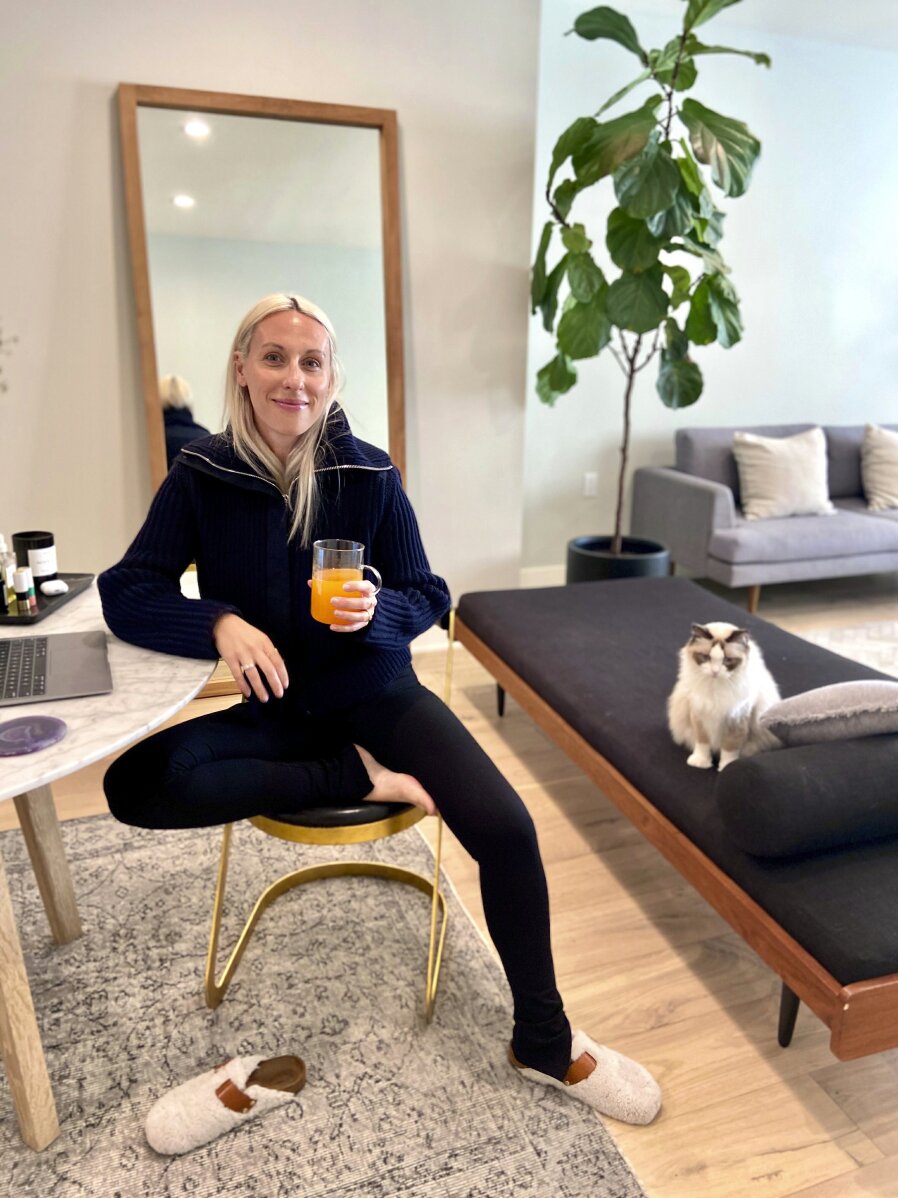 14 of 15

|
In this April 5, 2020 photo, Goop fashion director Ali Pew is poses in Los Angeles. After weeks stuck in isolation, bodies molded into beds and couches glued to TVs and computers, with little to delineate weekends from weekdays, a pronounced fashion trend is emerging in loungewear. It's comfy, everyday clothing with a bit more refinement, unfussy, minimal, but pulled together enough for a zoom conference call with your boss. (Oliver Clark via AP)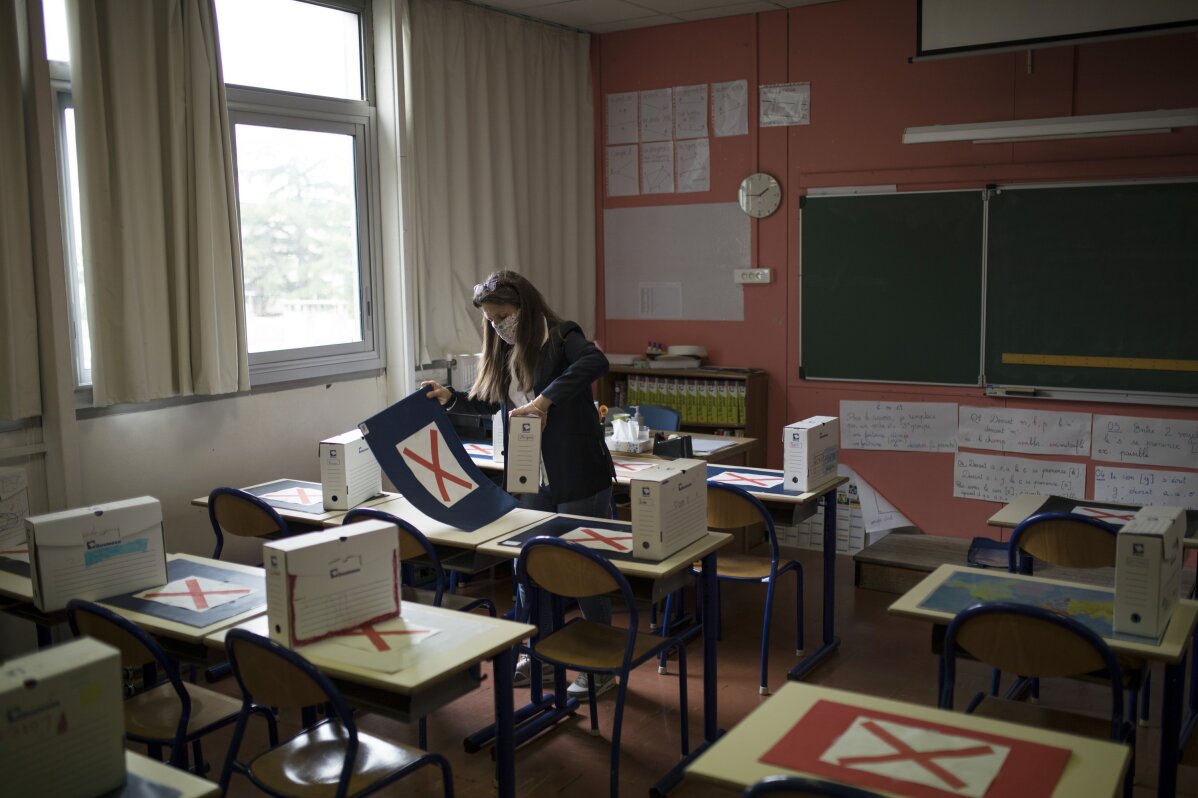 15 of 15

|
Saint-Tronc Castelroc primary school director Sylvie Duquesnoy prepares a classroom to receive students on a voluntary basis in Marseille, southern France, Monday, May 11, 2020. France is beginning to reopen Monday after two months of virus confinement measures. Shops, hair salons and some other businesses are reopening Monday and French citizens no longer need a special permission form to leave the house. (AP Photo/Daniel Cole)
What you need to know today about the virus outbreak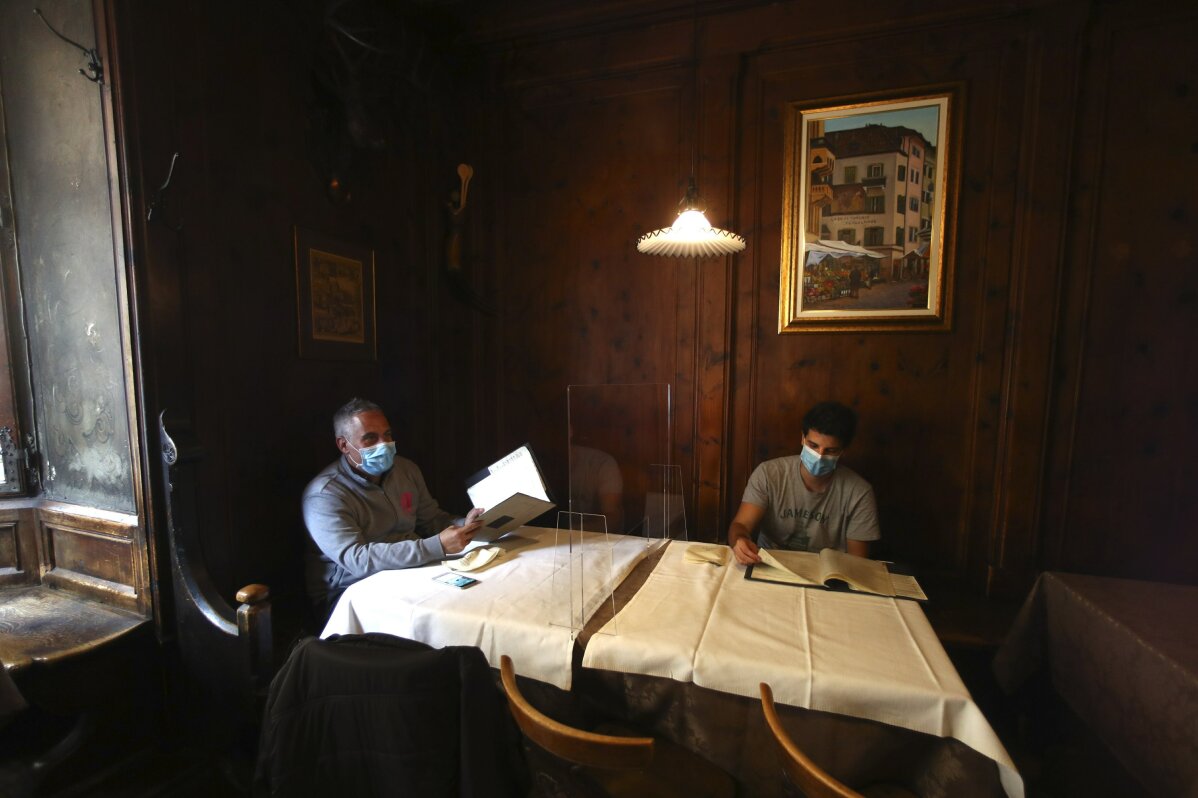 1 of 15

|
People wear masks to protect against the coronavirus as they sit next to a protective plastic window in a restaurant in Bozen, Italy, Monday, May 11, 2020. The northern Italian province of South Tyrol is moving ahead of policies by the central government, reopening restaurants and shops closed during the coronavirus crisis earlier than planned by Rome. (AP Photo/Matthias Schrader)
1 of 15
People wear masks to protect against the coronavirus as they sit next to a protective plastic window in a restaurant in Bozen, Italy, Monday, May 11, 2020. The northern Italian province of South Tyrol is moving ahead of policies by the central government, reopening restaurants and shops closed during the coronavirus crisis earlier than planned by Rome. (AP Photo/Matthias Schrader)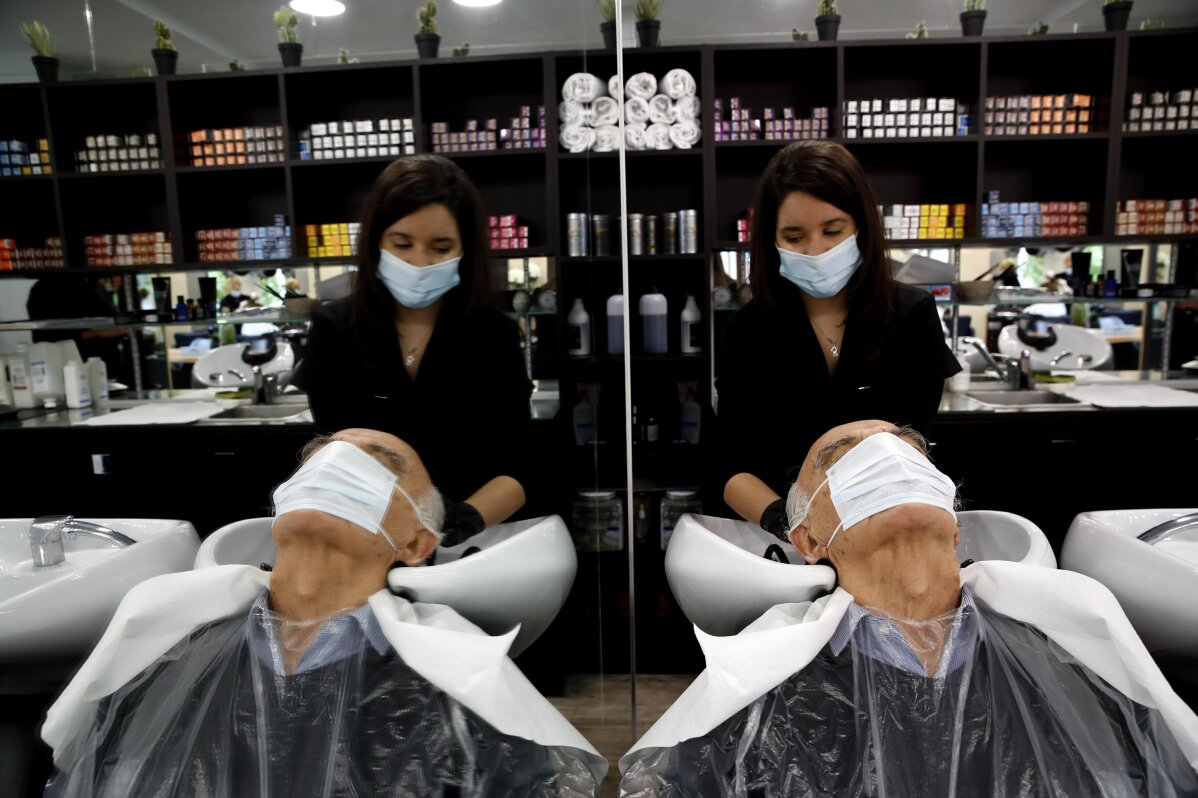 2 of 15

|
A man gets a hair cut at a hairdressing salon in Sevres, outside Paris, Monday, May 11, 2020. The French began leaving their homes and apartments for the first time in two months without permission slips as the country cautiously lifted its lockdown. Clothing stores, coiffures and other businesses large and small were reopening on Monday with strict precautions to keep the coronavirus at bay. (AP Photo/Christophe Ena)
2 of 15
A man gets a hair cut at a hairdressing salon in Sevres, outside Paris, Monday, May 11, 2020. The French began leaving their homes and apartments for the first time in two months without permission slips as the country cautiously lifted its lockdown. Clothing stores, coiffures and other businesses large and small were reopening on Monday with strict precautions to keep the coronavirus at bay. (AP Photo/Christophe Ena)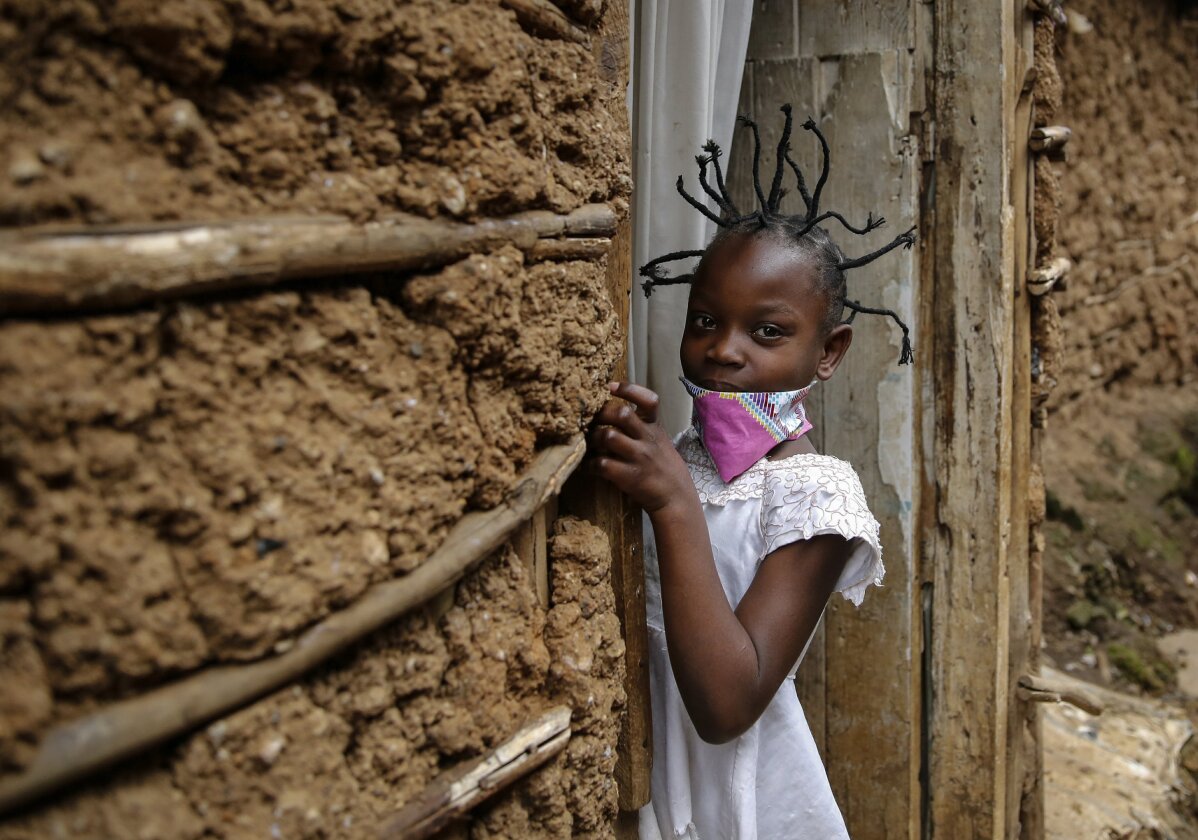 3 of 15

|
FILE - In this Sunday, May 3, 2020 file photo, Jane Mbone, 7, arrives home after having her hair styled in the shape of the new coronavirus at the Mama Brayo Beauty Salon in the Kibera slum, or informal settlement, of Nairobi, Kenya Sunday, May 3, 2020. The coronavirus has revived a hairstyle in East Africa, one with braided spikes that echo the virus' distinctive shape, with the growing popularity in part due to economic hardships linked to virus restrictions. (AP Photo/Brian Inganga, File)
3 of 15
FILE - In this Sunday, May 3, 2020 file photo, Jane Mbone, 7, arrives home after having her hair styled in the shape of the new coronavirus at the Mama Brayo Beauty Salon in the Kibera slum, or informal settlement, of Nairobi, Kenya Sunday, May 3, 2020. The coronavirus has revived a hairstyle in East Africa, one with braided spikes that echo the virus' distinctive shape, with the growing popularity in part due to economic hardships linked to virus restrictions. (AP Photo/Brian Inganga, File)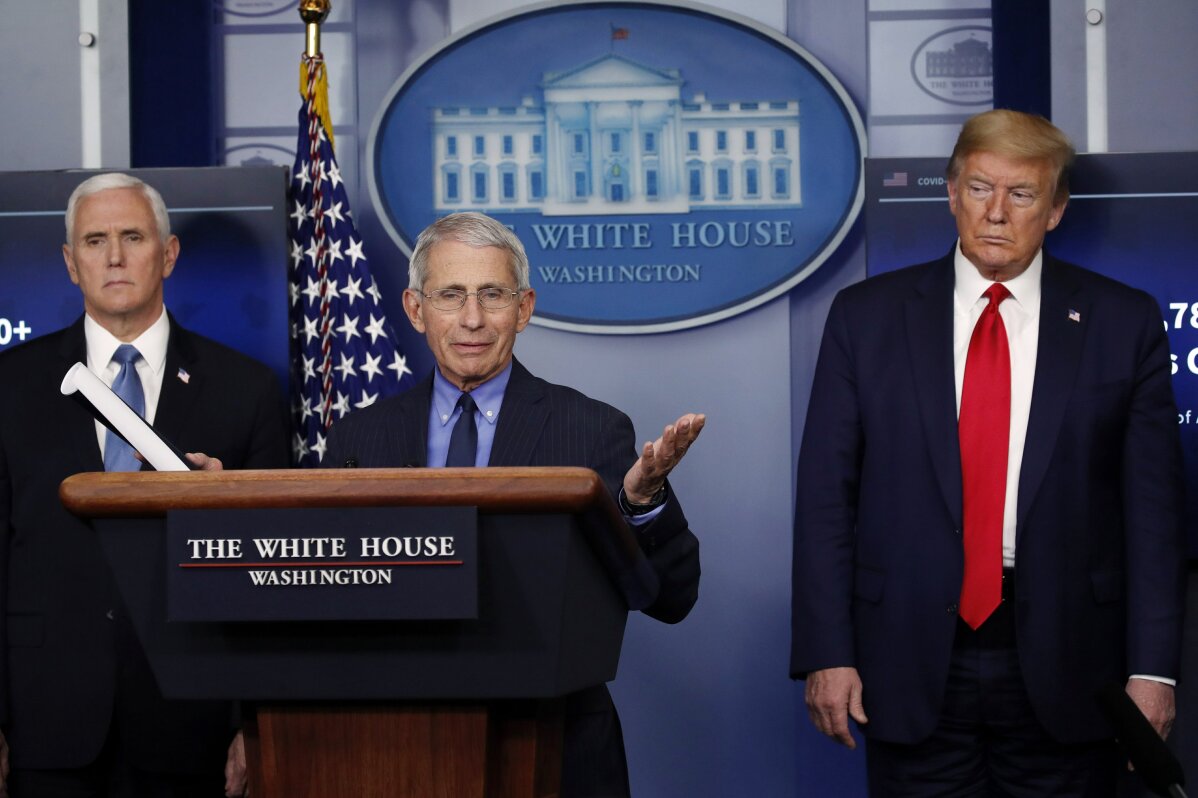 4 of 15

|
FILE - In this April 17, 2020, file photo, President Donald Trump and Vice President Mike Pence listen as Dr. Anthony Fauci, director of the National Institute of Allergy and Infectious Diseases, speaks about the coronavirus in the James Brady Press Briefing Room of the White House in Washington. The Trump administration's leading health experts on safely dealing with the novel coronavirus will be testifying in a Senate hearing by a videoconference after three of them and the committee's chairman were exposed to someone who tested positive for COVID-19. (AP Photo/Alex Brandon, File)
4 of 15
FILE - In this April 17, 2020, file photo, President Donald Trump and Vice President Mike Pence listen as Dr. Anthony Fauci, director of the National Institute of Allergy and Infectious Diseases, speaks about the coronavirus in the James Brady Press Briefing Room of the White House in Washington. The Trump administration's leading health experts on safely dealing with the novel coronavirus will be testifying in a Senate hearing by a videoconference after three of them and the committee's chairman were exposed to someone who tested positive for COVID-19. (AP Photo/Alex Brandon, File)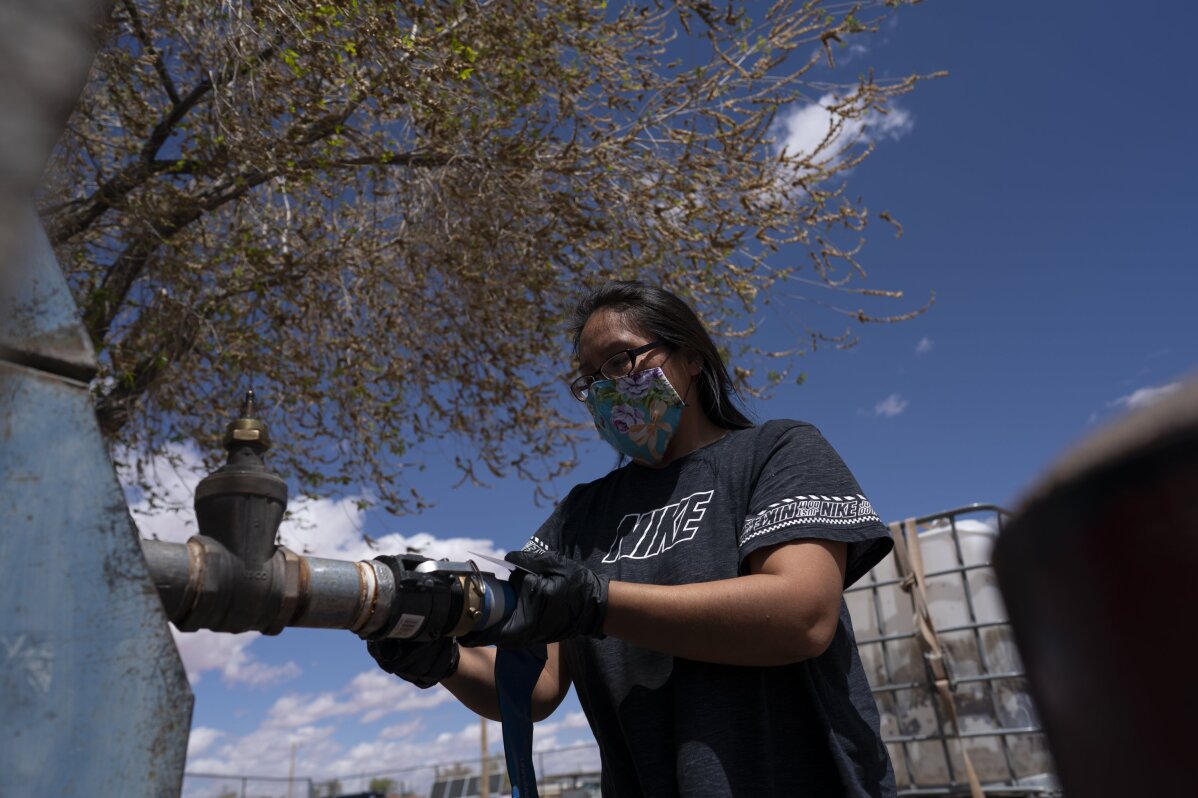 5 of 15

|
Raynelle Hoskie attaches a hose to a water pump to fill tanks in her truck outside a tribal office on the Navajo reservation in Tuba City, Ariz., on April 20, 2020. Hoskie is hauling water back to her home where she lives with her extended family. The reservation has some of the highest rates of coronavirus in the country. If Navajos are susceptible to the virus' spread in part because they are so closely knit, that's also how many believe they will beat it. (AP Photo/Carolyn Kaster)
5 of 15
Raynelle Hoskie attaches a hose to a water pump to fill tanks in her truck outside a tribal office on the Navajo reservation in Tuba City, Ariz., on April 20, 2020. Hoskie is hauling water back to her home where she lives with her extended family. The reservation has some of the highest rates of coronavirus in the country. If Navajos are susceptible to the virus' spread in part because they are so closely knit, that's also how many believe they will beat it. (AP Photo/Carolyn Kaster)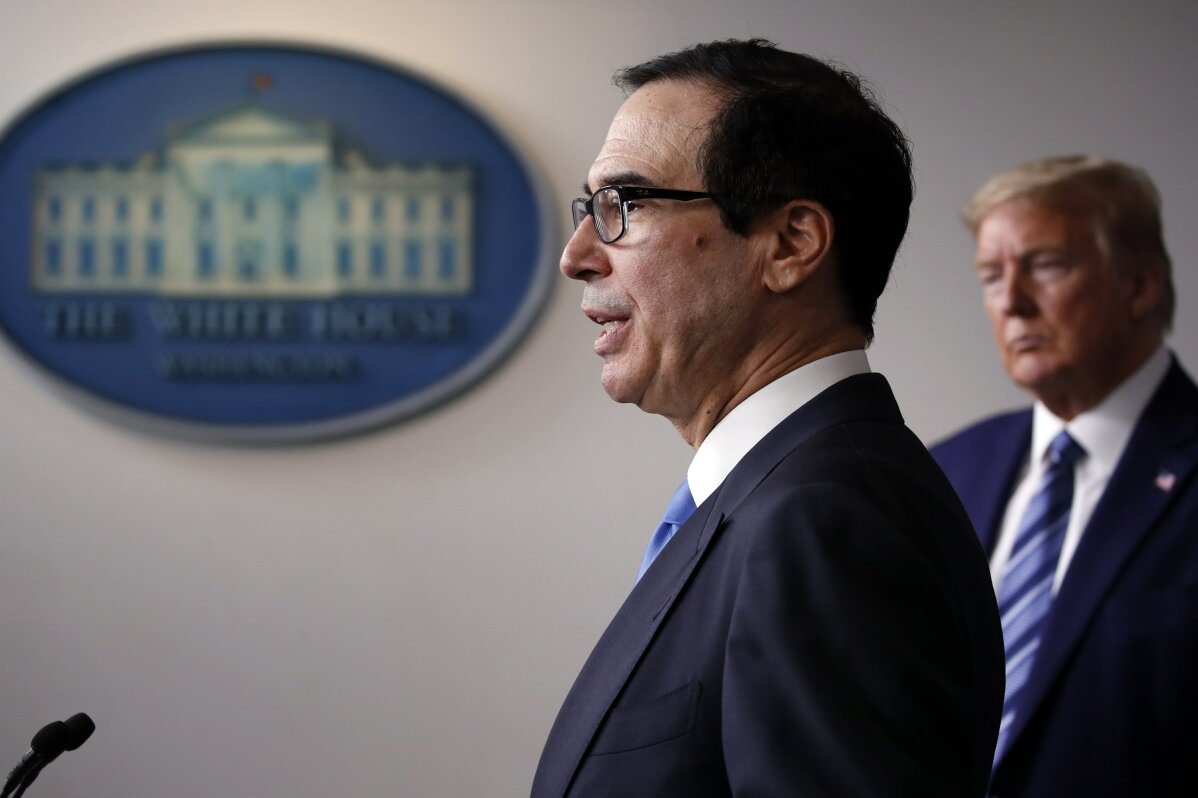 6 of 15

|
FILE - In this April 21, 2020, file photo President Donald Trump listens as Treasury Secretary Steven Mnuchin speaks about the coronavirus in the James Brady Press Briefing Room of the White House in Washington. Some of Trump's top economic advisers emphasized on Sunday, May 10, the importance of states getting more businesses and offices open. (AP Photo/Alex Brandon, File)
6 of 15
FILE - In this April 21, 2020, file photo President Donald Trump listens as Treasury Secretary Steven Mnuchin speaks about the coronavirus in the James Brady Press Briefing Room of the White House in Washington. Some of Trump's top economic advisers emphasized on Sunday, May 10, the importance of states getting more businesses and offices open. (AP Photo/Alex Brandon, File)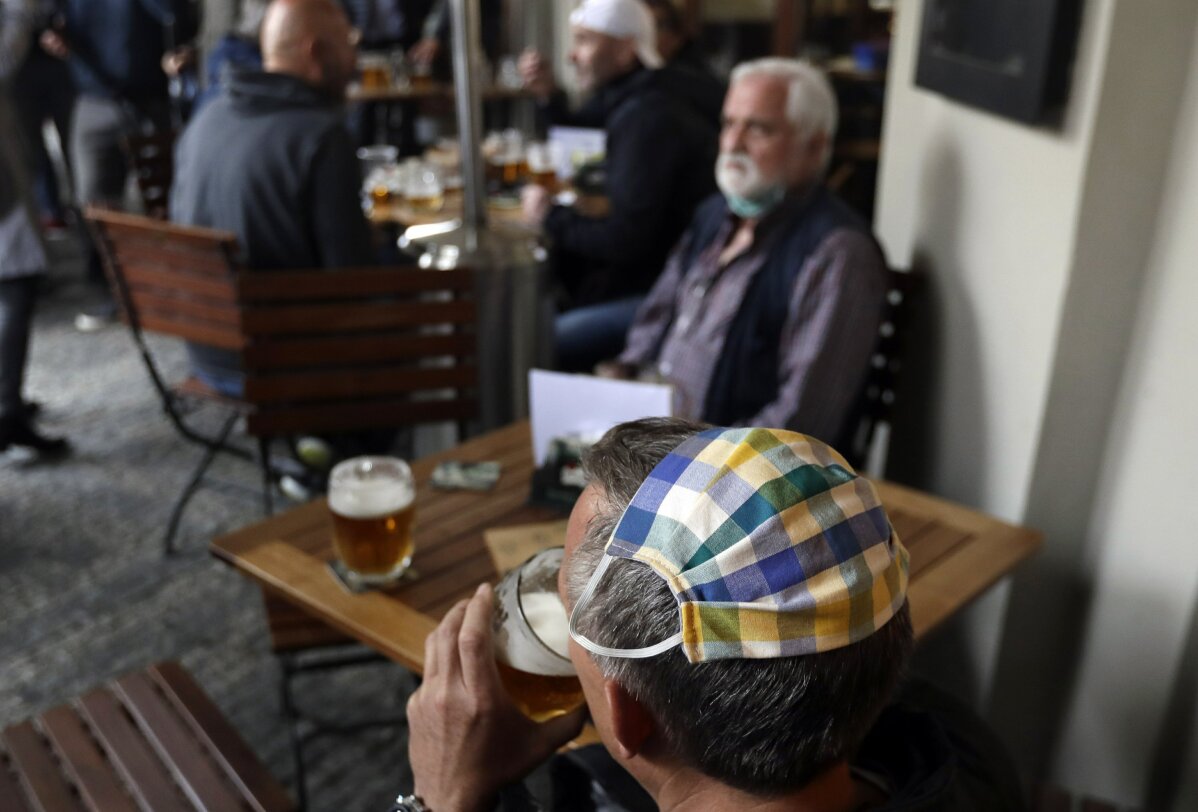 7 of 15

|
A man, wearing his face mask on top of his head, drinks a beer at a restaurant terrace in Prague, Czech Republic, Monday, May 11, 2020.Bars, restaurants, cafes offering outdoor seating started to serve their first consumers since March 14, as the Czech Republic is taking a step to normalcy amid the coronavirus pandemic by easing more restrictions adopted by the government to contain it. Interiors of the restaurants still remain closed. (AP Photo/Petr David Josek)
7 of 15
A man, wearing his face mask on top of his head, drinks a beer at a restaurant terrace in Prague, Czech Republic, Monday, May 11, 2020.Bars, restaurants, cafes offering outdoor seating started to serve their first consumers since March 14, as the Czech Republic is taking a step to normalcy amid the coronavirus pandemic by easing more restrictions adopted by the government to contain it. Interiors of the restaurants still remain closed. (AP Photo/Petr David Josek)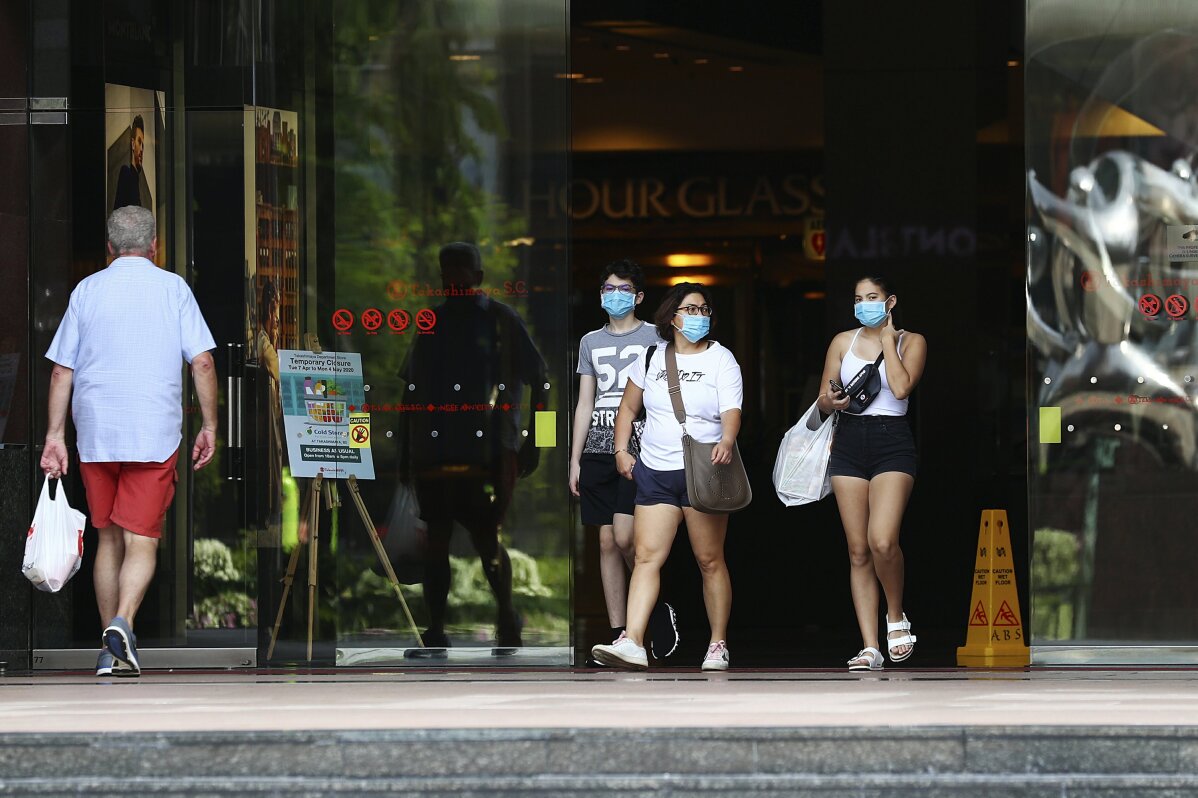 8 of 15

|
FILE - In this April 10, 2020, file photo, people wearing protective face masks exit a mall along the Orchard Road shopping belt in Singapore. A second wave of coronavirus infections in tightly packed foreign workers' dormitories has caught Singapore off guard, and exposed the danger of overlooking marginal groups in a health crisis. Infections in Singapore, an affluent Southeast Asian city-state of fewer than 6 million people, have jumped more than a hundredfold in two months — from 226 in mid-March to over 23,000, the most in Asia after China and India.(AP Photo/Yong Teck Lim, File)
8 of 15
FILE - In this April 10, 2020, file photo, people wearing protective face masks exit a mall along the Orchard Road shopping belt in Singapore. A second wave of coronavirus infections in tightly packed foreign workers' dormitories has caught Singapore off guard, and exposed the danger of overlooking marginal groups in a health crisis. Infections in Singapore, an affluent Southeast Asian city-state of fewer than 6 million people, have jumped more than a hundredfold in two months — from 226 in mid-March to over 23,000, the most in Asia after China and India.(AP Photo/Yong Teck Lim, File)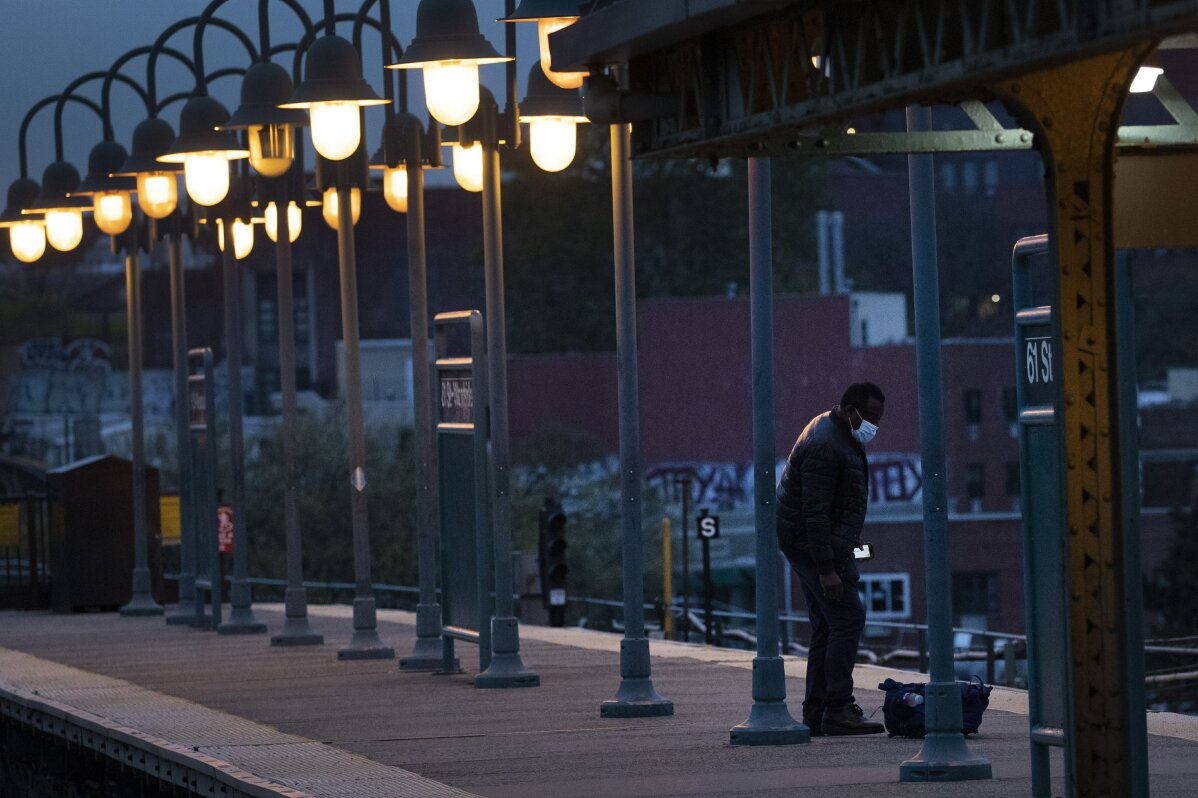 9 of 15

|
A man waits for a subway in the Woodside neighborhood in the Queens borough of New York, Thursday night, April 23, 2020, during the coronavirus pandemic. Last week, for the first time in New York's history, the trains stopped running in a planned shutdown. Between the hours of 1 a.m. and 5 a.m., the subways and New York's 472 stations began closing for a nightly cleaning to disinfect trains. It is a humbling concession for a swaggering, all-night town that, as much as anything, shows how the coronavirus pandemic has seized the gears of New York, one of the world's hardest-hit cities. (AP Photo/Mark Lennihan)
9 of 15
A man waits for a subway in the Woodside neighborhood in the Queens borough of New York, Thursday night, April 23, 2020, during the coronavirus pandemic. Last week, for the first time in New York's history, the trains stopped running in a planned shutdown. Between the hours of 1 a.m. and 5 a.m., the subways and New York's 472 stations began closing for a nightly cleaning to disinfect trains. It is a humbling concession for a swaggering, all-night town that, as much as anything, shows how the coronavirus pandemic has seized the gears of New York, one of the world's hardest-hit cities. (AP Photo/Mark Lennihan)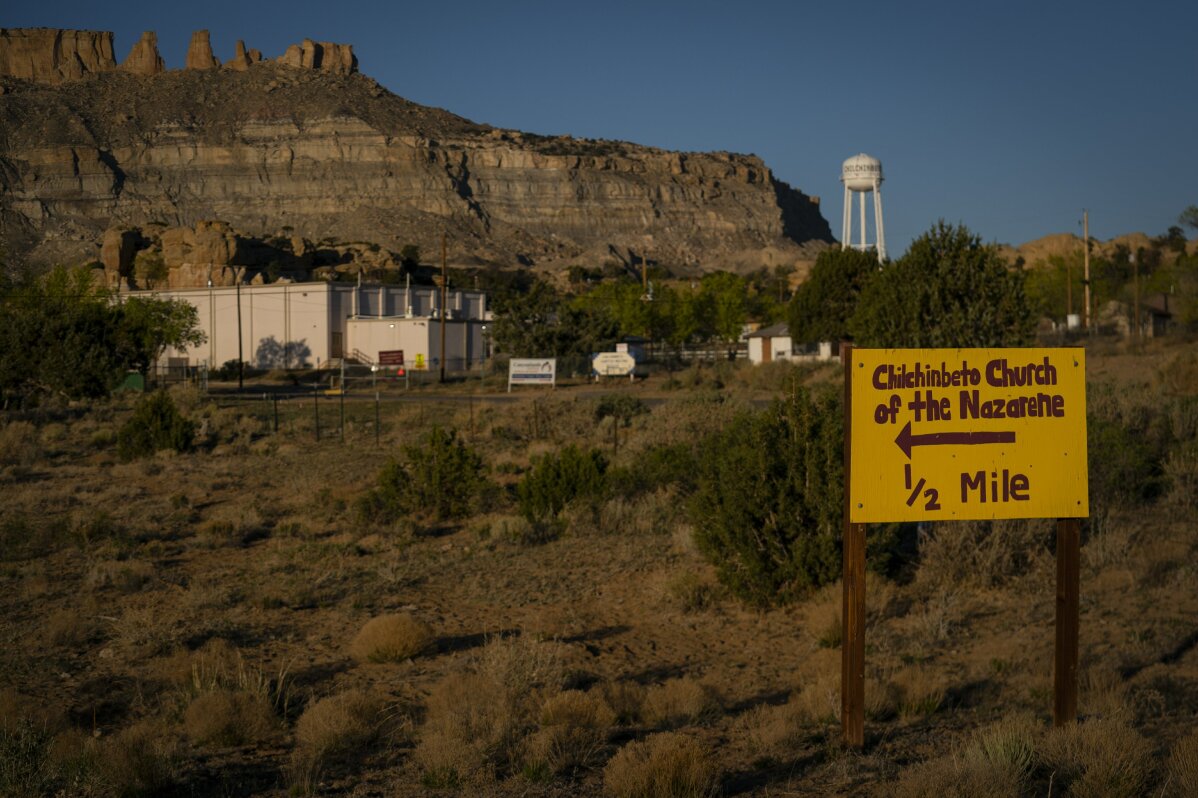 10 of 15

|
A hand-painted sign points the way to the Chilchinbeto Church of the Nazarene in Chilchinbeto, Ariz., on the Navajo reservation at sunrise on Sunday, April 19, 2020. The Navajo reservation has some of the highest rates of coronavirus in the country. If Navajos are susceptible to the virus' spread in part because they are so closely knit, that's also how many believe they will beat it. (AP Photo/Carolyn Kaster)
10 of 15
A hand-painted sign points the way to the Chilchinbeto Church of the Nazarene in Chilchinbeto, Ariz., on the Navajo reservation at sunrise on Sunday, April 19, 2020. The Navajo reservation has some of the highest rates of coronavirus in the country. If Navajos are susceptible to the virus' spread in part because they are so closely knit, that's also how many believe they will beat it. (AP Photo/Carolyn Kaster)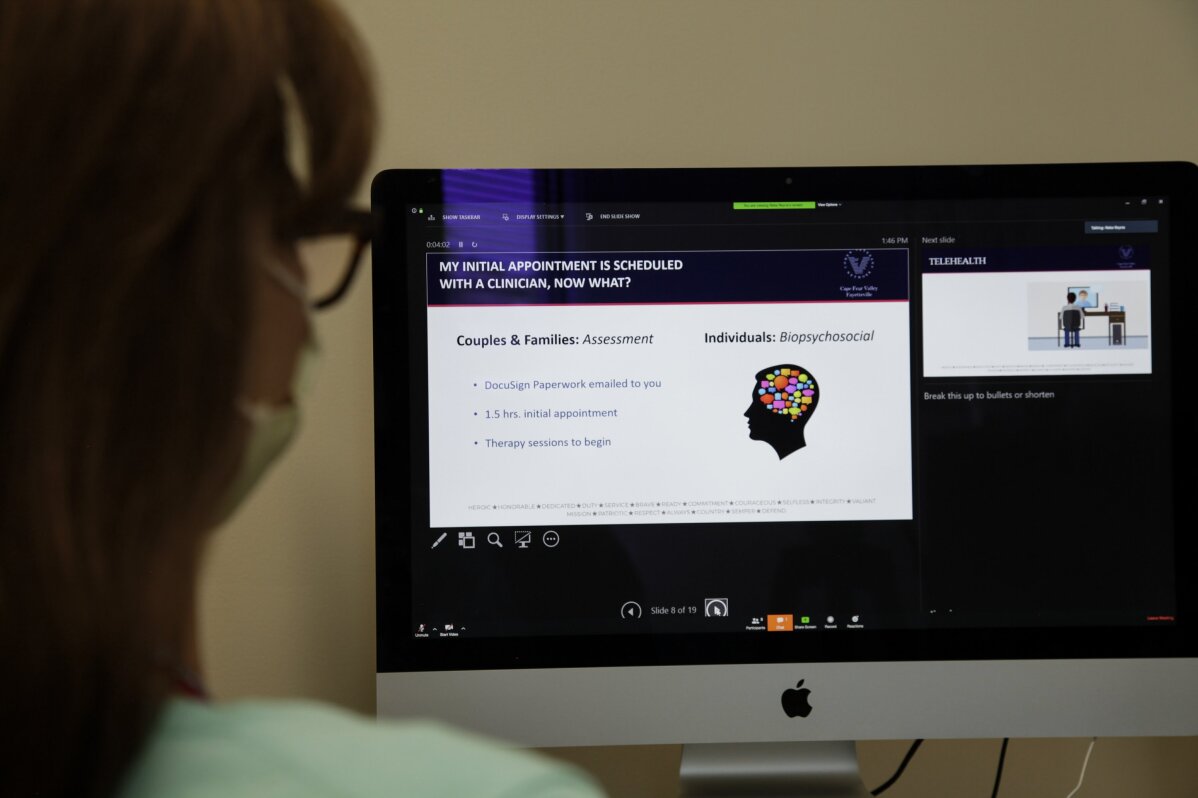 11 of 15

|
Margo Jarvis takes part in video teleconference at Cohen Veteran's Network's on Wednesday, April 22, 2020, in Fayetteville, N.C. Since the pandemic began, the organization has pivoted their mental health services to telehealth at their 15 clinics across the United States. (AP Photo/Sarah Blake Morgan)
11 of 15
Margo Jarvis takes part in video teleconference at Cohen Veteran's Network's on Wednesday, April 22, 2020, in Fayetteville, N.C. Since the pandemic began, the organization has pivoted their mental health services to telehealth at their 15 clinics across the United States. (AP Photo/Sarah Blake Morgan)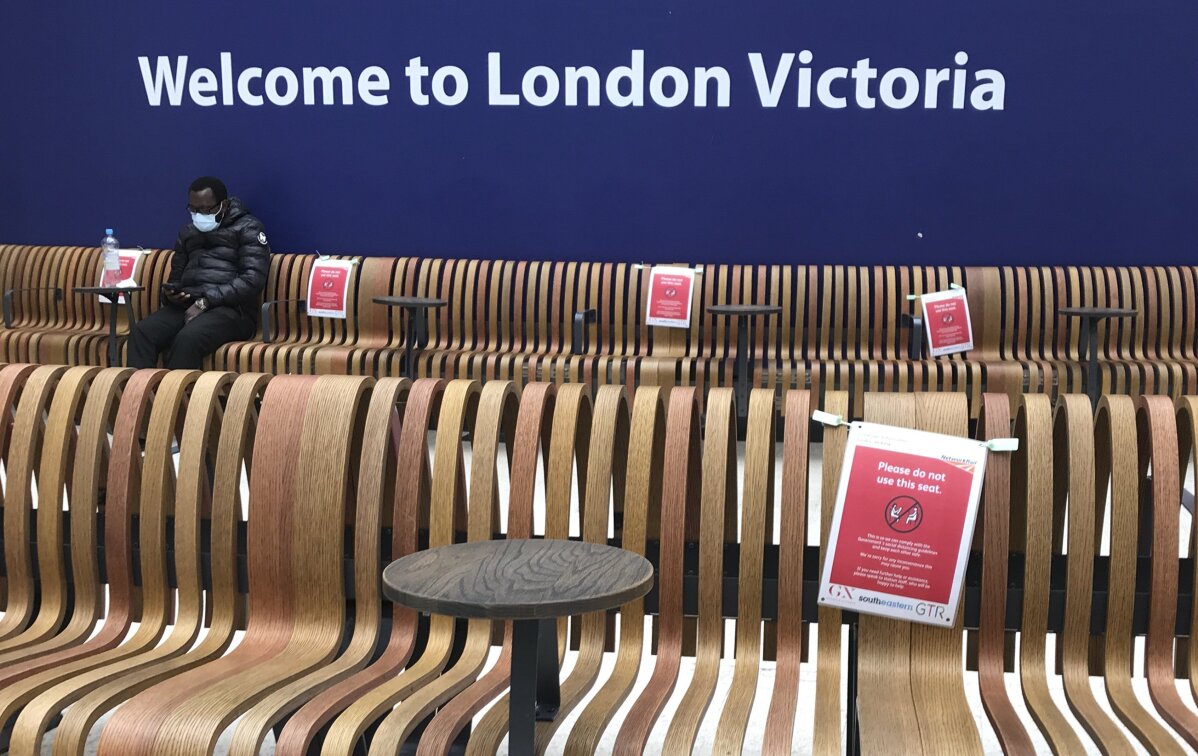 12 of 15

|
Seats displaying social distancing signs at Victoria Station, London, Monday, May 11, 2020, as the country continues in lockdown to help stop the spread of coronavirus. Britain's Prime Minister Boris Johnson announced Sunday that people could return to work if they could not work from home. (AP Photo/Kirsty Wigglesworth)
12 of 15
Seats displaying social distancing signs at Victoria Station, London, Monday, May 11, 2020, as the country continues in lockdown to help stop the spread of coronavirus. Britain's Prime Minister Boris Johnson announced Sunday that people could return to work if they could not work from home. (AP Photo/Kirsty Wigglesworth)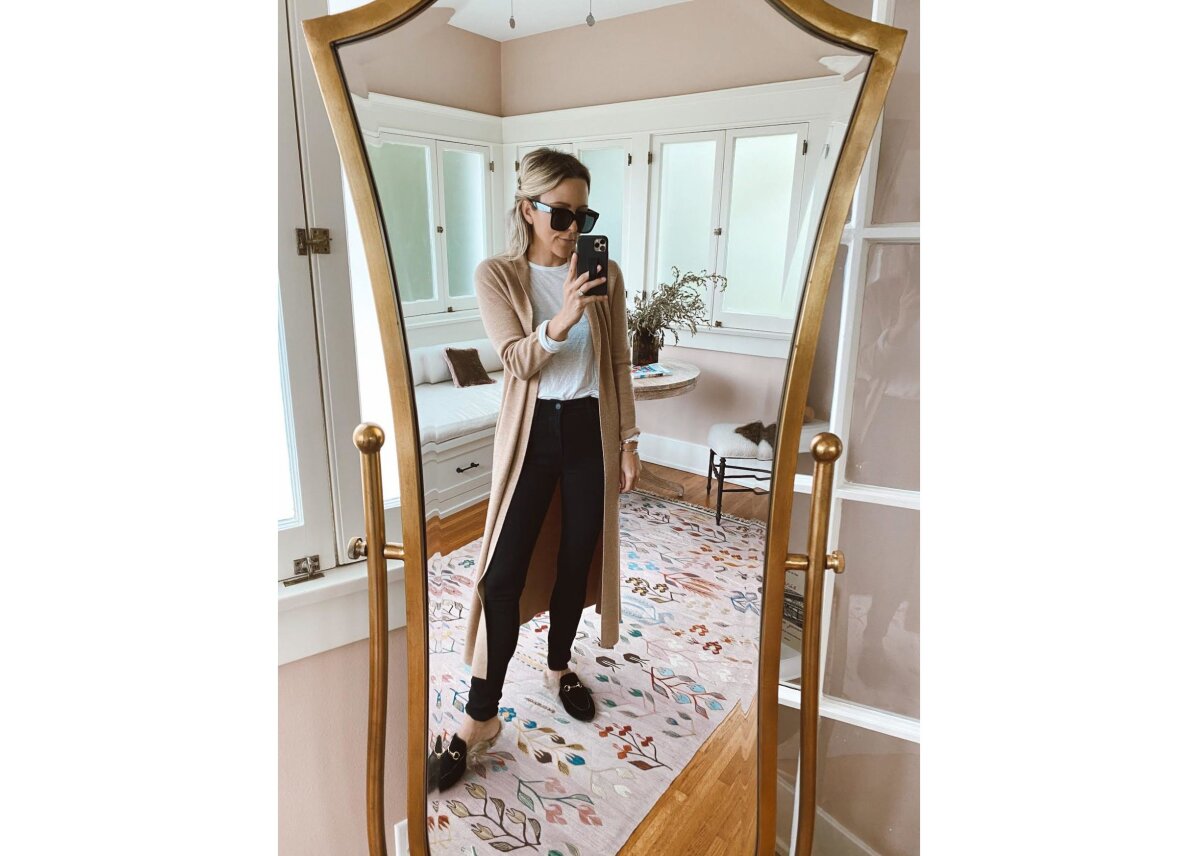 13 of 15

|
In this April 11, 2020 selfie photo by Jacey Duprie wears an outfit she featured in her fashion blog from her home in Los Angeles. After weeks stuck in isolation, bodies molded into beds and couches glued to TVs and computers, with little to delineate weekends from weekdays, a pronounced fashion trend is emerging in loungewear. (Jacey Duprie via AP)
13 of 15
In this April 11, 2020 selfie photo by Jacey Duprie wears an outfit she featured in her fashion blog from her home in Los Angeles. After weeks stuck in isolation, bodies molded into beds and couches glued to TVs and computers, with little to delineate weekends from weekdays, a pronounced fashion trend is emerging in loungewear. (Jacey Duprie via AP)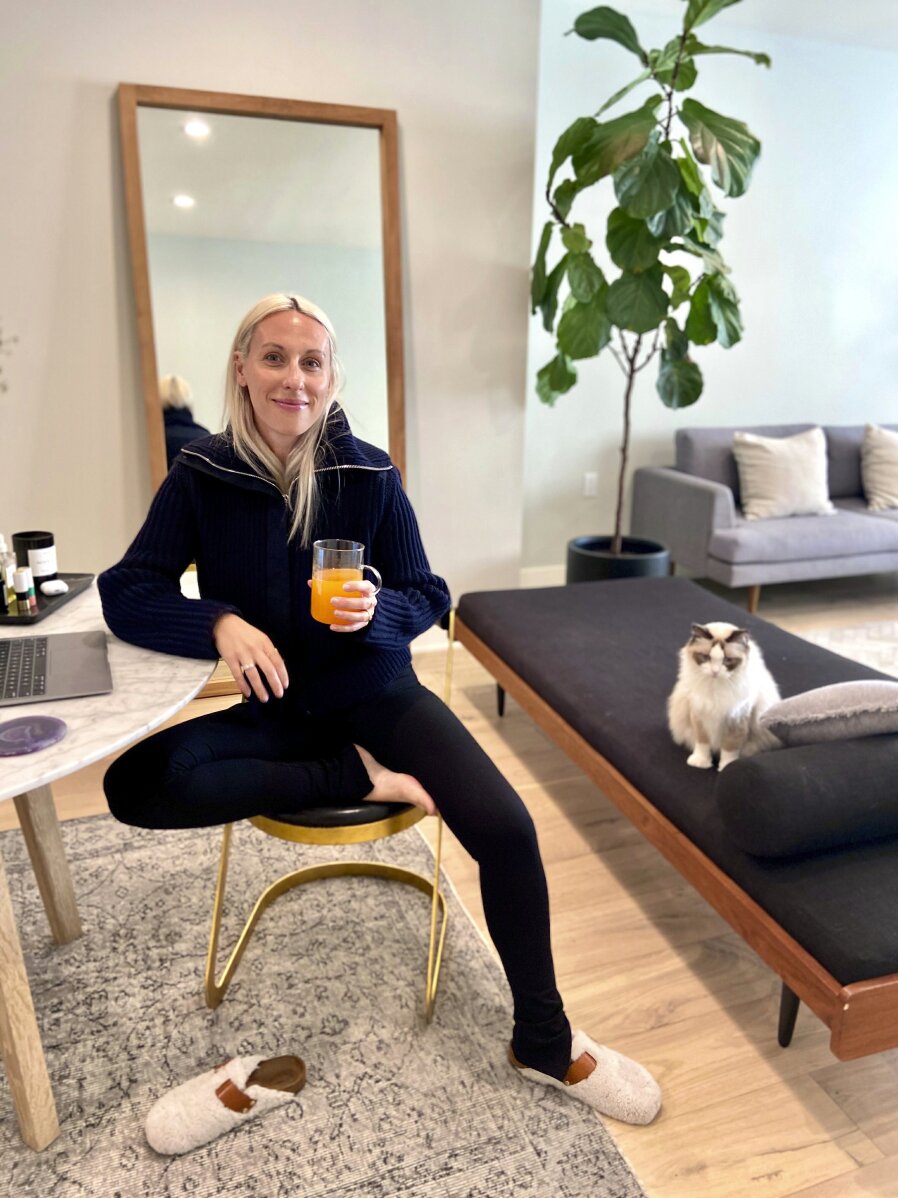 14 of 15

|
In this April 5, 2020 photo, Goop fashion director Ali Pew is poses in Los Angeles. After weeks stuck in isolation, bodies molded into beds and couches glued to TVs and computers, with little to delineate weekends from weekdays, a pronounced fashion trend is emerging in loungewear. It's comfy, everyday clothing with a bit more refinement, unfussy, minimal, but pulled together enough for a zoom conference call with your boss. (Oliver Clark via AP)
14 of 15
In this April 5, 2020 photo, Goop fashion director Ali Pew is poses in Los Angeles. After weeks stuck in isolation, bodies molded into beds and couches glued to TVs and computers, with little to delineate weekends from weekdays, a pronounced fashion trend is emerging in loungewear. It's comfy, everyday clothing with a bit more refinement, unfussy, minimal, but pulled together enough for a zoom conference call with your boss. (Oliver Clark via AP)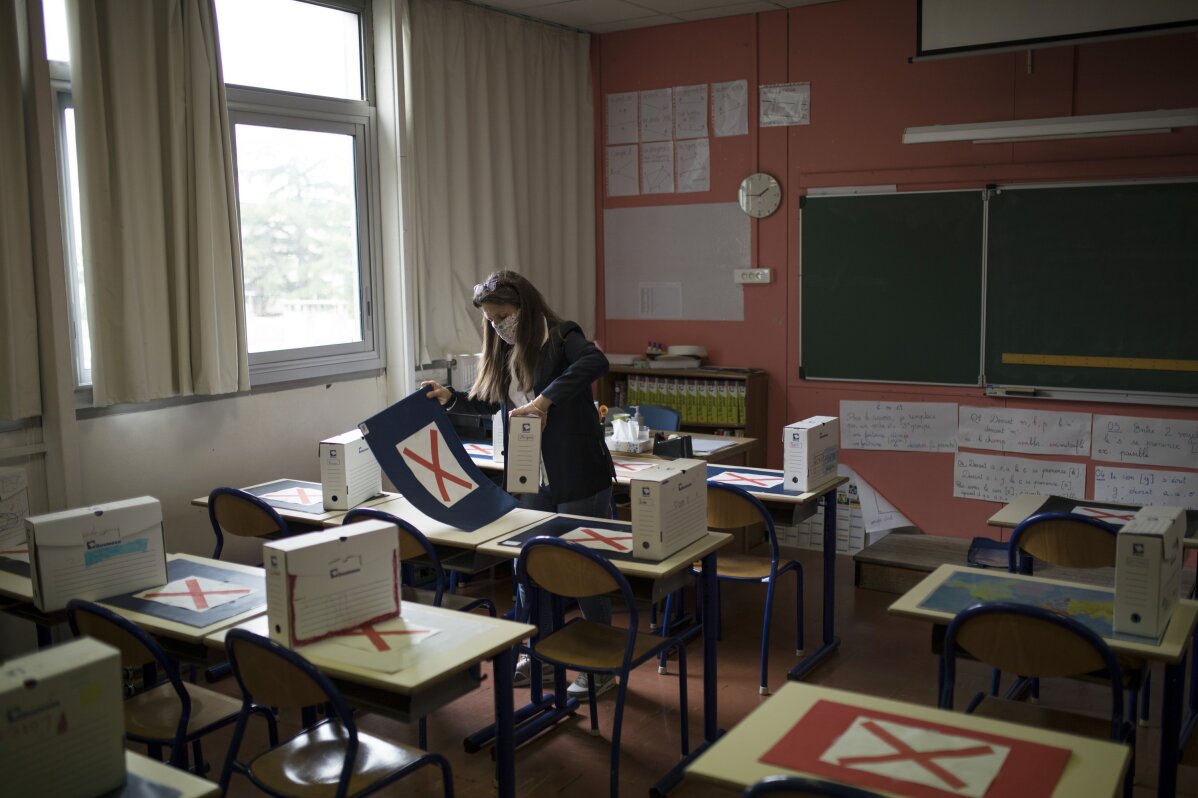 15 of 15

|
Saint-Tronc Castelroc primary school director Sylvie Duquesnoy prepares a classroom to receive students on a voluntary basis in Marseille, southern France, Monday, May 11, 2020. France is beginning to reopen Monday after two months of virus confinement measures. Shops, hair salons and some other businesses are reopening Monday and French citizens no longer need a special permission form to leave the house. (AP Photo/Daniel Cole)
15 of 15
Saint-Tronc Castelroc primary school director Sylvie Duquesnoy prepares a classroom to receive students on a voluntary basis in Marseille, southern France, Monday, May 11, 2020. France is beginning to reopen Monday after two months of virus confinement measures. Shops, hair salons and some other businesses are reopening Monday and French citizens no longer need a special permission form to leave the house. (AP Photo/Daniel Cole)
The White House is requiring everyone who enters the West Wing to wear a mask or face covering after coronavirus scares near President Donald Trump, spotlighting the challenge Trump faces in instilling confidence in a nation reeling from the pandemic.
The directive comes after two known cases of COVID-19 among staffers in one of the most-protected complexes in America sent three of the nation's top medical experts into quarantine and Vice President Mike Pence into "self-isolation."
The scare comes as the White House this week is emphasizing to the American people the steps being taken to assure their safety — in hopes that will coax them to resume normal activities.
Here are some of AP's top stories Monday on the world's coronavirus pandemic. Follow APNews.com/VirusOutbreak for updates through the day and APNews.com/UnderstandingtheOutbreak for stories explaining some of its complexities.
WHAT'S HAPPENING TODAY:
— The White House is recommending that all nursing home residents and staff be tested for the new coronavirus in the next two weeks. Dr. Deborah Birx, coordinator of the White House coronavirus task force, told governors to focus over the next two weeks on testing all 1 million residents of nursing homes and other senior care facilities, with vigilant monitoring going forward. She says the White House will help states that need it.
— The head of the World Health Organization says there are about seven or eight top candidates for a vaccine to combat the coronavirus. Director-General Tedros Adhanom Ghebreyesus did not identify those candidates during a U.N. Economic and Social Council briefing. But Tedros says an accelerated effort is under way despite earlier predictions that it may take 12 to 18 months for a vaccine.
— Another top world health official is warning that countries are essentially driving blind in reopening their economies without setting up strong contact tracing to beat back flare-ups of the coronavirus. Dr. Michael Ryan, the World Health Organization's emergencies chief, says that robust contact tracing measures adopted by Germany and South Korea provide hope that those countries can detect and stop virus clusters before they get out of control.
— The U.S. Centers for Disease Control and Prevention says New York City's death toll from the new coronavirus may be thousands of fatalities worse than the official tally kept by the city and state. A CDC analysis says that between mid-March and early May, about 24,000 more people died in the city than researchers would ordinarily expect. That's about 5,300 more deaths during that period.
— Democrats are making new moves toward a virtual presidential nominating convention this August. Party officials are preparing to grant convention organizers in Milwaukee the authority to design a convention that won't require delegates to attend in person. The party's Rules & Bylaws panel will start the process Tuesday with a resolution that grants "maximum flexibility" to the convention organizing committee to set up a gathering that "guarantees every delegate can accomplish their official business without putting their own health at risk." — By Bill Barrow and Stephen Ohlemacher.
— The Associated Press has learned that Major League Baseball owners have given the go-ahead to making a proposal to the players' union that could lead to the coronavirus-delayed season starting around the Fourth of July weekend in ballparks without fans. Spring training would start in early to mid-June, and the All-Star Game, scheduled for Dodger Stadium in Los Angeles on July 14, likely would be called off. — By Ronald Blum.
___
WHAT YOU NEED TO KNOW:
For most people, the coronavirus causes mild or moderate symptoms, such as fever and cough that clear up in two to three weeks. For some, especially older adults and people with existing health problems, it can cause more severe illness, including pneumonia and death. The vast majority of people recover.
Here are the symptoms of the virus compared with the common flu.
One of the best ways to prevent spread of the virus is washing your hands with soap and water. The U.S. Centers for Disease Control and Prevention recommends first washing with warm or cold water and then lathering soap for 20 seconds to get it on the backs of hands, between fingers and under fingernails before rinsing off.
You should wash your phone, too. Here's how.
TRACKING THE VIRUS: Drill down and zoom in at the individual county level, and you can access numbers that will show you the situation where you are, and where loved ones or people you're worried about live.
___
ONE NUMBER:
— 4: For the first time in New York City's history, the subways stopped running for four hours a day last week. The shutdown between the hours of 1 a.m. and 5 a.m. of the subways in New York's 472 stations provided time for a cleaning to disinfect trains. It's a concession that shows how the coronavirus pandemic has seized the gears of New York, one of the world's hardest-hit cities.
IN OTHER NEWS:
— COMFY IS IN: Since people have spent weeks stuck in isolation, their bodies molded into beds and couches with little to delineate weekends from weekdays, a fashion trend is emerging: Loungewear is comfy, everyday clothing with just a bit of refinement — unfussy and minimal, but pulled together enough for a video conference call with your boss.
— STYLE OF THE TIME: The coronavirus has revived a hairstyle in East Africa, one with braided spikes that echo the virus's distinctive shape. The style's growing popularity is in part due to economic hardships linked to virus restrictions. It's cheap, mothers say.
___
Follow AP coverage of the virus outbreak at https://apnews.com/VirusOutbreak and https://apnews.com/UnderstandingtheOutbreak