Organizers of Paris Olympics say 6.8 million tickets sold so far, defend pricing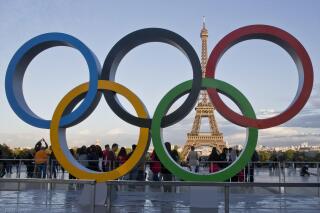 Organizers of the Paris Olympics said they have sold 6.8 million tickets out of 10 million available with 14 months left before the opening ceremony and on Tuesday brushed off criticism that prices are too high.
Tony Estanguet, the organizing committee president, said the second ticketing phase that ended last week exceeded expectations despite some fans — and athletes — complaining about hefty prices.
The most expensive tickets are 2,700 euros ($2,900) for the opening ceremony, and the sports with the highest prices are the athletics, swimming and basketball finals. The cheapest tickets are 24 euros ($26) and were quickly snapped up, leaving just 200,000 low-cost seats available in a later round to the frustration of many buyers.
A key goal was to keep a large amount of tickets affordable, said Estanguet, citing that the 5.3 percent of tickets that cost 400 euros each are guaranteeing that four million seats can be bought for 50 euros or less.
"There is a very big appetite among the public, French and international," Estanguet said. "It is an important success in terms of sales. It's rather a good news for the Paris 2024 Games."
A total of 5.2 million tickets have been sold to the general public across the first two phases — with 1.6 million going to corporate partners and others.
During the second phase only — for the sale of individual tickets and which saw four million people register for the draw — a total of 1.89 million tickets were sold in 178 countries. Fifty-eight percent of those went for 100 euros or less.
"Our goal was to sell 1.5 million tickets and we were more successful than expected," Estanguet said.
Some 610,000 seats were sold at 24 euros, he added. More tickets will be put on the market this summer, without a lottery, and a resale platform is set to open in 2024.
Estanguet said "in volume and price, there are very affordable tickets that have been put on sale, and bought."
More than 3.25 million tickets were sold in the first phase earlier this year, featuring packages for multiple sports.
Organizers did not give a detailed breakdown by country but said the biggest sales during the second phase were in France, followed by Britain, the United States, Germany and the Netherlands.
Soccer was the top seller, ahead of basketball and handball. Tickets for triathlon, sport climbing, BMX Racing, BMX Freestyle and breaking all sold out in less than two hours, organizers said.
The budget for the Paris Olympics is estimated at 4.4 billion euros. Estanguet said the organizers' goal remains generating 1.2 billion euros through tickets sales.
The Paris Games, which run from July 26-Aug. 11, 2024, will feature 32 sports and 48 disciplines across 37 sites. The Paralympic Games will then take place from Aug. 28-Sept. 8, with ticket sales beginning in autumn 2023.
___
More AP Olympics: https://apnews.com/hub/2024-paris-olympic-games and https://twitter.com/AP_Sports