Patriots owner Kraft joined by Meek Mill for Holocaust march
1 of 10

|
New England Patriots owner, Robert Kraft, front center, participates in the annual 'March of the Living', a trek between two former Nazi-run death camps, in Oswiecim, Poland, Tuesday, April 18, 2023 to mourn victims of the Holocaust and celebrate the existence of the Jewish state. (AP Photo/Michal Dyjuk)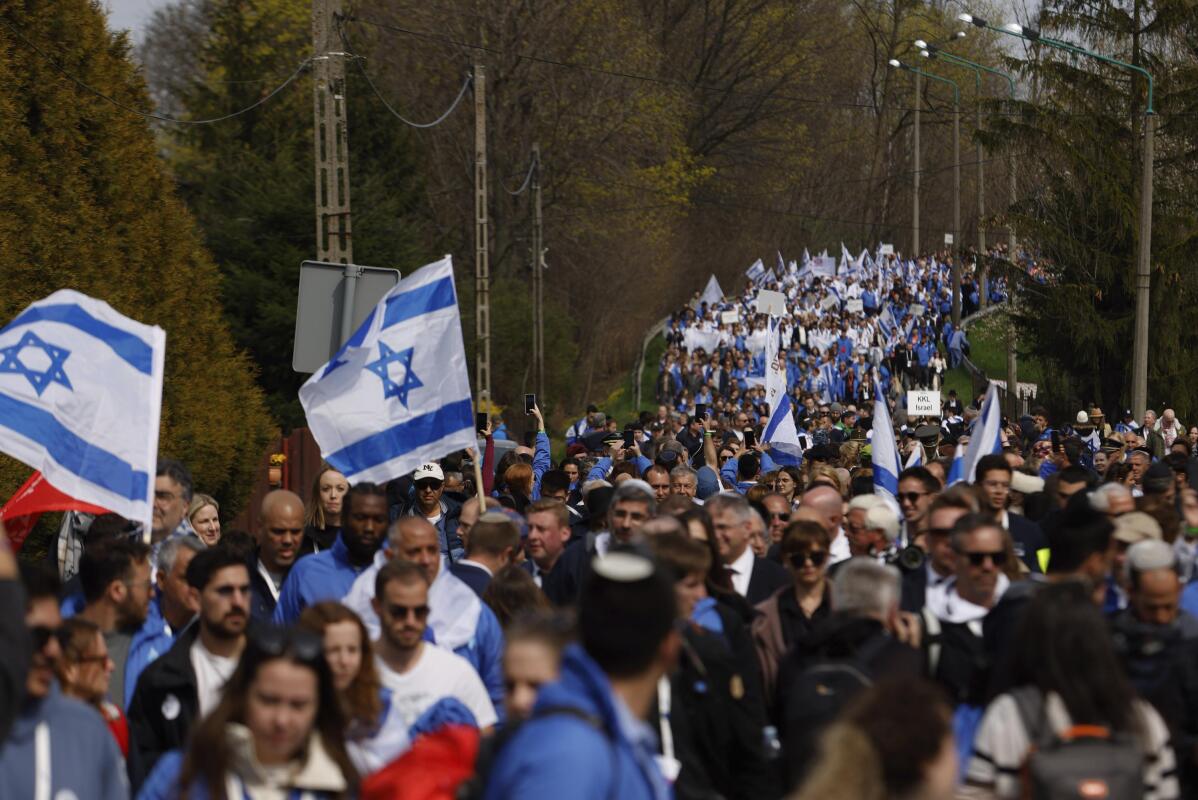 2 of 10

|
People participate in the annual 'March of the Living', a trek between two former Nazi-run death camps, in Oswiecim, Poland, Tuesday, April 18, 2023 to mourn victims of the Holocaust and celebrate the existence of the Jewish state. (AP Photo/Michal Dyjuk)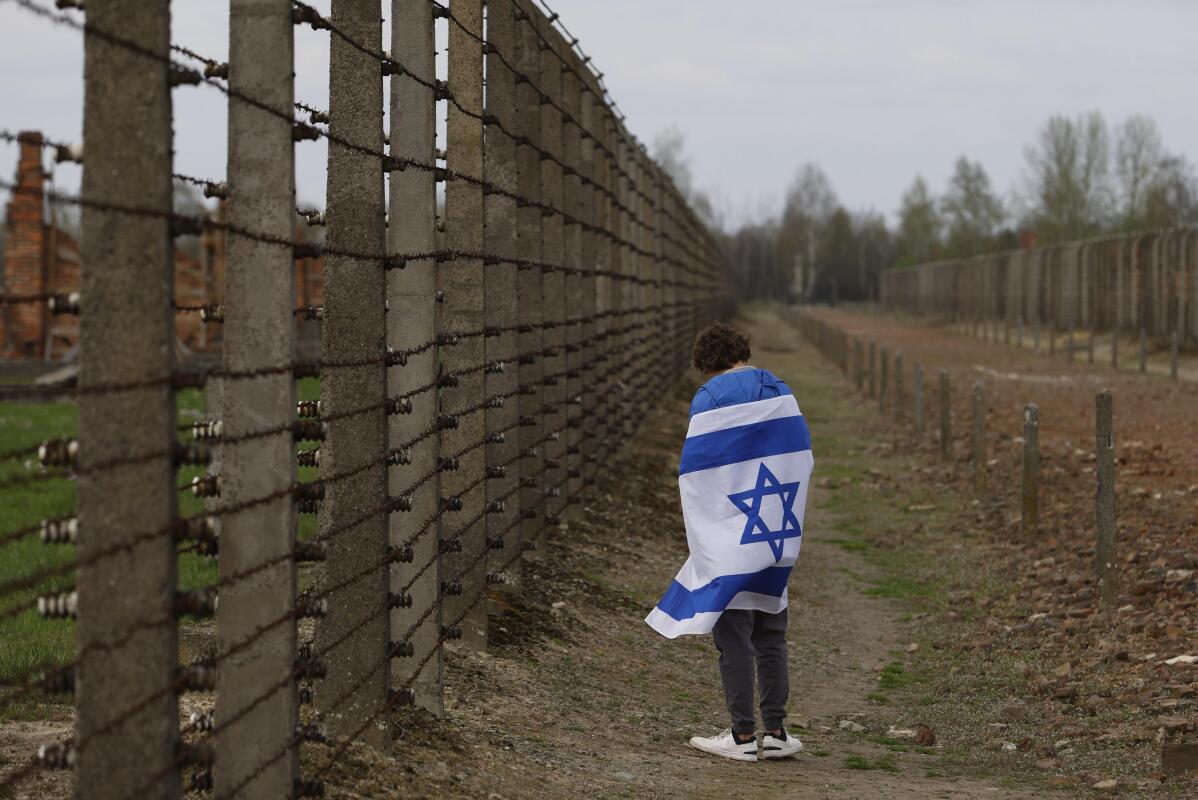 3 of 10

|
A man with an Israeli flag participates in the annual 'March of the Living', a trek between two former Nazi-run death camps, in Oswiecim, Poland, Tuesday, April 18, 2023 to mourn victims of the Holocaust and celebrate the existence of the Jewish state. (AP Photo/Michal Dyjuk)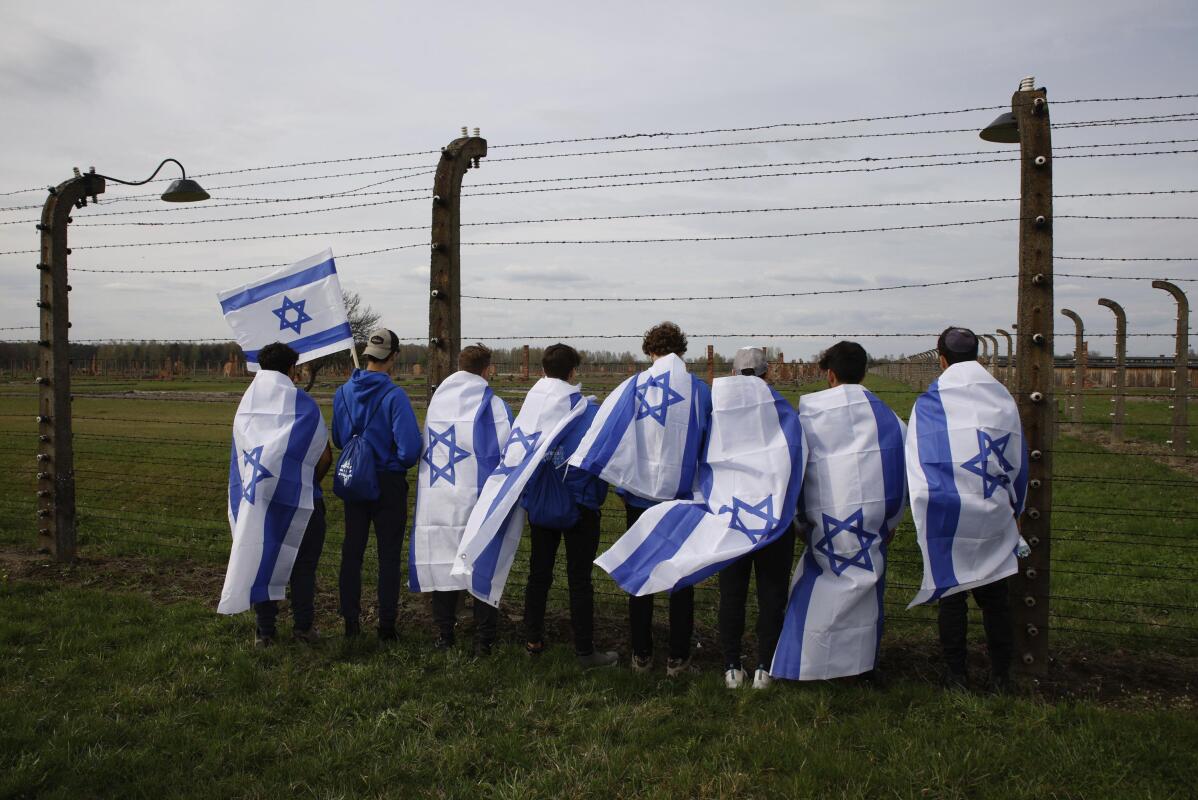 4 of 10

|
People participate in the annual 'March of the Living', a trek between two former Nazi-run death camps, in Oswiecim, Poland, Tuesday, April 18, 2023 to mourn victims of the Holocaust and celebrate the existence of the Jewish state. (AP Photo/Michal Dyjuk)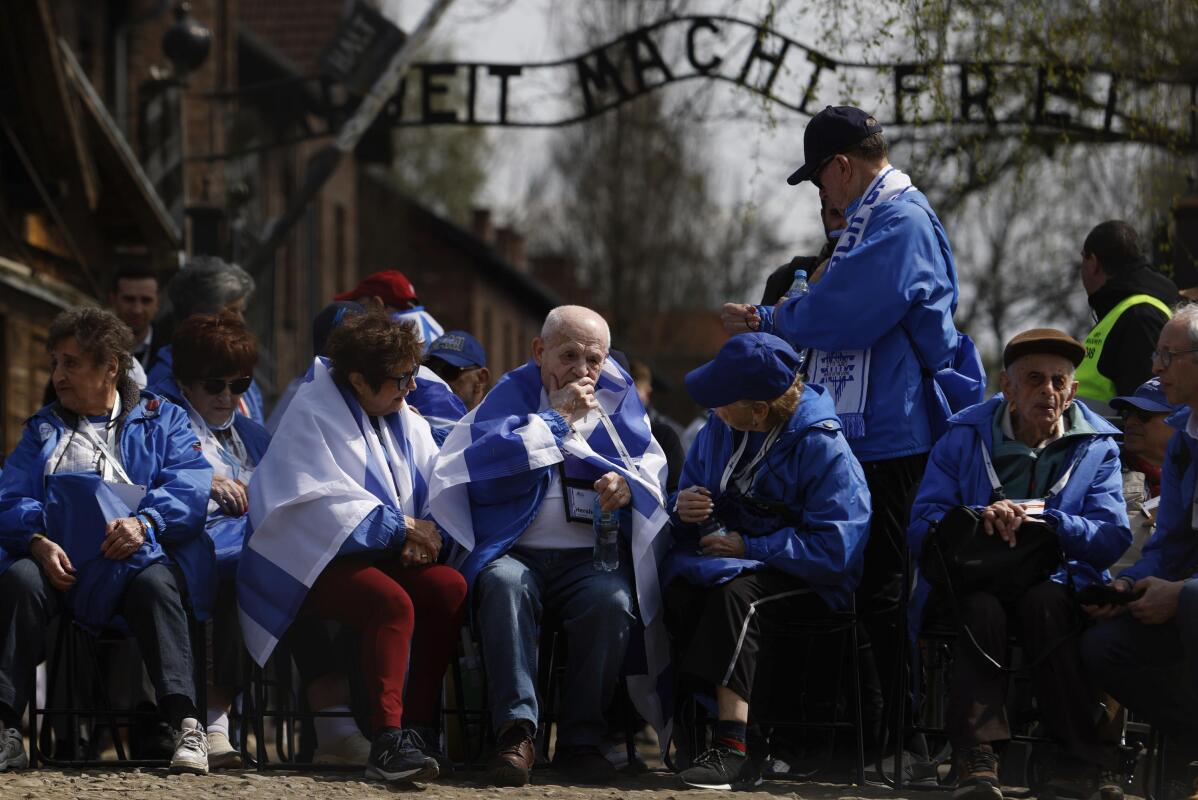 5 of 10

|
Holocaust survivors and former Auschwitz inmates participate in the annual 'March of the Living', a trek between two former Nazi-run death camps, in Oswiecim, Poland, Tuesday, April 18, 2023 to mourn victims of the Holocaust and celebrate the existence of the Jewish state. Slogan in the background reads: 'Work Sets You Free'. (AP Photo/Michal Dyjuk)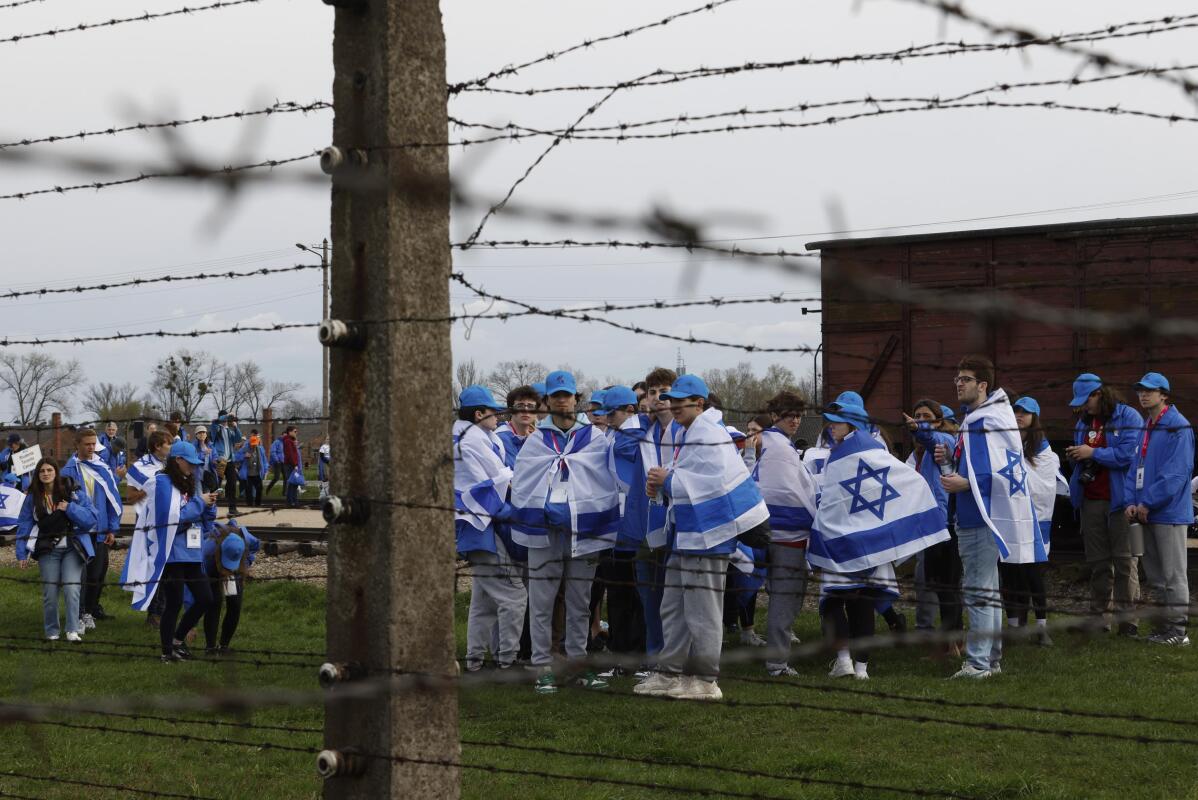 6 of 10

|
People participate in the annual 'March of the Living', a trek between two former Nazi-run death camps, in Oswiecim, Poland, Tuesday, April 18, 2023 to mourn victims of the Holocaust and celebrate the existence of the Jewish state. (AP Photo/Michal Dyjuk)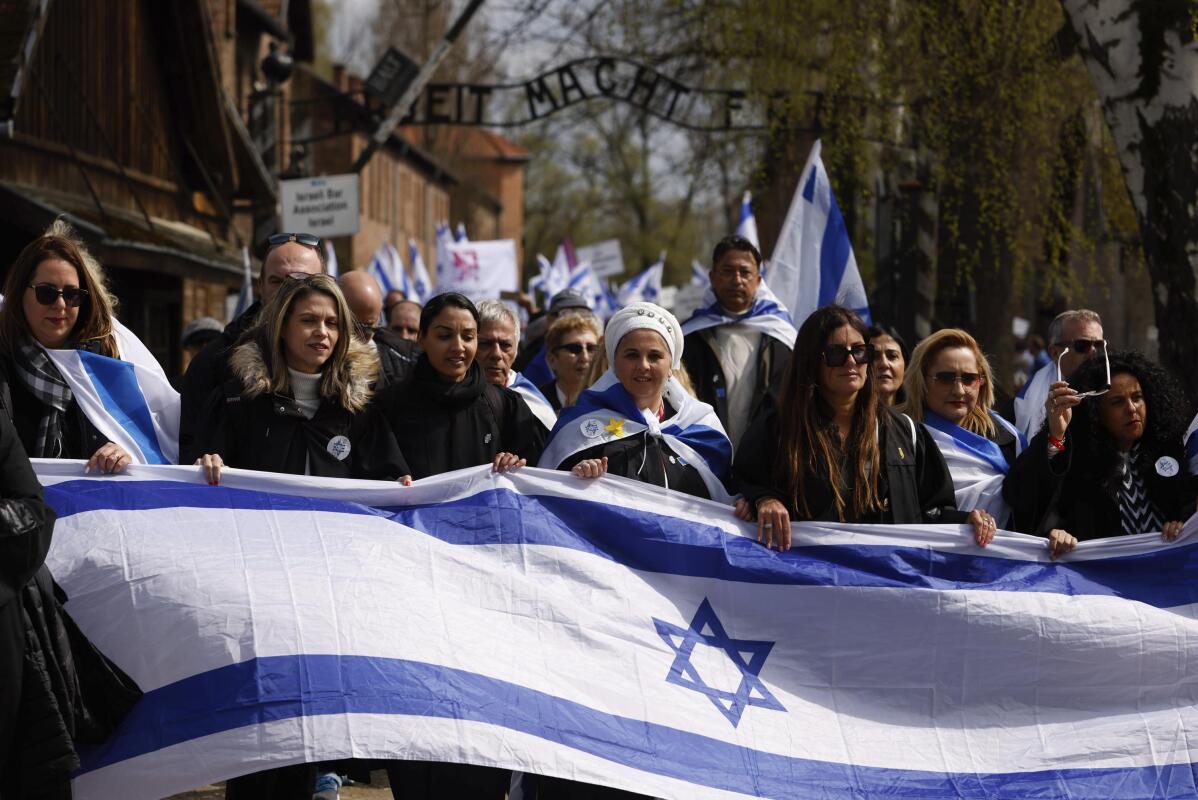 7 of 10

|
People gather to participate in the annual 'March of the Living', a trek between two former Nazi-run death camps, in Oswiecim, Poland, Tuesday, April 18, 2023 to mourn victims of the Holocaust and celebrate the existence of the Jewish state. (AP Photo/Michal Dyjuk)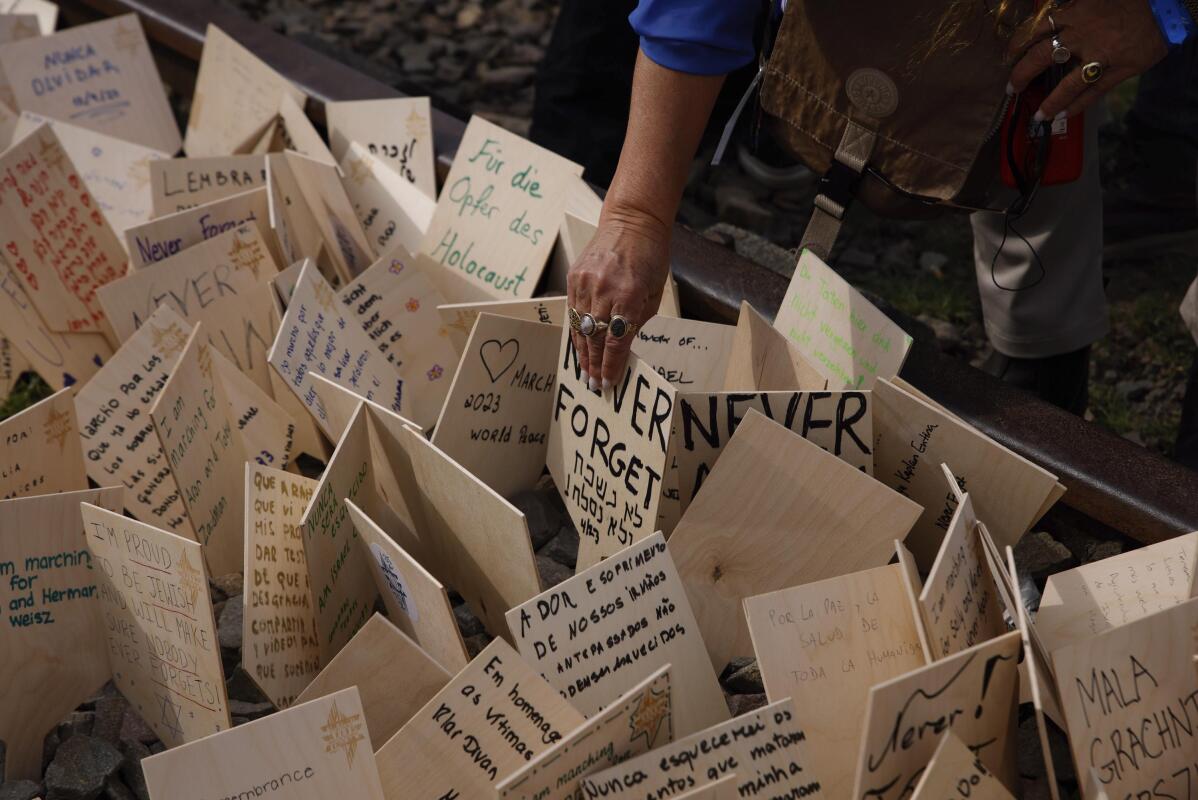 8 of 10

|
A woman places a wooden board with wishes during the annual 'March of the Living', a trek between two former Nazi-run death camps, in Oswiecim, Poland, Tuesday, April 18, 2023 to mourn victims of the Holocaust and celebrate the existence of the Jewish state. (AP Photo/Michal Dyjuk)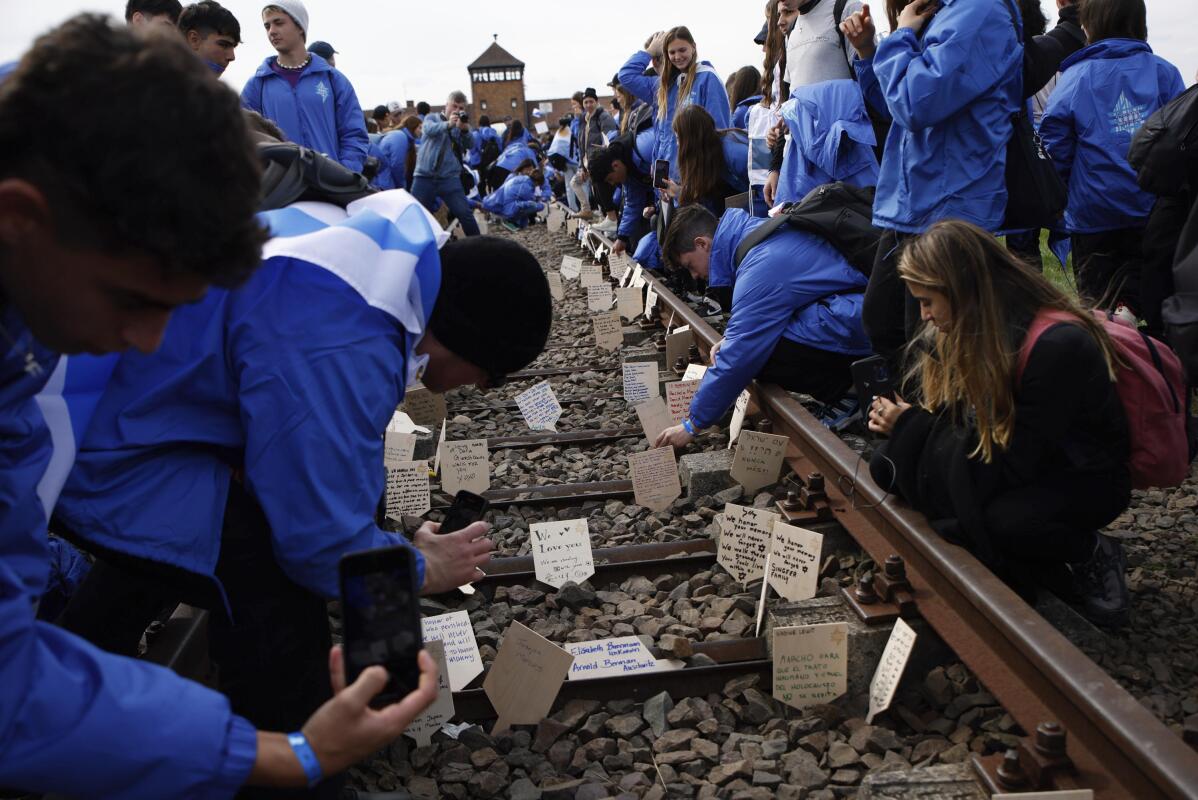 9 of 10

|
People participate in the annual 'March of the Living', a trek between two former Nazi-run death camps, in Oswiecim, Poland, Tuesday, April 18, 2023 to mourn victims of the Holocaust and celebrate the existence of the Jewish state. (AP Photo/Michal Dyjuk)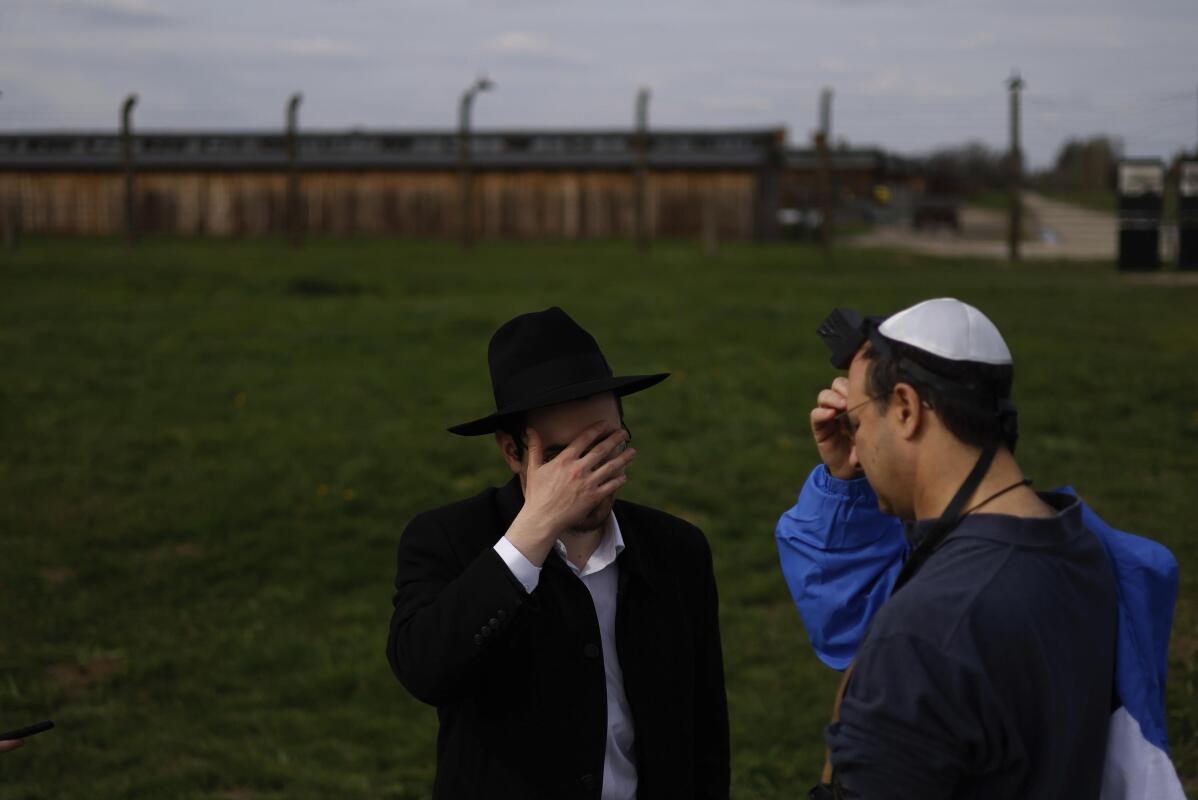 10 of 10

|
Orthodox Jews pray during in the annual 'March of the Living', a trek between two former Nazi-run death camps, in Oswiecim, Poland, Tuesday, April 18, 2023 to mourn victims of the Holocaust and celebrate the existence of the Jewish state. (AP Photo/Michal Dyjuk)
Patriots owner Kraft joined by Meek Mill for Holocaust march
1 of 10

|
New England Patriots owner, Robert Kraft, front center, participates in the annual 'March of the Living', a trek between two former Nazi-run death camps, in Oswiecim, Poland, Tuesday, April 18, 2023 to mourn victims of the Holocaust and celebrate the existence of the Jewish state. (AP Photo/Michal Dyjuk)
1 of 10
New England Patriots owner, Robert Kraft, front center, participates in the annual 'March of the Living', a trek between two former Nazi-run death camps, in Oswiecim, Poland, Tuesday, April 18, 2023 to mourn victims of the Holocaust and celebrate the existence of the Jewish state. (AP Photo/Michal Dyjuk)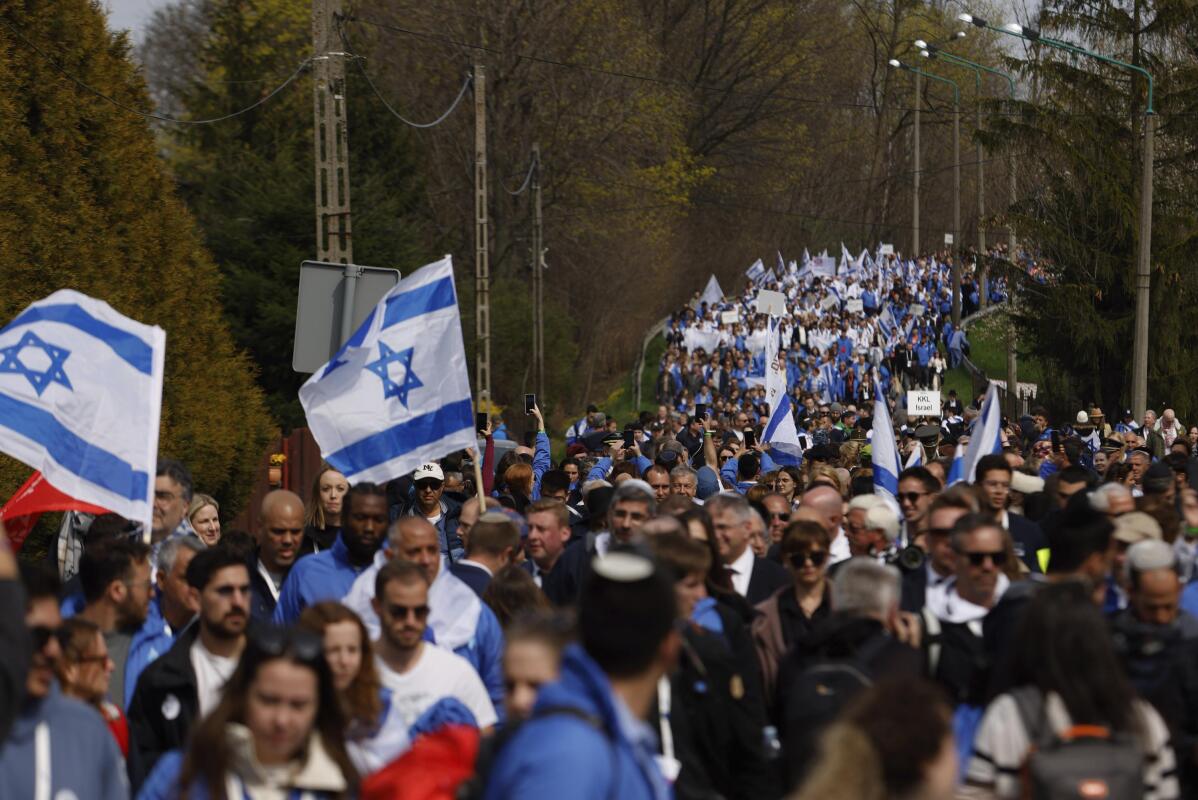 2 of 10

|
People participate in the annual 'March of the Living', a trek between two former Nazi-run death camps, in Oswiecim, Poland, Tuesday, April 18, 2023 to mourn victims of the Holocaust and celebrate the existence of the Jewish state. (AP Photo/Michal Dyjuk)
2 of 10
People participate in the annual 'March of the Living', a trek between two former Nazi-run death camps, in Oswiecim, Poland, Tuesday, April 18, 2023 to mourn victims of the Holocaust and celebrate the existence of the Jewish state. (AP Photo/Michal Dyjuk)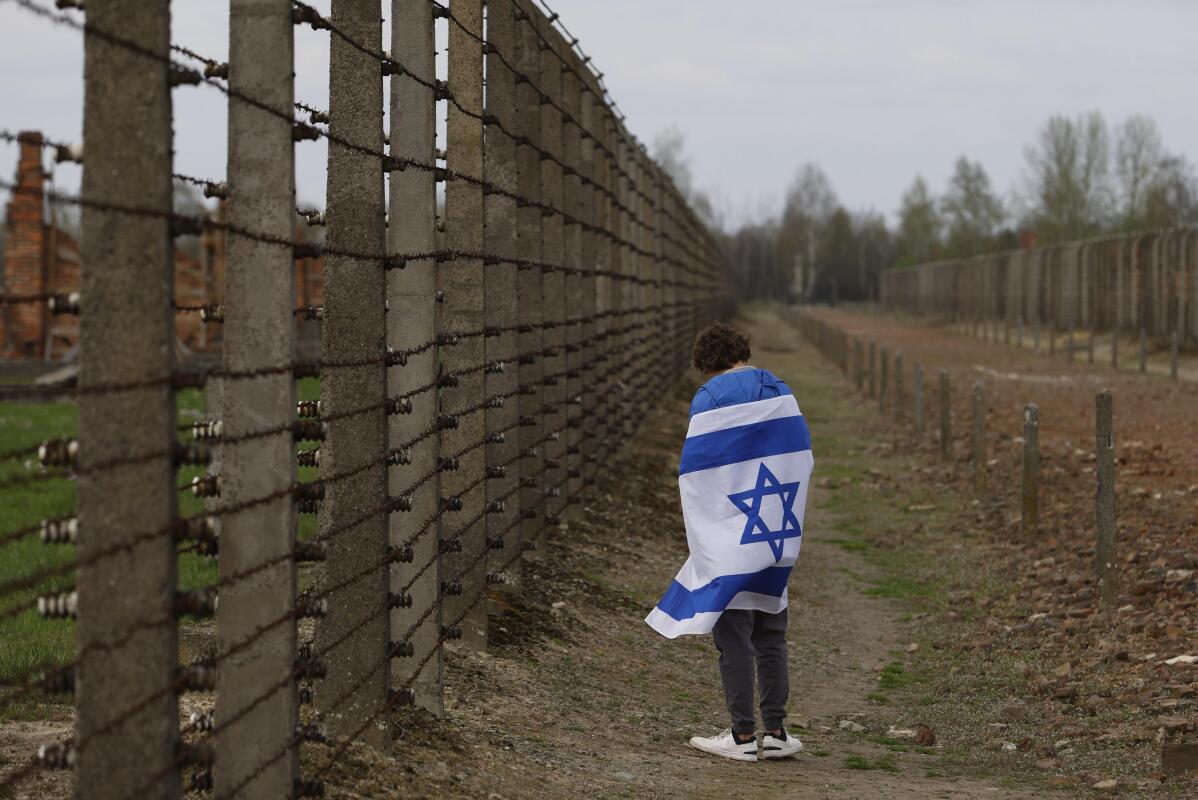 3 of 10

|
A man with an Israeli flag participates in the annual 'March of the Living', a trek between two former Nazi-run death camps, in Oswiecim, Poland, Tuesday, April 18, 2023 to mourn victims of the Holocaust and celebrate the existence of the Jewish state. (AP Photo/Michal Dyjuk)
3 of 10
A man with an Israeli flag participates in the annual 'March of the Living', a trek between two former Nazi-run death camps, in Oswiecim, Poland, Tuesday, April 18, 2023 to mourn victims of the Holocaust and celebrate the existence of the Jewish state. (AP Photo/Michal Dyjuk)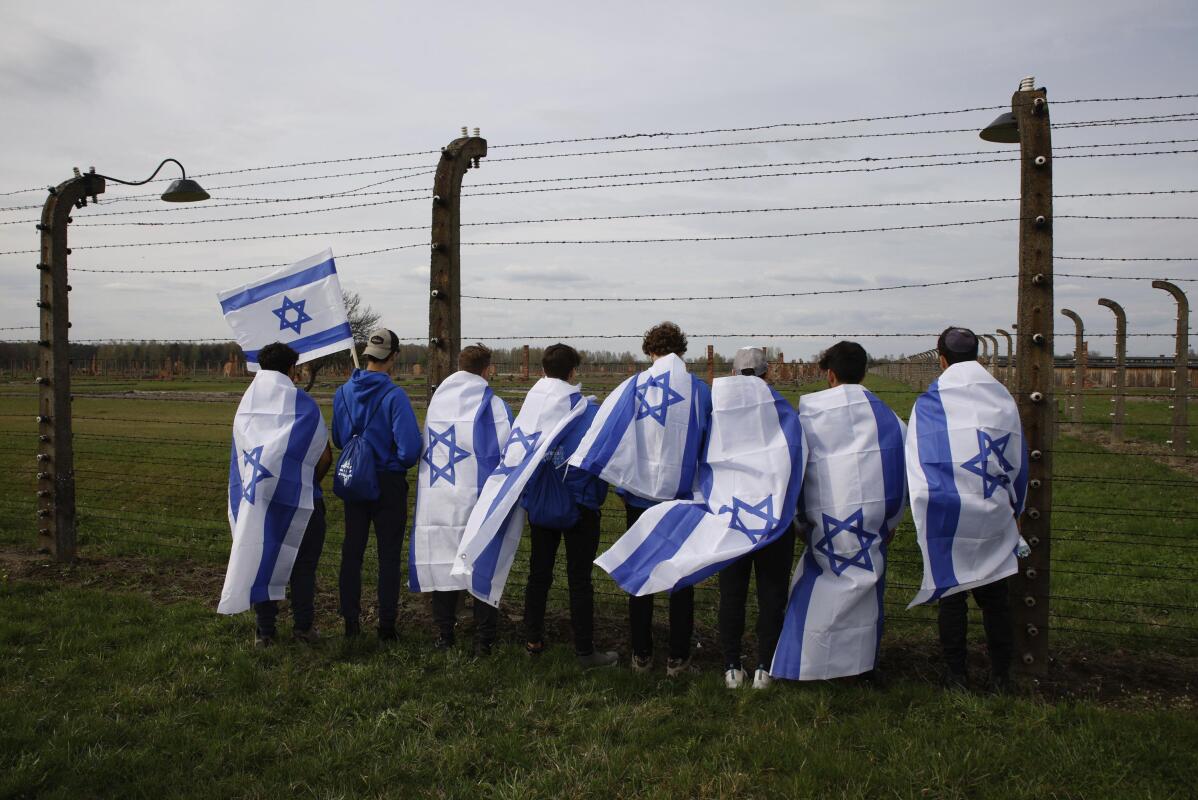 4 of 10

|
People participate in the annual 'March of the Living', a trek between two former Nazi-run death camps, in Oswiecim, Poland, Tuesday, April 18, 2023 to mourn victims of the Holocaust and celebrate the existence of the Jewish state. (AP Photo/Michal Dyjuk)
4 of 10
People participate in the annual 'March of the Living', a trek between two former Nazi-run death camps, in Oswiecim, Poland, Tuesday, April 18, 2023 to mourn victims of the Holocaust and celebrate the existence of the Jewish state. (AP Photo/Michal Dyjuk)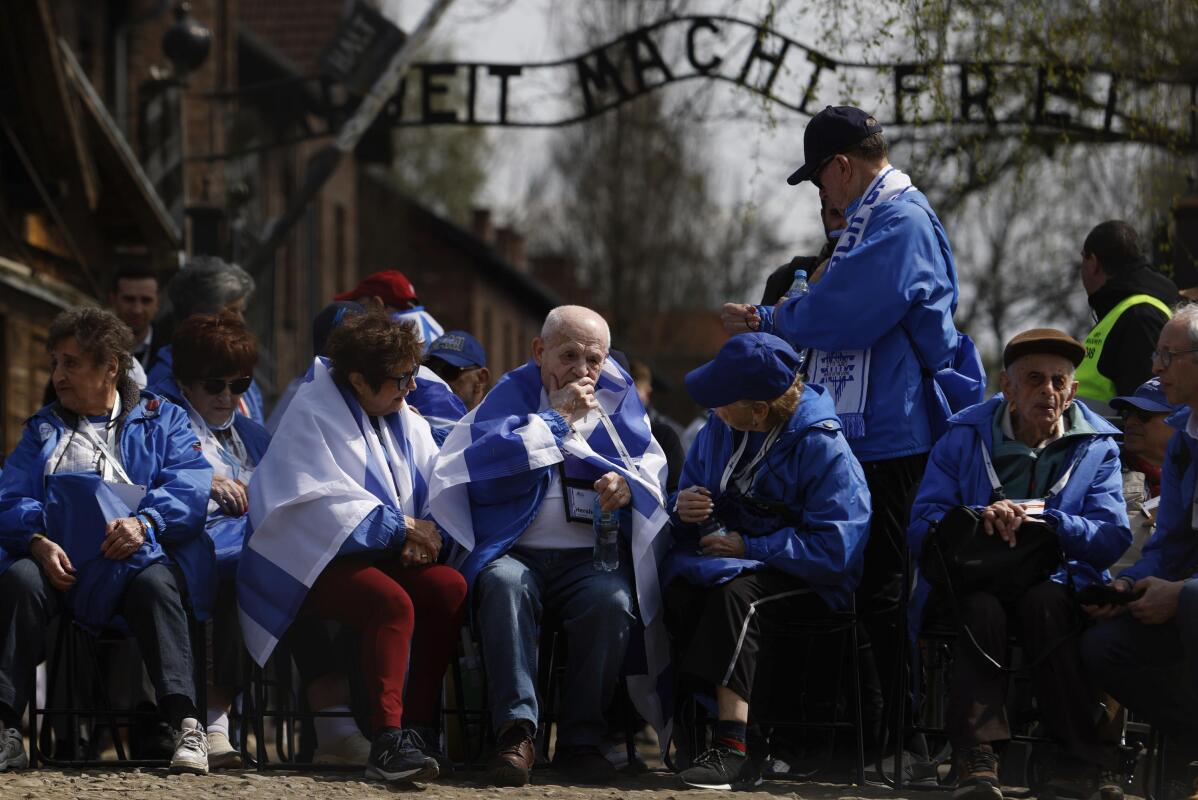 5 of 10

|
Holocaust survivors and former Auschwitz inmates participate in the annual 'March of the Living', a trek between two former Nazi-run death camps, in Oswiecim, Poland, Tuesday, April 18, 2023 to mourn victims of the Holocaust and celebrate the existence of the Jewish state. Slogan in the background reads: 'Work Sets You Free'. (AP Photo/Michal Dyjuk)
5 of 10
Holocaust survivors and former Auschwitz inmates participate in the annual 'March of the Living', a trek between two former Nazi-run death camps, in Oswiecim, Poland, Tuesday, April 18, 2023 to mourn victims of the Holocaust and celebrate the existence of the Jewish state. Slogan in the background reads: 'Work Sets You Free'. (AP Photo/Michal Dyjuk)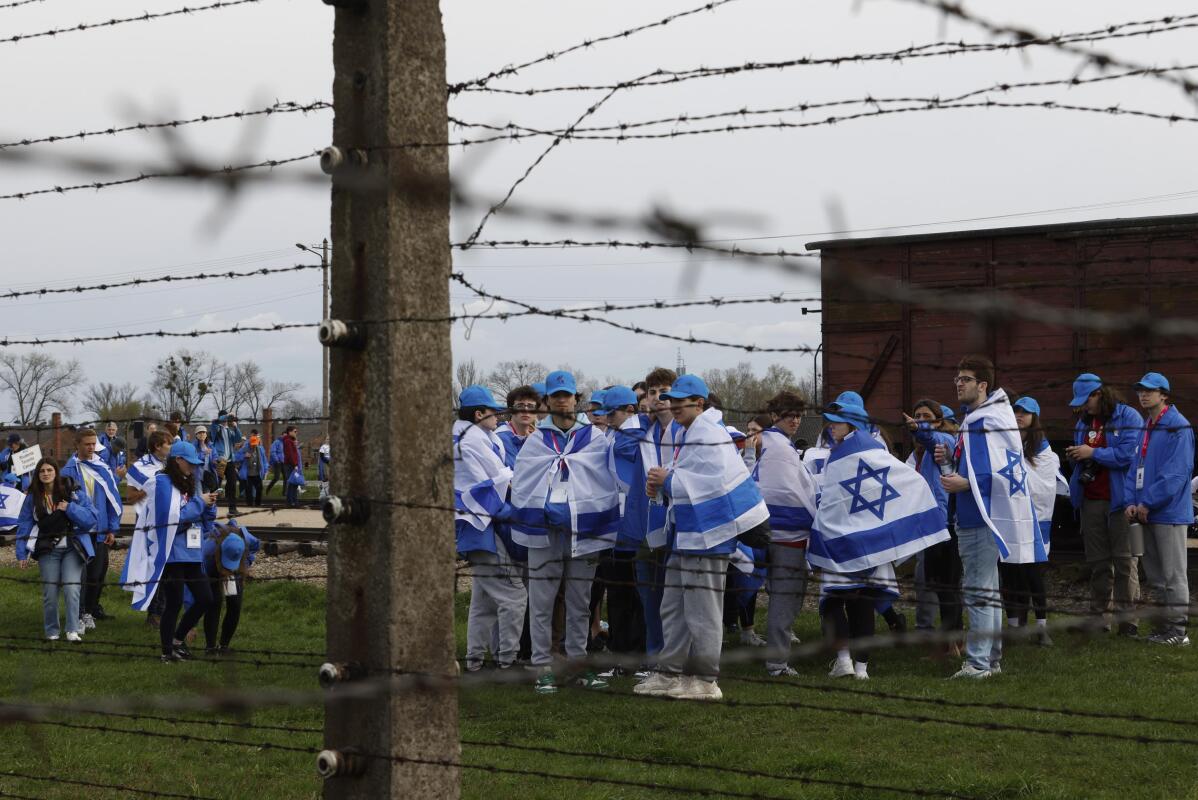 6 of 10

|
People participate in the annual 'March of the Living', a trek between two former Nazi-run death camps, in Oswiecim, Poland, Tuesday, April 18, 2023 to mourn victims of the Holocaust and celebrate the existence of the Jewish state. (AP Photo/Michal Dyjuk)
6 of 10
People participate in the annual 'March of the Living', a trek between two former Nazi-run death camps, in Oswiecim, Poland, Tuesday, April 18, 2023 to mourn victims of the Holocaust and celebrate the existence of the Jewish state. (AP Photo/Michal Dyjuk)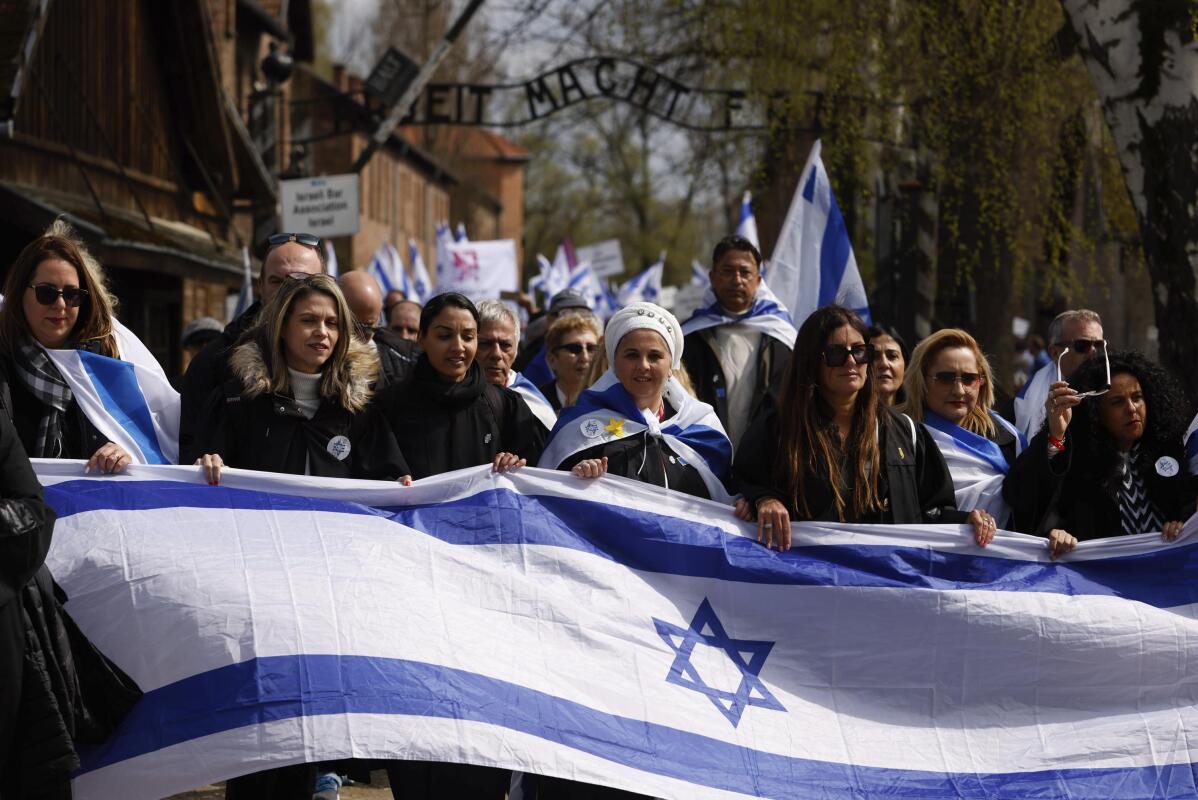 7 of 10

|
People gather to participate in the annual 'March of the Living', a trek between two former Nazi-run death camps, in Oswiecim, Poland, Tuesday, April 18, 2023 to mourn victims of the Holocaust and celebrate the existence of the Jewish state. (AP Photo/Michal Dyjuk)
7 of 10
People gather to participate in the annual 'March of the Living', a trek between two former Nazi-run death camps, in Oswiecim, Poland, Tuesday, April 18, 2023 to mourn victims of the Holocaust and celebrate the existence of the Jewish state. (AP Photo/Michal Dyjuk)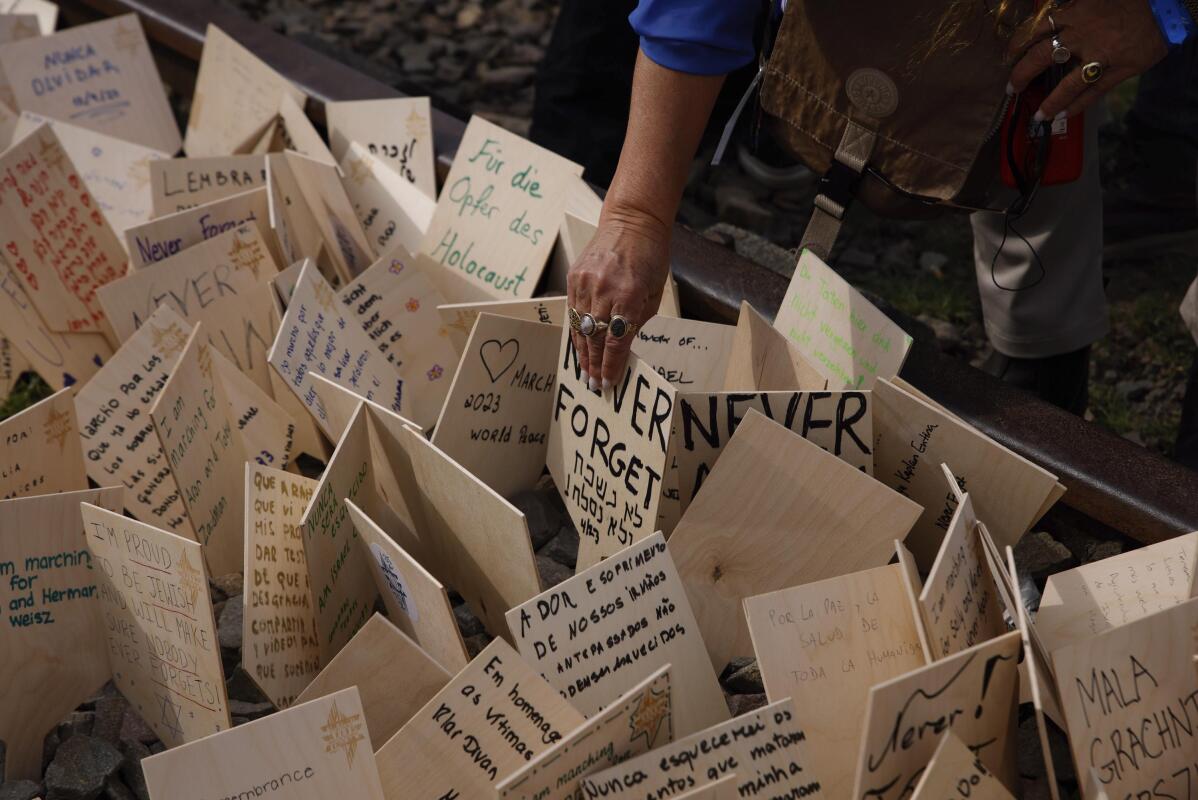 8 of 10

|
A woman places a wooden board with wishes during the annual 'March of the Living', a trek between two former Nazi-run death camps, in Oswiecim, Poland, Tuesday, April 18, 2023 to mourn victims of the Holocaust and celebrate the existence of the Jewish state. (AP Photo/Michal Dyjuk)
8 of 10
A woman places a wooden board with wishes during the annual 'March of the Living', a trek between two former Nazi-run death camps, in Oswiecim, Poland, Tuesday, April 18, 2023 to mourn victims of the Holocaust and celebrate the existence of the Jewish state. (AP Photo/Michal Dyjuk)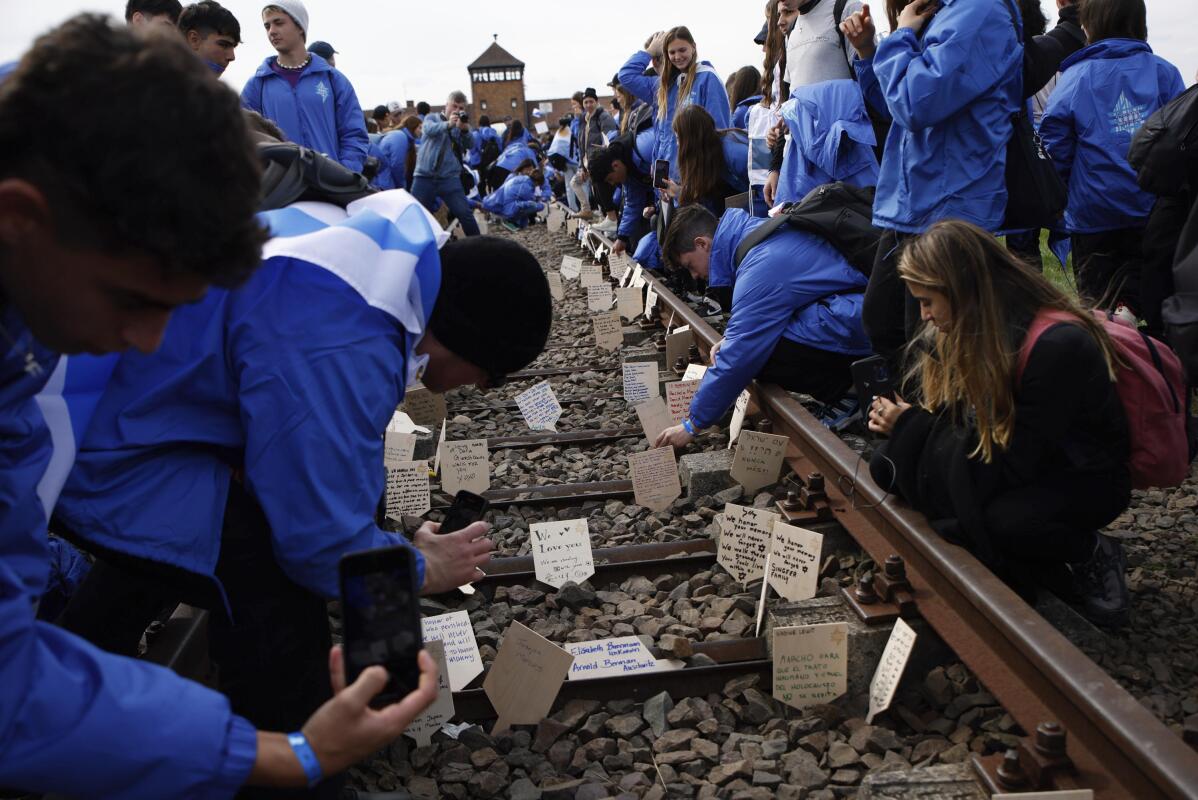 9 of 10

|
People participate in the annual 'March of the Living', a trek between two former Nazi-run death camps, in Oswiecim, Poland, Tuesday, April 18, 2023 to mourn victims of the Holocaust and celebrate the existence of the Jewish state. (AP Photo/Michal Dyjuk)
9 of 10
People participate in the annual 'March of the Living', a trek between two former Nazi-run death camps, in Oswiecim, Poland, Tuesday, April 18, 2023 to mourn victims of the Holocaust and celebrate the existence of the Jewish state. (AP Photo/Michal Dyjuk)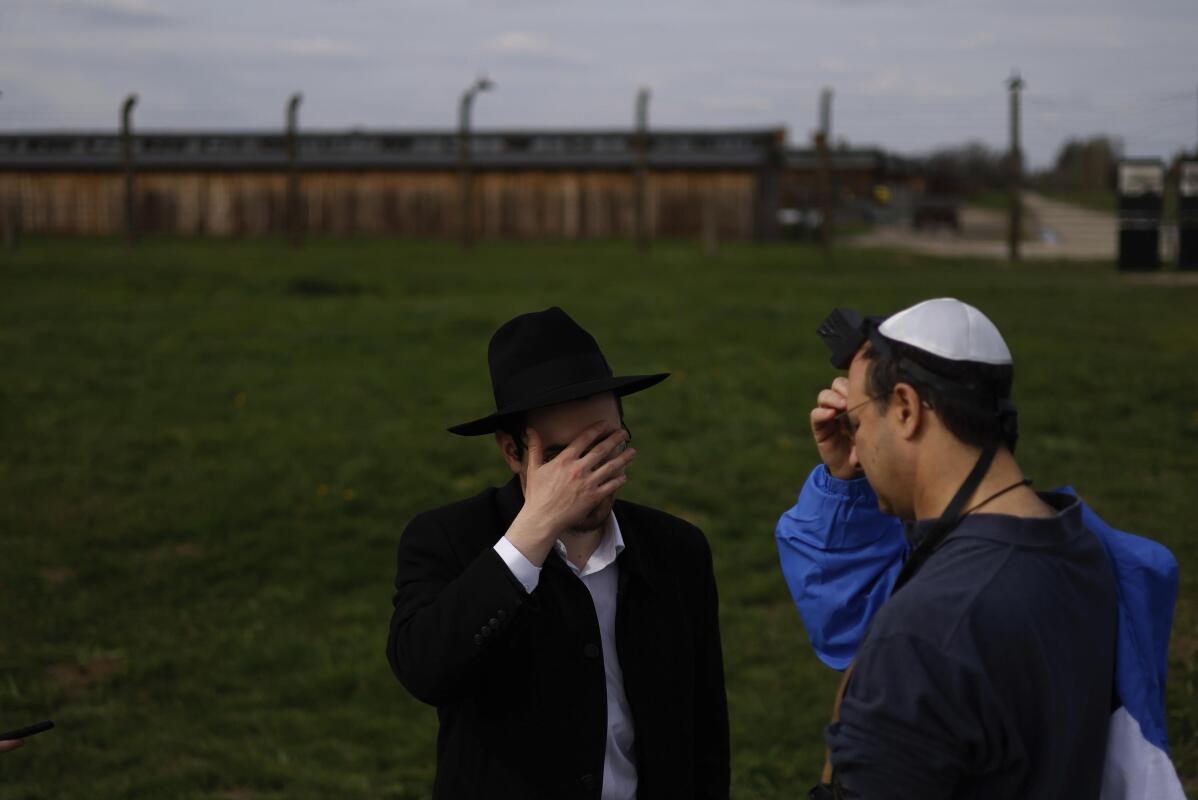 10 of 10

|
Orthodox Jews pray during in the annual 'March of the Living', a trek between two former Nazi-run death camps, in Oswiecim, Poland, Tuesday, April 18, 2023 to mourn victims of the Holocaust and celebrate the existence of the Jewish state. (AP Photo/Michal Dyjuk)
10 of 10
Orthodox Jews pray during in the annual 'March of the Living', a trek between two former Nazi-run death camps, in Oswiecim, Poland, Tuesday, April 18, 2023 to mourn victims of the Holocaust and celebrate the existence of the Jewish state. (AP Photo/Michal Dyjuk)
FOXBOROUGH, Mass. (AP) — New England Patriots owner Robert Kraft led a delegation that included rapper Meek Mill on a march in Poland on Tuesday to honor victims and survivors of the Holocaust.
The 3-kilometer "March of the Living" is an annual commemoration that covers the Auschwitz-Birkenau complex, the largest Nazi concentration camp during World War II.
The event is being attended by Kraft as part of his Foundation to Combat Antisemitism, which he started in 2019 to address hate against Jews. Kraft lit the first torch at the outset of the march, a Patriots team spokesman said.
Kraft was one of several celebrities who helped advocate on behalf of Mill, who was released from prison in 2018 after initially being sentenced to two to four years in jail for probation violations in decade-old gun and drug convictions.
Kraft has since joined Mill, rap mogul Jay Z and Fanatics CEO Michael Rubin in the Reform Alliance, a group that lobbies for changes to state probation and parole laws.
___
AP NFL coverage: https://apnews.com/hub/NFL and https://twitter.com/AP_NFL