Gary Payton II delivers diploma to mother in sweet surprise
1 of 3

|
Golden State Warriors guard Gary Payton II dives after a loose ball between guard Stephen Curry (30) and Sacramento Kings guard Malik Monk (0) during the second half of Game 5 of an NBA basketball first-round playoff series Wednesday, April 26, 2023, in Sacramento, Calif. The Warriors won 123-116. (AP Photo/José Luis Villegas)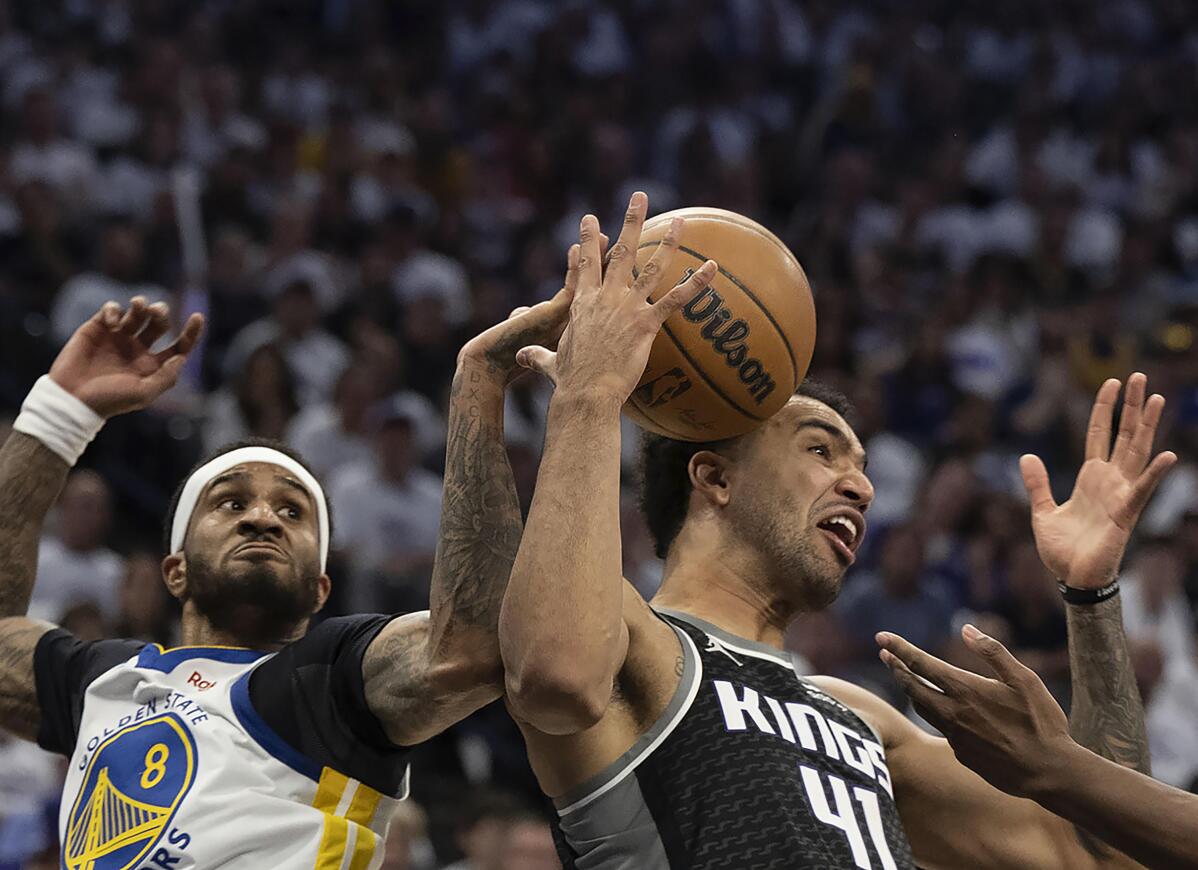 2 of 3

|
Golden State Warriors guard Gary Payton II (8) and Sacramento Kings forward Trey Lyles (41) battle for the ball in the third quarter during Game 1 in the first round of the NBA basketball playoffs in Sacramento, Calif., Saturday, April 15, 2023. (AP Photo/José Luis Villegas)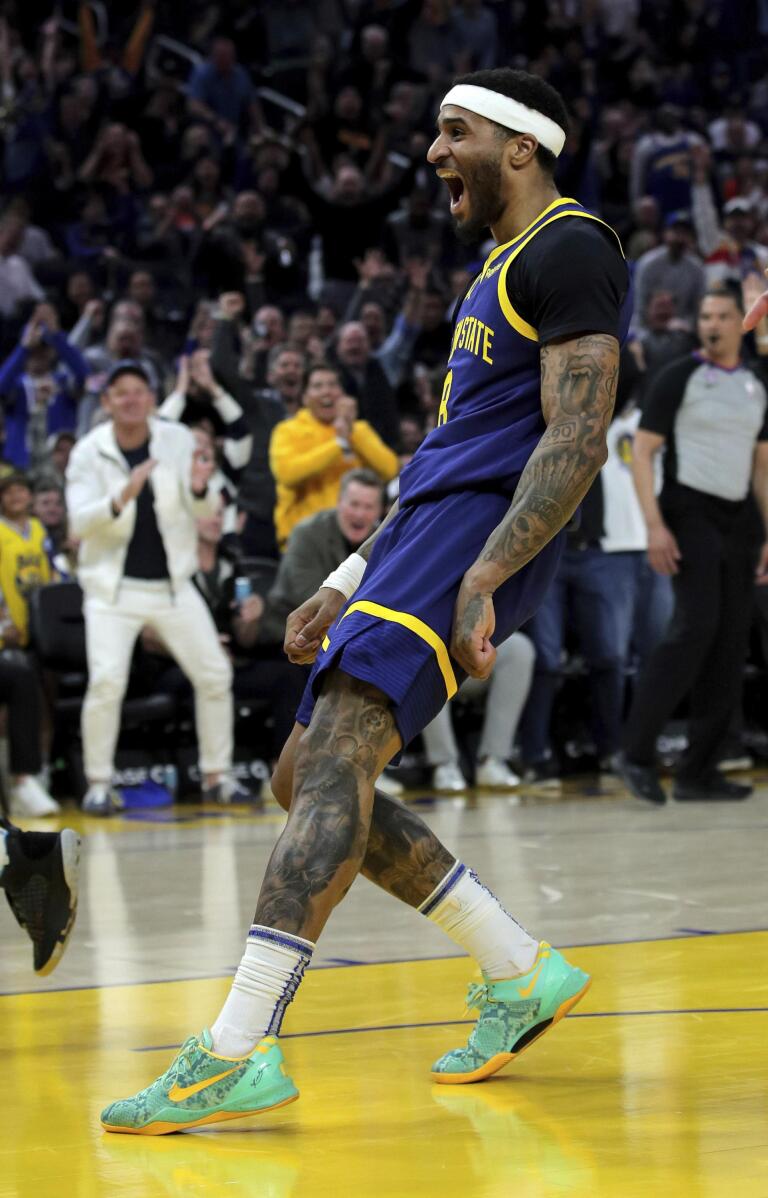 3 of 3

|
Golden State Warriors' Gary Payton II (8) reacts after his put-back dunk in the first half as the Warriors defeated the Oklahoma City Thunder during an NBA basketball game at Chase Center in San Francisco, Calif., Tuesday, April 4, 2023. (Carlos Avila Gonzalez/San Francisco Chronicle via AP)
Gary Payton II delivers diploma to mother in sweet surprise
1 of 3

|
Golden State Warriors guard Gary Payton II dives after a loose ball between guard Stephen Curry (30) and Sacramento Kings guard Malik Monk (0) during the second half of Game 5 of an NBA basketball first-round playoff series Wednesday, April 26, 2023, in Sacramento, Calif. The Warriors won 123-116. (AP Photo/José Luis Villegas)
1 of 3
Golden State Warriors guard Gary Payton II dives after a loose ball between guard Stephen Curry (30) and Sacramento Kings guard Malik Monk (0) during the second half of Game 5 of an NBA basketball first-round playoff series Wednesday, April 26, 2023, in Sacramento, Calif. The Warriors won 123-116. (AP Photo/José Luis Villegas)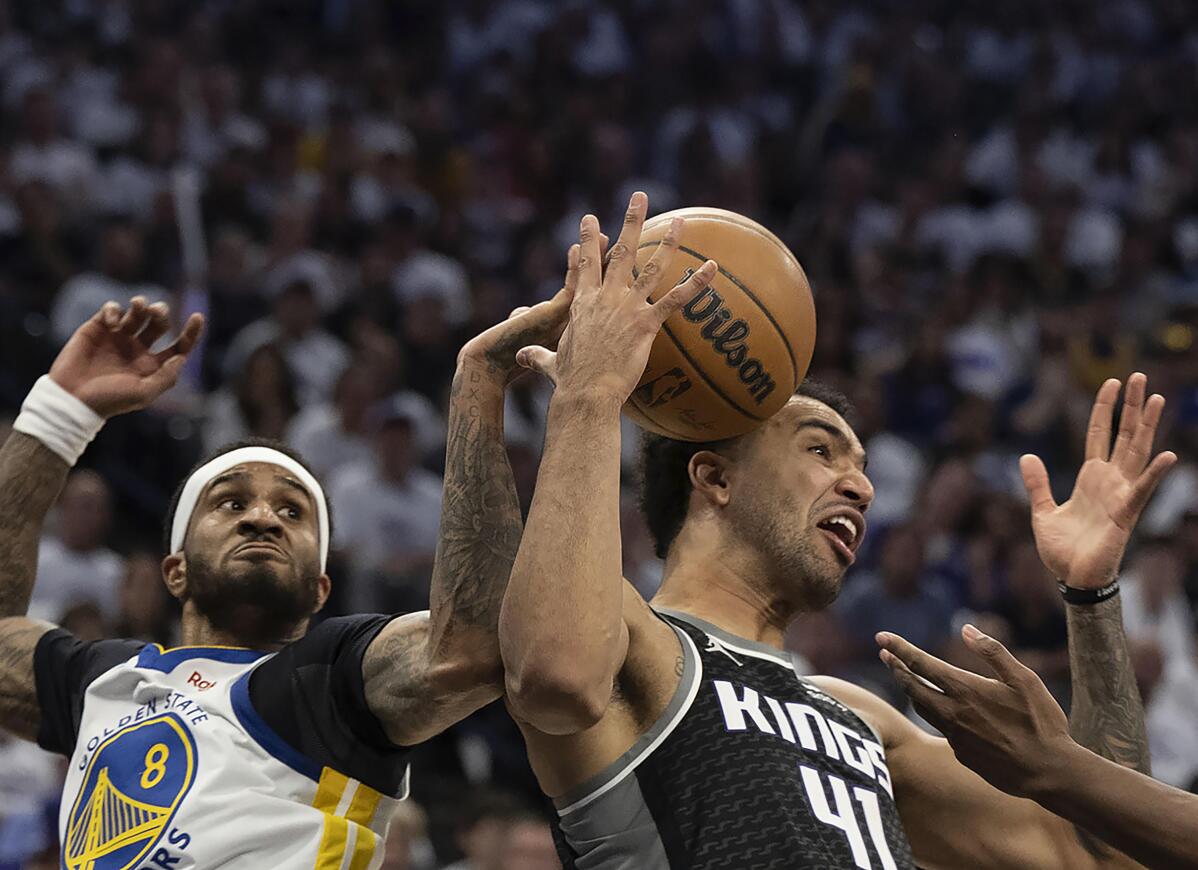 2 of 3

|
Golden State Warriors guard Gary Payton II (8) and Sacramento Kings forward Trey Lyles (41) battle for the ball in the third quarter during Game 1 in the first round of the NBA basketball playoffs in Sacramento, Calif., Saturday, April 15, 2023. (AP Photo/José Luis Villegas)
2 of 3
Golden State Warriors guard Gary Payton II (8) and Sacramento Kings forward Trey Lyles (41) battle for the ball in the third quarter during Game 1 in the first round of the NBA basketball playoffs in Sacramento, Calif., Saturday, April 15, 2023. (AP Photo/José Luis Villegas)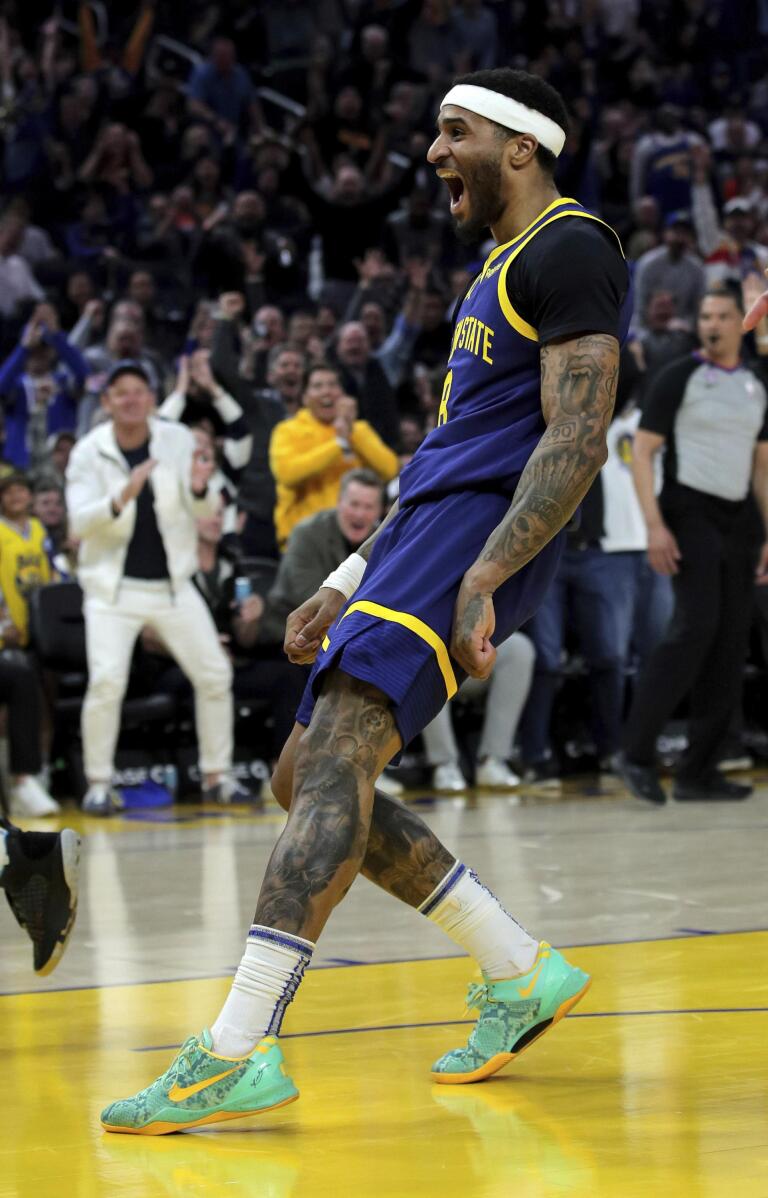 3 of 3

|
Golden State Warriors' Gary Payton II (8) reacts after his put-back dunk in the first half as the Warriors defeated the Oklahoma City Thunder during an NBA basketball game at Chase Center in San Francisco, Calif., Tuesday, April 4, 2023. (Carlos Avila Gonzalez/San Francisco Chronicle via AP)
3 of 3
Golden State Warriors' Gary Payton II (8) reacts after his put-back dunk in the first half as the Warriors defeated the Oklahoma City Thunder during an NBA basketball game at Chase Center in San Francisco, Calif., Tuesday, April 4, 2023. (Carlos Avila Gonzalez/San Francisco Chronicle via AP)
SAN FRANCISCO (AP) — Gary Payton II beamed as he shared the special news: He's now a college graduate.
The Golden State guard promised his mother he would one day earn his degree from Oregon State, and on Friday morning ahead of Game 6 of the first-round playoff series against Sacramento he presented her with the diploma in person.
Monique Payton returned to Payton's home from getting coffee when he asked her please not to spill. She looked down and there was the diploma for her son's degree in human development and family science.
"I was so surprised!!!" the proud mother said Friday via text message. "I had no idea he was going to complete his degree! I had forgotten all about it! Thank God he didn't forget or break his promise.!"
She did have a little bit of warning this was in the works. Payton had sent his mom a text message with a photo of the paper a couple of weeks ago.
"I was like, 'No freaking way,'" she said of her reaction then. "He said 'love you, I got the hard copy when I see you.' I was like 'Heck yeah!' and he said 'Job done.'"
For Payton to pull this off now, through such a challenging season, meant so much. He helped the Warriors win a championship last season as a defensive stopper then joined the Portland Trail Blazers last July, only to get traded back to Golden State. He then sat out recovering from an injury associated with his offseason core muscle surgery.
Payton smiled as he chatted about his latest triumph.
"It's really for mom," Payton said after going through his warmups at Chase Center. "I made her a promise to get it done and finished when I left school, so just keeping my word and got that to her. Hope you enjoy it, love it and it was for you."
Stephen Curry received his degree from Davidson last year, so he was thrilled for Payton's accomplishment.
"That's phenomenal," Curry said. "He was keeping it on the down low. That's big time."
Coach Steve Kerr didn't realize Payton had completed his degree, thrilled to see yet another off-the-court success by one of his players.
"We have a lot of guys who are really committed to the game but committed to themselves and trying to better themselves and do things in the community and try to impact the Bay Area," Kerr said. "For Gary to get his diploma, Steph to do that last year, it's all part of sort of that process of continuing to grow and evolve as people. So I'm very proud of him."
___
AP NBA: https://apnews.com/hub/nba and https://twitter.com/AP_Sports