Pelicans rule out Nance for play-in game vs. Thunder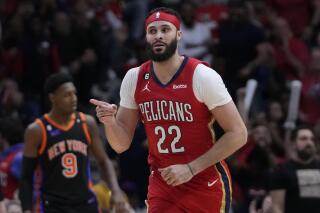 NEW ORLEANS (AP) — Pelicans reserve forward Larry Nance Jr. has been scratched from the lineup for the Western Conference play-in game Wednesday night against the Oklahoma City Thunder.
Nance hurt his ankle during New Orleans' regular-season finale, a loss Sunday at Minnesota that relegated the Pelicans to the conference's ninth seed. The Nos. 9 and 10 seeds must go 2-0 in play-in games to advance to the first round of the NBA playoffs as an eighth seed.
Nance has started just once this season but has been among the Pelicans' most prominent frontcourt reserves during the 65 games in which he's played, averaging 6.8 points and 5.4 rebounds in 21.2 minutes per game.
His absence raises the likelihood that New Orleans will give more playing time to fourth-year pro Jaxson Hayes and Spanish veteran Willy Hernangomez.
Hayes has appeared in 47 games, averaging five points and 2.8 rebounds in 13 minutes per game. Hernangomez has played in 28 games, posting averages of 6.9 points and 4.7 rebounds in 12 minutes per game.
___
AP NBA: https://apnews.com/hub/NBA and https://twitter.com/AP_Sports