Women's tennis tour ends Peng Shuai-inspired China boycott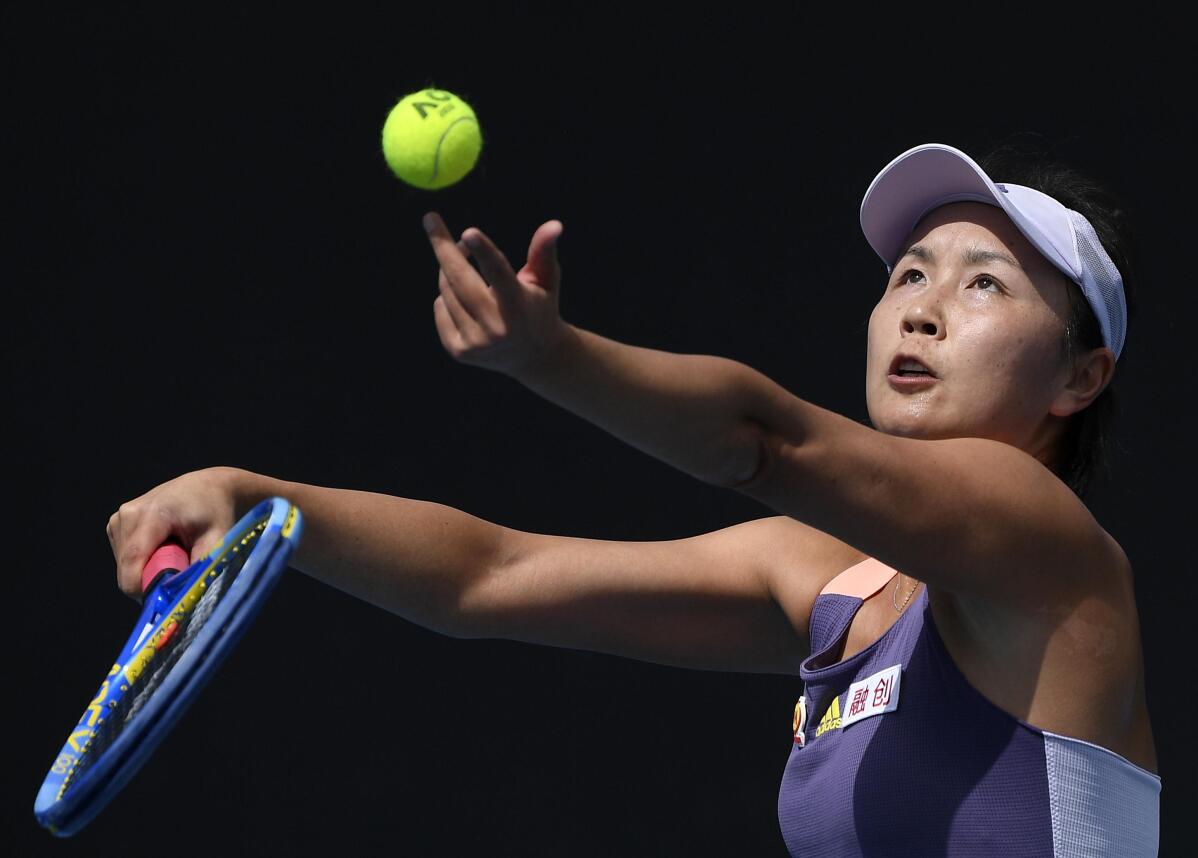 1 of 4

|
FILE - China's Peng Shuai serves to Japan's Nao Hibino during their first round singles match at the Australian Open tennis championship in Melbourne, Australia, Jan. 21, 2020. The women's professional tennis tour is ending its suspension of tournaments in China that was initiated in late 2021 over concerns about Grand Slam doubles champion Peng Shuai's well-being. The WTA announced Thursday, April 13, 2023, that it will return to competition in China this season, even though two of its key requests were never met: a chance to meet with Peng, and a thorough, transparent investigation of her sexual assault accusations against a high-ranking Chinese government official. (AP Photo/Andy Brownbill, File)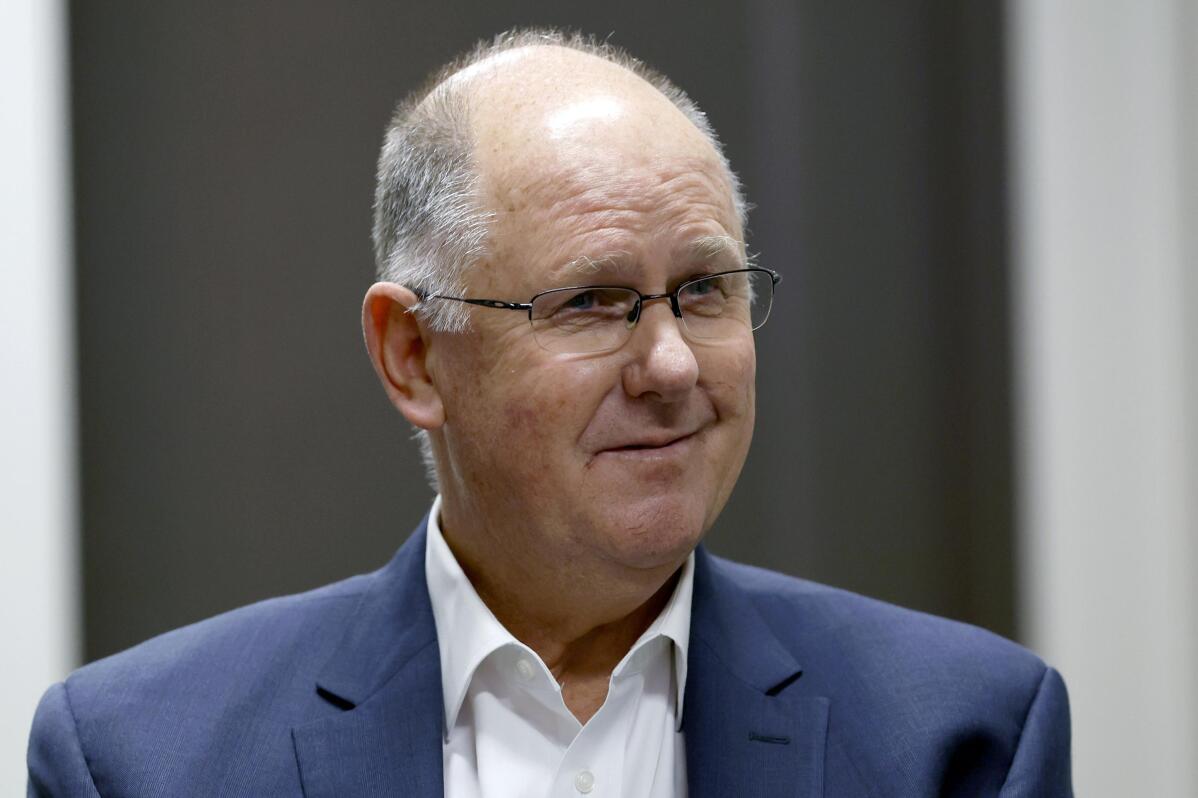 2 of 4

|
FILE - WTA Chairman and CEO Steve Simon sits for an interview during the WTA Finals tennis tournament in Fort Worth, Texas, Tuesday, Nov. 1, 2022. The women's professional tennis tour is ending its suspension of tournaments in China that was initiated in late 2021 over concerns about Grand Slam doubles champion Peng Shuai's well-being. The WTA announced Thursday, April 13, 2023, that it will return to competition in China this season, even though two of its key requests were never met: a chance to meet with Peng, and a thorough, transparent investigation of her sexual assault accusations against a high-ranking Chinese government official. (AP Photo/Tim Heitman, File)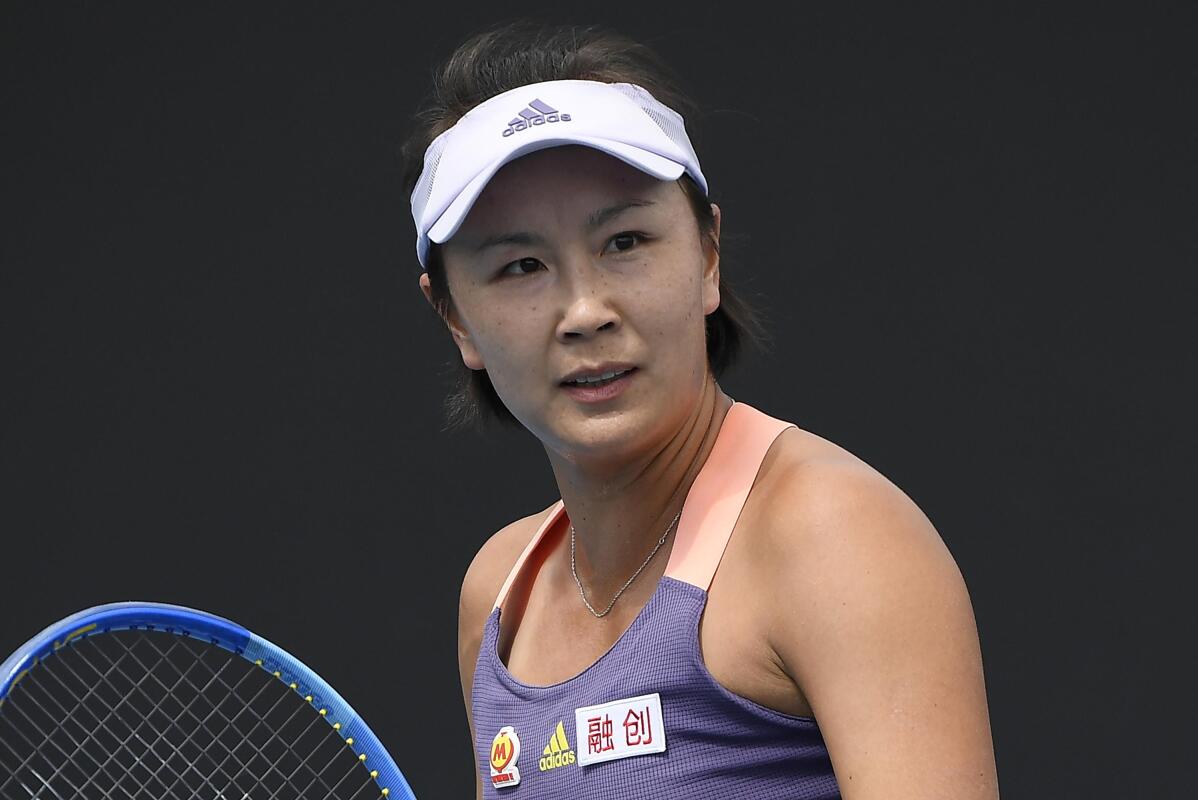 3 of 4

|
FILE - China's Peng Shuai reacts during her first round singles match against Japan's Nao Hibino at the Australian Open tennis championship in Melbourne, Australia, Jan. 21, 2020. The women's professional tennis tour is ending its suspension of tournaments in China that was initiated in late 2021 over concerns about Grand Slam doubles champion Peng Shuai's well-being. The WTA announced Thursday, April 13, 2023, that it will return to competition in China this season, even though two of its key requests were never met: a chance to meet with Peng, and a thorough, transparent investigation of her sexual assault accusations against a high-ranking Chinese government official.(AP Photo/Andy Brownbill, File)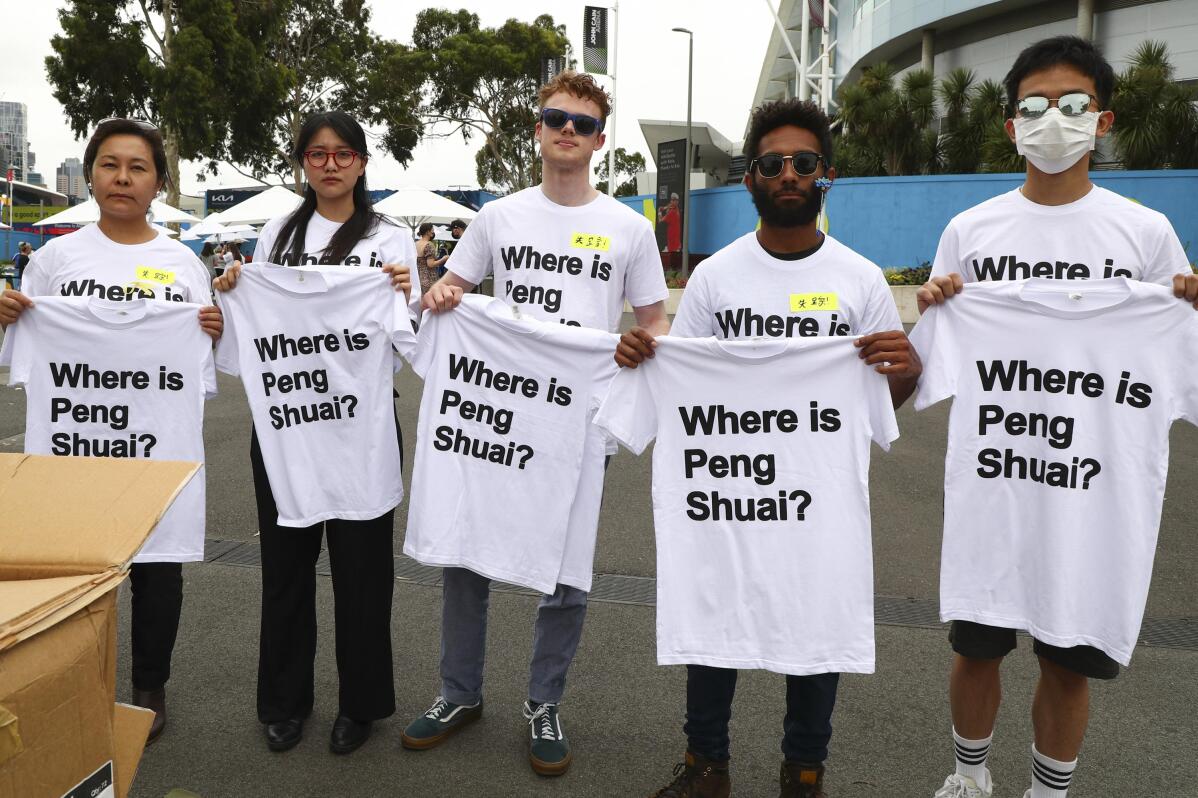 4 of 4

|
FILE - Supporters of Chinese tennis player Peng Shuai hold up T-shirts ahead of the women's final at the Australian Open tennis championships in Melbourne, Australia, Saturday, Jan. 29, 2022. The women's professional tennis tour will bring its events back to China later this year, announcing on Thursday, April 13, 2023, the end of a boycott instituted in late 2021 over concerns about the safety of former player Peng Shuai after she accused a high-ranking government official there of sexual assault. (AP Photo/Tertius Pickard, File)
Women's tennis tour ends Peng Shuai-inspired China boycott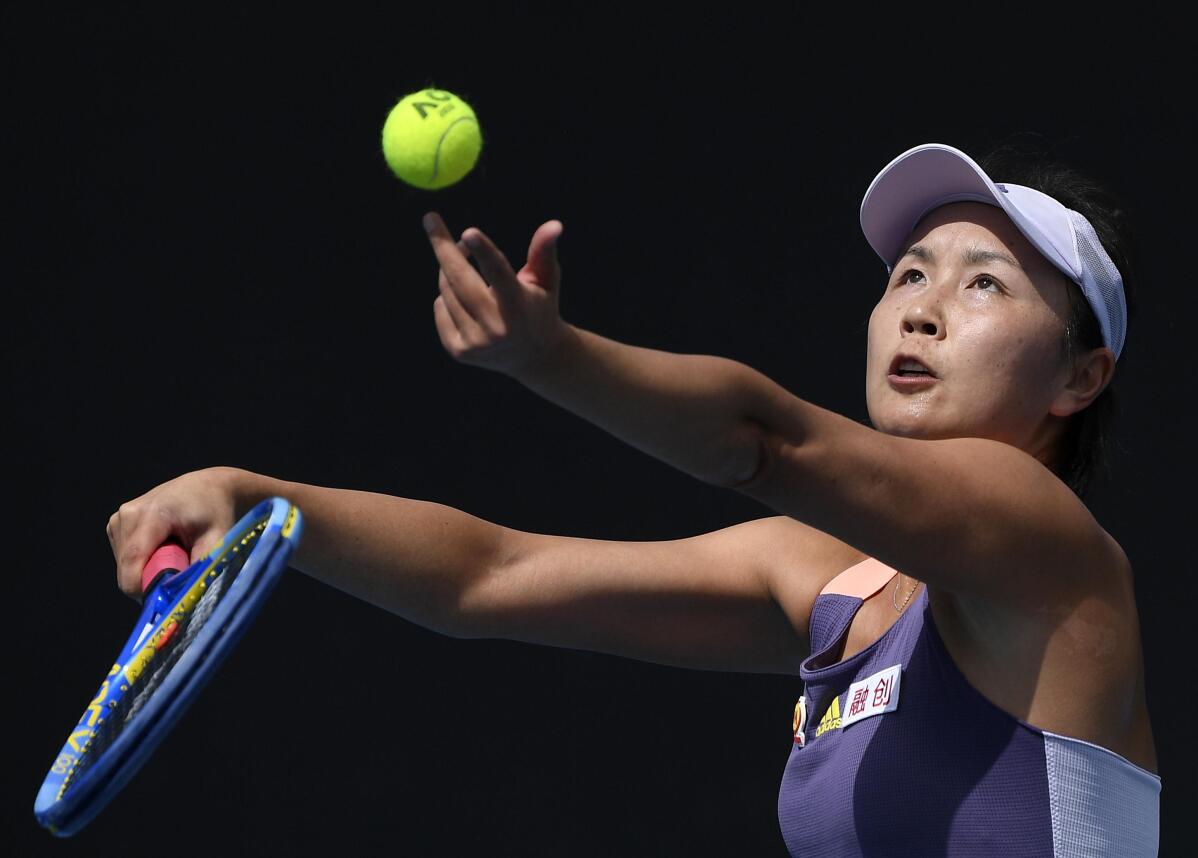 1 of 4

|
FILE - China's Peng Shuai serves to Japan's Nao Hibino during their first round singles match at the Australian Open tennis championship in Melbourne, Australia, Jan. 21, 2020. The women's professional tennis tour is ending its suspension of tournaments in China that was initiated in late 2021 over concerns about Grand Slam doubles champion Peng Shuai's well-being. The WTA announced Thursday, April 13, 2023, that it will return to competition in China this season, even though two of its key requests were never met: a chance to meet with Peng, and a thorough, transparent investigation of her sexual assault accusations against a high-ranking Chinese government official. (AP Photo/Andy Brownbill, File)
1 of 4
FILE - China's Peng Shuai serves to Japan's Nao Hibino during their first round singles match at the Australian Open tennis championship in Melbourne, Australia, Jan. 21, 2020. The women's professional tennis tour is ending its suspension of tournaments in China that was initiated in late 2021 over concerns about Grand Slam doubles champion Peng Shuai's well-being. The WTA announced Thursday, April 13, 2023, that it will return to competition in China this season, even though two of its key requests were never met: a chance to meet with Peng, and a thorough, transparent investigation of her sexual assault accusations against a high-ranking Chinese government official. (AP Photo/Andy Brownbill, File)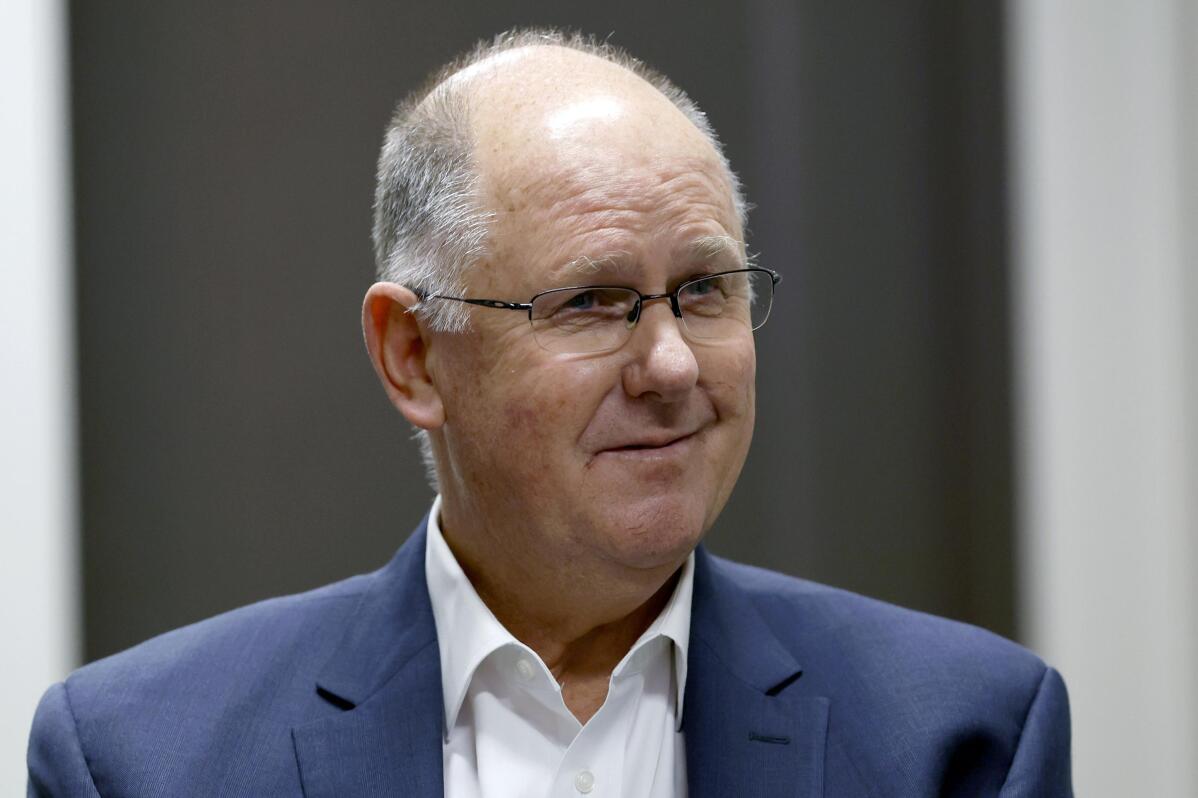 2 of 4

|
FILE - WTA Chairman and CEO Steve Simon sits for an interview during the WTA Finals tennis tournament in Fort Worth, Texas, Tuesday, Nov. 1, 2022. The women's professional tennis tour is ending its suspension of tournaments in China that was initiated in late 2021 over concerns about Grand Slam doubles champion Peng Shuai's well-being. The WTA announced Thursday, April 13, 2023, that it will return to competition in China this season, even though two of its key requests were never met: a chance to meet with Peng, and a thorough, transparent investigation of her sexual assault accusations against a high-ranking Chinese government official. (AP Photo/Tim Heitman, File)
2 of 4
FILE - WTA Chairman and CEO Steve Simon sits for an interview during the WTA Finals tennis tournament in Fort Worth, Texas, Tuesday, Nov. 1, 2022. The women's professional tennis tour is ending its suspension of tournaments in China that was initiated in late 2021 over concerns about Grand Slam doubles champion Peng Shuai's well-being. The WTA announced Thursday, April 13, 2023, that it will return to competition in China this season, even though two of its key requests were never met: a chance to meet with Peng, and a thorough, transparent investigation of her sexual assault accusations against a high-ranking Chinese government official. (AP Photo/Tim Heitman, File)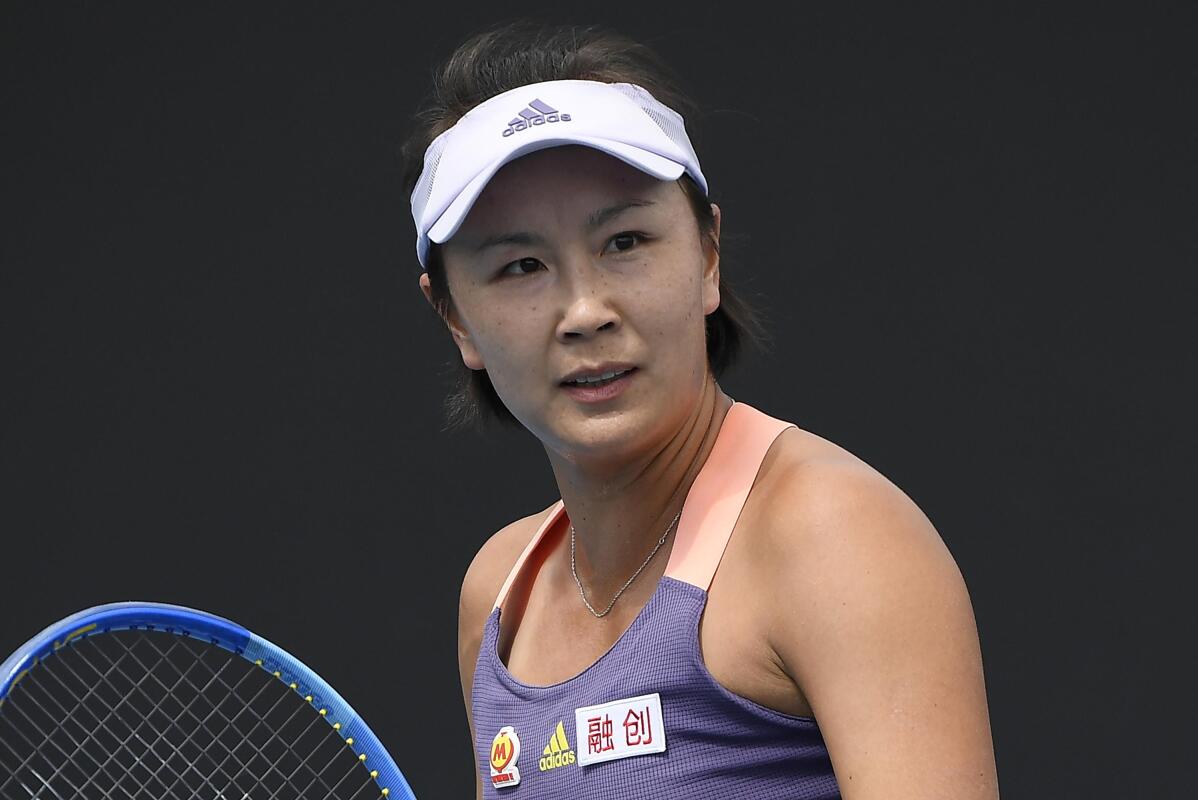 3 of 4

|
FILE - China's Peng Shuai reacts during her first round singles match against Japan's Nao Hibino at the Australian Open tennis championship in Melbourne, Australia, Jan. 21, 2020. The women's professional tennis tour is ending its suspension of tournaments in China that was initiated in late 2021 over concerns about Grand Slam doubles champion Peng Shuai's well-being. The WTA announced Thursday, April 13, 2023, that it will return to competition in China this season, even though two of its key requests were never met: a chance to meet with Peng, and a thorough, transparent investigation of her sexual assault accusations against a high-ranking Chinese government official.(AP Photo/Andy Brownbill, File)
3 of 4
FILE - China's Peng Shuai reacts during her first round singles match against Japan's Nao Hibino at the Australian Open tennis championship in Melbourne, Australia, Jan. 21, 2020. The women's professional tennis tour is ending its suspension of tournaments in China that was initiated in late 2021 over concerns about Grand Slam doubles champion Peng Shuai's well-being. The WTA announced Thursday, April 13, 2023, that it will return to competition in China this season, even though two of its key requests were never met: a chance to meet with Peng, and a thorough, transparent investigation of her sexual assault accusations against a high-ranking Chinese government official.(AP Photo/Andy Brownbill, File)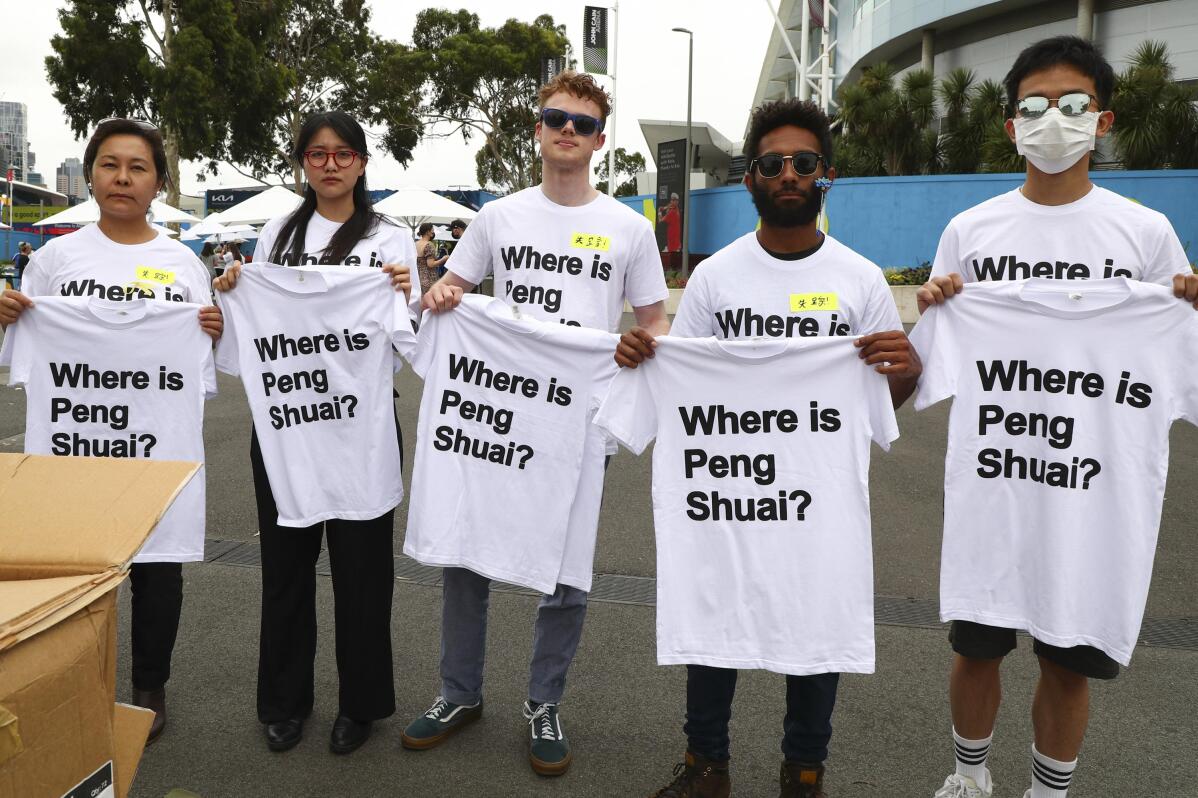 4 of 4

|
FILE - Supporters of Chinese tennis player Peng Shuai hold up T-shirts ahead of the women's final at the Australian Open tennis championships in Melbourne, Australia, Saturday, Jan. 29, 2022. The women's professional tennis tour will bring its events back to China later this year, announcing on Thursday, April 13, 2023, the end of a boycott instituted in late 2021 over concerns about the safety of former player Peng Shuai after she accused a high-ranking government official there of sexual assault. (AP Photo/Tertius Pickard, File)
4 of 4
FILE - Supporters of Chinese tennis player Peng Shuai hold up T-shirts ahead of the women's final at the Australian Open tennis championships in Melbourne, Australia, Saturday, Jan. 29, 2022. The women's professional tennis tour will bring its events back to China later this year, announcing on Thursday, April 13, 2023, the end of a boycott instituted in late 2021 over concerns about the safety of former player Peng Shuai after she accused a high-ranking government official there of sexual assault. (AP Photo/Tertius Pickard, File)
The women's professional tennis tour will bring its events back to China later this year, announcing on Thursday the end of a boycott instituted in late 2021 over concerns about the safety of former player Peng Shuai after she accused a high-ranking government official there of sexual assault.
WTA Chairman and CEO Steve Simon said in an interview with The Associated Press that while what he sought was never delivered — a chance for someone from the tour to meet with Peng, along with a full and transparent investigation into the Grand Slam doubles champion's accusations — the decision was made, with input from player and tournament representatives, to return to the country.
"The stance that we took at the time was appropriate. And we stand by that. But 16 months into this, we're convinced that our requests will not be met. And to continue with the same strategy doesn't make sense," Simon said from St. Petersburg, Florida, where the WTA is based.
"So we needed to look at a different approach. With this, our members believe it's time to resume the mission in China, where we believe we can continue to make a positive difference, as we have for the last 20 years, while at the same time making sure that Peng is not forgotten. By returning, hopefully more progress can be made."
Although there have been no reports of Peng sightings in public since carefully orchestrated appearances during the Beijing Olympics in February 2022, Simon said the WTA has "received assurances from people who are close to her, that we've been in contact with, that she is safe and living with her family in Beijing."
He added that the tour has been assured by the Chinese Tennis Association, the sport's national governing body, that "there won't be any issues with our athletes or our staff while they're competing within the region."
He called the change in course "an organizational decision" and noted: "The great majority of the athletes were supportive and wanted to see a return ... and felt it was time to go back."
The tour's schedule in China should be revealed in the next couple of weeks, Simon said. It will begin in September and include the season-ending WTA Finals in Shenzhen and other stops similar to what was played in 2019, before the coronavirus pandemic led to a round of cancellations.
Peng, now 37, won doubles trophies at Wimbledon and the French Open and reached the No. 1 ranking in doubles; in singles, she was a U.S. Open semifinalist and was ranked as high as No. 14. She dropped out of public view after saying in a social media post in November 2021 that former vice premier Zhang Gaoli forced her to have sex. The post was quickly taken down by Chinese authorities.
The following month, Simon — with the backing of the WTA Board of Directors, players, tournaments and sponsors — said the tour would suspend play in China. That was the strongest public stand against China by a sports body and cost the WTA millions of dollars in revenue.
Peng later tried to recant, including in a controlled interview during last year's Winter Games. After the Olympics, the global attention and outrage raised by her case — " Where is Peng Shuai? " was a popular rallying cry, a T-shirt slogan seen at Grand Slam tournaments, a trending topic on social media — seems to have lessened.
The ATP men's tennis tour and the International Tennis Federation, which oversees the Billie Jean King Cup and Davis Cup along with lower-level tournaments for individual players, recently said they would resume operations in China after staying away because of COVID-19.
The ITF said Thursday it welcomed the WTA's decision to resume play in China.
"Regarding Peng Shuai, while she appears safe and well, we will continue to seek assurances about her ongoing safety and welcome all other organizations' efforts to support her, both publicly and behind the scenes," ITF President David Haggerty said.
Back when he first delivered the news about leaving China, Simon told the AP: "... the one thing that we can't do is walk away from this, because if we're walking away from the key elements — which is obviously not only her well-being, but the investigation — then we're telling the world that not addressing sexual assault with respect to the seriousness it requires is OK, because it's too difficult. And it's simply something that we can't let happen."
Asked whether Thursday's move could be construed by some as backing down, Simon replied: "Well, everybody will have their own opinions on that, for sure. I can understand how someone might look at it that way, for sure. But we took a stand that no one else has. And, I think, from that, we did receive some things that we didn't think we would get, as well," citing the assurances about Peng's safety and that of WTA players and staff upon return to China.
___ Follow AP Tennis Writer Howard Fendrich on Twitter at https://twitter.com/HowardFendrich
___ AP tennis: https://apnews.com/hub/tennis and https://twitter.com/AP_Sports