US judge orders Peru ex-leader detained for extradition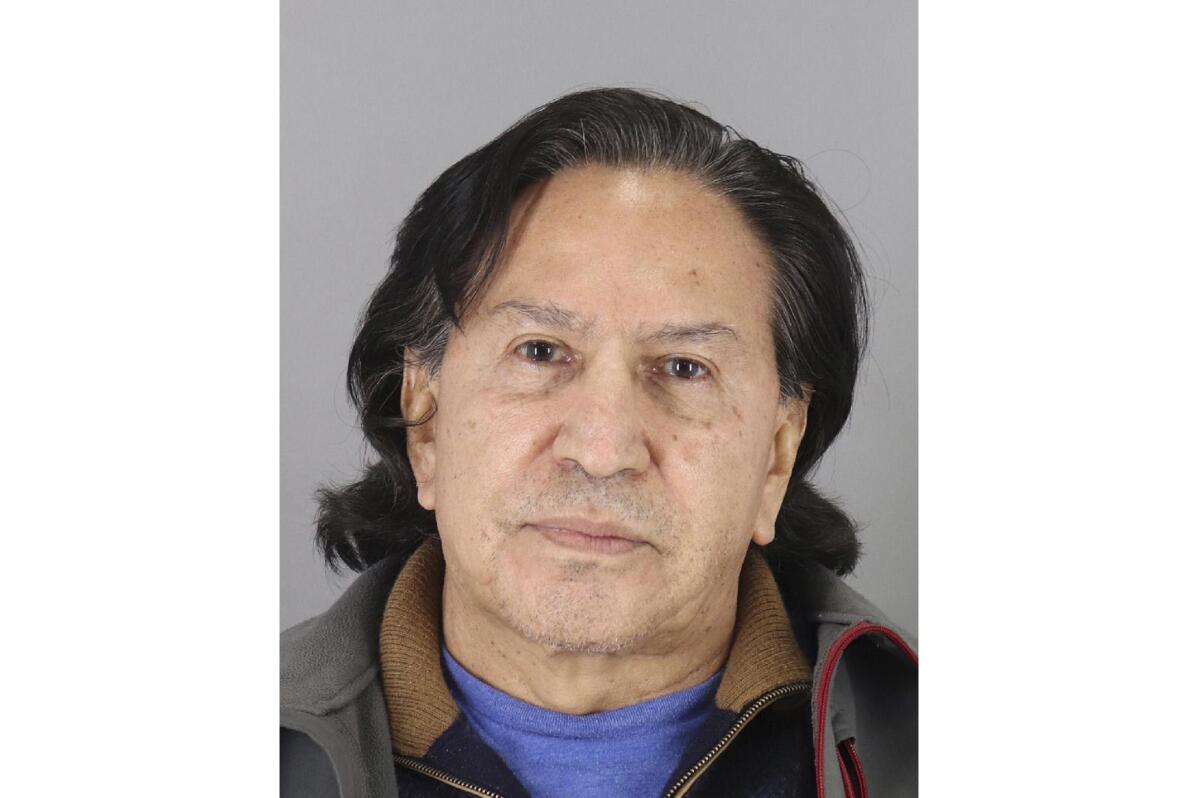 1 of 2

|
FILE - This booking photo released on March 18, 2019, by the San Mateo County Sheriff's Office shows former Peruvian President Alejandro Toledo Manrique. A U.S. judge on Wednesday, April 19, 2023, ordered the former Peruvian president to surrender to federal agents after an appeals court denied his latest motion to stop his extradition back to Peru where he faces charges he accepted millions of dollars in bribes. (San Mateo County Sheriff's Office via AP, File)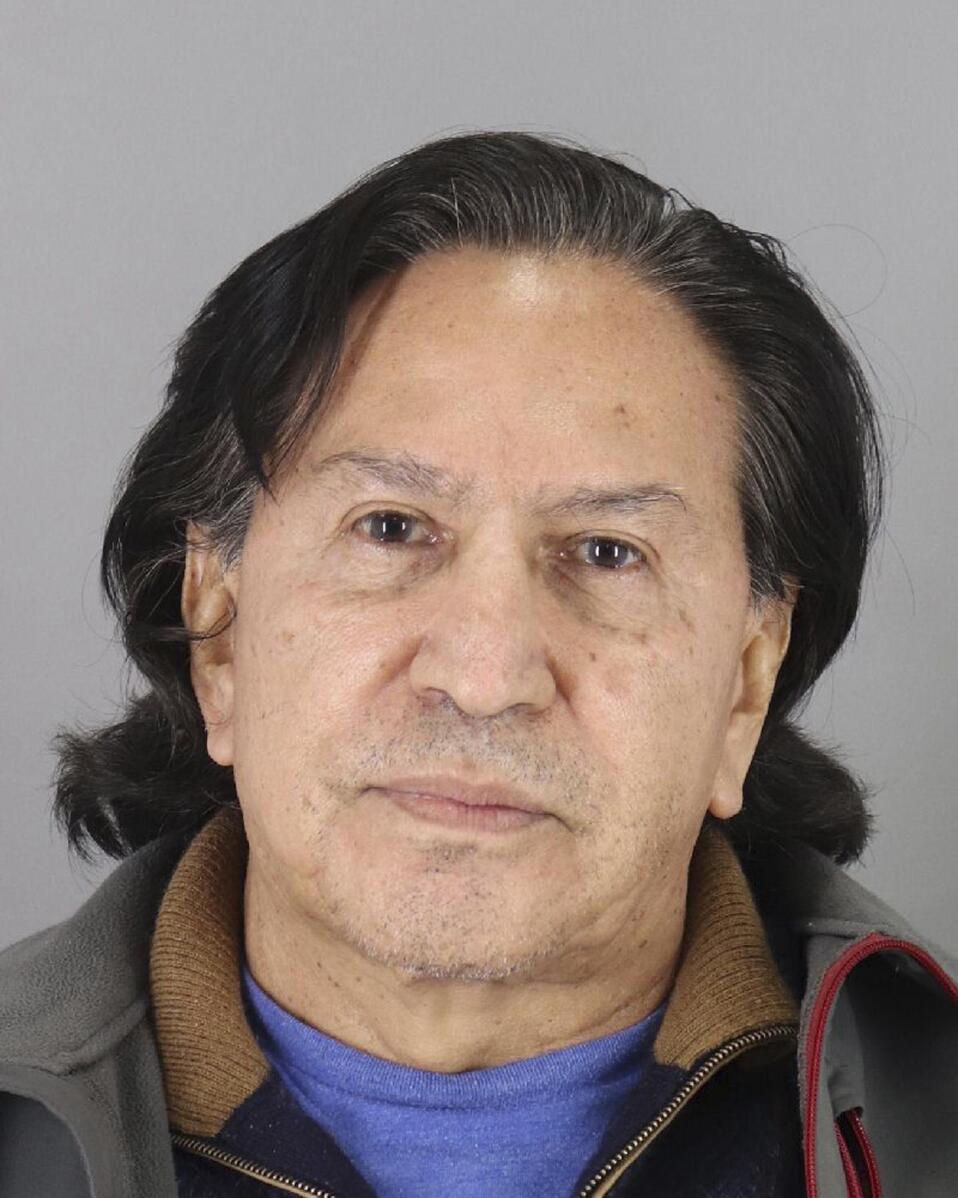 2 of 2

|
FILE - This booking photo released on March 18, 2019, by the San Mateo County Sheriff's Office shows former Peruvian President Alejandro Toledo Manrique. A U.S. judge on Wednesday, April 19, 2023, ordered the former Peruvian president to surrender to federal agents after an appeals court denied his latest motion to stop his extradition back to Peru where he faces charges he accepted millions of dollars in bribes. (San Mateo County Sheriff's Office via AP, File)
US judge orders Peru ex-leader detained for extradition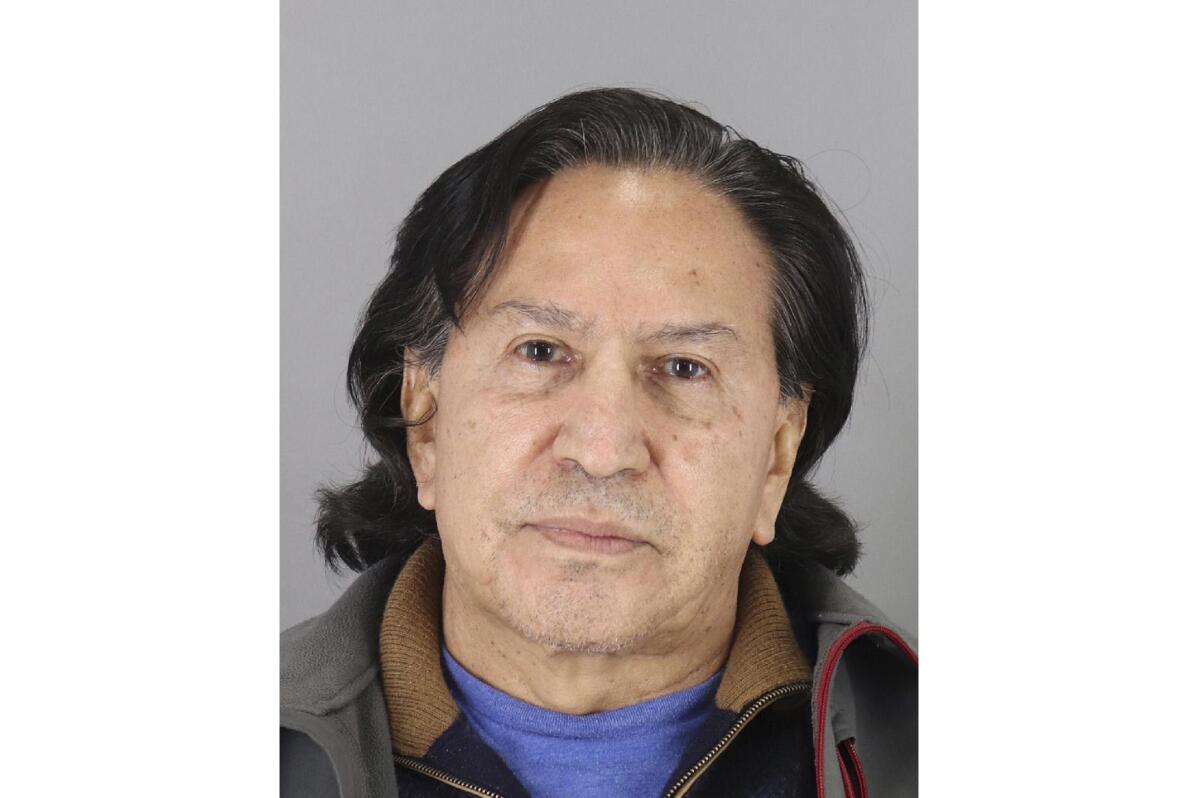 1 of 2

|
FILE - This booking photo released on March 18, 2019, by the San Mateo County Sheriff's Office shows former Peruvian President Alejandro Toledo Manrique. A U.S. judge on Wednesday, April 19, 2023, ordered the former Peruvian president to surrender to federal agents after an appeals court denied his latest motion to stop his extradition back to Peru where he faces charges he accepted millions of dollars in bribes. (San Mateo County Sheriff's Office via AP, File)
1 of 2
FILE - This booking photo released on March 18, 2019, by the San Mateo County Sheriff's Office shows former Peruvian President Alejandro Toledo Manrique. A U.S. judge on Wednesday, April 19, 2023, ordered the former Peruvian president to surrender to federal agents after an appeals court denied his latest motion to stop his extradition back to Peru where he faces charges he accepted millions of dollars in bribes. (San Mateo County Sheriff's Office via AP, File)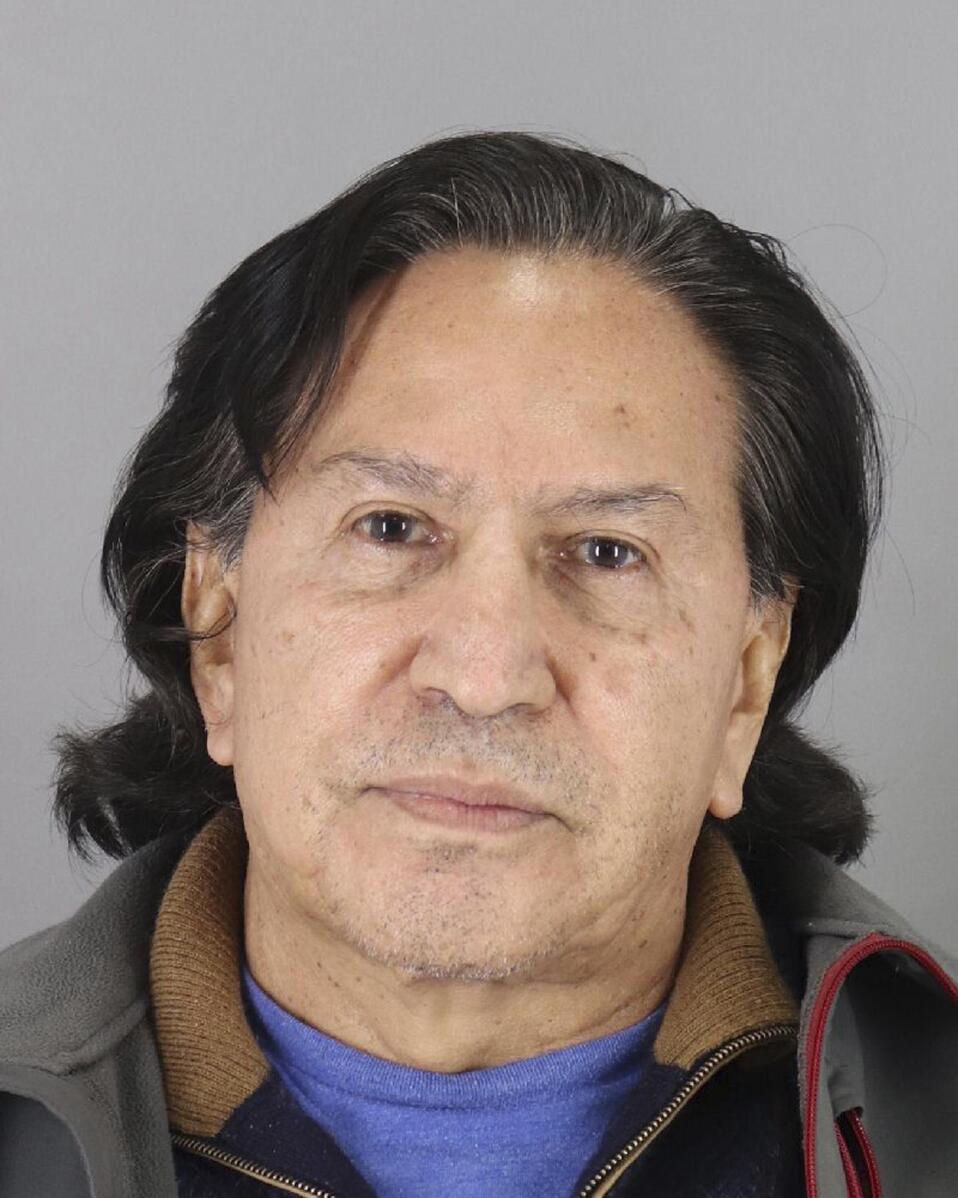 2 of 2

|
FILE - This booking photo released on March 18, 2019, by the San Mateo County Sheriff's Office shows former Peruvian President Alejandro Toledo Manrique. A U.S. judge on Wednesday, April 19, 2023, ordered the former Peruvian president to surrender to federal agents after an appeals court denied his latest motion to stop his extradition back to Peru where he faces charges he accepted millions of dollars in bribes. (San Mateo County Sheriff's Office via AP, File)
2 of 2
FILE - This booking photo released on March 18, 2019, by the San Mateo County Sheriff's Office shows former Peruvian President Alejandro Toledo Manrique. A U.S. judge on Wednesday, April 19, 2023, ordered the former Peruvian president to surrender to federal agents after an appeals court denied his latest motion to stop his extradition back to Peru where he faces charges he accepted millions of dollars in bribes. (San Mateo County Sheriff's Office via AP, File)
SAN FRANCISCO (AP) — A U.S. judge on Wednesday ordered former Peruvian President Alejandro Toledo Manrique to surrender to federal agents after an appeals court denied his latest motion to stop his extradition back to Peru, where he faces charges he accepted millions of dollars in bribes.
Magistrate Judge Thomas S. Hixson in San Francisco ordered Toledo, who has been under house arrest, to turn himself in Friday to U.S. Marshal agents in San Jose. Toledo will be placed in a San Mateo County jail while he awaits extradition to his native country, where authorities say he accepted bribes as part of a mammoth corruption scandal in which four of Peru's ex-presidents have been implicated. Toledo denies the charges.
Federal prosecutors have said Peruvian officials will travel to California to pick up Toledo and fly him back to Peru. When that will happen was not immediately known. Hixson's order comes after the Ninth U.S. Circuit Court of Appeals on Tuesday denied Toledo's latest effort to stay his extradition.
Toledo, 77, is accused of taking $20 million in bribes from Odebrecht, a giant Brazilian construction company that has admitted to U.S. authorities that it bribed officials to win contracts throughout Latin America for decades. He had sought a stay on his extradition pending a legal challenge to the U.S. State Department's decision to send him back to Peru.
On Wednesday, Tamara Crepet, one of Toledo's defense attorneys, asked Hixson to delay the former president's extradition until Tuesday so he could see his psychiatrist one last time but the judge sided with Assistant U.S. Attorney Kyle Waldinger who asked that he be placed in custody as soon as possible.
"He is elderly and does have health issues ... and he's always going to have medical appointments coming up no matter when the extradition is," Waldinger said.
Toledo, who was Peru's president from 2001-2006, was arrested in July 2019 at his home in Menlo Park, California. He was initially held in solitary confinement at the Santa Rita Jail about 40 miles (60 kilometers) east of San Francisco, but was released in 2020 because of the COVID-19 pandemic and his deteriorating mental health. He has been under house arrest since then.
The Odebrecht corruption scandal has shaken Peru's politics, with nearly every living former president now on trial or under investigation.
Former President Ollanta Humala is standing trial on charges that he and his wife received over $3 million from Odebrecht for his presidential campaigns in 2006 and 2011. Both have denied any wrongdoing.
Ex-leader Pedro Pablo Kuczynski, who left office in 2018, is under house arrest for similar charges.
Former leader Alan García, in office from 2006-2011, fatally shot himself in the head in 2019 as police arrived at his home to arrest him.