LeBron James returns, Lakers beat Hawks for 4th straight win
1 of 4

|
Los Angeles Lakers' LeBron James (6) reacts after making a basket against the Atlanta Hawks during the second half of an NBA basketball game Friday, Jan. 6, 2023, in Los Angeles. The Lakers won 130-114. (AP Photo/Jae C. Hong)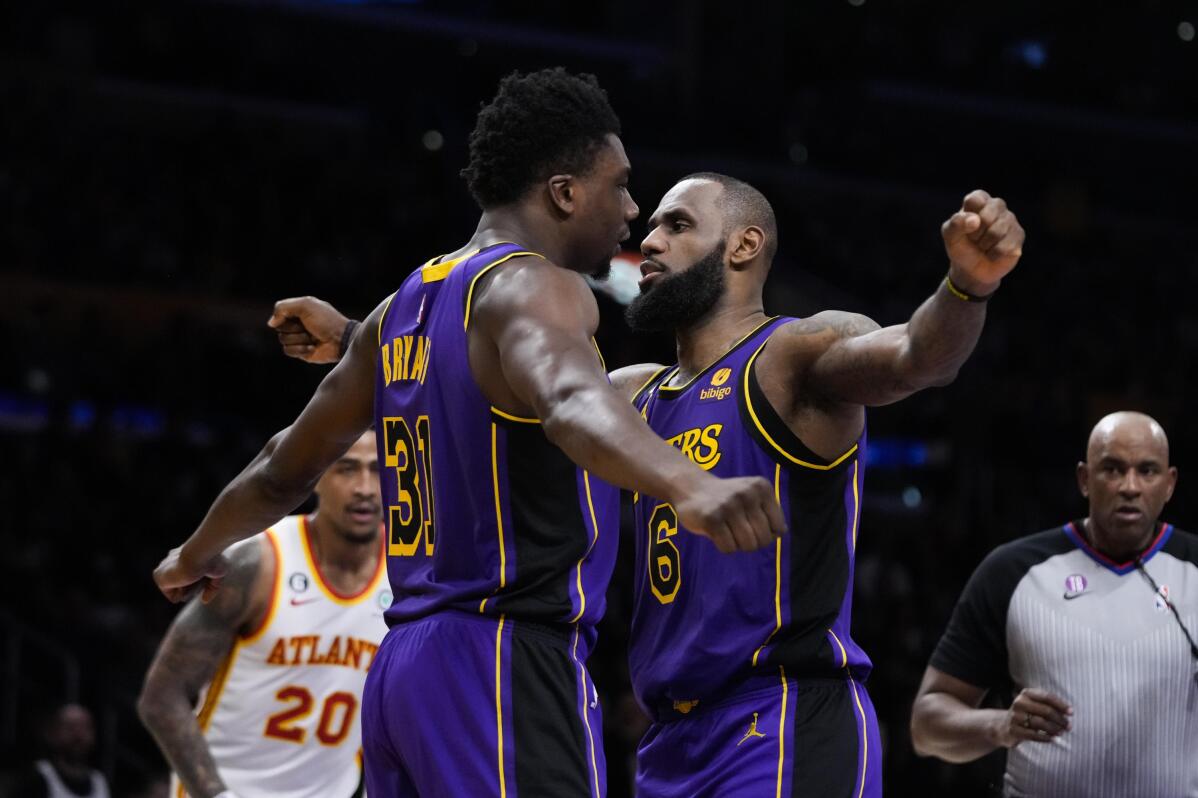 2 of 4

|
Los Angeles Lakers' Thomas Bryant (31) and LeBron James (6) celebrate after Bryant scored a basket and drew a foul during the first half of the team's NBA basketball game against the Atlanta Hawks on Friday, Jan. 6, 2023, in Los Angeles. (AP Photo/Jae C. Hong)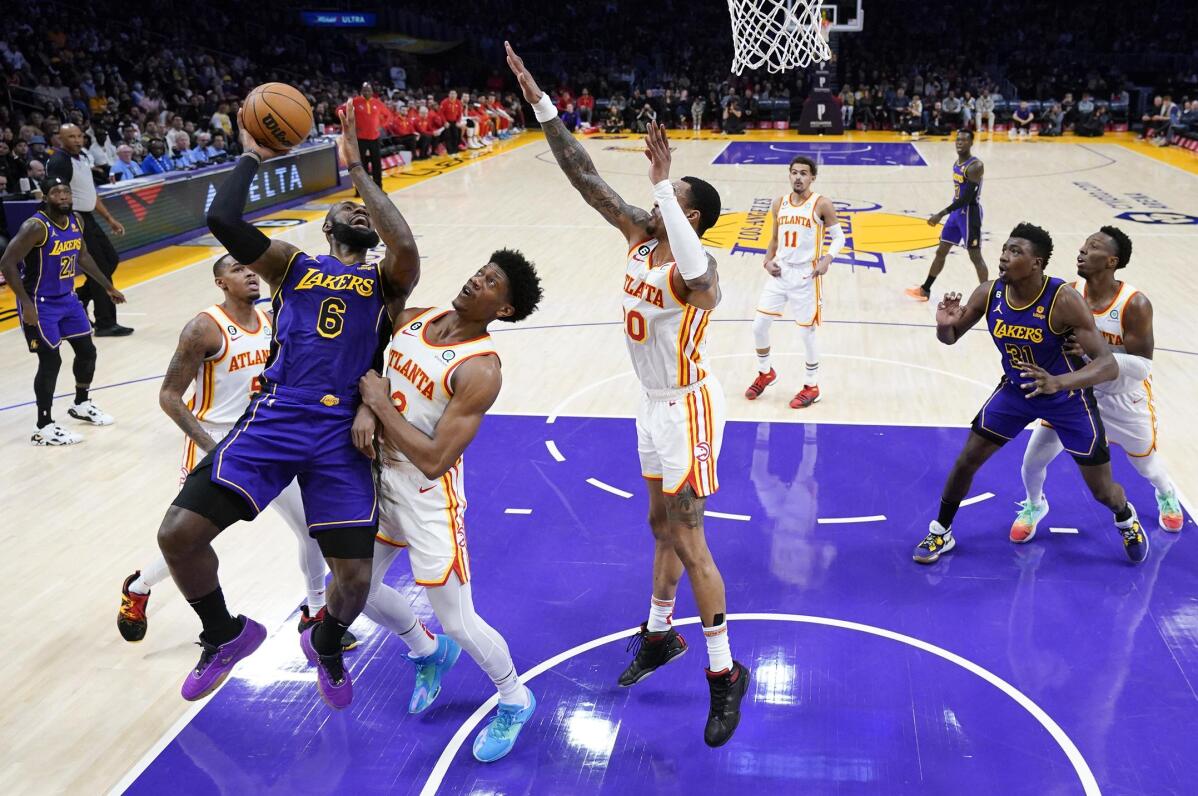 3 of 4

|
Los Angeles Lakers' LeBron James (6) is defended by Atlanta Hawks' De'Andre Hunter (12) and John Collins (20) during the first half of an NBA basketball game Friday, Jan. 6, 2023, in Los Angeles. (AP Photo/Jae C. Hong)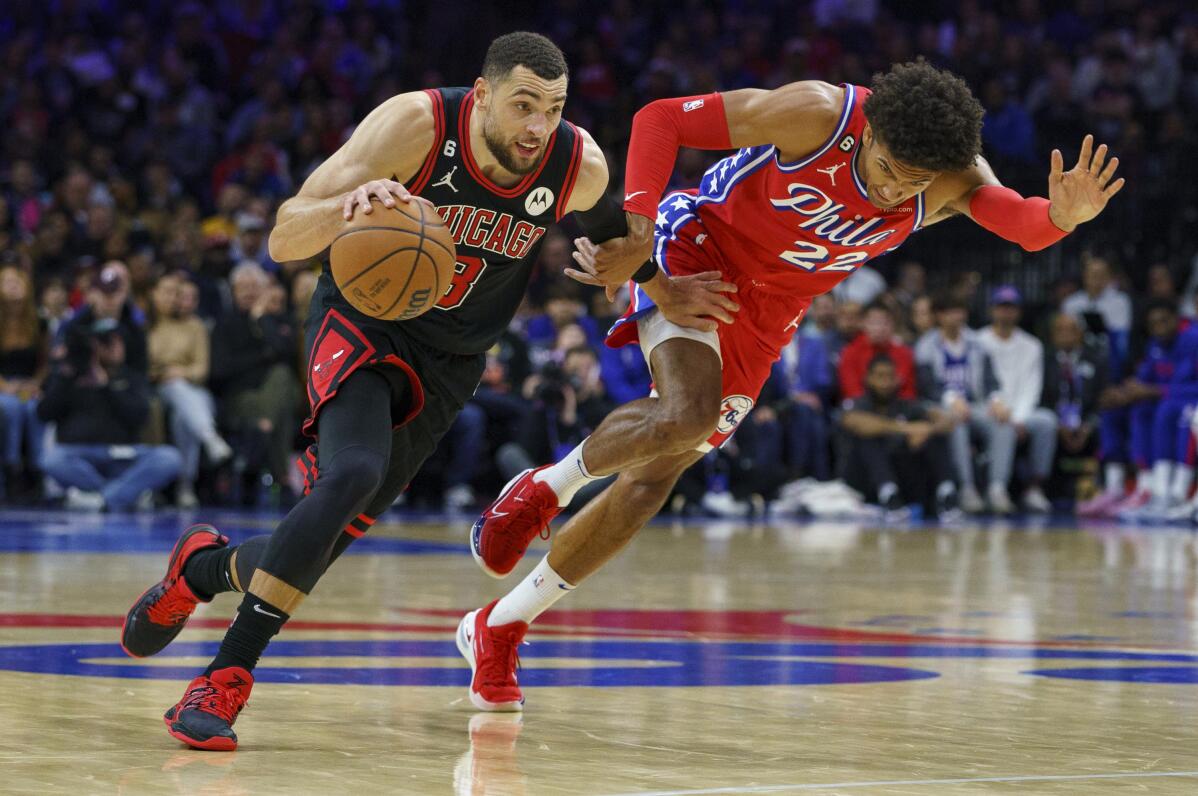 4 of 4

|
Chicago Bulls' Zach LaVine, left, drives to the basket against Philadelphia 76ers' Matisse Thybulle during the second half of an NBA basketball game Friday, Jan. 6, 2023, in Philadelphia. The Bulls won 126-112. (AP Photo/Chris Szagola)
LeBron James returns, Lakers beat Hawks for 4th straight win
1 of 4

|
Los Angeles Lakers' LeBron James (6) reacts after making a basket against the Atlanta Hawks during the second half of an NBA basketball game Friday, Jan. 6, 2023, in Los Angeles. The Lakers won 130-114. (AP Photo/Jae C. Hong)
1 of 4
Los Angeles Lakers' LeBron James (6) reacts after making a basket against the Atlanta Hawks during the second half of an NBA basketball game Friday, Jan. 6, 2023, in Los Angeles. The Lakers won 130-114. (AP Photo/Jae C. Hong)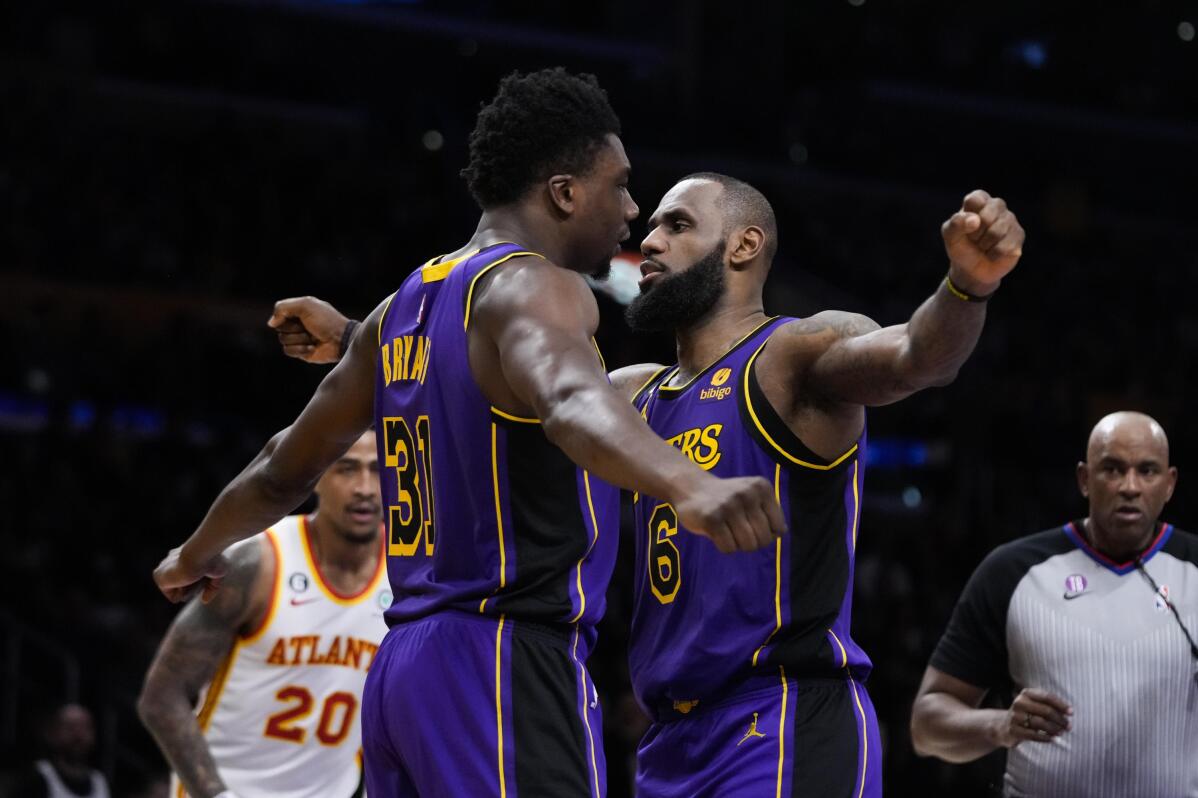 2 of 4

|
Los Angeles Lakers' Thomas Bryant (31) and LeBron James (6) celebrate after Bryant scored a basket and drew a foul during the first half of the team's NBA basketball game against the Atlanta Hawks on Friday, Jan. 6, 2023, in Los Angeles. (AP Photo/Jae C. Hong)
2 of 4
Los Angeles Lakers' Thomas Bryant (31) and LeBron James (6) celebrate after Bryant scored a basket and drew a foul during the first half of the team's NBA basketball game against the Atlanta Hawks on Friday, Jan. 6, 2023, in Los Angeles. (AP Photo/Jae C. Hong)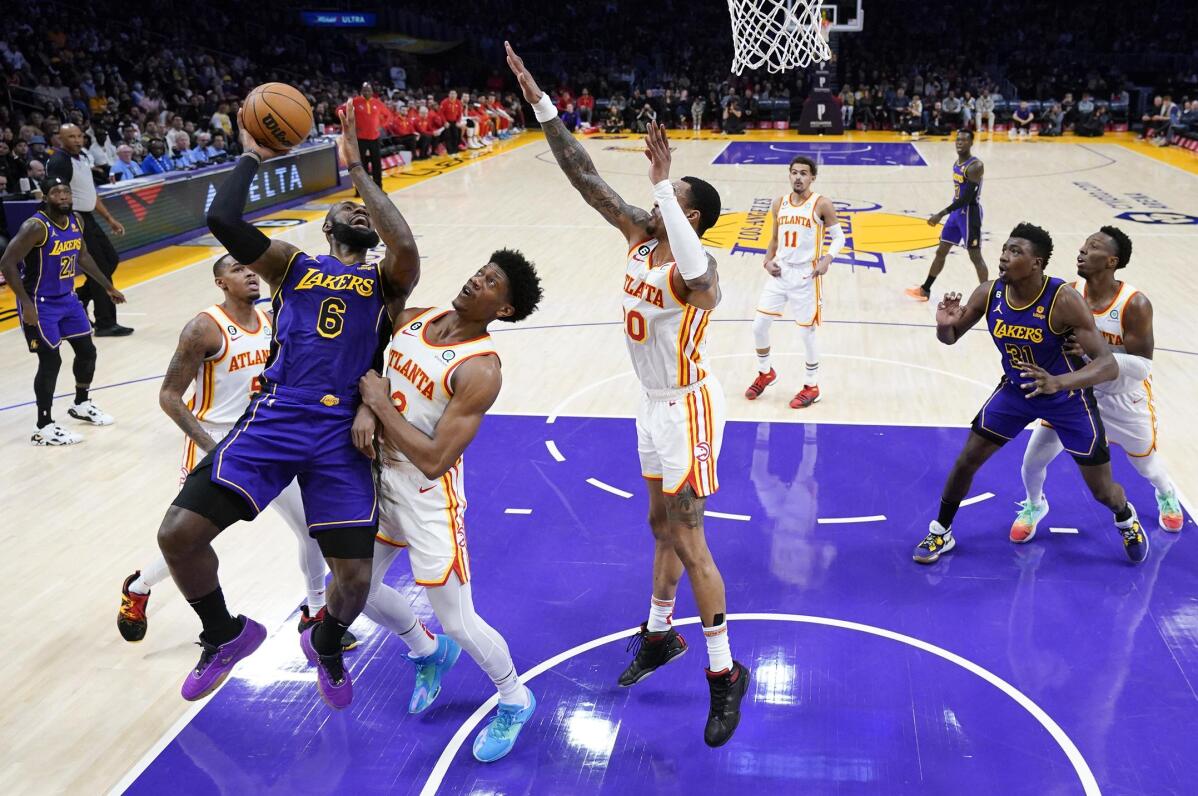 3 of 4

|
Los Angeles Lakers' LeBron James (6) is defended by Atlanta Hawks' De'Andre Hunter (12) and John Collins (20) during the first half of an NBA basketball game Friday, Jan. 6, 2023, in Los Angeles. (AP Photo/Jae C. Hong)
3 of 4
Los Angeles Lakers' LeBron James (6) is defended by Atlanta Hawks' De'Andre Hunter (12) and John Collins (20) during the first half of an NBA basketball game Friday, Jan. 6, 2023, in Los Angeles. (AP Photo/Jae C. Hong)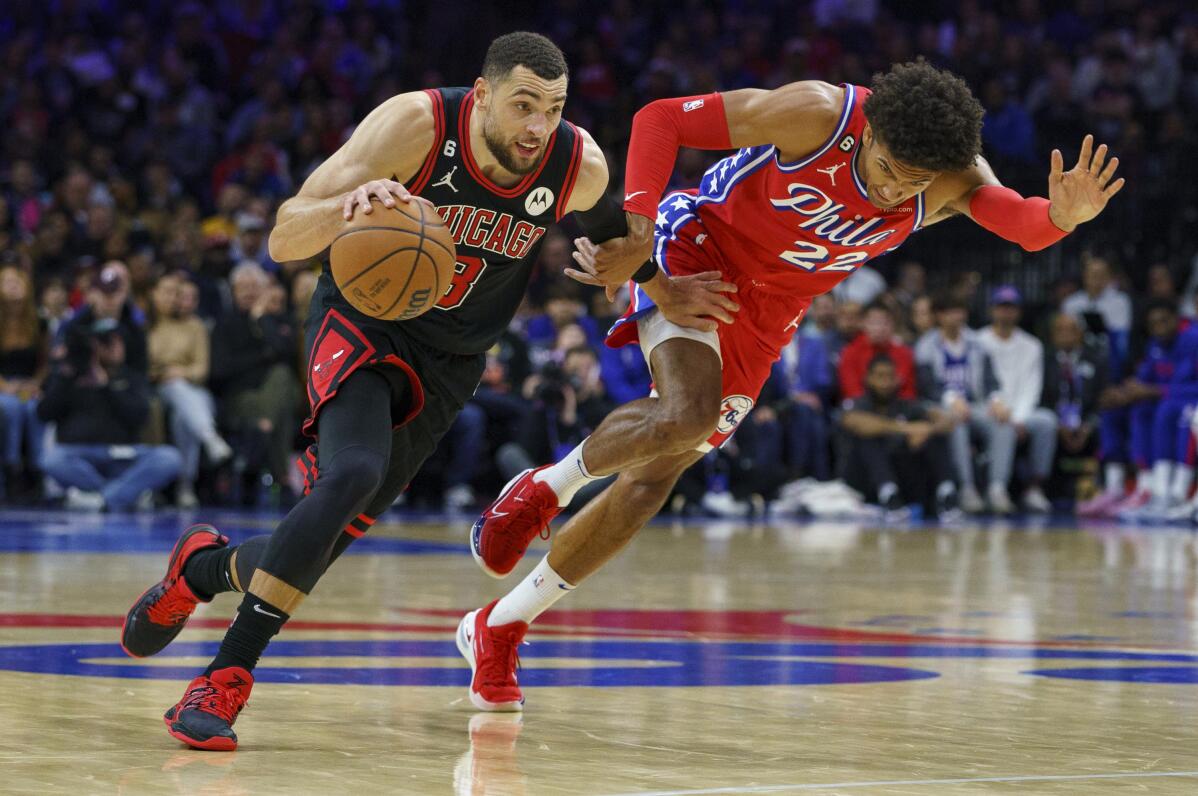 4 of 4

|
Chicago Bulls' Zach LaVine, left, drives to the basket against Philadelphia 76ers' Matisse Thybulle during the second half of an NBA basketball game Friday, Jan. 6, 2023, in Philadelphia. The Bulls won 126-112. (AP Photo/Chris Szagola)
4 of 4
Chicago Bulls' Zach LaVine, left, drives to the basket against Philadelphia 76ers' Matisse Thybulle during the second half of an NBA basketball game Friday, Jan. 6, 2023, in Philadelphia. The Bulls won 126-112. (AP Photo/Chris Szagola)
LOS ANGELES (AP) — LeBron James had 25 points and 10 assists in his return from an illness, Russell Westbrook added 18 points, 11 rebounds and nine assists and the Los Angeles Lakers beat the Atlanta Hawks 130-114 Friday night for their first four-game winning streak in just under a year.
Kendrick Nunn had 23 points in the highest-scoring performance of his career with the injury-depleted Lakers, who never trailed while beating the Hawks for the second time in eight days. Los Angeles won in Atlanta on Dec. 30 with James scoring 47 points on his 38th birthday.
The Lakers jumped to a 26-point lead in the first half of the rematch and hung on comfortably for their fifth win in six games overall. They hadn't won four straight since Jan. 7, 2022, when they also beat Atlanta in Los Angeles.
Thomas Bryant had 19 points and 13 rebounds for LA, while Dennis Schröder scored 21 points.
Trae Young scored 21 of his 32 points in the second half for Atlanta. The Hawks have lost five of six.
BULLS 126, 76ERS 112
PHILADELPHIA (AP) — Zach LaVine made 11 of 13 3-pointers and scored 41 points and Chicago ended Philadelphia's home winning streak at 11.
LaVine made three 3-pointers in less than a minute and a half of play to give Chicago an 88-74 lead with 3:33 left in the third quarter. He was two short of his career high for 3-pointers.
Nikola Vucevic had a triple-double for the Bulls with 19 points, 18 rebounds and 10 assists. Chicago shot 57.1% from the field and was 20 of 34 from 3-point range.
Vucevic took advantage of Philadelphia's undersized center tandem of PJ Tucker and Montrezl Harrell with Joel Embiid missing his second straight game because of soreness in his left foot.
Tyrese Maxey had 26 points and six assists for the 76ers, his best performance since returning to the lineup on Dec. 30. Maxey averaged 12.7 points and shot 37.5% from the field in his previous three games since returning from a fractured foot that sidelined him six weeks.
HORNETS 138, BUCKS 109
MILWAUKEE (AP) — Terry Rozier scored a season-high 39 points and Charlotte Hornets matched an NBA record with a 51-point first quarter in a rout of Milwaukee,
Charlotte's 51-point outburst tied the NBA mark for a first quarter set by Golden State against Denver in 2019. It also was a franchise record for points in a period.
Milwaukee star Giannis Antetokounmpo, who entered third in the league in scoring at 32.7 points per game, had a season-low nine in 22 minutes. He shot 2 of 7 from the field and 5 for 11 at the foul line.
NUGGETS 121, CAVALIERS 108
DENVER (AP) — Nikola Jokic had 28 points, 15 rebounds and 10 assists, Jamal Murray scored 18 points in his first back-to-back games since knee surgery and Denver took advantage of Donovan Mitchell's absence to beat Cleveland.
Jokic hit 10 of 17 shots, including 3 of 4 from 3-point range in his NBA-leading 10th triple-double of the season. Michael Porter Jr. added 16 points for Denver, which shot 51.5% from the floor and hit 17 of 33 3-pointers in its 12th win in 15 games.
Caris LeVert scored 22 points for the Cavaliers, who had their three-game win streak snapped. Mitchell sat out to rest four days after scoring 71 points in an overtime victory over Chicago.
NETS 108, PELICANS 102
NEW ORLEANS (AP) — Kevin Durant had 33 points and 10 rebounds and Brooklyn outlasted short-handed New Orleans.
Kyrie Irving scored 19 points, hi1tting a deep 3 with 44 seconds left to give the Nets a 106-100 lead and doom New Orleans to just its fifth home loss this season.
T.J. Warren scored 15 points for Brooklyn and Royce O'Neale added 14, including a 3-pointer with 2:27 left.
CJ McCollum scored 28 points and Naji Marshall had a career-high 23 points for the Pelicans in their second game since losing Zion Williamson for what is expected to be about three weeks with a right hamstring strain.
KNICKS 112, RAPTORS 108
TORONTO (AP) — Julius Randle had 32 points and 11 rebounds, Mitchell Robinson had 10 points and 18 rebounds before fouling out and New York beat Toronto for its fourth straight victory.
Jalen Brunson scored 26 points, Quentin Grimes had 16 and Immanuel Quickley 13 as the Knicks won north of the border for the first time in more than seven years, snapping an 11-game road losing streak against the Raptors.
New York's previous win in Toronto was a 111-109 victory on Nov. 10, 2015. After that game, the referees acknowledged missing Knicks star Carmelo Anthony step out of bounds on a pivotal play late in the fourth quarter.
Fred VanVleet scored 28 points and Gary Trent Jr. had 27 for the struggling Raptors. Toronto has lost seven of its past eight at home and 11 of 14 overall.
HEAT 104, SUNS 96
PHOENIX (AP) — Victor Oladipo scored a season-high 26 points, Bam Adebayo added 21 points and 11 rebounds and Miami beat Phoenix.
The Heat and Suns entered the game with the same record, but are heading in opposite directions. Miami has won nine of its last 13. Phoenix dropped to .500 for the season and has lost five in a row, eight of nine and 13 of 17.
Jimmy Butler added 20 points for the Heat, and Max Strus had 19.
The banged-up Suns were already without several key players because of injuries, including three-time All-Star Devin Booker (groin strain), Cam Johnson (knee) and Cam Payne (foot). They got more bad news Friday when veteran point guard Chris Paul left in the second quarter with right hip soreness.
Deandre Ayton led the Suns with 23 points and 14 rebounds.
PACERS 108, TRAIL BLAZERS 99
INDIANAPOLIS (AP) — Bennedict Mathurin had 19 points, Tyrese Haliburton scored seven of his 15 points in the final six minutes in Indiana's victory over Portland.
Haliburton also had 12 assists. Indiana has won five straight home games and seven of its last nine overall.
Anfernee Simons had 20 points for Portland. Damian Lillard had 19 points and eight assists.
SPURS 121, PISTONS 109
SAN ANTONIO (AP) — Tre Jones had 25 points and San Antonio overcame injuries to its two leading scorers to beat Detroit and snap a three-game skid.
Spurs forward Keldon Johnson did not return after injuring his left hamstring with four minutes left in the first half. Devin Vassell was inactive with a knee injury.
Coming off a 122-119 victory at defending NBA champion Golden State on Wednesday night, Detroit trailed throughout the final three quarters in a battle between two of league's worst records. Bojan Bogdanovic had 21 points.
TIMBERWOLVES 128, CLIPPERS 115
MINNEAPOLIS (AP) — Rudy Gobert had 25 points and 21 rebounds, D'Angelo Russell also scored 25 points and Minnesota beat short-handed Los Angeles.
Los Angeles was playing without stars Paul George and Kawhi Leonard on the second night of a back-to-back. Norman Powell had 21 points for Los Angeles, which lost its fifth game in a row.
THUNDER 127, WIZARDS 110
OKLAHOMA CITY (AP) — Shai Gilgeous-Alexander scored 30 points and Oklahoma City completed a regular-season sweep of Washington.
Josh Giddey added 20 points, nine assists and five rebounds for Oklahoma City.
Kyle Kuzma scored 23 points for Washington.
___
AP NBA: https://apnews.com/hub/NBA and https://twitter.com/AP_Sports