Super Bowl opening night returns with energetic atmosphere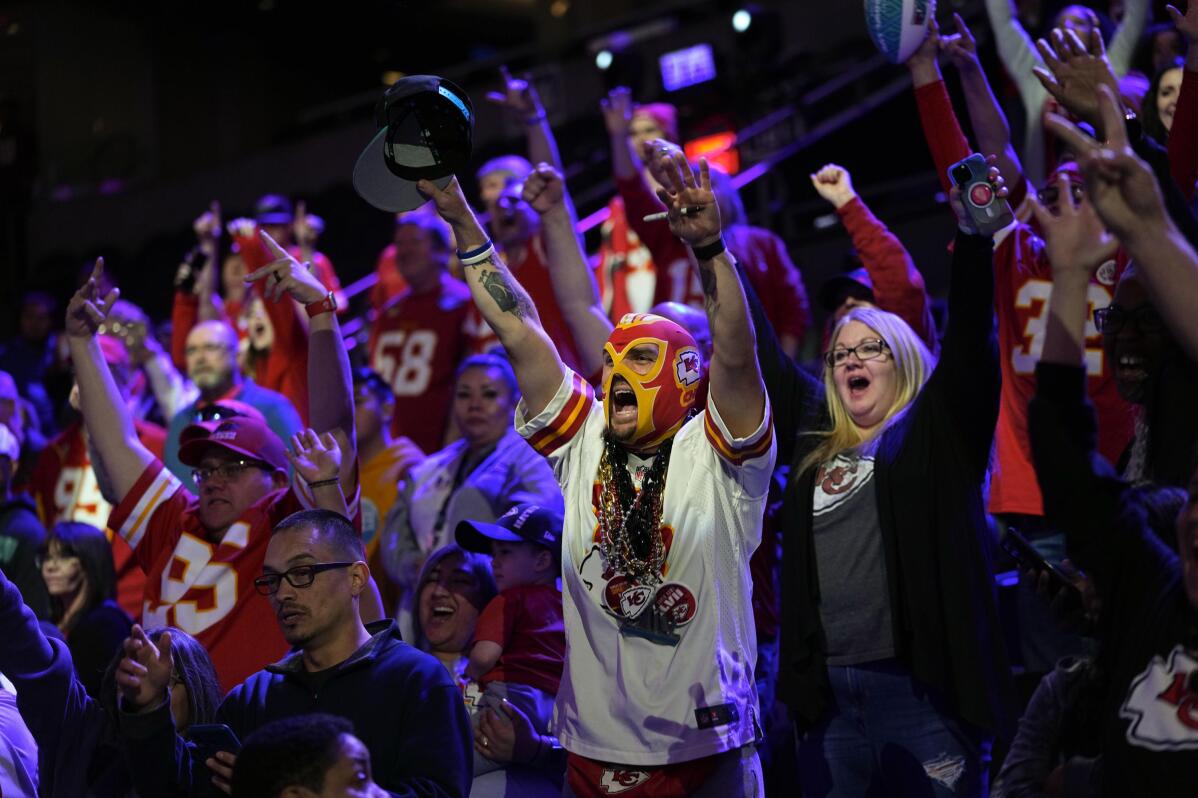 1 of 10

|
Kansas City Chiefs fans cheer during the NFL football Super Bowl 57 opening night, Monday, Feb. 6, 2023, in Phoenix. The Kansas City Chiefs will play the Philadelphia Eagles on Sunday. (AP Photo/Matt York)
2 of 10

|
A Kansas City Chiefs fan cheers during the NFL football Super Bowl 57 opening night, Monday, Feb. 6, 2023, in Phoenix. The Kansas City Chiefs will play the Philadelphia Eagles on Sunday. (AP Photo/Matt York)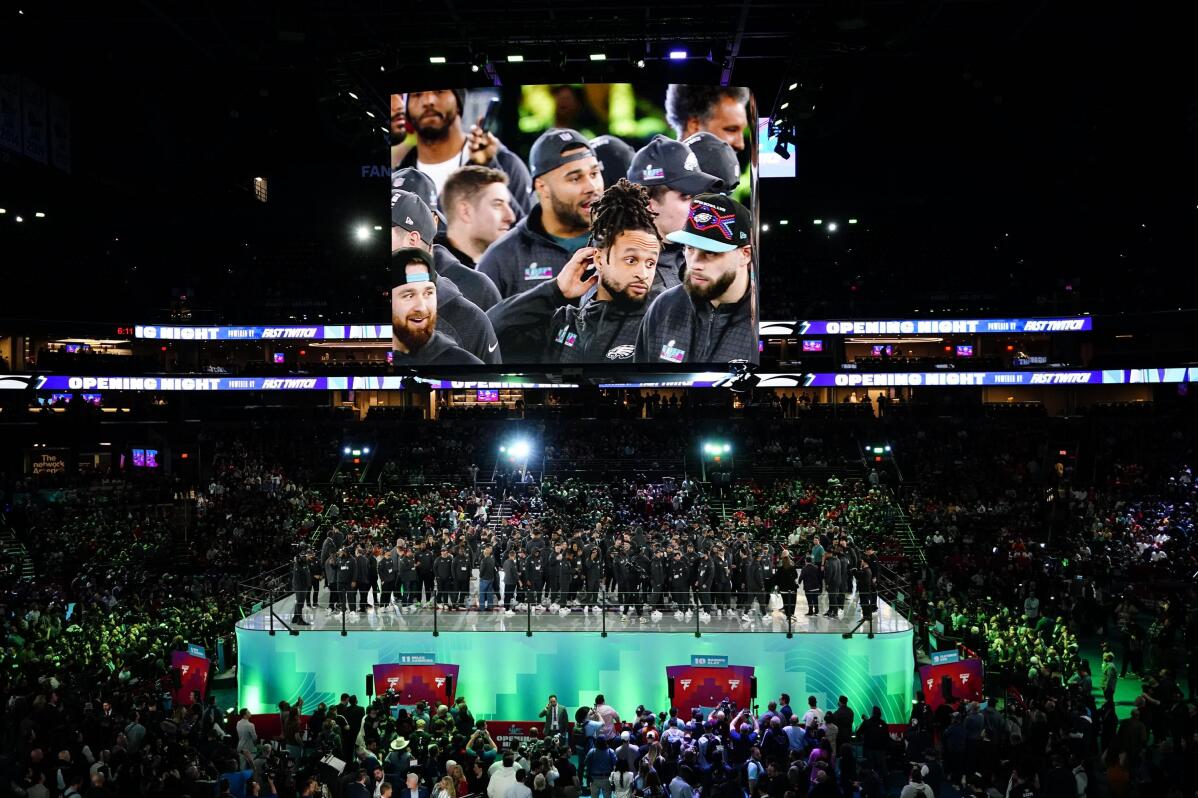 3 of 10

|
The Philadelphia Eagles arrive for the NFL football Super Bowl 57 opening night, Monday, Feb. 6, 2023, in Phoenix. The Kansas City Chiefs will play the Philadelphia Eagles on Sunday. (AP Photo/Ross D. Franklin)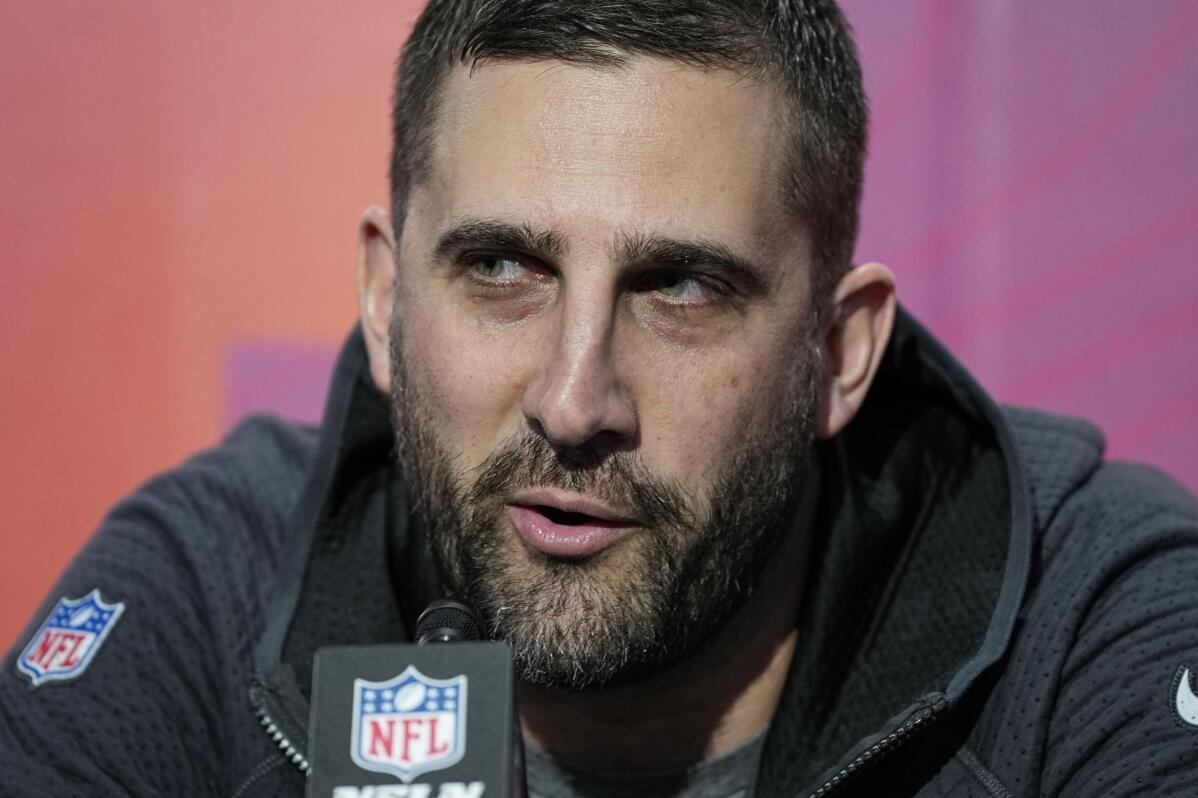 4 of 10

|
Philadelphia eagles head coach Nick Sirianni speaks to the media during the NFL football Super Bowl 57 opening night, Monday, Feb. 6, 2023, in Phoenix. The Kansas City Chiefs will play the Philadelphia Eagles on Sunday. (AP Photo/David J. Philip)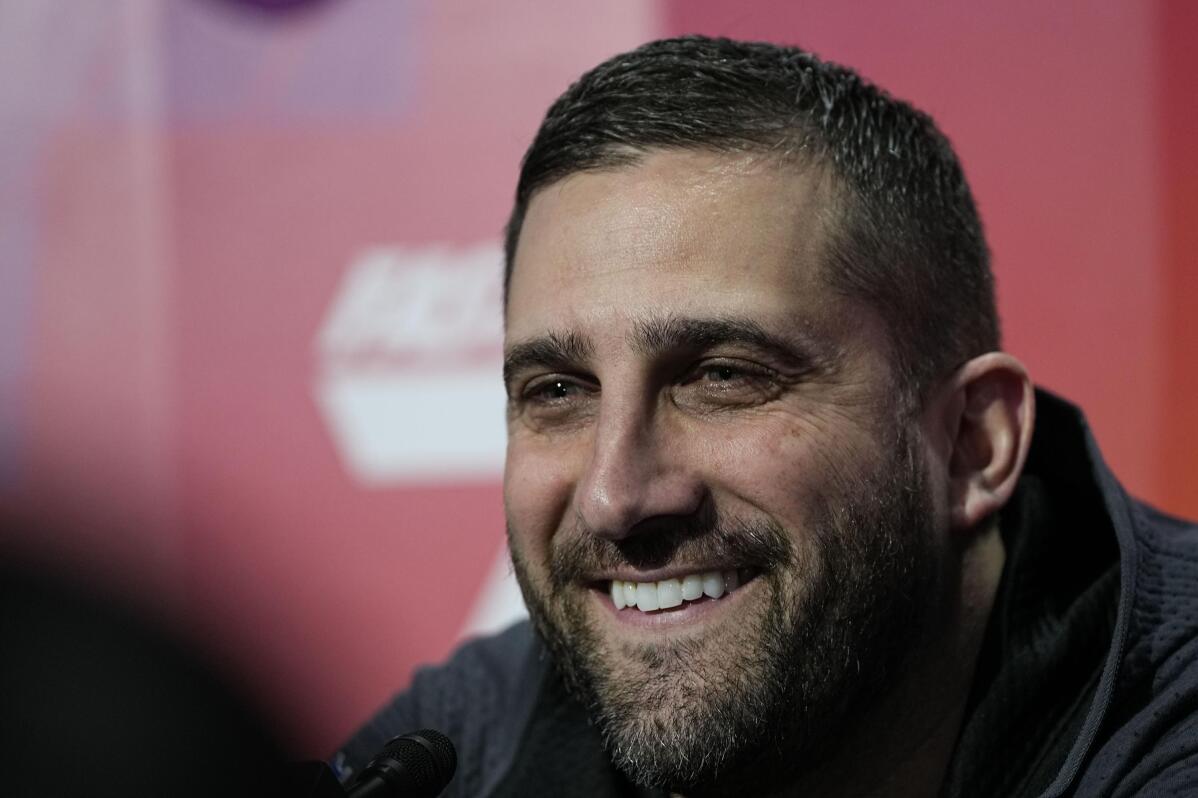 5 of 10

|
Philadelphia eagles head coach Nick Sirianni speaks to the media during the NFL football Super Bowl 57 opening night, Monday, Feb. 6, 2023, in Phoenix. The Kansas City Chiefs will play the Philadelphia Eagles on Sunday. (AP Photo/David J. Philip)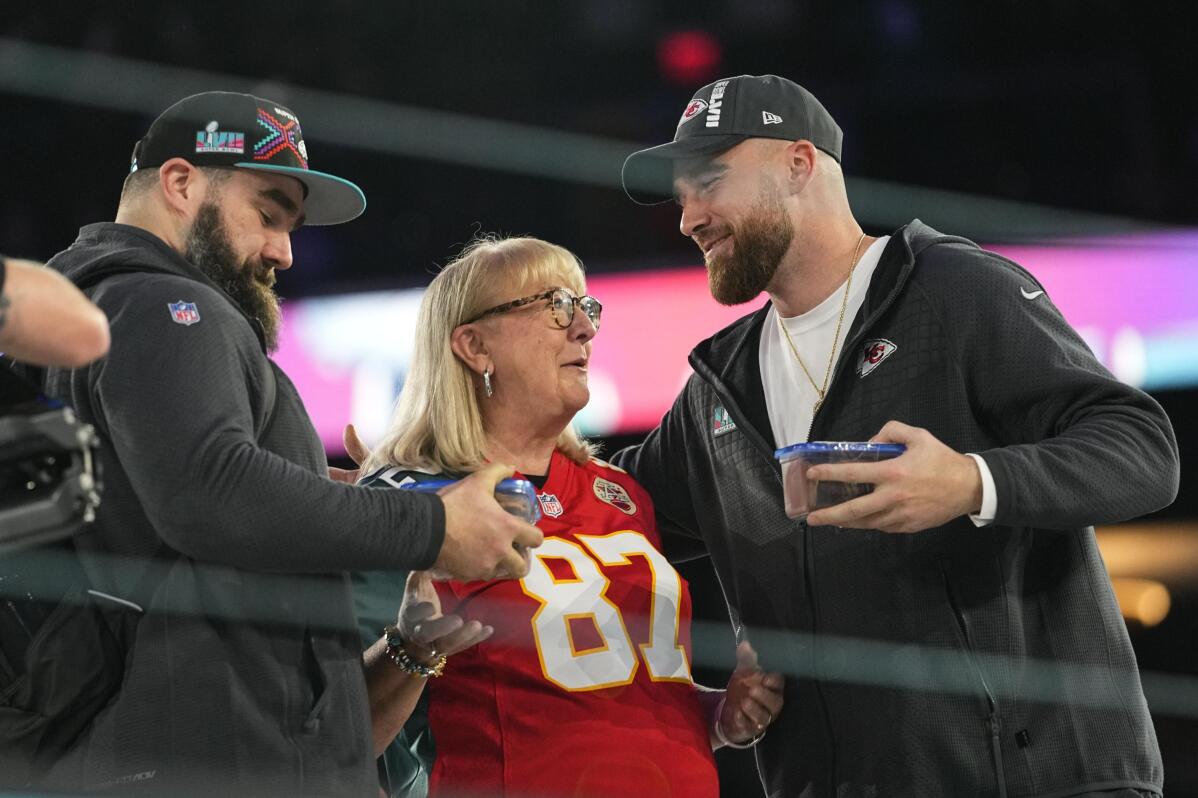 6 of 10

|
Donna Kelce greets her sons, Philadelphia Eagles center Jason Kelce, left, and Kansas City Chiefs tight end Travis Kelce during the NFL football Super Bowl 57 opening night, Monday, Feb. 6, 2023, in Phoenix. The Kansas City Chiefs will play the Philadelphia Eagles on Sunday. (AP Photo/Matt York)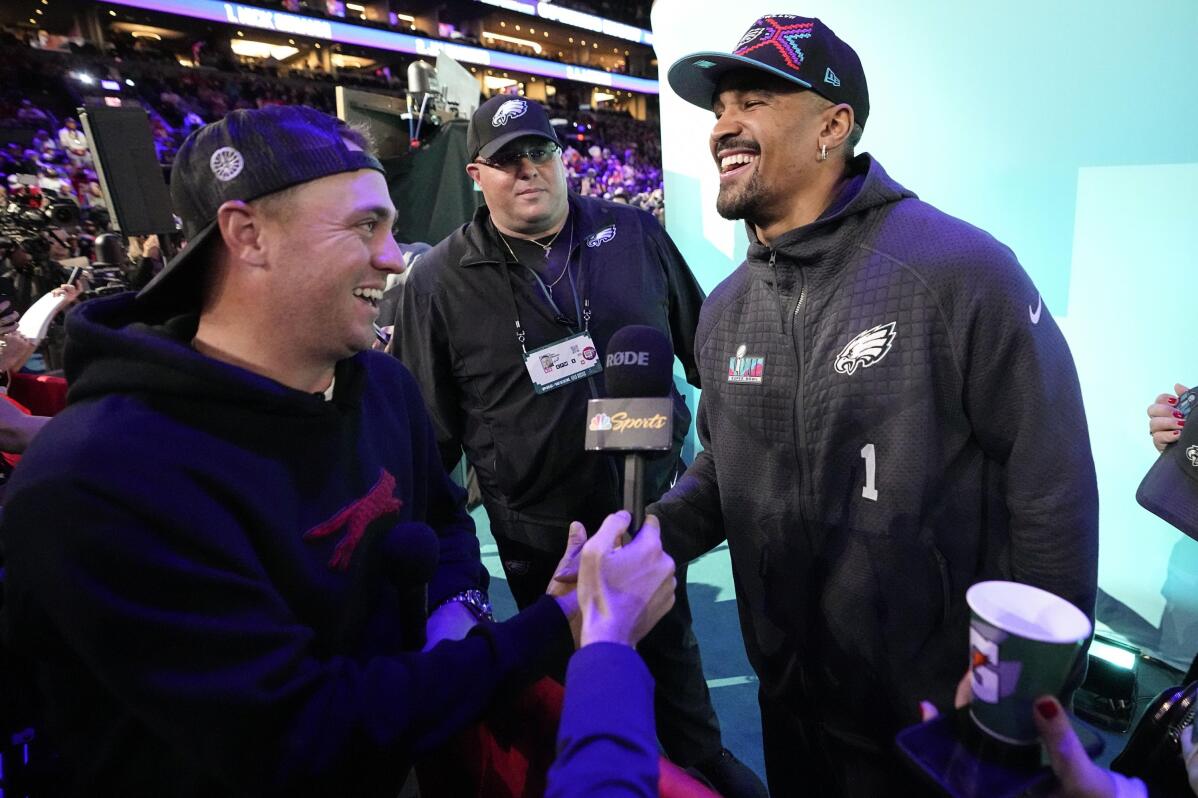 7 of 10

|
Kansas City Chiefs quarterback Patrick Mahomes, right, and Philadelphia Eagles quarterback Jalen Hurts speak to the media during the NFL football Super Bowl 57 opening night, Monday, Feb. 6, 2023, in Phoenix. The Kansas City Chiefs will play the Philadelphia Eagles on Sunday.(AP Photo/David J. Philip)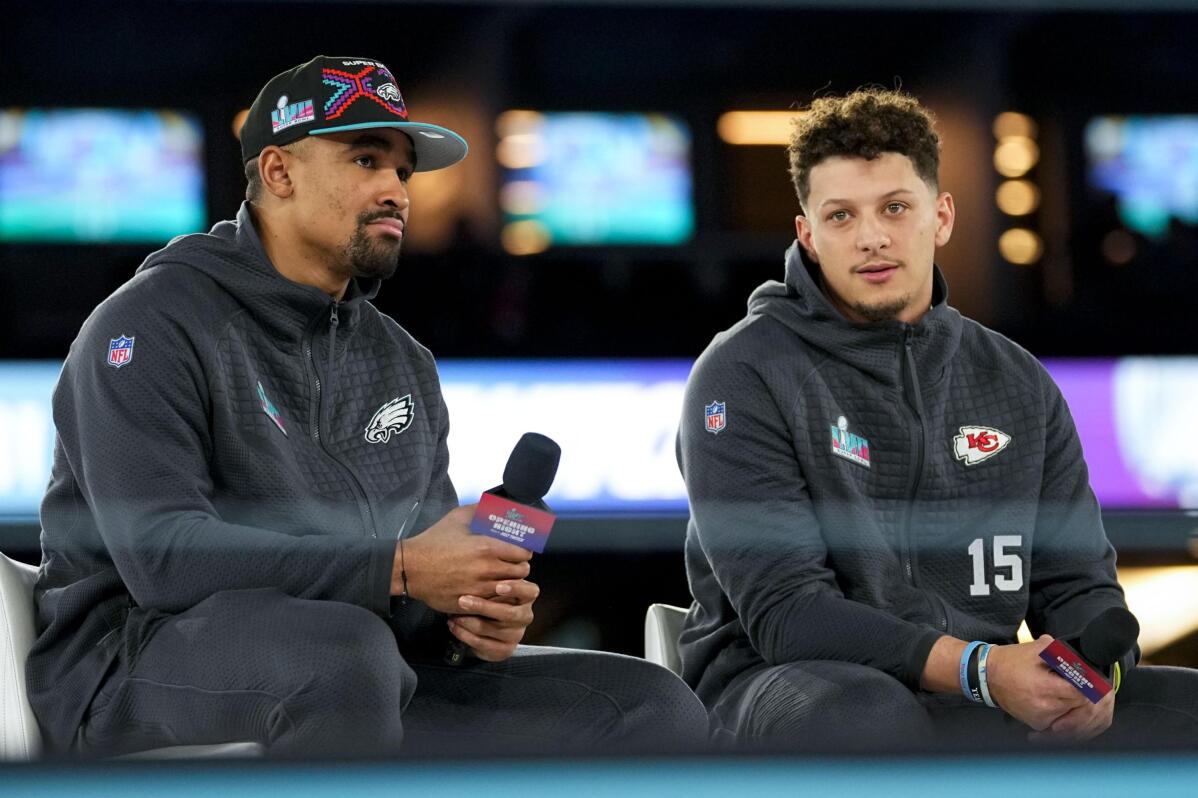 8 of 10

|
Kansas City Chiefs quarterback Patrick Mahomes, right, and Philadelphia Eagles quarterback Jalen Hurts speak to the media during the NFL football Super Bowl 57 opening night, Monday, Feb. 6, 2023, in Phoenix. The Kansas City Chiefs will play the Philadelphia Eagles on Sunday. (AP Photo/Matt York)
9 of 10

|
Kansas City Chiefs quarterback Patrick Mahomes, right, and Philadelphia Eagles quarterback Jalen Hurts speak to the media during the NFL football Super Bowl 57 opening night, Monday, Feb. 6, 2023, in Phoenix. The Kansas City Chiefs will play the Philadelphia Eagles on Sunday. (AP Photo/Ross D. Franklin)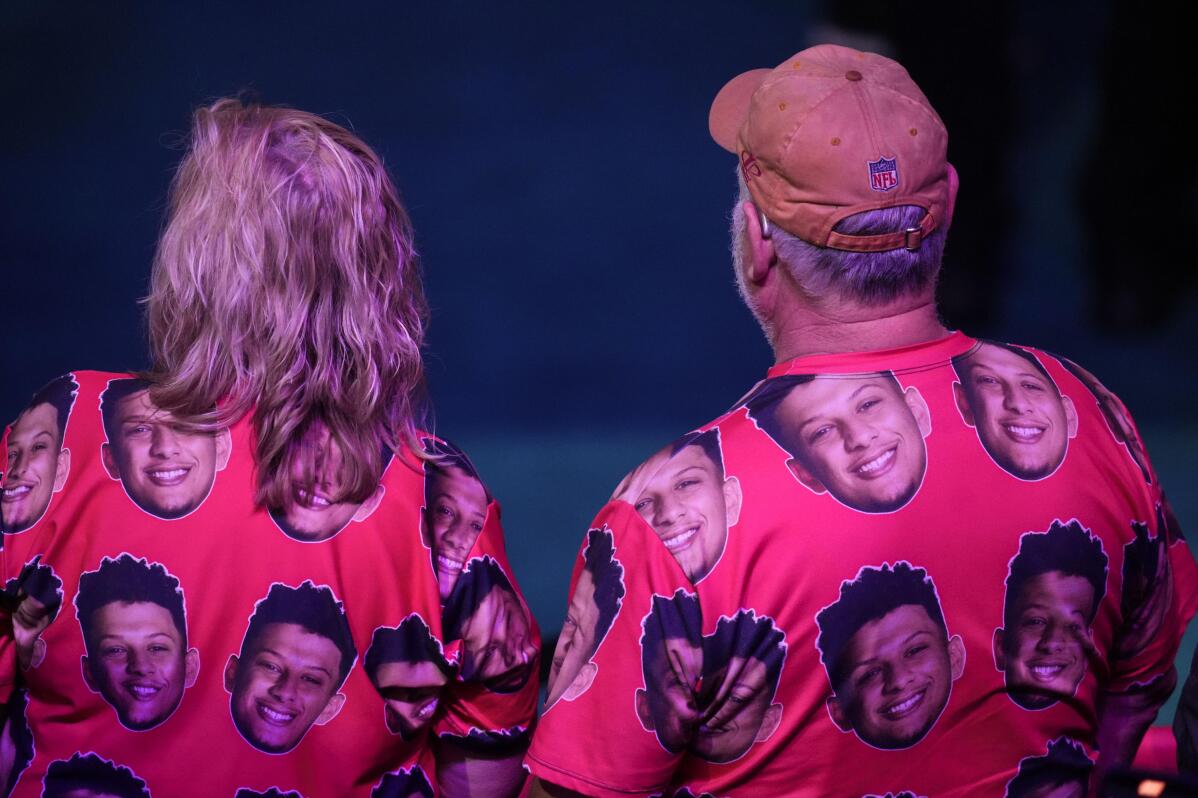 10 of 10

|
Kansas City Chiefs fans watch during the NFL football Super Bowl 57 opening night, Monday, Feb. 6, 2023, in Phoenix. The Kansas City Chiefs will play the Philadelphia Eagles on Sunday. (AP Photo/Ross D. Franklin)
Super Bowl opening night returns with energetic atmosphere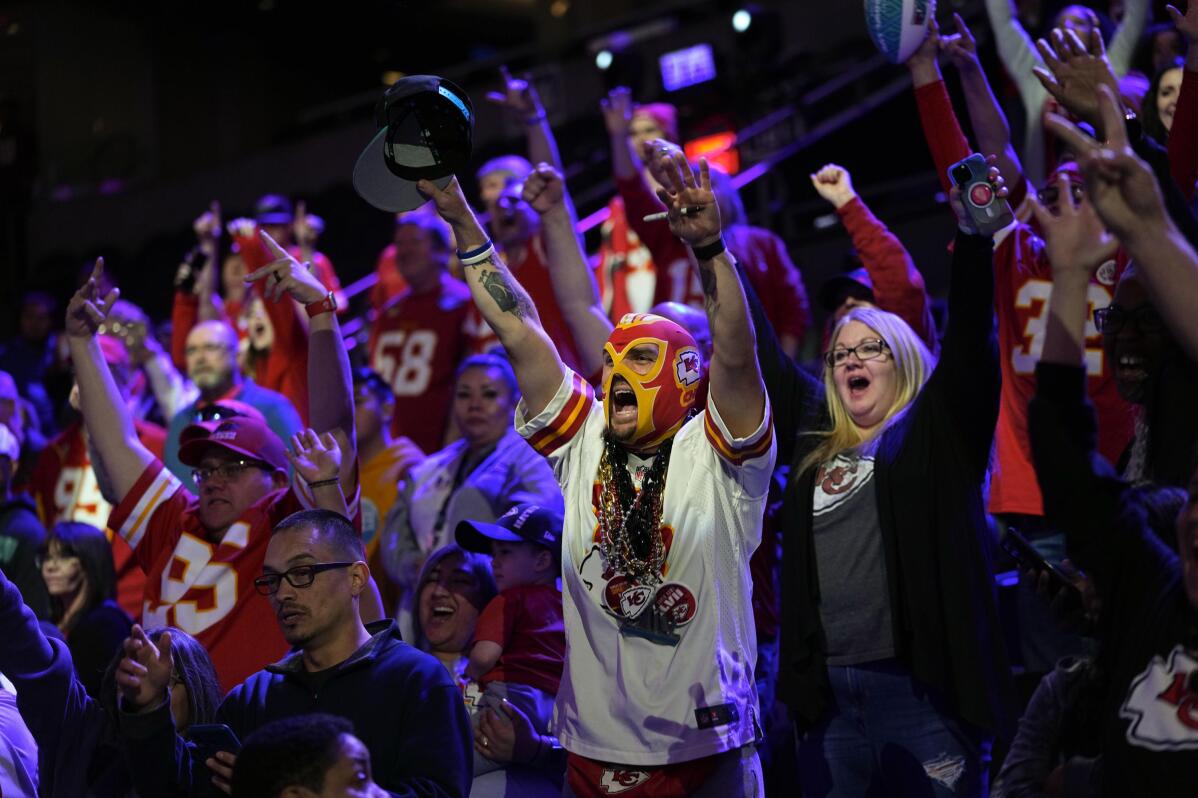 1 of 10

|
Kansas City Chiefs fans cheer during the NFL football Super Bowl 57 opening night, Monday, Feb. 6, 2023, in Phoenix. The Kansas City Chiefs will play the Philadelphia Eagles on Sunday. (AP Photo/Matt York)
1 of 10
Kansas City Chiefs fans cheer during the NFL football Super Bowl 57 opening night, Monday, Feb. 6, 2023, in Phoenix. The Kansas City Chiefs will play the Philadelphia Eagles on Sunday. (AP Photo/Matt York)
2 of 10

|
A Kansas City Chiefs fan cheers during the NFL football Super Bowl 57 opening night, Monday, Feb. 6, 2023, in Phoenix. The Kansas City Chiefs will play the Philadelphia Eagles on Sunday. (AP Photo/Matt York)
2 of 10
A Kansas City Chiefs fan cheers during the NFL football Super Bowl 57 opening night, Monday, Feb. 6, 2023, in Phoenix. The Kansas City Chiefs will play the Philadelphia Eagles on Sunday. (AP Photo/Matt York)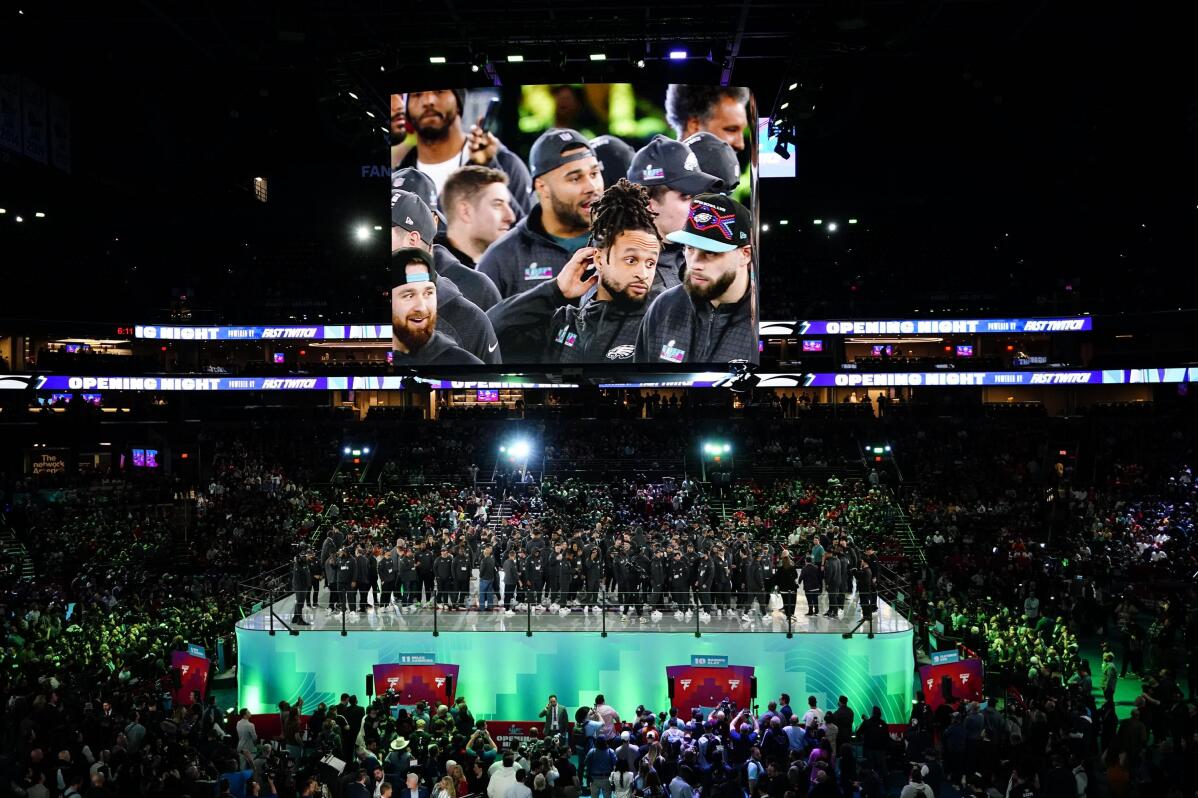 3 of 10

|
The Philadelphia Eagles arrive for the NFL football Super Bowl 57 opening night, Monday, Feb. 6, 2023, in Phoenix. The Kansas City Chiefs will play the Philadelphia Eagles on Sunday. (AP Photo/Ross D. Franklin)
3 of 10
The Philadelphia Eagles arrive for the NFL football Super Bowl 57 opening night, Monday, Feb. 6, 2023, in Phoenix. The Kansas City Chiefs will play the Philadelphia Eagles on Sunday. (AP Photo/Ross D. Franklin)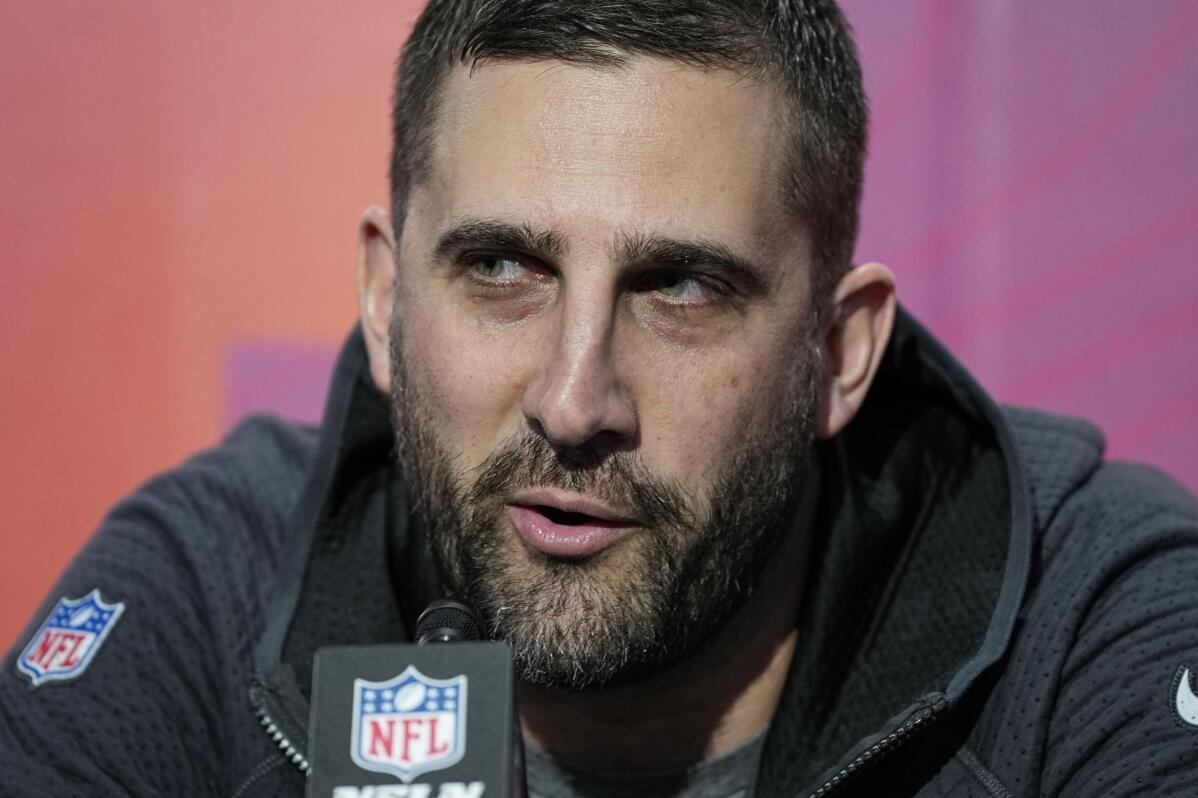 4 of 10

|
Philadelphia eagles head coach Nick Sirianni speaks to the media during the NFL football Super Bowl 57 opening night, Monday, Feb. 6, 2023, in Phoenix. The Kansas City Chiefs will play the Philadelphia Eagles on Sunday. (AP Photo/David J. Philip)
4 of 10
Philadelphia eagles head coach Nick Sirianni speaks to the media during the NFL football Super Bowl 57 opening night, Monday, Feb. 6, 2023, in Phoenix. The Kansas City Chiefs will play the Philadelphia Eagles on Sunday. (AP Photo/David J. Philip)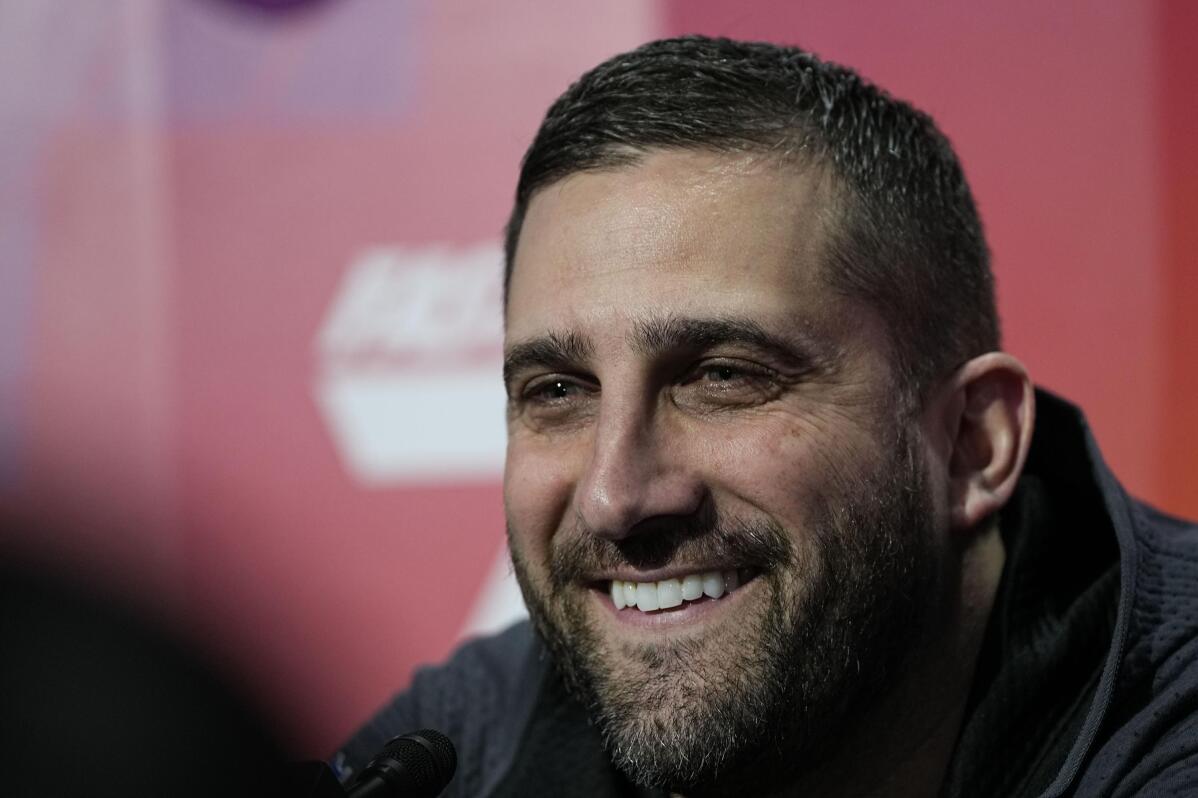 5 of 10

|
Philadelphia eagles head coach Nick Sirianni speaks to the media during the NFL football Super Bowl 57 opening night, Monday, Feb. 6, 2023, in Phoenix. The Kansas City Chiefs will play the Philadelphia Eagles on Sunday. (AP Photo/David J. Philip)
5 of 10
Philadelphia eagles head coach Nick Sirianni speaks to the media during the NFL football Super Bowl 57 opening night, Monday, Feb. 6, 2023, in Phoenix. The Kansas City Chiefs will play the Philadelphia Eagles on Sunday. (AP Photo/David J. Philip)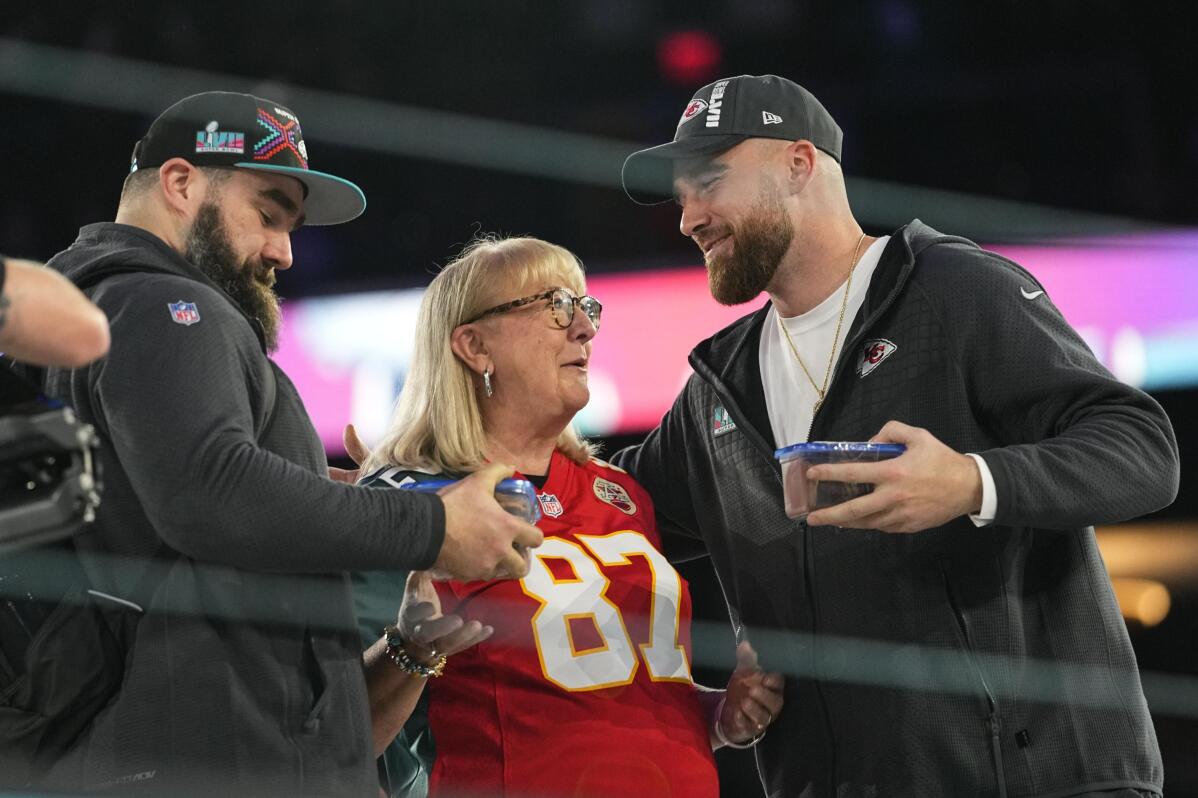 6 of 10

|
Donna Kelce greets her sons, Philadelphia Eagles center Jason Kelce, left, and Kansas City Chiefs tight end Travis Kelce during the NFL football Super Bowl 57 opening night, Monday, Feb. 6, 2023, in Phoenix. The Kansas City Chiefs will play the Philadelphia Eagles on Sunday. (AP Photo/Matt York)
6 of 10
Donna Kelce greets her sons, Philadelphia Eagles center Jason Kelce, left, and Kansas City Chiefs tight end Travis Kelce during the NFL football Super Bowl 57 opening night, Monday, Feb. 6, 2023, in Phoenix. The Kansas City Chiefs will play the Philadelphia Eagles on Sunday. (AP Photo/Matt York)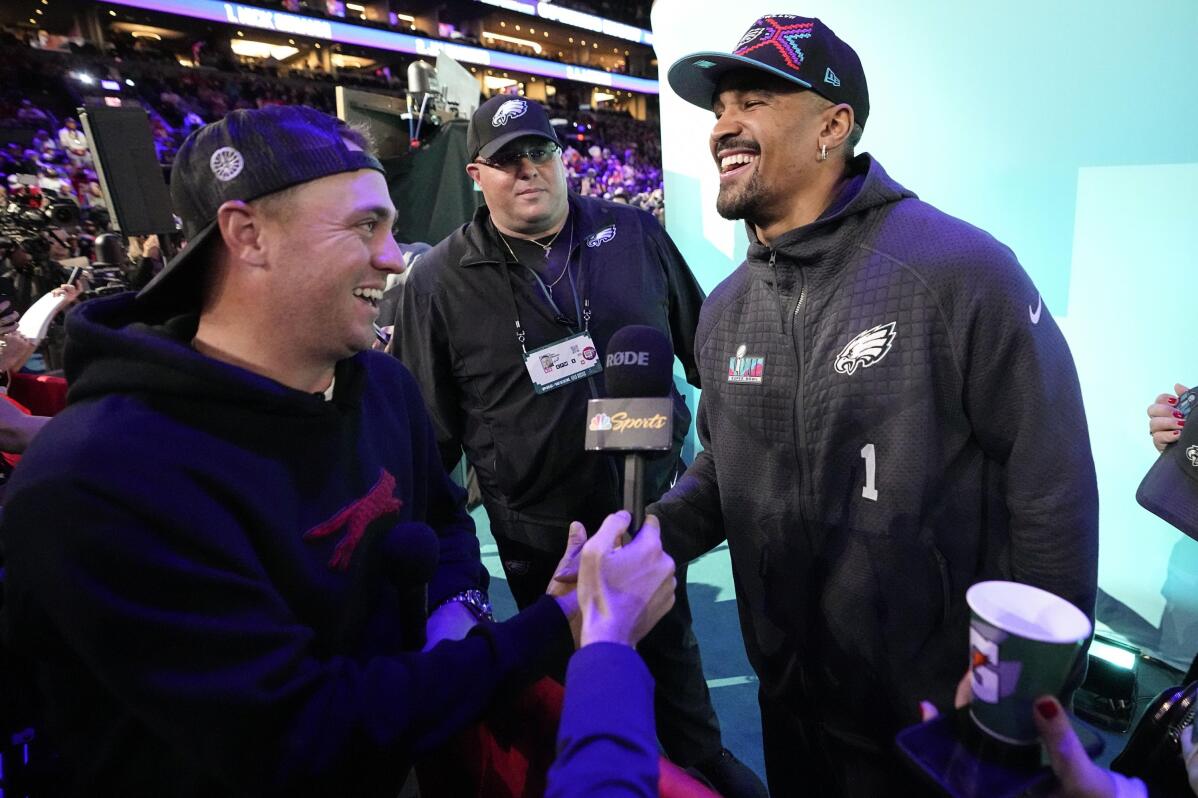 7 of 10

|
Kansas City Chiefs quarterback Patrick Mahomes, right, and Philadelphia Eagles quarterback Jalen Hurts speak to the media during the NFL football Super Bowl 57 opening night, Monday, Feb. 6, 2023, in Phoenix. The Kansas City Chiefs will play the Philadelphia Eagles on Sunday.(AP Photo/David J. Philip)
7 of 10
Kansas City Chiefs quarterback Patrick Mahomes, right, and Philadelphia Eagles quarterback Jalen Hurts speak to the media during the NFL football Super Bowl 57 opening night, Monday, Feb. 6, 2023, in Phoenix. The Kansas City Chiefs will play the Philadelphia Eagles on Sunday.(AP Photo/David J. Philip)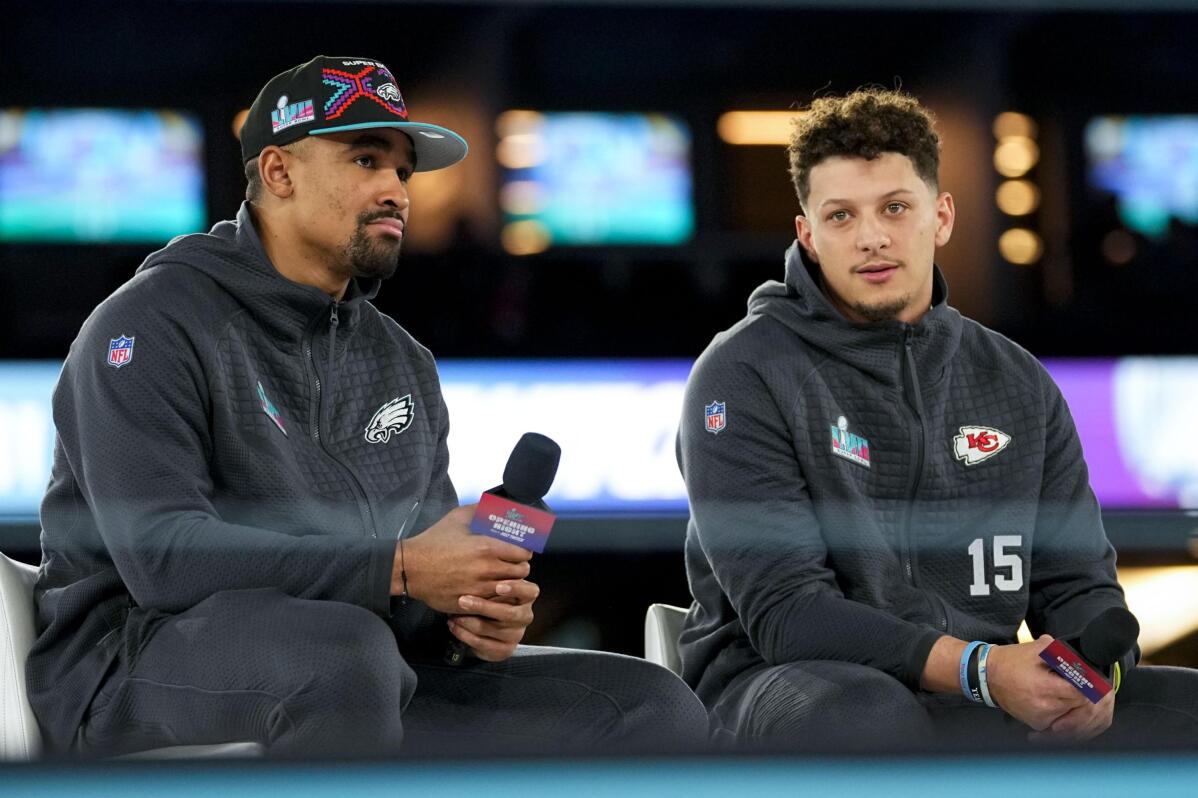 8 of 10

|
Kansas City Chiefs quarterback Patrick Mahomes, right, and Philadelphia Eagles quarterback Jalen Hurts speak to the media during the NFL football Super Bowl 57 opening night, Monday, Feb. 6, 2023, in Phoenix. The Kansas City Chiefs will play the Philadelphia Eagles on Sunday. (AP Photo/Matt York)
8 of 10
Kansas City Chiefs quarterback Patrick Mahomes, right, and Philadelphia Eagles quarterback Jalen Hurts speak to the media during the NFL football Super Bowl 57 opening night, Monday, Feb. 6, 2023, in Phoenix. The Kansas City Chiefs will play the Philadelphia Eagles on Sunday. (AP Photo/Matt York)
9 of 10

|
Kansas City Chiefs quarterback Patrick Mahomes, right, and Philadelphia Eagles quarterback Jalen Hurts speak to the media during the NFL football Super Bowl 57 opening night, Monday, Feb. 6, 2023, in Phoenix. The Kansas City Chiefs will play the Philadelphia Eagles on Sunday. (AP Photo/Ross D. Franklin)
9 of 10
Kansas City Chiefs quarterback Patrick Mahomes, right, and Philadelphia Eagles quarterback Jalen Hurts speak to the media during the NFL football Super Bowl 57 opening night, Monday, Feb. 6, 2023, in Phoenix. The Kansas City Chiefs will play the Philadelphia Eagles on Sunday. (AP Photo/Ross D. Franklin)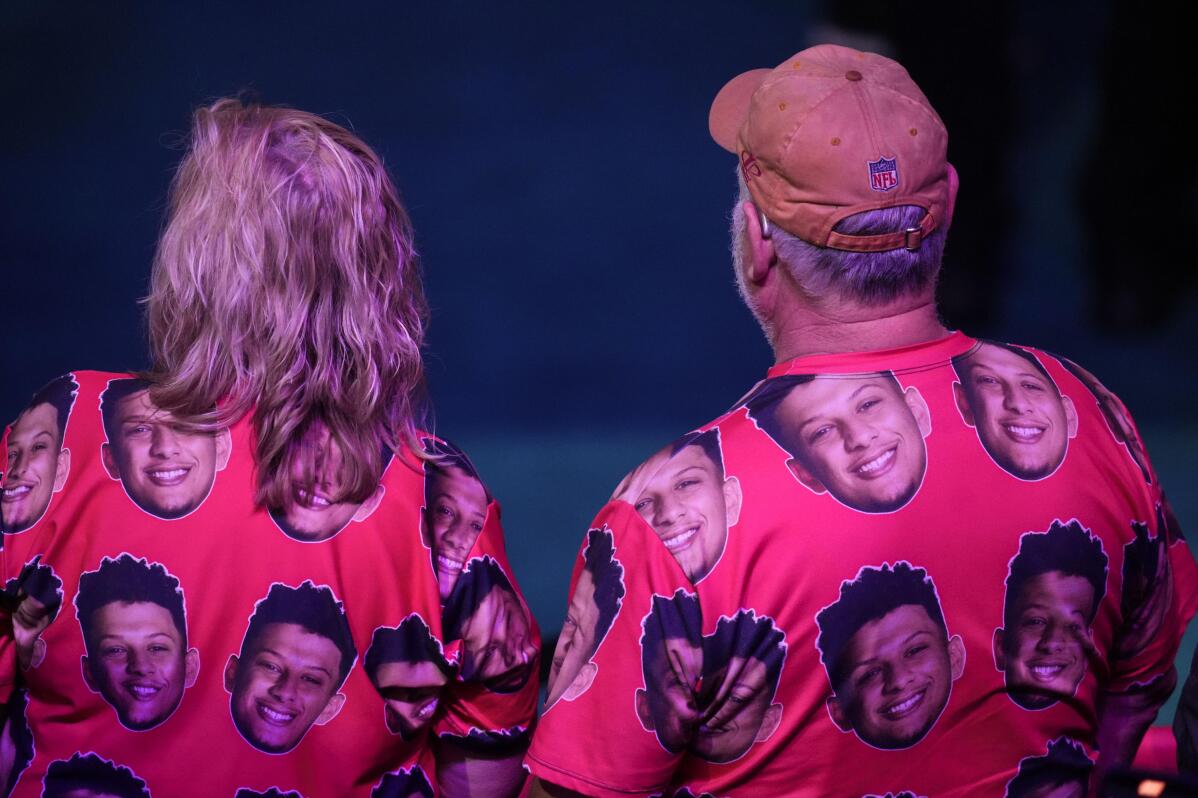 10 of 10

|
Kansas City Chiefs fans watch during the NFL football Super Bowl 57 opening night, Monday, Feb. 6, 2023, in Phoenix. The Kansas City Chiefs will play the Philadelphia Eagles on Sunday. (AP Photo/Ross D. Franklin)
10 of 10
Kansas City Chiefs fans watch during the NFL football Super Bowl 57 opening night, Monday, Feb. 6, 2023, in Phoenix. The Kansas City Chiefs will play the Philadelphia Eagles on Sunday. (AP Photo/Ross D. Franklin)
PHOENIX (AP) — Nick Sirianni answered questions about Rocky, Santa Claus and even which of his players on the Philadelphia Eagles he'd want to date his 5-year-old daughter when she grows up.
Welcome to Super Bowl opening night where football talk gives way to the wild and wacky.
The circus atmosphere that kicks off the NFL's biggest week returned Monday for the first time since 2020. The COVID-19 pandemic forced teams to meet the media on video conferences the past two seasons.
Sirianni and the Eagles took the stage first at Footprint Center, home of the Phoenix Suns. "Fly, Eagles, Fly" chants greeted players and coaches before they spent an hour answering wide-ranging questions from more than 2,000 media members.
Red-clad Chiefs fans took over the arena when Kansas City came out, turning it into an indoor version of Arrowhead Stadium.
It was a new experience for many of the Eagles, who have seven holdovers from the team that beat New England in the Super Bowl five years ago.
Patrick Mahomes and the Chiefs are here for the third time in four years so they already got a taste of this media extravaganza in Miami in 2020.
For the record, Sirianni loves the Rocky movies. He identifies with Sylvester Stallone's fictional movie character, who is part of Philadelphia's fabric as much as the cheesesteak.
"I live and coach in the greatest sports town in America," Sirianni said. "It means so much to everybody there. That's what you want. When you're a little kid playing in a peewee football game, you want everybody to see you. You want your fans to love it. You want them to be there. You want them wearing green on Friday. You want them to be throwing snowballs at Santa Claus. You want to put talent on display in front of the greatest sports town in America. I love the fact that my kids are growing up in a sports town where football means so much because football means so much to me."
Eagles quarterback Jalen Hurts, an AP NFL MVP finalist, drew the largest crowd in the early portion. Reporters staked out his spot about an hour before the event started. The first question came from Hall of Fame wide receiver Michael Irvin, an NFL Network analyst.
"I feel like it's not a time to reflect," Hurts said about his journey to stardom. "We came here to finish the job."
Chiefs coach Andy Reid got numerous questions about his time in Philadelphia and food. The cheeseburger fanatic would not name his favorite city to eat outside of Kansas City, Green Bay and Philly.
"They won't let you back in if I do," he said.
Overall, opening night wasn't quite as outrageous as past years.
In Arizona in 2008, a female reporter showed up wearing a white wedding dress and veil and proposed to Tom Brady, who was trying to lead the Patriots to the first 19-0 season in NFL history.
One radio host walked around shirtless wearing a barrel. A television reporter from Mexico asked people to play pin the tail on the donkey and then asked them to toss foam footballs into a basket. Some of the Eagles cheerleaders participated.
Otherwise, it was more about odd questions than odd looks.
Someone asked Mahomes and Sirianni if this was a "must-win game."
Both said yes in the most polite way possible.
"The job is not finished," said Mahomes, who is also an MVP finalist.
Mahomes got the loudest ovation of the night.
Oh, his favorite song of all time is Rihanna's "Umbrella." Rihanna will be the halftime performer but he won't be watching.
"Coach Reid said if we go out there to watch to just keep walking," Mahomes said.
The Eagles (16-3) and Chiefs (16-3) meet on Sunday, both aiming for their second Super Bowl title within five years.
Perhaps the most anxious person in the stadium will be Donna Kelce, mom of All-Pros Jason and Travis.
Donna Kelce, who took part in some of the night's festivities on stage, wore a jersey that was half-green for Jason's Eagles and half-red for Travis' Chiefs. She had No. 87 for Travis on the front and No. 62 for Jason on the back.
Who is the biggest momma's boy?
Donna held up a photo of Travis.
___
Follow Rob Maaddi on Twitter at https://twitter.com/robmaaddi
___
AP NFL: https://apnews.com/hub/nfl and https://twitter.com/AP_NFL