Tkachuk scores another OT winner, lifting Panthers to 2-0 series lead vs Hurricanes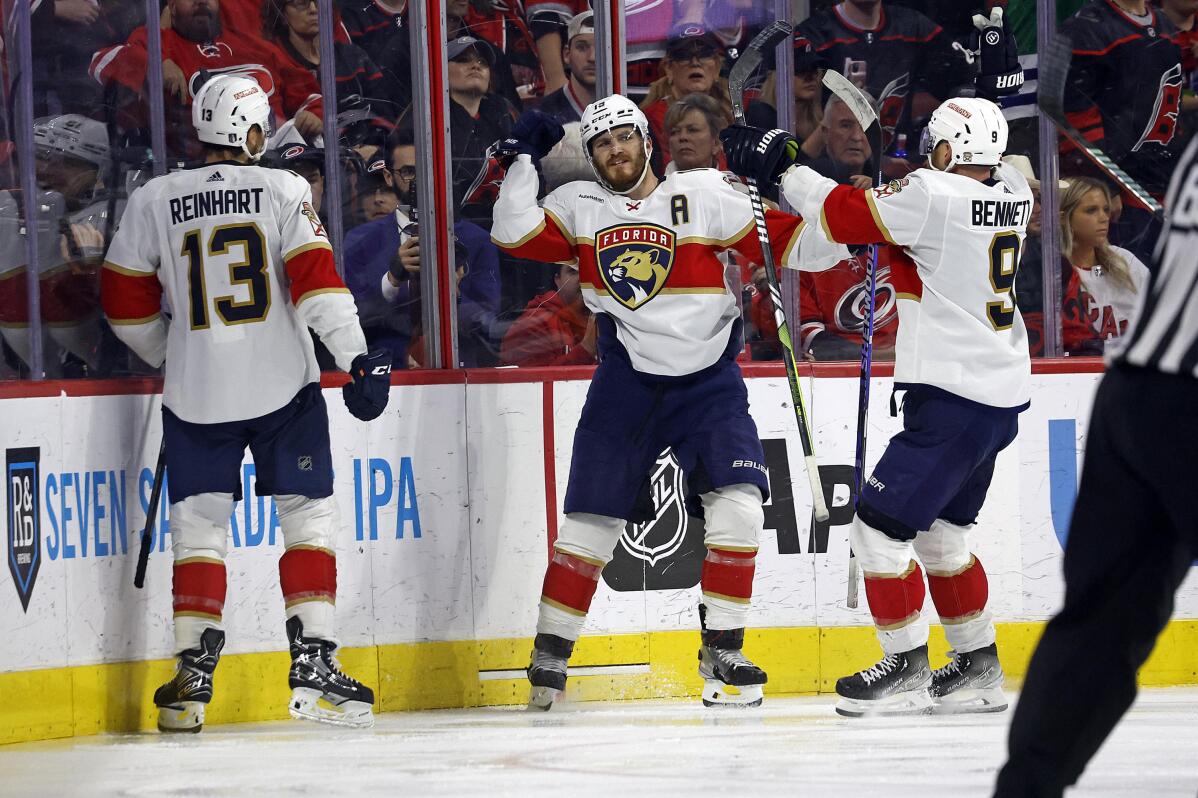 1 of 9

|
Florida Panthers' Matthew Tkachuk (19) celebrates his game winning overtime goal with teammates Sam Reinhart (13) and Sam Bennett (9) following Game 2 of the NHL hockey Stanley Cup Eastern Conference finals against the Carolina Hurricanes in Raleigh, N.C., Saturday, May 20, 2023. (AP Photo/Karl B DeBlaker)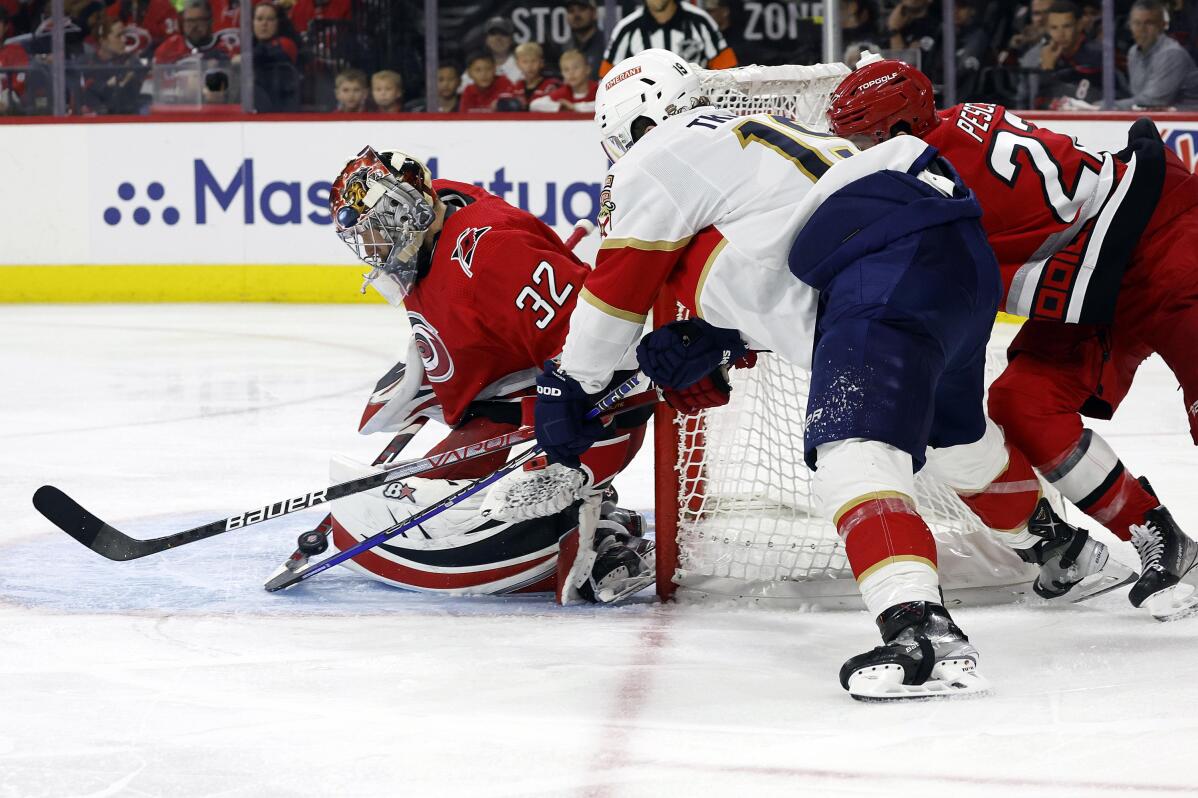 2 of 9

|
Carolina Hurricanes goaltender Antti Raanta (32) blocks the shot of Florida Panthers' Matthew Tkachuk (19) with Hurricanes' Brett Pesce (22) nearby during the third period of Game 2 of the NHL hockey Stanley Cup Eastern Conference finals in Raleigh, N.C., Saturday, May 20, 2023. (AP Photo/Karl B DeBlaker)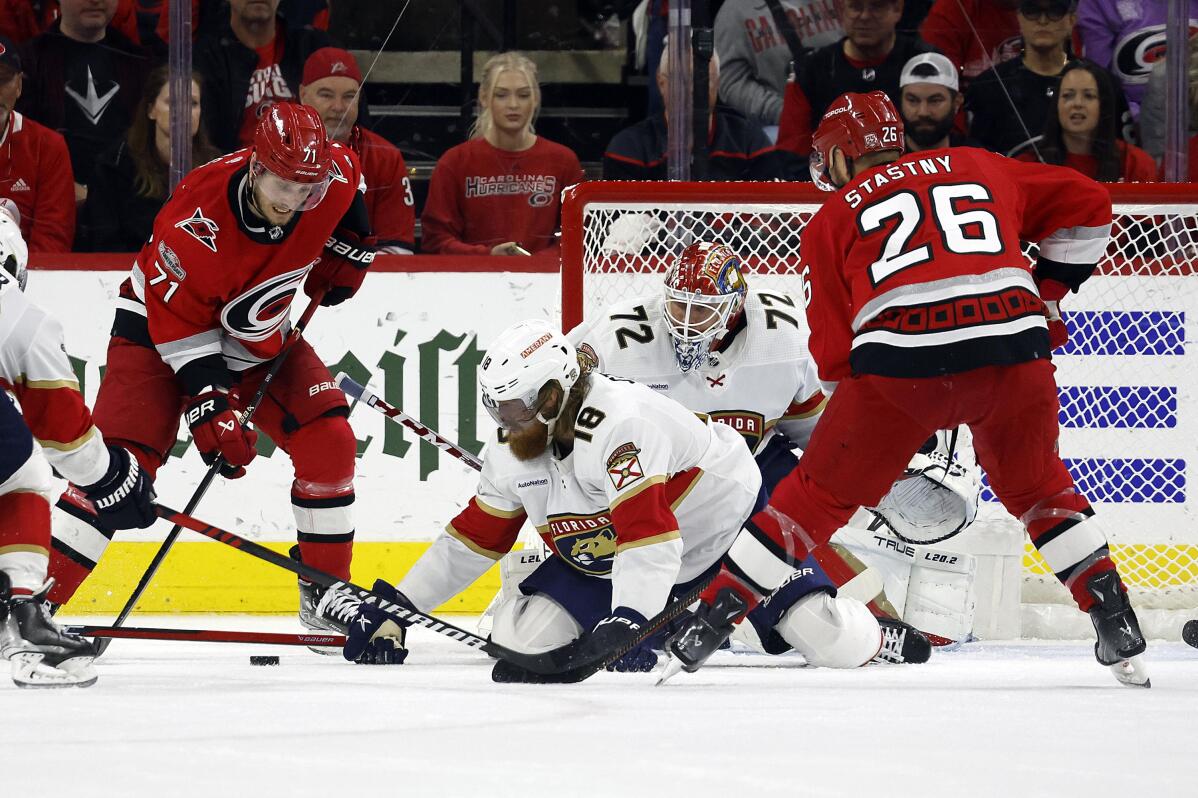 3 of 9

|
Carolina Hurricanes' Jesper Fast (71) tries to shoot the puck in front of Florida Panthers goaltender Sergei Bobrovsky (72) and Marc Staal (18) with Hurricanes' Paul Stastny (26) nearby during the third period of Game 2 of the NHL hockey Stanley Cup Eastern Conference finals in Raleigh, N.C., Saturday, May 20, 2023. (AP Photo/Karl B DeBlaker)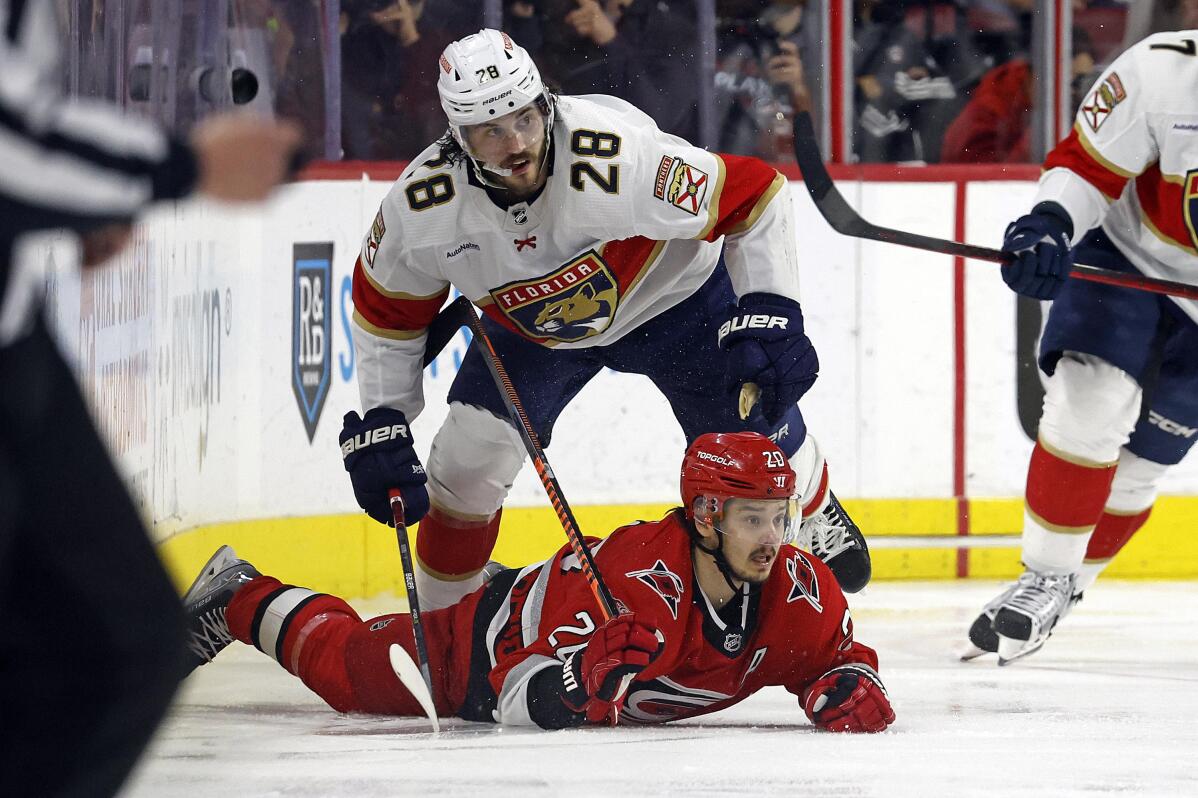 4 of 9

|
Florida Panthers' Josh Mahura (28) takes Carolina Hurricanes' Sebastian Aho (20) off the puck and to the ice during the third period of Game 2 of the NHL hockey Stanley Cup Eastern Conference finals in Raleigh, N.C., Saturday, May 20, 2023. (AP Photo/Karl B DeBlaker)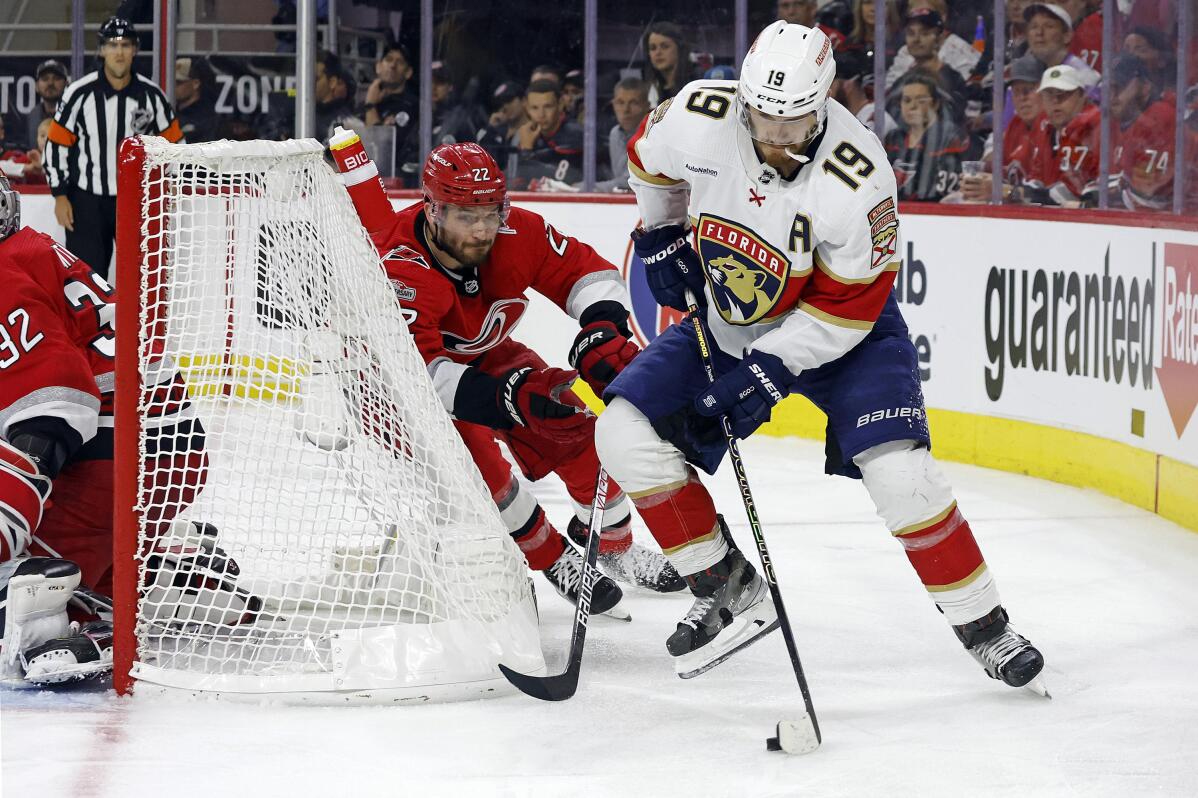 5 of 9

|
Florida Panthers' Matthew Tkachuk (19) controls the puck behind the net as Carolina Hurricanes' Brett Pesce (22) closes in during the third period of Game 2 of the NHL hockey Stanley Cup Eastern Conference finals in Raleigh, N.C., Saturday, May 20, 2023. (AP Photo/Karl B DeBlaker)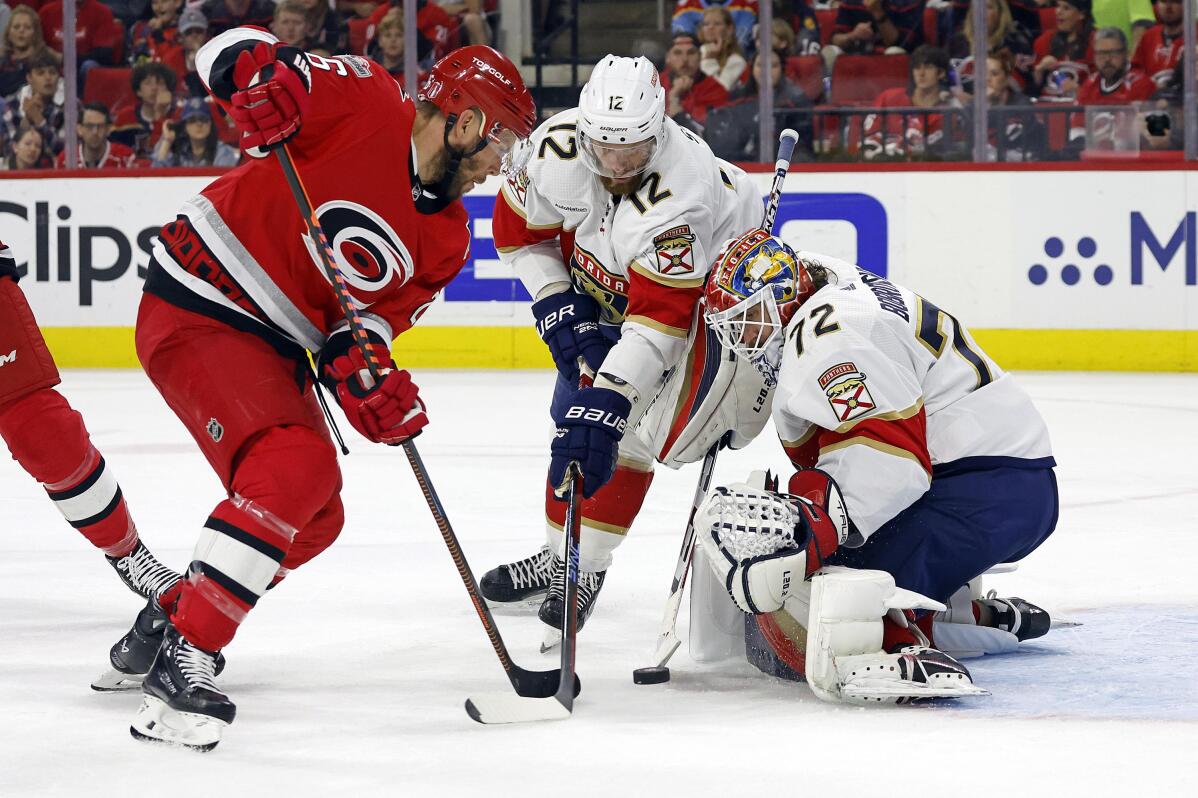 6 of 9

|
Florida Panthers goaltender Sergei Bobrovsky (72) makes the save on a shot by Carolina Hurricanes' Paul Stastny (26) as Panthers' Eric Staal (12) helps on defense during the second period of Game 2 of the NHL hockey Stanley Cup Eastern Conference finals in Raleigh, N.C., Saturday, May 20, 2023. (AP Photo/Karl B DeBlaker)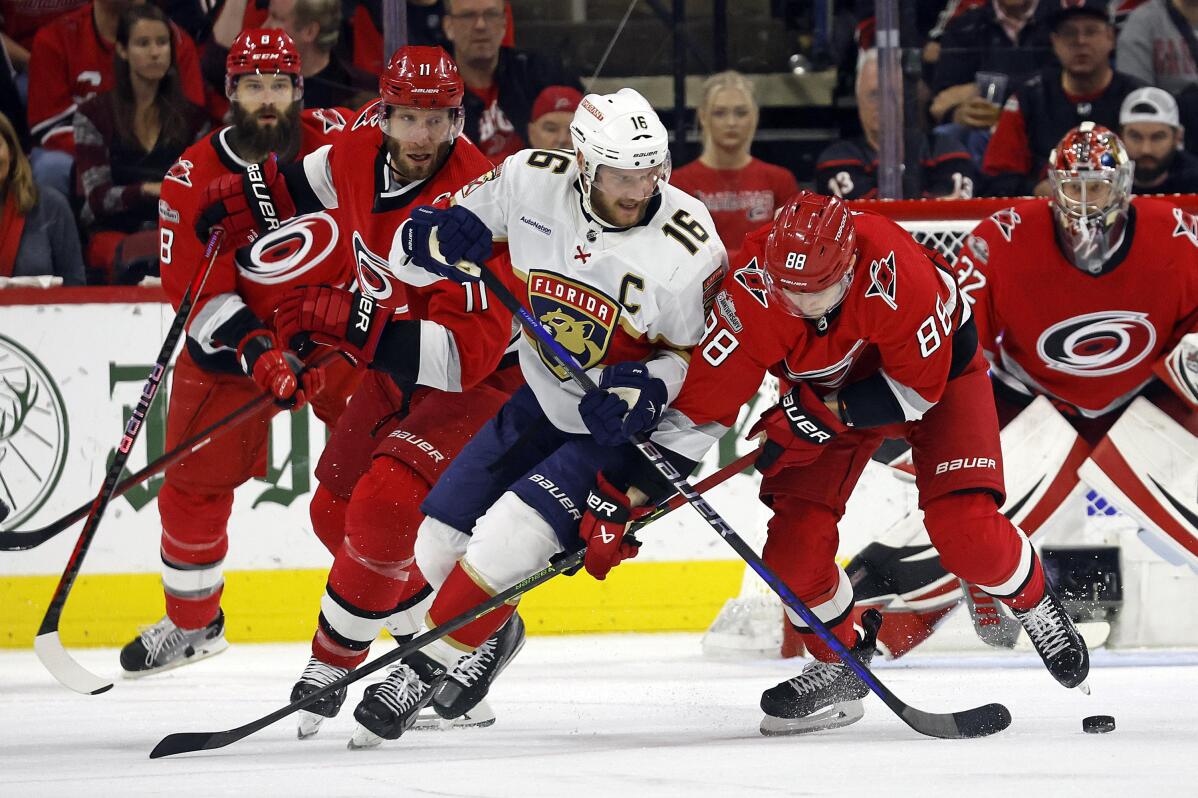 7 of 9

|
Florida Panthers' Aleksander Barkov (16) tries to get control of the puck between Carolina Hurricanes' Jordan Staal, left, and Martin Necas (88) during the second period of Game 2 of the NHL hockey Stanley Cup Eastern Conference finals in Raleigh, N.C., Saturday, May 20, 2023. (AP Photo/Karl B DeBlaker)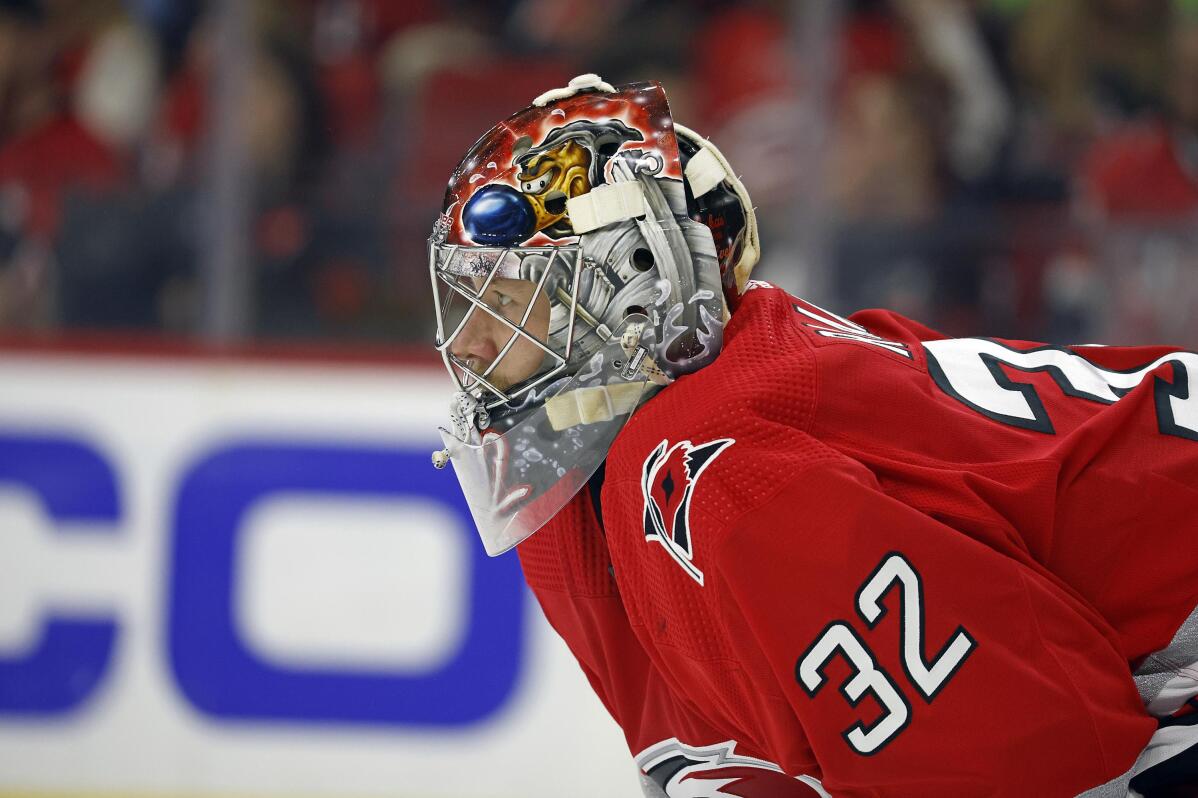 8 of 9

|
Carolina Hurricanes goaltender Antti Raanta (32) watches the puck against the Florida Panthers during the first period of Game 2 of the NHL hockey Stanley Cup Eastern Conference finals in Raleigh, N.C., Saturday, May 20, 2023. (AP Photo/Karl B DeBlaker)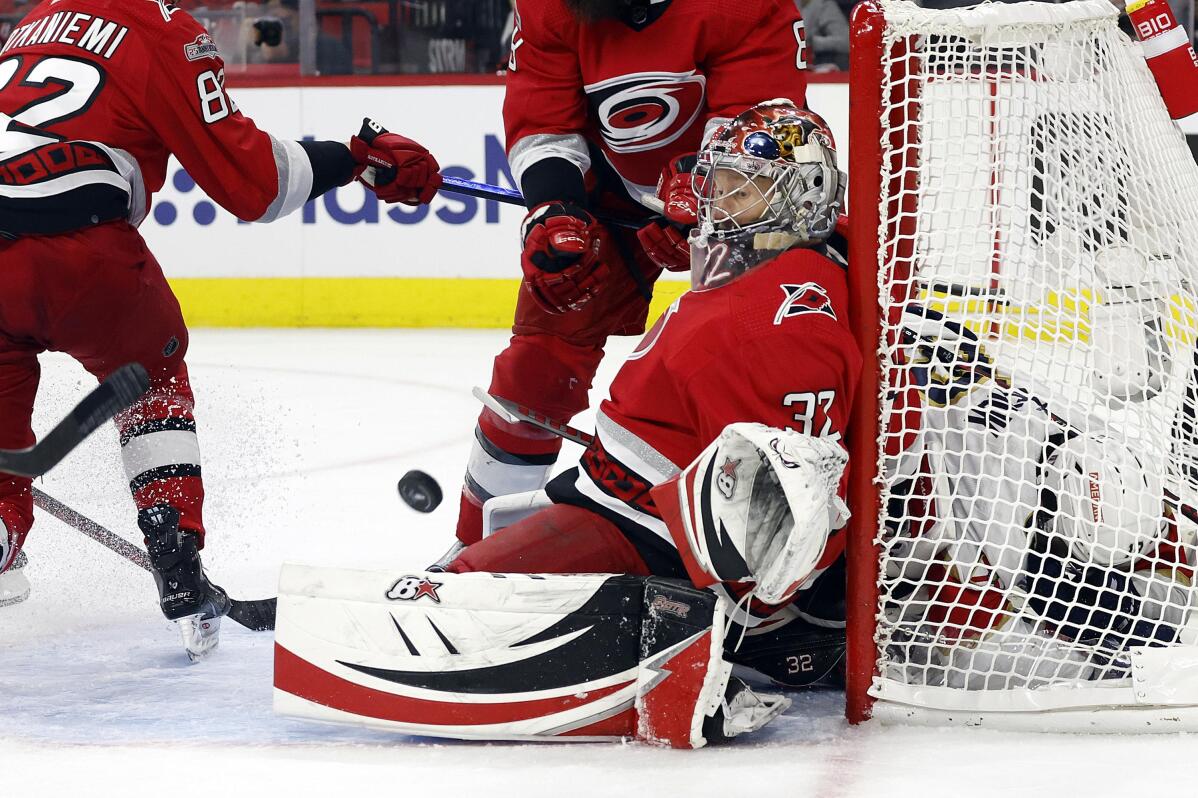 9 of 9

|
Carolina Hurricanes goaltender Antti Raanta (32) eyes the puck against the Florida Panthers during the first period of Game 2 of the NHL hockey Stanley Cup Eastern Conference finals in Raleigh, N.C., Saturday, May 20, 2023. (AP Photo/Karl B DeBlaker)
Tkachuk scores another OT winner, lifting Panthers to 2-0 series lead vs Hurricanes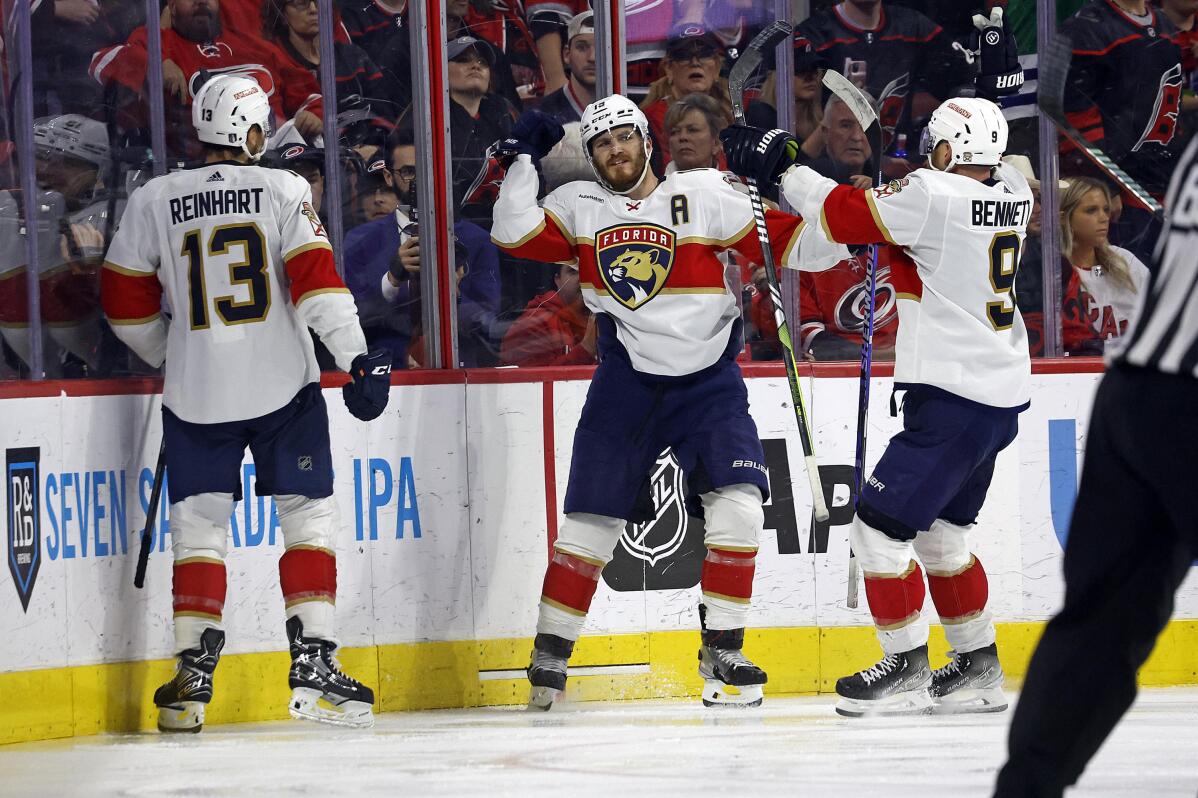 1 of 9

|
Florida Panthers' Matthew Tkachuk (19) celebrates his game winning overtime goal with teammates Sam Reinhart (13) and Sam Bennett (9) following Game 2 of the NHL hockey Stanley Cup Eastern Conference finals against the Carolina Hurricanes in Raleigh, N.C., Saturday, May 20, 2023. (AP Photo/Karl B DeBlaker)
1 of 9
Florida Panthers' Matthew Tkachuk (19) celebrates his game winning overtime goal with teammates Sam Reinhart (13) and Sam Bennett (9) following Game 2 of the NHL hockey Stanley Cup Eastern Conference finals against the Carolina Hurricanes in Raleigh, N.C., Saturday, May 20, 2023. (AP Photo/Karl B DeBlaker)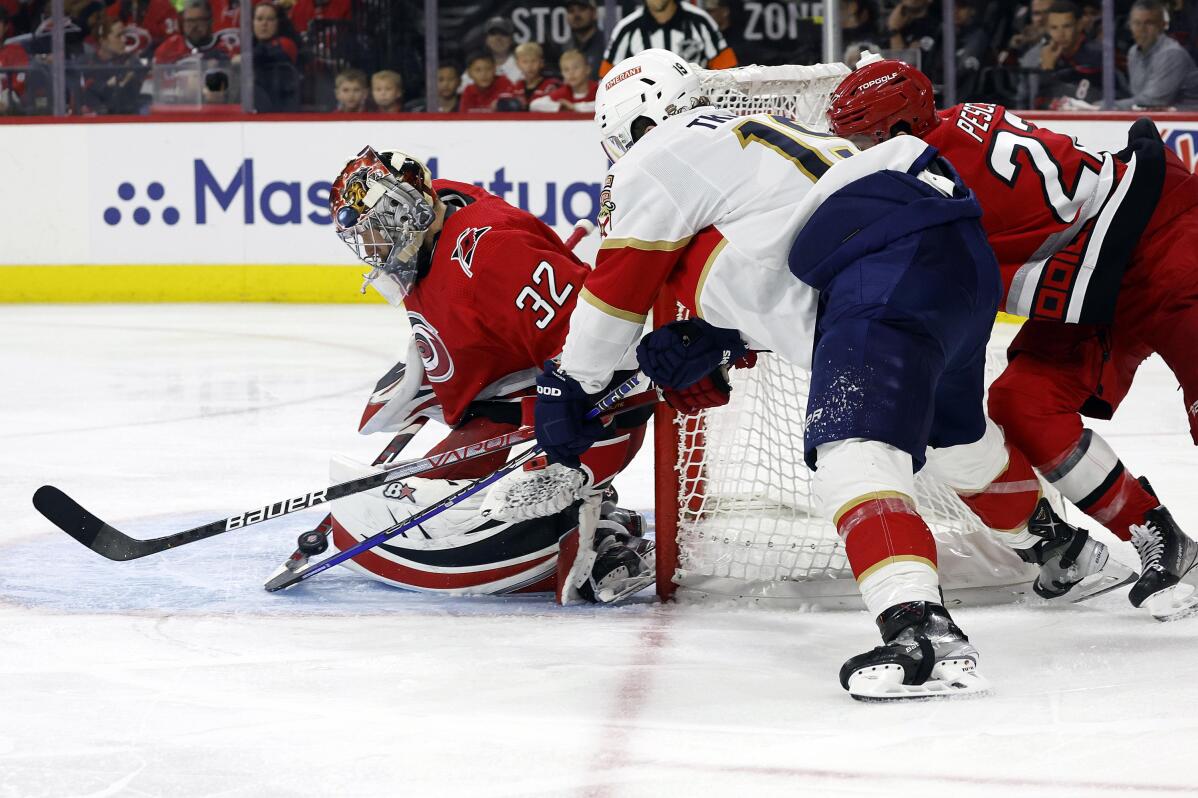 2 of 9

|
Carolina Hurricanes goaltender Antti Raanta (32) blocks the shot of Florida Panthers' Matthew Tkachuk (19) with Hurricanes' Brett Pesce (22) nearby during the third period of Game 2 of the NHL hockey Stanley Cup Eastern Conference finals in Raleigh, N.C., Saturday, May 20, 2023. (AP Photo/Karl B DeBlaker)
2 of 9
Carolina Hurricanes goaltender Antti Raanta (32) blocks the shot of Florida Panthers' Matthew Tkachuk (19) with Hurricanes' Brett Pesce (22) nearby during the third period of Game 2 of the NHL hockey Stanley Cup Eastern Conference finals in Raleigh, N.C., Saturday, May 20, 2023. (AP Photo/Karl B DeBlaker)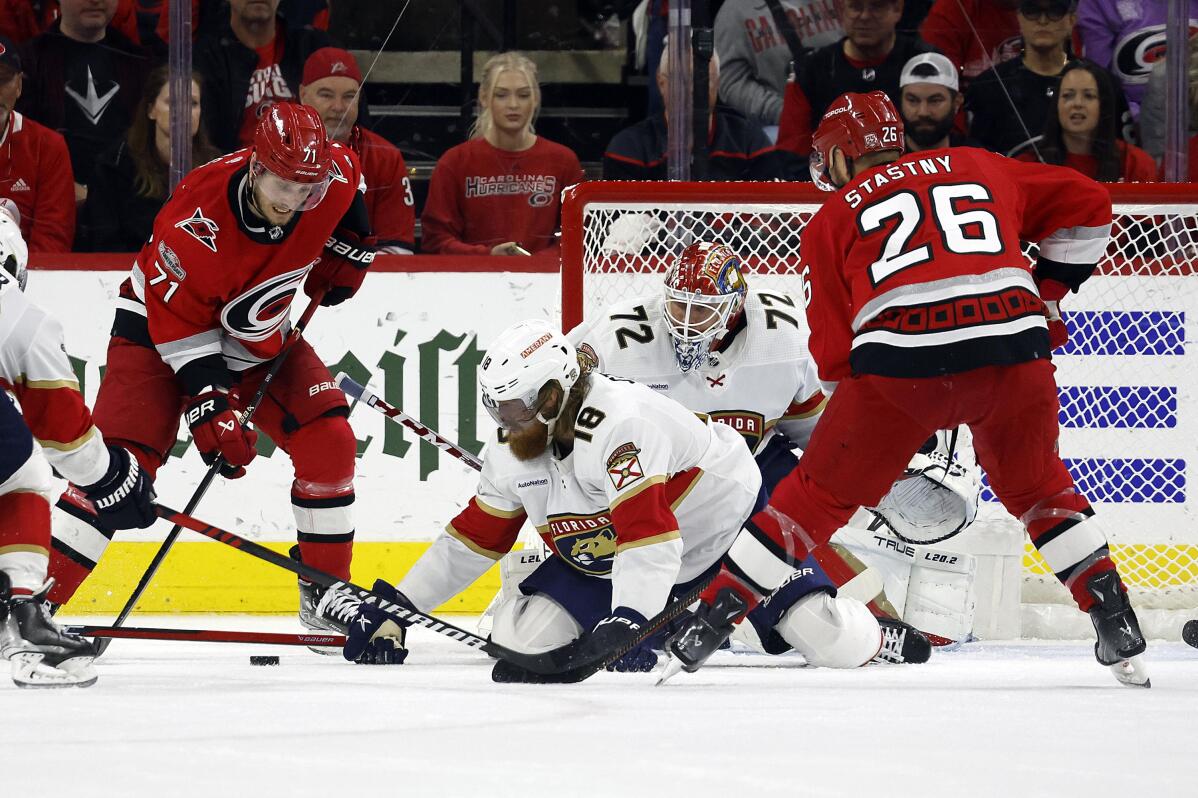 3 of 9

|
Carolina Hurricanes' Jesper Fast (71) tries to shoot the puck in front of Florida Panthers goaltender Sergei Bobrovsky (72) and Marc Staal (18) with Hurricanes' Paul Stastny (26) nearby during the third period of Game 2 of the NHL hockey Stanley Cup Eastern Conference finals in Raleigh, N.C., Saturday, May 20, 2023. (AP Photo/Karl B DeBlaker)
3 of 9
Carolina Hurricanes' Jesper Fast (71) tries to shoot the puck in front of Florida Panthers goaltender Sergei Bobrovsky (72) and Marc Staal (18) with Hurricanes' Paul Stastny (26) nearby during the third period of Game 2 of the NHL hockey Stanley Cup Eastern Conference finals in Raleigh, N.C., Saturday, May 20, 2023. (AP Photo/Karl B DeBlaker)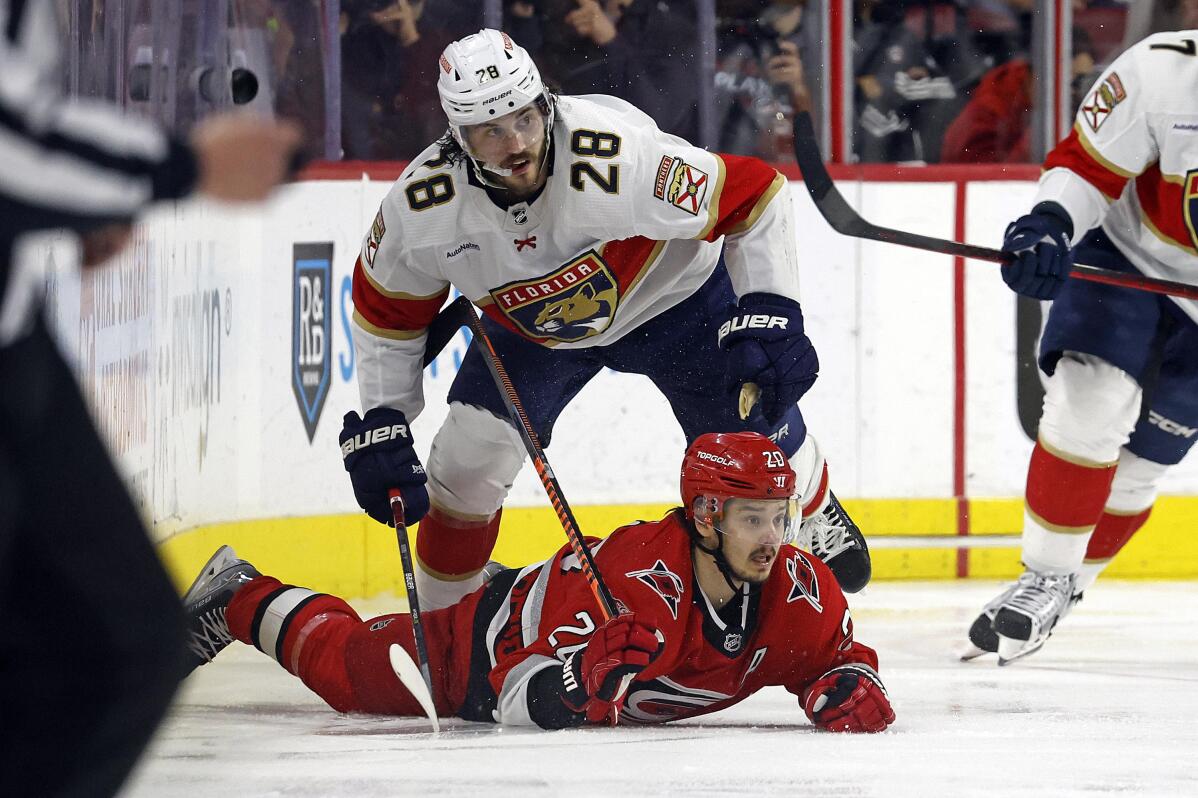 4 of 9

|
Florida Panthers' Josh Mahura (28) takes Carolina Hurricanes' Sebastian Aho (20) off the puck and to the ice during the third period of Game 2 of the NHL hockey Stanley Cup Eastern Conference finals in Raleigh, N.C., Saturday, May 20, 2023. (AP Photo/Karl B DeBlaker)
4 of 9
Florida Panthers' Josh Mahura (28) takes Carolina Hurricanes' Sebastian Aho (20) off the puck and to the ice during the third period of Game 2 of the NHL hockey Stanley Cup Eastern Conference finals in Raleigh, N.C., Saturday, May 20, 2023. (AP Photo/Karl B DeBlaker)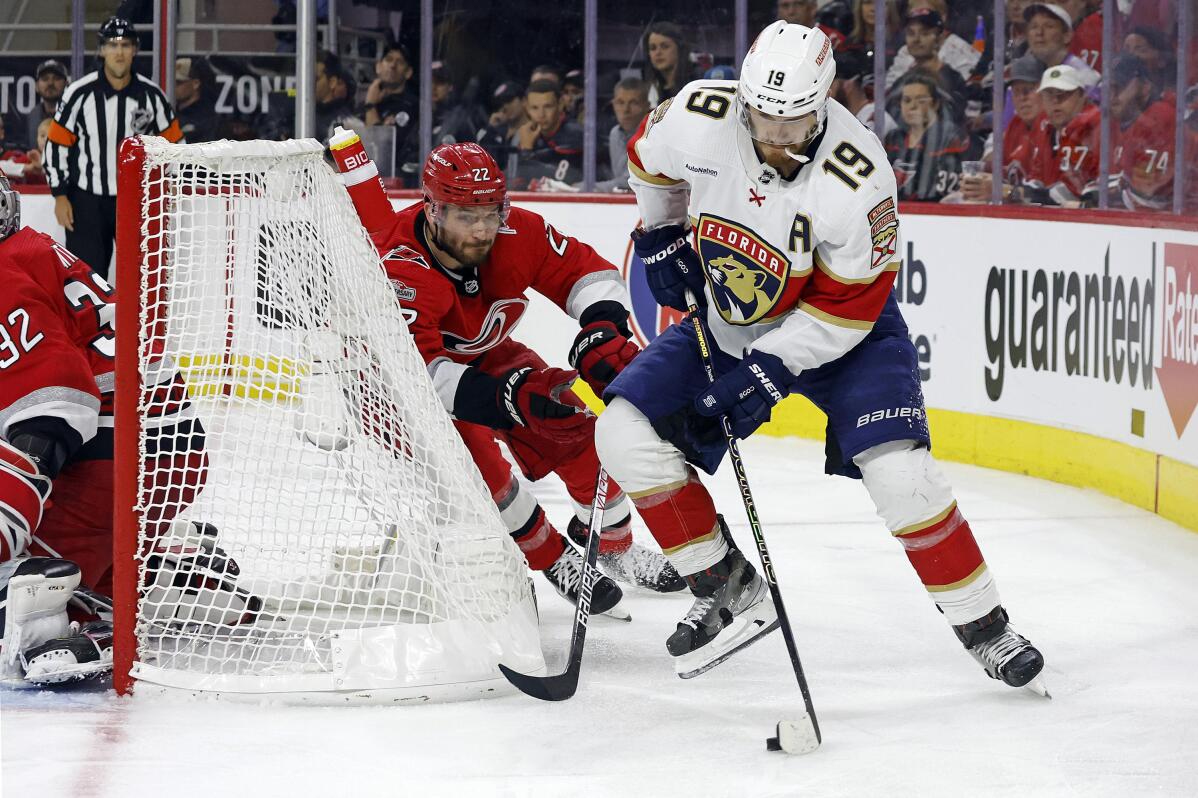 5 of 9

|
Florida Panthers' Matthew Tkachuk (19) controls the puck behind the net as Carolina Hurricanes' Brett Pesce (22) closes in during the third period of Game 2 of the NHL hockey Stanley Cup Eastern Conference finals in Raleigh, N.C., Saturday, May 20, 2023. (AP Photo/Karl B DeBlaker)
5 of 9
Florida Panthers' Matthew Tkachuk (19) controls the puck behind the net as Carolina Hurricanes' Brett Pesce (22) closes in during the third period of Game 2 of the NHL hockey Stanley Cup Eastern Conference finals in Raleigh, N.C., Saturday, May 20, 2023. (AP Photo/Karl B DeBlaker)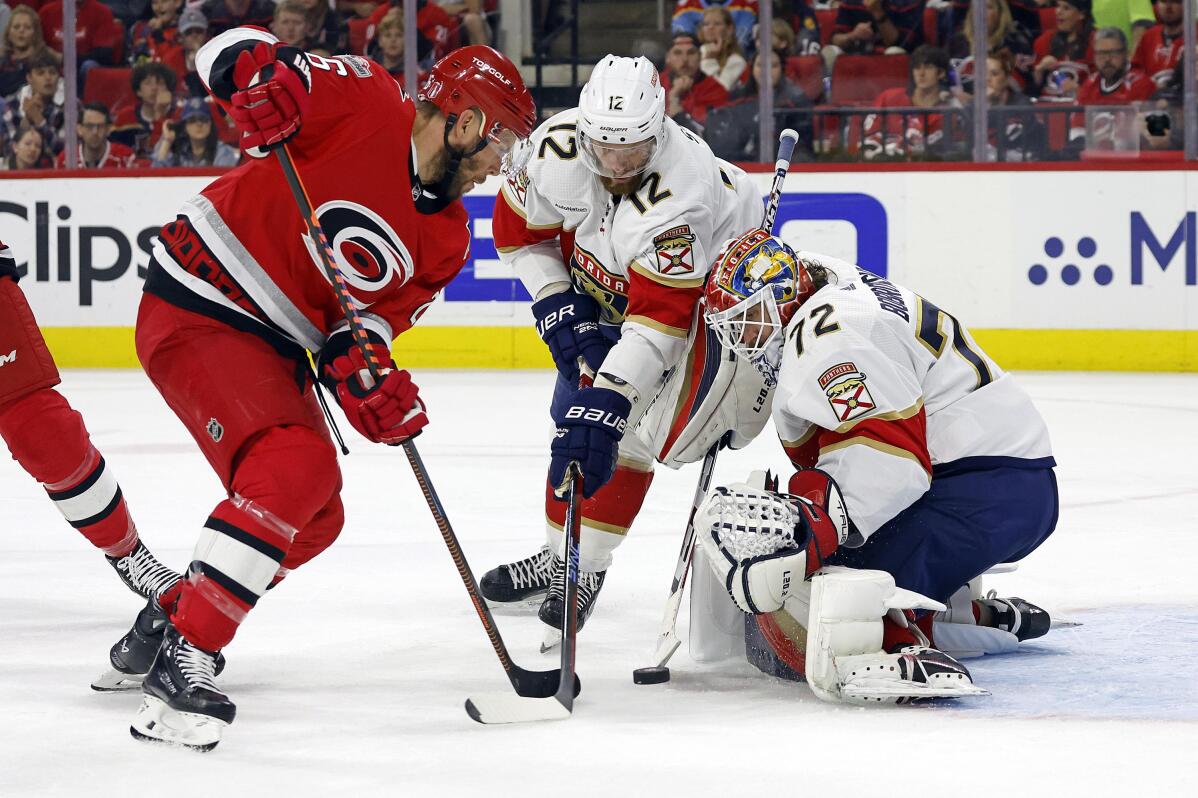 6 of 9

|
Florida Panthers goaltender Sergei Bobrovsky (72) makes the save on a shot by Carolina Hurricanes' Paul Stastny (26) as Panthers' Eric Staal (12) helps on defense during the second period of Game 2 of the NHL hockey Stanley Cup Eastern Conference finals in Raleigh, N.C., Saturday, May 20, 2023. (AP Photo/Karl B DeBlaker)
6 of 9
Florida Panthers goaltender Sergei Bobrovsky (72) makes the save on a shot by Carolina Hurricanes' Paul Stastny (26) as Panthers' Eric Staal (12) helps on defense during the second period of Game 2 of the NHL hockey Stanley Cup Eastern Conference finals in Raleigh, N.C., Saturday, May 20, 2023. (AP Photo/Karl B DeBlaker)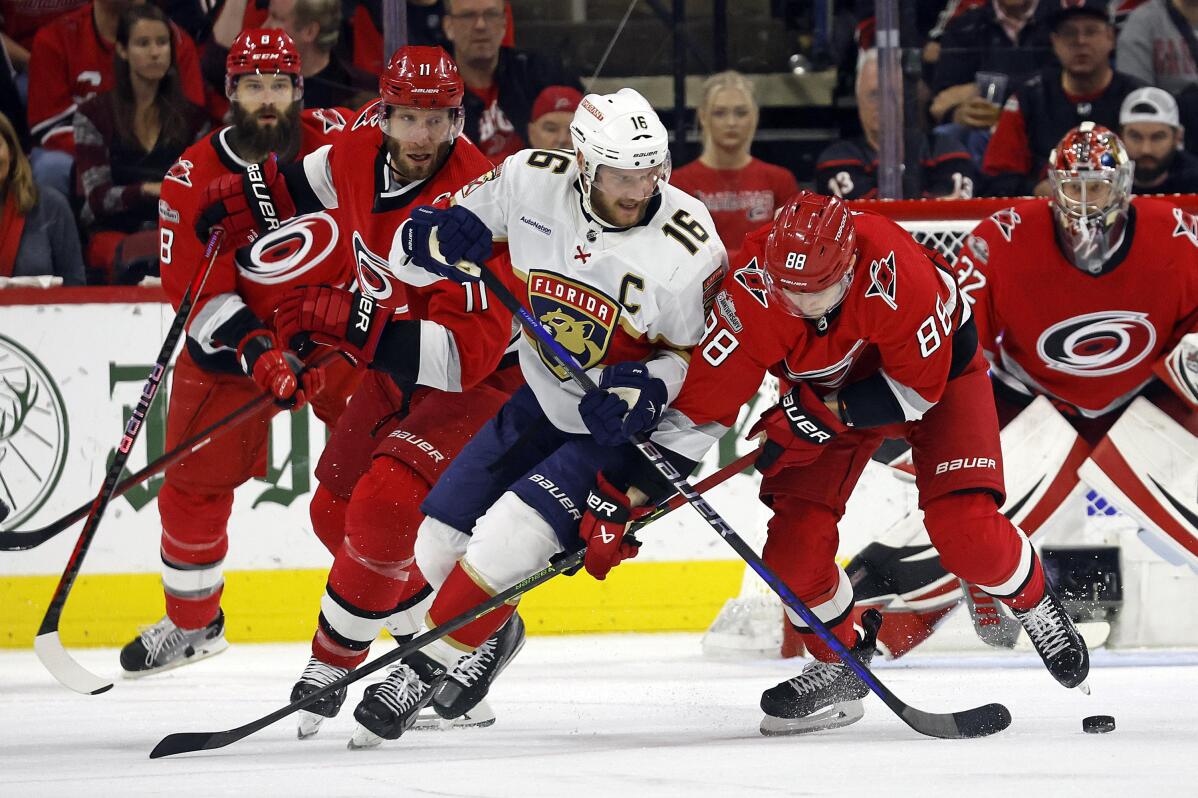 7 of 9

|
Florida Panthers' Aleksander Barkov (16) tries to get control of the puck between Carolina Hurricanes' Jordan Staal, left, and Martin Necas (88) during the second period of Game 2 of the NHL hockey Stanley Cup Eastern Conference finals in Raleigh, N.C., Saturday, May 20, 2023. (AP Photo/Karl B DeBlaker)
7 of 9
Florida Panthers' Aleksander Barkov (16) tries to get control of the puck between Carolina Hurricanes' Jordan Staal, left, and Martin Necas (88) during the second period of Game 2 of the NHL hockey Stanley Cup Eastern Conference finals in Raleigh, N.C., Saturday, May 20, 2023. (AP Photo/Karl B DeBlaker)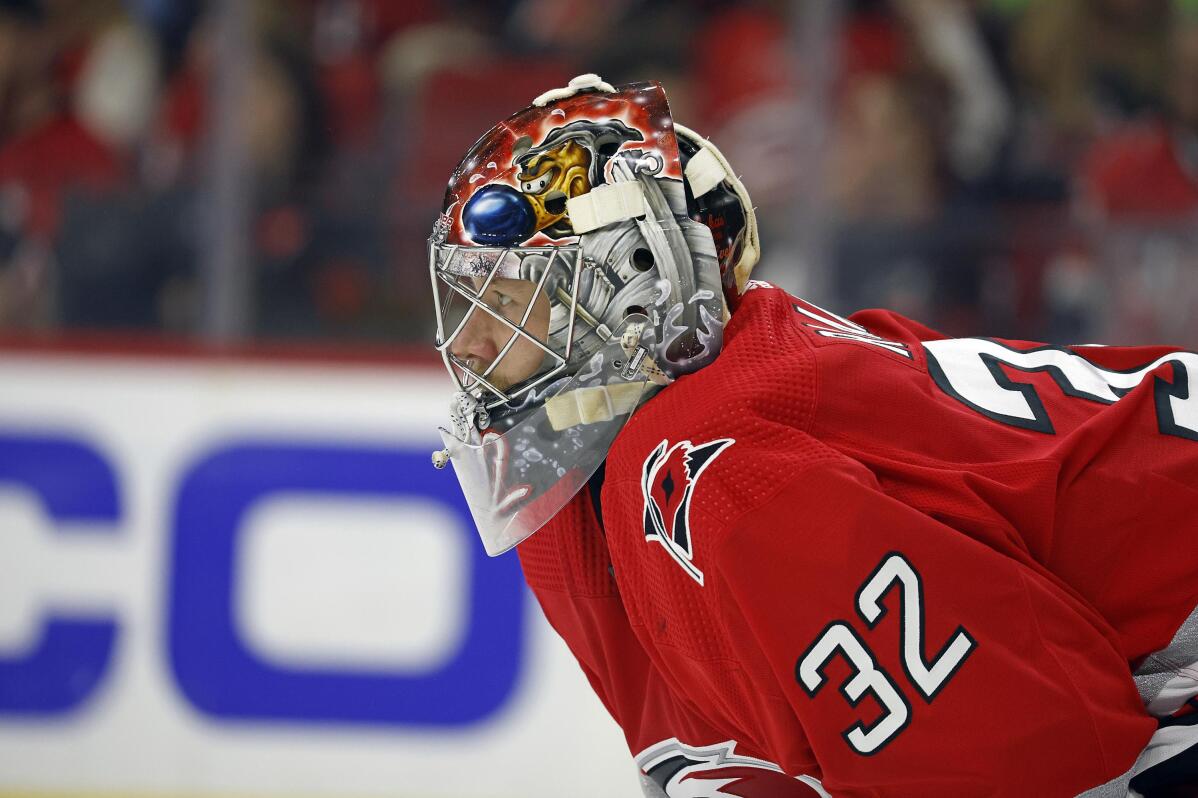 8 of 9

|
Carolina Hurricanes goaltender Antti Raanta (32) watches the puck against the Florida Panthers during the first period of Game 2 of the NHL hockey Stanley Cup Eastern Conference finals in Raleigh, N.C., Saturday, May 20, 2023. (AP Photo/Karl B DeBlaker)
8 of 9
Carolina Hurricanes goaltender Antti Raanta (32) watches the puck against the Florida Panthers during the first period of Game 2 of the NHL hockey Stanley Cup Eastern Conference finals in Raleigh, N.C., Saturday, May 20, 2023. (AP Photo/Karl B DeBlaker)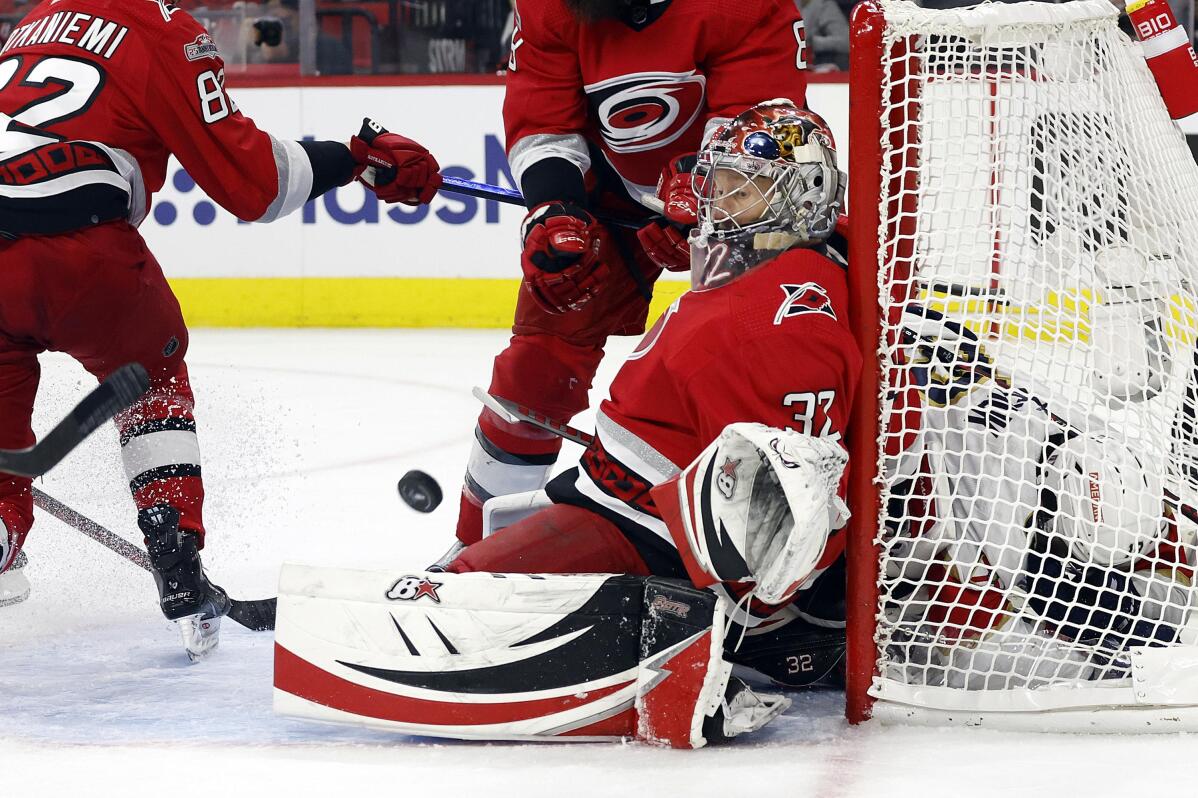 9 of 9

|
Carolina Hurricanes goaltender Antti Raanta (32) eyes the puck against the Florida Panthers during the first period of Game 2 of the NHL hockey Stanley Cup Eastern Conference finals in Raleigh, N.C., Saturday, May 20, 2023. (AP Photo/Karl B DeBlaker)
9 of 9
Carolina Hurricanes goaltender Antti Raanta (32) eyes the puck against the Florida Panthers during the first period of Game 2 of the NHL hockey Stanley Cup Eastern Conference finals in Raleigh, N.C., Saturday, May 20, 2023. (AP Photo/Karl B DeBlaker)
RALEIGH, N.C. (AP) — Matthew Tkachuk finished off a second straight overtime win — this time needing only a few minutes instead of four extra periods — then pointed again toward the door along the boards that led to the locker room.
He skated over as Florida Panthers teammates joined him, then motioned to lead them off the ice.
It was time to celebrate the latest big moment in a growing list of them this postseason for a team that needed a late push just to make the playoffs, but now stands just two wins away from the Stanley Cup Final.
Tkachuk finished a feed from Sam Reinhart at the 1:51 mark of overtime to help the Panthers beat the Carolina Hurricanes 2-1 on Saturday night, taking a 2-0 series lead in the Eastern Conference final.
It marked an eighth straight road win in these playoffs and helped Florida improve to 6-0 in overtime in the postseason.
"We're a confident group no matter where we're playing," forward Sam Bennett said.
There certainly is no reason to feel otherwise, not as they close in on their first Stanley Cup Final since 1996 — also the last time they made it to the East final.
The Panthers rallied from a 3-1 first-round deficit to stun Boston after the Bruins' record-setting regular season, then blew past Toronto in a five-game second-round series. Now they've won the first two games on the road for the second straight series, this time against the team that had the league's second-best regular-season record.
The Panthers took the series opener in epic fashion, beating the Hurricanes on Tkachuk's goal with 12.7 seconds left in the fourth OT early Friday to end the sixth-longest game in NHL postseason history — along with the longest game in the history of each franchise.
The hours since had become what Panthers coach Paul Maurice called "a race to recover" with both teams paying a "huge cost."
This time, Tkachuk came through on the power play much quicker as Florida pressed an advantage with Carolina's Jaccob Slavin lost his stick. Bennett sent a pass to the left side for Reinhart, who zipped the puck across to Tkachuk for the easy finish against a sprawled-out Antti Raanta in what amounted to a 2-on-0 opportunity.
Then came his point to the exit, which he did after players started gathering to celebrate with him after Game 1. Only this time, it was a much shorter skate being on the same end of the ice.
"Let's get out of here, it's been a lot of hockey the last two games," Tkachuk said of the message, adding: "It's just great to end it early. Great pass to start by (Bennett) and a great pass by (Reinhart) to make it really, really easy for me, so it was awesome."
It marked Tkachuk's third overtime winner in the playoffs, which includes a Game 5 road win in the Boston upset.
Aleksander Barkov added a highlight-reel goal for Florida in the second period, while Sergei Bobrovsky again befuddled Carolina with 37 stops.
Jalen Chatfield scored Carolina's lone goal on a deflection in the opening minutes, while Raanta finished with 24 saves.
Carolina is in the Eastern Conference final for the second time during a five-year playoff run, but the Hurricanes have now lost 10 straight games in this round going back to 2009.
"We've been through this," Hurricanes coach Rod Brind'Amour said. "It's not new to us. We've been kicked in the teeth a lot these last few years and we've always responded, so I'm pretty sure we will the next game."
They're running out of time to recover. Florida has home-ice advantage for the next two games, starting Monday with Game 3.
SWEET MOVE
Barkov's goal came after he got loose and alone with Raanta after Florida had won a battle along the boards and got the puck to its captain.
Barkov started to slide the puck between his legs, freezing Raanta for a potential flip toward the net. But Barkov pulled the puck back forward and under his left skate and smoothly backhanded it into the net at 7:43 of the second to tie it at 1-1.
"He's the least showboating player I've ever coached by far," Maurice said."But he pulle d that move because that was the only move that was going to work. ... So when it went through his legs, he decided it wasn't going to go and made the best move he could. I've never seen that."
STRONG IN NET
Florida stuck with its Game 1 lineup, including Bobrovsky after his 60-save performance. The Hurricanes swapped goaltenders after Frederik Andersen's heavy workload and started Raanta, who started the first five games of the postseason and had gone 19-3-3 during the regular season.
Bobrovsky held up against Carolina's withering start and made multiple big stops all night. His best might have been when he made it across the crease in time to get to Teuvo Teravainen's backdoor attempt with his blocker after Martin Necas' quick feed in the second.
It was Raanta's first start since Game 5 against the New York Islanders on April 25.
MORE ON TKACHUK
Tkachuk joins Anaheim's Corey Perry (2017), Montreal's Maurice Richard (1951) and Boston's Mel Hill (1939) as players with three overtime goals in a single postseason.
He also joined Richard and Hill in scoring OT goals in the first two games of a single series.
___
Follow Aaron Beard on Twitter at http://www.twitter.com/aaronbeardap
___
AP NHL Playoffs: https://apnews.com/hub/stanley-cup and https://twitter.com/AP_Sports