Polish, Czech leaders discuss regional security, energy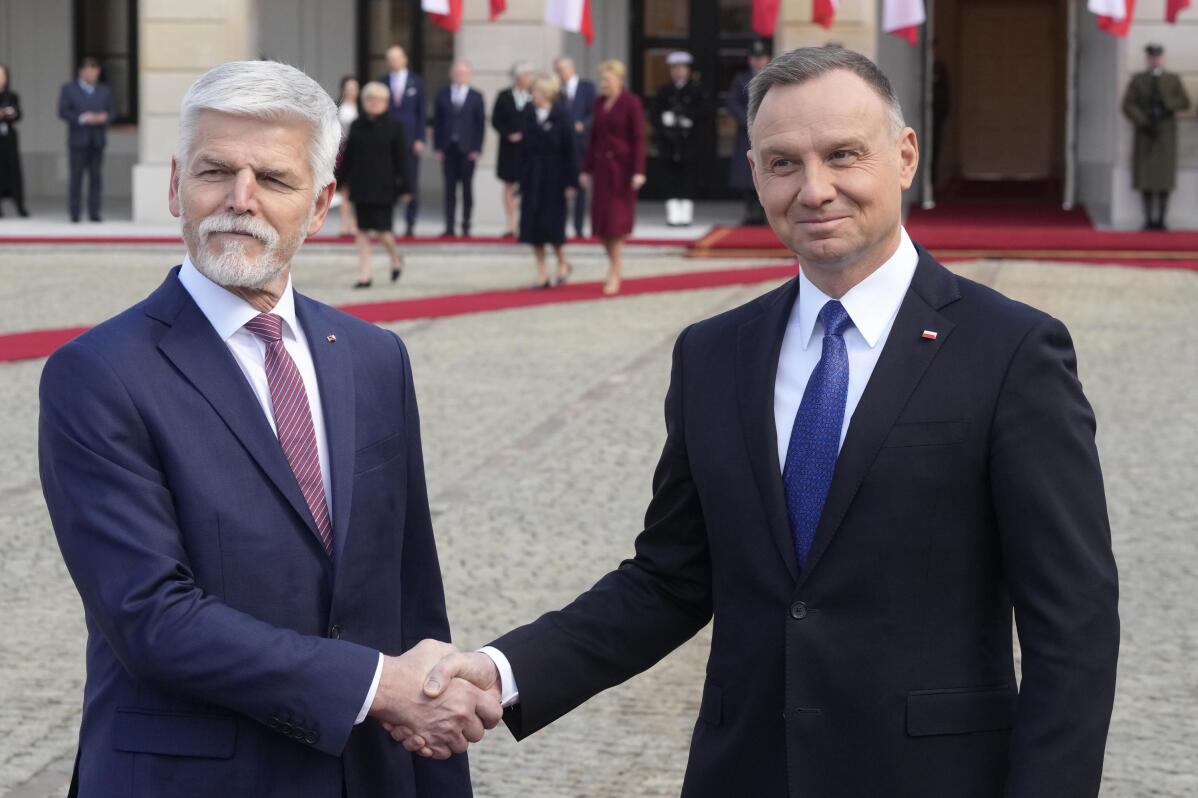 1 of 9

|
Poland's President Andrzej Duda, right, welcomes Czech Republic's President Petr Pavel as they meet at the Presidential Palace in Warsaw, Poland, Thursday, March 16, 2023. (AP Photo/Czarek Sokolowski)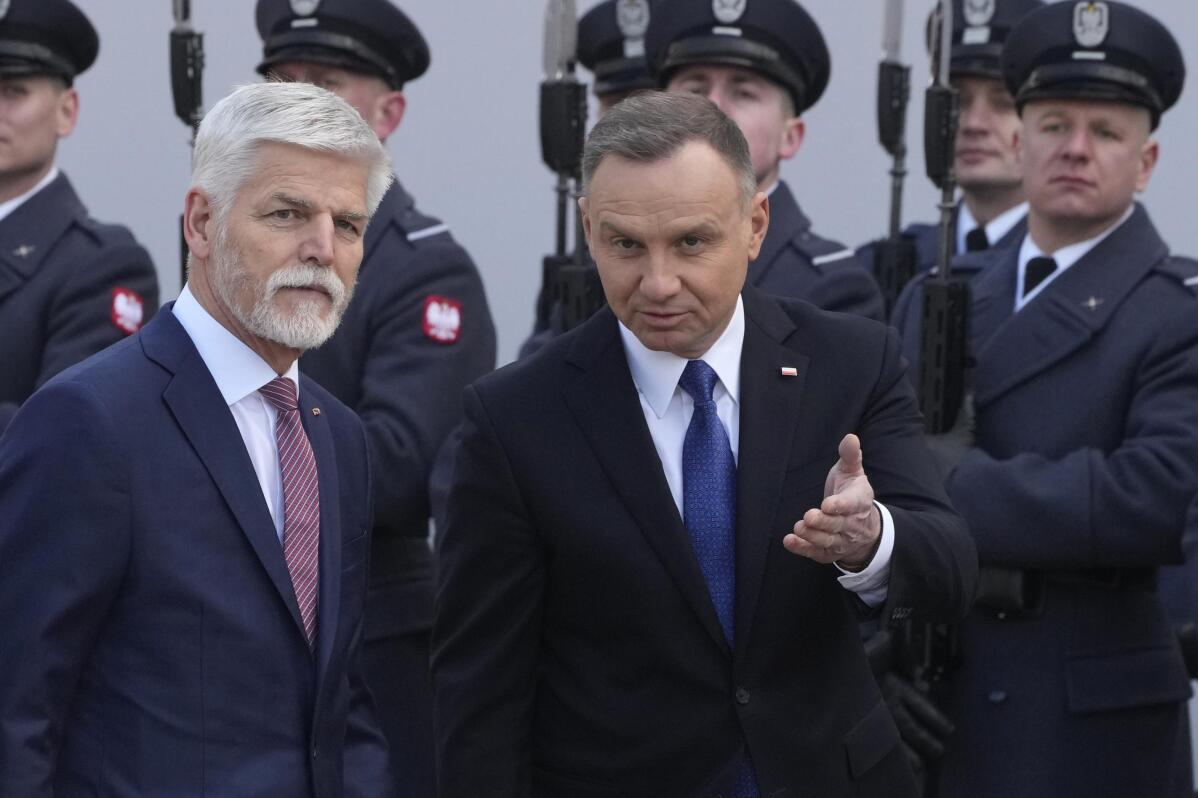 2 of 9

|
Poland's President Andrzej Duda, right, welcomes Czech Republic's President Petr Pavel as they meet at the Presidential Palace in Warsaw, Poland, Thursday, March 16, 2023. (AP Photo/Czarek Sokolowski)
3 of 9

|
Poland's President Andrzej Duda, right, welcomes Czech Republic's President Petr Pavel as they meet at the Presidential Palace in Warsaw, Poland, Thursday, March 16, 2023. (AP Photo/Czarek Sokolowski)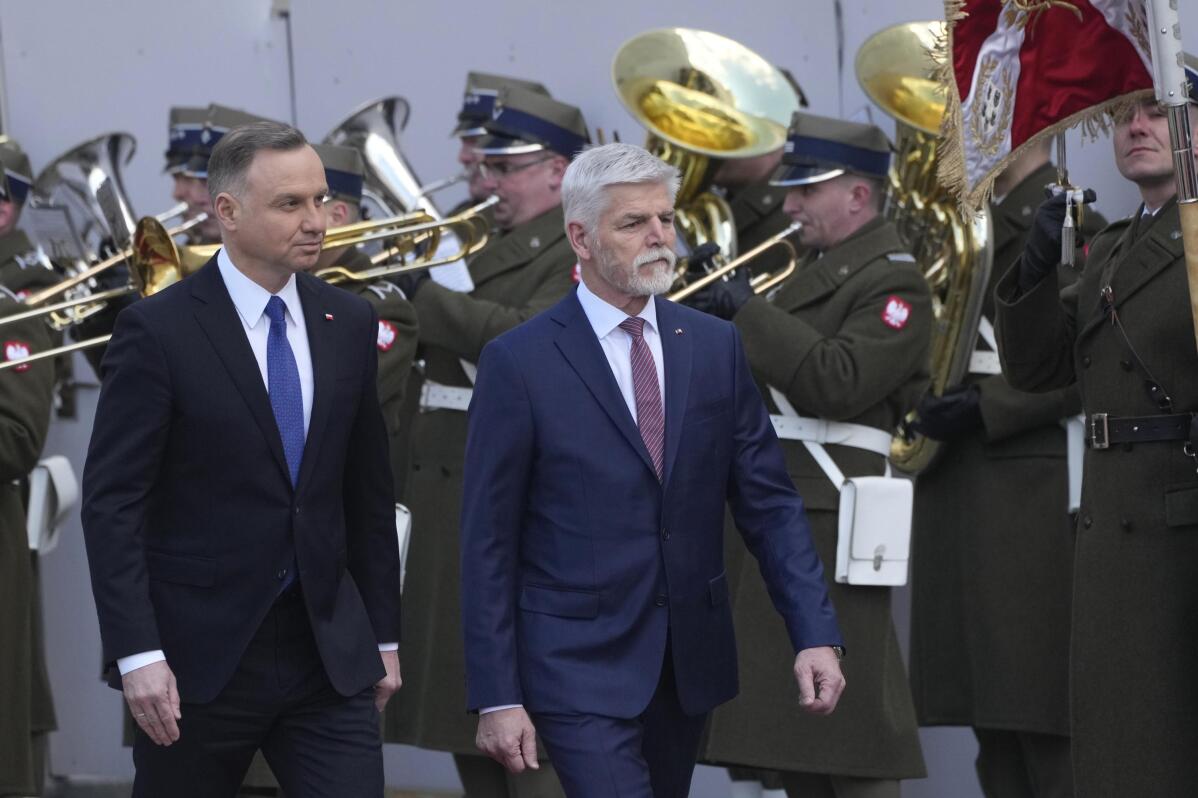 4 of 9

|
Poland's President Andrzej Duda, left, welcomes Czech Republic's President Petr Pavel as they meet at the Presidential Palace in Warsaw, Poland, Thursday, March 16, 2023. (AP Photo/Czarek Sokolowski)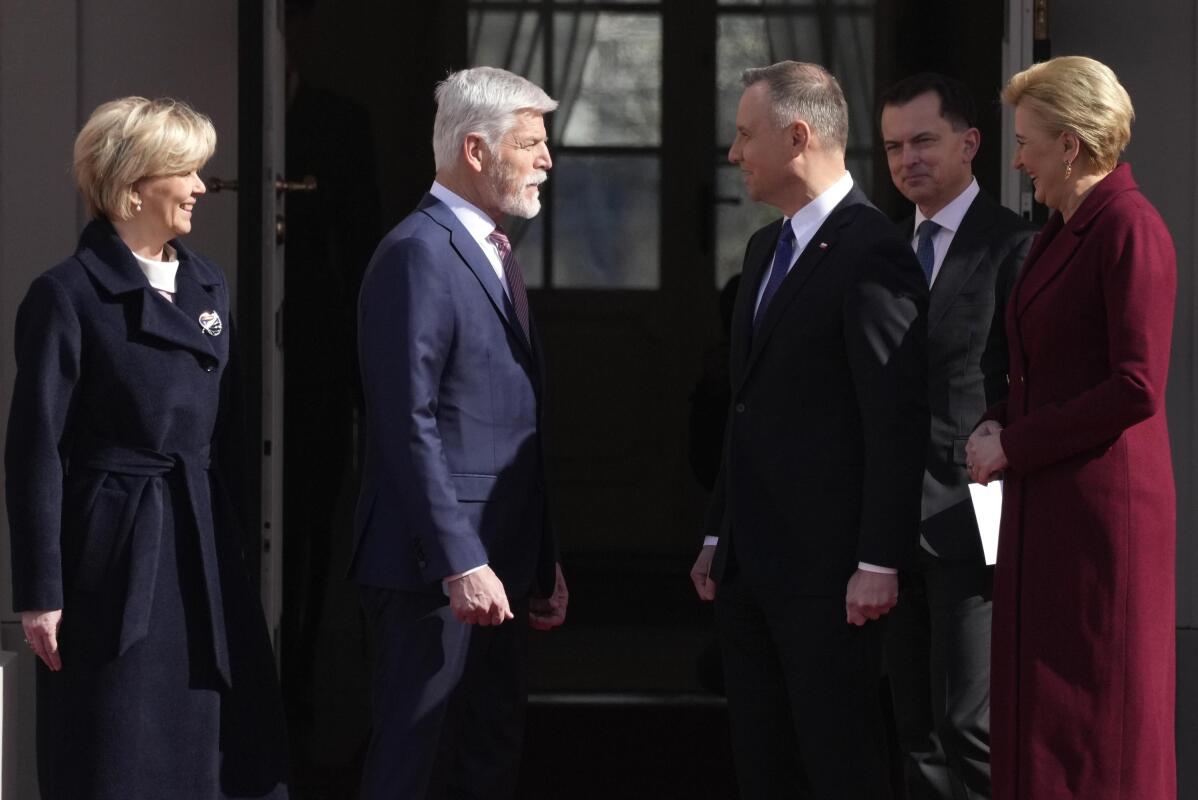 5 of 9

|
Poland's President Andrzej Duda, 2nd right, and his wife Agata Kornhauser-Duda, right, welcome Czech Republic's President Petr Pavel with his wife Eva as they meet at the Presidential Palace in Warsaw, Poland, Thursday, March 16, 2023. (AP Photo/Czarek Sokolowski)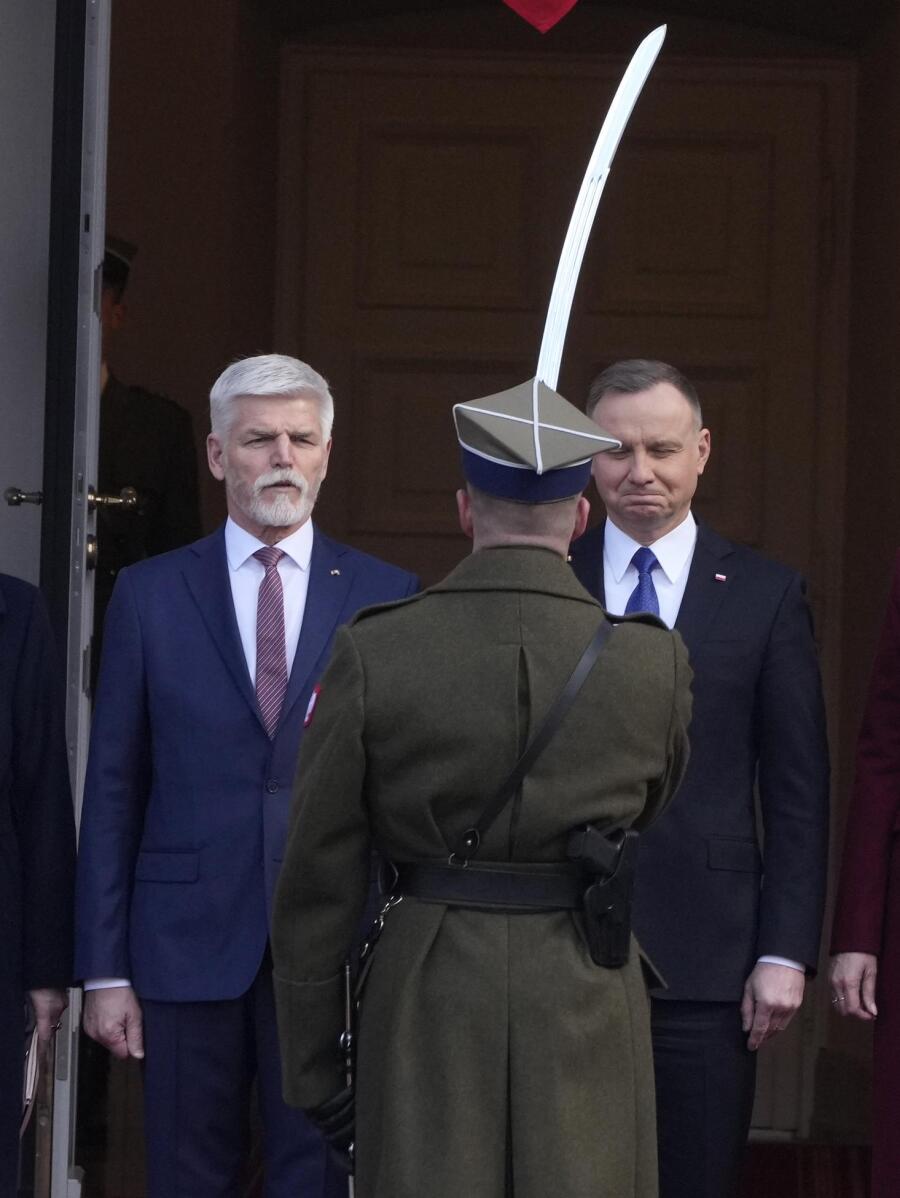 6 of 9

|
Poland's President Andrzej Duda, right, welcomes Czech Republic's President Petr Pavel as they meet at the Presidential Palace in Warsaw, Poland, Thursday, March 16, 2023. (AP Photo/Czarek Sokolowski)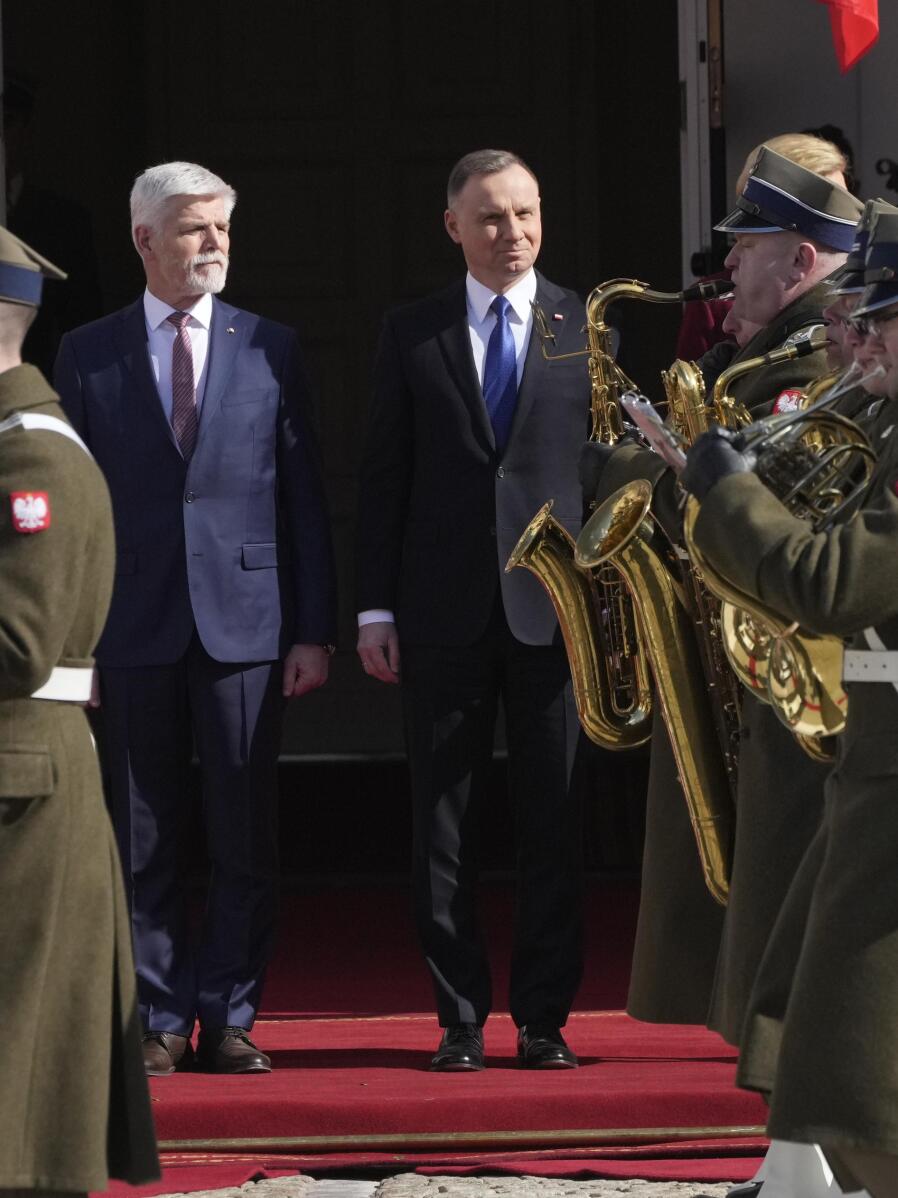 7 of 9

|
Poland's President Andrzej Duda, right, welcomes Czech Republic's President Petr Pavel as they meet at the Presidential Palace in Warsaw, Poland, Thursday, March 16, 2023. (AP Photo/Czarek Sokolowski)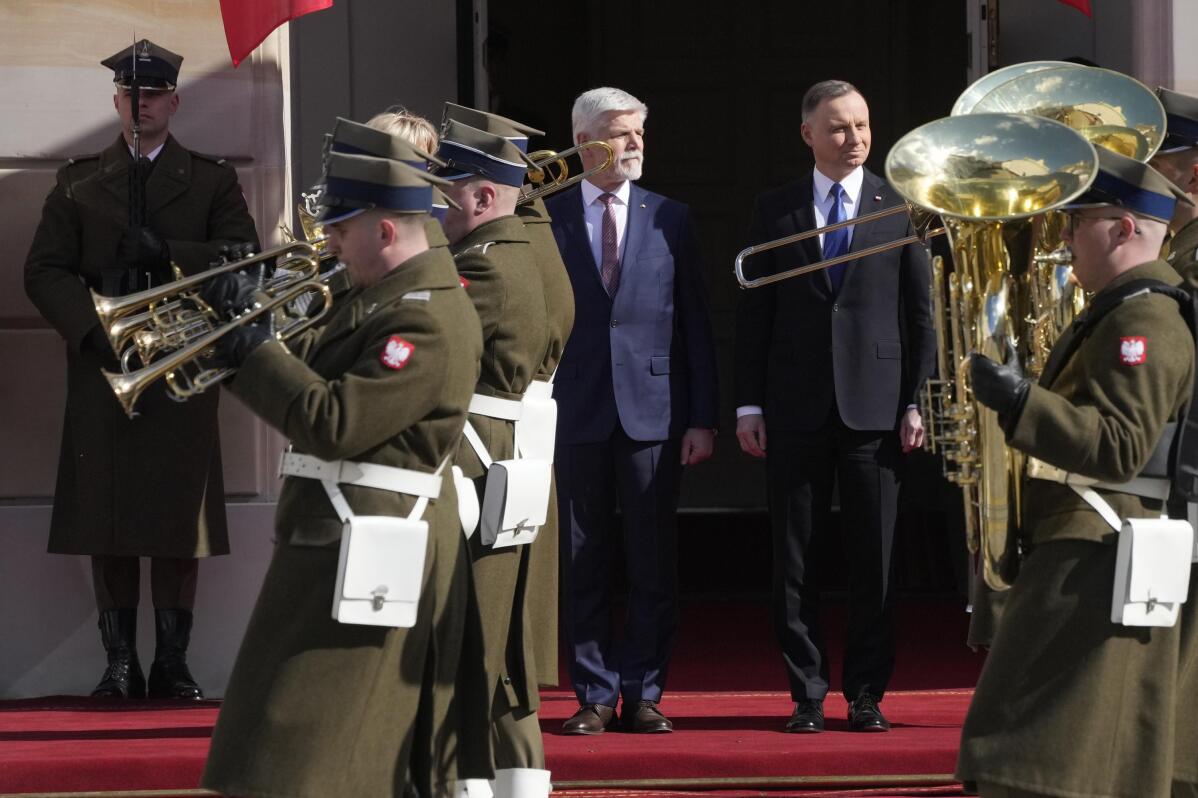 8 of 9

|
Poland's President Andrzej Duda, right, welcomes Czech Republic's President Petr Pavel as they meet at the Presidential Palace in Warsaw, Poland, Thursday, March 16, 2023. (AP Photo/Czarek Sokolowski)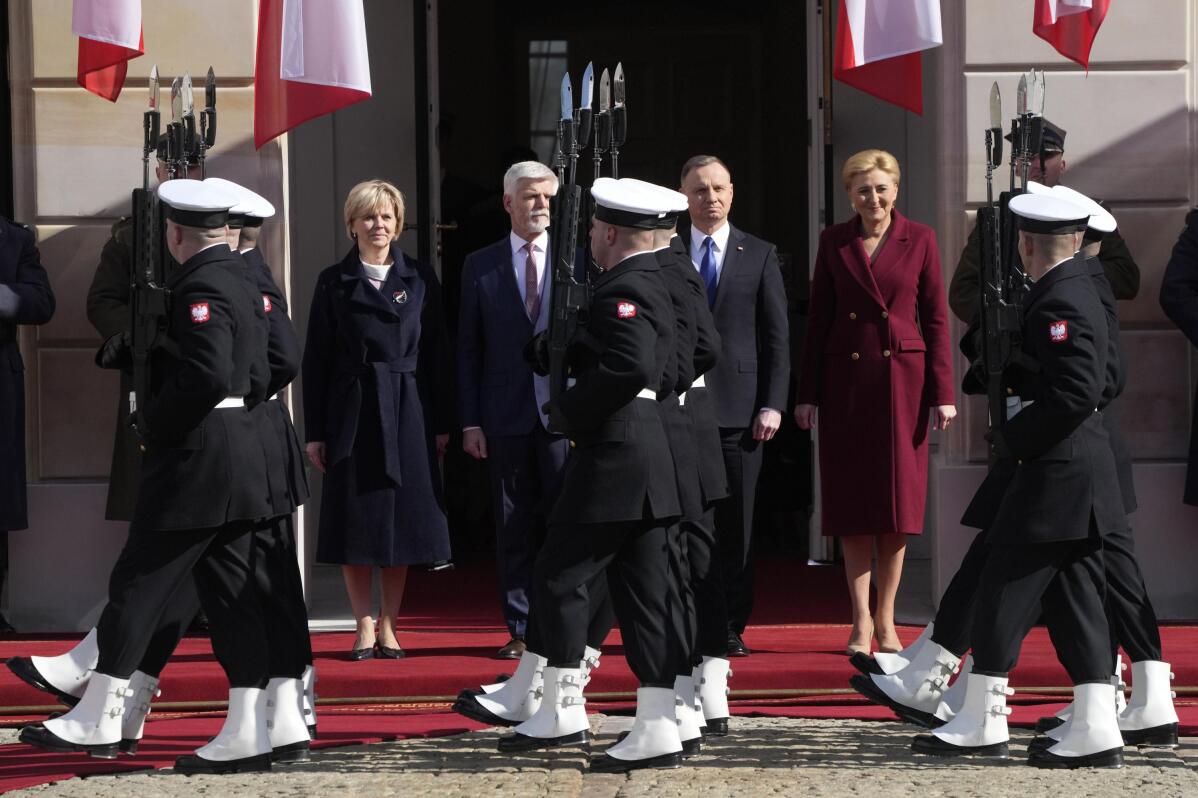 9 of 9

|
Poland's President Andrzej Duda, 2nd right, and his wife Agata Kornhauser-Duda, right, welcome Czech Republic's President Petr Pavel with his wife Eva as they meet at the Presidential Palace in Warsaw, Poland, Thursday, March 16, 2023. (AP Photo/Czarek Sokolowski)
Polish, Czech leaders discuss regional security, energy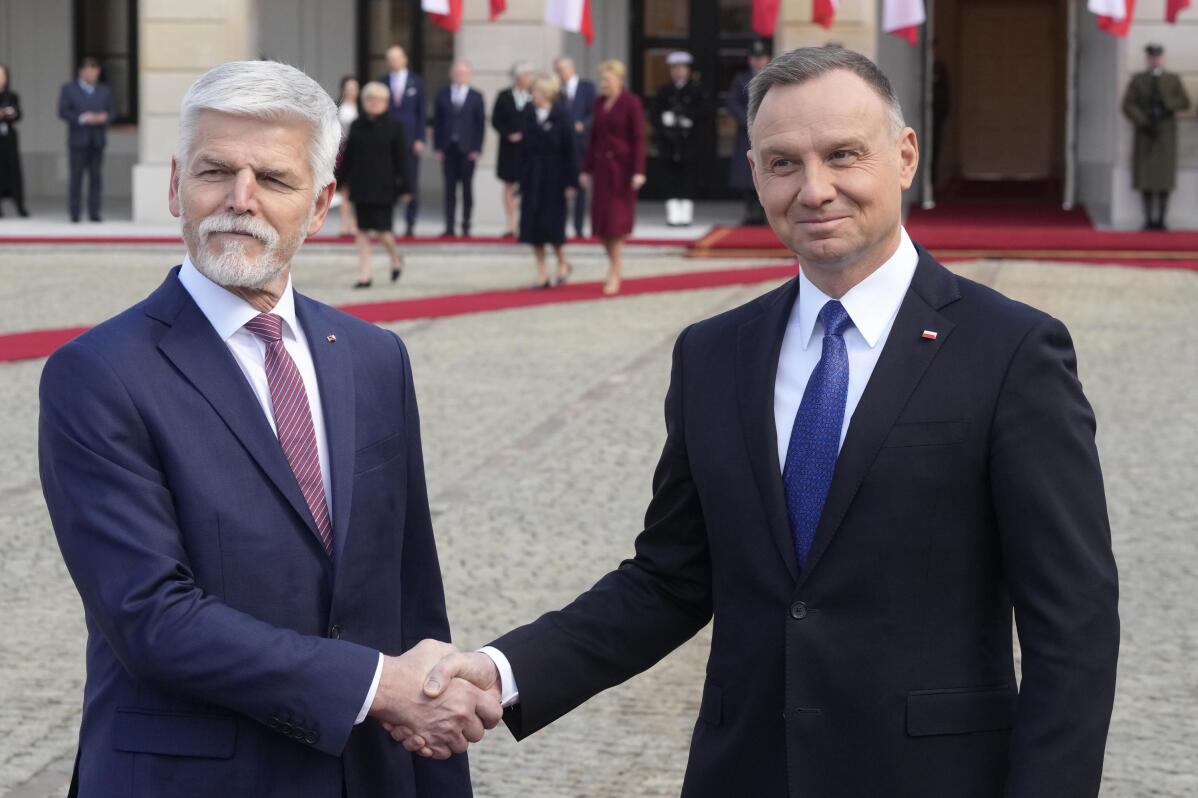 1 of 9

|
Poland's President Andrzej Duda, right, welcomes Czech Republic's President Petr Pavel as they meet at the Presidential Palace in Warsaw, Poland, Thursday, March 16, 2023. (AP Photo/Czarek Sokolowski)
1 of 9
Poland's President Andrzej Duda, right, welcomes Czech Republic's President Petr Pavel as they meet at the Presidential Palace in Warsaw, Poland, Thursday, March 16, 2023. (AP Photo/Czarek Sokolowski)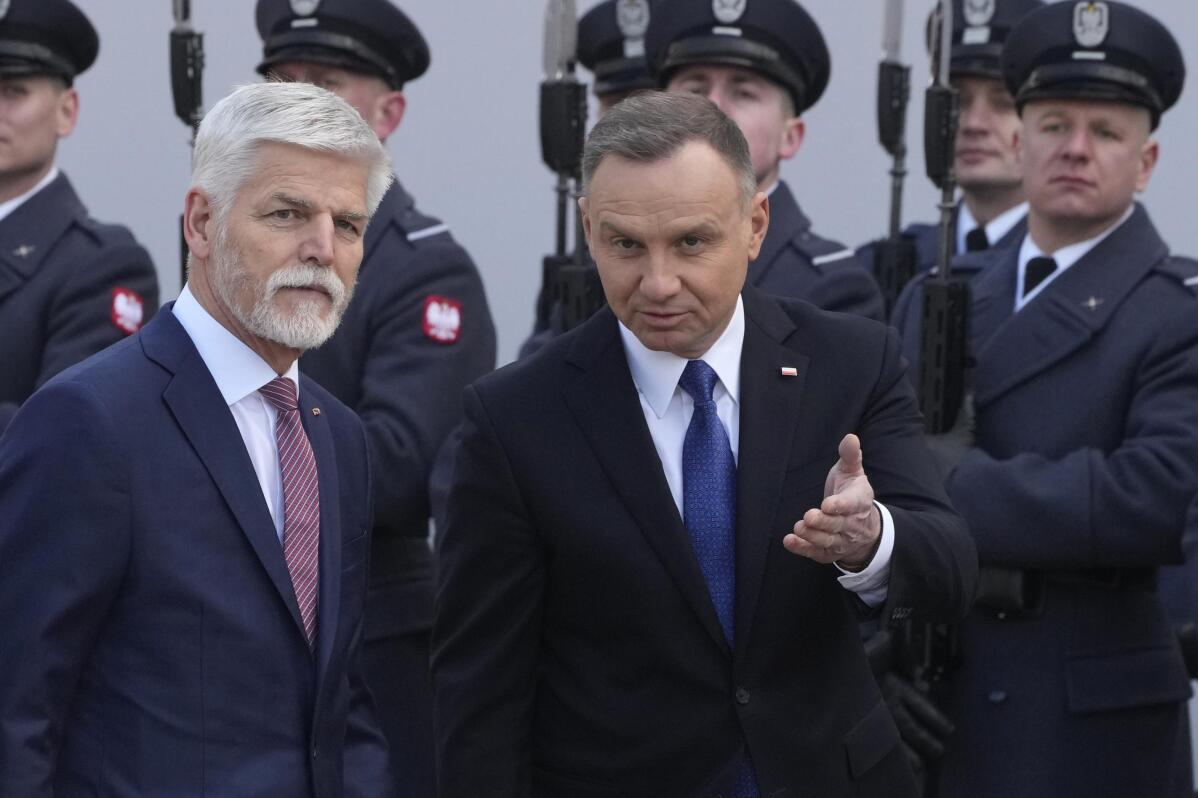 2 of 9

|
Poland's President Andrzej Duda, right, welcomes Czech Republic's President Petr Pavel as they meet at the Presidential Palace in Warsaw, Poland, Thursday, March 16, 2023. (AP Photo/Czarek Sokolowski)
2 of 9
Poland's President Andrzej Duda, right, welcomes Czech Republic's President Petr Pavel as they meet at the Presidential Palace in Warsaw, Poland, Thursday, March 16, 2023. (AP Photo/Czarek Sokolowski)
3 of 9

|
Poland's President Andrzej Duda, right, welcomes Czech Republic's President Petr Pavel as they meet at the Presidential Palace in Warsaw, Poland, Thursday, March 16, 2023. (AP Photo/Czarek Sokolowski)
3 of 9
Poland's President Andrzej Duda, right, welcomes Czech Republic's President Petr Pavel as they meet at the Presidential Palace in Warsaw, Poland, Thursday, March 16, 2023. (AP Photo/Czarek Sokolowski)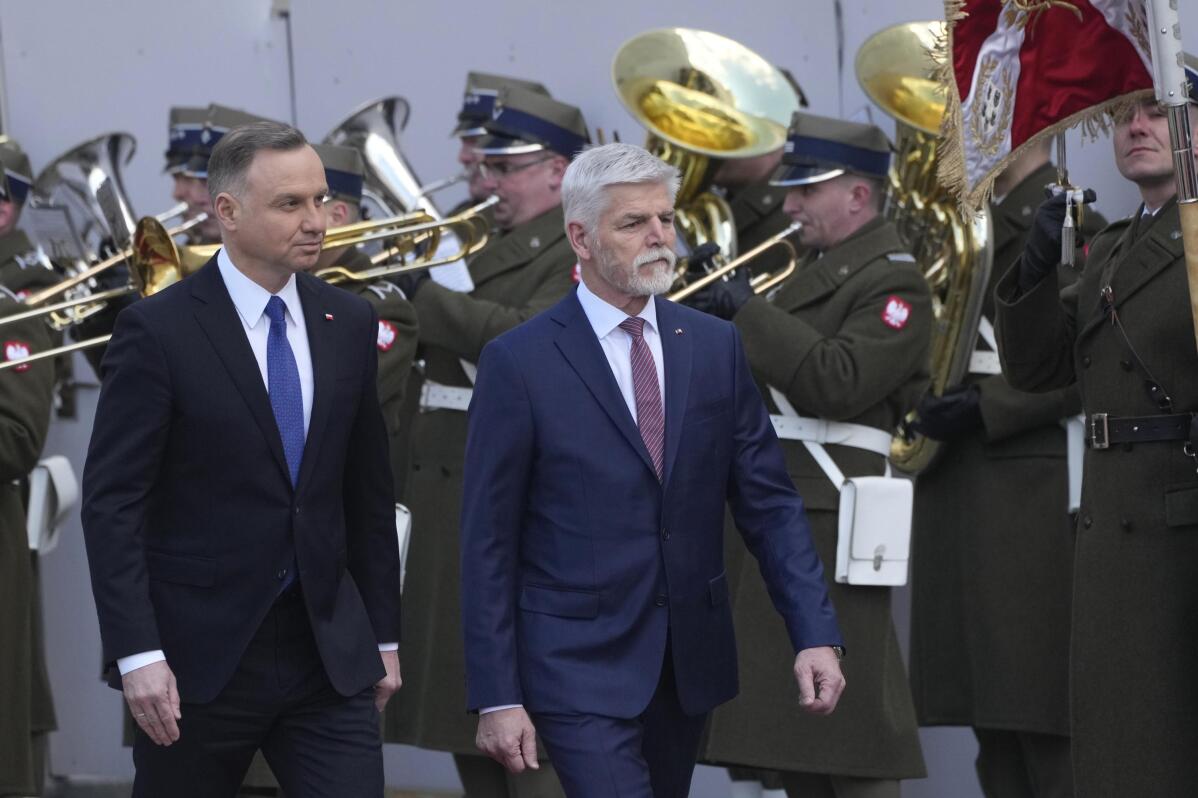 4 of 9

|
Poland's President Andrzej Duda, left, welcomes Czech Republic's President Petr Pavel as they meet at the Presidential Palace in Warsaw, Poland, Thursday, March 16, 2023. (AP Photo/Czarek Sokolowski)
4 of 9
Poland's President Andrzej Duda, left, welcomes Czech Republic's President Petr Pavel as they meet at the Presidential Palace in Warsaw, Poland, Thursday, March 16, 2023. (AP Photo/Czarek Sokolowski)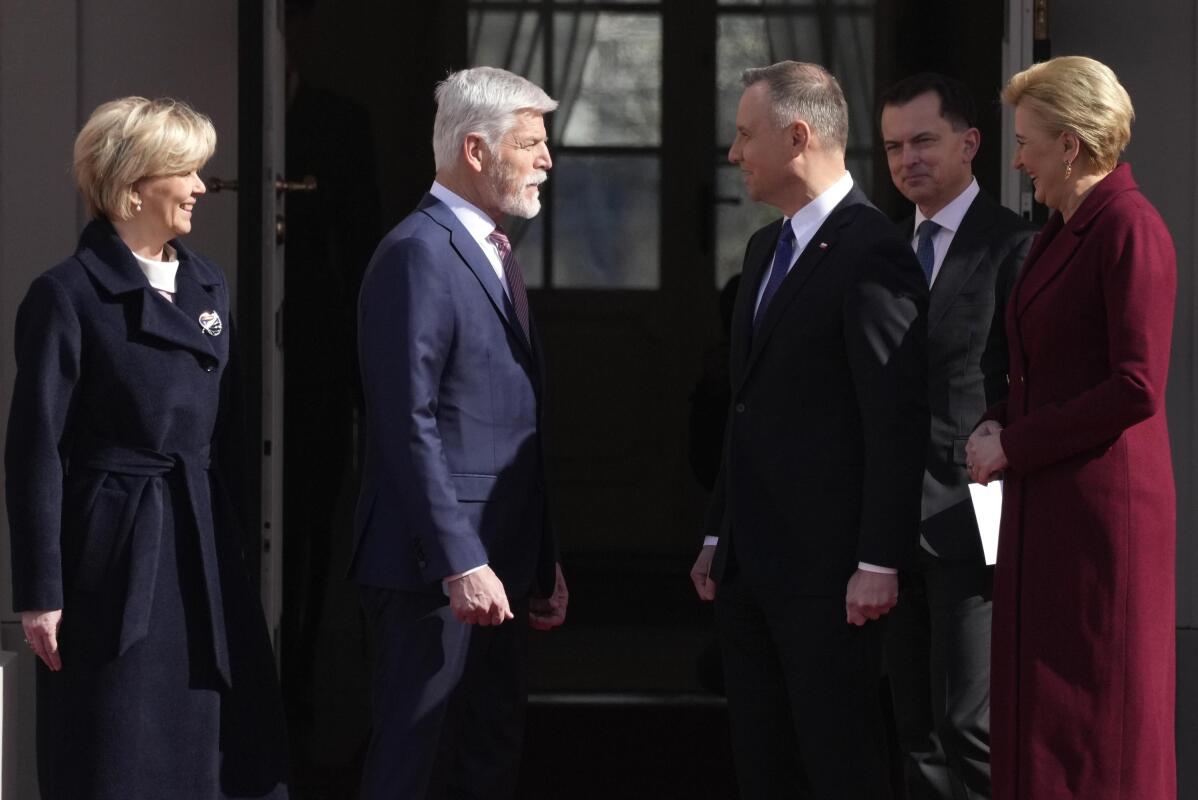 5 of 9

|
Poland's President Andrzej Duda, 2nd right, and his wife Agata Kornhauser-Duda, right, welcome Czech Republic's President Petr Pavel with his wife Eva as they meet at the Presidential Palace in Warsaw, Poland, Thursday, March 16, 2023. (AP Photo/Czarek Sokolowski)
5 of 9
Poland's President Andrzej Duda, 2nd right, and his wife Agata Kornhauser-Duda, right, welcome Czech Republic's President Petr Pavel with his wife Eva as they meet at the Presidential Palace in Warsaw, Poland, Thursday, March 16, 2023. (AP Photo/Czarek Sokolowski)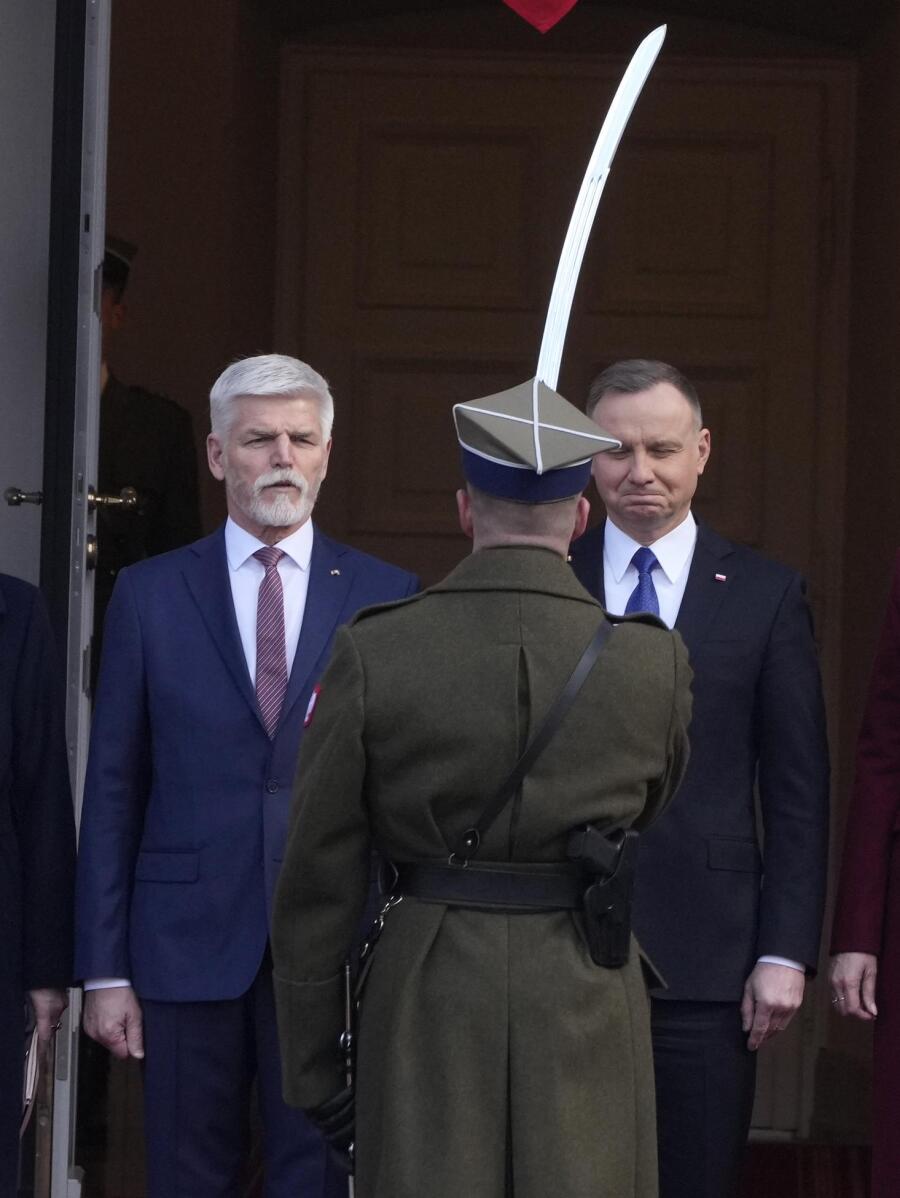 6 of 9

|
Poland's President Andrzej Duda, right, welcomes Czech Republic's President Petr Pavel as they meet at the Presidential Palace in Warsaw, Poland, Thursday, March 16, 2023. (AP Photo/Czarek Sokolowski)
6 of 9
Poland's President Andrzej Duda, right, welcomes Czech Republic's President Petr Pavel as they meet at the Presidential Palace in Warsaw, Poland, Thursday, March 16, 2023. (AP Photo/Czarek Sokolowski)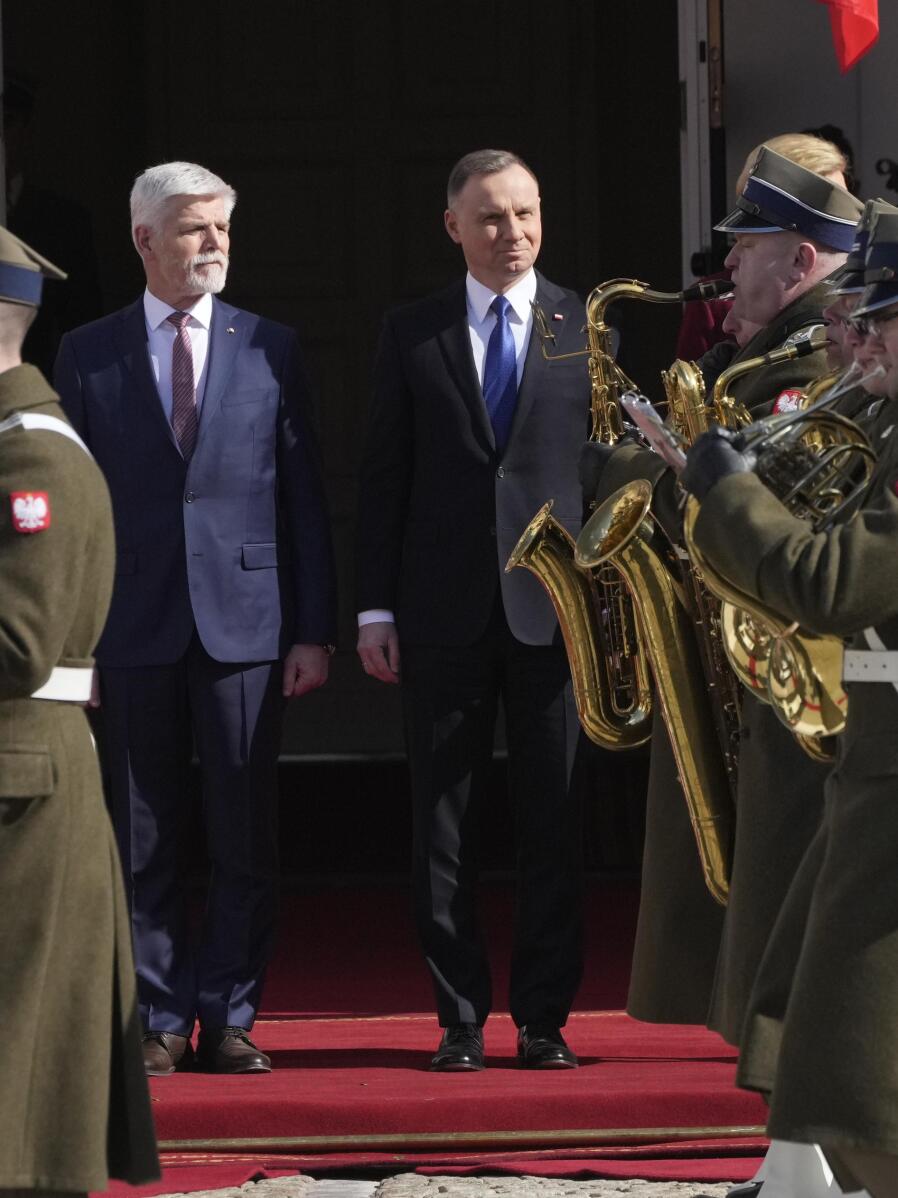 7 of 9

|
Poland's President Andrzej Duda, right, welcomes Czech Republic's President Petr Pavel as they meet at the Presidential Palace in Warsaw, Poland, Thursday, March 16, 2023. (AP Photo/Czarek Sokolowski)
7 of 9
Poland's President Andrzej Duda, right, welcomes Czech Republic's President Petr Pavel as they meet at the Presidential Palace in Warsaw, Poland, Thursday, March 16, 2023. (AP Photo/Czarek Sokolowski)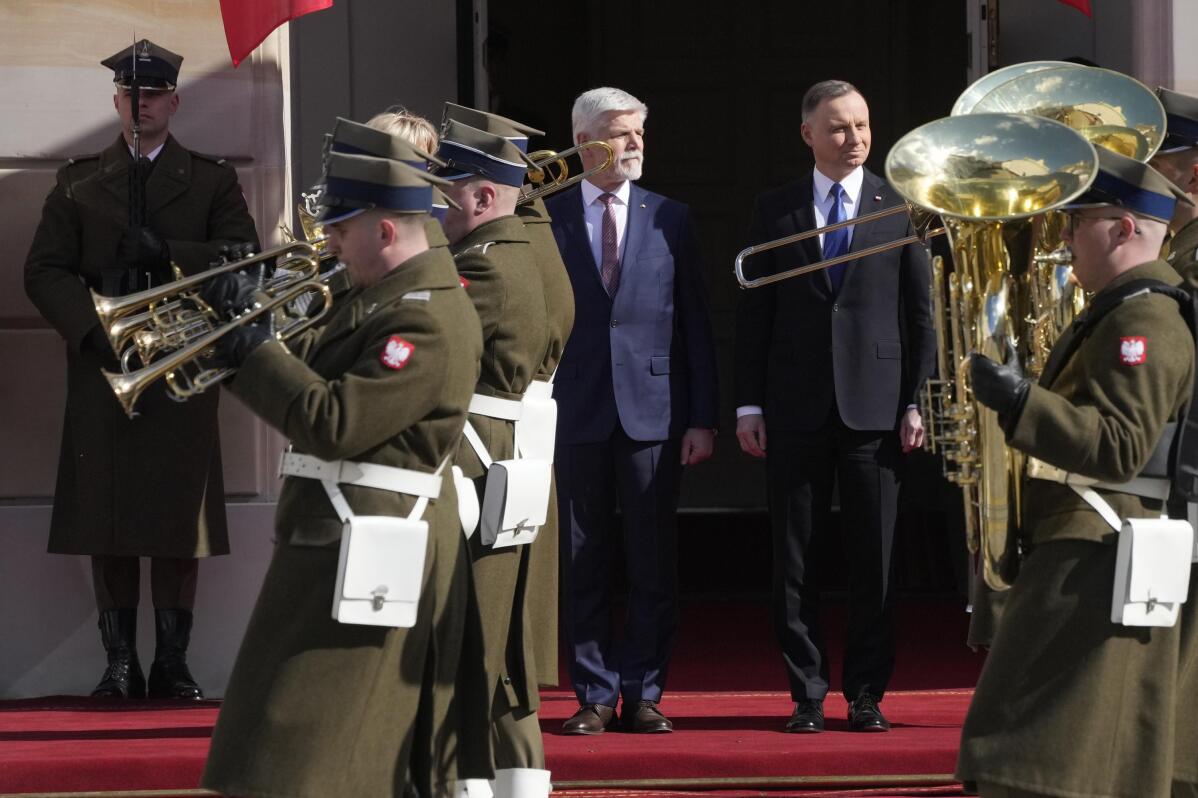 8 of 9

|
Poland's President Andrzej Duda, right, welcomes Czech Republic's President Petr Pavel as they meet at the Presidential Palace in Warsaw, Poland, Thursday, March 16, 2023. (AP Photo/Czarek Sokolowski)
8 of 9
Poland's President Andrzej Duda, right, welcomes Czech Republic's President Petr Pavel as they meet at the Presidential Palace in Warsaw, Poland, Thursday, March 16, 2023. (AP Photo/Czarek Sokolowski)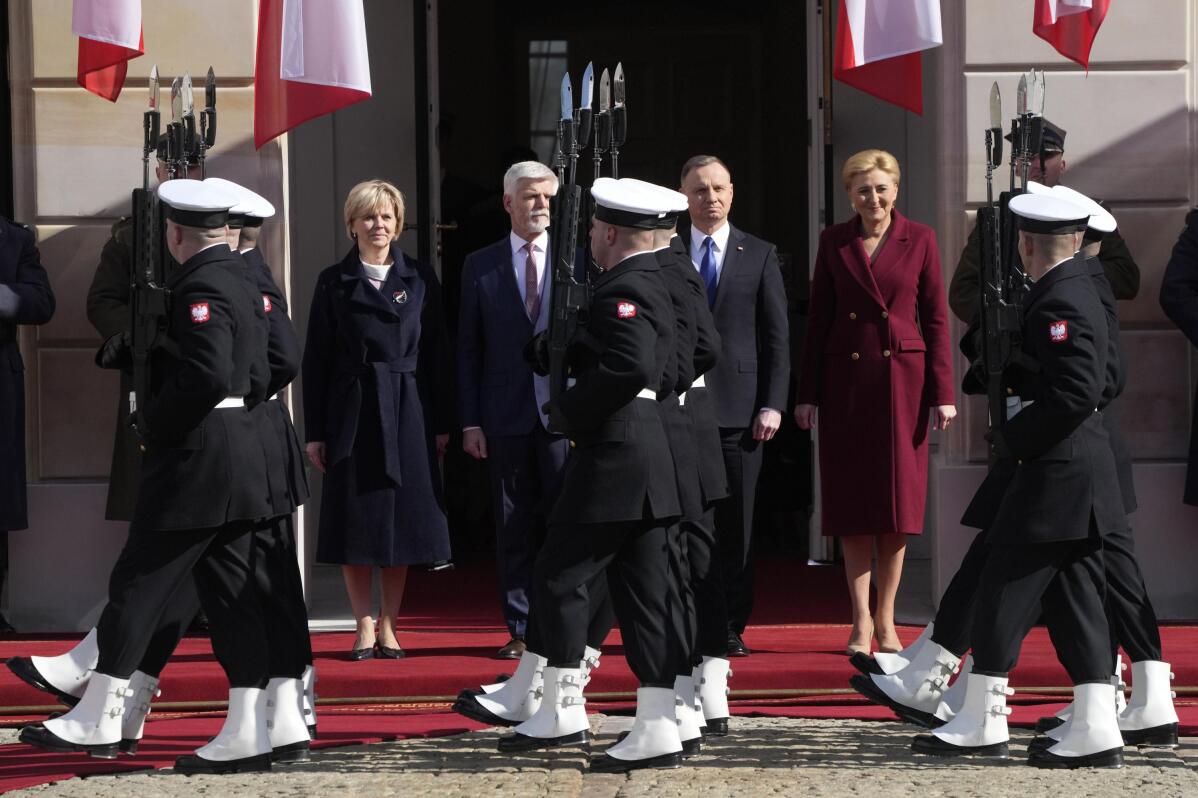 9 of 9

|
Poland's President Andrzej Duda, 2nd right, and his wife Agata Kornhauser-Duda, right, welcome Czech Republic's President Petr Pavel with his wife Eva as they meet at the Presidential Palace in Warsaw, Poland, Thursday, March 16, 2023. (AP Photo/Czarek Sokolowski)
9 of 9
Poland's President Andrzej Duda, 2nd right, and his wife Agata Kornhauser-Duda, right, welcome Czech Republic's President Petr Pavel with his wife Eva as they meet at the Presidential Palace in Warsaw, Poland, Thursday, March 16, 2023. (AP Photo/Czarek Sokolowski)
WARSAW, Poland (AP) — The Polish and Czech presidents discussed on Thursday further support for Ukraine, as well as regional security and joint infrastructure projects.
The new Czech president, Petr Pavel, visited Warsaw on his second foreign trip to underline the two NATO members' good relations and similar approach to security challenges in the region.
Pavel, who took office last week, said relations between the two neighbors have "probably never been at such an excellent level."
He said the war in Ukraine has "made everyone realize in very serious terms where the true values are and what is the value of cooperation with our allies, our friends."
Pavel and Polish President Andrzej Duda said they discussed the region's security in preparation for a NATO summit in July in Vilnius, Lithuania.
They also discussed developing gas pipeline systems that are helping both wean themselves off dependence on Russian energy supplies, as well as boosting railway and road infrastructure.
They vowed continued support to Ukraine amid the full-scale Russian invasion, and for the country's reconstruction.
Duda said Poland will soon supply around a dozen MiG-29 jet fighters to Ukraine, the first four of them in the coming days.
A retired army general and former chairman of NATO's military committee, Pavel, 61, has fully endorsed the Czech Republic's military and humanitarian support for Ukraine in its fight against Russia's invasion.