Poland honors citizens who helped Jews during Holocaust
1 of 2

|
Members of a foundation supporting Poles who saved Jews from the Holocaust honour resistance emissary Jan Karski, who informed western leaders about mass killings of Jews by Nazi Germans, during national day of remembrance of Poles who risked their lives to save Jews, in Warsaw, Poland, on Friday, March 24, 2023. The solemn meetings, wreath laying and prayers Friday were held 79 years after the entire Ulma family were shot dead along with eight Jews whom their were hiding in their farm. (AP Photo/Czarek Sokolowski)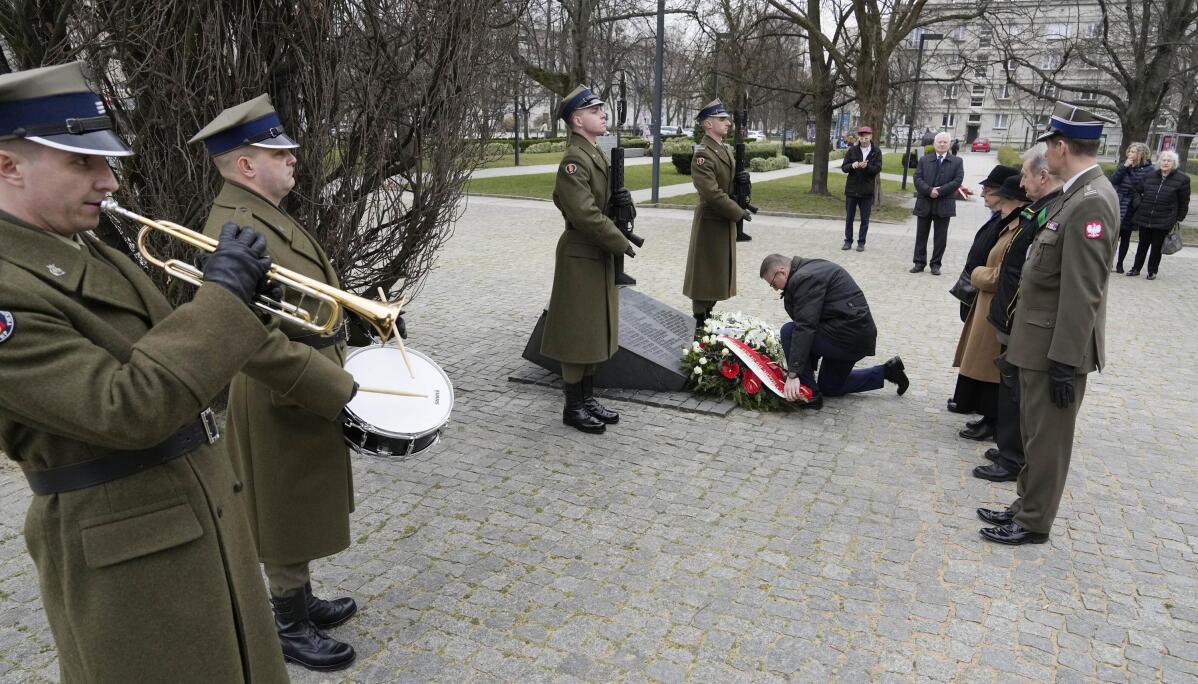 2 of 2

|
Members of a foundation supporting Poles who saved Jews from the Holocaust, honour Polish resistance unit that was tasked with aiding and saving Jews, during national day of remembrance of Poles who risked their lives to save Jews, in Warsaw, Poland, on Friday, March 24, 2023. The solemn meetings, wreath laying and prayers Friday were held 79 years after the entire Ulma family were shot dead along with eight Jews whom their were hiding in their farm. (AP Photo/Czarek Sokolowski)
Poland honors citizens who helped Jews during Holocaust
1 of 2

|
Members of a foundation supporting Poles who saved Jews from the Holocaust honour resistance emissary Jan Karski, who informed western leaders about mass killings of Jews by Nazi Germans, during national day of remembrance of Poles who risked their lives to save Jews, in Warsaw, Poland, on Friday, March 24, 2023. The solemn meetings, wreath laying and prayers Friday were held 79 years after the entire Ulma family were shot dead along with eight Jews whom their were hiding in their farm. (AP Photo/Czarek Sokolowski)
1 of 2
Members of a foundation supporting Poles who saved Jews from the Holocaust honour resistance emissary Jan Karski, who informed western leaders about mass killings of Jews by Nazi Germans, during national day of remembrance of Poles who risked their lives to save Jews, in Warsaw, Poland, on Friday, March 24, 2023. The solemn meetings, wreath laying and prayers Friday were held 79 years after the entire Ulma family were shot dead along with eight Jews whom their were hiding in their farm. (AP Photo/Czarek Sokolowski)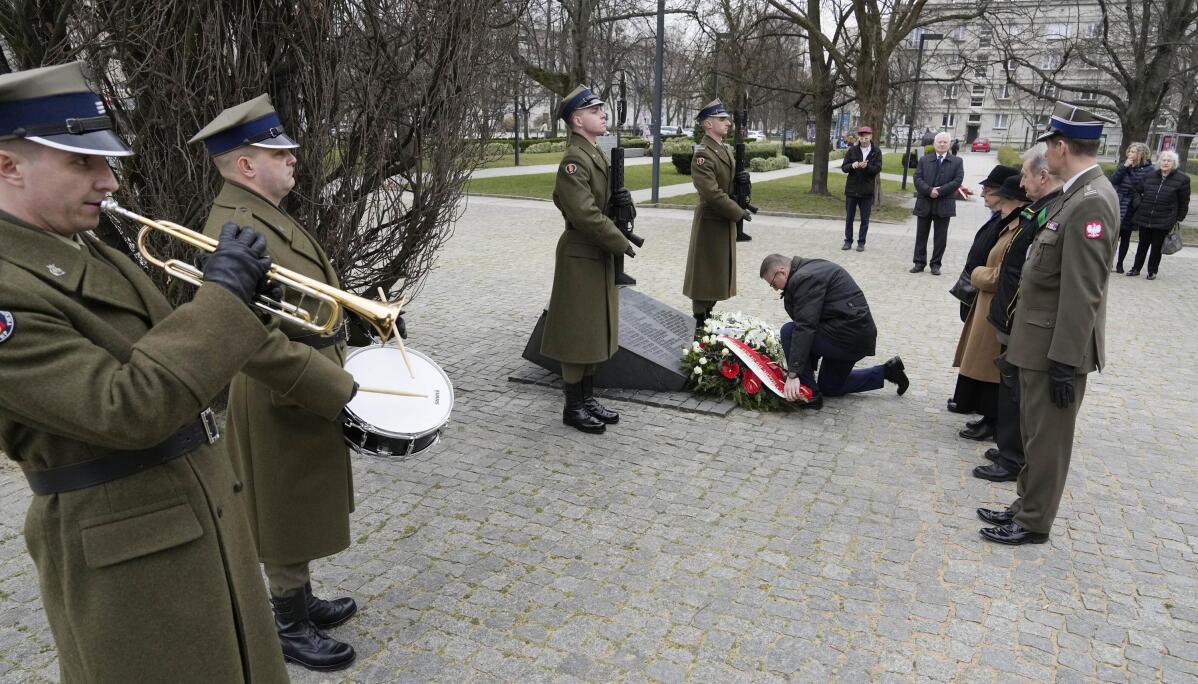 2 of 2

|
Members of a foundation supporting Poles who saved Jews from the Holocaust, honour Polish resistance unit that was tasked with aiding and saving Jews, during national day of remembrance of Poles who risked their lives to save Jews, in Warsaw, Poland, on Friday, March 24, 2023. The solemn meetings, wreath laying and prayers Friday were held 79 years after the entire Ulma family were shot dead along with eight Jews whom their were hiding in their farm. (AP Photo/Czarek Sokolowski)
2 of 2
Members of a foundation supporting Poles who saved Jews from the Holocaust, honour Polish resistance unit that was tasked with aiding and saving Jews, during national day of remembrance of Poles who risked their lives to save Jews, in Warsaw, Poland, on Friday, March 24, 2023. The solemn meetings, wreath laying and prayers Friday were held 79 years after the entire Ulma family were shot dead along with eight Jews whom their were hiding in their farm. (AP Photo/Czarek Sokolowski)
WARSAW, Poland (AP) — Polish President Andrzej Duda took part in nationwide observances Friday to honor Poles who risked — and often lost — their lives trying to save Jews from the Holocaust during the Nazi German occupation of Poland.
Duda spoke at a memorial site in Markowa, a village in southeastern Poland where on March 24, 1944 Nazi forces shot and killed a farmer, his pregnant wife and their six children along with eight Jews the family was hiding at their farm.
Pope Francis has declared the members of the Ulma family as martyrs. In Poland, they are a symbol of the bravery of the Poles who took the utmost risk while helping Jews during WWII.
Speaking at the Markowa Museum of Poles Saving Jews During World War II, Duda noted there were many families in the region and across Poland who hid Jews, in many cases ensuring they survived.
The names of the Ulmas and of other families engraved on plaques testify that there were many people who "behaved in a decent way, whose love of their brethren, Christian values and ethics were stronger than the fear of death, not only theirs, but also of their families," Duda said.
After invading Poland on Sept. 1, 1939 and taking over the country, Nazi Germans punished any form of assisting Jews, even offering them a glass of water, by killing the helpers and their families.
Still, more than 7,200 Poles are listed by Yad Vashem, the World Holocaust Remembrance Center in Jerusalem, as having taken risks to save Jews. Publications by historians in recent years have also led to bitter debates about those Poles who turned in their Jewish neighbors, or participated in the killing or victimization of Jews.
Disagreements over aspects of Polish behavior during the Holocaust have created tensions between Poland and Israel over the years.
Unlike some other occupied countries, Poland never had a collaborationist government, and members of the resistance and of the government-in-exile in London warned Western leaders more than once about the Nazis' mass killing of Jews.
The Germans, sometimes assisted by collaborators among the civilian population, killed some 3 million of the estimated 3.3 million Jews who lived in Poland before World War II as well as almost 3 million non-Jews. The Nazis built major death camps, including Auschwitz, in occupied Poland.