Missouri crowd after shooting: 'Kill the police'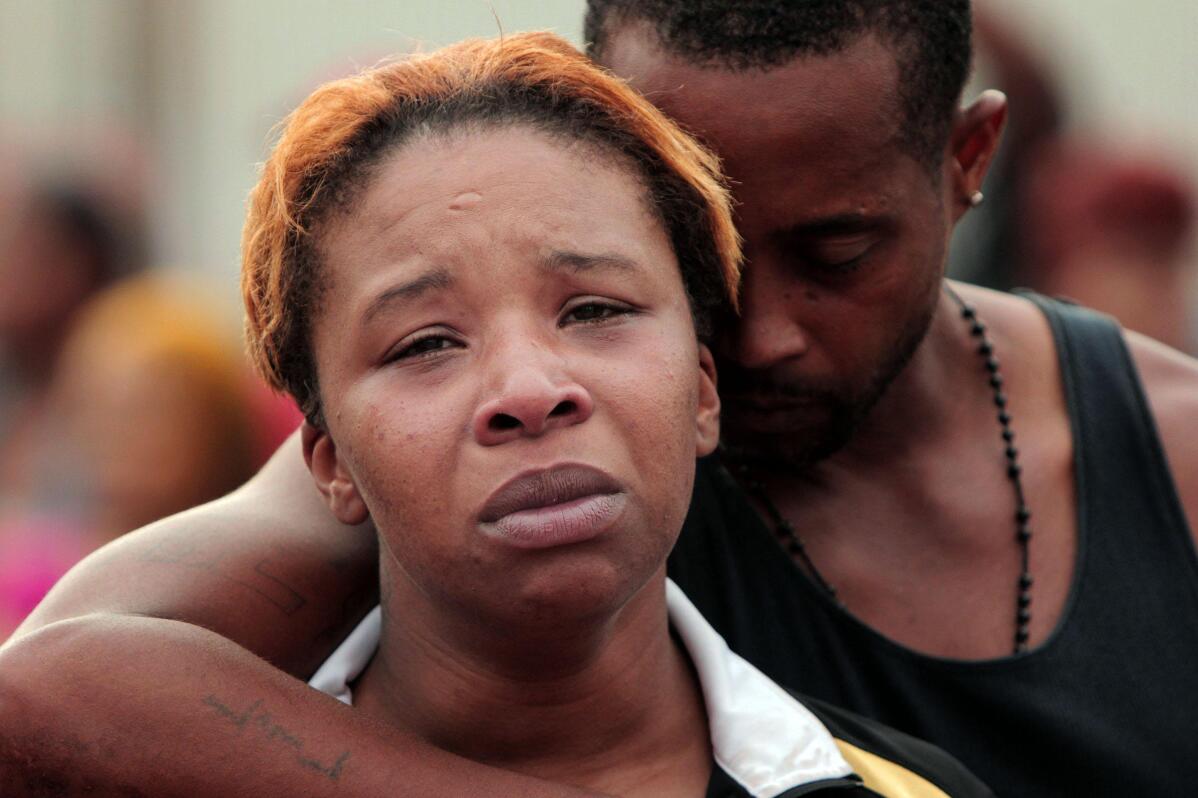 1 of 7

|
Lesley McSpadden, left, is comforted by her husband, Louis Head, after her 18-year-old son, Michael Brown was shot and killed by police in the middle of the street in Ferguson, Mo., near St. Louis on Saturday, Aug. 9, 2014. A spokesman with the St. Louis County Police Department, which is investigating the shooting at the request of the local department, confirmed a Ferguson police officer shot the man. The spokesman didn't give the reason for the shooting. (AP Photo/St. Louis Post-Dispatch, Huy Mach)
2 of 7

|
A crowd is stopped by police as they were trying to reach the scene where 18-year-old Michael Brown was fatally shot by police in Ferguson, Mo., near St. Louis on Saturday, Aug. 9, 2014. A spokesman with the St. Louis County Police Department confirmed a Ferguson police officer shot the man. The spokesman didn't give the reason for the shooting, nor provide the officer's name or race. (AP Photo/St. Louis Post-Dispatch, Huy Mach)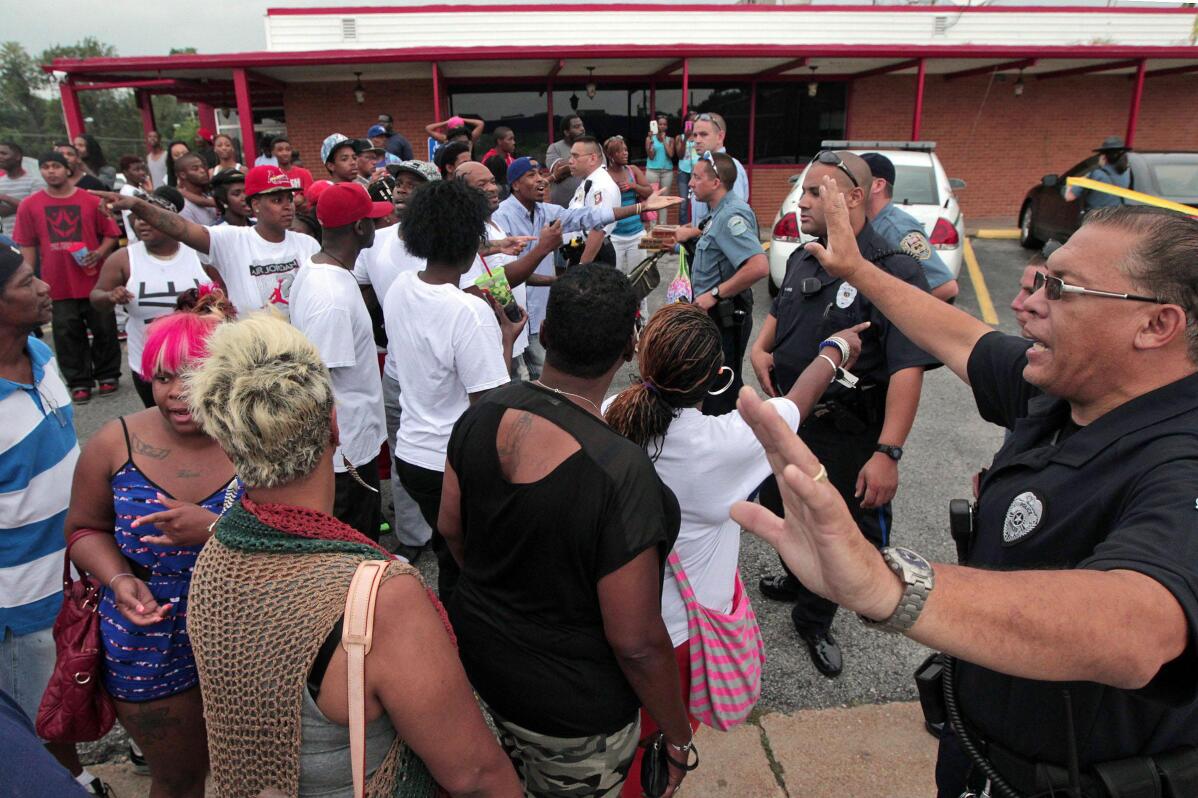 3 of 7

|
FILE- In this Aug. 9, 2014, file photo, Ferguson police officers try to calm down a crowd near the scene where 18-year-old Michael Brown was fatally shot by a police officer in Ferguson, Mo. Departments around the country have in recent years stepped up their training in "de-escalation" — the art of defusing a tense situation with a word or a gesture instead of being confrontational or reaching for a weapon. (AP Photo/St. Louis Post-Dispatch, Huy Mach, File)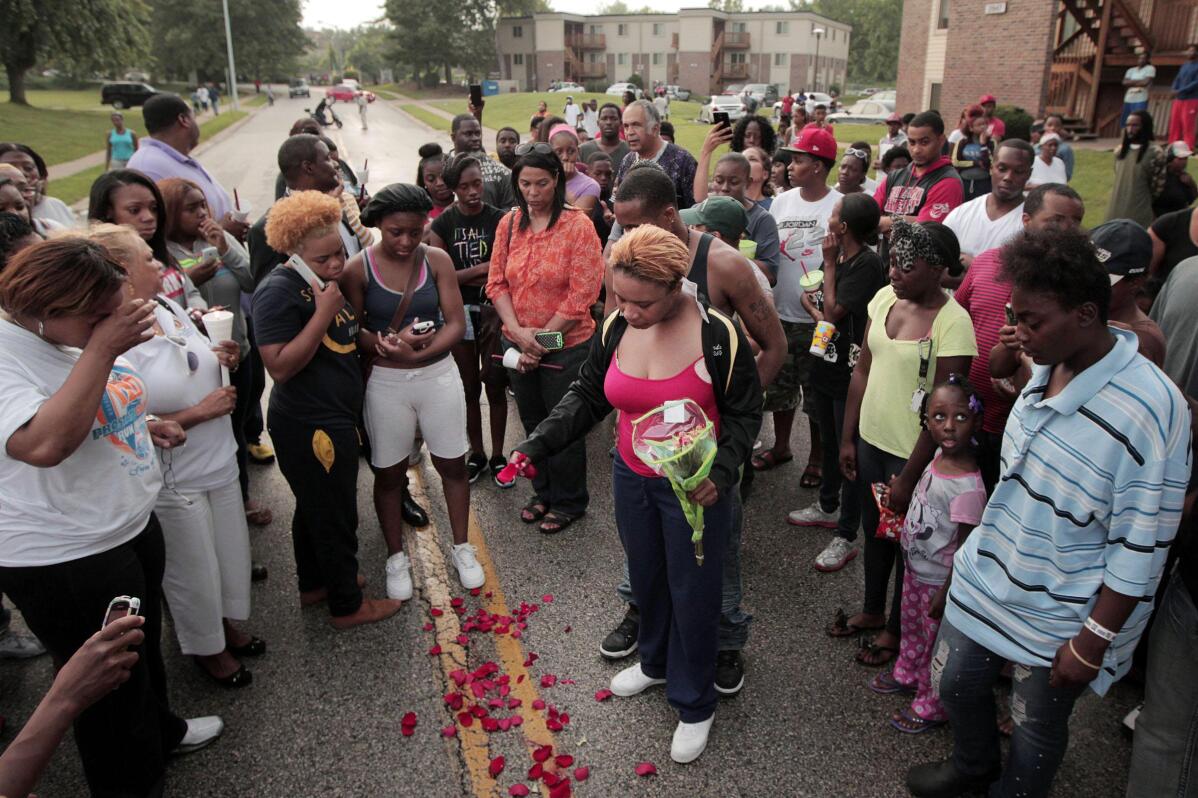 4 of 7

|
Lesley McSpadden, center, drops rose petals on the blood stains from her 18-year-old son Michael Brown who was shot and killed by police in the middle of the street in Ferguson, Mo., near St. Louis on Saturday, Aug. 9, 2014. McSpadden, told an acquaintance the shooting was "wrong and it was cold-hearted," the St. Louis Post-Dispatch reported. A spokesman with the St. Louis County Police Department, which is investigating the shooting at the request of the local department, confirmed a Ferguson police officer shot the man. The spokesman didn't give the reason for the shooting. (AP Photo/St. Louis Post-Dispatch, Huy Mach)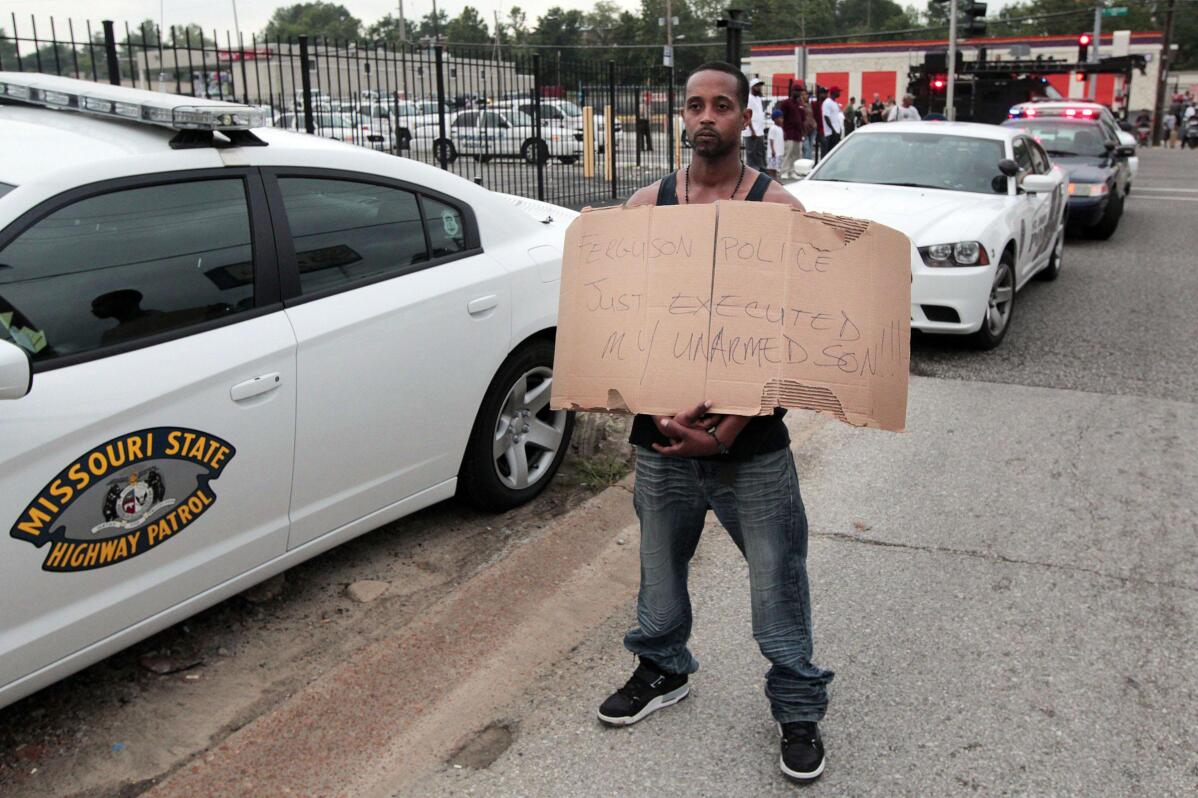 5 of 7

|
Louis Head, stepfather to 18-year-old Michael Brown who was fatally shot by police, holds a sign in Ferguson, Mo., near St. Louis on Saturday, Aug. 9, 2014. A spokesman with the St. Louis County Police Department, which is investigating the shooting at the request of the local department, confirmed a Ferguson police officer shot the man. The spokesman didn't give the reason for the shooting. (AP Photo/St. Louis Post-Dispatch, Huy Mach)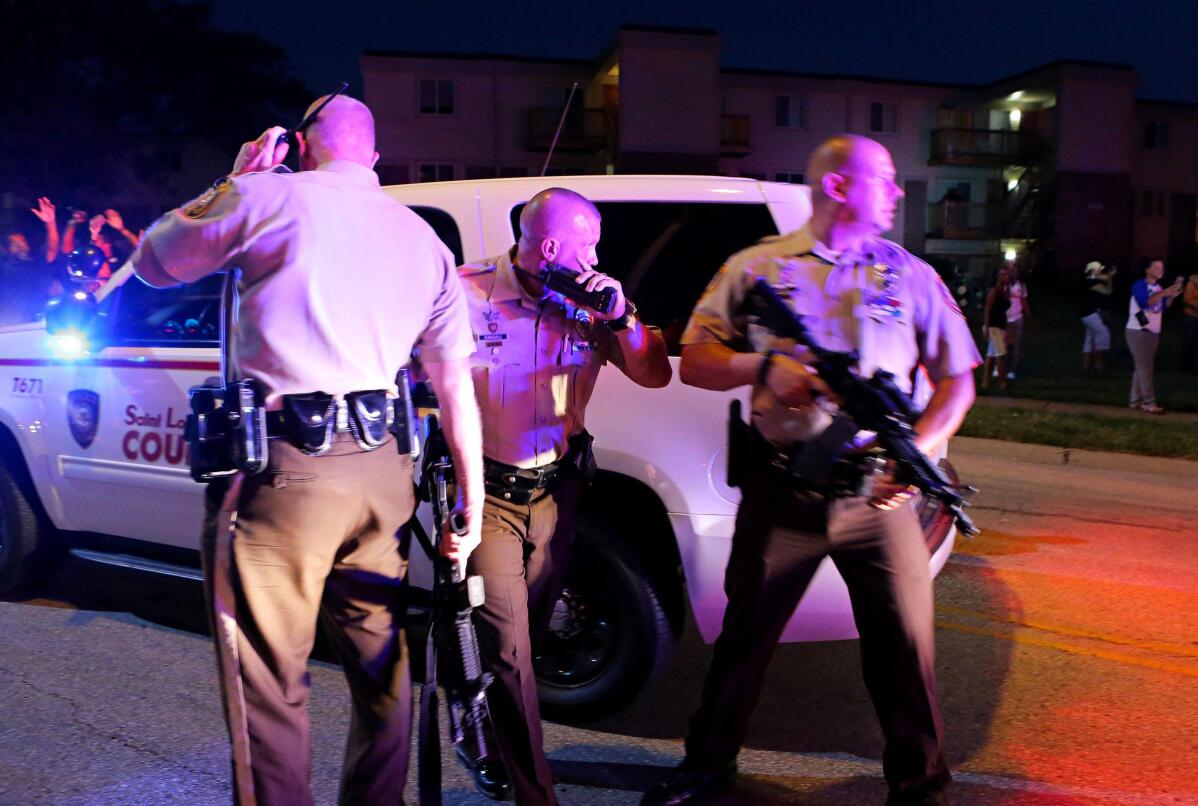 6 of 7

|
FILE- In this Aug. 9, 2014 photo, police officers stand near a crowd gathering by the scene where 18-year-old Michael Brown was fatally shot by a police officer in Ferguson, Mo. Departments around the country have in recent years stepped up their training in "de-escalation" — the art of defusing a tense situation with a word or a gesture instead of being confrontational or reaching for a weapon. (AP Photo/St. Louis Post-Dispatch, David Carson, File)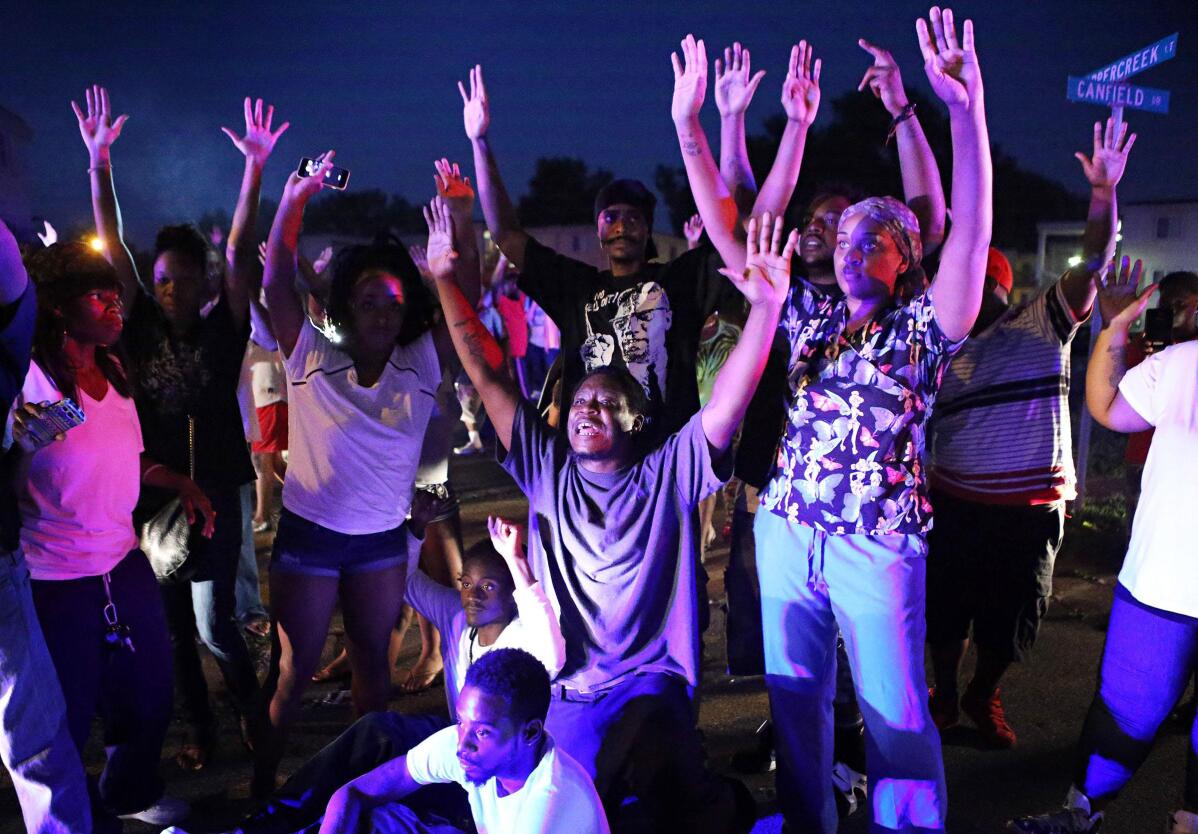 7 of 7

|
A crowd gathers near the scene where 18-year-old Michael Brown was fatally shot by police in Ferguson, Mo., near St. Louis on Saturday, Aug. 9, 2014. A spokesman with the St. Louis County Police Department confirmed a Ferguson police officer shot the man. The spokesman didn't give the reason for the shooting, nor provide the officer's name or race. (AP Photo/St. Louis Post-Dispatch, David Carson)
Missouri crowd after shooting: 'Kill the police'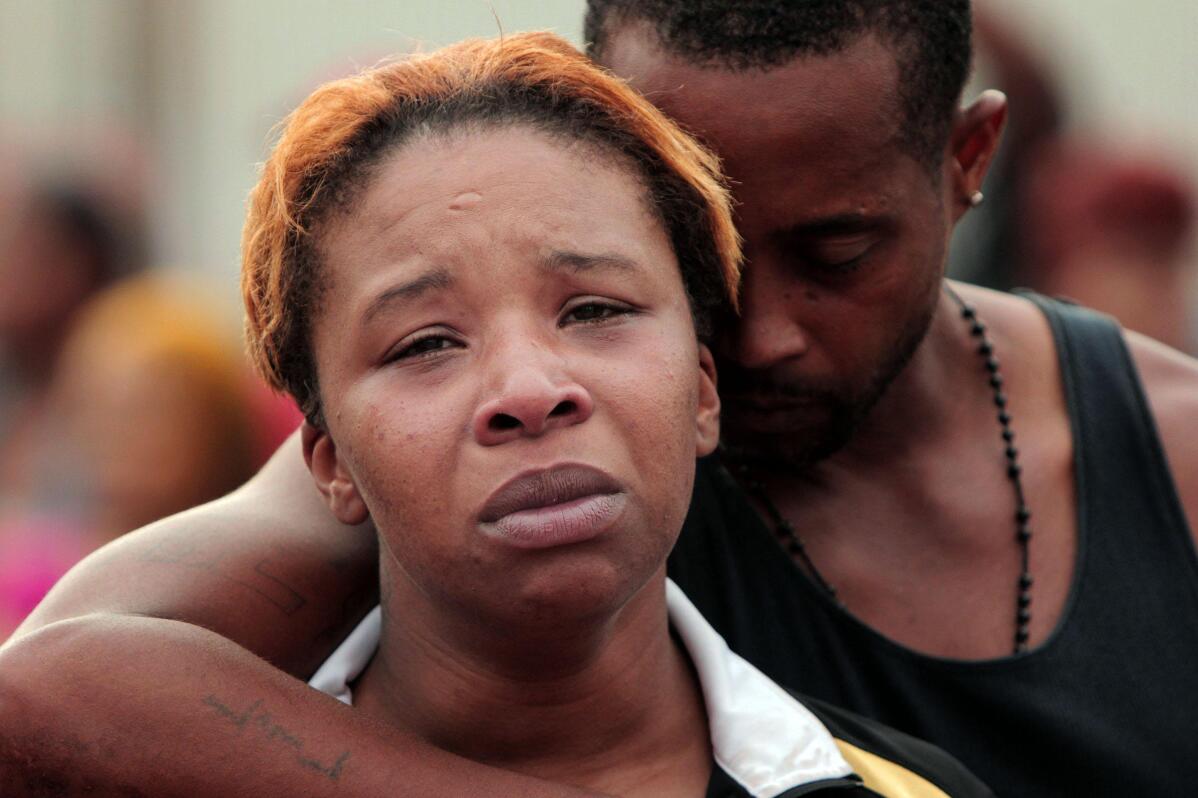 1 of 7

|
Lesley McSpadden, left, is comforted by her husband, Louis Head, after her 18-year-old son, Michael Brown was shot and killed by police in the middle of the street in Ferguson, Mo., near St. Louis on Saturday, Aug. 9, 2014. A spokesman with the St. Louis County Police Department, which is investigating the shooting at the request of the local department, confirmed a Ferguson police officer shot the man. The spokesman didn't give the reason for the shooting. (AP Photo/St. Louis Post-Dispatch, Huy Mach)
1 of 7
Lesley McSpadden, left, is comforted by her husband, Louis Head, after her 18-year-old son, Michael Brown was shot and killed by police in the middle of the street in Ferguson, Mo., near St. Louis on Saturday, Aug. 9, 2014. A spokesman with the St. Louis County Police Department, which is investigating the shooting at the request of the local department, confirmed a Ferguson police officer shot the man. The spokesman didn't give the reason for the shooting. (AP Photo/St. Louis Post-Dispatch, Huy Mach)
2 of 7

|
A crowd is stopped by police as they were trying to reach the scene where 18-year-old Michael Brown was fatally shot by police in Ferguson, Mo., near St. Louis on Saturday, Aug. 9, 2014. A spokesman with the St. Louis County Police Department confirmed a Ferguson police officer shot the man. The spokesman didn't give the reason for the shooting, nor provide the officer's name or race. (AP Photo/St. Louis Post-Dispatch, Huy Mach)
2 of 7
A crowd is stopped by police as they were trying to reach the scene where 18-year-old Michael Brown was fatally shot by police in Ferguson, Mo., near St. Louis on Saturday, Aug. 9, 2014. A spokesman with the St. Louis County Police Department confirmed a Ferguson police officer shot the man. The spokesman didn't give the reason for the shooting, nor provide the officer's name or race. (AP Photo/St. Louis Post-Dispatch, Huy Mach)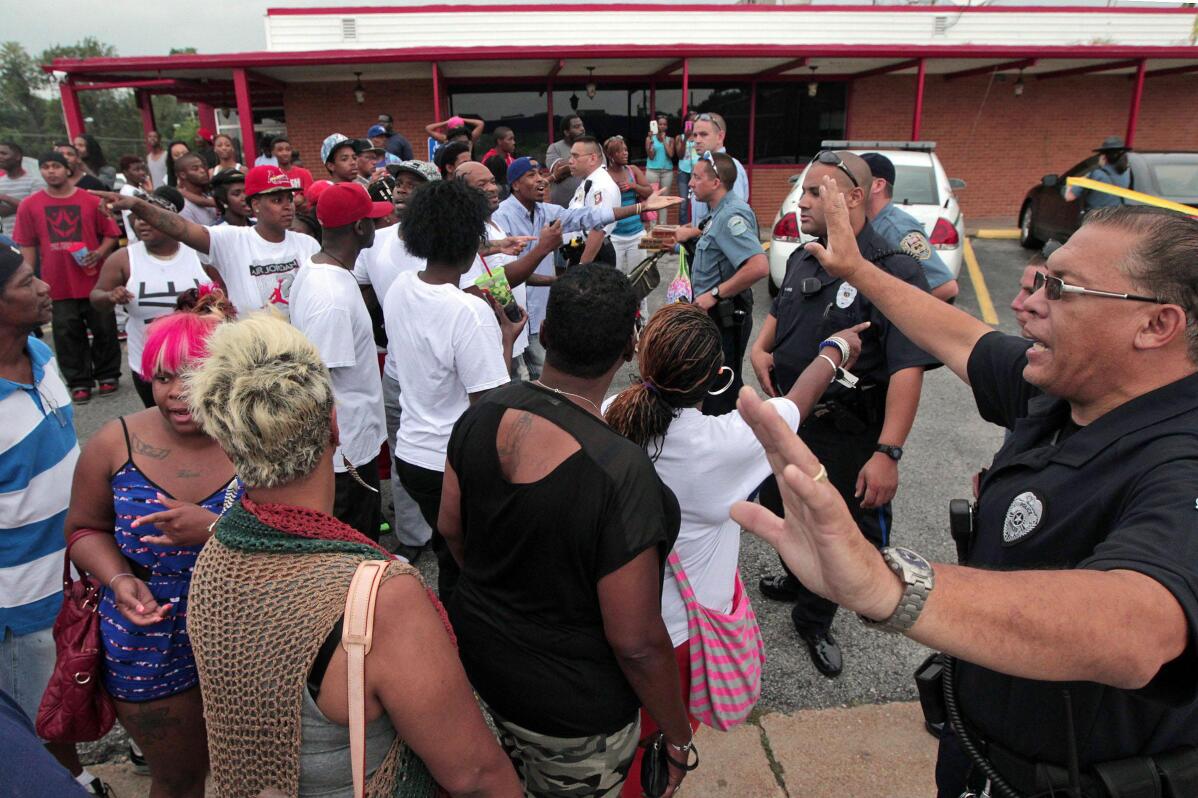 3 of 7

|
FILE- In this Aug. 9, 2014, file photo, Ferguson police officers try to calm down a crowd near the scene where 18-year-old Michael Brown was fatally shot by a police officer in Ferguson, Mo. Departments around the country have in recent years stepped up their training in "de-escalation" — the art of defusing a tense situation with a word or a gesture instead of being confrontational or reaching for a weapon. (AP Photo/St. Louis Post-Dispatch, Huy Mach, File)
3 of 7
FILE- In this Aug. 9, 2014, file photo, Ferguson police officers try to calm down a crowd near the scene where 18-year-old Michael Brown was fatally shot by a police officer in Ferguson, Mo. Departments around the country have in recent years stepped up their training in "de-escalation" — the art of defusing a tense situation with a word or a gesture instead of being confrontational or reaching for a weapon. (AP Photo/St. Louis Post-Dispatch, Huy Mach, File)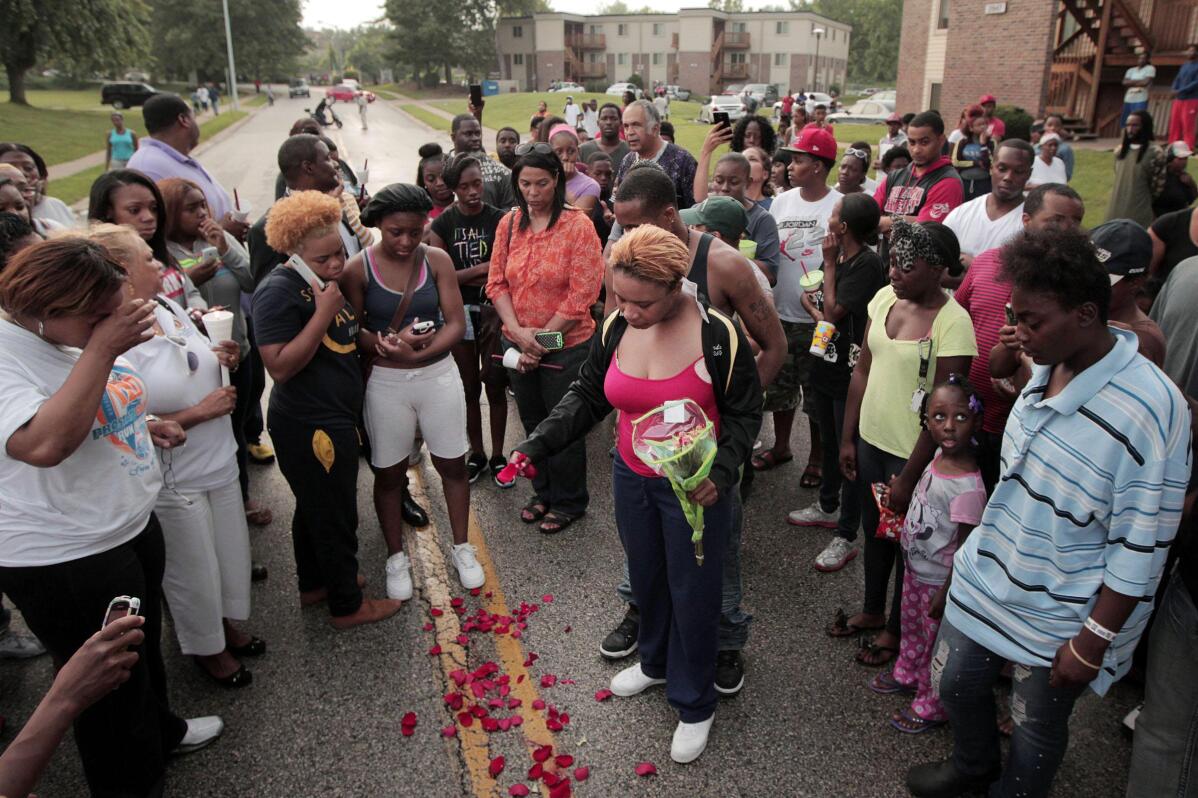 4 of 7

|
Lesley McSpadden, center, drops rose petals on the blood stains from her 18-year-old son Michael Brown who was shot and killed by police in the middle of the street in Ferguson, Mo., near St. Louis on Saturday, Aug. 9, 2014. McSpadden, told an acquaintance the shooting was "wrong and it was cold-hearted," the St. Louis Post-Dispatch reported. A spokesman with the St. Louis County Police Department, which is investigating the shooting at the request of the local department, confirmed a Ferguson police officer shot the man. The spokesman didn't give the reason for the shooting. (AP Photo/St. Louis Post-Dispatch, Huy Mach)
4 of 7
Lesley McSpadden, center, drops rose petals on the blood stains from her 18-year-old son Michael Brown who was shot and killed by police in the middle of the street in Ferguson, Mo., near St. Louis on Saturday, Aug. 9, 2014. McSpadden, told an acquaintance the shooting was "wrong and it was cold-hearted," the St. Louis Post-Dispatch reported. A spokesman with the St. Louis County Police Department, which is investigating the shooting at the request of the local department, confirmed a Ferguson police officer shot the man. The spokesman didn't give the reason for the shooting. (AP Photo/St. Louis Post-Dispatch, Huy Mach)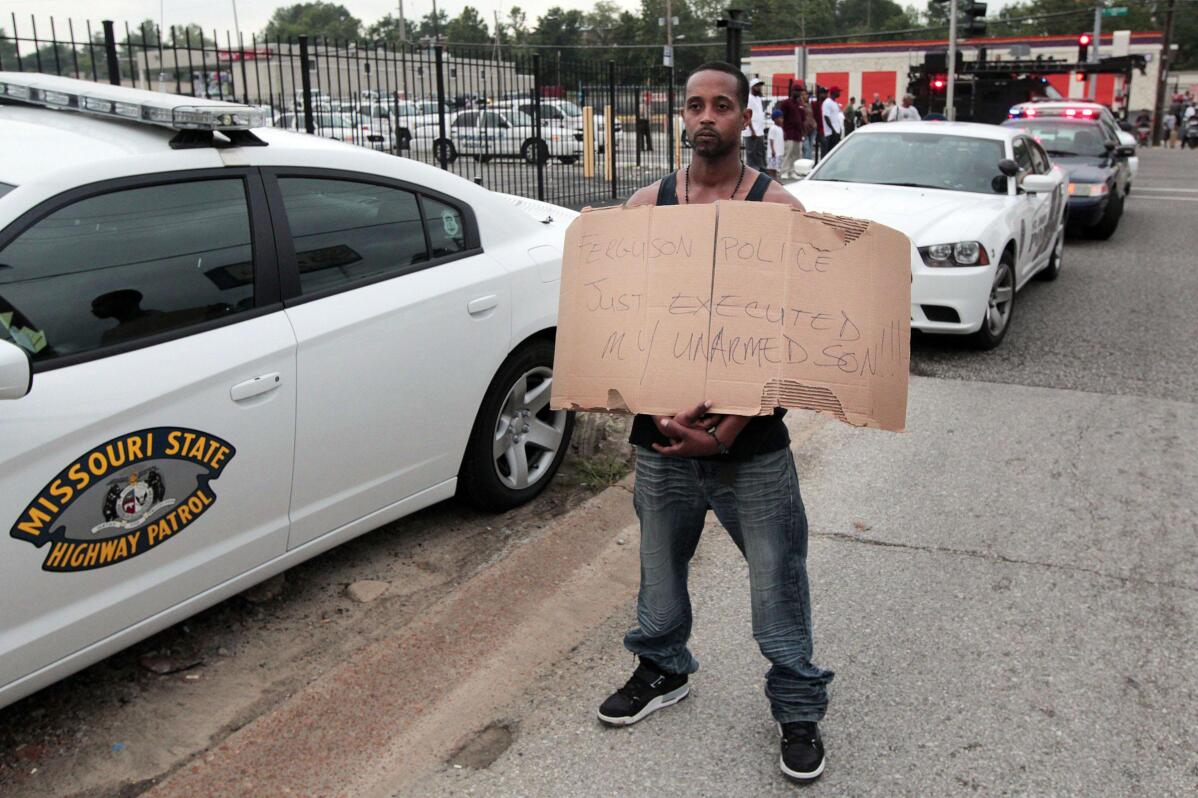 5 of 7

|
Louis Head, stepfather to 18-year-old Michael Brown who was fatally shot by police, holds a sign in Ferguson, Mo., near St. Louis on Saturday, Aug. 9, 2014. A spokesman with the St. Louis County Police Department, which is investigating the shooting at the request of the local department, confirmed a Ferguson police officer shot the man. The spokesman didn't give the reason for the shooting. (AP Photo/St. Louis Post-Dispatch, Huy Mach)
5 of 7
Louis Head, stepfather to 18-year-old Michael Brown who was fatally shot by police, holds a sign in Ferguson, Mo., near St. Louis on Saturday, Aug. 9, 2014. A spokesman with the St. Louis County Police Department, which is investigating the shooting at the request of the local department, confirmed a Ferguson police officer shot the man. The spokesman didn't give the reason for the shooting. (AP Photo/St. Louis Post-Dispatch, Huy Mach)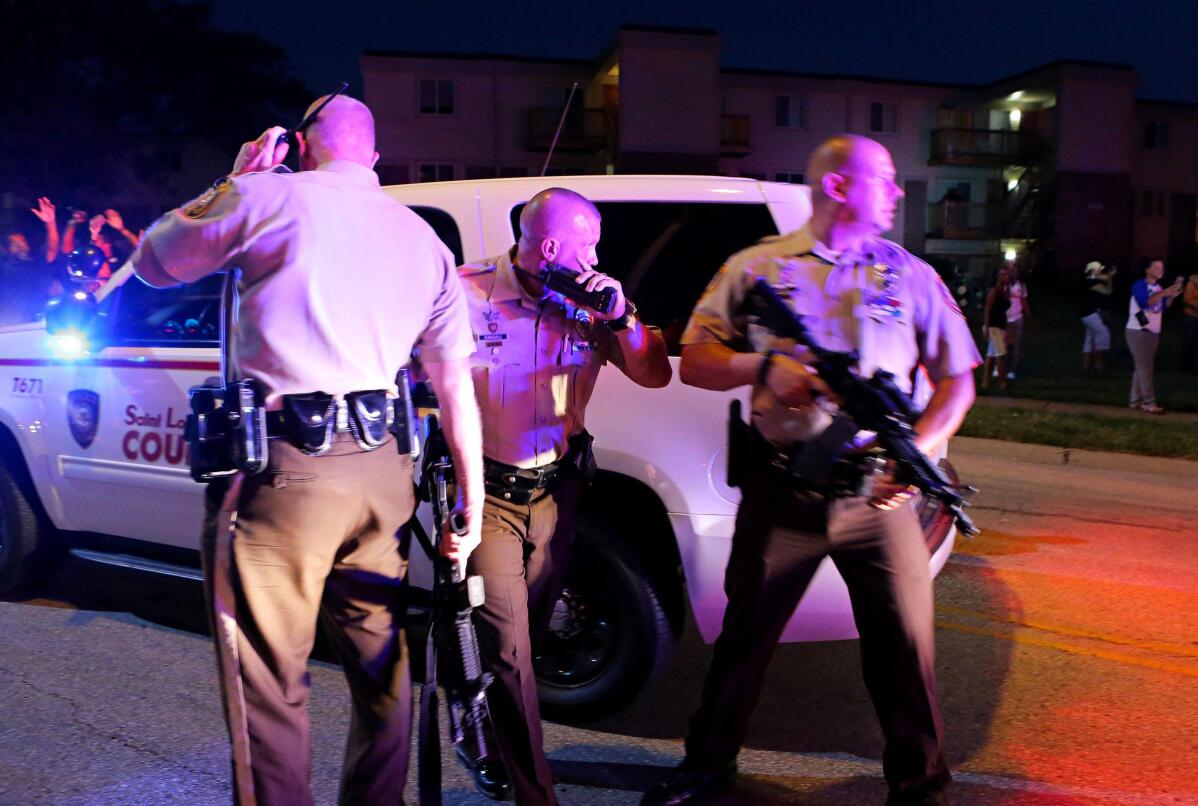 6 of 7

|
FILE- In this Aug. 9, 2014 photo, police officers stand near a crowd gathering by the scene where 18-year-old Michael Brown was fatally shot by a police officer in Ferguson, Mo. Departments around the country have in recent years stepped up their training in "de-escalation" — the art of defusing a tense situation with a word or a gesture instead of being confrontational or reaching for a weapon. (AP Photo/St. Louis Post-Dispatch, David Carson, File)
6 of 7
FILE- In this Aug. 9, 2014 photo, police officers stand near a crowd gathering by the scene where 18-year-old Michael Brown was fatally shot by a police officer in Ferguson, Mo. Departments around the country have in recent years stepped up their training in "de-escalation" — the art of defusing a tense situation with a word or a gesture instead of being confrontational or reaching for a weapon. (AP Photo/St. Louis Post-Dispatch, David Carson, File)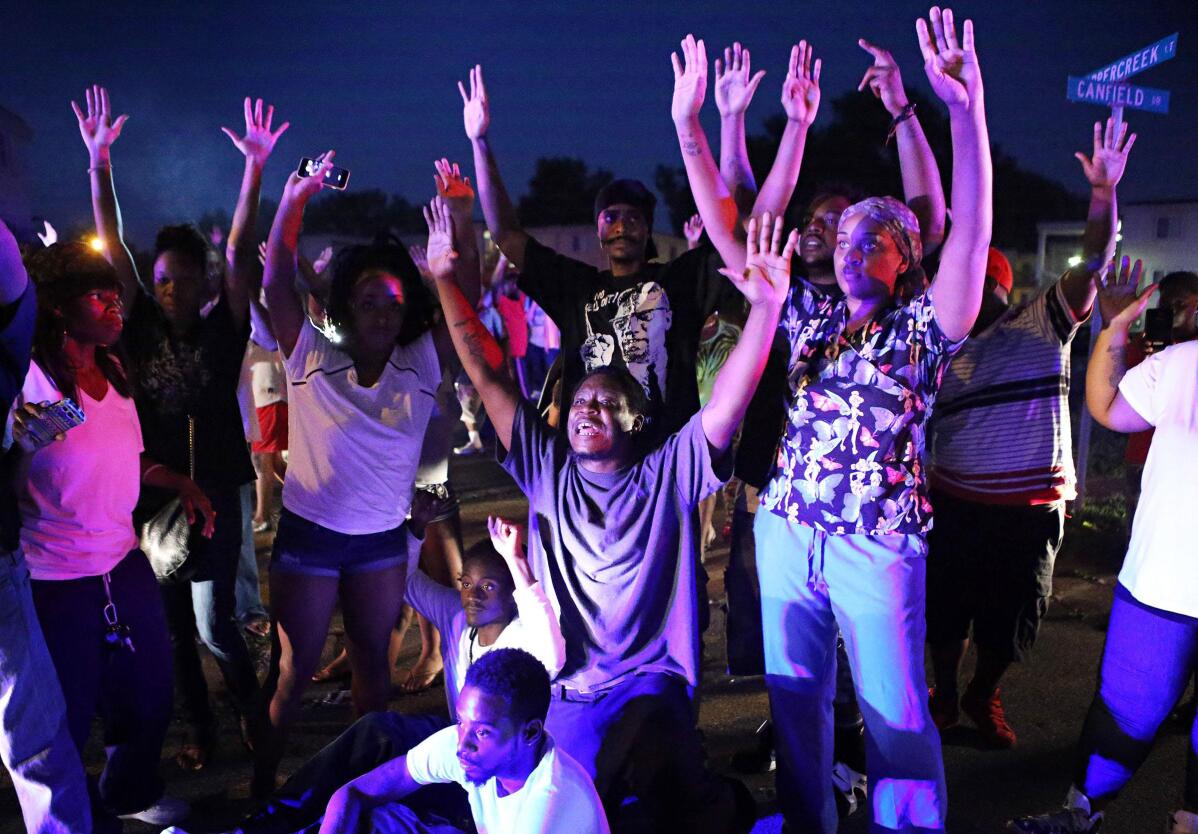 7 of 7

|
A crowd gathers near the scene where 18-year-old Michael Brown was fatally shot by police in Ferguson, Mo., near St. Louis on Saturday, Aug. 9, 2014. A spokesman with the St. Louis County Police Department confirmed a Ferguson police officer shot the man. The spokesman didn't give the reason for the shooting, nor provide the officer's name or race. (AP Photo/St. Louis Post-Dispatch, David Carson)
7 of 7
A crowd gathers near the scene where 18-year-old Michael Brown was fatally shot by police in Ferguson, Mo., near St. Louis on Saturday, Aug. 9, 2014. A spokesman with the St. Louis County Police Department confirmed a Ferguson police officer shot the man. The spokesman didn't give the reason for the shooting, nor provide the officer's name or race. (AP Photo/St. Louis Post-Dispatch, David Carson)
FERGUSON, Mo. (AP) — The fatal shooting of a black teenager by police sent hundreds of angry residents out of their apartments Saturday in a St. Louis suburb, igniting shouts of "kill the police" during a confrontation that lasted several hours.
A St. Louis County chapter of the NAACP called for the FBI to look into the killing of 18-year-old Michael Brown in Ferguson, a predominantly black suburb a few miles north of downtown St. Louis.
Brown's grandmother, Desiree Harris, said she saw him running in her neighborhood Saturday afternoon when she passed him in her car. Just minutes later, after she returned home, she heard a commotion and went outside to check on it. Less than two blocks away, she found Brown's body.
"He was running this way," she said. "When I got up there, my grandson was lying on the pavement. I asked the police what happened. They didn't tell me nothing."
The St. Louis Post-Dispatch reported several distraught relatives were outside talking with neighbors, including Brown's mother, Lesley McSpadden, and stepfather, Louis Head. Head held a sign that read: "Ferguson police just executed my unarmed son!!!"
A spokesman with the St. Louis County Police Department, which is investigating the shooting at the request of the local department, confirmed a Ferguson police officer shot the man. The spokesman didn't give the reason for the shooting. St. Louis County police said a large crowd confronted officers following the shooting, yelling such things as "kill the police."
John Gaskin, a member of the St. Louis County NAACP, said the FBI should get involved "to protect the integrity of the investigation." He alluded to the 2012 racially-charged shooting of a 17-year-old Trayvon Martin by a Florida neighborhood watch organizer who was subsequently acquitted of murder charges, as well as the death of a New York man from a police chokehold after he was confronted for selling individual cigarettes on the street.
"With the recent events of a young man killed by the police in New York City and with Trayvon Martin and with all the other African-American young men that have been killed by police officers ... this is a dire concern to the NAACP, especially our local organization," Gaskin said.
Gaskin said officials in the organization spoke with St. Louis County Police Chief Jon Belmar, who told them teenager had been shot twice.
By early Saturday night, dozens of police cars remained parked near the shooting scene as mourners left votive candles, rose petals, a large stuffed animal and other remembrances at a makeshift memorial in the middle of the street. At the height of the post-shooting tensions, police at the scene called for about 60 other police units to respond to the area in Ferguson, a city of about 21,000 residents, about two-thirds of whom are black.
Harris said her grandson had recently graduated high school and was looking forward to the future, including possibly attending college.
"My grandson never even got into a fight," she said. "He was just looking forward to getting on with his life. He was on his way."
Ferguson Police Chief Thomas Jackson told the Post-Dispatch that the officer involved has been placed on paid administrative leave.
"We are hoping for calm and for people to give us a chance to conduct a thorough investigation," Jackson said.
Gaskin said the angry crowd was reacting to a "trauma."
"Anytime you have this type of event that's taken place, emotions are going to run high," he said. "But for 600 people to gather around an area to see where a man is lying in the street, that means something happened that should have not happened."
___
Associated Press writer Maria Sudekum contributed from Kansas City, Missouri.