Chicago cops reluctantly testify against 1 of their own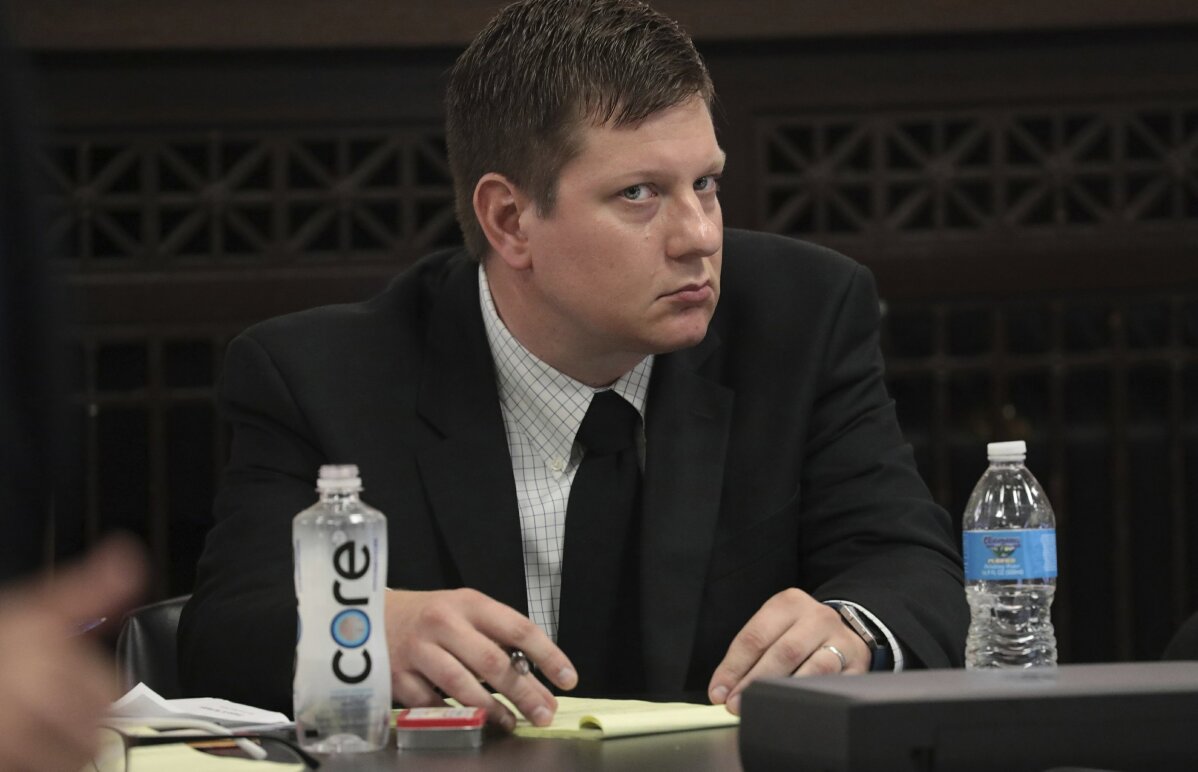 1 of 5

|
Chicago Police Officer Jason Van Dyke listens during his trial for the shooting death of Laquan McDonald at the Leighton Criminal Court Building, Monday, Sept. 17, 2018 in Chicago. McDonald died during a confrontation with Van Dyke on Oct. 20, 2014, in Chicago. (Antonio Perez/ Chicago Tribune via AP, Pool)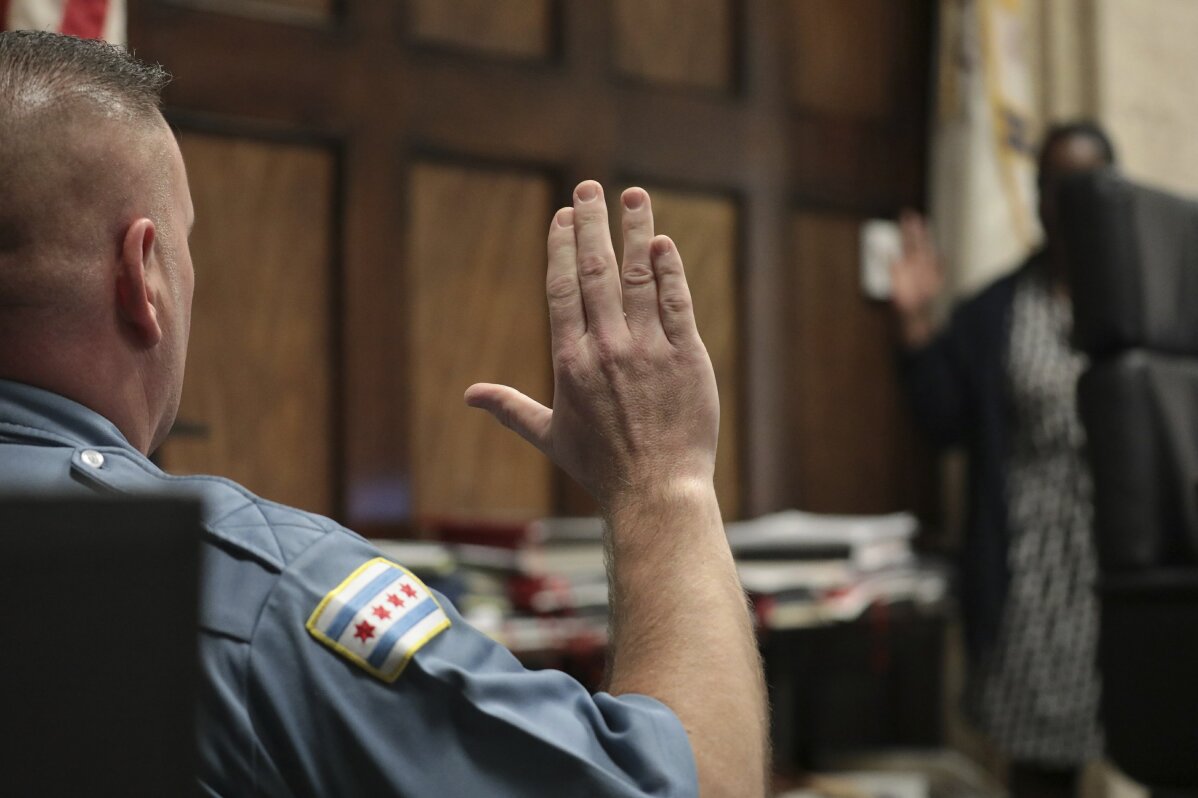 2 of 5

|
Chicago Police Officer Joseph McElligott raises his right hand as he prepares to take the stand and testify during the opening statements in the first-degree murder trial of Chicago Police Officer Jason Van Dyke for the shooting death of Laquan McDonald at the Leighton Criminal Court Building, Monday, Sept. 17, 2018 in Chicago. (Antonio Perez/ Chicago Tribune via AP, Pool)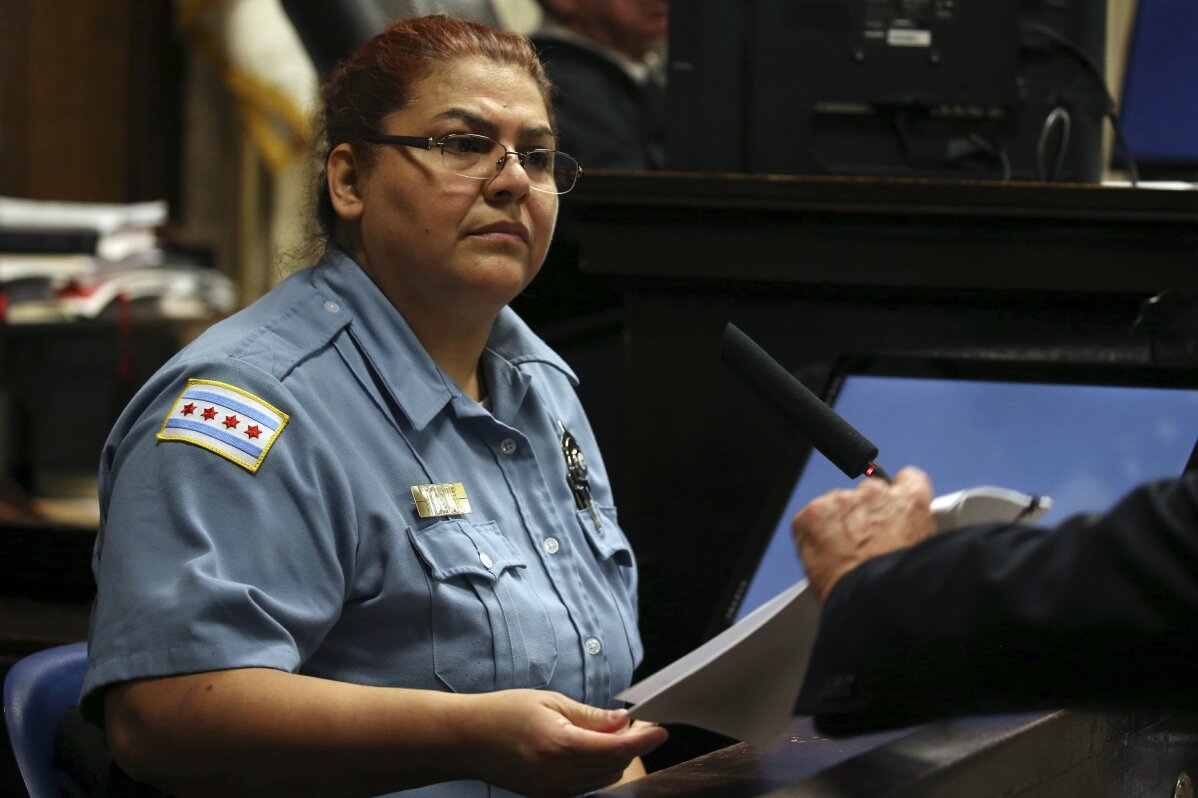 3 of 5

|
Chicago Police Officer Dora Fontaine testifies during the trial for the shooting death of Laquan McDonald, in the first-degree murder trial of Chicago Police Officer Jason Van Dyke at the Leighton Criminal Court Building, Monday, Sept. 17, 2018, in Chicago. (Antonio Perez/ Chicago Tribune via AP, Pool)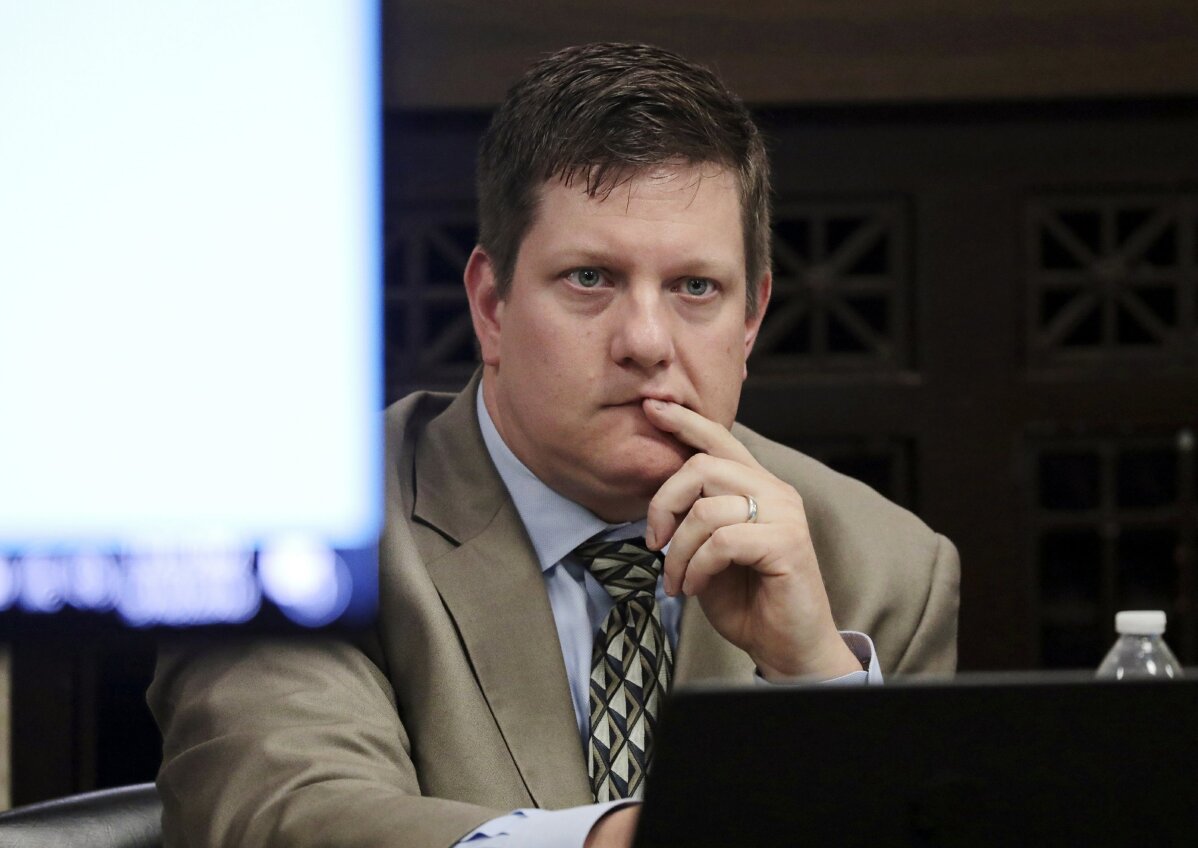 4 of 5

|
Chicago police Officer Jason Van Dyke listens during the second day of his murder trial for the 2014 killing of Laquan McDonald on Tuesday, Sept. 18, 2018, at the Leighton Criminal Court Building in Chicago. (Antonio Perez/Chicago Tribune via AP, Pool)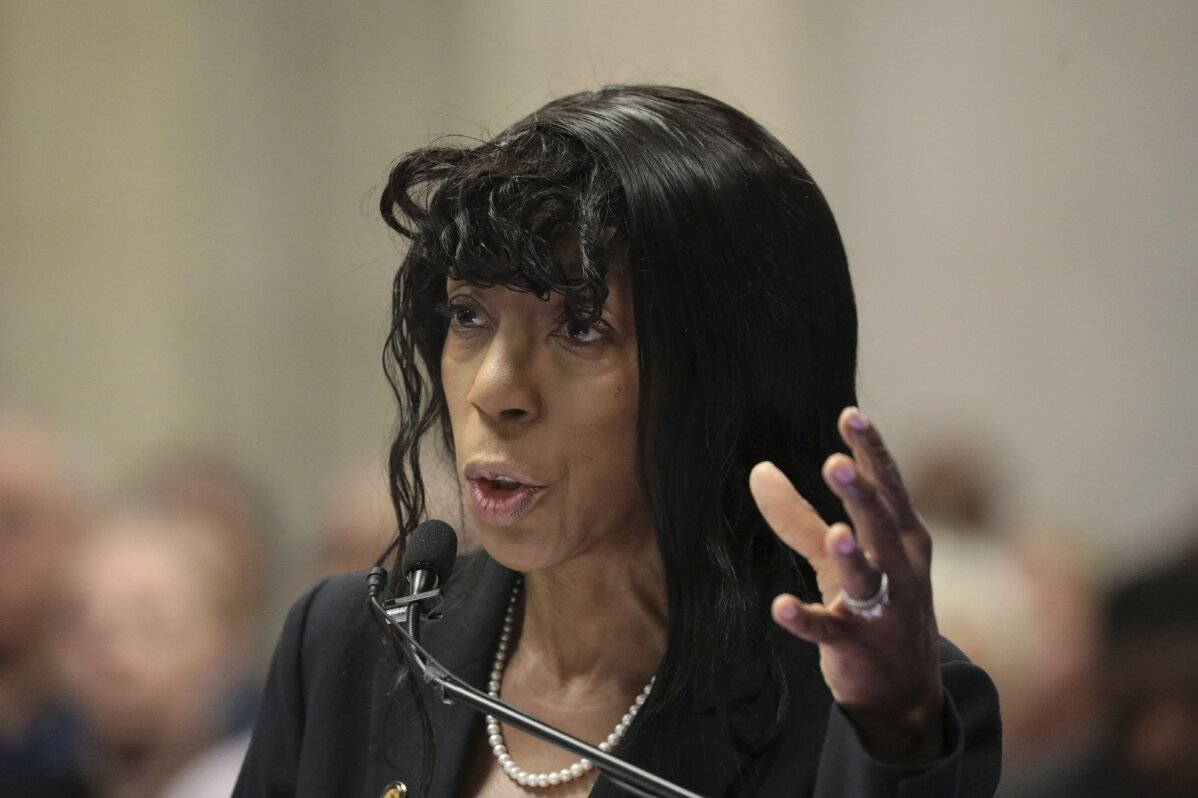 5 of 5

|
Marilyn Hite Ross asks questions of the witness during the trial for the shooting death of Laquan McDonald at the Leighton Criminal Court Building, Monday, Sept. 17, 2018. (Antonio Perez/ Chicago Tribune via AP, Pool)
Chicago cops reluctantly testify against 1 of their own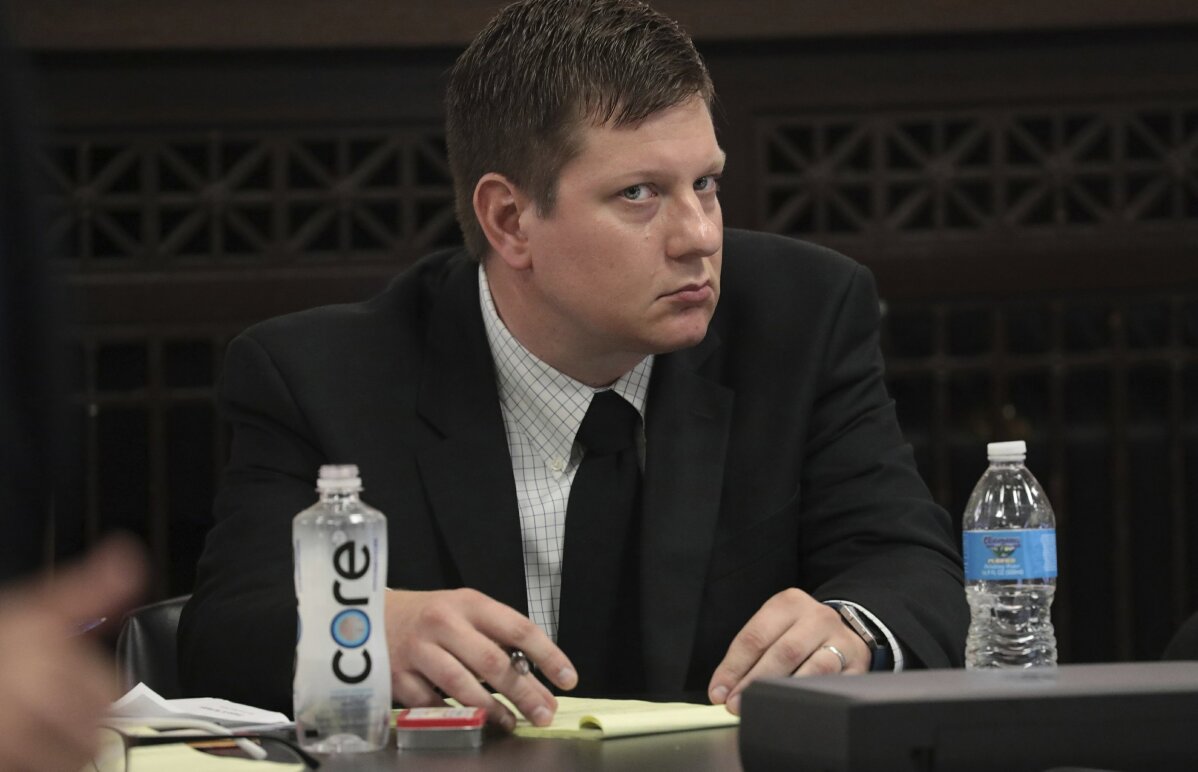 1 of 5

|
Chicago Police Officer Jason Van Dyke listens during his trial for the shooting death of Laquan McDonald at the Leighton Criminal Court Building, Monday, Sept. 17, 2018 in Chicago. McDonald died during a confrontation with Van Dyke on Oct. 20, 2014, in Chicago. (Antonio Perez/ Chicago Tribune via AP, Pool)
1 of 5
Chicago Police Officer Jason Van Dyke listens during his trial for the shooting death of Laquan McDonald at the Leighton Criminal Court Building, Monday, Sept. 17, 2018 in Chicago. McDonald died during a confrontation with Van Dyke on Oct. 20, 2014, in Chicago. (Antonio Perez/ Chicago Tribune via AP, Pool)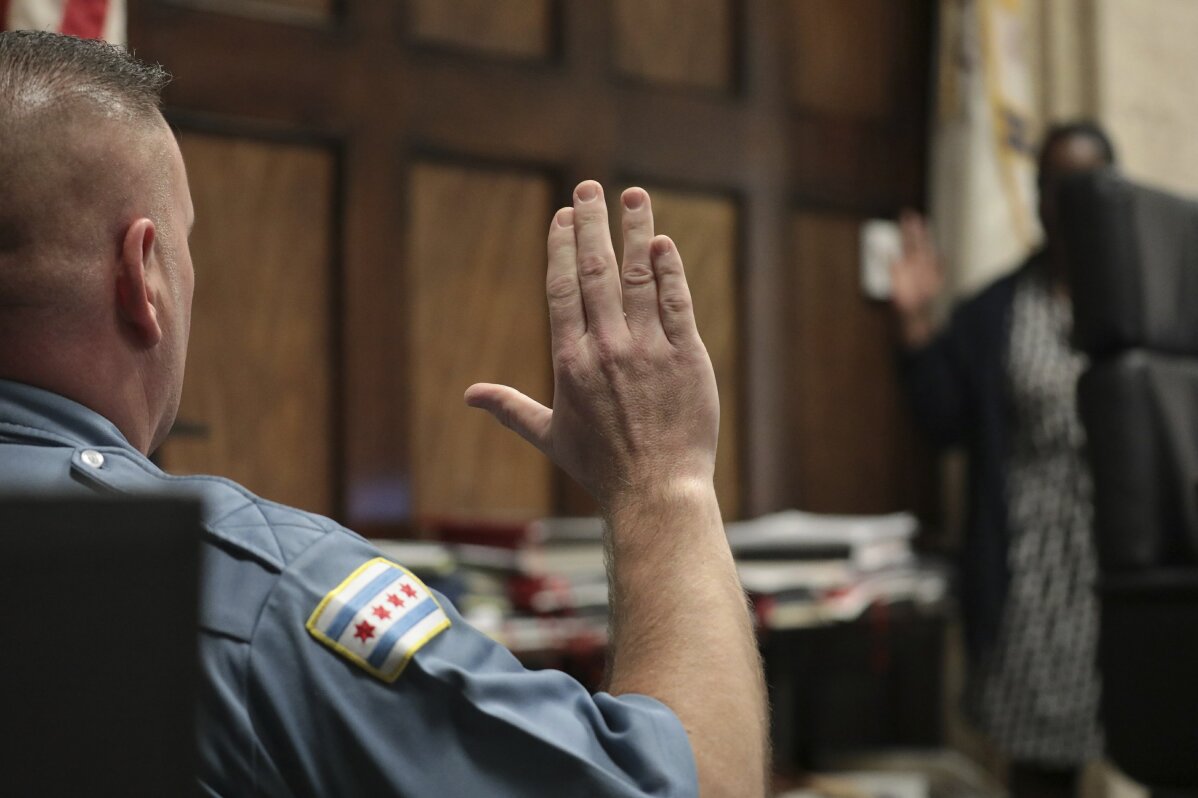 2 of 5

|
Chicago Police Officer Joseph McElligott raises his right hand as he prepares to take the stand and testify during the opening statements in the first-degree murder trial of Chicago Police Officer Jason Van Dyke for the shooting death of Laquan McDonald at the Leighton Criminal Court Building, Monday, Sept. 17, 2018 in Chicago. (Antonio Perez/ Chicago Tribune via AP, Pool)
2 of 5
Chicago Police Officer Joseph McElligott raises his right hand as he prepares to take the stand and testify during the opening statements in the first-degree murder trial of Chicago Police Officer Jason Van Dyke for the shooting death of Laquan McDonald at the Leighton Criminal Court Building, Monday, Sept. 17, 2018 in Chicago. (Antonio Perez/ Chicago Tribune via AP, Pool)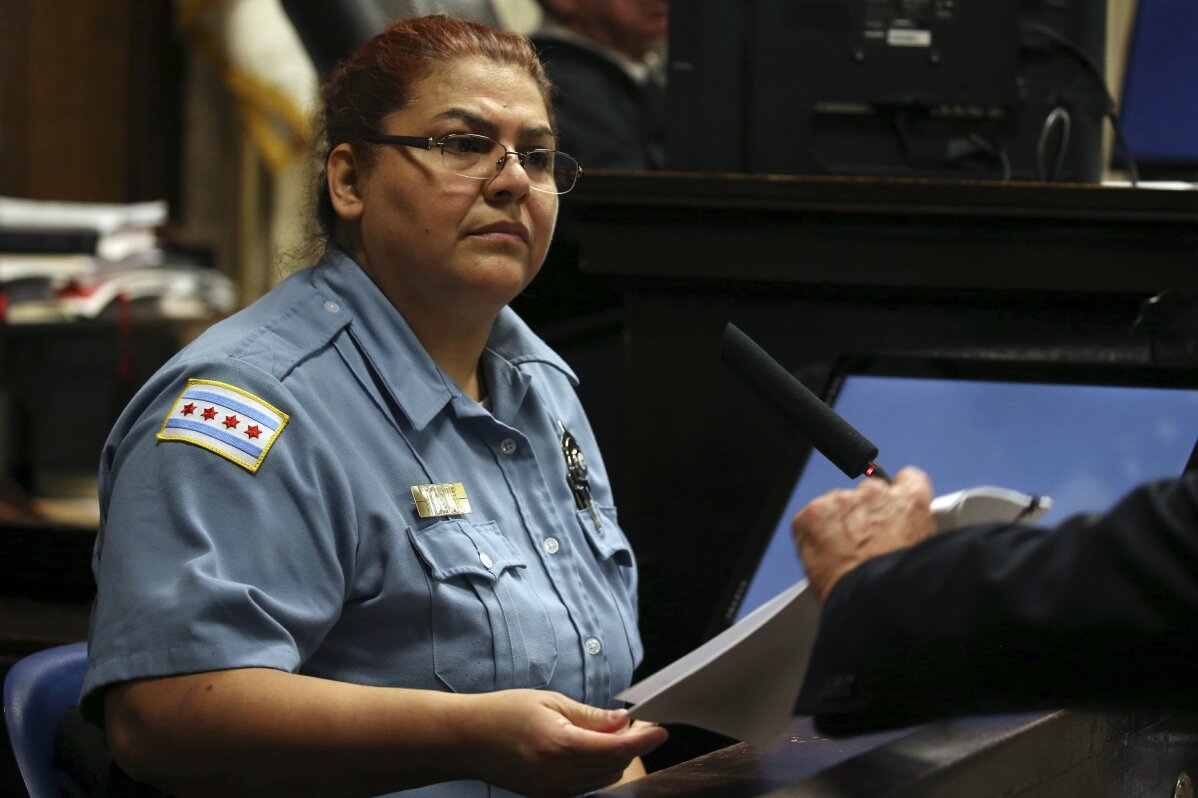 3 of 5

|
Chicago Police Officer Dora Fontaine testifies during the trial for the shooting death of Laquan McDonald, in the first-degree murder trial of Chicago Police Officer Jason Van Dyke at the Leighton Criminal Court Building, Monday, Sept. 17, 2018, in Chicago. (Antonio Perez/ Chicago Tribune via AP, Pool)
3 of 5
Chicago Police Officer Dora Fontaine testifies during the trial for the shooting death of Laquan McDonald, in the first-degree murder trial of Chicago Police Officer Jason Van Dyke at the Leighton Criminal Court Building, Monday, Sept. 17, 2018, in Chicago. (Antonio Perez/ Chicago Tribune via AP, Pool)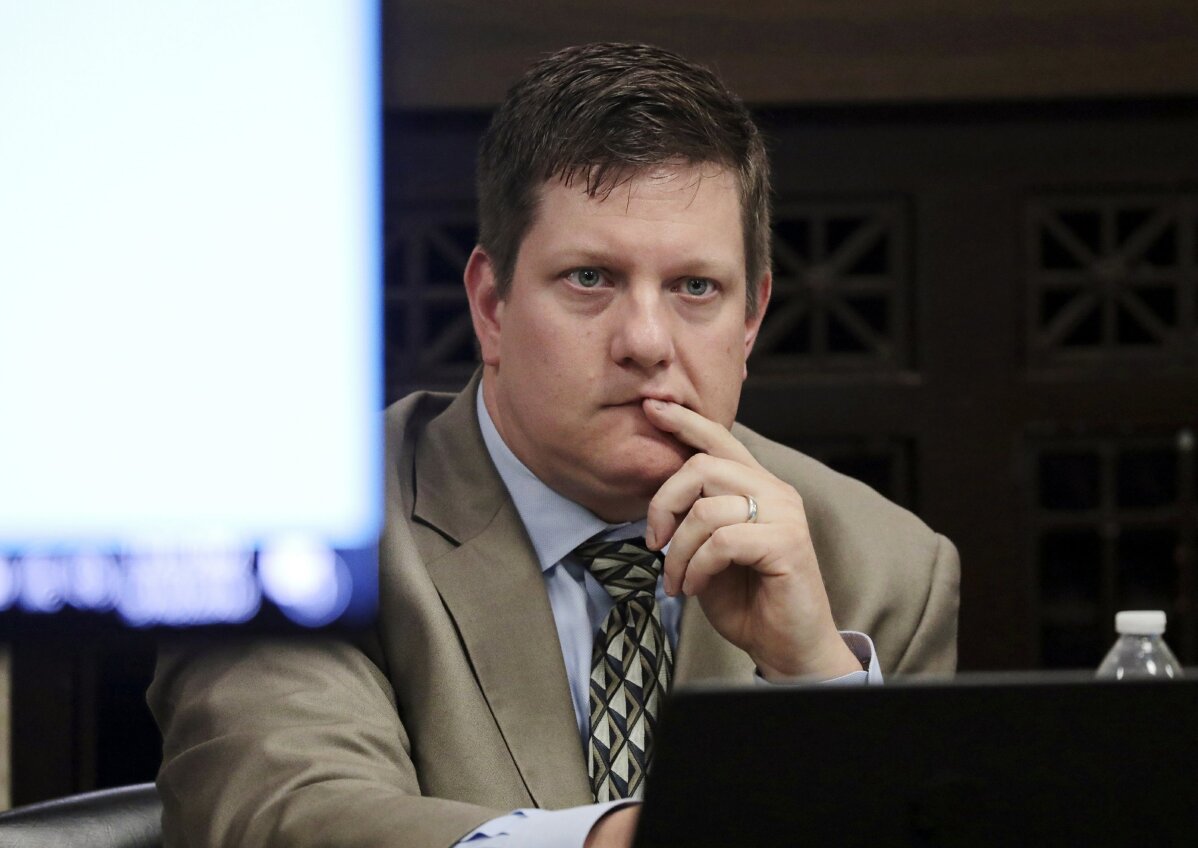 4 of 5

|
Chicago police Officer Jason Van Dyke listens during the second day of his murder trial for the 2014 killing of Laquan McDonald on Tuesday, Sept. 18, 2018, at the Leighton Criminal Court Building in Chicago. (Antonio Perez/Chicago Tribune via AP, Pool)
4 of 5
Chicago police Officer Jason Van Dyke listens during the second day of his murder trial for the 2014 killing of Laquan McDonald on Tuesday, Sept. 18, 2018, at the Leighton Criminal Court Building in Chicago. (Antonio Perez/Chicago Tribune via AP, Pool)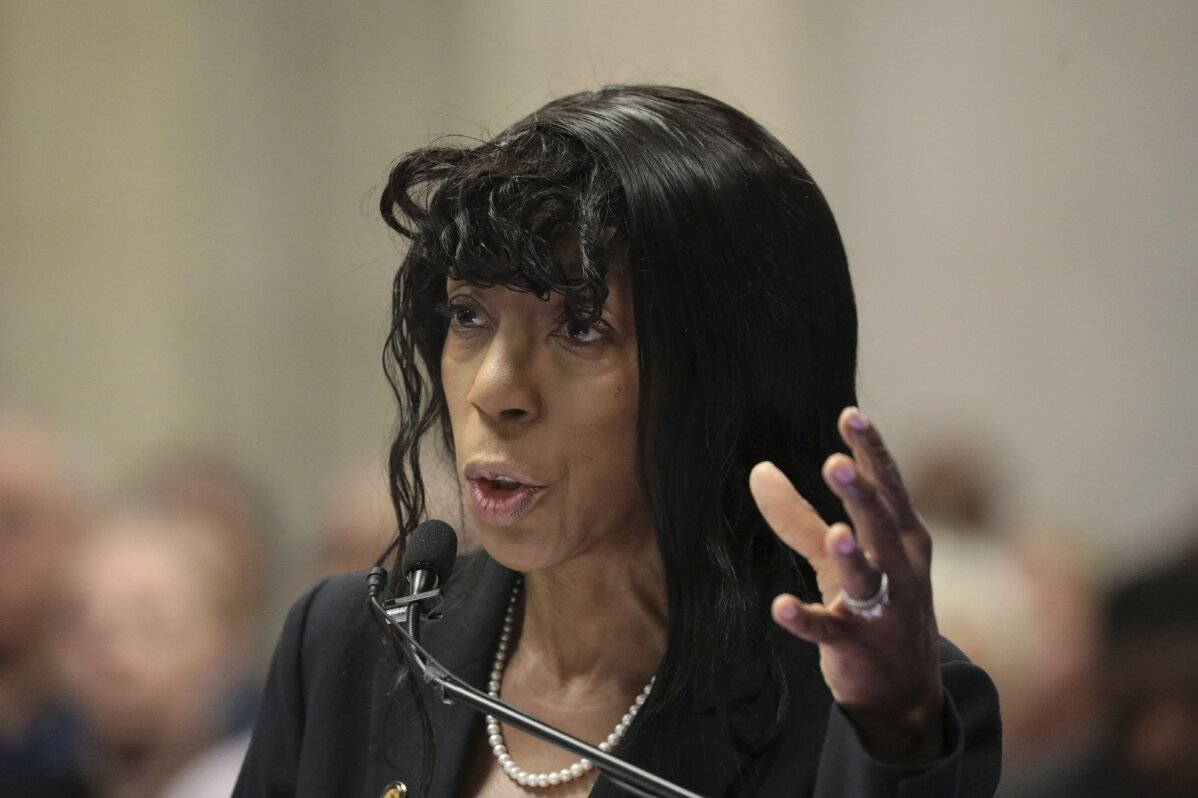 5 of 5

|
Marilyn Hite Ross asks questions of the witness during the trial for the shooting death of Laquan McDonald at the Leighton Criminal Court Building, Monday, Sept. 17, 2018. (Antonio Perez/ Chicago Tribune via AP, Pool)
5 of 5
Marilyn Hite Ross asks questions of the witness during the trial for the shooting death of Laquan McDonald at the Leighton Criminal Court Building, Monday, Sept. 17, 2018. (Antonio Perez/ Chicago Tribune via AP, Pool)
CHICAGO (AP) — The Chicago police officers clearly do not want to be in court testifying against a colleague accused of murder, with one of them so uncomfortable he couldn't bring himself to point to the man on trial, something witnesses are routinely asked to do.
But one after another — whether they want to or not — officers at the scene the night of Oct. 20, 2014, when white officer Jason Van Dyke emptied his gun into black teenager Laquan McDonald are being called to testify, as prosecutors seek to chip away at the "blue wall of silence" long associated with the city's police force and other law enforcement agencies across the country.
None of the officers has criticized Van Dyke in testimony over the first two days of his trial, but each has bolstered the contention by prosecutors that what Van Dyke did was "completely unnecessary." Van Dyke's attorneys say he feared for his life and acted according to his training.
Those testifying in Van Dyke's murder trial have included his partner that night, Joseph Walsh, one of three officers indicted on charges that they conspired to cover up what happened to protect Van Dyke. While video released more than a year after the shooting shows McDonald veering away from officers, Van Dyke and others on the scene initially said the 17-year-old had lunged at them with a knife.
Walsh, who is no longer on the force, acknowledged Tuesday that he "could have" fired, before answering, "Yes," to the question of whether he chose not to. But he also defended his partner's actions, saying he was "confident officer Van Dyke took necessary action to save himself and myself." And he maintained that he saw McDonald raise his right arm to swing it "in our direction," even though video of the shooting that played as he spoke doesn't show that. He maintained that he had a different vantage point.
Another witness, officer Joseph McElligott, was so reluctant to testify that prosecutors finally gave up trying to get him to point to Van Dyke after he was asked the routine question of whether he knew the defendant.
According to some experts, Walsh's testimony — and that of other officers — represents a shift in the landscape for a police force that the U.S. Justice Department in January 2017 described as having a "pervasive cover-up culture."
"The fact that you have officers forced to testify is a huge moment," said Matt Topic, an attorney who waged an ultimately successful legal battle to force the city to release the video of the McDonald shooting in 2015.
Van Dyke is the first Chicago police officer in decades to be charged with murder for an on-duty shooting. He's pleaded not guilty to first-degree murder, aggravated battery and official misconduct.
To Phil Turner, a former federal prosecutor who is now a defense attorney in Chicago, the blue wall of silence isn't weakening so much as video evidence is revealing the truth. He points out that some officers are testifying only because they would otherwise be held in contempt of court. He sees police using video as key — not because it will make officers reluctant to lie to cover for their fellow officers but because it renders those lies "irrelevant."
"If they refuse to talk, who cares, they've got the video," he said.
Topic agrees that video has been important in Van Dyke's case.
"All of those officers had to know there was dashcam video and still they felt safe enough to provide a narrative that wasn't true," he said.
Dora Fontaine is the only officer to challenge statements attributed to her in police reports about the shooting. She arrived as Van Dyke was firing 16 bullets into McDonald. Fontaine testified Monday that she saw the knife in McDonald's right hand, but she did not see him raise his arm or charge at the officers.
Officer McElligott, who also testified Monday, was responding to reports that someone was breaking into vehicles in a trucking yard when he encountered McDonald.
McElligott said that even after McDonald stabbed the tire of his squad car, he didn't think it was necessary to fire his weapon. Instead, he and his partner were waiting for an officer to show up with a Taser to use on McDonald.
"We were just trying to be patient," he told the jury.
___
Sign up for the AP's weekly newsletter showcasing our best reporting from the Midwest and Texas: http://apne.ws/2u1RMfv